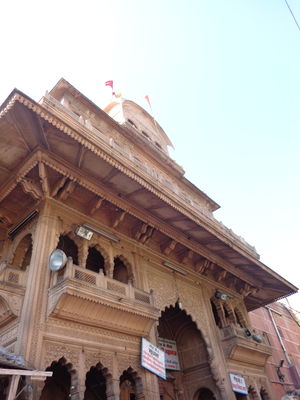 Rank
3 out of 15 attractions in Vrindavan
Places to stay near
Banke Bihari Temple
Excellent studio with all amenities
Town-Centre flat at 899. C u soon.
Resort Hare Krishna Orchid
Reviews of
Banke Bihari Temple
•
2
I met few travelers from the TripAdvisor community in Mathura, and we all went to the famous Banke Bihari temple in Vrindavan and joined the never ending line of people in the streets which leads to the temple. Banke Bihari temple is really small and it is impossible for it to accommodate the number of visitors. As a result, there is no space inside the temple and people are literally standing without any gap. Priests were throwing gulaal and colored water from pipes on the devotees.
Banke Bihari temple is one of the oldest and most sacred temple in Vrindavan where you can get famous sweet known as Pera. It is said that journey of Vrindavan is incomplete if we don't visit Banke Bihari temple.
Attractions near
Banke Bihari Temple