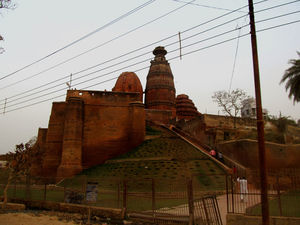 Madan Mohan Banke Bihari Path
The temple of Madan Mohan is a famous temple in the town of Brindavan and is situated on the Madan Mohan Bankey Bihari Path. Banke Bihari and Madan Mohan are both names by which Lord Krishna is referred to. This is a very nice temple and is right on the banks of the River Yamuna. you can also enjoy boating trips which start from the ghat in front of the temple. The deity which is worshipped inside is he baby form of Krishna who is also called Bala Gopala. This is a 15th Century temple and the name of the founder is still unknown.
Places to stay near
Madan Mohan Banke Bihari Path
Excellent studio with all amenities
Town-Centre flat at 899. C u soon.
Resort Hare Krishna Orchid
Reviews of
Madan Mohan Banke Bihari Path
•
1
This temple, the oldest in Vrindavan, is closely associated with Chaitanya Mahabraphu. It was built by Kapur Ram Das of Multan. It can be covered in a day trip from Delhi as part of the Vrindavan tour.
Attractions near
Madan Mohan Banke Bihari Path