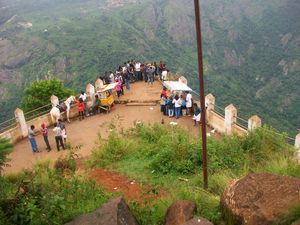 Things to do
walking, photography
Dolphins Nose
Nothing but a watchpoint, Dolphin's Nose is very close to Kannur or Coonoor. The adventure filled path is misty and has criss- cross routes after which you reach the final point. Also, this place is best visited early in the morning to experience the true beauty of it. The foggy mornings are the best times when you can enjoy an awesome view of the Catherene Falls from. Apart from this, the view of sunrise is picturesque too.
Reviews •
2
Aweosme view of Catherine falls and widespread tea-estates around.
This place is 10km away from Coonoor. It provides a panoramic view of the vast expanse of the Nilgiri Hills.
Attractions near
Dolphins Nose