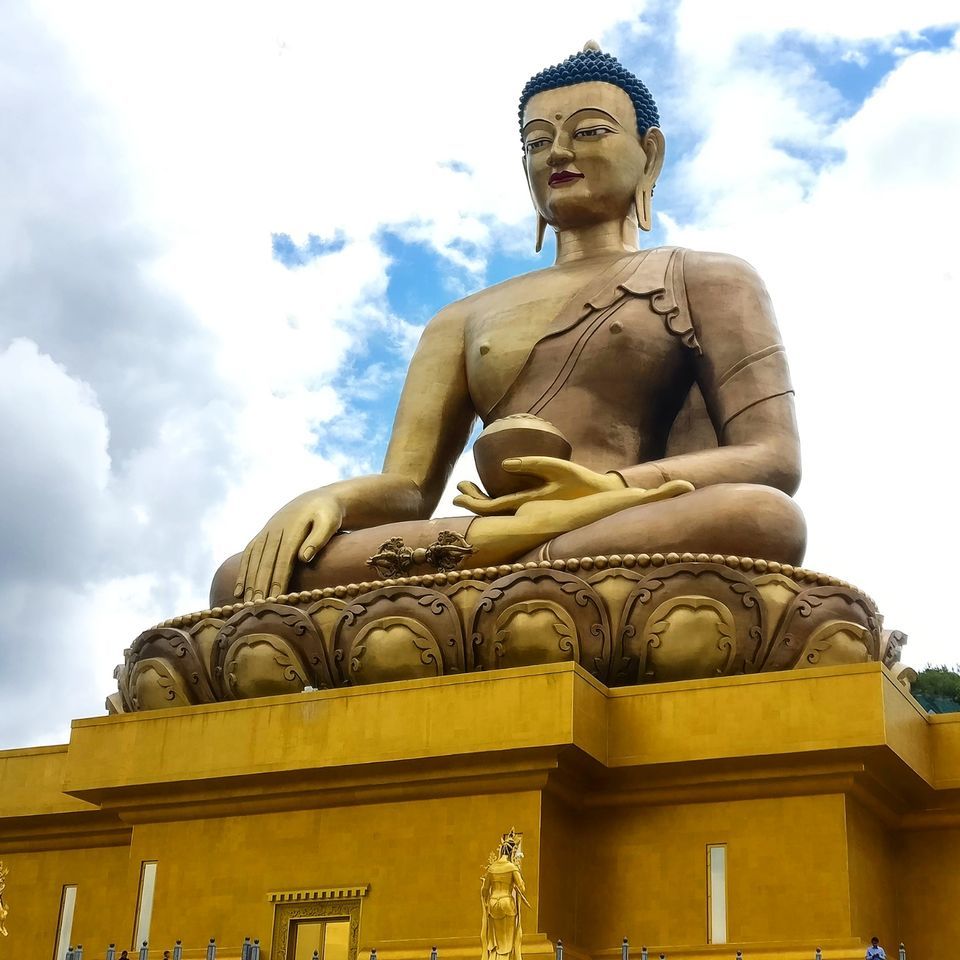 The drive from Paro to Thimphu was a couple of hours long, and the two towns were quite different from one another. There was more life in Thimphu, as the population there was more.
We arrived at our resort and checked in, and our guide left us for the day. Our room was comfortable and it had an amazing view. We were quite tired on our first day there as I was came on this trip directly from work and I was awake for more than 24 hours, and my sister and brother-in-law had just come from Australia too, so they were still a little jet-lagged.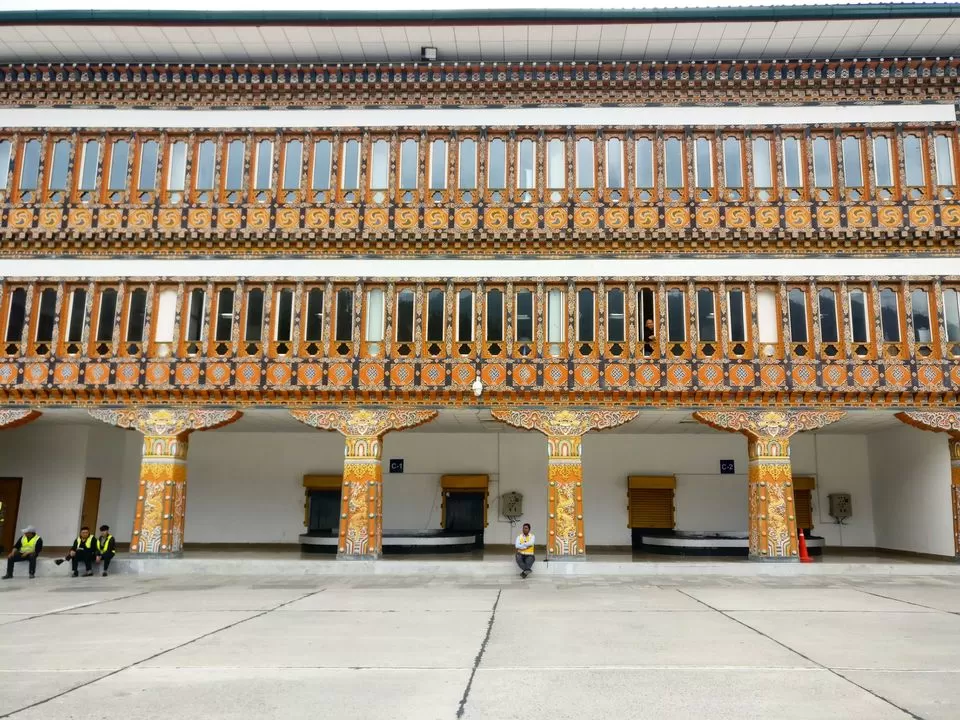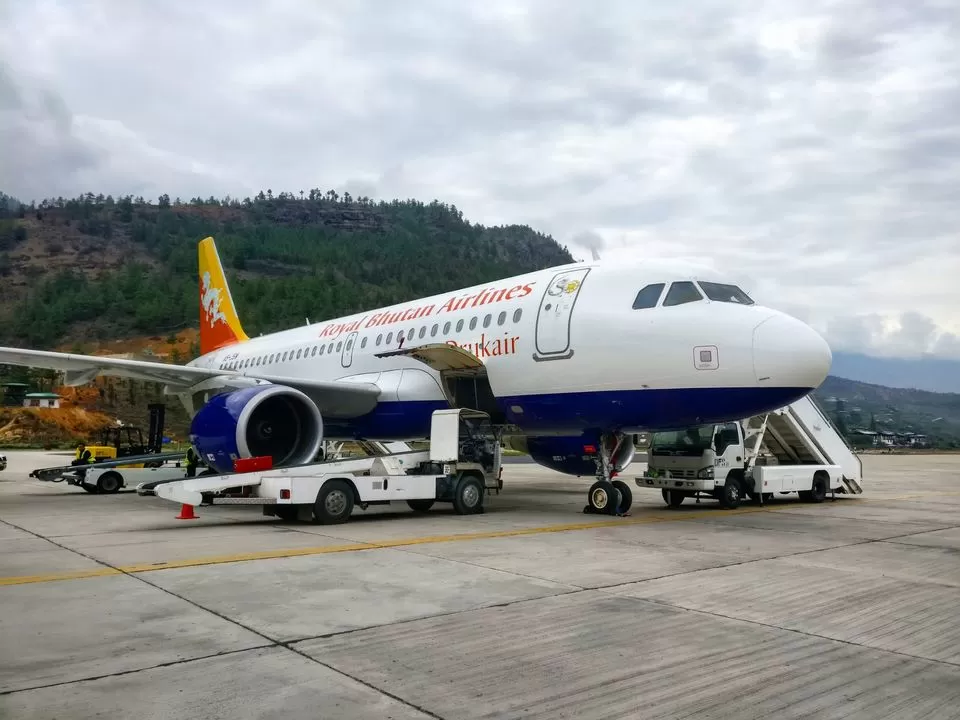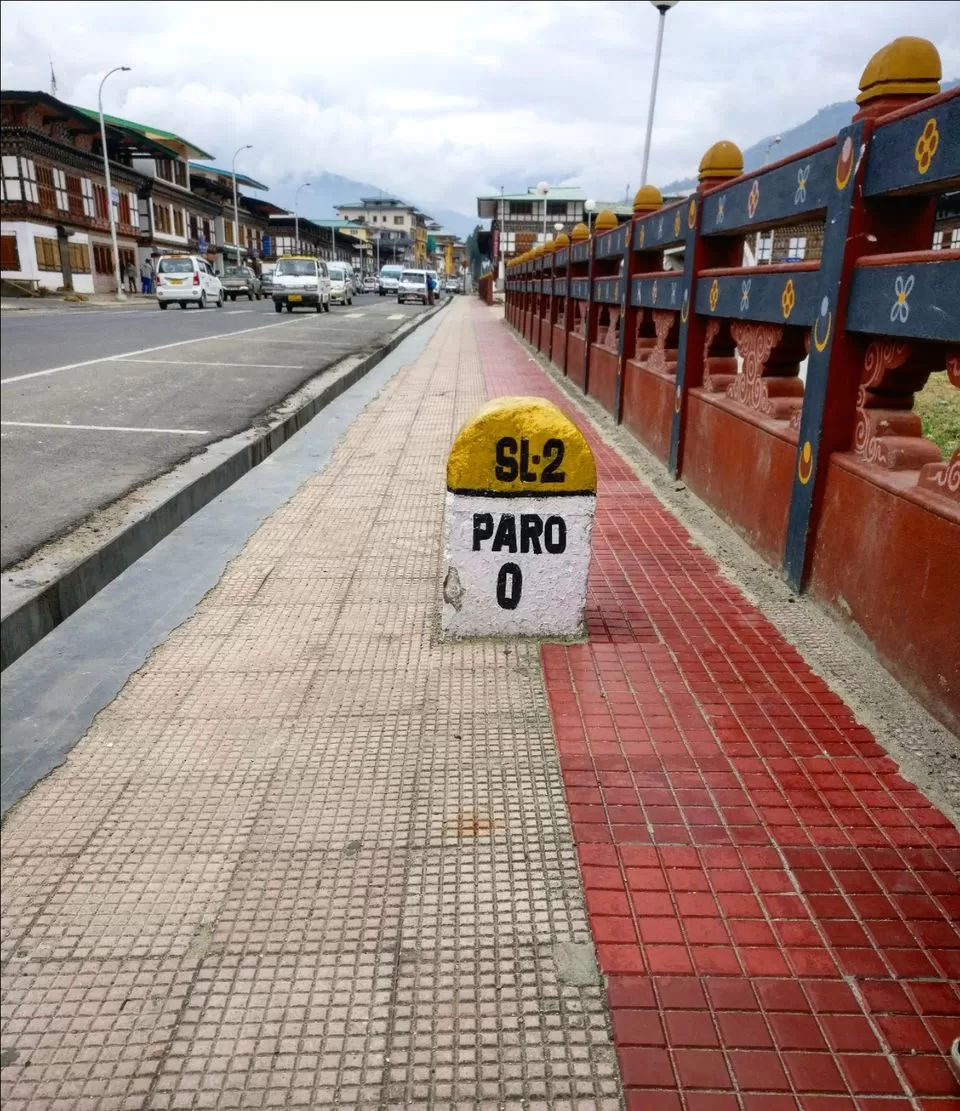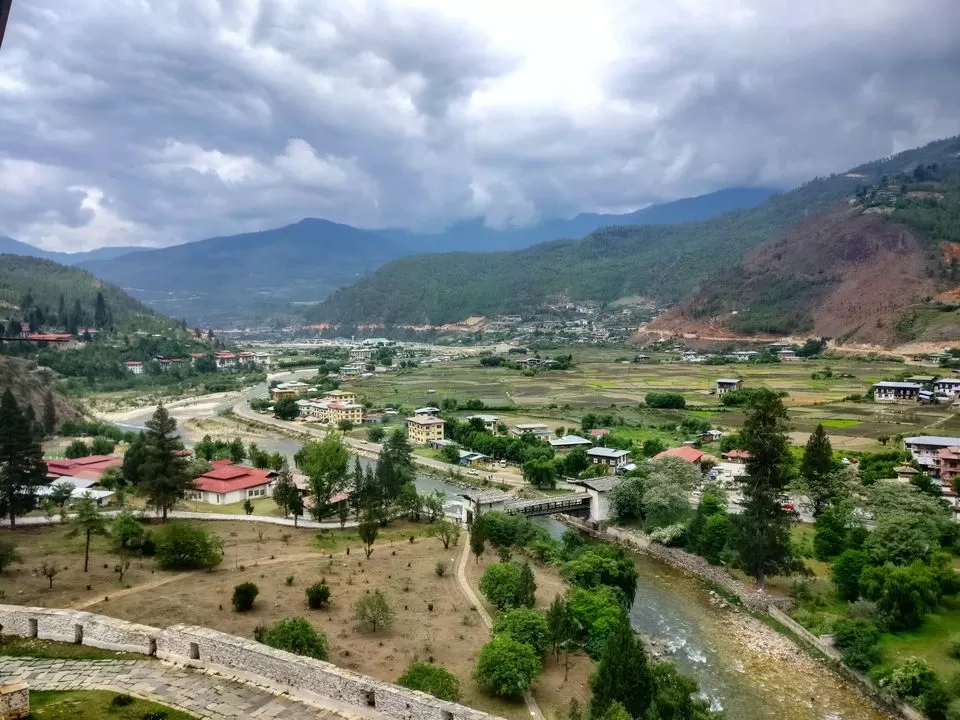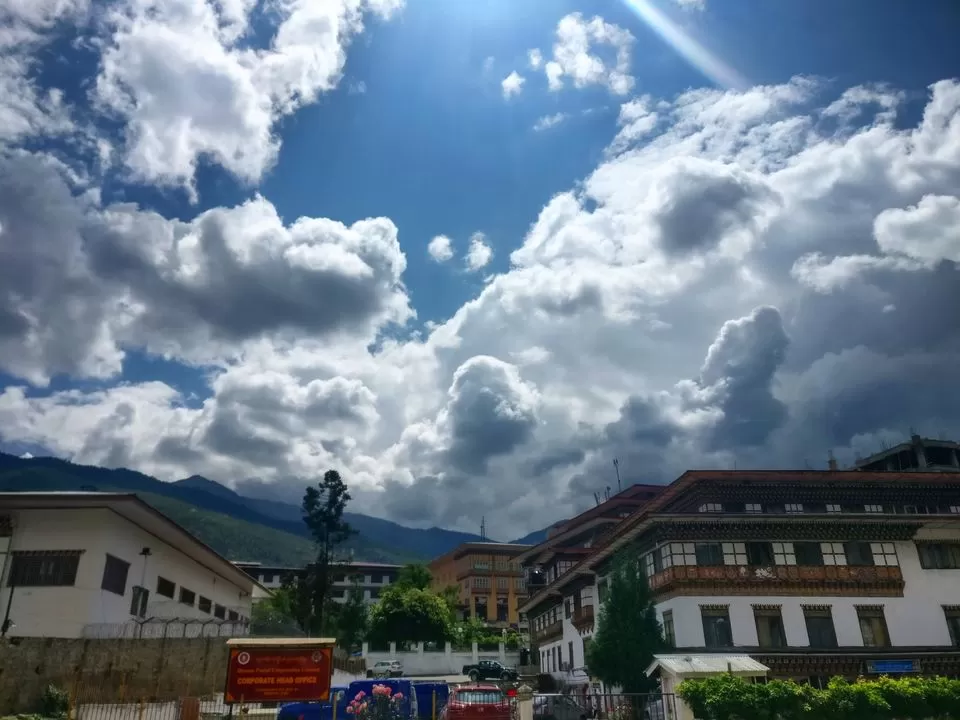 Day 2 was a long day.
Day 2, sightseeing. I woke up to the most wonderful view ever: mountains covered with clouds and mist. After breakfast we started our day of sightseeing. Our first stop was a nunnery. Although this was not in our itinerary, since we were interested to see how the nuns live, our guide was kind enough to take us there. The nuns live a very simple life. Visiting nunneries and monasteries shows us exactly what it is like to be a monk or a nun. It shows us what spirituality is. Spirituality isn't giving up all worldly and materialistic possessions. In fact the nuns and monks have smartphones. Spirituality is a way of life. Having a keen interest in this topic, I asked our guide whether the monks and nuns had to give up everything they had, and he said no. He told me that the only thing they had to cut off was their hair, because it's considered as a possession of beauty. Nuns and monks also leave their families and live in the monasteries, but once a year they're allowed to take a vacation and visit their families. Spirituality is a choice and a way of life. It's trying to achieve something beyond this material world. It's about finding lasting happiness.
After our stop at the nunnery we went to a small paper factory on the opposite side of the town. This small factory is famed for its handmade paper and associated products. At the factory we saw the process of making paper from locally available Daphne shrub. Essentially, more than 80% of it's making involves manual processes. The products that were made here were beautiful. I wanted to buy a couple of things, but unfortunately I didn't have enough luggage to take it back.
After spending a while at this factory, we headed to the Buddha Dordenma Statue. This statue is a gigantic statue in the mountains of Bhutan and it was built to celebrate the 60th anniversary of the fourth king, Jigme Singye Wangchuck. This statue is one of the largest seated Buddha statues in the world, at 177 ft, and contains 100,000 8 inch tall and 25,000 12 inch tall gilded bronze Buddhas. This part of Thimphu has the most wonderful panoramic view of the Thimphu valley.
Our next stop was the Takin zoo. The Takin is Bhutan's national animal. It's a mix of a dear and a bison. The zoo pretty much has only that one animal and some other small animals. After spending a short time at the zoo, we visited Changangkha Lhakhang, a 12th century temple and the most visited temple in Thimphu during auspicious occasions. This temple is where most babies go to get their names. For a person who doesn't believe in superstitions, Bhutan is a place where everything feels so true, genuine and powerful that everyone will start to believe. Also, in all temples in Bhutan, you will always find prayer wheels and you will notice that the monks spin them several times a day while chanting 'Om Mani Padme Hum'. After going in and saying our prayers, after getting the blessings from the monks, we went back to our resort for the night. At the resort we requested them to give us traditional Bhutanese food because we were interested in eating and experiencing the local life as much as possible. So that night we had the most amazing Bhutanese chicken I have ever had. It was a semi-dry chicken dish with some spinach-like greens and onions.
Day 4: Drive to Punakha
On our fourth day we started our journey towards Punakha. The entire drive was full of scenic views and beautiful roads. Driving along the edge of the cliffs was a wonderful experience.
The roads are all Zig-Zag and it takes great skill to drive in a country like Bhutan. The mountains on either side of your window make you feel small, while the open sky and trees on the other side make you feel free. A perfect recipe for the remedy of the soul. And as the breeze softly blows through your hair, you'll find yourself being thankful to be alive.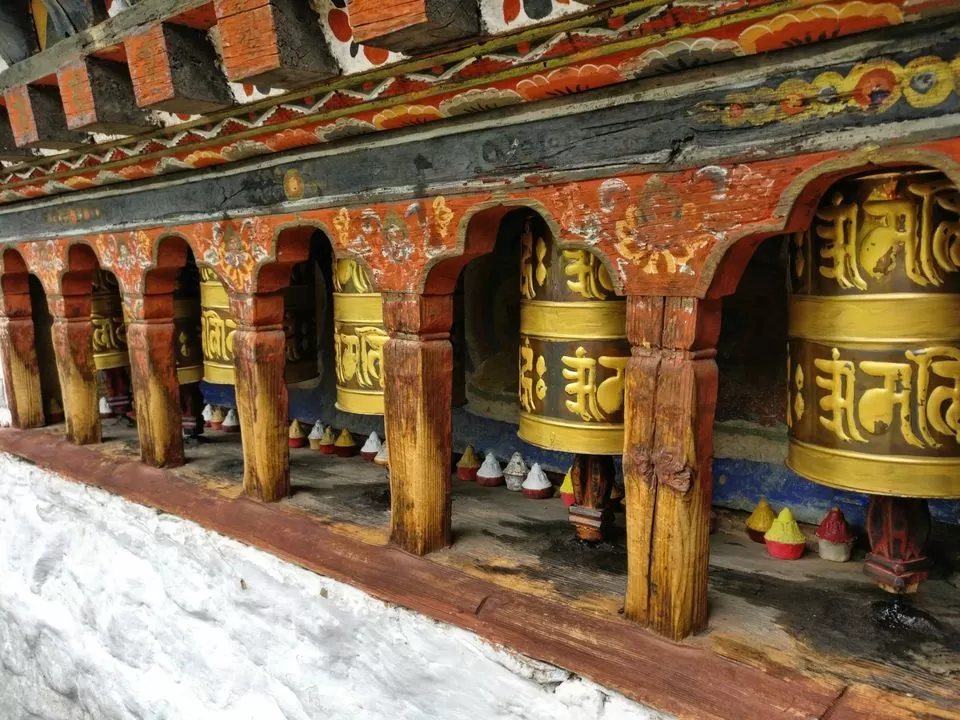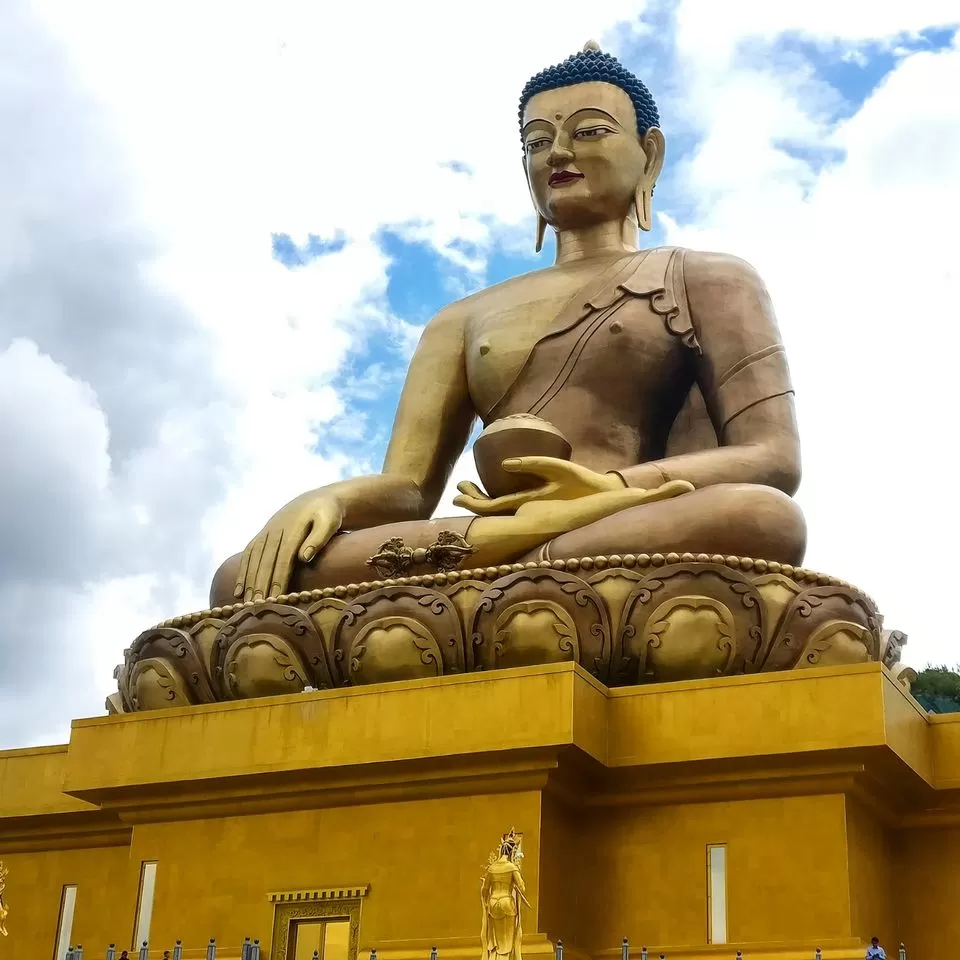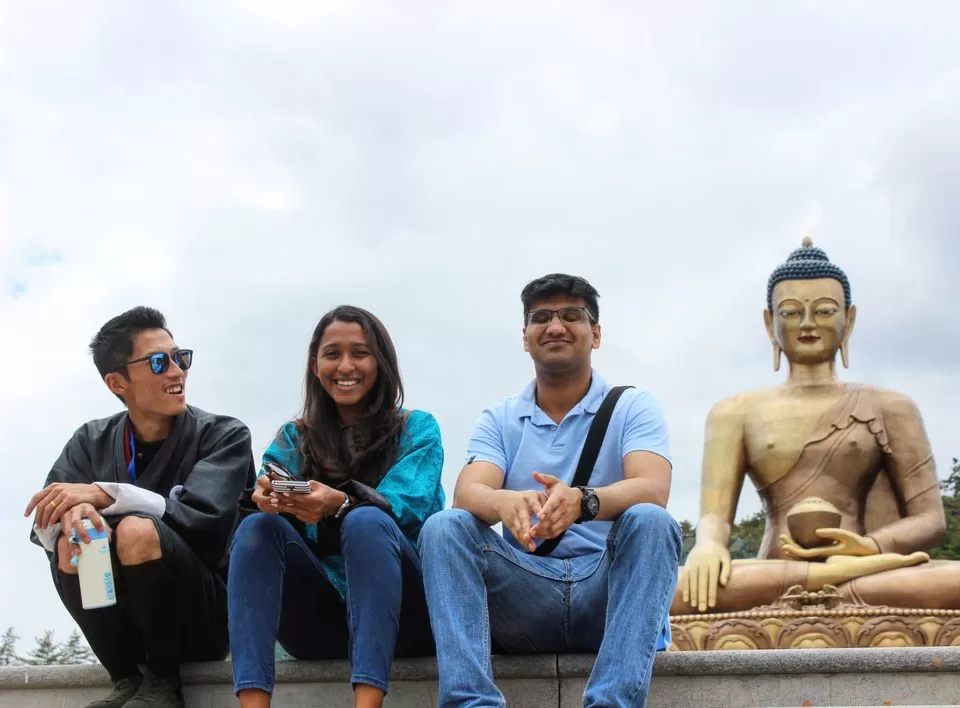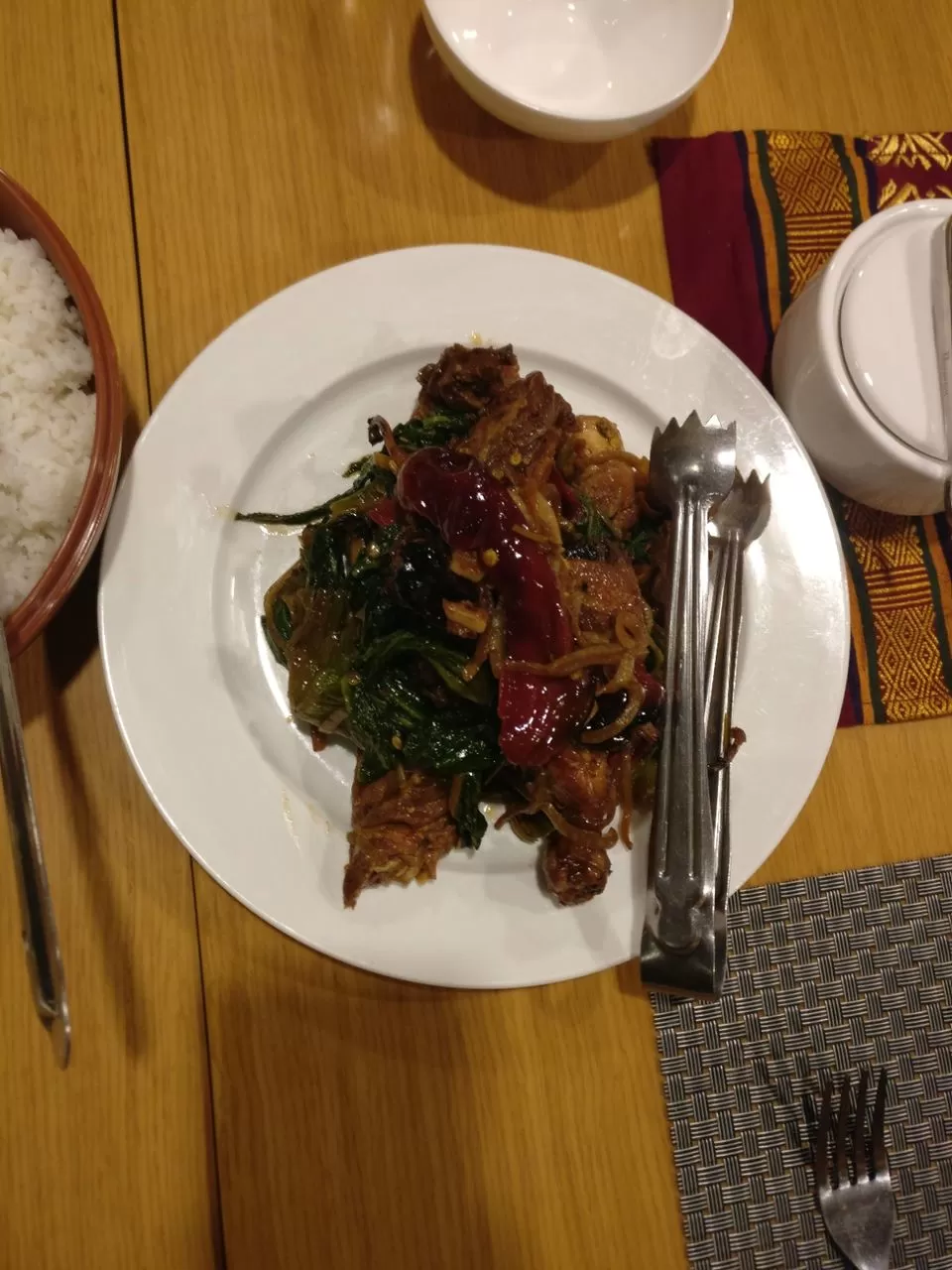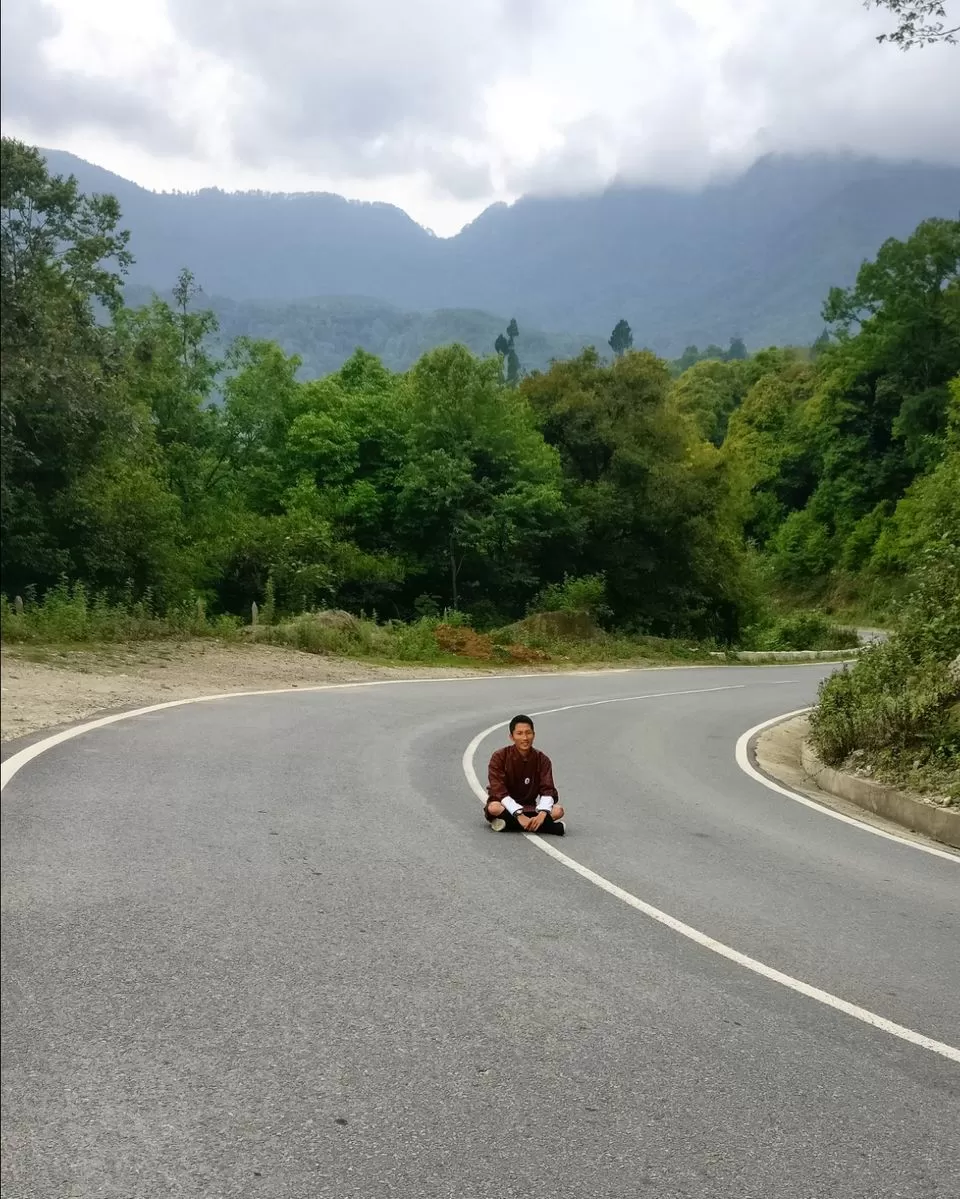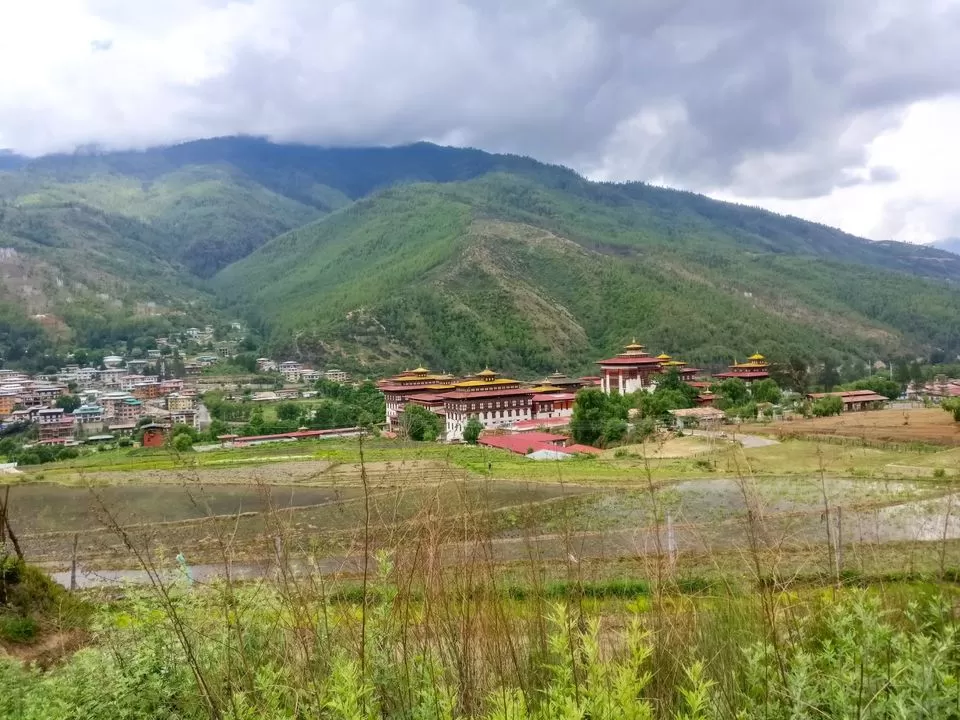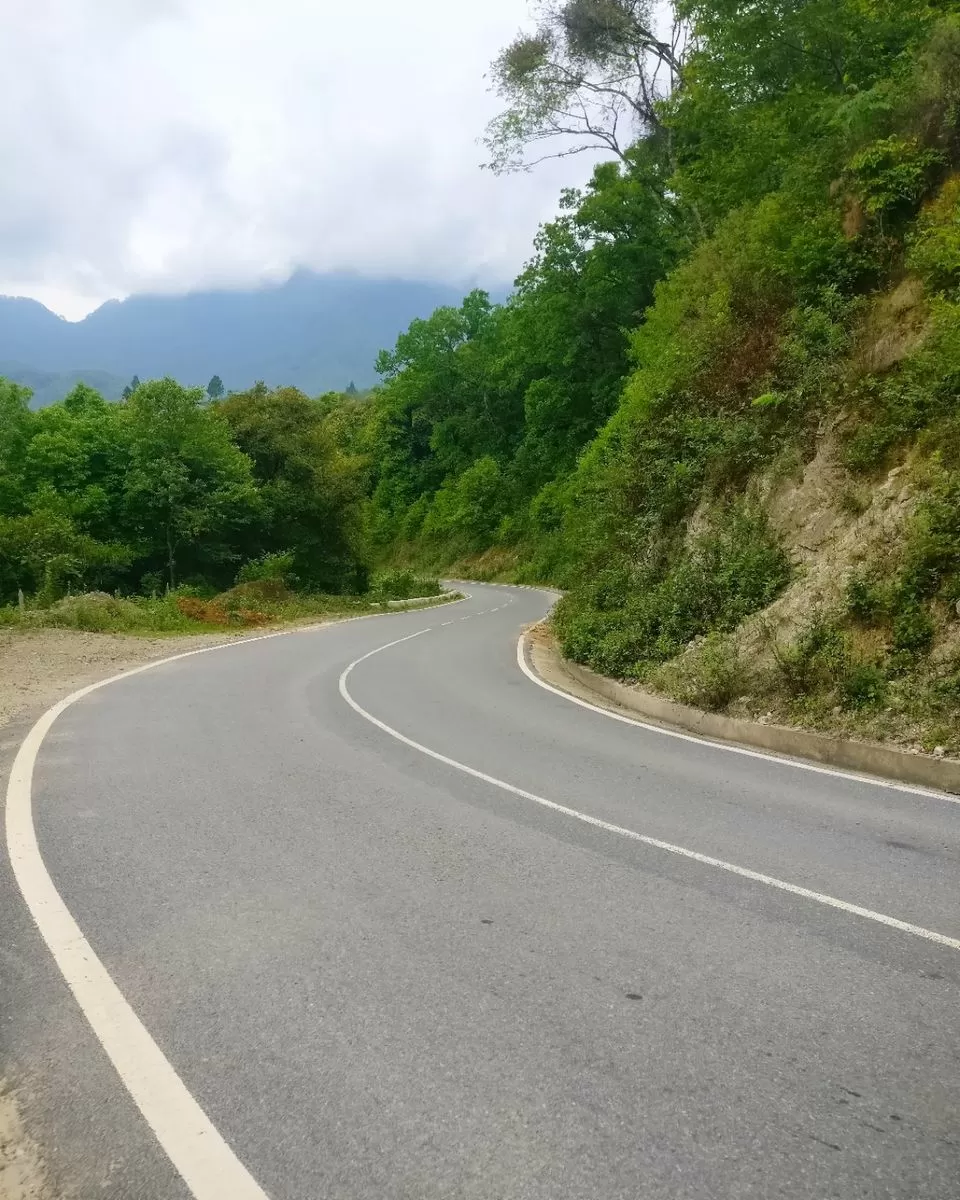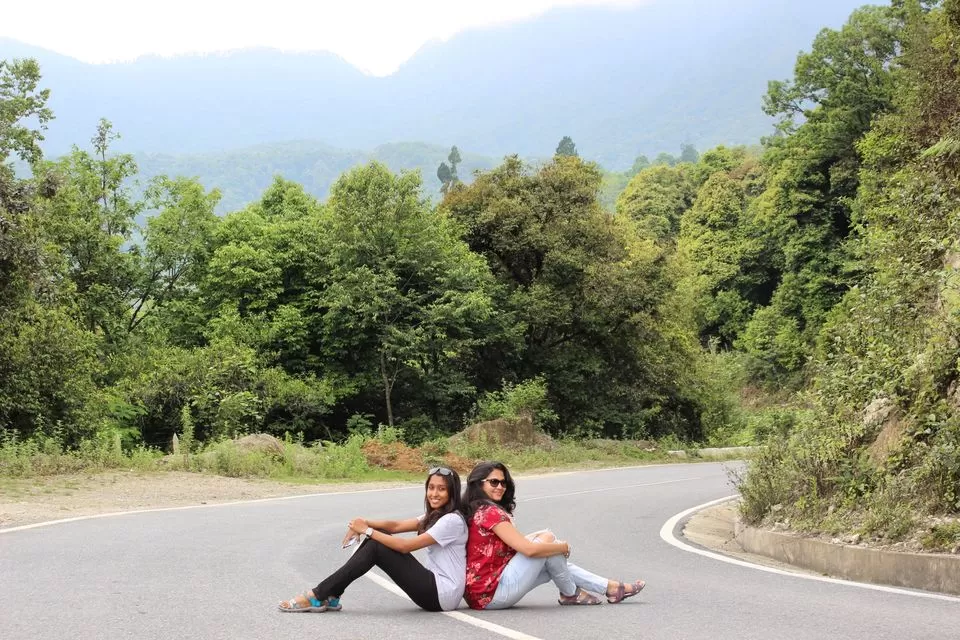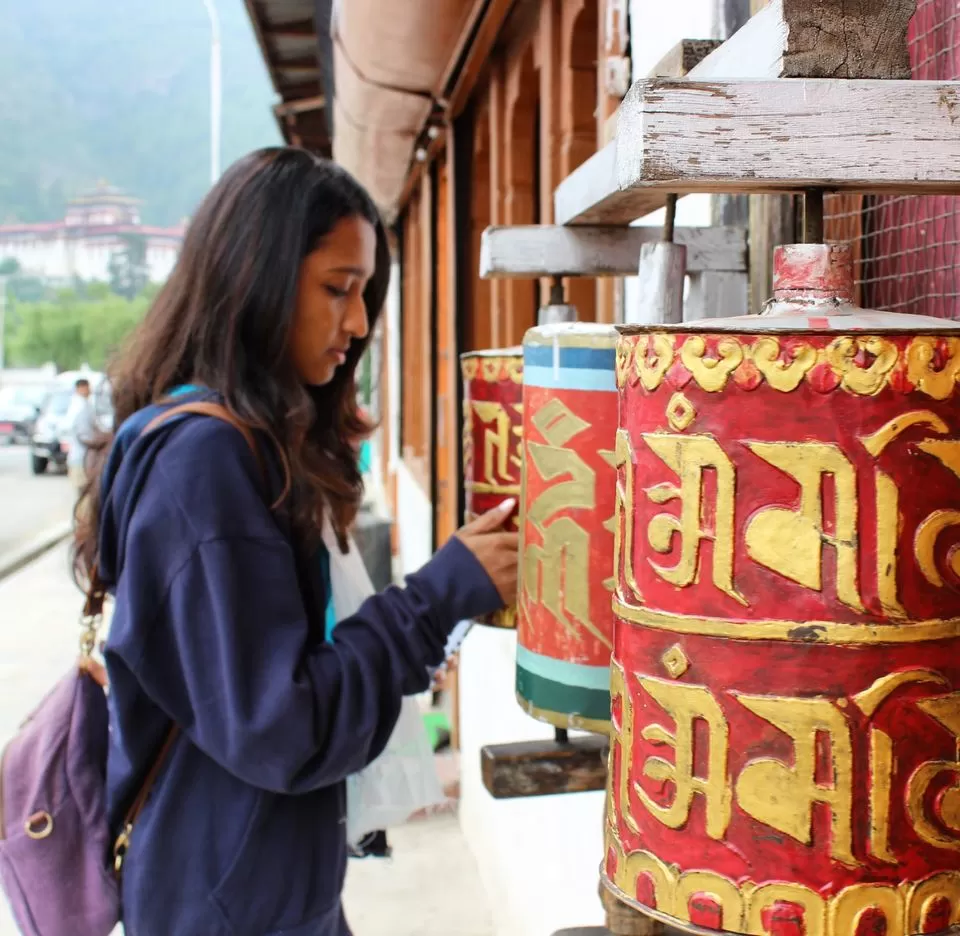 We got off the plane and walked to our guide who took us to our car. We were welcomed into this beautiful country with so much love and warmth. Our guide put a white silk cloth round our neck to welcome us in the Bhutanese way. From the airport our first stop was for sim cards. We stopped by a little store in Paro and got our sim cards which were pretty cheap. From there we went to a tiny restaurant to drink authentic Bhutanese butter tea, which is known as po cha. Unlike what you'd expect, this tea is not a sweet tea but a salty one. It has a buttery taste to it and is pink is in colour. From there we made a short stop at Rinpung Dzong, a Buddhist monastery and fortress. The Dzong was beautiful and we could hear the monks doing their prayers. From the Dzong we could see the beautiful Paro valley. After spending some time at the Dzong we were on our way to Thimphu.
On the way to Thimphu we stopped by the Tachog Lhakhang Dzong, an iron bridge built by Thangtong Gyalpo in the 1400s. This bridge is built over the river Chu and is extremely strong till date. It is also full of prayer flags. Unfortunately when we went we weren't allowed to walk on it because the Dzong that it was connected to was under renovation. A little further down from this bridge is another bridge which we were allowed to cross. The feeling there was one that I had never felt before. As I looked over the river, I felt some kind of peace inside me. As the prayer flags fluttered in the wind, I could feel some kind of calmness in the air, some sort of harmony amongst everything that was around me.
From there we were on our way to our resort in Thimphu.
The next morning we were dropped off at the airport and the flight back home was wonderful too, since we got to see the entire Himalayan range. All in all our trip was very well planned for us. We had the best guides and the best hosts we could ask for, and I hope to go back to Bhutan soon.
Bhutan is a country where faith and hope are the base of everything, happiness is the most important thing, and love, kindness, and spirituality are a way of life. The wind whistles in poetic rhythm and echoes through the mountains, the rivers flow in harmony and the prayers fill your heart. And kindness above all, runs through every existing thing. That's what Bhutan is, the happiest place on earth.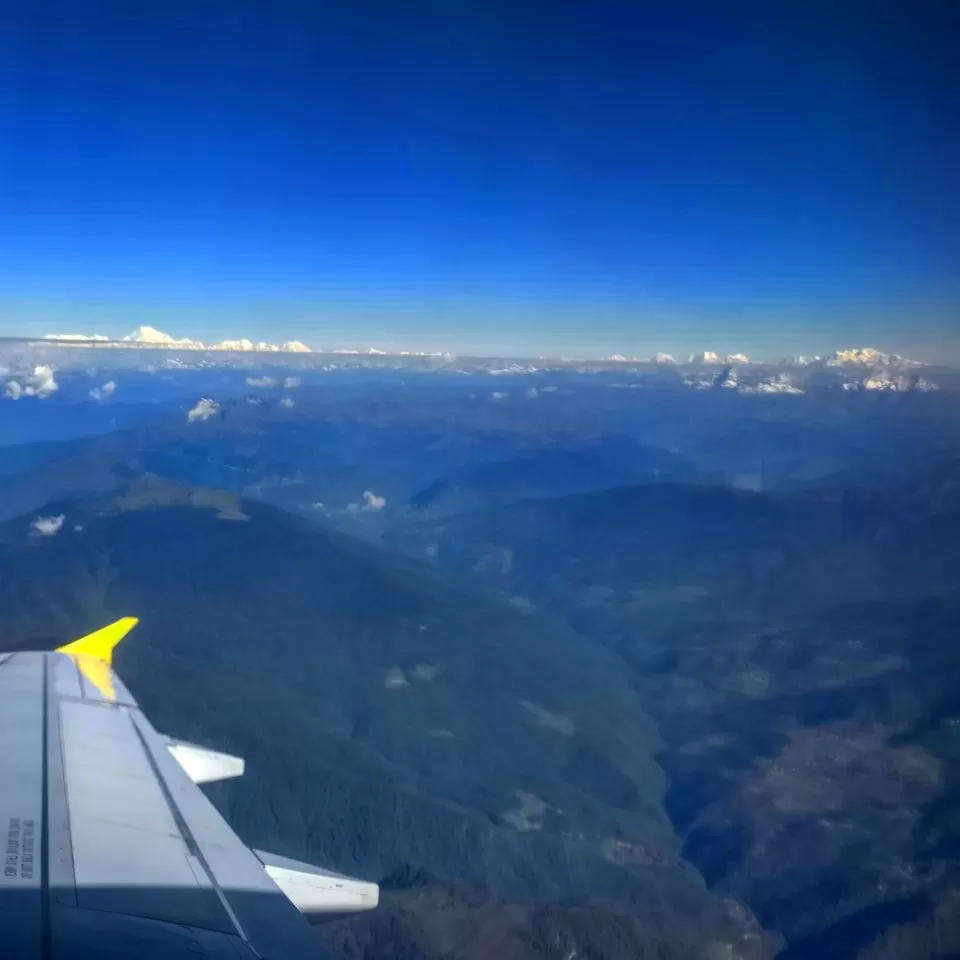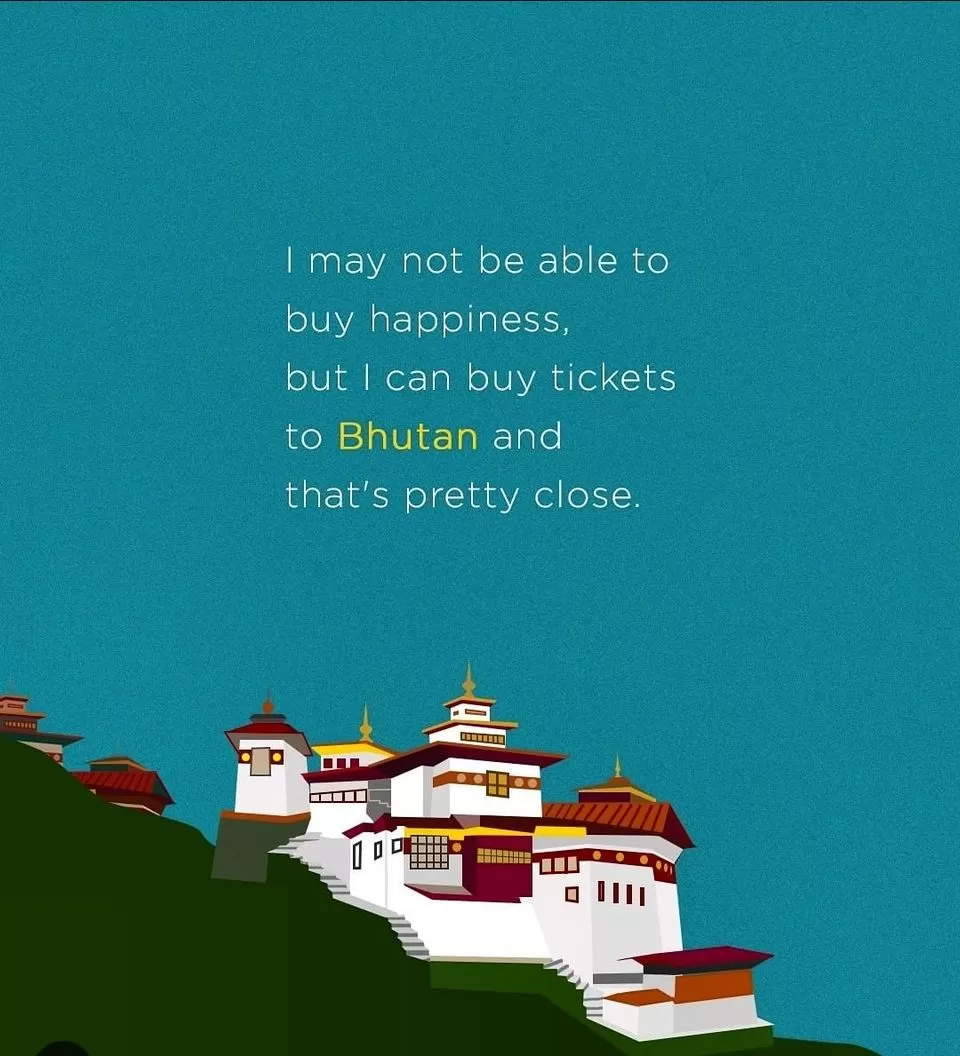 We arrived in Bhutan in the morning and the minute we stepped out of the aircraft we were completely awestruck. The runway was surrounded by towering mountains on all four sides. In the distance the mountains were snow capped, and the ones closer were slightly tainted yellow with the rays of the sun. The architecture of the airport was nothing short of spectacular. It looked like the structure of a temple.
On our way to Punakha we stopped by at Dochola Pass.
Punakha is a small village/town where everything is very laid-back and houses are distant from one another. The weather in Punakha is always a few degrees warmer than that in Paro, and all you see around is greenery. From paddy fields to mountains covered with trees. It's the most beautiful scene I have seen till date.
In Punakha we stayed at a homestay which was at the perfect location. We had a beautiful view from our bedroom during the day, and during the night we could walk around in the beautiful fields and watch the town lights glowing in the distance. Our hosts at our homestay were very kind-hearted people. We spent time cooking together and they even taught us a few Bhutanese recipes. All together it was a beautiful place with wonderful people. On our first day in Punakha we visited the Punakha Dzong (Fortress). The Punakha Dzong is unbelievably beautiful and elegant. All around there were beautiful cherry blossom kind of flowers growing and the Dzong stood magnificent in the middle. The fort is surrounded by water, and there's a bridge that joins both sides. This is the fort where all the royal ceremonies take place, from the coronation to the wedding, everything.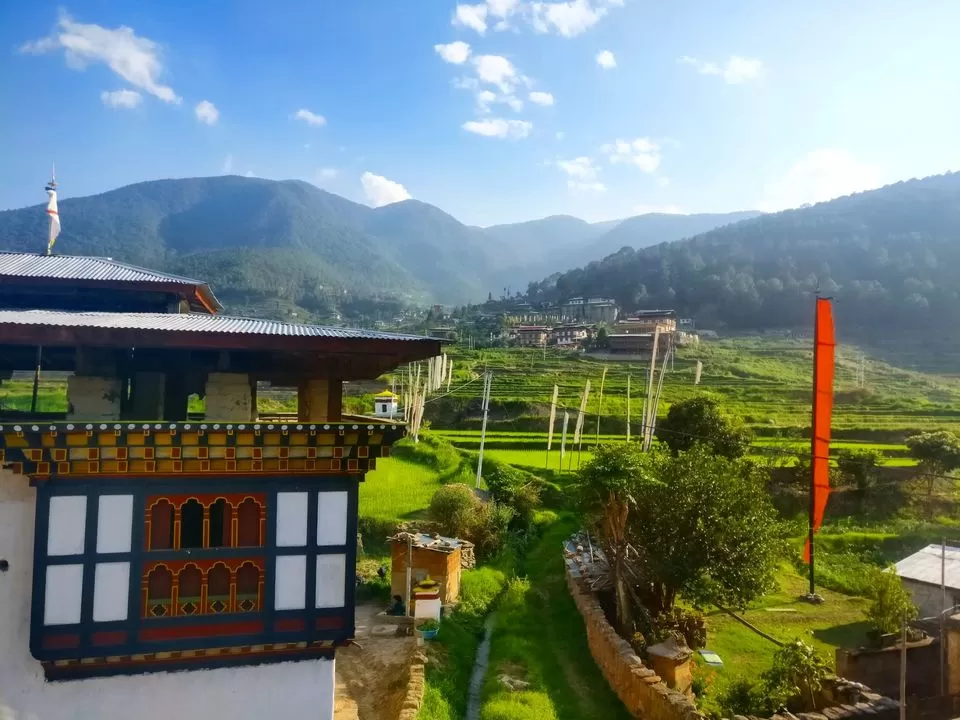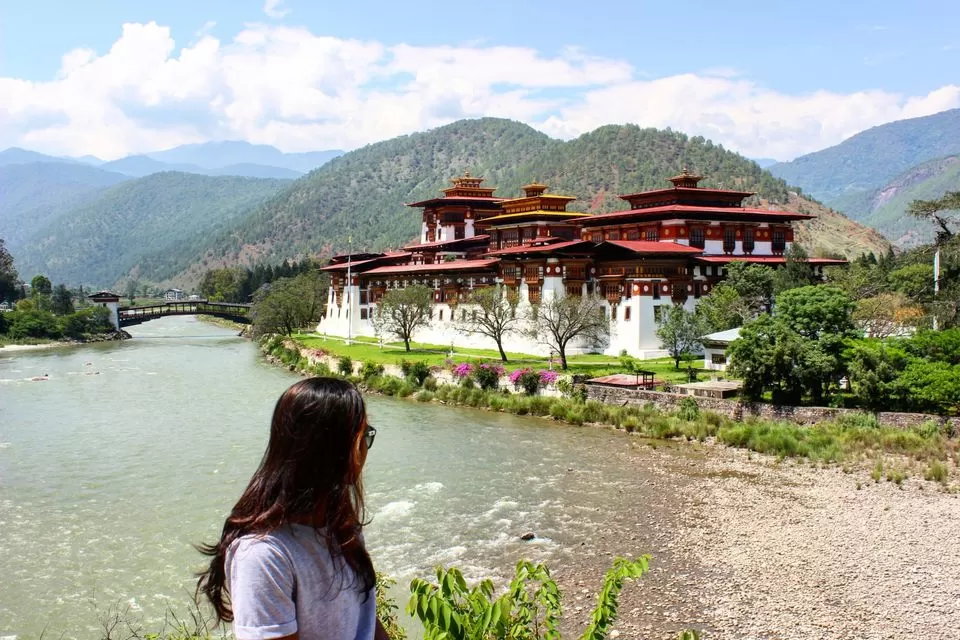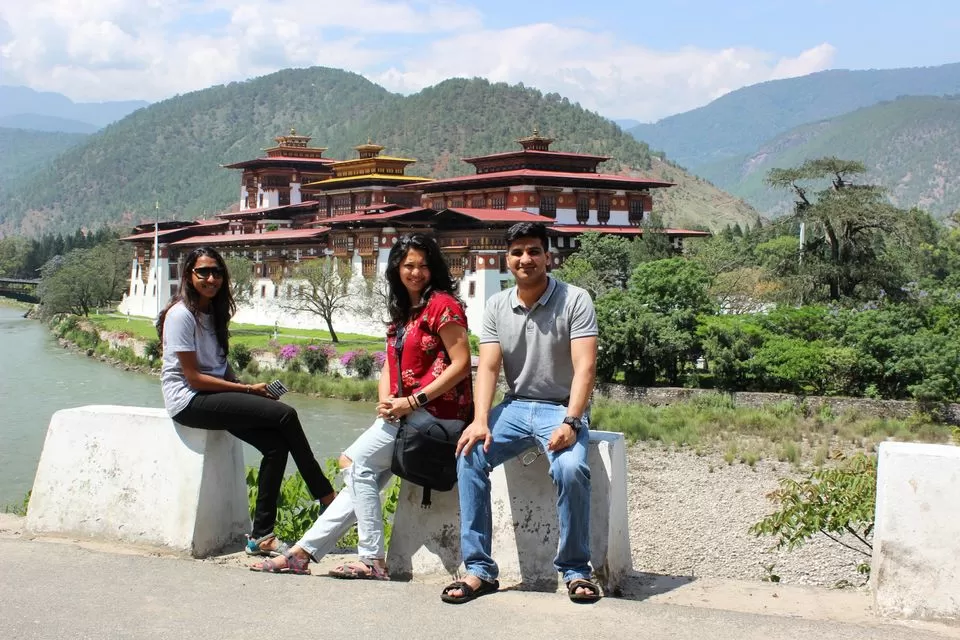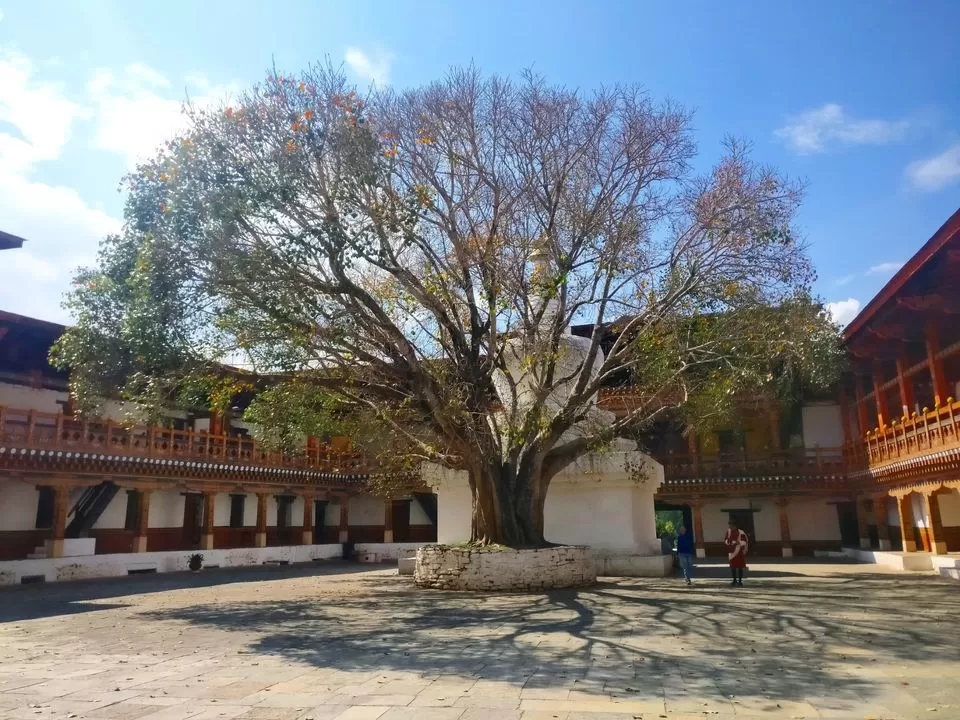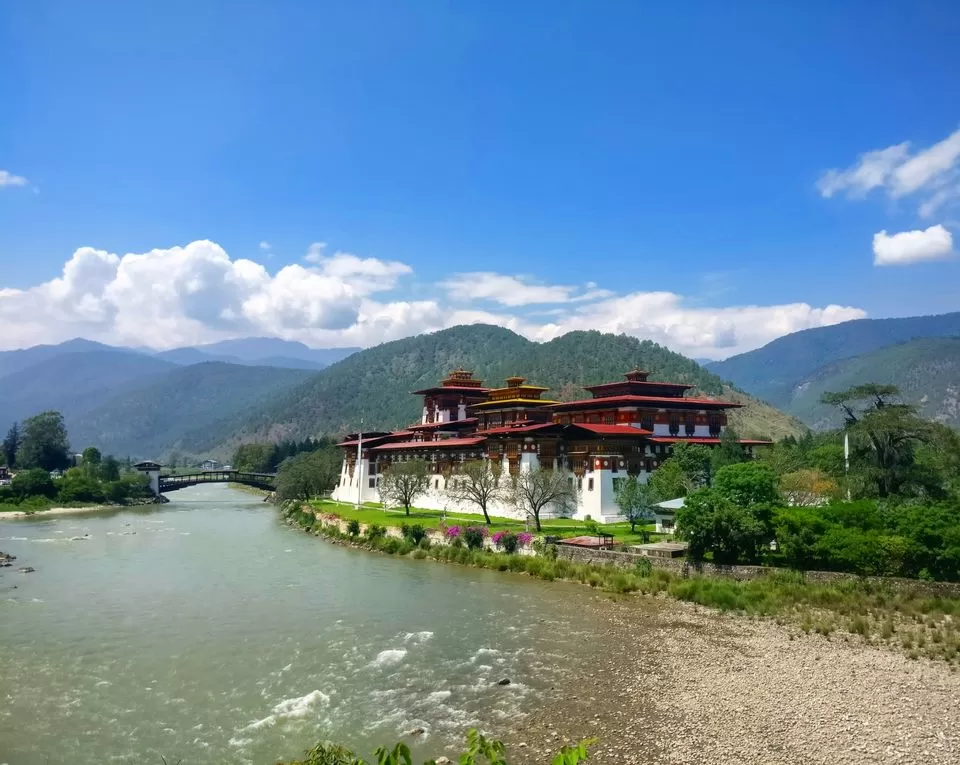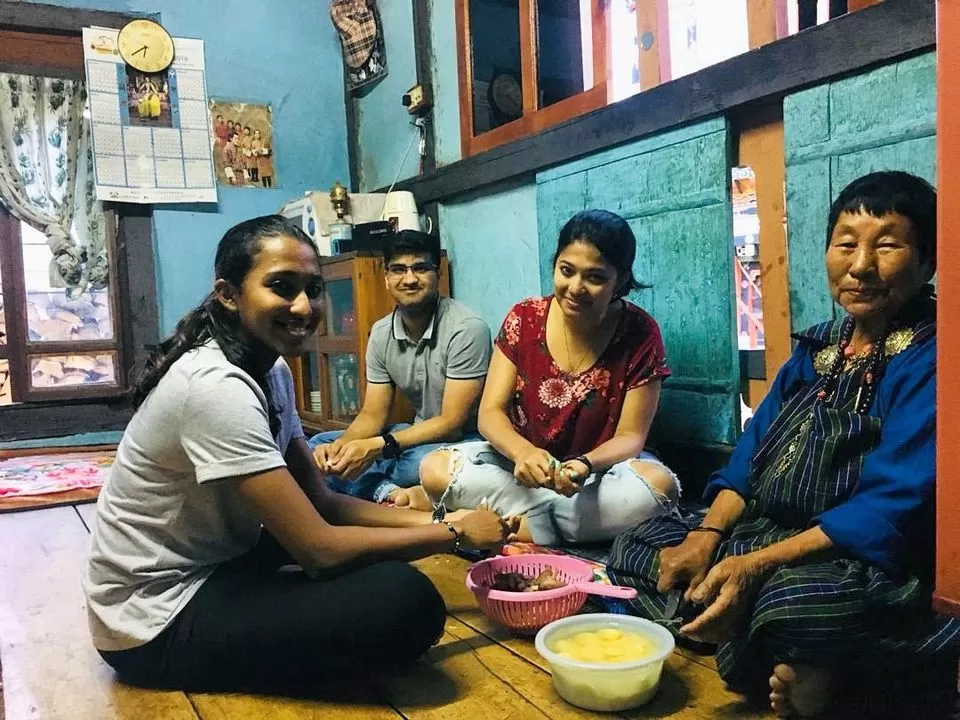 We didn't stay too long in Punakha as it's a small town and there isn't really much to see there. So on day 5 we woke up early and were served hot breakfast with tea. Our hosts made us quite an elaborate breakfast and they were just so kind! After breakfast we started our journey back to Paro. On the way we visited Chimi Lhakhang Temple, the temple of fertility. It is said that those who cannot bear children or are infertile go there to pray and they are blessed with children soon after. Our guide told us many stories of how couples who have not been able to have children since years came here as their last resort, some even got the permission to spend the night at the temple, and within a year's time they were blessed with children.
We continued our drive back to Paro. On arriving at Paro, our guide was extremely kind to take us out into the main town to explore, in spite of being off duty. In town there are several souvenir shops where one can find lots of things to take back. And some of the shopkeepers are very honest about the quality of the things they're selling. If the product is badly made or very flimsy, they will tell you that before you buy it. Sure they lose money, but they're honest.
After some shopping in town we went to our homestay. Our hosts were extremely kind and became good friends. We were joined by some other travelers for dinner which was cooked by our hosts. We had typical Bhutanese food (kewa datsi, ema datsi, etc). The food was delicious and the company was great. The next morning we went for a hike up to Taktsang, the Tiger's Nest. This hike is not as easy or as difficult as you might think it is. I am a very active person. I used to do sports 2 hours every day, seven days a week, and honestly I didn't think the hike would be too hard for me, but boy was I wrong. The altitude at which Taktsang is located at, that's what gets you out of breath, but it is absolutely worth it. At the base of the hike you can find lots of people selling hiking sticks, but I wouldn't say that it's needed. The hike can totally last upto 7 hours, including resting time. It is doable with short breaks every now and then. There are also horses that take you till a certain point, but the people believe that to earn the blessings from Taktsang you have to walk it, and so we did. We got a little rain and hail on the way, a first for me, and it was wonderful! On reaching Taktsang you'll see one main temple, and you'll see stairs on the left leading to another room a little higher. We were told that the oldest monk sits there in isolation to meditate. Legend has it that Guru Rinpoche was carried all the way from Tibet to this location on the back of a tigress, thus Taktsang got its name Tiger's Nest. The tigress then meditated I'm a cave in the temple and eventually died there. Her cave is now open for the travelers to see, and it is quite an experience to climb all the way down. Inside the monastery there are four temples and also residential accommodation for the monks. You'll see many monks in prayer, some younger monks sitting next to them, learning, and others cleaning the statues. We were even lucky enough to have a chance to experience the monks prayers. After visiting the Tiger's Nest we started coming back down. On the way there is one restaurant that you can stop at for lunch. We went directly back to your homestay where we were offered a refreshing hot stone bath. Our hosts get very therepeutic herbs from the mountains that help for various health problems and also various stones that help for different things. They then heat the stones for almost 6 hours in the fire. It's a very lengthy process, but the end result is amazing. The stones are then put into special bath tubs that are full of water, and the water heats up gradually with the heat from the stones. The hot stone bath leaves your body absolutely relaxed and stress-free. You can feel the tiredness leave your body. They say if it's the first time you're doing a hot stone bath you should not sit inside for more than 20-25 minutes as it can drain out all the tiredness and energy and leave you feeling very lightheaded. Before I went for my bath I requested my host whether he could teach me archery, since I'm very interested in such sport. He happily obliged and taught to shoot, very patiently might I add. And I did pretty good considering it was my first time holding a bow and arrow. They were really the most gracious hosts. After our baths we were served an excellent Bhutanese dinner. And since it was our last night there we all sat up late and chatted.