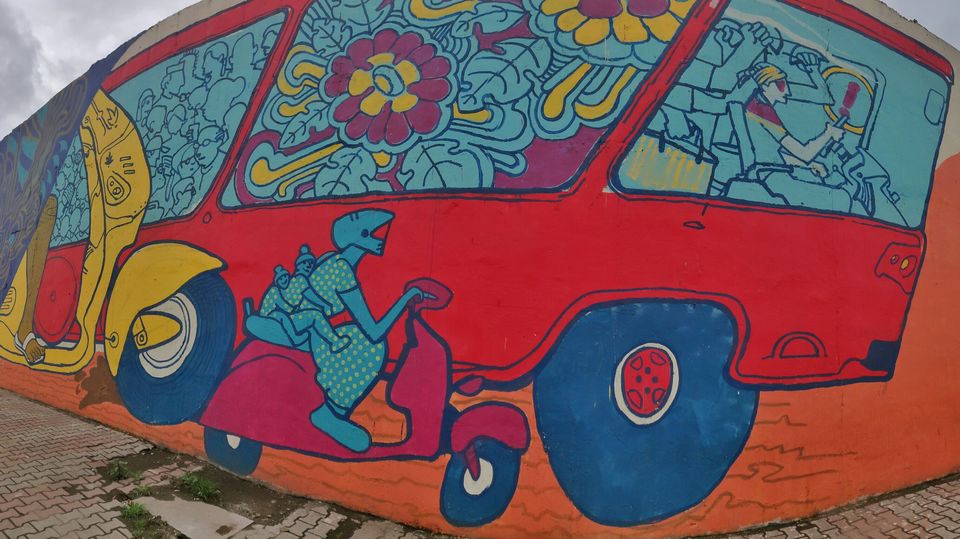 "India's Largest wall Mural Spanning Over 13,00 Feets !"
It's An Initiative By Pune Municipal Corporation, Pune Biennale FoundationAnd Artists Harshwardhan Kadam & Team.
The Mural Is Painted On One Of India's Largest Jails "Yerwada Central Jail."
The Wall Mural Explains Evolution Story Of The City Of PUNE In Chronological Order(Left-Right). The Mural Also Depicts Historical And Major Landmark Events Took Place.
From Old Age Era To Present Time, Like Nature And & Wildlife, Maratha Era, British Rule in India, Event Of Independence, Changing And Evolving Lives Of It's Peoples, Depiction Of City's Educational Hub, Upgrowing IT Industries, Lifefeline Of The City 'Mula-Mutha Rivers' & The Great Burst Of Panshet Dam Which Destroyed Many Lives And Properties.
Again, Another Lifeline Of The City Transport i.e PMPML (Widely Known As PMT) And Growing Numbers Of Two-Wheelers Which Is Highest Ratio In The Asia Continent. Most Importantly Confluence Of Nature, Culture And Urban Life.
And Much More!
(To Experience That You MUST Visit The Site Atleast Once)