Have you ever, during one of your trips or holidays, landed in a place quite by accident, and been pleasantly surprised -so much so you begin wondering why you didn't actually plan it into your itinerary in the first place? You know that feeling, when the introductory act to a rock show by a newbie is so awesome; you keep wondering how you ever missed them in the first place?! Rotterdam was one such place, although it's been almost a year since we visited it for a few hours.
I'm not discounting the splendour of Amsterdam; don't get me wrong - it is an amazing city, with fantastic views, rich museums, gorgeous parks, an intriguing history and a gamut of things to do. No wonder it's one of the most popular destinations, flocked by such a huge number of tourists every year that the authorities have now decided to put a tap on it and remove the iconic 'i amsterdam' signs in a bid to reclaim the city for the locals.
Rotterdam clearly isn't the first city that comes to mind when planning a trip to The Netherlands,but it does offer a novel experience for those who do take the detour. The port city was rebuilt almost completely after it was grazed to the ground during WWII, much like Coventry - the city where we live now. But you can't even begin to compare the architecture and urban feel of both the places. Unlike the haphazard croppings of buildings here, Rotterdam holds charm, and promise and a beauty that's very much its own.
An eclectic mix of architectural styles, it's hard not to be impressed or overwhelmed - or both! Icons of modernist Dutch architecture stand alongside numerous post-war constructions dating to the 1960s, '70s and '80s and the ultramodern skyscrapers built in more recent decades. If like me, you drop into the city by train (25 mins from Schiphol), get down at the Centraal Station and walk out, then turn back, and be amazed! The urbanscape that welcomes you here is one of massiveness and modernity.
The city is known to push the social and creative boundaries, especially with its art and architecture scene. Walk or take a bike or tram from here towards Erasmus Brug. You are sure to pass Centrum and Witte de Withstraat, in the very aptly named ' Cool District'- dotted with quirky cafes, street art. Further down, en route the famed bridge, is the Museumpark - an urban park named so owing to its vicinity to numerous museums.
Locally known as The Swan for its svelte, elongated structure, Erasmus Bridge at the centre of the city offers a breathtaking views of the city skyline and connects the North to South. You can choose to explore the Docks from here or head to the historical New York Hotel for a hot cuppa - a bit of good, old charm never hurt anyone.
We headed to Markthal by the Blaak station- a futuristic and gorgeous food market hall and urban dwelling, all under one giant room - making it one of the most sought after tourist destinations of Rotterdam.
The weather was grey and rainy, so whilst it didn't showcase Markhal and the surroundings under its best light, we still ended up having a lovely time.
Ahead, the Oude Haven (Old Port) overlooking the bright red Willemsbrug, is an extremely lively area , dotted with many food and drink joints, and at once grasps you with the diversity of the buildings you are surrounded with.
Next to the harbour and designed in 1898, in the Art Nouveau style, the ten-storeyed Witte Huis( White House) was the first high-rise building of Europe, and is now a National Heritage site. It is one of the few remaining relics of the pre WWII era.
Head into the famed and charming Grandcafe at the ground floor, that still holds the aura of the brown cafes.Try out some locally crafted beer,and don't forget the bitterballens to accompany your drink!
Designed by Piet Blom and opened in 1977, a must visit are the eclectic Cube Houses (Kubuswoningen) - a cluster of inclined bright yellow cubes, perched atop accessible shafts, that defy all that is held conventional. The design was based on the concept of 'living as an urban roof', with the cubes tilted at 45 deg, and rested upon hexagonal pylons.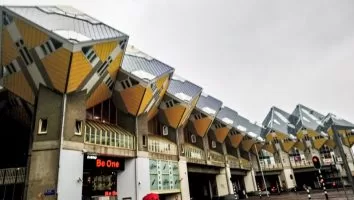 One of the houses is open as a showcube for the curious onlooker, offering a view of the interiors. The cubes are now available as rental accomodation too, for out of town visitors.
A dear friend, who spent a year in the city, did suggest a picnic lunch in Kralingse Bos, so go for it if you visit on a sunny day, or head out to the Het Park. You can enjoy boat rides round the year too, to give you a taste and feel of the city. For the art aficionados, have a go at Kunsthal and/or the Maritime Museum or Boijmans Van Beuningen - the latter houses masterpieces from Bosch, Rembrandt, Van Gogh to Rubens and more... what I'm trying to say here is, Rotterdam has something for everyone, and every bit of it is quirky, amazing and beautiful.
Anyone who knows me knows how meticulously I plan our holidays - primarily because we have to keep the Little One comfortable and entertained through it all. But sometimes, I let the day and place surprise me - and draw me into its magic. Rotterdam did that for me, and I look forward to taking it all in, at a more leisurely pace, on a bright sunny day soon.
What about you? Have you been to Rotterdam? Is it on your bucket list now? Do share your thoughts... I would love to hear back from you.
Until next time,
Paulomi xx