It was the way I started this trip with my girlfriends from Sealdah Station.
We boarded the PADATIK EXPRESS - 12377 in sleeper compartments because we wanted it to be a budget friendly trip and anyway it's a journey of 10 hours, that too overnight.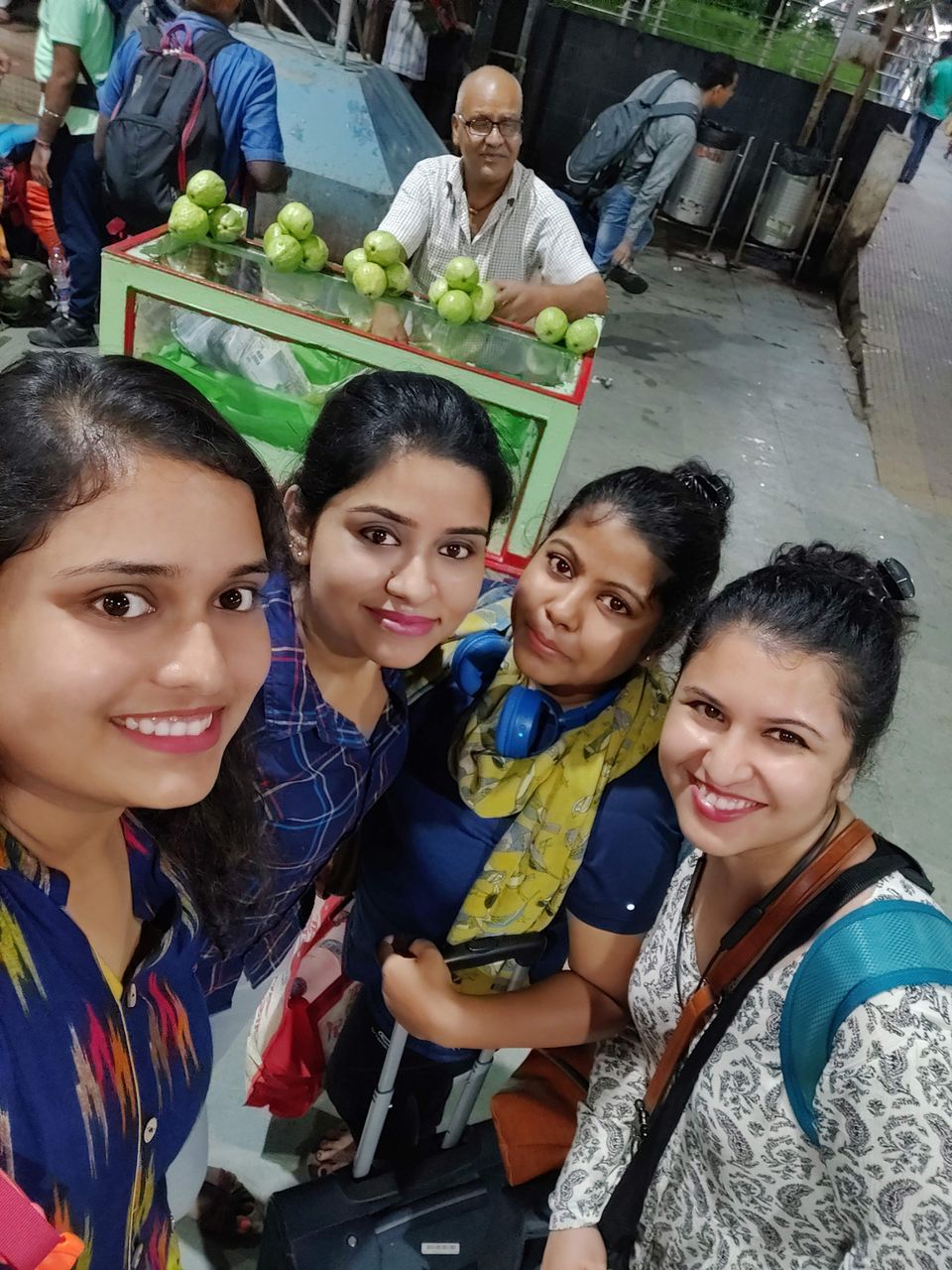 Around 9:30 am, we got down from the train and boarded the car we have already booked.
We were a group of four and it was a going to be a spacious and comfortable trip - I whispered to myself seeing the car.🤣
This was the first day of our trip and we wanted to freshen up and then start the trip.
We went to a lodge named Bishwanath Guest House on Sevoke road, freshened up, had light breakfast and started our journey.
The address of the guest house is :
Opp Hotel Gateway, Sevoke Rd, Siliguri, West Bengal 734001
We had to pay rupees 940 for taking one room on rent for approximately 2 hours and having breakfast.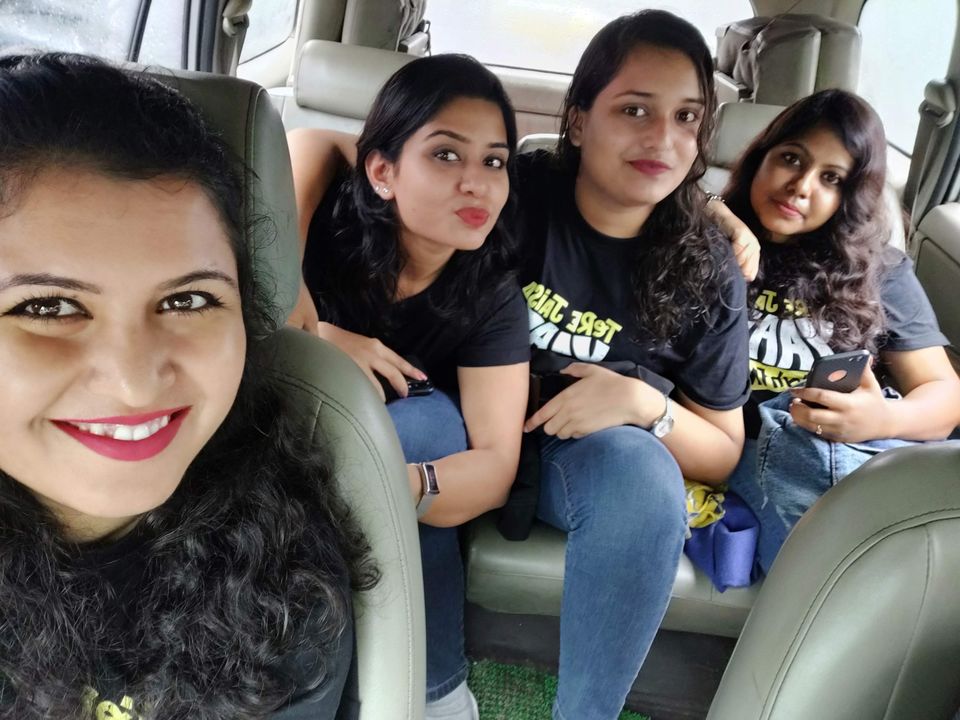 We wanted to have lunch before reaching Kalimpong and hence our driver bhaiya took us to this amazing place which had a breathtaking view through the window.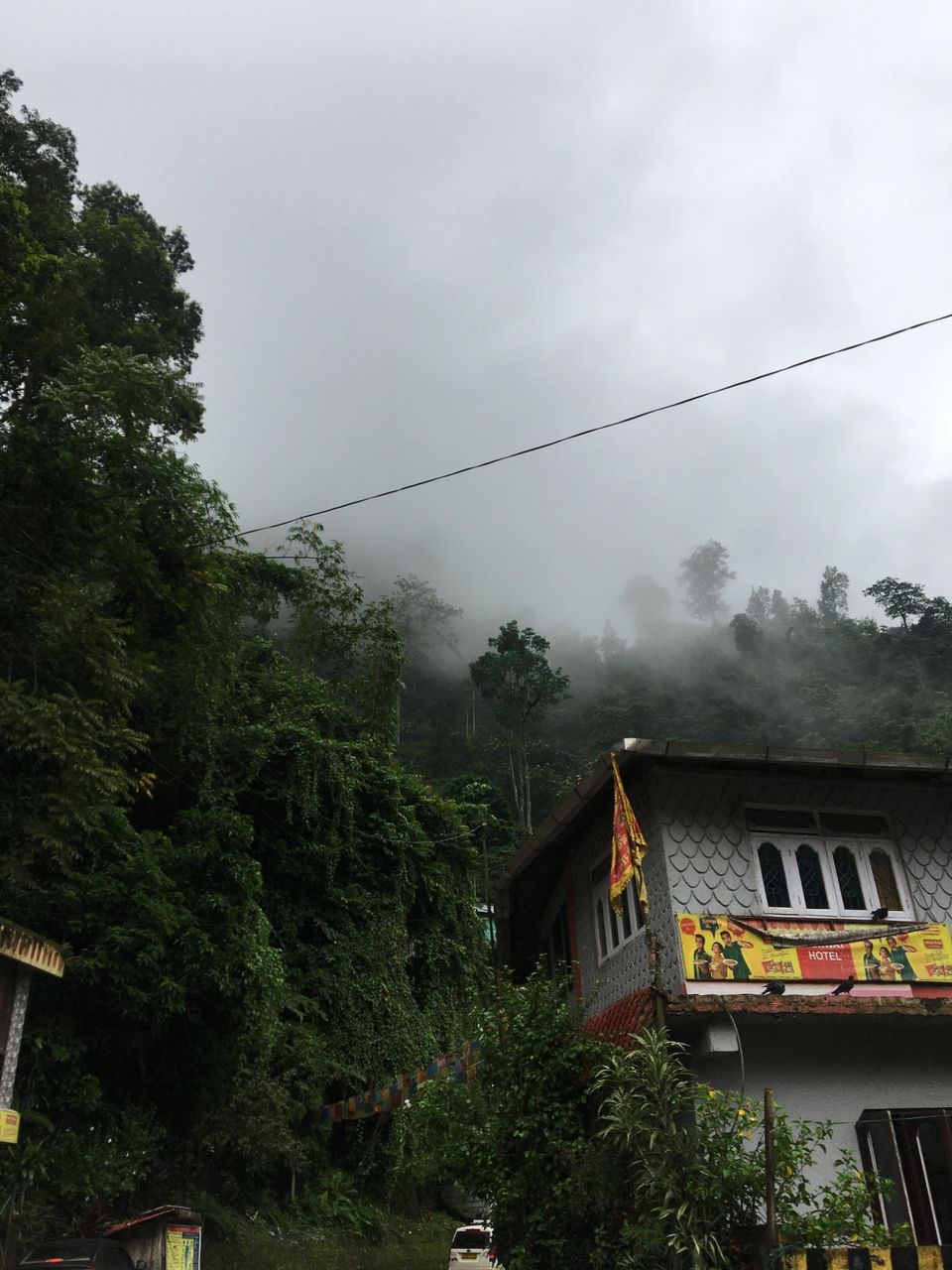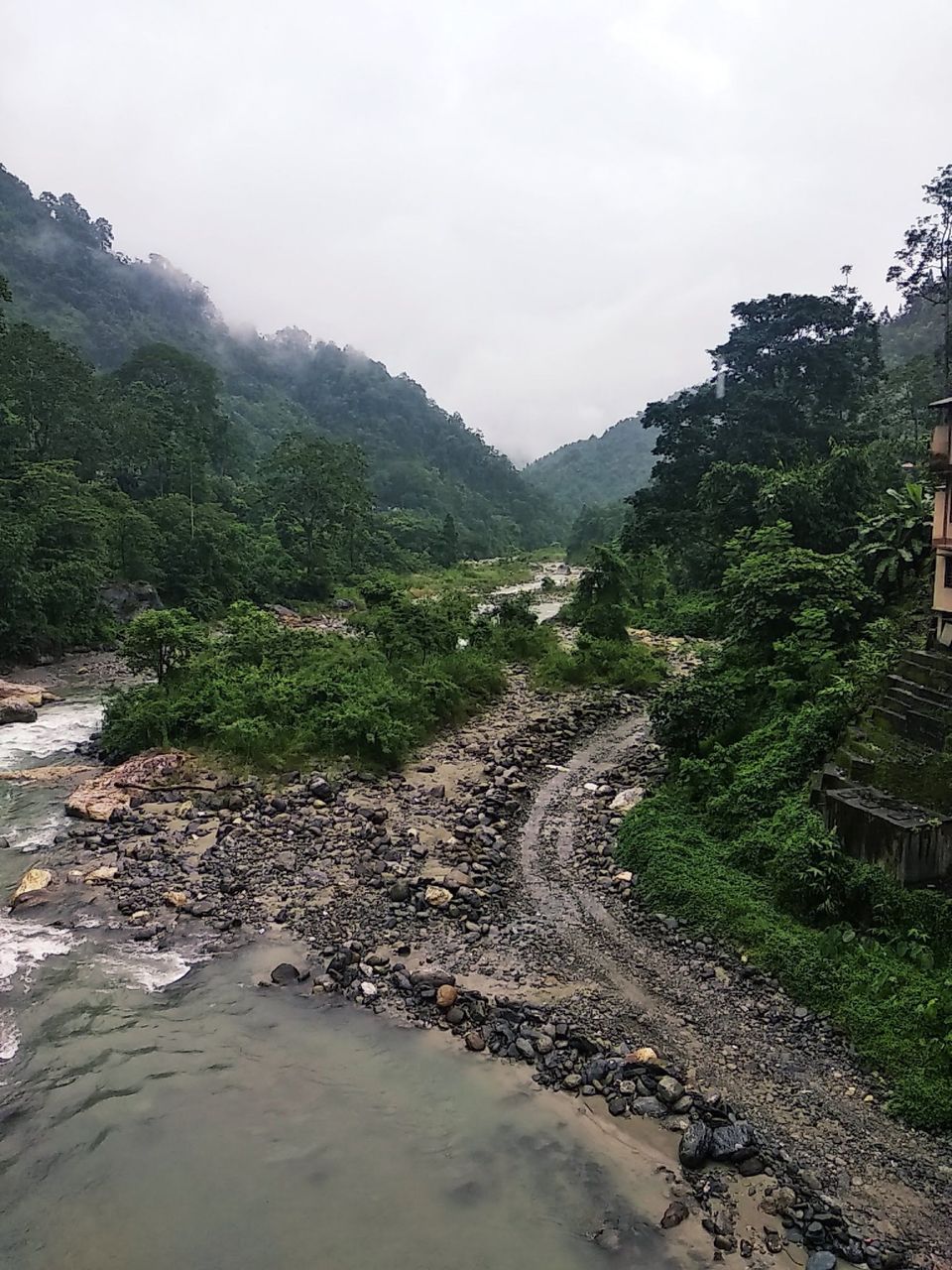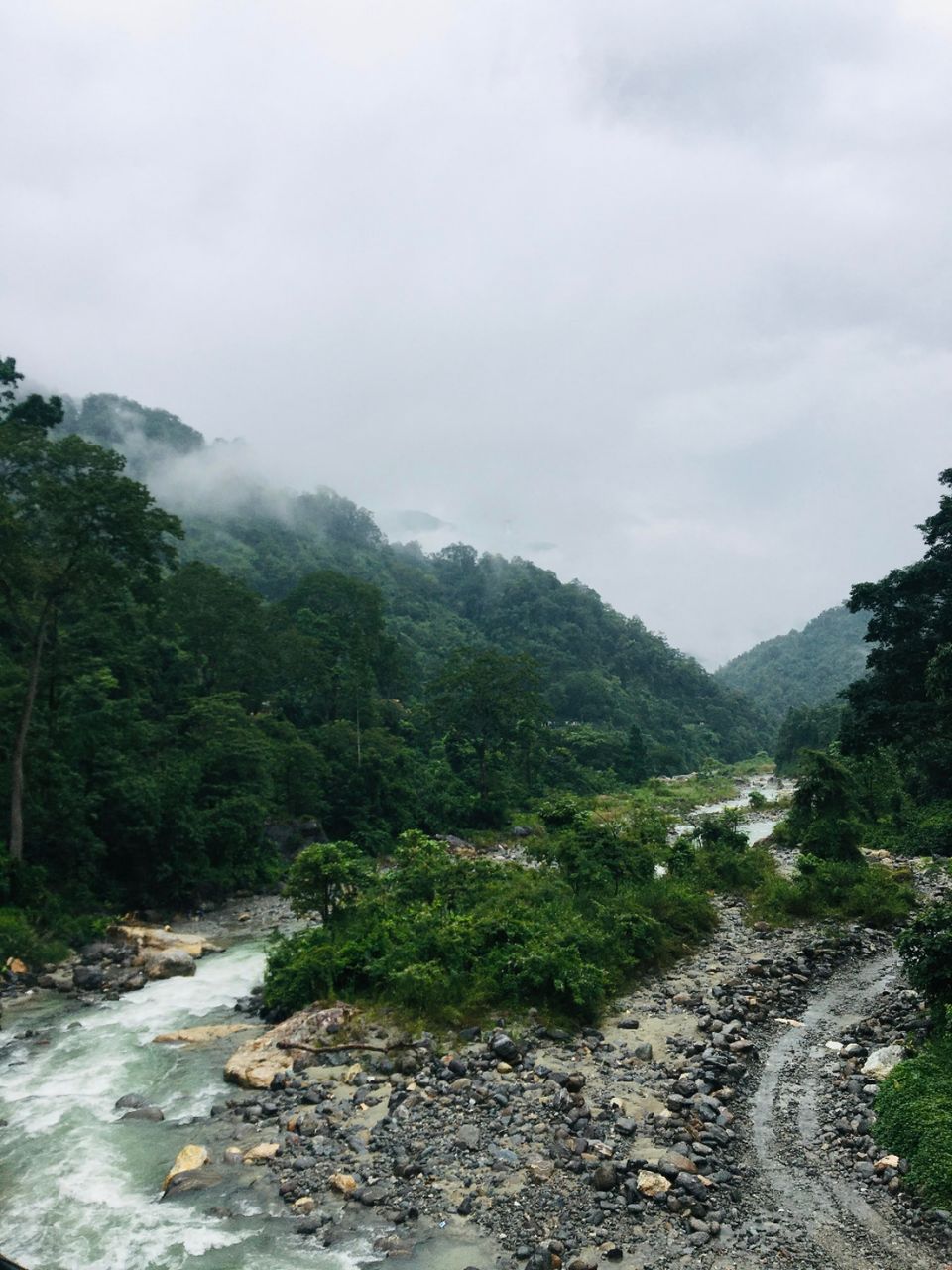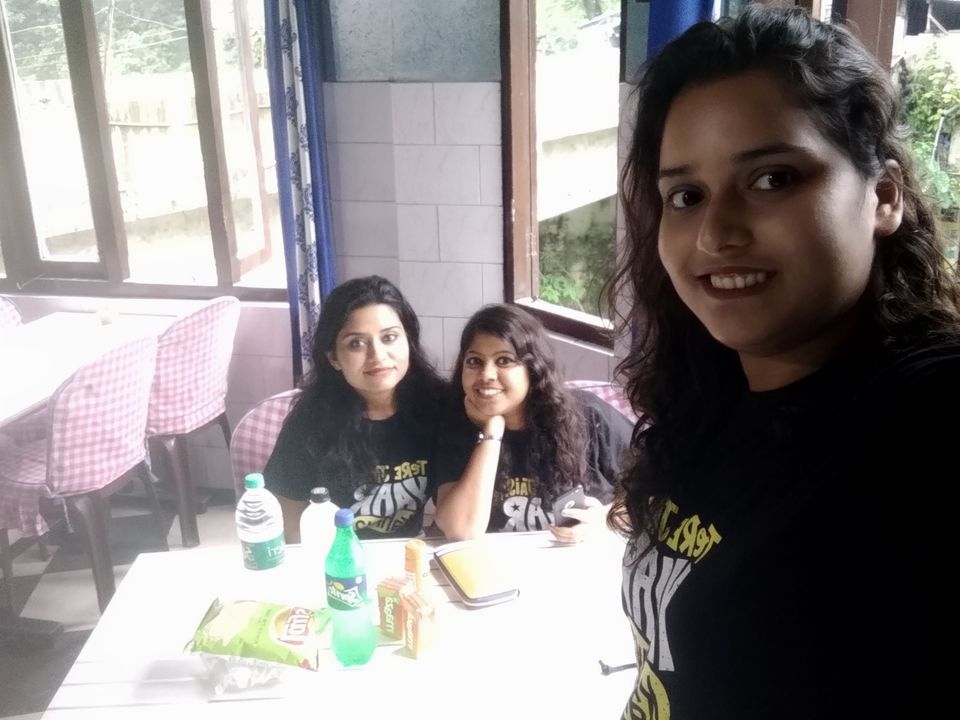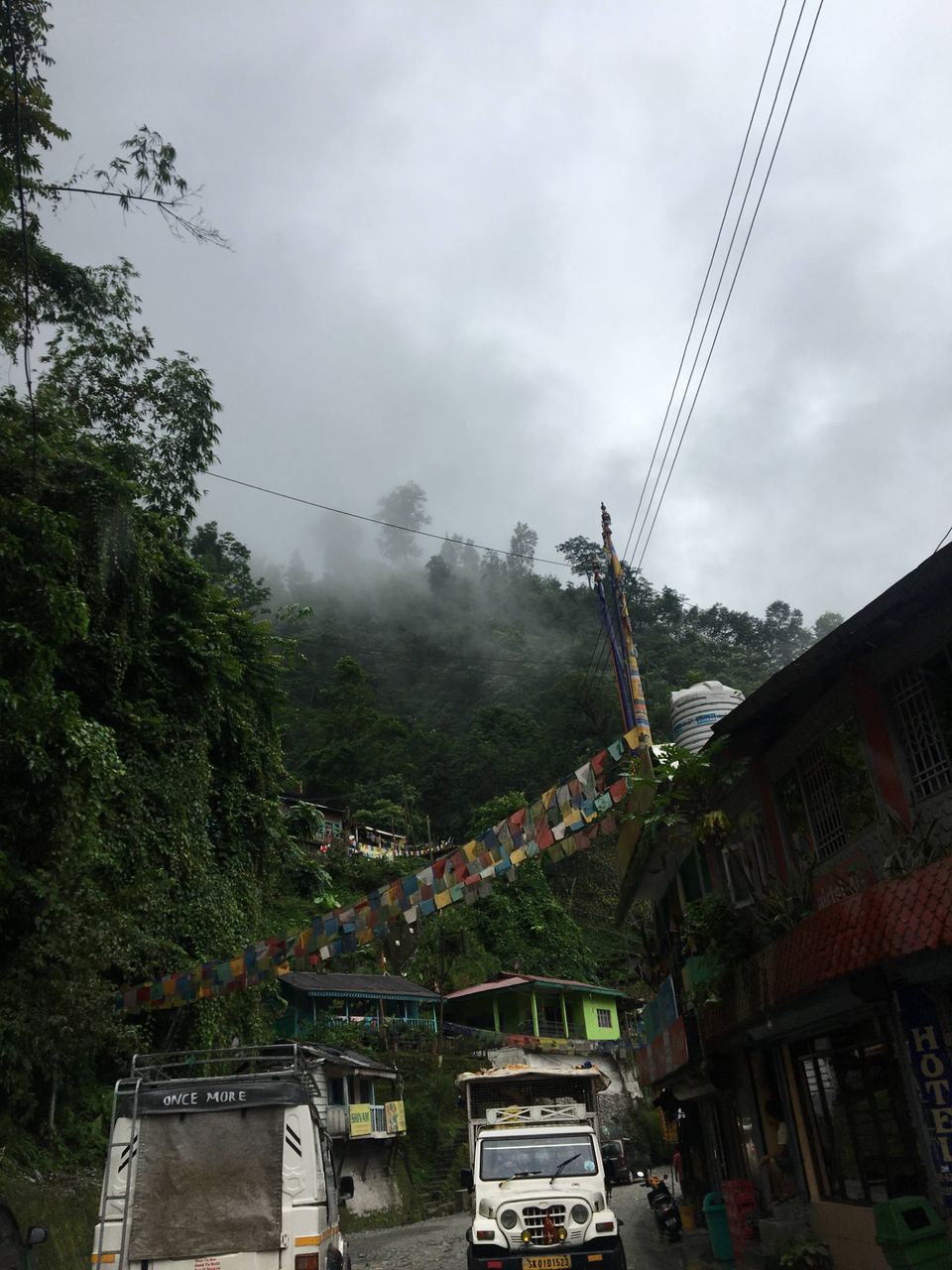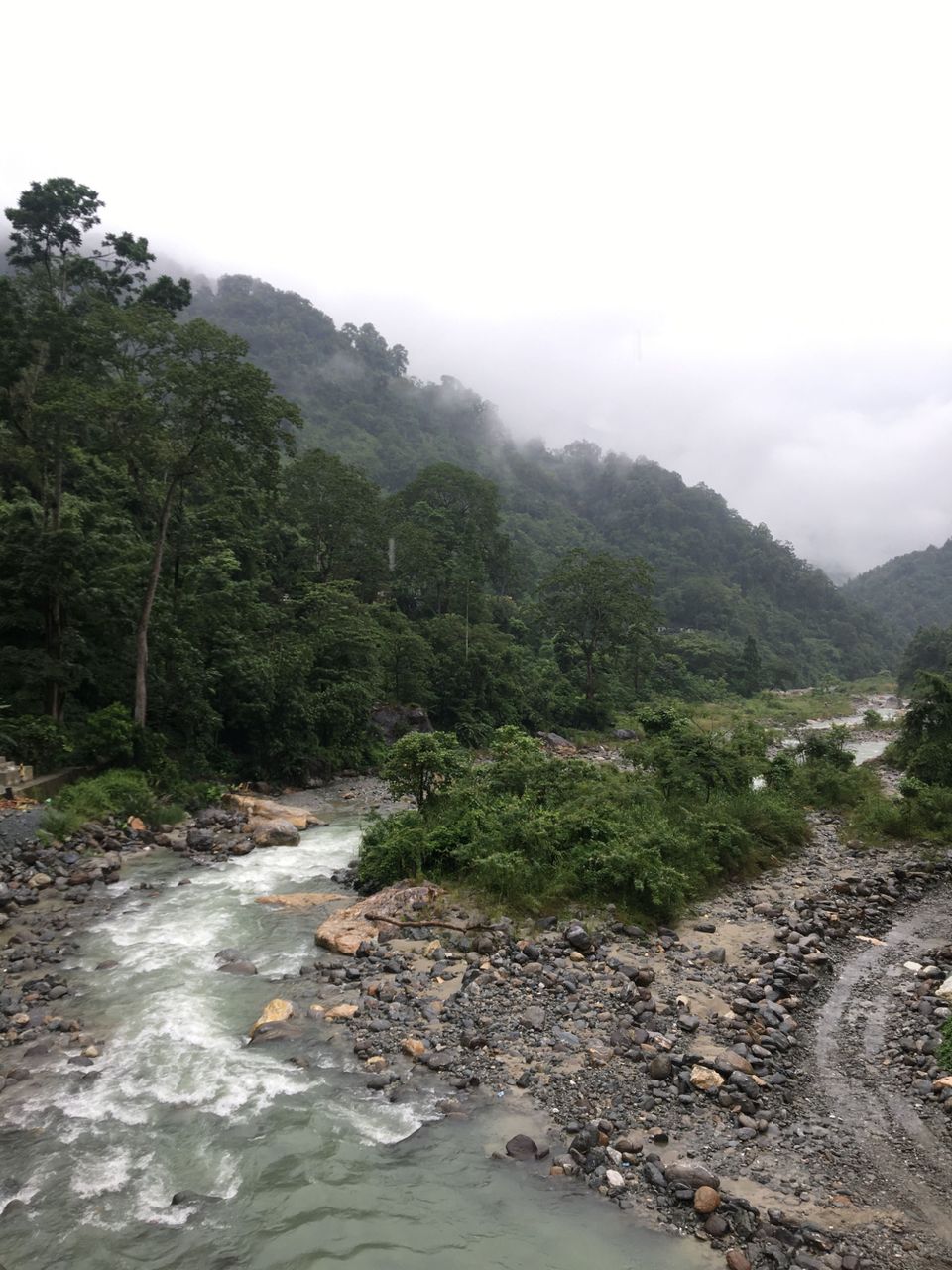 After an amazing lunch, we set out for Kalimpong Delo park.
I am not explicitly mentioning that monsoon hadn't ended in North Bengal and we were constantly getting welcomed by light showers.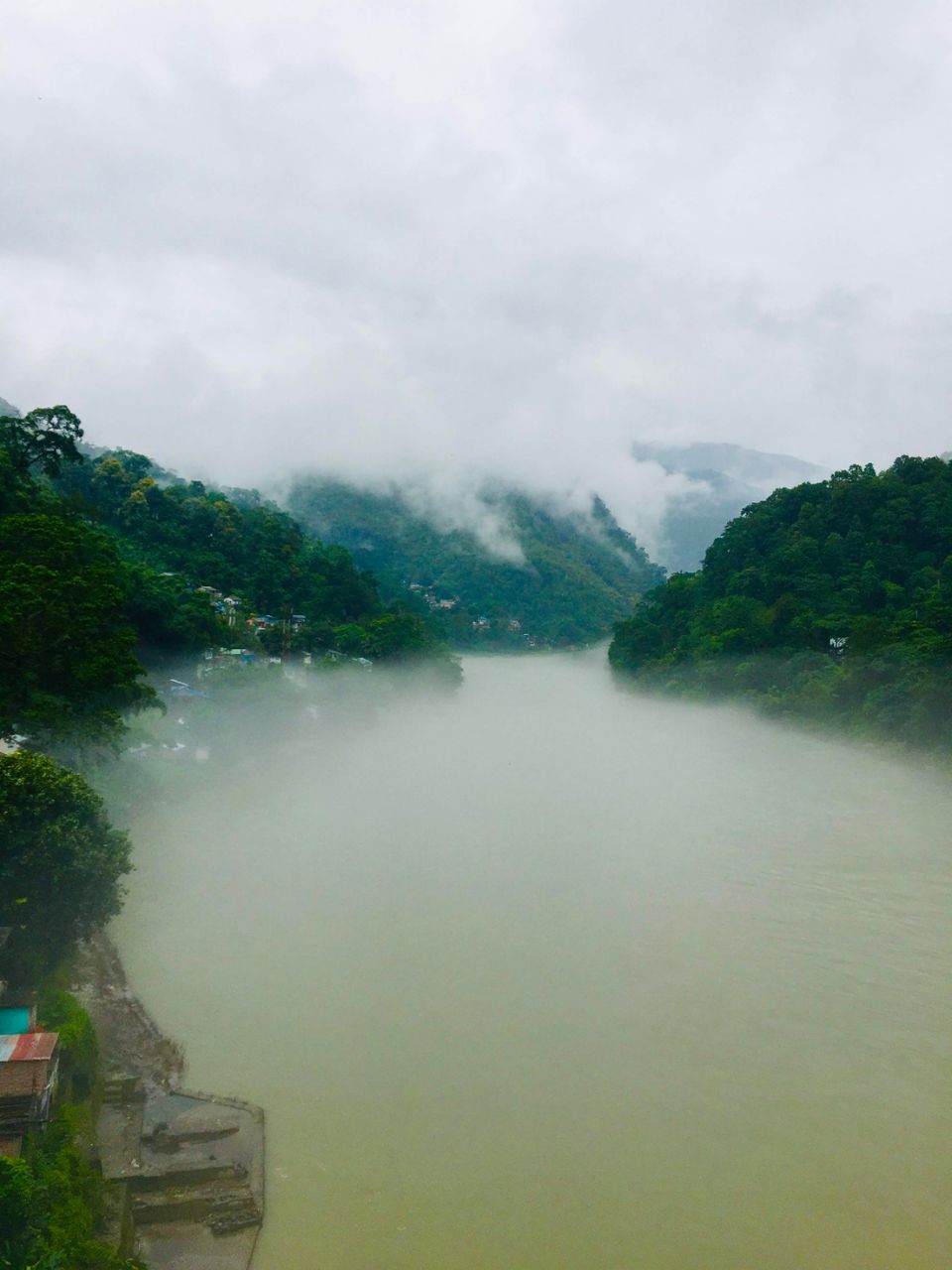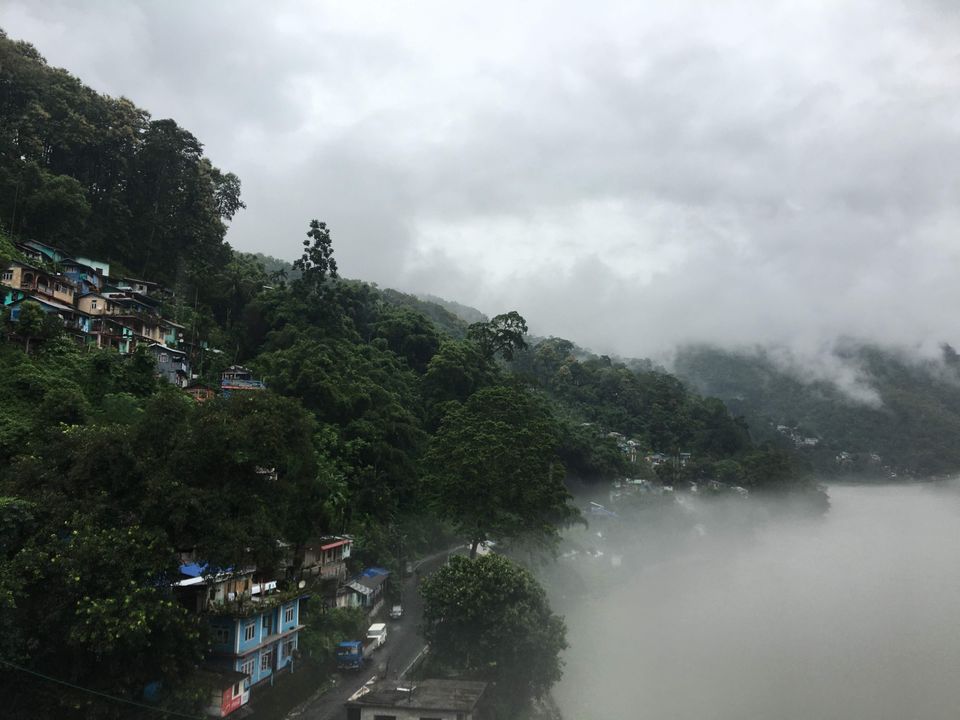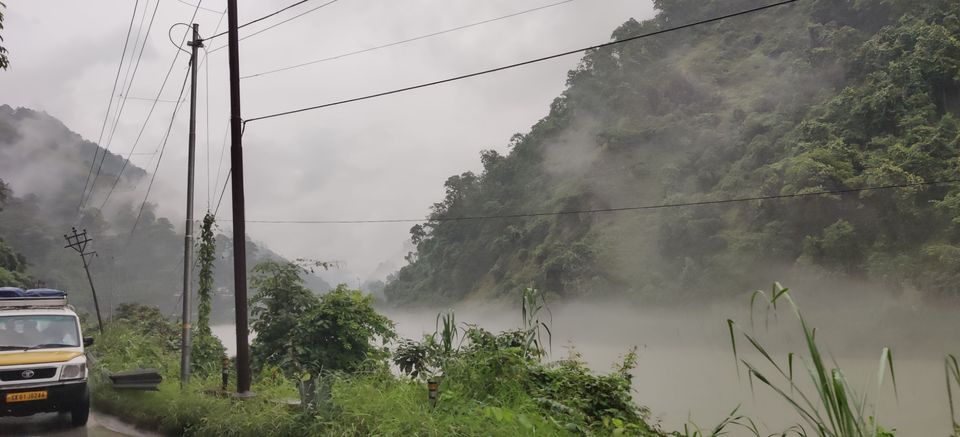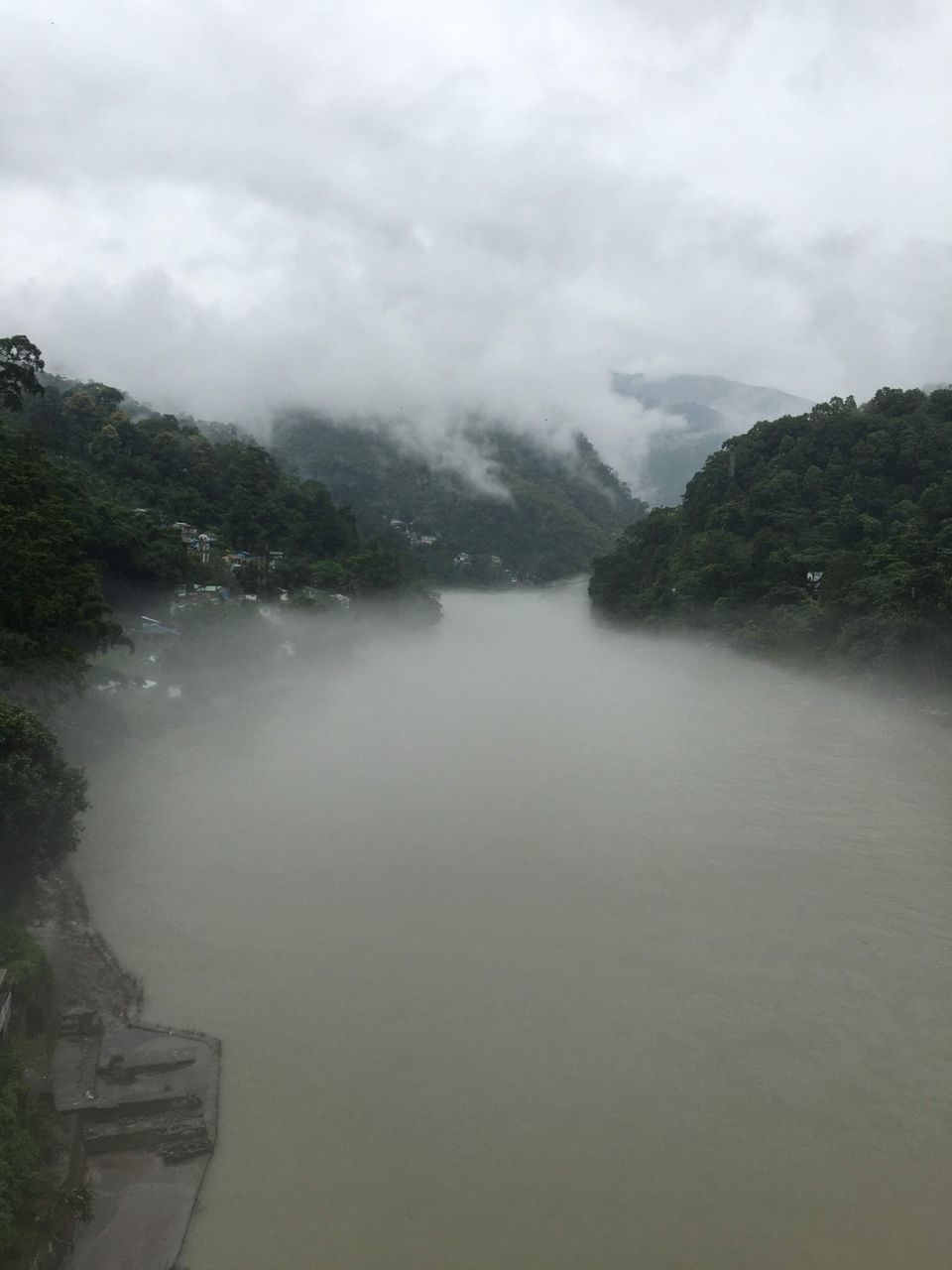 We all were dying for a good spot to have a great DP and Cover Picture for Facebook. Hence, we chose Teesta bridge for the same.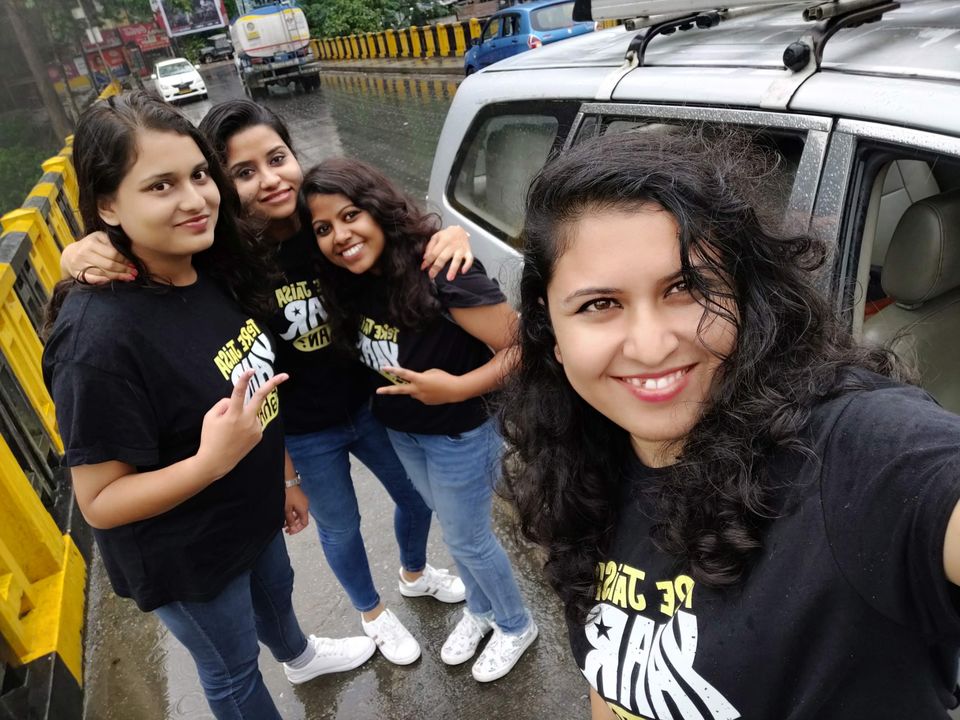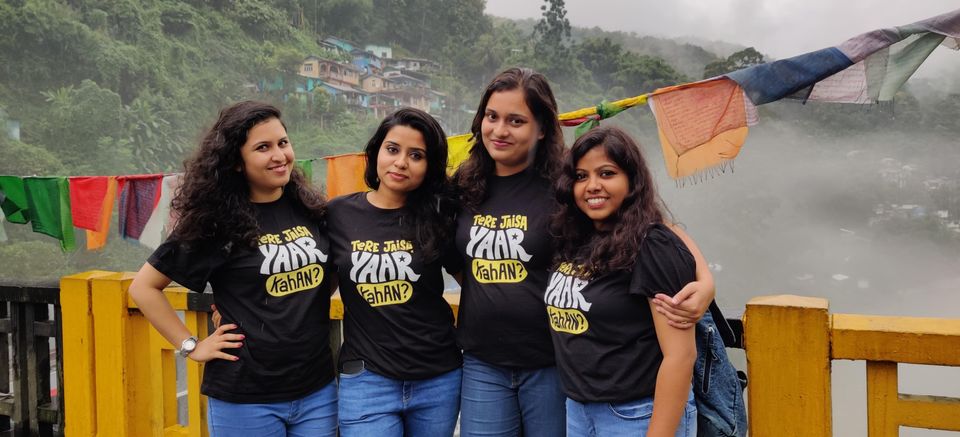 After clicking hundreds of photos, we continued our journey to reach Delo Park, Kalimpong.
Delo Hill is one of the two hills that the town of Kalimpong stands between. Kalimpong is situated on a ridge connecting the two hills, Durpin and Delo. The hill is 1,704 metres (5,590 feet) above msl and is the highest point of Kalimpong town.
At the summit of this hill, there is a park built for recreation purposes which feature exotic flowers. The park is a popular picnic spot for tourists as well as locals.
Delo provides a panoramic 360 degree view of Kalimpong town and its neighbouring hills.
Please have a glimpse of greenery which soothed our souls :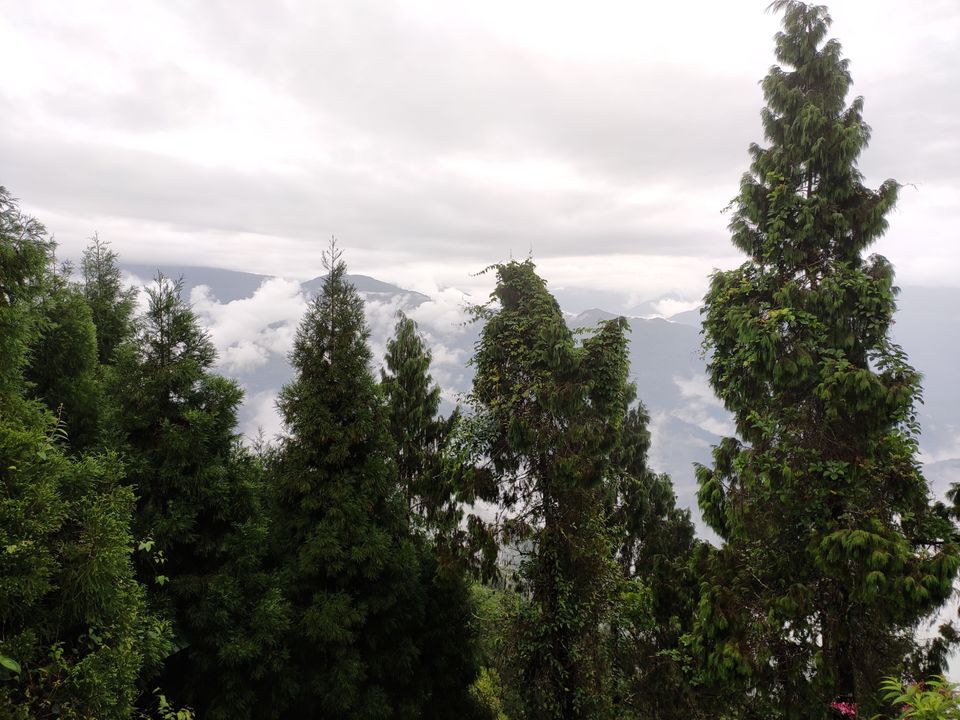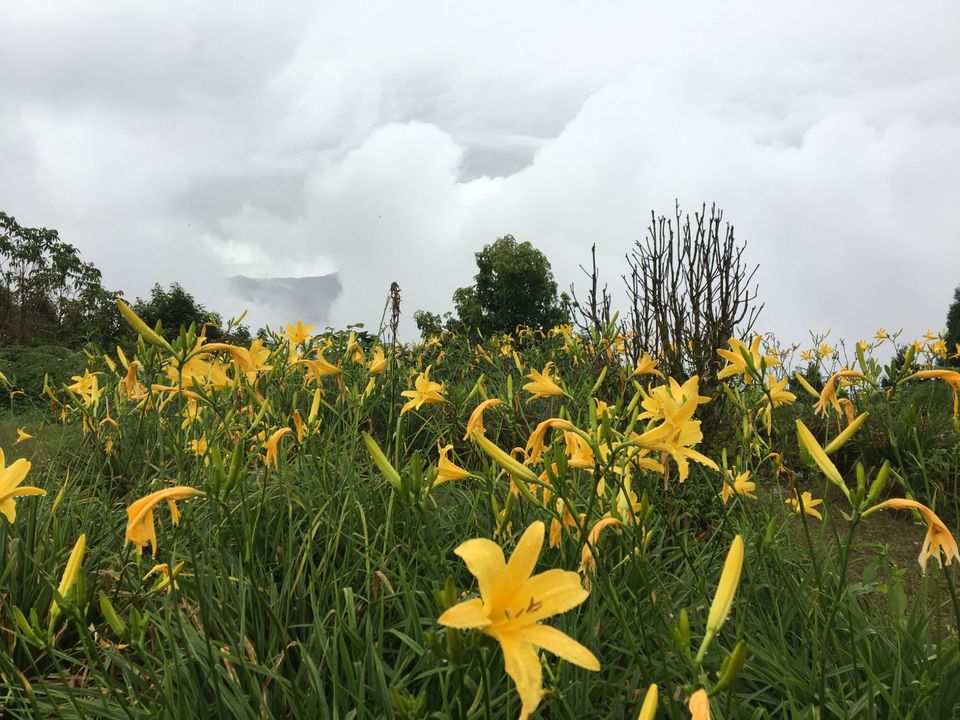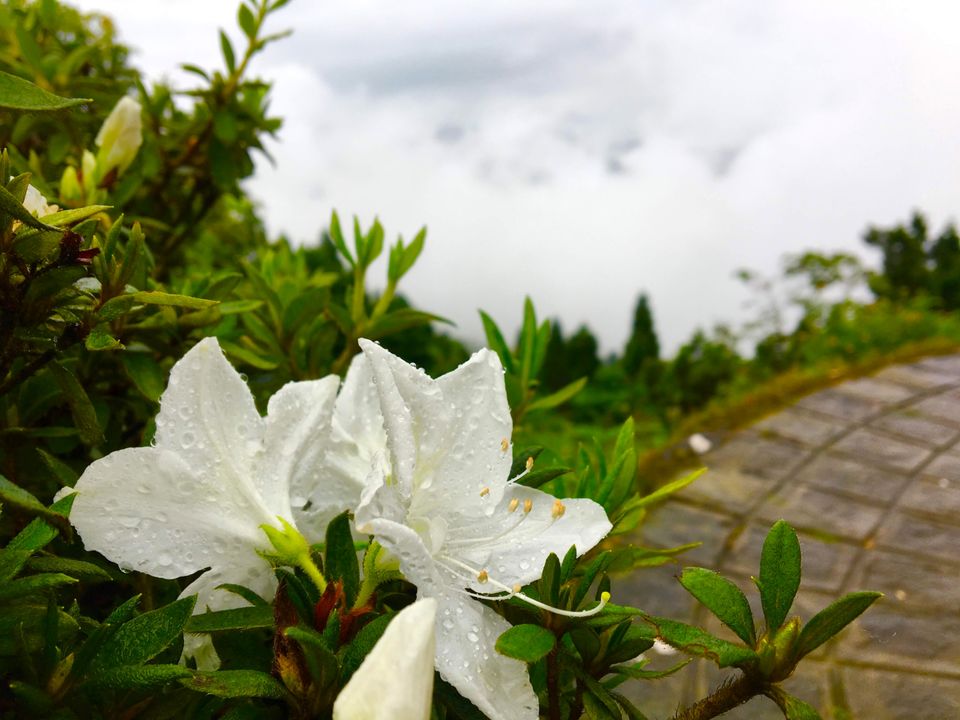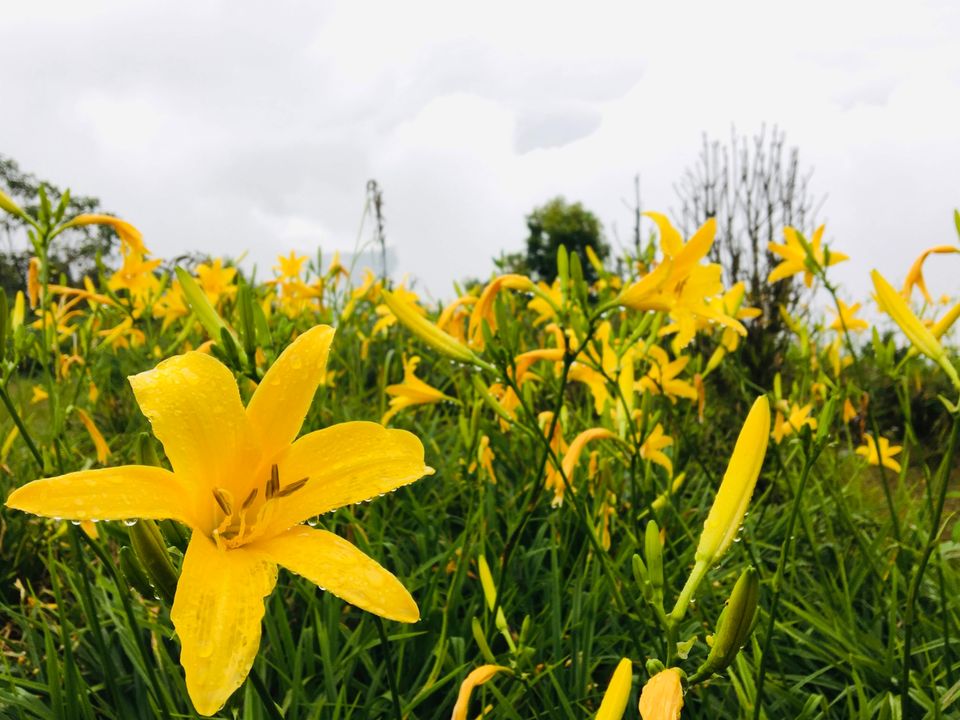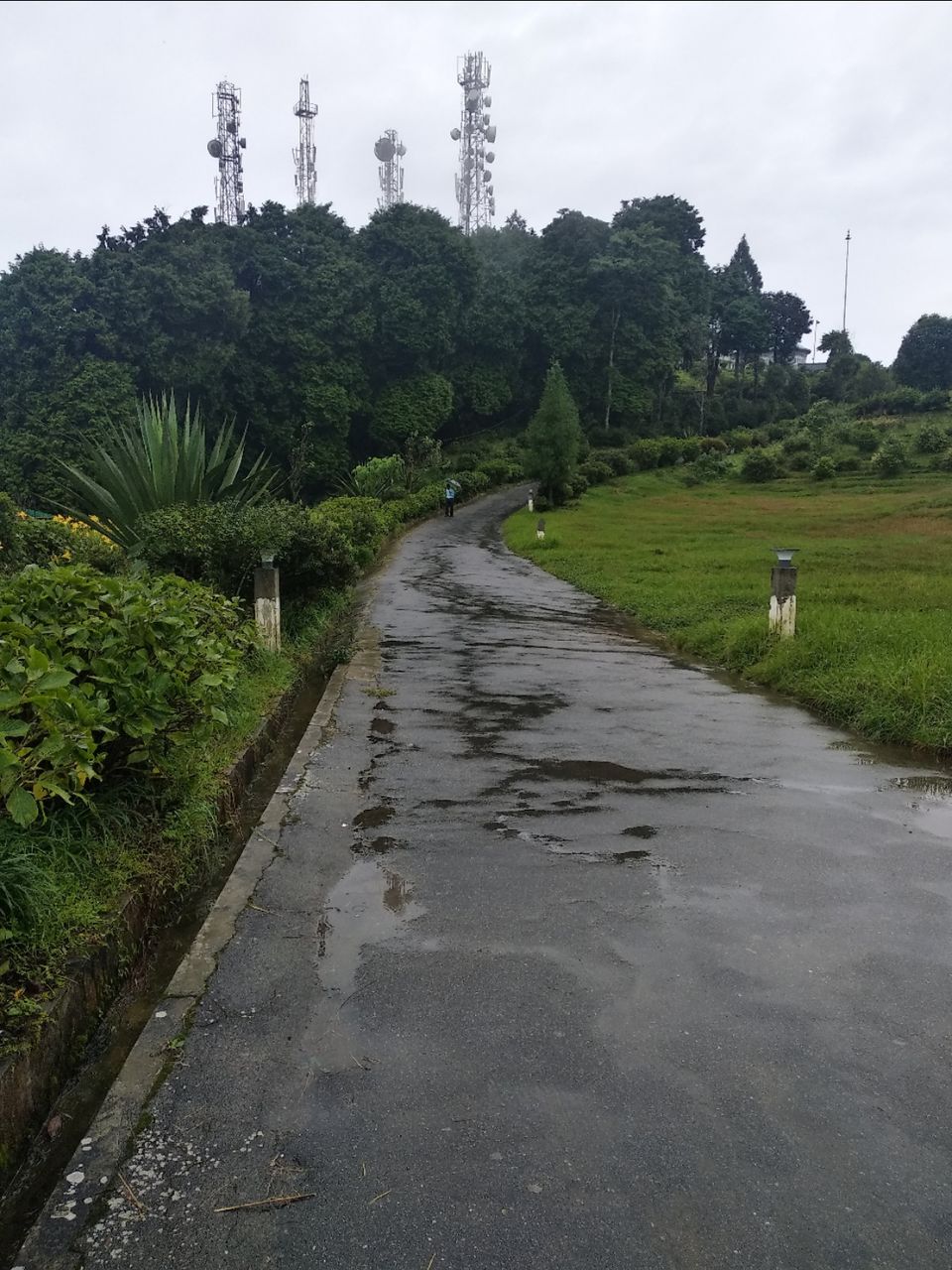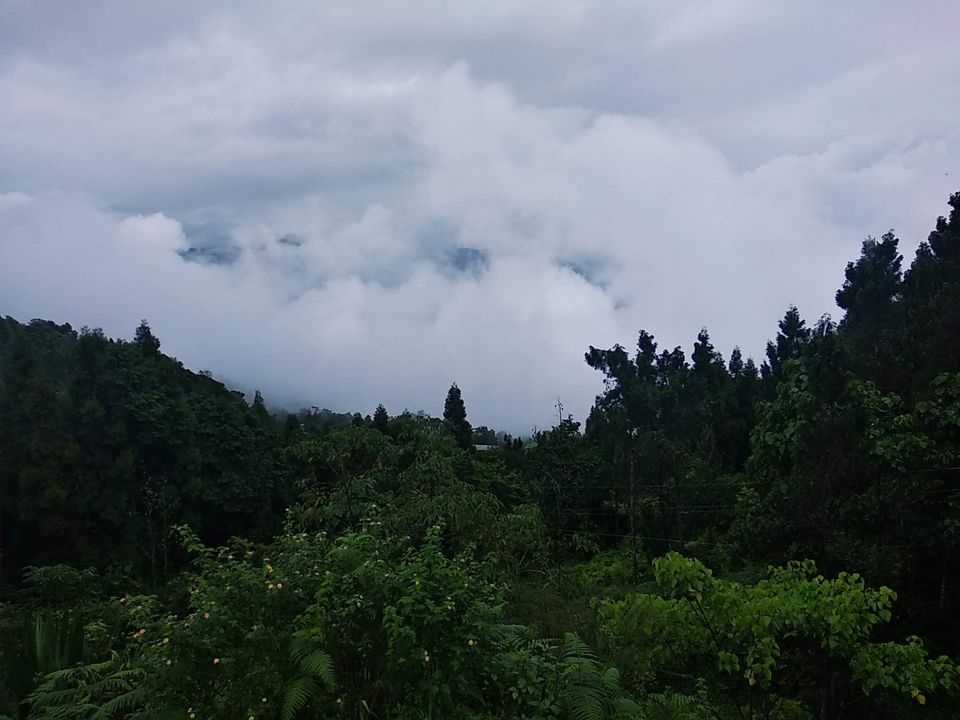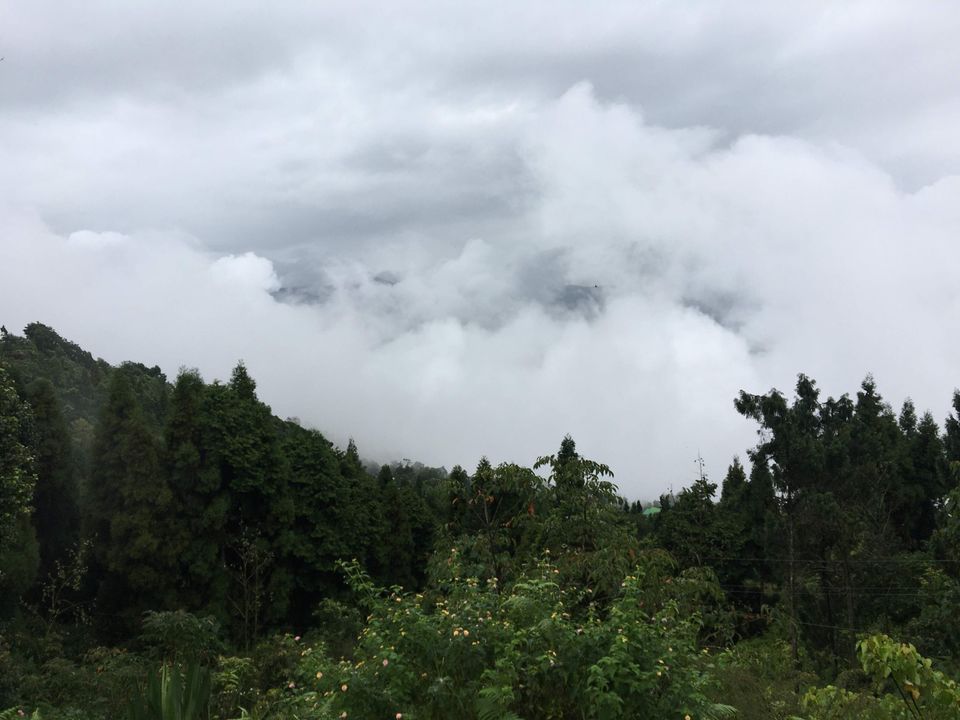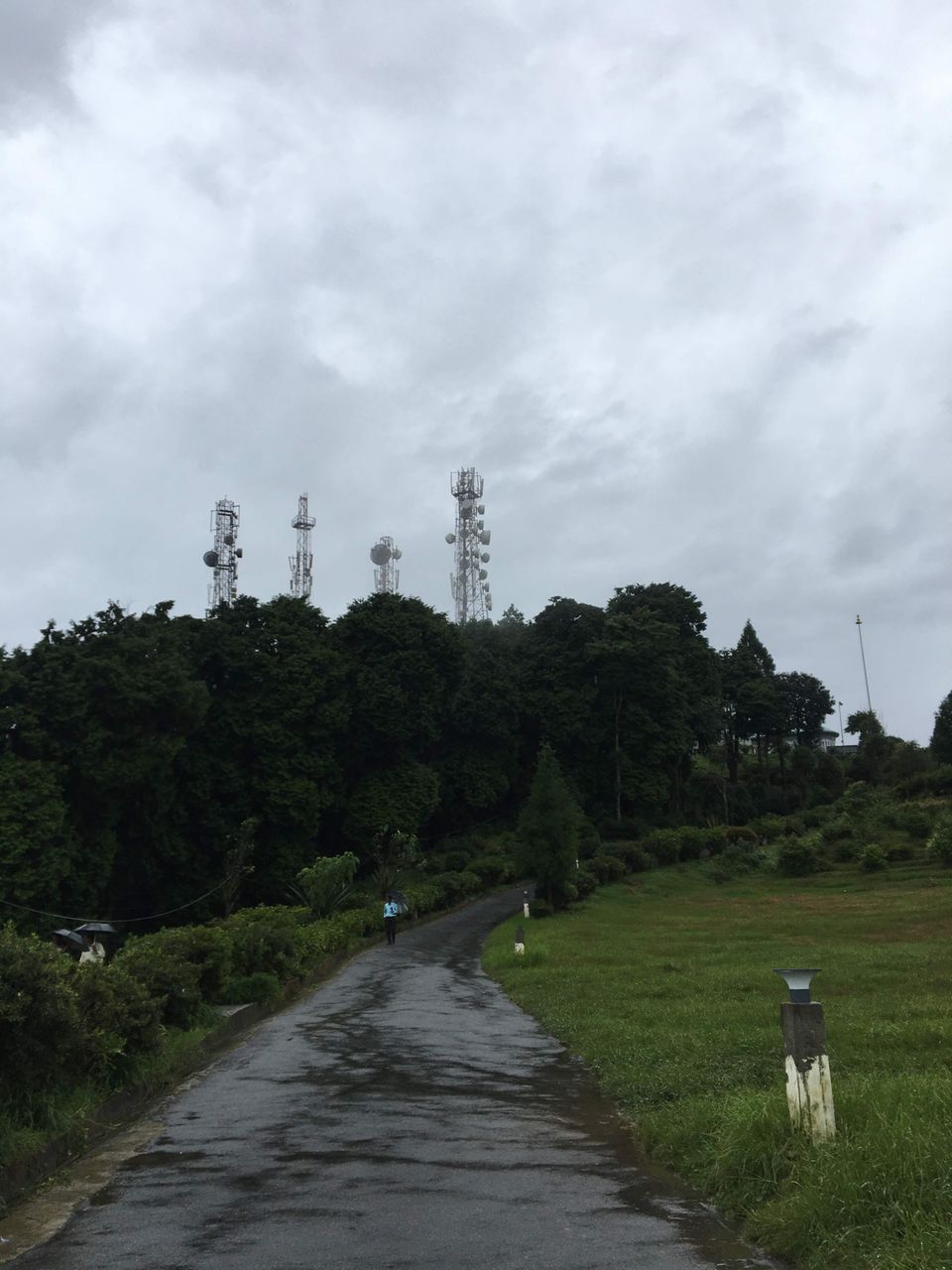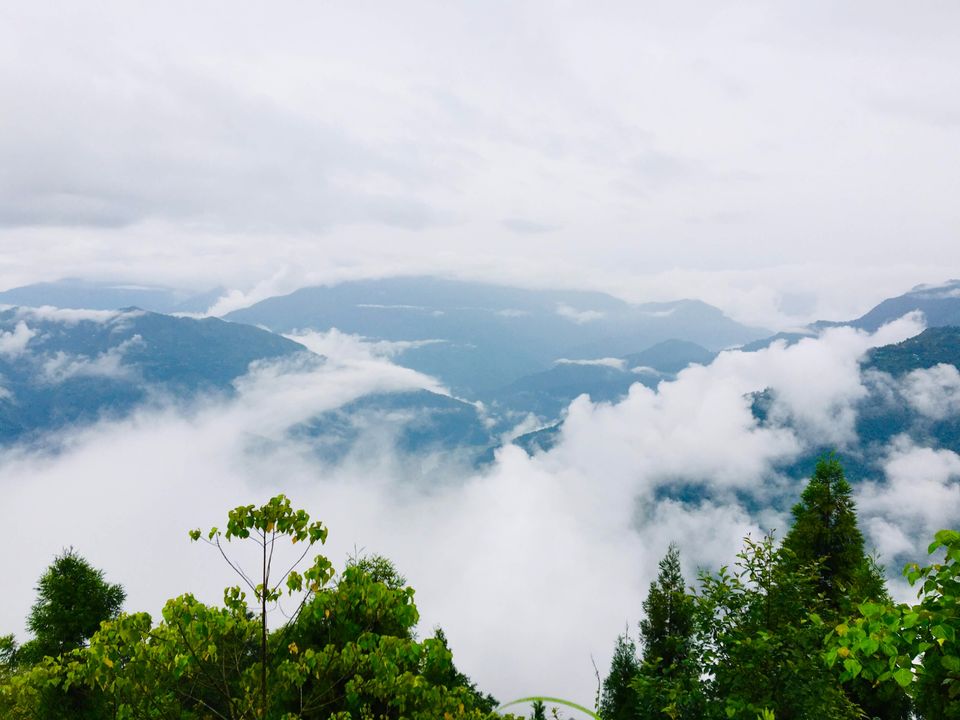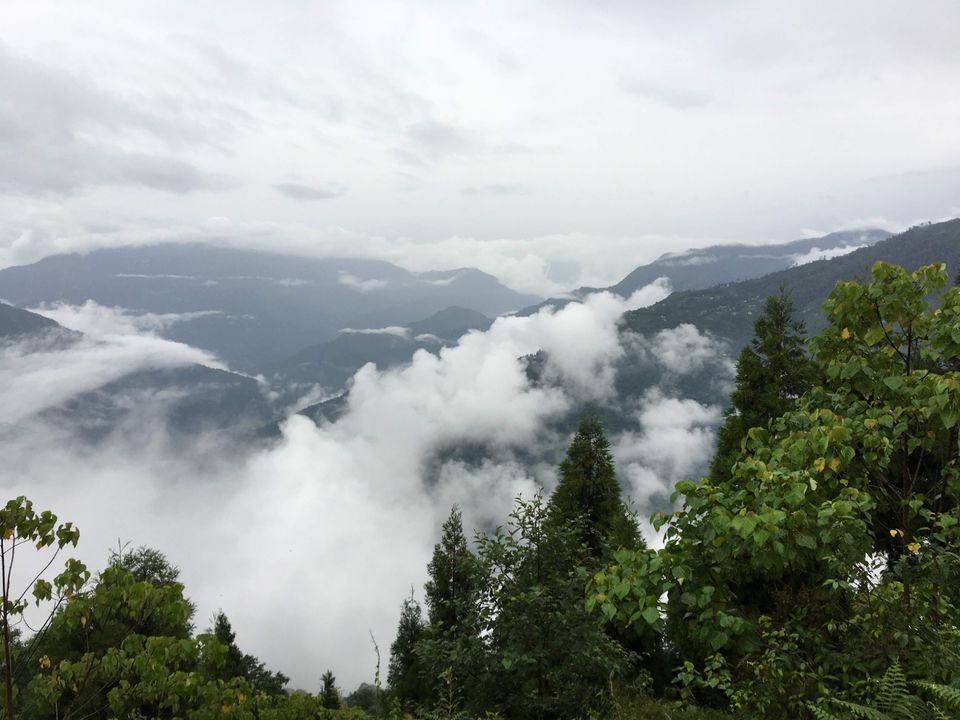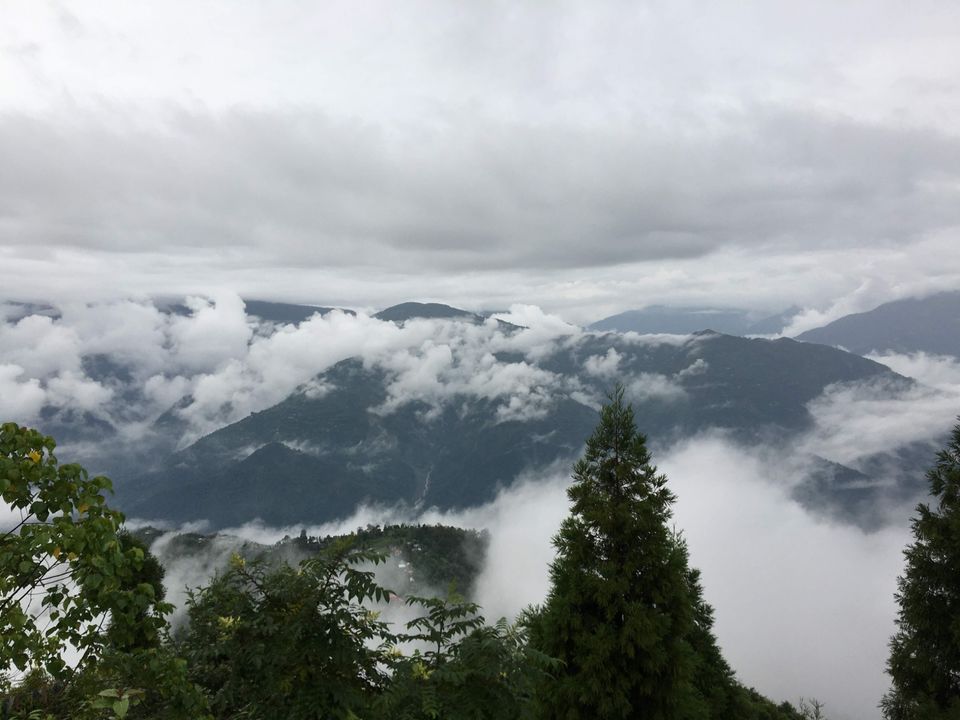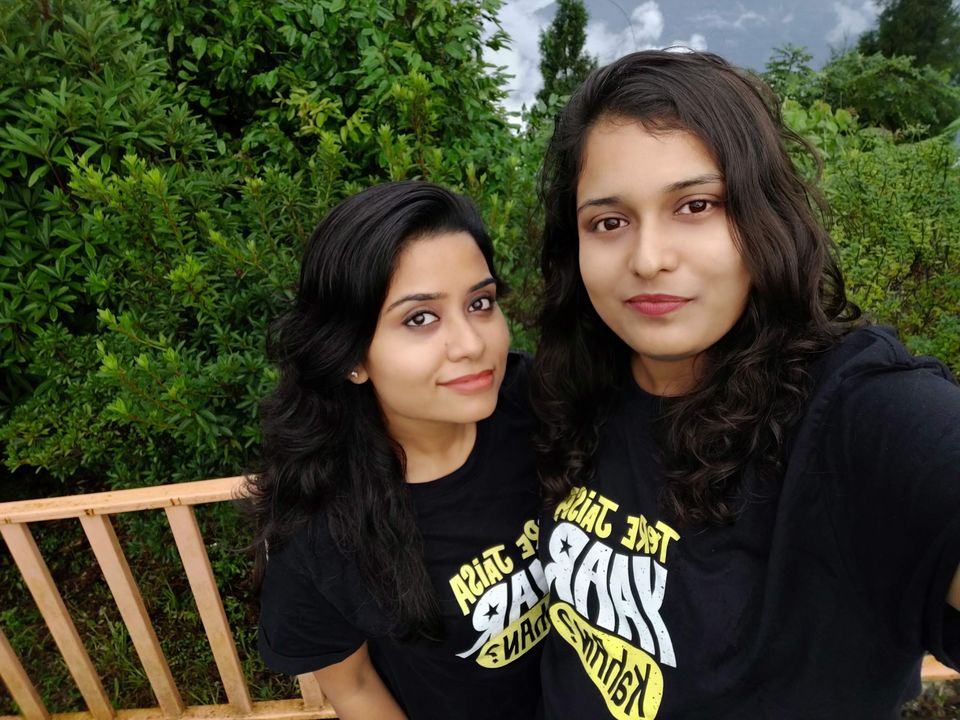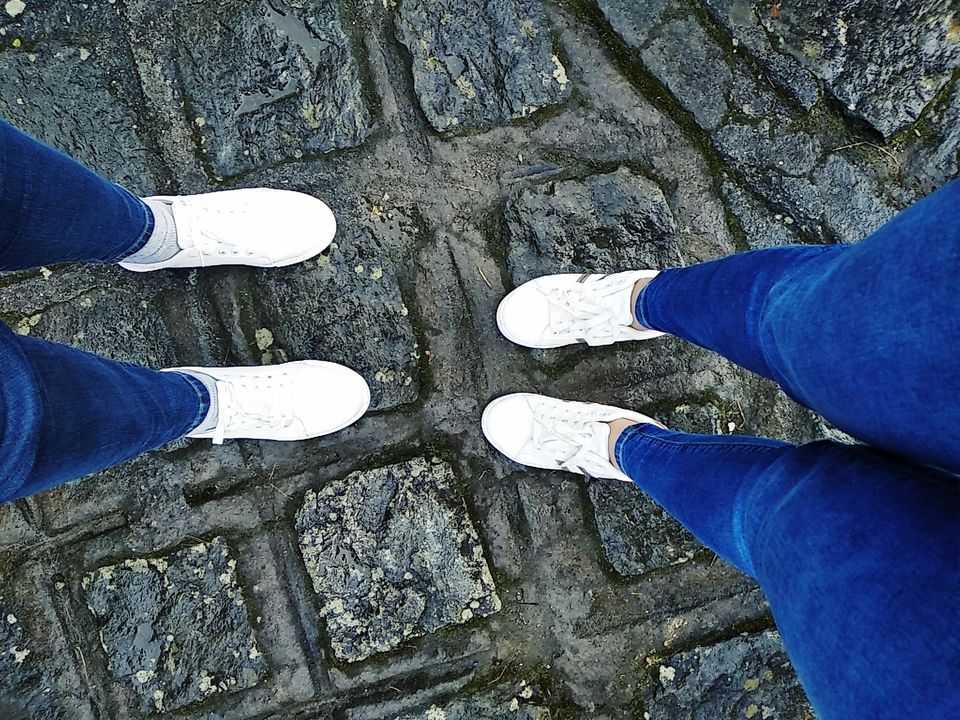 Soon, we realised that it is going to be evening and we should reach Sillery Gaon before that.
We started off soon and reached Sillery Gaon late in the evening.
We had booked two rooms with two double beds (Honestly, we expected one double bed per room).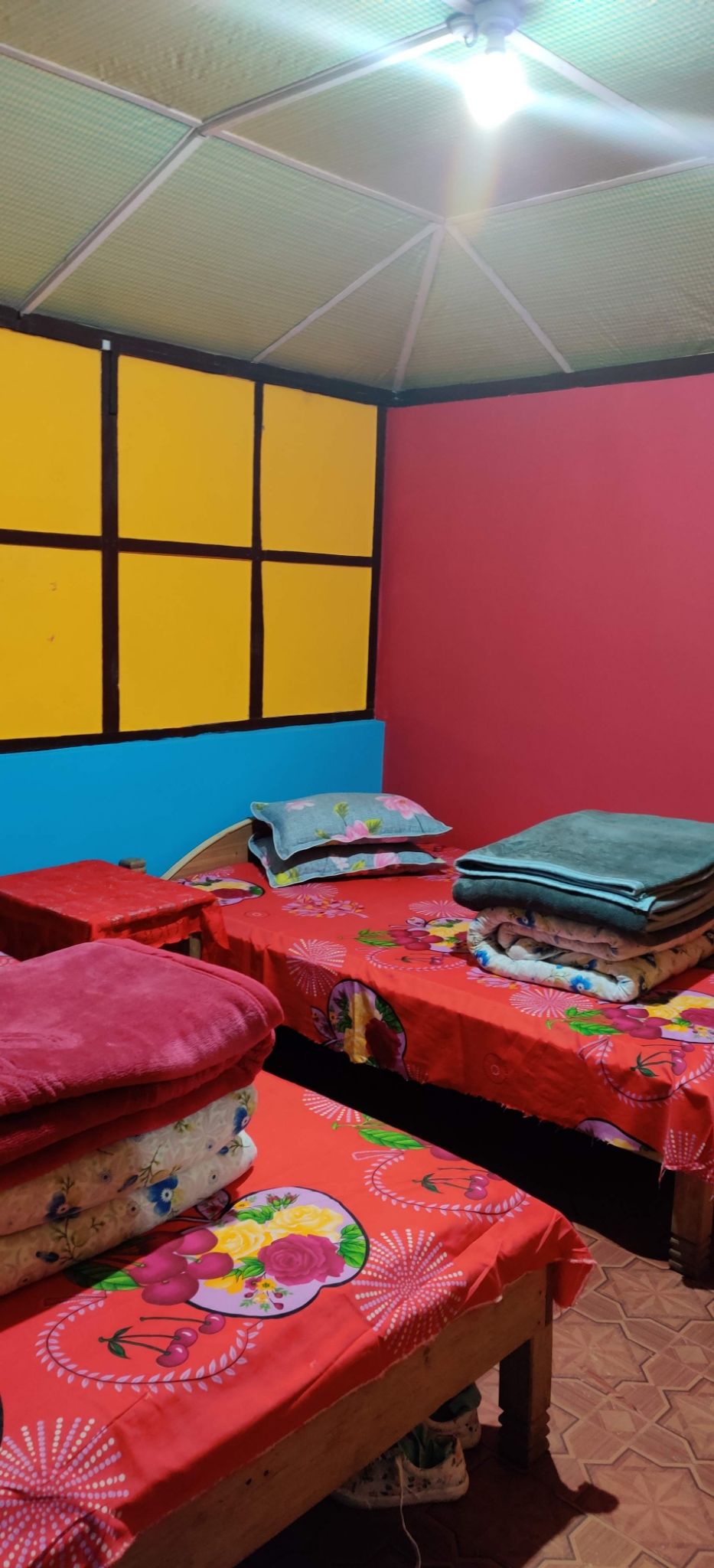 We requested for four cups of tea and this is what we got :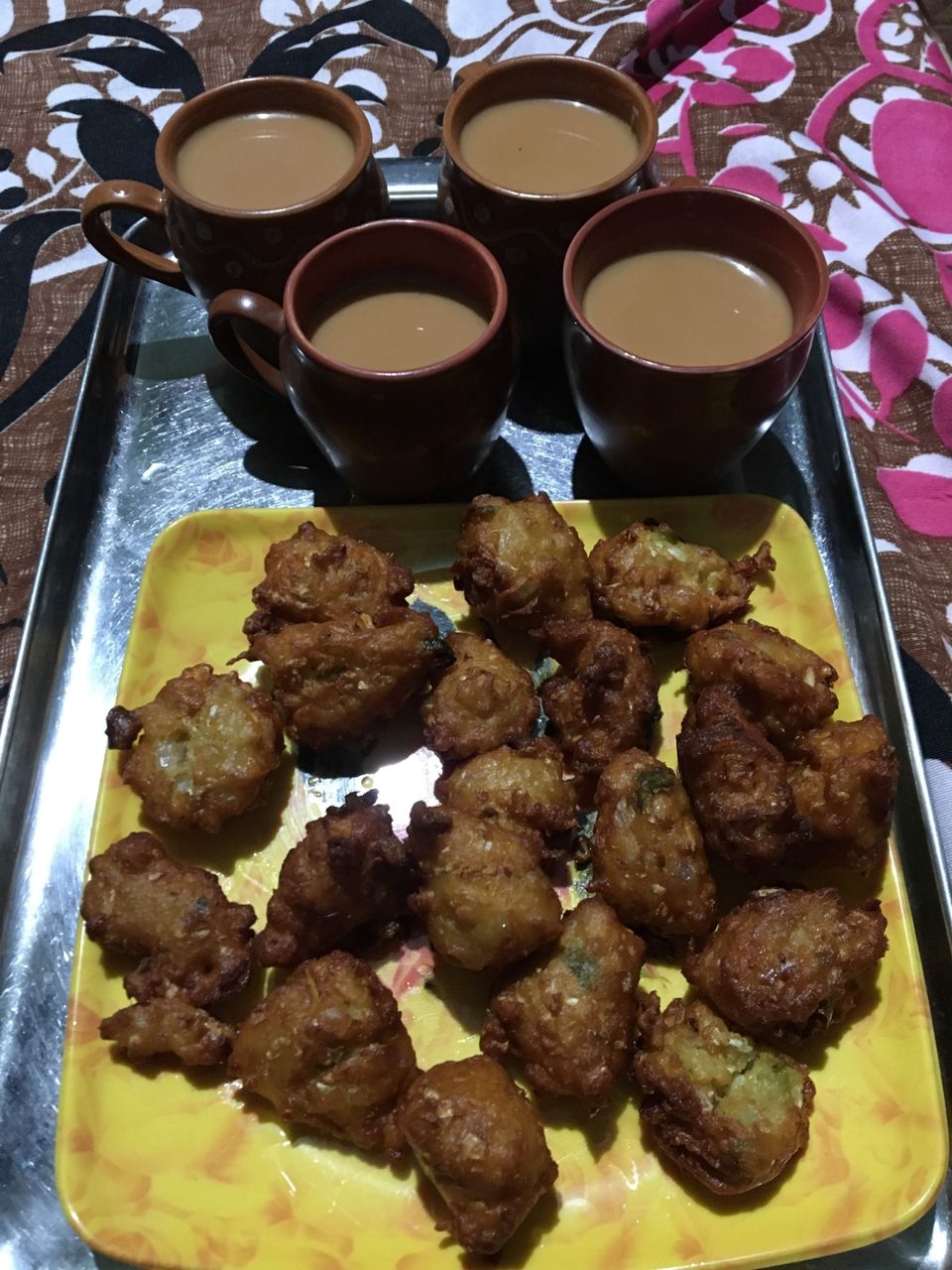 Deadly combination! Isn't it?
Then we started off with our long pending discussions, debates and deliberation.
Dinner came by and we were still continuing on our conversations and confessions.
We are friends since 2011 and this was our first trip together so we completely ignored the sleep thing and shared emotions throughout the night.
Of course, continuous rainfall accompanied us.
One of the best nights of 2019 turned into a beautiful but gloomy morning.
I don't really like the grey colour of the sky but the friends and mountains were surely helping me smile.
(Please note : I have also added the Home stay details in case anyone needs it)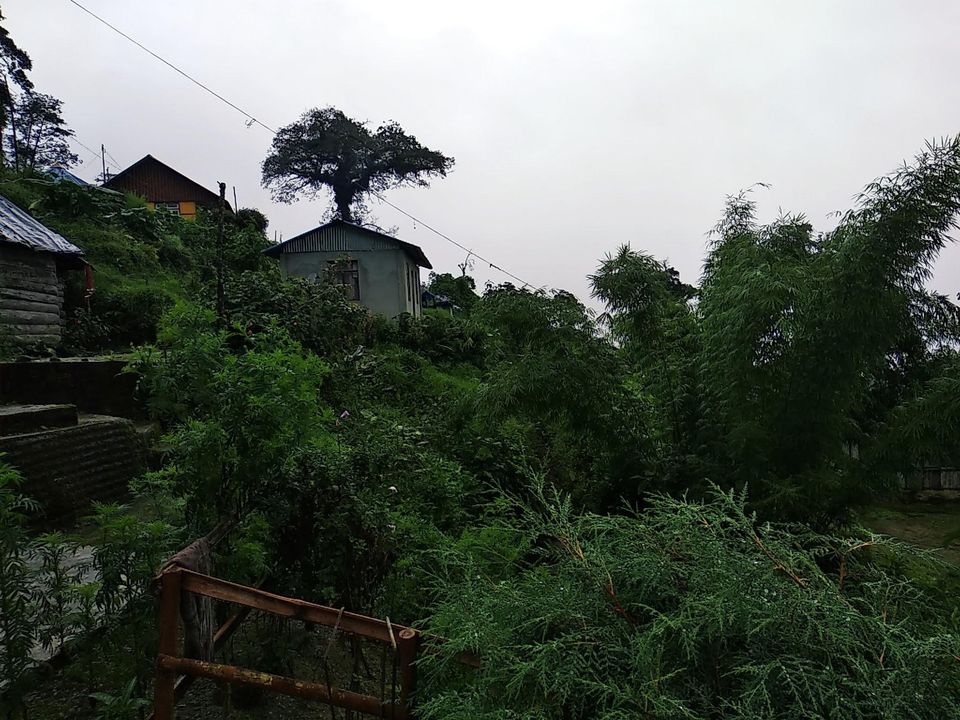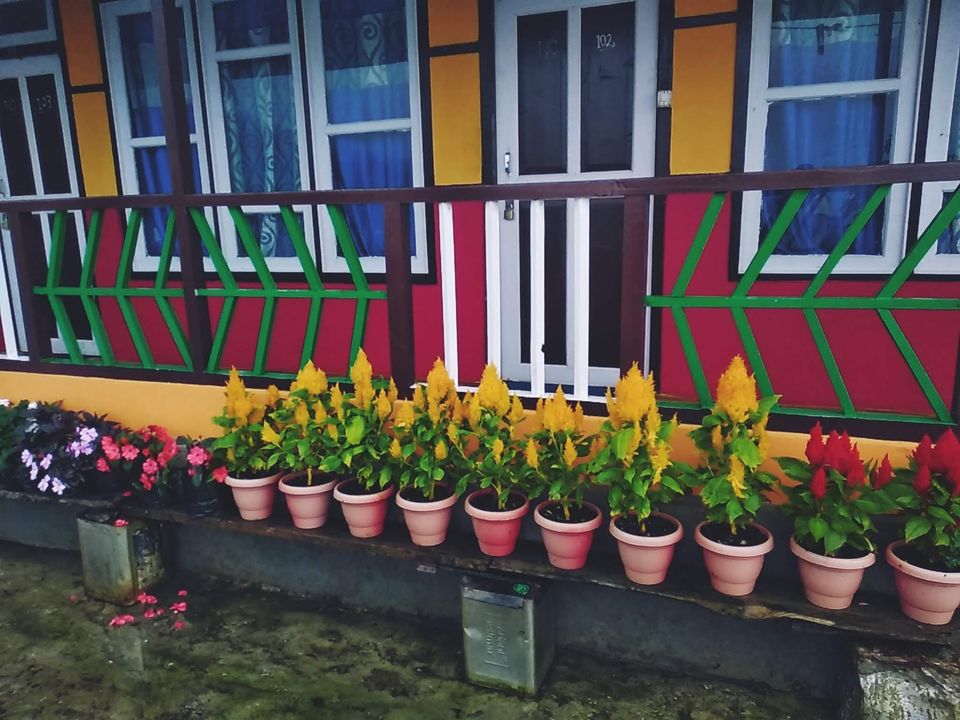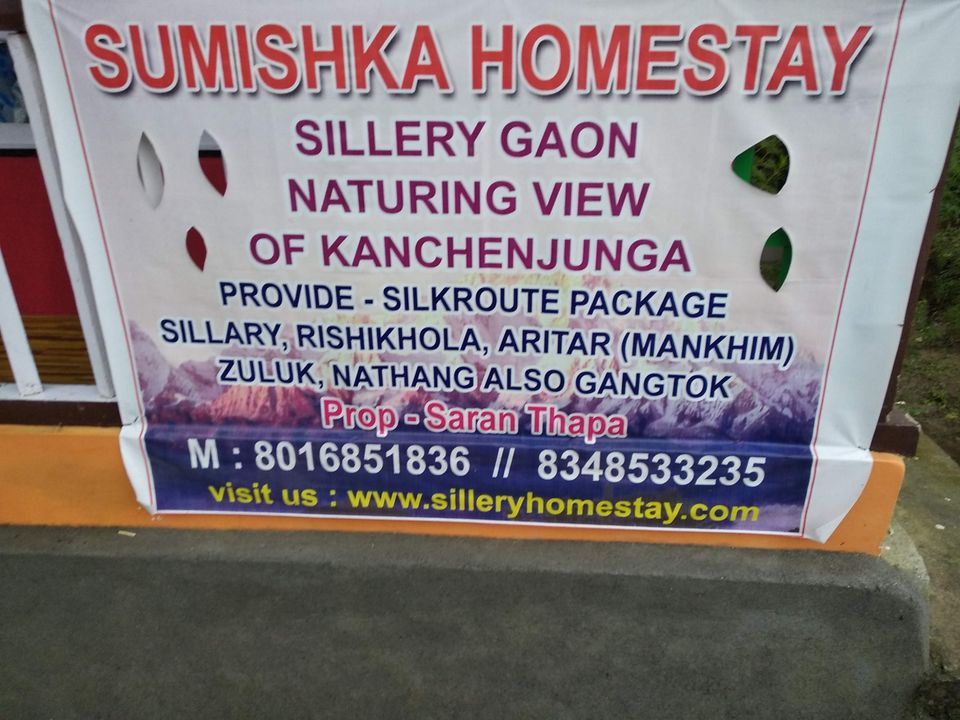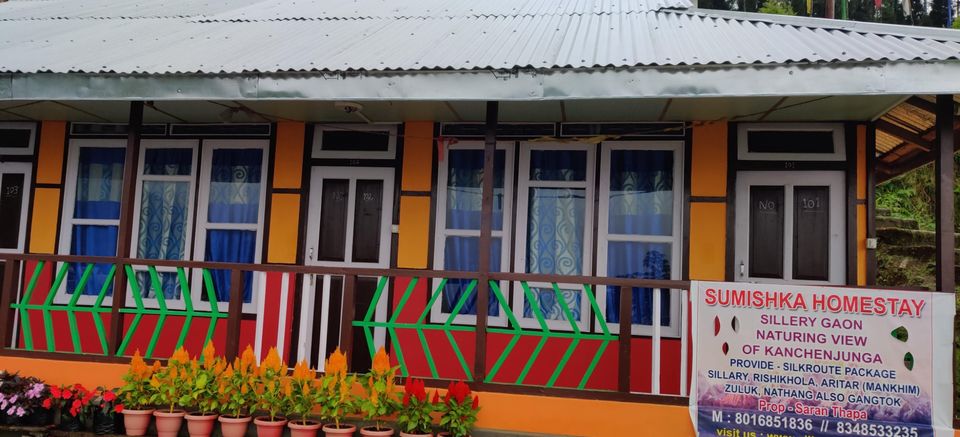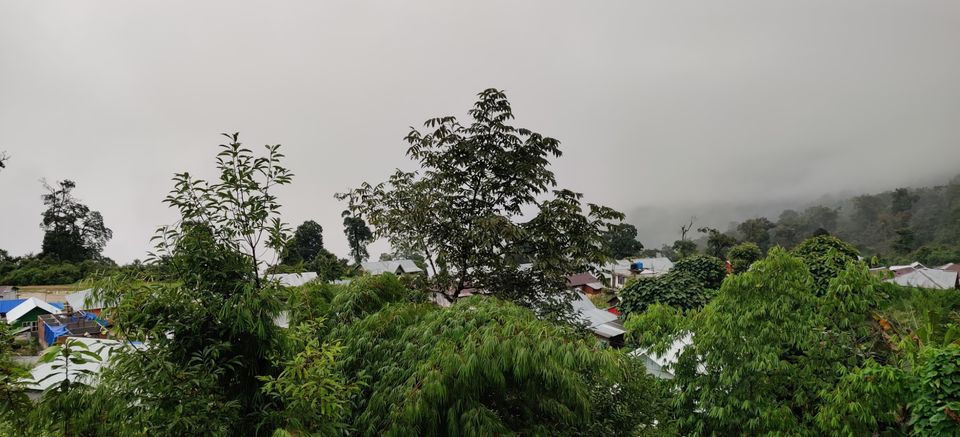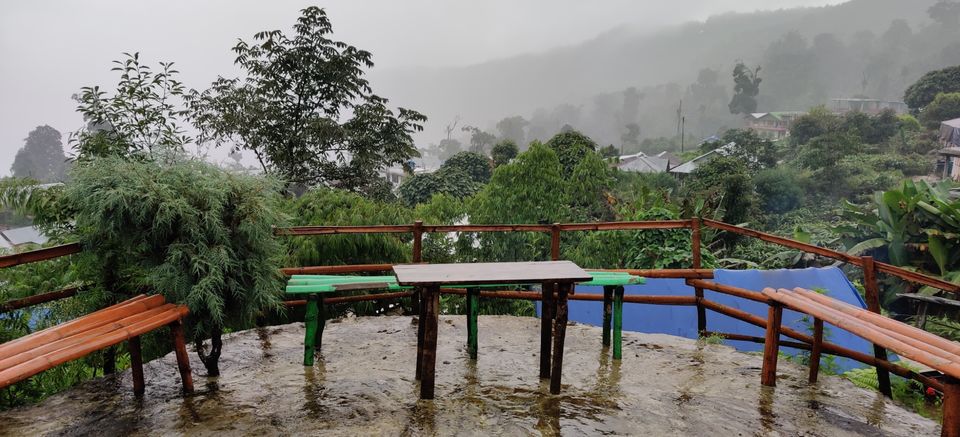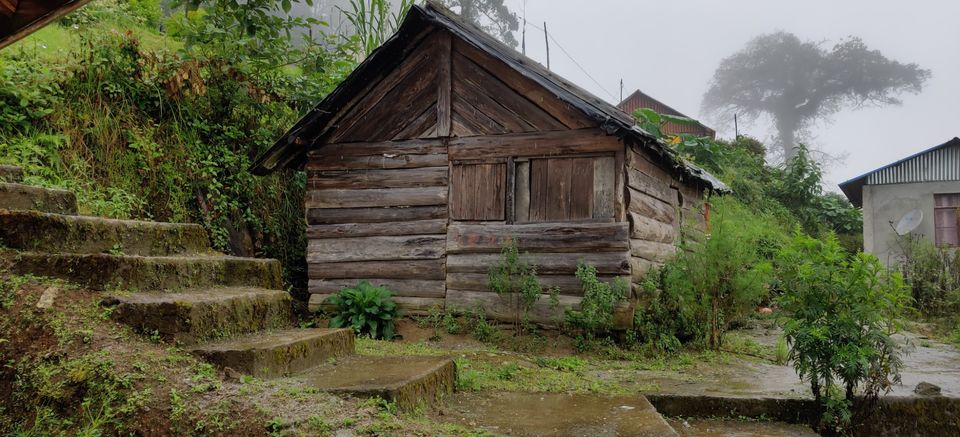 After having the breakfast, we quickly got ready because we had to reach Ravangla.
Ravangla or Rawangla or Ravongla is a small tourist town situated at an elevation of 8000 ft in South Sikkim district of the Indian state of Sikkim. It is connected by state highway to other major towns in the state and lies between Pelling and Gangtok. 
My friend Momo (Moumita) is a great and crazy photographer who loves to click everything.🤣
On the way to Ravangla, here are some of the pictures we took :
(Please Note : Any location is good if your photographer is better and you are happy at your best)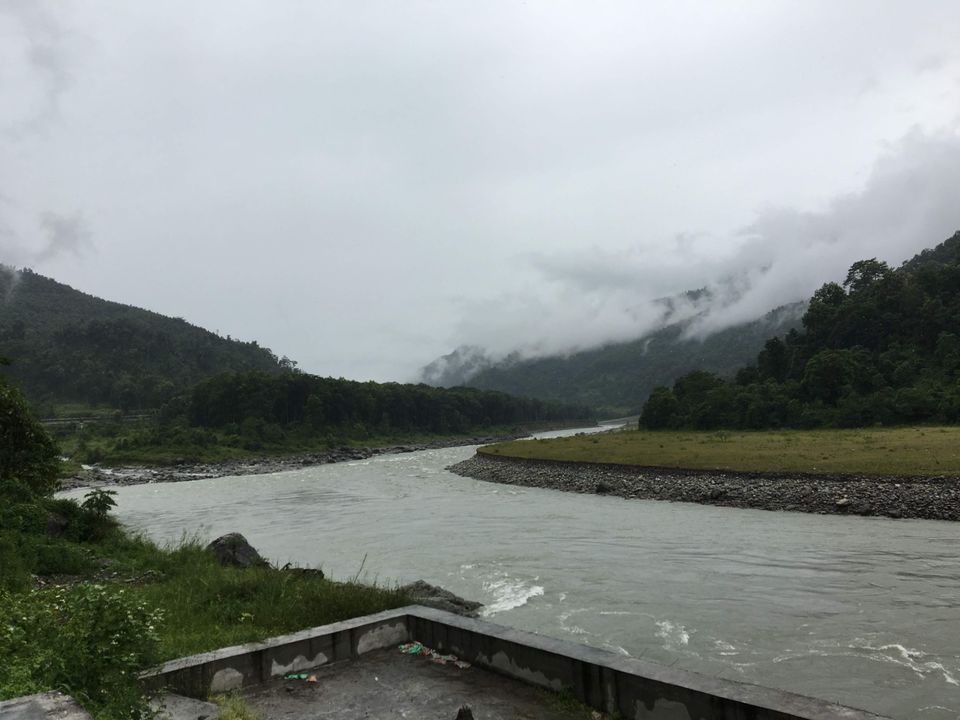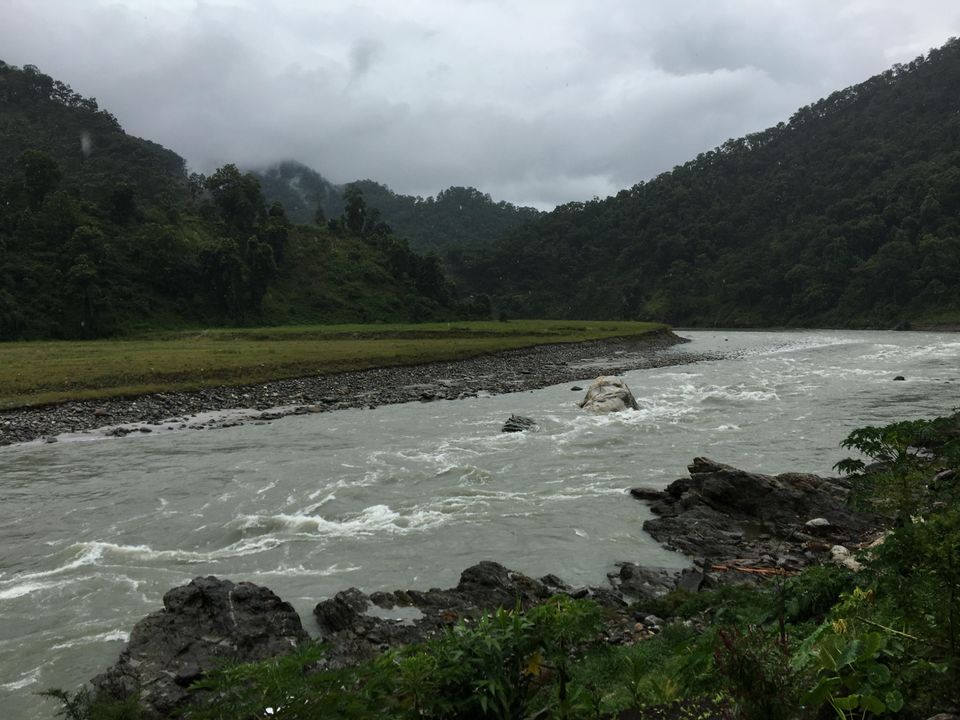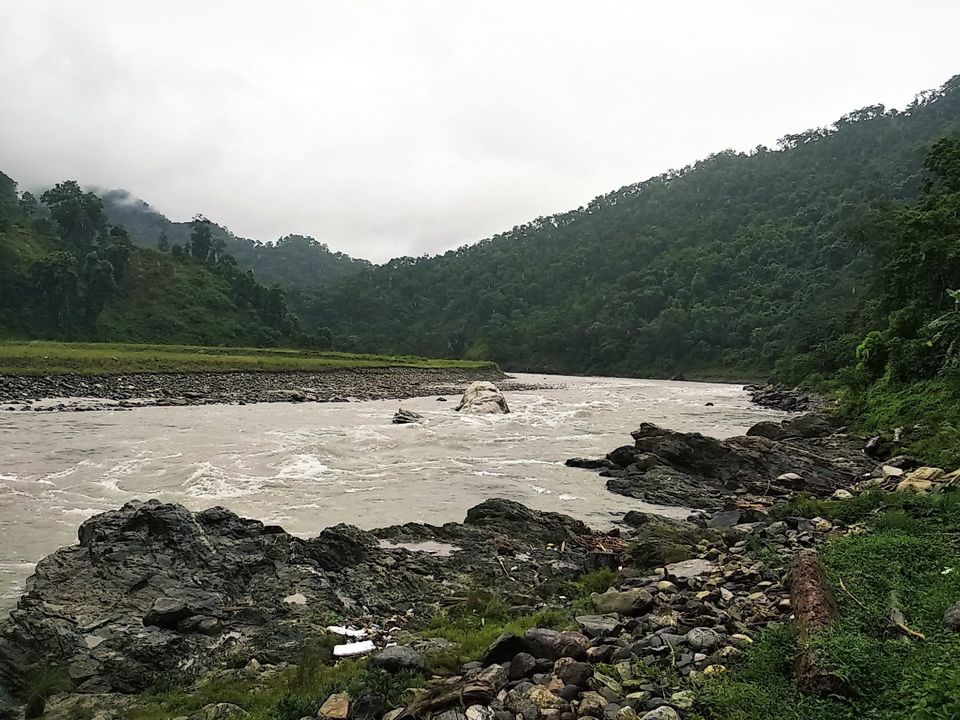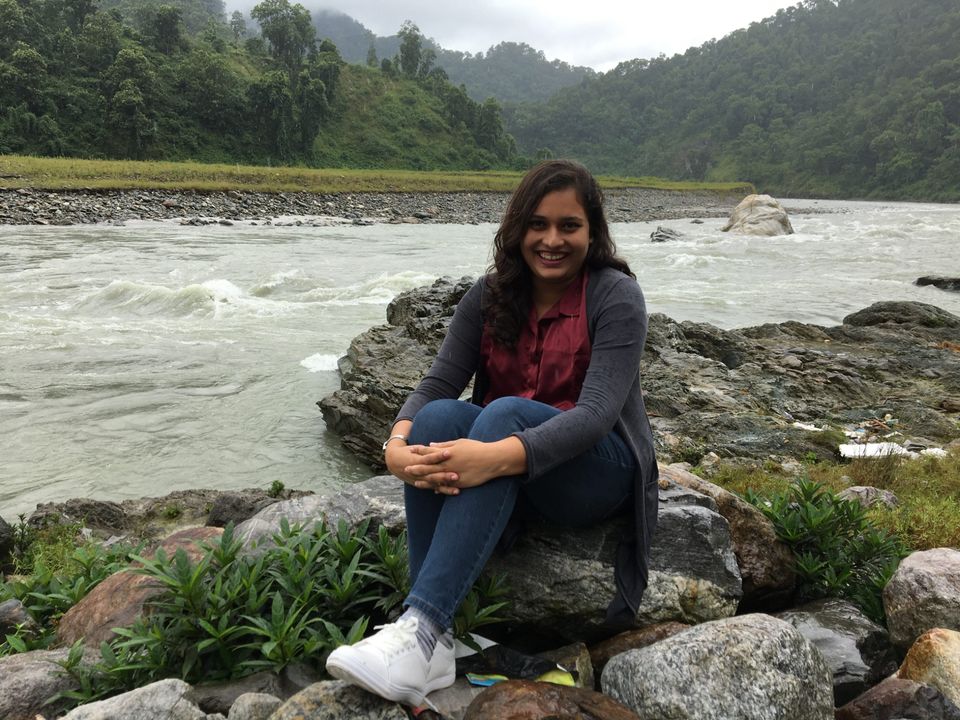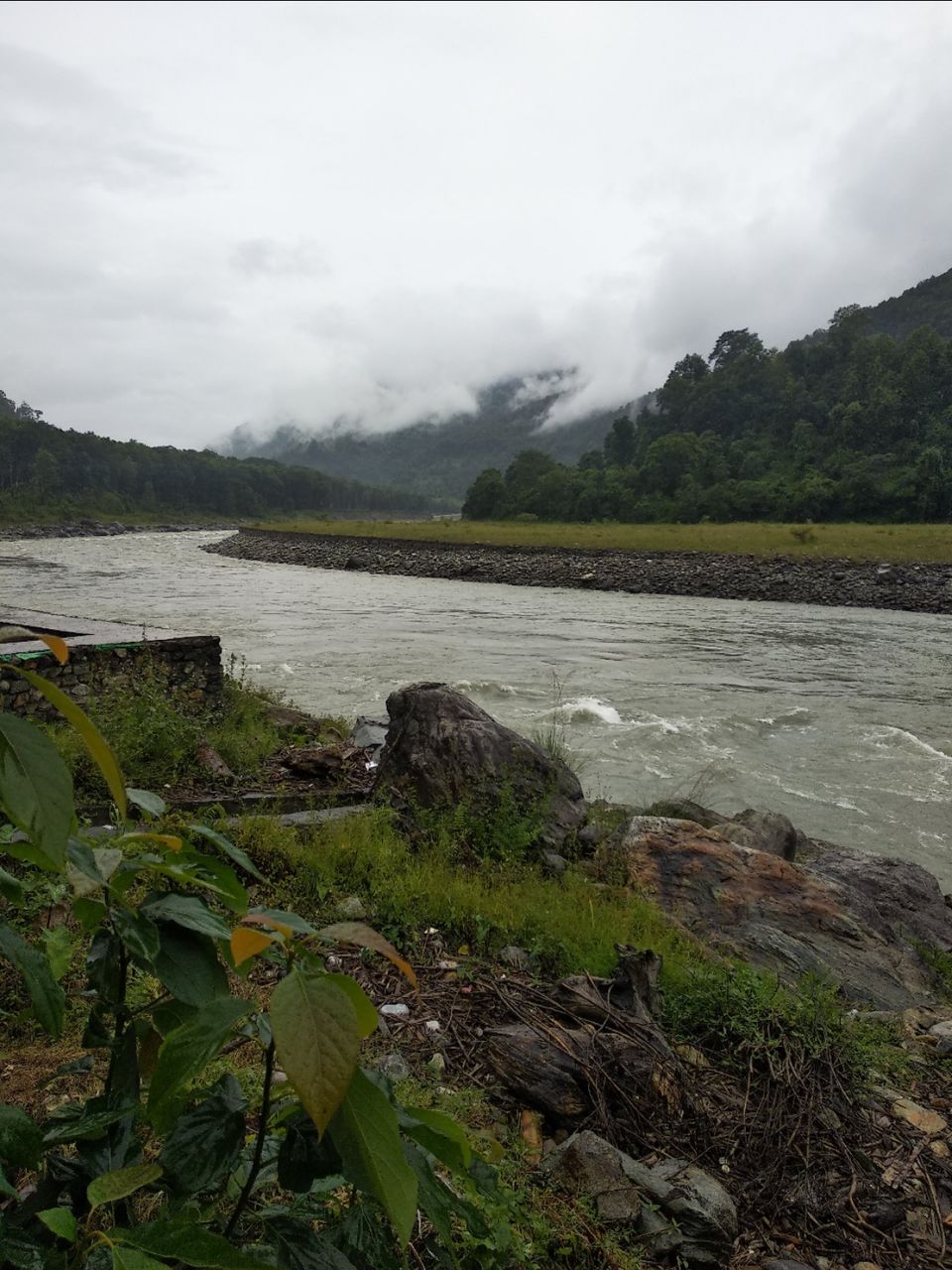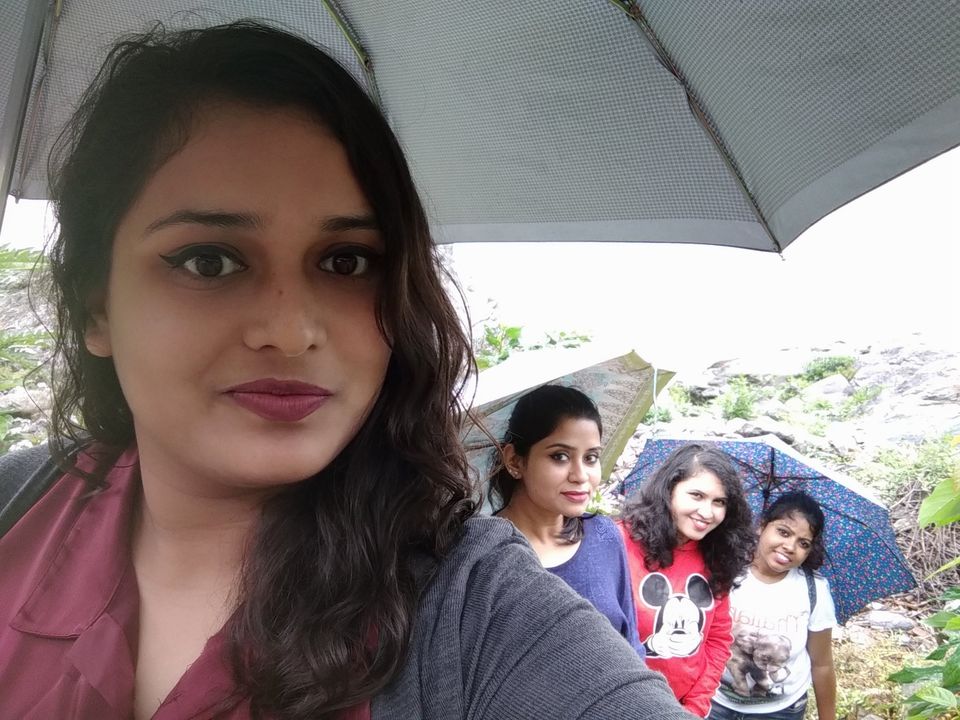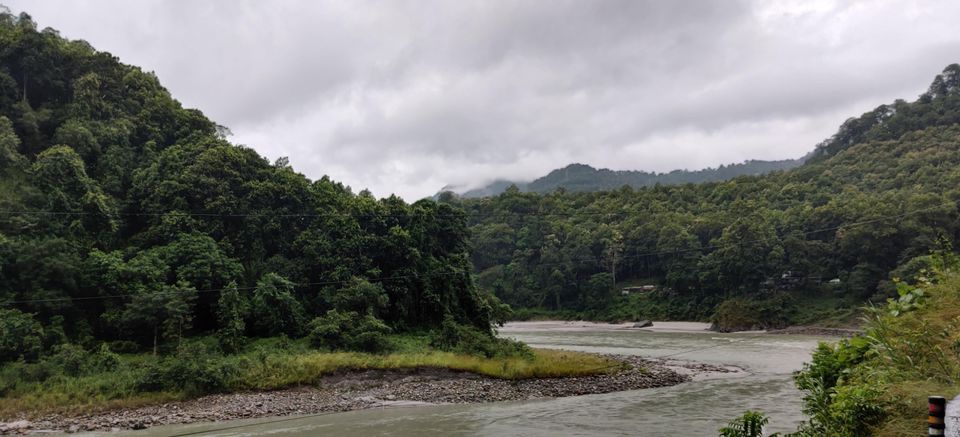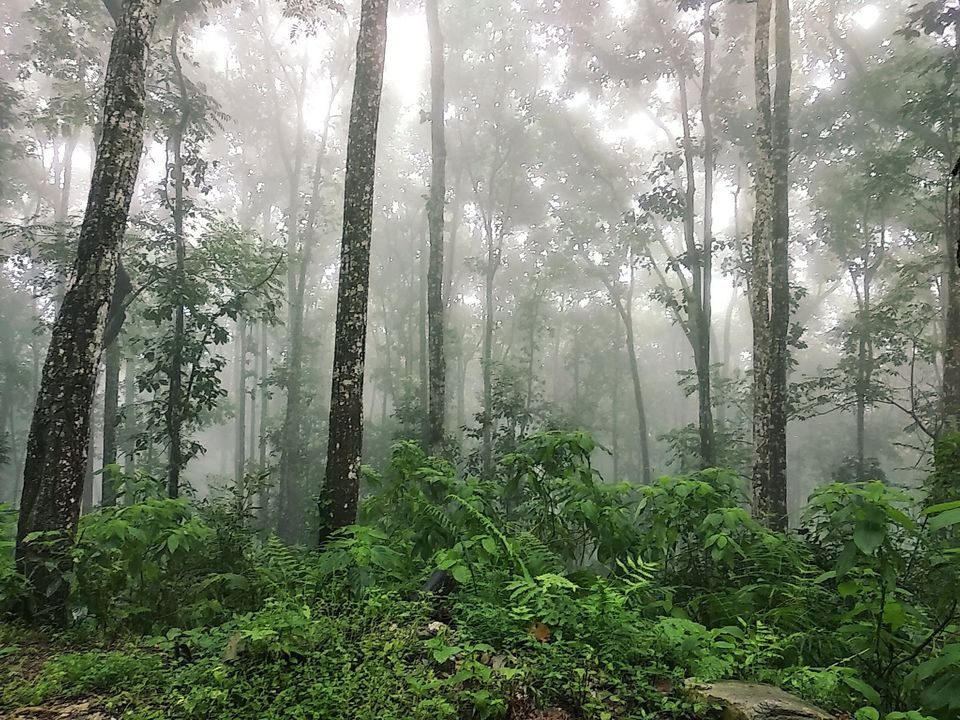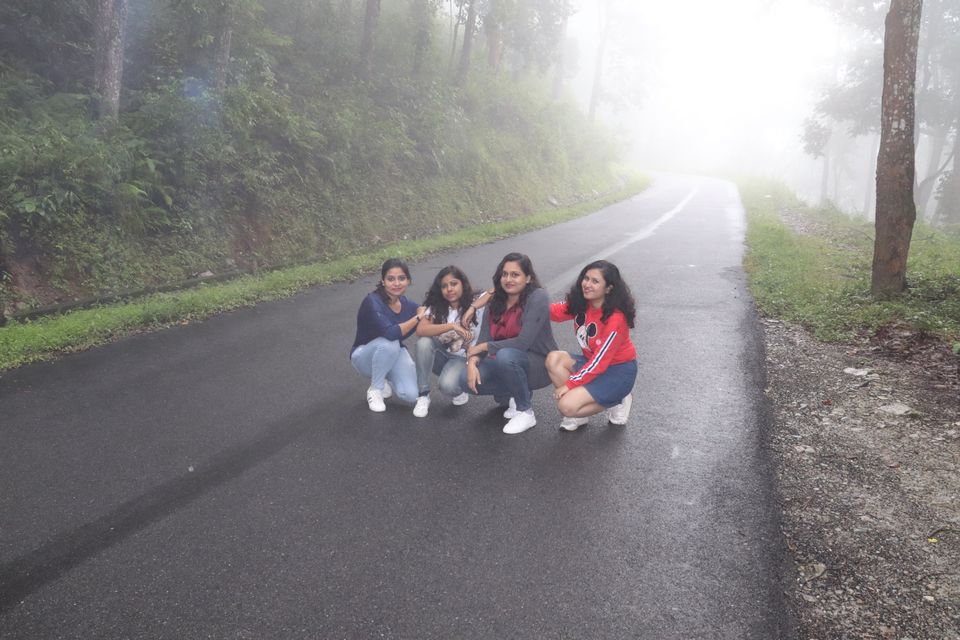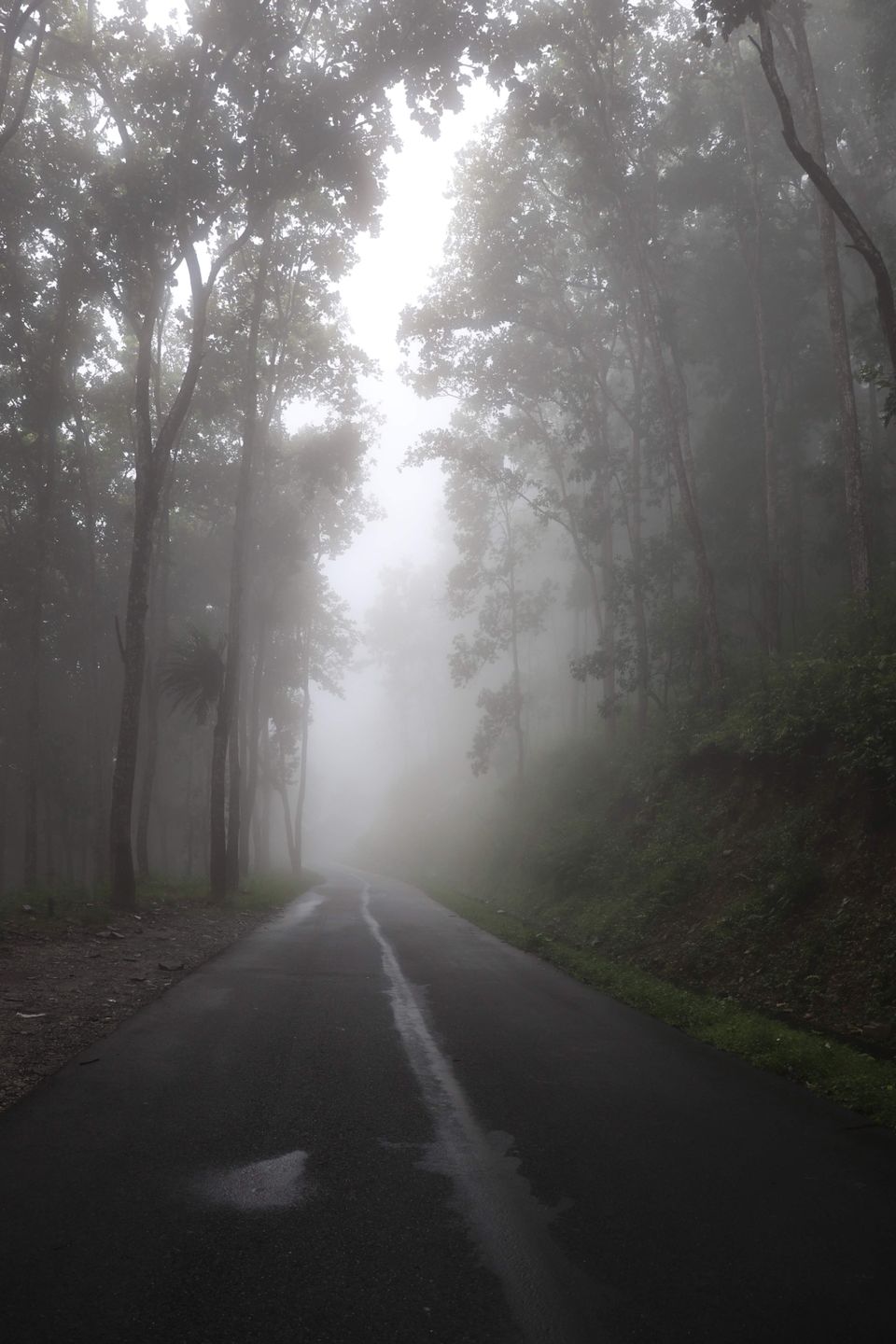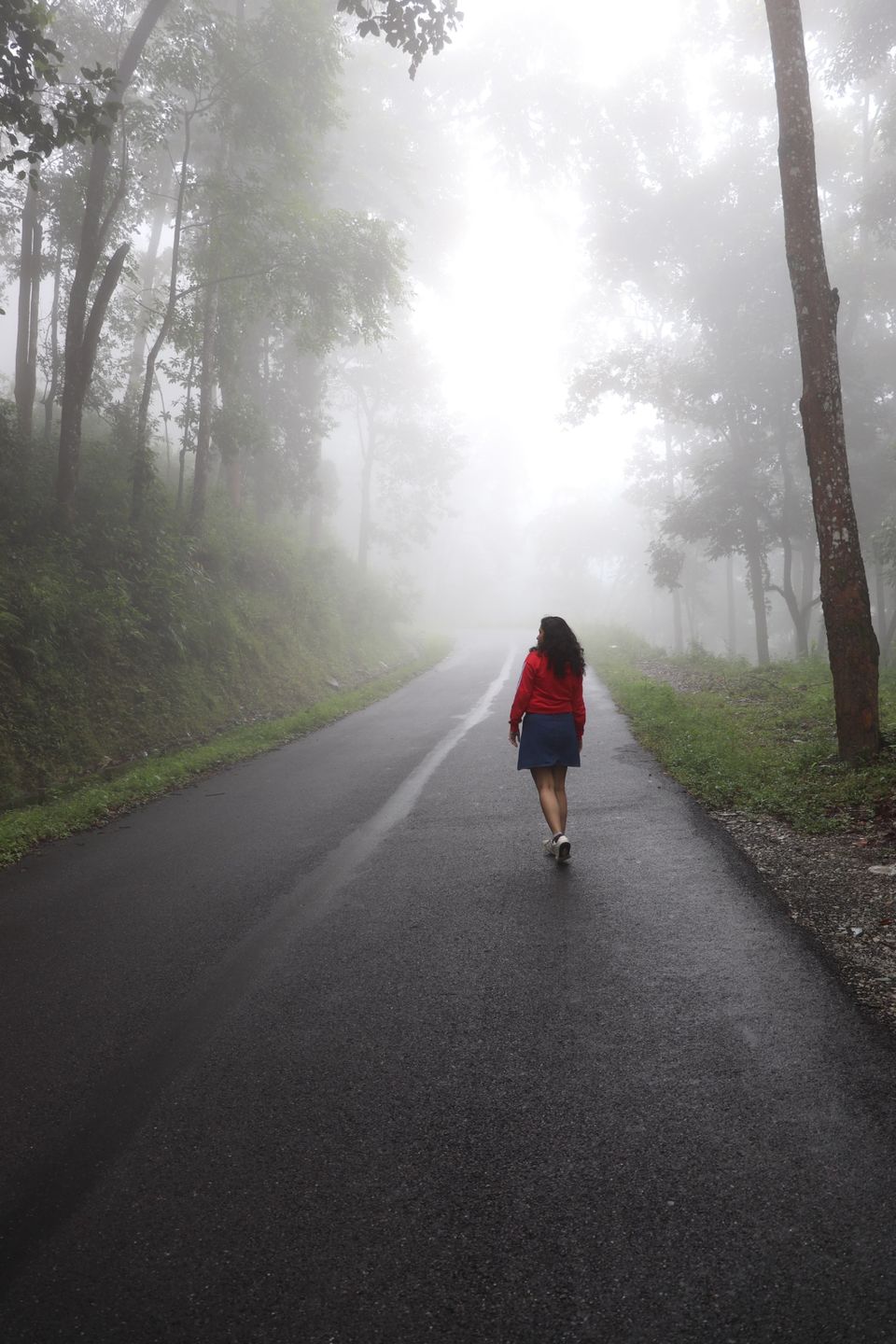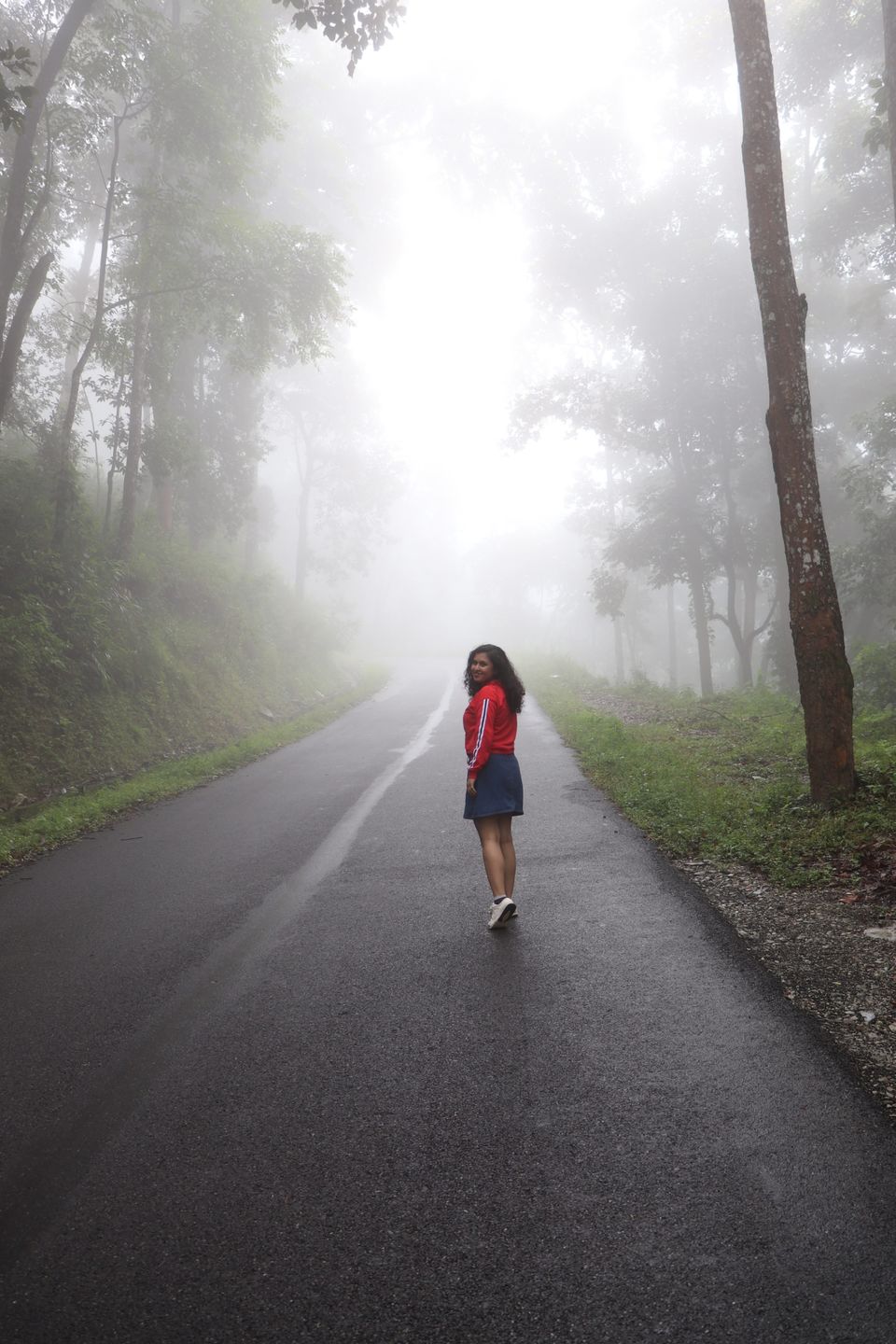 After few hours of drive and photography, we managed to reach Namchi around afternoon. We decided to have our lunch here in Namchi and spend our time in Namchi Char Dham.
Namchi or Namtse is the capital of the district of South Sikkim in the Indian state of Sikkim. The appellation Namchi means Sky High in Sikkimese. 
Char Dham is a huge pilgrimage & cultural complex developed by the Sikkim Government to promote Religious, Eco and Village tourism in the state.
Char Dham is located about 5kms from Namchi town and accessible by a nice smooth road all the way.
We had a sumptuous lunch and we headed towards the Char Dham.
I would like to share one amazing incident with you all :
Since it was raining continuously for few days, so the waiters at the hotel we had lunch in told us that the Shiva statue isn't visible right now. We were sad. Because that man is an absolute charm and what's the point in visiting Char Dham if the main attraction isn't visible.☹️
We were reluctantly standing on the stairs - sad and hopeless when one of us (most probably Suku) started dancing and screaming in excitement.
We all looked around to witnessed the beautiful sight of Lord Shiva emerging in clouds : exactly like hero entries in Bollywood!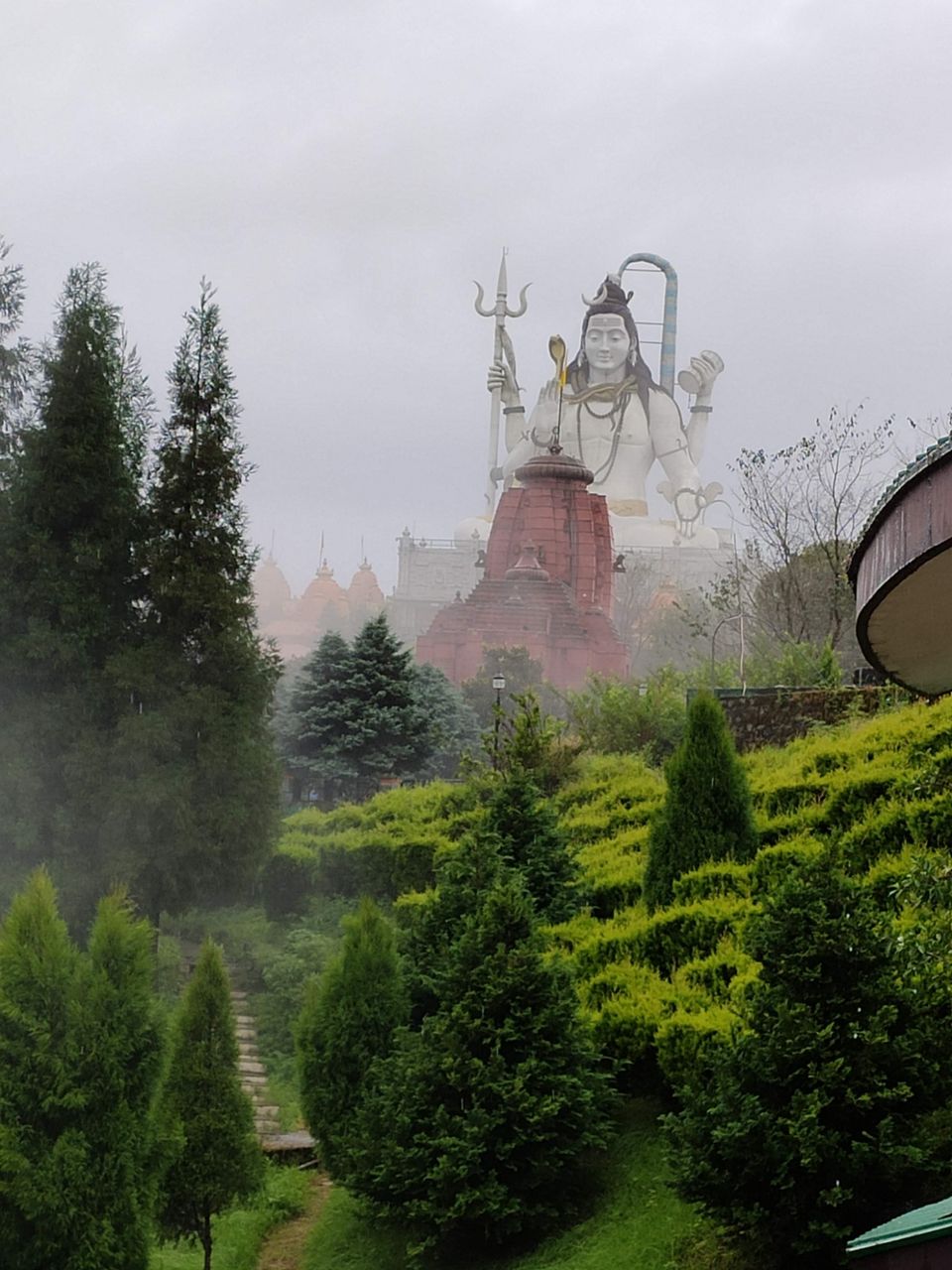 As you enter the main area towards left and walk up, the first thing that strikes is the towering statue of Lord Shiva in a sitting posture. You can't keep your eyes off that for a long time and wherever you are in the complex, you can always see this statue. Actually this is the main theme of the temple complex. 
The main Shiva temple is 108-ft in height and atop that sits the gigantic statue of Lord Shiva which is another 87-ft tall. It sits at the highest and most commanding position in Solophok hill while facing east. Even down below from the helipad, you can see this statue of Shiva.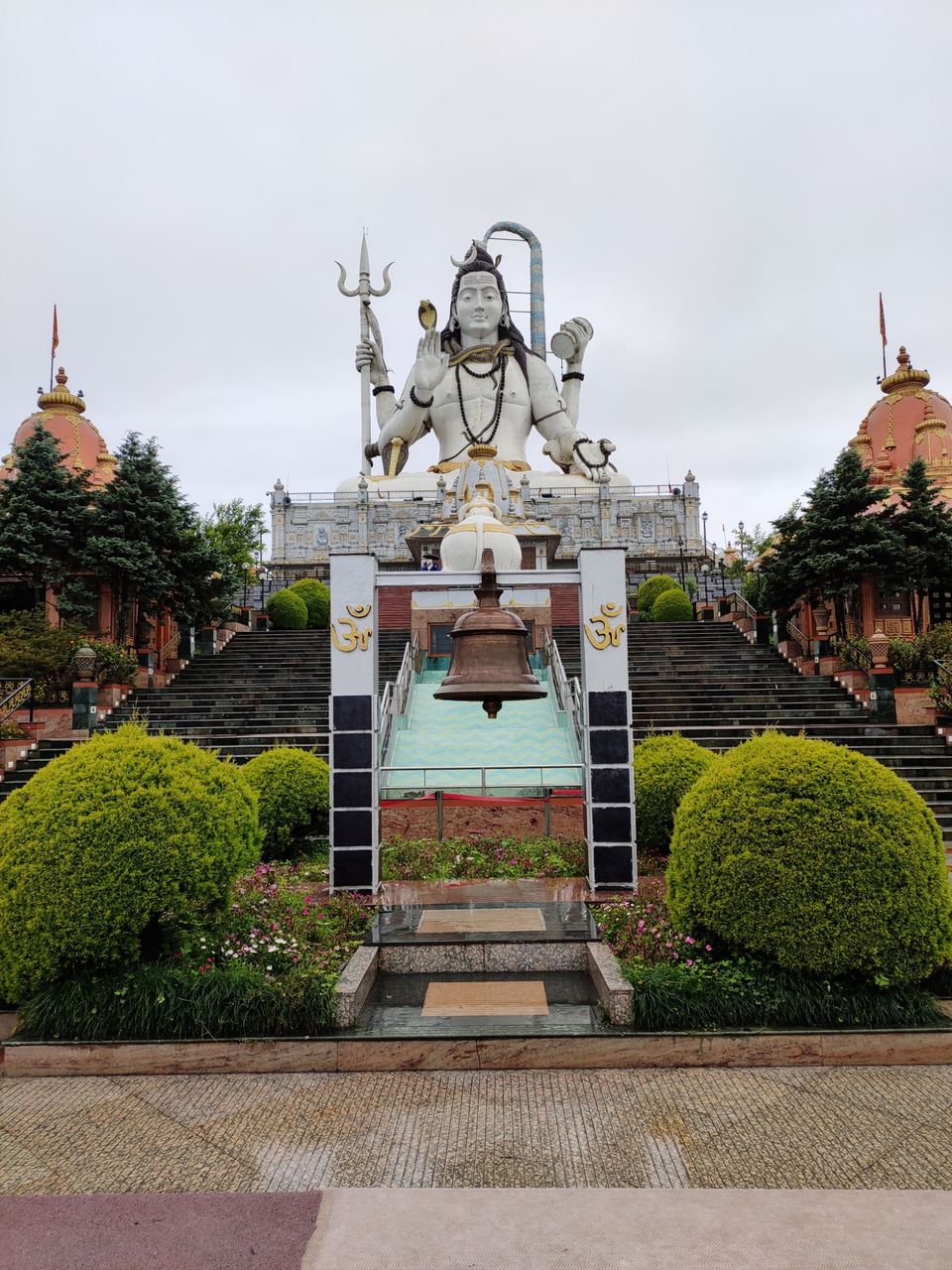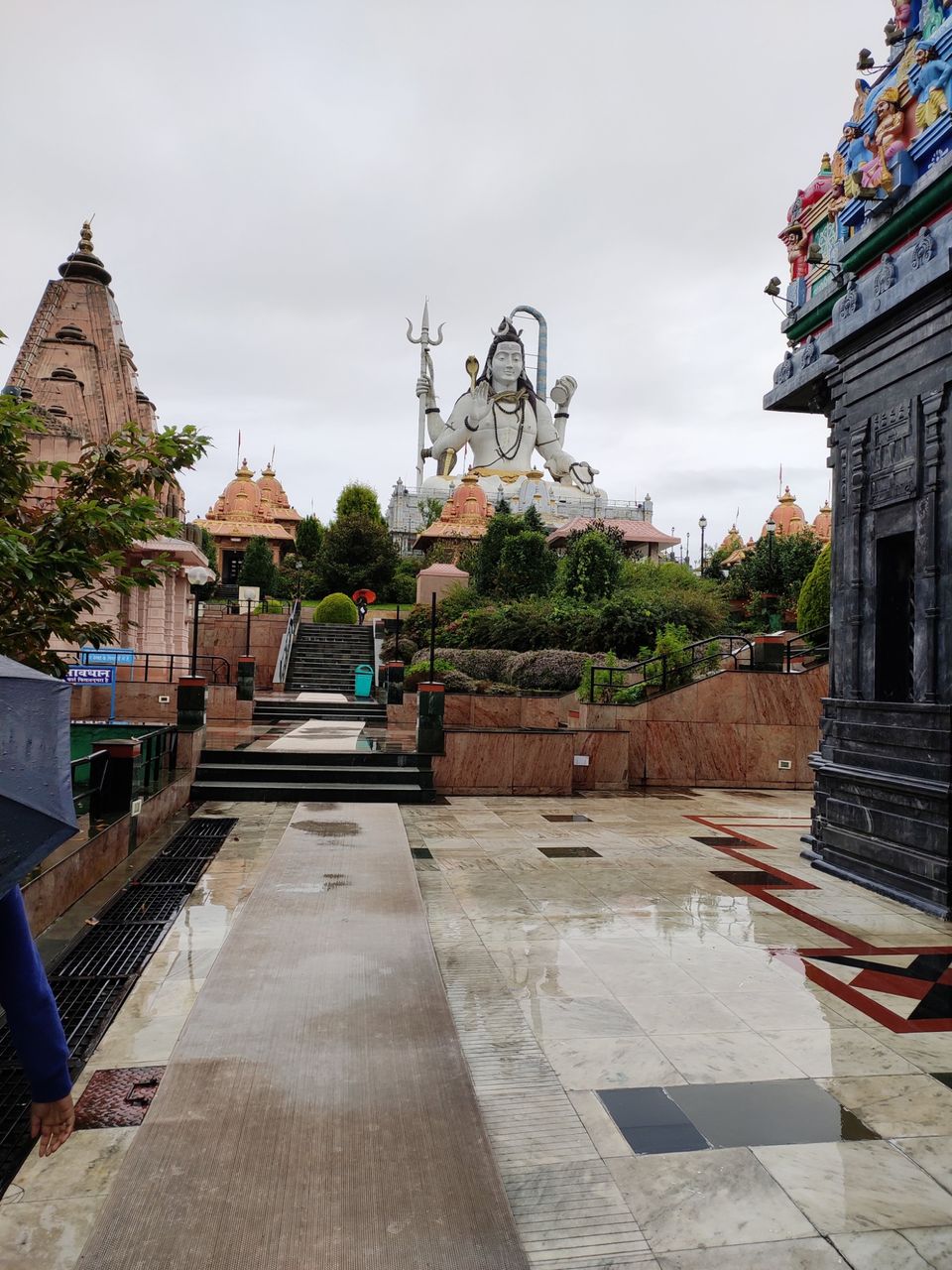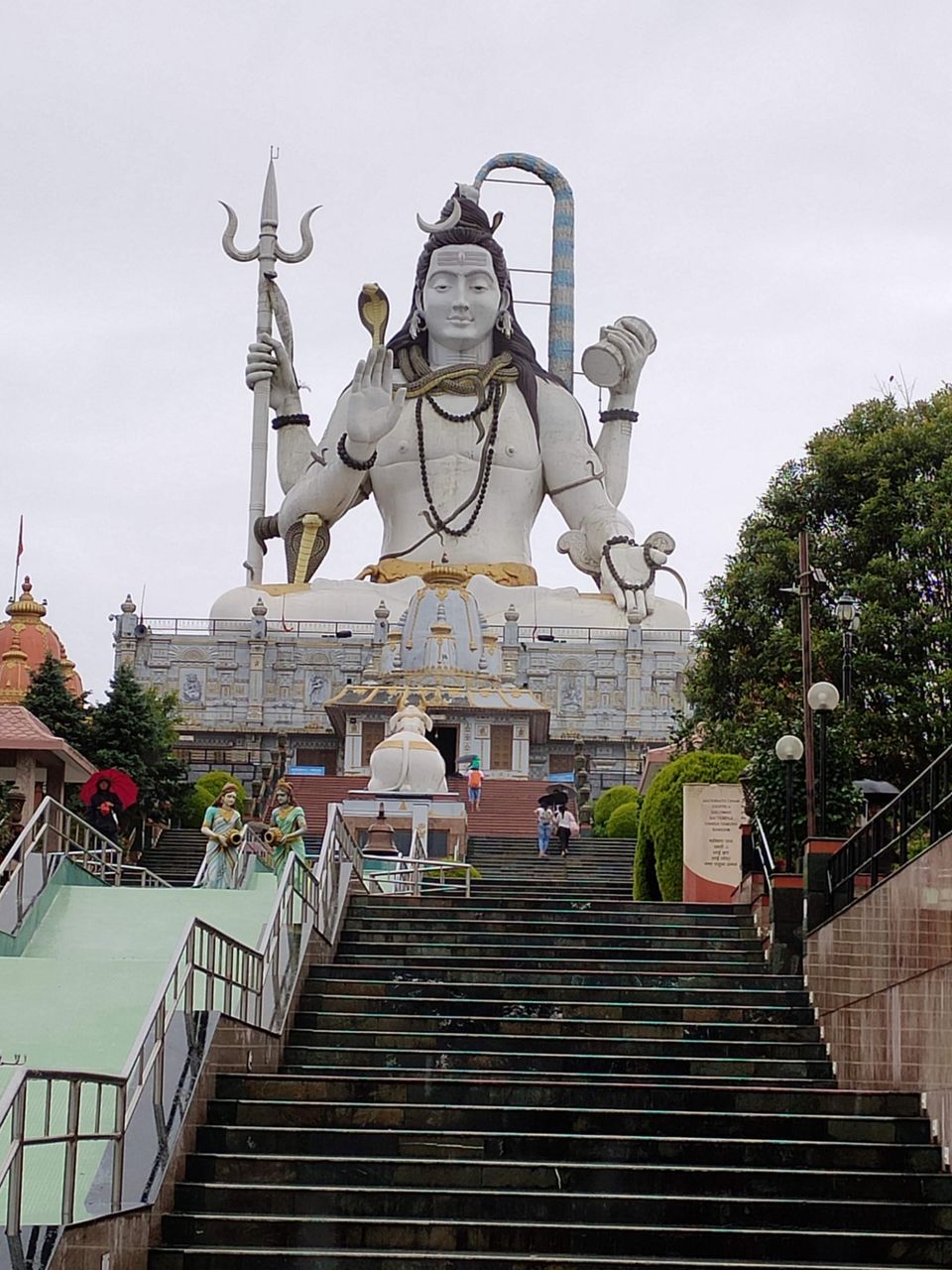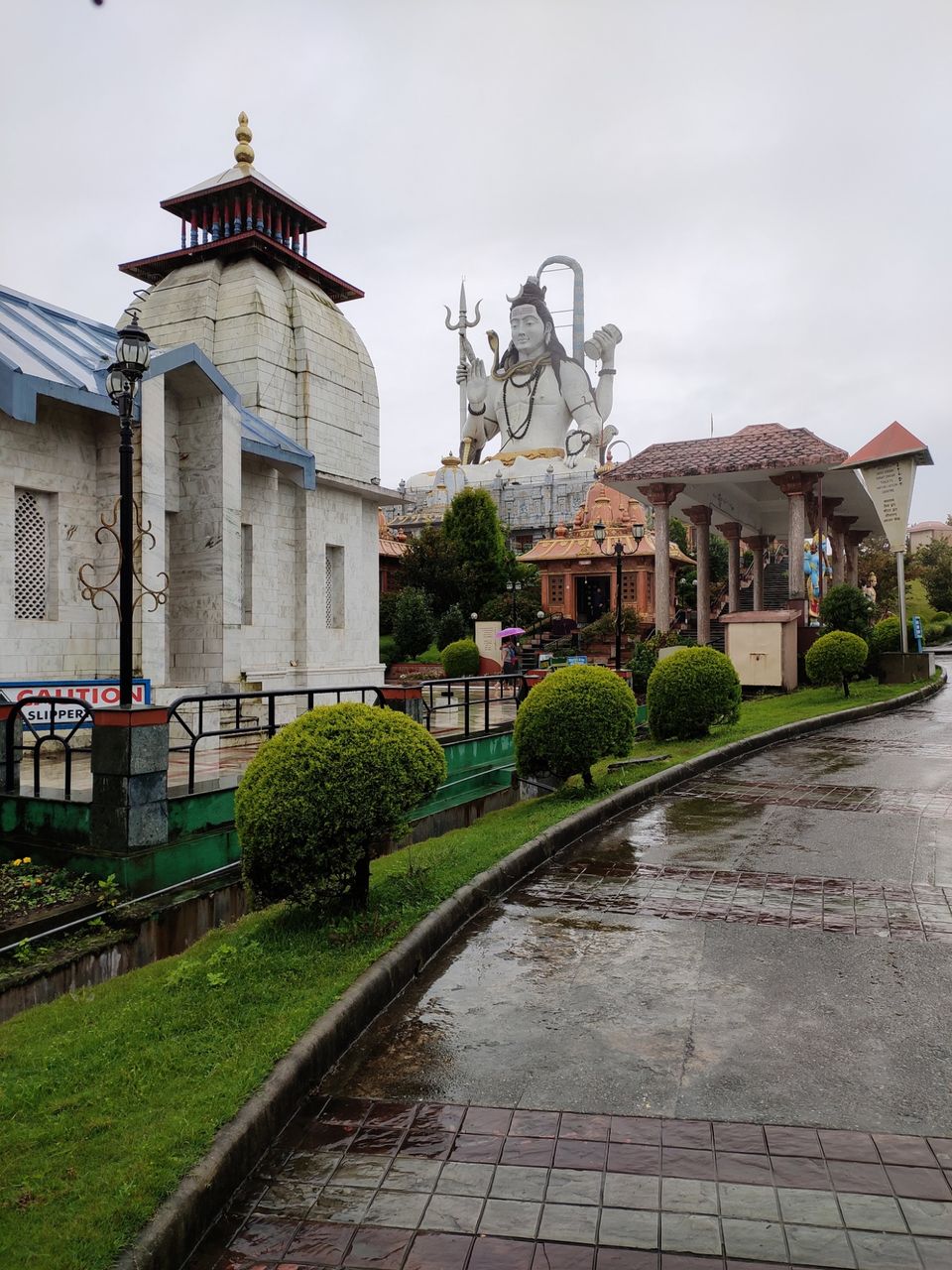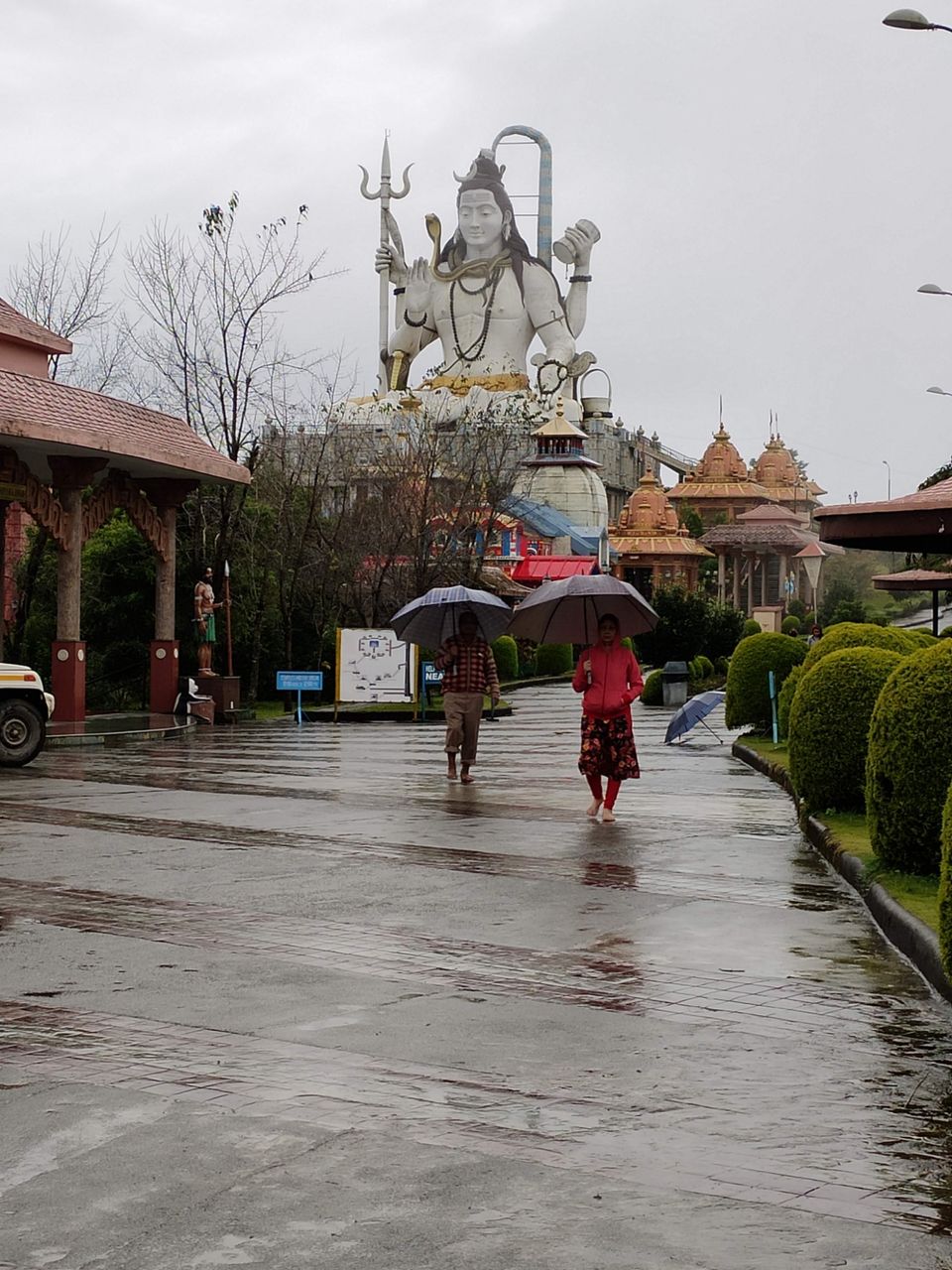 (Please Note : That's some crazy photography thing we were doing while Suku (Sukanya) and Ishu (Ishita) had completed the Char Dham mini tour)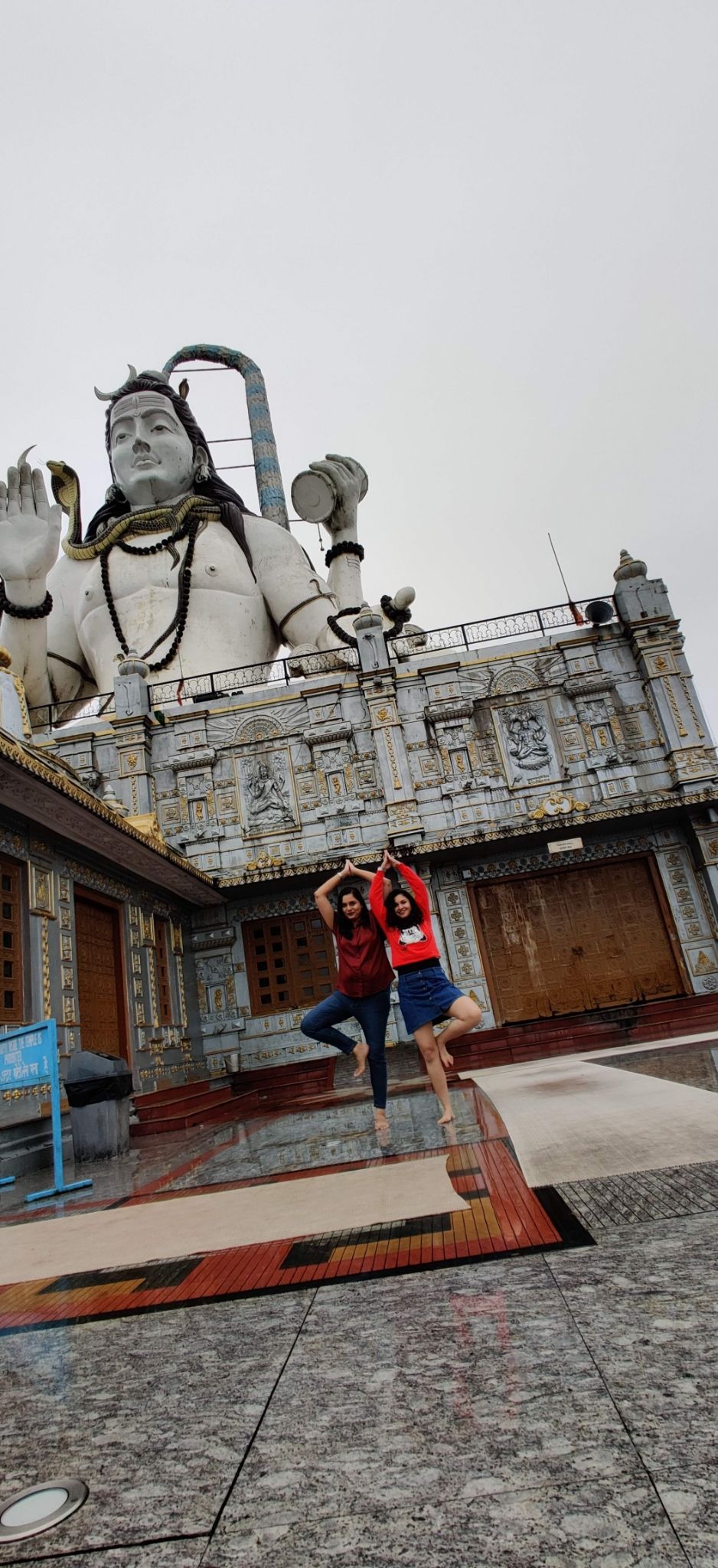 Inside the main Shiva temple, just after its entrance is the Shiva linga. Then there is a huge hall with a stage at the center. When I talked to the guard, he mentioned that kirtans and other religious programs take place here time to time. There are large number of wall murals depicting the story of Shiva including his marriage. Take a walk around the hall, go through the murals and their descriptions below where the related mythological stories are narrated. 
Apart from the Shiva temple, you can visit the whole complex to witness the beautiful construction and architecturally beautiful sights.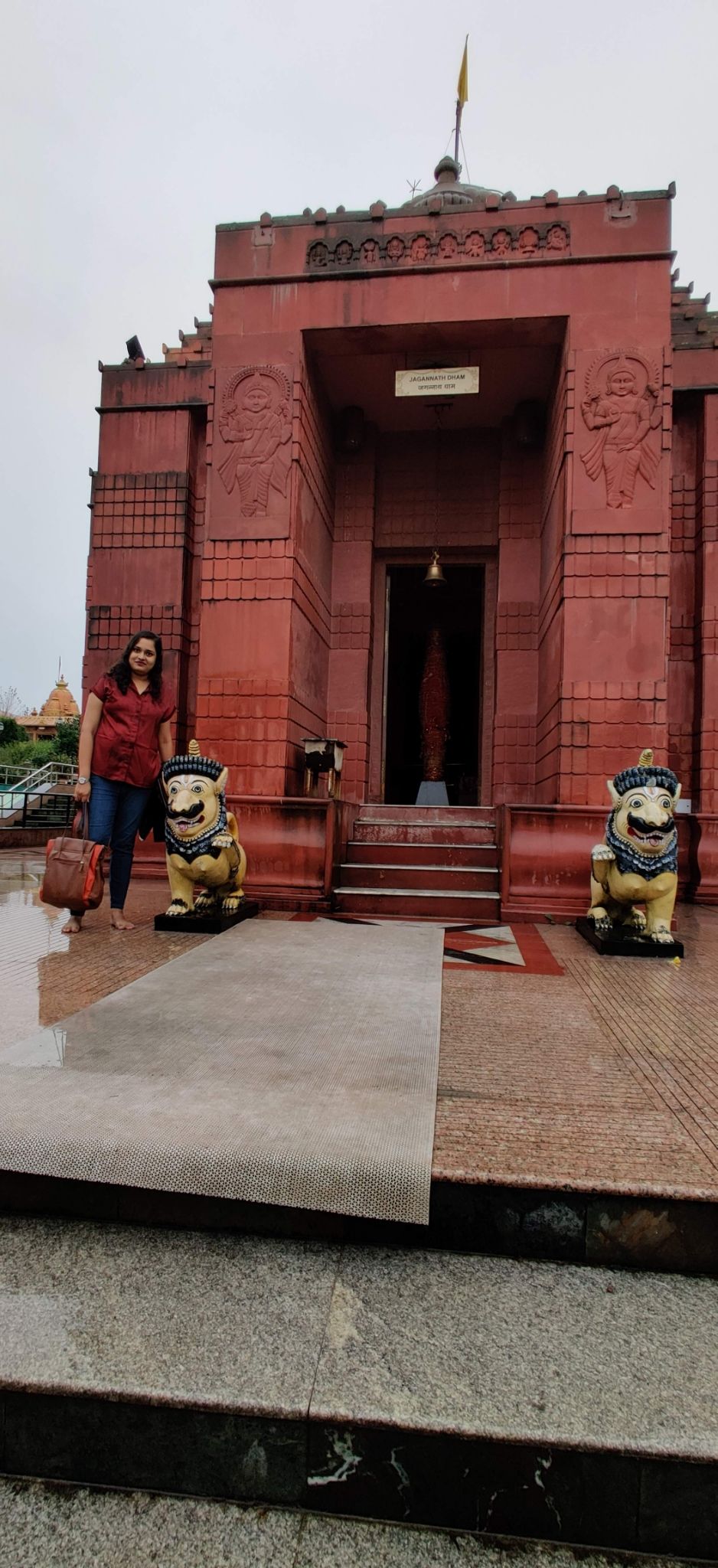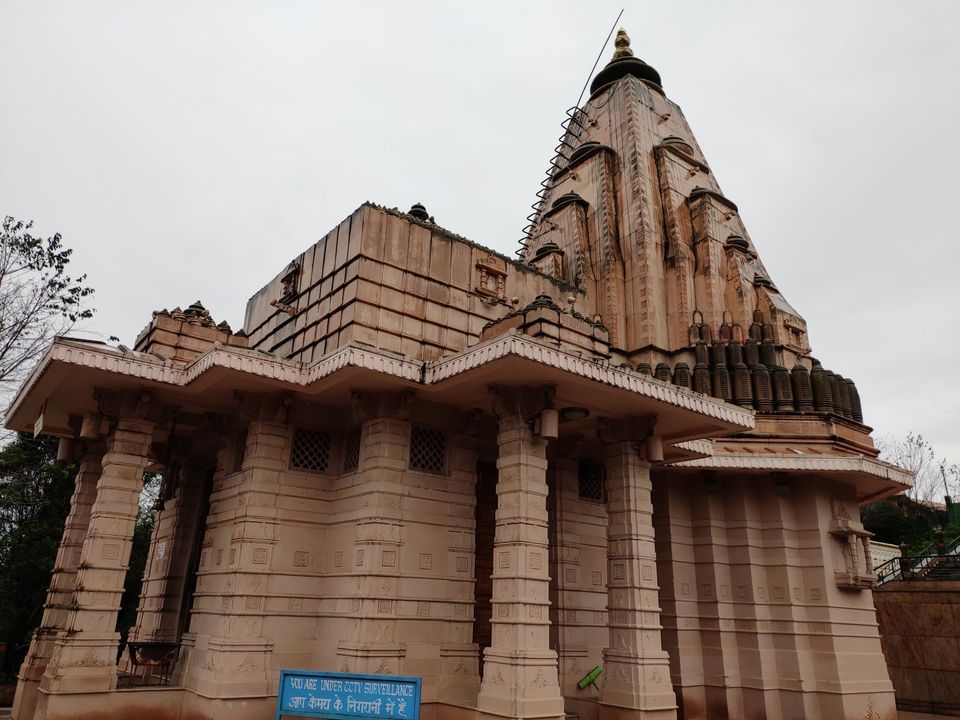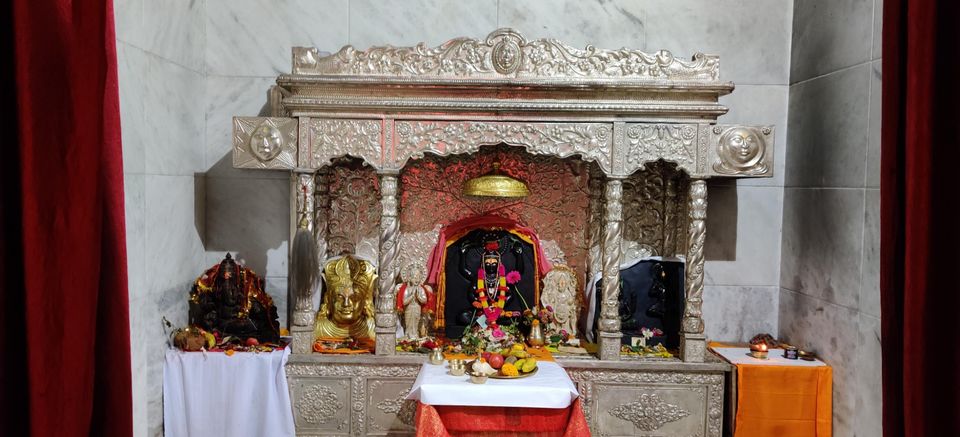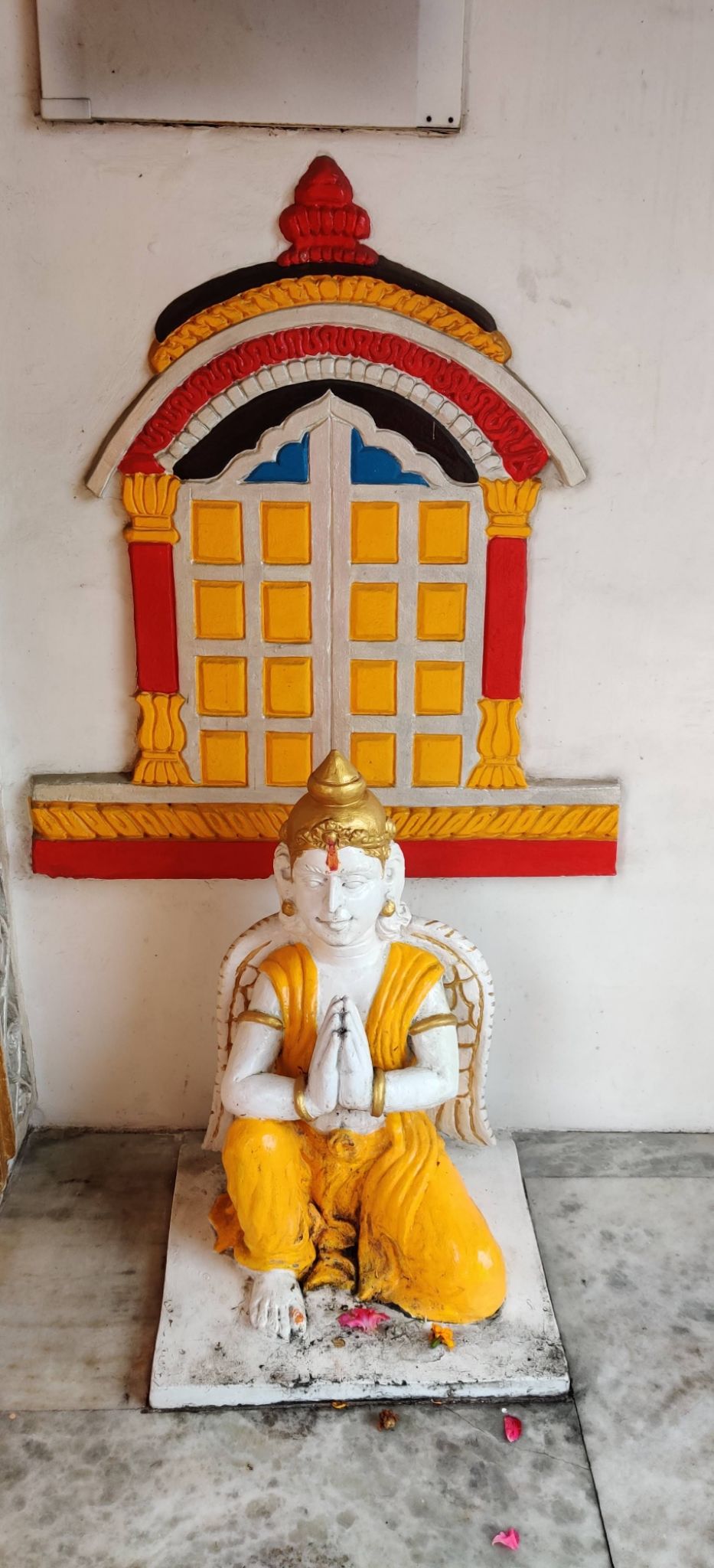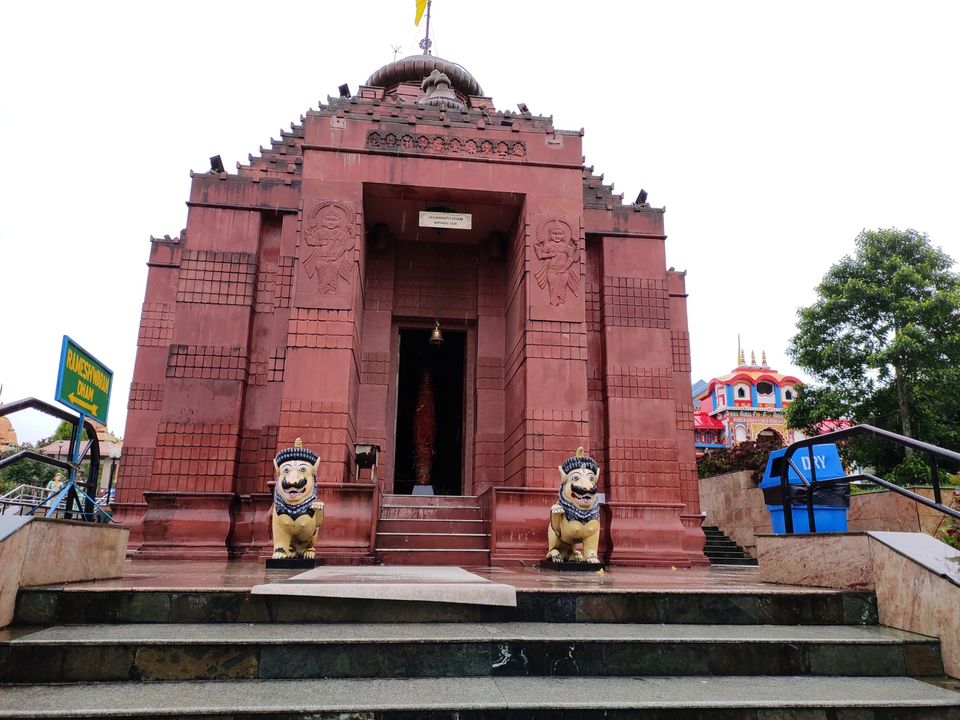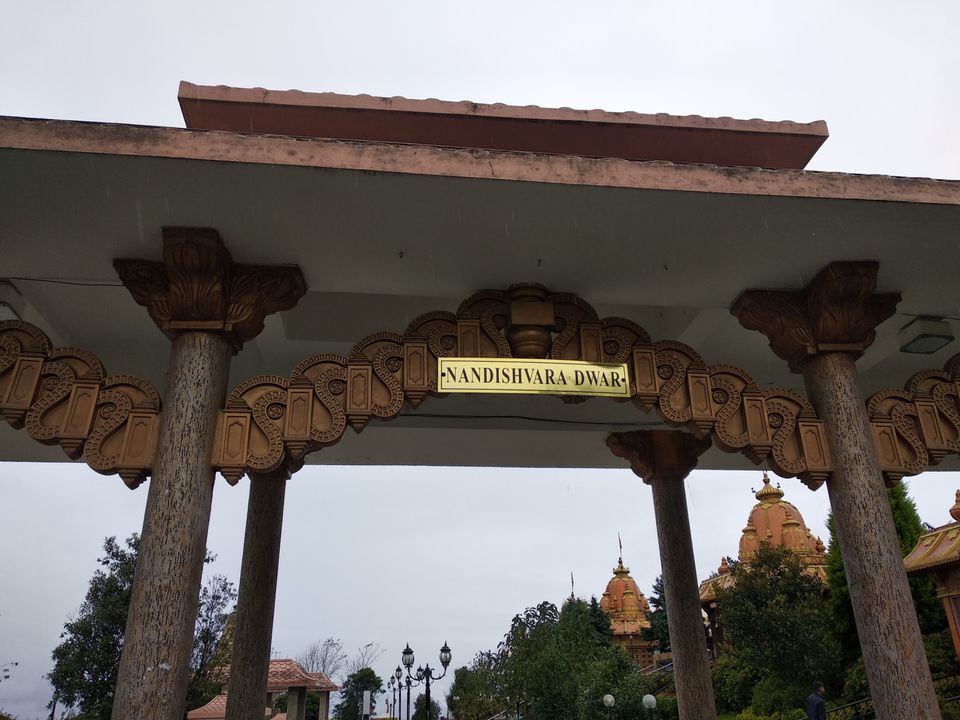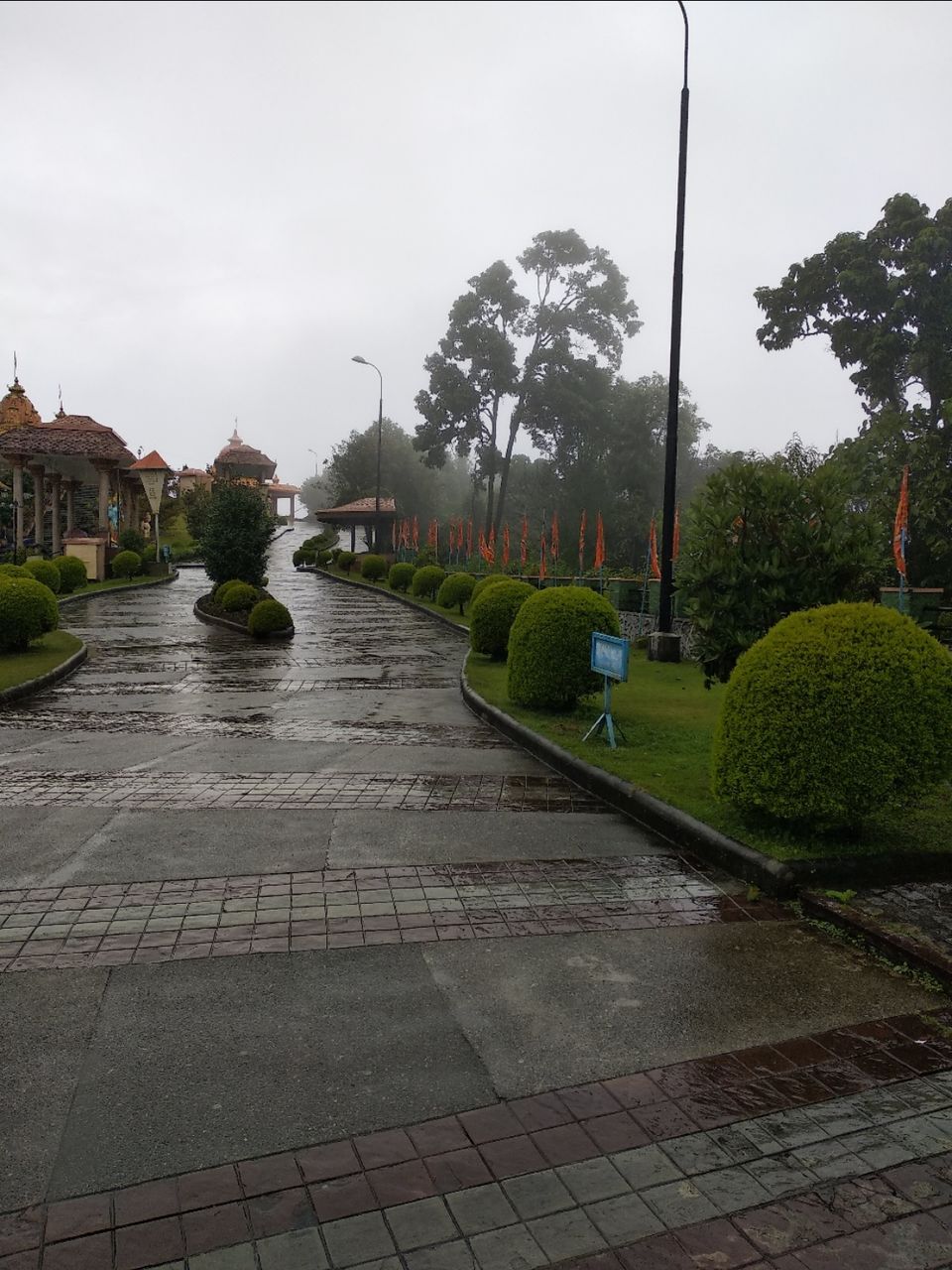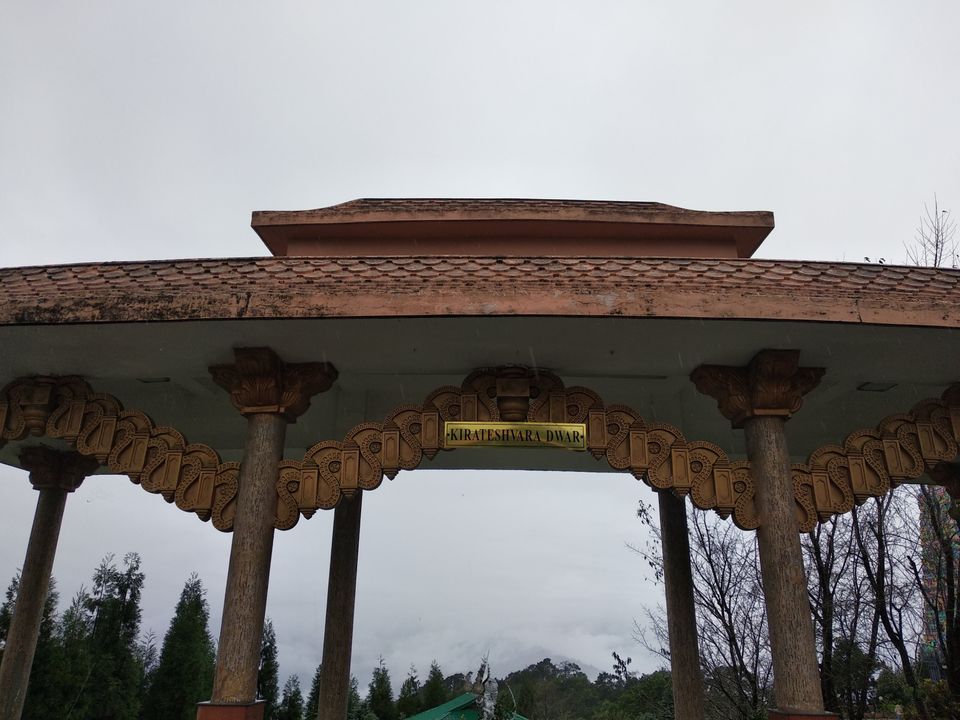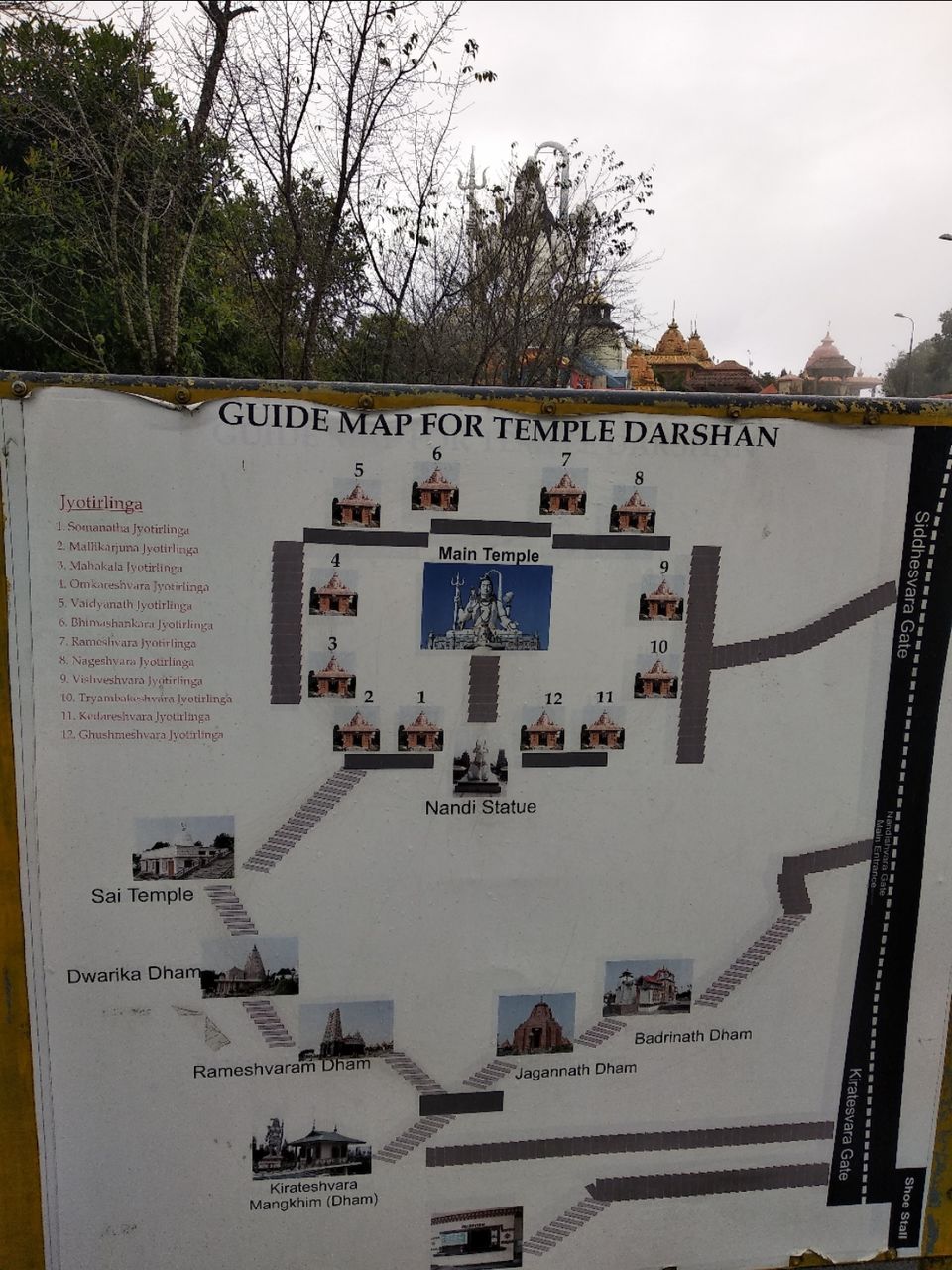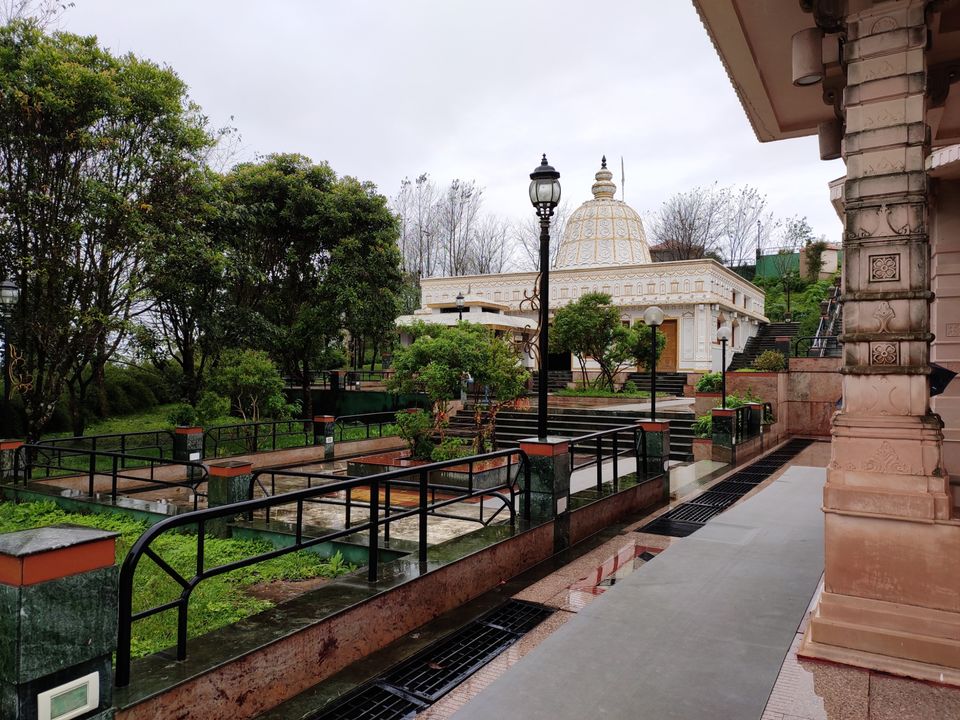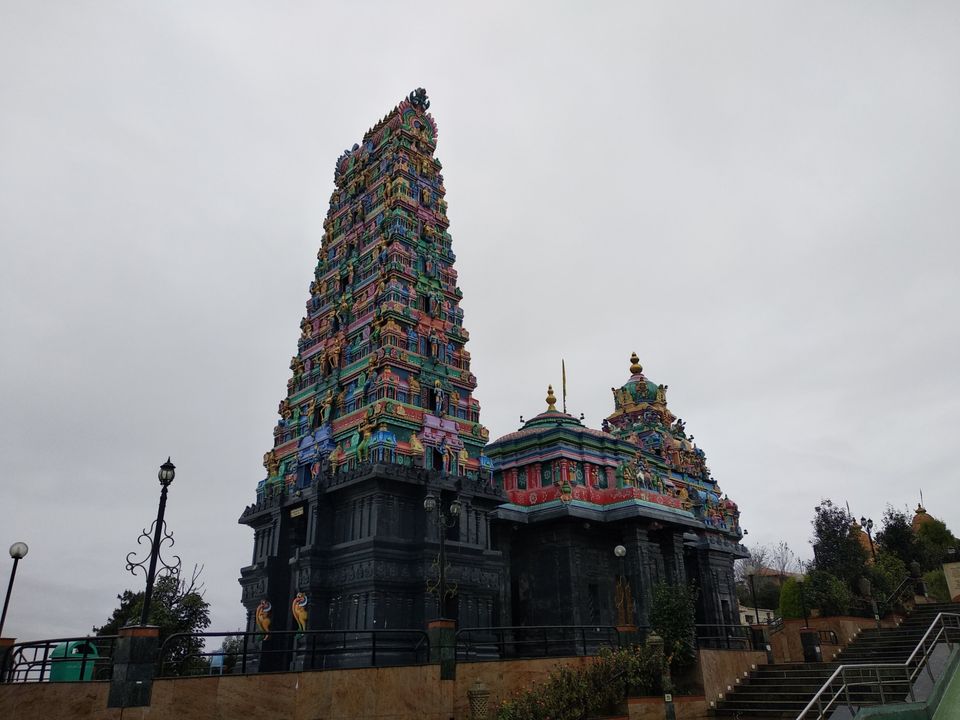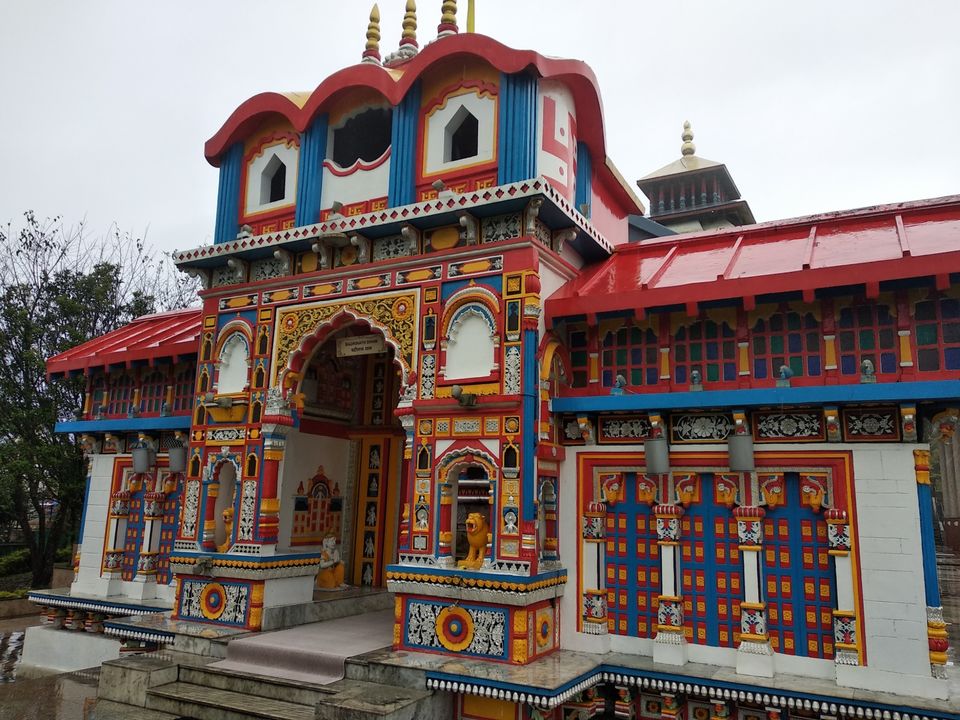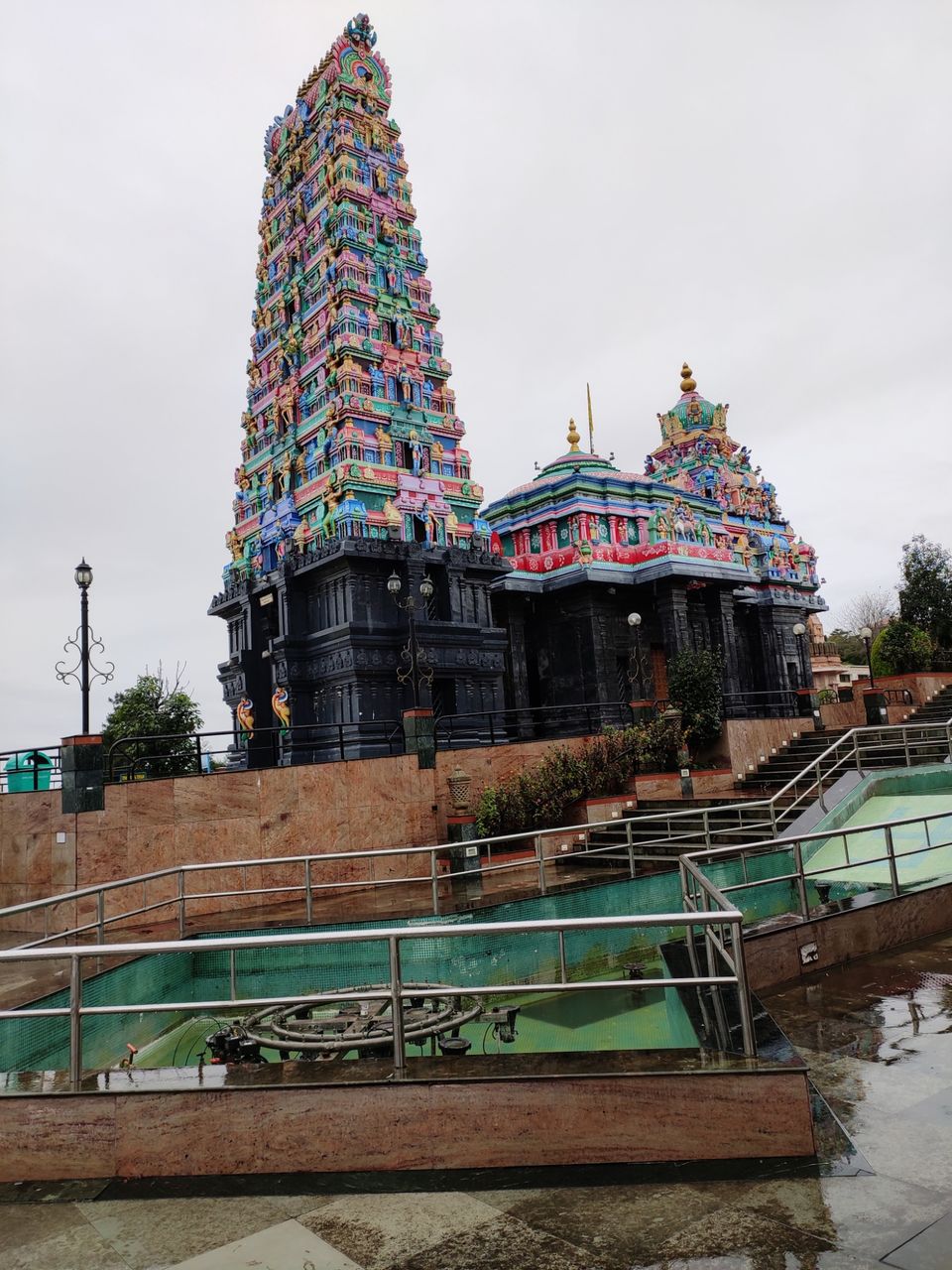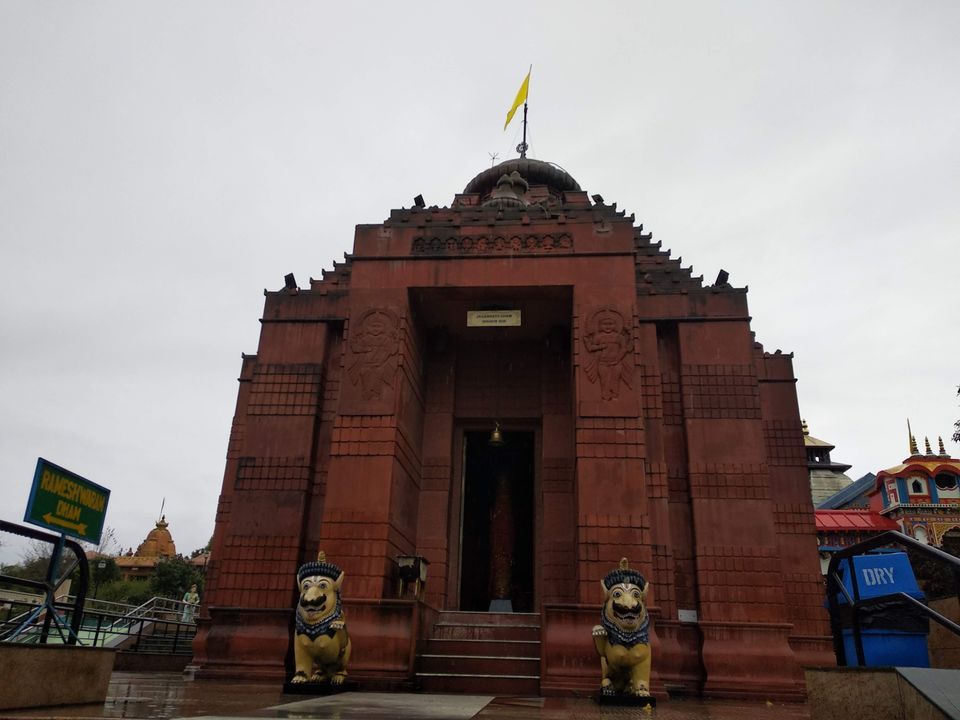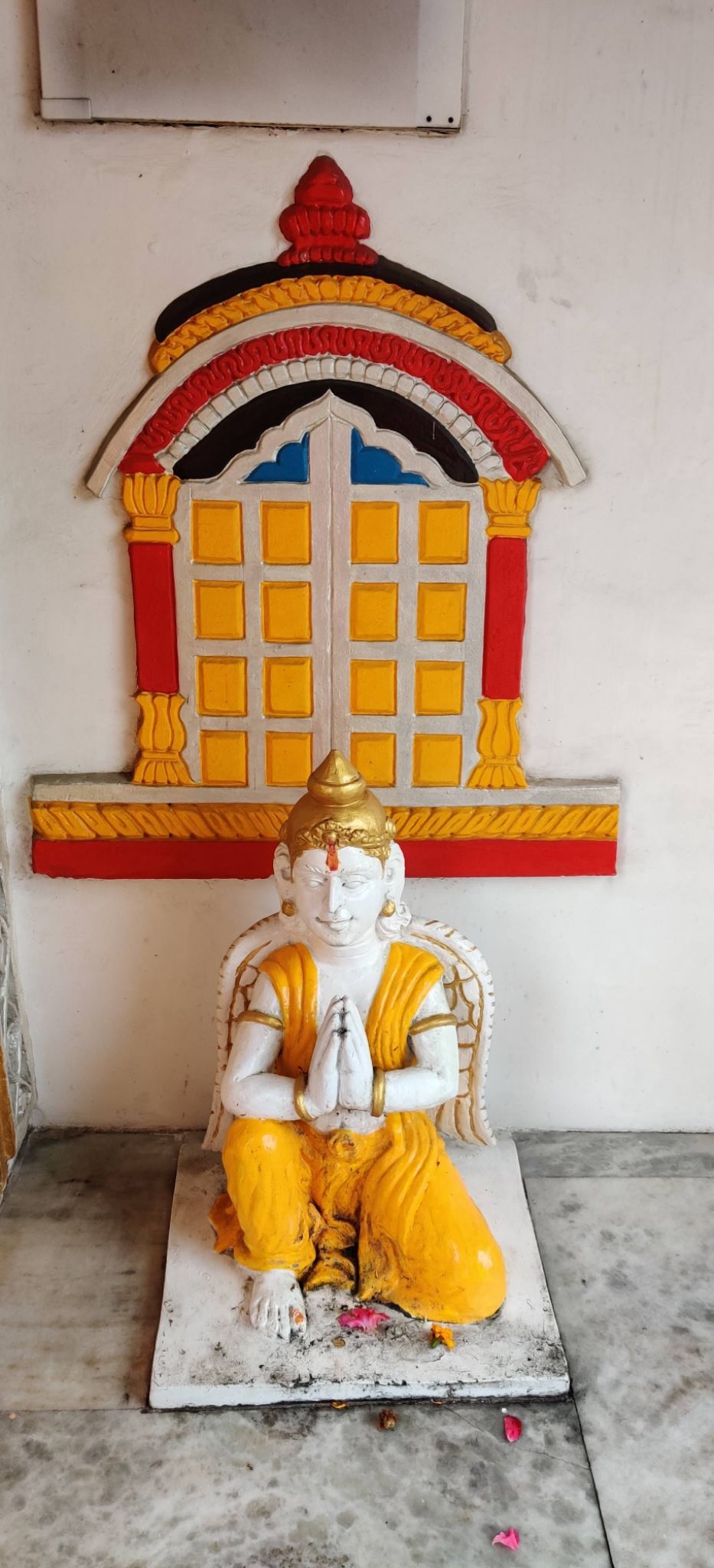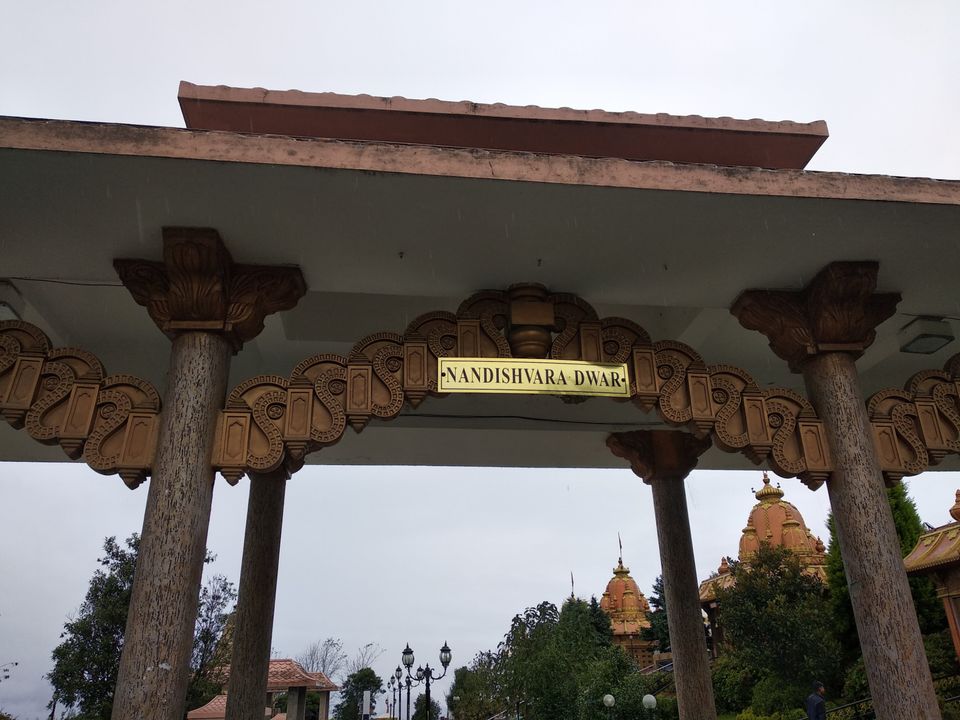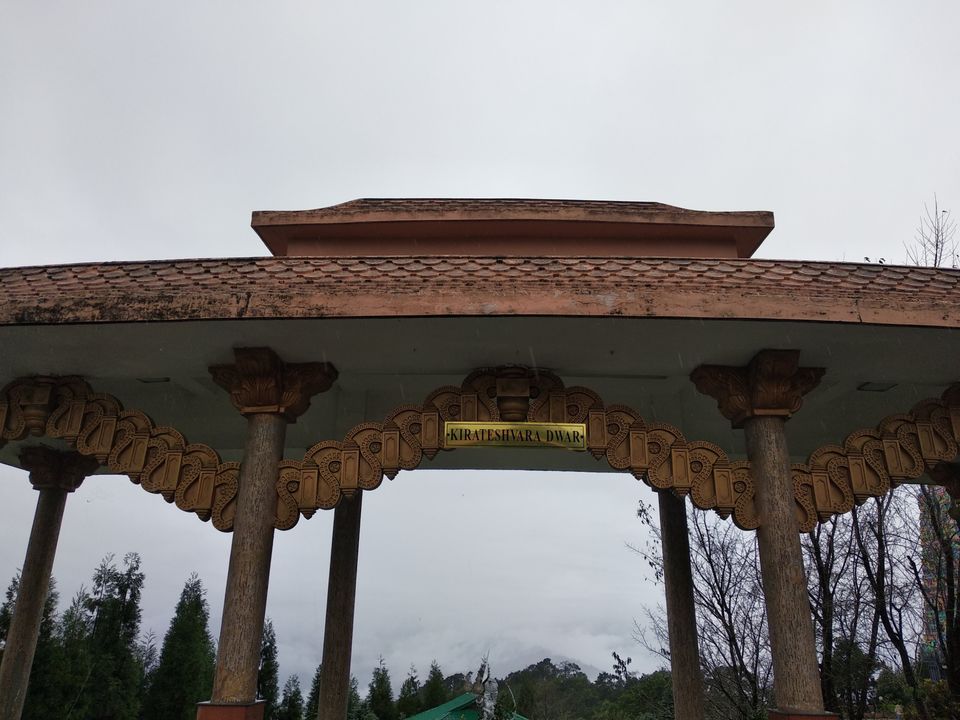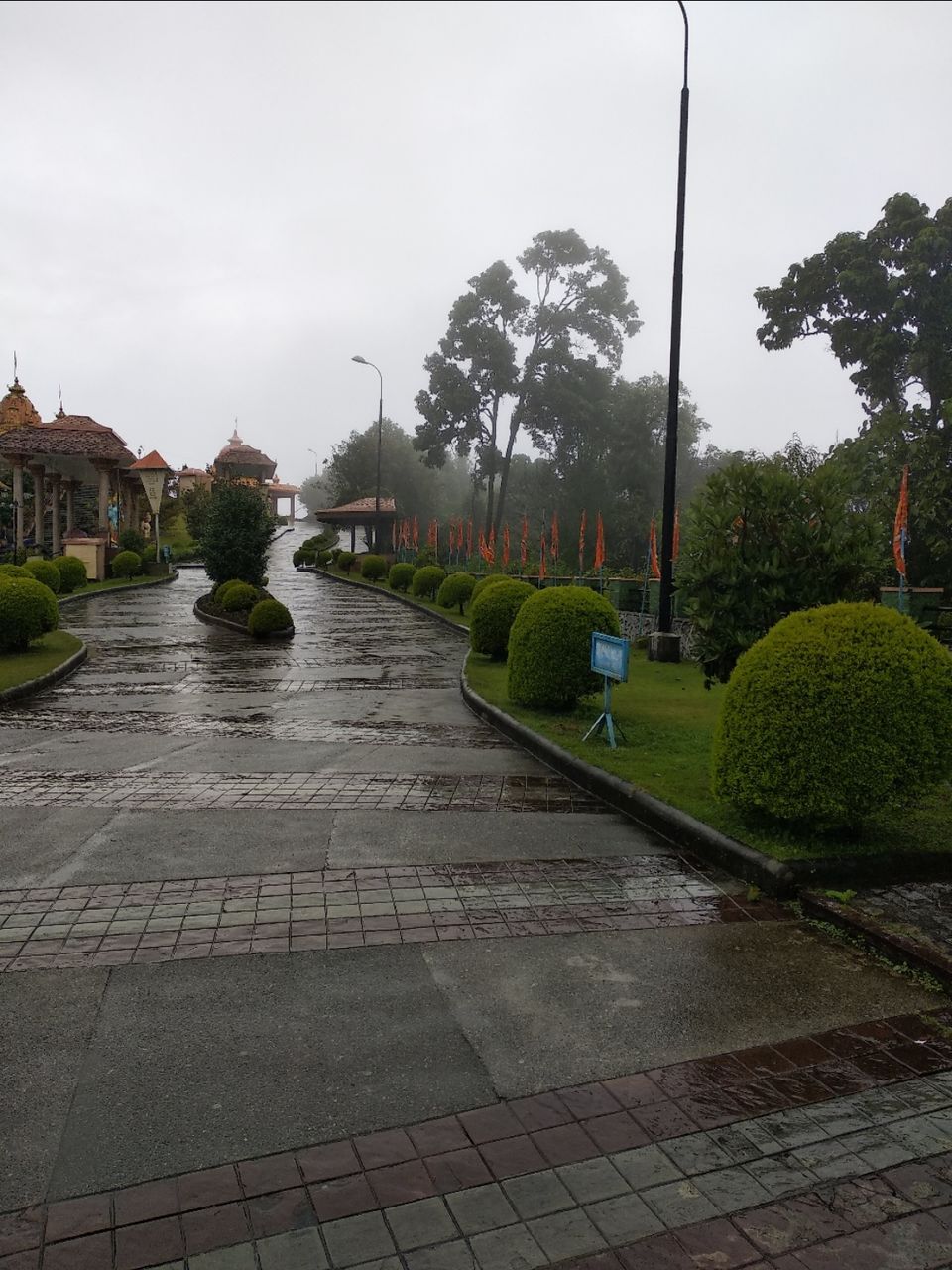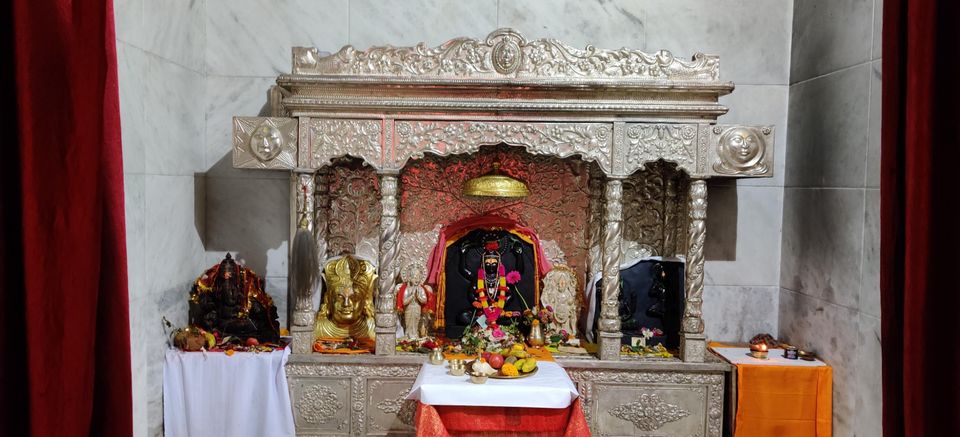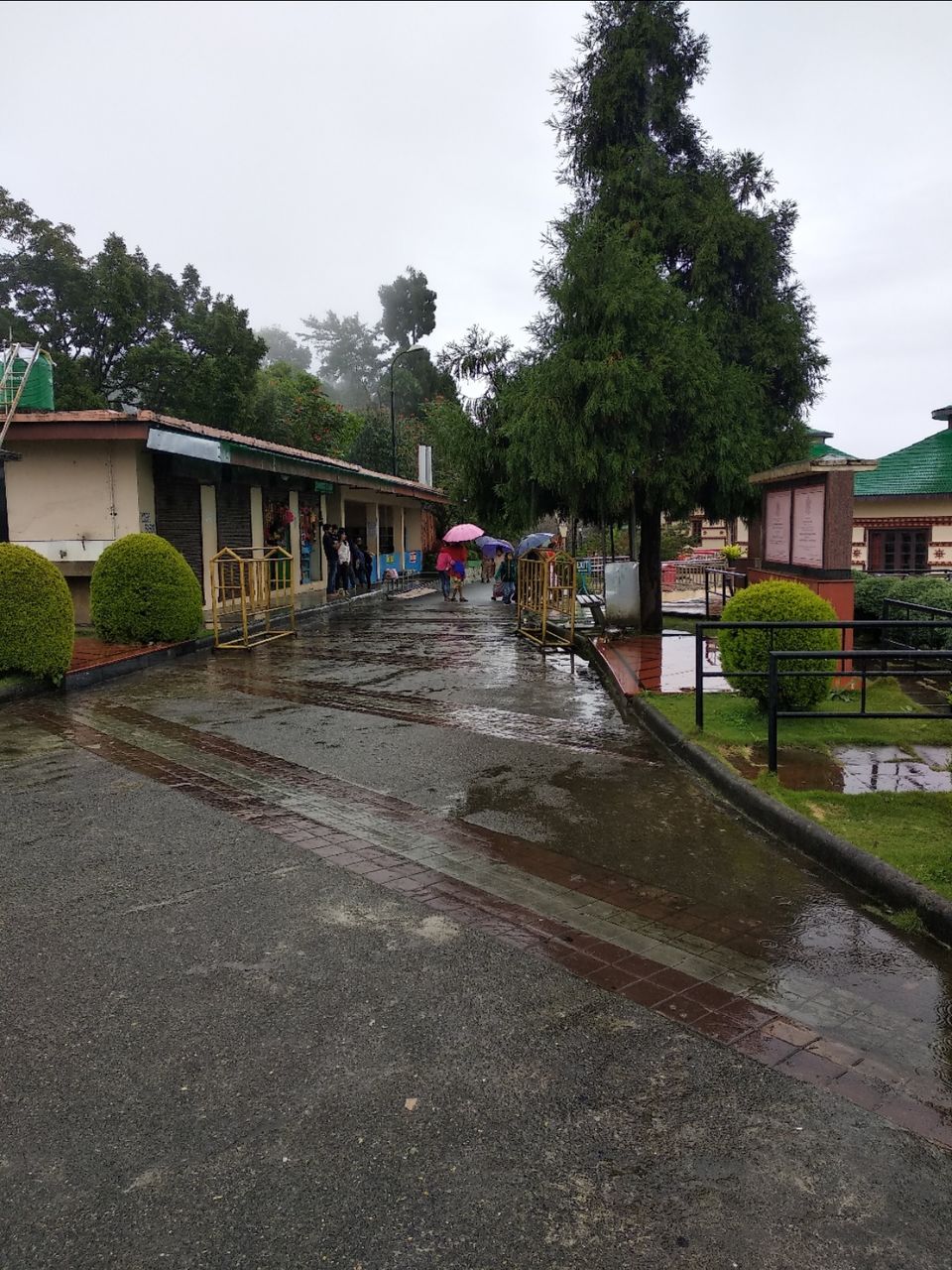 It was almost late evening when we realised that we are yet to reach Ravangla.
When we reached Ravangla, a new problem was awaiting us. We booked Oyo rooms from Goibibo around August. When we got down at the hotel, the receptionist told us that we can't stay there because the hotel had some issues with Oyo. We called Goibibo and Oyo and had a lot of discussions amongst ourselves and finally decided to get the refunds from Goibibo. We set off with our hired car to do some hotel hopping but in mountains, people wrap up early. So we were struggling to find one decent hotel which was pocket friendly until we got two rooms in Hotel New Dzongri for one night.
We had simple dinner at the hotel only and it was a last minute request from us. All the hotels were closed by then and the food which the hotel staff cooked for themselves was shared with us as well.
That very night, after Ishu and Momo dozed off, I and Suku chalked out a plan for the next day before heading to NJP for a return train.
It was, sadly, the last day of our trip and we had a list of places to visit. The first place was Titanic View point and on the way to this amazing view point, we witnessed some lush green views which looked jaw dropping fresh as it was raining all throughout the day and night.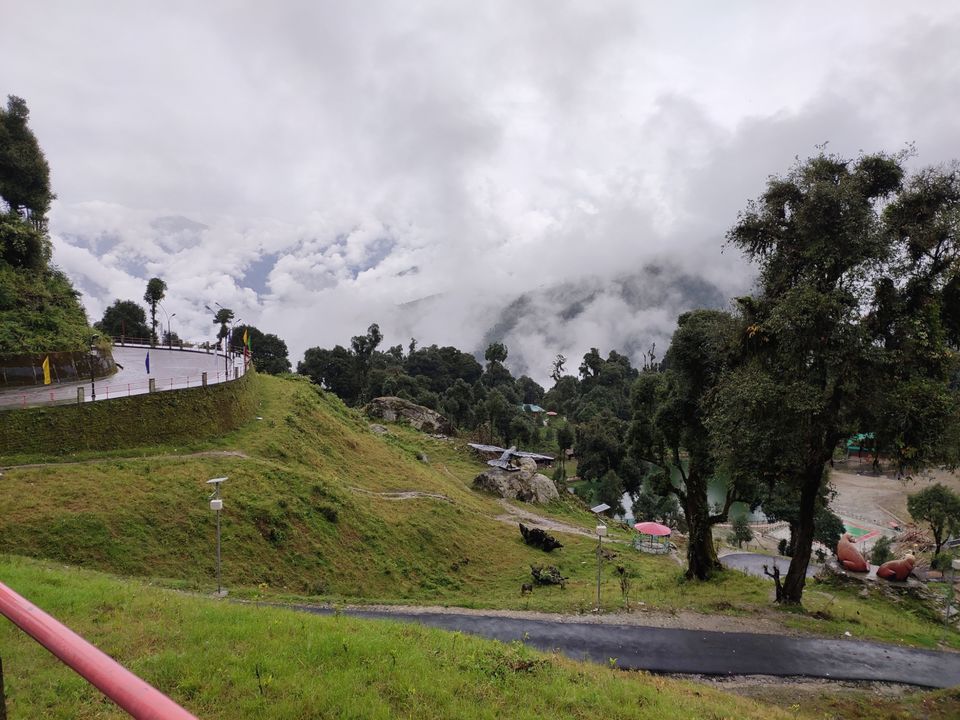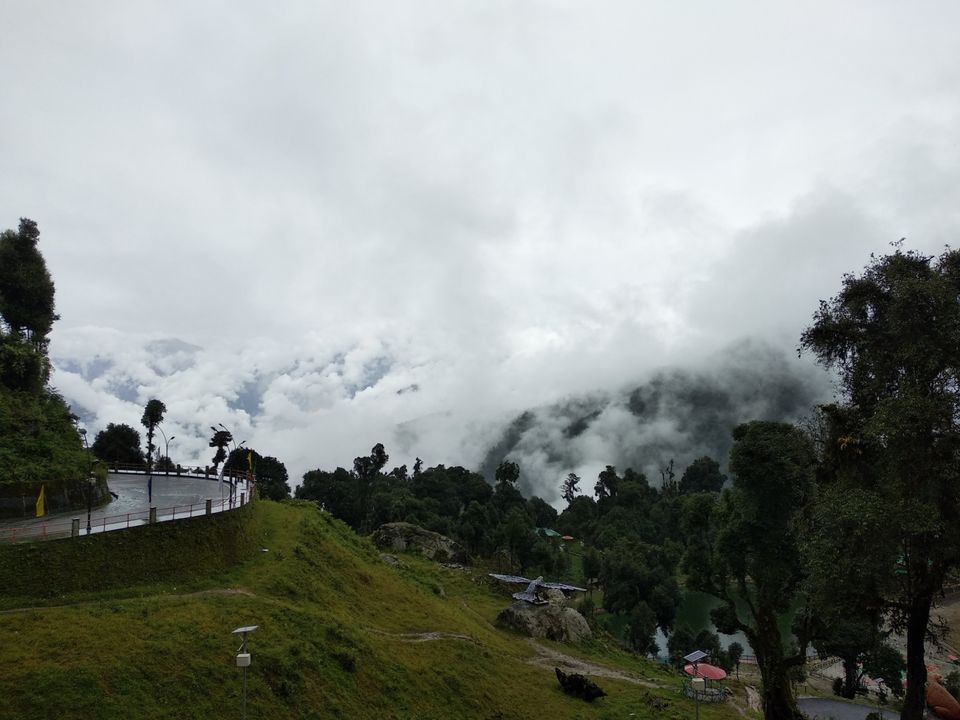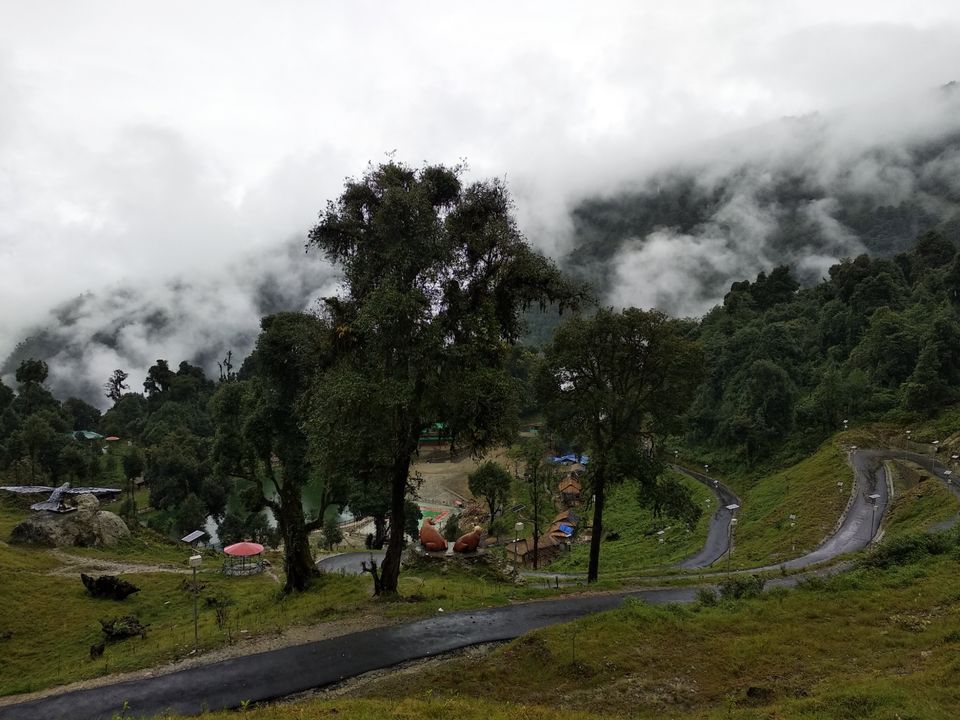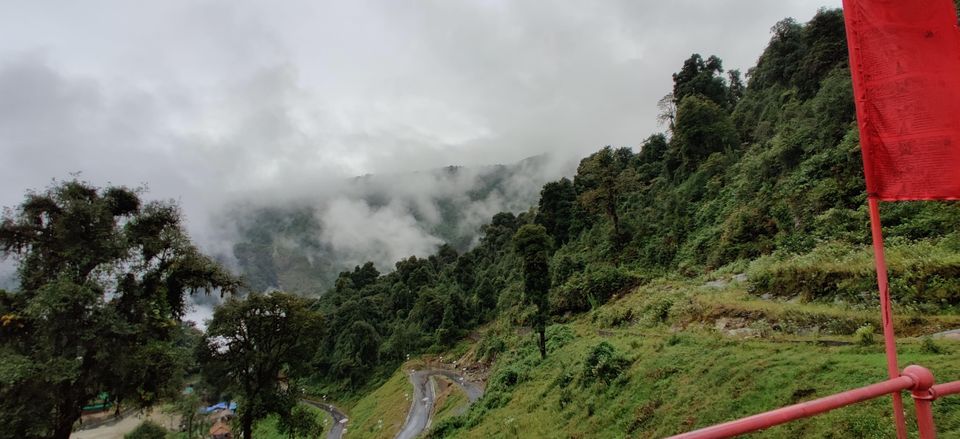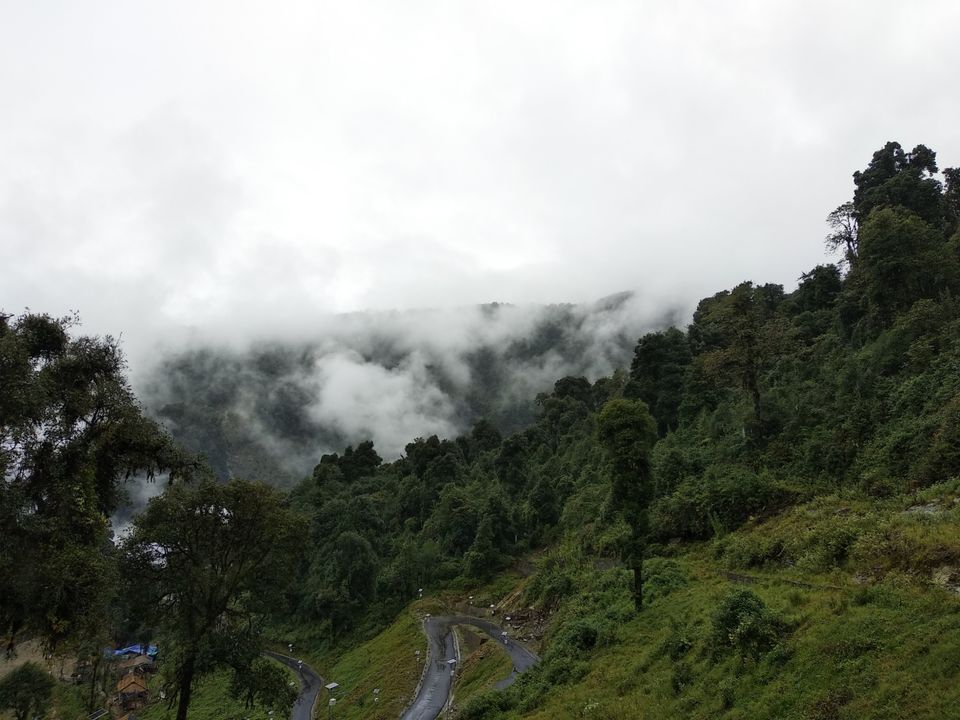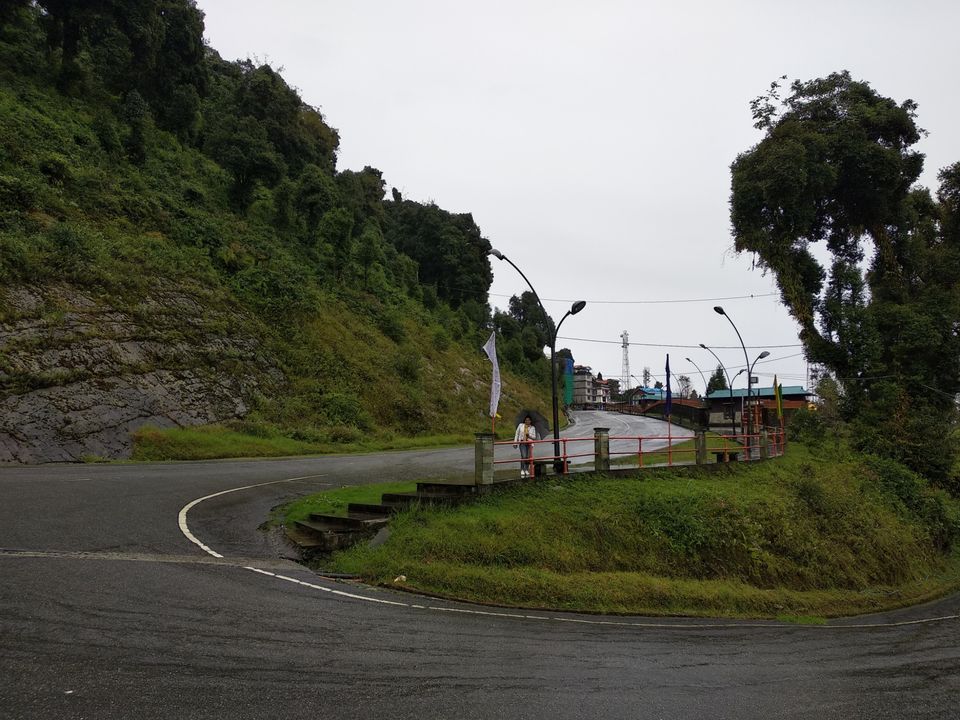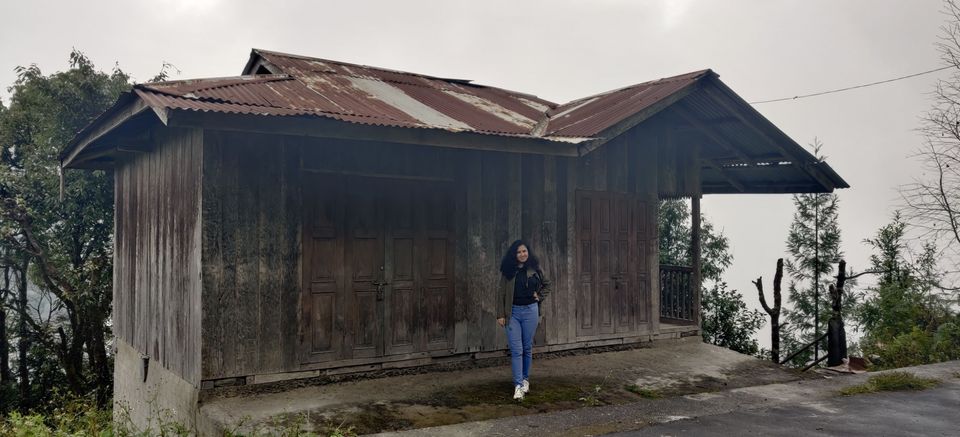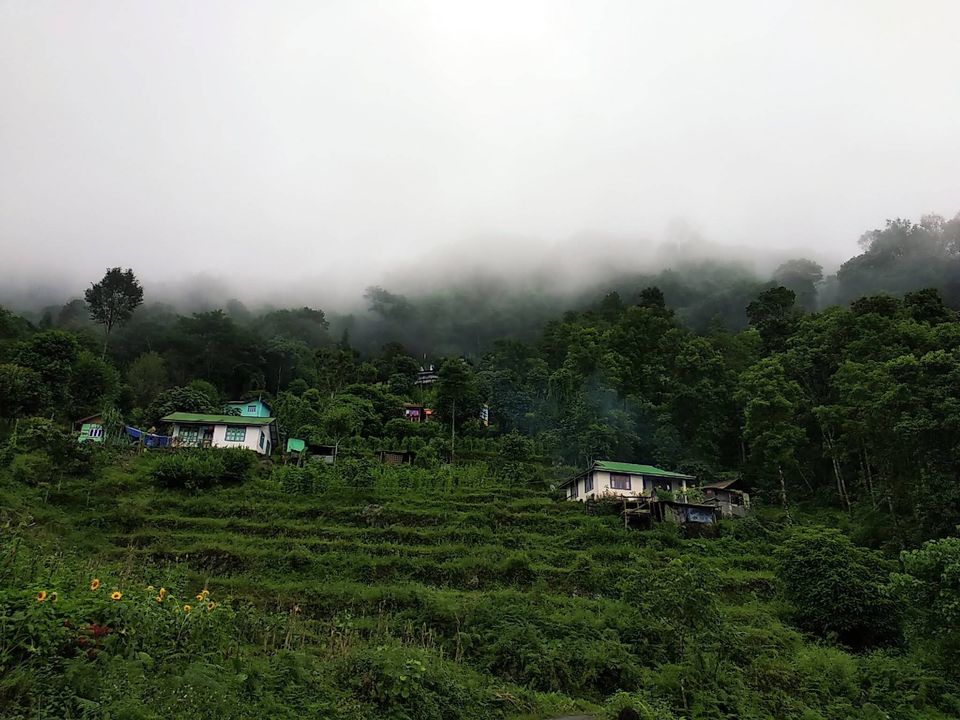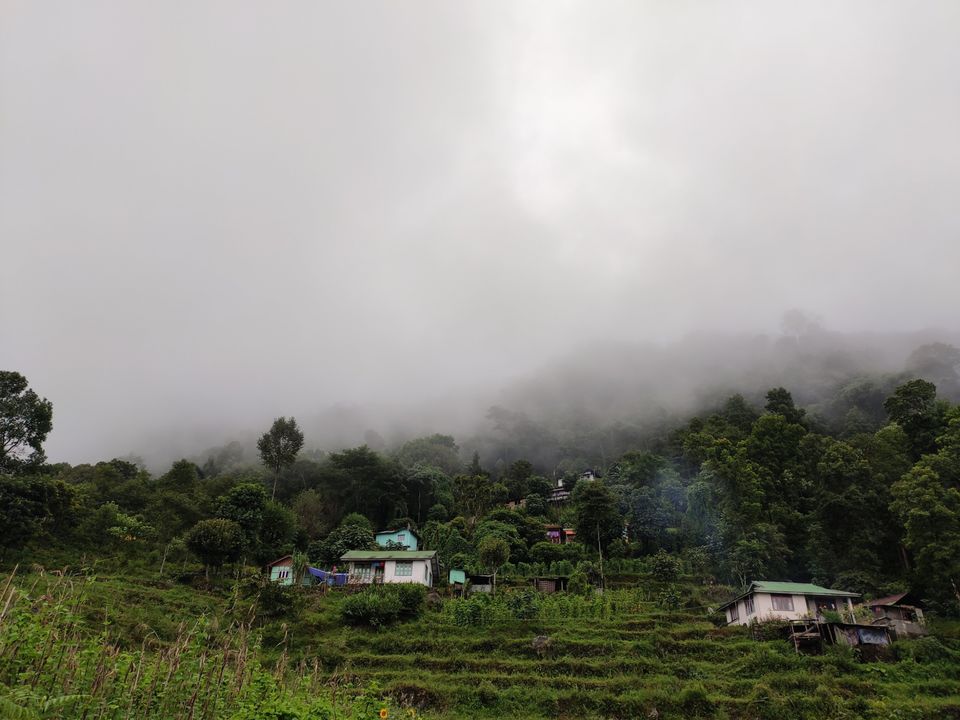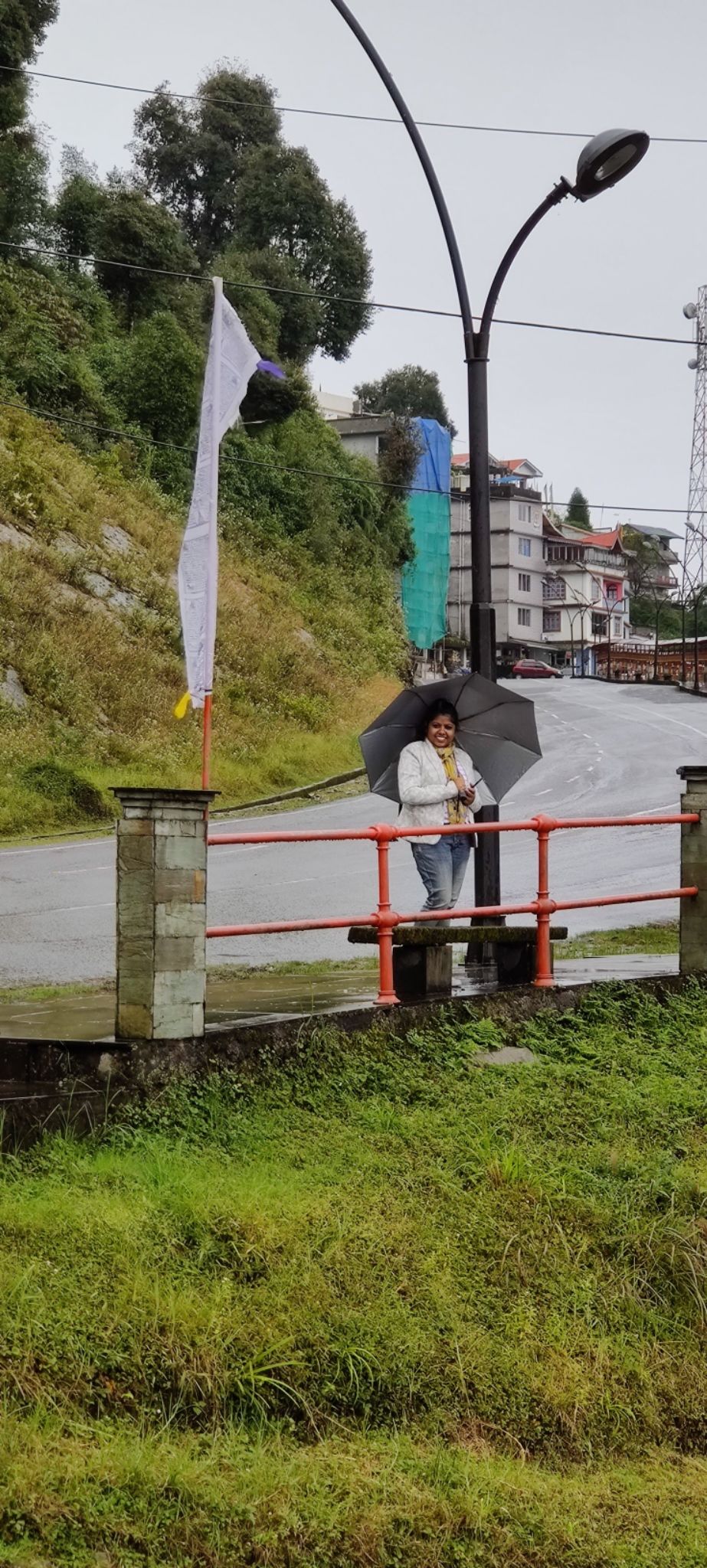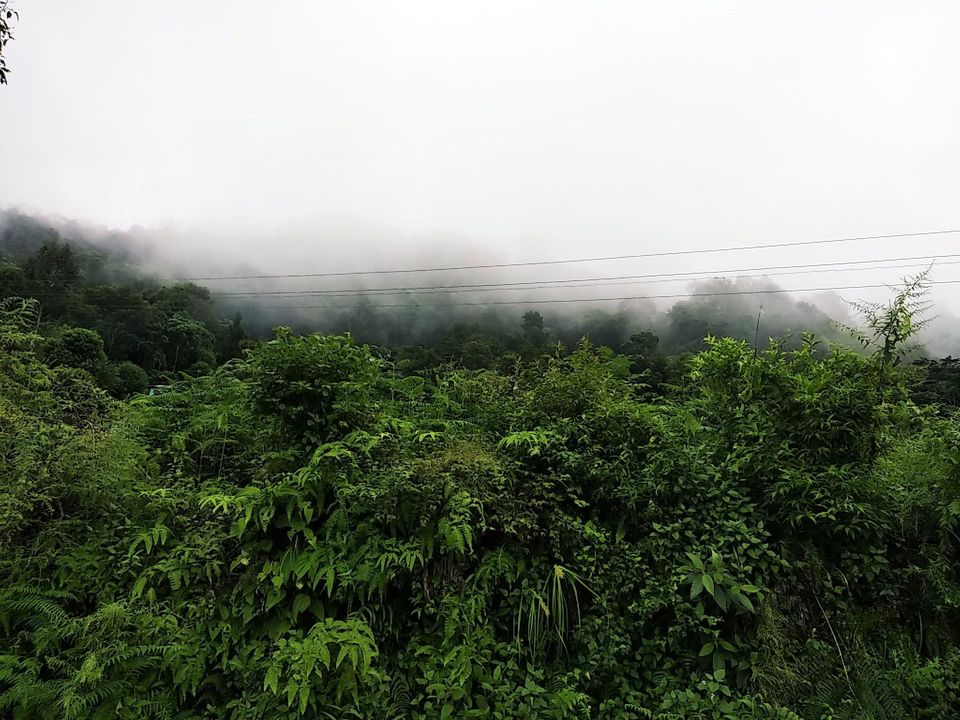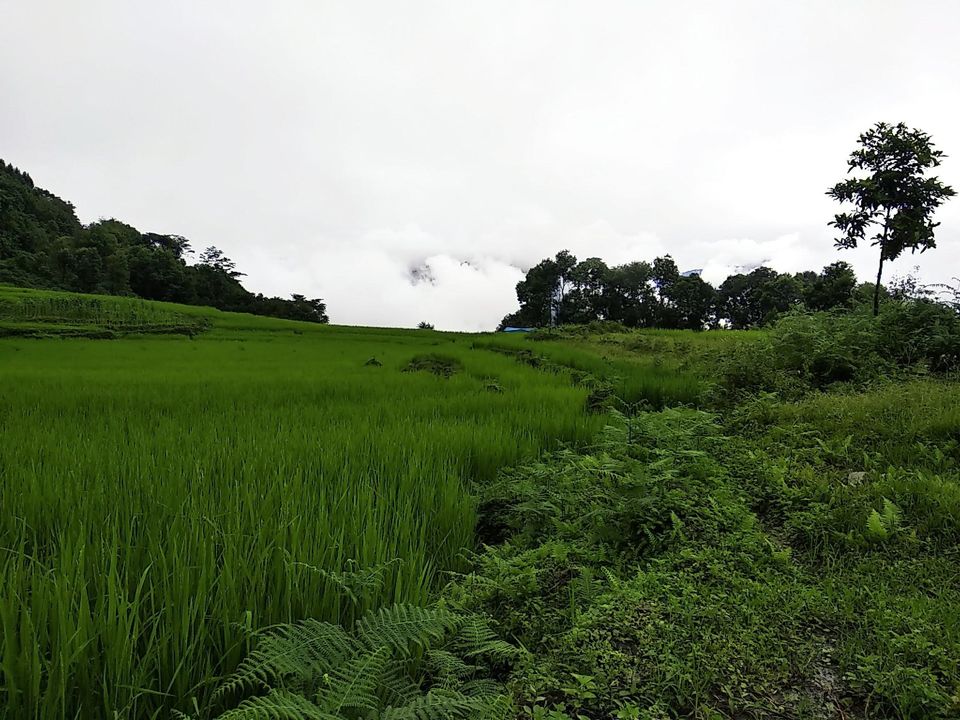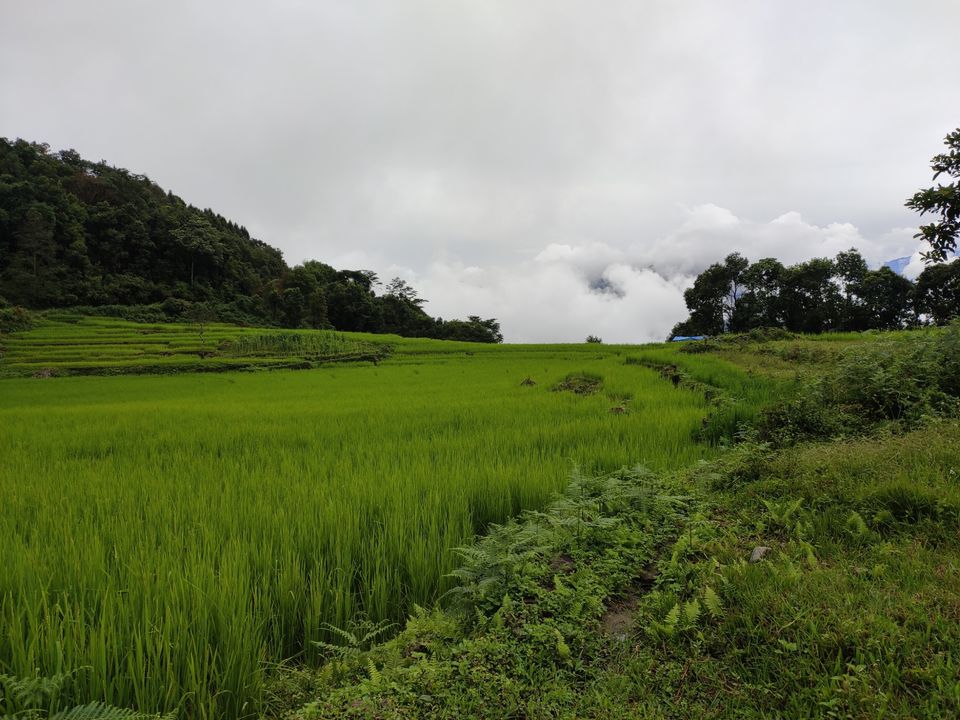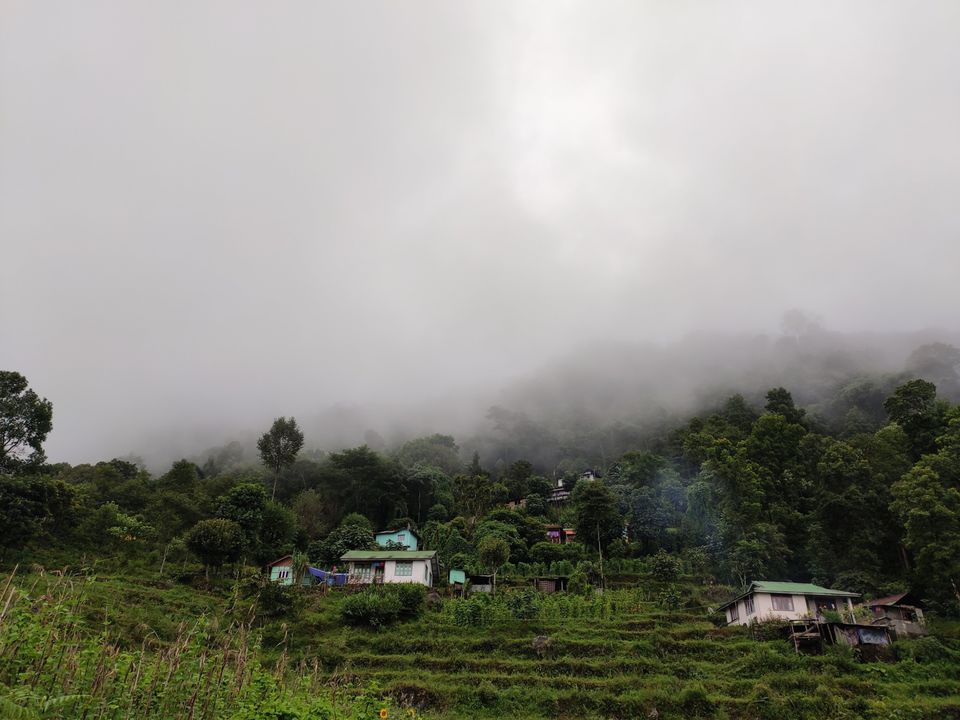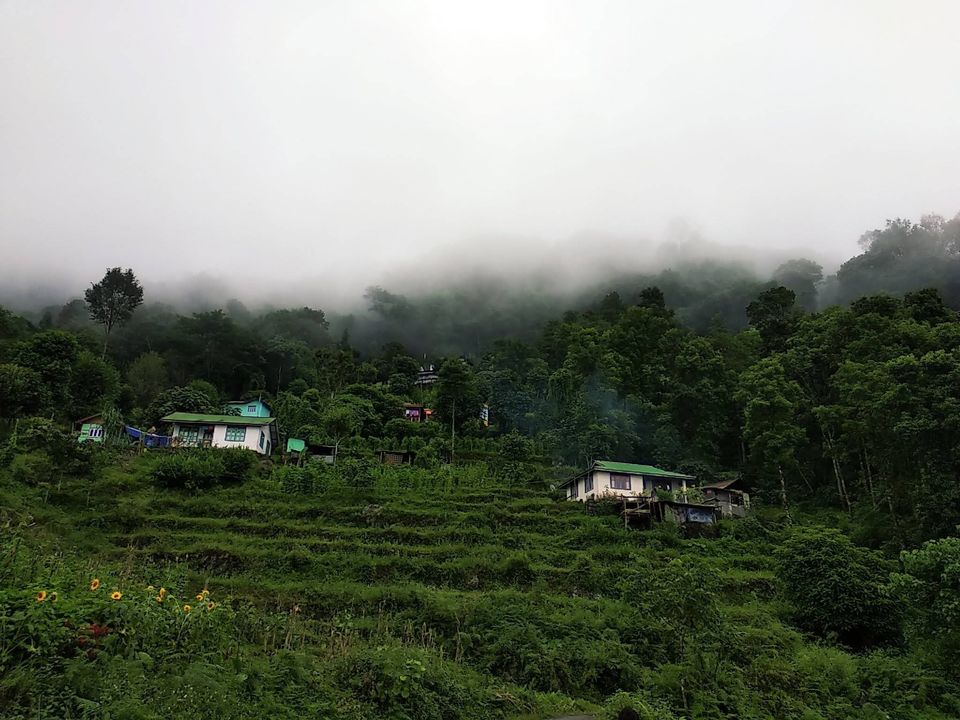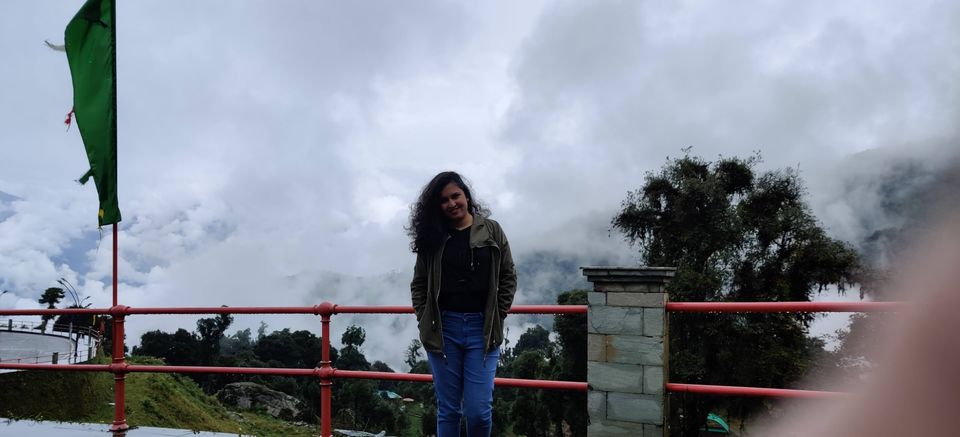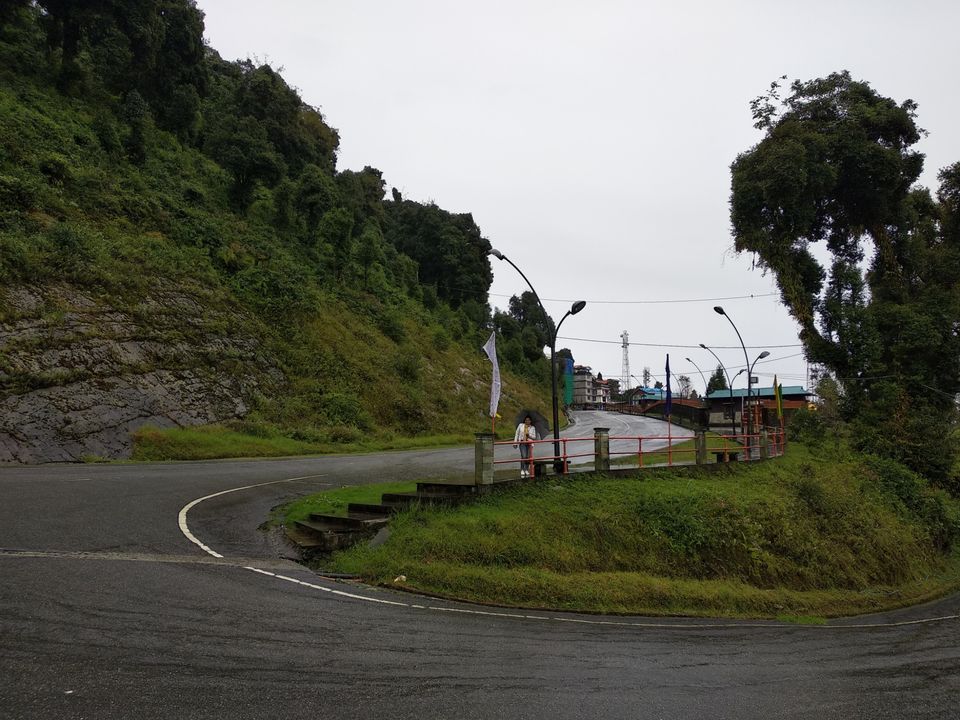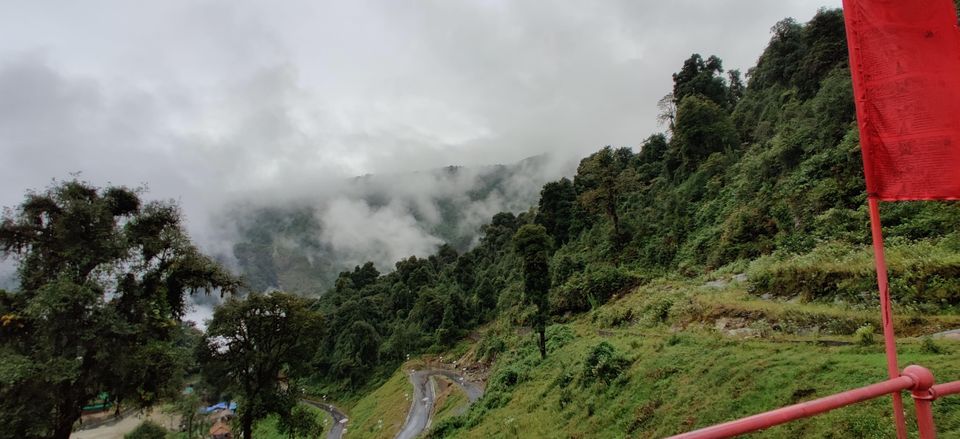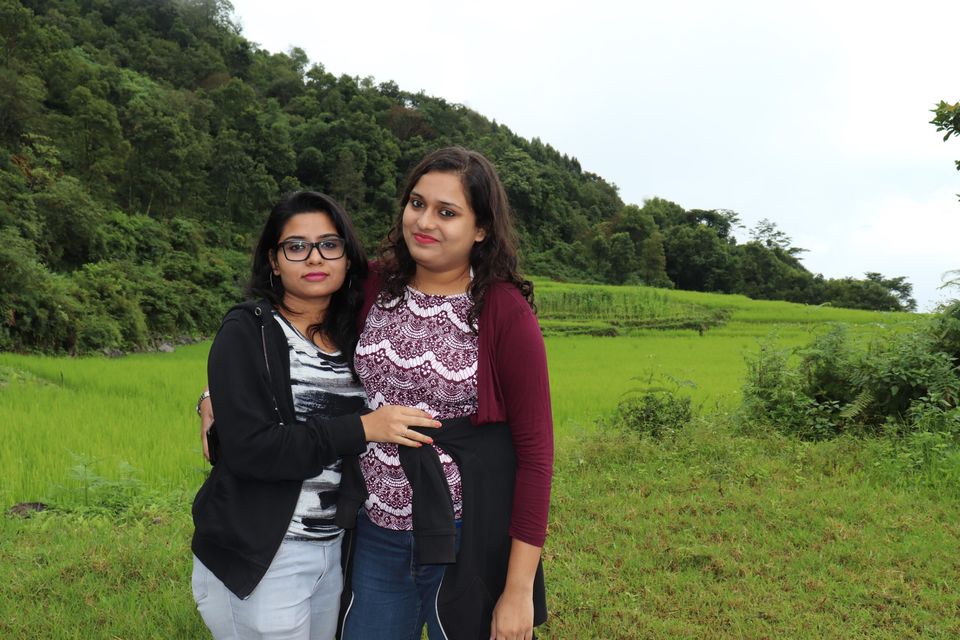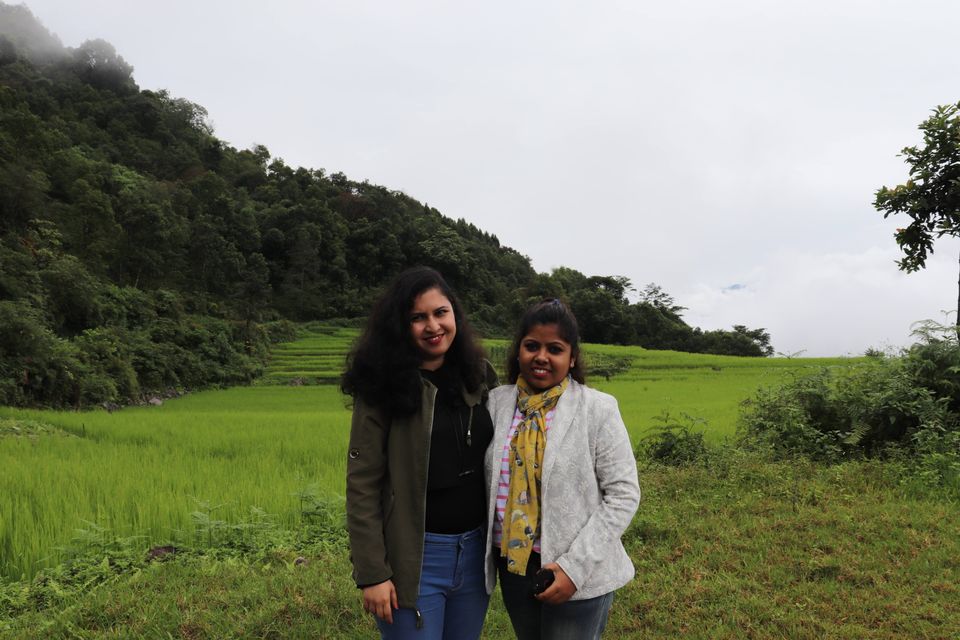 We reached Titanic view point in some time and we were mesmerized.
Snuggled at an elevation of about 5,500 feet in the Southern part of Sikkim, Titanic View point is steadily gaining the attention of travel fanatics from across the country. Situated at Namlung village of Ralong in South Sikkim, the place is 17.7 km away from Ravangla.
Secluded from the city rush, Titanic View Point is regionally called as 'Chuchey Dhunga' and 'Titanic Dara' because the massive rock fairly resembles with the bow or fore of a gigantic ship. Thus, anyone visiting the place for the first-time and beholding it from a particular distance will designate the area as the bow of a massive ship.
The recently discovered Titanic View Point in Ralong adds to the major attractions in South Sikkim. Considerably offbeat, the place promises the breathtaking backdrop of Himalayan landscapes encompassing of eye-soothing lush green valleys, both steep & gentle slopes, scanty settlements, snow-clad peaks, and the silver waters of Rangeet River streaming at the bottom of the valley. The silver watercourse also forms a partition of West Sikkim and South Sikkim.
The viewpoint has well-built iron bars, perfectly framing the bow-shaped edges of the viewpoint. Well-constructed pathways are built leading towards the viewpoint.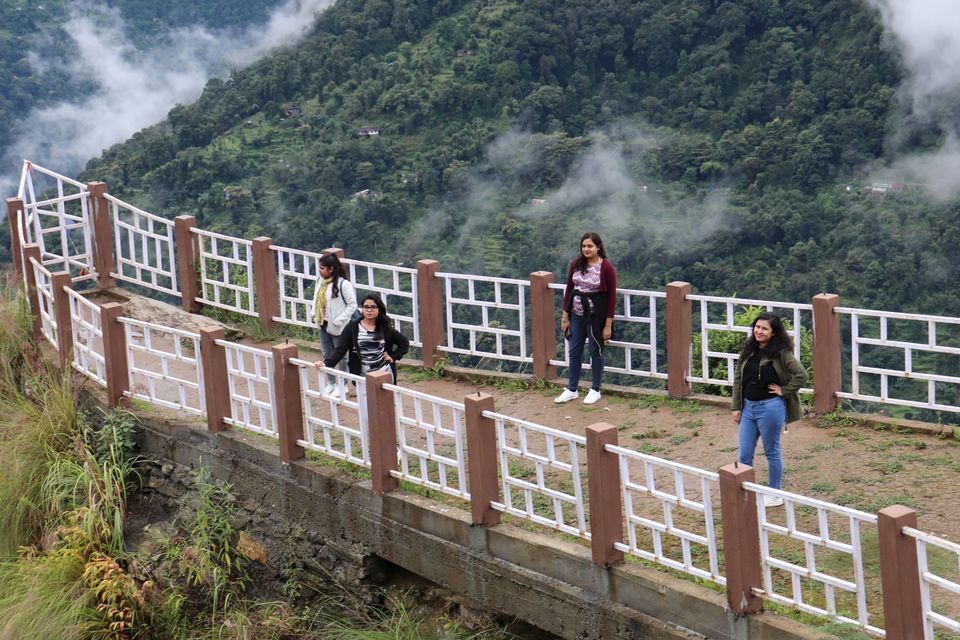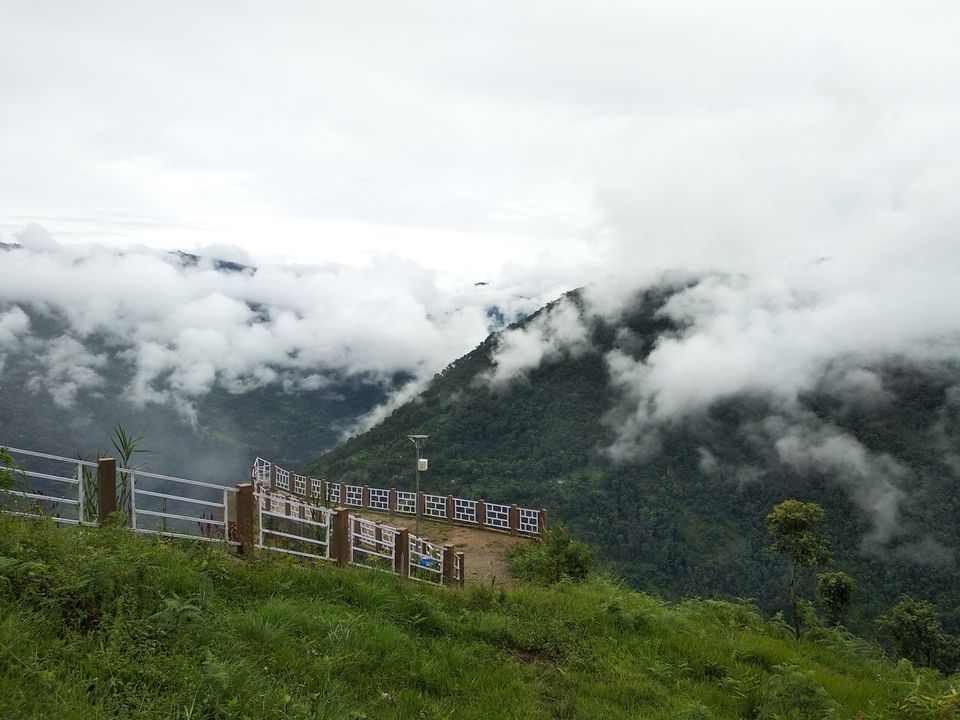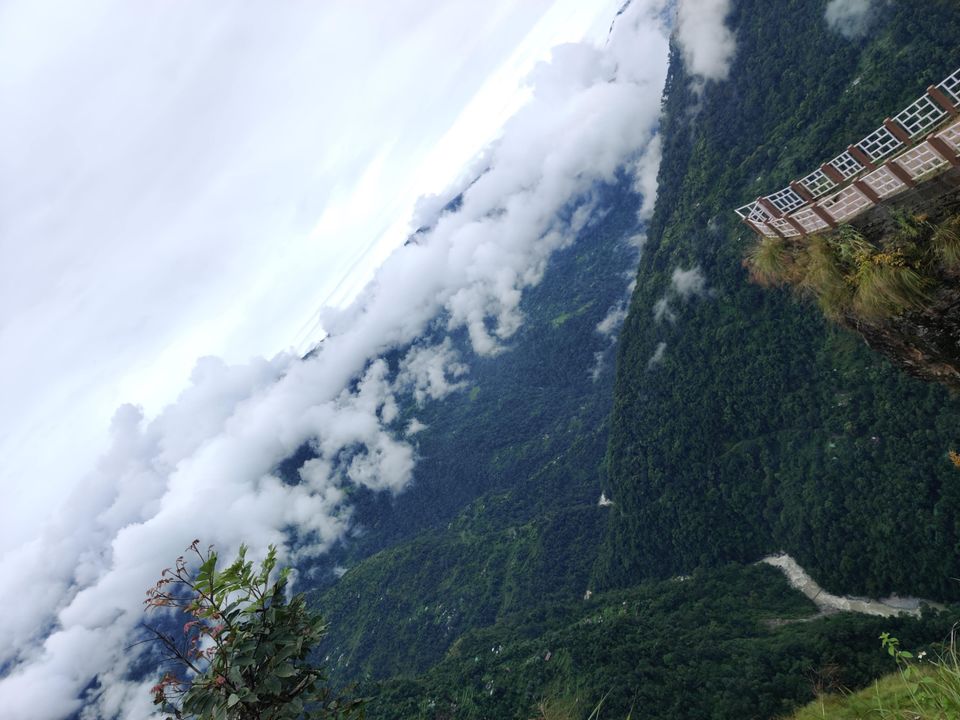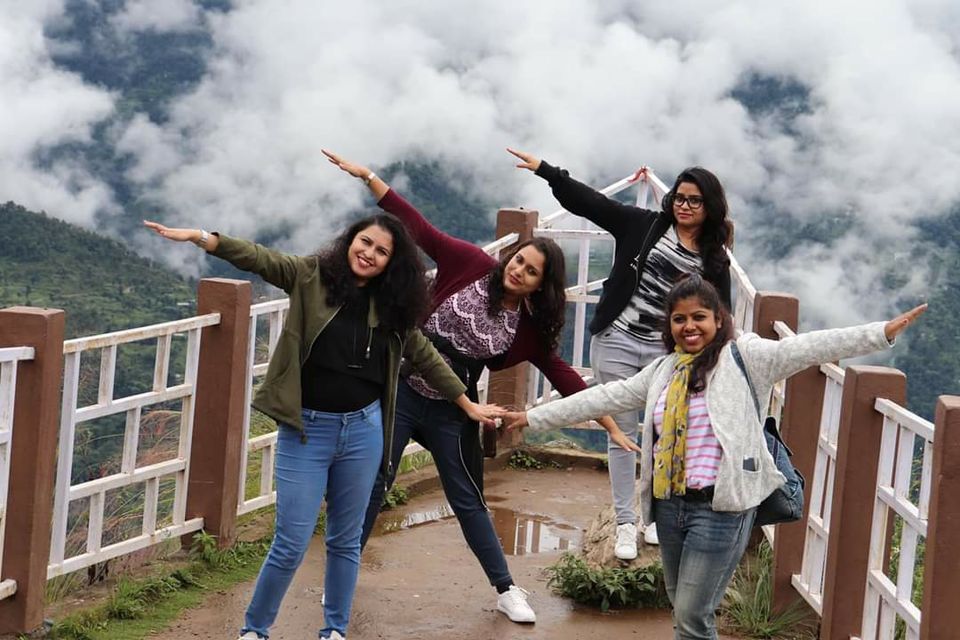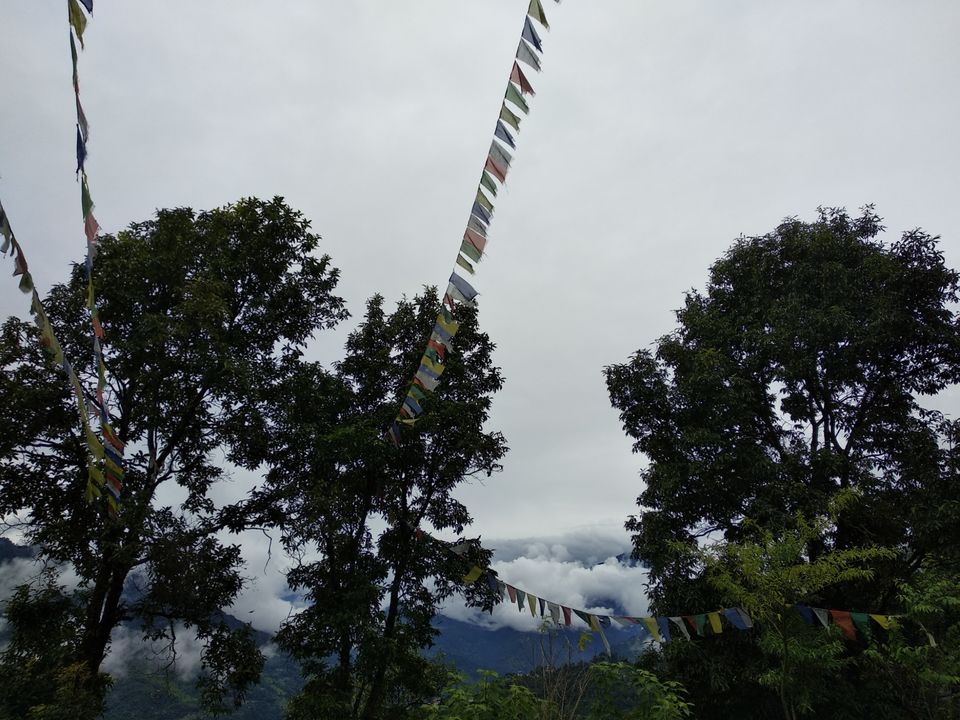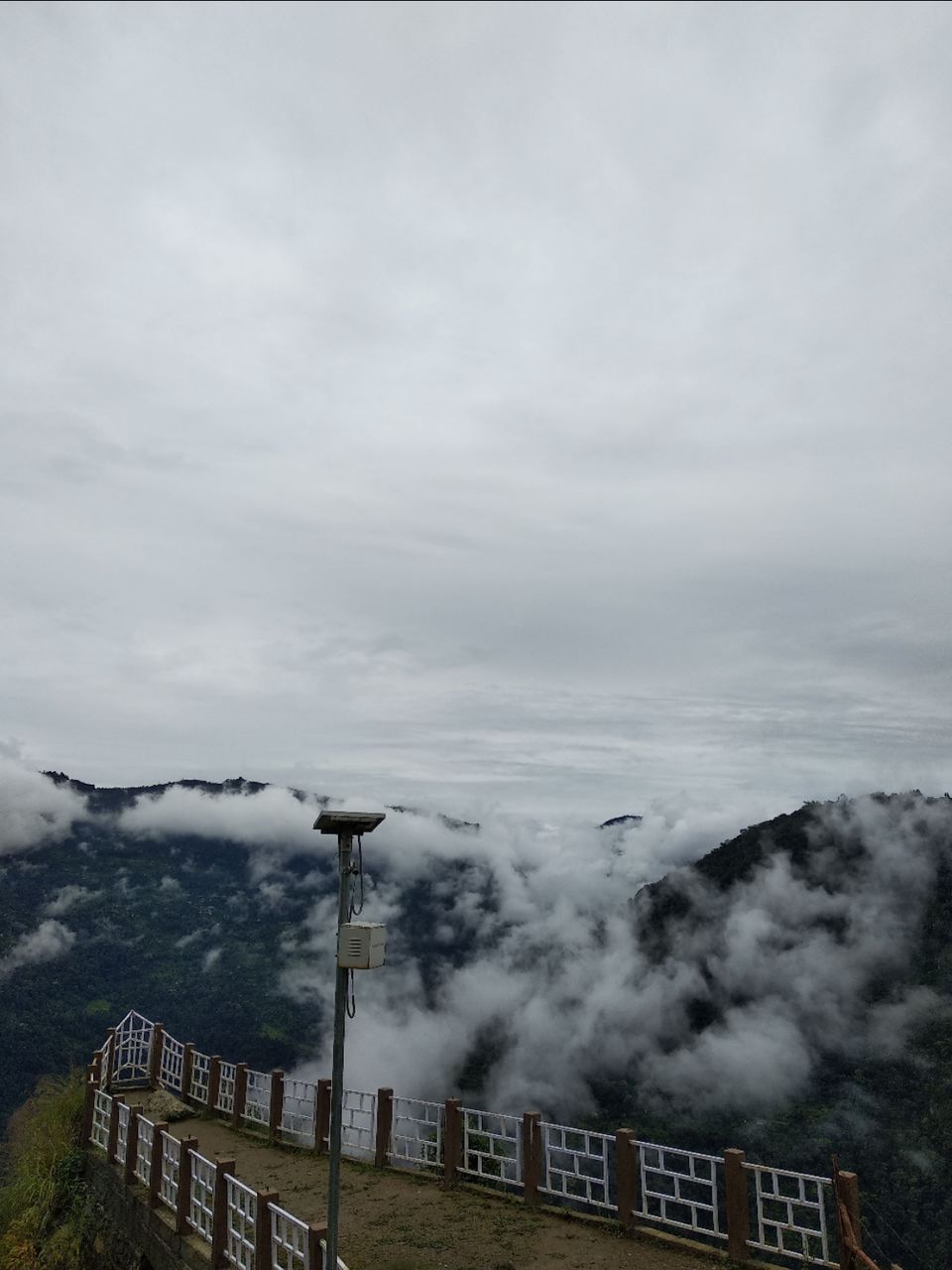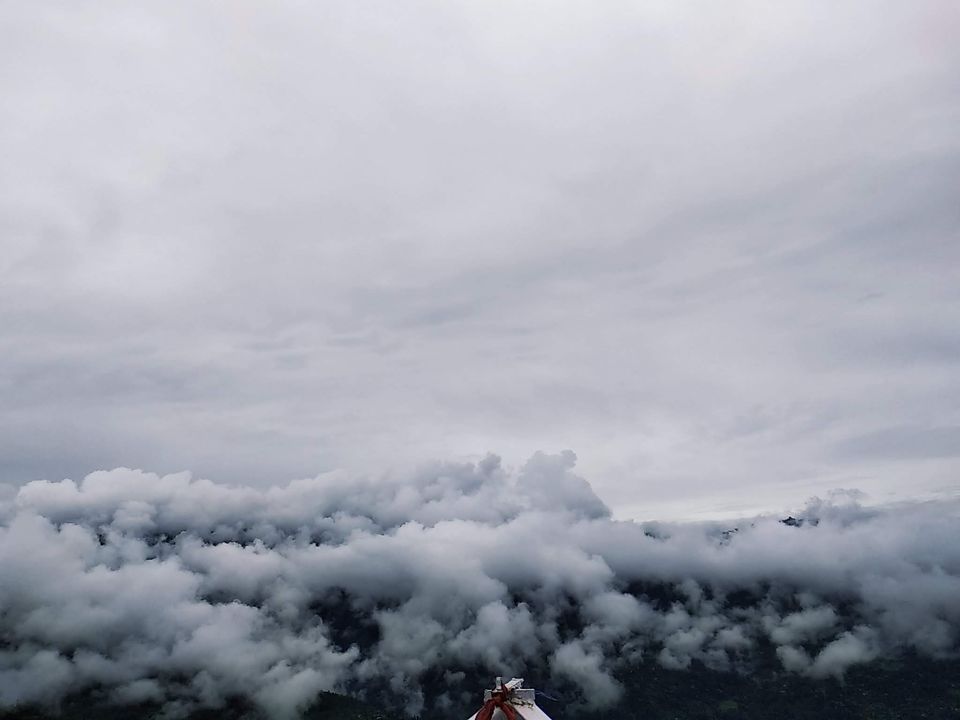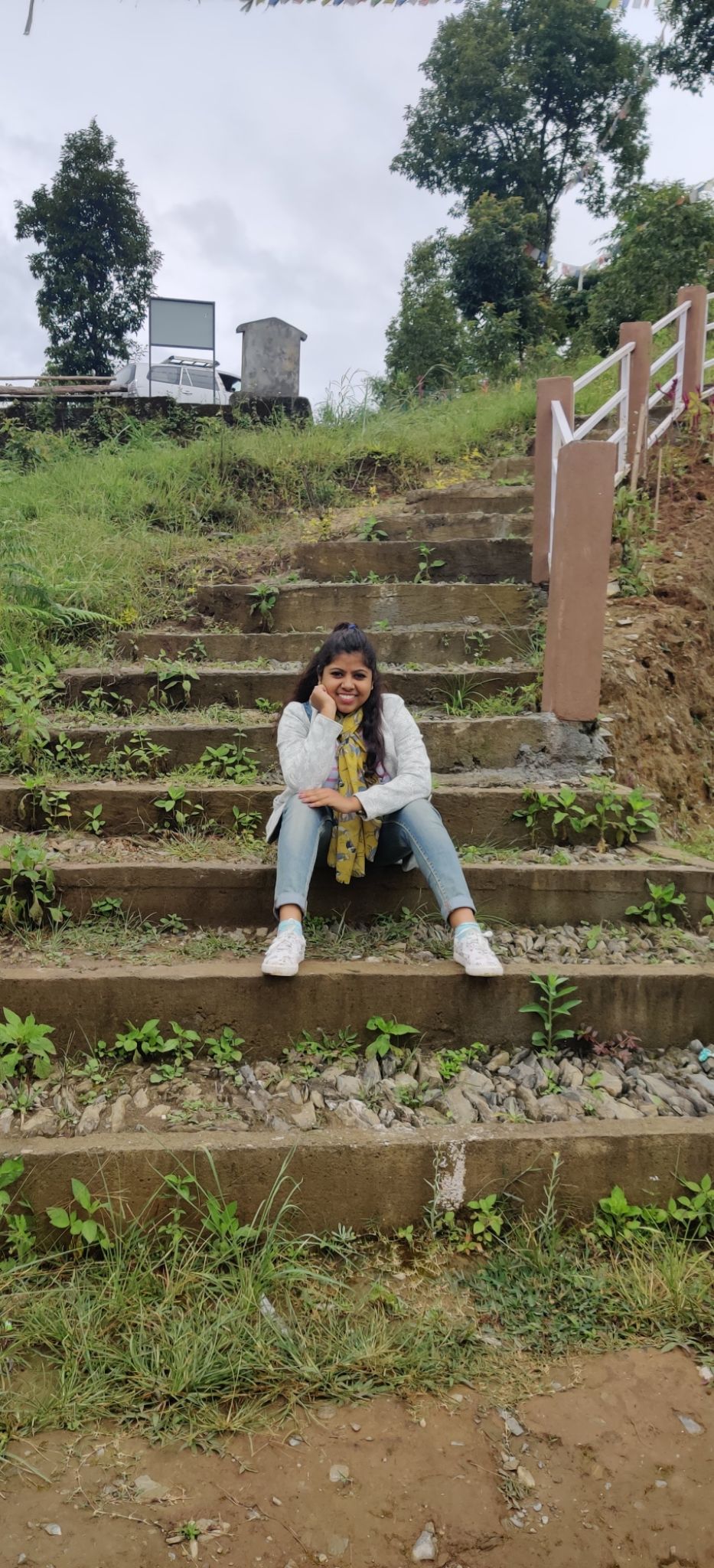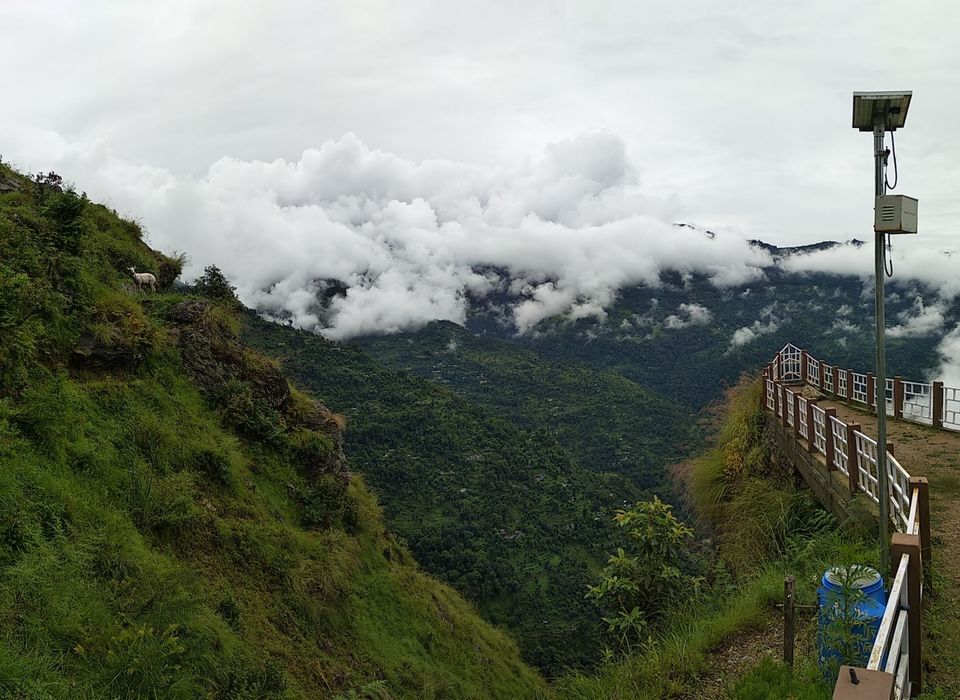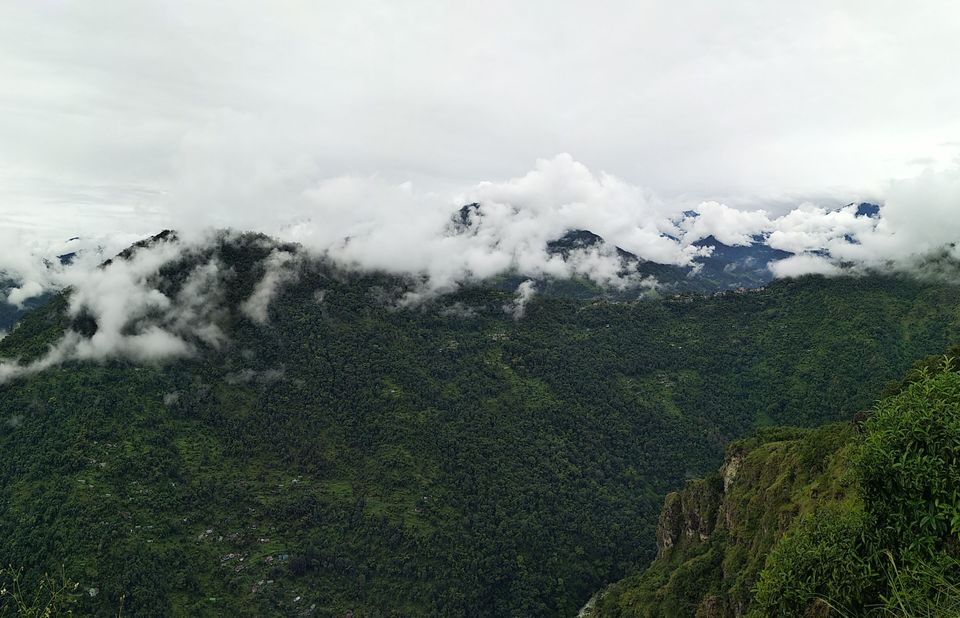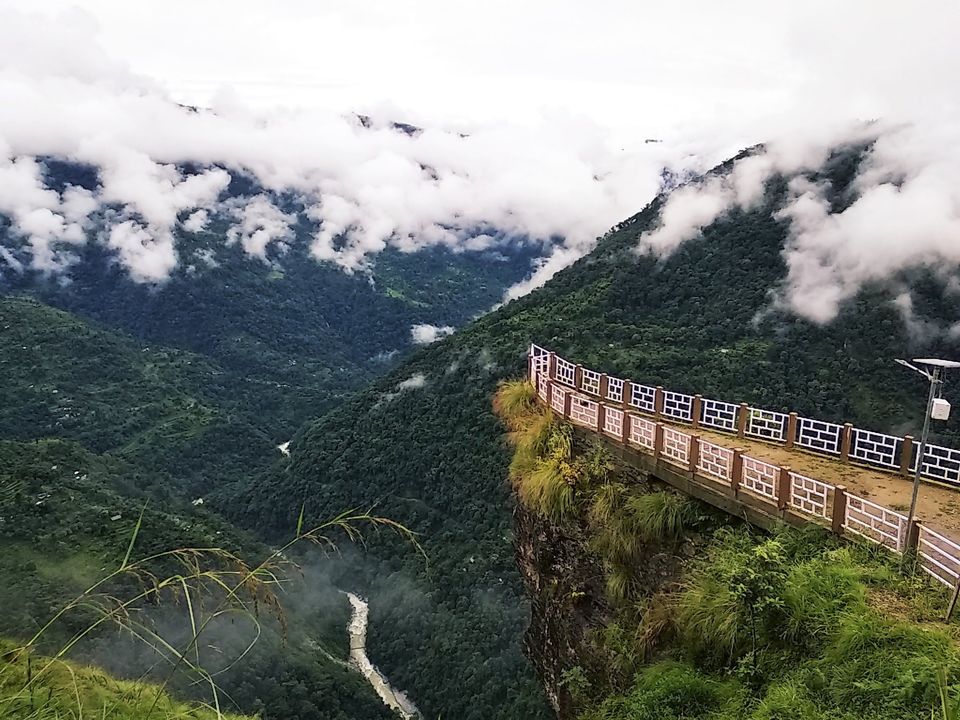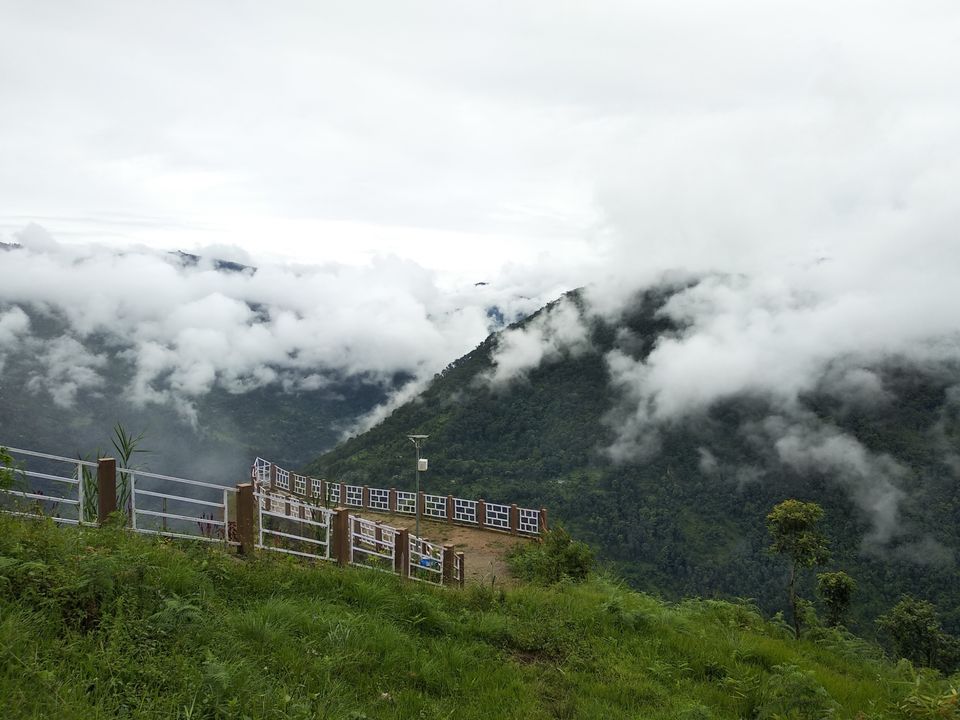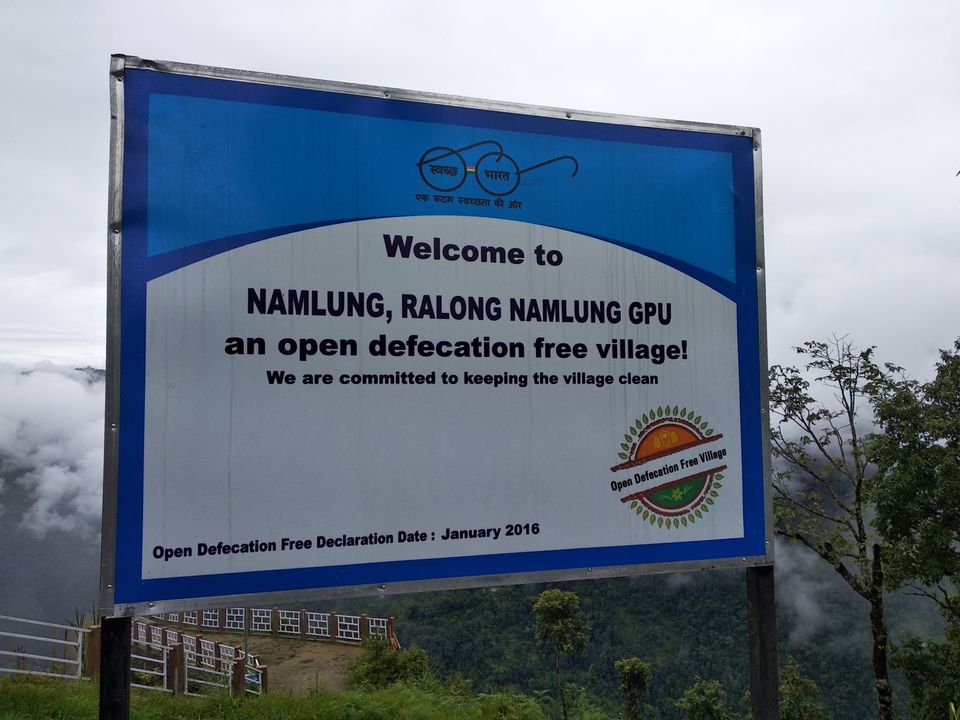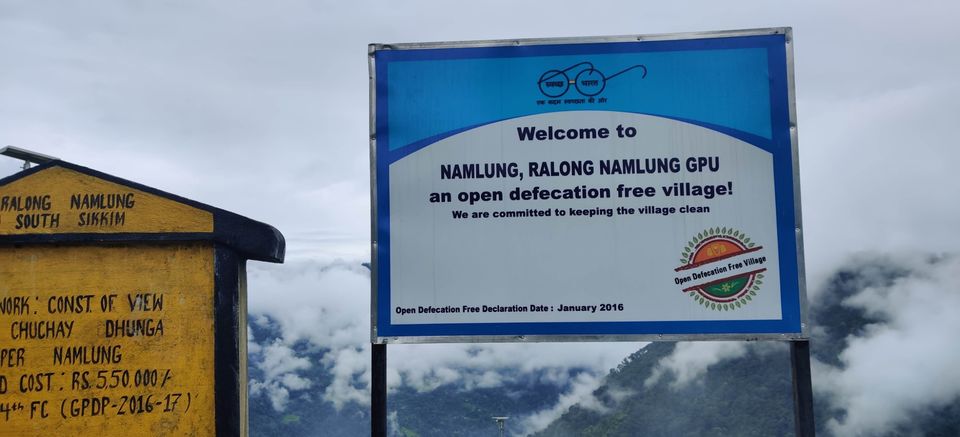 Next destination was Ralang Monastery.
New Ralang Monastery or Ralong Palchen Choling is a Buddhist monastery of the Kagyu sect of Tibetan Buddhism in southern Sikkim, northeastern India.
It is located six kilometres from Ravangla.
Ralang Monastery is beyond comparison to any other monasteries in Sikkim. It is undoubtedly an attraction that needs to be visited by every traveller wishing to explore Ravangla. To start with, the monastery's symmetry and allurement give a welcoming feel to the visitors. Ralang Monastery has an extensive collection of paintings and thangkas that reflect the opulence of the Buddhist art.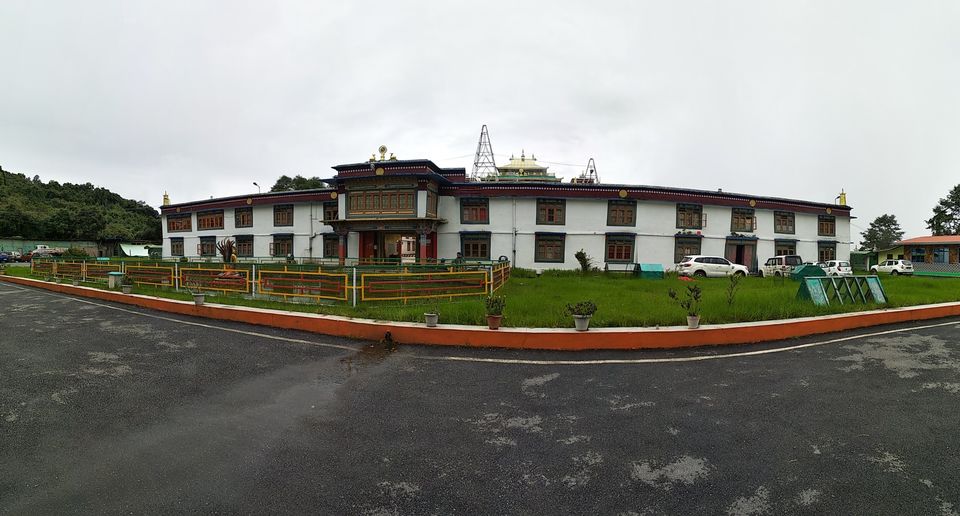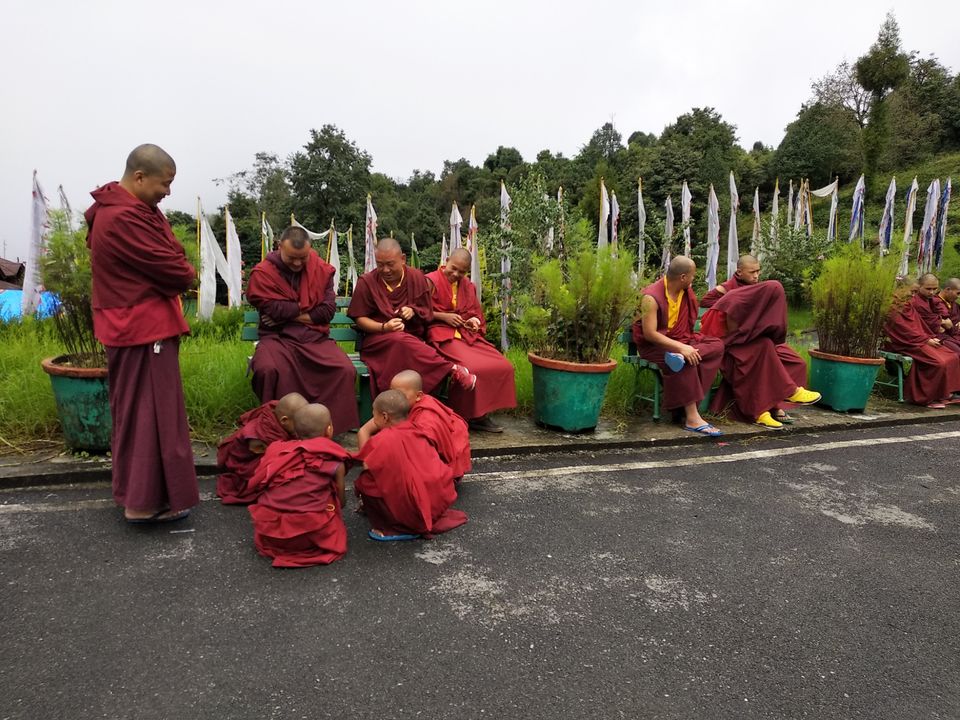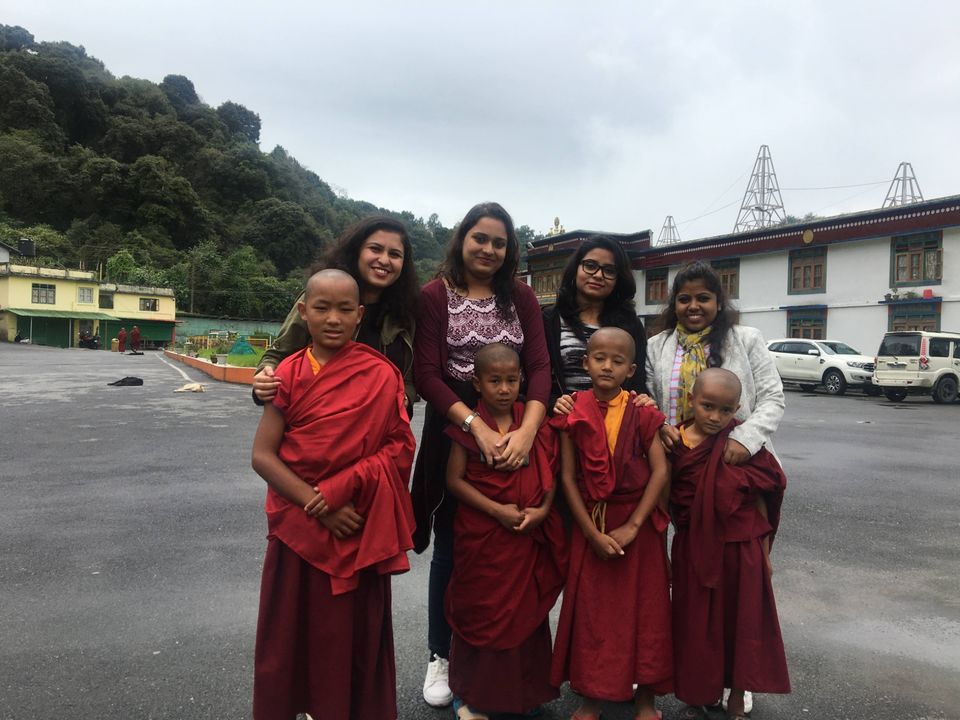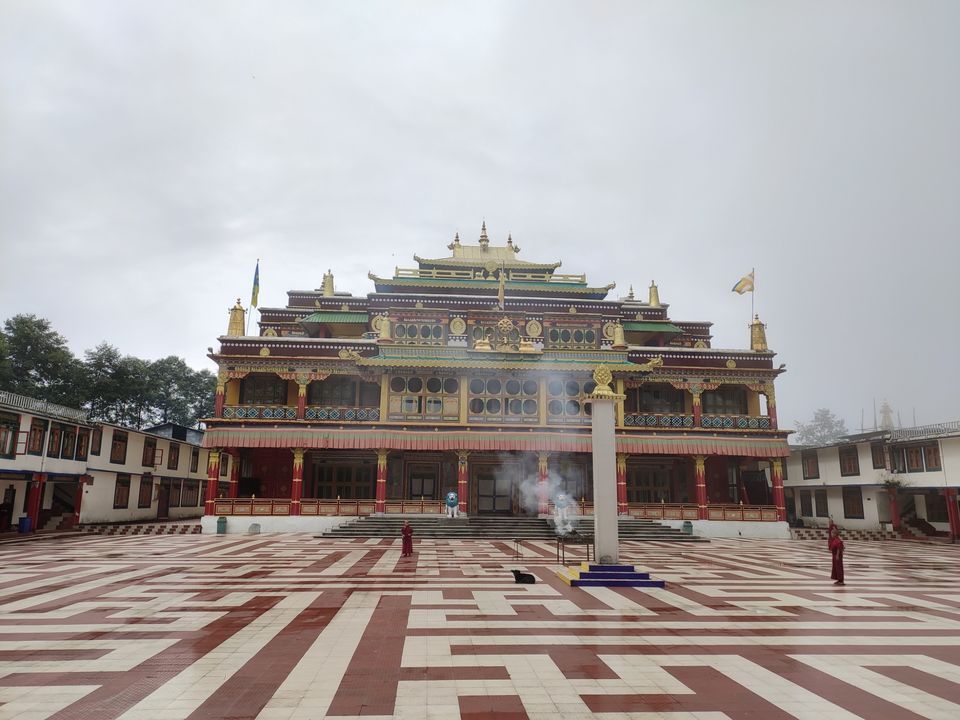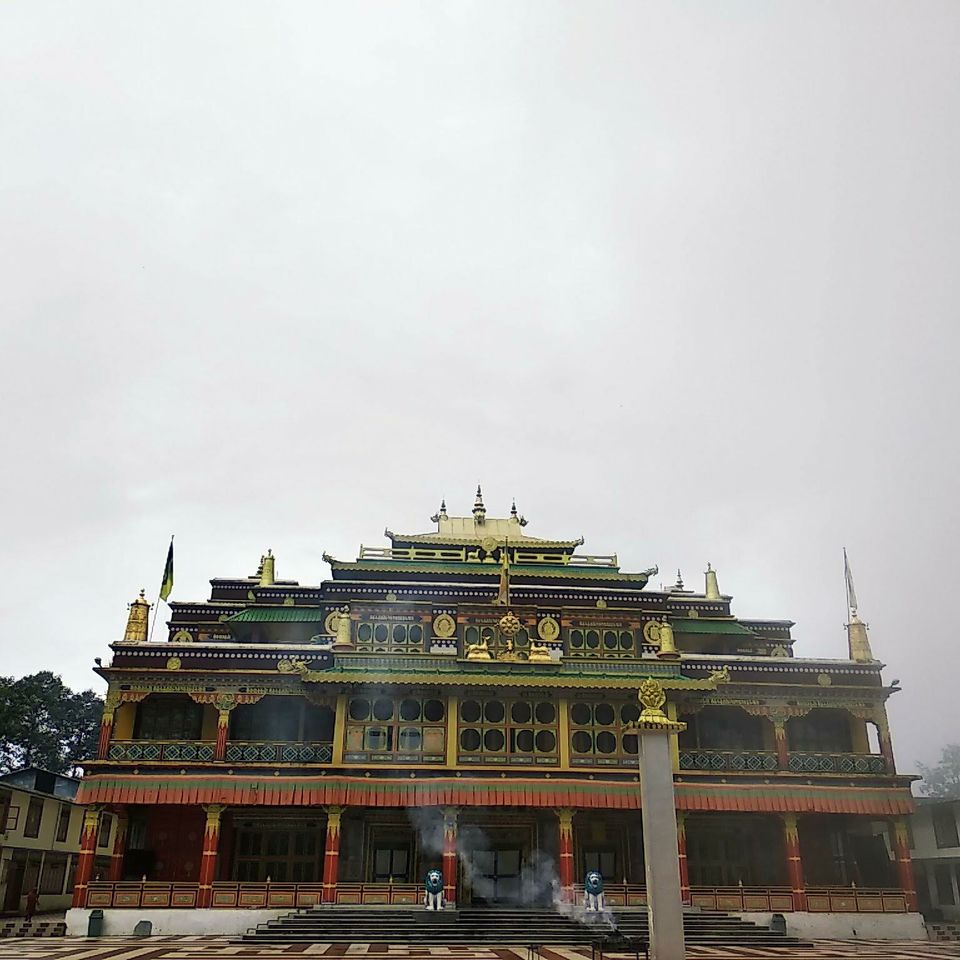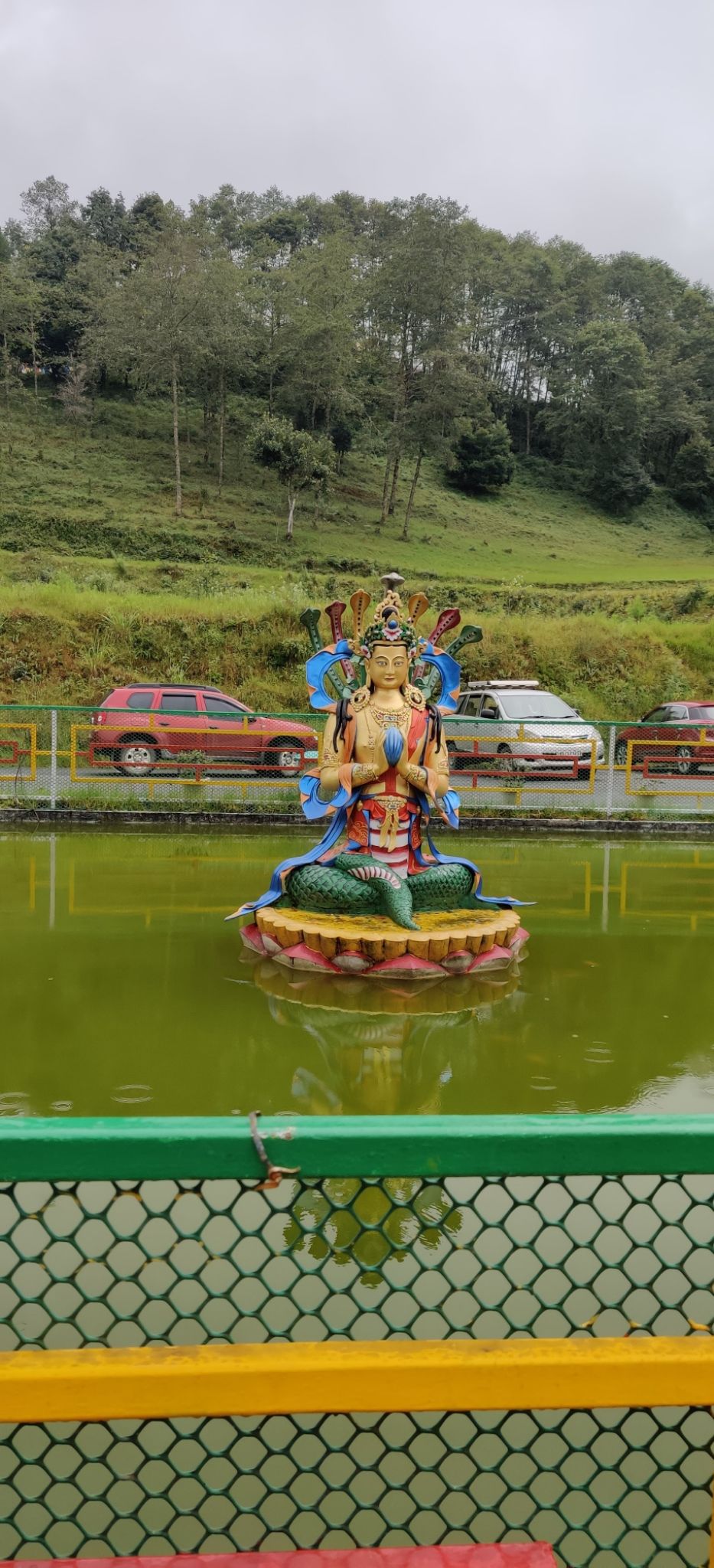 Our next destination was Buddha park of Ravangla. The Buddha Park of Ravangla, also known as Tathagata Tsal, is situated near Rabong (Ravangla ) in South Sikkim district, Sikkim, India. This park is an attractive place to see and it is surrounded by lush gardens, peaceful surroundings, and it has an ample walkway for visitors. From here, you can witness an uninterrupted view of the mountains and also the Cho Djo Lake. This site is of great spiritual importance and thus even the ambience adds a divine experience to the visitors. Nearby the park, there are also meditation centre, museum, and the Buddhist conclave.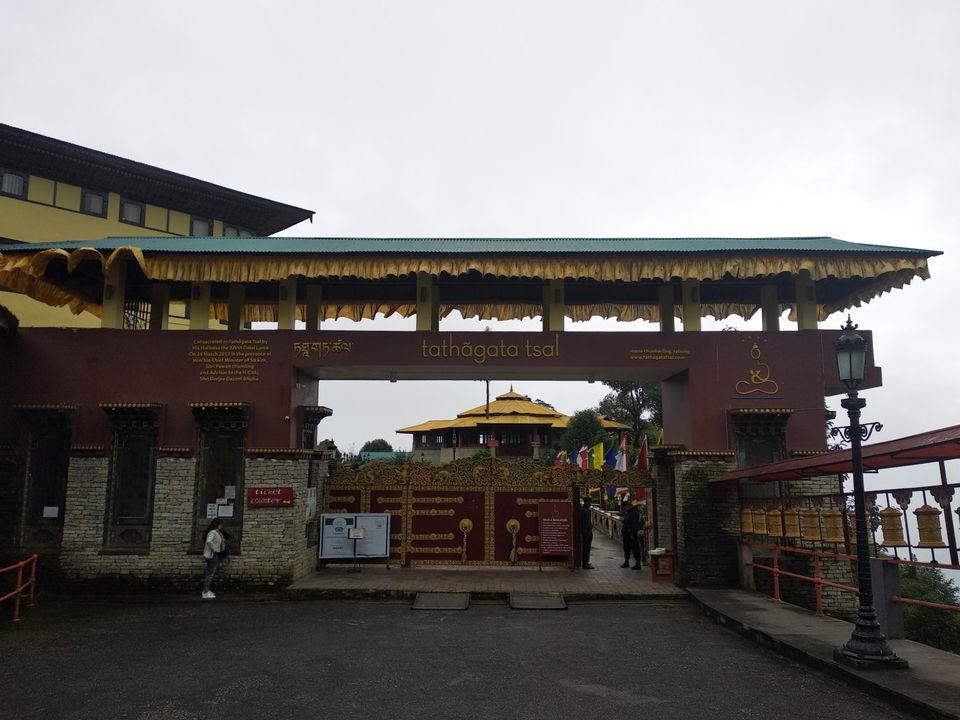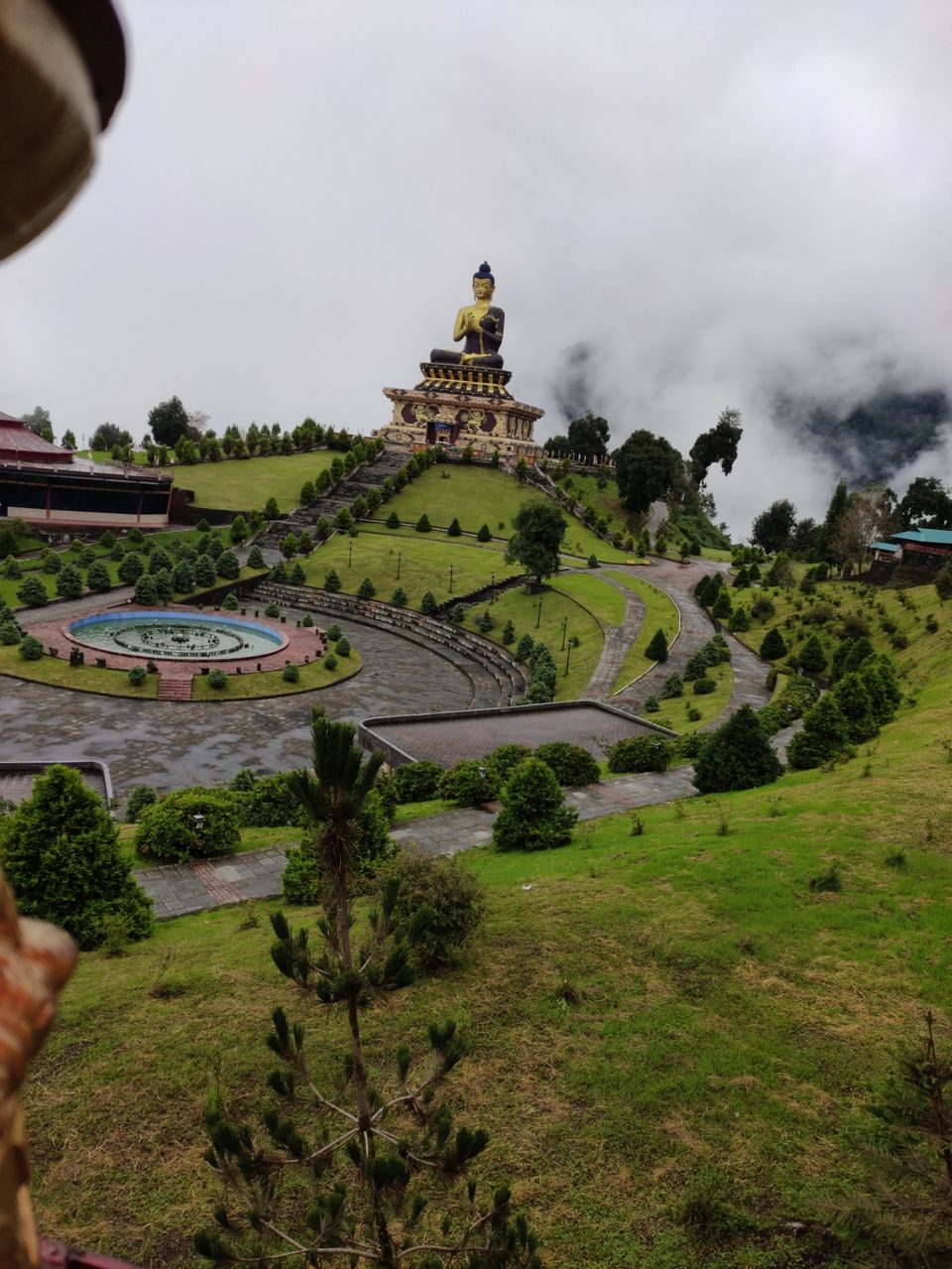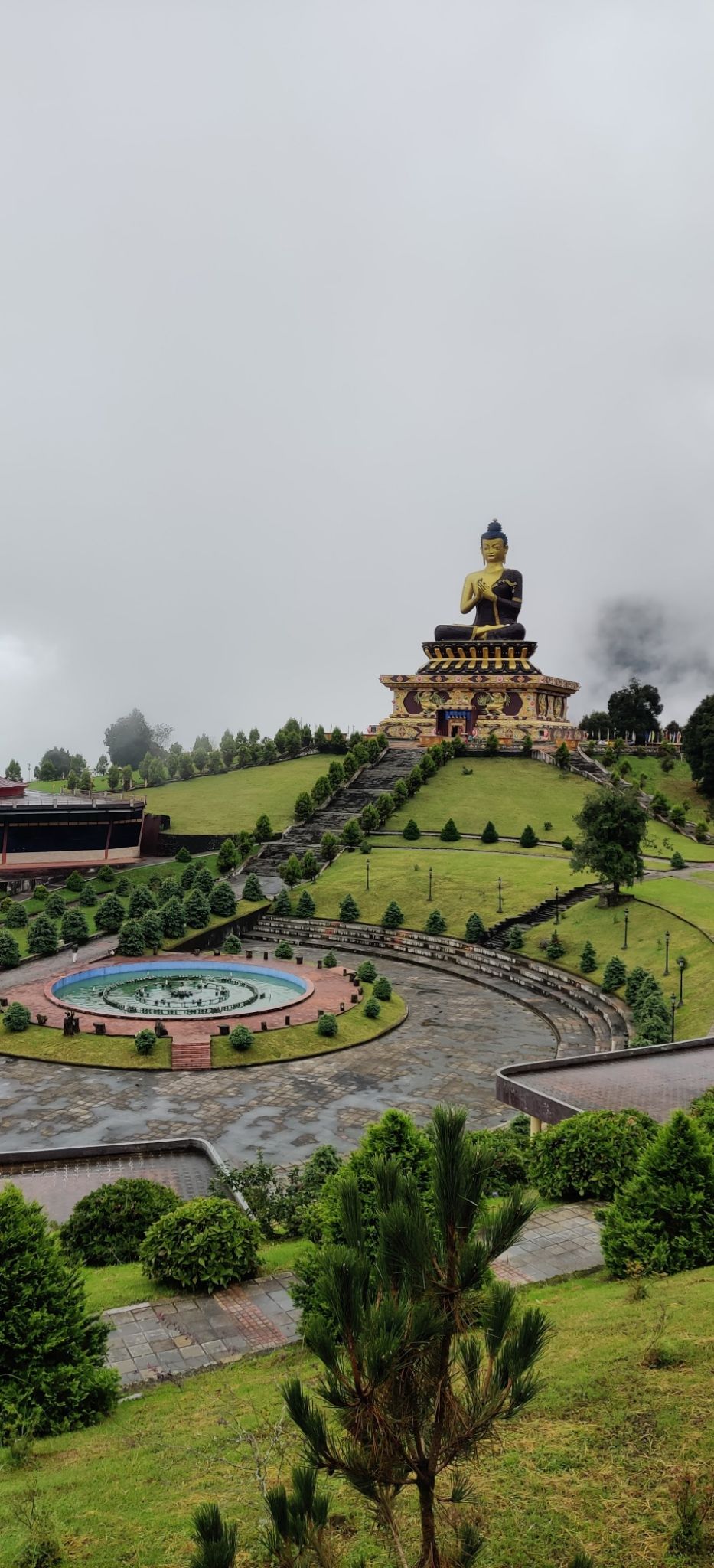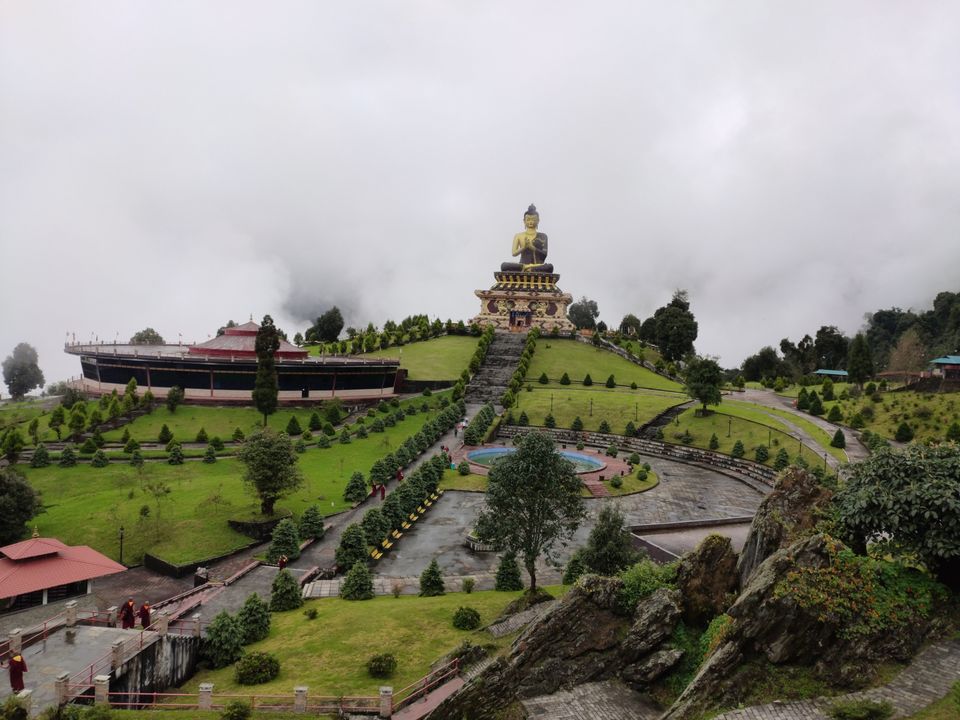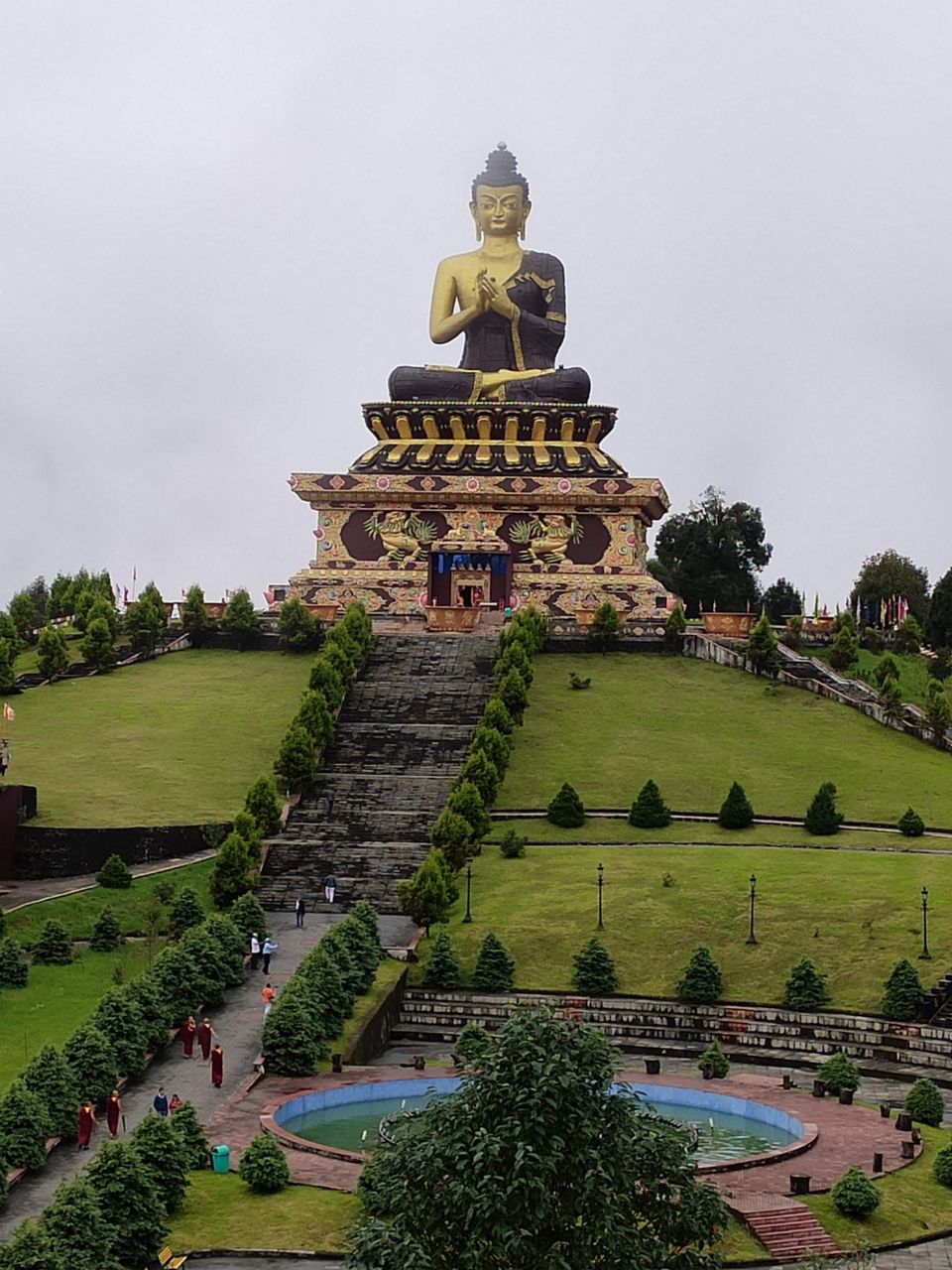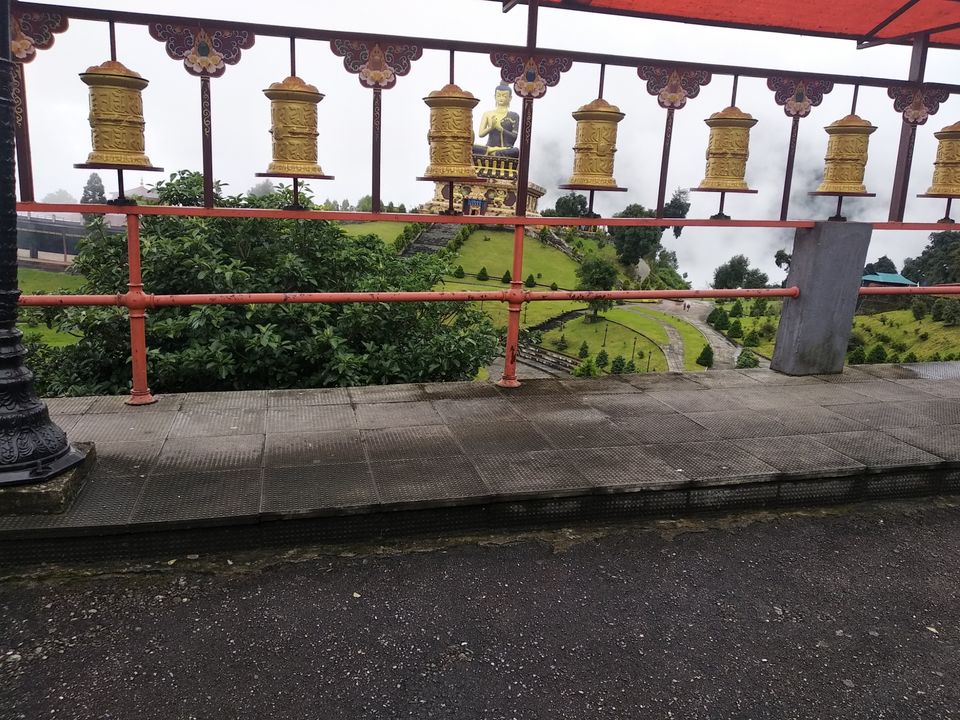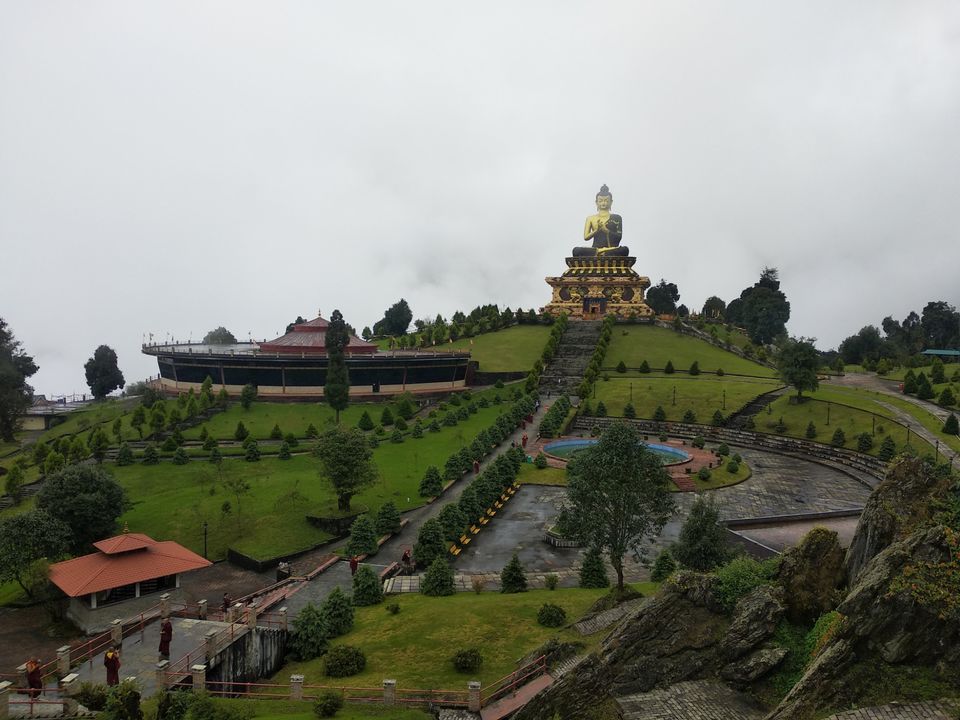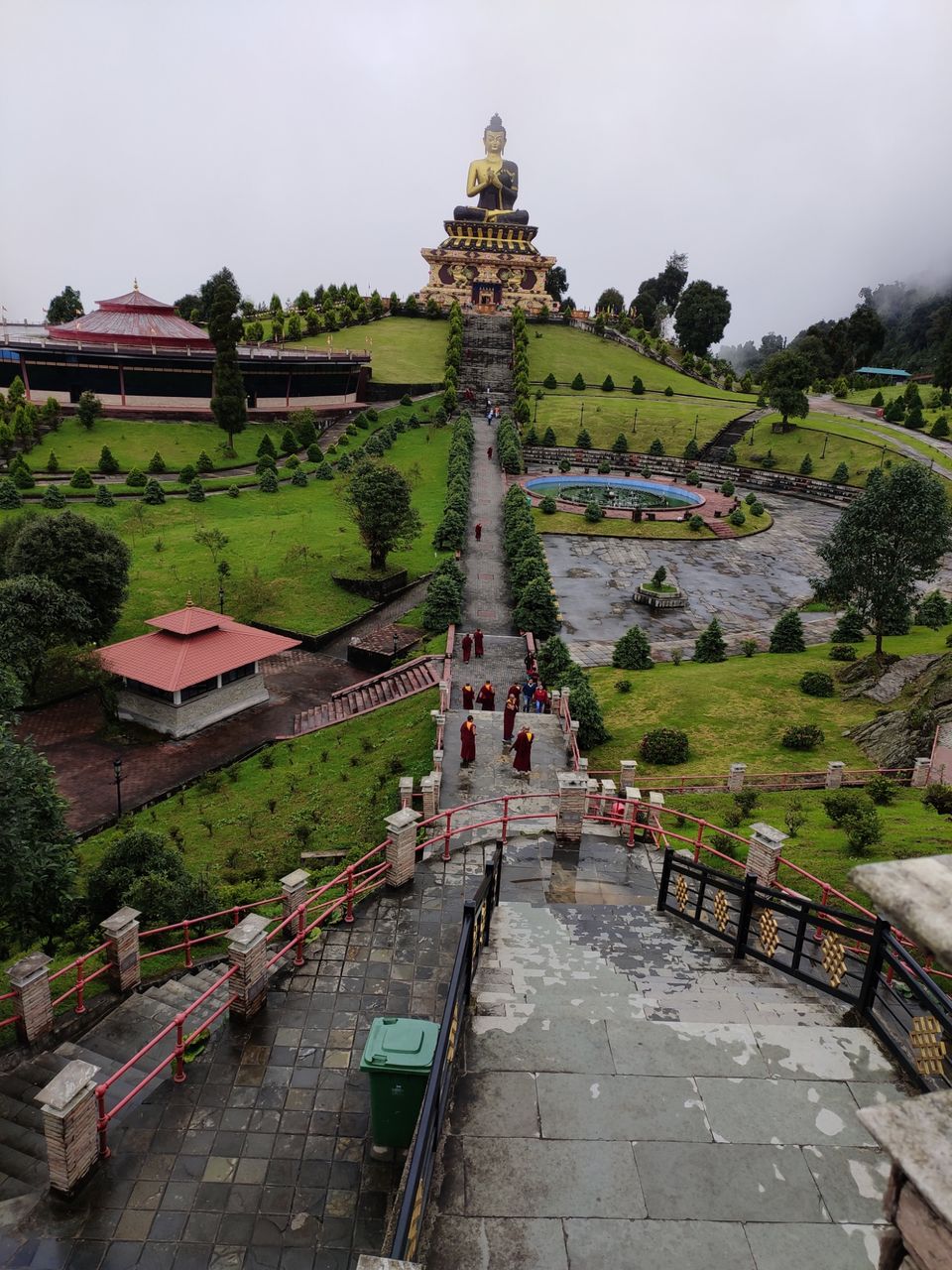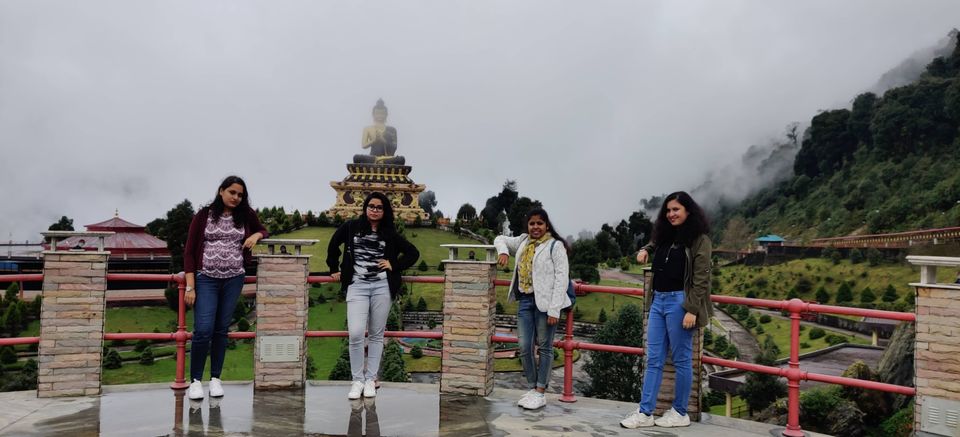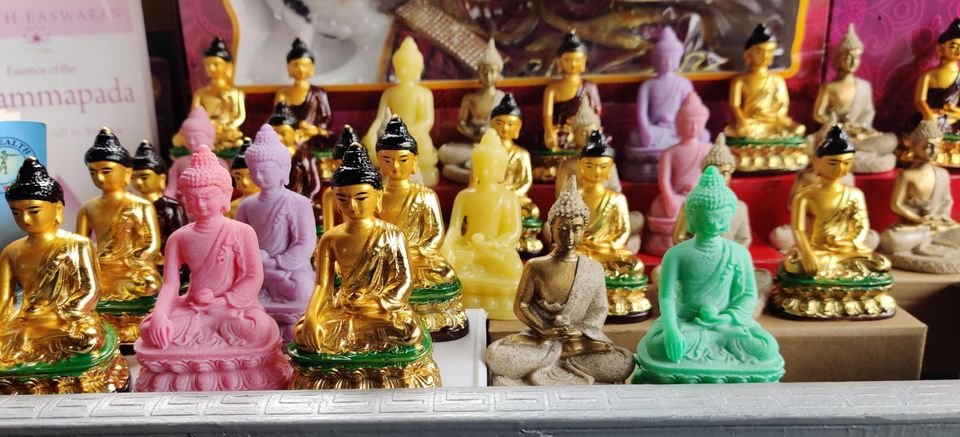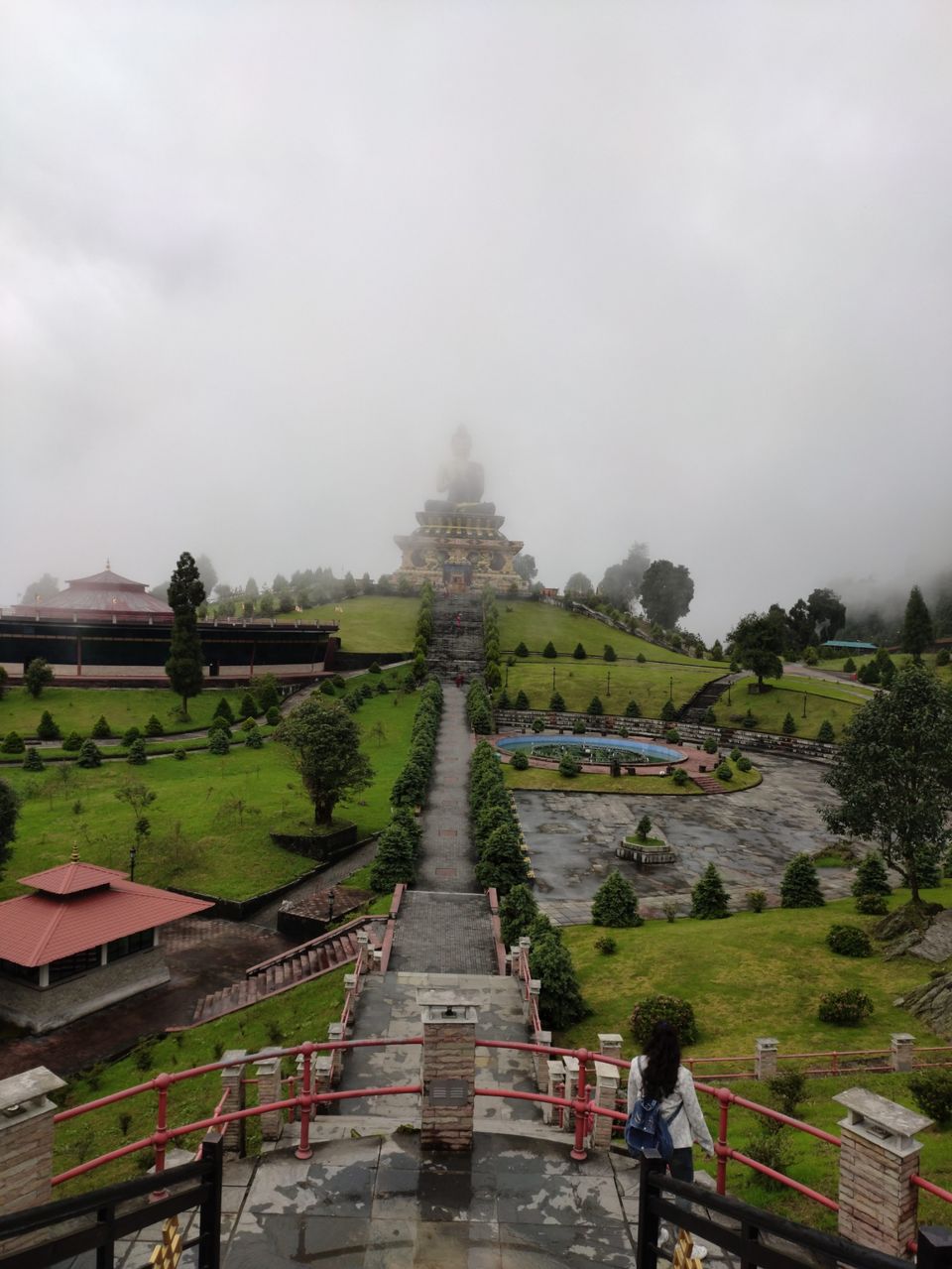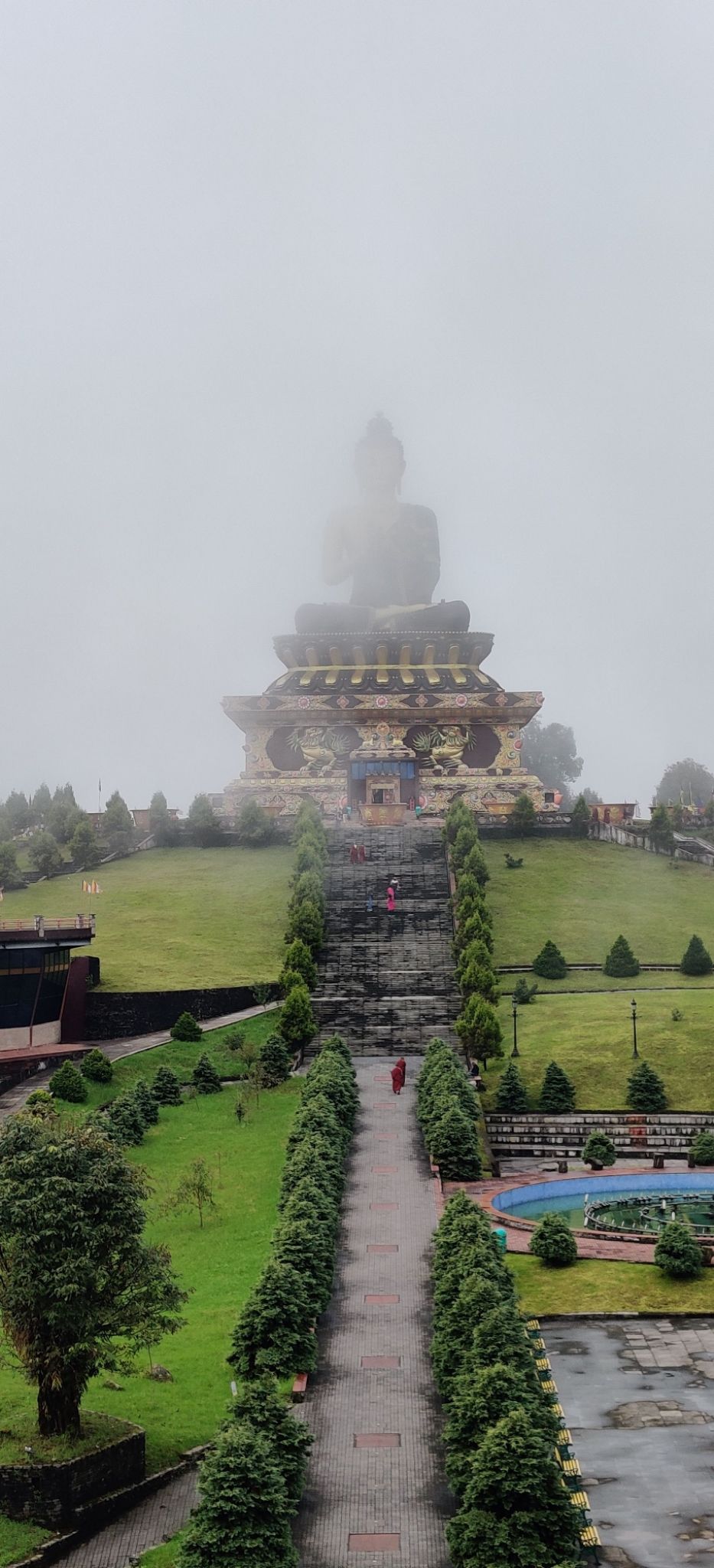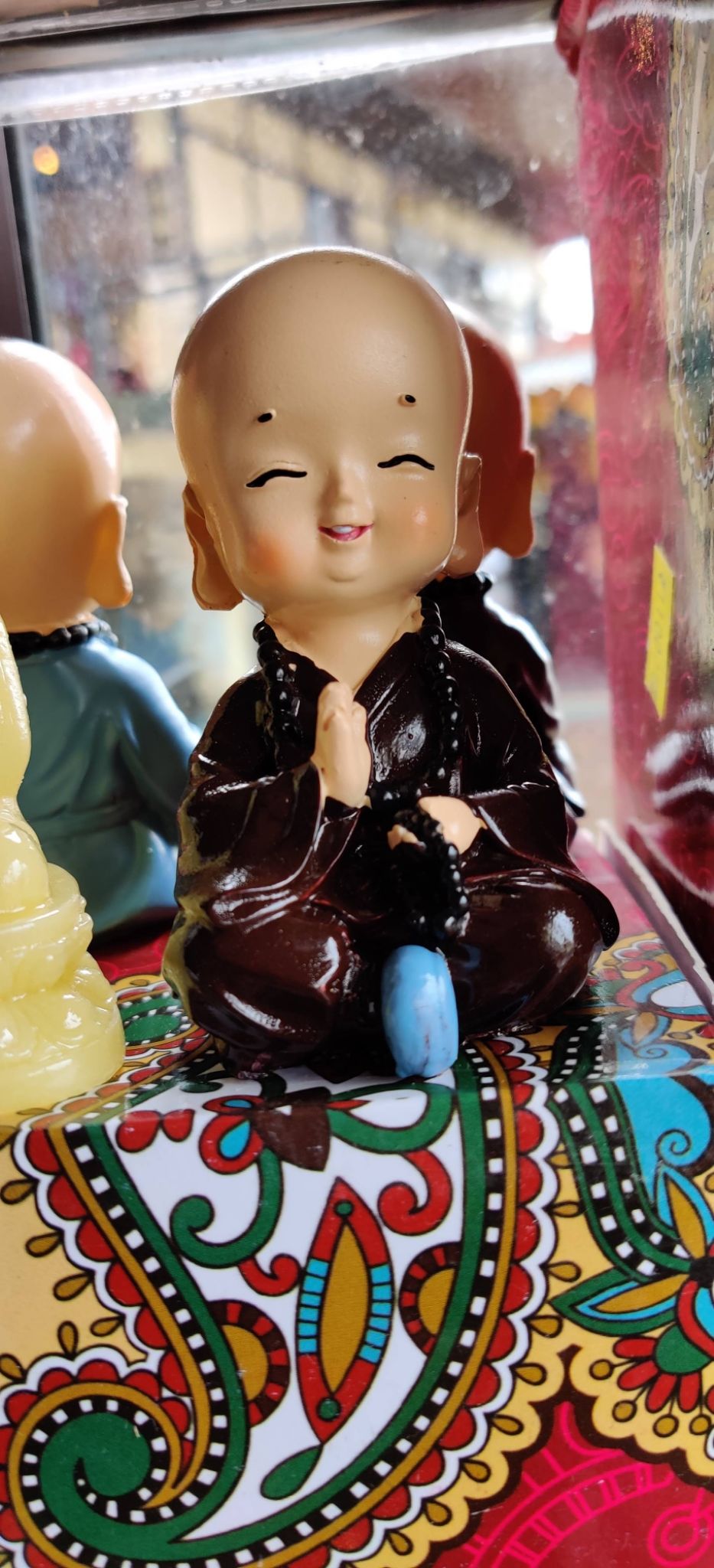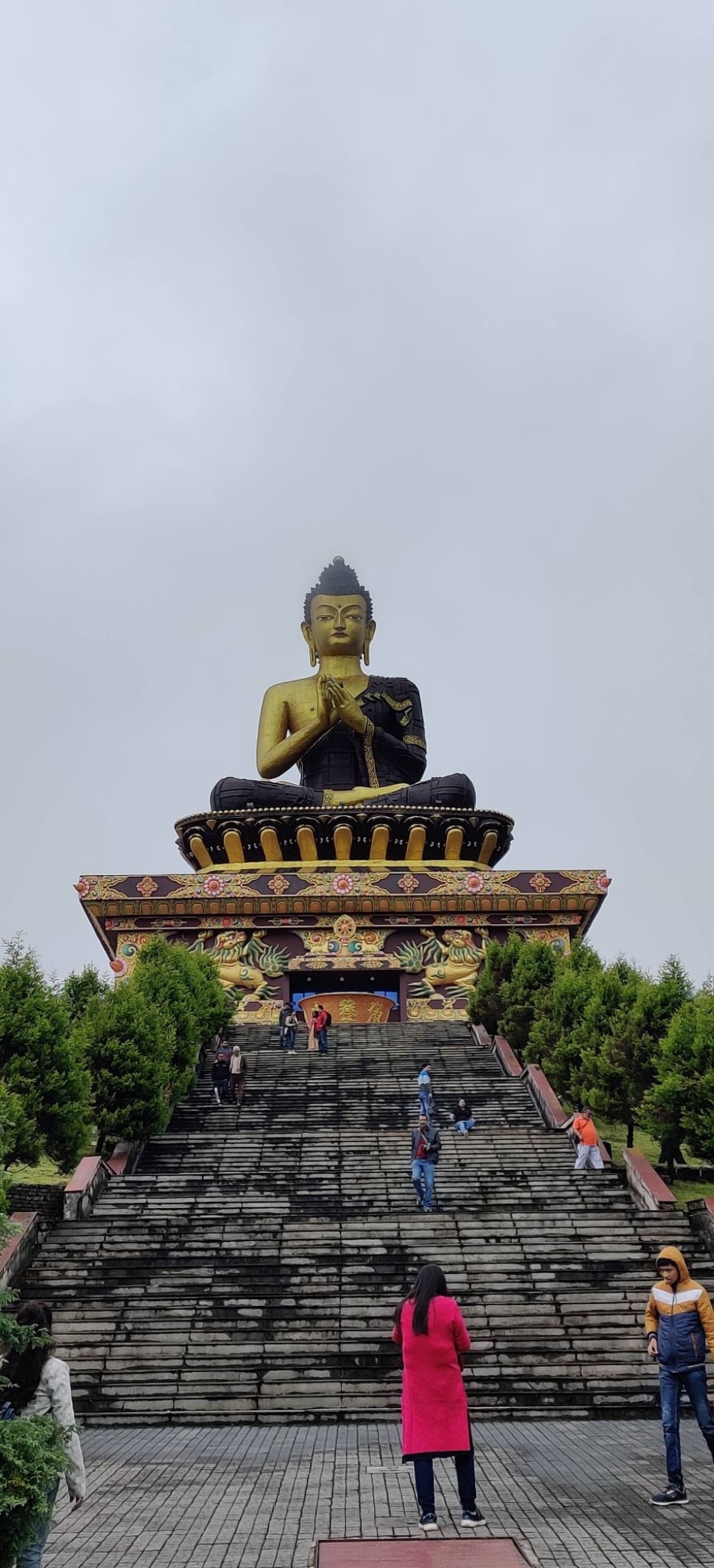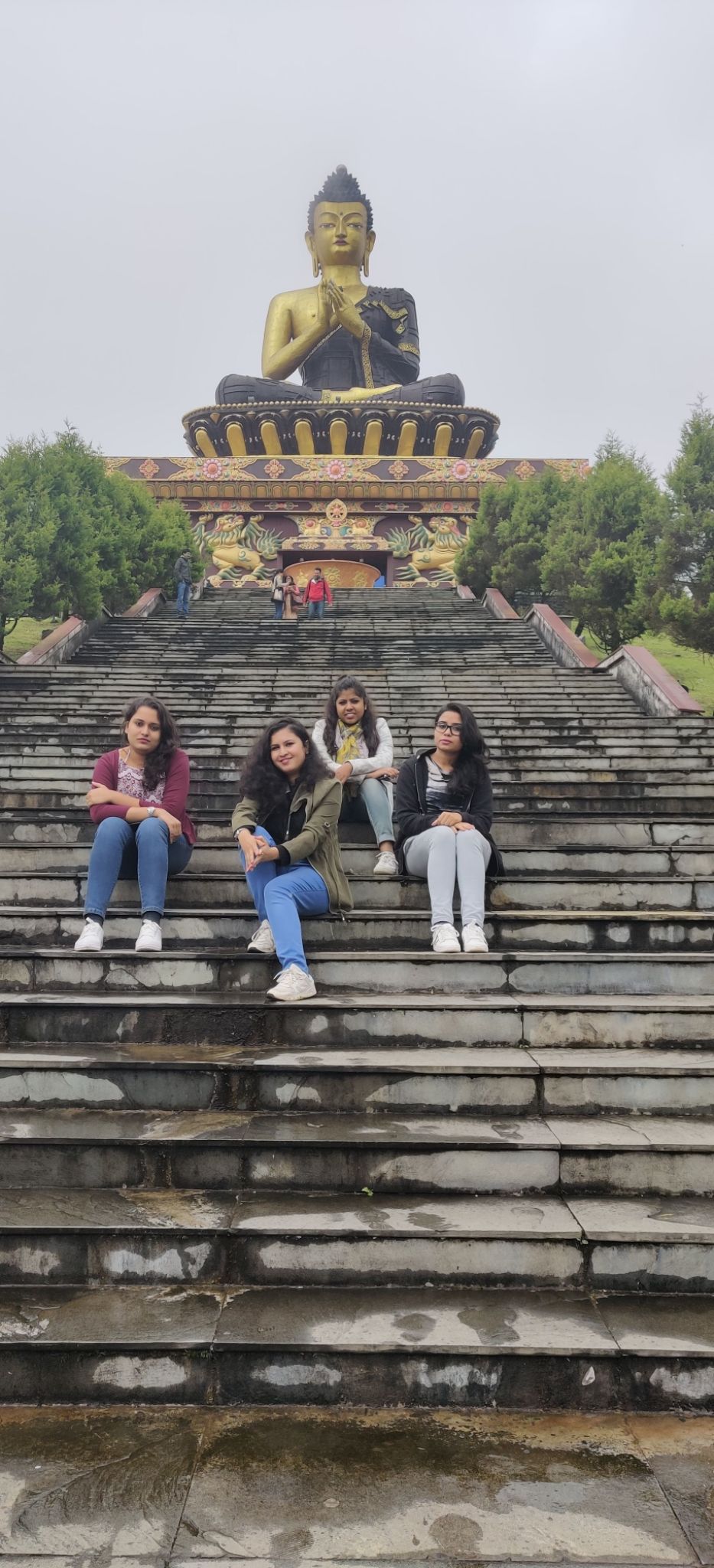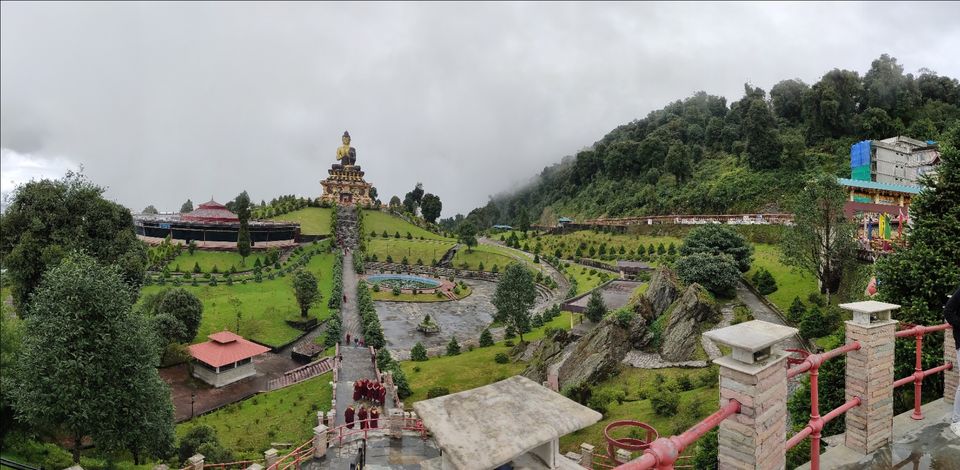 Our last destination of that trip was Lovers Meet View point.
The view of the river Great Rangeet meeting Teesta is an awesome treat for the nature lovers.
The river Rangeet with its deep green and crystal clear water gushes in and meets the forceful mountain stream Teesta at a point called Triveni. 
 The confluence takes place at a relatively flat terrain, and is surrounded by mountains in all sides. The long valley at the base of the mountains is spectacular.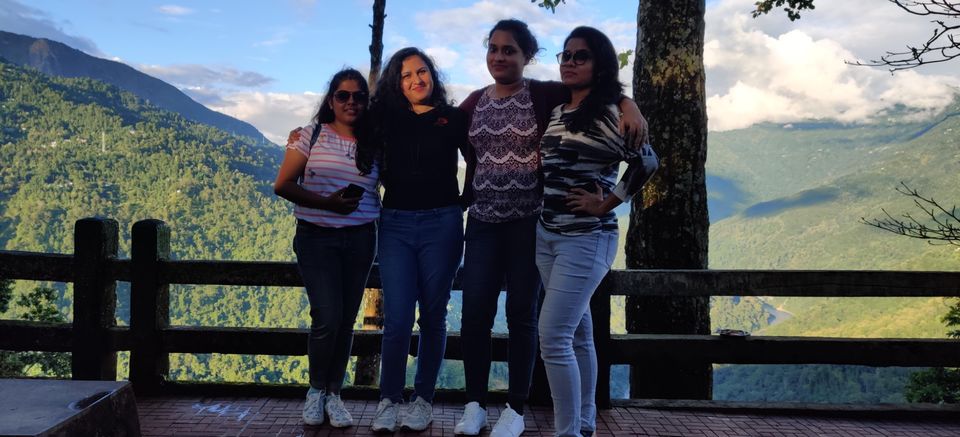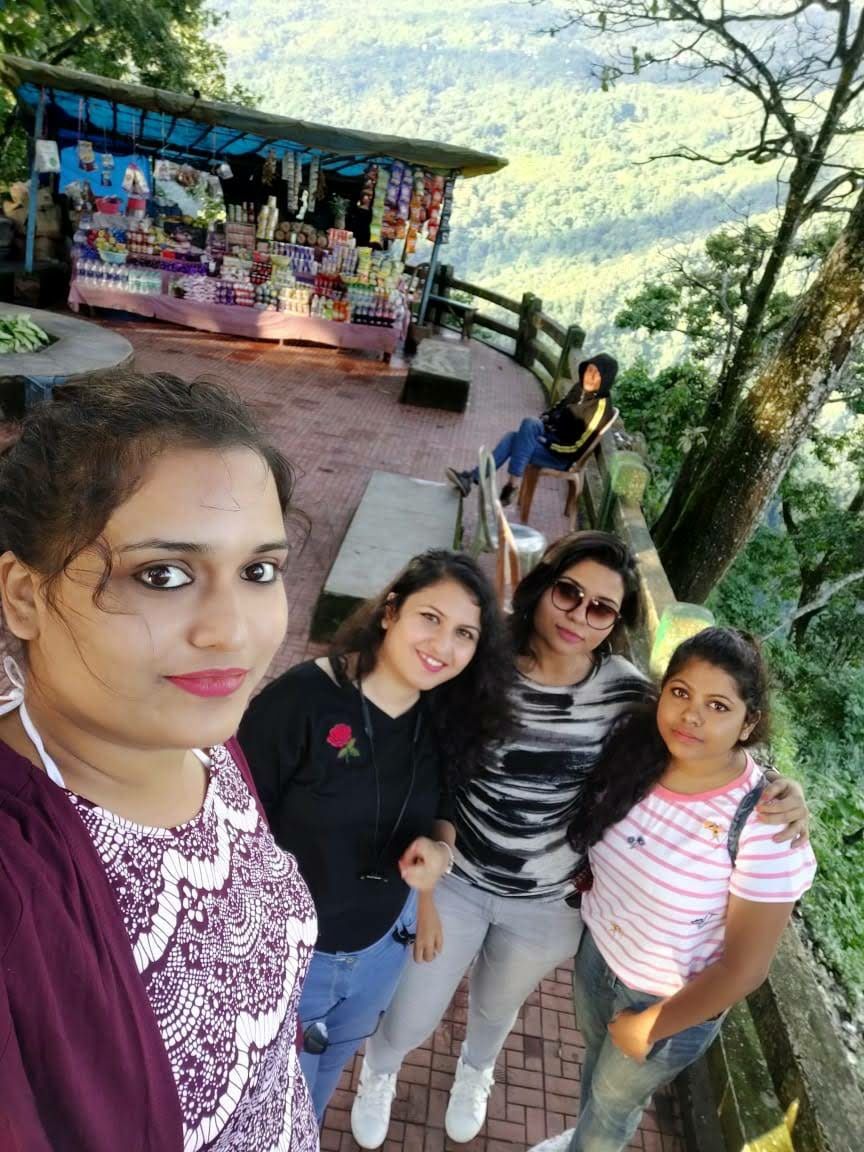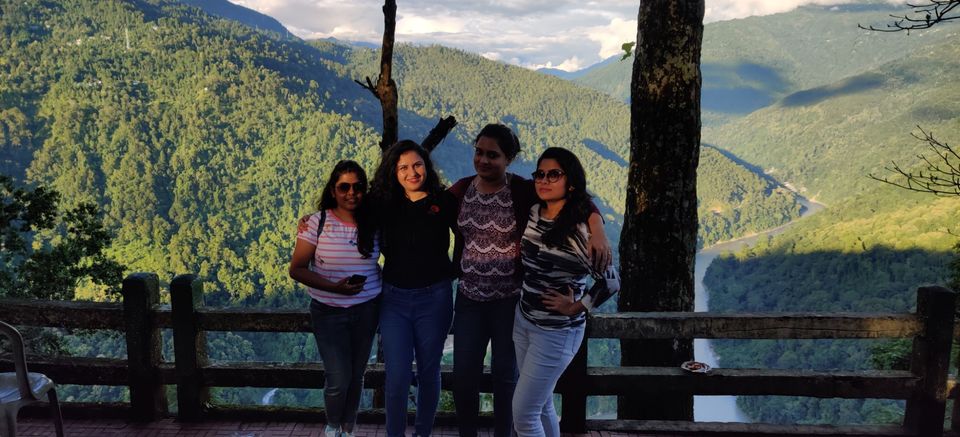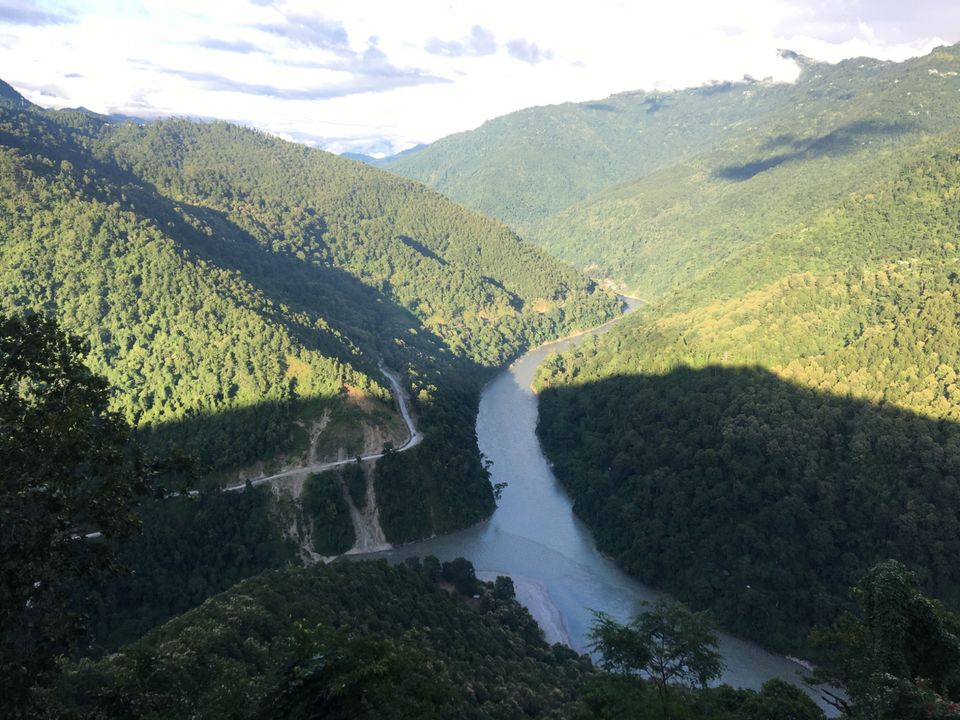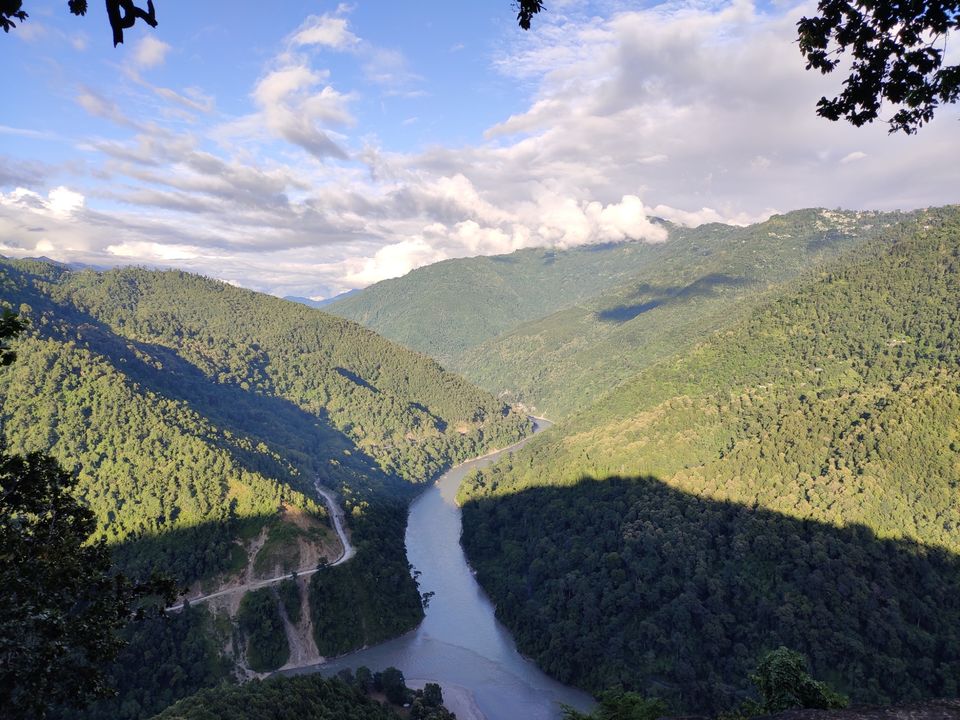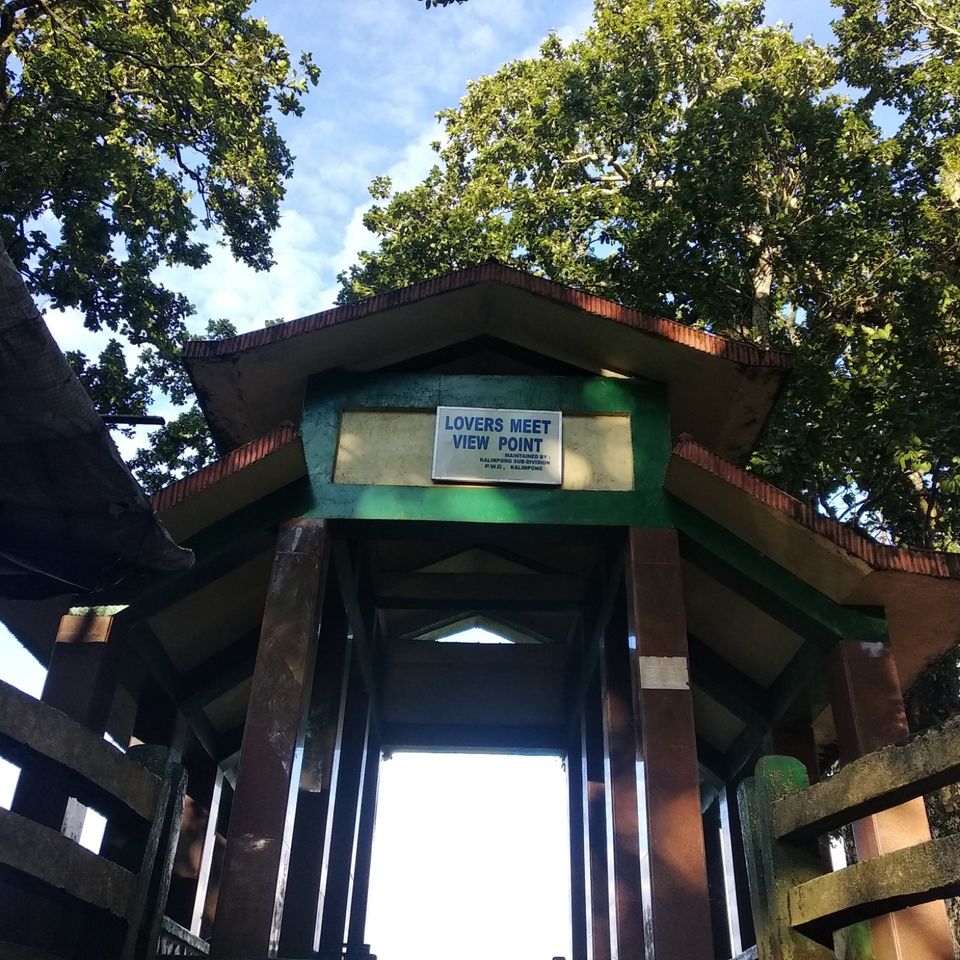 Please don't forget to have delicious momos whenever you get a chance.
Also, keep clicking pictures with beautiful backgrounds.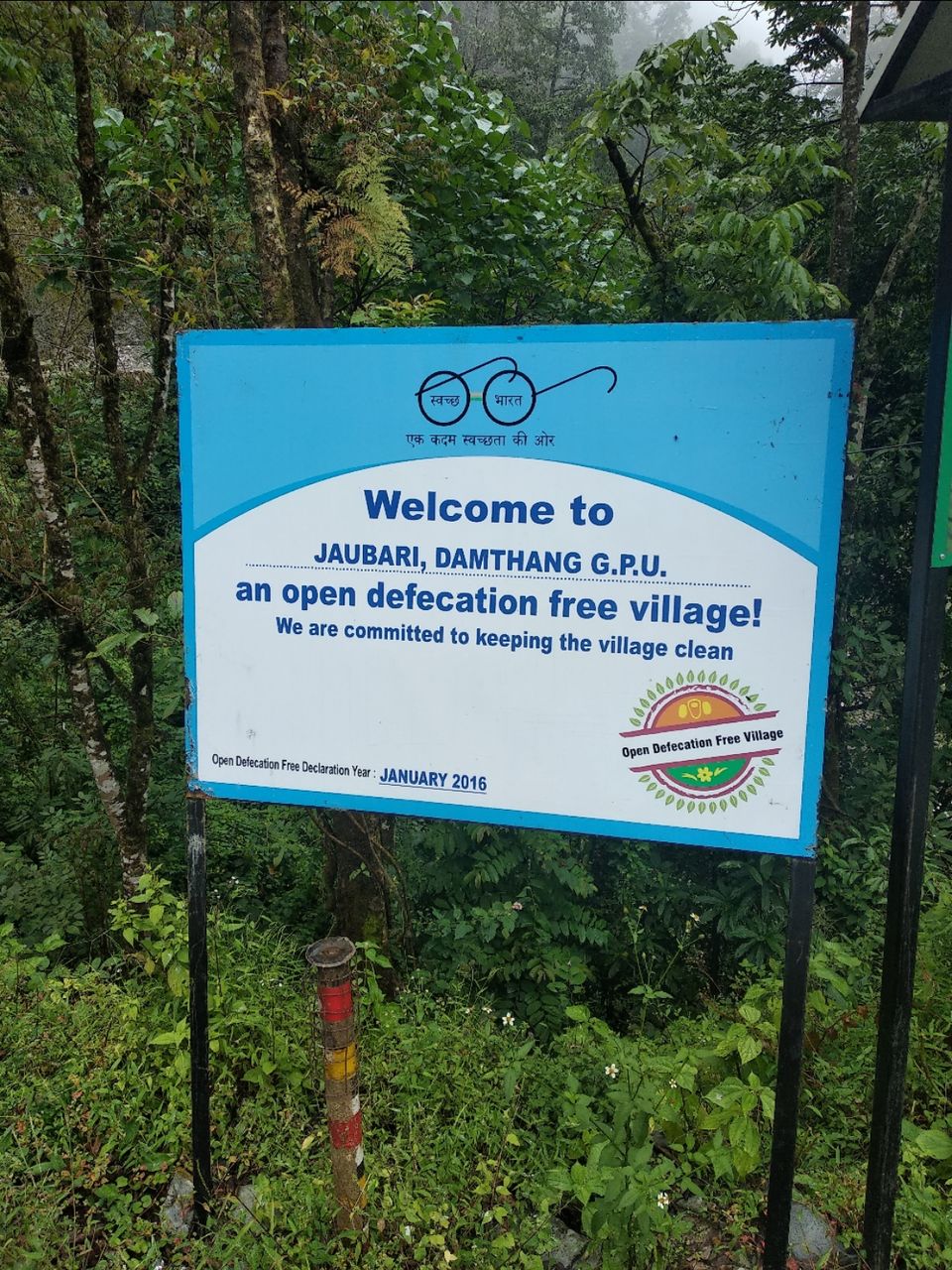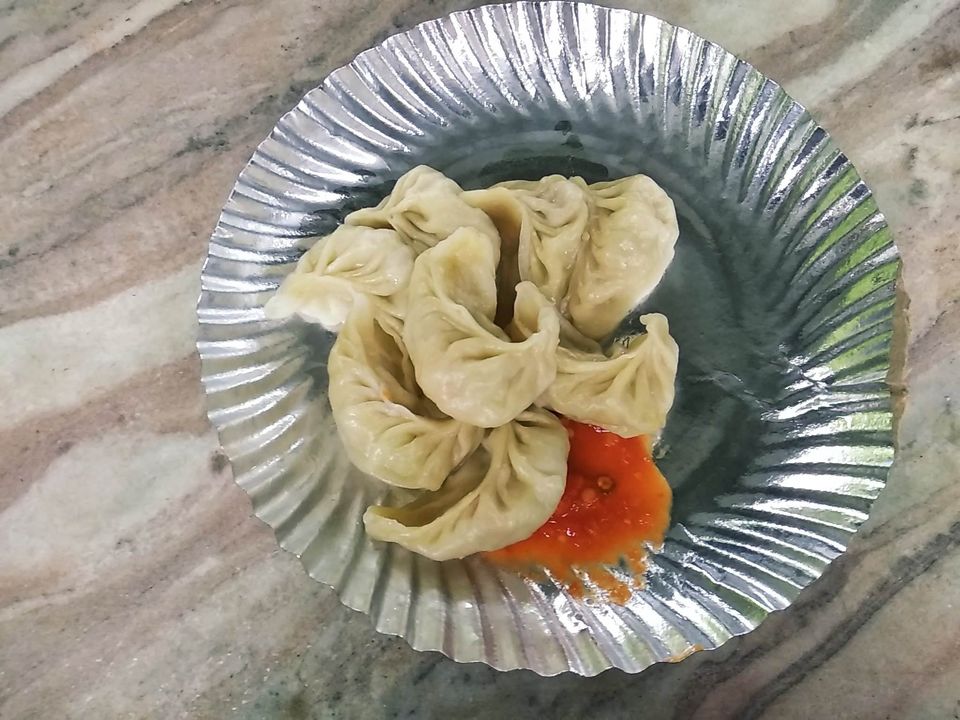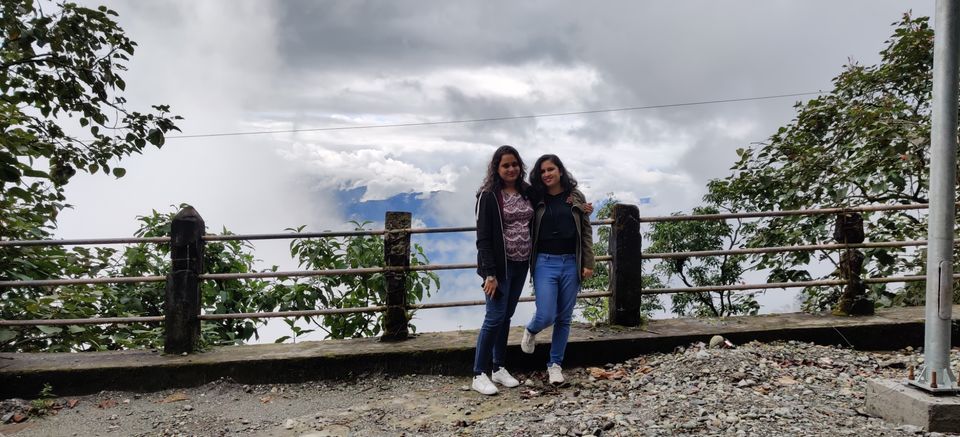 We were on our way to NJP when the monsoon finally broke up with the grey sky and Autumn emerged.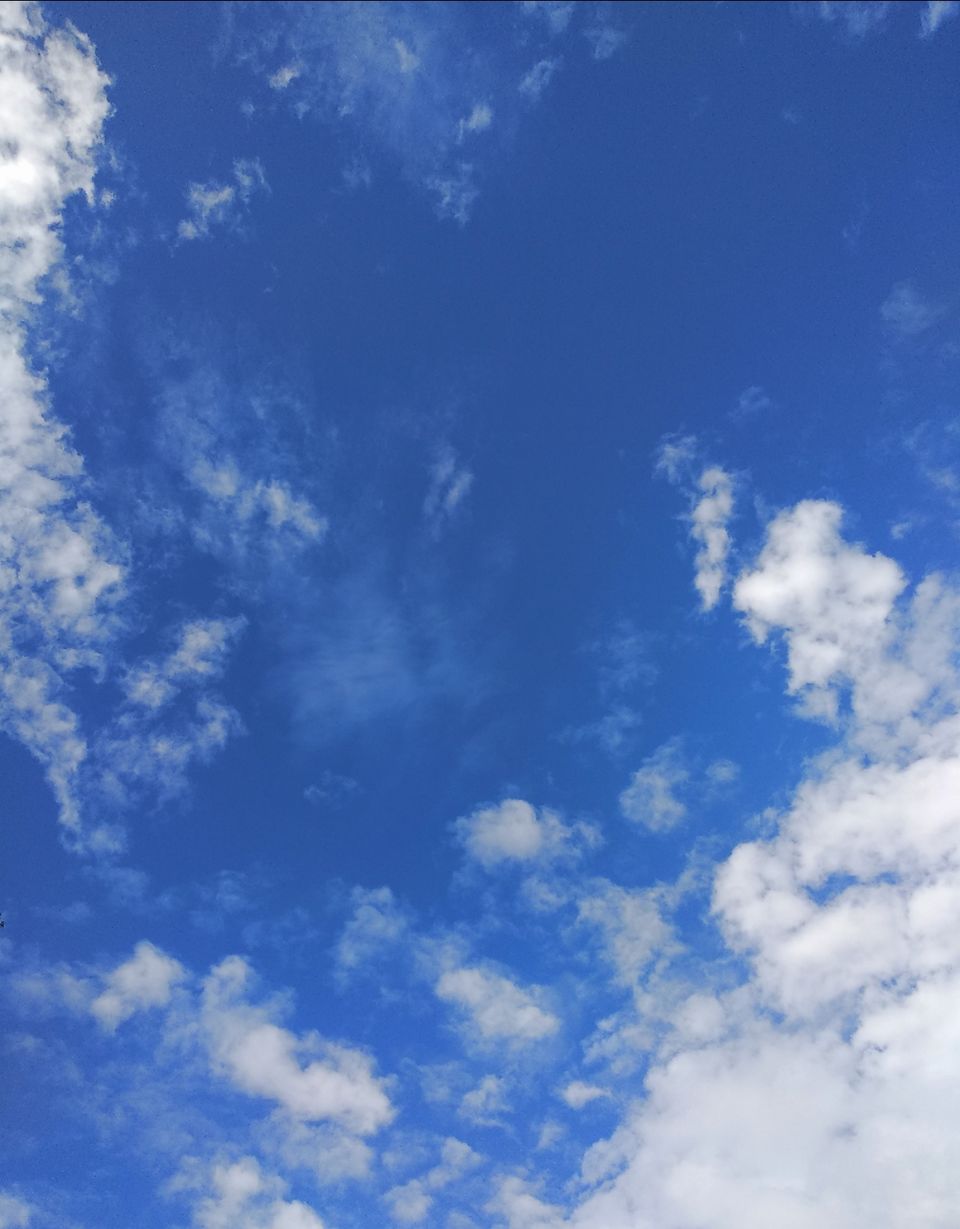 We came back to NJP and boarded DARJEELING MAIL - 12344 for coming back to Sealdah.
We had a great trip except the fact that we couldn't watch the sun rise and shine amidst Kanchenjunga.
But each story has two sides :
May be the grey sky made me realise how much I love Autumn. 🍁