After liking enough pictures of friends on their frequent trips to Kodai, I finally had a chance to visit this beautiful place and make my own set of memories with my ex-roommate. When you are working in Bangalore, weekend getaways are the shortest vacations recommended to maintain work-life balance. My roommate gave me a call and without a thought, I jumped in for the plan and we quickly booked our room at Abiramy Residency!
Saturday-Sunday- Monday, three holidays in a row! What an opportunity and nobody would miss it unless all hotels in Kodai were booked. To ensure, that we do not fall into that same category, the immediate priority was to look and book a hotel.
I had a quick chat with people who had recently visited and based on reviews about the location and things to do around, we decided to stay near the Kodai Lake.
That's the best area and hotels around are sure to shoot our budget is what we thought. Nevertheless, we did not change our plan and thank god we found Treebo Abirami Residency, within our budget, just before all its rooms got sold out.

Treebo Abirami Residency was within 300 meters from the Kodai Lake, 1 km from the main bus stand and only 700 meters away from the Bazar road/ State Bank road. Perfect! Without any further delay, I quickly blocked the premium room with balcony, got an awesome discount and Haah! Felt so relieved! We were going to stay at the right place.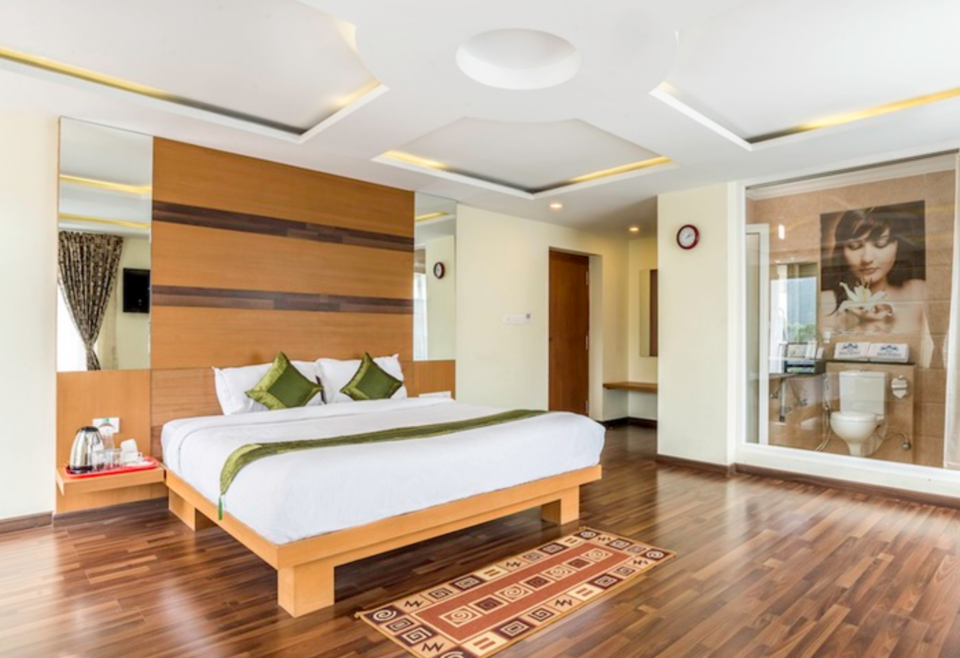 The hotel reservation was on me, so my friend took care of booking a comfortable bus for ourselves which took the shortest time to reach Kodai. And the bus tickets were done! Yay, our stay and transport were confirmed and we started to drift away in the excitement, making plans to conquer rather than cover, all parts of Kodaikanal.
Packed our bags, reached the bus stand, started on time and shared the first picture of our journey with friends. The first ritual of making the world jealous of the blissful life we were about to live in the next two days was efficiently done.
While my friend slept like a puppy in the fuzzy blanket we took, I lay wide awake all the way. I saw the landscape change and become greener as we got close to our destination.
The bus kept climbing the hills for forty-five minutes and the scenery was mesmerising. People stuffing their mouth inside polybags to puke and recover from motion sickness could not distract me from getting lost in the amazement of watching the clouds sweep down the hills, the beautiful sight of the village that looked tiny from up above so high and the tall pine trees along the blind curves of the road we followed.
We finally reached the main bus stop and hurried down to feel the weather of Kodaikanal. It was sunny and the breeze was cold. What a pleasant combo. So we decided to navigate and walk to our hotel.
Well, the taxi drivers were not ready to accept anything less than Rs.150 for just a kilometer and it was then that we decided to walk. Thanks to the helpful Treebo staff, who helped us with easy directions and we found the hotel without any difficulty.
We showed up at the reception at Abirami Residency in 10 minutes, absolutely delighted to be there. And when we got to the room, our joy knew no bounds. The balcony opened up to a breath-taking view of the hills and both of us had two giant sized, fluffy beds to ourselves.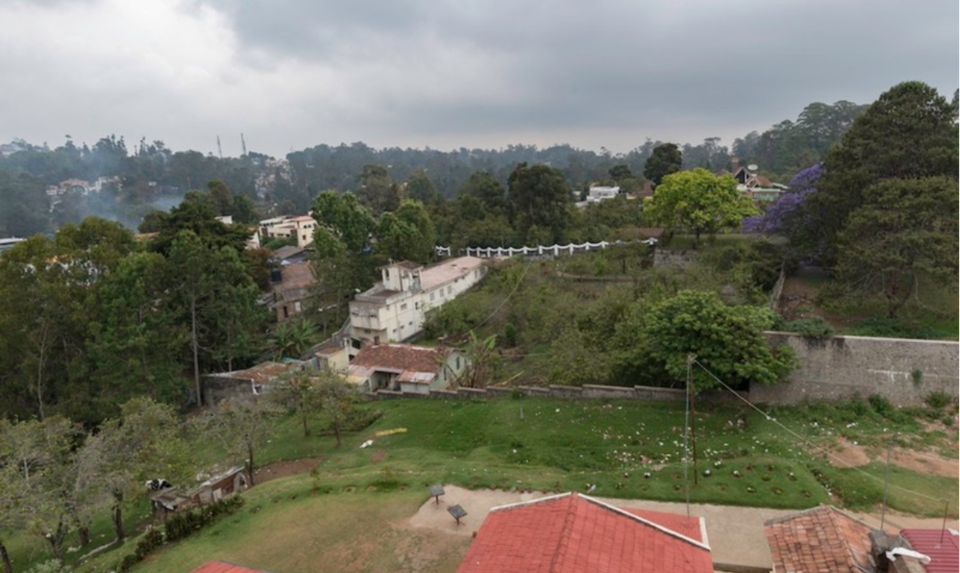 Our stay at Abirami Residency
The Wi-Fi was awesome at Abirami Residency and we got complimentary breakfast as well. The overwhelming part was, breakfast at our hotel was almost over and one of the managers from Treebo got dosa, toasted bread and tea specially made just for the two of us.
The manager at Abirami Residency volunteered to tell us how to get around places at the best price and where to find what while we finished our tea.
It was of great help. We saved ourselves from booking a cab for Rs.1500 to visit the city's attractions and took a traveller for Rs.500 instead. The benefits that came along were: we did not get lost, we had a guide to give us local insights, we had enough time to watch, roam around, shop and click pictures, plus we got pick up and drop from Abirami Residency itself.
If you are interested in nature walks and don't mind being unable to catch a sight of everything in the first trip itself, you can walk to explore Kodaikanal. The majority of the tourist destinations – Kodai Lake, Coaker's Walk, Bryant Park, Pine forest, Kurinji Andavar Temples, Green Valley View, Suicide point, Dolphin's Nose, Devil's Kitchen, Upper Lake View and Village Tour are within 8 km and close to each other.
The best part of our trip was our walk along the Bazar road. It's within 700 meters from the scenic Kodai lake (another awesome place for boating and evening walks). We went to every handicraft store, chocolate shop, bought a lot and spent very little. Our expenses calculated to Rs.1000 only. Wow!
The Daily Bread and Pastry corner is the most amazing shop on Bazar road. It serves the freshest butterscotch, black forest pastries, cinnamon rolls and the tastiest veg puffs you will ever have. The locals and tourists flock near the shop and wait till the bakery's fast moving stock refills in every two to three hours. We stuffed ourselves as much as we could and packed the rest for our journey back to Bangalore.
Leaving Kodai did not feel good. Rather, leaving our room at Abirami Residency and the balcony to get back to the grind was the most difficult thing to do.
It's two weeks already since we returned but the memories are still fresh. If Kodai could have listened, I would have shouted: "could not get enough of you beautiful, I will return back very soon".
For more information visit our Hotel Booking Website.

Have you stayed at Abirami Residency? Tell us about it in the comments below!