After our last amazing adventure to Jordan which I thought until this trip happened was a totally unplanned venture, we recently visited the north African nation of Tunisia.This holiday has certainly taken the term 'last minute travel' to another level.
I was totally sure about being bitten by the travel bug after our last trip. How did I know? Well, the only thing I did in my free time was search for different travel destinations. While I did my regular job of mixing, recording and doing music which is a thrill in itself, I totally looked forward to the night as that was when I did all the internet digging.
We had picked Zanzibar as our next destination for August. Just a week before our plan, Shweta had a freak accident with a meat knife. Her Achilles tendon and was safe by approximately 5mm! She had cut her heel deep and was almost immobile for a month and obviously we had to strike the plan off. Those who have followed the previous blog might know the reason why I doubt my vacations until I have actually landed where I intend to be !
While I have a flexible schedule, Shweta is tied to a tight monthly 'crew roster' according to which we have to plan our travel. A chance lost is a whole holiday block missed, which is to scheduled one year prior. So missing out on Zanzibar was disheartening. On the brighter side, she had another stretch of leaves in October which I totally wanted to harness.
People who know me personally know how much I detest any activity done without a fixed plan. To be secure (at least what I thought) I did all the meticulous information digging about our next destination. Turkey ! It was a choice that was unanimous. Shweta had 10 days of leave and Turkey would have been a perfect destination for those number of days.
I was absolutely paranoid and had my fingers crossed yet again. I was clinging on to the hope of everything working properly. But as luck had it ! 3 days before our scheduled date, war like conditions broke out in Turkey, with The USA and Russia getting involved, the Indian Embassy issued a temporary travel advisory against traveling to Turkey. I had complete faith in my luck and it didn't disappoint ! LOL !
I was disheartened but totally determined to make use of the precious holiday block. Intense overtime internet research was now underway. I was looking for a country which offers Visa on arrival or doesn't need a Visa for Indian tourists as time was too short to make applications and get approvals for Visas. It was 16th Oct and we had to travel on 18th !
My internet mining led me to this north African jewel called,Tunisia ! I remember in 4th grade we had a lesson about a certain Mr. Qasim who was from Tunisia. That was the last time I had even heard of Tunisia. I went through various youtube videos, travel blogs etc. about Tunisia and overall I got a good idea. The blueprint of our 'supposed' holiday was almost ready.
So I had my bags packed and my rough itinerary ready. One last obstacle had to be overcome! STANDBY AIR TICKETS ! As airline staff, Shweta is eligible for crew tickets. These bookings are 'space available' and are never confirmed till the last hour of departure time depending on the number of passengers traveling on that particular flight. The only option I had was to take Emirates. First to DXB(dubai) and to TUN(Tunis) ahead. Which meant 2 stand by sectors ! It is well known fact, Emirates operates 5 flights daily from DXB to BOM and they are normally overbooked ! Getting a seat even for Emirates staff who has priority is impossible! Being an Etihad airways was out of question ! Being an outside employee it is not possible to know the exact number of open and number of stand by tickets with greater priority. I had a sleepless night. I came across an Emirates employee on a Facebook group, I wish I could name and thank her here, I owe her a lot of peace for letting me know the exact load of both connections.
The day was here and I was off to the airport from my Andheri home. While I was calm as I was 80 % sure of my possibility to get on the flight. I was taken aback when the ground staff at Mumbai told me they were loading some extra cargo as the flight load was less which normally never happens. He almost discouraged me by saying I cannot guarantee you a seat till 2am. My flight time was 3am ! I was back to biting my already short nails.
At 2 am, I almost convinced myself for another disappointment and went to ask for the valuable boarding pass. The ground staff smiled at me and handed me the boarding pass ! I couldn't believe it !! I was FINALLY going on a holiday.
I rushed to the immigration and security. The immigration officer asked me for a Tunisian Visa. I was surprised at that question, I informed her about it being an 'On arrival' visa. She wasn't convinced and was adamant about me showing her a visa. Thank god for 4G internet, I showed her the official website of the Embassy of Tunisia mentioning the visa policy for Indian tourists. Without completely being convinced she stamped my passport and said 'Do not blame us if they send you back for not having a Visa'.
Tunisia offers 'Visa on Arrival' to Indian passport holders
All this took almost 15 minutes and my gate was too far away. I ran faster than Milkha Singh to reach the gate where I found out my flight was delayed by an hour. It was now at 4am. My connecting flight to Tunis was at 9am Dubai time. My scheduled time for landing at DXB from Mumbai was 6am, which meant I had 3 hours to transit. At 4am, we were informed about the flight being another half an hour late. I was now getting worried again.
Finally we took off at 4:45am which meant I was going to have sightly more than an hour to do security and go and collect my boarding pass for the next connection. It was very much possible. On the top of decent, the captain informed about no landing clearance at Dubai airport and an estimated delay of 35mins. This meant BAD NEWS ! I was at a risk of missing my connection to Tunis.
Dubai airport is MASSIVE !! We landed at 8:10am and yet again I had to awaken the Usain Bolt in me and run to the gate which was approximately a mile away. I requested the other passengers to let me ahead as I could miss my flight. Shweta was waiting for me at the gate. I somehow made it to the gate and was the last person to board that aircraft. I still don't know how i made it ! Now it was certain, I WAS GOING TO TUNISIA !
The flight to Tunis from Dubai was around 6 hours. Obviously with all the travel and the 'related' stress, I was tired. The flight was almost empty. I converted the 4 isle seats into my private bed and travelled business in economy. I slept like dead and woke up just at the top of decent. Carthage airport was 20 mins away. I looked outside the window to see the Turquoise blue water of the Mediterranean sea below. I had never seen such a unique shade of water.
We had finally landed into Carthage airport, Tunis. The airport was modest and small. We reached the passport control to find only 2 counters open and a loooooooong line of passengers waiting. There were no instructions anywhere and so we assumed everyone had to be in the same line. I was vigilant enough to see everyone had a form in their hands along with the passport, I quickly jumped out of the line and got 2 forms for us which has to be filled with basic information.
It took almost 35mins for our turn. At the counter, the immigration officer asked us where our visa was. I almost sunk and recollected the Indian immigration officer's words. In broken English, almost in sign language, he asked us to step outside. I was really worried. After attending 2-3 more passengers he pointed at a window at the back. "Transit Visa" in a thick Arabic accent he said.
We went to the counter to find another officer looking at our blank passport. He too asked for a Visa. We informed him about our known fact that it is supposed to be on arrival as per the embassy website. He had a blank expression ! I was petrified now! He called another officer who I assume was a senior. That's when I realized the previous gentleman could not understand English. This officer wasn't fluent either but he did comprehend what we said and was very helpful. He took our passports in another room and asked us to wait outside. 30 more mins had passed and our passports were in another room. I was getting super paranoid ! I had read about horror stories of deportation of Indians from Georgia, and this is how they did it !
The same officer came back with our passports and apologized for the delay. He said he was looking for the stamp ink but couldn't find . PHEW ! He walked us to the same counter we came from and said something in arabic to the officer we had met first. He smiled at us "Hindistan !Amitabh Bachchan !" he exclaimed as he stamped our passport.
As we stepped out of the passport control room, a lady was distributing free sim cards of 'Orange' network to everyone she thought was a tourist. She handed me one. I asked her how this was to be activated, she answered back in French and I was now slowly feeling the language barrier here. At the luggage claim I was informed that my baggage would arrive the next day as the transit time between both my flights was too short for the ground staff to load my stuff. I wasn't complaining though.
So as we cleared customs and stepped out I saw another 'Orange' counter. I had to get the sim card activated to call the car rental company I had booked our car from. The lady at the counter informed me about 500mb preloaded data already being there. In addition she gave me 2 options.
6GB data, 30 mins local calling for 20TND 25GB data, 60 mins local calling for 30TND
We chose the second plan.
The currency used in Tunisia is Tunisian Dinar.
1 TND = 25 INR
1 TND is sub divided into 1000 Millems. Denominations of 5, 10, 20 and 50 are available and used.
My phone was now up and running with a full tank of 25GB. We stepped out, just as I was about to call the car rental company, I saw a name board with my name. I was very impressed, the person had waited almost an hour and a half for me. We greeted him as we walked towards the parking lot to claim our car, the Opel Corsa, manual transmission.
The traffic in Tunisia drives on the right side of the road with the steering wheel to the left. Exactly opposite of India, I wasn't worried as I had totally gotten a hang of it in Jordan. The only thing that bothered me was the car was manual transmission as the rental company did not have an automatic.
The car rental was 575 TND for 6 days. Deposit blocked was 1500 TND.
Approximately Rs. 14500 for the car rental for 6 days.
Fuel prices are super cheap compared to India. 2.10 TND for a litre, approximately Rs 53 per litre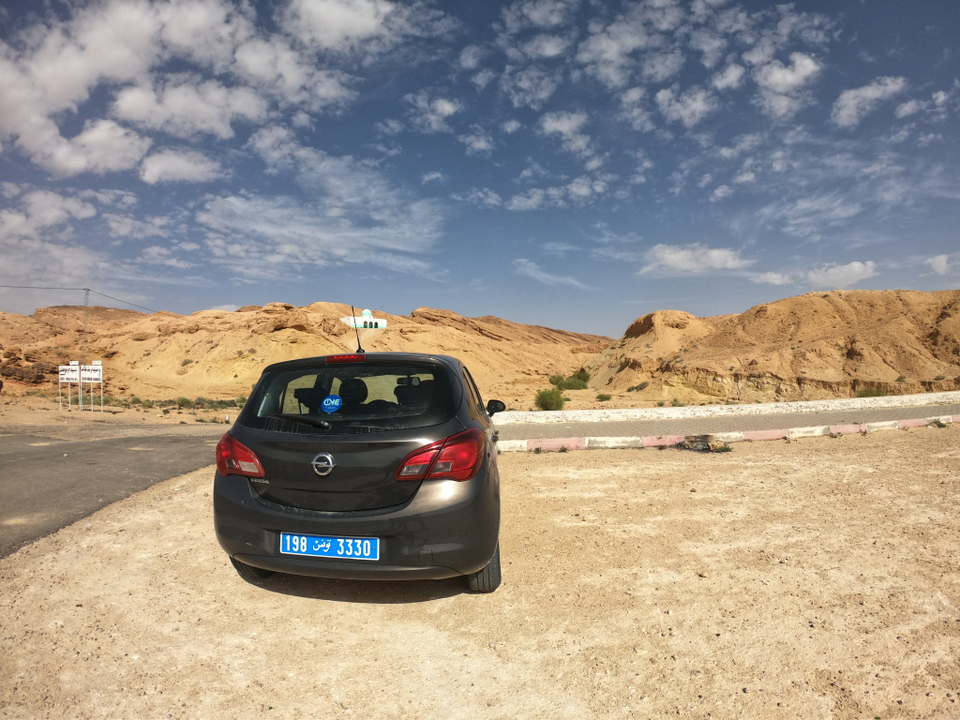 As per my half baked itinerary we first headed to the seaside suburb of Tunis called Sidi Bou Said. It was around around 20min away from the airport. Most of us Indian tourists are not very familiar with Tunisia as a country. I was pleasantly surprised at the infrastructure in the capital city of Tunis. Beautiful roads, well planned highways, exits, public transport,taxis and downtown trams. Everything felt just like a totally developed nation.
It was 18th Oct 2019, the weather was extremely pleasant. Temperature of around 25 celsius felt very comfortable. The Mediterranean weather alongside the typical mediterranean landscape as I had only seen on TV as of yet was refreshing to see. I had already seen a bunch of youtube vlogs about Sidi Bou Said and I somewhat had an idea of what to expect. I must say though, the experience of physically seeing this is so much better.
All the houses and buildings here are painted white with blue doors and windows. This actually makes it look exactly like Santorini in Greece, it's a Mediterranean thing is what we were told by the locals. I had never in my life seen a residential colony so beautiful.
The roads here are narrow and difficult to drive. Also to best experience the vibe it is advisable to walk around the whole neighborhood. We reached and were guided to the pay and park which costed 3 TND. We parked our car and set out ahead on foot. The road is easy with a slight accent but you don't really feel tired because of the beautiful houses around. Sidi Bou Said is known as the town of artists and trust me, the moment you step here you know why !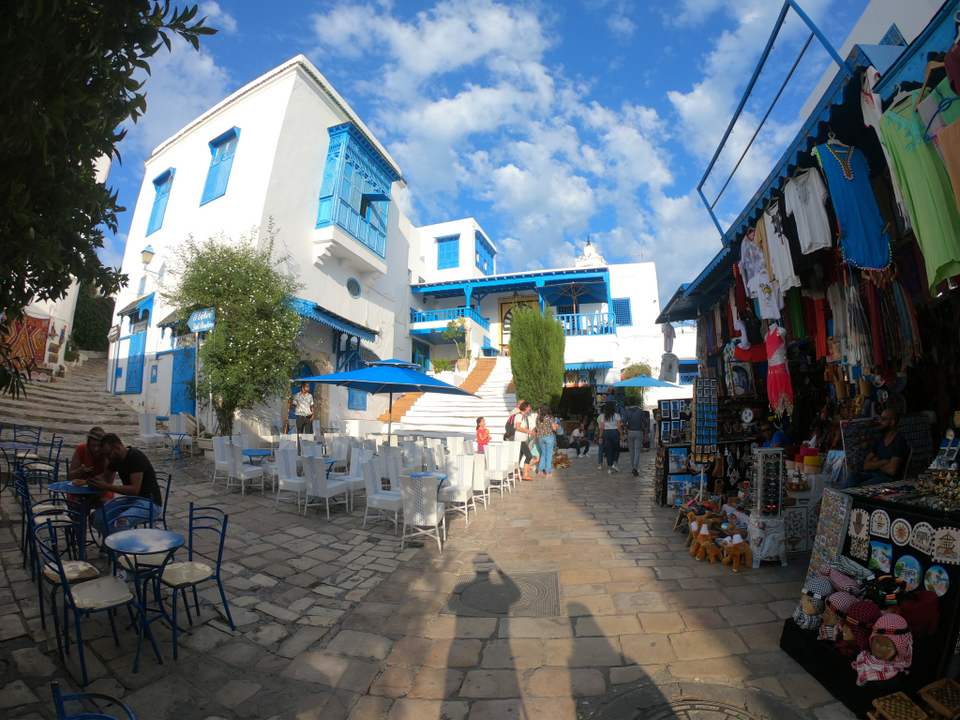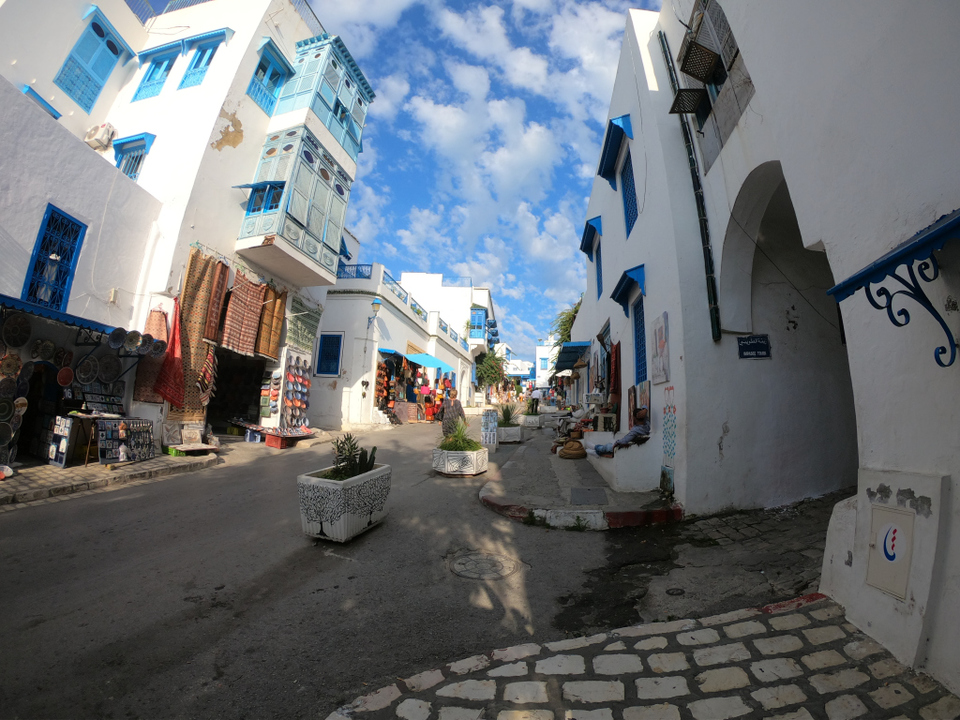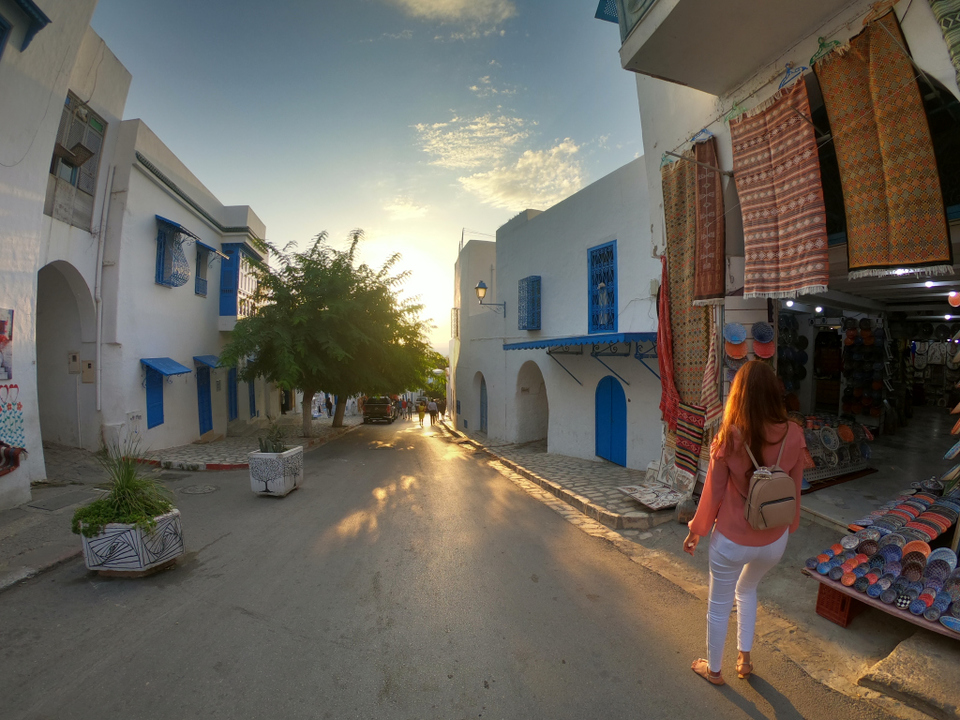 One of my favorite activities on a holiday in a foreign nation is eating local food where locals eat. I was aware of the local delicacy called 'Bambalouni' here. Somewhat similar to a doughnut, I had already seen in on the videos. We came across a stall selling one of those and trying it was a must. I kid you not ! I will never forget biting into it and tasting it. It was soooooo good !! It just melted into the mouth. Soft, fluffy and perfectly sweet, I knew I was going to gain a few pounds on this holiday for sure ! To make this even better it costed less than a Dinar, 800 Millems only! TOTALLY WORTH IT ! You can watch it in the youtube video on this blog.
A few meters ahead there is an extremely famous cafe on the hilltop called Cafe de Delices. The location of this cafe is a dream ! The view atop is mesmerizing. The photographs seriously cannot do justice to the beauty of this place. The view of the parked yachts and the beautiful blue Mediterranean is to die for. This cafe was probably the most expensive restaurant in our entire trip. We only had an Almond lemonade and it costed a whooping 12 TND. But again ! Consider it as fees for the beautiful view !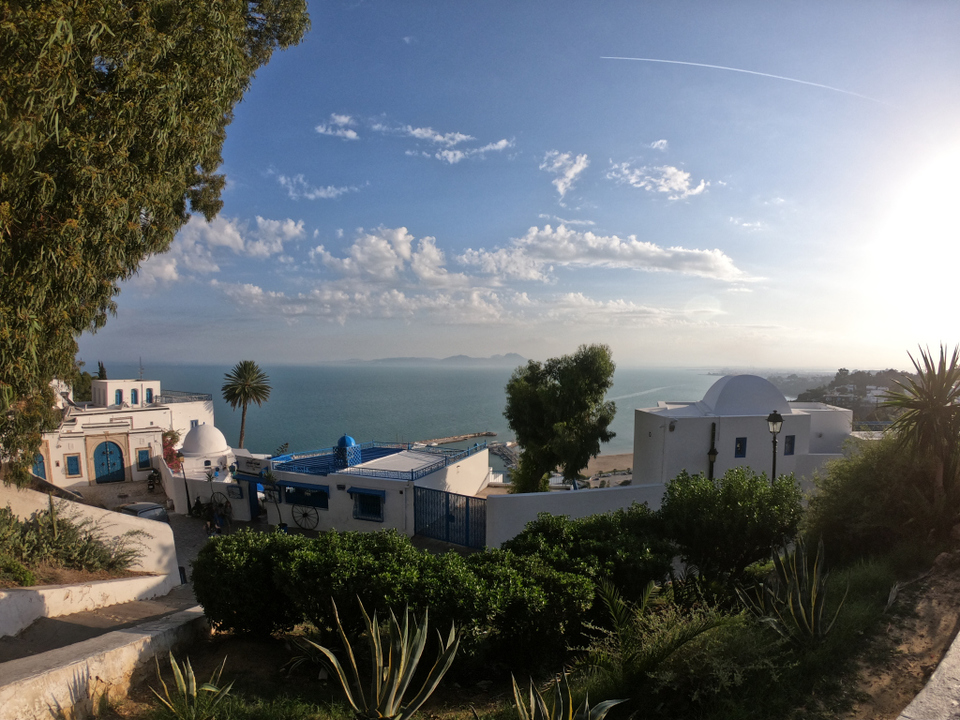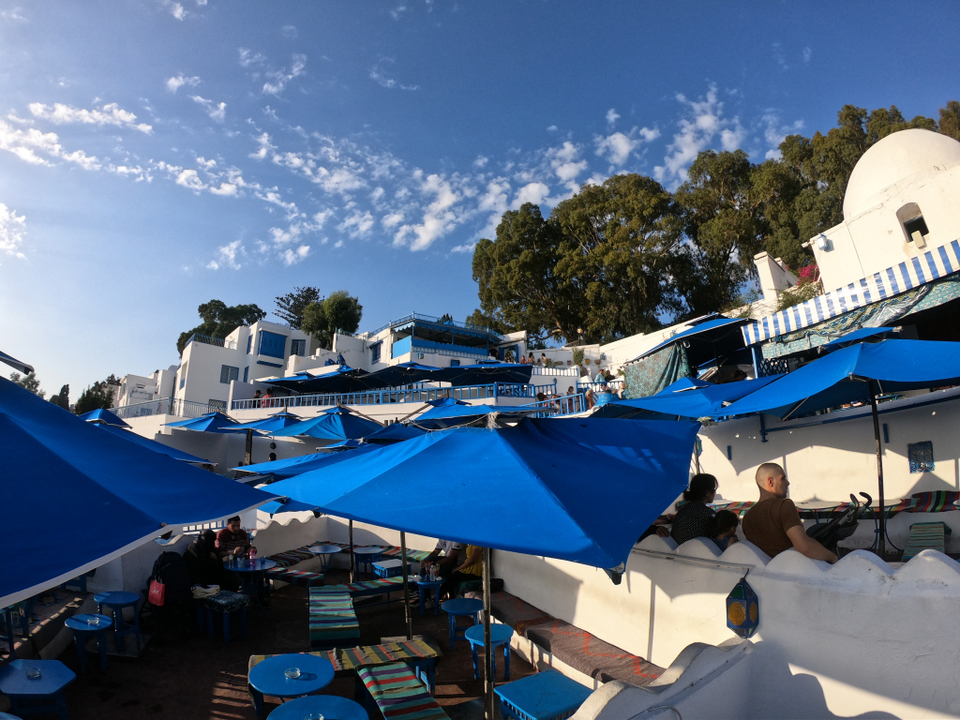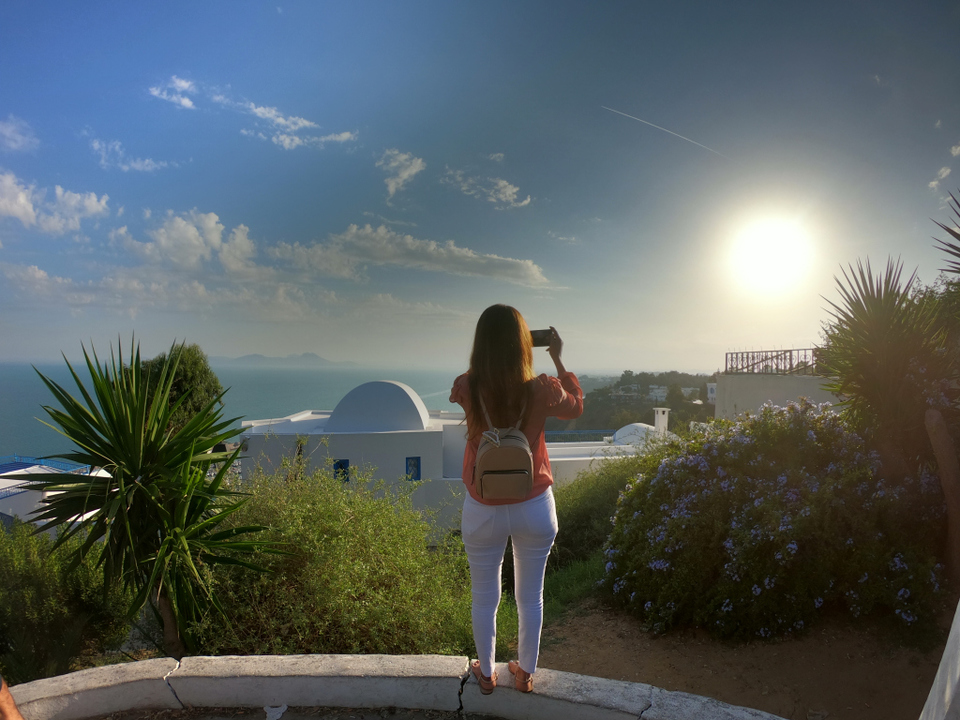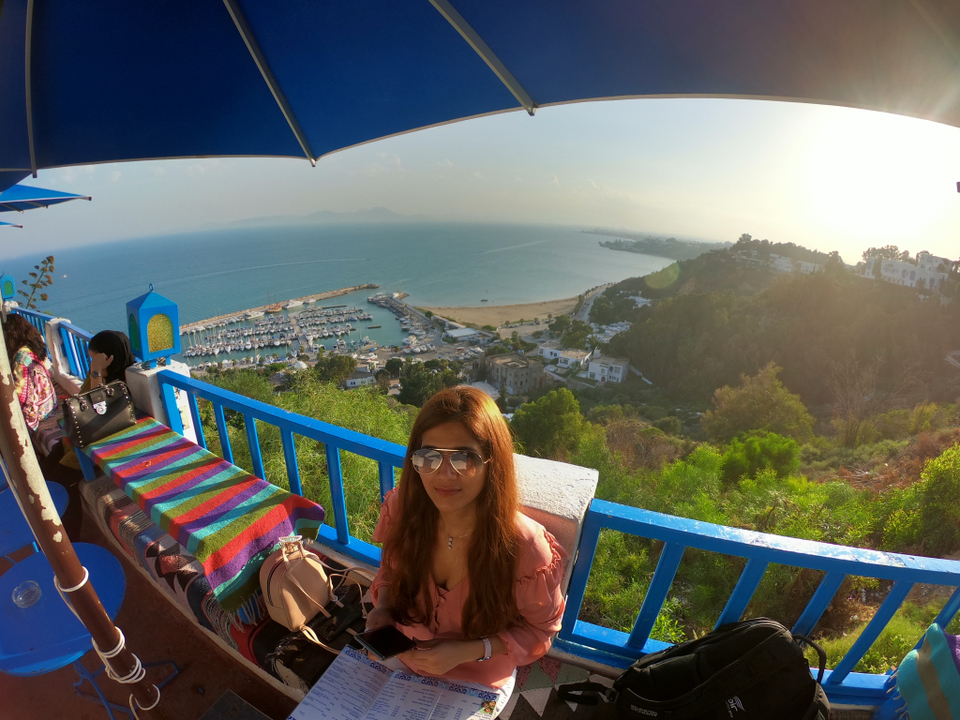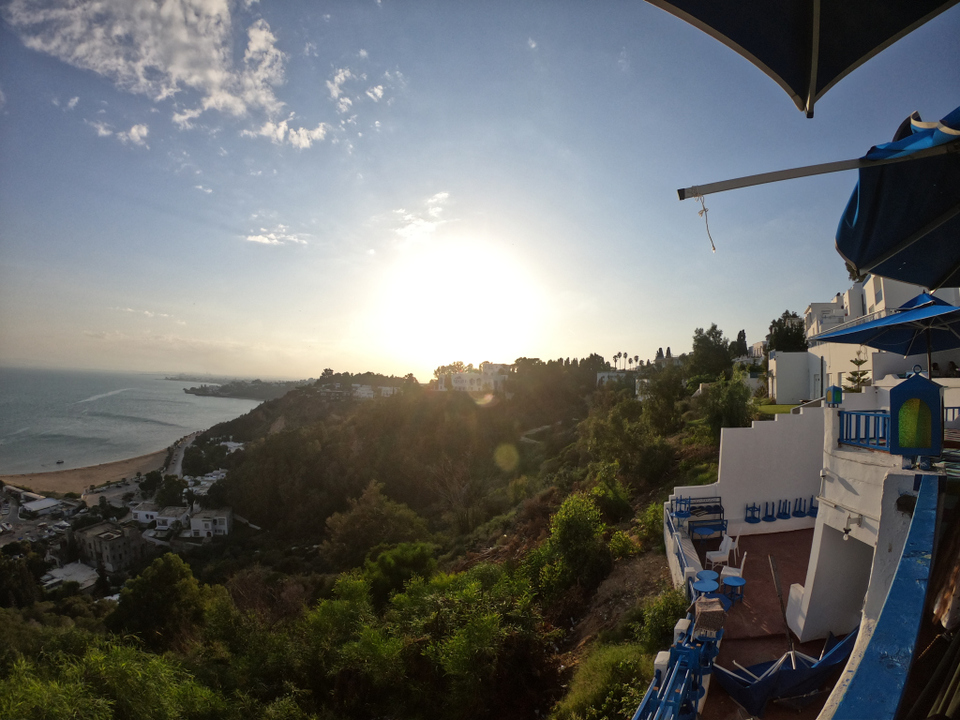 There were hundreds of souvenir shops around. I could easily tell all the products were literally made in the shop by the artist owners. While I normally don't buy souvenirs, I admit I did find some really interesting things. We decided to check them out. We bought a miniature typical Sidi Bou Said door and some local painted bowls. All for 60 TND ! The store owner couldn't speak a word of English but he made best efforts to accommodate us. I was beginning to experience the big heartedness of the Tunisian's, when the shopkeeper decided to give us a few souvenir magnets and a plate for free when he got to know that we were Indian !
Time just flew here. We just walked around aimlessly admiring the beautiful artistic residential plazas. It was evening and I snapped back to reality to realize that I hadn't booked a place for us to stay. While as per my unresearched plan we were supposed to stay in Sidi Bou Said for the day. This is probably one time I will agree, sometimes not planning can save you a lot of bucks. The stays here were expensive and moreover we had already covered this.We had our own car so we decided to book an airbnb in Ariana suburb of Tunis. Quickly I made a booking and got a confirmation from our host Ali !
By now we had met atleast 50 locals of which only 3 spoke English including the immigration officer I mentioned previously. We had now realized that maybe the language barrier could come and bite our behinds in the days to come. We tried to get information from people about local restaurants, unfortunately literally no one understood. Ali, our host, thankfully spoke English. We asked him for recommendations of local restaurants.
I am grateful to Ali for suggesting this wonderful restaurant called Dar Fatma. It was a fine dine restaurant serving local cuisine. I was super excited as I didn't have a slightest idea about Tunisian cuisine and was totally looking forward to try suggestions by the server. We opened the menu card to find it written in French, even the description of the dishes was in French. The last time I had my encounter with French was almost 14 years back when I studied basic French as 3rd language in High school. I was totally out of touch with the language but surprisingly I did remember words. I couldn't exactly translate the description of the dishes but I sure knew the ingredients. Poulet is chicken, Poisson is fish, Oeuf is egg, Fromage is cheese. I knew these basics. We tried communicating with the server, he too tries hard to explain but all in vain. Finally we would say something off the menu and he would put up a thumbs up when he wanted to recommend something.
There is a very peculiar practice in Tunisian restaurants. Just like they serve achaar (pickle), onions and lemon before the meal in an Indian restaurant, here they served Baguette (French bread), Olive oil, Harissa(Tunisian red chili paste) and Harira soup. Harira soup is kind of a vegetable and lentil soup. We had ordered for Couscous au Poisson which was Fish with Couscous and Nwasser au Osben. Nwasser was something like a Pasta, it was served with meat and chickpeas wrapped in Vine leaves. It was delicious, I would definitely recommend it if you ever visit a Tunisian restaurant. The meal wasn't very expensive considering the portions of the dishes. We had to pay 45 TND for this finger licking good meal !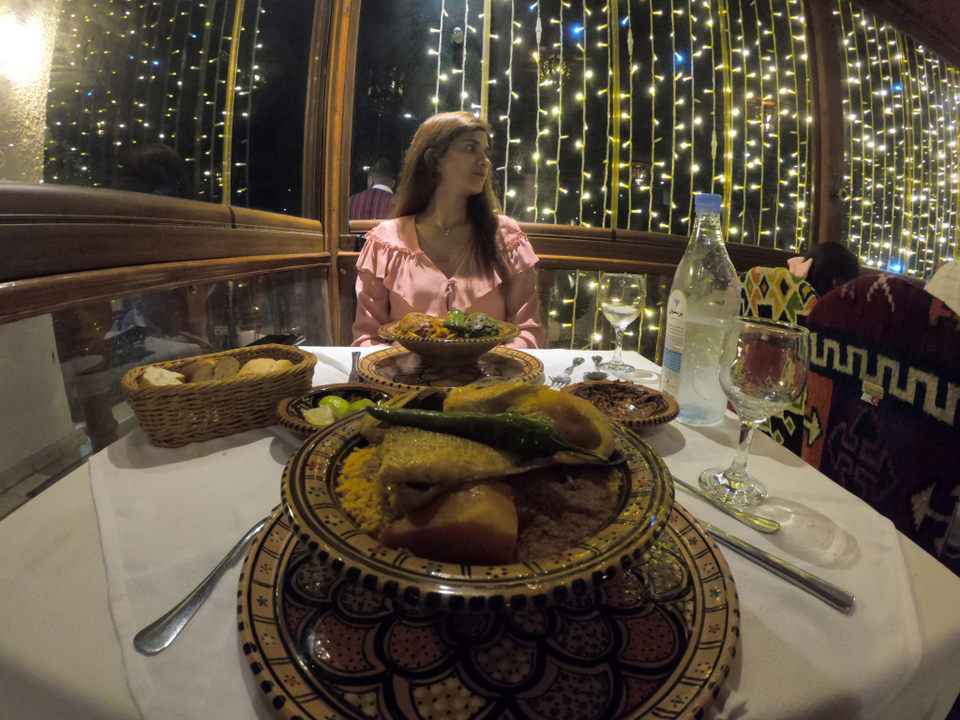 Dar Fatma
So finally it was late night. After the long 12 hour travel combined with stress and the half day long sight seeing session, I totally deserved a peaceful night sleep ! We reached our airbnb, met with our host's representatives. By now I had known the importance of Google translate app on my phone, I totally exploited it yet again while communicating with the hosts. Day 1 was over and it was now time to switch off the lights and ourselves !