Since we had arrived quite late, today was a lazy morning for all. We had planned to explore the village from 9 AM after having breakfast at our hotel. Being the last village of India, I had not expected the facilities to be very good. But when I took a small morning walk in the village, I realized that there were so many hotels and homestays in this remote location! Infact our hotel, Samaa Resorts, was the best we had stayed in till now in the trip. Although I was happy, but also had a tinge of sadness that commercialization had reached here as well.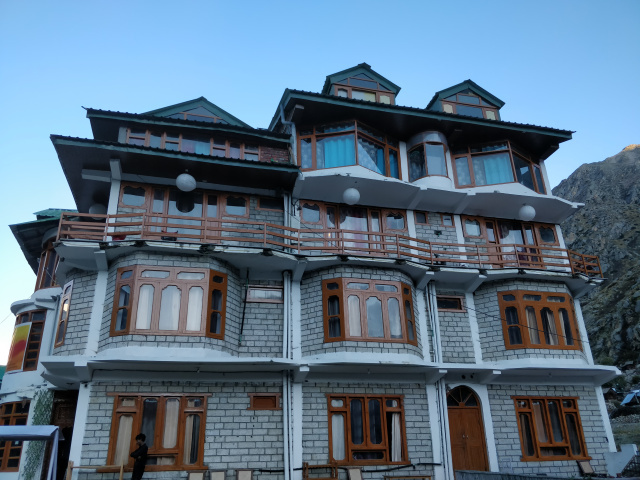 Since me and Amulyam were ready early and breakfast was not yet ready, we went for a short walk down the road. We could see the Baspa flowing right infront of us below this huge mountain. We thought of going to the river banks, but since we were going to camp near them today night, we dropped that plan and instead went to the village temple.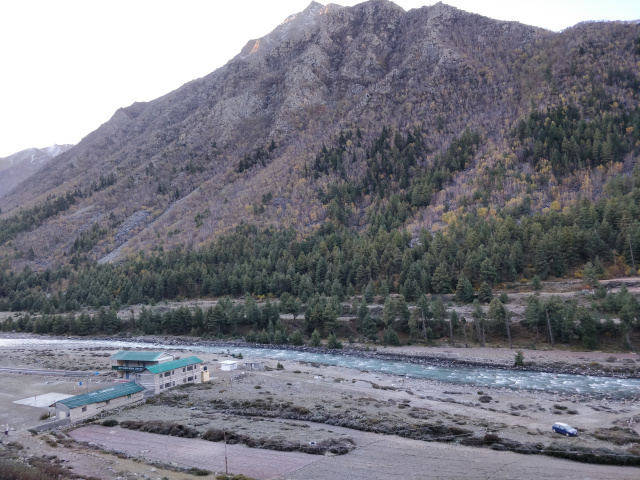 Mathi Mata temple is dedicated to Goddess Mathi who is the local goddess of Chitkul village. The temple is around 500 years old and is indeed a sight to behold. The wooden temple along with the intricate carvings and slanting roofs is a perfect example of the unique Kinaauri architecture. It was not open but we could see the idol through the gates. There was no one around and we spent some time sitting here soaking in the experience.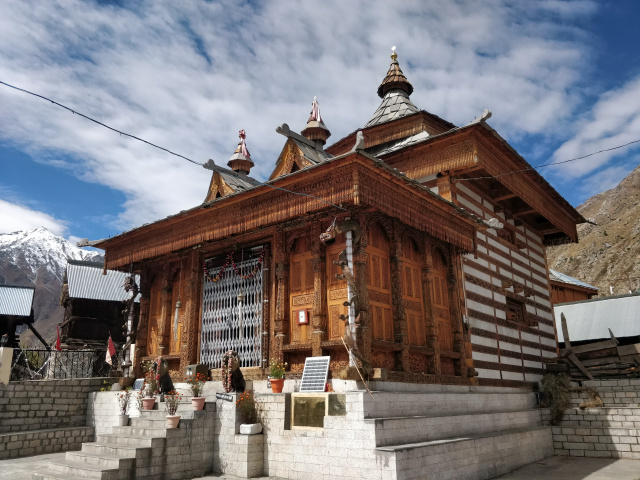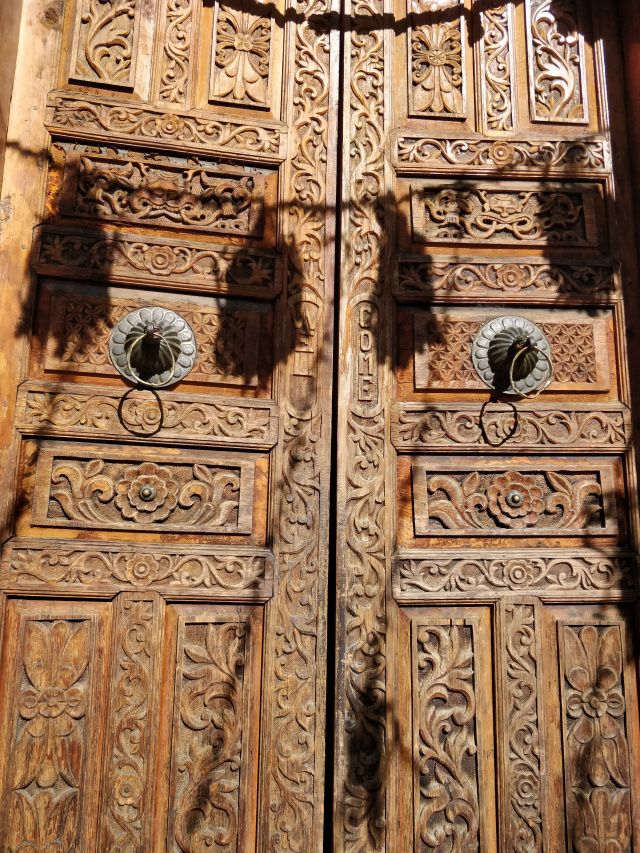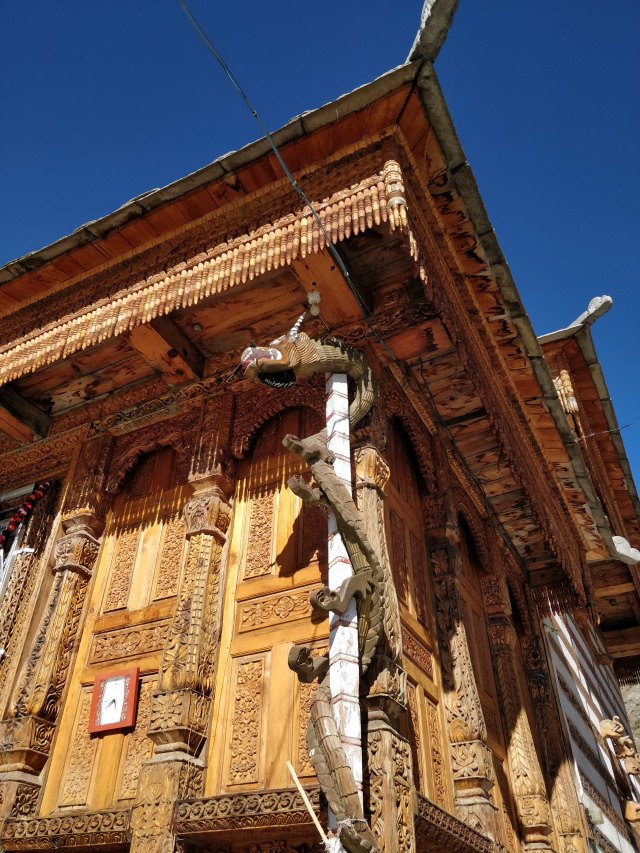 We came back to the hotel and had some delicious paratha and omelette for breakfast. To digest all this, we headed to the village :) We visited the temple again but this time from another side. There was a huge structure at this end. One of the locals told us it was the Chitkul kila (fort).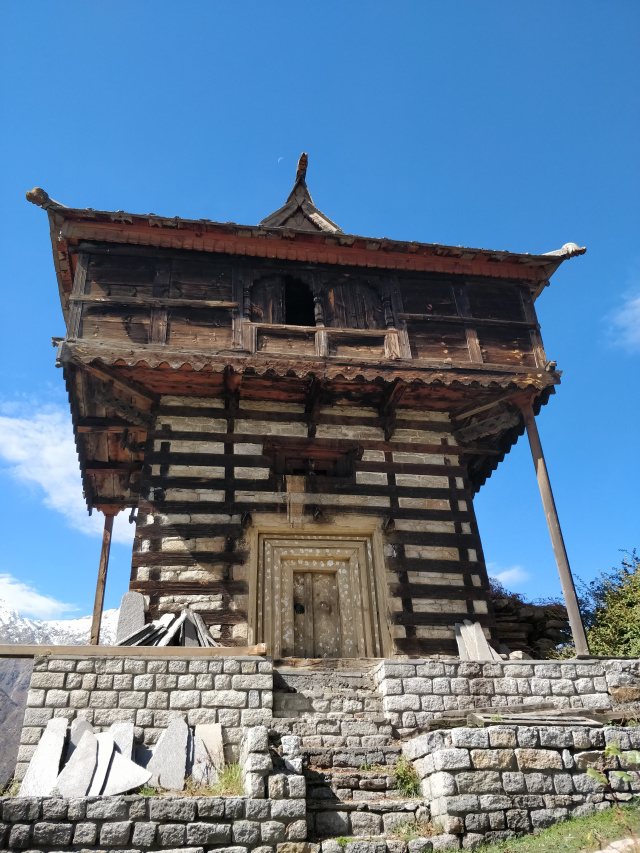 The villagers were busy with their daily work. We also came across a primary school where classes were going on. I could overhear the kids studying Maths and felt like joining them :)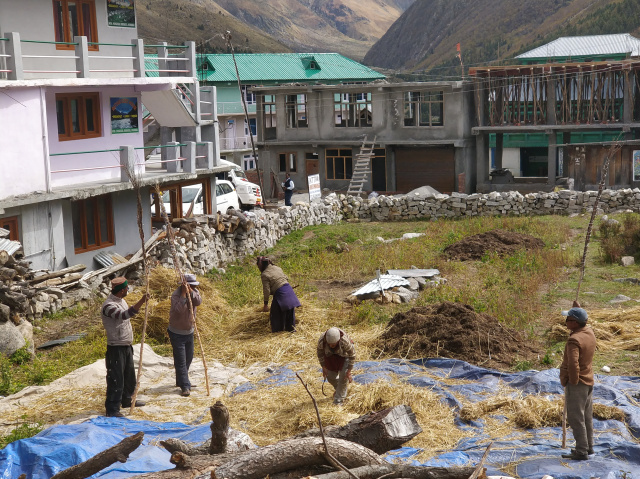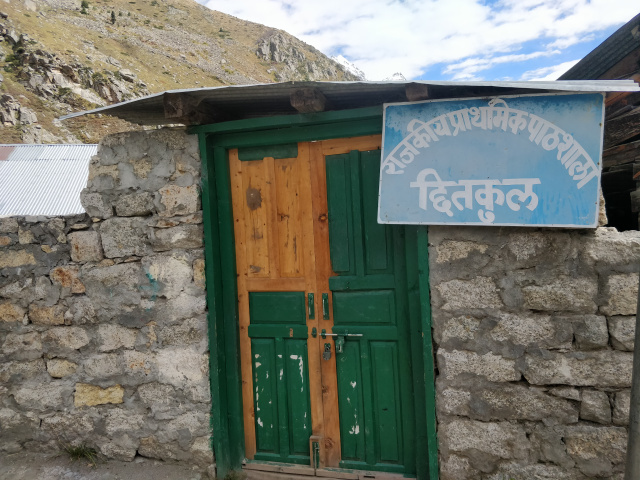 Since Chitkul is the last inhabited village before Tibet border, everything here has the tag 'Last' attached to it :) Our hotel also had the tag of 'Last Resort on Indo-Tibet border'. But it all started from this dhabha.
We could see a small bridge down the dhaba. So Captain, Ninel and me decided to go down to see it more closely. The route was pretty much defined. We reached down in no time since it was all descent (gravity!) and came across these beautiful painting like scenes!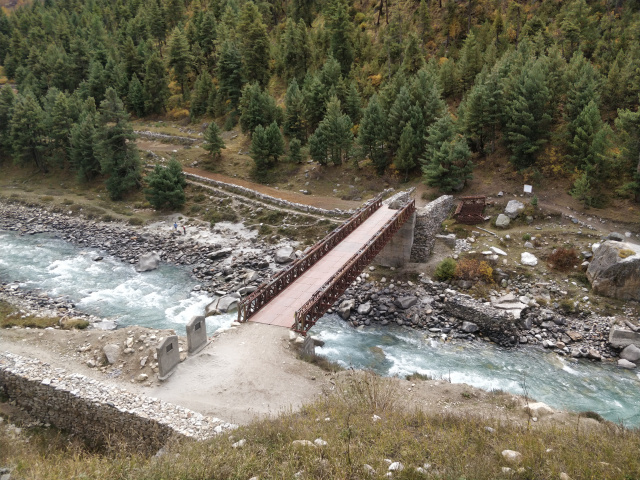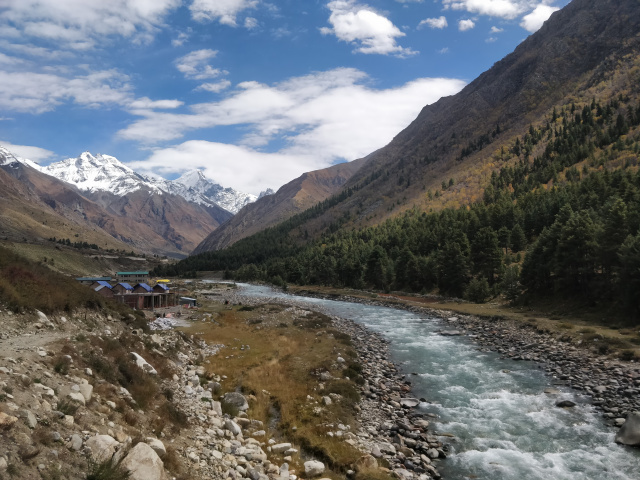 Once everybody was done with the photo shoot, we headed back to our hotel since we had to check out by noon. All our bags were already packed so we had to just load them up. We had planned to visit the ITBP border checkpost. But first, we had some lunch at Hindustan ka Aakhri Dhaba :) Rajma Chawal here is the de-facto choice. But I had a bowl of maggi. We left for the checkpost from here. But after a certain point, we came across two ITBP jawans manning a crossing. They were adamant in not allowing us to pass. This was the last point for the tourists apparently. Photography was not allowed here but after much persuasion, they let us click one.
Tonight we were staying in swiss style tents near the Baspa river. After staying in hotels for so long, staying in a tent would be totally different experience. We reached the campsite around 4 PM and quickly darted to our tents :) The tent was so spacious and had proper beds with pillows and mattresses along with an attached toilet! This was totally unexpected :) Getting such permanent facilities in such a remote location was indeed pleasant.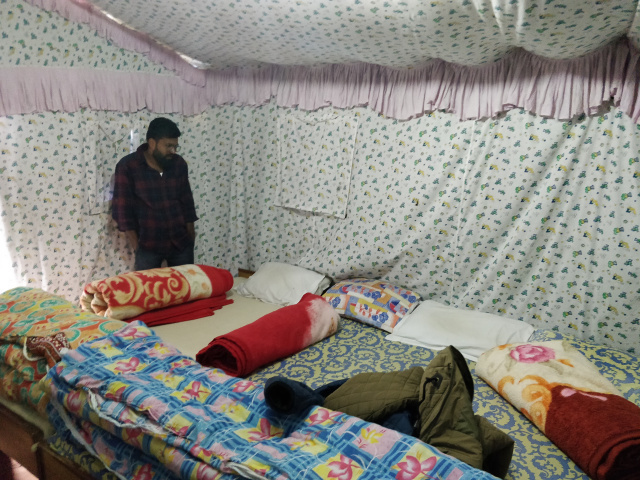 The river bank was a short walk from here. So after freshening up, all of us headed towards it. After walking for 30 mins, we finally reached. Green arrow marks were painted along the way so that no one gets lost. Throughout the day we had seen the river from a distance. And here we were now, right beside it.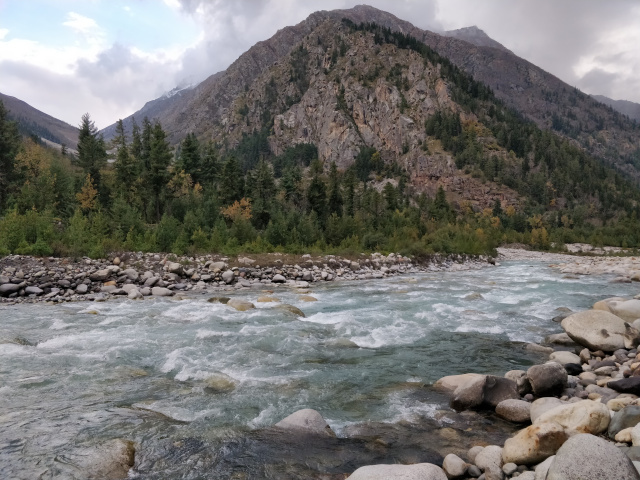 Witnessing it up close was amazing! The water was so pure and crystal clear. I have a fascination for collecting stones from whatever campsites I visit. I had collected some last year from my Har ki Dun trek campsites. You will find a lot of round shaped stones near any river side. We had a complete minefield of them here!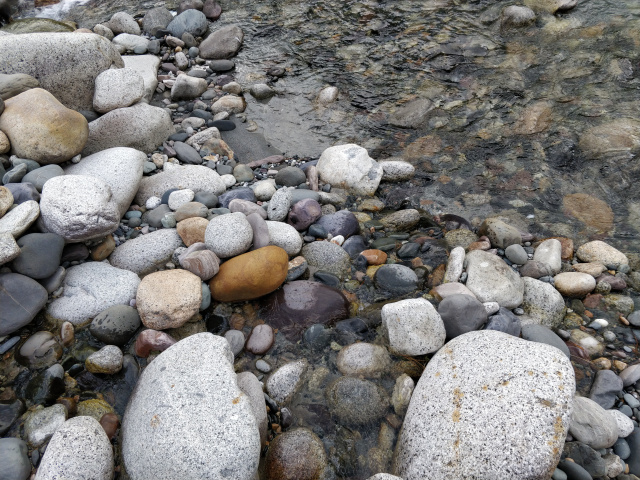 Soon it was time to leave since it was getting dark. Our guide was calling us. But we didn't want to go. So our Captain told him that he would get us back safely to the camp. Some of them went with the guide and the rest of us stayed back listening to the music created by the river.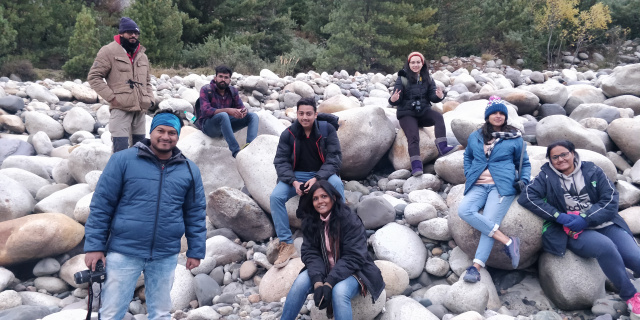 We started going back to the camp after spending an hour here since it was getting dark. We were following the green arrow marks but still got lost in the forest! Jyoti was telling that this is not the correct route. But nobody listened to her. We tried 3 different routes but always met a dead-end. Finally we decided to go with Jyoti's leadership and follow her. And guess what? We saw the camps in some distance after walking for 15 mins! This was the second time Jyoti came to our rescue :) We were back to the camps before it got dark. Soon dinner was served. But we 4 were busy with something else. Soon Kasturi also joined. The sky was clear and the stars were in full force. Infact, we saw more stars here as compared to Kaza. But we saw something else as well.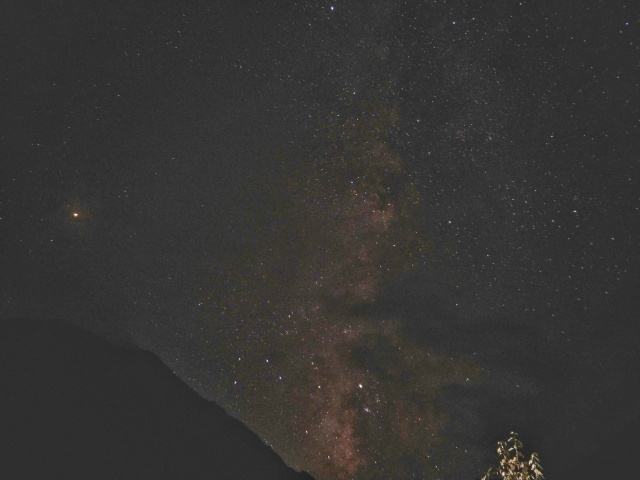 I captured this on my OnePlus 5 using its pro mode. Though not very sharp, it's good enough for a smartphone :) The band of light in the centre rising vertically is the Milky Way galaxy. Finally, I had captured it! Thanks to my roommates who helped in setting it up perfectly. When I saw the result in their DSLRs, I was spellbound. Never before I had seen so many stars. Since the camera shutter remains open for a longer duration, we are able to capture the light of the whole night sky. After having this surreal experience, we had our dinner. Since this was the last night of the trip, everybody gathered for one last bonfire.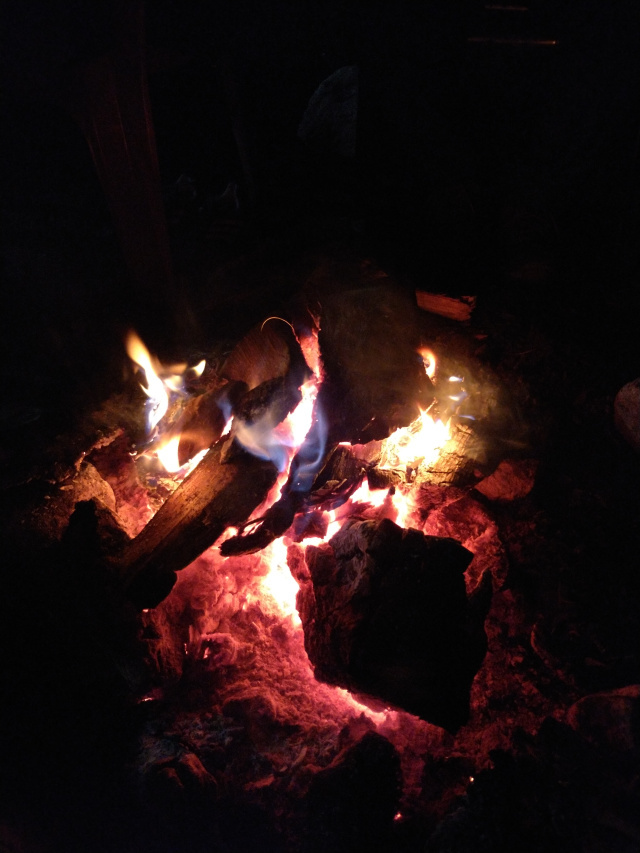 We knew that all of us were soon going to be back to our bases. But we all would take back the memories of this trip with us. We sat till the fire died out and then also played Uno. When we checked the time, it was already 2 AM! Once back to our tents, we snuggled into the warm blankets, dreaming under the night sky, about the experiences gathered and the memories created.