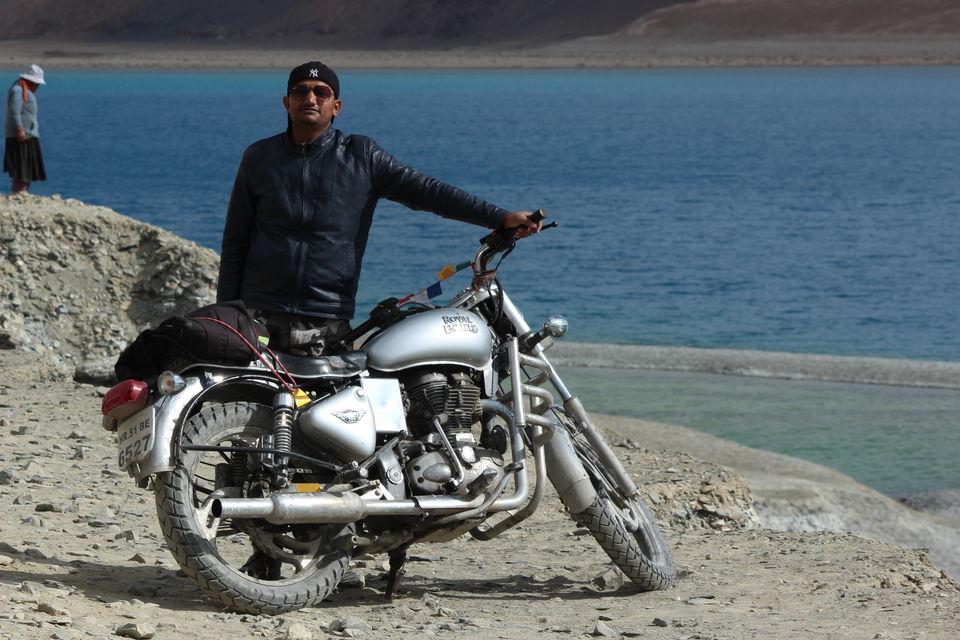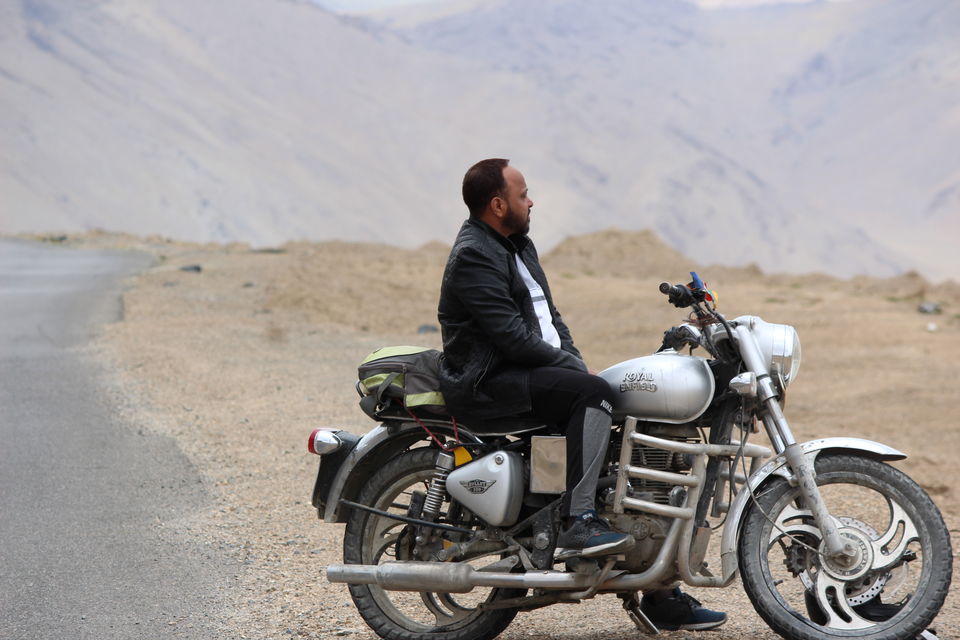 Tragedy No 5 … !
Before 10kms from next meeting point. We realized that there is a pattern to road structure now. Roads had down sine-wave ~ like structure at every 1kms. So, we had to push the brakes to cross these down sine-wave ~ like structure roads.
Vishal was riding on modified 350cc royal Enfield Electra when his bike's tyre got the tangent kiss from the road. It was so strong that it cracked the rim of the tyre. Luckily, car's group was behind him so they stopped the car and looked at the bike.
Me and Prashant was unaware of this situation. We were moving ahead to thought to stop only at meeting point, Pang. We waited for around 20 mins for them. After discussion with Prashant we decided to move ahead.
In this mean time, Vishal and car's group has stopped several travellers and asked if they will get any nearby service station. But, this route doesn't have any. So, they decided to hire truck. They were lucky to get the truck on time. They planned to load the bike on the truck and move ahead.
"Hiring truck from Pang to Manali cost: 2000 INR only + 500 Rs for single person with truck"
During this transition of period me and Prashant moved from Pang to Sarchu. Sarchu was 80kms from Pang. It has some really bad roads. Me and Prashant halted the ride at very first dhaba of Sarchu around 2pm. Since, we didn't know about the tragedy. It has been 1hr gone. Now, we had started worrying about our rest of the group. After one more hour, finally car's group arrived at Sarchu. We saw Vishal was earlier riding bike with us but he was on car's driver seat. So we thought Dhirender was riding the bike now.
A truck stopped at dhaba where we were waiting. Me and Prashant saw Dhirender was getting down from the truck. We both looked at him in most shocking manner. Immediately we realized something has happened. They all then explained us about the tragedy.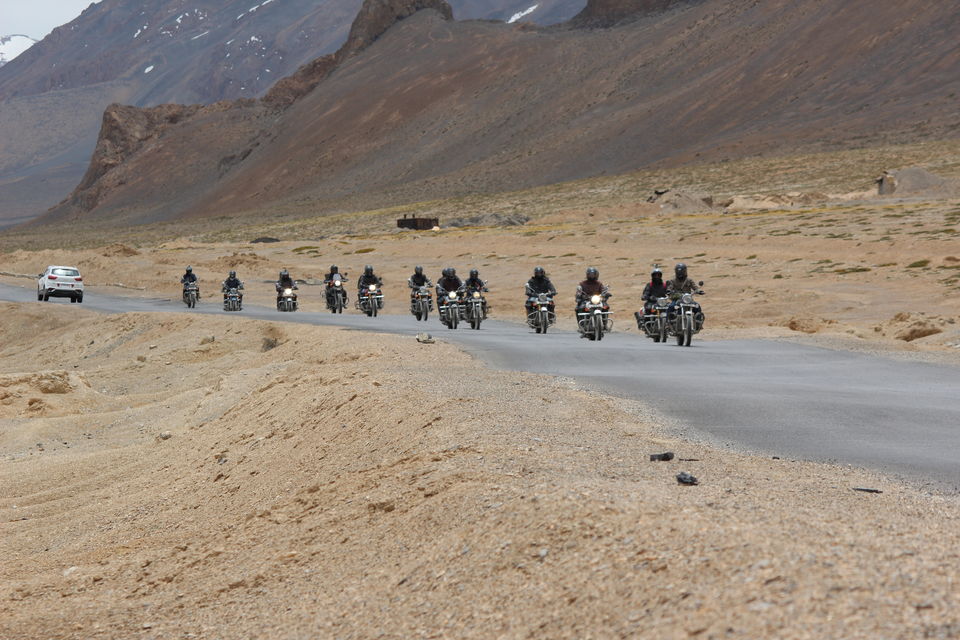 Anyways, we all kept calm and moved ahead from Sarchu. There was police check post before you cross the Sarchu area. You need to register the vehicle's number at this check post. We this we moved ahead. Now, Dhirender and me were riding the bike. Prashant had chosen to sit in the truck.
Just after crossing the check post and further a bridge. We saw a really bad water crossing road. It was all palm size stones on the roads. Water was running above this 200meter long water crossing. The level of water was upto shoe's top.
After crossing this small stretch Dhirender told me that one of his leg got into water. Water was so cold, he further added.
Since, we had hired truck till Manali. Now, it is necessary to reach Manali at any cost of time. Moving ahead we realized it could be rainy ahead. Me and Dhirender afterwards riding bike with triple layer cloths and rain coat.
It is being said that Leh-Manali route has got some really awesome mountain views in the world. One must travel through this route to witness all these.
Moving ahead we faced small amount of snow fall. It was all colliding on the our helmet. Me and Dhirender was running with speed around 35-40kmph only. Roads were bad, at some places we saw one side was covered with snow. It was around 6:30pm. Sunset was about to happen. It could be very tough to move in the night where one have to face heavy forced winds, water crossings etc.
Our motivation level has become so high that we didn't fear to move ahead. Car's group were slow because they had planned to also sync with the speed of truck.
Now the sun light has gone completely. One of the most dangerous water crossing was about to come. We could see the board zing-zing bar some kms away. As the distance on board was getting less we were praying to have less water in that water crossing.
And the zing-zing bar water crossing has arrived. Me and Dhirender was the only person at that moment at this place. We have only bike's headlight to see the water crossing now. It was looking like water fall from distance. We both took 30secs of pause of bike. We realized we can cross this. Me and Dhirender crossed the zing zing bar water crossing without any pause of bike in between this. We looked at each other and laughed at each other as a sign of success.
Me and Dhirender took the halt at place called Jispa. We thought to wait for rest of the people. After car's group arrived we asked some information about further route from Jispa to Manali. Locals said you can easily go ahead if you are confident enough. Also, he told us about the traffic situation in the day time. Keeping all this in mind we moved ahead.
Now, Bike's headlight was not enough to move ahead now. Me and Dhirender were riding bike just ahead of car. But, we were now behind our hired truck. We managed to call our truck driver and he said he will meet us at place called Tandi. There is famous because if you are going from Manali to Leh. You should fill your vehicle's fuel tank here because afterwards there is not petrol pump. You will get only at karu. And if you are coming from Leh to Manali then Karu is the last point to get fuel from petrol pump. In entire route of Leh-Manali there you could find petrol in bottles which locals sells at their own price. But, it is not necessary that you will find easily.
We arrived at khoksar around 12:00 AM, 24th June 2018. We took our dinner including truck driver. Truck driver now has become our co-traveller. Hahaha!!
People has said to cover the further distance carefully. About 10kms of area after khoksar is really bad.
Before we move ahead I shifted to truck and Prashant get down to ride on bike. Dhirender and Prashant is now our two bike riders.
During that 10kms of bad road stretch we saw water was running on the road. This water was coming from melted snow around the area. We saw instead of proper road, it was roads of all stones. It has now become tough. All vehicles were moving at very low speed.
On these type of roads, bikes move faster than car or truck. So, Dhirender and Prashant were now going ahead of us. At one time we saw, our car has stopped now. People sitting in the car was biting their nails and pulling their hair. As what has happened to car now. The truck driver also stopped. He went to look at car. He inspected the car and advised since, car is running with full throttle now on these bad roads. Only driver should be in car for further route otherwise, car would face serious problem. We took his advice seriously and people from car has shifted into car. Now, I have Atul, Bharat and Khush as my partner with truck driver.
After some distance, Atul went into car when roads look good to us ahead. Truck driver advised Atul to keep engaging to Vishal in conversation as he was the driver of the car.
It is advised that we should keep talking to driver as if he sleeps while driving then you know what is going to happen.
In the meantime, Dhirender and Prashant was moving ahead from us. After some distance, again some bad stretch of road started. This time, Dhirender's bike got slipped on this road. He fell with his bike.
Prashant was just behind Dhirender's bike. He saw Dhirender is down now and he is about to collide with him. He immediately pushed both brakes. But, he also fell with his bike now. Luckily both were safe.
We managed to reach at Manali around 04:20 am in the morning. we unloaded the bike. According to truck driver he has dropped us at the right place. It was just in front of bike service station.
We had no option, we have to just sit and wait for shopkeeper to open his shop.