Varanasi - A prominent city of hindus. The city of Lord Rudra as they say. The oldest inhabitants city in the world. The city that claims if you die here, one can come out of from cycle of birth of death, from endless chain of Karma.
Varanasi had claimed the title of "Subah e banaras" means mornings in Varanasi, where at this time one an witness 1000s of activities, that can make you speechless and wonder many time.
At Dashashawamedha ghat, morning starts with Ganga aarti done by one priest and loads of action get start as soon Sun says "Good-morning" to all.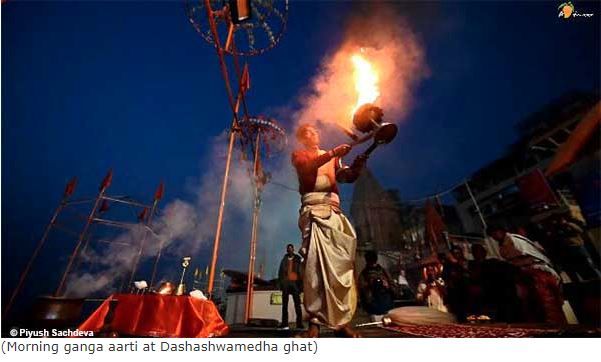 People start taking bath in scared rivere Maa Gange, people who took path to know themselves dwell in morning prayers and meditation & people like me start enjoying shooting people (ofcourse by camera :P)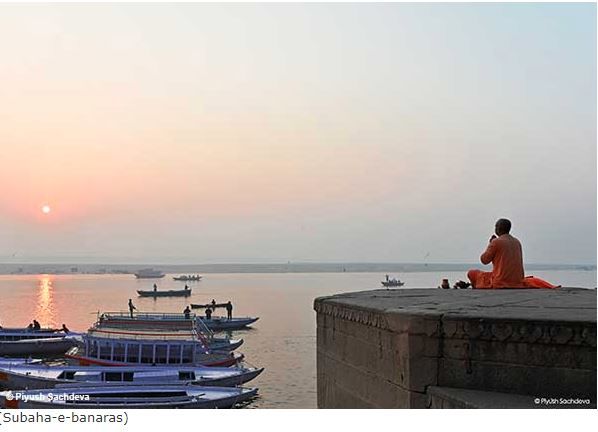 Morning boat ride is the must to do activity here. It can change your perspective to see Varanasi, the never ending ghats, the monring & if you come in winters, you will see migratory birds which have their own songs. Your boatman becomes your guide and will tell you countless stories if you ask. And so I did the same. Boat charge can varry from Rs. 250/- to 400/- (private boat). For wondering with groups, you may be charged from Rs. 50/- to rs. 100/- . (Charges for one hour ride and when I went their in january - 2019)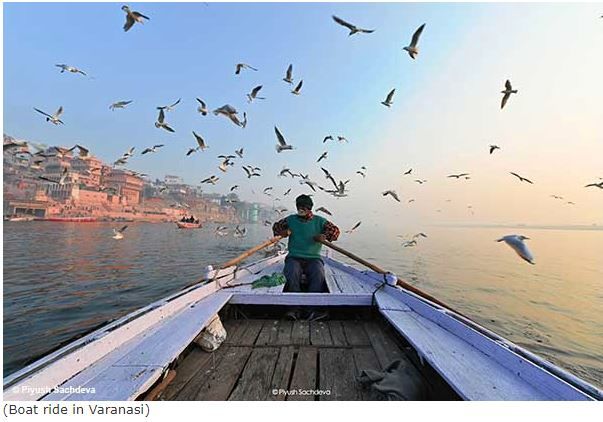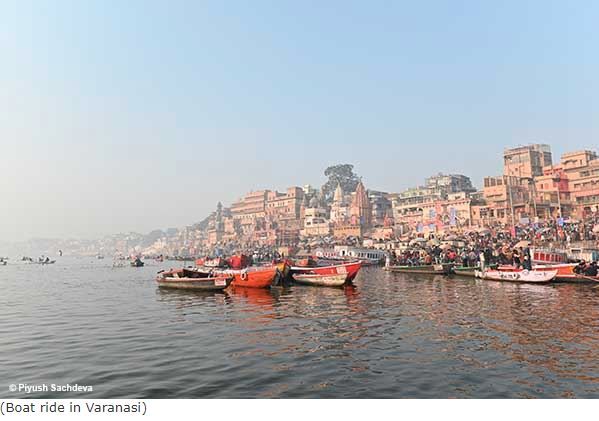 By the time I came back to Dashashwamedha ghat, it was already crowded. Shops were opened, selling countless things (mostly related with religious). Even plastic cans are sold so people can take Ganga water with them to their homes. People following priests for religious purposes & tourists enjoy boat ride (which never stopped, not even in afternoons)
Dashashwamedha ghat was built by lord Brahma to Lord Shiva. From time immemorial, all such activities are going here like this.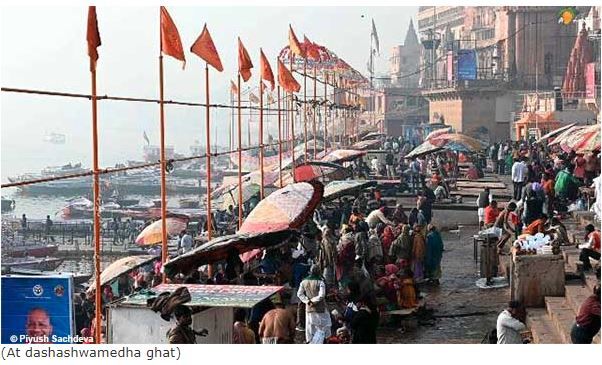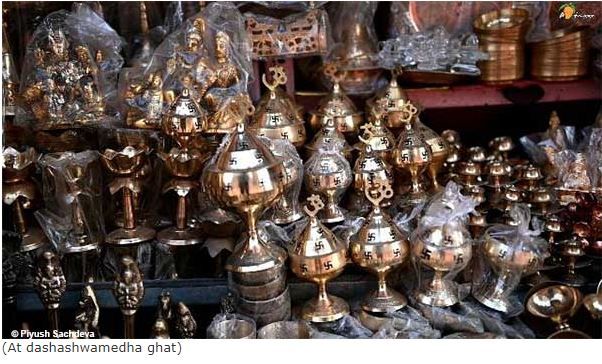 Manmandir ghat was built by Maharaja Mansingh. It have the museum & observatory built in 18th century. Unfortunately it was closed when I was there.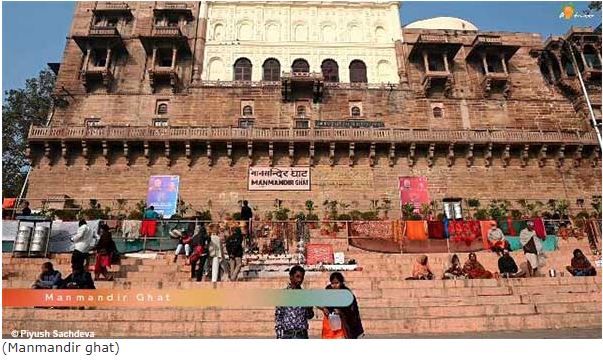 Lalita ghat is named after Hindu goddess lalita and is the house for famous Nepal mandir. It was built by King Rana Bahadur shah of Nepal and this temple is dedicated to lord pashupatinath. It is kind of Replica of Pashupatinath temple in Nepal. Temple has pagoda style of architecture and mainly carved out of wood.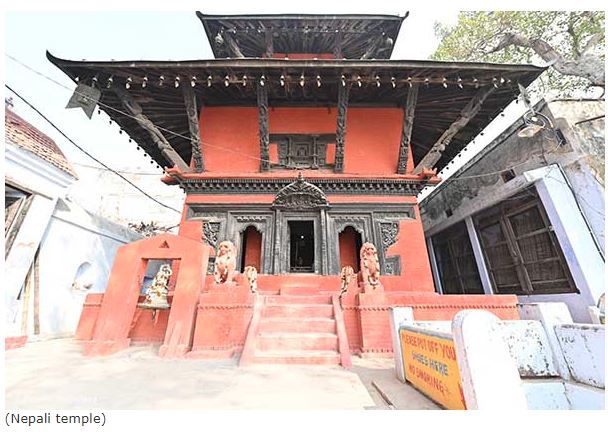 Manikarnika ghat is one of the holiest and oldest ghat in Varanasi. It is believed that whoever cremated here find salvation (moksha) and get free from the cycle of birth and deaths. It is the ghat where burning of bodies never stops. There are several stories woven around this ghat and among one of them is that Lord Shiva lost his Mani (a jewel) here.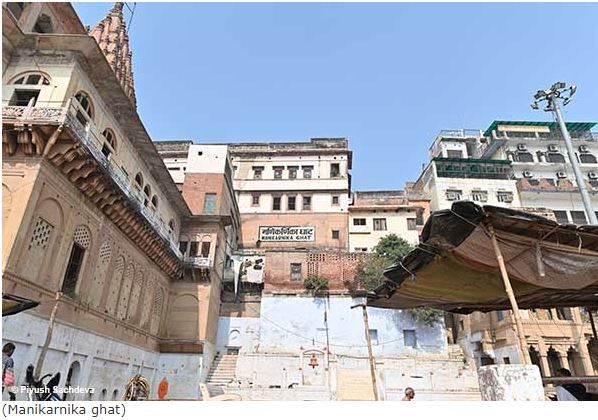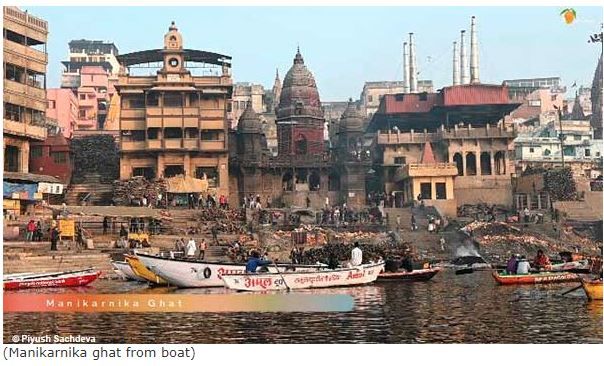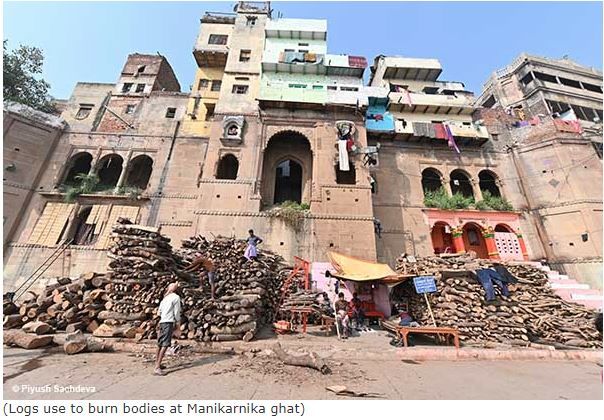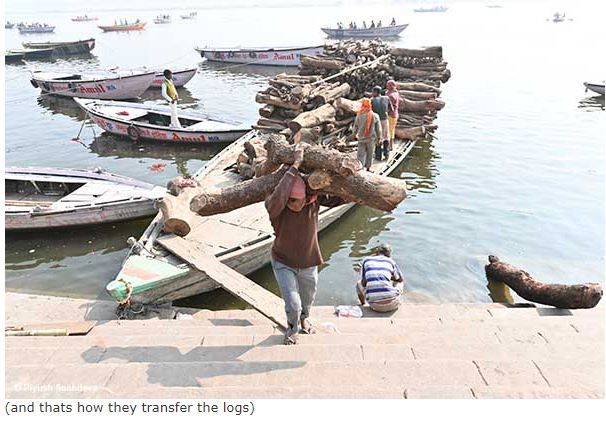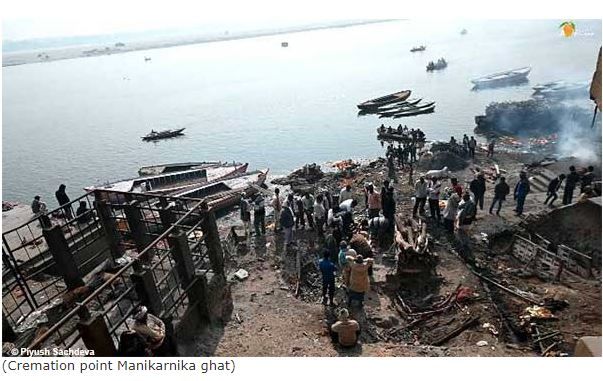 Just behind manikarnika ghat some demolishing of houses going on to make Varanasi a better place to live. On inquiring further from the locals, i got to know that owners of this property were reimbursed well from the government and many of them supported it. However, the people who were living on rent in this area were found to be in trouble.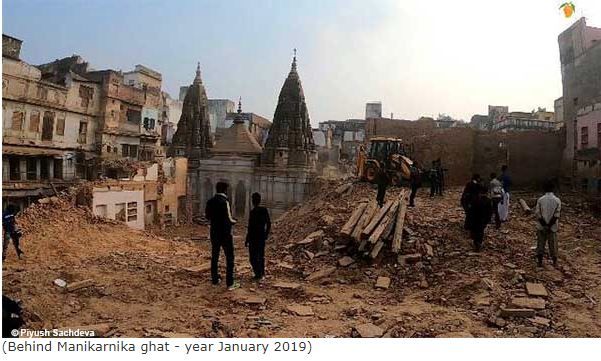 On moving further I saw Ratneshwar Mahadeva temple, also known as leaning temple. This temple is popularly known as Kashi karvat. Karvat means Leaning.
The most popular legend behind this temple is that it was built by King Man singh some 400-500 years ago for his mother Ratna Bai as repayment for motherhood. Ratna bai did not liked the idea and she cursed the temple saying nothing could repay what a mother do for her child. Due to the curse it is said, the temple leaned and eventually sank down in river and that is why one cannot do any worship here. Only in summers one can see inside the temple when water level is down.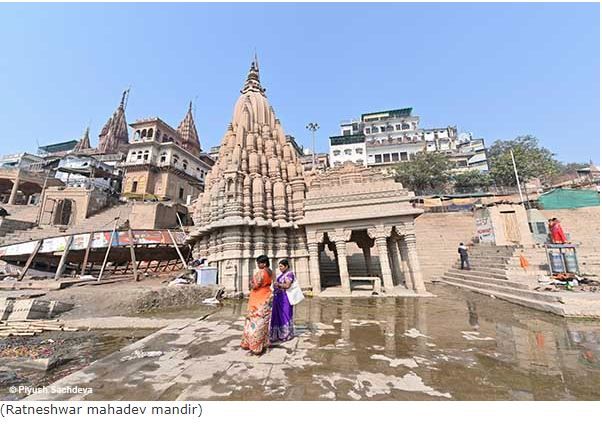 After manikarnika ghat, there are again many ghats like Scindia, Bhosle, ganga maha ghat, , Sankata, Ganesha ghat. Each ghat was built by then kings of various state to pay their respect in Varanasi and will notice same activities like people bathing river, taking blessings from priests, some just pass their time, young ones playing around or flying kite and I found myself taking shot of snake :P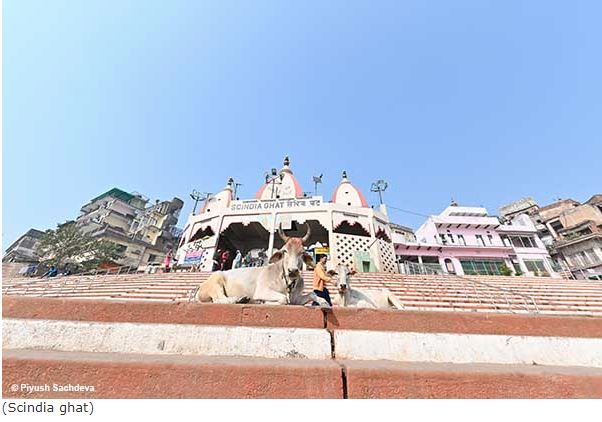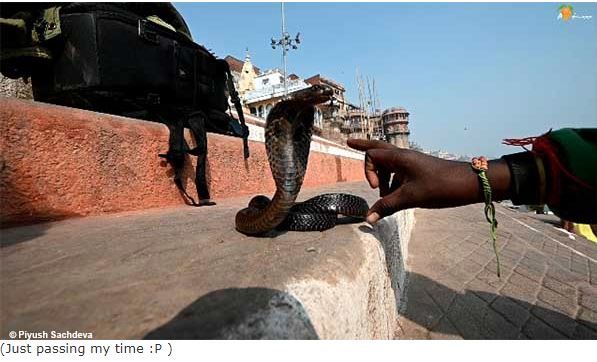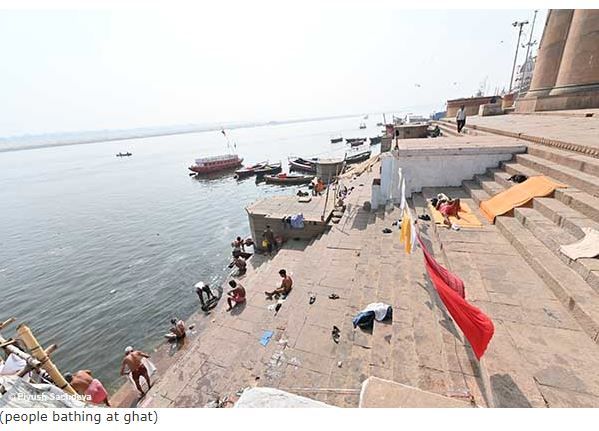 The next important ghat as you move further in north is Panchganga ghat. As the name suggest, its a place where 5 sacred rivers converge as they say. The rivers are ganga, yamuna, Sarswati, Kirnana, Dhuppapa. At this ghat, they also do Morning ganga aarti.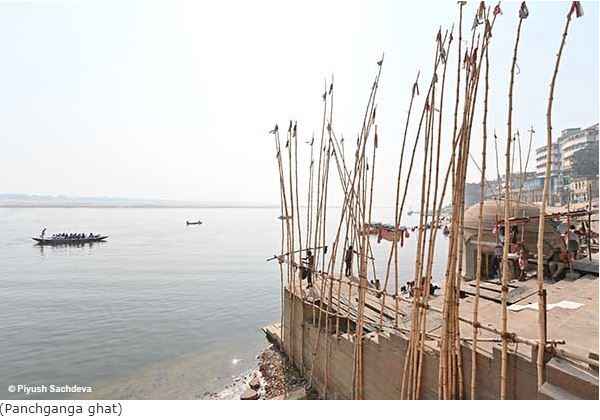 The last ghat towards north is Brahma ghat and just close to it is Bundi parkota ghat where you can notice cloths from hotels and homes are getting washed and dried up by laundry man and their family.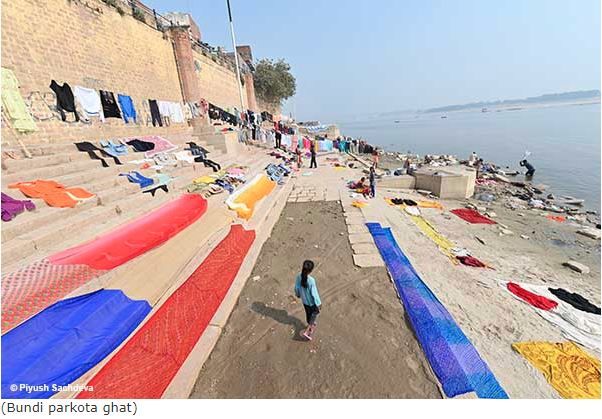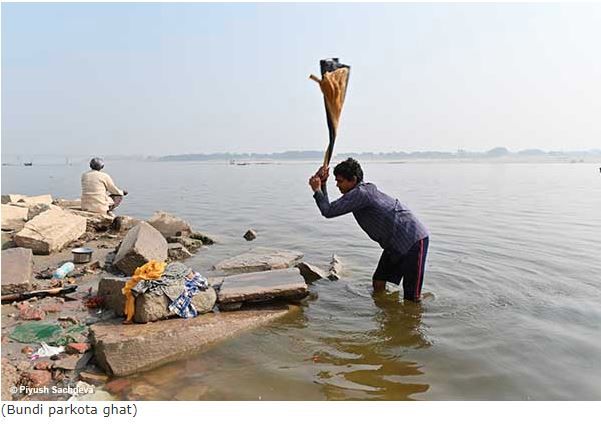 So far I had shown you the ghats which are north of Dashashwamedha, now I am taking you to the south of it and it is going to start with Assi ghat. Numerous activities happen here like Morning ganga aarti, events like Subaha-e-banaras and it is also the place where Sant Tulsidas ji left his body.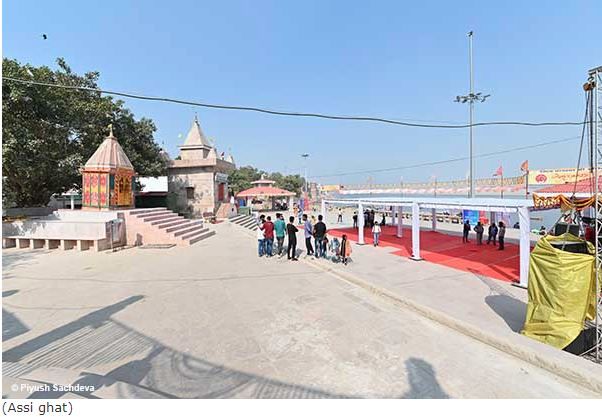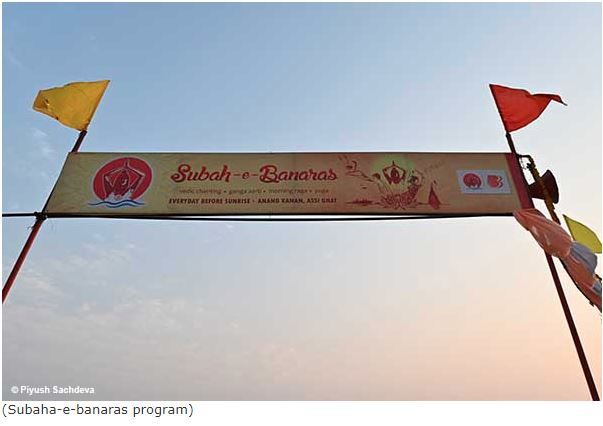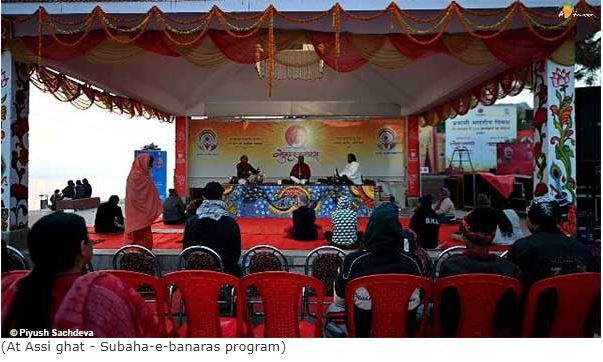 Joining to Assi ghat, the other important site is Tulsi ghat and it is the place where Sant Tulsidas ji wrote Ramcharitmanas. To honor him, a small temple is also built & where original Ramcharitra manas is kept. also one can see his sleepers, bed and the place where he used to sit and write Ramcharitramanas.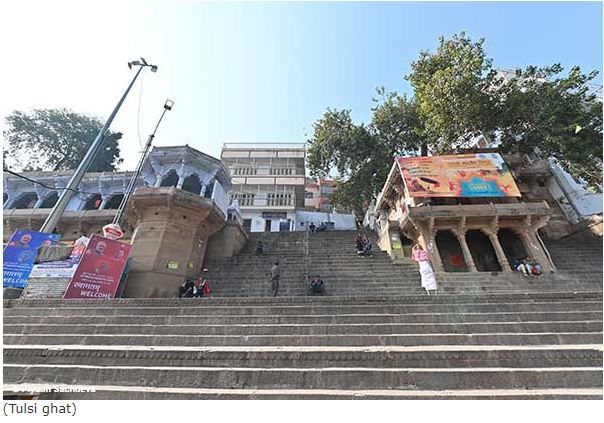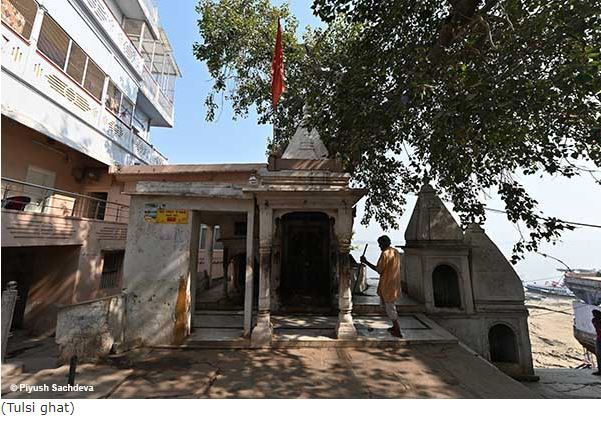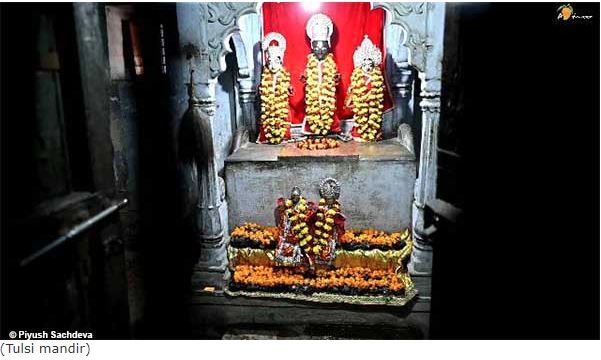 Just in front of temple I also saw an Akharada which are the original gyms of India. Tulsi akhada was set by Tulsidas ji himself. This was in my bucket list to see the authentic way how Indian people used to exercise. Activity here start in morning at 7 am. Thanks to my friend and younger brother shyam who took here here. They start their duty with prayers lead by the senior wrestler Mewa Ram ji and then littler exercise which end up with wrestling with each other. It was the life time experience to visit Tulsi akharada and the communication between master and disciples.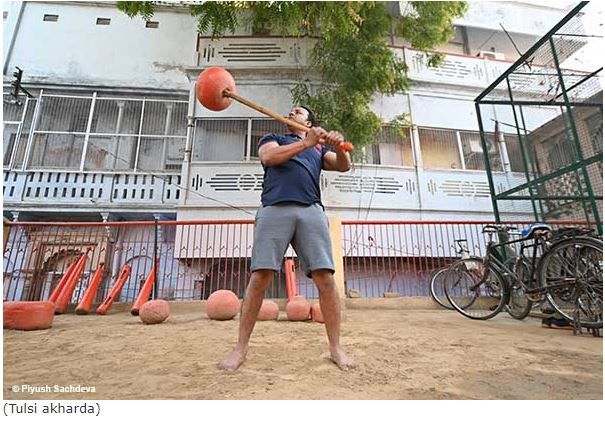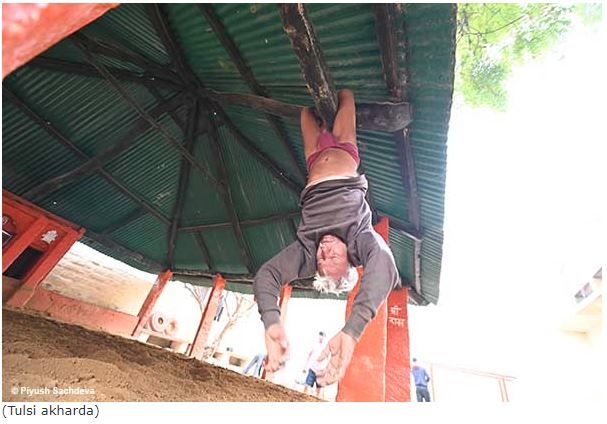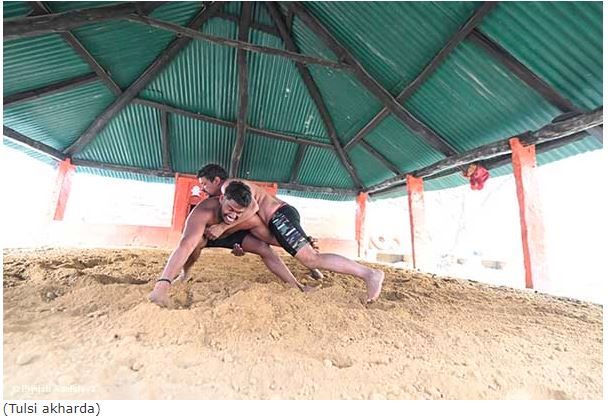 Moving towards North from Assi Ghat once again you will find many ghats and daily life of people. Boatman repairing their boats, local passing their time playing cards or gilli danda (kind of game), some flying kites, tourist passing their time hopefully trying to absorb energies of Varansi. some locals I found were fishing, Artists find time in making sketches and paintings and some evolving their musical skills.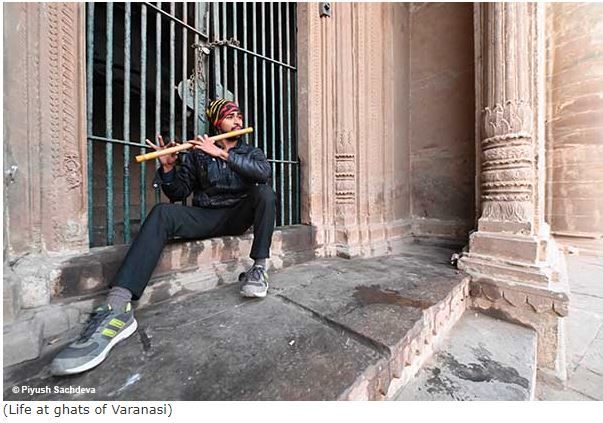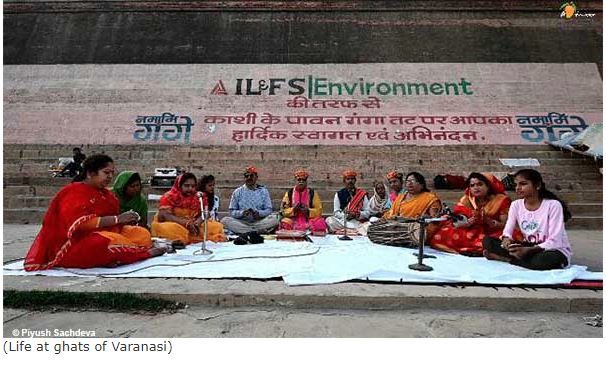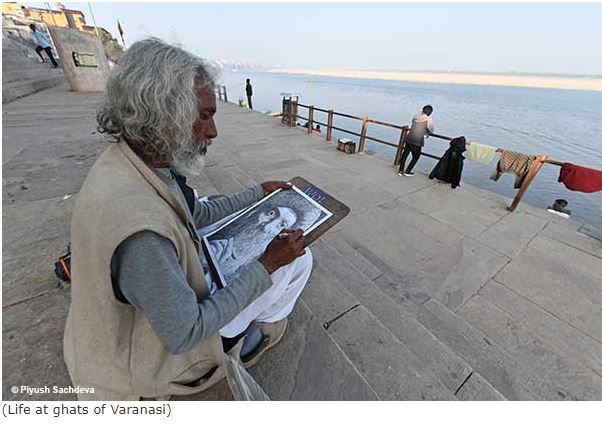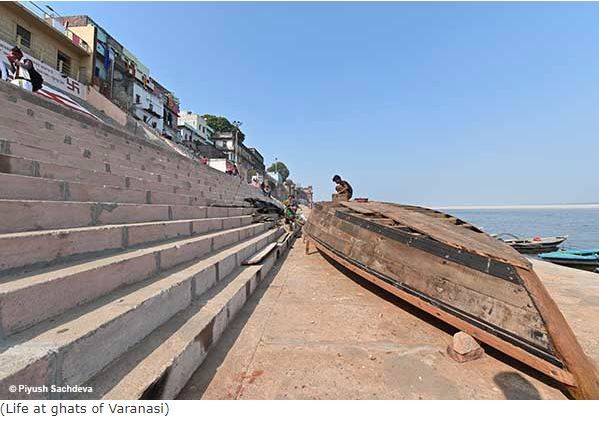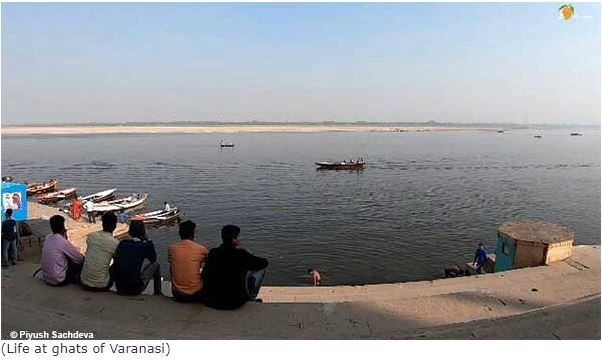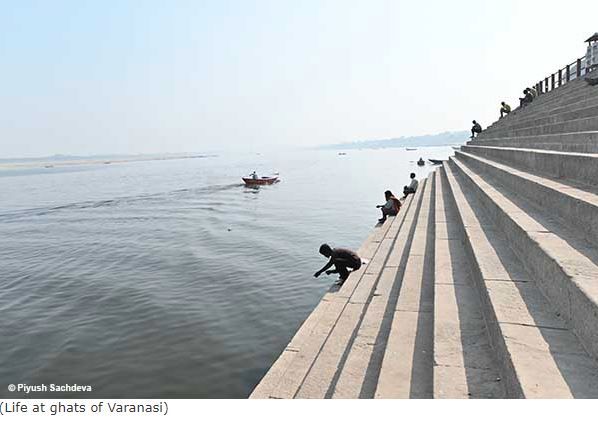 Chetsingh Ghat which was built by chetsingh - a kind of small fort is yet another ghat which can take your attention due to its architecture. It is now closed for people and donated to Naga babas.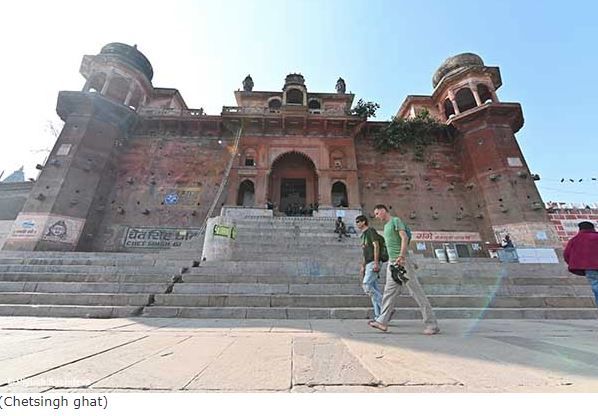 as I went further I found another ghat which is meant for cremation purpose. Harish chandra ghat. It is yet another site between the livings reminding all of us that death being the absolute truth. It was built in remembrance of King harishchangra who was noted for his Truth-fullness and worked here as Chandal - the purpose who deals with corpse.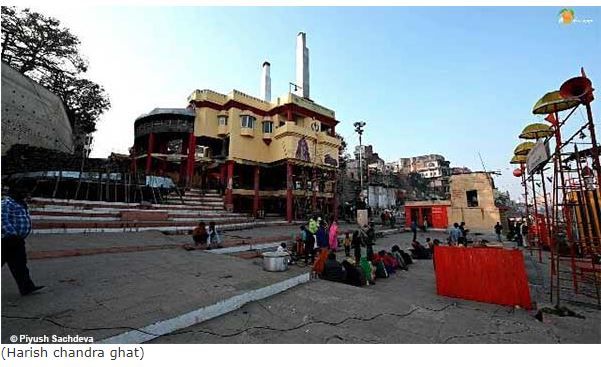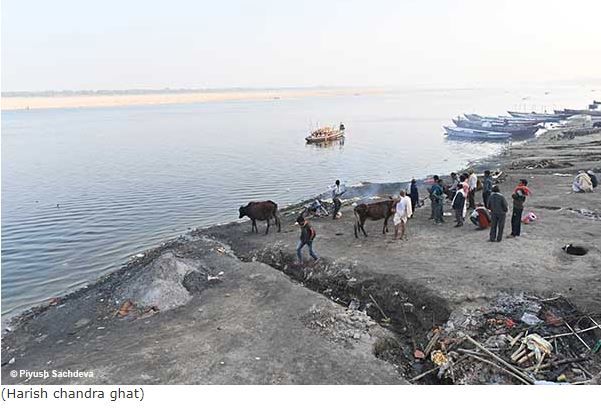 The next Ghat which took my attention was Kedar ghat which has typical south Indian temple structure. It is named after Shiva who is also called as Kedarnath. It is much popular among south Indians.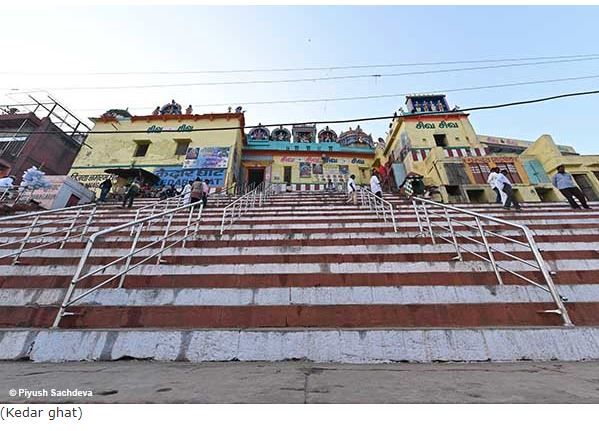 And so passing by all ghats, I was once again came back to Dashshwamedha ghat which is the mid point of all ghats and in evening I once again took a boat ride to go to the other side of river which was buzzing with people, who were enjoying camel and horse ride and passing their lazy time. By late evening I was still in boat, ejoying the esence of this place listning from far the bhajan started, Ghats were litened up,
and Ganga aarti about to happen once again :)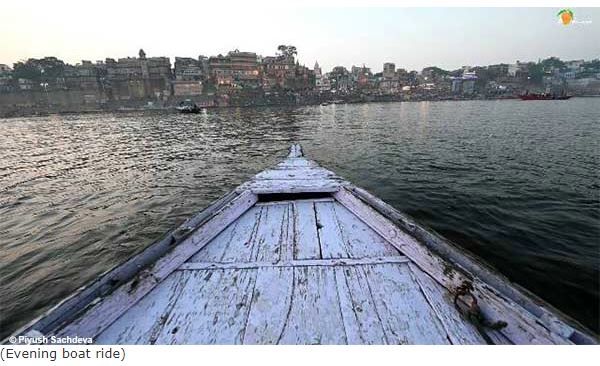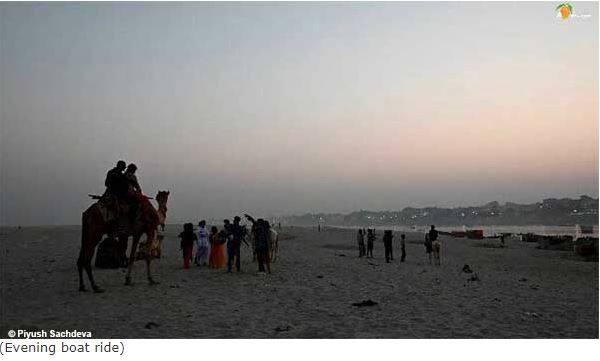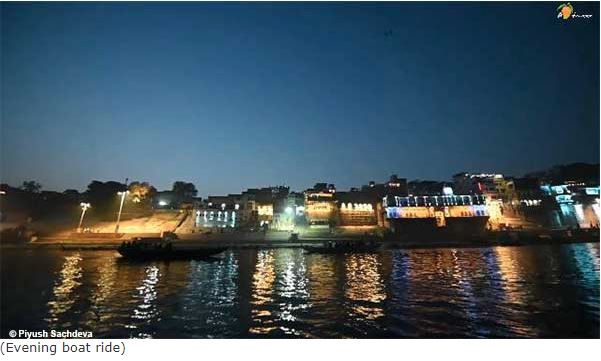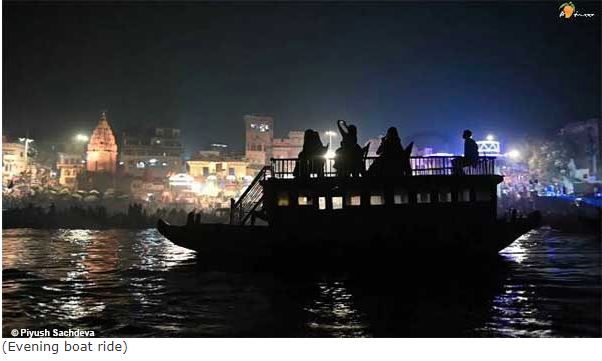 Message - Please don't litter. Make awareness to you fellows too. The more we keep clean our country the more we enjoy it.
Points to note
1.) How to reach Varanasi
Varanasi have national Airport name - Lal bahadur shastri Airport. Varanasi is also well conected via Railways and Roads.
2.) Best time to Visit
Avoid Summer season, like in between April to Mid july. Rest is all good time to visit here.
3.) Best way to see Varanasi
Ola bike, Rikshaw.
4.) What to see in Varanasi
a) Morning and Evening Ganga aarti at Assi ghat and Dashashwamedha ghat respectively.
b) Roam around the ghats,
c) see famous temples in Varanasi
d) Ramgarh fort
e) Silk Saree of Varanasi
f) boat ride (charge Rs. 250-400/-)
So this was all about Ghats and life in Varanasi, see you in my next blog for Ramgarh fort and Silk saree in Varanasi. If you liked the video, than do subscribe the channel and if you have any query, feel free to contact me anytime :)