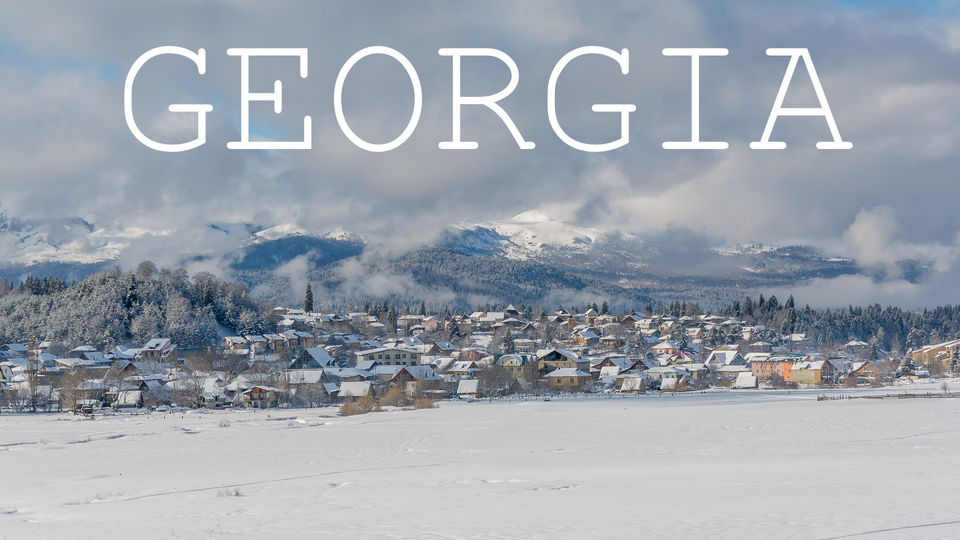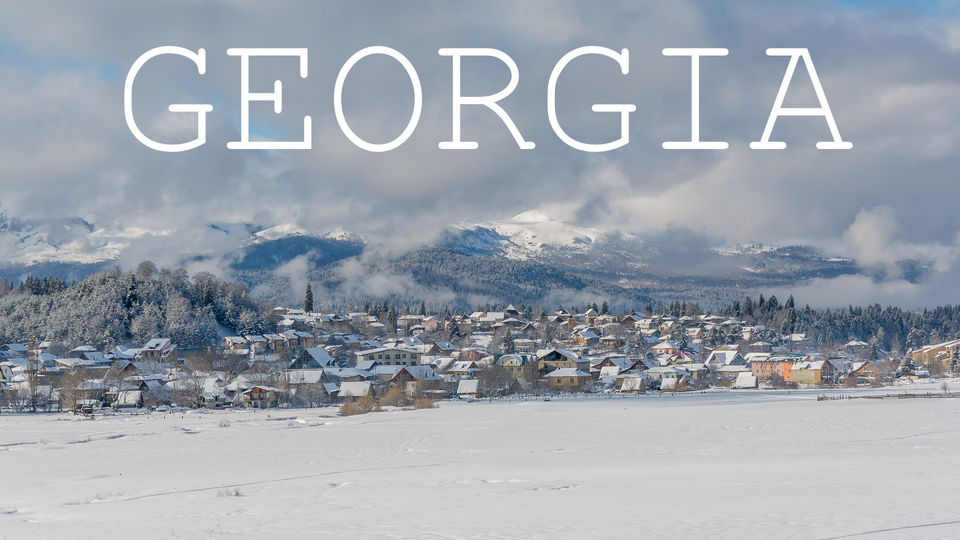 Georgia is gaining its popularity on the world travel map very rapidly. Every traveller I met, who has been there had only one thing to say about Georgia; it is one of the most beautiful countries they have so far visited. The hammering of this fact, time and again, made me choose it as my next travel destination. Moreover, I am glad I picked it and that too just at the right time. In the coming few years Georgia's tourism industry is expected to witness a steep rise which may spoil its pristine nature and disturb its serene vibes.
The country shares its south, east and north borders with Turkey, Armenia, Azerbaijan and Russia respectively while on the west the land terminates in the Black Sea.
This article will not only inspire you to explore this heaven on earth before its too late, but it will also serve as a comprehensive guide to trigger your further research and help you plan your trip.
Georgia is such a small dot on the world map that it requires some effort to locate for the first time. Standing on a significant trade route and acting as a bridge between Europe and Asia, it has witnessed numerous invasion attempts in the course of history but still managed to remain free. Zoom in one time to see the country's location.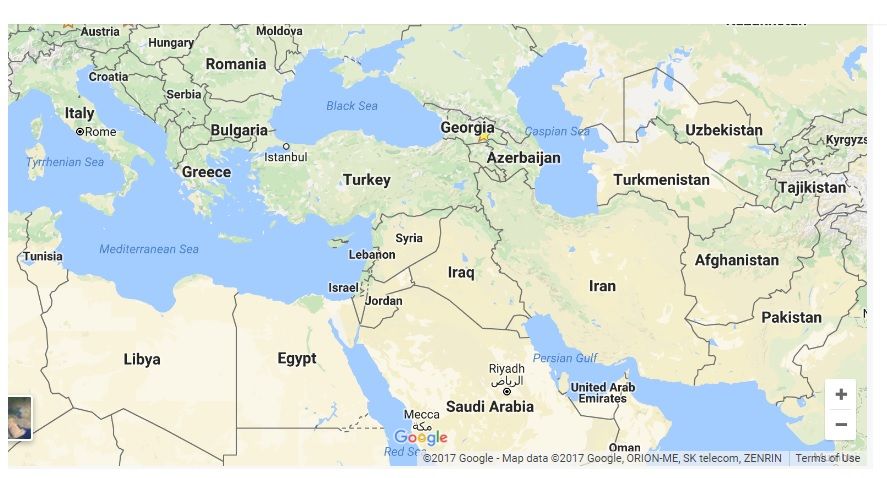 Being a former USSR state, Georgia also had its rough time dealing with the Russian attempts of invasion. The most recent war ended in 2008, and one can imagine that Georgia has witnessed stability only recently.
Georgia can boast of a vibrant and unique culture and language, the oldest wine recipes, being the bastion of orthodox Christianity for ages, being one of the most varied topographies even in such a small area, 25000 rivers which flow inside its boundary and being home to the highest continuously inhabited village in Europe.
"John Steinbeck, a famous war photographer once said the Russians admired Georgia so much that they thought of it as second heaven and Georgians as great lovers, drinkers, dancers and artists. They wished that they not go to heaven when they die but to Georgia instead."
THE TEN TREASURABLE MEMORIES
- Receiving a bottle of wine from the Georgian Immigration Officer at the airport.
- Dancing all night to EDM in Bassiani in Tbilisi.
- Failing to hike through the snowy trail to the Gergeti Trinity Church Stepantsmida Sameba and getting lost in the dark while returning, with the town lights being the only source of direction.
- Partying with the locals in Borjomi.
- Making new Turkish friends in our hostel in Batumi, drinking their cocktail which came from hell, playing their crazy games and signing off with a win.
- Getting a private scrub massage in the 'sulfur baths' in Tbilisi to feel like a king.
- Gazing at the Shangri-La from the cave city of Uplistsikhe.
- Organising a CS meetup that brought together more than 35 people to party on the New Years Eve in Tbilisi.
- Driving our rented Pajero on the Georgian Military Highway.
-Riding the snow tuk-tuk to the top of a hill amidst heavy snowfall in Borjomi.
THINGS TO KNOW BEFORE YOU GO!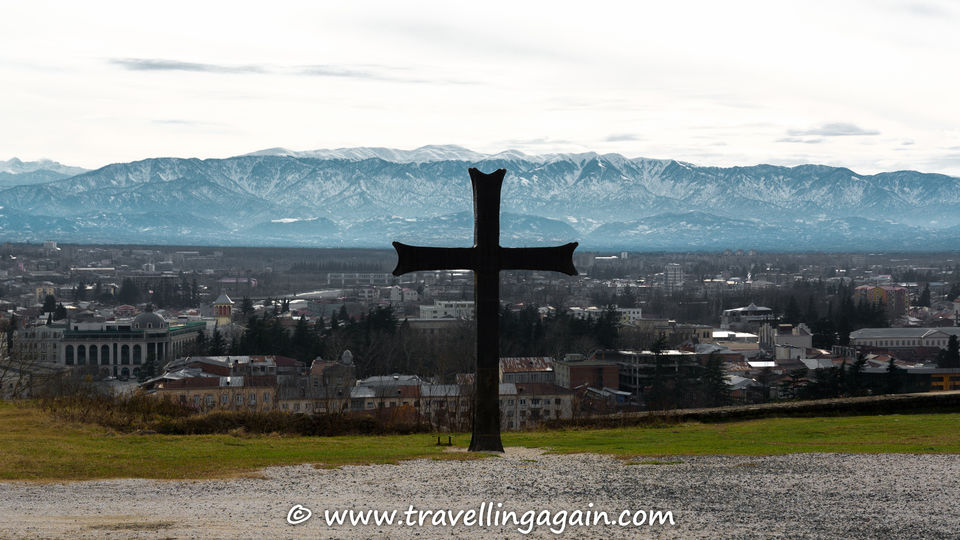 Currency – Georgian Lari (GEL). Each Lari comprises of 100 Tetri. Take a look at the current conversion rate here. All the exchange centres in the country have different rates so do your research before converting your currency. Exchange at the airport is as always expensive.
Visa and Immigration – Georgia offers the facility of e-visa to most countries on the planet. The application procedure is simple, and the application processing time falls within four working days. You can submit the application on their portal – https://www.evisa.gov.ge/GeoVisa/
However, if you do not already have a European (Schengen) or a US visa stamped on your passport from your previous travels, I strongly recommend you to opt for a stamped visa from Georgian embassy in India. Otherwise, you hold decent probability of not being allowed to board the flight or being deported. Fresh Indian passports are the worst case in such a scenario.
Immigration can be tricky if you come from an Asian country. A policeman greeted us on arrival and verified our travel documents, stay bookings and cash in hand. After judging us by our body language and having a word with his senior, he allowed us to proceed to the immigration counter. We helped ourselves to the desk expecting another round of scrutiny, but to our pleasant surprise, the officer did not ask even a single question. To surprise us further and as if they had pre-planned to act funny with us, the officer at immigration gifted us a bottle of Georgian wine. Whoa! 'Welcome to the land of hospitality finally' we said to ourselves.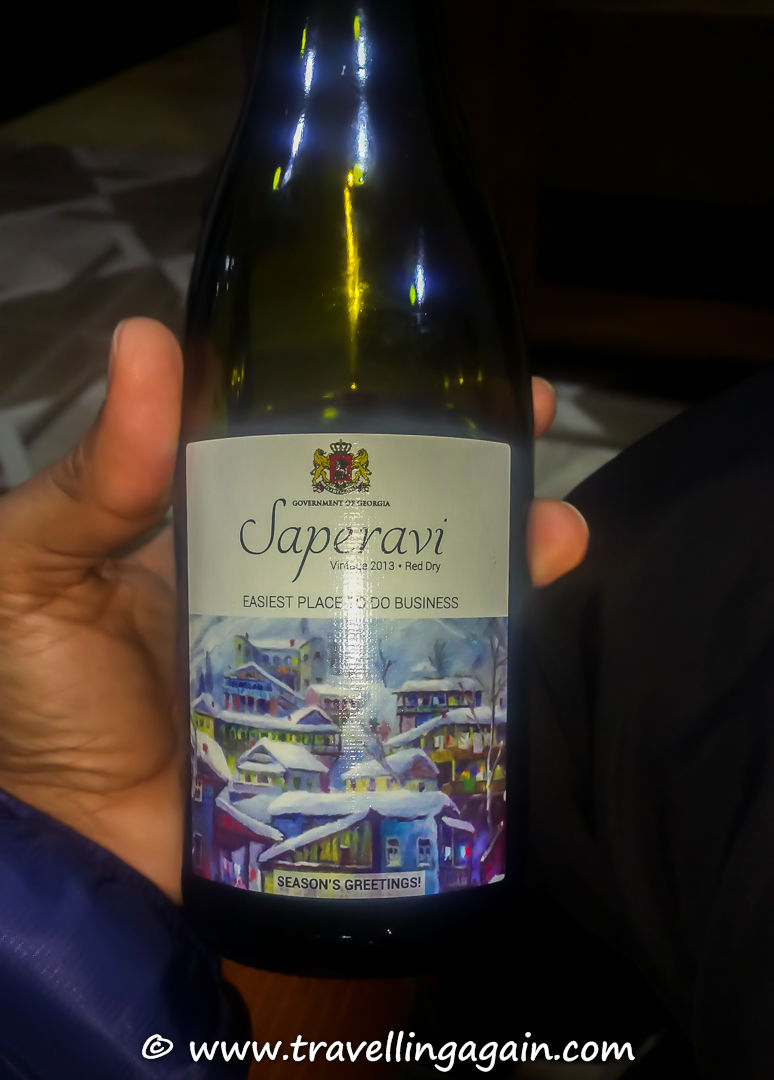 Prominent Airports –
Tbilisi – connects to major international airlines
Kutaisi – most of the low-cost carriers to Europe and neighbouring countries operate from this airport.
Driving License and Driving Conditions – As India and Georgia are parties to Geneva Convention, an Indian driving license in English or an International Driving Permit (if not in English) are valid documents to drive in Georgia for up to a month. You will find both left and right-hand drive cars in Georgia, but the country obeys the right-hand traffic system (opposite of what we have in India). Georgians driving habits are rogue, and the driving conditions back home make you a winner in such a case ????
You can mostly rely on Google Maps for navigation. The only exception is driving through Tbilisi city where you have to make sure you do not enter any one-way street or don't make a turn in a no turning zone.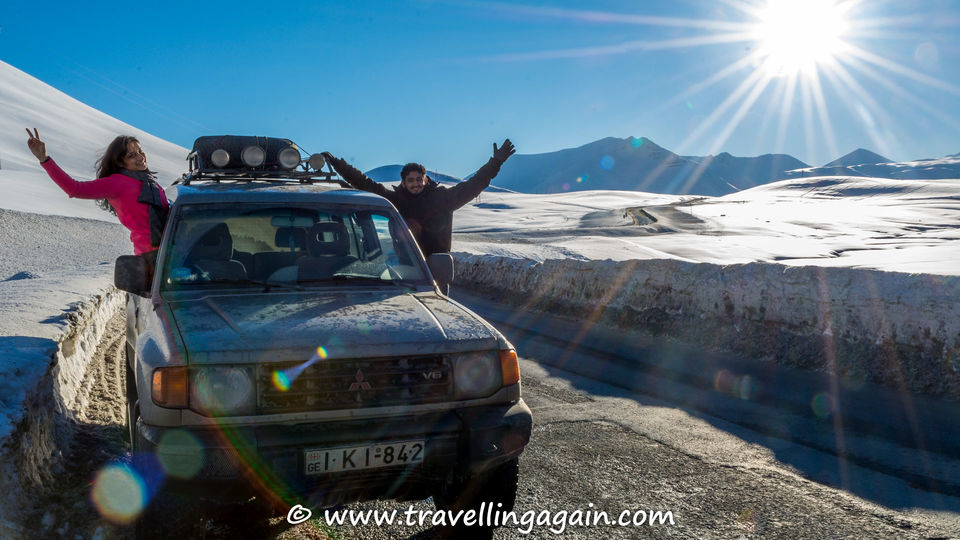 Safety – In 2005 Georgian President Mikhail Saakashvili fired "the entire traffic police force" of the Georgian National Police to eradicate corruption. Since then the country has been very safe within the limitations of common sense. The separatist (pro-Russia) regions of South Ossetia and Abkhazia are totally not recommended for tourists.
Food and Drinks – Being a vegetarian in Georgia is such an easy task. Georgian cuisine is rich, vast, cheap and therefore the country is a foodie's paradise irrespective of what you eat. Khachapuri, Khinkali, Lobio and Ajapsandali are a few of Georgia's famous vegetarian dishes. Mexican potatoes and pizza are an easy find as well.
Tap water is safe to drink in most places, while at the same time the super famous and exceptionally healthy Georgian mineral water 'Borjomi' is not expensive as well.
Georgian wine is legendary and cheap, beer is definitely worth the cost as well but Chacha, a strong alcoholic drink (brandy) made out of the residue left after taking out wine from the grapes, is what the locals will force you to drink if you ever happen to party with them ????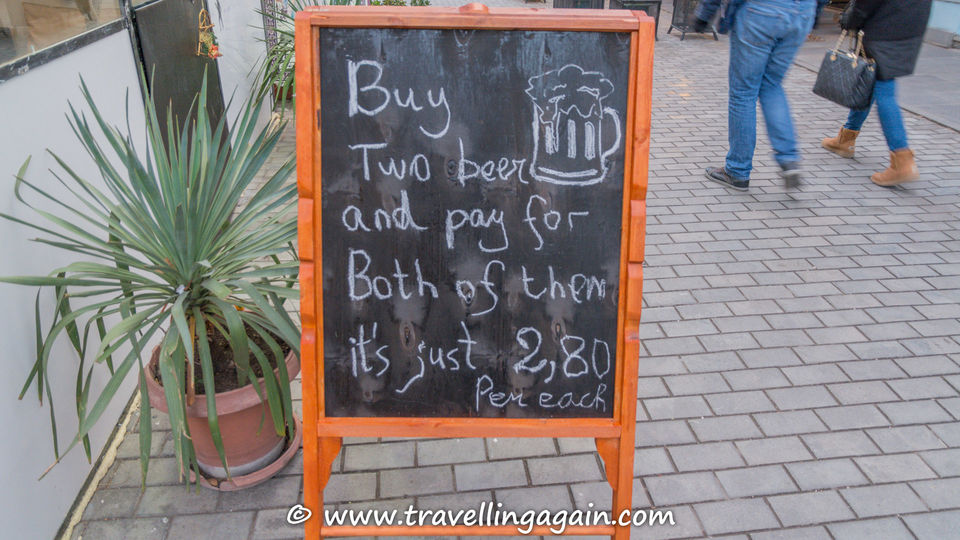 Accommodation – While Couchsurfing is definitely a difficult task in Georgia, alternative lodging options like Airbnb's, cheap hostels and homestays come to the rescue. A dorm bed can cost you as cheap as 7 Lari per night, and booking an entire apartment is possible under 35 Lari without any fuss. Download Booking.com and Airbnb on your phones as these will be the only platforms you use to compare prices.
Transportation – Georgia is a tiny country and has an excellent and affordable network of road and rail transport for inter-city travel. If you are a group the best way to see the country is by renting a car. Marshrutkas (mini bus) are the most common mode of transport within the city/town with each ride costing 50 tetri (.5 Lari) irrespective of the distance. We took the bus 37 from Tbilisi airport to city centre (16 Km approx) for 50 tetri (12 Rs), the cheapest airport ride of my life.
Taxi drivers in Georgia are completely untrustworthy. The fares are very cheap in reality, but the drivers cheat you to the maximum possible extent. One of them charged me 25 Lari for a 4 Lari ride. A lesson learnt!
Cities and towns are easy to cover on foot. Prefer walking instead of using the taxis to enrich your experience with the otherwise ignored local way of life.
Weather – As an Indian, every season is equally impressive to be in Georgia since we do not have snow in most parts of the country. Preparing yourself for the winters when the temperature in the country falls as low as -10-degree Celsius is critical though.
The country is breathtakingly beautiful throughout the year but better known in the international community for its colours during the summer.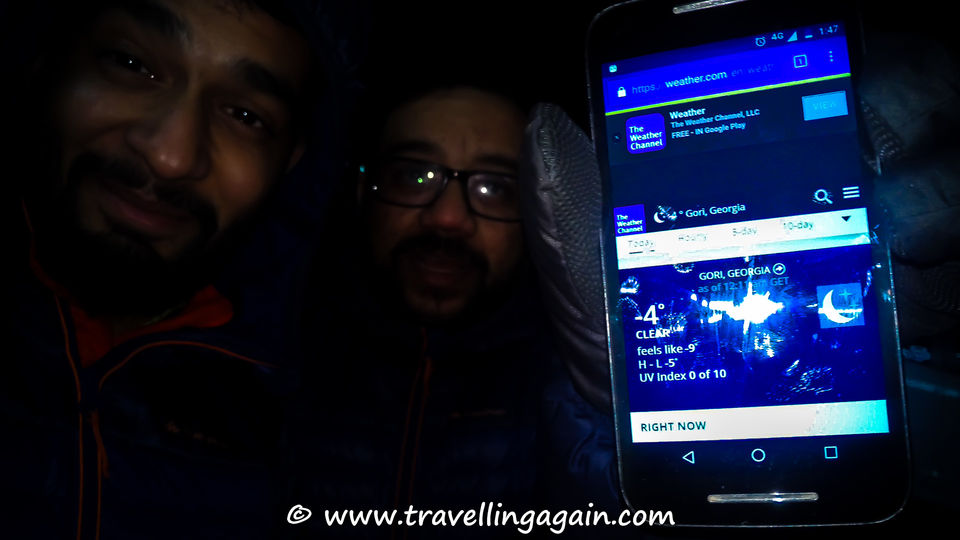 Budget – Georgia is a super cheap country to travel. A one month trip to Georgia during Dec 16-Jan 17 cost me Rs 75K (1000 USD) every expense paid (I splurged a bit). On a backpackers budget, each day should not cost you more than 35 GEL ( Rs 900 approx) including your drinks. I would say a month long backpacking trip from India to Georgia is easily possible under Rs 65k, inclusive even of the cab you take back home, while a luxury trip should be possible under Rs 100k.
To know the ways cut down the flight cost, which is inarguably the biggest expense of any trip, you can refer to my article – "8 SECRET TIPS WHICH CAN HELP YOU FIND A CHEAP FLIGHT". It already has more than 158 K views on Tripoto. Hurray!
Wifi and Data – Any hostel or apartment you stay at and most of the restaurants will provide you with free wifi access. The capital Tbilisi also has a free wifi 'Tbilisi Loves You'in the central touristy area. Rest of the places you need a data connection to use the internet. Data SIM from Magti and Geocell are very cheap and have a good network all over the country. I bought 5 GB data with a validity of 1 month for 20 Lari (Rs 500 approx) from Magti.
Language – Georgian language is like no other on this planet. It sounds like nothing you must've ever heard nor does it look like any script that you must've seen before. The roots of this individual linguistic system come from the very ancient Georgian script.
Most of the youth population speak English, and most of the older generation does not. However, that in no way is the roadblock to your experience in Georgia. The hospitality is so much into the culture that the Georgians do not care if you can communicate with them in words. To top up the experience enjoy a celebrity treatment all you need to know are the songs Jimmy-Jimmy, Disco Dancer and Mera Joota Hai Japani which are an integral part of the Georgian culture.
Festivals – According to the calendar of Orthodox Christianity, Georgians celebrate Christmas on 7th of January and the New Year on the 14th of January. Georgia is a deeply religious country, but still, the influence of West is gaining prominence rapidly lately. The major celebrations take place on 25th and 31st of January like as per the international trend. So if you wish to celebrate Christmas and New Year 'twice' in a given year, Georgia is the place for you!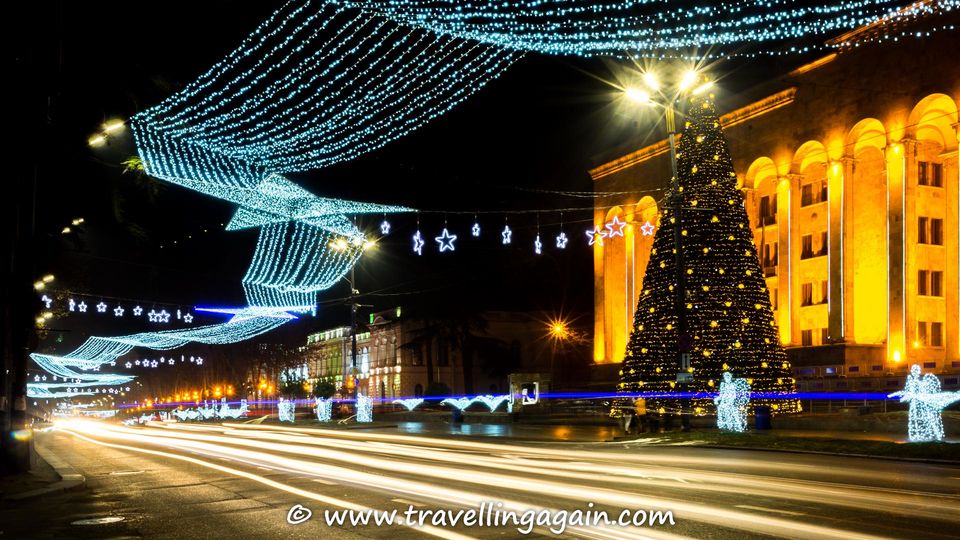 Can I travel through Georgia by my own? Absolutely Yes! You do not need to worry about anything when the country is Georgia. Any money that you pay to any agency is completely not required. Although I travel without any plan most of the times, planning everything in advance for your trip to Georgia is easily possible as well. I will try and cover as much detail as I can, in this post, to be by your side virtually ????
What to pack? Apart from the usual travel gear, a list of which is available in my article – "A 15 STEP GUIDE TO PICKING AND PACKING YOUR TRAVEL GEAR OPTIMALLY", you need to top up your gear with winter clothing namely a down jacket with temperature tolerance of up to 0 degrees and thermal wear.
Other possible Issues – Apart from the above factors, two important issues came up consistently during my trip and should be kept in mind – over the top smoking habit of the locals and the behaviour of select Georgian males.
Georgians smoke a lot. To the extent, that even if you are a smoker, a few hours in a confined area will leave your clothes and hairs noxious.
Secondly, the behaviour of a few Georgian males looked surprising. The first impression was that the Georgian females take care of the businesses and homes while the men make up for the more challenging and physical mountain life issues. On spending some time in the country and breaking the ice with a few Georgian ladies, I realised that the males are lazy and dominating in general. Sometimes I observed the boys in their early twenties yelling at their girlfriends in public. A few girls even confessed that they would not prefer to marry a Georgian male. A guy I supposedly became friends with on Instagram before my trip, successfully made some financial gains from me. I share this not to convey any negativity but only as a word of caution, real people are always just a shout away at any given place on this planet, and this information in no way should hold you back, like a true traveller!
YOUR VIRTUAL COMPASS TO GEORGIA
Starting with the capital Tbilisi in Dec 2016, I spent one-month backpacking through Georgia. A part of it was with a few friends who decided to join me on my trip once they came to know about it through the 'Travel With Me' section of my blog.
There are several ways travellers make their journey through Georgia. Some stick to the famous cities and towns while other choose the road less travelled. Moreover, since Georgia is a small country, it makes it very easy to remain flexible with your plans. Also, although no guide can match the richness of exploring in a self-driven plan-less crazy way, I still pen down my experiences if they can be of any assistance to you.
CITY GUIDES
1) TBILISI - The capital of Georgia and its most modern face, Tbilisi delivers an entirely contrasting experience from the rest of the country combined. You get to feel its vibe of transition from the capital of once a war-torn, crisis-ridden country to a wannabe big shot with a sense of urgency in the air. Blend with that the breathtaking views of beautiful and narrow streets of the old town, the flourishing bar culture, the centuries-old wine cellars, the gorgeous looking bridge of peace over the Kura River, the panoramic vista from Narikala Fortress, the mysterious nightclub situated in the basement of a football stadium, numerous eating places and the dirt cheap ride from any point in the city to another; to make Tbilisi unique and one of the favourite cities I've been to.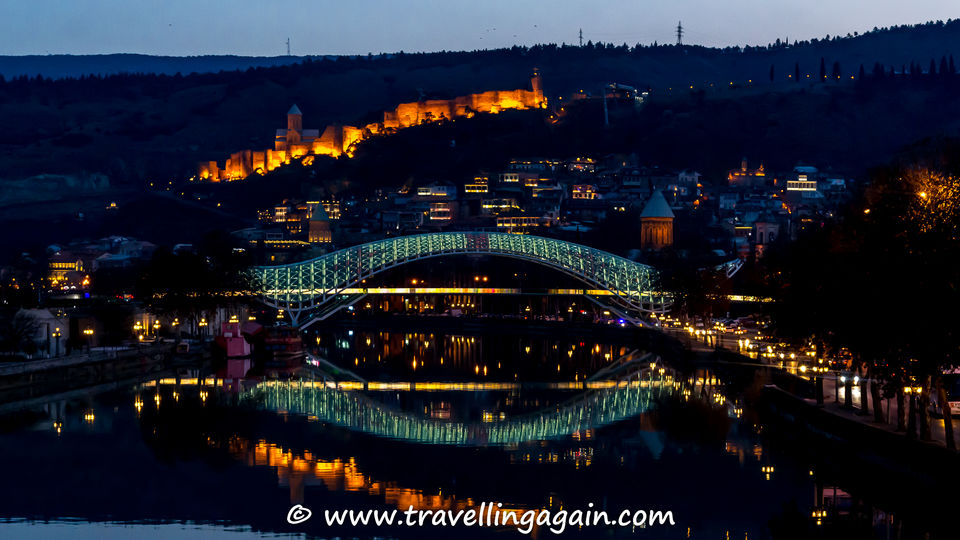 How to spend your time?
Walk up to the Narikala Fortress – Narikala is one of the two landmarks in Tbilisi you do not need a map to find. This ancient fortress sitting on the top of a steep hill overlooks the city and serves as an excellent vantage point for photographers. You can reach the top either by walking, starting from the most touristy point in the city called Meidan, or by riding a cable car.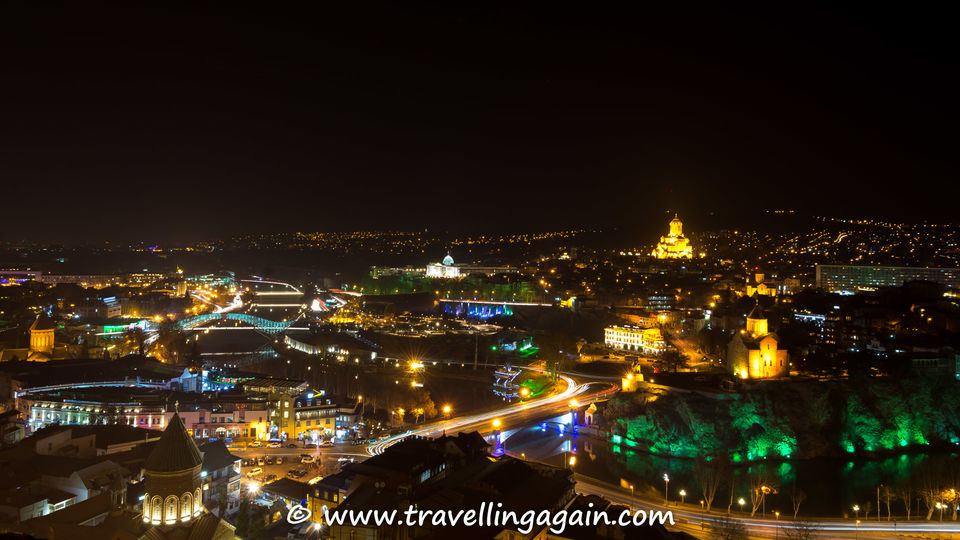 City Walk – For me, the best way to explore Georgia including Tbilisi is to walk around. The important sights to make a note of are –
- Shavteli Street and Gabraidze Theatre – The Gabriadze Theatre famous for its puppet show and the adjacent 'distorted looking' Clock Tower renowned for the mechanically operated Angel, which comes out every hour to ring the bell, marks the start of this picturesque and narrow cobblestoned street. The old style brick houses on both of its sides now serve as hostels and hotels. Shavteli Street is also home to many excellent restaurants and wineries including two of my favourite cafes namely Café Leila and Café Kala. The ancient 6th-century Basilica of Anchiskhati is right opposite to Café Leila. Café Gabriadze right by the clock tower has got decent reviews as well.
- Freedom Square, Rustaveli Avenue and The Big Bicycle – Freedom or Liberty Square is the main commercial square of the city lying at one end of the primary commercial street of Tbilisi known as Shota Rustaveli Avenue. The Christmas market and both Christmas tree's are set up right on this road during the festivities in December.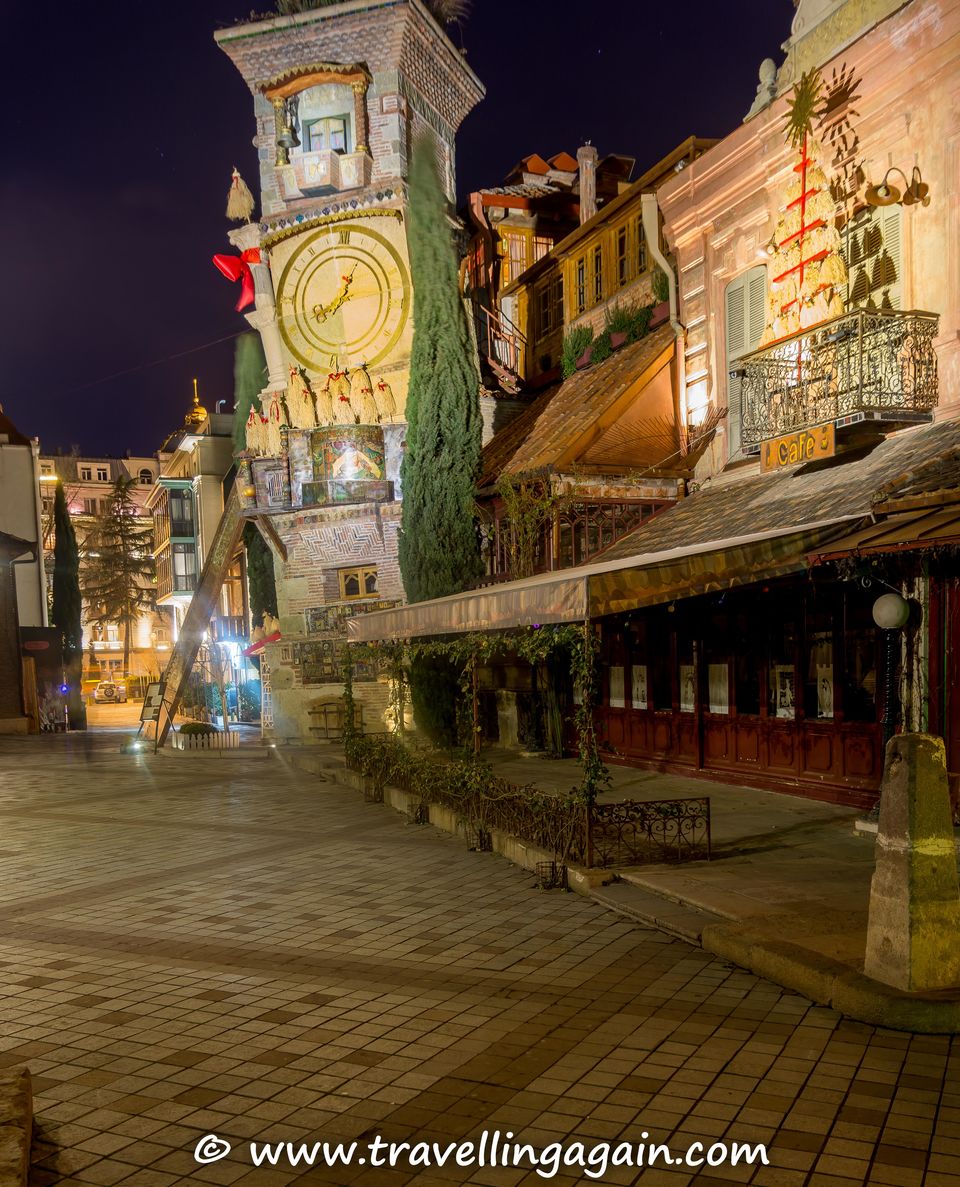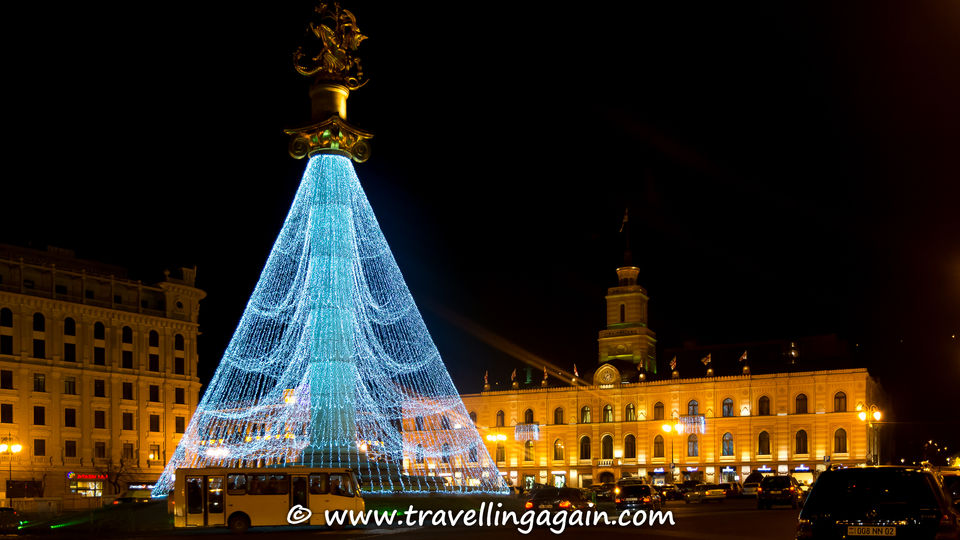 As you start walking from tourist centre located at the Freedom Square, you can find numerous restaurants, currency exchange centres, customer service desks of the telecom operators, supermarkets, hotels and hostels, etc. before the avenue terminates in the Big Bicycle. Spend some time enjoying the majestic view of the residential Vake District from the bicycle.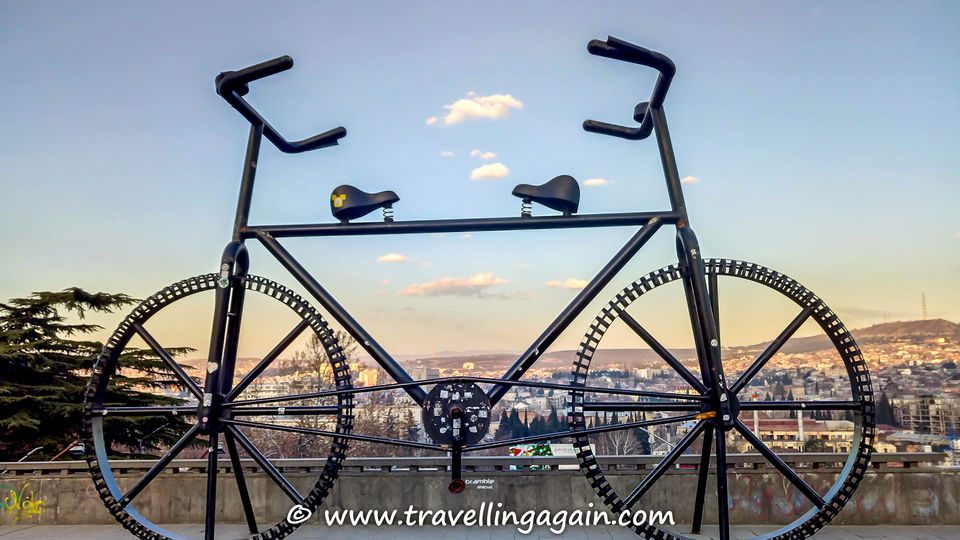 I have only seen a few clips from the Bollywood movie English Medium and most of them appear to have been shot in Tbilisi and even by the big-bicycle.
- Old Town – The most touristy and lively of all is the old town of Tbilisi with its central point referred to as Meidan and two of its principal streets known as Shardeni and Betlemi Streets. This area as a whole is cosy and full of clubs, strip clubs, sheesha lounges and bars. The best of the live music places are on these streets as well. Expect the prices to be higher than the average for obvious reasons.
- Plunge in one of the age-old natural sulphur baths and explore the waterfall behind them. If legends are to be believed, Tbilisi derives its name from these sulphur baths. 'Tbili' in Georgian means warm. King Vakhtang Gorgasali's hunting falcon brought back a bird poached in these warm waters, and he ordered the shifting of the capital to what we now know as Tbilisi.
Lying on the ancient silk route, Tbilisi has always been a major gateway to Europe from Asia. All the traders on the way willing to enter the walled city were required to take a bath. Out of the many ancient baths, only 5 of them remain now. Bath no 5 is the oldest of them all, while I read a lot of good things about the Orbeliani Bath which is also the most distinctive with the Persian style of façade. Unfortunately, Orbeliani was under renovation when I was in Tbilisi, so I went with my hostel's recommendation of Gulos Thermal Spa. A bit difficult to find Gulos is the rearmost of all without any signboard. Apart from these, you can also use one of the public baths just for taking a shower like most of the locals do.
The facilities in most of these private baths include an hourly paid private area, a paid scrub/massage service, towels/slippers and other essentials for a small price. The natural hot water is believed to have many therapeutic properties and do not let the apparently harsh behaviour of the spa owners deter you from going for this not to be missed amazing experience. An appointment is a must on most of the days.Spend a pleasant evening by the waterfall, which lies a few yards from these baths, after you finish spoiling yourself ????
Go bar hopping. Tbilisi has a flourishing bar culture. Alcohol is cheap and Georgia's world famous unique wines make things even more fun. The following should be on your list, in the given order, if you are into alcohol and music –
- Canudos – My absolute favourite of all, I was informed about this place by my Couchsurfing friend Mary. The affinity to the bar developed in such a way that I always tried to plan my day in a way that I end up in Canudos by the time sun sets. It is the bar where you hardly find any tourists and is full even on the dullest evenings in Tbilisi, a local favourite!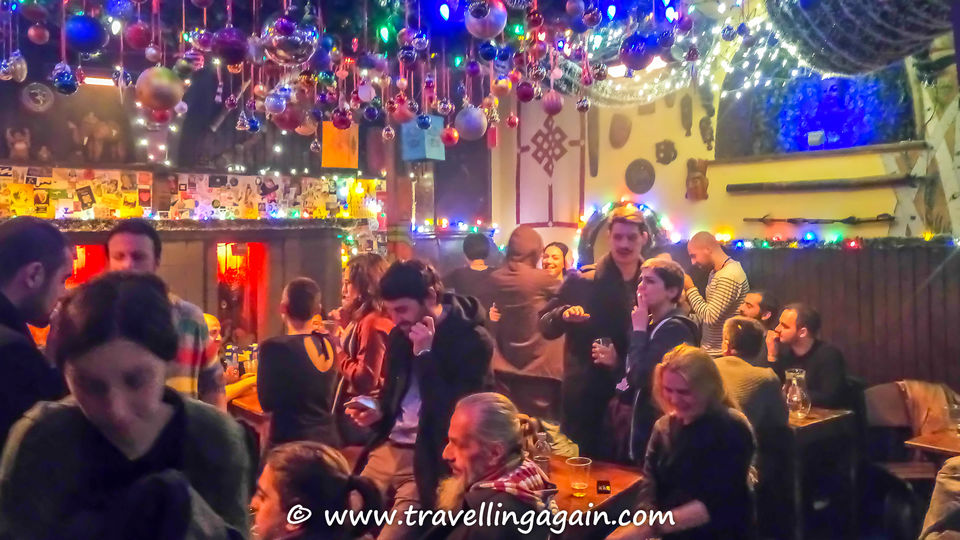 Although making friends here is easy, carry a packet of cigarette and a lighter even if you do not smoke, Georgians smoke like crazy and often come up seeking a lighter.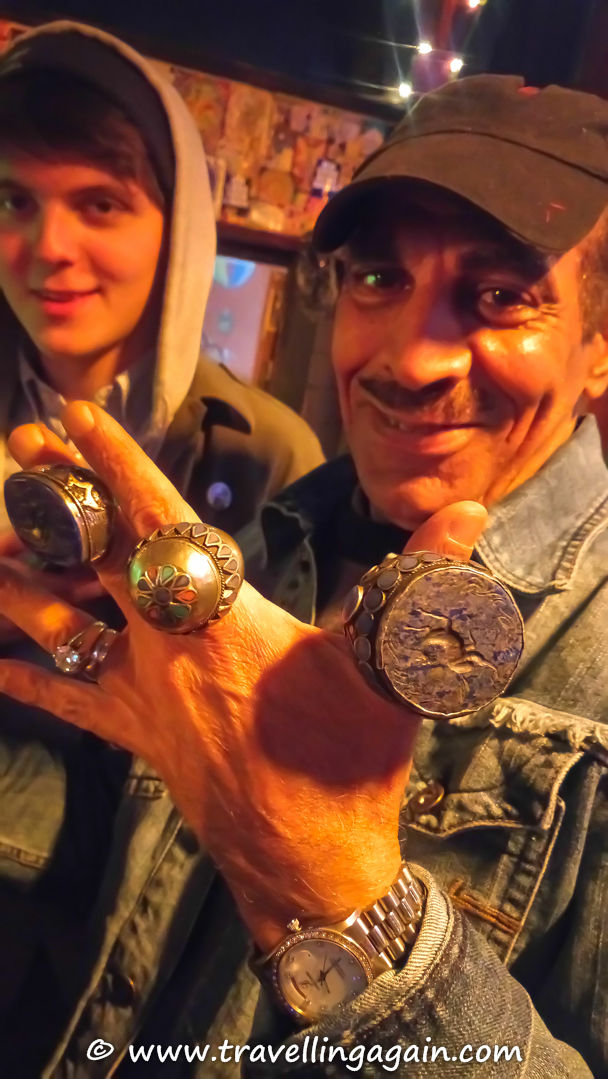 Moreover, yes, expect a presence of a lot of interesting characters at Canudos always!
- Generator 9.8 – Another bar preferred by the locals, I will go to Generator if I am not going to Canudos. The atmosphere here is more relaxed than Canudos, and you also have the liberty to order food, which makes Generator a complete hangout place. Their Glintwine is a must try. Also, check if they have any live music evenings scheduled.
- Warszawa – The cheapest bar in Tbilisi with every drink priced at 1 Lari. Named after the Polish city of Warsaw, this bar tries best to give you that polish feel. Favourite among the students because of low prices, this place hardly offers any place to sit. Situated on the Pushkin Street right by the Freedom Square and adjacent to Subway, Warszawa is easy to spot with a dozen people always standing out in the corridor to smoke.
- Zoestan – Again difficult to find on the tourist map and in the guidebooks, Zoestan is another place always full of people. Situated in an alley close to the most touristy old town area this place is a bit expensive and classy. They offer good food and have an excellent drink menu, but their music! It might just make you revisit the place. Worth going at least once during your stay in any case.
- The Nali Pub and Dublin – Situated on the Giorgi Akhvlediani Street formerly known as Perovi Street, these places mostly have live music evenings. You find people from all age groups and the feel is more on the sophisticated side. The street is full of pubs and bars, but these two are the more known of all.
- Dive – The owner of this bar is an American expat. Dark and rugged, Dive offers both indoor and outdoor sitting options. The bar does not have a kitchen, but the idea is to order a Ronny's Pizza (a pizza house run by another American Expat) while enjoying the game of beer pong here. Situated at the end of Mari Brose street, this is a meeting point of expats.
- Fabrika and Dive II – Fabrika is probably the biggest hostel in Tbilisi and also houses a huge bar, dancing area and a restaurant. Averagely priced and a backpackers choice, the locals go here to meet travellers and dance to international music. Fabrika is one of those rendezvous points in Tbilisi, and it is hard to imagine of empty spaces here.
An alley separates Dive II from Fabrika and acts as a crossroad for party people who wish to switch bars for a change.
- MacLaren's Irish Pub – The only authentic bar worth recommending on the famous Shardeni Street. They play live music here at times.
Explore the nightlife. The nightlife scene in Tbilisi is something you do not usually experience in most places. The people like to move to EDM and Deep House, the clubs are dark and massive, everyone is dancing on his or her own, and the percentage of Marijuana in the air is more than oxygen. The state is of absolute Trance!
The party starts at around midnight and continues until sunrise. Allow me to take you through the club scene in Tbilisi.
- Bassiani – Arguably the biggest club in eastern Europe, Bassiani is situated in the basement of a football stadium and is a 'Ravers' wild dream. The new year's celebration witnessed a whopping 3000 people on the dance floor. There are two halls for different music types and the best EDM DJ's from the world perform in the bigger space called HOROOM. The craziness usually starts picking up at around 1 in the midnight, is at its peak at around 3.30 am and ends at 8 in the morning.
The smoke of Marijuana adds to the electronic music and lighting effects designed to take you deeper into your soul and results in 'Rave' like nowhere else. It is a place where Georgians explore freedom on the dance floor and in the deep dark alleys with couches, cave-like structures with mattresses to relax & prepare your joint and even beds to lay down in a few corners.
The joint is waved high in the air while whistling loudly to acknowledge the DJ when the trance is at its peak.
- Café Gallery – Cosy and situated on Rustaveli Avenue, Café Gallery is a café and bar until 11 PM before the tables are taken off, and the lamps lifted up, turning the small area into a dark space of freedom which carries a reputation of being Tbilisi's LGBT club. Located centrally on the Rustaveli Avenue, Cafe Gallery has a reputation for playing very high quality of music and are very choosy for their crowd despite the limited floor area they have.
- Khidi – A relatively new EDM club and a competitor of Bassiani, although nowhere close to its scale. Situated under Vakhushti Bagrationi Bridge this place is a bit tricky to find and most of the cab drivers do not know about it. Divided into two sections, Khidi offers two music styles on weekends and major events. Choose the one which makes you move ????
The above three nightclubs have a super strict face control regime in place and can deny you entry without citing a reason. There are cameras installed at the entrance, and if your body language makes the authority feel that you are visiting the place for fun more than for music, you would straight away be refused entry. These clubs are dark and obscure, and they are possessive about that. Never try to enter with bright clothes as well.
- Art Café Home – If EDM or Deep House is not what makes you move, then Art Café Home, situated on the Betlemi Street in the old town area, is the only club left worth recommending in Tbilisi. The place has got multiple levels with the bar and dance floor on the 1st and couches on the 2nd. A favourite choice amongst the tourists and expats for dancing to international tunes.
Stags should not expect much of a hooking up culture in Georgian clubs. People pay for music, experience and rave more than for hunting. All the decent places usually have an entry fee ranging between 20 to 30 Lari. Also, nightlife in Georgia is confined only to these four clubs; rest are more of prostitution centres. I have been to a few and completely recommend not wasting your money on them.
Walk through the famous Bridge of Peace which is a bow shaped, nicely illuminated bridge standing over the Kura River and connecting Old Tbilisi to the new district. Two beautiful, tube-shaped metallic buildings you see by the bridge house a concert hall and exhibition space. You can even go for a peaceful walk just below the bridge and by the river bank. Being a famous attraction for everyone who visits the city, even you would be tempted to take out the camera to click a few pictures and selfies I bet, as everyone else does!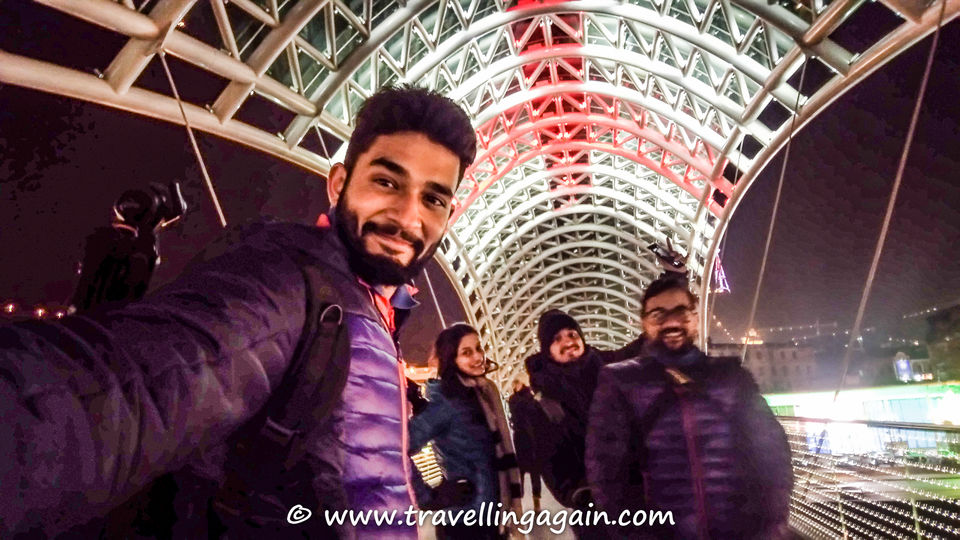 Holy Trinity Cathedral of Tbilisi is the tallest standing and the easiest to spot monument in Tbilisi. It's beauty, when illuminated and seen from the Narikala fortress, is amazing. Being a major cathedral in the city and the country, it stands for and depicts the religious face of Tbilisi and Orthodox Christianity in Georgia.
A must visit for the fantastic view of the city and its gorgeous architecture even if you're not religious.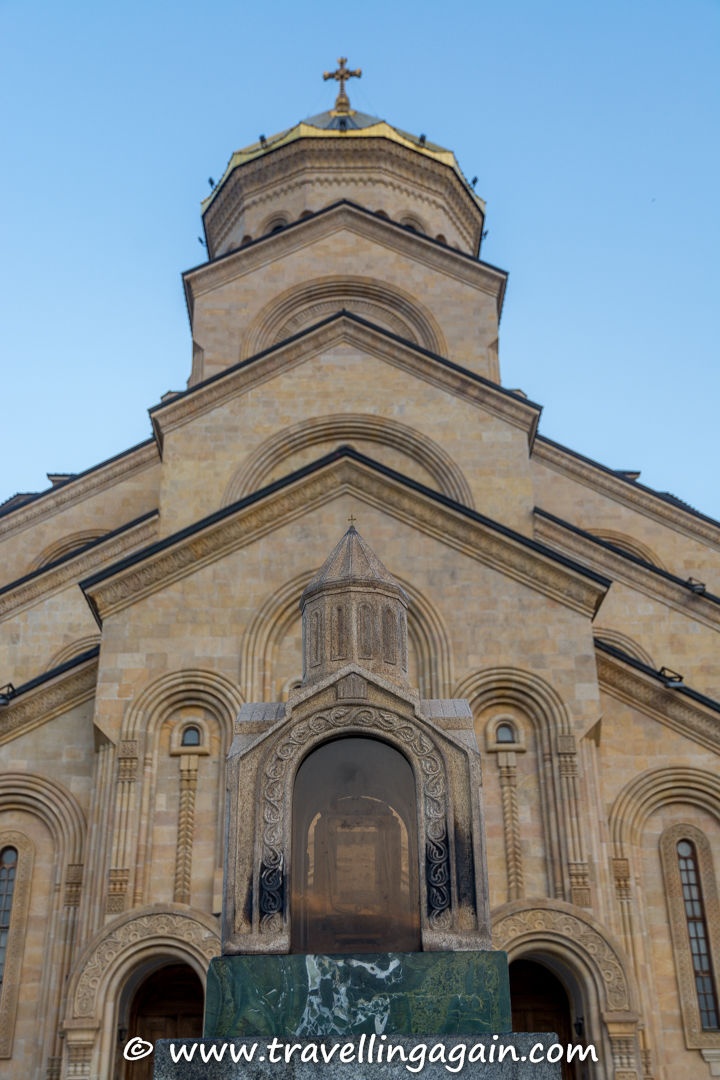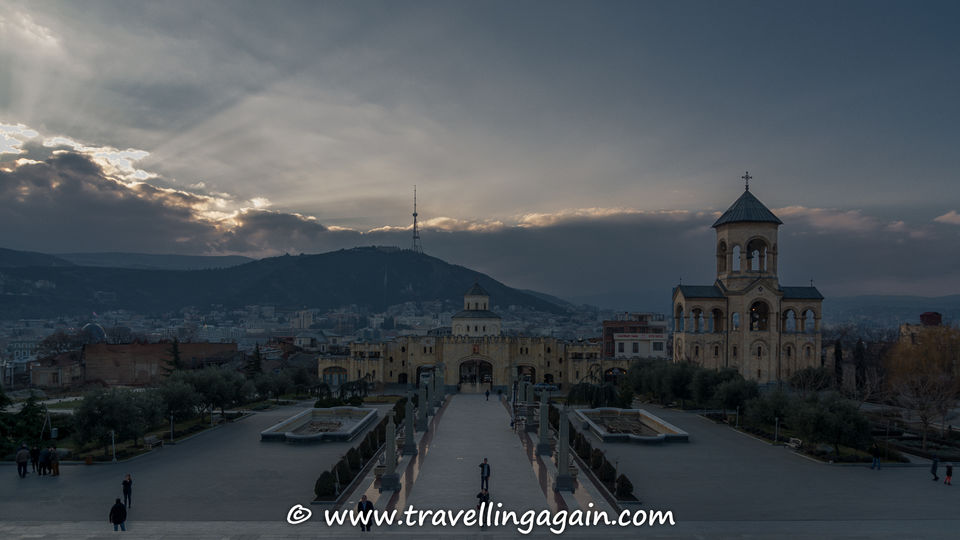 Live Music. Movement Theatre, Café Pur Pur, Zazanova and Singer are the places to keep an eye on for live music events.These are the kind where you would like to spend your evening drinking wine and relaxing after a tiring day. The music played here is usually legendary, and their Facebook page can help you with the schedule. The location of most of these is very central and should not require an effort to find or reach.
Get Inked. Georgia is an inexpensive country. Getting a tattoo, which can otherwise be very costly in other parts of the world, is an excellent idea if you have been thinking of getting yourself inked. Tbilisi Ink Studio and Tattoo Studio – Andrei Aivazian are the places to keep in mind. Expect fantastic prices as I already said. Make sure to reserve yourself a time slot before you go.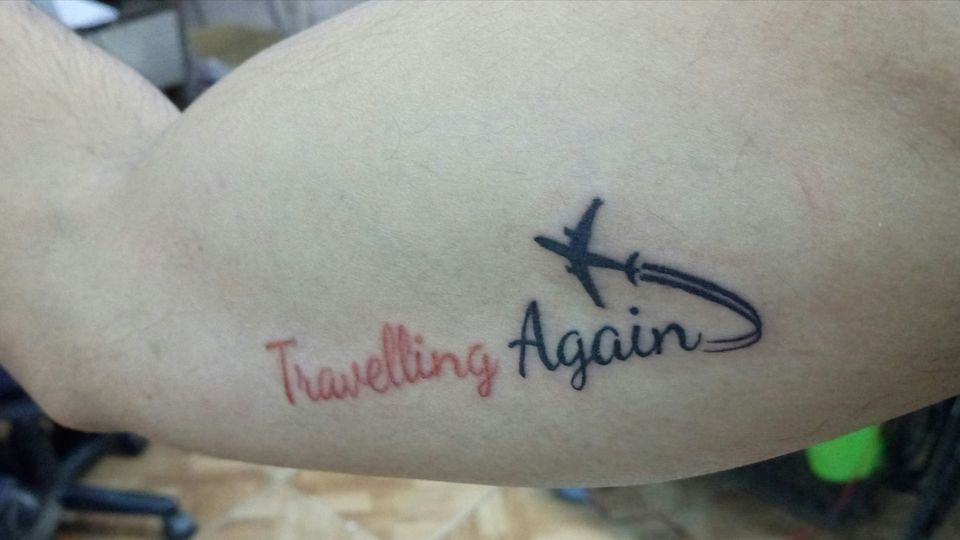 Buy Georgian wine. To be in Georgia and not taking the Georgian wine back home is a crime. There are a few wine bars in Tbilisi to choose from, and the place I went to is known as Vinoground and is located at one end of Shavteli Street. They collect wine from a few dozen private vineyards in Georgia and therefore has got something on offer for everyone. From the cheapest to the super expensive, from a regular wine to an exclusive choice, Vinoground will make you taste most of them while sharing their histories and stories. It looks like a century old wine cellar from the inside and also offers a place to sit and order a bottle of wine and some food from the restaurant attached to it.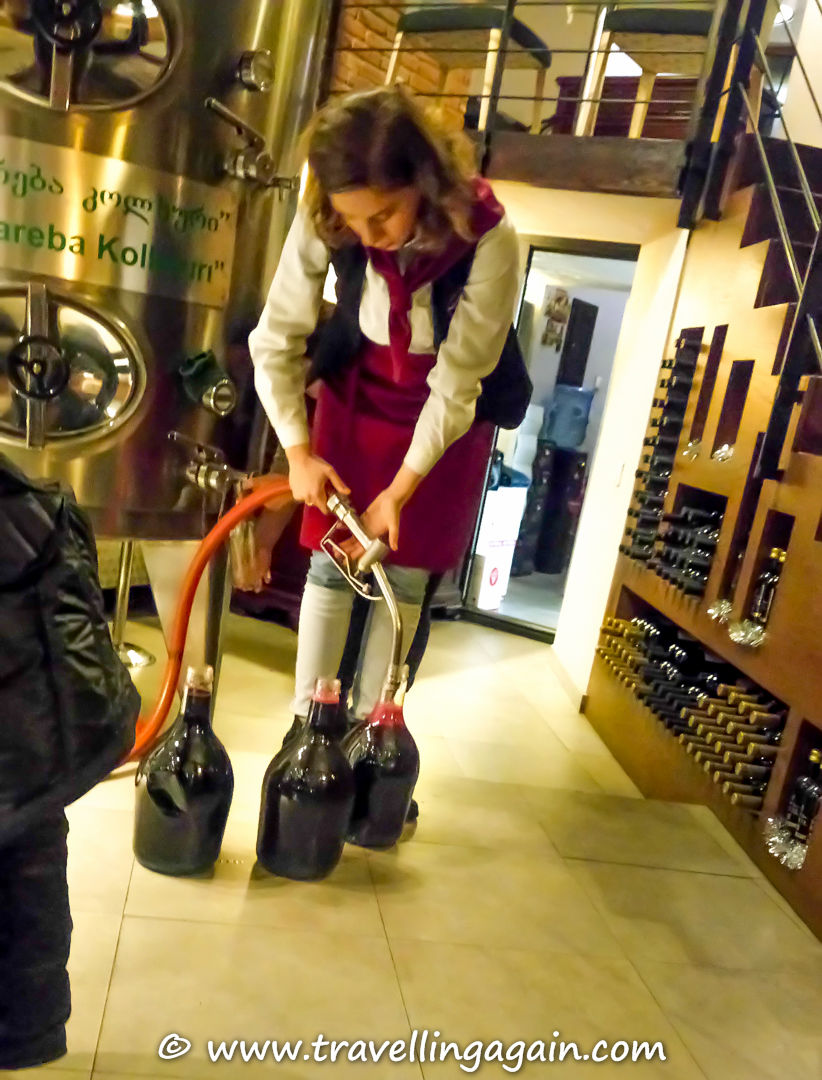 Where To Eat –
- Café Leila – This place is a vegan's delight. Being an Indian vegetarian, I am always on the hunt for a vegetarian/vegan place to eat, and fortunately, this was the first cafe I went to in Georgia, and my taste buds could not have been happier. Fantastic choices of traditional Georgian recipes along with a few international favourites make their menu super confusing. It took us good 10 minutes to decide what to eat! Gorgeous Persian interior, super friendly staff, decent prices and a very convenient location makes Café Leila top my list of recommendations in Tbilisi. However, you just might need to reserve a place for yourself during a weekend.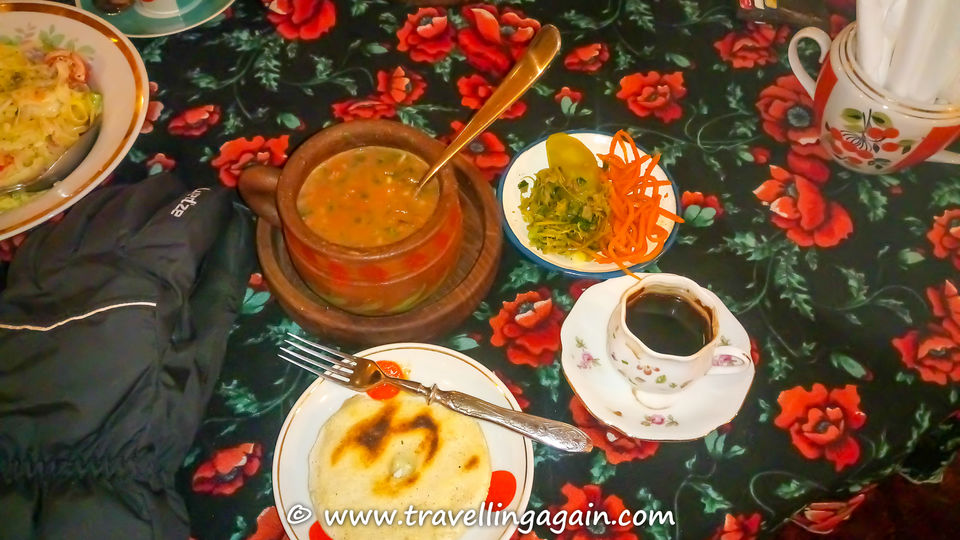 - Chashnagiri – Located on the Leselidze Street in the old town area of Tbilisi, this is the restaurant you go to if you wish to experience traditional Georgian cuisine. Always full of people, Chashnagiri is equally famous among locals and tourists. The prices are low, but the service is just average. In fact, this average quality of service was the surprising front of most of the Georgian restaurants, in the otherwise very hospitable Georgian culture.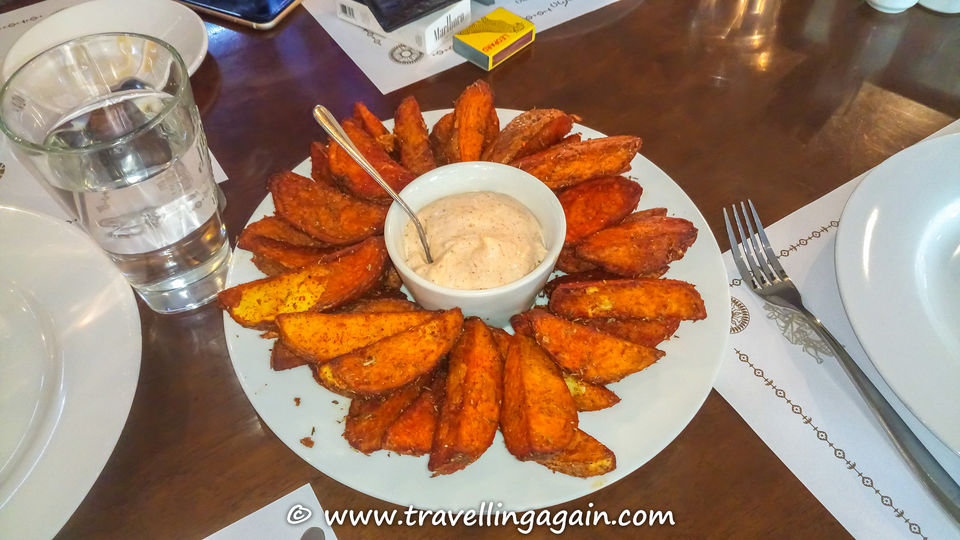 - Samikitano – Samikitano will be your rescue plan if you are a nightlife person. This 24-hour restaurant located right on the Liberty Square is a blessing in disguise. One ends up here a few times, after all the booze and dancing, even despite everything average that this restaurant has to offer. No one likes to sleep hungry after all!
- Khinkali House and the House of Khinkali – Khinkali is a traditional Georgian dish that resembles the Nepalese Momos. Although every Georgian restaurant will serve you Khinkali, Khinkali House serves you many varieties. Other traditional Georgian cuisines are on the menu as well. Located on the Rustaveli Avenue near the Rustaveli Metro, this restaurant is a local favourite. Cheap, massive and still full of people.
Very close to the Khinkali House is another similar place to try Khinkali's. It is known as House of Khinkali. Head here if you cannot find a table at Khinkali House.
- Burgio – The best burger in Tbilisi but an expensive one as well. Burgio is the place to resort to when you're craving an American-styled burger and a dark beer.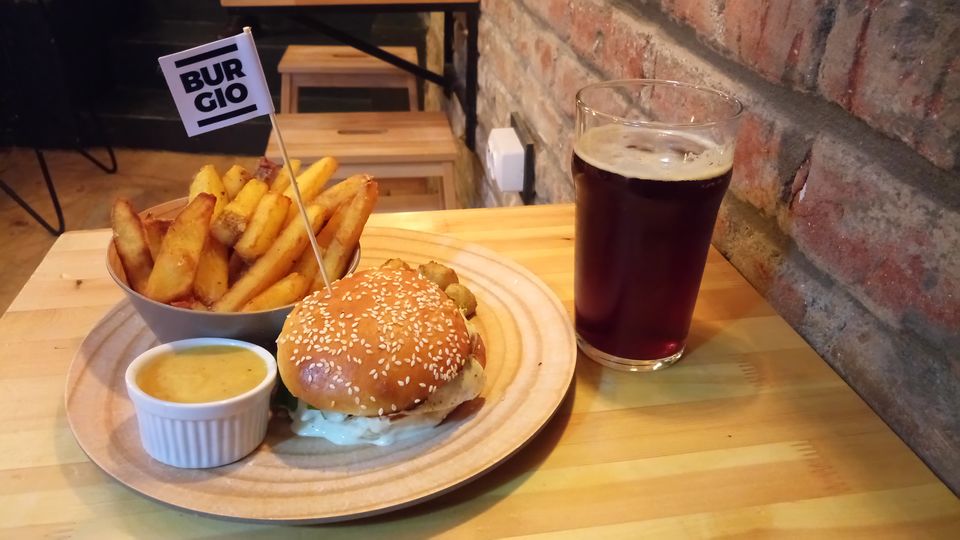 - Ronny's Pizza – Set up by an American expat, Ronny's is the most famous pizza in Tbilisi. I had one delivered to my hostel on the last day of my stay, and I would say it came as a nice change as I've been eating Georgian cuisine for a while.
- Café Kala – The best of all the touristy places in Tbilisi. Situated on one end of the Betlemi Street and in a very touristy area of the town, Café Kala manages to retain its local customers still. Great food, live music, an excellent collection of wine and professional staff for a change ????
- Café Mzuiri – You will not find this café in any guide book. Located inside the public park on the Chavchavadze Street in the residential district of Vake, this lovely and cosy café serves as the hangout place for the locals. They gather as a group here sometimes and enjoy Georgian cinema over a cup of coffee or a glass of Glintwine. Mzuiri can easily be rated the most authentically Georgian of all the places I have mentioned.
Where To Sleep –
- Hostel Pushkin 10 – Legendary will not be an overstatement while trying to rate this place. Their pancake breakfast is already world famous by now, and the people managing the hostel treat you like a family. They would stay awake until everyone returns, even if that is 6 in the morning.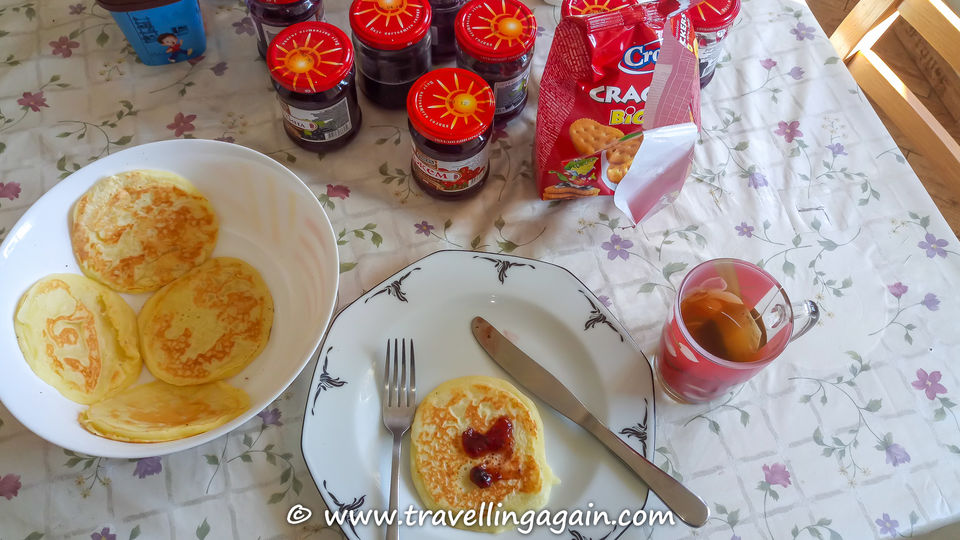 Not the cheapest but not expensive as well, super clean and ultra comfy, this place is a gem and should be your first preference in Tbilisi. 20 on 10 for everything.
Moreover, if you ever happen to stay here and meet the wonderful people who run this place you have to tell them you're my friend and I have sent loads of good wishes. Compulsorily!
- Hostel Anchi – This hostel is located on such a picturesque Betlemi Street that the moment you cross Anchi while walking around, you feel you should've stayed here. So the second time I was in Tbilisi, I booked this hostel and loved my stay. Decently priced and very clean, it is not huge but definitely deserves consideration.
- Tbilisi Rooms Hostel – This property deserves a heads up for its location on the Rustaveli Avenue. Not as fancy as the above two but clean and recommendable.
- Fabrika – The huge hostel in Tbilisi which is full of party people. A bit on the expensive side but it has got its pub and dance floor plus you get the added advantage of meeting loads of travellers.
- Hostel Leviathan – The cheapest of all the place I have mentioned. One of my friends was staying here, so I got a chance to have a look around. A good choice for people on a budget.
- Airbnb – Booking yourself an apartment when you're travelling as a group can be very affordable, and Airbnb has made this easier than ever.
2) MTSKHETA & JVARI
The foundation of the town of Mtskheta dates back the 5th century, and it now stands as one of the oldest cities in Georgia. It is also one of the bastions of Orthodox Christianity in the world, the ancient capital of Georgia and a UNESCO World Heritage Site.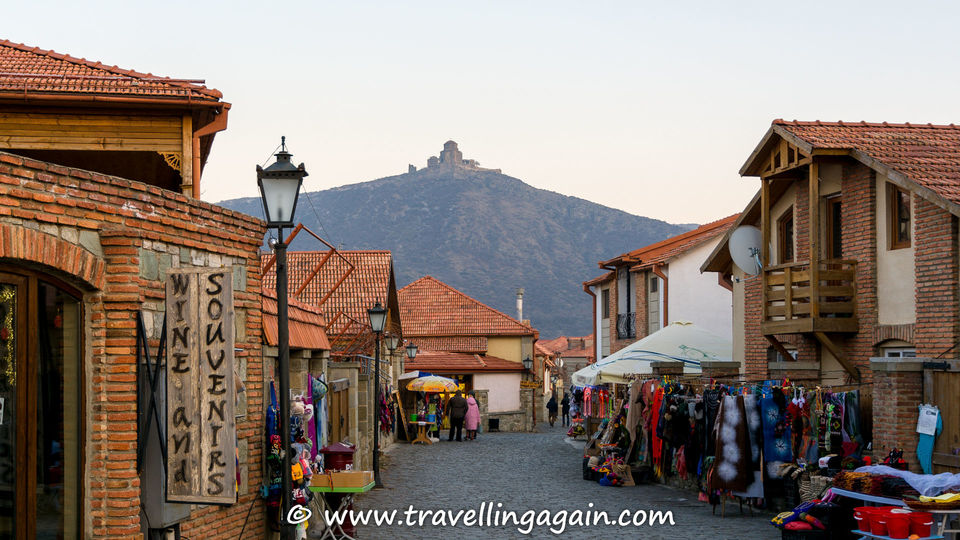 Merely 20 Km from Tbilisi, Mtskheta is either your first stop on the road trip or day trip from the capital. Take the metro until Didube station from where you can ride the Marshrutka to Mtskheta for 2 GEL (Rs 50).
Visit the Svetitskhoveli Cathedral. UNESCO declared the cathedral as a world heritage in the mid-1990's and is the main attraction in the ancient town of Mtskheta. Georgia is a deeply religious country, and you get to feel the vibe as soon as you enter this headquarter of Christianity in Georgia. Walking freely inside the church should not be a problem until you decide to be a distractive element. The ladies must wear a black robe around their waist (available at the main entrance) before entering the cathedral.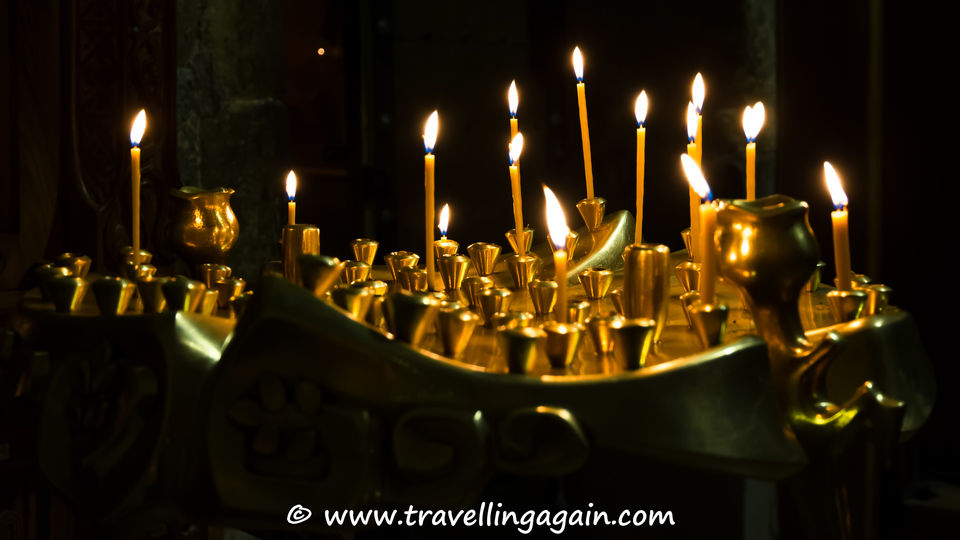 Walk around the quaint Old Town. The town is easily measurable on foot and strolling on the maze of cobblestoned narrow streets while enjoying the picturesque old town was my best experience in Mtskheta. The town has got an immensely romantic setting, and it is hard to stop praising the beauty.
If you're staying in Mtskheta until the sunset, the best idea is to buy a glass of fresh juice or warm wine from one of the many street stalls and head to the river bank to experience the sunset.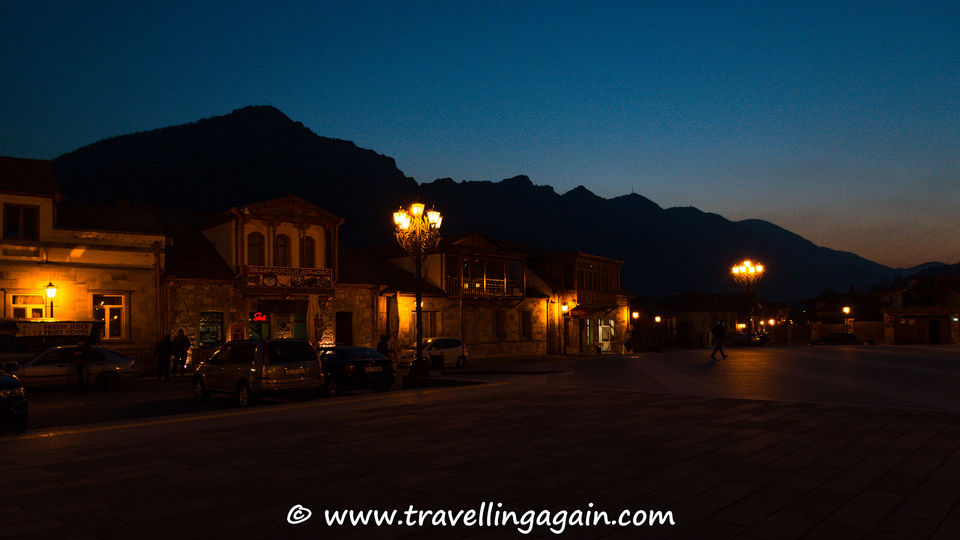 Enjoy a feast at Old Taverna. After all the walking around the town thing, feeding your stomach a nicely made Khachapuri at the Old Taverna feels like a desire satisfied. The outdoor sitting is the optimal choice to enjoy the great view of Jvari Monastery and Svetitskhoveli Cathedral.
Visit the Jvari Monastery. Overlooking the town of Mtskheta, on the hilltop, right by the confluence of Mtkvari and Aragvi rivers, stands a sixth-century monastery which is also a UNESCO World Heritage Site.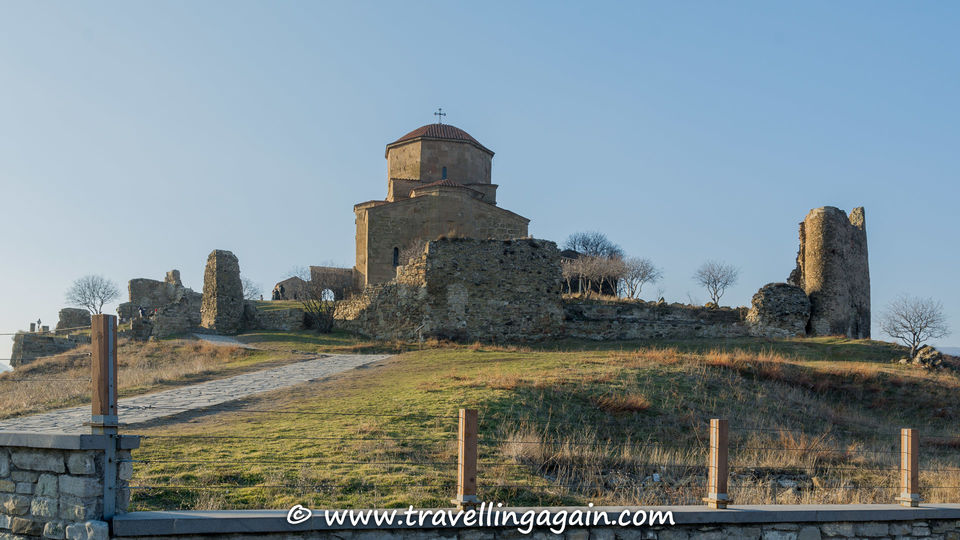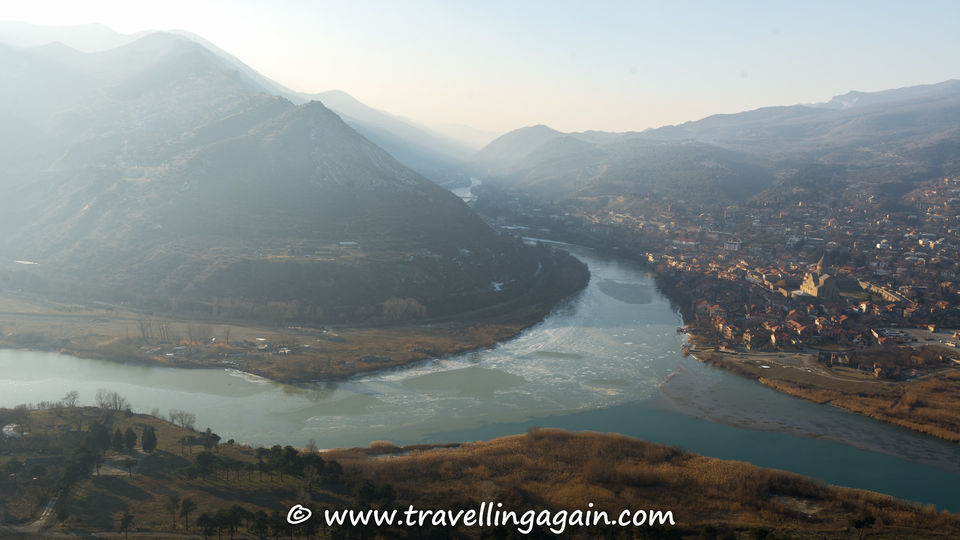 The legends say Jvari served as a prominent pilgrimage site for the people of Caucasus region and was believed to possess miraculous powers. The view of the town of Mtskheta lying right behind the confluence of rivers is just majestic from the monastery.
3) GORI & UPLISTSIKHE
Gori, the birthplace of Soviet dictator Joseph Stalin and the capital of Shida Kartli region in Georgia, lies in such a strategic location on the Georgian highway, that when in 2008 Russia took control over Gori, the Georgian president said the country was sliced in two. It also happens to be the last major town close to the pro-Russian separatist region of South Ossetia.
Walk or drive around the town. Gori offers a sneak peek into the Soviet era's bland architecture, which definitely is a complete contrast to what you might have experienced in Tbilisi and Mtskheta. Going through the town will surely take you back in time by at least a decade.
All the residents had to abandon the city for a few weeks during the Russian-Georgian war of 2008 when the Georgian troops retracted from the city to address the greater interest of protecting Tbilisi. The city suffered massive damages of life and material.
Visit Gori Fortress and the Museum of Stalin. These two are probably the only two touristic attraction within the town. We skipped both of them, but if you're into history, you might be fascinated to know more about the person who was responsible for the death of 20 million people during his rule and also pulled the trigger to push start the Korean War, Joseph Stalin. He was born and went to school in Gori.
Visit the cave city of Uplistsikhe – an ancient rock town lying at a distance of approximately 10 Km from Gori. This uniquely designed fascinating structure was founded in the late Bronze age and was a place of immense religious importance until the time when worshipping the sun was the only religion. It gradually started to lose its religious importance with the incumbent Christianity. It is divided into various levels and is located on the banks of Mtkvari river.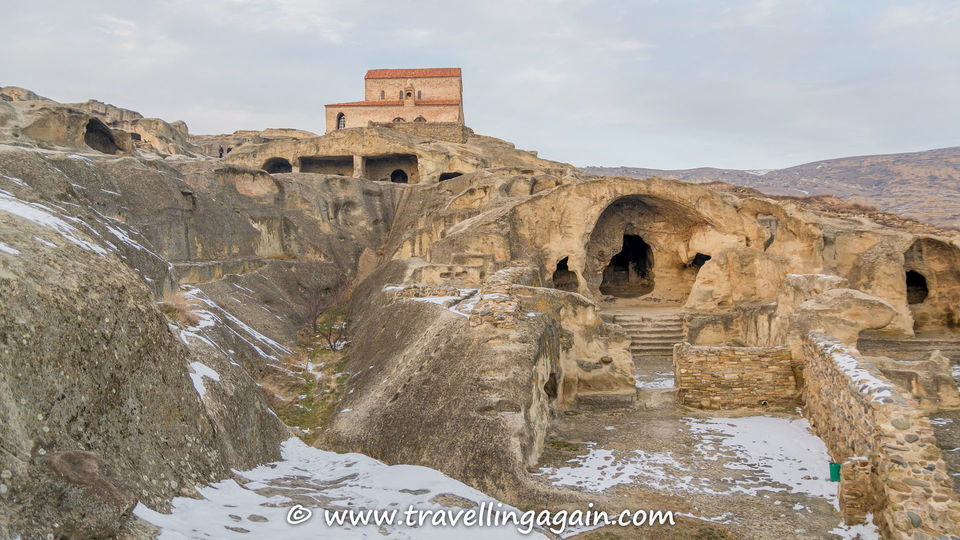 Experience immense peace while witnessing the sunset behind the distant Caucasus mountain range with the river still in sight from the highest level of this monastery.
Party at the Sports Café and eat at Chinebuli – While sports café is a cheap and basic place to enjoy your food and drinks, Chinebuli is more classy. The two storey Sports Café was visibly the local favourite with the upper level available for private events. I tried my first ever Khachapuri Acharuli at the Sports Bar, and it was so enormous and heavy, I could not finish it. My friend Amit tried his first ever Chacha here as well and could only finish that strong alcohol only with some real effort.
Sleep at Guest House Panorama. While I highly recommend staying with Nino and her lovely sister Sofie, there are a few other ultra-affordable choices of stay apart from Panorama.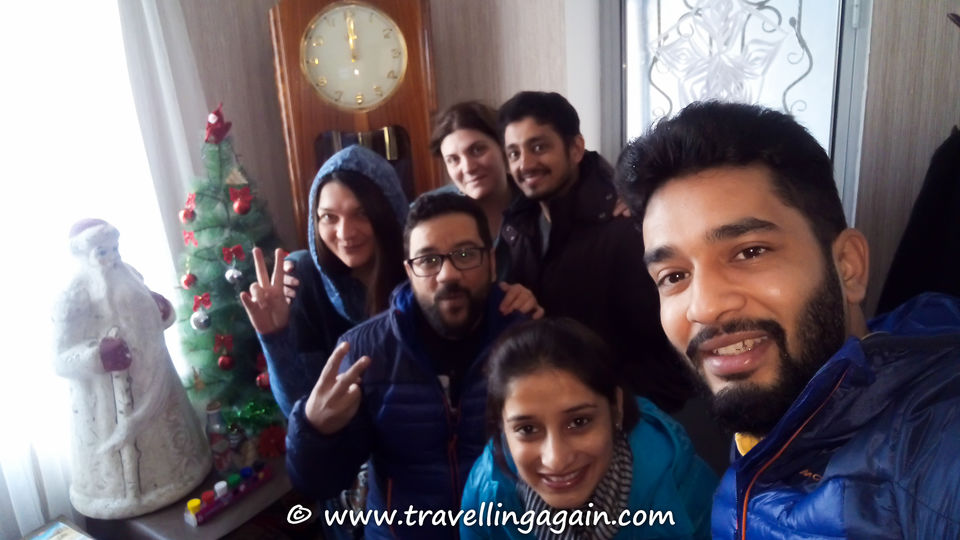 However, our beautiful experience in Gori could not have been the same without our awesome hosts, and the night we all spent drinking and singing.
4) BORJOMI & BAKURIANI
Did you know the biggest export of Georgia is the natural mineral water coming from this town of Borjomi located in central Georgia! Flowing through the Borjomi Gorge, this water is believed to have curative powers. Borjomi also happens to be a resort town famous for having a huge amusement park which ends in natural hot water pools and the Borjomi Kharagauli National Park.
Visit the Central Park. The city park starts with an amusement section and a 2 km walk further through the park leads you to the natural hot water pools. Near the entrance is a cable car that takes you up to the hilltop for fantastic views of Borjomi. During the winters, renting an open snow tuk-tuk for 60 Lari, to reach the top is even more adventurous. With mesmerising views throughout the route and from the top, the ride is worth every penny.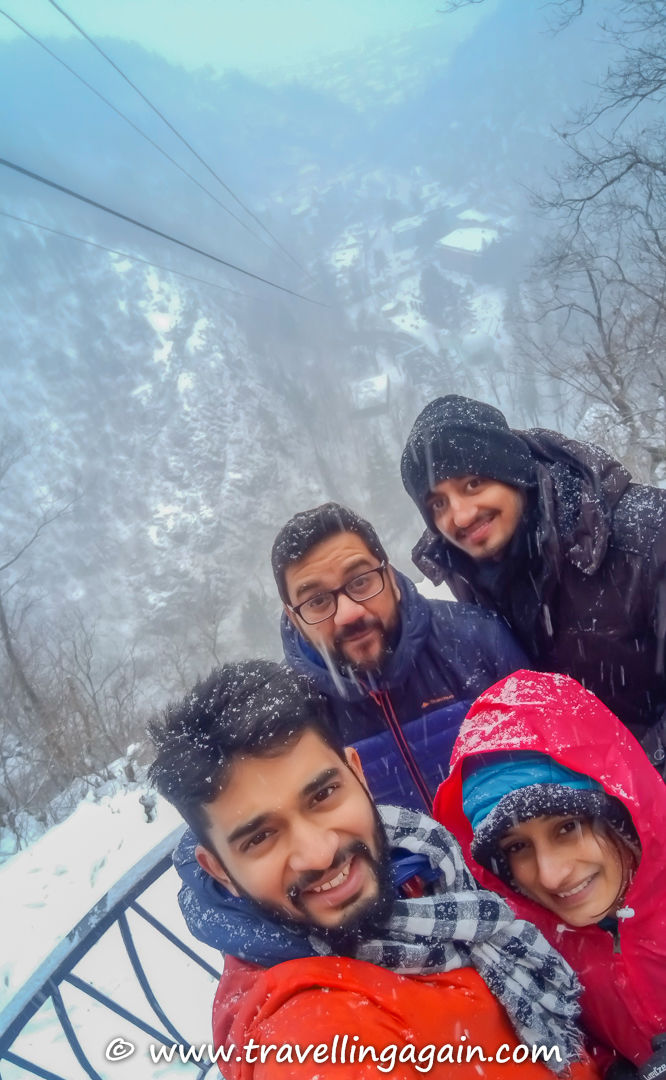 Inside the park, a few yard from the entrance is the dome shaped shelter where you can top your bottle up with the world famous natural mineral water for free.
It was snowing heavily when we visited the park and the views were serene.
Hike through the Borjomi – Kharagauli National Park. The biggest national park in Georgia is free to access with a permit from the administrative office. Cheap but basic cabins are available for rent inside, but you need to carry some supplies and camping gear if you wish to spend a night inside the park. A map with routes and cabin locations is also available at the front office. A significant portion of the park lies within the Borjomi Gorge which is also the source of Borjomi water.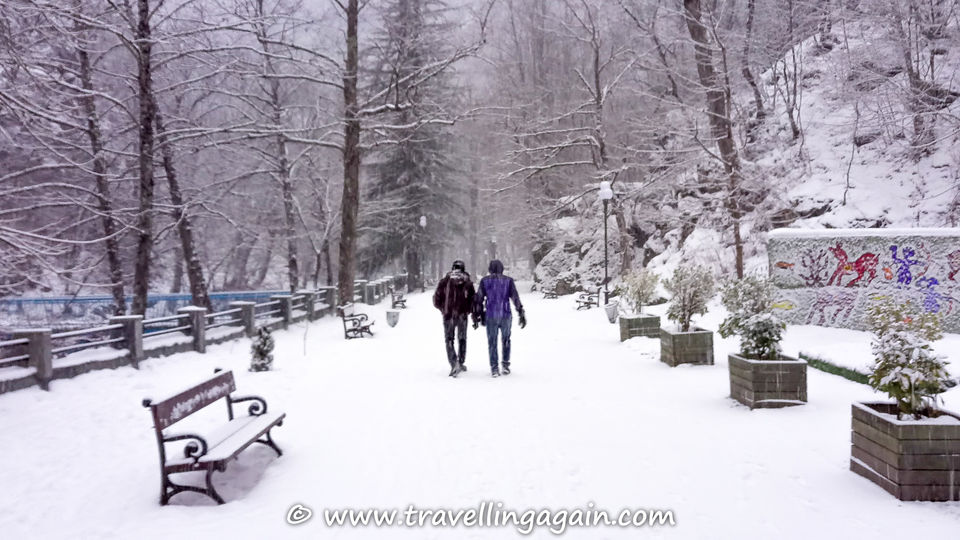 Party at Restaurant Metropoli and Eat at Café Tourist. Metropoli is situated right next to the railway station and offers a huge variety of Georgian dishes along with a few international ones. Café Tourist, on the other hand, is run by an old Georgian couple and offers traditional Georgian food only. The setting inside this tiny café feels cosy with old wooden furniture, a 21-inch, 15-year-old colour television, thick curtains and the walls decorated with the couple's pictures and currencies from all over the world.
Metropoli was suggested by our Airbnb host, and fortunately, it happens to be the place where we realised that our talent of being able to dance to Jimmy Jimmy and Disco Dancer could make us the star guests. We were observing a group of locals celebrating a birthday while consuming our well-deserved pizza with a glass of Georgian wine after a long day, without realising that we were about to be invited to the party. We danced like crazy with the Georgians to the Indian and Georgian tunes while somehow managing to gulp the glass of wine each one of them was bringing to us in our honour ????
The story doesn't end here. On the way to our apartment, we met a few Georgian gentlemen who invited us for another round of drink, singing and dancing on the road. We proudly sang 'Mera Joota Hai Japani' while the men moved to our tune. We were invited then to their home for some snacks and were gifted a big jar of homemade wine.
A legend of a night!
Bakuriani is a ski resort some 30 km from Borjomi and one of the most touristy places during the winters. Apart from the ski attraction, Bakuriani is also a photographers paradise. The clouds hover very low while the mountains hold the background, the whitewashed land and the picturesque homes add vibrancy to what looks like a painters dream.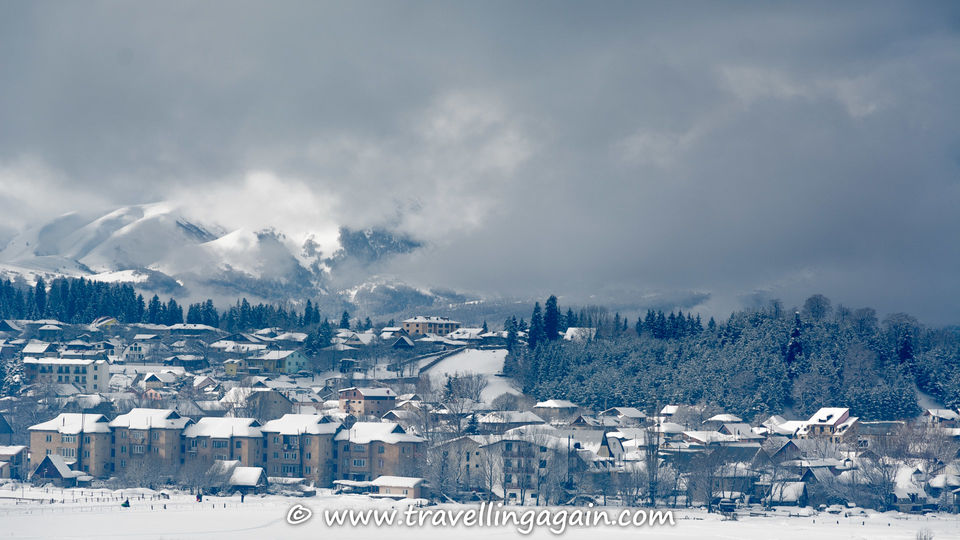 Take a Ski lesson at Didveli Slope. Bakuriani has ski slopes for both beginners and professionals. Renting the gear is easy as the vendors have facilities right at the entrance to the cable car, which takes you to the slope. A beginner also has the facility of hiring a trainer for the first ever ski lesson of his or her life. Beginners get off at the first stop of the cable car, and the professionals go further at higher altitude. A café is located on the first level to feed you with the necessary dose of caffeine.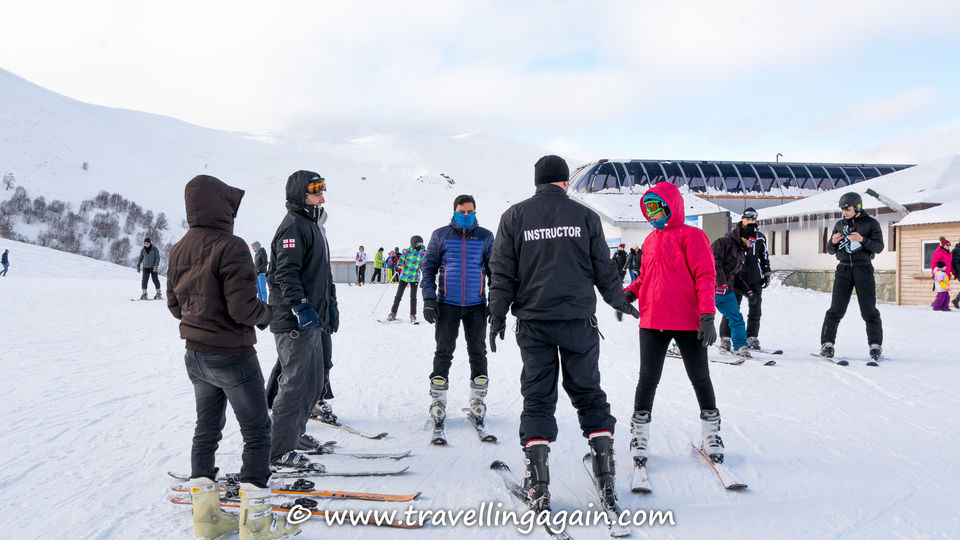 Enjoy a sheesha at the Sky Bar 1700. Our search for a nice pub that evening ended at a sheesha bar which was also our only sheesha experience in Georgia. The people running the bar are a few friendly Russians, and they have a vast collection of sheesha flavours to make a choice. The food was delicious, and the music was excellent. The quality and the prices were both higher than the Georgian average.
Eat at Café Mimino. One of those touristy cafés in a touristy place. Decent food, Khinkali wooden interior and a fireplace to keep yourself warm.
5) KUTAISI
Kutaisi is the new legislative capital of Georgia after the Parliament was shifted here from Tbilisi in 2012 and also the third most populated town in the country. The Soviet-era architecture mixes a strong Soviet vibe in the air, giving decades old feel to everything. Modernization has been seemingly ditching Kutaisi forever, and that is the high point of being in the area. Ancient and rugged infrastructure with even older looking lifestyle. However, Kutaisi's most modern building, The Parliament of Georgia, stands out from the crowd in the form of an oval glass dome.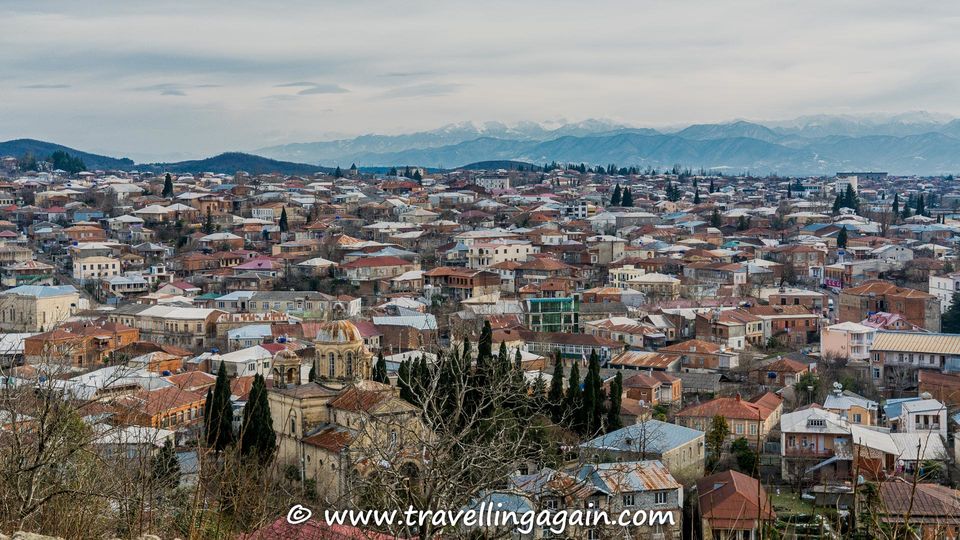 The low-cost carriers fly from the Kutaisi airport to connect Georgia to most of Europe. So if you're coming from or heading out to any part of Europe, the chances are you will cross this town for sure.
Visit the Bagrati Cathedral. This 11th-century cathedral has been restored a number of times to its current state. It is situated on the top of a hill and is distinctively visible from many parts of the town. A UNESCO world heritage site, Bagrati Cathedral has been declining in religious importance but is a major tourist attraction in Kutaisi.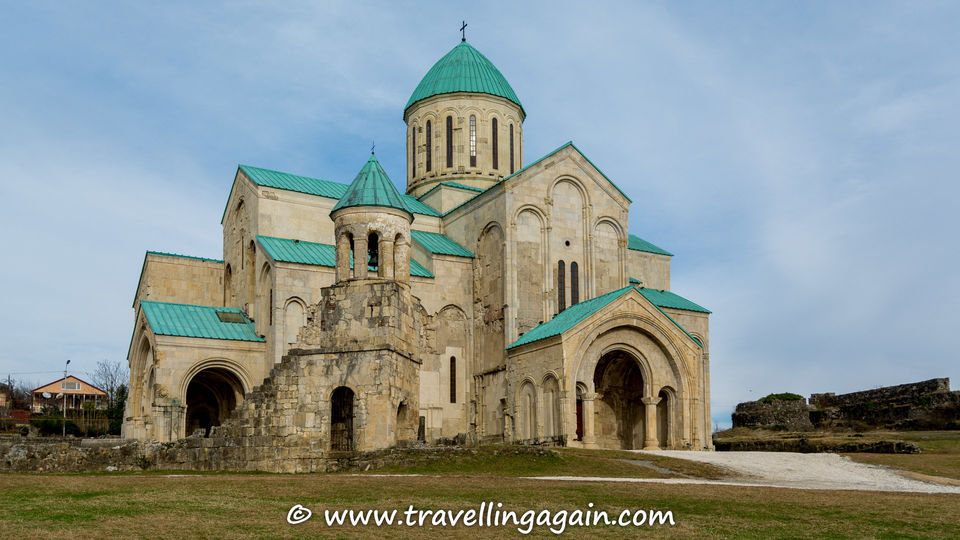 We started our day with a small uphill walk to the cathedral to only surprise ourselves, with the views of the Caucasus mountain range overlooking the town, so mesmerising that they would definitely be the reason I would go to this place if I am ever in Kutaisi again.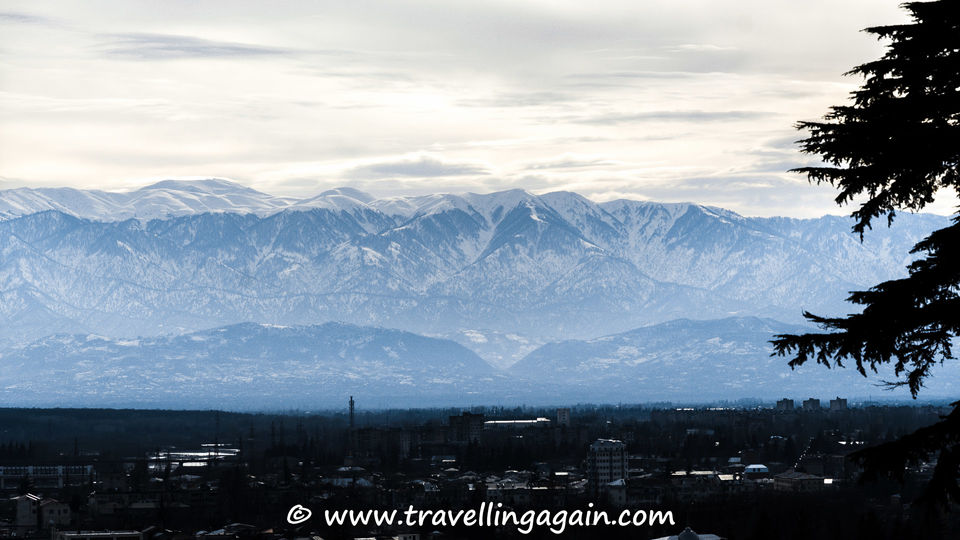 Visit the Prometheus Caves. Discovered accidentally by a group of students in 1984, this natural wonder is the biggest cave in Georgia. Only 10% of the area is open to tourists, and it still takes more than an hour to complete the tour. Our guide informed us that the formation is supposedly 5000 years old and is a result of the river gradually penetrating the base of the mountain.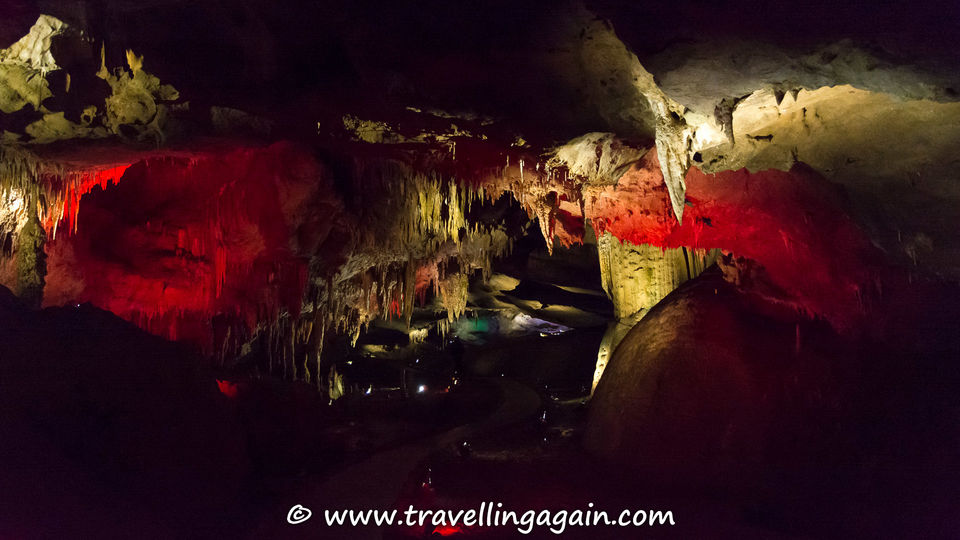 It's mind-boggling scale, and the fantastic views of stalactites, stalagmites, an underground river, lake and tiny waterfalls bring the child inside you back to life. A highly rated experience for sure!
Enjoy live music and delicious food at Café Palaty. This place deserves a thumbs up for the high quality and vast variety of food it serves, the choices of drinks (especially their cocktails) they have, their super friendly staff and the amazing local musicians they invite to play music. The place is full even on the most chilly evening in Kutaisi. Not the one to be missed.
Sleep at the super cheap Star Hostel. Without any intent of exaggerating how cheap this place is, I would like to share that we rented a bunk bed for Rs 250 (USD 3.5) per night. Of course, the shared bathrooms were small and not shining, but they still were upmarket for the prices. The location is central with public parking space easy to find, and the beds were comfy. Complete value for money.
6) BATUMI
The sheer pleasure of enjoying gazing at the smoke rising from a sailing ship in the black sea, with the mountains holding its back, from the coast of a beautiful town can only be experienced in reality. The description and this picture can only give you an insight.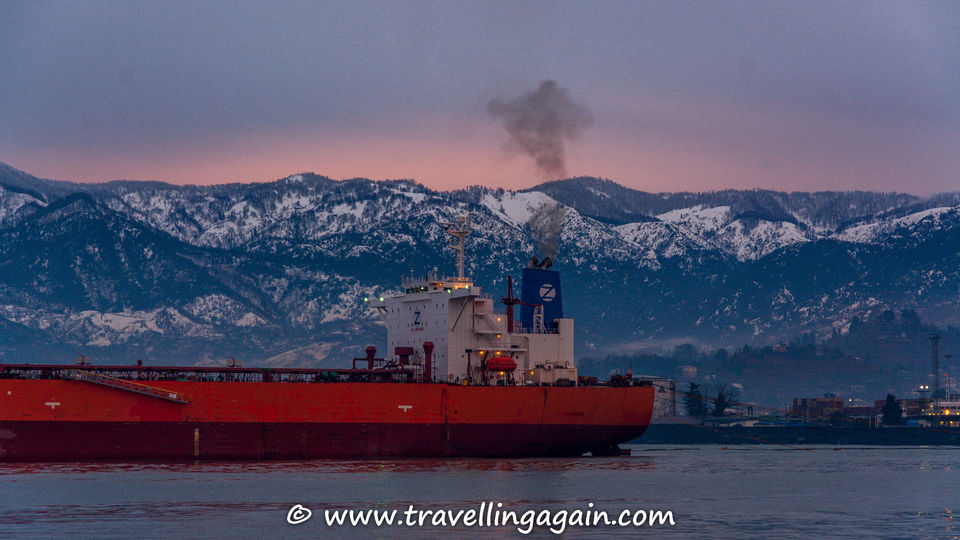 Batumi is the most contemporary town regarding architecture in Georgia. It also has the country's only port. Culturally I found it entirely different from the capital Tbilisi. A local guy I met through Couchsurfing told me that Adjarians (Adjara is the state Batumi lies in) are more conservative than the rest of Georgians. The girls in the region are still expected to remain virgin until marriage; religious freedom is way less than in Tbilisi, etc. Although I am no advocate to these assumptions and I enjoyed my time thoroughly in Batumi, I personally found the local community more closed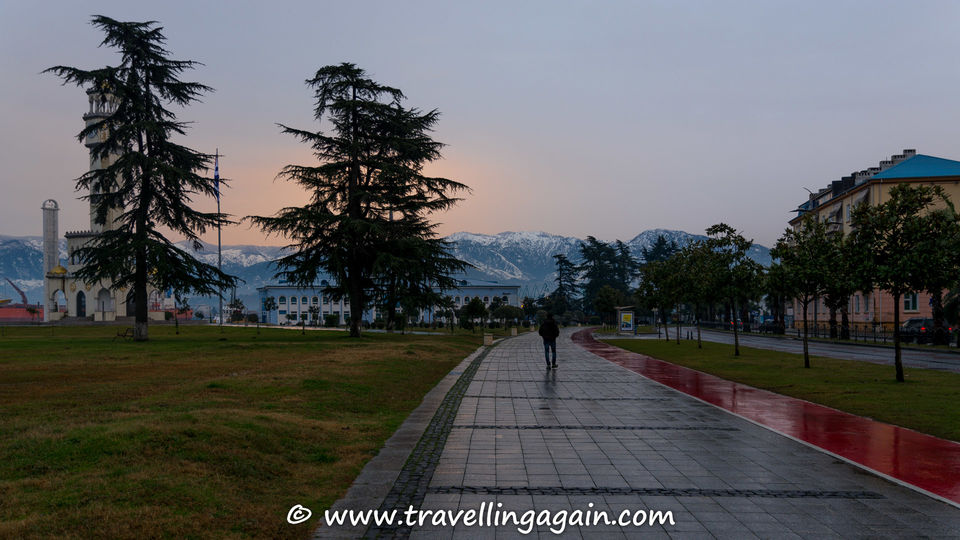 Spend time walking around the Square of Europe and Piazza Square. Most of the life in Batumi is happening around these two centrally located commercial but gorgeous squares. Spending a few hours doing nothing but trying to absorb all the beauty is easy.
Explore the Batumi Boulevard. The most impressive structures in the entire city are located on this walk. The Alphabet Tower, the Panoramic Wheel, the Statue of Ali and Nino, the Dancing Fountain and the Black Sea beach all fall in a line and spread like dots meant to be connected.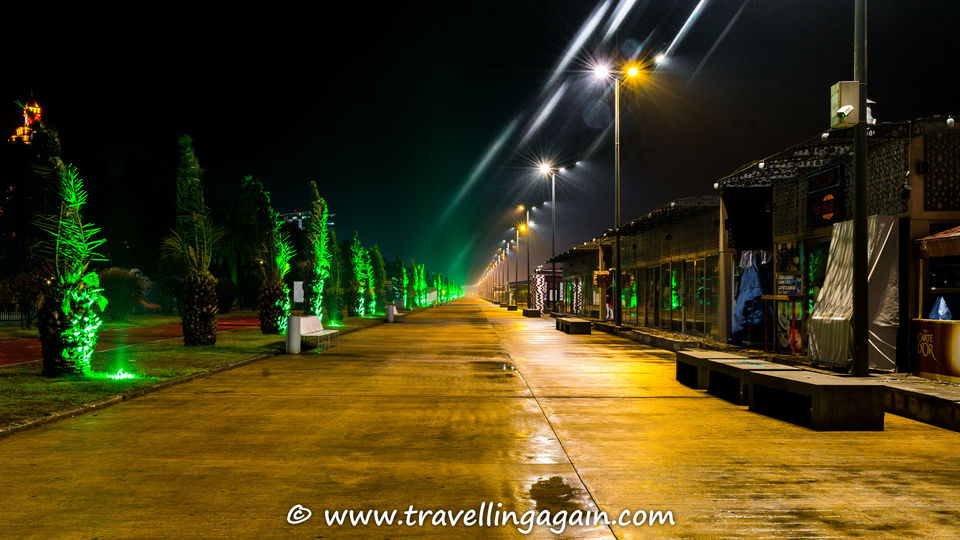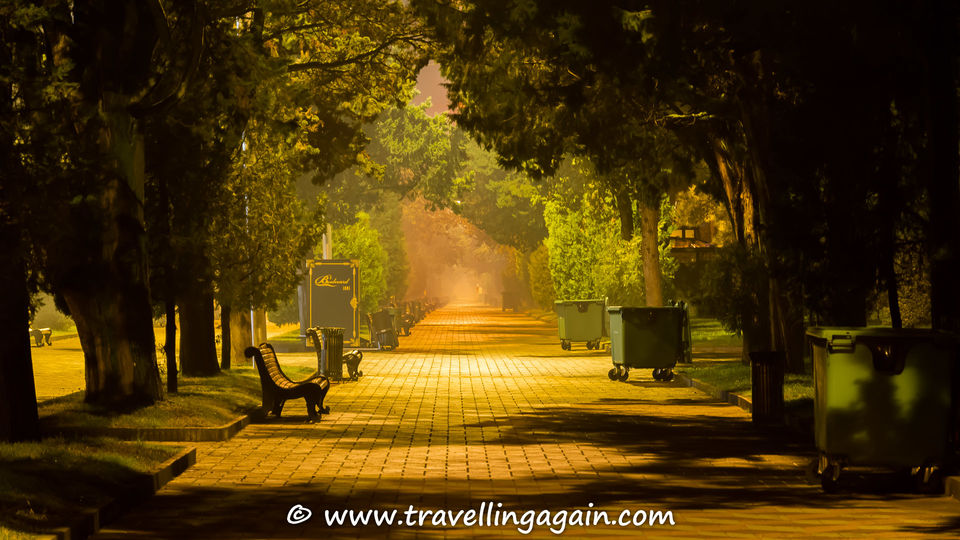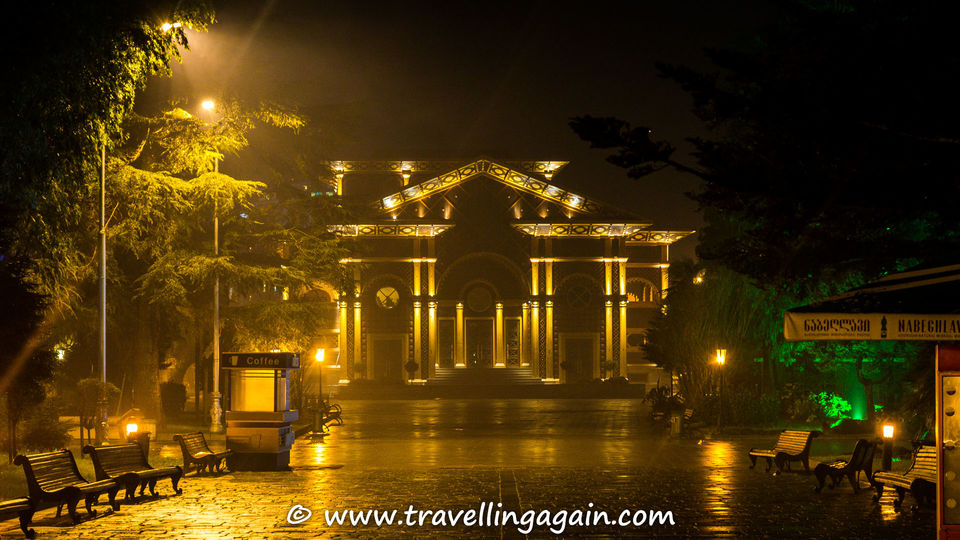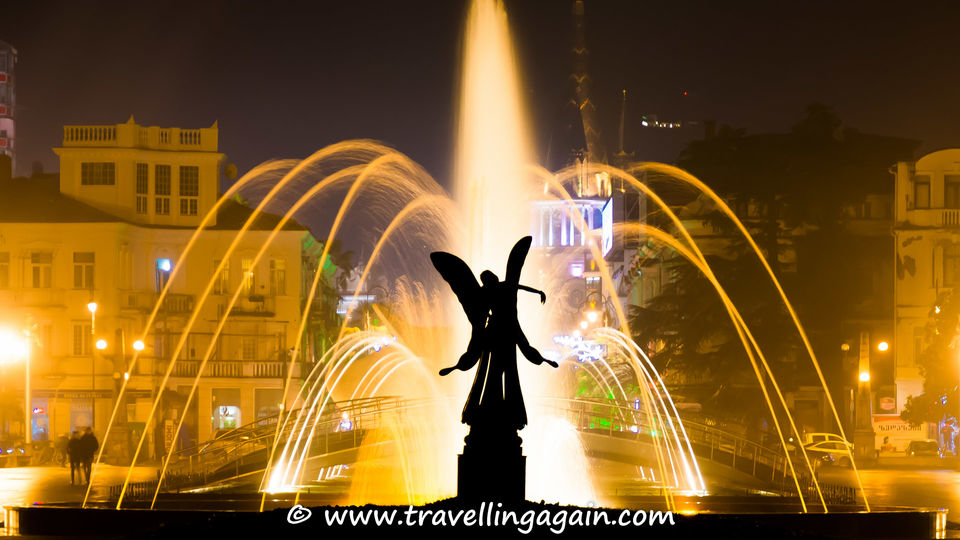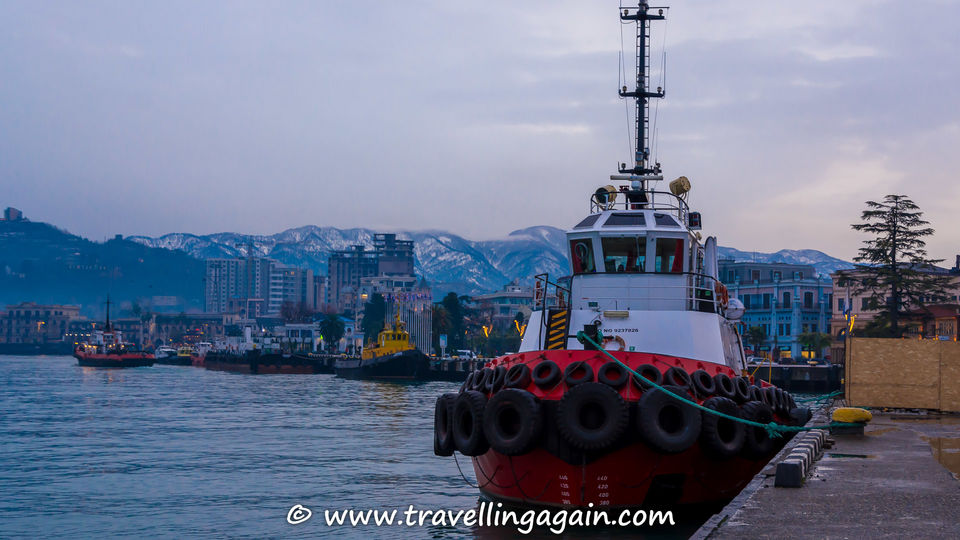 The infectious views of the sea, mountains, modern architecture, beautiful tree plantations, etc. make the boulevard my favourite part of the city.
Ride the Argo cable car and visit the Batumi Botanical Garden. Although I did not experience these either, I have heard only good reviews of them. Batumi looks amazing from the Anuria mountain, many people told me, especially during and after the sunset. The cable car takes you to the top to witness this view and make the whole experience a bit more fun.
Go casino hopping. Vegas of Georgia is another way to describe Batumi. Its proximity to Turkey where gambling is illegal has turned Batumi a casino heaven. However, since I am not a big fan of casinos, I decided to skip this experience. You might just want to check it out though. Expect a lot of Turkish people inside.
Eat at Shemoikhede Genatsvale Restaurant and do not eat at Munich. Shemoikhede is a local favourite place to have traditional Georgian food for good prices. Our Couchsurfing friend, after a walk through the town, took us here for lunch and we loved it.
Munich, on the other hand, is not a place for backpackers. With its classy and upscale interiors and international menu, it is more of a sophisticated place, and the prices exceeded our expectations.
Drink at Home Made Bar and ChaCha Time. We are so thankful to the lovely owners of the Home Made Bar to allow us to have a few drinks and even play our music on their system, just when they were about to close. They were our last hope that night as everything else closed, and we're glad we decided to take our chances with them.
ChaCha Time is another famous place to socialise in Batumi. Unfortunately, we could not make it inside as it just closed when we reached, it is highly recommended and definitely worth a visit.
Nightlife in Batumi during the winters is completely non-existent. Only a few clubs are open, but they are more of prostitution hubs. During the summers the scene is entirely different though with more places on the choice card to choose from.
Stay at the Batumi Surf Hostel. Located in the heart of the city, Batumi Surf Hostel proved to be a gem with the very reasonable prices they offer. We got an even better deal when we booked online through booking.com. They have a fully equipped kitchen, super spacious lobby, comfortable beds and clean bathrooms. My friends were pushing me for renting a private apartment through Airbnb, but I insisted. My trip my rules I said!
And thankfully we met these Turkish travellers at the hostel and spent a crazy night drinking a large cocktail and playing stupid games. Some substance to bully my friends again when they demand a private apartment!
7) KAZBEGI & GUDAURI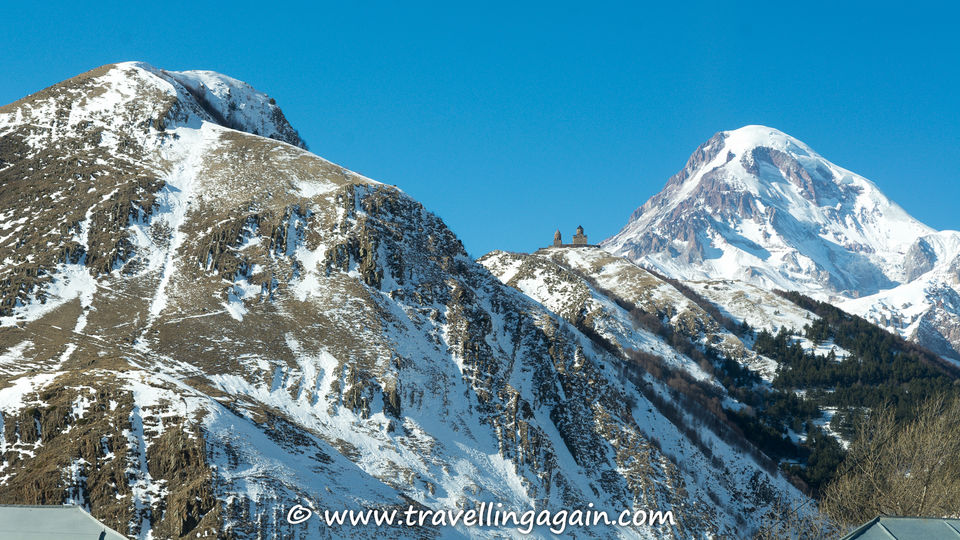 No trip through Georgia is complete driving an SUV on the Georgian Military Highway to reach Kazbegi or Stepantsminda, the last town in Georgia on the Russian border and then hiking up to the Stepantsminda Sameba (which means Church) to capture fantastic views of Mount Kazbek, the highest peak in Georgia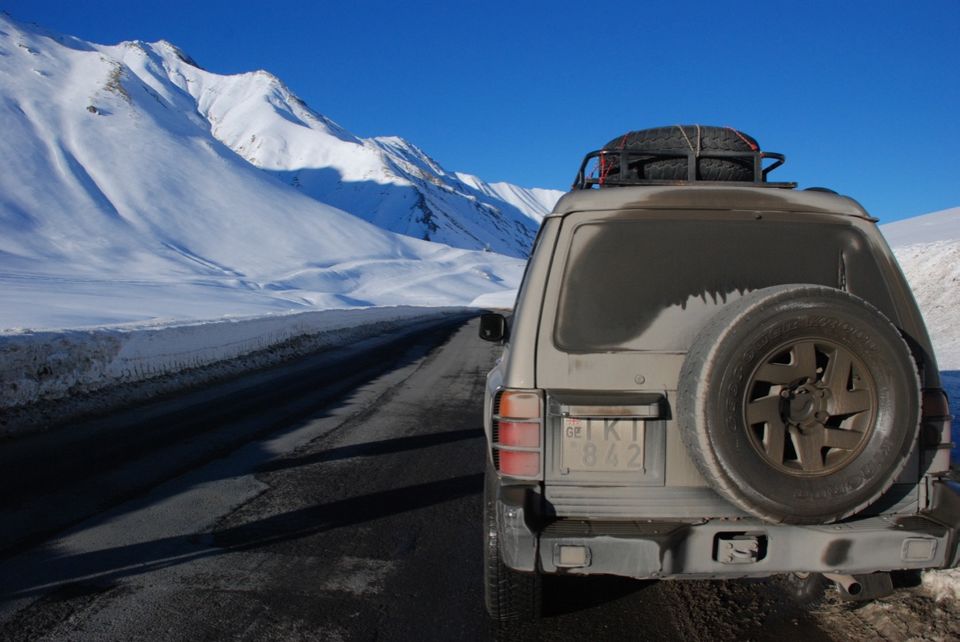 The vistas were the best we experienced while on the road and driving in the snow was sheer fun. Until Gudauri the slopes are steep but all white, once you cross Gaudauri, you drive between walls of snow.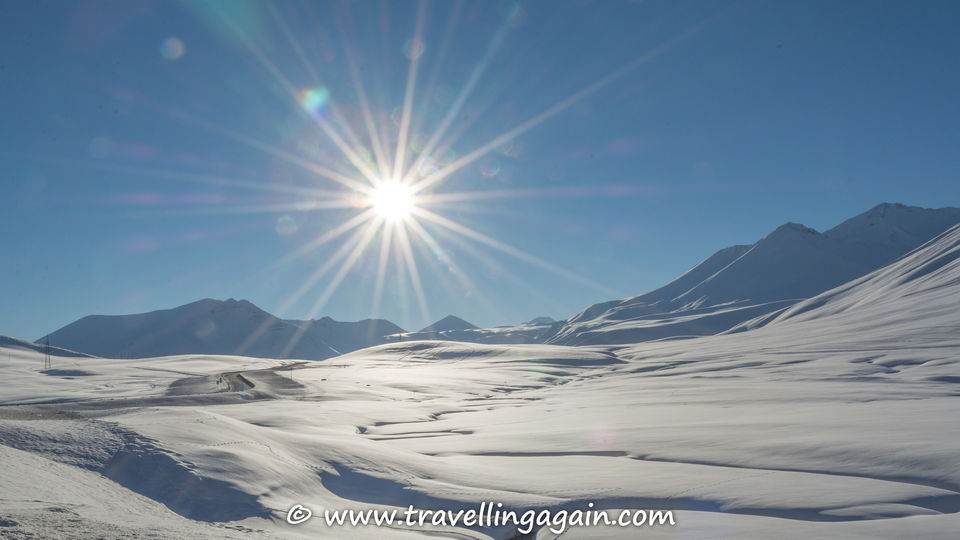 To absorb all the beauty seems impossible and the state of euphoria prevails all throughout.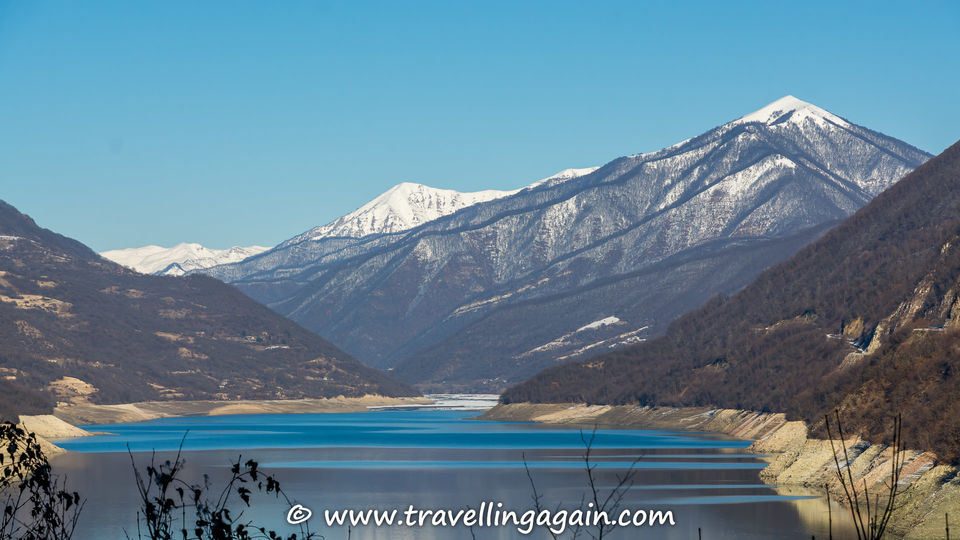 Hike up to the Stepantsminda Sameba. I would call this a hike to heaven, especially in winters when the vehicles cannot go further than the town, and there are no tourists. One always comes across this dreamy picture of a church located at the feet of a humongous mountain, when looking for Georgia online. That picture was clicked here.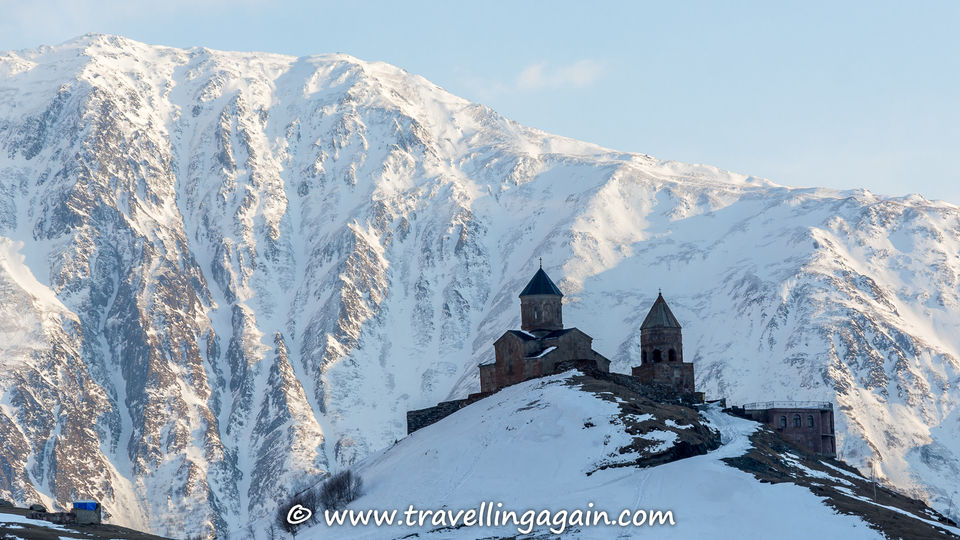 The view of the valley when you reach a bit higher is fantastic too.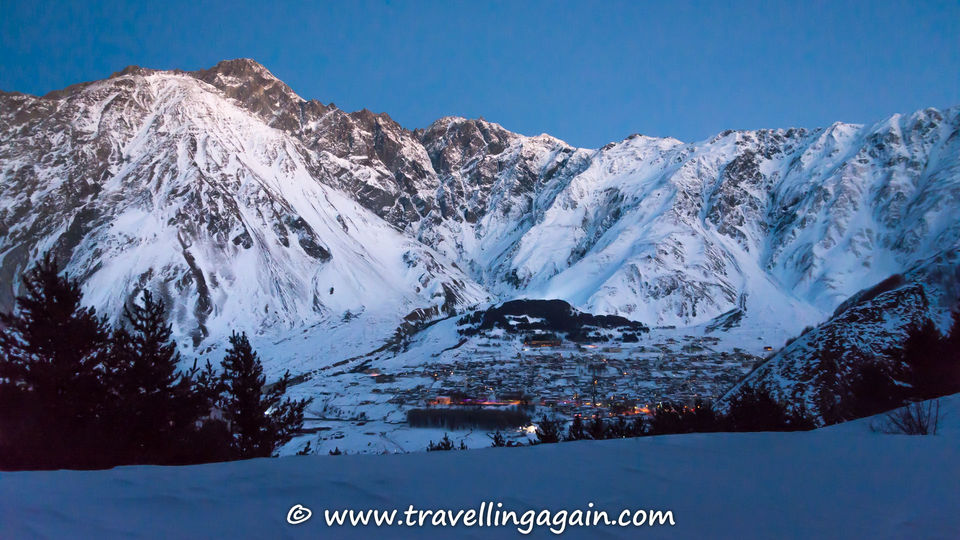 This 3 km hike takes about 3 hours each side. Although you walk only on snow laden paths, the difficulty level remains average. Waterproof hiking shoes and a down jacket which supports temperatures up to -10 degrees are essential in winters. Carry some food, water and alcohol (definitely to keep the body warm) to make the most of your time; you would not find anything at the top. Ensure that you have an internet connection, a GPS enabled phone or a physical map. It is easy to get lost if it gets dark while returning.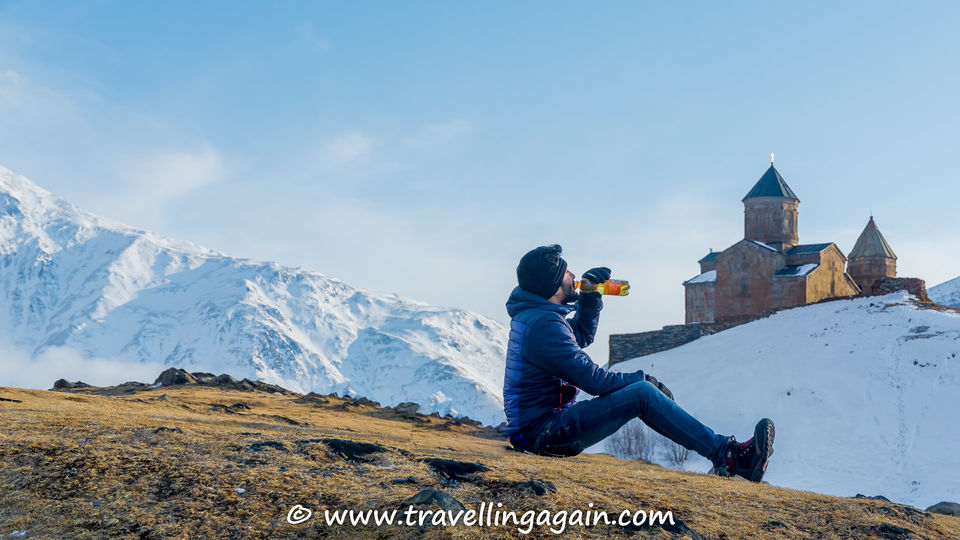 I made two attempts to reach the top. The first was a disaster but so adventurous at the same time. I started late afternoon and had to return midway because it got dark and scary. I lost my way and had to slide a slope when I landed in a dead end. The route was hardly visible, and the only option left was following the town lights.
The second was successful, fulfilling and one heck of an adventure as well but in the right way.
Sleep at Guest House Panorama. If you read about my stay in Gori and remember the hosts from Airbnb, you also need to know that Nino has got a guest house in Kazbegi too. We could never get enough of staying with Nino! This time we met her husband and her super cute daughter Tamara. Without stressing on their amazing hospitality, I would like to share that it was Tamara that stole our hearts this time.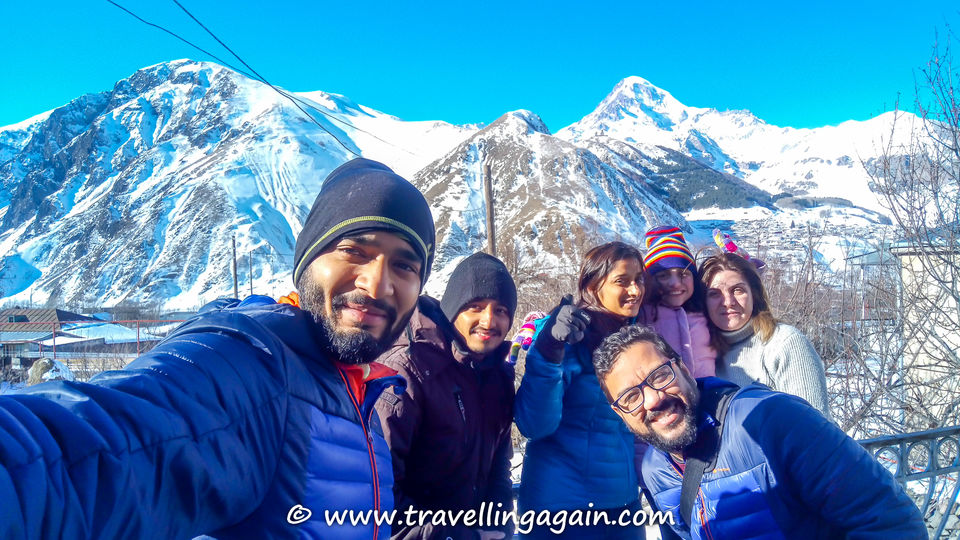 This view of Mount Kazbek and Stepantsminda Sameba with the starry sky in the background is simply out of this world and was clicked from the gallery of Nino's guest house.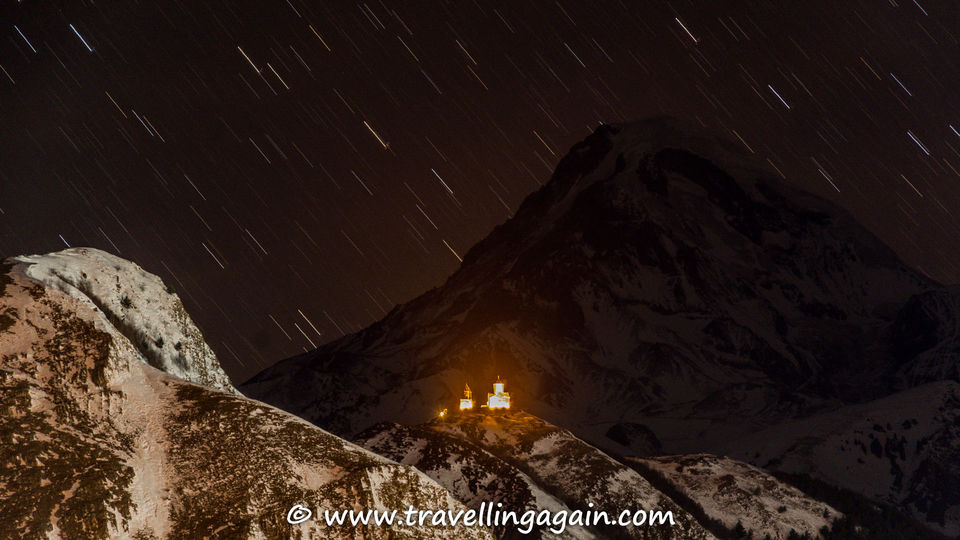 Eat at Café Mari and Shorena's Hotel and Bar. Only a handful of cafes and restaurants are open in winters. Café Mari is located on the second floor of the building right opposite to the city bus station and serves traditional Georgian and a few international dishes. The food is excellent and cheap, the café is cosy, and I met many travellers everytime I went there.
Shorena's is the second option if you're fed up of eating at Mari. The food was nice, and they had some music too, but the owner of the place who happens to be a lady was shouting loudly on most of her workers. A good possibility that she had a bad day, but nonetheless that made my experience average.
Enjoy the panoramic view of the Caucasus while sipping your coffee at Rooms Hotel, Kazbegi. This vista is worth a thousand dollars. I had no intentions of walking up to the Rooms Hotel, as it is located uphill where the town ends, but the amazing pictures I always saw on Instagram made me do so, and gladly it was completely worth the pain. There is a beautiful outside sitting facility where you can order your drink and spend a few hours just staring at the moody clouds hovering over the mighty Caucasus.

Ski or Paraglide at Gudauri. The slopes at Gudauri are steeper, making it the optimal choice for trained skiers and snowboarders. Tandem paragliding is, however, possible for everyone. If you are not into any of them, Gudauri also has those jaw-dropping views of the mighty Caucasus for you to cherish.
THE WISHLIST
Even after spending a month in Georgia, I still feel I need to go back again one day. A few plans couldn't be accomplished because my time was up and some new information always kept popping up, which I could never find in guidebooks, as I met more and more locals during my stay.
- Visiting Ushguli, the highest continuously inhabited village in Europe. When I began planning my trip, visiting this village was on the top pf my list. The things I've heard and the pictures that I saw from Ushguli were spellbinding. I knew it would be difficult in winters because of the subfreezing climatic conditions and limited transport facilities, but I still wanted to give it a try. I decided I will go and talk to a few locals on how the dream can be accomplished. As expected everyone informed me that visiting Svaneti (the region Ushguli lies in) and Mestia (another beautiful region in Upper Caucasus) isn't a good idea in winters andI took their advice to drop my plan.
To reach Ushguli by road you need to take a bus from Zugdidi.
A couple days before my departure I met a Georgian girl who informed me that low-cost local carriers operate between Tbilisi and Mestia twice every week from each place. This information made me sad and happy at the same time as it was a great piece of data but my chances to benefit from it were zero.
The online booking facility is not yet available, and you will have to reach out the tourist centre to assist you with the same. The prices are low and cost only 50-60 Lari each way.
Ushguli will be the biggest reason I will go back to Georgia one day.
- Visiting the Rabati Castle in Akhaltsikhe and the Vardzia Monastery. Although I already knew about both of these places, the time wasn't just enough to visit them in a relaxed way. The Rabati Castle has been restored significantly by Georgian government which spending a lot of money to bring it back to life. Vardzia, on the other hand, is a cave city close to Akhaltsikhe known for its fantastic views, huge scale and rich history.
- Taking an intensive wine tour through Kakheti. This is the region where most of the wine coming from Georgia is produced. The main city in the area is Telavi, and all the major wineries have their offices here. Me being a big fan of Georgian wine and the variety they have, Kakheti comes as a natural choice, but my curiosity to visit the area was just multiplied when I came to know that some of the wineries are so protective of their recipe that no visitor is allowed even in the vineyards. The romantic setting of the town of Telavi is the icing on the cake.
- Travelling through Georgia in summers ( June-August) to witness all the colours. Most of the western travellers visit Georgia in summers. They say it is so colourful and vibrant. And though winters for an Indian is more exciting than for a westerner, to witness the colours and the numerous possibilities of hiking and camping definitely make Georgia a great destination for visiting in summers as well. The topography is so varied in this small country that I'm sure I'd be left awestruck again but in a different way.
- Hiking and camping for a day or two in Borjomi National Park. While we were hanging out in the Borjomi City Park amidst the snowfall, I saw a lot of people returning towards the town with the backpack and other gear. Only later I came to know that the whole national park is open for camping and it takes a day or two to cover it decently. There are basic cabins inside the park available for rent, and it should be a good experience to go back to stay in the wild next time.
THE GREAT GEORGIAN ADVENTURE
NEXT TRIP -> ESTONIA, LATVIA & LITHUANIA OR THE PHILIPPINES in Oct 2017. Come travel with me for a trip of a lifetime :)