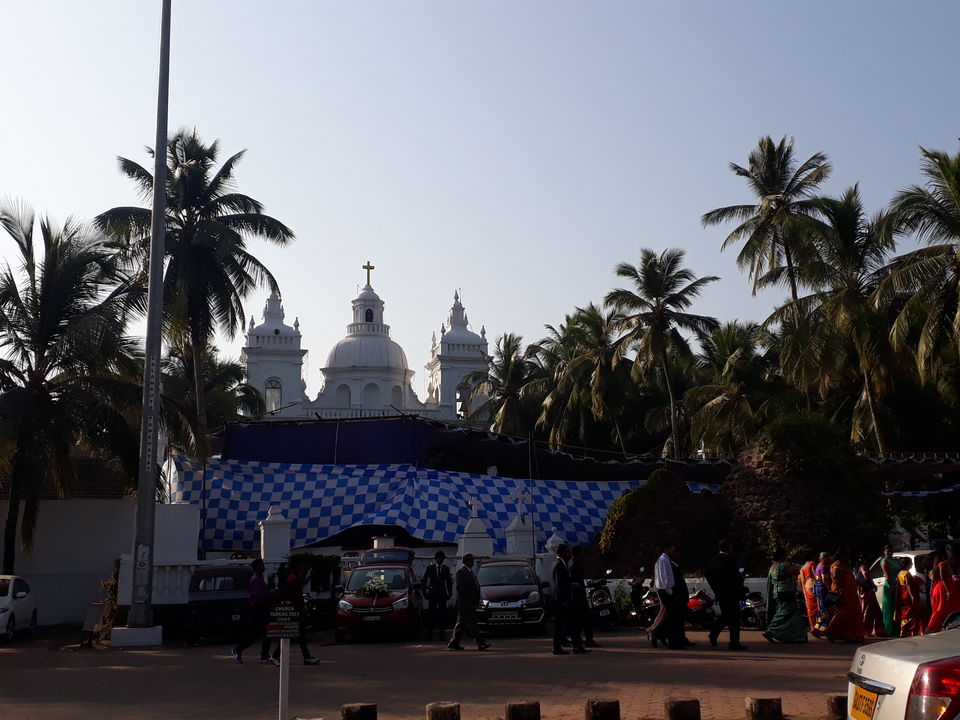 New in Goa is more of a dream and top in the bucket list for everyone.
Its one of the deadliest combination i would say , We were so much under confusion that where to go on New year that i had cancelled my leaves and went office .
Goa remained the happiest place through out the year but at the time of New Year Goa becomes the land of few of the craziest parties....
Its undoubtedly true that Goa beat other cities when it comes to party specially on New Year Eve.
By the time i was ending my day i got a call from one of my friends that the tickets for Goa has been booked please pack your bags in the evening as we had an early morning flight .
i only had the evening to make a list what all places to be visited and what all to be packed . i was so excited to see the Hippie's paradise how it looks in new year time.
There was some magic in the air , The smile from my face was just not going. I was counting the life in every breath i was taking , i was in love with the greenery / air / weather and the best past my company of people which was amazing.
I read this in one of the novel's and this quotation was coming in my mind again and again ..
it's not the years in your life that count, Its the life in your years.!
so Follow Your Dreams,Be Happy.
So we hired scooty for 700 INR per day which was cheapest and the best vehicle to roam around in Goa .
We freshen up and headed towards:
Calangute Beach Hotels :
Aledia the senorita hotel was in such a pleasing location that everything was within he vicinity calangut was about 4 KM from there . As soon as we sea the water we could not stop our self ... The water was touching my feel as it it was look time we didn't see actually yes ....We felt really good there and had some amazing time . On or way to Baga beach we had some snacks with some chilled beer.
Delhi was 11 Degrees and Goa was 31 Degrees we could not resist ourselves from having a beer .
Baga Beach Hotels
The next stop was Baga beach which was hardly 2 km aways from here . We though to walk bur looking at the less time we had we picked up the scooties and started our drive towards Baga. We set there for some time .
The best part on every beach you can do some or the other waster sports activity we took speed boating and parasailing .. That was the moment when i was like i should stay in he air for some more time and Dive in sea again and again . It was so quite and you can gaze the never ending sea for hours. I felt like i got wings . We paid INR 800 per person and did Water Bike, Banana Ride, Bumper Ride and Parasailing & speed boating.
The next day we had plan for some shopping and near by sight singes like Agoda fort , Fish & Prawns market ...The whole day was given to that activity .
Candolim Beach
In half of the day we headed towards candolim beach to see the sun set & we all fell in love with that place we too a shack and sat there for dinner . The crowd was amazing people had come from across country to celebrate new year in Goa which made me feel so proud that we are part of such sunshine state. We came back at hotel with some amazing memories .
We were not in a rush to see the entire Goa in 4 days time , but we wanted some quality time there.
Va-gator beach :
So today we went to Va-gator beach , The finest difference was there was very less crows there and the sun quite bright. we stayed there for almost half a day enjoyed the water and headed towards .
As the plan was to got to Titos on of the best place in Goa and then Back to hotel .
So that we can take some rest and can come back to the beaches again .
We stuck with the plan and got ready , We started from Baga then Va-gator then candolium and to Calanngute and got to Know why its a dream for people to Visit Goa during New Year ...
Few things would admit and can work as Do's and don't for your guys .
Go for a longer period in Goa , Dont confide yourself in time .
Stay on the beaches enjoy the sunset and amazing Goan food.
Carry your sun scream / hat & Kala chasma :)
Some best places to Eat - Titos , Mum's Kitchen & Martin's corner , The shacks got some amazing stuff as well .
At end would like to say : Life is not the same everyday , I was typing an email when i got the msg " We are Going Goa " & the next day i was there ... It happens to me may this happens to you as well ...
Never loose Hope , GOD has more plan for you ... Gear up and show your smile....