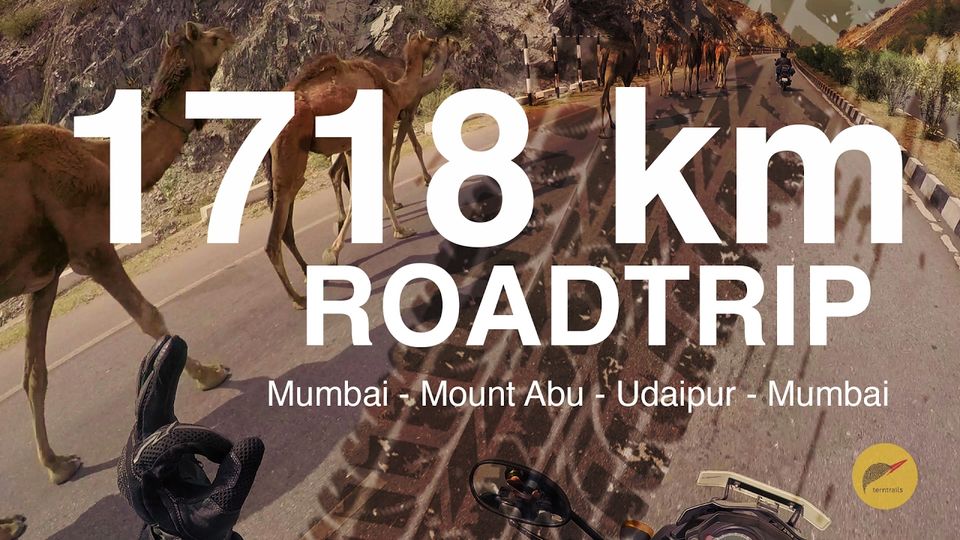 #TripotoTakeMeToHimalayas
Roadtrip from Mumbai to Udaipur via Mount Abu (1718 km) – May 2016
Mumbai – Vadodara – Mount Abu -Udaipur – Bharuch – Mumbai
Restless, as we had not travelled anywhere in a long time, we suddenly decided to go on a bike ride to Udaipur – the Venice of the East! We got our bikes ready. In preparation, we read up on forums and asked the experts what to expect and not. The only thing we heard from all quarters was to avoid riding during the day as it was the peak of summer in India! We were recommended to ride out early morning and get indoors by about 11:00am and start again around 4:00am in the evening as the scorching sun would want to sap every ounce of our energy…
Sallu bhai's (Indian Actor Salman Khan) famous dialogue "Ek baar jo maine commitment kardi, us ke baad toh mein khud ki bhi nahi sunta"(once I've given my commitment, I don't listen to my own self afterward) is just what we did :).
Day 1: We left Mumbai at 4.30am with our destination for the day mapped to Vadodara. NH 48 was a chilly ride and we hoped to cover as much distance as we could before the sun decided to bring out his scorching fangs. We encountered numerous trucks and were actually surprised to see that many vehicles on the highway. Had a couple of pitstops for bio breaks (it's the morning after all).
Our third was at Chikhli (Hotel One 10) around 10:35am when it was already scorching and we had run out of drinking water. There was this really sweet gentleman who noticed that we couldn't stop ourselves from gulping the cold water. He actually went in to the hotel and refilled our bottles again. God bless him. Our next stop was at Palsana at 11:23am and we downed our bottles again! An hour away at Mangrol, we found this restaurant that offered air-conditioning and cold drinks in the "family" section. We stripped ourselves of all riding gear and sipped on "Slice". Our riding gear was lined with sweat and our skin had literally wrinkled from the tight grips of gear strapped to us. We were soon on our way and our lunch break was finally at Karjan! Demolised lunch no sooner than it was placed before us and we were on our way to Vadodara. As we have a lifetime membership with the "Youth Hostels Associations of India" YHAI for short, we had pre-booked our dormitory. The hostel was right on the main road and thanks to Google Maps not updated with the flyover being constructed at that junction; it took us quite a while to finally find it. As soon as we reached the hostel, we had second thoughts of parking our bikes in the parking lot as it was open and didn't seem like it was safe enough – it was next to a common toilet that reeked of urine. Here we were utterly tired and every ounce of energy was sapped and there it was – a Herculean flight of stairs all the way up to the 4th floor – we had this hike that resembled the Everest at that point in time to complete with all our backpacks and riding gear. Huffing and puffing, we made it to the top, finished the signing up formalities and headed straight to our room. Good thing, it had an attached bathroom and toilet. There were other rooms in which people had to use common bathrooms. Got out our chargers for our electronic gadgets and recharged ourselves with a good snooze for a couple of hours. The evening was a little cooler and pleasant but we still chose to keep the windows closed and the air conditioning on. We bought our dinner from a place nearby – tandoori roti's, bhindi subji and dal. Was not that great but we weren't complaining. We really had no energy or inclination left to go explore eateries outside. The very thought of having to walk down and up the flight of stairs again was enough to stop us. That was the end of Day 1.
Day 2: We were up even before the roosters. A quick bath, packed our bags, checked out and left the parking outside the hostel all by 5:30am! We were greeted by a couple of bulls with really (really!) long horns who stalled us for a while and we were on our way to Mount Abu. We took a left from "Royal village" to connect to NE1 . After about 25 minutes of riding, we reached a toll plaza where we asked to take a U turn as this expressway does not allow two wheelers! Just the day when we were hoping to cover good distance and reach soon, we had to make a detour making our trip longer by an hour and a half. Warning – there are no signboards to let you know two wheelers are not allowed. Luckily we weren't fined. We took an alternate route to Mount abu via NH 64. As we approached Kheda bypass just after the toll plaza, we had a pit stop near a highway restroom. It had clean, tiled and well maintained washrooms. A couple of pictures later, we hit the road. Around 9:15am we stopped in a not so long tunnel as Vishal had to retie his backpack. No sooner our tyres starting rolling, we entered Rajasthan and started looking around for a good place to get a solid breakfast. Soon came upon this groovy looking place that looked like a farm house. It had sheesha's around and definitely bore the aftermath from a party the previous evening. We had to wait for a good fifteen minutes before we saw anyone in sight and were told all they served was Sheesha's and that too after 11:00am. No water, nothing to offer for then… It was only 9:45am. The longer we stayed; we would have to compromise on our travel time. We decided to park in the adjacent "inviting green lawn".
We threw ourselves on the ground and stretched out beneath this beautiful red jacaranda tree. Yes, we did get some beautiful shots lying down under its spread and a video of me doing the Bajirao step which ended up looking like I was being electrocuted . We had a couple of cranes that kept us company for the half hour we lazed and soon we were back on the highway…
Numerous pitstops, I lost count of how many litres of water downed to quench our thirsts at every break, and a demanding 8 hours of riding of which the last lap was the ghats, we finally reached Mount Abu! If you grew up in the 90's, Qayamat Se Qayamant Tak (hindi movie) had a scene from this place. We reached our hotel – managed to have an excuse of a bath at least to get rid of the layers of sweat that had been absorbed by our skin. There was a local fair in the ground right next to the hotel where we stayed and the only exploration we did that evening was to watch the lovely bright lights, giant wheels, tora –tora, cup-n-saucers, Titanic boat and all the funfair from the window for not more than 5 minutes. All we remember after this view is that we curled up like prawns on the cot and were knocked out until dark. We dragged ourselves out to an eatery just across the road, had soup for dinner and crawled back to our rooms to call it a night.
Day 3: The next morning, we were ready to explore the place and headed straight to "Nakki lake" by foot – that's the best way to take in the place – walk through streets to taste the character of the destination. Enroute were these road-side stalls selling poha and vada's for breakfast. We decided to eat on our return from the lake. We reached the lake and there was this adorable little girl among a few other kids who came up to us and offered a few roundels of wheat dough in exchange for 20 rupees to feed the fish in the lake. We couldn't resist and give in to her adorableness. We then went on a half hour boat ride that went around the expanse of the loch. It had a little temple in the middle and we saw a water snake too! Satisfied with our experience, we headed back to the room.
On the way back, as decided we had light snacks – poha. Gawd!! Were they yummy!! This was washed down with two glasses of lime juice each and it took us back to our childhood days where we had lime juice during summer holidays. Still hungry on our way back to the hotel we found this interesting cafe which goes by the name 'Chacha Cafe'.
Ate to our hearts content and trust me guys this place serves amazing food because everything we ordered was up to the mark. Rejuvenated with our lunch and much needed relaxation the time was just right to get back on roads. Back in our rooms, we freshened up, packed our bags, checked out and we were ready to head to our final destination – Udaipur !! We crossed the Brahmakumari Shantivan, saw a huge black bull that resembled a bison with really big horns, a few wrong turns here and there, thanks to the android phones in the trip that decided to show directions in the opposite and not function when the bike was in motion. A few minutes of losing each other amidst a maze of huts and a long lost reunion and we were on our way again.
The summer heat was only getting even more sweltering on NH27.. it was as though the universe was only a desert. We were thanking our stars that the sky was getting a little easy on us with a few clouds here and about. Must say the roads were a treat which made us believe that the angels were keeping a watch over us.
Enroute Udaipur from Mount Abu on NH 27
We were just a few kms before our destination when we had a close shave with a vehicle coming from the opposite direction with absolutely no remorse! Little did we know, this was just the beginning. As we got closer to our destination, we started wondering if we were in the midst of a F1/ MotoGP circuit as everyone was in a hurry and scurrying around on their bikes/ cars dashing through the tapering lanes. Finally we arrived at our hotel 'Udaigarh' around 4:00 in the evening. We reached and were wondering if we made a mistake of booking where we did as the approach was more of a stone cobbled street and we had to park our bikes at the side of the already narrow path. It looked like a pigeons hole from outside and when we stepped in, it was a world completely different! We dropped our bags in our spacious room and headed straight to the roof-top restaurant only to discover that this was the same hotel where the bond movie "Octopussy" was shot! Woohoo! We were staying in a "Bond" hotel :). We were just recovering from the mesmerizing beauty of the hotel and it started raining..Voila ! I told you my angels were around keeping a watch:D. We couldn't wait to plunge into the pool that looked nothing less than an infinity pool. It overlooked the Pichola lake making it feel like it overflowed right into it. It was pure bliss and we valued every drop of water that revived our dehydrated skin. Relaxed with a couple of beers and a few laps as we watched the sun set in the horizon, it was all worth every ache and strain each muscle of fibre went through, to get here. We could see a portion of the 'City palace' from the hotel where we stayed and we made a list of places we would visit the next day. It's pretty obvious that we didn't do anything much for rest of the evening except take in the fact that we had finally reached and reel in self content!
Selective rain shower at a distance which later reached us :)
Day 4: We were up and about, demolished the sumptuous complimentary breakfast and were ready for the day. We headed straight to the city palace. Right near the ticket counter was this enterprising middle aged man who we took as our paid guide for the tour. He took us around and sure had a good sense of humour while quoting anecdotes and explaining the heritage and architecture of the palace. Btw, did you know that this was where a sequence of "Yeh Jawani Hai Deewani" was shot?
No visit to the city palace is complete without a boat ride on Lake Pichola to Jag Mandir Island. Psst! apparently a couple of celebrity Bollywood actor's tied the knot here! Except for being a photographers paradise there is not much other to do here. After spending a couple of hours we headed back to the city palace when the next boat came by.
Found this decent looking hotel on our way back where we had a couple of rajasthani thaali's with the customary dal-bati-chorma which had the bati soaking in ghee. We were already pretty drained by then and headed back to the room to freshen up for rest of the evening. A quiet dusk on the rooftop with a couple of interesting mocktails and starters, we retired for the day.
Day 5: We decided to venture out on foot and grab local food from a few recommended eateries that we read up from fellow bloggers. We started with amazing enormous aaloo parathas from this stall – ShivSagar something at one of the stalls on one of the roads around "Gulab Bagh".. We didn't find the place we were actually looking for, but his parathas were a kill! The pickle served along was mouth watering and he makes a fresh batch everyday! With our tummy's full, we headed to the Vintage Car museum and walked through "Gulab Bagh" that housed a zoo enroute – was a short cut is what we were told. This place is every motorhead's fantasy come true! There was a line up from a 1924 Rolls Royce (they had a 1934 Phantom too!!) to a 1938 Cadillac to a 1956 Mercedes to 1960 Morris – a bevy of beauties! We still have no idea how the next couple of hours went by in a flash. We then decided to visit a cemetery! Yes, you read right, a royal cemetery that goes by the name 'Ahar Cenotaphs' – a beautiful one though that could do with quite a bit of maintenance. We replenished ourselves, each with a couple of "Ganne ki ras" (sugarcane juice). Parched and sun soaked, we headed back to our hotel to plunge into the pool and cool off until later in the evening. With our itinerary ready, we hailed an auto and our first stop was at "Boharwadi Falafils" – the only place in Udaipur where you are served Arabian food. Everything, I repeat everything was literally food for the soul – their mutton kebabs, mutton samosa, mutton patties, kheema and pao .. I've started drooling just revisiting the experience in my head as I write this now. We were enroute to our next pitstop – JMB Mithai Bandar where we picked up local sweetmeats to take back home to family and friends – ghujia, white peta and local farsan. I should admit our auto driver skilfully went through the maze of streets avoiding all the Schumacher's and Hamilton's. One more stop for the much needed kadak chai and we were at our venue for our rendezvous with a performance of traditional dance and music at 'bagore ki haveli'. The show stopper was this amazing 60+ lady who danced with this tower of 11 pots and swirled her way into our hearts. We took a couple of photographs with her as a souvenir to remind us of the dedication to art and tradition by some people for which they devote their entire lives. With warmth in our souls, we had to leave as the evening came to an end. Fresh air suddenly hit us in the open space and we decided to make it cooler with a dash of Gola from "Kalika Gola Falooda evam Soda Shikanji" a pushcart that was right outside the museum. We leisurely walked back to the hotel and took in our last evening at Udaipur. With heavy hearts we packed our bags for a smoother exit in the morning and crashed for the night. Somewhere there was a little excitement of our journey back "home" the next day.
Boharwadi falafils
Day 6: We exited the city at about 7:00am for Baruch and slowly rode out making a promise to come back to this beautiful abode for a longer stay. We hit NH 48 again and covered good distance before we took our first stop for breakfast at 'Guru Nanak Punjabi Dhaba'. We asked if he had Nashtha to which he first said no and then on a little further prompting said he could give us aaloo parathas but we would have to wait. We unanimously decided that as we had a long road ahead, we would eat first. In a while, came the enormous delicious parathas that we devoured in no time. It sure replenished our batteries but sadly, not our cameras. After a sumptuous meal, we were on our way to Baruch where we spent the night at this decent hotel by the highway.
Day 7: A good night's rest and we were ready early next morning to get back home. We set out even before dawn and beat the highway traffic. Not too many major pitstops on the way back except for Hotel Fountain where we had breakfast, our tyres rolled into home-colony-soil around 4:00 in the evening.
Physically tanned, scruffy, dirty and tired to the bone, I had yet another bed-time story for my soul to meditate on… yes, I will do it all over again :).