After multiple iteration in the plan for the big trip of October, we finally zeroed down on Krabi & Phuket for the perfect blend of nature and nightlife. We landed at Phuket at 8 in the morning. Visa process took another 30 mins. The visa was on arrival and was free for Indians upto 31sr of October. You can check this before going there so that you need not pay for getting it done from India. We had booked a car from here only online for 2500 baht. You will get it at same price there so no need to book that in advance. It took us 2 hours and 30 minutes to reach Krabi from Phuket Airport and the drive was extreme level of happiness! Those roads, those clouds and the greens around you..Fabulous feel..
We reached Krabi at around 11:30 am. Had booked a fancy huge villa, 4 KMS away from the main city/ao nang beach. Suggest to stay close to aao nang given that it is a lit place and have amazing vibe throughout. Be it during day or at night! We booked that villa as it was love at first sight and I wanted to have my ZNMD glass villa moment. 😬
The whole day we strolled through AN Beach and swung around the swings by the beach. Fancy stuff! Kho Gaye hum kahaan moment..
The same evening we booked a Four Island tour for some 1k baht. That included pick up and drop from the hotel and lunch and snorkeling. We booked it there only at the beach side wherein there are many tours and travel management kiosk who will do this for you. Ensure that you bargain well! This evening we went to lovely Thai cafe playing amazing live music..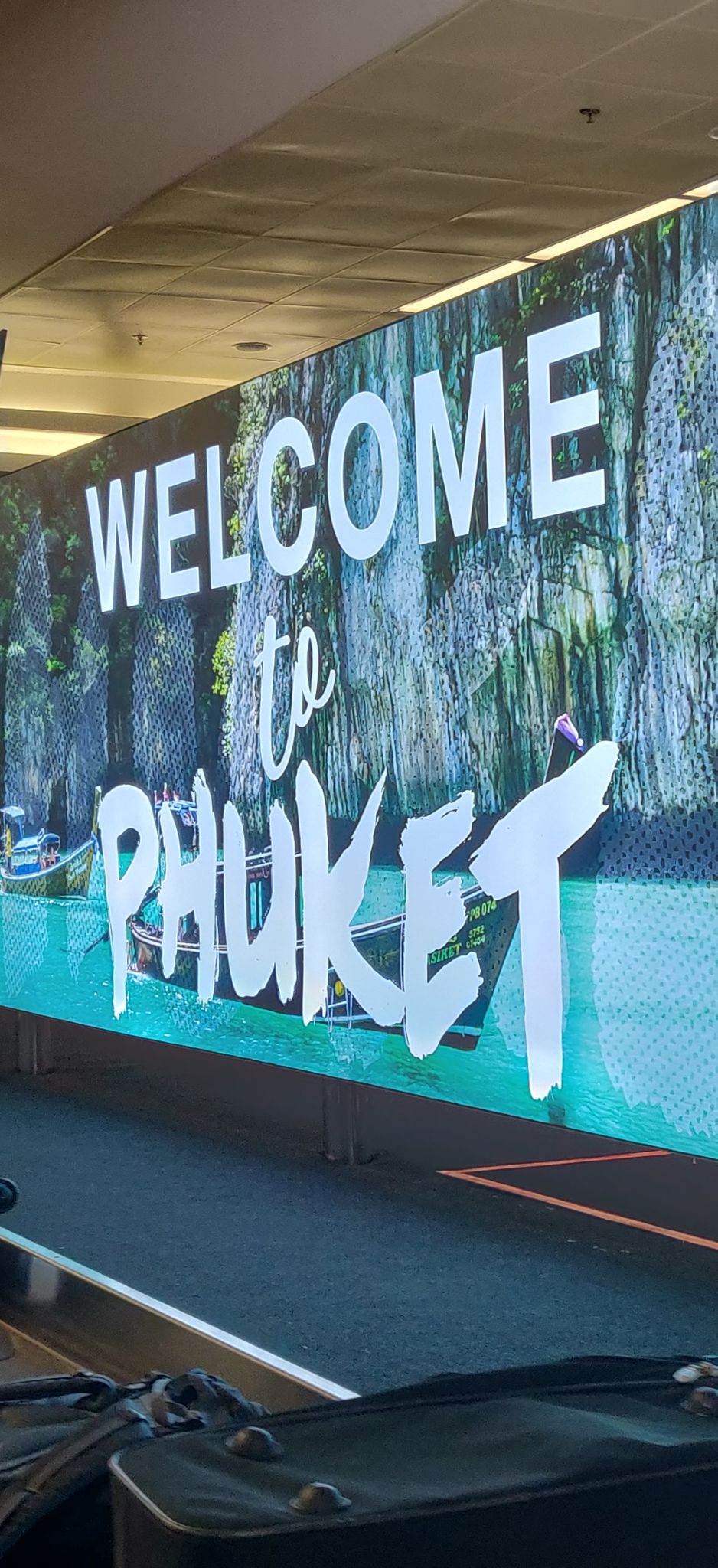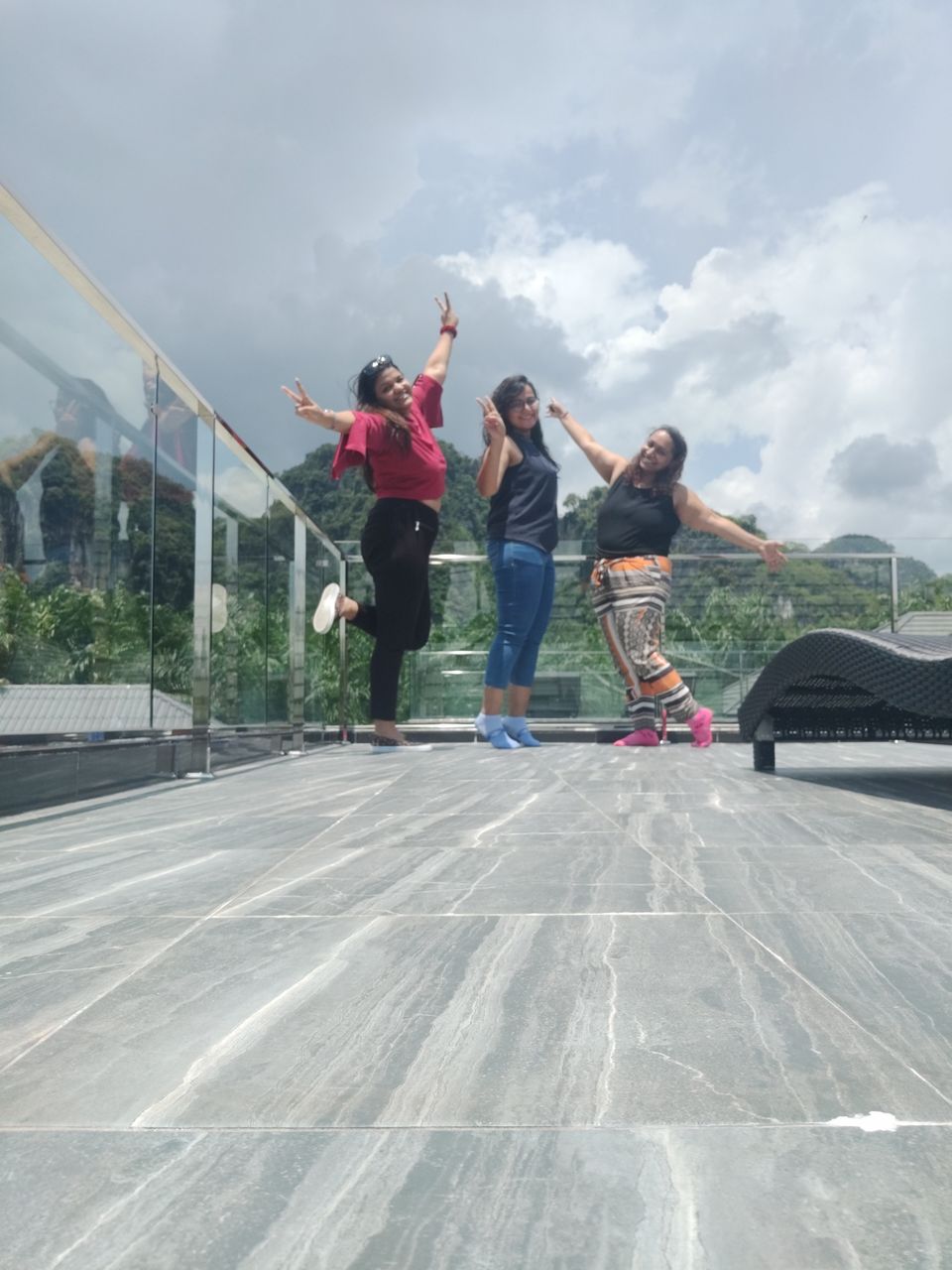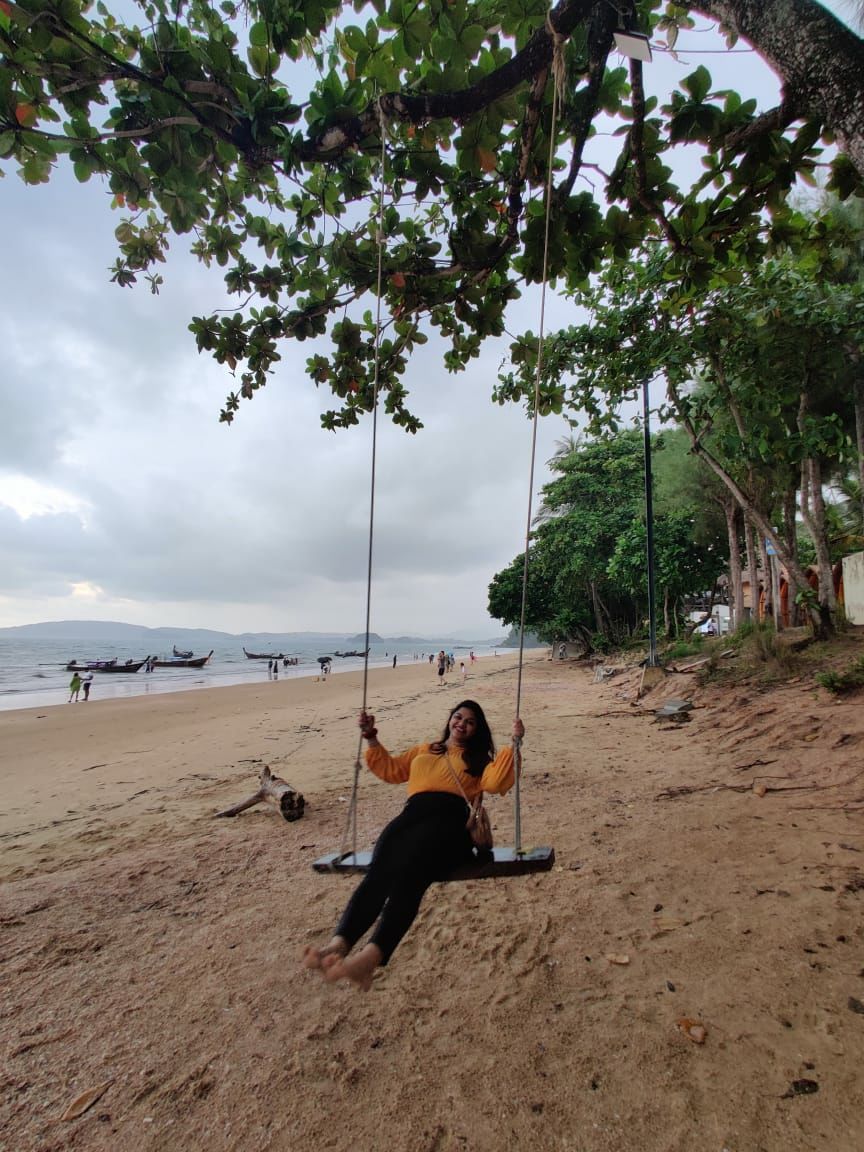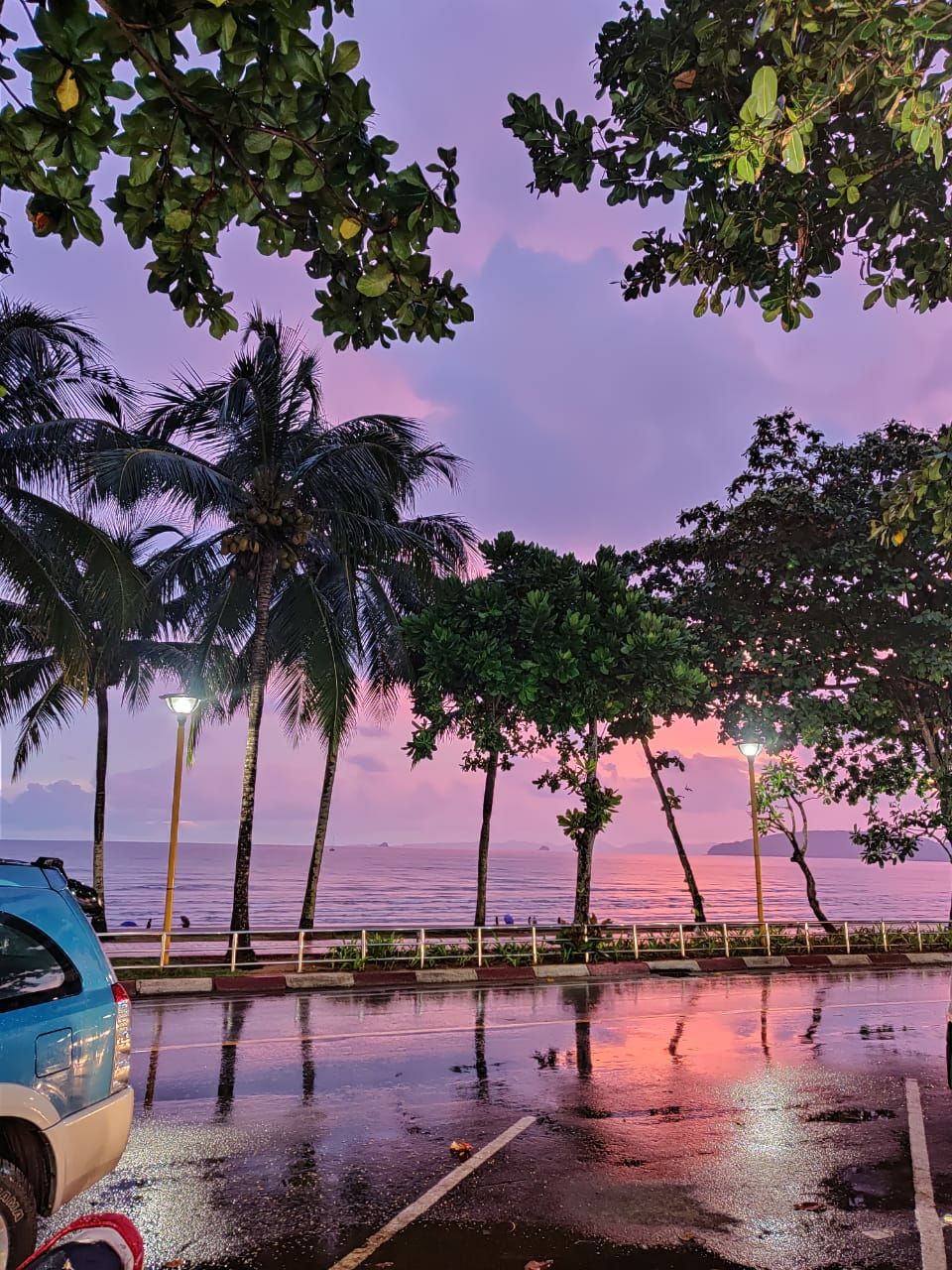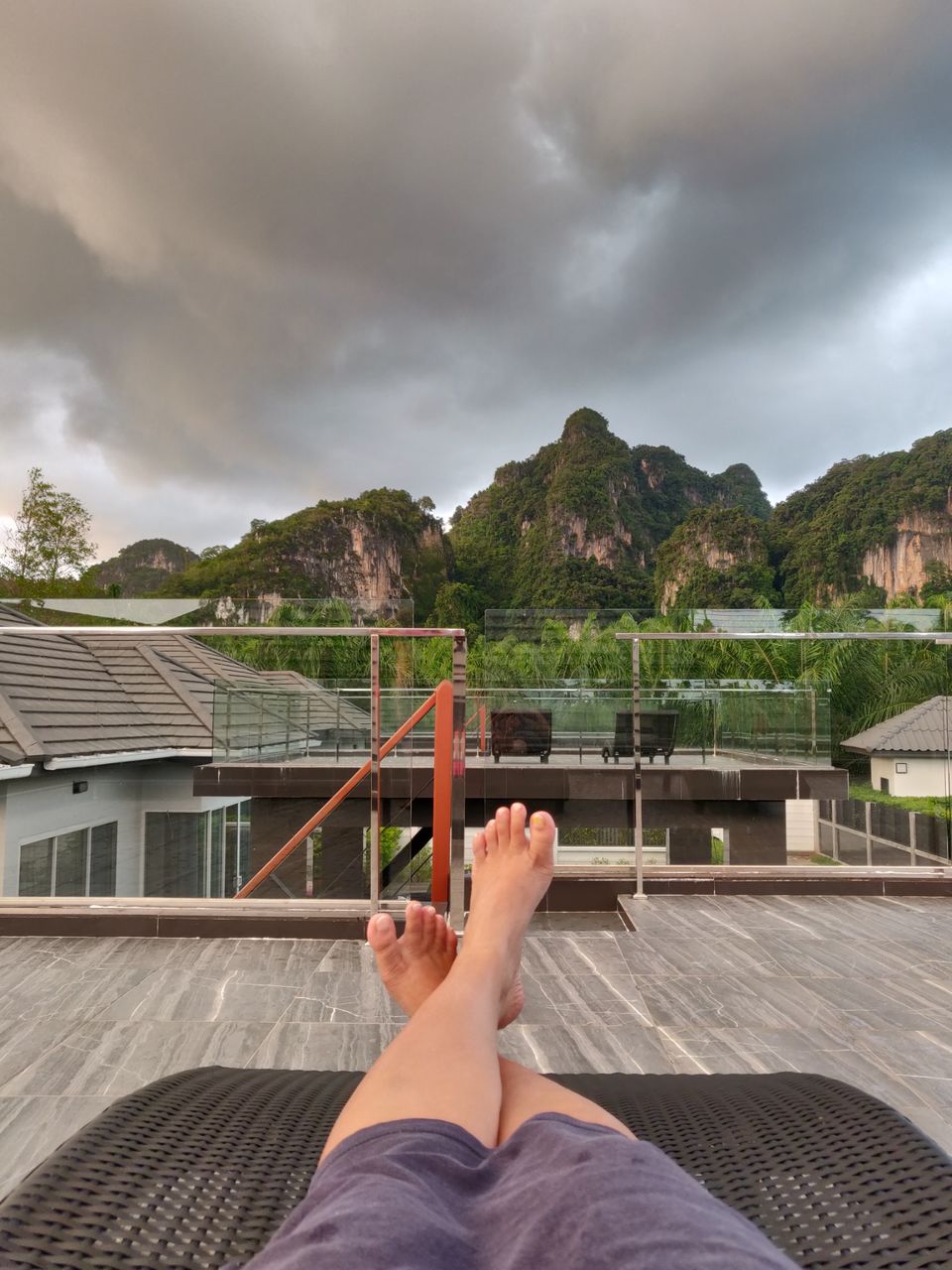 We were picked by there neat and clean Traveller at 7:30 in the morning. They adhere to all the timelines very strictly so ensure that you stick by it so that nobody gets irated.
Four Island tour was amazeball. Loved every bit of it and would recommend you guys to do it. Also, do start with the earliest time slot so that you get the island secluded and not too crowded. (Ya! Crowded is pretty annoying which you will get to read in the later part of this story). Wouldn't write much about the TTD over there as I want you guys to see it for yourself and experience the beauty without any pre conceived notions about it.
We were back in our villa by 5 in the evening. EXTREMELY HAPPY AND CONTENDED!
That evening we had a private pool party in our villa and chilled there like a villain or a panda or whatever you want to be! 😁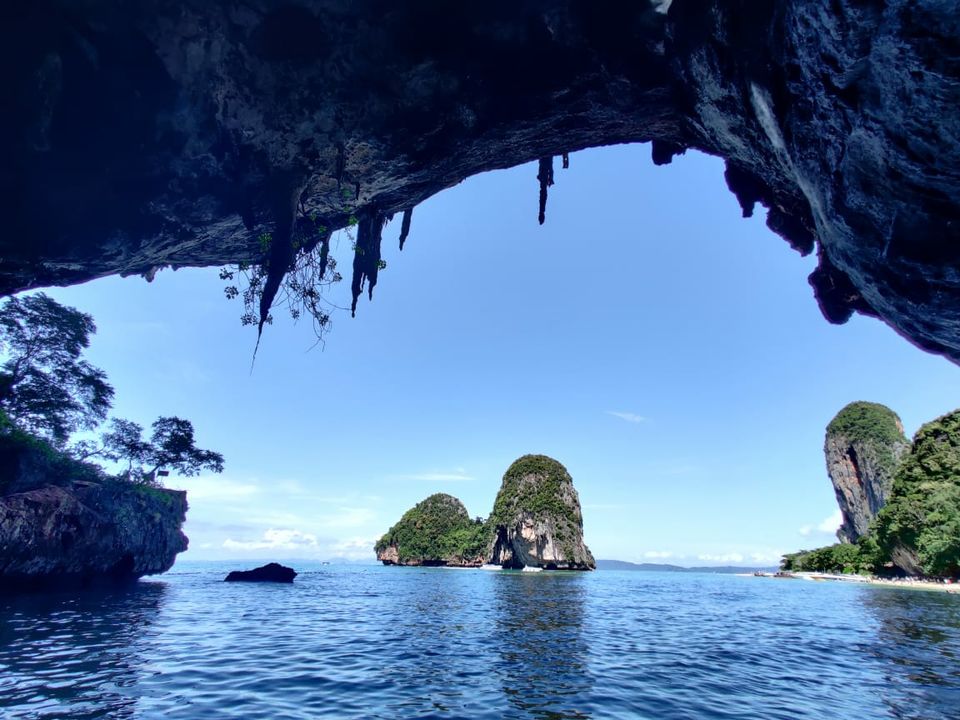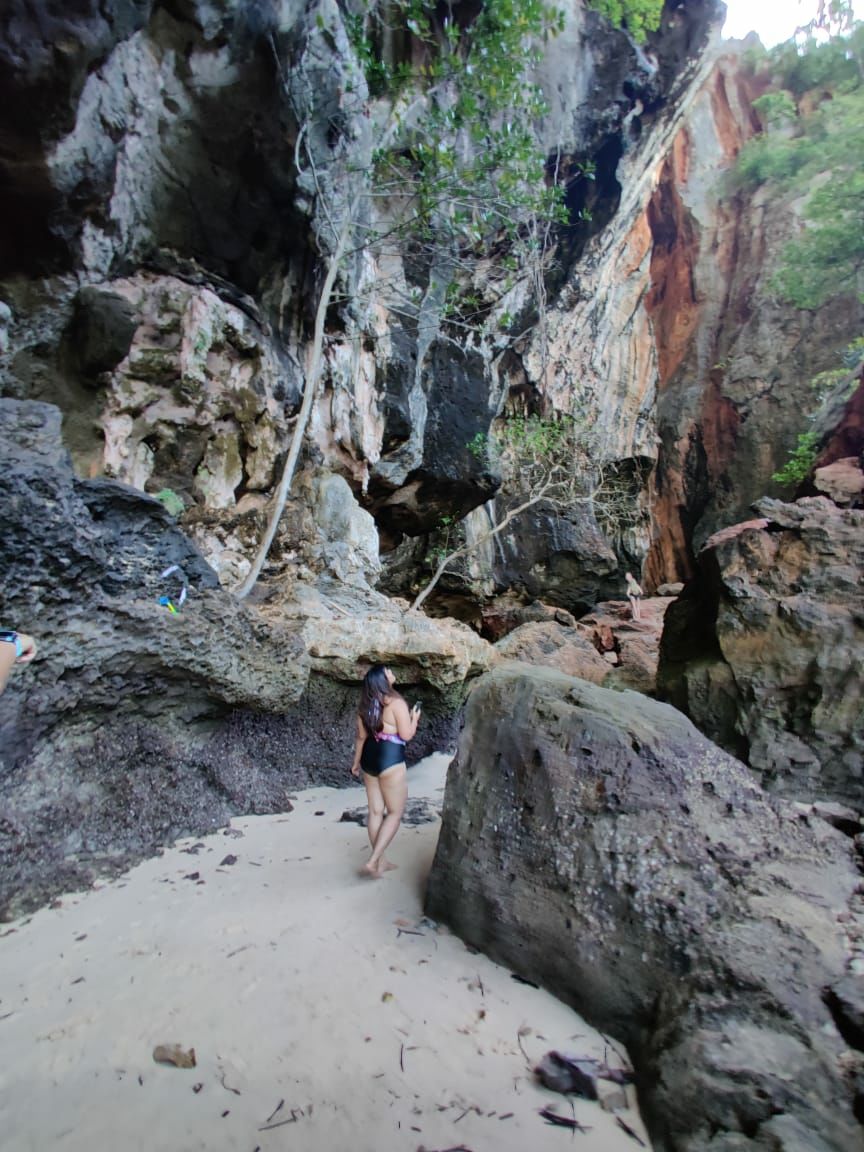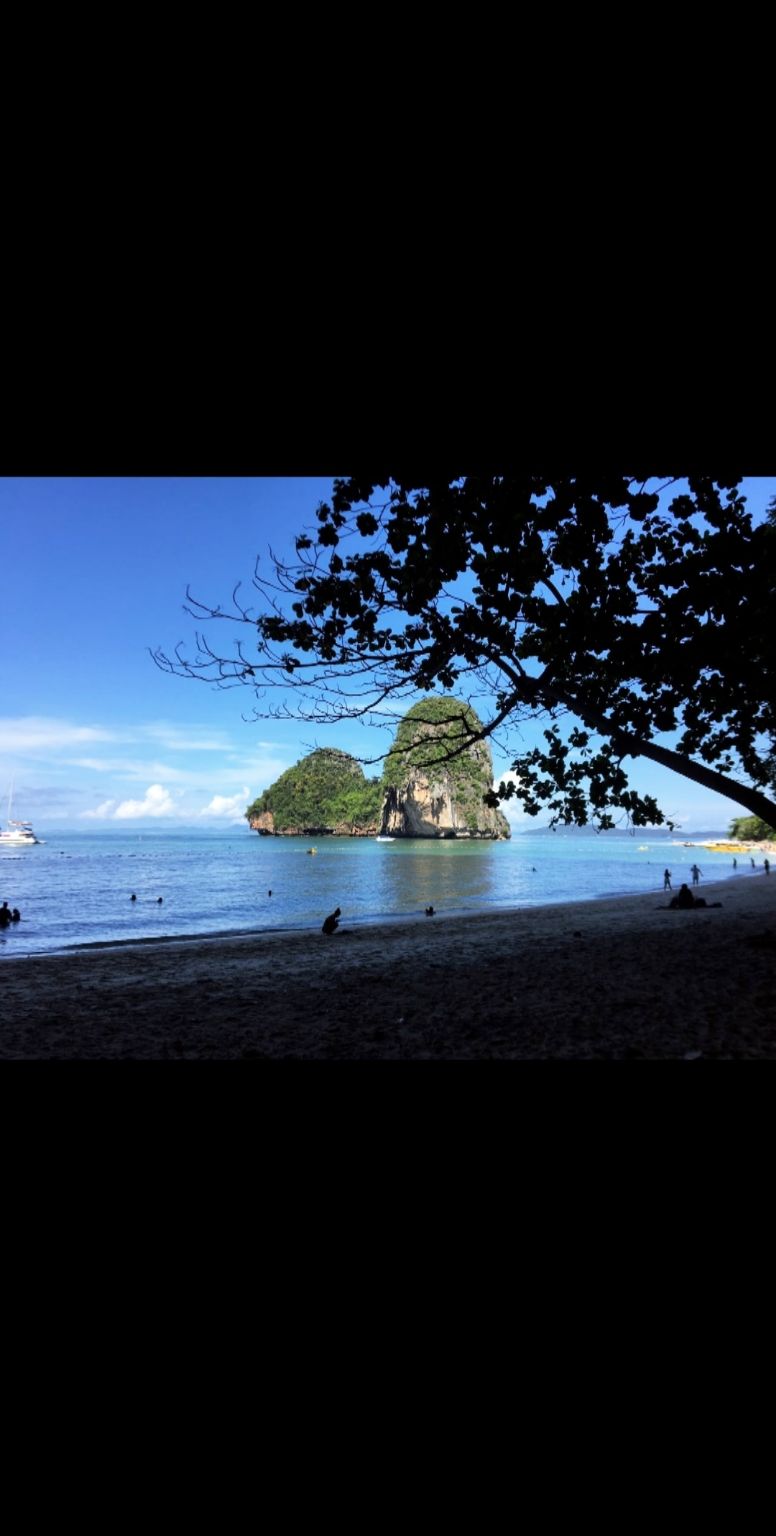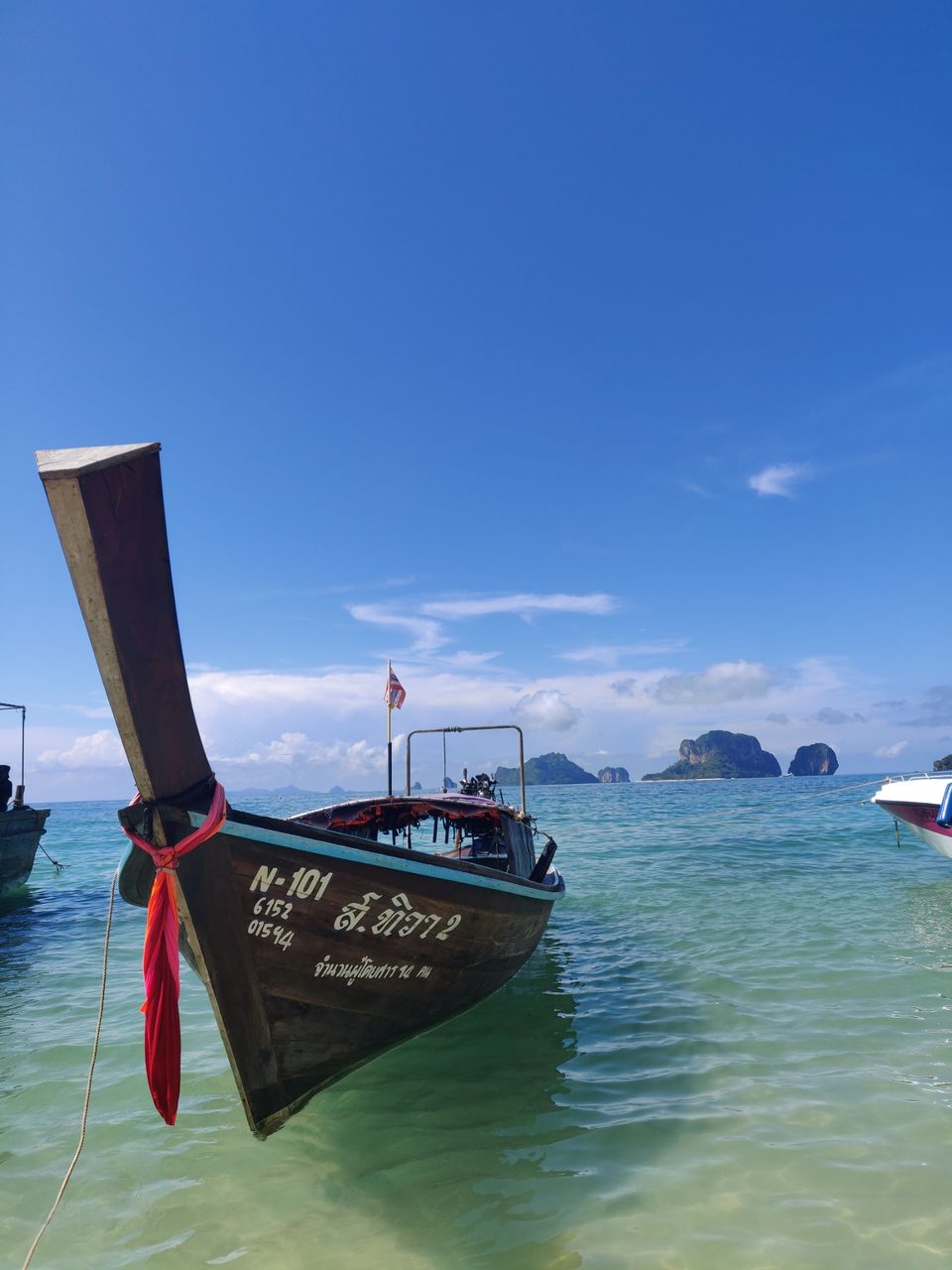 We got up at ease in the morning and made ourselves boiled egg stir fried in butter with a seasoning of black pepper and red chilli flakes and had it with a fun popped toasts. Yummsauce! At 12 in the afternoon, we checked out from our villa and left for Phuket in a Traveller. We did save a lot of money there as I recall it costed us only around 400 baht pp. However, the drawback was that it took us too long to reach the city, given the speed and pitstops to drop the other people in the bus. We reached our hotel around 7 in the evening! Ya! Freaking five hours almost. But we were okay with it as we had marked the day only for leisure.
We checked in our hotel which was situated right in front of patong beach and had an insanely beautiful view from the bed/balcony of the ocean. We were placed on the fifth floor but damn! There was no lift. My friends like a stunner picked their baggage all on their own till the top floor, however, I took a help of the housekeeping staff to pick my 15kg bag which was supposed to be only 10 given that I was going only for a week. But hey! There shouldn't be less supply of clothes for zillion pictures that I have to click 😬 (For a perspective, I could have extended my stay for another week and still would have enough clothes, it was THAT TOO MUCH. But again, EXTREME is me. However, I would suggest you not to do this).
Okay, so coming back to the fifth floor, we rested for an hour and then got ready for our clubbing session and Bangla road tour that night. While you are there, you must go to this club called Illuzion! It's swanky, huge and has amazing line ups! Silentó was a surprise element that night for us and we danced our heart out till 3 in the morning.
"They can imitate you
But they can't duplicate you
'Cause you got something special
That makes me wanna taste you
I want it all day long
I'm addicted like it's wrong"
That kept buzzing in my mind and we walked back to our hotel with amaze happy vibe... and we called it a night! Or an early morning! Whatever..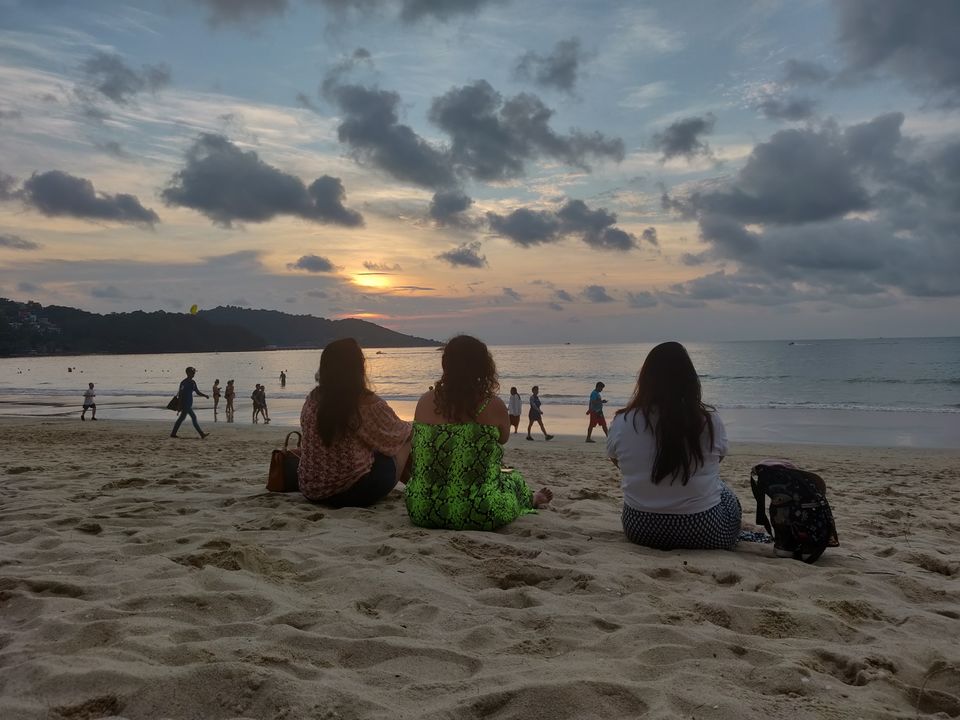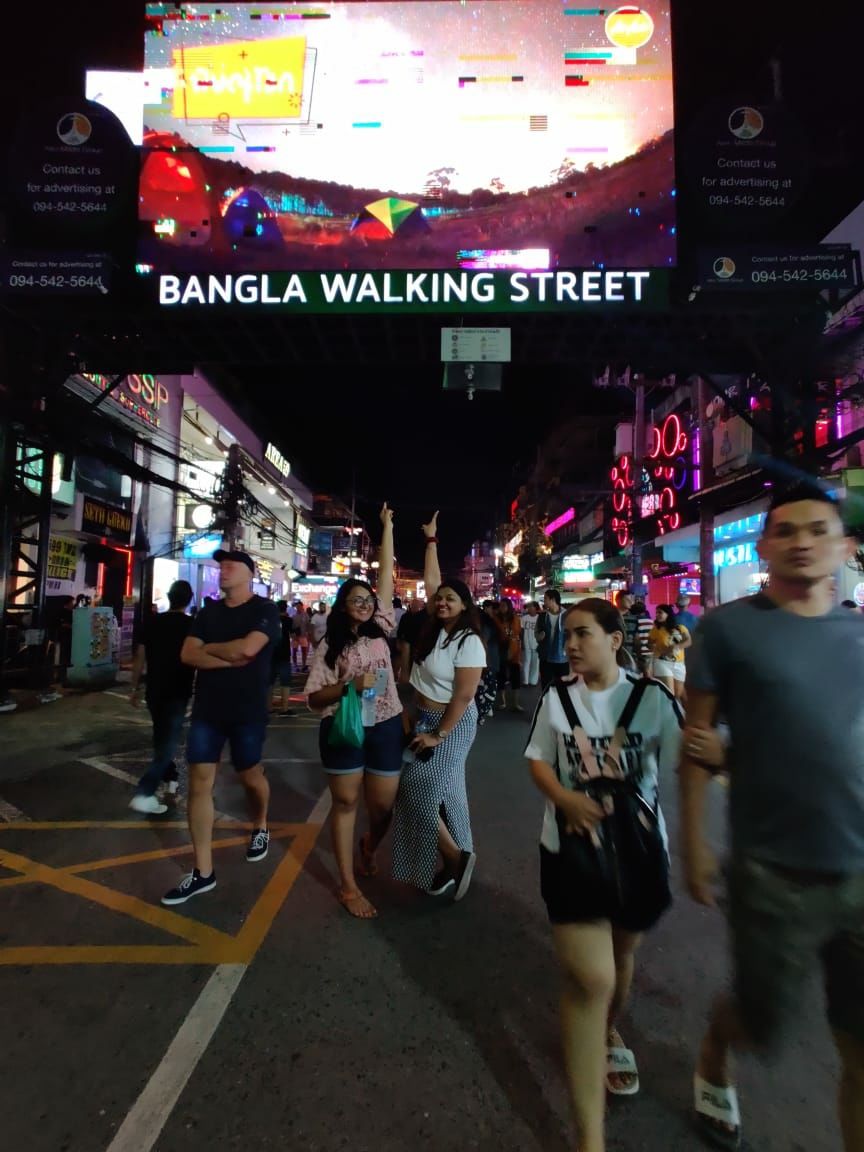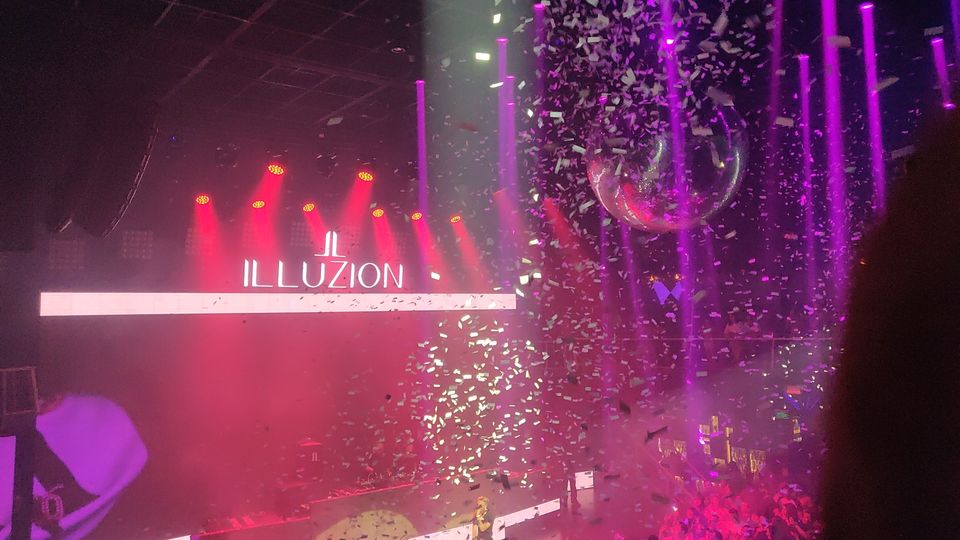 We got up this day only in the noon and completed all our sleep which we had missed out on in past three days. This day we had kept for leisure and we chilled by the Patong beach and had amazing white snapper in Madras style curry at Madras Cafe. There is something about Desi Khana man! 🧡
This evening we booked our next day tour to Phi Phi Island for 950 baht. It was again an all inclusive package like aforementioned. And the guy came to pick us up by 8 the next morning.
Patong beach area resembles Queen's necklace or Marine drive of Aamchi Mumbai. So we always felt home when we were by the shore and kept sitting there till wee hours doing nothing. And yet that was everything.
We were up and ready for the Phi Phi tour by 8 and were picked from our hotel. Again, I wouldn't mention the details about the fun but it was nice. The package, as we were told had 3 snorkelling sessions and 1 scuba deep dive. For scuba, the cost was additional 1500 baht. Both my friends were super excited to do it and ofcourse, I had decided not to. (Fattu AF). But when you spend too much time in nature with yourself, you get different and stronger vibe to you as you meet yourself at the core and that's what prompted me to give scuba another shot. This time with more positivity. I told the guide and my friends, hey make it 3! I'm going along too. Can never forget the hug that I had got from my bestie as she heard me saying this. So for me scuba was more about focussing entirely on my breathing and NOT get panic. Seeing the Marine life was just wasn't on my mind. And hey! Your girl did it well. Not for even once I did 👍. It was all 👌 for me. 😬
But but but, the Marine life experience was extremely disappointing. We just couldn't see any great life below and the instructor got us back on the raft within 20 minutes as against the promised time of 45 minutes.
Also, as against the snorkeling session of three, we were only given a chance twice. And the last stop of PhiPhi was so damn crowded with judgemental people being there which annoyed us a bit.
Phi phi wasn't such a great experience for us and because of this, would suggest rather to go to some prettier and secluded islands like James bond island and Coral Island. My friend had mentioned that Coral Island is excellent for scuba dive. You guys can check that out for yourself.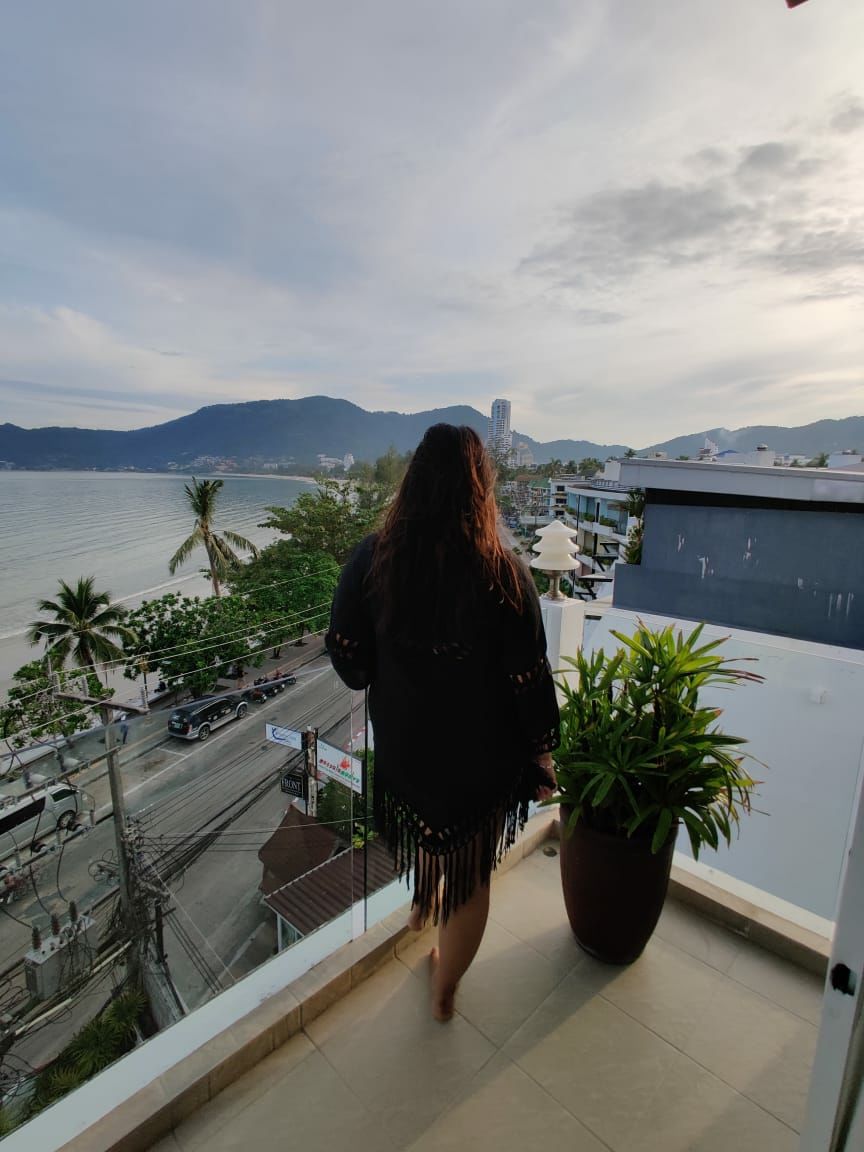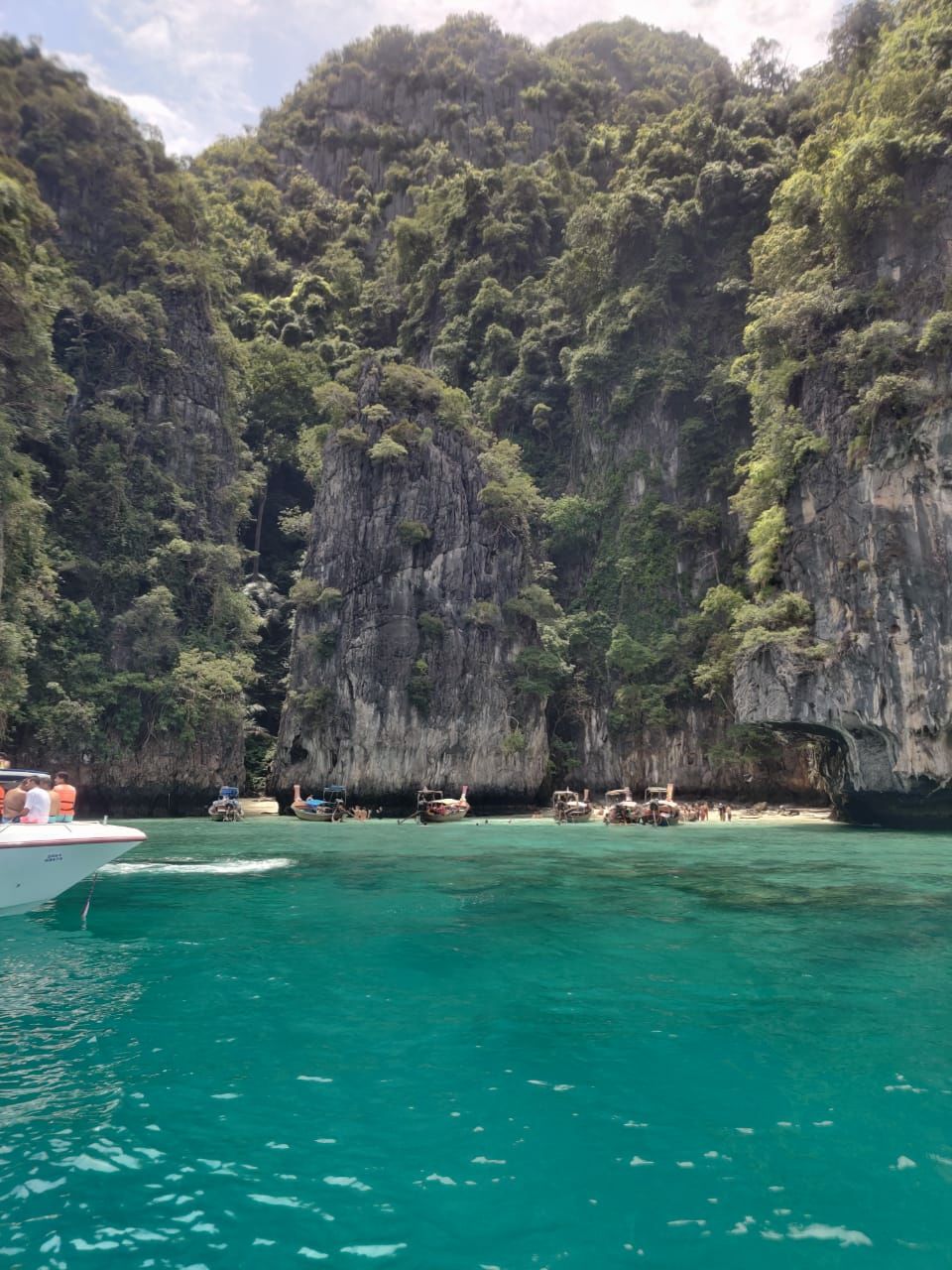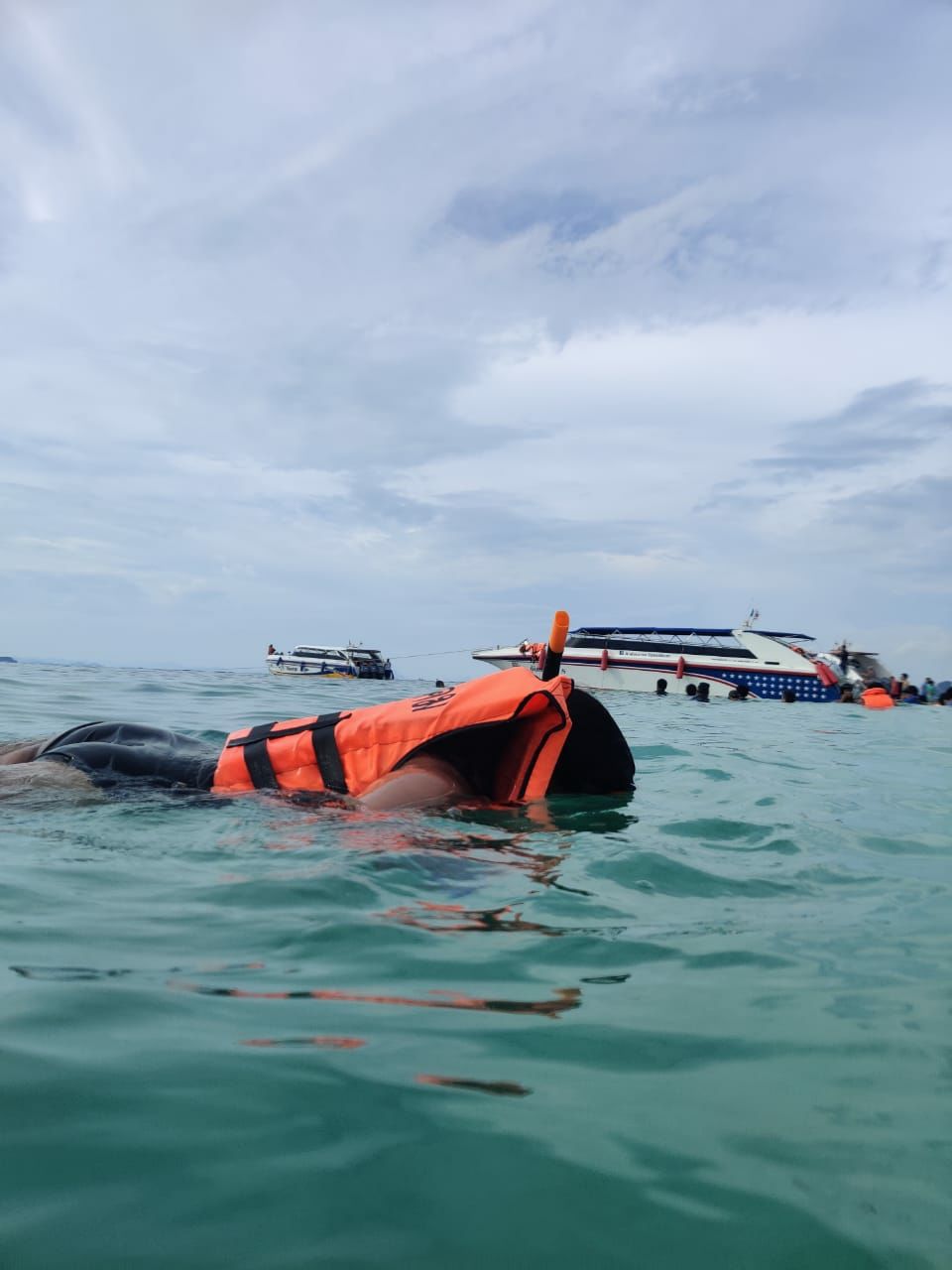 When we booked Phi Phi tour, we also booked a city tour to be done today and cracked a good deal as a combo offer. 1400 baht put together if I am not wrong. Today was our city tour day and we visited the Big Buddha, Karon beach, Tiger Kingdom, Honeybee farm, Elephant Safari, Wat Chalong temple and Wangtalang Gems. It was a good half a day tour and we were dropped back to the centre point by 1.
This was one good thing about all these tours that we took at Thailand. The full day tour will get over by 5 in the evening while the half ones will be done by 1 in the afternoon. That leaves you with the entire evening free for yourself and to chill by the beach or to enjoy the nightlife or to shop till you drop.
We shopped for souvenirs and jewels this evening. W Gems was a humongous mall for jewellery and we all bought some goodies for ourselves and for our loved ones.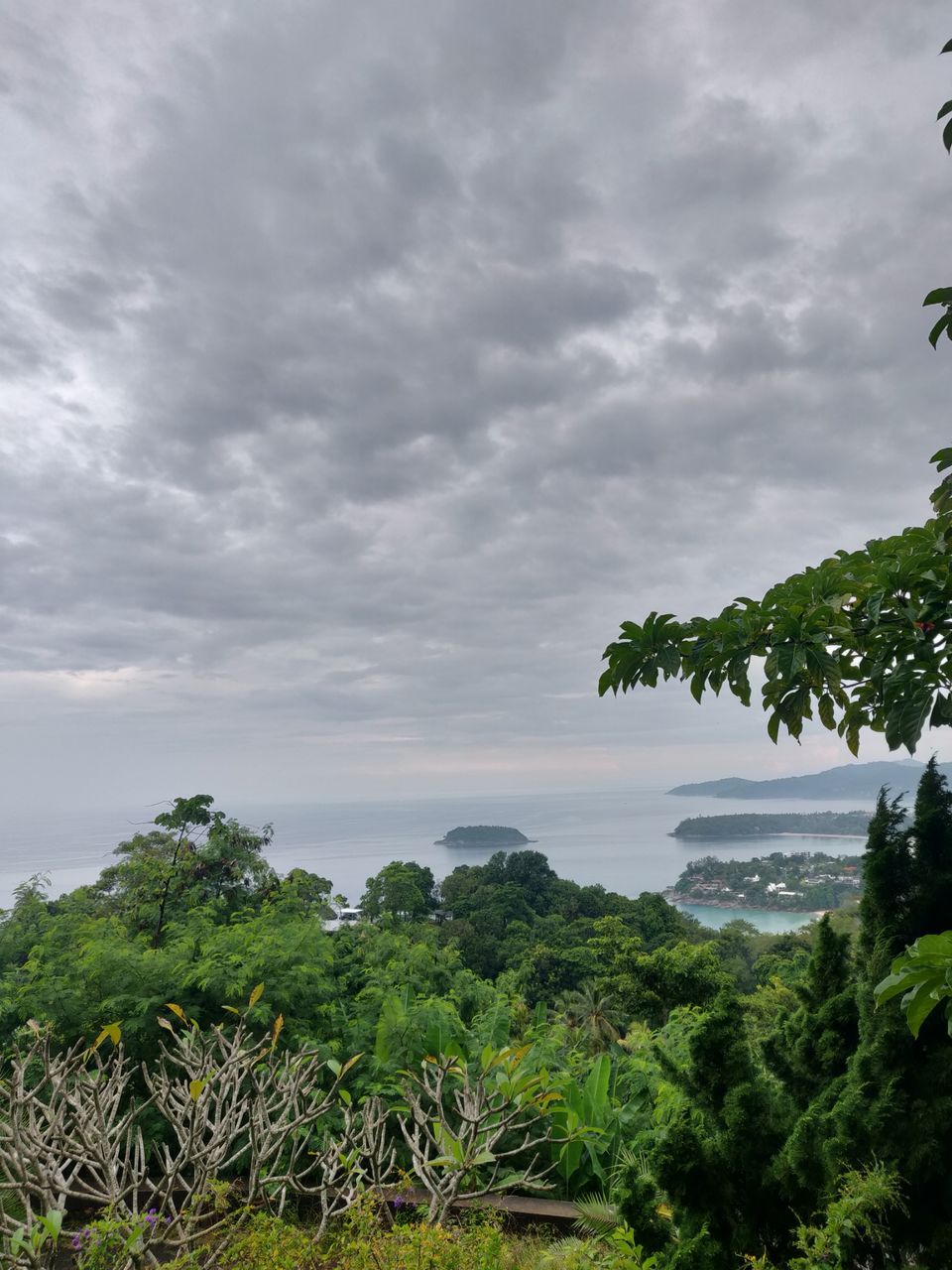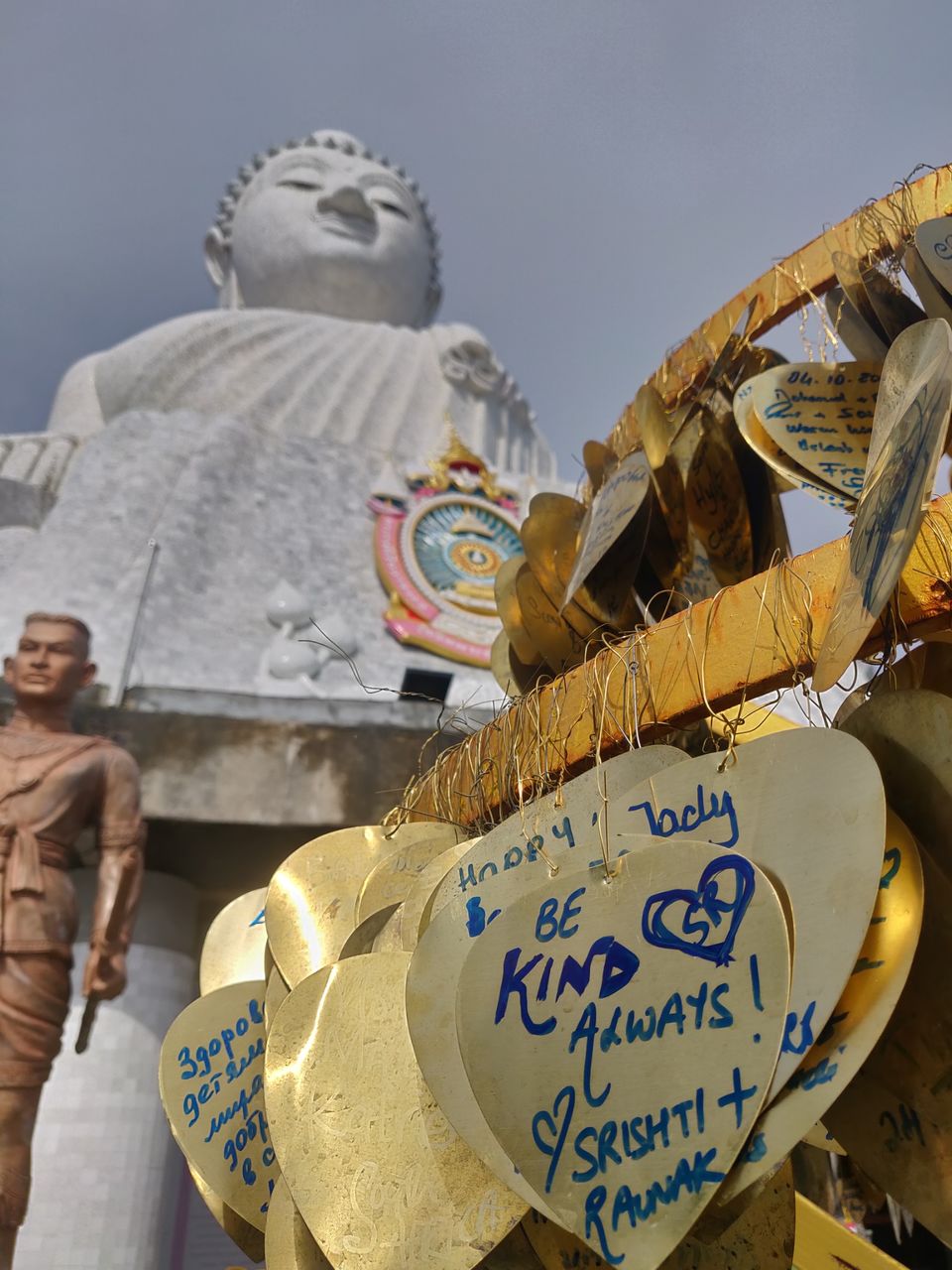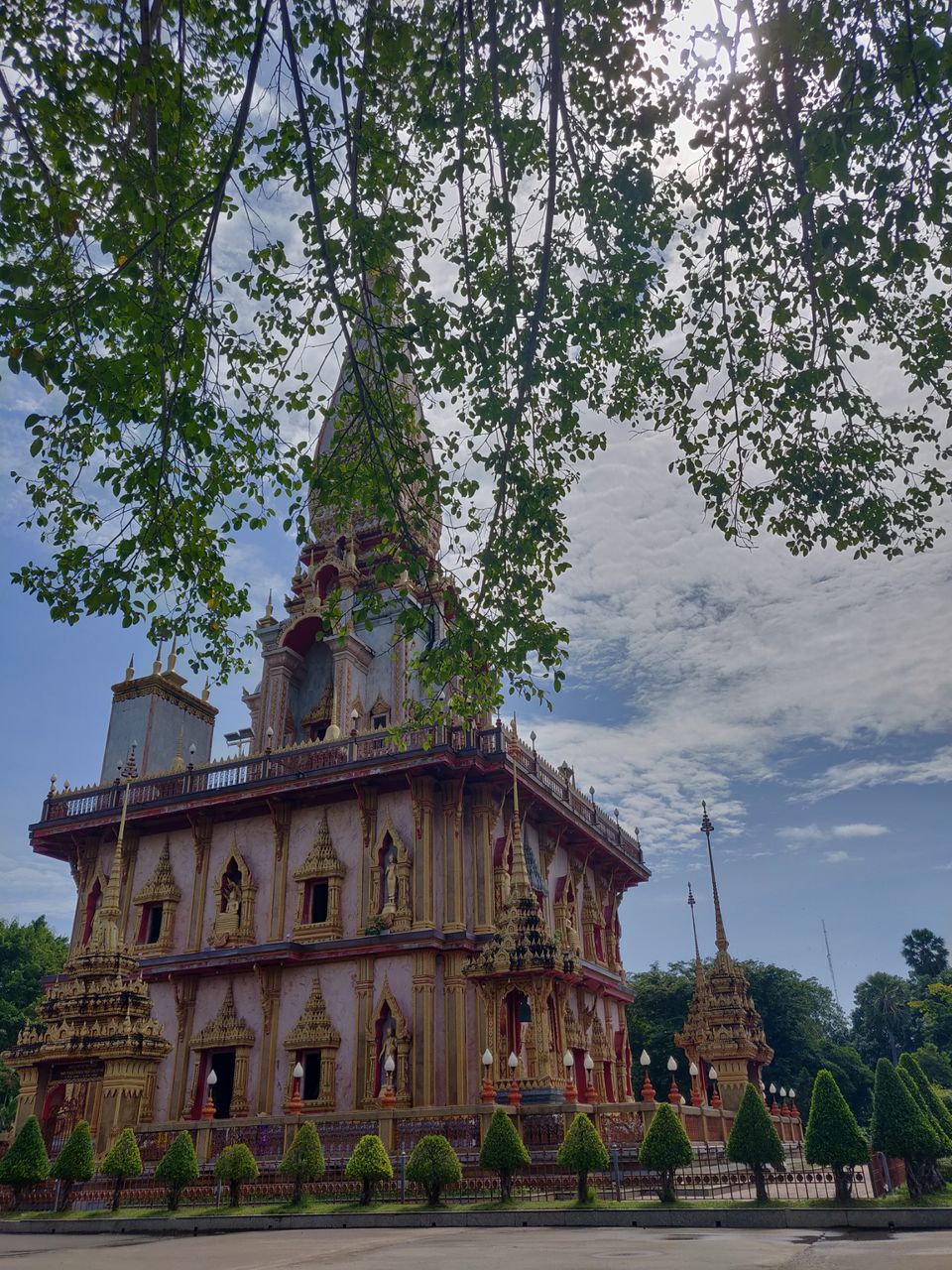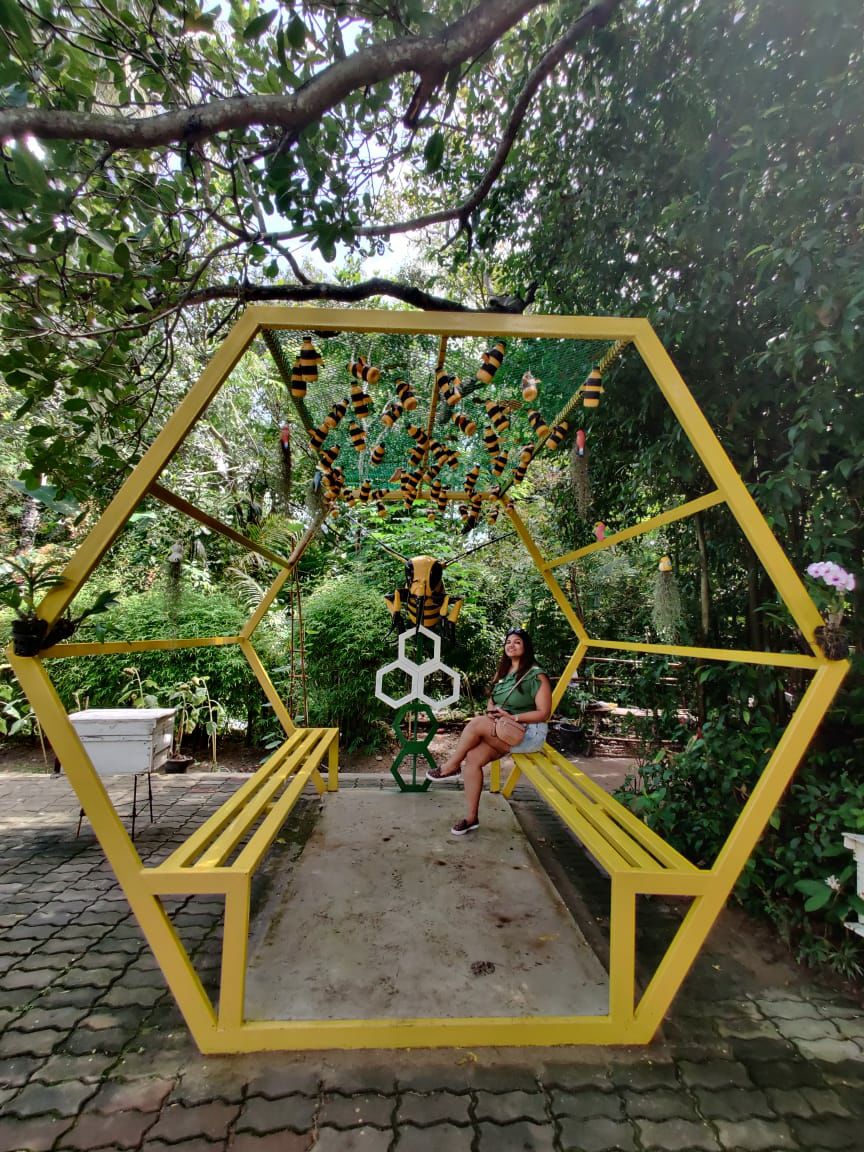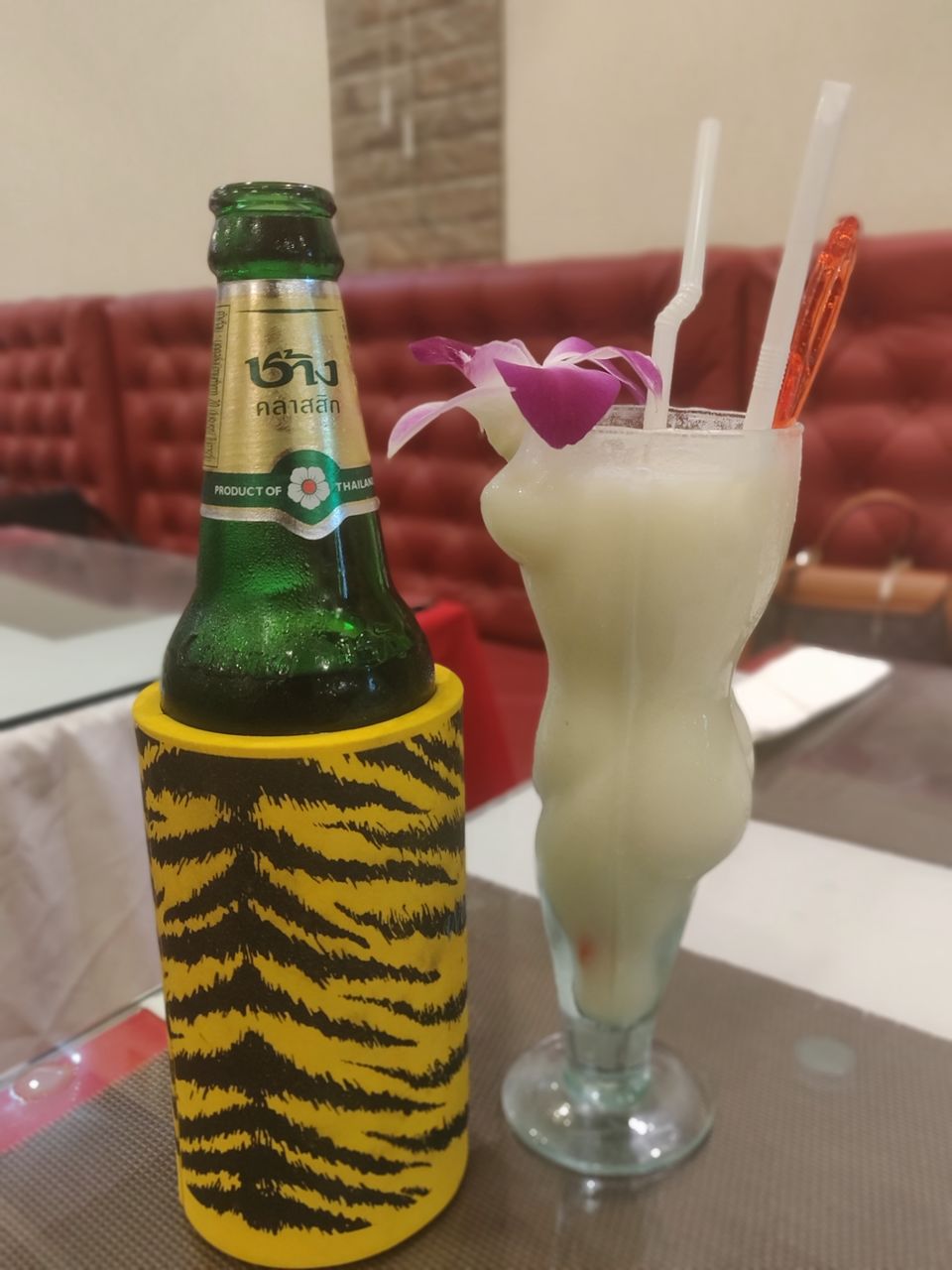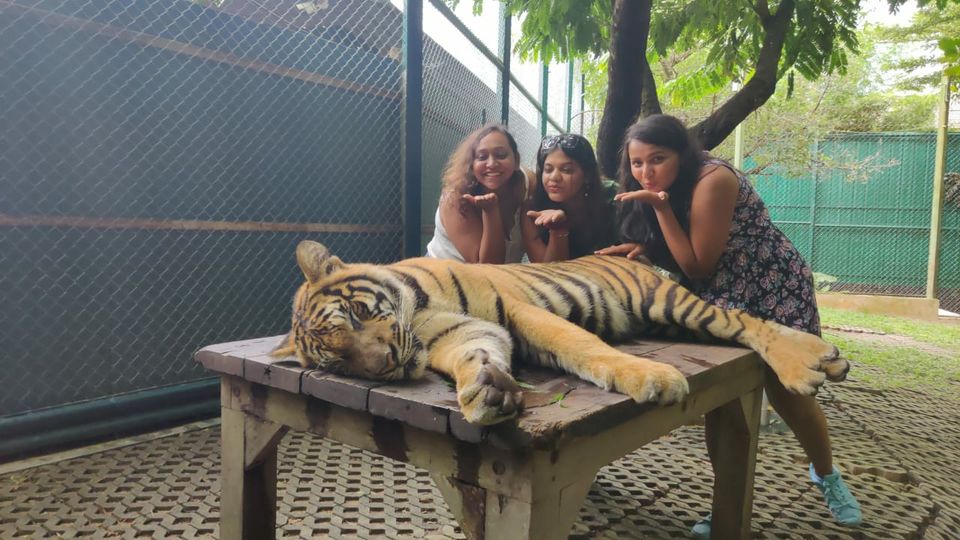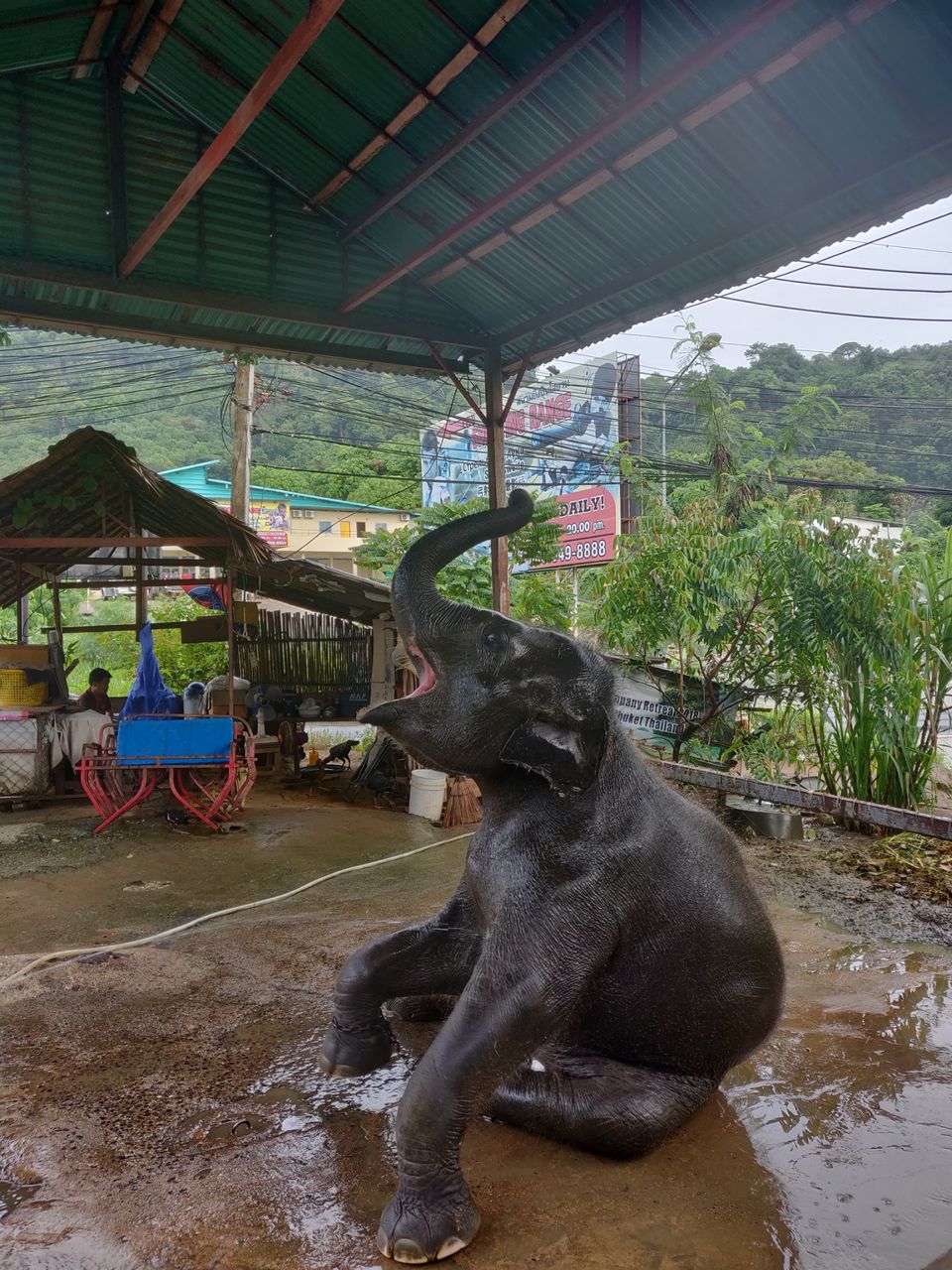 We had a flight back home at 8 in the morning and thus we checked out from the hotel at 4. We didn't sleep at all this night and was just sitting by the Patong beach, sipping in all the energy and happiness that the place had to offer.. It was little difficult to say a bye to this place but hey! I was gonna get back to Mumbai to meet Mamma & Paa. So that kept me going very happily...
The vibe of both these places was so beautiful that there was never a dull moment out there. It's a place for friends, family and also for solo tripping. You will be so engaged in multiple activities and have the time of your life in a budget trip.
Krabi won my heart while Phuket was more about good vibe place..
Having said that there are many more activities that can be done there like visiting hotsprings, elephant Safari, ziplining, ATV tour in a jungle and ofcourse the full moon party at Phi Phi. I would suggest you to stay over one night at Phi Phi and go to Ibiza Pool Party Resort for their kick-ass vibe and energy. Many of my friends have visited it and none were disappointed.
This was it! October trip of the year..
If you do wish to know anything more, you can drop me a message..
Signing off for now..
Xoxo,
Prach