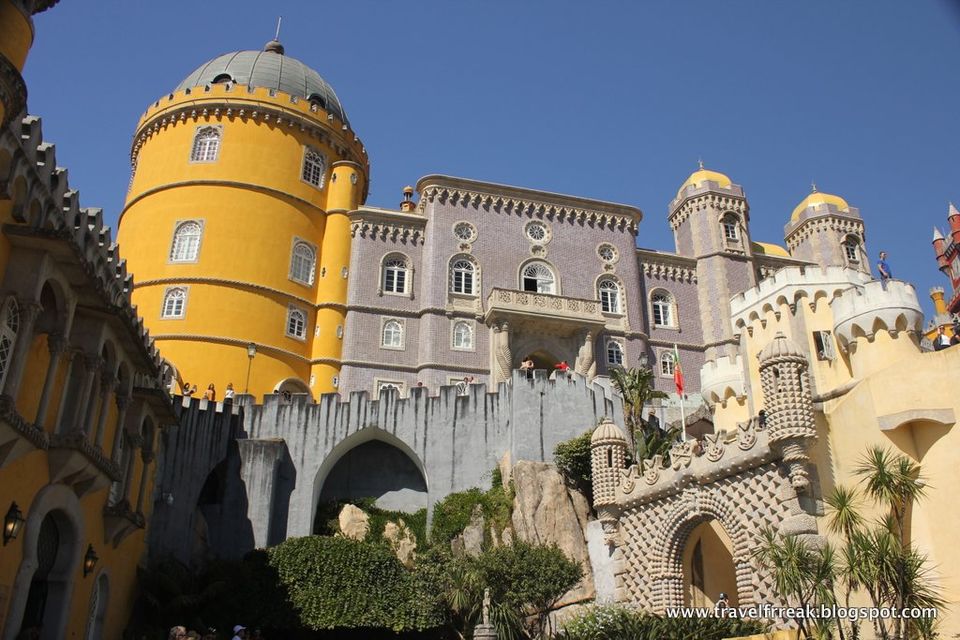 Details and photos on, http://travelfrreak.blogspot.com/2018/12/the-exquisite-town-of-sintra-portugal.html
This summer, I spent a few days in Portugal in the town of Sintra near Lisbon. It was a work trip but somehow, I made time to make two short trips to town and I was glad I did. It turned out to be a tourists delight with beautiful vistas of sun-kissed Portugal dotted with palaces and parks. A true paradise on earth and worth returning to some day.
This is how Sintra is described on one of the websites and it was exactly that - 'With its rippling mountains, dewy forests thick with ferns and lichen, exotic gardens and glittering palaces, Sintra is like a page torn from a fairy tale. Its Unesco World Heritage-listed centre, Sintra-Vila, is dotted with pastel-hued manors folded into luxuriant hills that roll down to the blue Atlantic.'
While landing in Lisbon, I got some breathtaking views of the city and around - of the sea, estuary, bridges, the city filled with orange coloured roofs and white buildings, and of green hills far off. It all felt very sunny, bright and warm even when landing. And once out of the airport, of course it was the same feel, the typical relaxed atmosphere that I always sense in Portugal. It had been the same even on my last trip to Faro in Algarve.
I took a cab to take me to my resort in Sintra. The driver did not speak English, so we had a quiet journey but the views on both sides were quiet captivating. With all the picturesque sun-kissed houses on both sides, shining in the sun, with baroque churches dotting them sometimes. The drive also made me realise that Portugal is a little less developed than a lot of Western Europe. People drove all over the place and didn't really follow the rules. Also the road wasn't perfect and at times we encountered water standing on the road!!
I was staying at the Penha Longa Resort and it was awesome (at least what I got to see in between work). It was a huge open property with golf courses, running tracks, old historical structures and an old monastery on its premises, all located within a huge green belt. The monastery had been converted into a meeting convention centre but still retained all its beautiful paintings and tiles, plus the church.
The hotel had infinity pools and gardens all around, tons of eating places and all its rooms had a beautiful balcony with a green view outside. I didn't get a chance to explore the resort at all actually but I can see how it would be a fun place to stay on a weekend. While checking-in, I also ran into a big Indian group at the resort who were there for a wedding. Clearly destination weddings have become very very huge in the sub-continent, all the way till Portugal!
When I had realised I was going to Portugal for the conference, I had assumed our resort would be near the sea and I will get a chance to relax on the beach. It turned out that it was actually far away from the beach. Thankfully, a friend of mine told me that I should definitely visit the town of Sintra as it was culturally very rich. Given I hadn't read or heard about it earlier, I wasn't expecting a lot but was pleasantly surprised. It turned out that Sintra was the summer holiday location for the Portuguese kings as it was cooler, and so had a lot of things to do and explore.
It was quite spread out and was essentially a suburb of Lisbon, about 30 mins from the national capital. Even though it was a small little town, it had a few palaces, some monasteries, a few gardens, a Moorish fort on the hill, forested hills and a few beaches around. The town is located on a side of a hill and is reachable through narrow winding roads passing through picturesque colourful buildings, with a mix of Portuguese and Arabic architectural influences. All in all, offering a lot to tourists to explore for a day or two.
I made a couple of short trips to town and got to visit the Pena palace, the National Palace and the town centre. At the Pena palace, you walk through the Pena Gardens which surround the Palace and have a few things to visit, like the fern gardens, a few statues, a huge cross on top of a hill, a valley of lakes, the stables and so on. You need to walk up about 800m from the gate to get to the Palace or you can take the bus inside the park complex, to go from one place to another.
The icing on the cake though is the Pena Palace. It is a luxurious fantasy palace built on top of a hill, integrating architectural designs from across the world and painted in bright colours - yellow, red, blue and grey providing a majestic sight. It started out as a monastery and then was renovated to convert it into a palace. The current structure was designed by a German architect, and its ownership has passed through many of the Portuguese royal families over the years.
The whole palace is painted in bright colours, with multiple structures taken from different forts and palaces. They have Moorish tiles decorating some of the walls, with archways looking into the horizon, towers from typical castles and so on. Its a photographer's delight with its colours, and various architectural shapes ranging from Baroque to Arabic to Rajasthani. The Queen's terrace next to the queens room was one of the places where you can get a good view of the Palace, the park and the sea beyond. And I sat there for a while taking in the view and doing some work on my phone ????.
Inside the palace, you can walk through many of its rooms and it is pure luxury. It felt like a country house with grand rooms filled with exquisite furniture, gorgeous paintings and other wall decorations which was unique to each of the room, plus with panoramic views of the country outside up to the sea.
Then I walked to Tritons terrace leading to the the cathedral, along the side of the palace through the watch towers to where you can see the Moorish Castle glistening on top of the hill. You can even visit the castle remains from the 5th century when the Moors ruled Portugal but I had ditched that. Every turn in the castle felt like a photo point and I enjoyed every moment of the couple of hours I spent there.
After the palace, I strolled through its forests and the fern valleys and other gardens, stopped at some of the sites but essentially just explored the area lazily. It was a refreshing walk and I passed through the Queen's chalet on my way out. I also got some majestic views of the palace from the garden on my way out. You can easily spend hours there in the complex if you want. It had turned out to be a very sunny and warm day which I had loved. And maybe was the reason for such a huge crowd turning up there on a Wednesday. Anyways I had a nice time in my short break there and would definitely recommend a visit.
I made another trip to the National Palace for dinner one of the evenings, which was located in the city centre. It was apparently the summer home of the King and so very lavish and luxurious in its decor. We were driven there in vintage cars through the small streets of Sintra which felt awesome with the cool breeze blowing on your face.
We first took a tour of the palace and saw its richly painted rooms, with decorated ceilings, murano glass chandeliers and lot of other such displays of wealth and art. We also got to see attractive views of the city and the sea beyond during sunset from one of its windows, as well as an enchanting shining view of the Moorish castle on top of the hill in front. There was clearly a lot of money in Portugal which was spent lavishly across their palaces, looking at the luxurious feel of the two palaces in Sintra itself.
The last day I again went to the city centre but ended up not doing much as I had my luggage with me. So I walked up one of the roads and found a small church with an open area to sit. It had a fascinating view of the houses below and the sea beyond. There was a wedding happening in the church at the time. And a person was playing a musical instrument in the open area behind the church.
And I just sat there for a couple of hours, just enjoying the view and ambience with the musical background. It was pure bliss. And I loved it. There is something about warmer countries which I love. A relaxed feel which makes you forget all your worries. It was so nice to just be in a small village like this in the middle of nowhere, and enjoying the moment. This is the picture that I took away with me about Portugal and Sintra, and will always remember with fond memories. It was perfect.
After my stop there I walked around the town a bit and realised that it had many amazingly beautiful buildings. I passed by a few which were exquisitely painted and decorated with tiles, and looked beautiful. As I kept walking, I also ran into the Quinta da Regaleira palace which looked magnificent from outside. It looked so intricate from the outside, with its own gardens and is definitely something for the next time. Sintra is a place so simple, and offering so much, I can see myself coming here again...