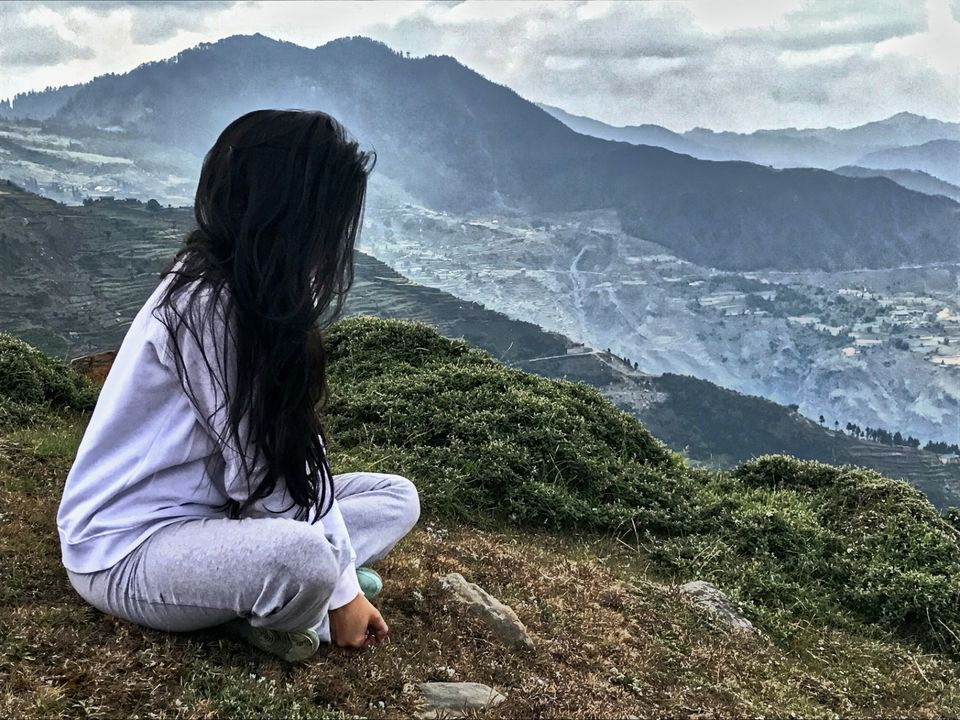 Solitude, when comes along with alluring view and unfaded air, is sure to reboot the human system!
Delhi offers its own medley of weekend getaways, but a common Delhiite always struggle to find an unfrequented destination and end up visiting Nainital or Shimla or Rishikesh. We would have ended up marching the same mountains IF, we wouldn't have come across the name THACHI VALLEY.
Thachi, a small hamlet in Mandi, Himachal Pradesh, is nothing less than a Zion. Google claims that it is 487Kms from Delhi, but what it doesn't say, is that the terrain is exclusively precarious especially the last 40Kms stretch and the bus drivers literally forget to take their foot off from the accelerator while climbing the hills, so when you plan to visit, better carry a poly bag even if you are the most avid mountaineer in the history of mankind (or womankind or both). But, the amateurish road connecting the valley says a lot about the unexplored sanctity of the valley.
Initially we were sceptic about the place, but when you have mountains on your mind, well, nothing can gravitate you away from setting foot on new grounds (or mountains in our case). We got to know about this place while exploring some Facebook groups, what followed next was a plethora of highly rated tales about the place on every travel portal known to humans. Our next few moves ended in placing us on a Bus to Mandi.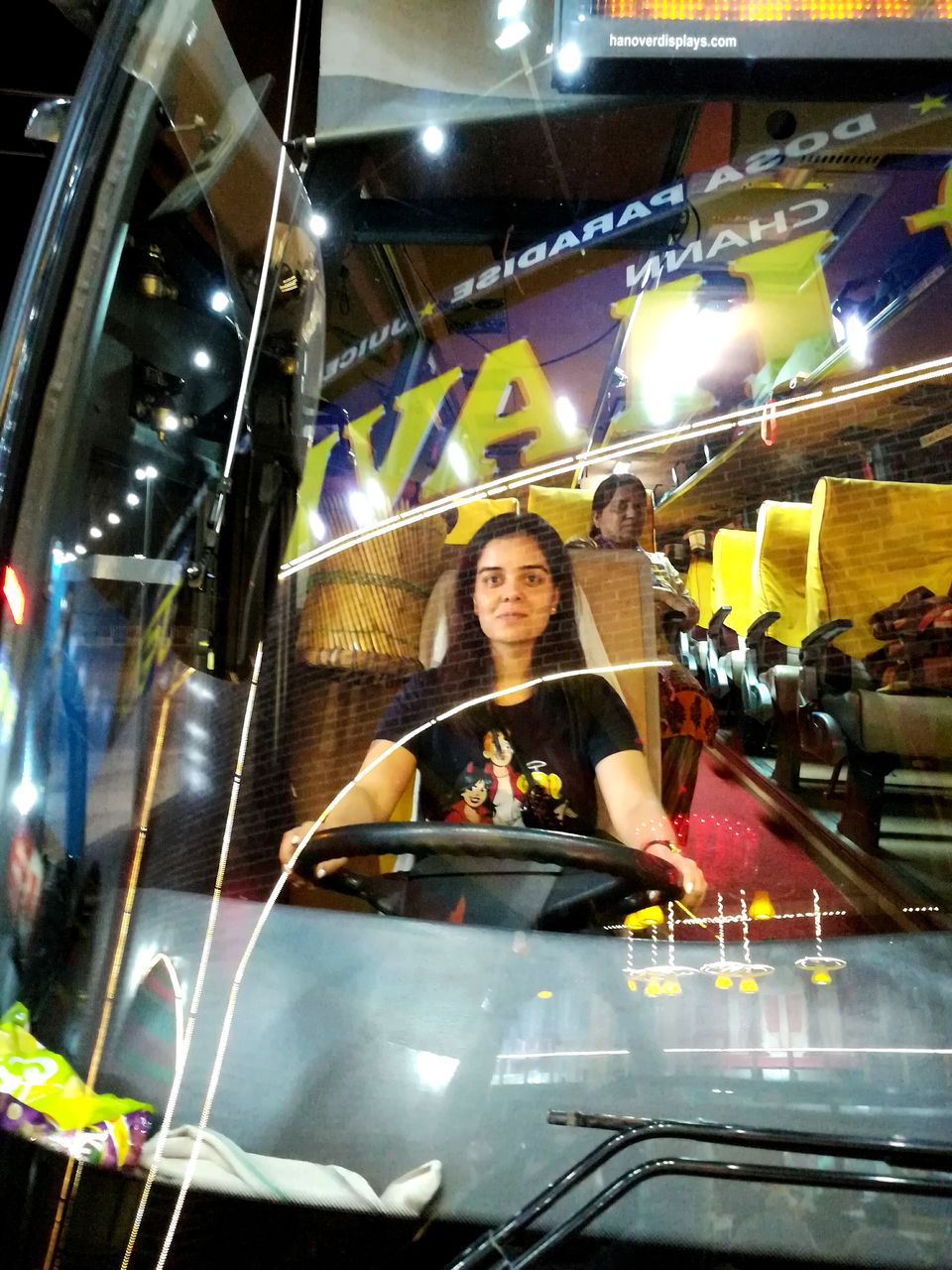 Everything was planned and patched by a travel agent for which he charged 5300 per head and that included a round trip to Delhi, Stay, Food and 2 super awesome treks.
We started our voyage on 18th. May 2017, Thursday at 1900 hours, submerged in the seat of Volvo that proudly read 0001 on the number plate and played Bahubali 2 inside the 32inch screen. Good thing about travelling via Haryana is you get to eat at Haveli (One of the most famous and highly rated food joint)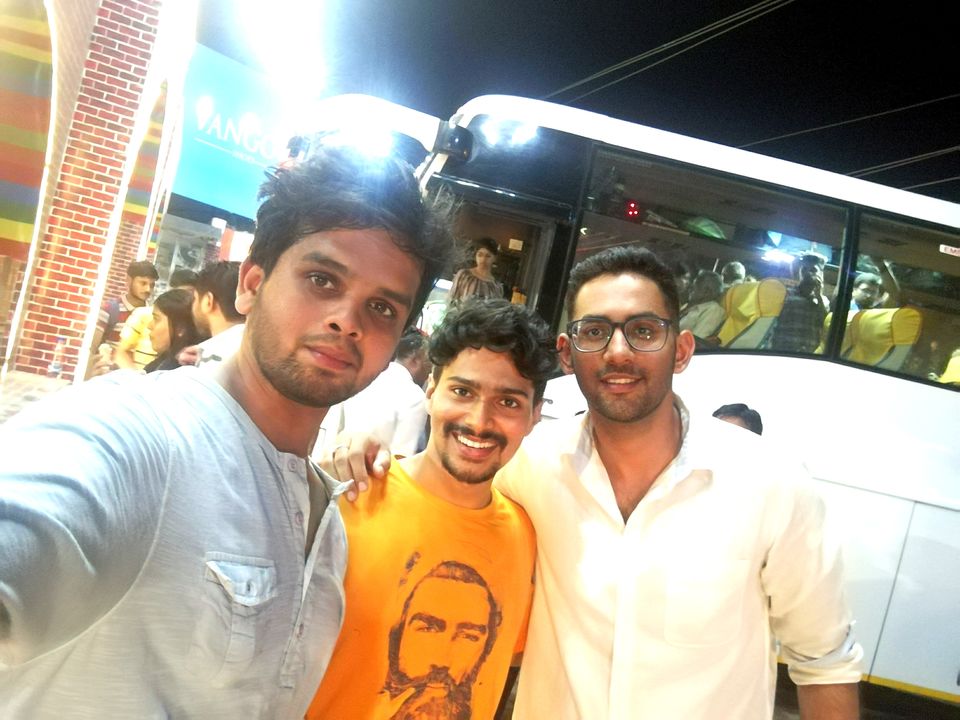 But the only problem is, there are hundreds of Haveli on the highway and every bus stops at different Haveli and every time I eat at one of those I feel like I have eaten on the wrong Haveli, well this is what high expectation does to you.

Six of us were supposed to reach on next day (i.e. Friday) somewhere around 11:00 am, but, it seemed like our bus driver was playing NFS on Xbox with a cheat code for unlimited life and was driving as if every overtake and drift would give him extra point, finally he pushed the break peddle at Aut at 06:00 am in the morning. Alive but half dead, we de boarded the bus and waited for our ride to take us to Thachi.
The jeep took couple of more hours to drop us at Thachi Valley at our stay. As we reached before time so it took the management around one more hour to arrange and set our abode. Guddu took us to our stay,……..what, did I just say Guddu, oh! Please let me take a moment to introduce our beloved Guddu Rangeela, the guide. If you plot Guddu Rangeela on Casanova axes, you'll find him hanging somewhere in between a womanizer and a jovial person and if you extrapolate his existence, people of our next generation would definitely visit Thachi to research on Guddu, the Rangeela Guide. Well, whatever he is, he is the world famous person in the whole of the Valley :D
Coming on to our stay, the wood house, well, we crossed an apple farm and did a little trekking to reach there and what unfolded completely stunned us. The place was a heaven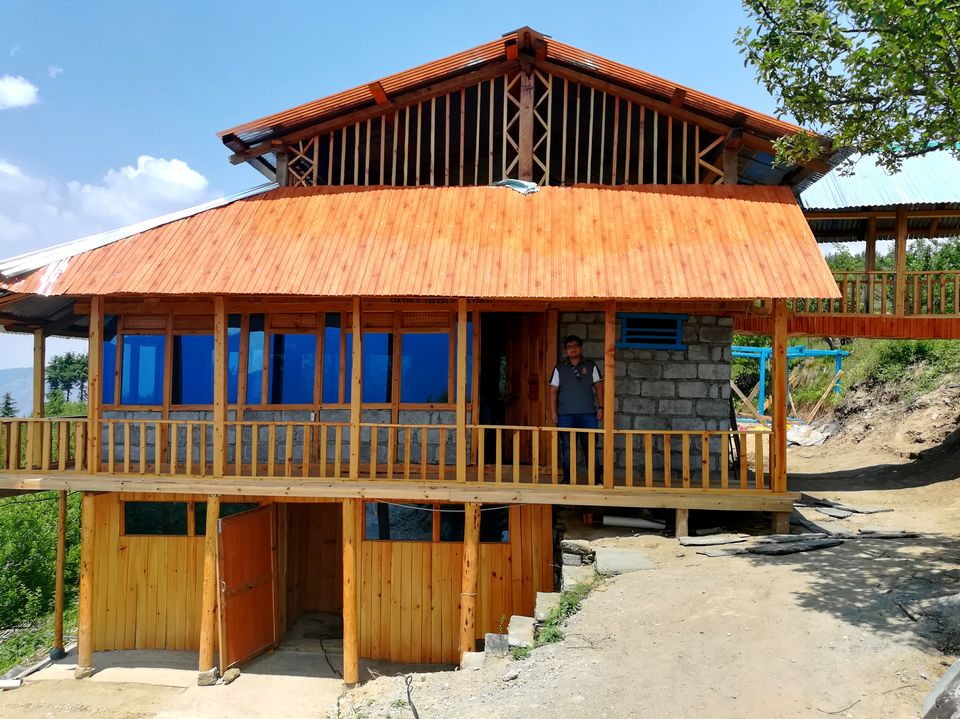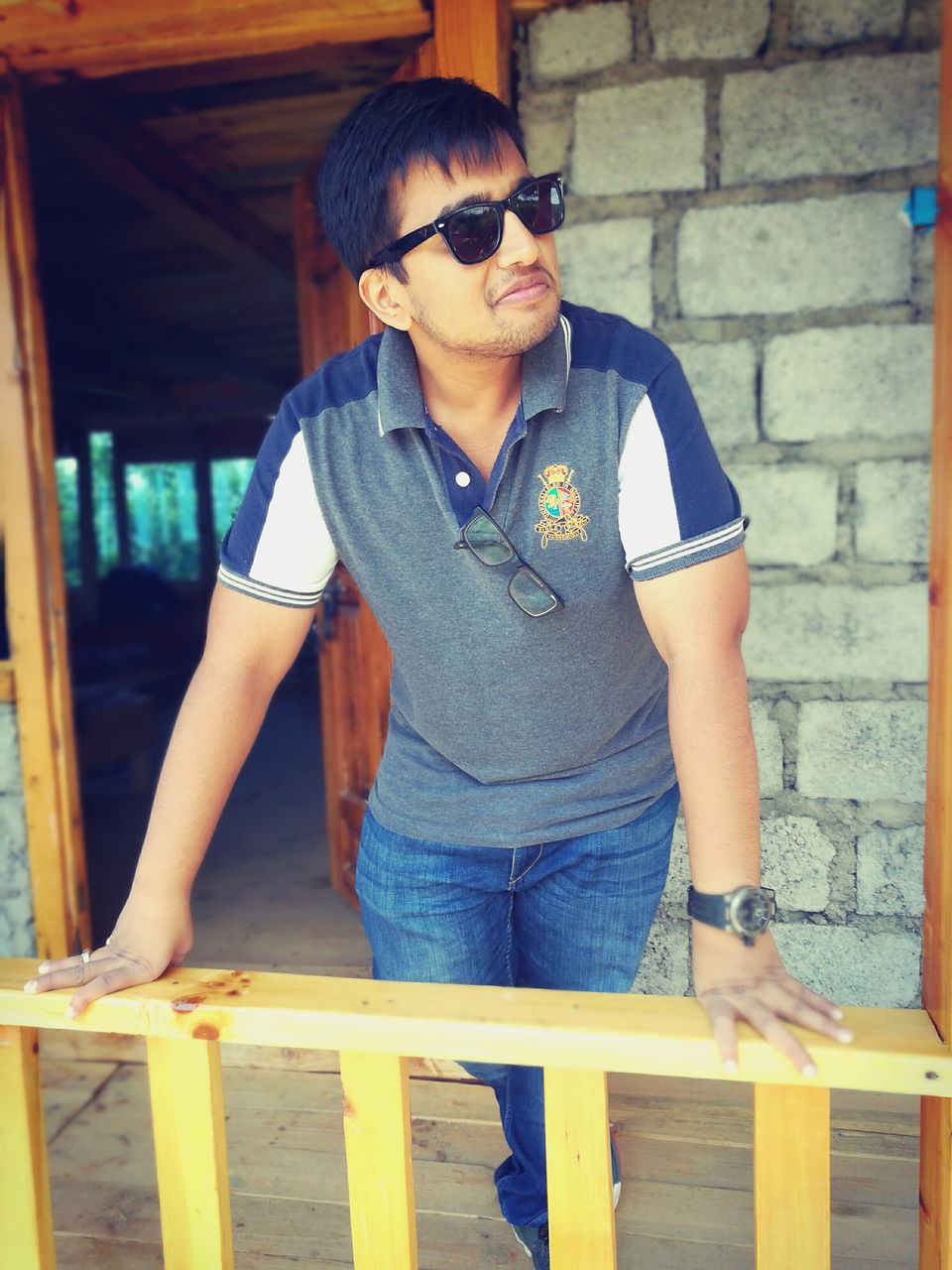 I mean we could have literally and happily spent the rest of our trip time hanging around that place. The panorama view from the balcony was a blend of apple farms, mountains' tops and valleys' bottom.
Guddu arranged breakfast for us and scheduled the Trek to Chajwala Peak at 12:00 in the afternoon.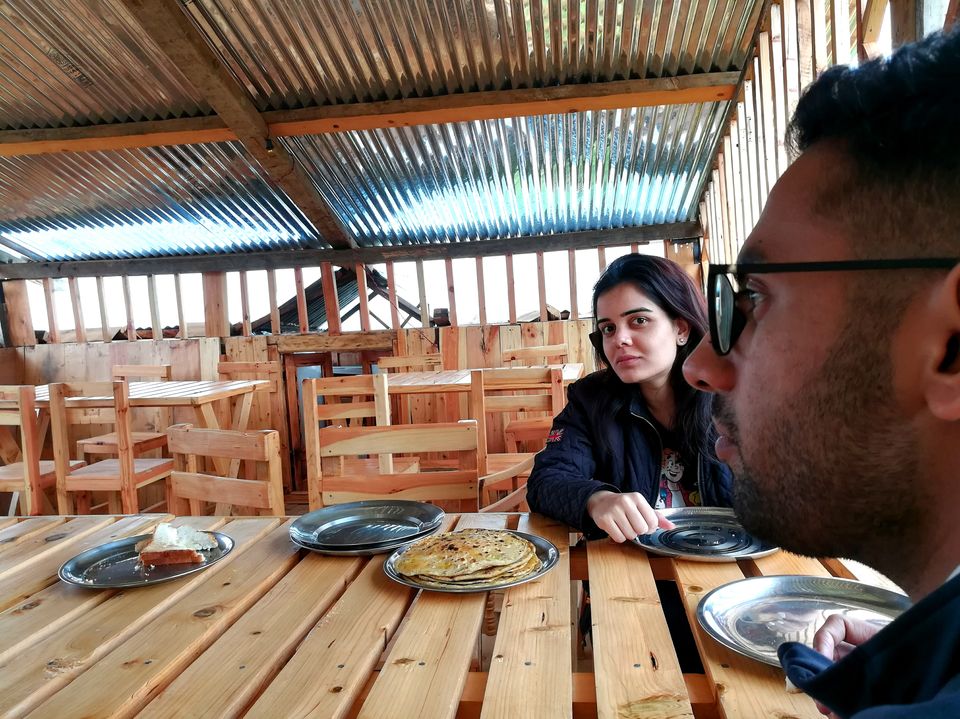 The trek started from our stay. Unlike other commercialized hill stations, there is a lot of lush greenery left in the valley.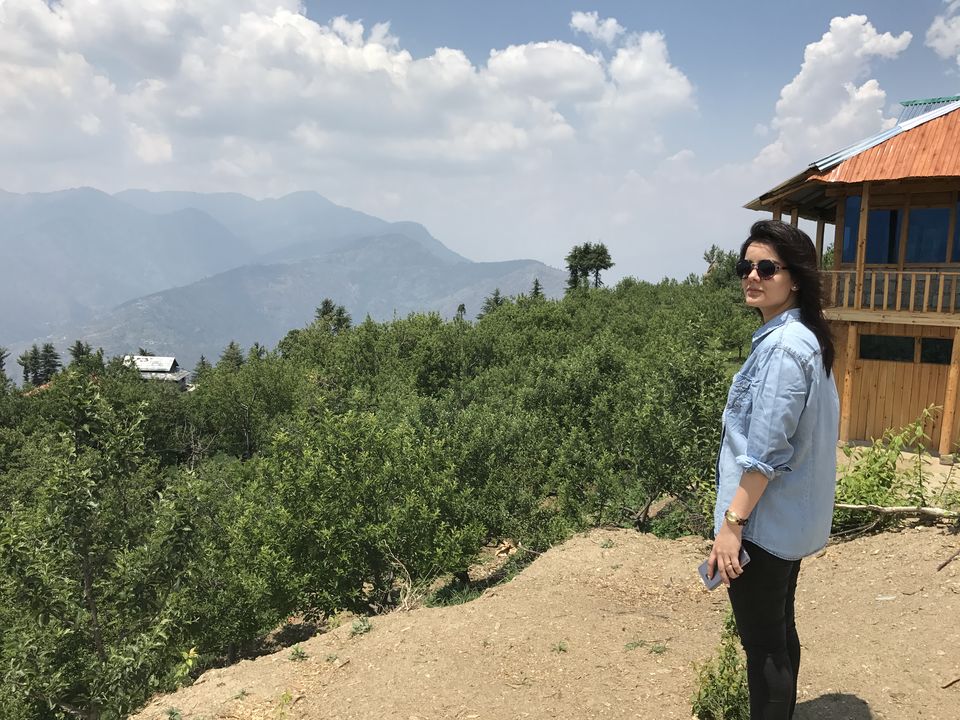 The trek stretch for the day was 12kms to and fro. We started off with a lot of energy and enthusiasm, taking snapshots, absorbing the untouched sunshine and listening to the calmness of mountains, we strode.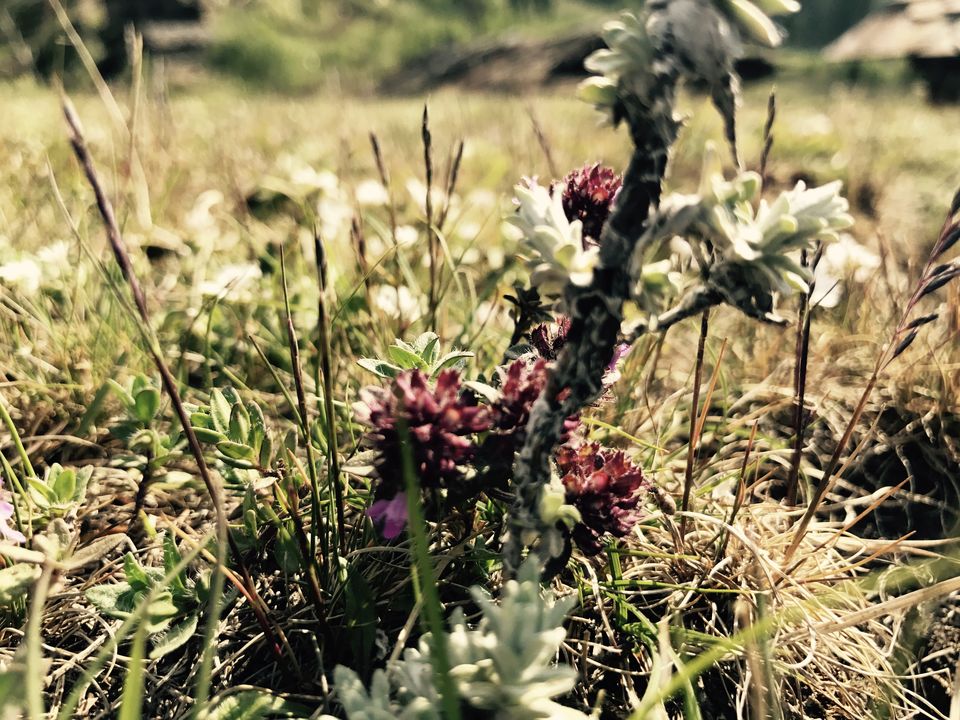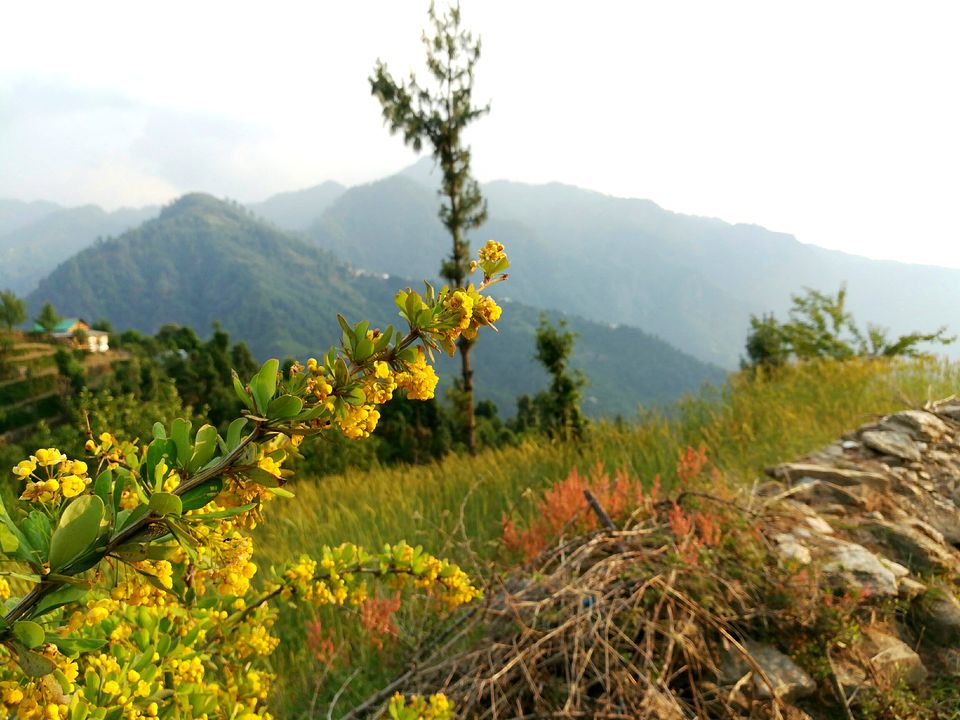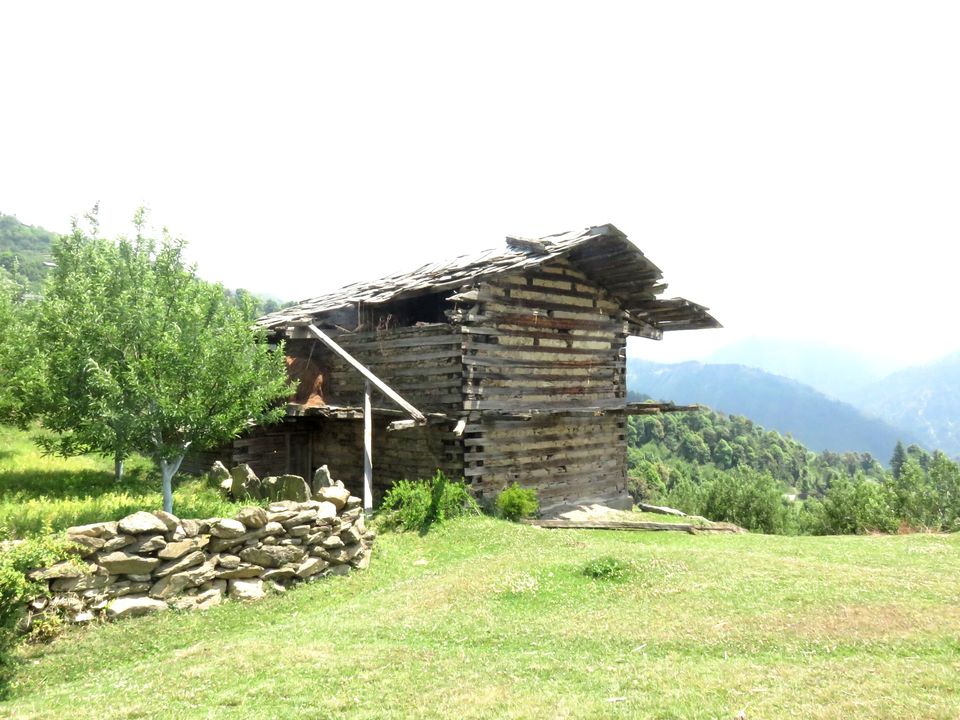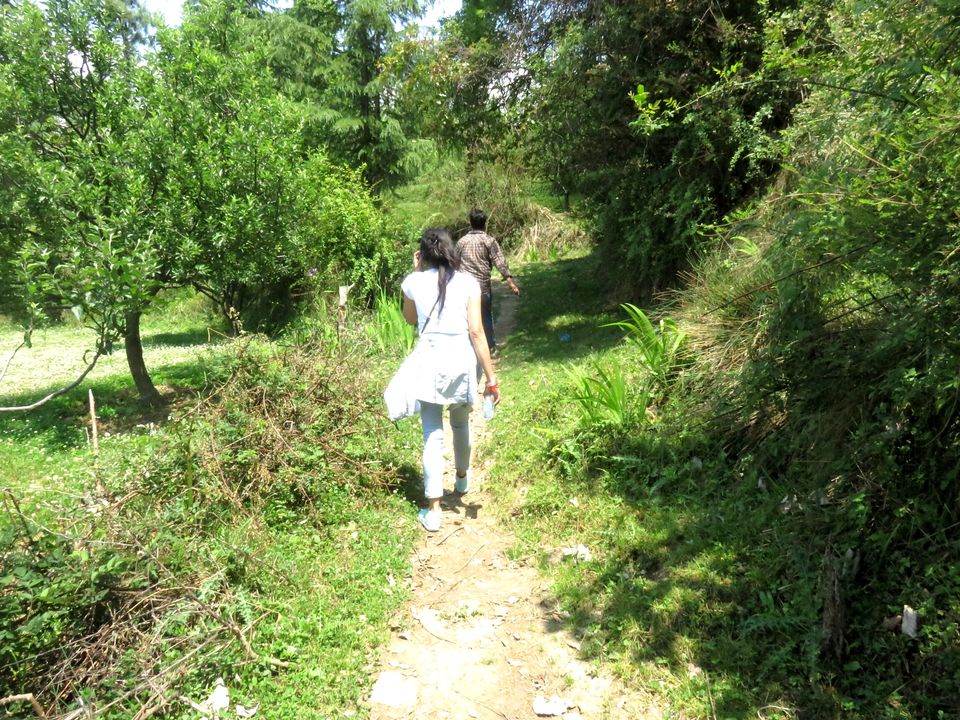 Living in Delhi causes your lungs to stop expecting so much of pure oxygen in one dub, so the anticipated fatigue takes a bit longer to creep in when you trek on mountains. Our first official stop was the Hadimba Temple, though we took infinite unofficial stops by acting dead.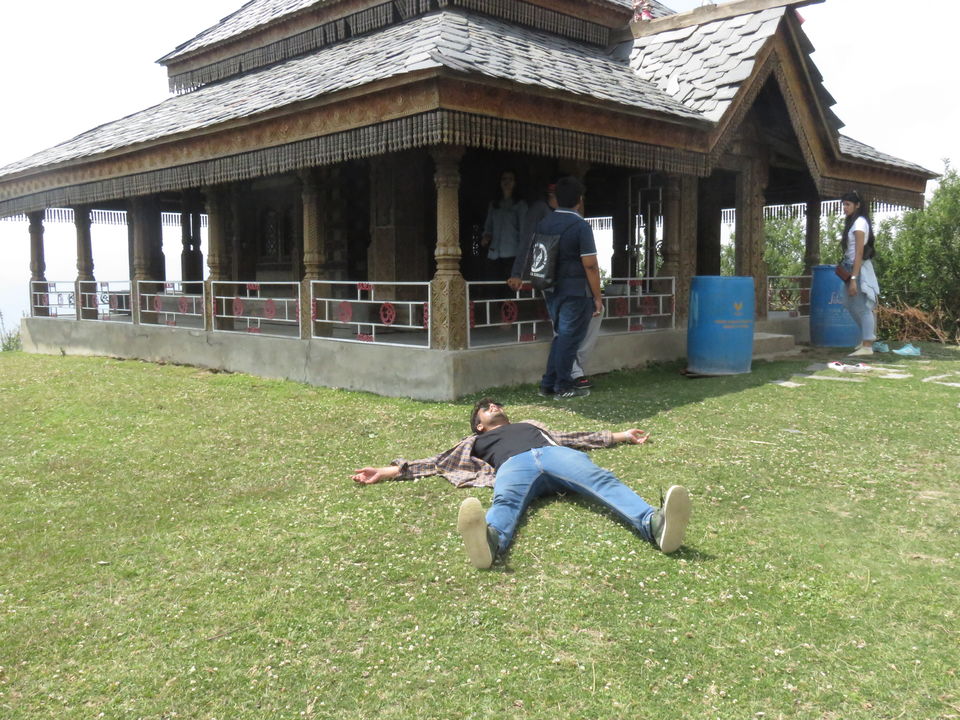 The temple is a marvel, situated on a peak and bowed down by a majestic green plain, with the air gushing through the walls of temple, it could make a perfect sight for a Bollywood movie shoot themed on Reincarnation.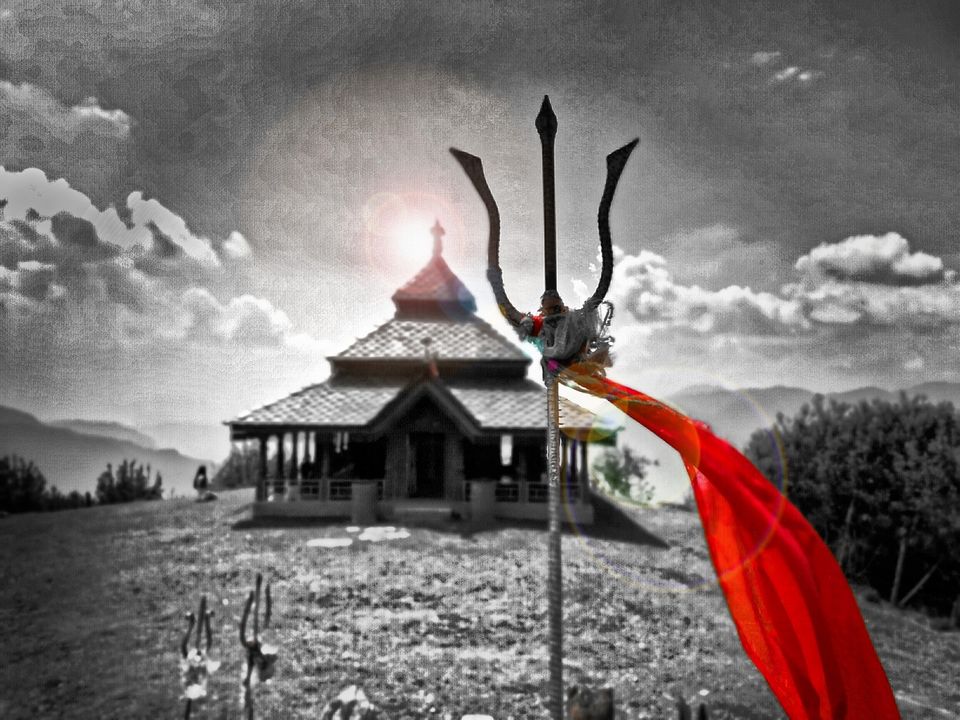 Guddu gave us a window of 30 mins to rest and play before we stomp further for Chajwala peak.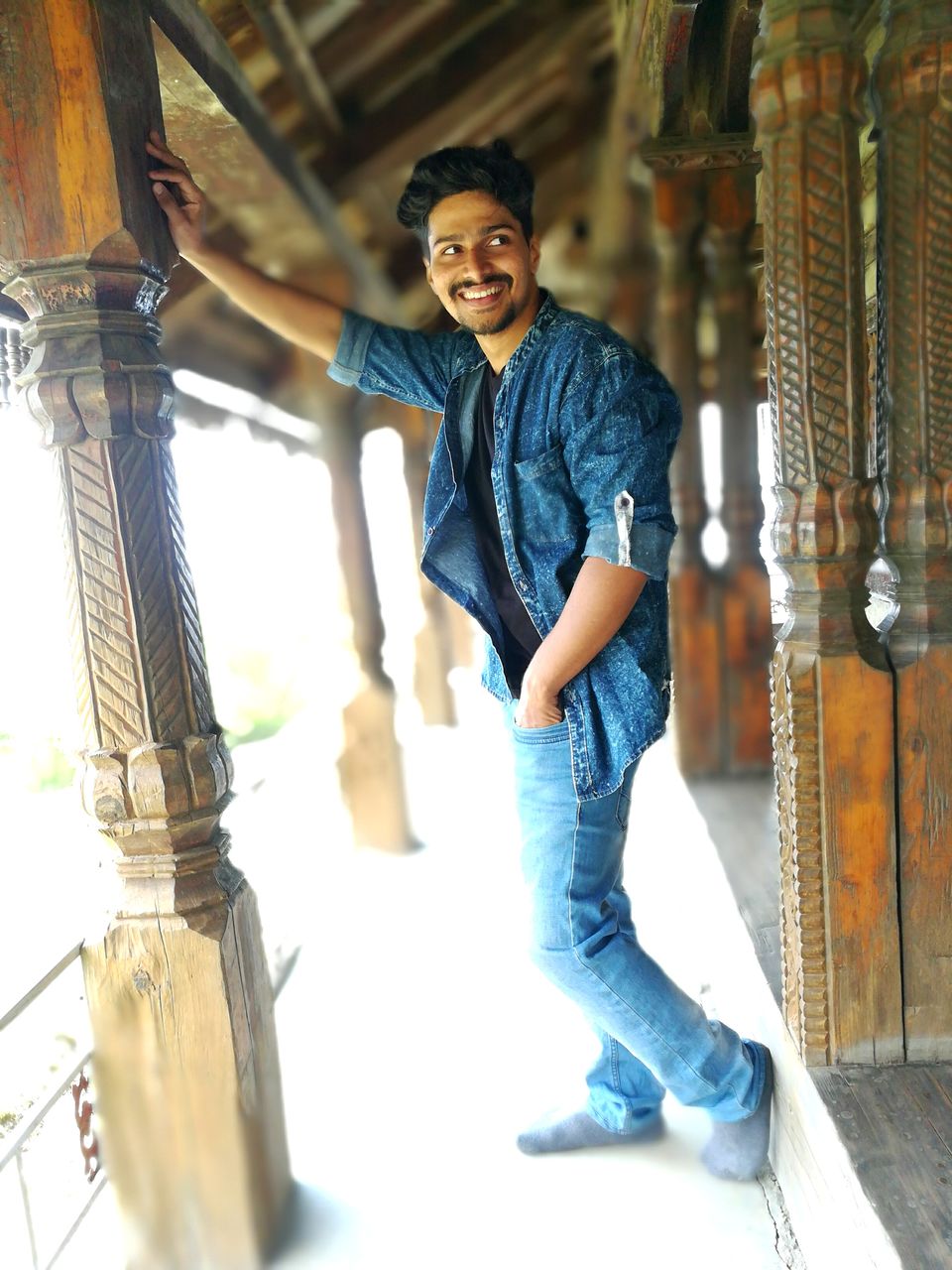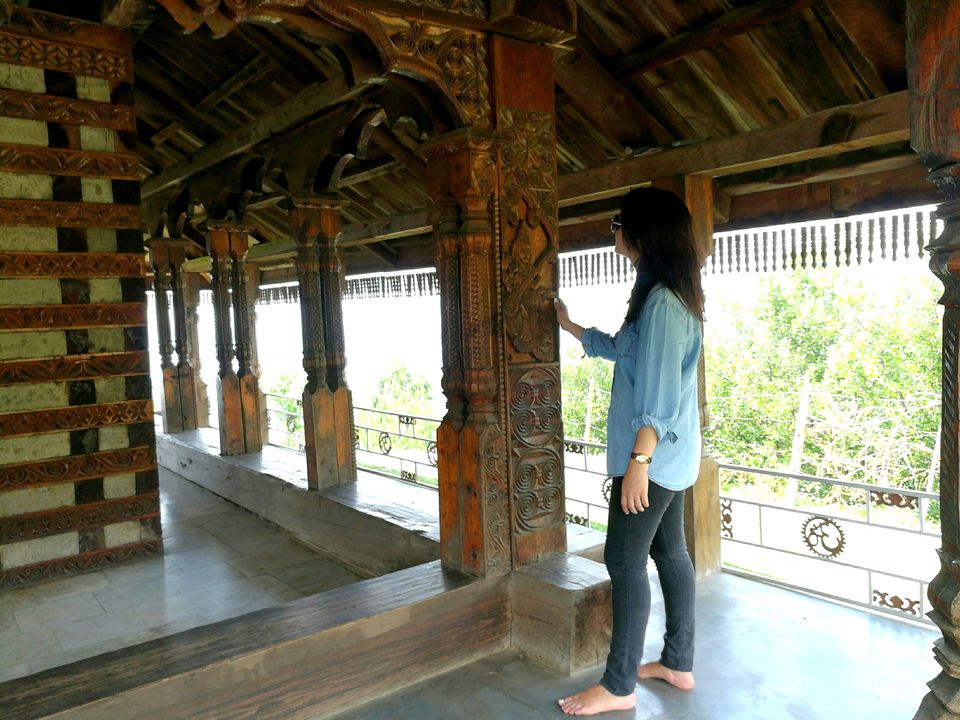 Frolic and hungry we started again, untypical thing about this trek was that, we couldn't find other trekkers or usual Maggi points.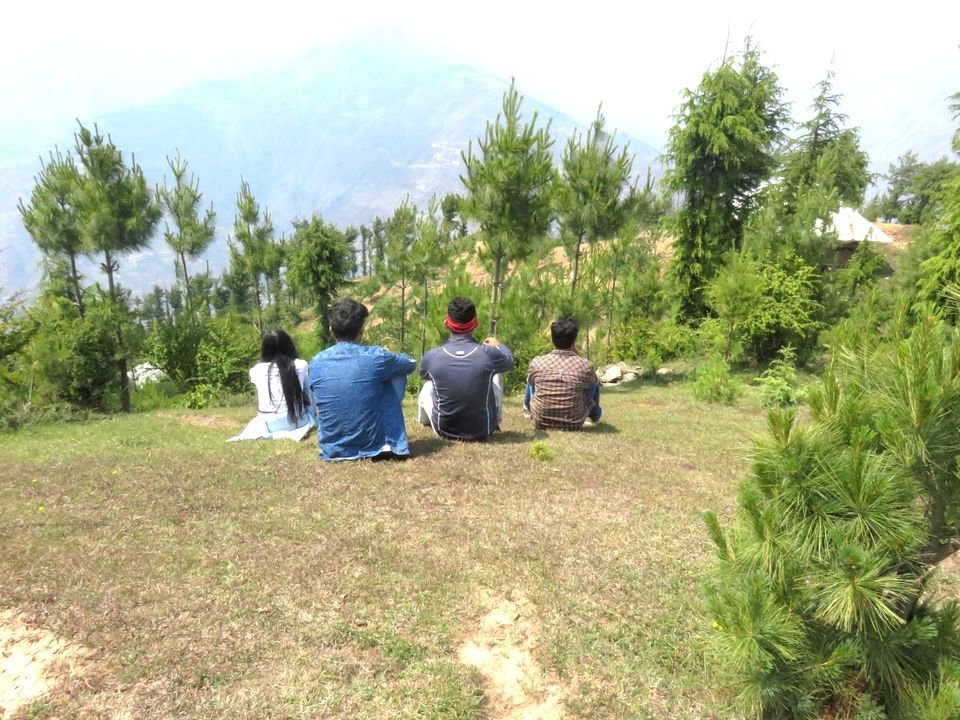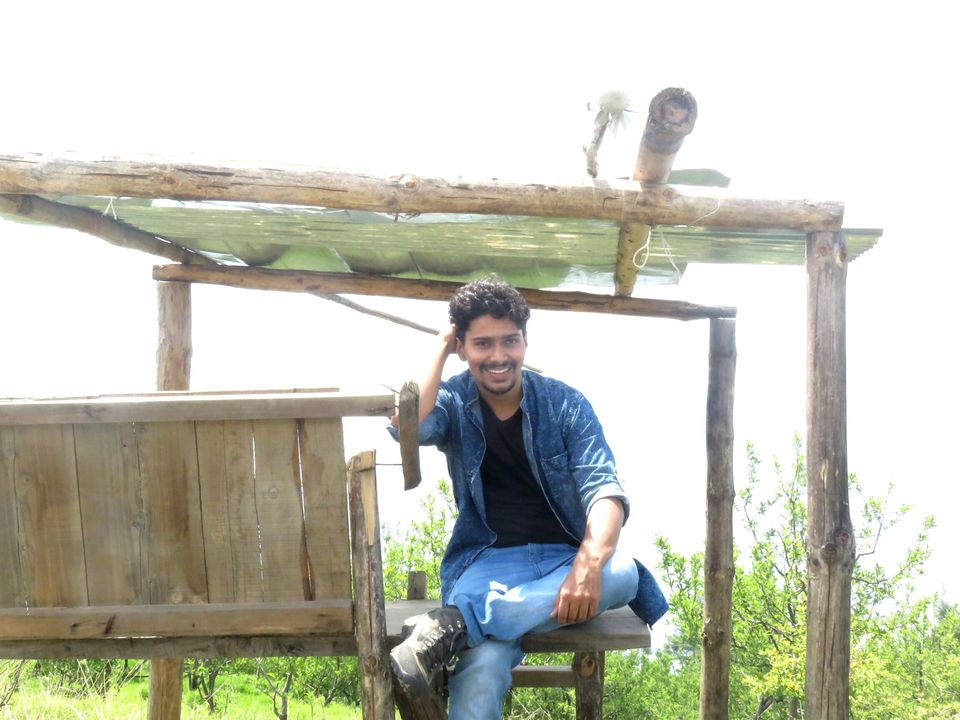 But what we did find was a much needed respire, we found an ice cream guy :)
Chajwala peak was filled with locals, playing cricket and football, a small lake offered freshly minted water straight from the mountains. The place was indeed picturesque and lively,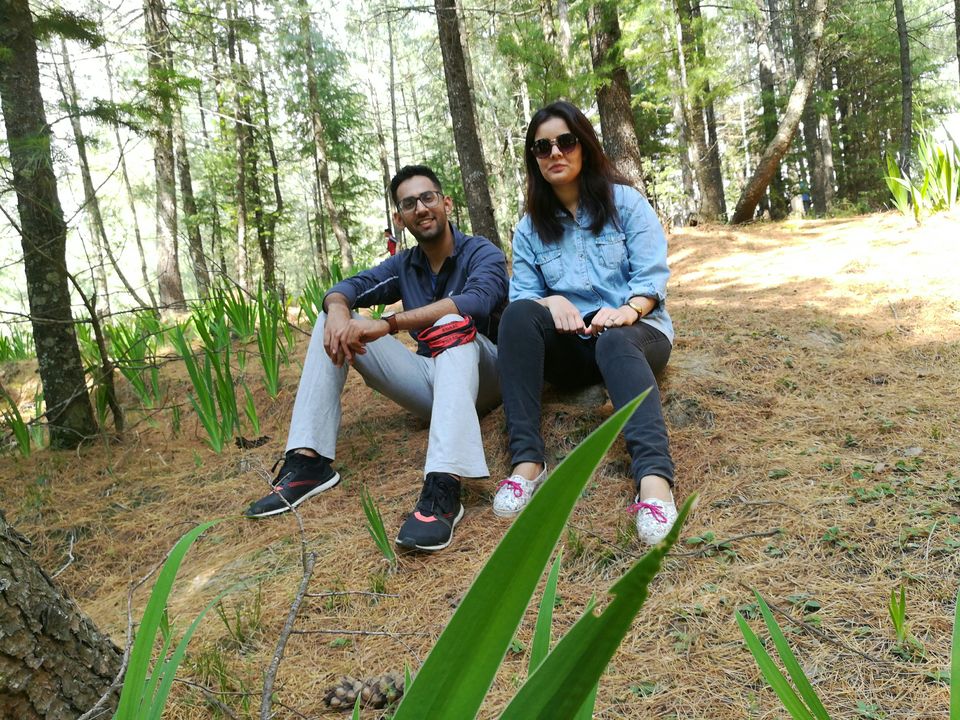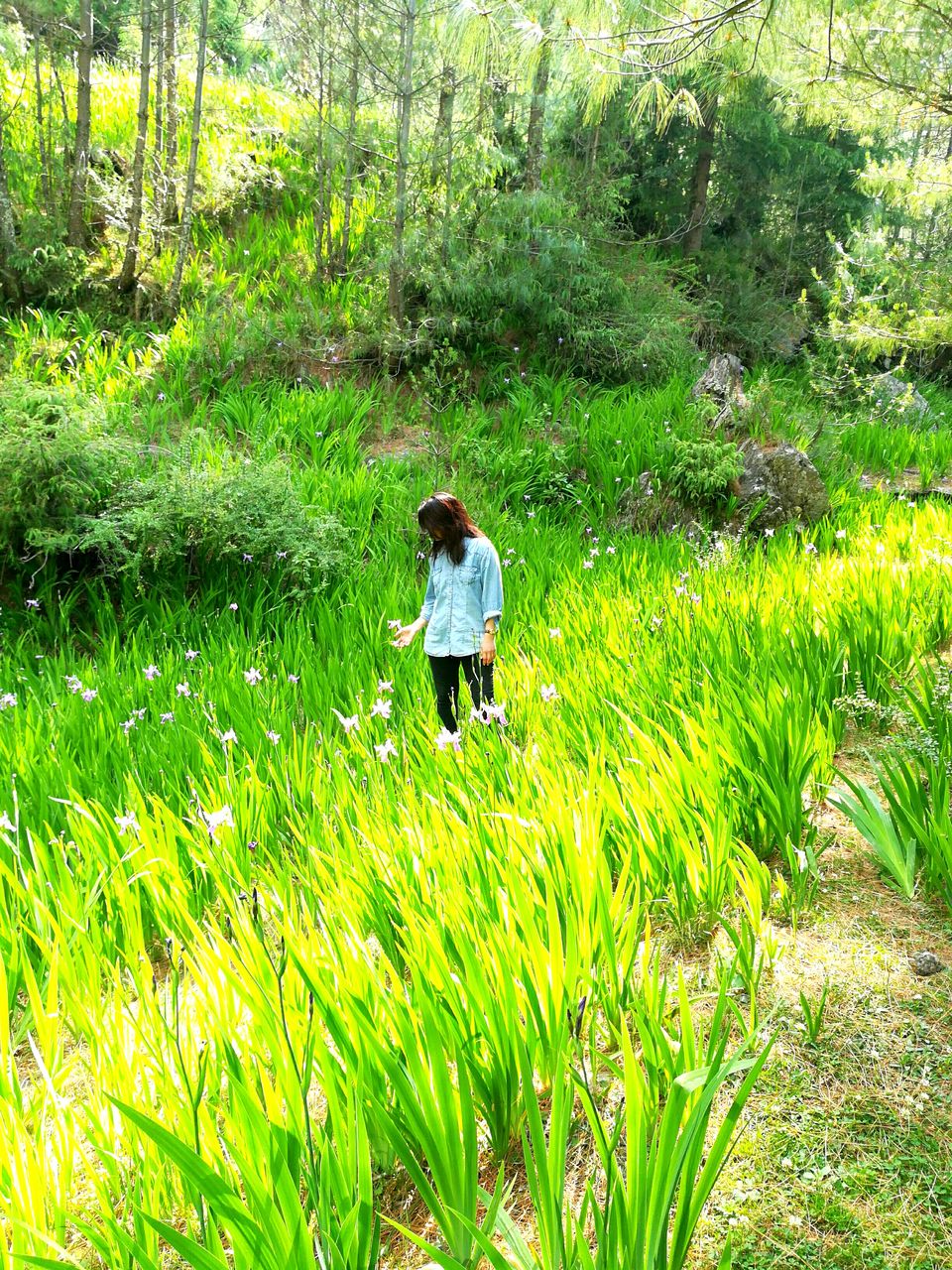 but hungry up to the brink we didn't stop there for long and moved to the place where our lunch was waiting for us. Guddu had arranged lunch in the house of some local people with local cuisine.
The food was delicious and we stuffed as much as we could.

The return journey was easy and quick, we took the route via main market and came back to our wooden palace by 7:00 along with the dusk. The night was reserved for Bonfire, the speedy wind and pitch dark world around our stay created a perfect aura for a horror movie shoot.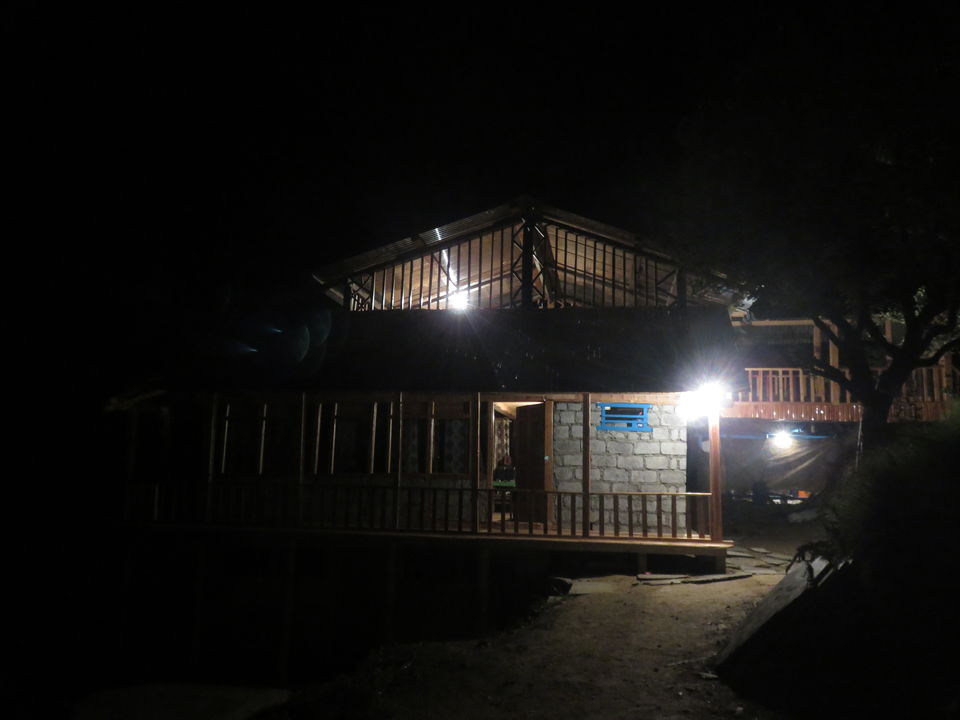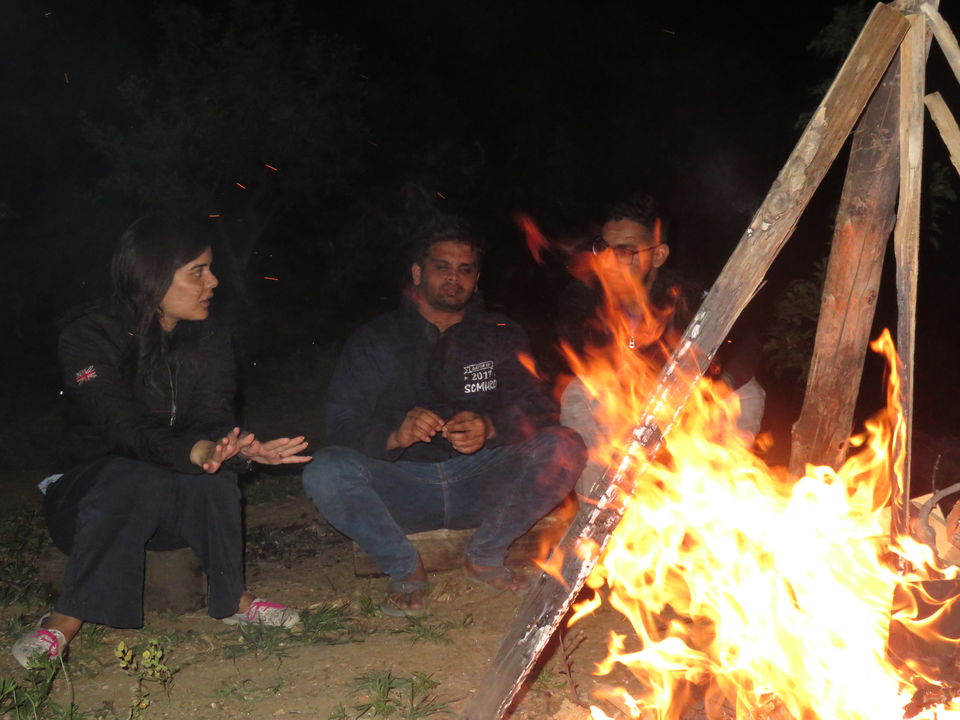 My playful group did its best to theorize their imagination about the spirit appearing from the darkness and made the place appeared to be completely haunted, the weather played in sync and turned the atmosphere even more bizarre. We dared each other to walk up to the end of the balcony alone and stay there for 5 mins, well, obviously none was able to complete the task.

Saturday, 21th. May, 2017: A mid difficult level, 40kms roundabout Trek to Gaon Beed was schedule to be activated at 07:00 am. The fight between warm bed and frosty floor was taking its toll on some of us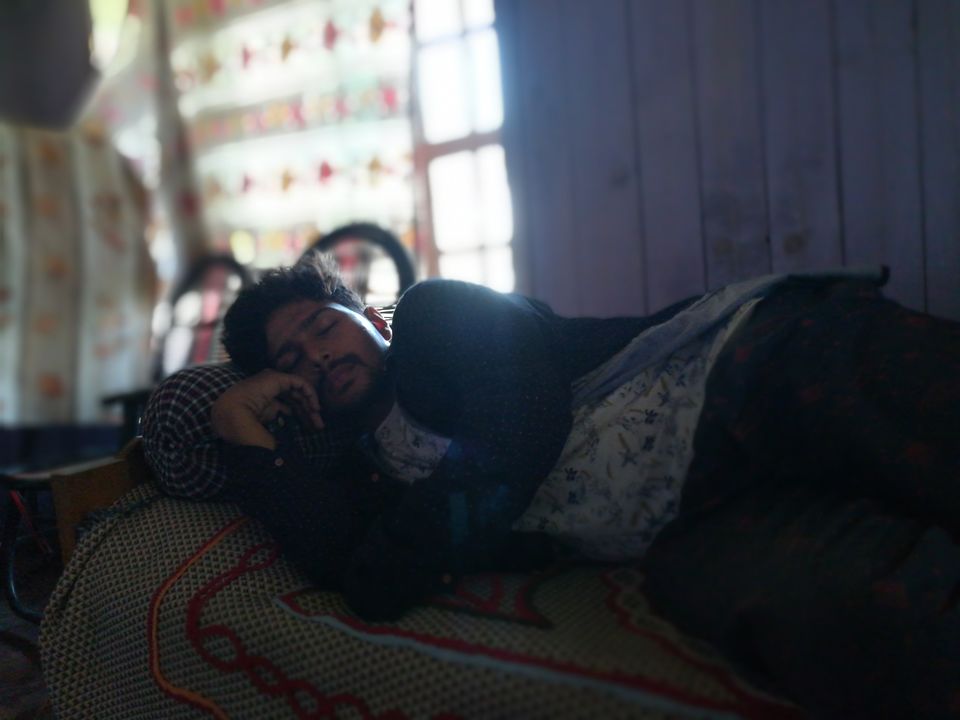 Others got up at 05:00 am in the morning to witness the fast hand landscape of Mountains manufacturing the cloud and sun giving space and diffused light to their ethereal love.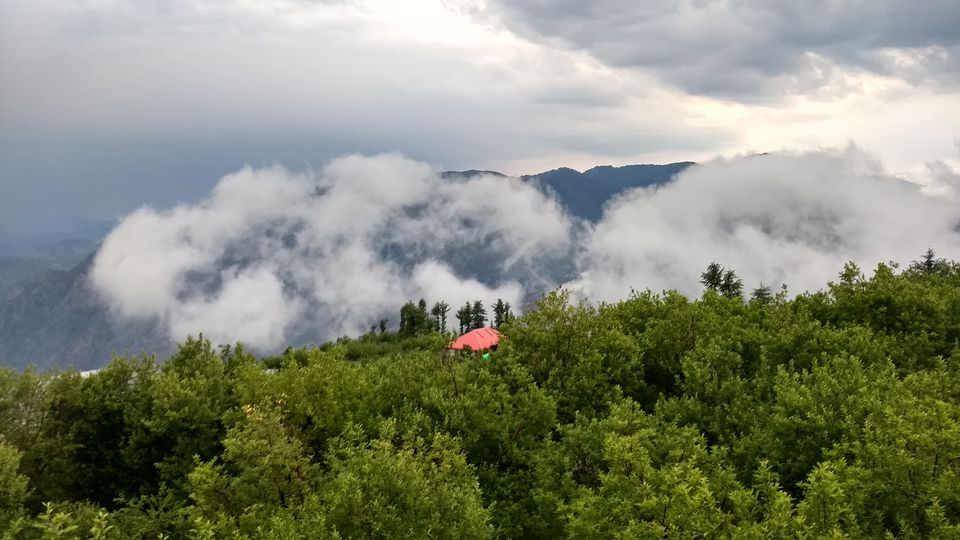 We took our breakfast, packed small carry bags with extra cloths and chips and biscuits and water and left for the trek at 08:30 am. Hopping and singing and crossing the main market and a primary school and the thachi village we reached Ashu Alli waterfall. We planned to get soaked before we moved forward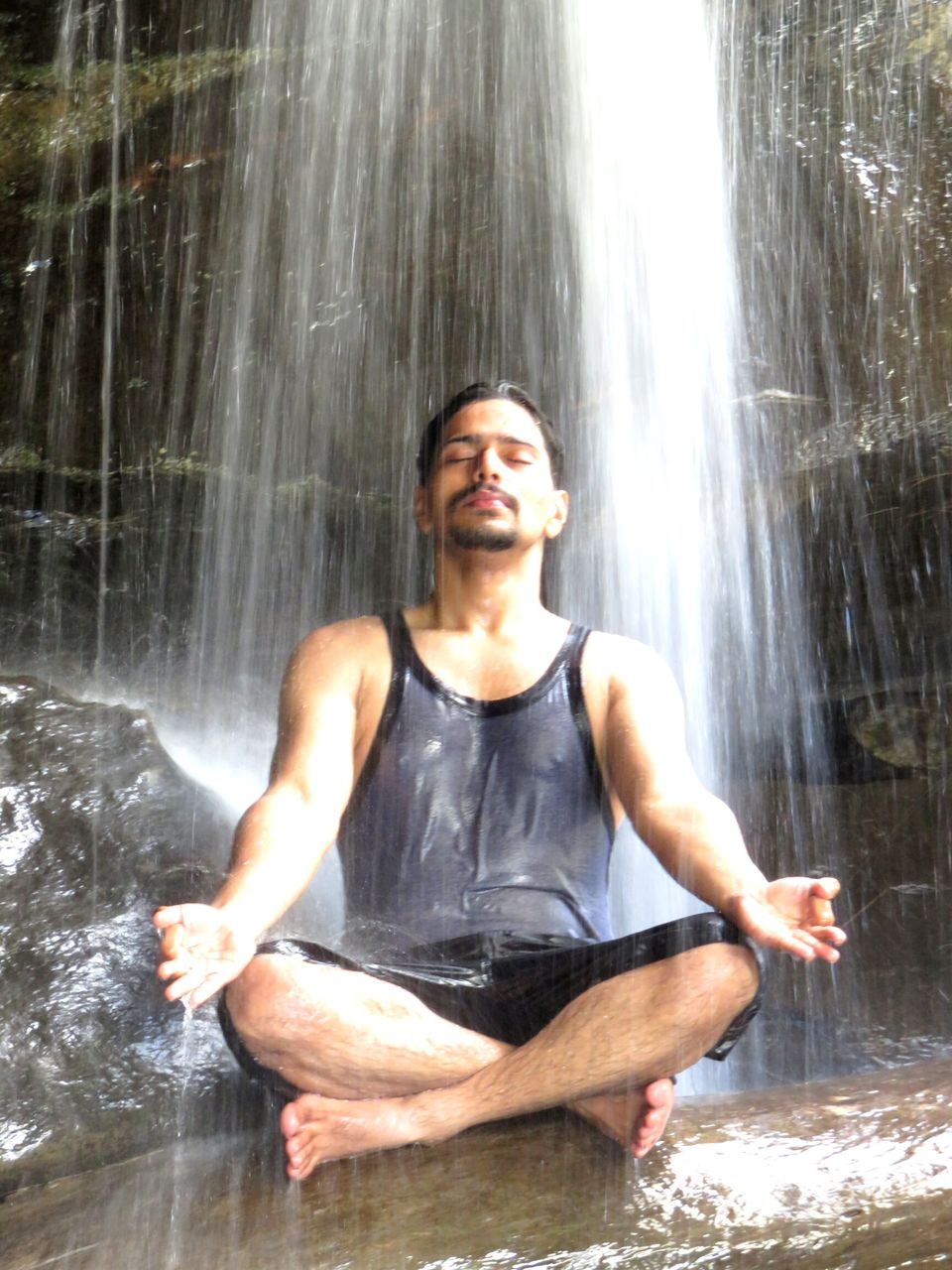 the water was icy cold and the manoeuvring required to reach the bottom of the water fall could be tagged as expert level. Vivek started the ceremony of slipping and falling into the water, soon the whole group followed the lead and end up hurting their legs, hands, heads and what not.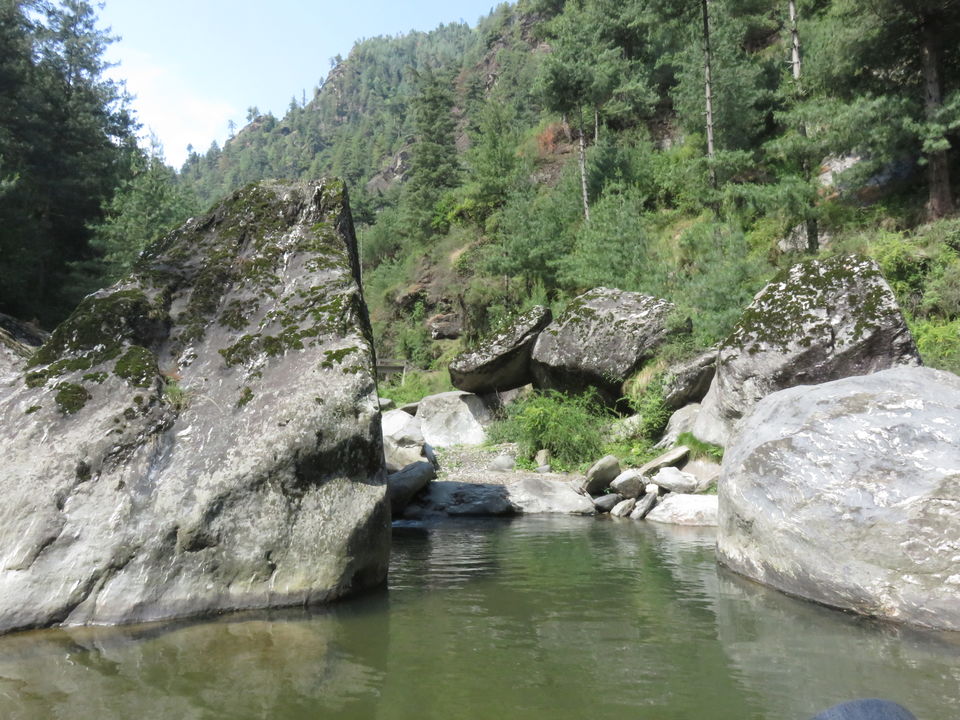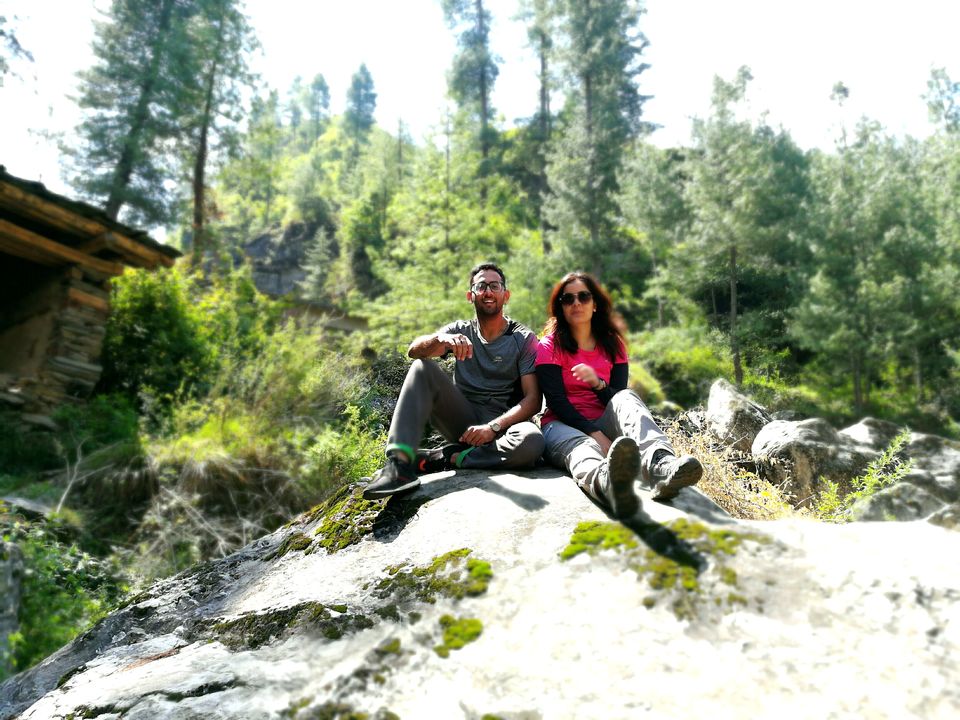 We had 3 more people accompanying us, carrying tents and sleeping bags, we decided to carry our sleeping mats by tying in around our bags, jackets, belts.
The trackway was splendid, a mingle of broken stairs, muddy ground, bewitching Greenfields, extensive plains, huge trees and secluded surroundings with no trace of local settlements. A treat to eyes and soul of every mountaineering connoisseur.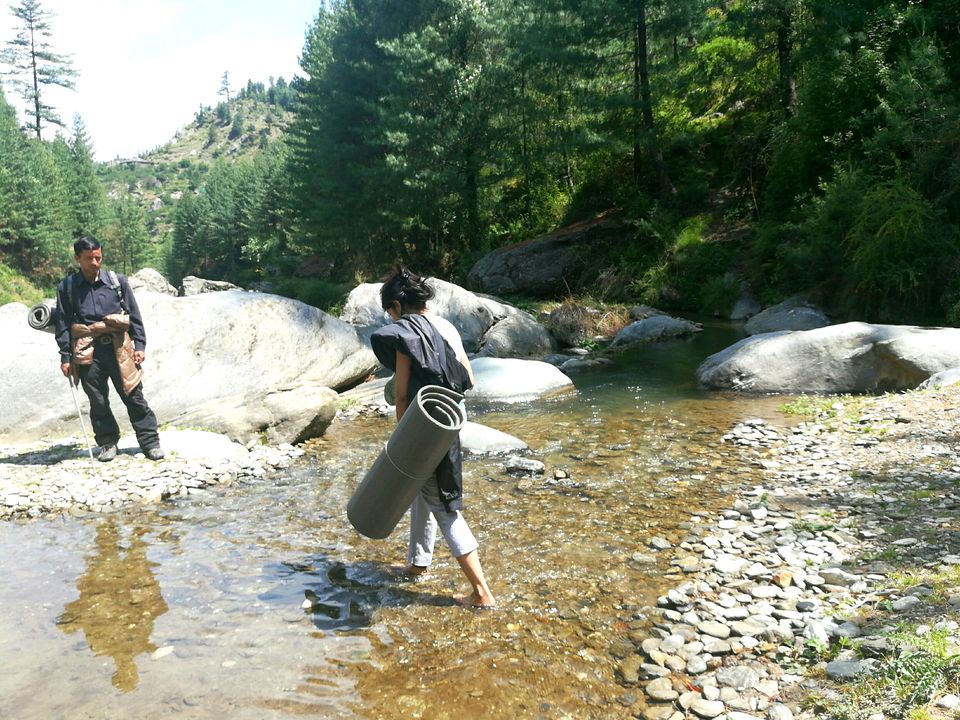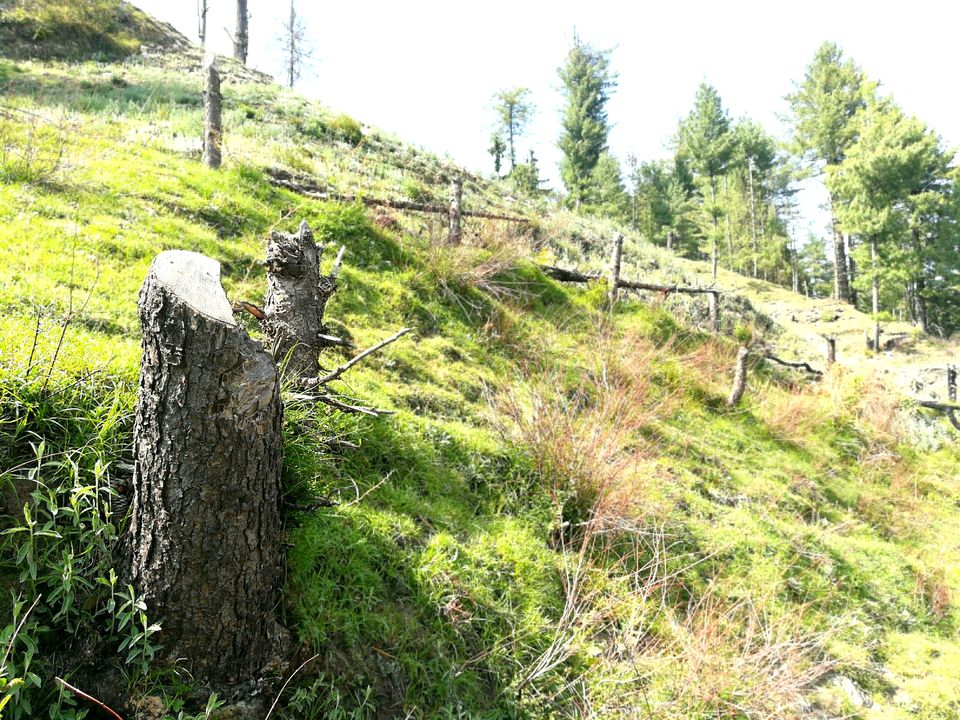 Every now and then Beas river open up a small visible water source to cheer up the trekkers and keep them moving.
The trek kept on translating from steep slopes to plains to forest to deserted river bed to narrow pathway, sometimes just enough to put a foot at a time.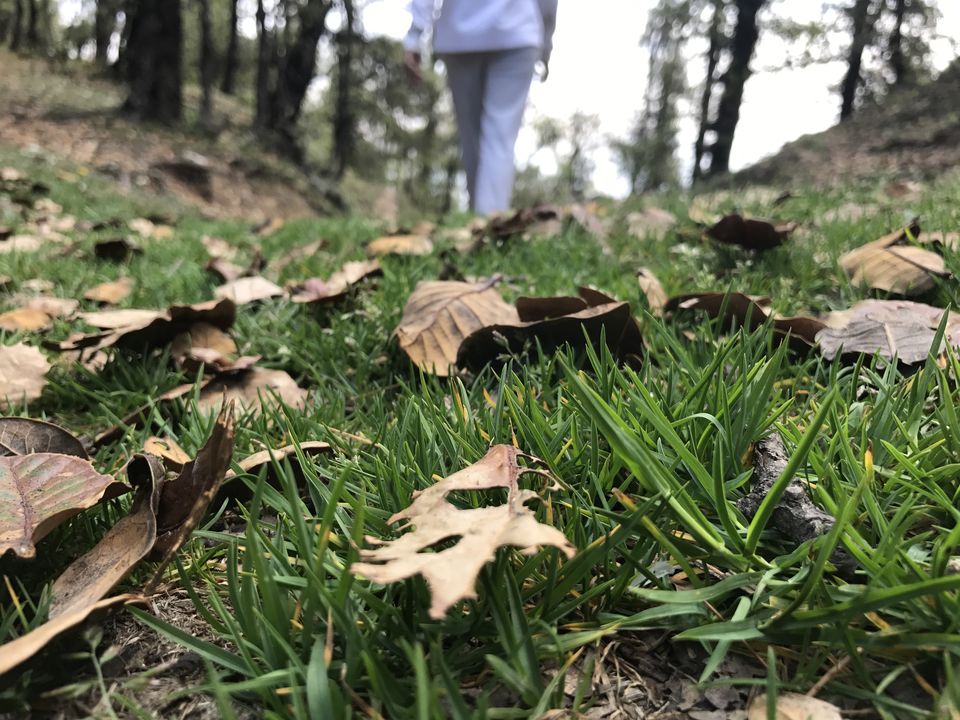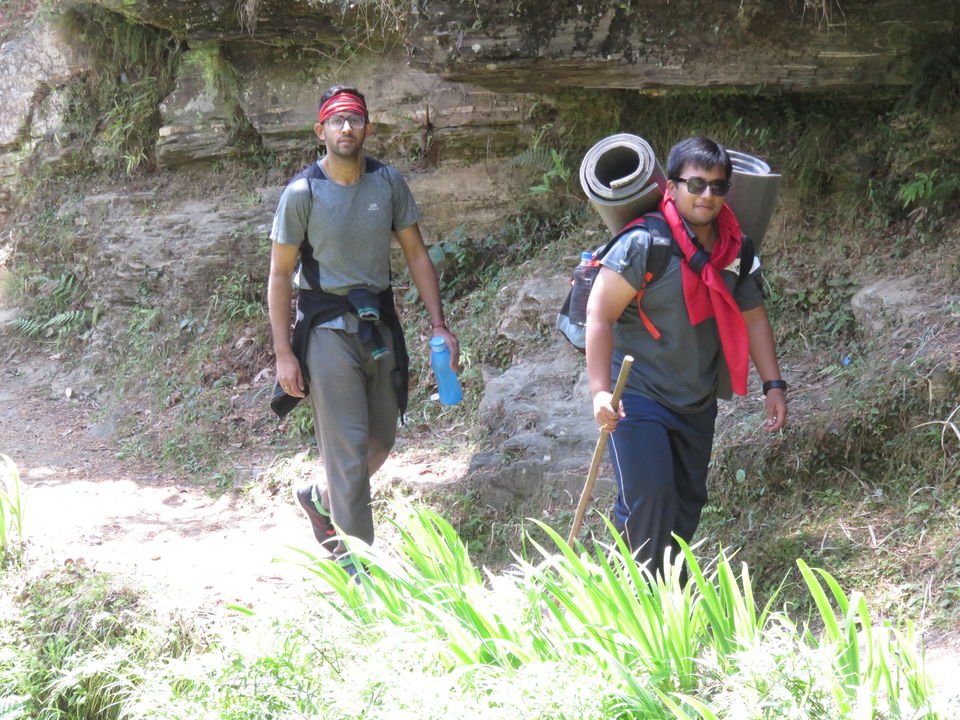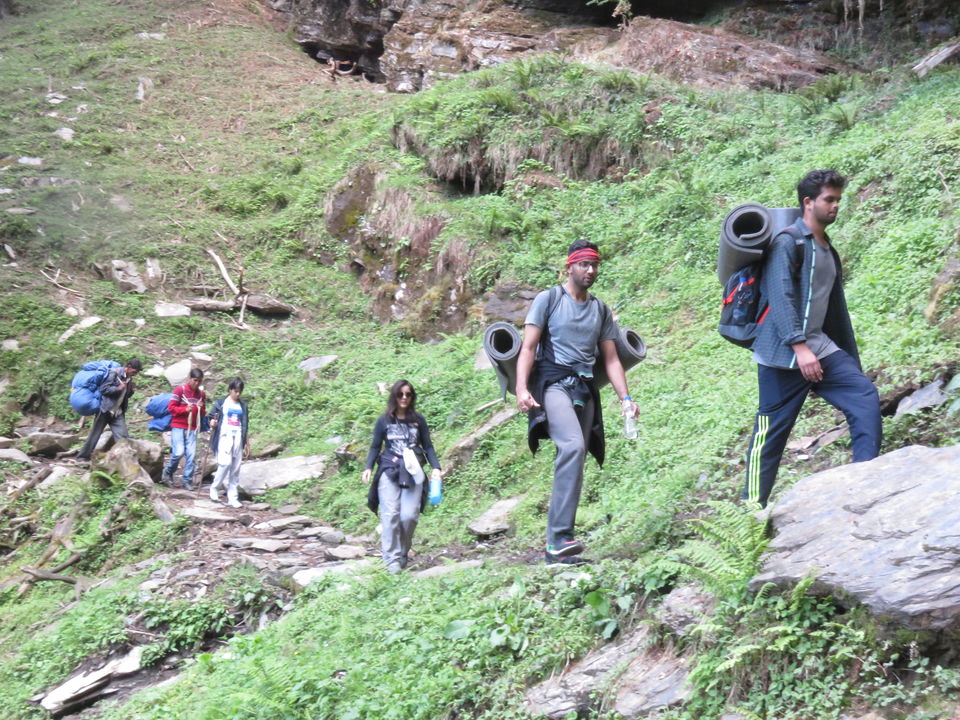 Rajesh, our guide arranged lunch for us at Kamedhar village, we reached the place at 12:30 in the afternoon, the adorable host offered us Rajma Chawal and Tea and Lassi, Rajesh allowed us to get some sleep.

2 hours of sleep and our System Restored, we were all set to march again, the terrain after Kamedhar village was more of a plain. According to Rajesh ETA to Gaon Beed was 3 hours form there. We were required to reach before sun to avoid crossing paths with wild animals and set up camps and camp fire. On the way, we halted at a Devi temple.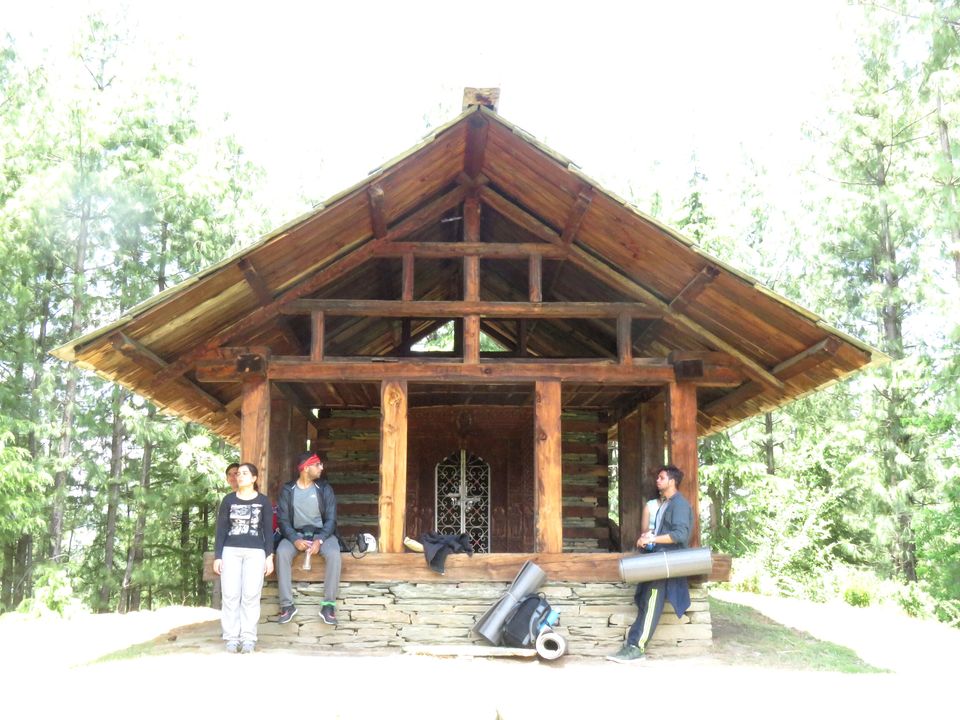 Thereafter, Rajesh took us to a small plateau for sightseeing, we crossed a farm, a road block and few broken stairs to reach that place.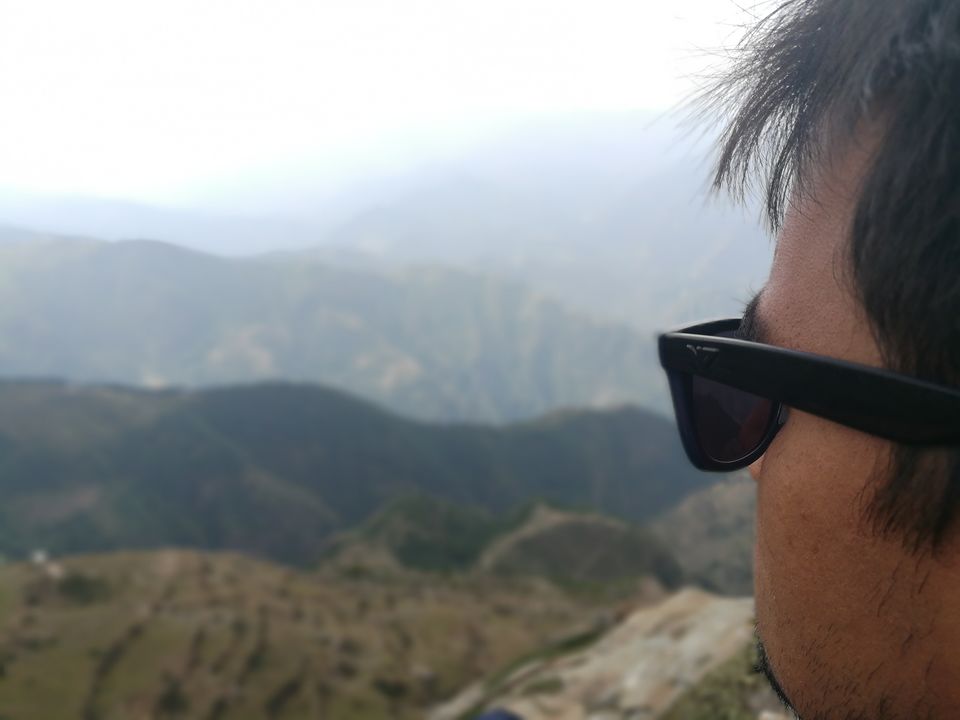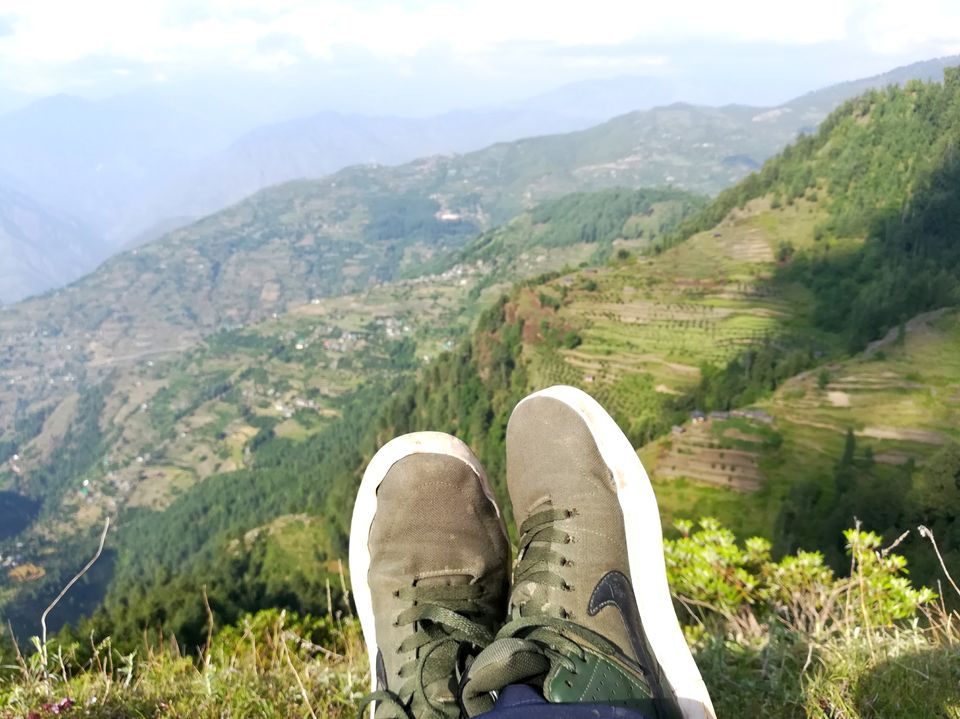 We finally reached Goan Beed at 5:00 pm along with the dusk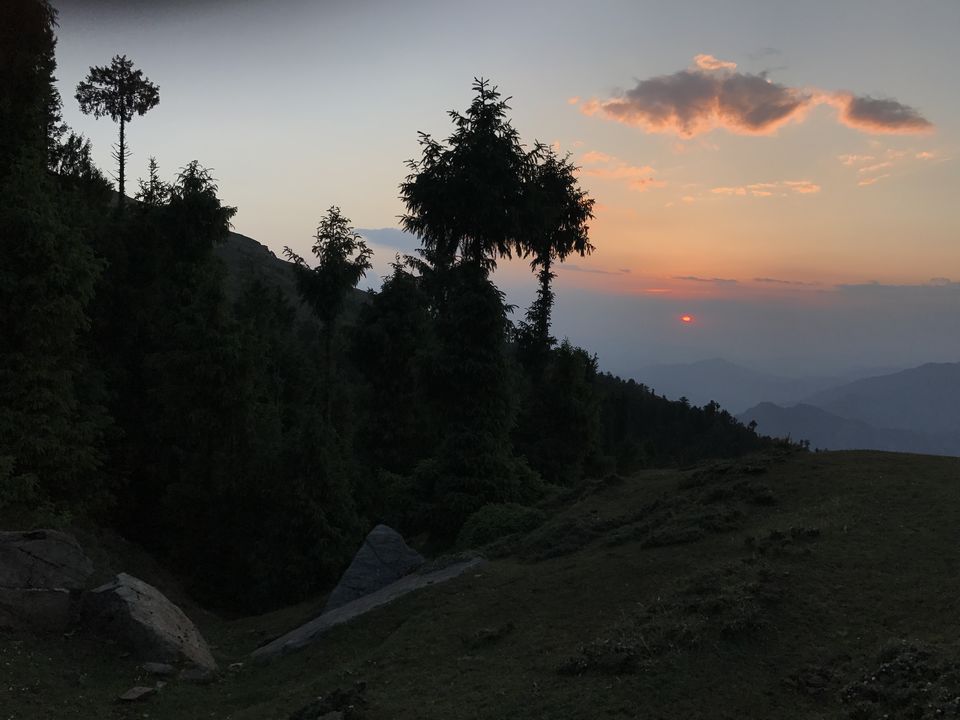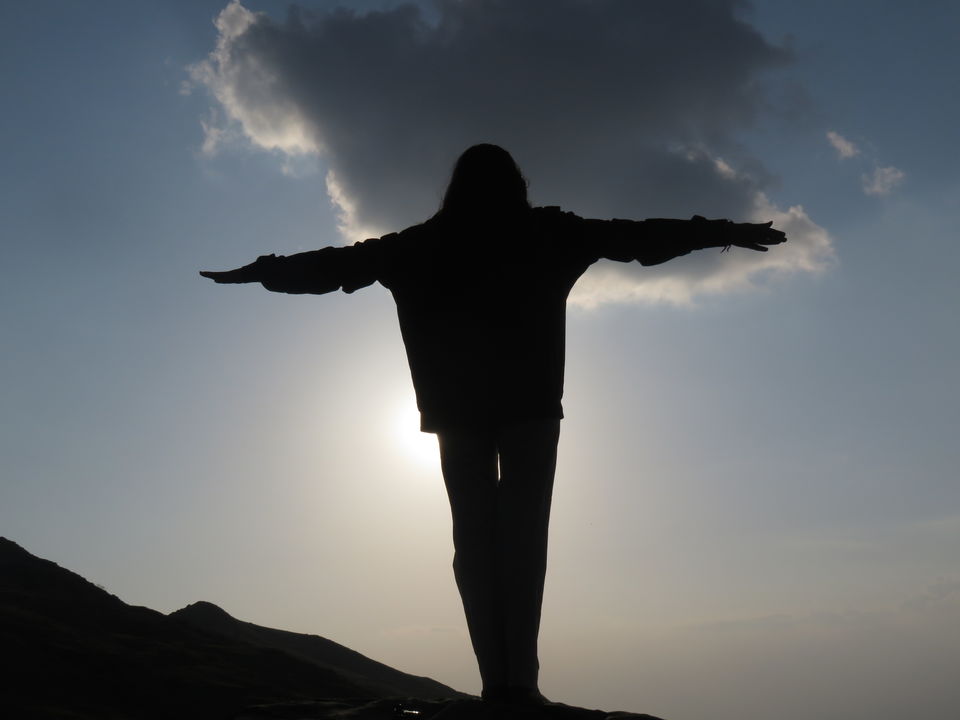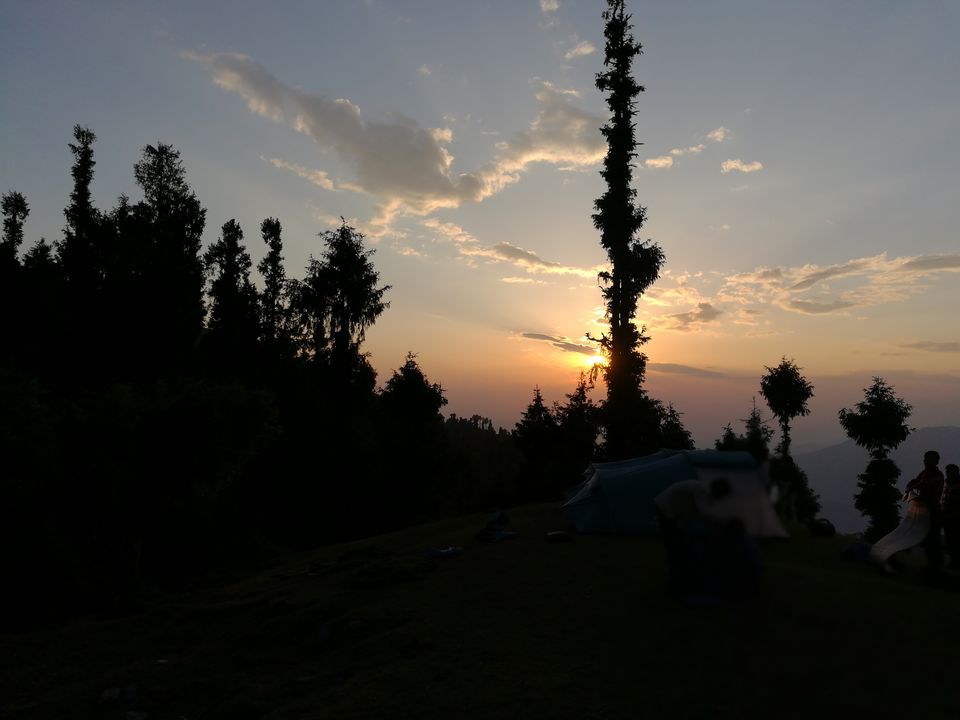 Rajesh advised to setup the camp in a valley and not on the peak, as according to him probability of survival in the valley and not getting eaten up by wild animals was higher there, than on the peak, plus there was a source of water and few settlements in the valley. The Greenfield offered a lot of perfect spots to make world class DP.
Rajesh got our dinner cooked and delivered to us inside our camps. Temperature started dropping exponentially after the subset.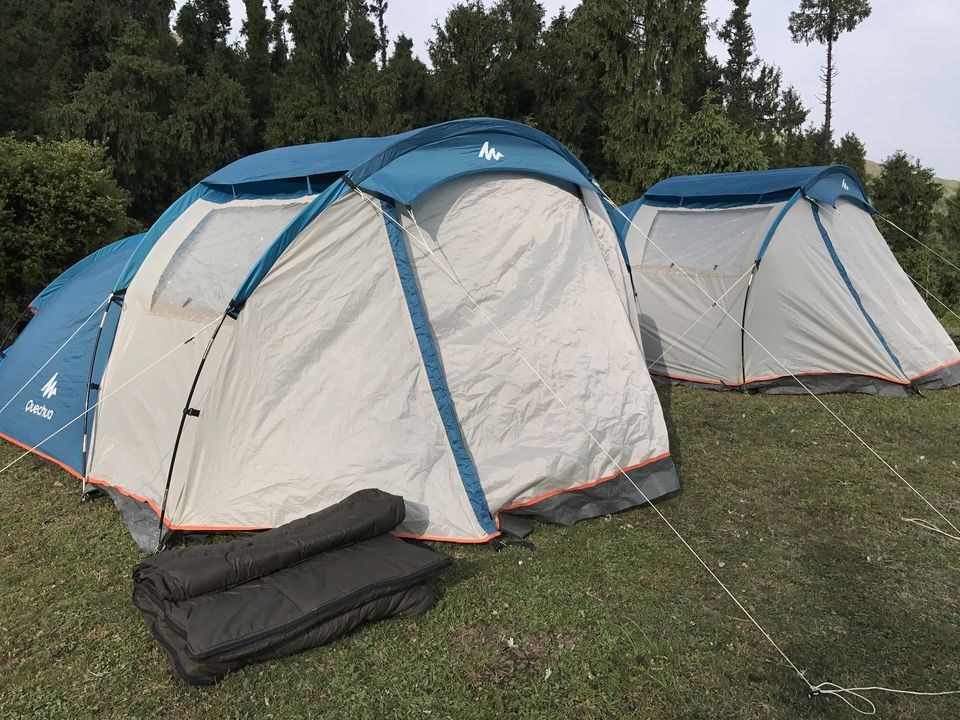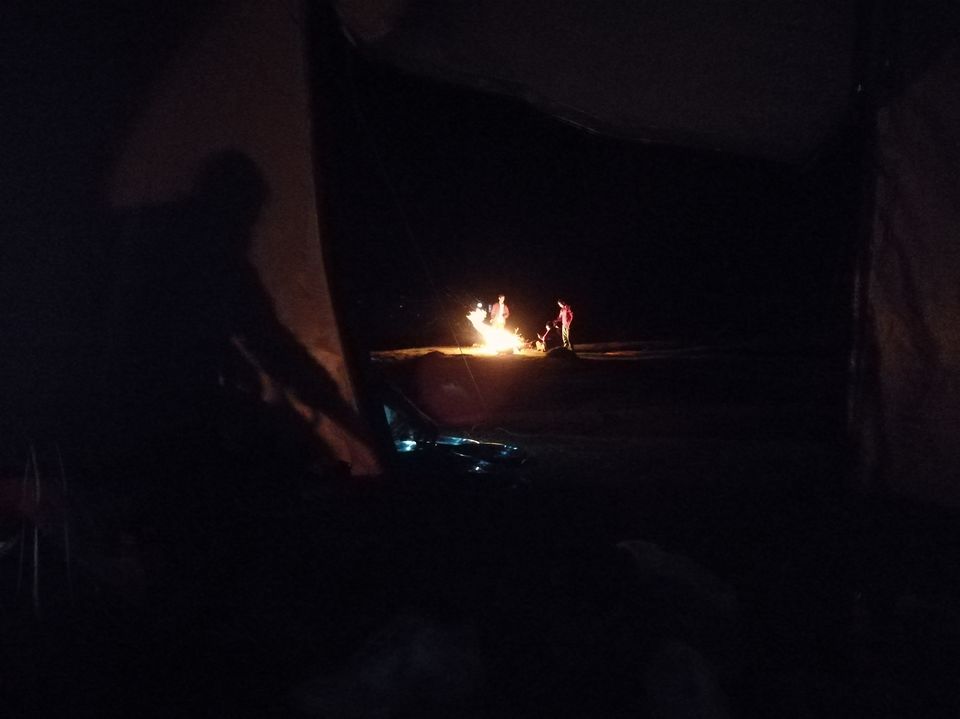 All along our trek we were wandering what kind of wild animals Rajesh was talking about, finally when we dared to ask, he replied not to worry, at times Tiger might appear but it doesn't usually eat humans, it preys on lambs, that was just enough to make our hearts skip few beats, and we were like, dude you are talking about THE TIGER right! And Rajesh was like, relax Tiger would come after 10:00 pm, by that time you all would be asleep. C'mon man who sleeps with the fear of waking up in a tiger's stomach. We took our dinner and cuddled ourselves in our sleeping bag hoping and praying to wake up in the same sleeping bag.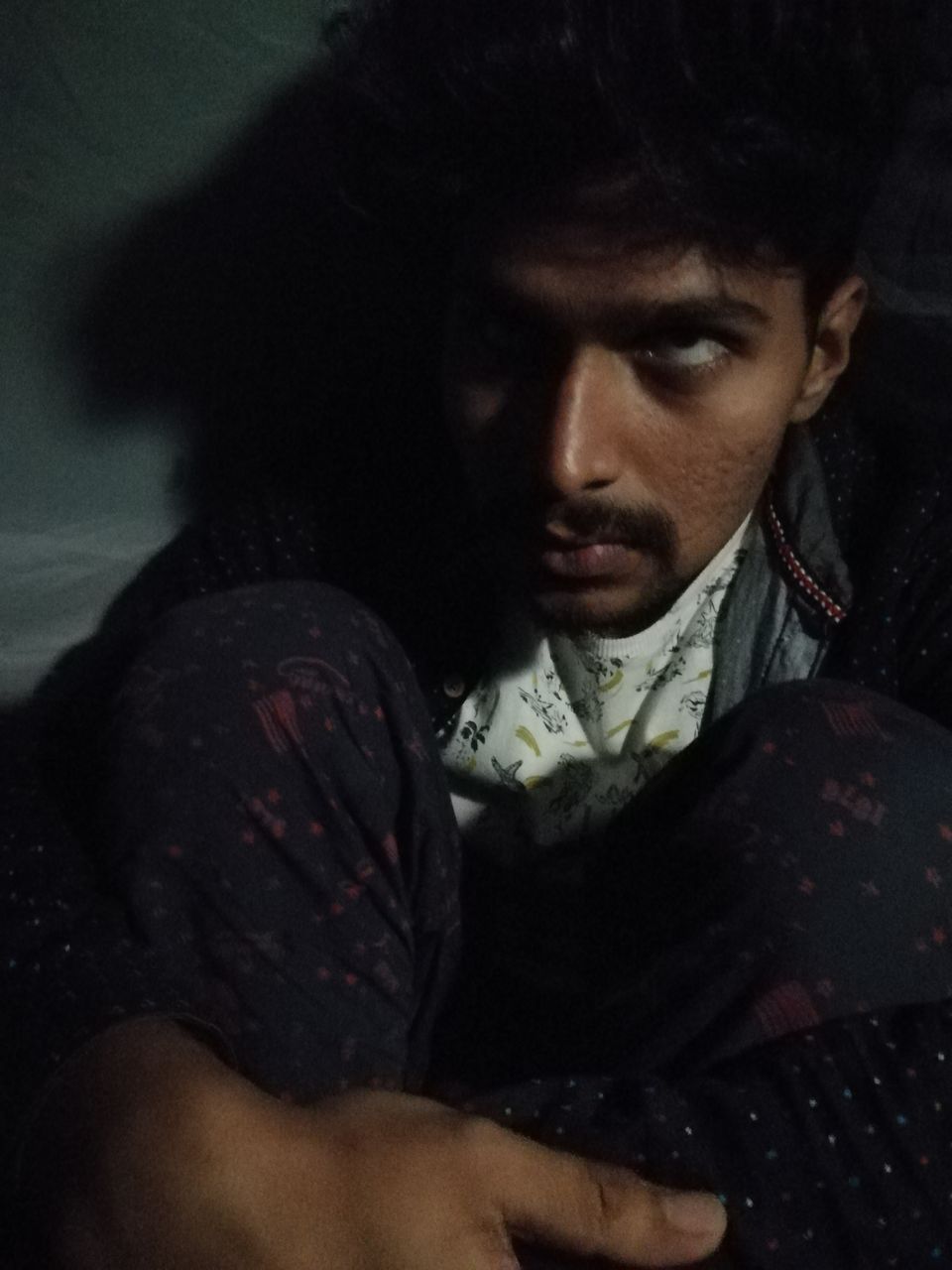 Sunday, 21st. May, 2017. The morning was beautiful and quiet. Every one of us slept before 10:00pm the night before, so we didn't actually know whether Tiger visited us or not! But then also the first thing we did was counted our people. The day was booked for further trekking to a Devi temple, a Shiv temple and the majestic Kamedhar grassland. We started at 8:00 in the morning, after taking our breakfast at the campside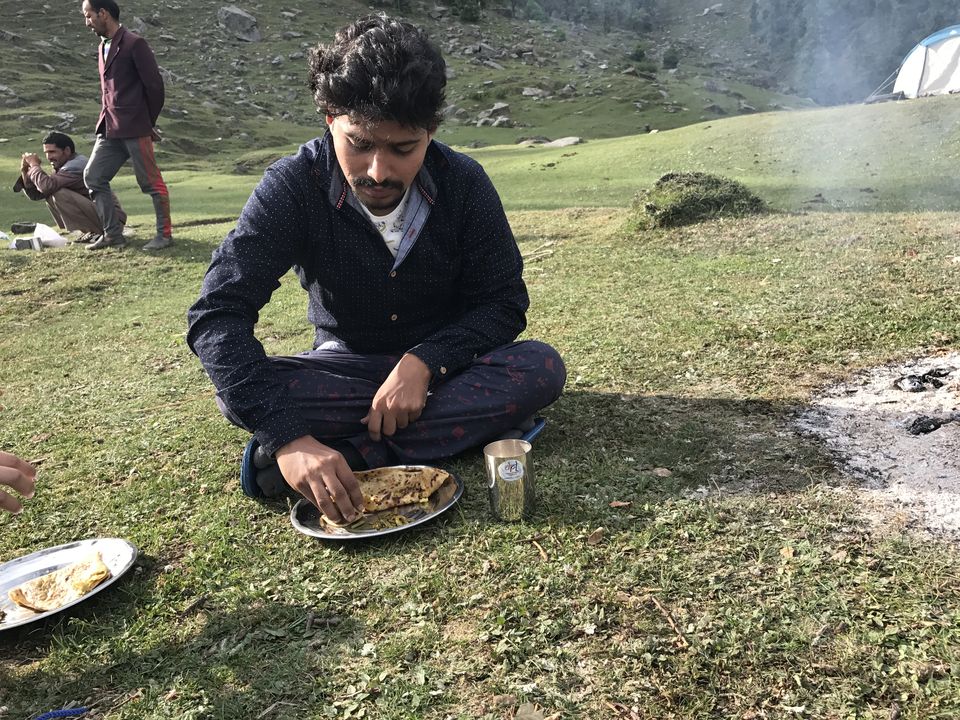 morning trek was accompanied by a group of lambs and cows.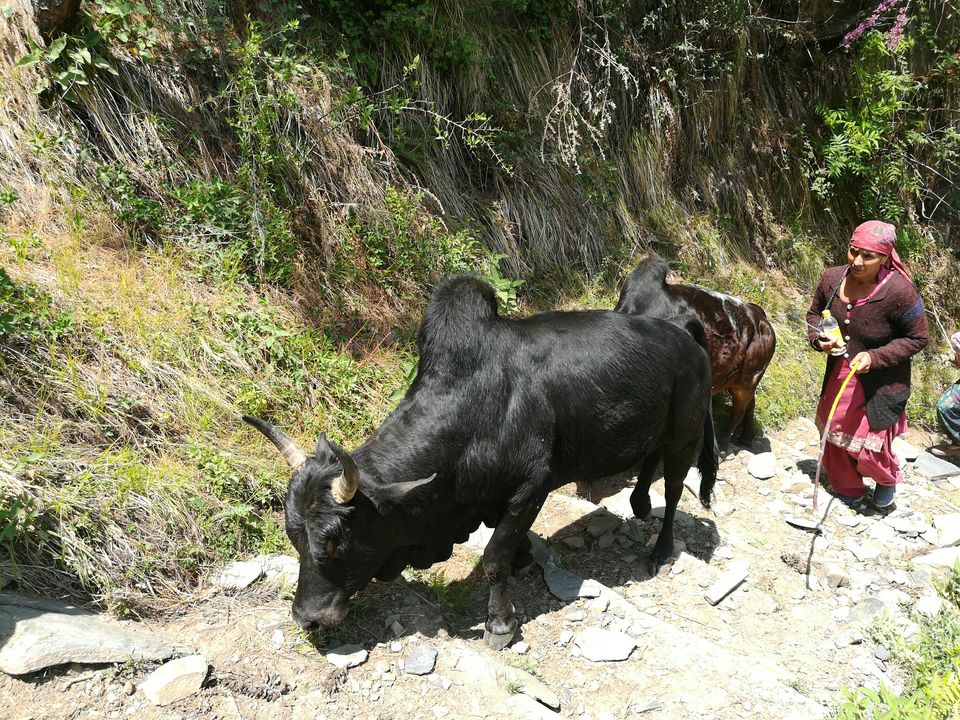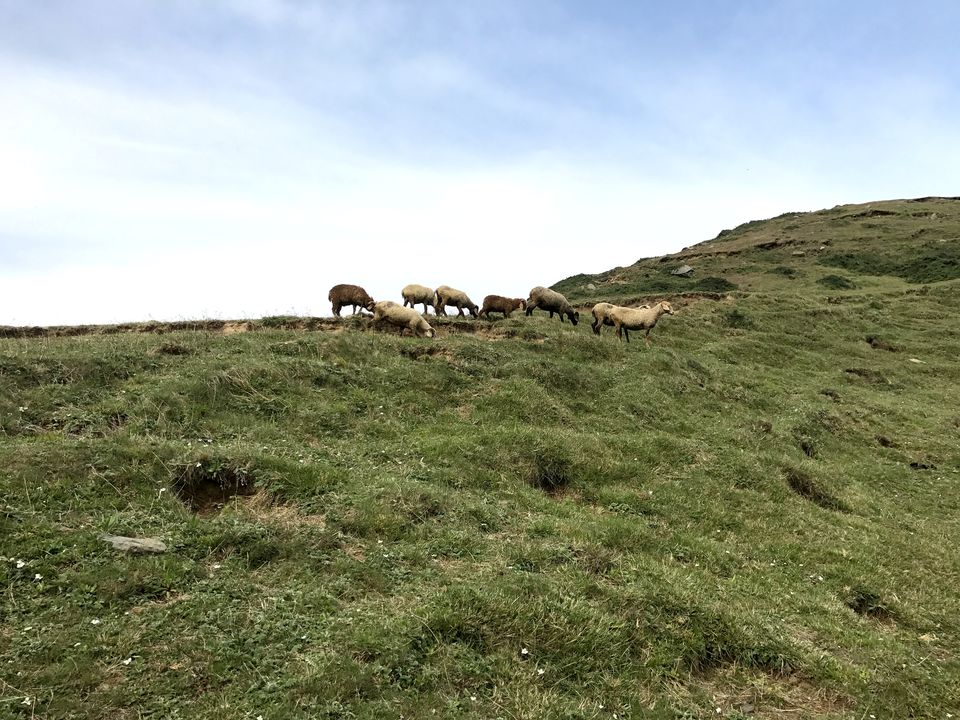 We were trekking for 3 days in a row and every day the terrain was very different, on that day, the trek comprised of farms land, stones ways, small stair bridges, Green land and forest.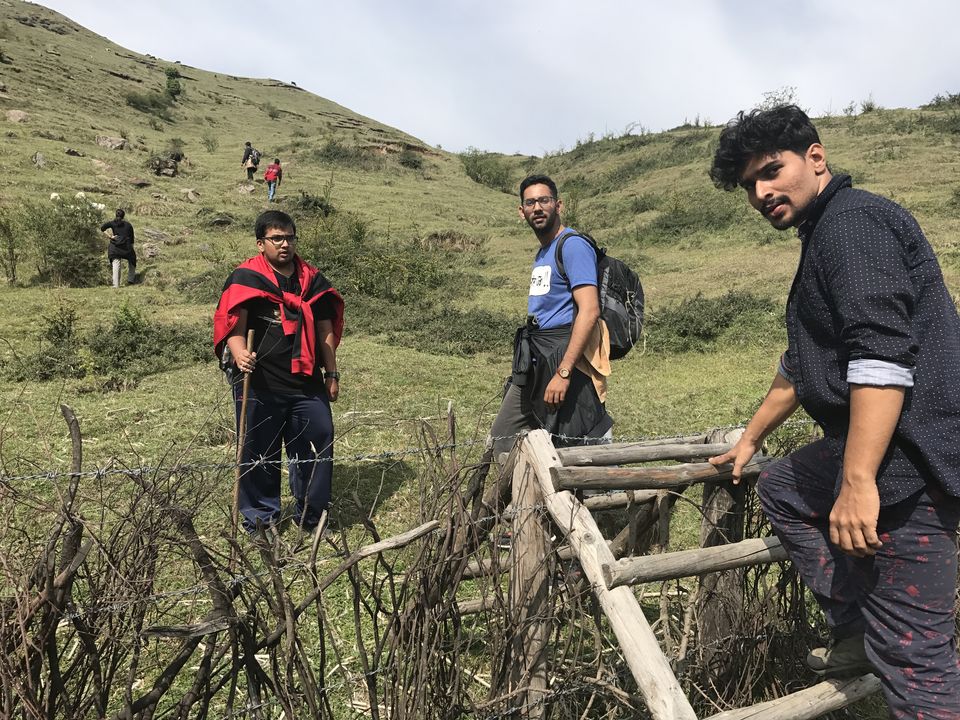 Rajesh asked us to stay close as we would be crossing some water sources and might cross some wild animals, again he meant the TIGER, and advised us not to react in case we see the TIGER. Then what, we all walked silently behind him, until we crossed the red zone.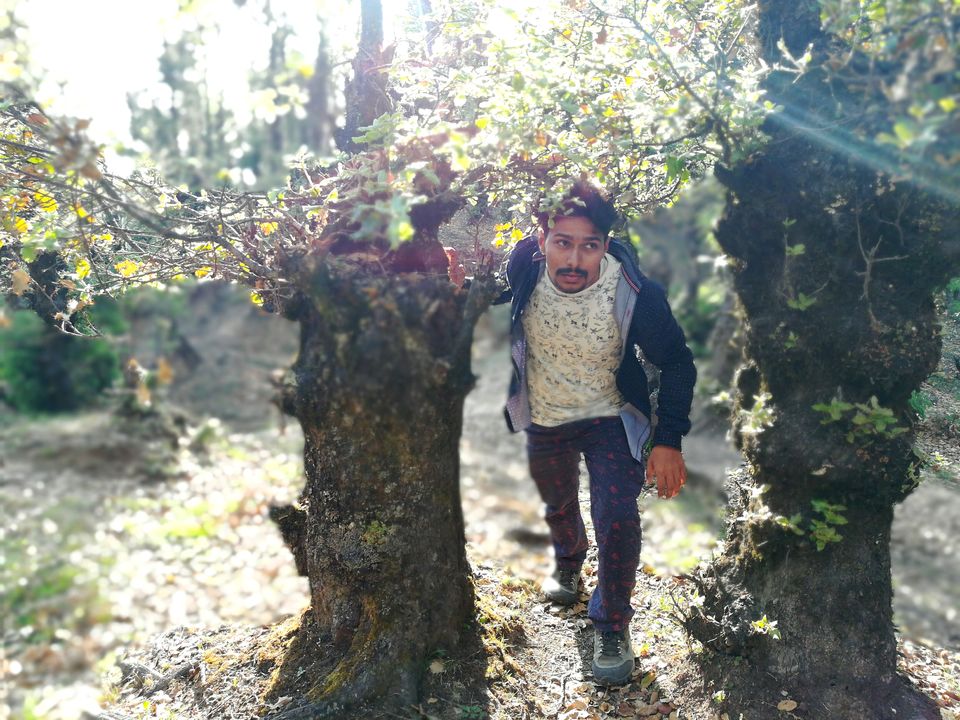 Somewhere around 10:30am we reached Kamedhar Grassland, the place seems like an exclusive work of some enchantment. Carefully curated to the hearts delight, surrounded by dense forest, the plain boast of few mythical stones fallen from the sky and converges on the Shiva Temple.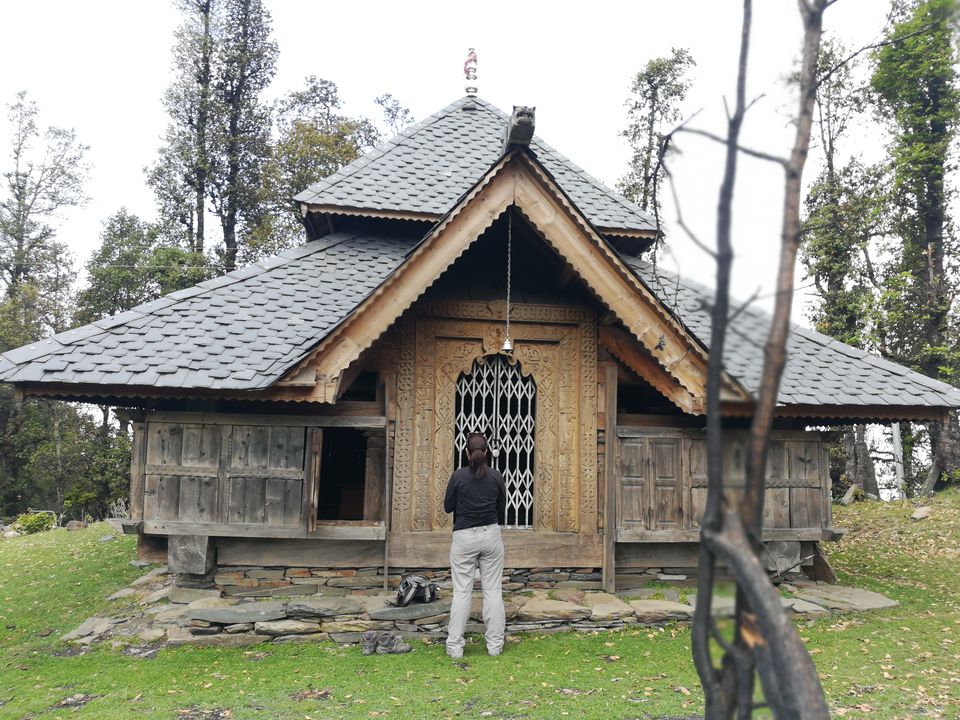 The beauty of the place is overwhelming and one could never get just enough of the place.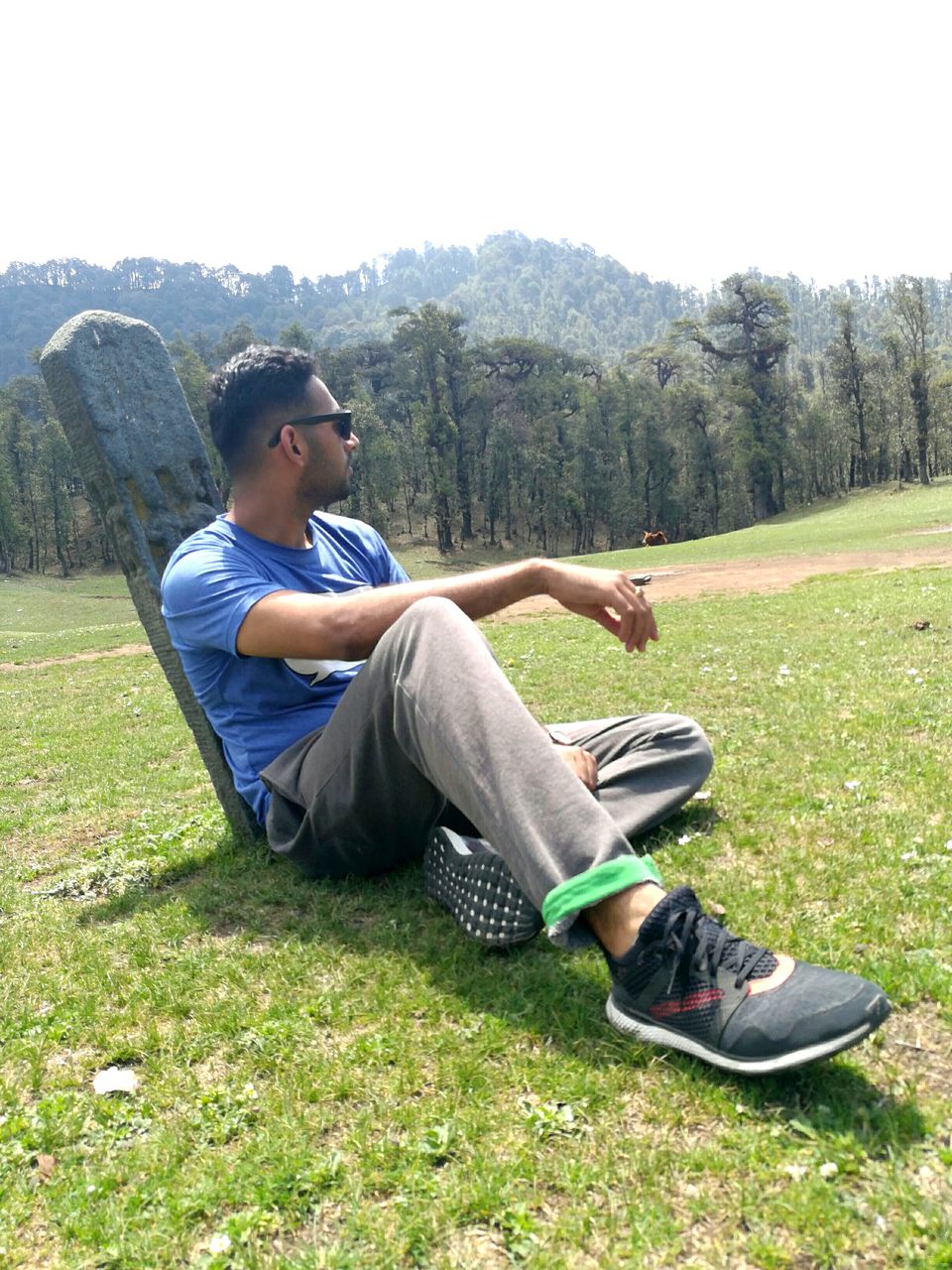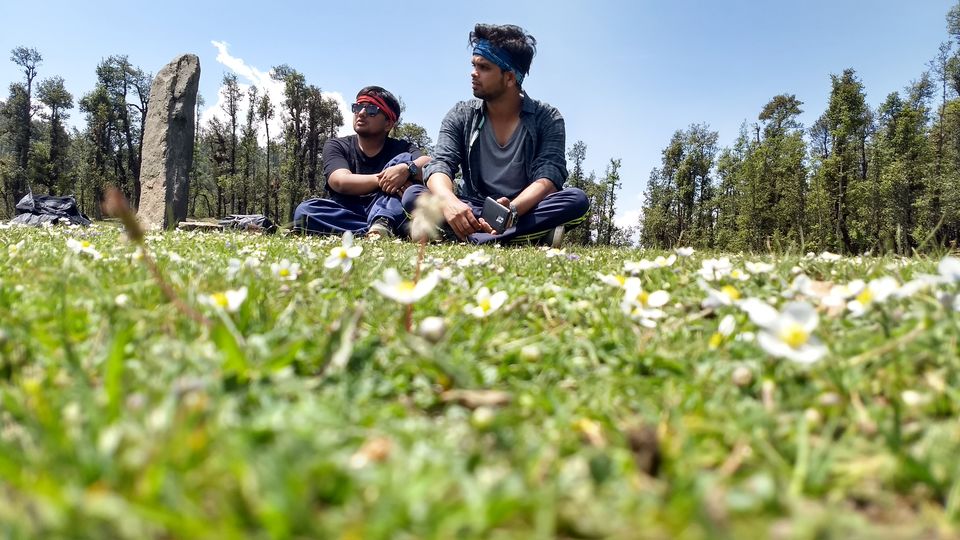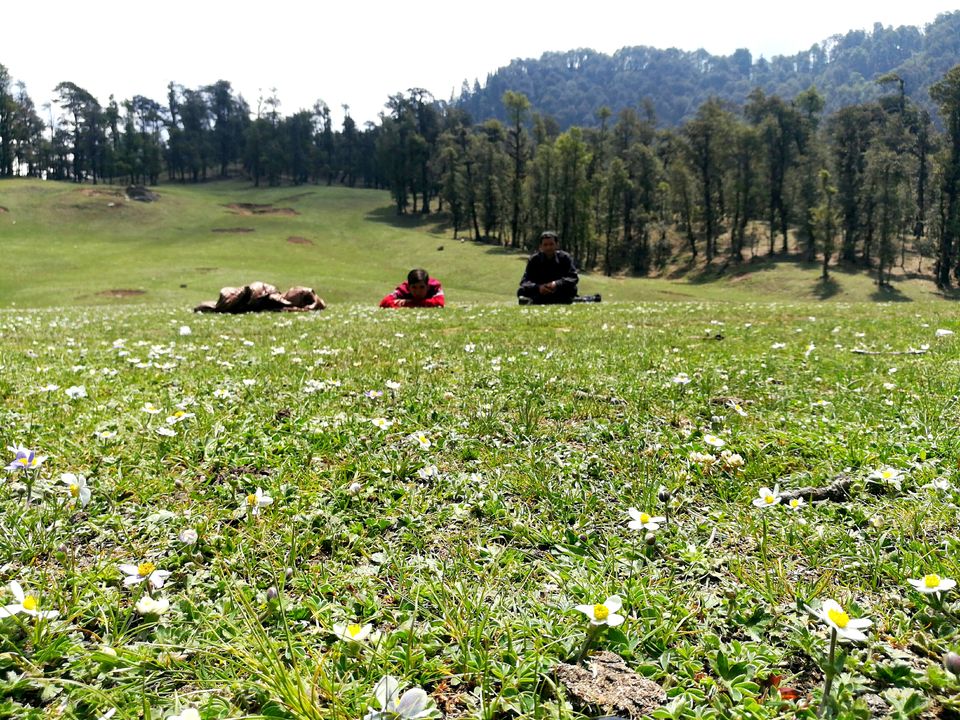 We spent around 30 minutes there and then started trekking down to the same place where we had lunch, the return trek was more dangerous as the slopes were steeps and covered with dry leaves, we  had to slide down at few places to land safely on the receding path.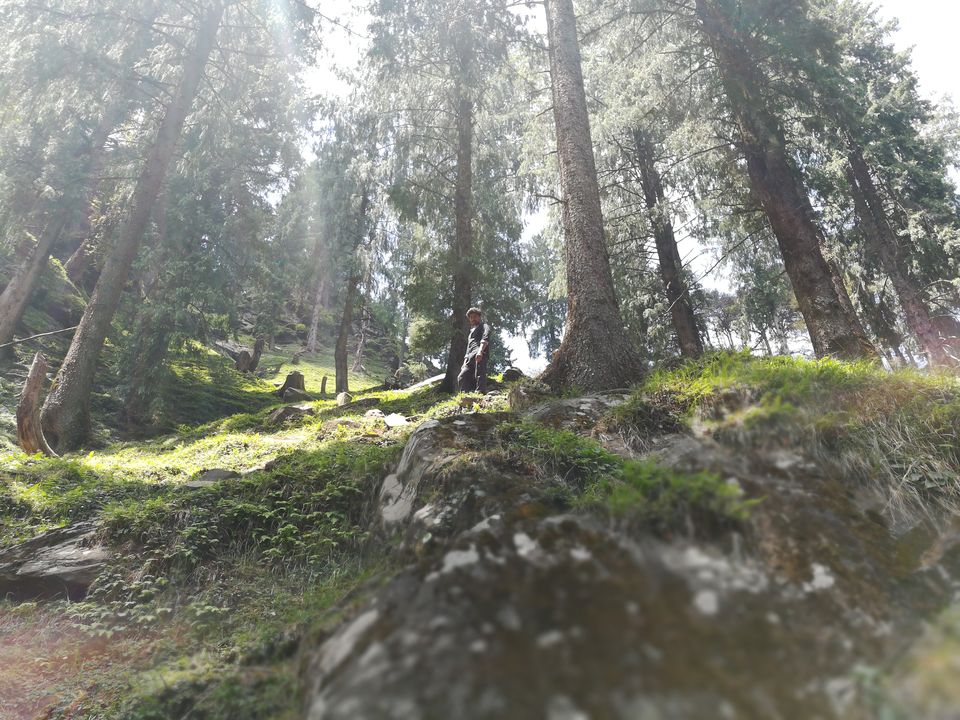 Around 12:30 we reached back to our lunch point. By the time we finished our lunch and braced ourselves for last stretch of the trek, it started raining. Guddu, the guide was supposed to escort us further. One thing we have learnt about the mountain rains is that they don't have equal love for the whole of the mountains, the clouds may rain on their favourite peak leaving the others to desire and manipulate wind to push the clouds over them. So we decided to move on in the rain. Amazing surrounding coupled by rain and on the top of it Guddu was playing some really romantic songs on this speakers, a perfect recipe to fall in love.
Our bus to Delhi was scheduled to pick us up at 7:00 pm from Tholat, so we had to reach at our stay by 4:00 pm. We grabbed some maggi from the market, as no mountain trip can be completed without eating a maggi. 04:15 pm, we hit our stay, cooked our Maggi and tea,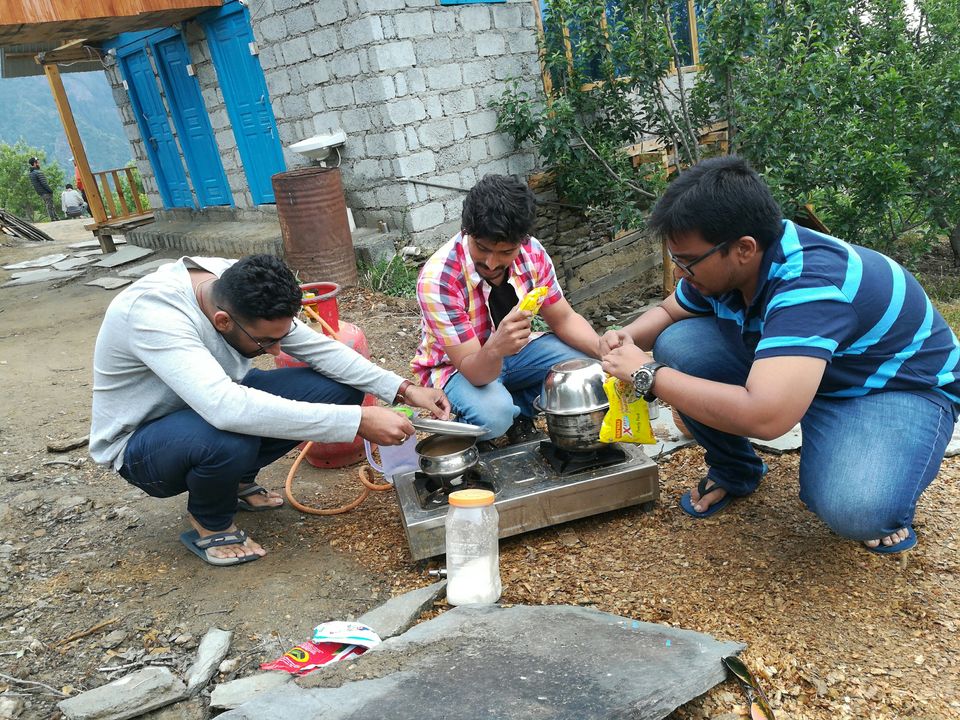 and left for Tholat in cabs arranged by Guddu sir.

We wanted to eat at Tholat, but we already had a nightmare experience while travelling to Thachi, so we played safe. Well, I am not saying we didn't eat anything. Actually, we took some kind of anti-vomiting pill, and put our complete faith on it. We ate, in full confidence that nothing would happen.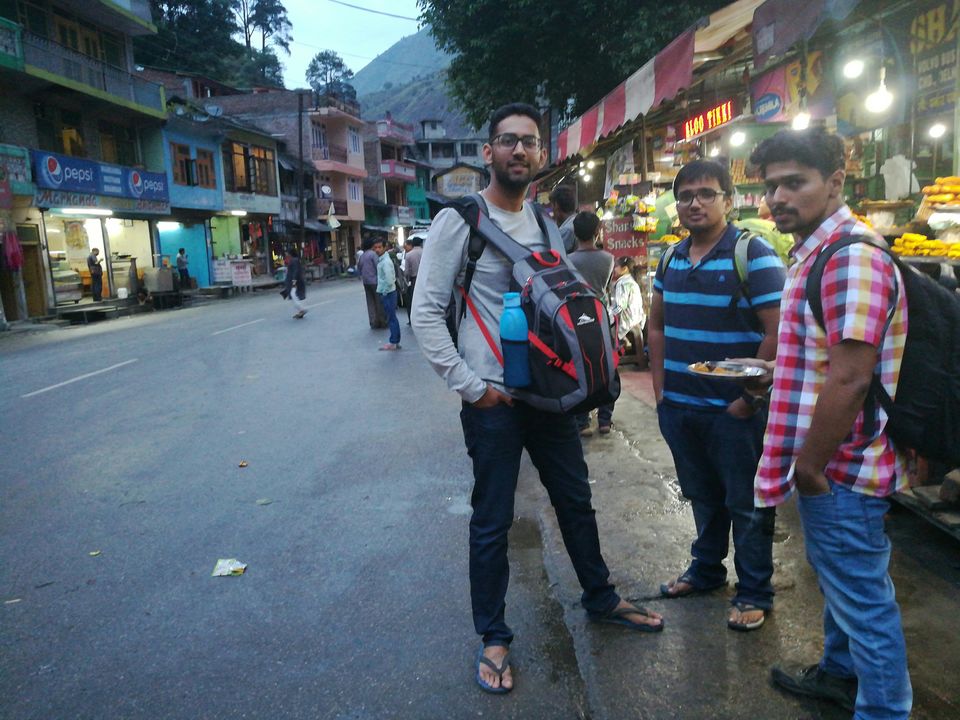 In the morning when we reached Delhi, we found that each one of us had over expected the tolerant power of the medicine.
But before getting down the bus we planned to visit the place again during snowfall. We have to, we even promised this to Guddu Rangeela.