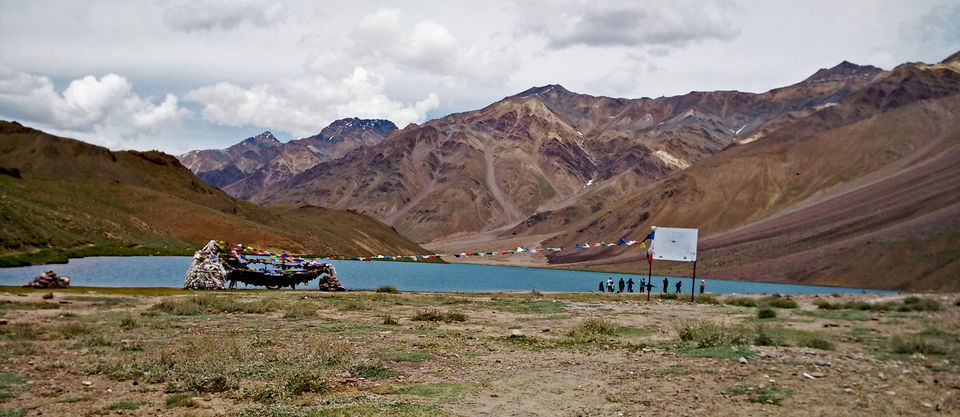 So, the plan is to walk to Chandratal. Google told me its 14 km and a metal board in Batal agreed.
Setting out a little before 9 a.m. I channelize my energy on enjoying the walk. At first it seems like a mad thing to do, to walk in this gigantic rocky abyss, but after 15 minutes, I have made peace with what I'm doing. It's unbelievably stunning and peaceful.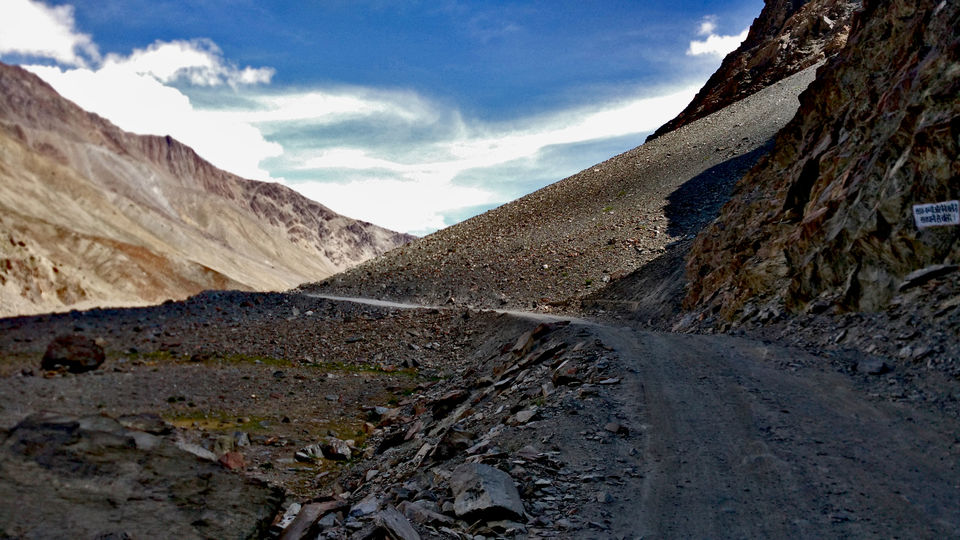 After about 30 minutes of walking a jeep stops to offer me a lift till the junction (about 3 km uphill from Batal). The road forks here - one heads to Kaza further uphill (where this jeep is headed), and the other continues straight ahead to Chandratal - my prized destination.
At the junction another sign board reads 14 km to Chandratal. I stand for a while alone with my shadow and wind. I'm euphoric that I have just started and brimming with the excitement of the adventure. The rest can follow at its own pace.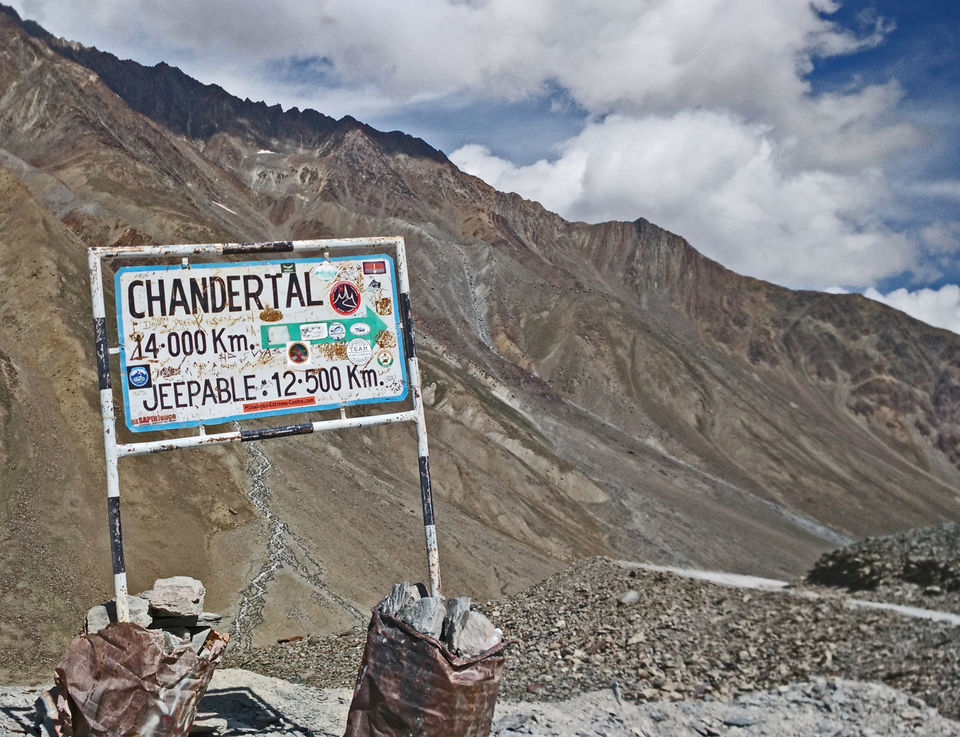 I'm kept company by the blue sky, the howling wind, and the glittering stone slides that follow me steadily on the right side all through the route. How does it work, I wonder. This slide of rocks. It could very well start sliding again now, as I pass invitingly beneath it. These rocks are often marked with landslide warnings.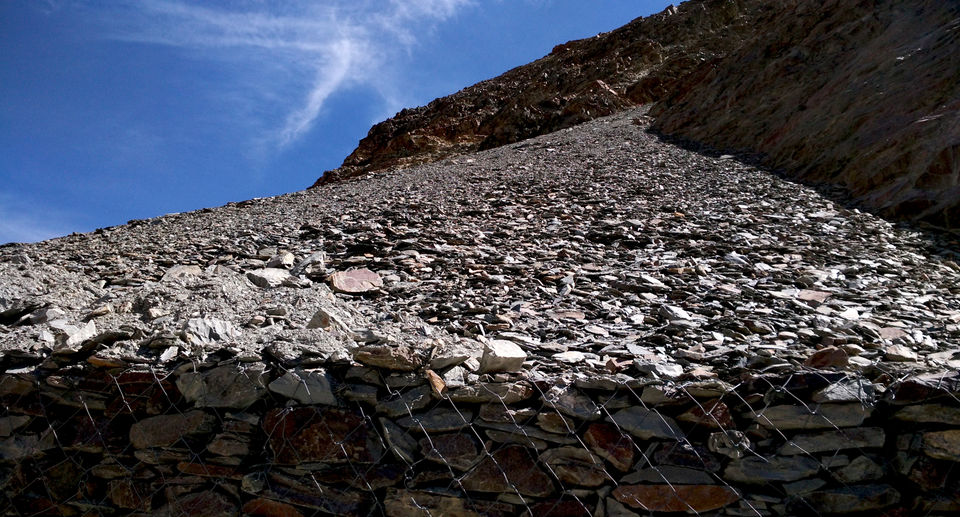 At intervals there are white spots on the hills opposite. On a closer look, and I spot movement among them. Sheep grazing on grass. I'm grateful for the sheep and their infrequent far away bleeting. I'm also glad I brought along some music to take a break from the silence.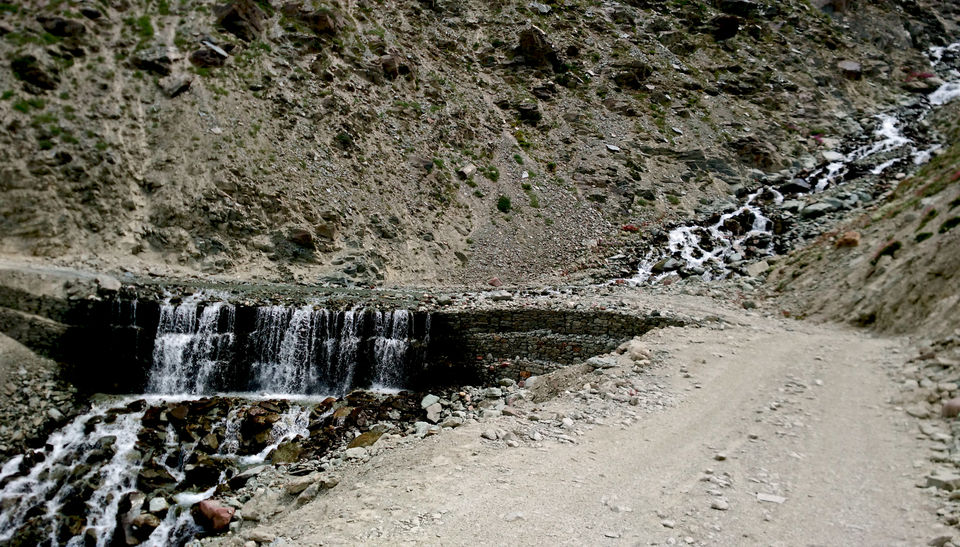 The silence encourages me to practice some dance moves. An occasional car and bike passes by, leaving behind a trail of dust and some courage. I make it a point to speak to them. Just to see people. Just to know there are others on the route and that there really is a taal at the end of this route. I mean, imagine not finding a lake at the end of 14 km. That would be a bummer.
To give me company, besides the sheep, there are the three black stick figures on the hill across. A sheet of ply tied to each one's back, making their way to some unidentified destination.
After I had walked on for almost three hours and thought, I was nearly there (because almost all the stones read 'Tenzin Camps' and also because Google said 3 hours is all it takes), a bend in the road, revealed an endless trail that went on as far as I could see before it again disappeared round another bend.
Now the magnitude of the road starts to sink in. I feel that this walk will never end. That I will keep lifting my legs, one after the other, and hear them make that inconsequential crunch on the white road where I place my boot. Mile after mile, not a single soul in sight. Just my breathing, the crunch and my shadow - the only sign of life on this road.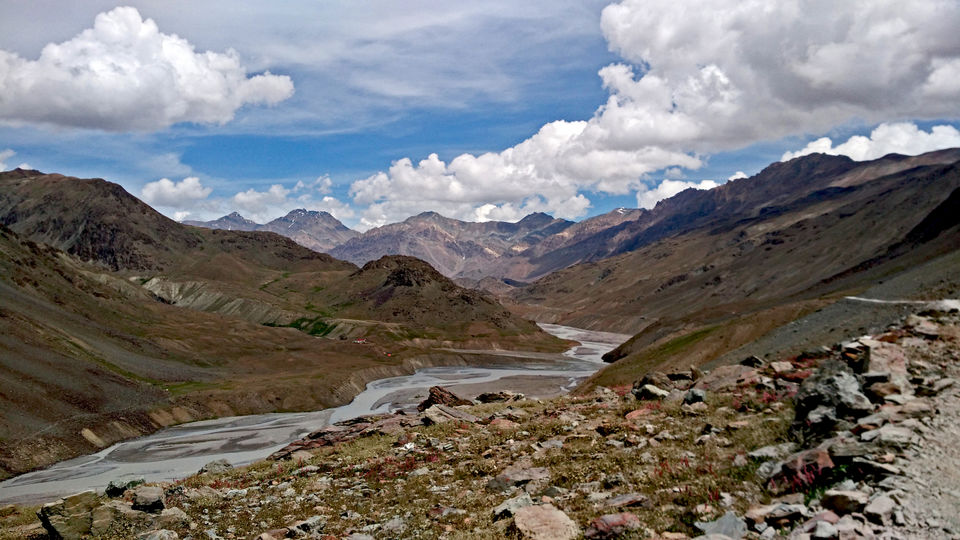 Finally about 4 km of the road still left to cover, I manage to secure another ride. Of the many lift offers I gad refused on the way, this one I couldn't and didn't want to say no to. I was more than glad to be offered this spot in this car with 4 other folks. It was so good to have company after the long desolate stretch I had just covered.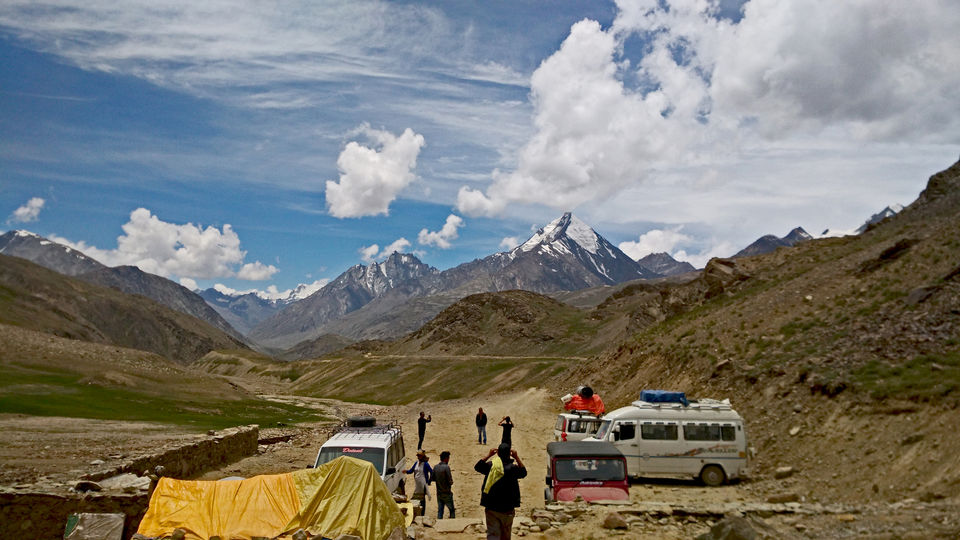 At the end of the road, all the vehicles must stop. And then visitors need to hike another kilometer to find the sudden blue lake shimmering in the middle of the greens and browns of the Spiti ranges at the altitude of 4,300 meters (14,107 ft.).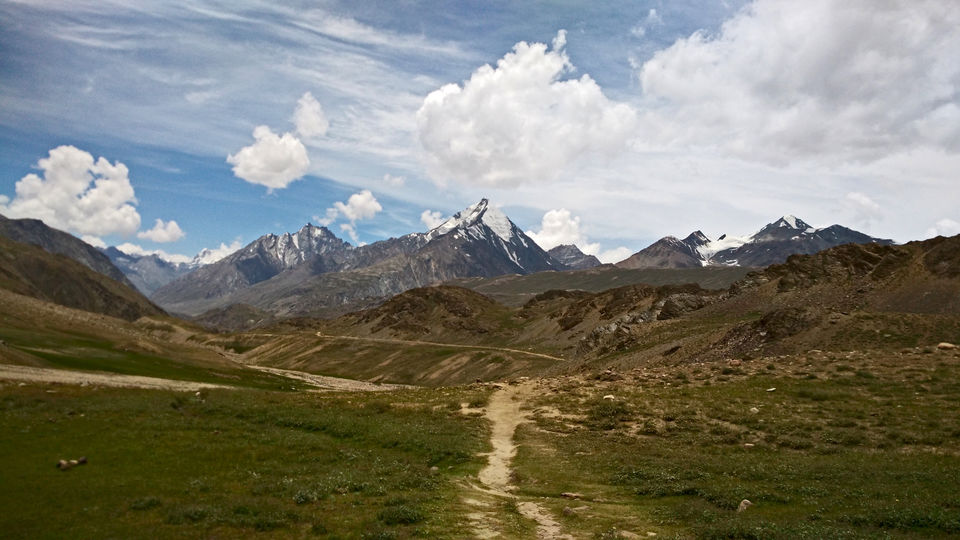 When I finally spot the lake, my first instinct is to look away immediately. I'm shocked by it. And then to look back again slowly. Just to make sure it won't disappear or go further away. It really does seem like a dream. It's so refreshing just to look at the cool blue of the lake after the dry and dusty road I've covered that I really just want to run and splash into it. There's that kind of excitement building up in my throat, the overwhelming kinds. It's also immediately relaxing. I'm here. YEAAAH!!!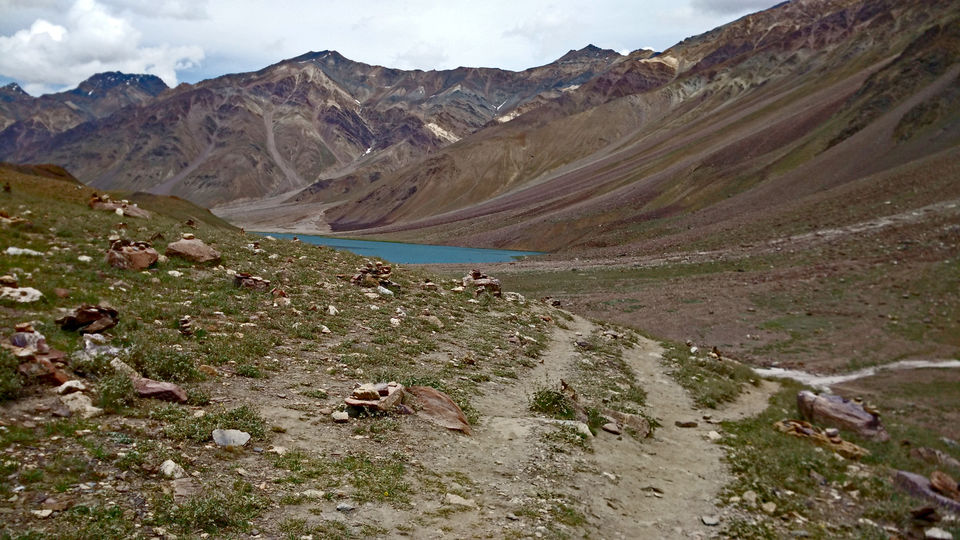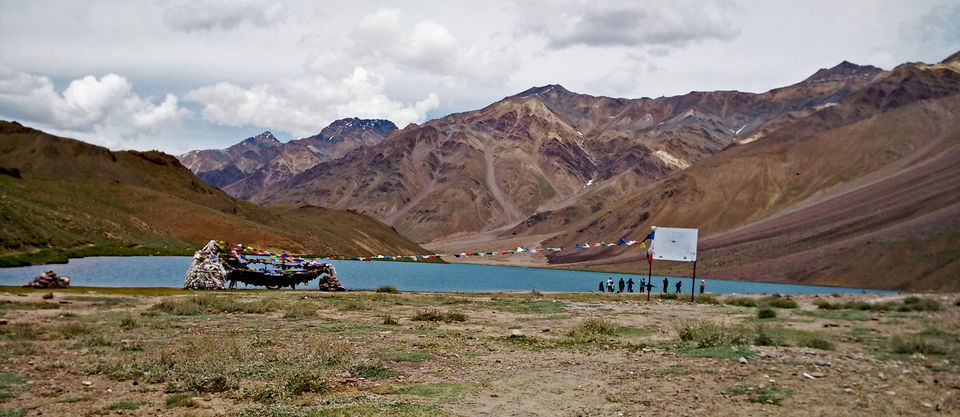 The water is so clean, so translucent at the shore and such a deep mystique blue further in. I dip my feet into the cold water and stand relishing it, really not having a clue what to do further. That's such a good feeling of satisfaction. So I stoop down and touch the water with my hands. wash my face. Okay time to get away from the water. It's cold. Despite all the sun, the wind is chilly and the water is freezing.
A family from Bombay (they passed me in a tempo bus on the way), with their Gujarati accent have been making ruckus on the banks of the lake. I couldn't have asked for a more welcome sound. The sound of happy humans. Mothers, aunts, uncles, nephews, friends, brothers, sisters, splashing about in the water without a care in the world.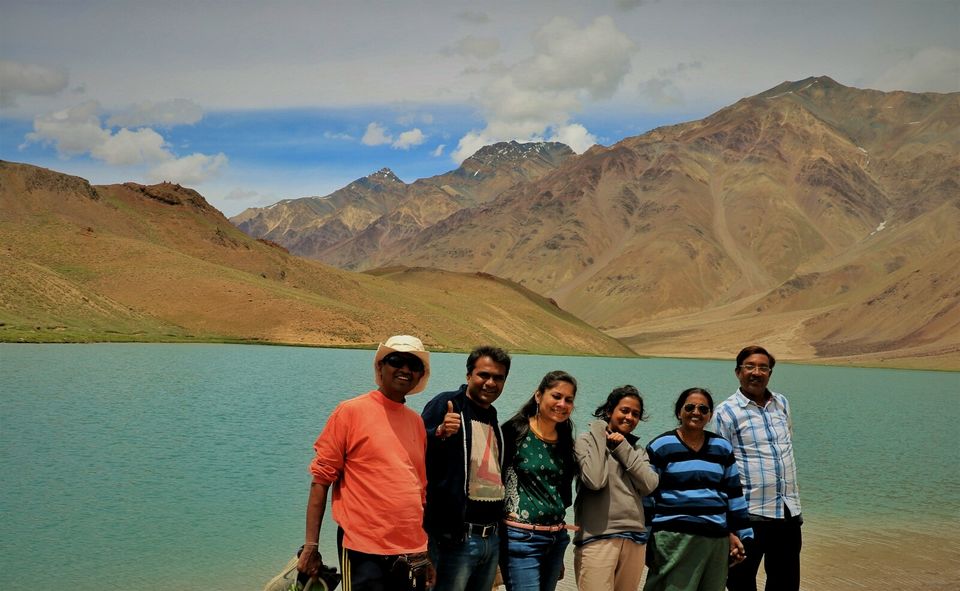 Today I realised that anything that lacks the warmth of human voice is silence to me.
Silence is so pervasive. It may not feel that way in Delhi or Mumbai but a major chunk of our world lies in it. Just like the Chandratal with its poisonous beauty. She seems to have swallowed a man in her belly only last week. The father was there to mourn his deceased son yesterday, I was later told at Tenzin camp.