A few days down our wedding, unplanned on one fine day we packed our bags, shopped a bit and said "Adios" to the Navi Mumbai (New Mumbai) skyline on Dec 21st, 9.30 PM. As spontaneous as it was, we were trying to reach Vattakanal within next 8days which was supposed to be about 1400 kms but, due to all the non-highway routes we were taking and all the strange stops we made. We drove through all the wildlife sanctuaries we were seeing nearby on the map, making a total of 2200 kms one way.
Following is the list of locations we covered.
Here's the total route snapshot. you can have a google map link here : https://goo.gl/maps/fPhNg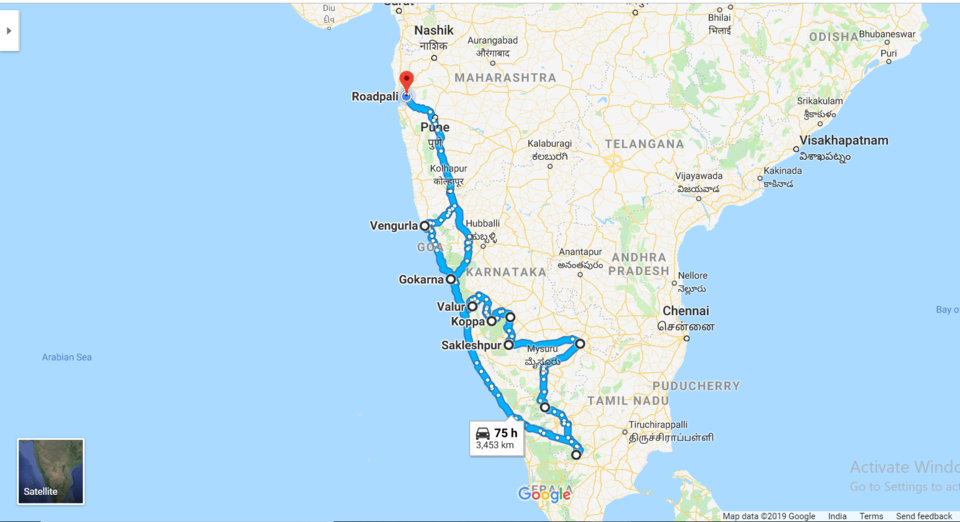 Below is the list of locations we covered in total of 14 days.
Vengurla (Malwan, MH)
Gokarna (KA)
Mukambika Wildlife Sanctuary (KA)
Sharavati Wildlife Sanctuary (KA)
Koppa (KA)
Chickmanglur (KA)
Bangalore (KA)
Bandipur Tiger Reserve (KA)
Madumalai Tiger Reserve (TN)
Ooty (TN)
Kodaikanal (TN)
Vattakanal (TN)
Mannavannur (TN)
Kozhikode (KL)
Dandeli (KA)
Mumbai (MH)
We will be posting a full blog itinerary of the whole trip. Which will include the How much we spent every day. What all locations we covered and most of the pictures and videos. Meanwhile if you have any queries, mail us at taveleviosa@gmail.com.
#Roadtrip #Goldilocks #TataTiago #DjiSpark #TravelFilm