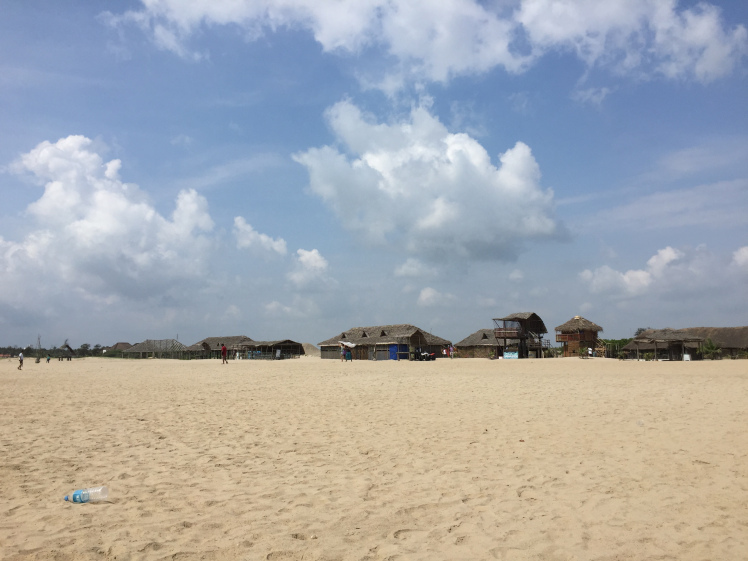 No. of Travellers : 3
Month of Travel : March
No. of days : 4-5
How to Travel : Arrive at Chennai Airport and a 3 hour drive from the airport (approx 150 kms from Chennai)
Travel in the City : Ola Cabs (Since its a small town, average price to roam in city is approx INR 100-INR 150)
Places to visit in Pondi : Cafe Hopping, Visit/ Stay in White Town, Visit Beaches, Boutique Shopping, Cycle Tour, Scuba Dive
Monsieur, Mademoiselle Bienvenue à Pondicherry sounds like french right?
Well yes, Ladies and Gentlemen welcome to PondicherryHere are some exiciting travel tips for your visit to the french-a-like town - Pondicherry or Pondi or Puducherry
So this year, we decided to visit the East Coast of India and as always said random plans works out faster. We decided to visit Pondi in March. We took off our flight from Mumbai and arrived at Chennai airport. We booked a car and took the long drive from Chennai to PondiEnroute Pondi was a beautiful drive that had the best roads, the view was mesmerizing and it was the safest drive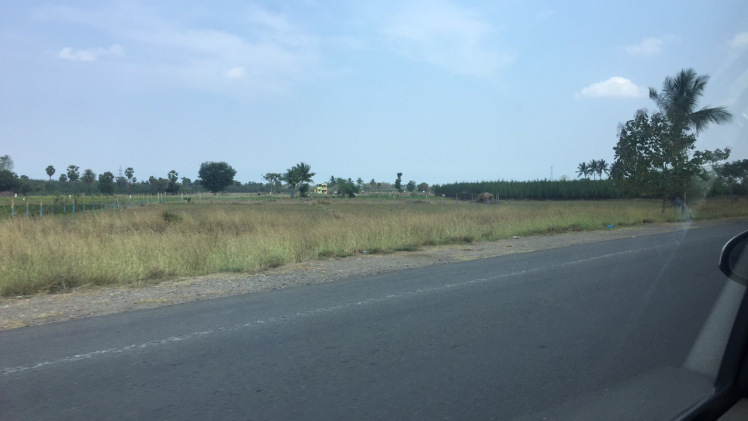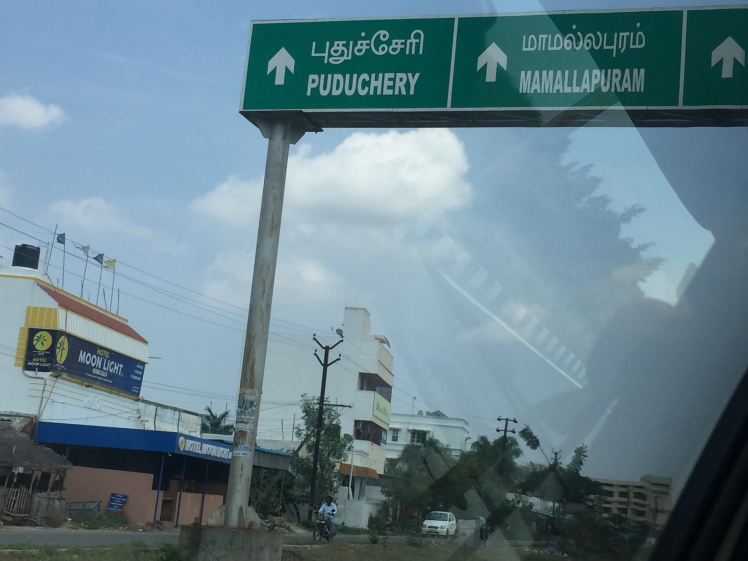 On our way we had lunch (as suggested by our driver) at Haritram Hotel that was located at Trichy-Chennai Expressway. It was approx 2 hours from Chennai. Since we were in the land of south India, we started to get a feel of South India by looking at the variety of South Indian dishes in the menu card. Filtering down from various options we finally ordered for Sambhar Vada and Dal Rice. Food served to us was in the cultural style of South India on the banana leaf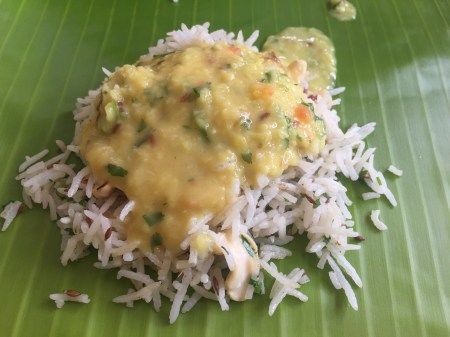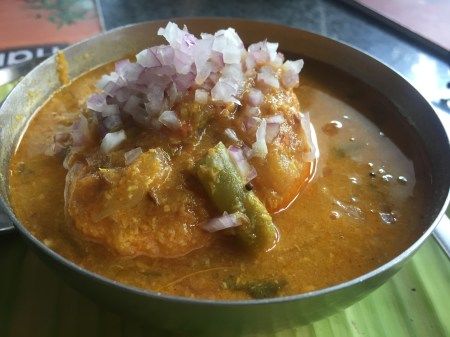 We checked in at Sunway Manor hotel that was few kms away from White Town. (There are other options in White town/French Colony - Villa Bayoud, The Promenade, Villa Shanti, South Avenue, Hotel Atithi)
We visited Promenade Beach in evening which was in White Town. It was the best evening - calm, serene, peaceful and a very clean beach. (However the best time will be to visit in morning when you will not find a single soul on the street! and witness sunrise over the Bay of Bengal)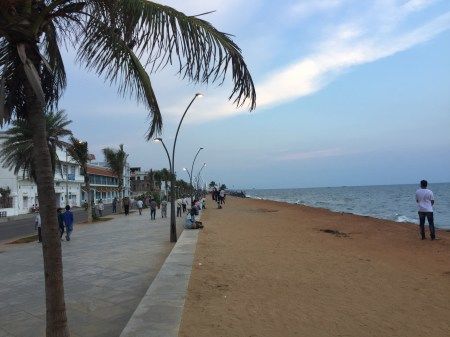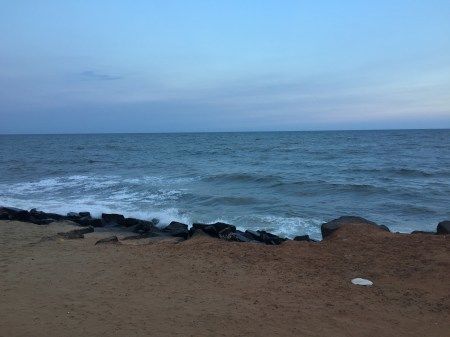 Just opposite the beach is the French War Memorial on Goubert Avenue is a reminder of those brave soldiers who laid down their lives for their country during the First World War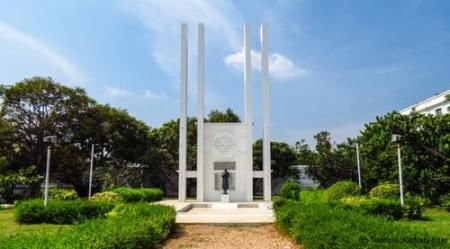 Whilst you walk towards the end of the beach you will come across a four - meter statue of Mahatma Gandhi surrounded by eight granite pillars. It is one the major landmarks in Pondicherry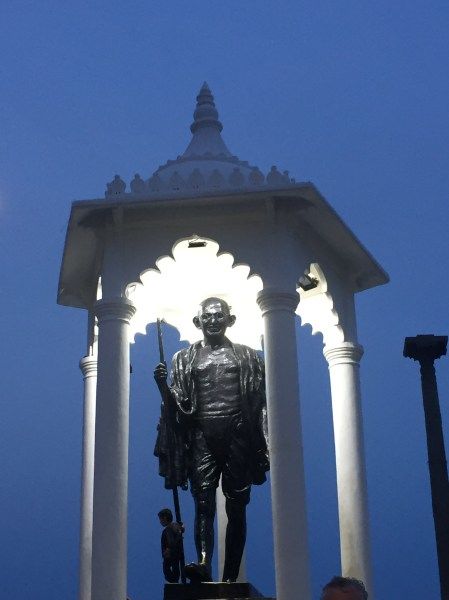 Old Lighthouse situated diagonally opposite to the Gandhi Statue. However this is non-functional and entry inside the premises is restricted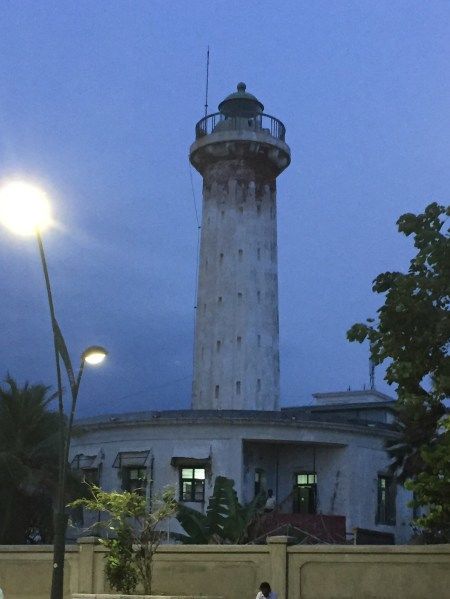 After doing all the local sightseeing, we relaxed at one of the well renowned cafes at the beach front 'Le Cafe'. We had heard a lot about this place; we witnessed the beachside view along with filter coffee and gossip with the girls. (It is advisable to pre-book Ola Cabs since Ola is not always available in the town)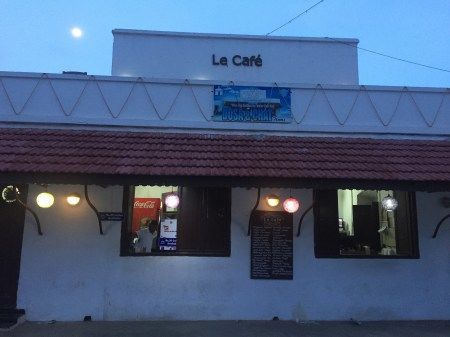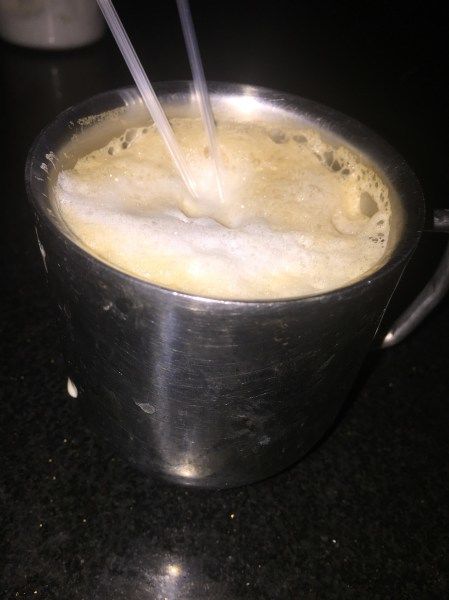 We had dinner at another famous spot 'Le Dupleix' in White Town close to Promenade Beach. It was a peaceful restaurant with guitar night (Check Zomato for food options)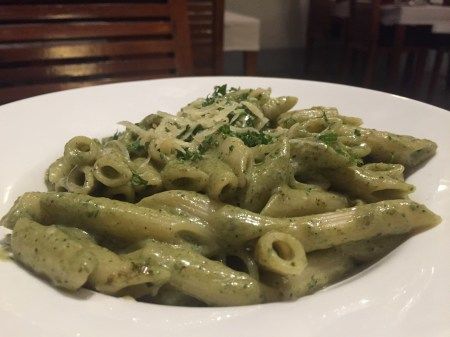 Next day after having breakfast, we escaped to Auroville Matrumandir which is on the most famous points of interest. The place is approx 15 kms from main town. Matrumandir has been acclaimed as "an outstanding and original architectural achievement." It was a golder metallic spehere in the center of the town.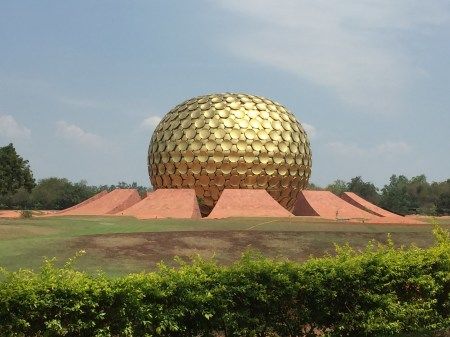 We also strolled on the Serenity Beach (True to its name) and Auroville Beach which are very close to each other. Both the beaches are near Auroville - tranquil and serene.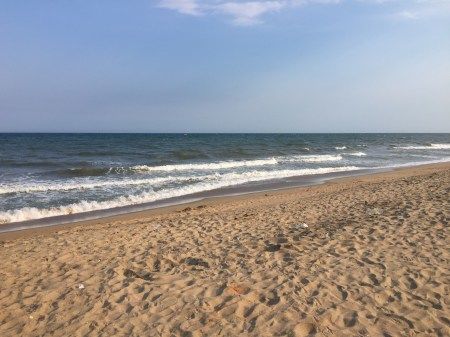 On our way back to the town after a stroll on the beach we found ourselves craving for a nice wood fired pizza. They have nearly 25 different varieties of pizza on the menu (for Vegetarians also) They also have pasta and drinks. We went ahead and ordered for Say Cheese Pizza and Margaritta Pizza. For drinks, we filtered our options down to Oreo Shake to calm the senses (Be ready to add on to fats and calories here, because you are going to come across only cheese and cheese and chocolate). Also there are various cafes in Auroville near Matrumandir. You can also halt and hop on to some of the cafes there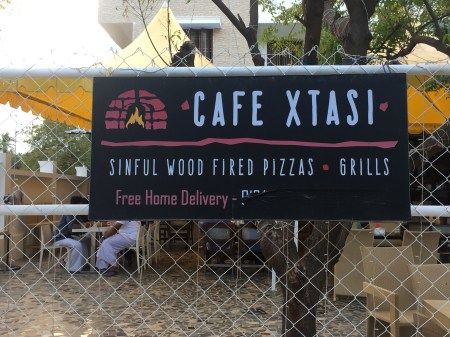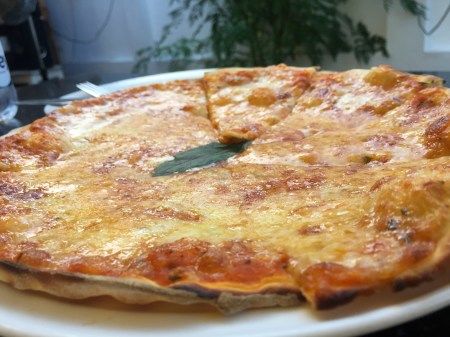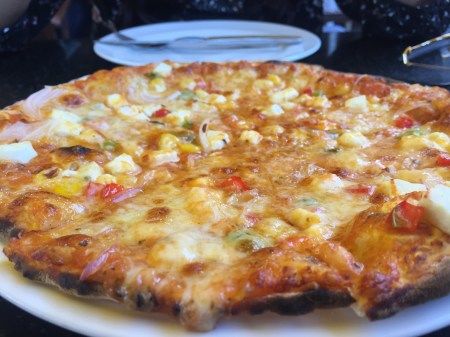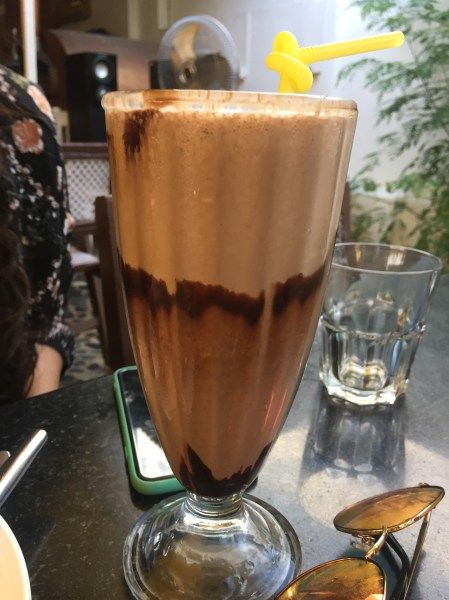 Be French for a day - Stroll on the streets of Pondi in the French Quarters where primarily the french families are still staying. A very clean area and the streets are lined with trees and walls are predominantly yellow and white. The streets names are so French - like Romain Rolland Street, Rue Romain Rolland, Suffren Street etc. Moreover you will find the name of every street in the french colony starts with "Rue" in French which means "Street". Had lunch at Palais de Mahe, a property built in French style.Explore the French town the roads, the house, French windows, balconies, criss crossing streets are typical of a French town beautifully maintained by the french people and cherish the history of the town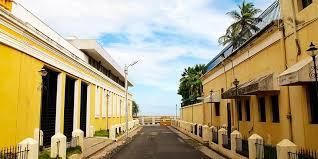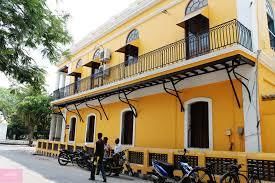 If you are looking for Paradise, look no further. This pristine private beach is meticulously taken care of and offers a host of benefits. It is a small island surrounded by sea. There are motor boats available from Chunnambar Boar house that cost INR 200 per person for round trip. Timings are from 9.00 am to 5.00 pm and the motor boats are available every 15 minutes (Preferably reach the boathouse by 9 and visit the beach in morning where you will witness peace and less crowd). It was a 20 min exotic journey on the backwater which was surrounded by coconut trees. There are small huts on the island where you can relax yourself and enjoy the breath-taking view of the beach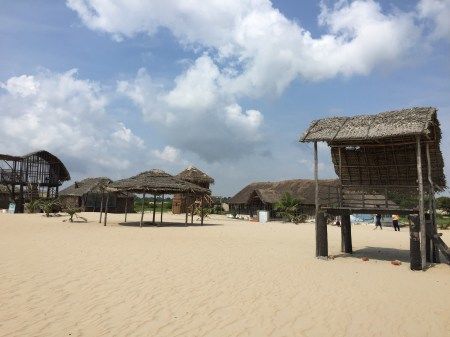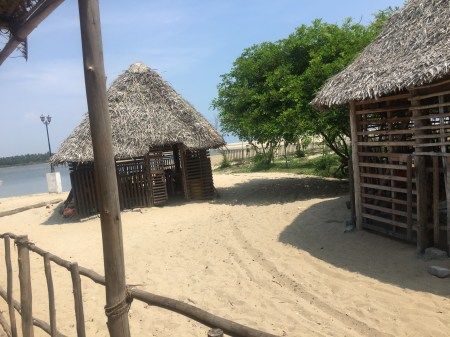 This is one of the best beach in Pondi and a must go place in the town (approx 8 kms from the town).Since it is located in the middle on Bay of Bengal, the property is clean and well maintained. You can almost spend half a day at the beach, sit on the shacks and enjoy the beauty of the islandOn the last day while coming back to Chennai, we took a halt at Mahaballipuram / Mamlapuram. The place is a UNESCO world heritage site.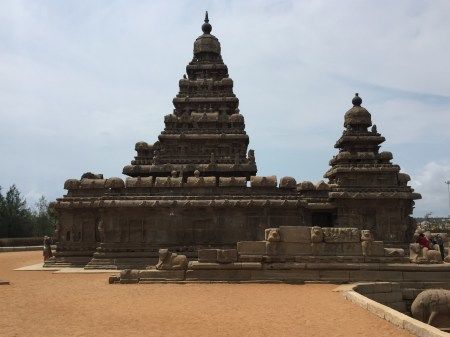 The most interesting thing found there is Krishna's butter ball. It is a huge ball placed in the middle of the garden which can be spotted from a distance. It is said that the rock (butterball) is so heavy that even when the British came to move that, it would'nt slip from the slope.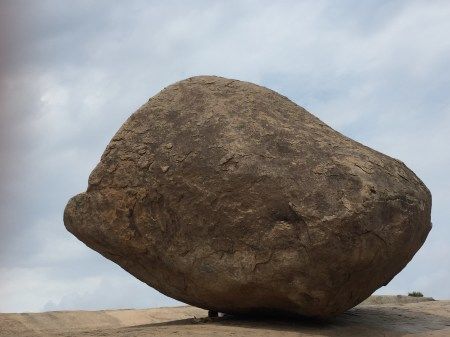 Other Cafes to Visit:Also hop to other restaurants or cafes - Villa Shanti, Promenade Hotel, Bay of Budda (Good for rooftop dinner), Gardenia (Sunway Manor), Asta Lounge, Hotel Surguru (Has an authentic South Indian taste)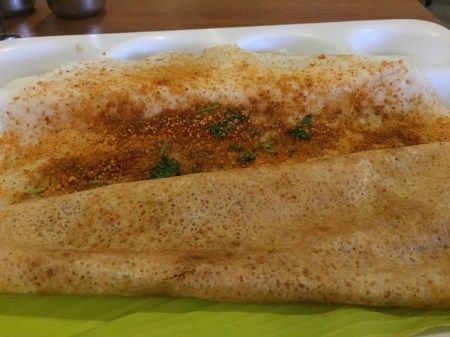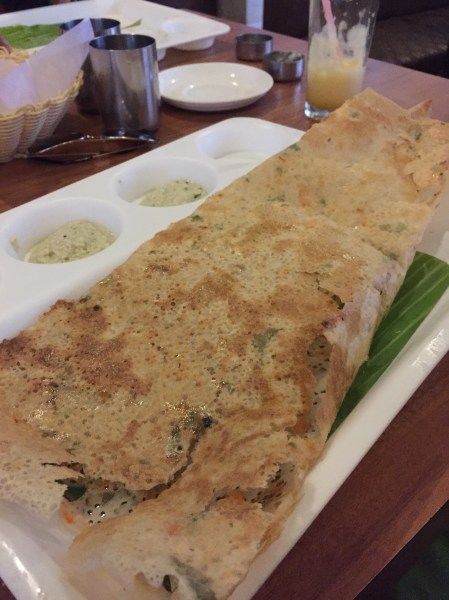 Take a halt at KBS Kofi bar during your long walk at the Promenade - famous for its filter coffee. Its a place without seating and serves the best coffee in town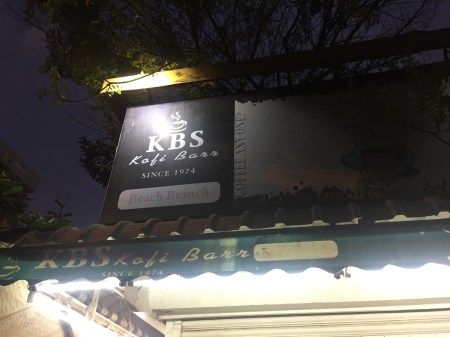 Other things to do:
You can take a one day bicycle tour in the White Town where the tour guide explains about the history of Pondicherry and the cultural town
Scuba Dive at Temple Adventures - One of the best scuba dive in town
Go boutique shopping on the streets and grab on some Souveniers!