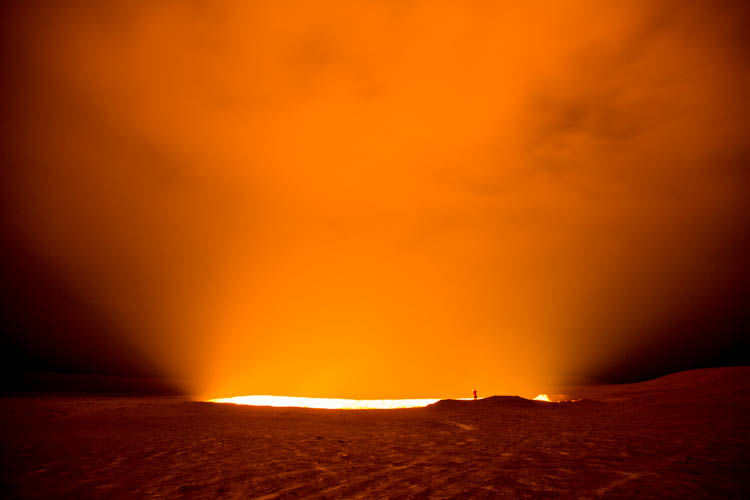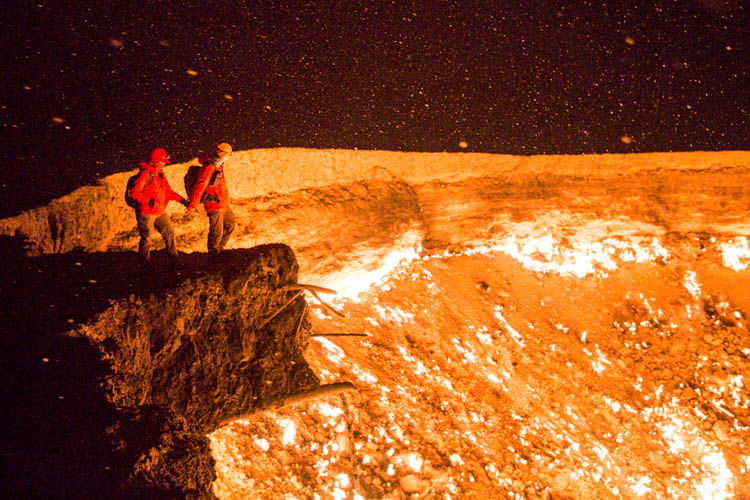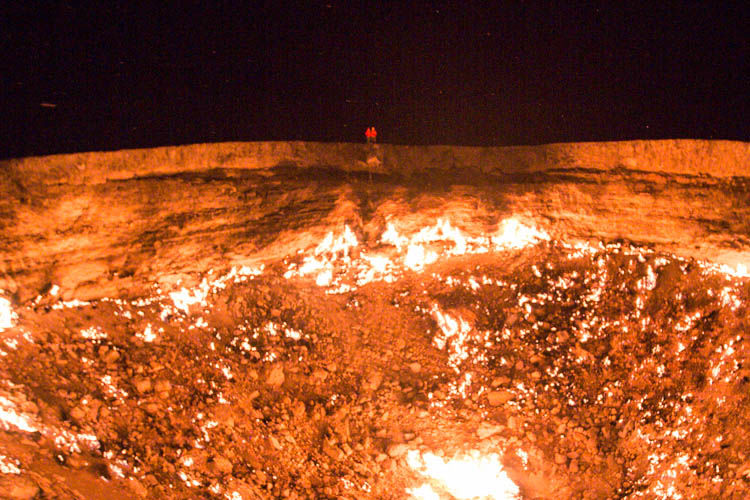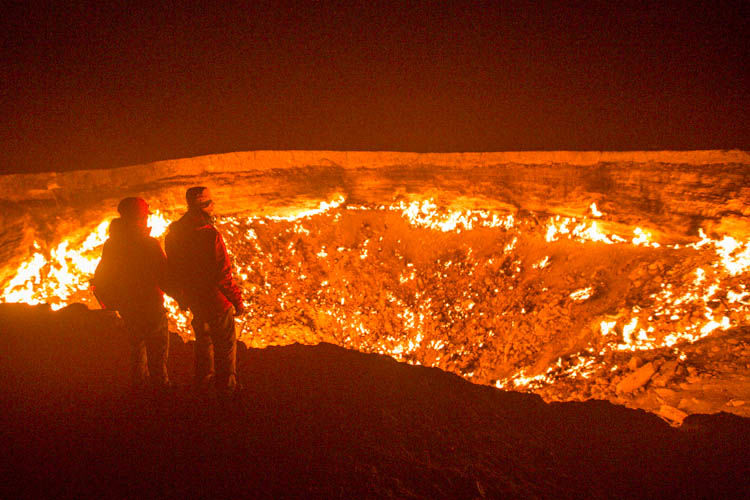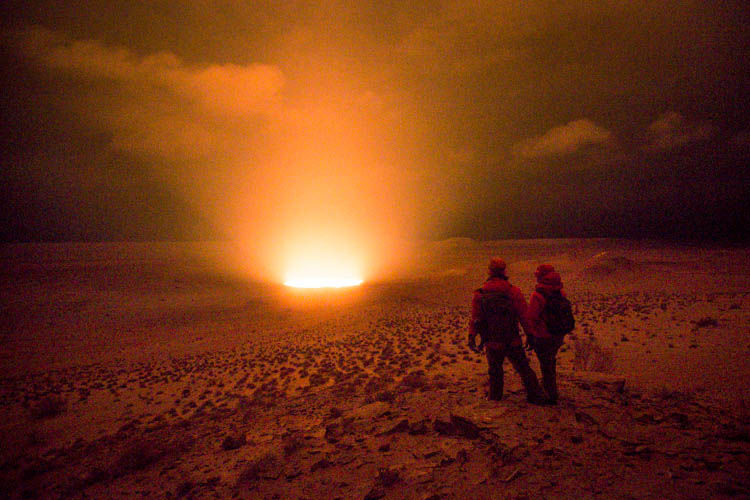 The 'gates of hell" was certainly the highlight of our Turkmenistan travel and also the main reason why travellers come to Turkmenistan. Definitely a must see! From our chaikhanas (tea house), we could see a huge orange glow from afar when it was dark and it felt so surreal. Almost felt like it was a portal to another world.
We got up at 4am and set off on our own to walk towards the orange glow. It took us about 1.5 hours (around 7km) to reach the gas crater. The walk was quite manageable as from the main road, you just have to head west towards the crater and you could use the huge burning crater as a reference. We went during winter and the terrain was mainly frozen sand dunes, rocky patches and desert bush spotting the entire place. We can imagine that it'll be so much more challenging during summer when the sand dunes aren't frozen, trekking on sand dunes is one of the hardest thing ever! Only thing was that it was so cold while trekking to the crater!
Tip: A headlight is essential if you're walking to the gas crater as it was pitch dark. It was also cloudy and we couldn't depend on the moonlight.
As we got nearer to the crater, we could literally smell the fumes and feel the heat. The experience was definitely mind blowing, as we stood right at the edge of the burning crater, it really did look like the gates of hell. No other better analogy to describe this huge burning hole! Apparently during summer, you could camp overnight in a tent near the crater, which we think would be quite an interesting experience! Unfortunately we went during winter and it was too cold to camp in the open.
It wasn't difficult to find our way back to the chaihanas, we saved the GPS location in our phone and simply followed it. If you prefer not to walk, you could also hire a jeep which will cost around 50USD or more.
Tip: Save the GPS location of your chaikhanas in your phone first. You will need it when finding your way back from the gas crater. Also it was almost breaking dawn as we walked back and soon it got bright enough to carry on without our head light.
Essential Information:

Where to stay:
Chaikhanas along the main road of Davarza. Do note that they don't have proper bedding in the chaikhanas and they only provide a thin layer of mattress, no blanket too. It was very cold for us when we slept there for the night. The electricity got cut off in the middle of the night which also meant that we had no heater (as it was an electric heater) to keep us warm! :S
How to get here:
We took a taxi from the border after crossing over to Turkmenistan from Uzbekistan. Just tell your driver that you want to go to Darvaza and to stop you at a chaikhanas. There were quite a few chaikhanas along the main road and they should be more or less the same.
Cost:
Taxi from border to Darvaza (with stops in Kony Urgench) – US$50
Chaikhanas – US$10
Originally published on Sunrise Odyssey.