Pheeew... Let me start this blog with the experience of the Lukla flight !
My goodness, that was the smallest plane I got the opportunity to sit in. After waiting long hours at Ramachep airport, our turn finally came. Our flight was from Sita Airways. Frankly, I hate to fly in airplane, but sometimes of-course don't have choices if have to travel far or to such locations.
Flying to Lukla airport comes under the most dangerous airports in the world. And why Tenzing Hillary airport is so dangerous. Let me tell you that in 2008, an aircraft crashed while landing in Lukla killing 18 passengers on-board. In 2013 a Helicopter crashed killing 1 passenger and there are several other crashes that happen every year here in which passengers and crew members were injured. In 2019, yes on April 14, 2019, exactly 10 days before the flight, a plane hit 2 helicopters while taking off from Lukla, killing 3 people. This I had not told to Gaurav.
But at the same time, I must say it was fun. Though all the time, I was only reciting God name, a little twist in air and my heart usually sank down, I was hell of scared, goosebumps on my full body :D but still my Goodness, I am writing this - It was fun. And thanks to God, we landed safely there.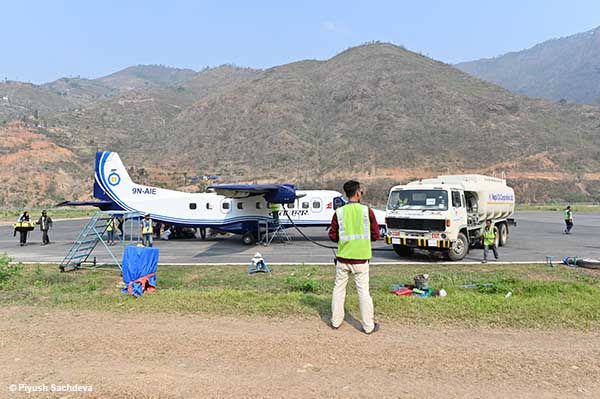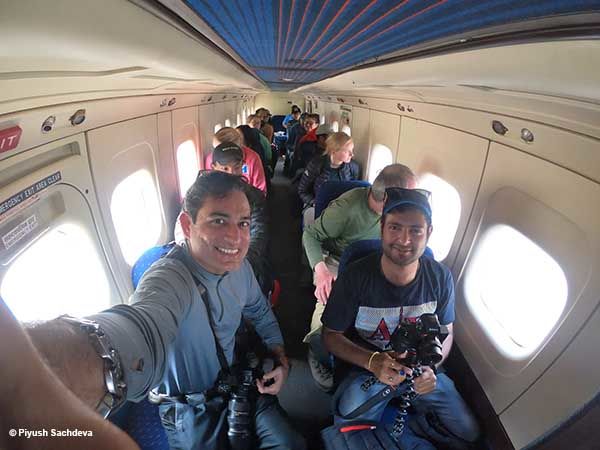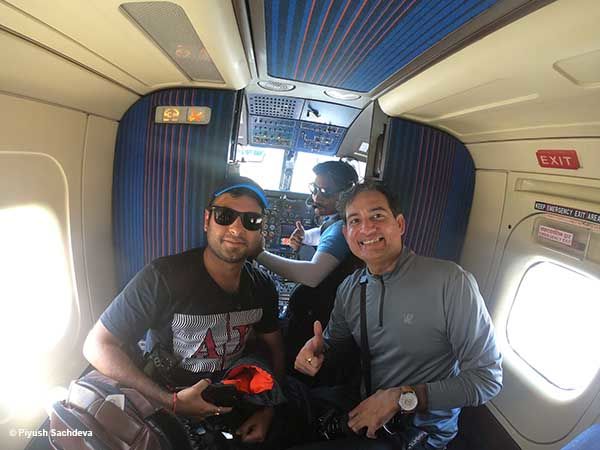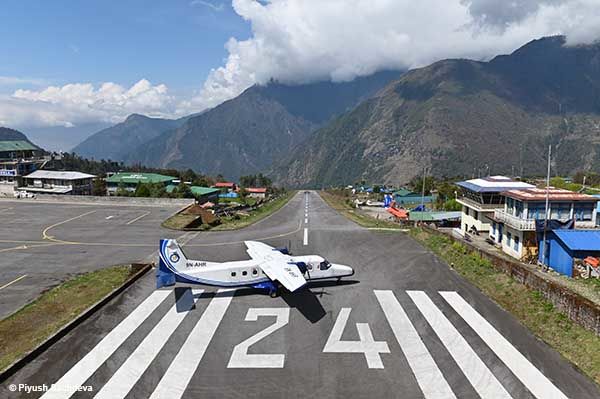 After taking our luggage, we went straight to have our breakfast and we preferred only vegetarian food and I will strongly advice you all, to have vegetarian food as it will save you from stomach problems. Also, try not to drink alcohol here. Remember you are in mountains now, respect them, and you will not drain your energies and ofcourse will come back, not only with material experience, but also will have some spiritual elevation. Mountains do teach a lot - Silently :)
Our porter which we had already booked from Kathmandu told us about Lukla. It was once a farming community but now it is a trekkers town with numerous accommodations options, cafes, shops selling countless things, mainly for the trek. So if you have forgotten something, you still have chance to get it from here.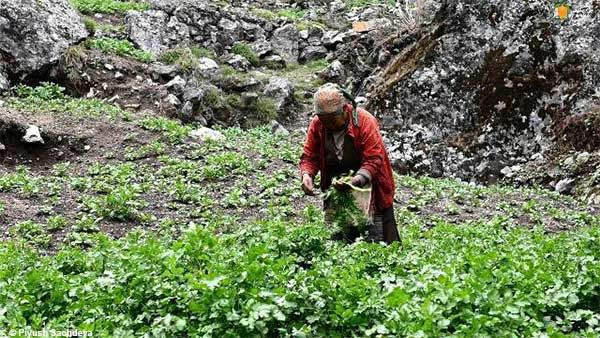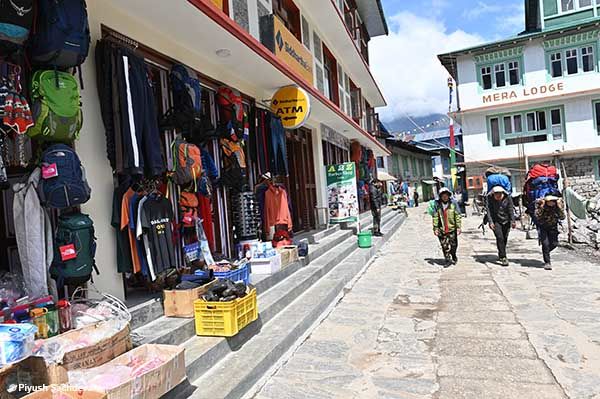 At lukla we took permit for Khumbu pasang rural municipality which cost us Nepal Rs. 2000/- as India belongs to SAARC organization. For other nationalities, you need to pay Rs. 3000/- . Keep this permit safely with you as they keep checking throughout the trek.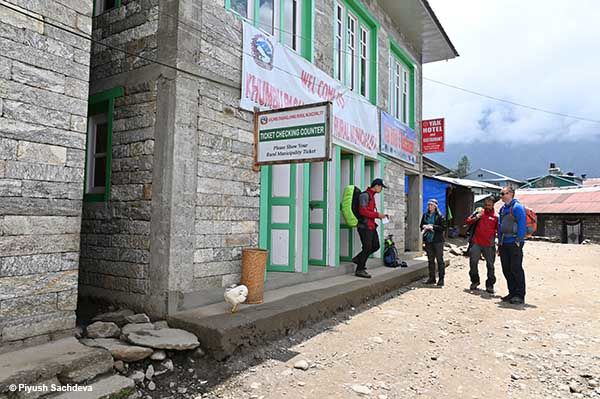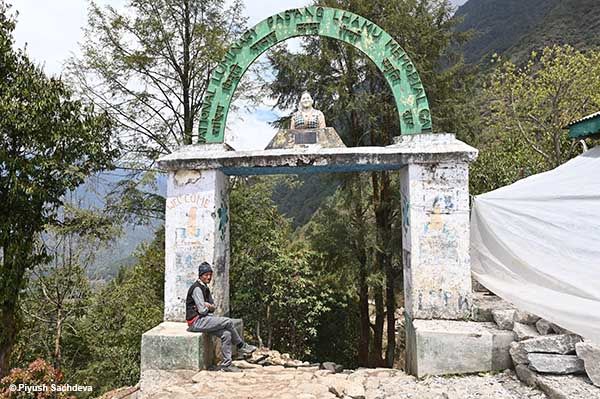 So officially It was our DAY 1 for Mount Everest base camp trek and we started our trek from Lukla to Phakding. Lukla has the elevation of and Phakding is at . Distance between Lukla to Phakding is roughly 7.5 km.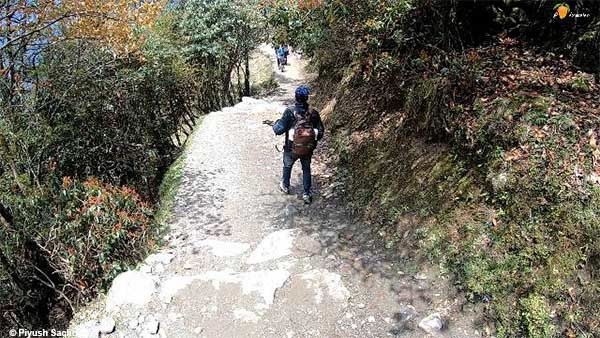 Our porter cum guide Gombu took almost all of our baggage weight which was like 40 kg (including his bag weight as well). These fellows I feel are the strongest people on earth. The place, where it was difficult for us even to walk, they carry such weight on their shoulder. My Salute to all the porters of this region. Without them, frankly it will be so difficult for us to trek this terrain.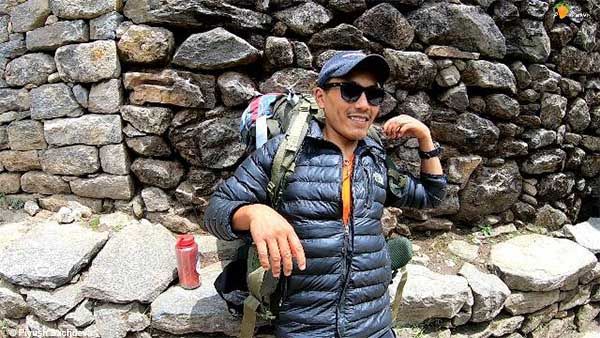 While trekking to phakding, we saw many tea houses and the path is well made, I must say it is a Luxurious trek. For almost 1 and half hr, we didn't face any problem, as mainly it was a downhill trek. In between we found some difficult patches as their we need to climb the stairs but that's ok. After 1 and half hr, the trek is bit uphill but it was bearable. And the experience to cross the first suspension bridge was awesome...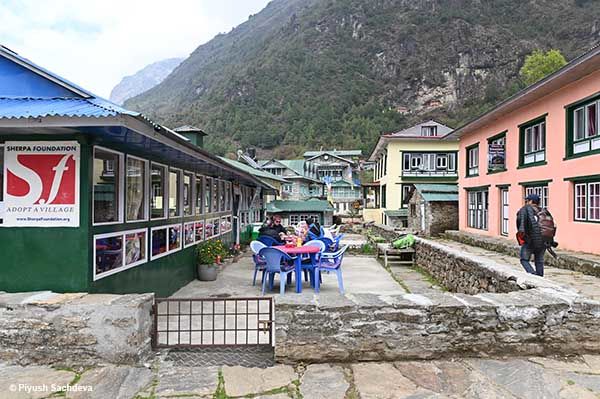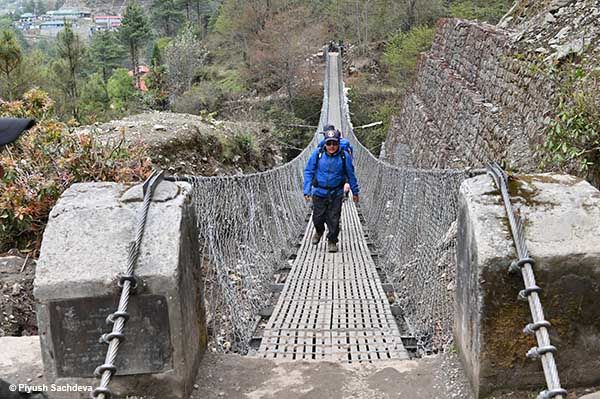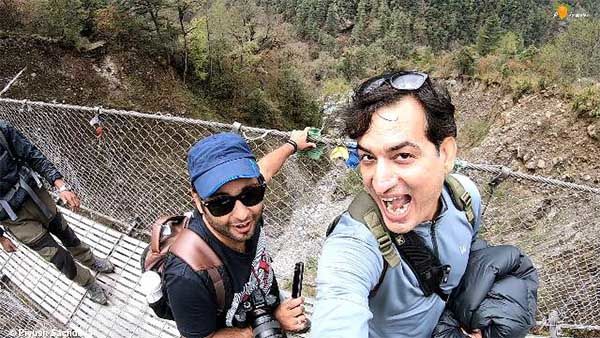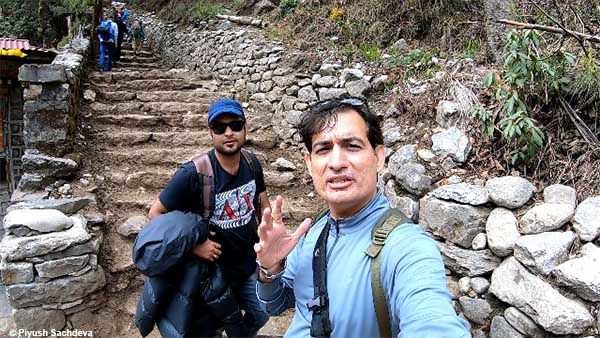 Oxygen level in air in high altitudes is less - For example in Agra, where I live the effective oxygen in air is like 20.5%, so in Lukla it is like 14.5% and in Phakding it is like 15% in air. It surely hamper some walking speed. But, it seems ok for us, as we did some preparation for it.
One more thing, on the way we always encountered with mules and yak carrying load of stuffs. They are the main mode of transportation in this region. Also we saw lot of Buddhist prayer wheels and I guess the traditional mantra "Öm Mani padme hum" is written on them. Please rotate them in clockwise direction only.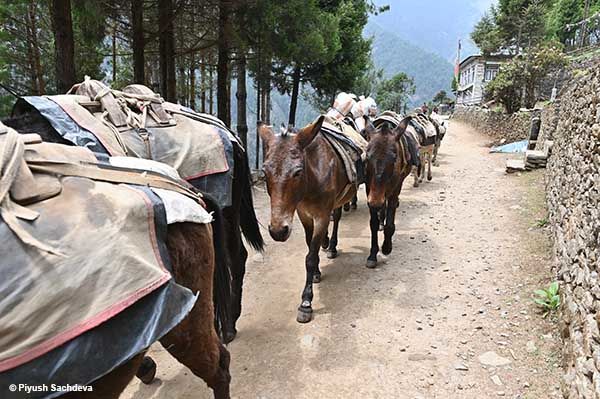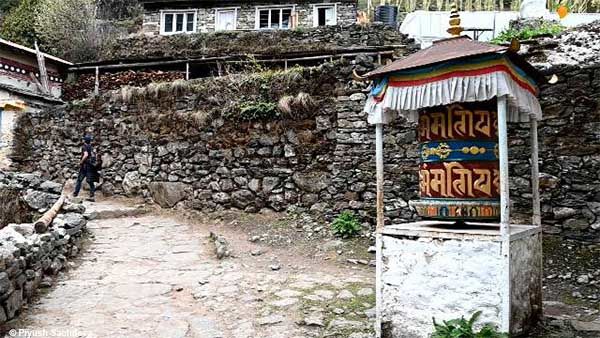 It took us 3 and half hrs to reach Phakding, (ofcourse I was kind of slow :P). We had our lunch and dinner of Dal bhat which is Nepali traditional plate of Dal and rice and some vegetables and it is always freshly made. Will recommend that one must have this always. And frankly we did had it for next 11 days.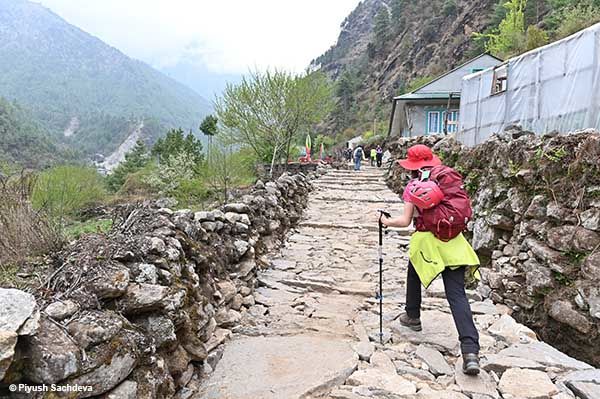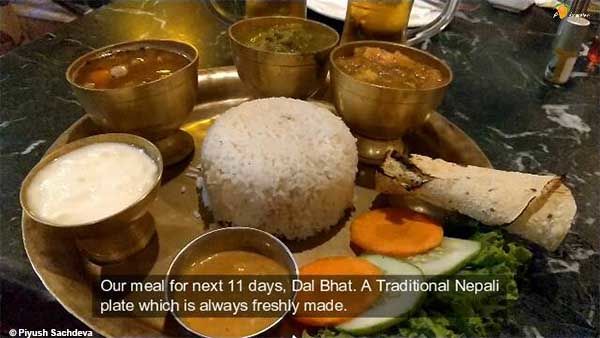 Talking about tea houses / lodge / hotel in this region. They provide you with basic necessities. A small double bed room, with light blanket and a pillow. So one more suggestion here, Do carry your sleeping bag with you if you want to save some money. As if you ask for extra blanket they may charge for it. And yes, it is very cold up there.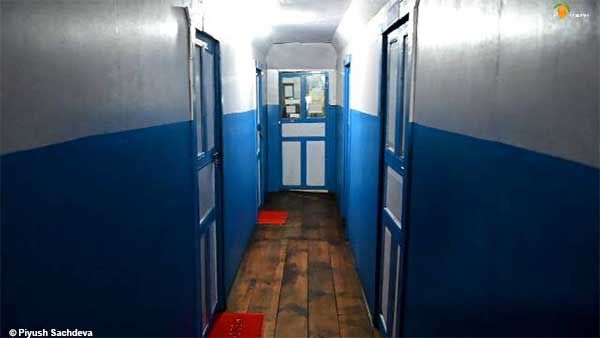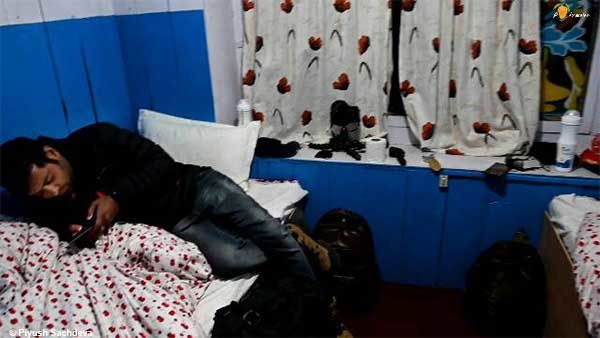 Message -
* Please don't litter. The more we keep clean our countries the more we enjoy it.
* Avoid using Plastic bags and bottles. Make awareness to your circle as well.
Main Points to note :-
1.) How to start the trek
Reach to Nepal capital - Kathmandu. Tribhuvan international airport.
From their you can take flight for Lukla if you have less days with you. It's a trek of minimum 12 days, but aleast come for 14 days.
If you have extra days with you, you can start your trek from Jiri - by which trek time increase to 18 days minimum.
2.) Best time to Visit
Avoid rainy season. And the best time are from March to mid May and from September to October. Technically this trek remain open round the year.
So this was all about our Day 1 (Lukla to Phakding), see you in my next blog, where we will be trekking from Phakding to Namche bazaar.
If you liked the video, than please subscribe the channel and if you have any query, feel free to contact me anytime :)