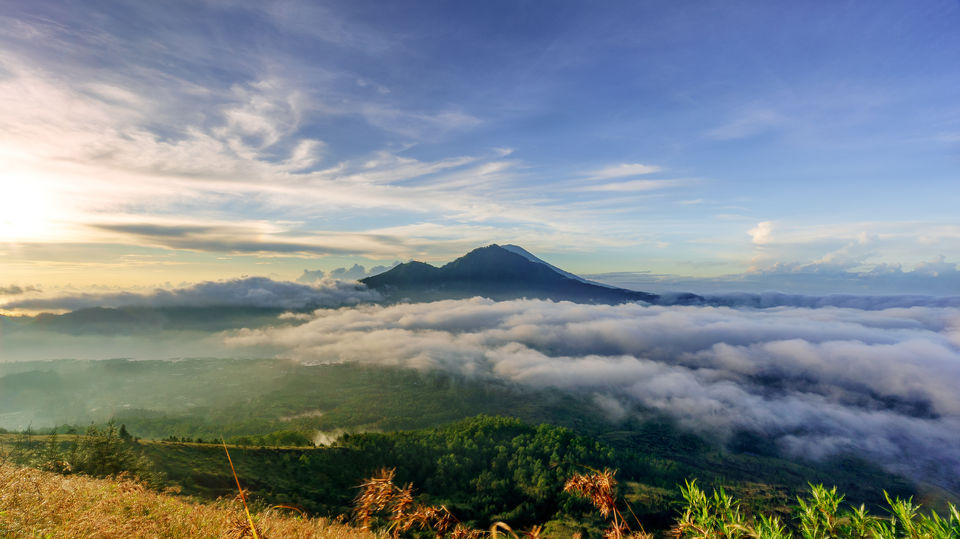 Filled with the most exotic experiences, Bali boasts of beautiful beaches, unique temples and exquisite villas. While beaches receive maximum love, Bali's natural beauty is worth a walk. The best way to explore the untouched beauty of Bali is by allowing yourself to immerse in a stimulating hiking tour. This will take you across scenic hills, rustic villages, beautiful paddy fields, towering volcanoes, lush rain forestS, cascading waterfalls and breathtaking vistas. Ranging from the toughest to the easiest, Bali offers hikes for all kinds of travellers.
Scroll down to have a look at some of the best hiking tours in Bali.
The second highest point in Bali, Mount Batur is located 1717 meters above sea level. This Bali hiking tour is preferable for hikers who wish to behold spectacular views from the top. Transition from a starry night into an outburst of colours at dawn is one such sight that visitors go mad about. Hues of purple, pink, orange and red cover Caldera Lake and Mount Rinjani.
Where: Bangli Regency, Bali, Indonesia
Price: ₹5,000 per person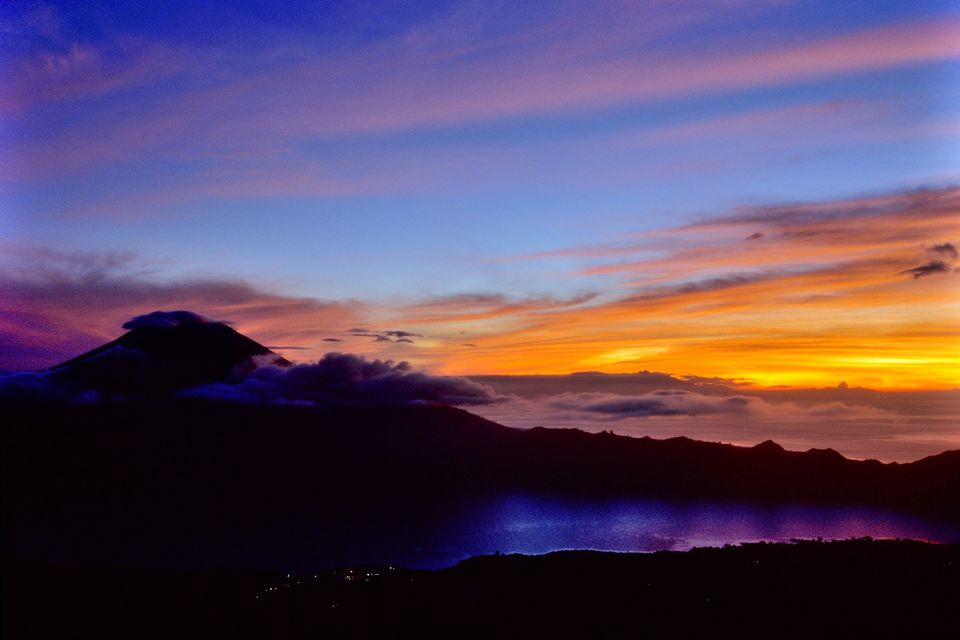 Routes: One can take either of these three routes for this trek:
• Head to Songan and then take left till Serongga. From here, it's a 45 minute trek to the top
• Head to Kintamani and walk to the top. It will take about 45 minutes
• If you are a hardcore hikers then you may prefer to start your hike from Pura Jati or Toya Bungkah. It takes around 2-3 hours to get to the top from here. Try to leave before sunrise to enjoy the mesmerizing views.
Tip: Since the trek requires assistance of a trained local guide, hikers are advised to hire a certified guide.
Standing majestically at a height of 3,031 meters, Mount Agung is the highest point in Bali. This is the best route for those who wish to feel an adrenaline rush. This volcano too offers outstanding views of the sunrise from the top. Visitors can also click beautiful pictures of Mount Rinjani, Caldera Batur crater and Lake Batur, all bathed in colors of sunrise. The holy temple of Pura Besakih and Pura Pasar Agung at the bottom of the mountain are the preferable points to start hiking. As the trek includes some of the toughest trails, it is usually only suitable for sturdy hikers.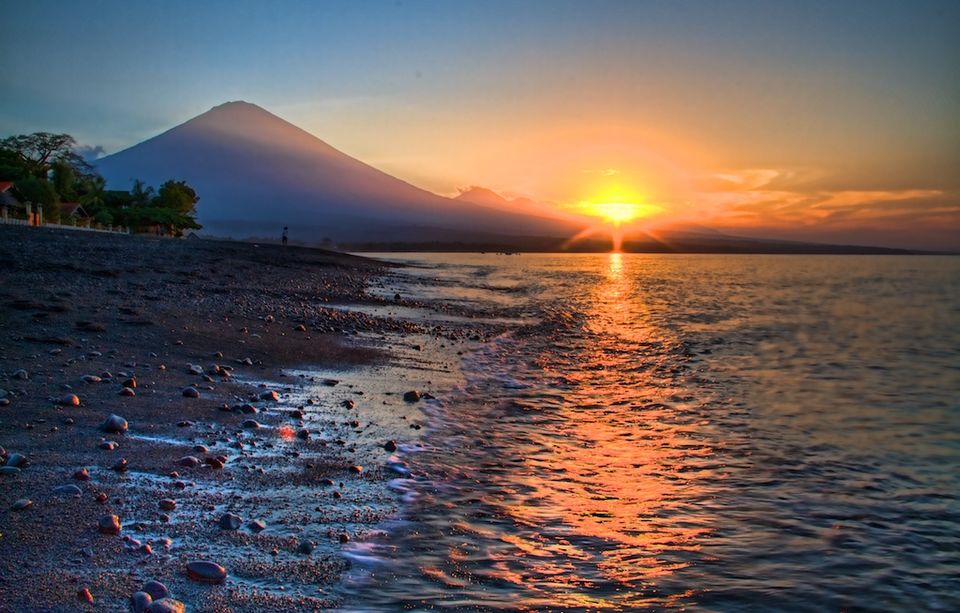 Where: Mount Agung, Jungutan, Bebandem, Karangasem Regency, Bali, Indonesia
Price: ₹7,000 per person
Routes: There are generally two climbing routes for Mount Agung hiking
• Route from Besakih temple in the west offers a challenging experience. To travel through this route, hikers first have to hike through the dense forest of Besakih and then begin the ascent of 6-7 hours.
• For those who prefer a comparatively easy path can opt for Pura Pasar Agung in the south. It'll take around 3-4 hours to get to the top.
Tip: Be prepared and carry all essentials such as extra clothing as it can be freezing on the top.
One of the most scenic Bali hiking trails, Tegalalang rice field trek offers lush green views. Tegalalang is laid out as a beautiful terraced rice plantation. It is surrounded by coconut trees and perched on the banks of a hill. The hiking experience here offers charming sceneries of local farmers working in the rice fields.
Where: Tegallalang, Gianyar Regency, Bali, Indonesia
Price: ₹3,800 per person
Routes: Head to Tegalalang through the Campuhan Ridge. Tegalalang rice field is a 20-minute drive away from here.
Hiking through hills in the West Bali National Park is a treat for wildlife lovers. Home to a wide variety of endemic and endangered species of flora and fauna, West Bali National Park is inhabited by endangered Bali starling, leaf monkeys, iguanas, the black macaque, wild pigs and snakes among others. There are 200 species of flora in this national park.
Price: Around ₹2,500 per person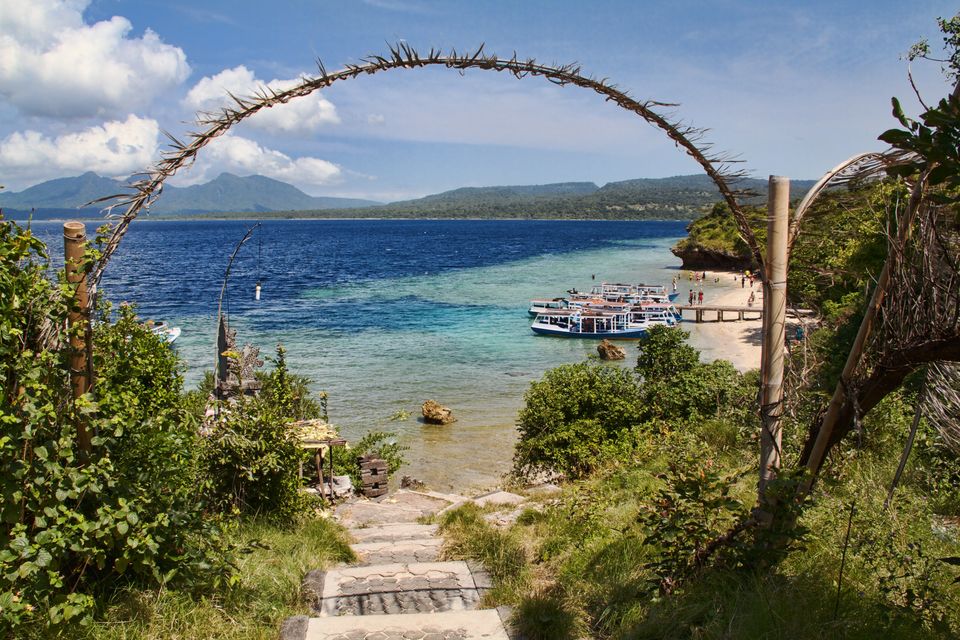 Where: Buleleng Regency, Bali, Indonesia
Route: Drive to the forest and engage in a 7-hour hike.
Tip: One has to be accompanied by a ranger or authorized guide to be allowed to enter the park.
The Sekumpul Waterfall is the highest waterfall in Bali. Cascading from the top of a forested ravine, it offers a pleasant trek. Through your hiking you will get to visit enchanting monuments, temples, alluring rice fields, fruit orchards, and a hidden village with quirky houses and smiling locals.
Price: ₹72 per person for entrance ticket
Where: Sekumpul Village, Singaraja 81112, Indonesia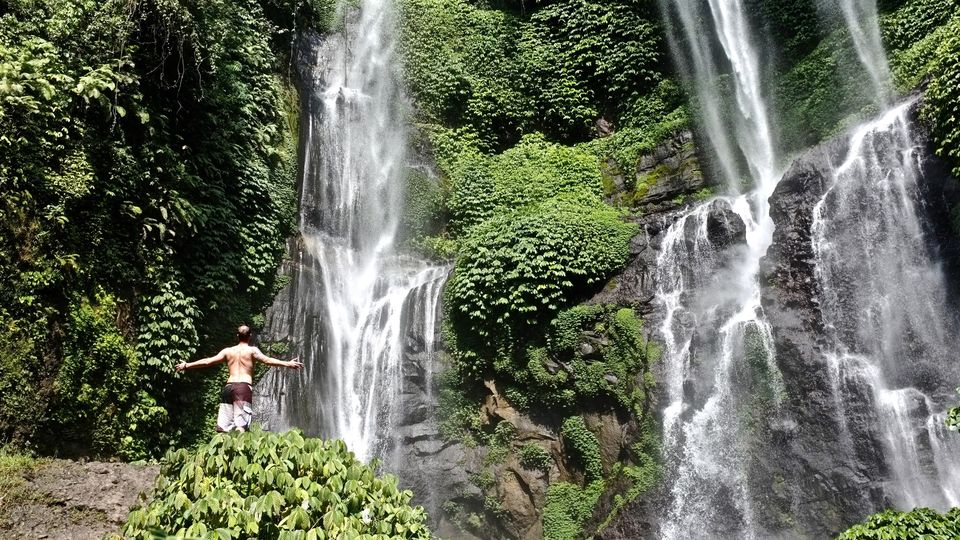 Route: Head to the Sekumpul Waterfall, buy your ticket to the falls and start your tour.
Tip: This hiking route does not essentially require a guide.
The Twin Lake Jungle trekking tour in Bali offers an authentic jungle trekking experience in Bali. The place is known for offering outstanding views of two famous lakes of Bali i.e. Tamblingan Lake and Buyan Lake. The lakes are surrounded by lush tropical forests and high hills that touch the clouds to offer heart warming sights. There is a stunning Bali Hindu temple hidden in the forest that reflects the era of unique architecture.
Where: Gobleg, Banjar, Kabupaten Buleleng, Bali, Indonesia
Price: Free
Route: Reach Munduk town and trek to the lake through the forest.
Have you ever been on hiking tour? Share your experience and tips with Tripoto community here.
For some amazing travel videos, tune into Tripoto's YouTube channel.