I am new in Bangalore. So, I wish to explore Lalbagh in the weekend. I stayed in Bannerghatta Road. One Sunday morning, I took bus (369) and directly went to lalbagh Main Gate (gate 1) in 40 minutes. I bought a 20 Rs. ondu (singel) ticket (for camera extra charge 50 Rs.) and entered in the Lalbagh garden. My guide informed me that there is a bus trip available inside the garden.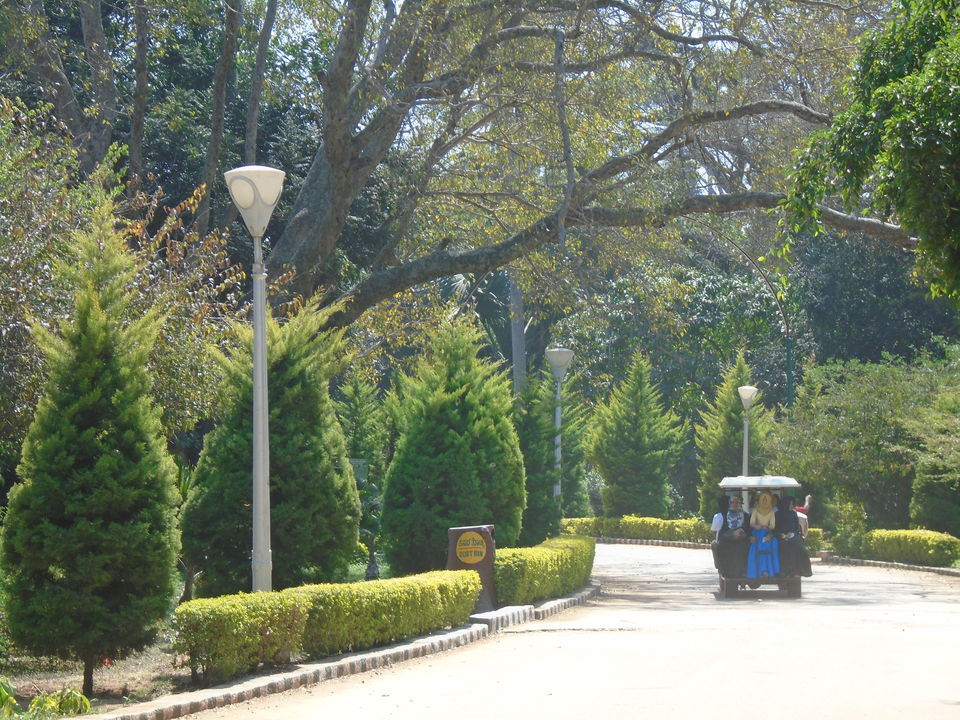 Picture : Battery vehicle inside Lalbagh
I asked the gatekeeper and was suggested to go to Gate 2 for getting ticket to travel by bus (battery vehicle) inside the garden. I went to Gate 2 and bought a 100 Rs. ticket to see the whole garden with instructions and history.
I waited in the bamboo made small room for the vehicle to come.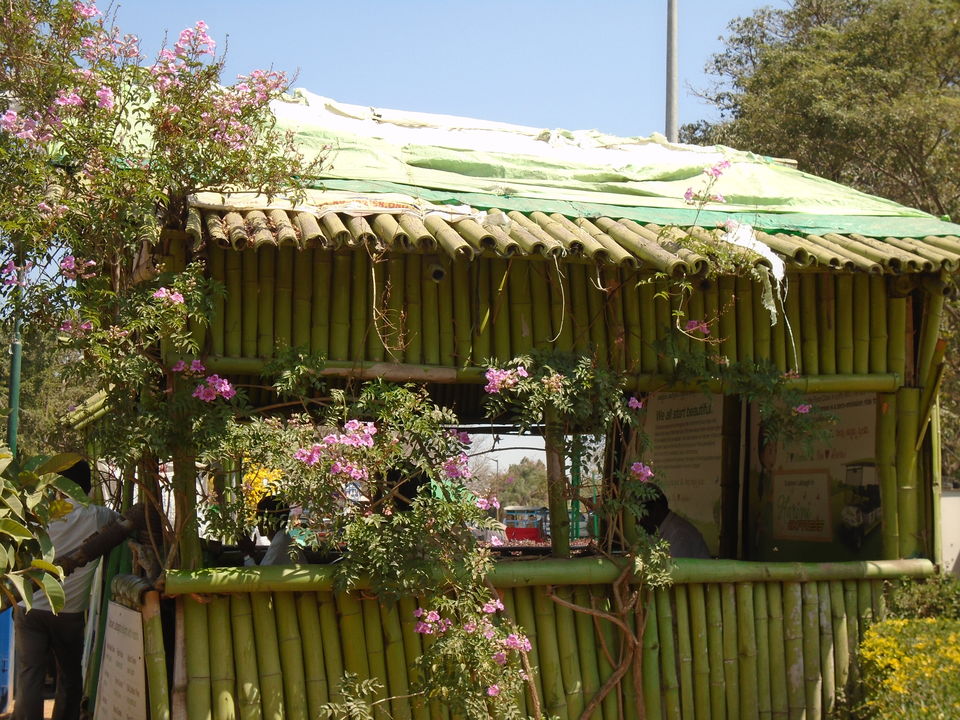 Picture : Bamboo room to buy ticket
People have come from different parts of India. Some are from Kolkata, some from Gujrat.
Lalbagh was built by Hydar Ali, then by Tipu Sultan. There is one red coloured stupa which is known as "Kabutarkhana". Early days, pegions were being trained to carry letters from Bangalore to Mysore and then Mysore to Bangalore.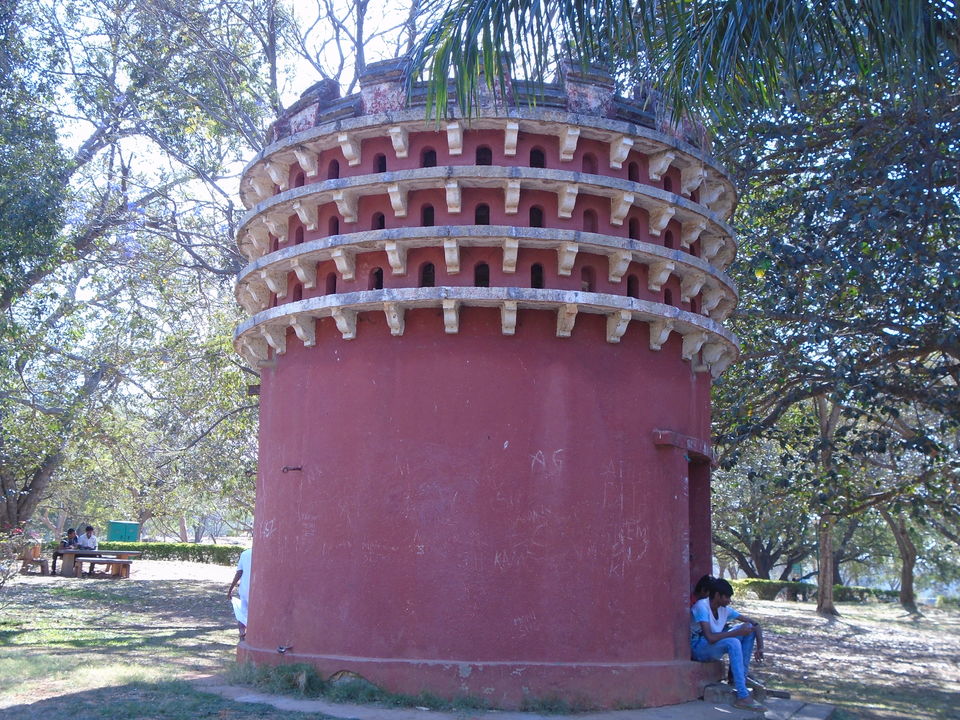 Picture : "Kabutarkhana"
Then next we went to Rose garden. It has almost 60 varieties of rose trees in it. Then we reached to "Glass House". It is beautiful mannequin with different structures.
We get only 5 minutes to see it, to take photos.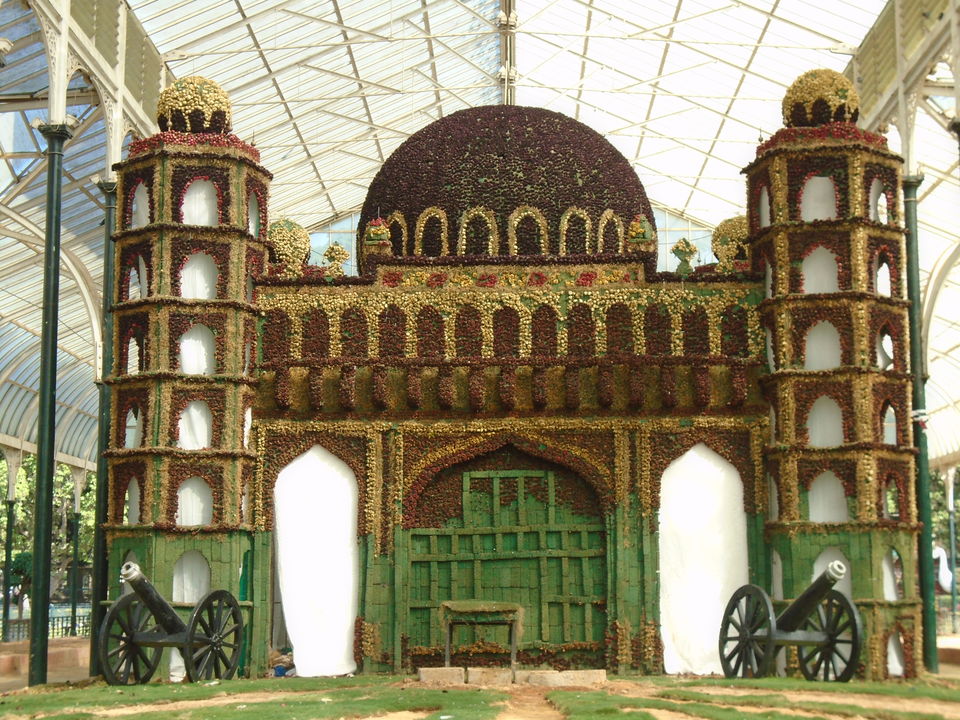 Picture : "Glass House" Mannequin
It has awesome gardens around the house. On the way to "Glass House", you get "Lotus Lake" on your left side. Although it is a small lake, it is worth to visit.
Then, we went to main lake of the garden. We climbed few stairs and visit the lake. The water is green but clear.
There is one mango tree which was planted by Tipu Sultan.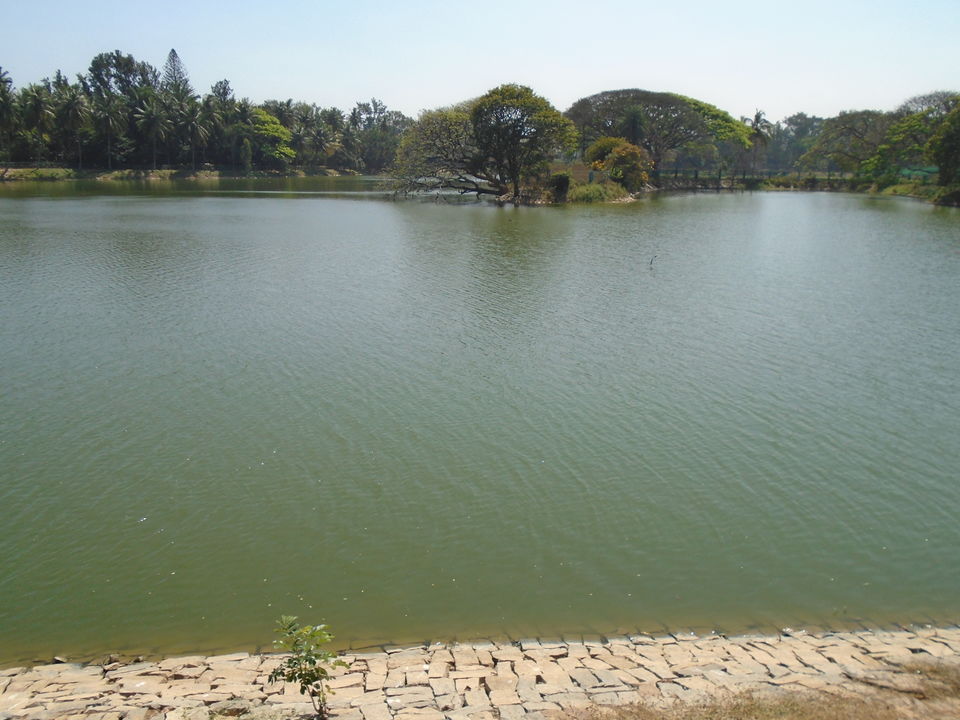 Picture : Lake in the garden
I bought "Muri-badam" by 20 Rs. here.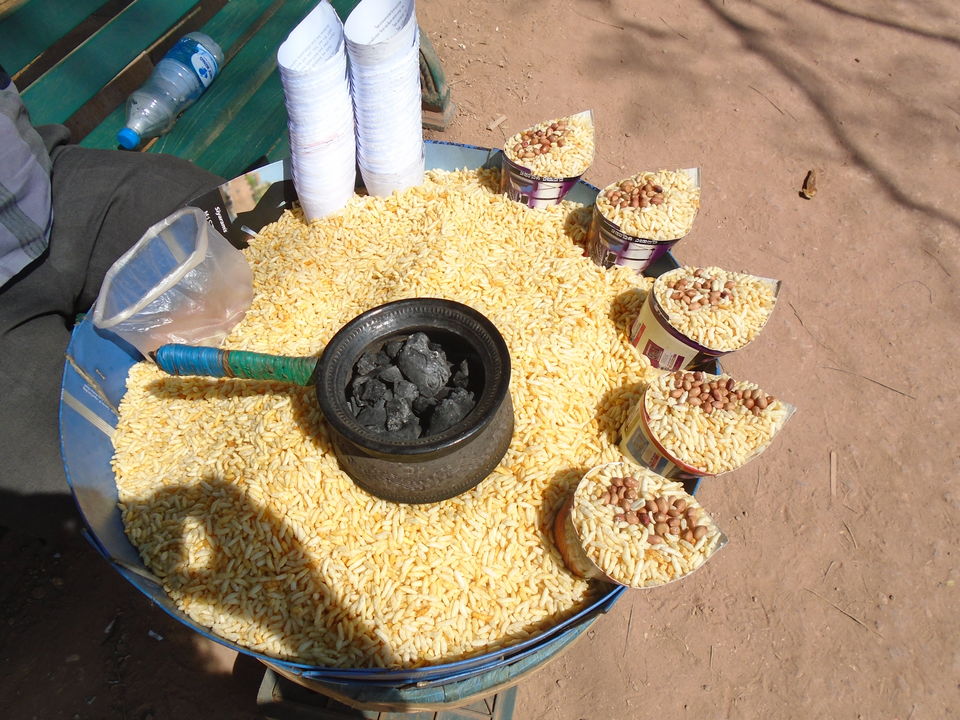 Picture : Muri-badam
There was a big container to hold muri in it. In the middle of it, there was a charcoal container. I asked why it is there? The seller kept the charcoal container as the muri will be kept gorom.
Then we started our journey and we got a "Silk-Cotton Tree" on our left. It is 250 years old.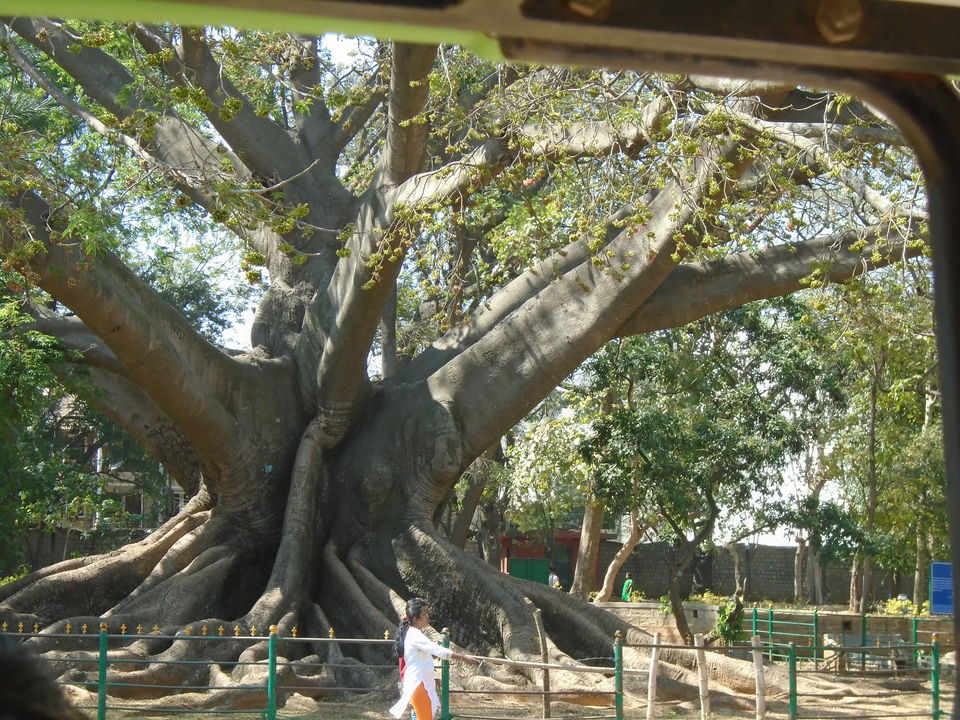 Picture : "Silk-Cotton Tree"(250 years)
Suddenly, we got another spot where tree branches came out in such a way that it is looking like "Ganesh".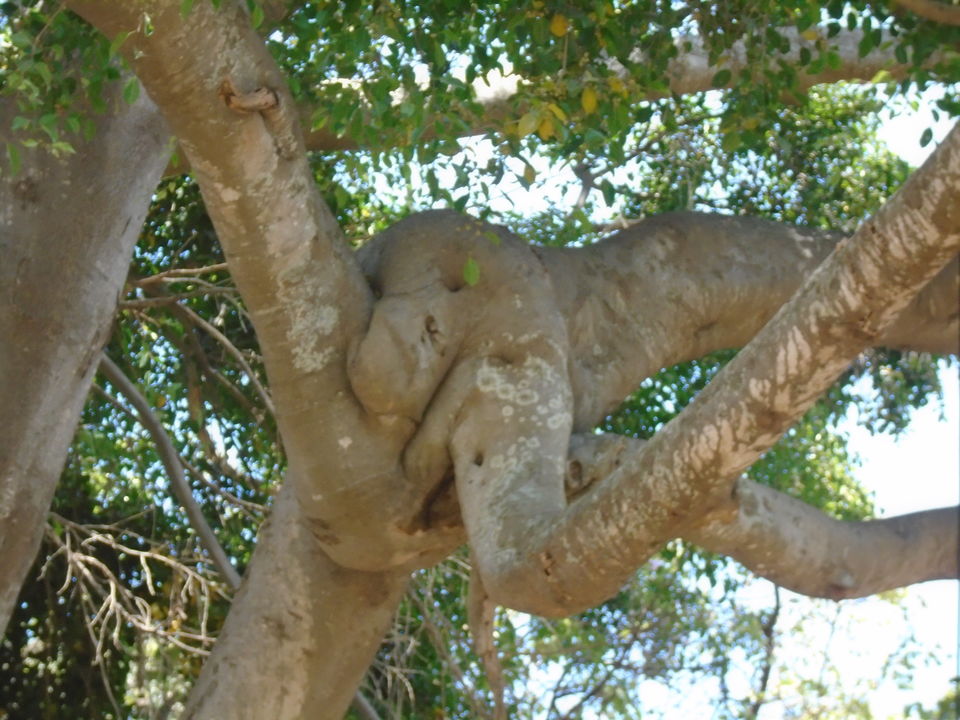 Picture : Tree branches made "Ganesh" (or, Elephant mouth)
After that we have visited honey bees and their nests on a big fat large tree. There were 7 types of "Champak flowers".
There was a garden where trees are cut in animal structure.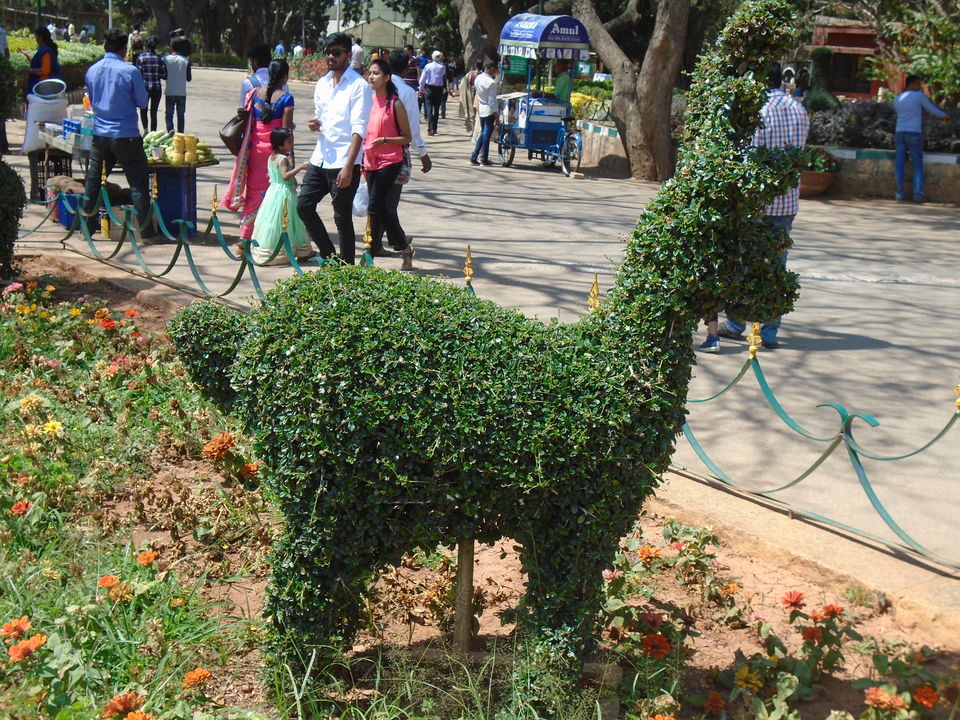 Picture : Tree cut in animal structure (Near Bansai garden)
Then we came to "Flower Clock" in the garden. It is made by HMT. The time was 2 o'clock noon.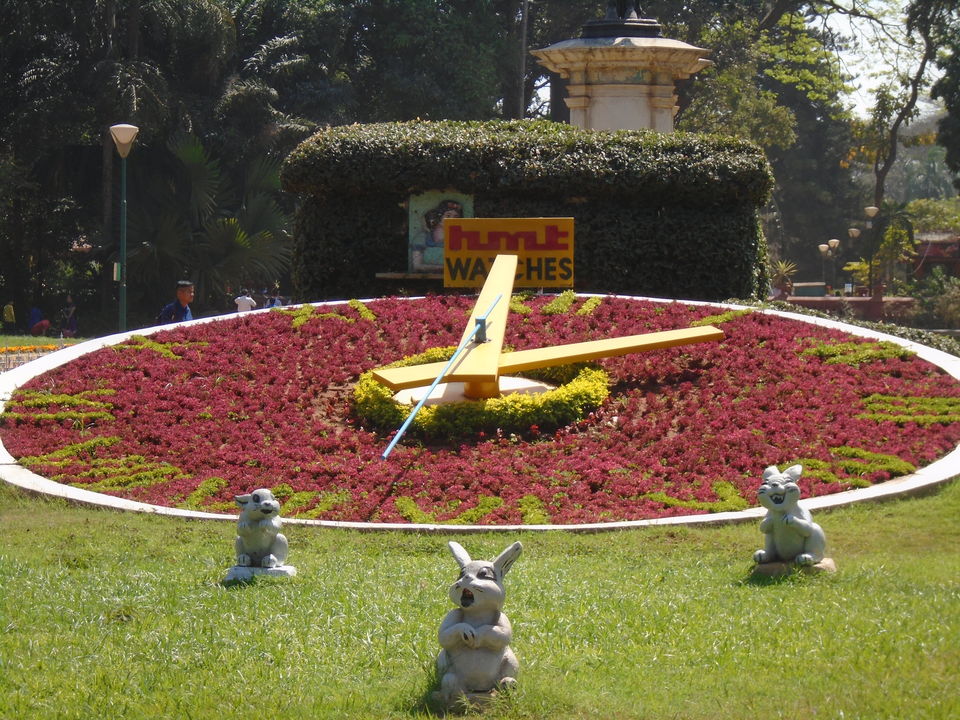 Picture : "Flower –clock"
In front of the "Glass House" there was a place named "Band Stand". It is a place where every Sunday morning 6 to 7:30, army parade is done regular basis. That is the reason of the name "Band Stand".
Then we got down from the bus in front of "Bansai Garden". A man was selling beads necklaces and postcards of Bangalore. I bought 10 postcards (as souvenirs) with Rs. 20. No bargain !!! A person was selling hand-pakha made of sandalwood. Please do not buy sandalwood product from anywhere in Bangalore except "Cauvery handicrafts".
Cauvery Handicrafts is a Karnataka Governement shop in M. G. Road where you will get any authenticate sandal product with authenticate price.
I visited "Bansai Garden". I came out of it, in front of which a temple-type structure situated on the top of the hilly areas. I climed it up. It is not a temple. It is tower to have a bird's eye view of the whole garden.
A couple has come with a photographer to get photoshoot. When in the morning, I was on the way to Lalbagh, I searched photography tips to get good photographs in the garden. Then only I came to know that this place is famous for photoshoot events.
So, if you are interested in photoshoot and you meet a nice photographer in Bangalore, go to the garden, visit it and get good photographs.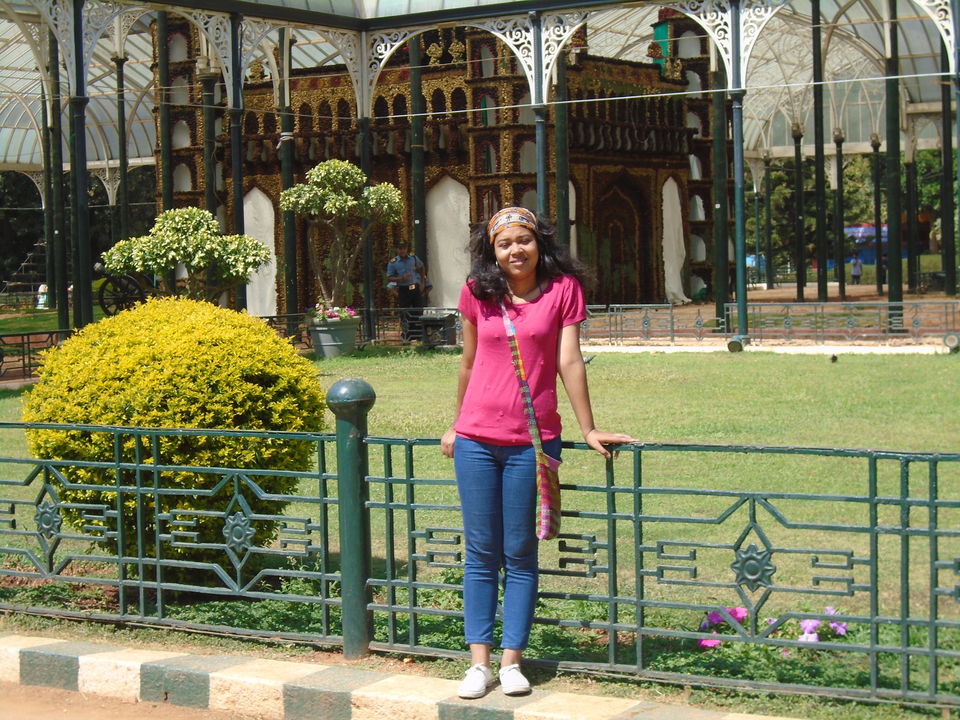 Picture : Me in front of "Glass House"
In Gate No. 2, I found out few AC buses who entered in the garden. In front of the bus, it is written "Bengaluru Darshan". I came to know from the bus conductor, there is a site "KSRTC" through which we can book Bengaluru Darshan Bus which runs from 9am to 6 pm (Majestic to Majestic). Awesome !!!
Book this bus through : www.ksrtc.in. Single occupancy : 400 Rs. with 25 Rs. service charge.
It is great to visit Lalbagh on "Flower Show" occasion. It happens normally in January 10-26 and August 5-15 every year. If you get chance, visit Lalbagh.