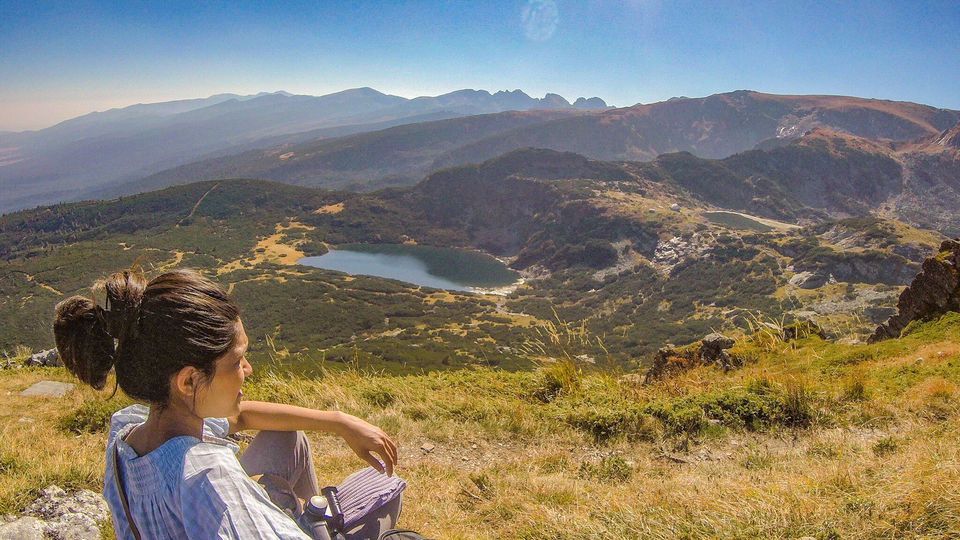 Having nearly crossed off all the most-visited European countries on my wish list, I decided to venture slightly off the beaten track this time. With the Balkan nations only steadily re-establishing tourism after their war-torn past, it was a great opportunity to explore Bulgaria. Just a few years more and I am sure, word about this enchanting wilderness will spread like wildfire! Just glad I have made it on time before tourists from all over the world come flocking. And why should they not?!
When Hermoine said yes to Viktor Krum for the Yule Ball, I thought she had lost it. Had I known he came from this beautiful country, I would have asked him myself :P Take a look at the Rila mountains, my first destination in Bulgaria and home to 7 glacial lakes!
Actually even the 5 start ones are very affordable. But I love hostels ( cheap and free breakfast mostly :P So why not?)
iii. I booked my tours with https://www.rilashuttle.com/
There are many others, but I suppose these guys are the cheapest and the only ones that offer a day trip to both the mountains and monastery :)
My journey commenced with watching a beautiful sunrise in the capital city. Since I usually fly out on Friday evenings after work, I invariably end up spending one night in the airport. Thanks to Maria, who kept me company in the Sofia international airport. Now I even know where to go when I visit Bulgaria the next time. It has to be her very home town, Kazanlak! Knowing well that Bulgaria is the world's largest producer of rose oil, I really wanted to go hunting for rose-gardens. But due to dearth of information on the internet, I settled for the Rila Mountains and monastery instead, as frequent day trips are organised by many tour providers at reasonable rates. Maria and I had a great time talking our hearts out to each other through the wee hours of Saturday morning until the first bus arrived at 5:30 am. As she made her way to her rose-town, I caught a taxi to the Bulgarian capital city and arrived just in time to catch a spectacular sunrise illuminating the landmark cathedral of Sofia, Alexandre Nevsky. I love basking in the warmth of the rising sun, especially when I have had a sleepless night before a long day! I am not much of a Vitamin-'Sea' person, so I need a lot of Vitamin-D to get going :P
I remember frantically searching for my tour group. I was almost convinced that I was going to miss my trip until at last, I spotted my gaunt-faced Bulgarian tour guide impatiently awaiting my arrival by his mini van. I must say his mood improved as we drove into the mountains and got so much better with the views, that he even smiled once in a while :D It was a long way to Rila and Marco was the only other person on the tour. He was from Italy and we sure had a great time getting to know each other. As we chatted, I realized I had met someone who had been to about 80 countries and yet humble enough to appreciate the fact that I was an aspiring travel-blogger, one that has barely made it through 19 countries :P To him, it was more about traveling than blogging, but he sure had some great experiences that I loved hearing about. Around 11 am, we got dropped off at the Rila chair-lift point. PS: They only accept Leva for tickets and no euros and there are no instructions on how you pull the overhead belt down when the chair takes-off the platform and ascends. I know I could have never done it without Marco, because it was my first time and any 'first-time' experience for all that is worthwhile, matters!
Now, now. There was much more waiting up there for me to challenge. After the 20 minute ride, Marco and I went our ways, because an ardent photographer and a fanatic-hiker can never go together :P But they can surely be great friends and soon, you will know why! :)
The mountains were stunning and I completely lost myself, so much that I even lost my phone :P The incident caught me totally off-guard because I couldn't speak a word of Bulgarian and communicating otherwise was impossible. Finding my way back to the chair-lift ride wasn't the hardest bit, but having to do it on my own could have been daunting had it not been for the kind old man in vicinity. All I had to do was smile and explain in sign language that I wanted to ride back with him :D After the man nodded with a smile, we descended from high above vast forests of pine in the quiet company of each other, occasionally stirred only by the soothing breeze :) Having lost all my contacts, I had no clue how to contact my tour guide or Marco to proceed on my journey. Fortunately I was half an hour early before pick-up time and was hoping to see Marco pass by the counter where he had purchased tickets earlier that day. To kill time, I decided to inquire a bit about the availability of taxis to Sofia. Fortunately I met an English-speaking local, a shopkeeper who seemed to understand my situation. He too was kind and allowed me to make a few phone calls back home, so I could keep my family informed. To keep me calm, he even jovially remarked that I was actually two years older than him (who seemed like 30-35). But right when I expressed the need to take a taxi back in case I missed out on my tour group, a couple arrived in a jeep to greet the shopkeeper and that is when things started to get fishy. He then proposed that his friends could take me back to Sofia at almost twice the actual prices ( I keep myself informed about things like taxi rates to avoid being cheated). Nevertheless, this didn't take me half as much by surprise as his friend's reaction did. Even though I declined quite politely, the duo zoomed off slamming the car door. Bizarre and unpleasant, I should think. But I didn't have much time to sink in the feeling because at that precise moment, I saw Marco walking downhill and my joy knew no bounds. I am sure he must have thought I am crazy for the way I ran up to him, but when he learnt the reason he too seemed relieved that I was safe. Soon afterwards we met our guide who drove us to a little village for lunch. Marco and I had a great time stuffing ourselves and rounding off the lunch with the Bulgarian Ayran. Its basically Bulgarian buttermilk :P After lunch, as we drove towards Rila monastery, Marco let me use his phone to get in touch with my family back home and assured me that we could find my hostel in the evening after we got back to Sofia. So for the rest of the journey, I was quite relaxed. Having lost my phone even seemed like a good way to go on a much needed digital detox actually :)
After a long drive we finally arrived at the Rila monastery. It was a world apart. Nestled in the evergreen forests of the Rhodope mountains, the UNESCO world heritage site seemed to preserve the very essence of Bulgaria's orthodox Christian beliefs. With rituals being practiced with utmost sincerity even today, there need be no better reason why this cultural marvel has withstood a series of invasions from the Ottoman Turks and Greeks alike. The Gods probably heard every prayer that was offered and seem to have blessed this gem of a place with surroundings as pristine as heaven itself :) Here, take a look for yourself! Oh, I even spotted the colourful roses that I had come in search of. It wasn't high season, but there were still plenty left to fill me with the fragrance of Bulgaria's assets :)
By the time we arrived back in Sofia that evening, we were dead tired. Yet Marco helped me get a print out of my boarding pass and dropped me off at my hostel before saying good bye :) Had it not been for traveling, I wonder if I would ever have crossed paths with such wonderful people :) Being careful of one's belongings is necessary and I sure have come a long way while trying to master the art. Losing my phone had more to do with inevitability and so were the lessons. Now I truly trust that as long as you believe in the ability of nature's forces to protect you, there is not much to worry about! There should have been no reason otherwise, why my instincts perked up naturally when I refused the shopkeeper's friends! After all, everyone else who I trusted along the way made Bulgaria an experience the best it could have been. But that night when I went to grab some dinner from a sandwich shop I noticed that natives stared at you, which was a bit unusual for a European country. Nevertheless I was too hungry and sleepy to contemplate and went to bed straight after dinner.
With Sunday morning came the most perfect opportunity to learn to read city maps. I was hell bent upon visiting the Russian church in the city centre and navigating without google maps in a new city is like trying to find water in the desert. PS: Now I can read city maps like a boss! The St. Nicholas Church was a great place to say a little thanks to the Almighty for everything that seemed like those roller coaster rides that are followed by a lingering feeling of thrill. I reckon he even acknowledged the prayer with the early morning sun shine that glinted off the golden domes ;)
Later on, after feasting on a breakfast of Spinach and cheese Banista in my hostel, I headed to the airport to catch my flight back to London. Just as I though I had met enough people on this journey, I got conversational with a friendly Bulgarian girl at the departure gates. She was completely taken aback by the fact that I survived there without a phone :P and was most curious to know how I found Bulgaria and its people. As she was welcome to receive an honest opinion I couldn't help but ask why people stared at me:P I got my answer from her. Even though immigrants haven't come into Bulgaria yet, there have been minority gypsy groups that have resorted to petty crimes here. So people in general are just a bit cautious around anybody who is of a slightly different skin-tome. And having seen no other Asian tourist over both days in high season left no more room for doubts about why they kept looking :) All in all, I believe travel is the only thing that can really educate you about what is really happening in another country. The media surely tells you a lot, but what it doesn't show you is the better side of places which is what you must really see! :)
NOTE:
i. Remember to have enough Bulgarian leva (30-50 Leva) at least to purchase entry tickets
ii. STAY AT: