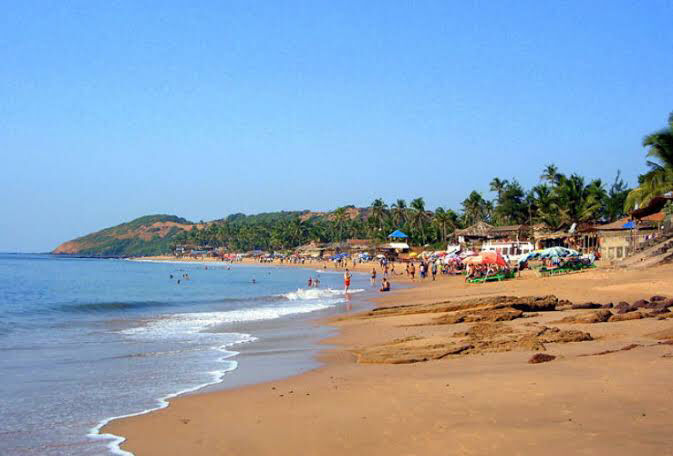 Arrive on goa ...
Later explore local market of north goa.
You will get some good footwear from shops near st. Anthony's Shacks near at baga beach.
Go to late night on Shacks of baga beach which is lil crowded (good at night) take some good place to enjoy your drinks on the ocean.
Wake up late then hire a vehicle from local market. Go to Anjuna beach on evening before sunset then enjoy swim in the ocean and getting view of sunset. You can also go for Dolphin watching tour.
Go to LPK club to enjoy drinks and dance party.
Club will open on 9.30PM with package entry charge 1800 per couple and 8 pegs of drinks with dancing, if you are a girls gang then only girls have free entry to club with some drinks coupens.
After late night dancing and drinking wale up late. Relax, hire vehicle.
Go to Anjuna beach for Water sports after lunch.
Anjuna beach is less crowded so you will love to enjoy water sports over there and also nearby baga beach. Remember to hire vehicle first because you will get cheaper rate taxi from baga to anjuna but returning from anjuna to baga will cost you twice. Watersports charges on the beach is 1500 per person package which include 5 water sports (parasailing, jet ski, banana ride, speed boat ride and hov raft).
After enjoying water sports take some rest and then go to your hotel. After that go to casino at night. If you're going deltin royal it will cost you 6000 per couple with 4000 rupees one time play chips and if you have got voucher from airport deltin desk you will get double the coin vouchers 1000 rupee per person. If you don't have got coupens from airport then call deltin helpdesk then ask for offer for couple so they will give you package of 6000 couple entry with 6000 rupee one time play chip.
If you are girl alone than the entry fee is 2500 per person with 1500 rupee free chip and 1000 additional bonus chips.
If you are male alone than it is 3500 entry fee with 2500 rupee one time play chip and 1000 rupee bonus chips.
All package are with unlimited drinks and free dinner. If you are jain then ask manager to provide jain food they will provide it.
After coming late at hotel from casino wnjoy day leisure. You can go to thalassa if you want.
Discover beaches of goa.
go to aarambol beach and vagator beach. Very less indian crown over there you will get most of foreigners and carnivals.
Vagator beach is a beach where Sunburn festival is playing on.
There is Wednesday flee market on anjuna beach you can find good things on less price.
Now take memories and you can relax or either take flight back to your hometown.