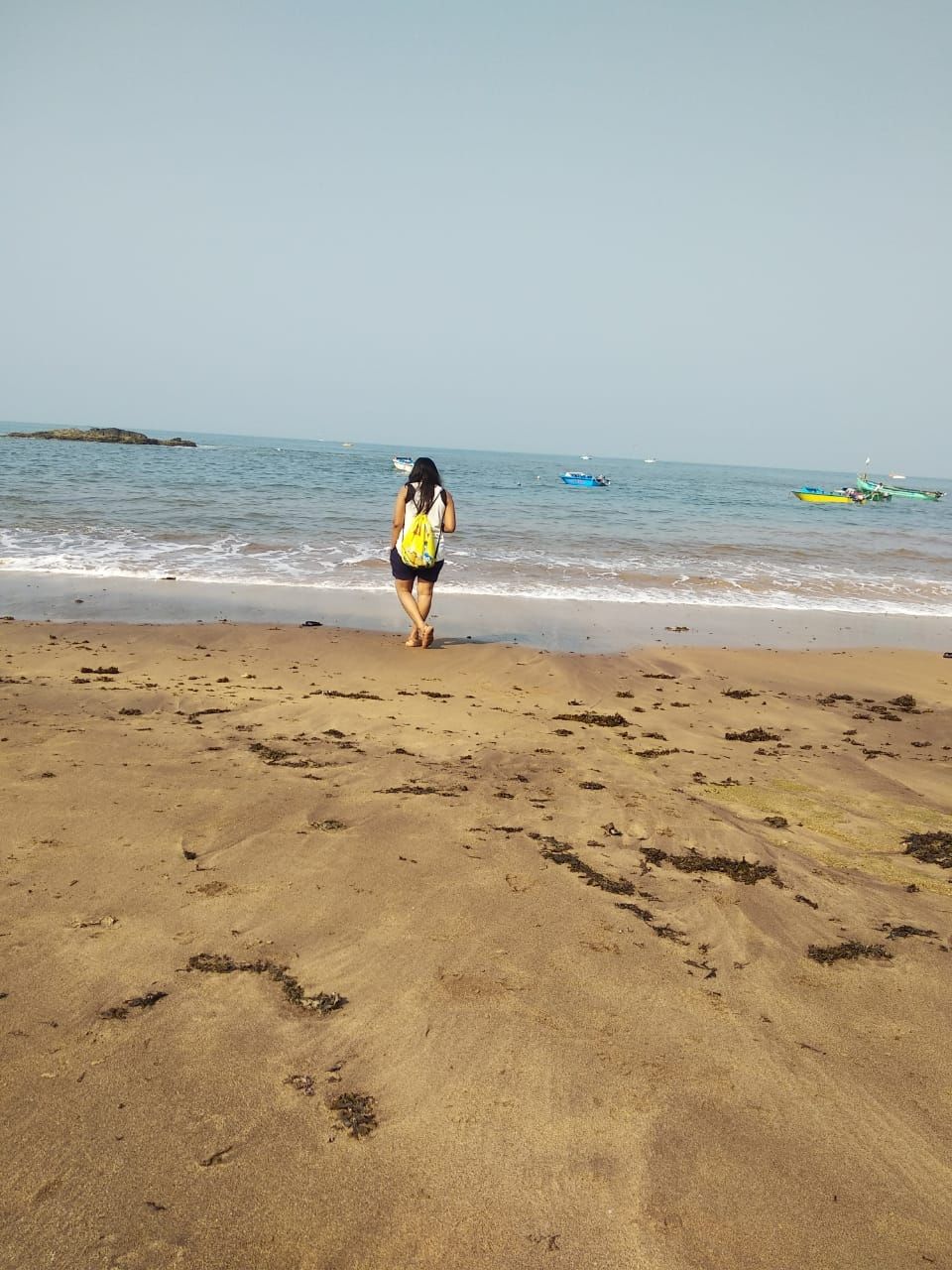 Hi pepole. Its Kaveri "the crazy girl."
Yeah. You have to be crazy if want to travel Goa and want  make awesome memories.
I started my journey from Nagpur by bus to Pune where I joined my other four friends. If you haven't made any reservations,you can book bus seat on MMT or Red bus on previous day. It cost around Rs.1300 if you want sleeper bus and Rs.900 for semi-sleeper. Both are convenient to at night travel. Like other travelers I too suggest you guys to travel at night.
Next morning I reached Pune. And in the evening we left for Goa again by bus. Pune traffic is very unpredictable so please leave you house two or one and half hour early. We were struck in traffic almost one hour. We were about to miss our bus, as we have to take "u" trun to reach bus stand. But we used our brain and paid the cab driver and took out our luggage and crossed the divider.😜 It was so funny. And Finally the trip to Goa started.
Next morning we reached Goa. Morning sun was so peaceful to watch. We said bye to bus at Mapusa and hired  a car Rs.3200. Price of the car depends on the model. We wanted to explore South Goa first, so headed towards Mudgao. You can directly reach Mudgao by bus and you can rent car there also. But we didn't wanted lose our time in bus only so car was better option. 🤩 about bike I'll come back later. We had booked our hotel on OYO at best price. It was a beautiful blue coloured house facing river. We rested for a while got ready for the real party to get started. Some localized people suggested us to see sunset at nearby Galgibaga  beach. Its very quite at night that you can only hear the sound of waves. Its all safe there for everyone. We were all hungry so we headed to Palolem beach. They serve most amazing sea food. Plus you can enjoy you dinner with some live music. Palolem beach lead by a street which has shops on both the sides. Bargain little bit if you can. Or pay twice the actual price like on of my friend.🤣 Later that night we went for a silent noise party at Neptune silent club which was new to us. We danced till we got tired. Entry fees is only Rs.800. It was unforgettable night.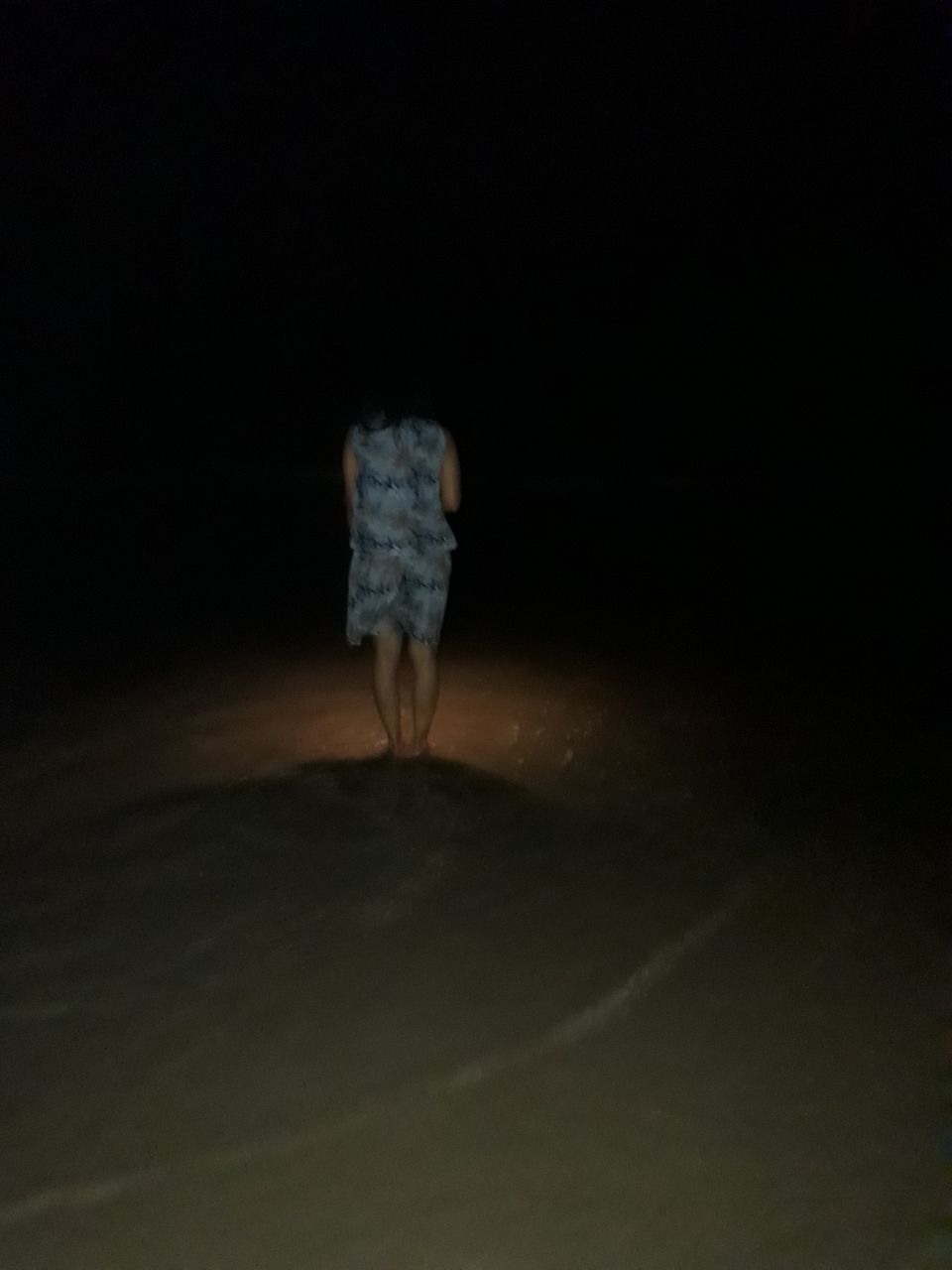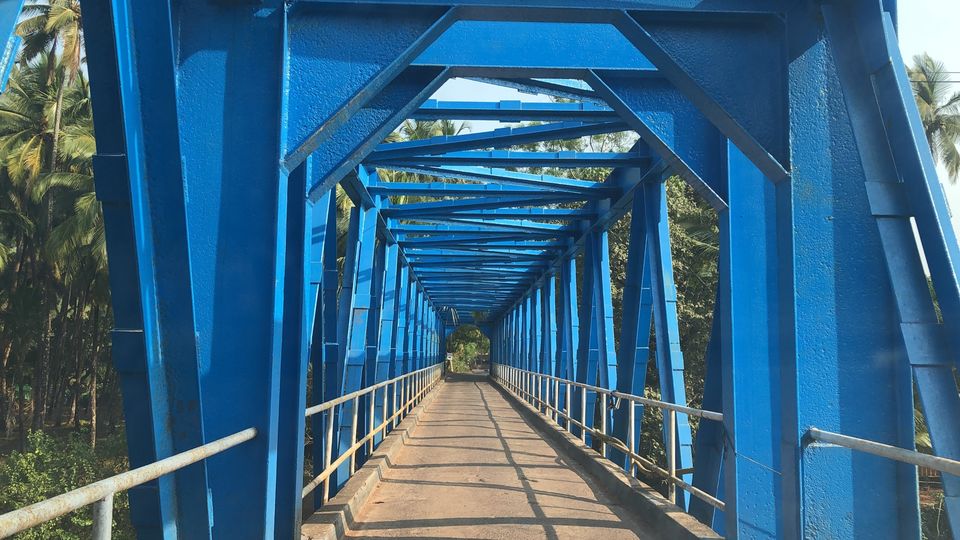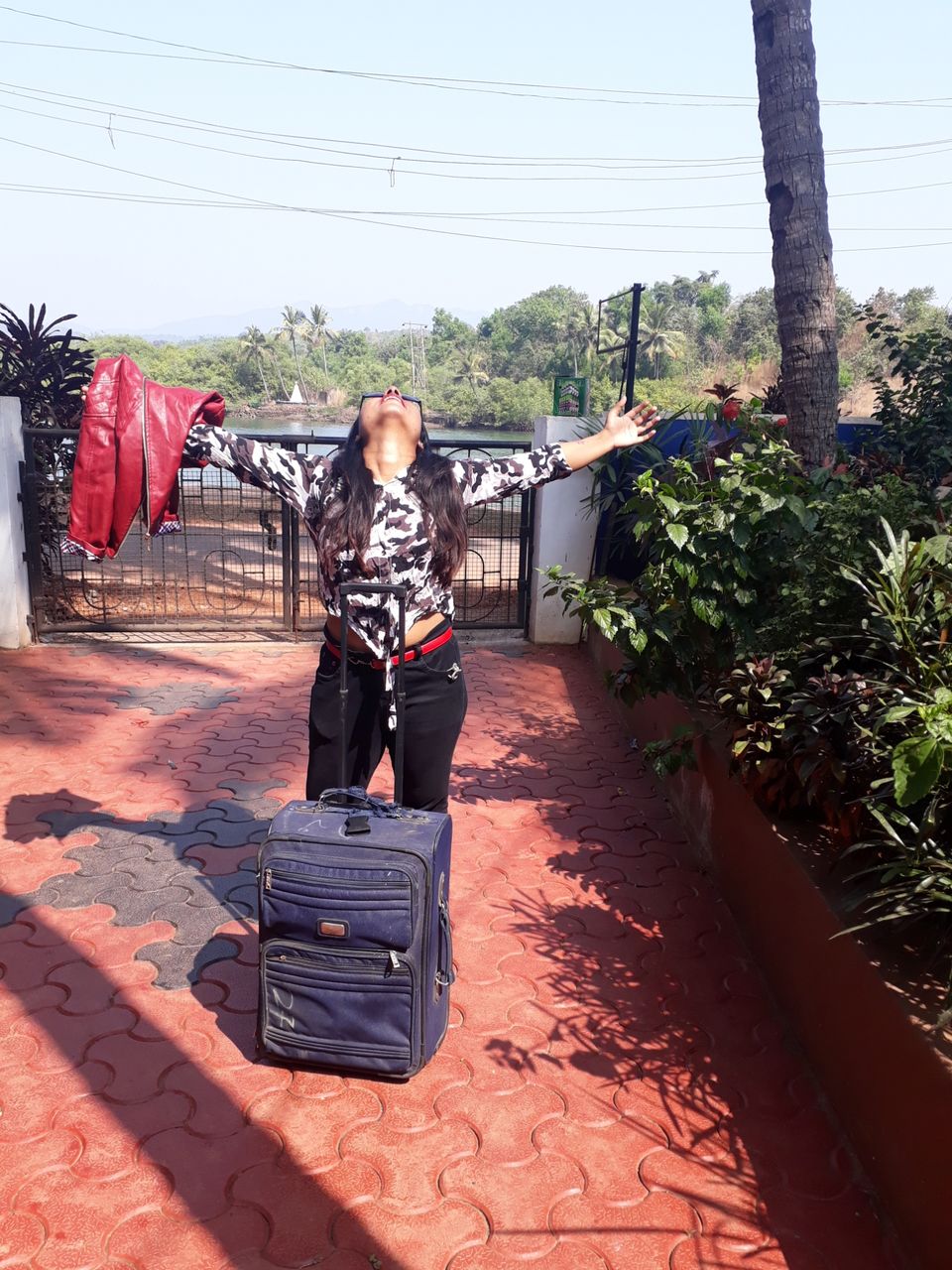 If you want to explore most of your destination then just say bye to sleep. And wake up early in the  morning.
I mean literally you may miss most beautiful sunrise on beach, which we did. We lazy people woke up late and headed to North Goa. We booked hotel on OYO in reasonable price near Anjuna beach.  It took about 4 to 5 hours to reach North Goa. Roads are so smooth here. Less traffic plus less pollution. 😍 Our hotel Meradena Opus had swimming pool which was like cherry on cake for us. We just threw ourselves in it.😂 Later that night we went to Curlies Shack at Anjuna beach which only 400 metre away from our hotel. There was flea market too.🤗 We sat there and ate Maggie 🤤. And rest we dont know how our night passed. Because it was all peaceful there.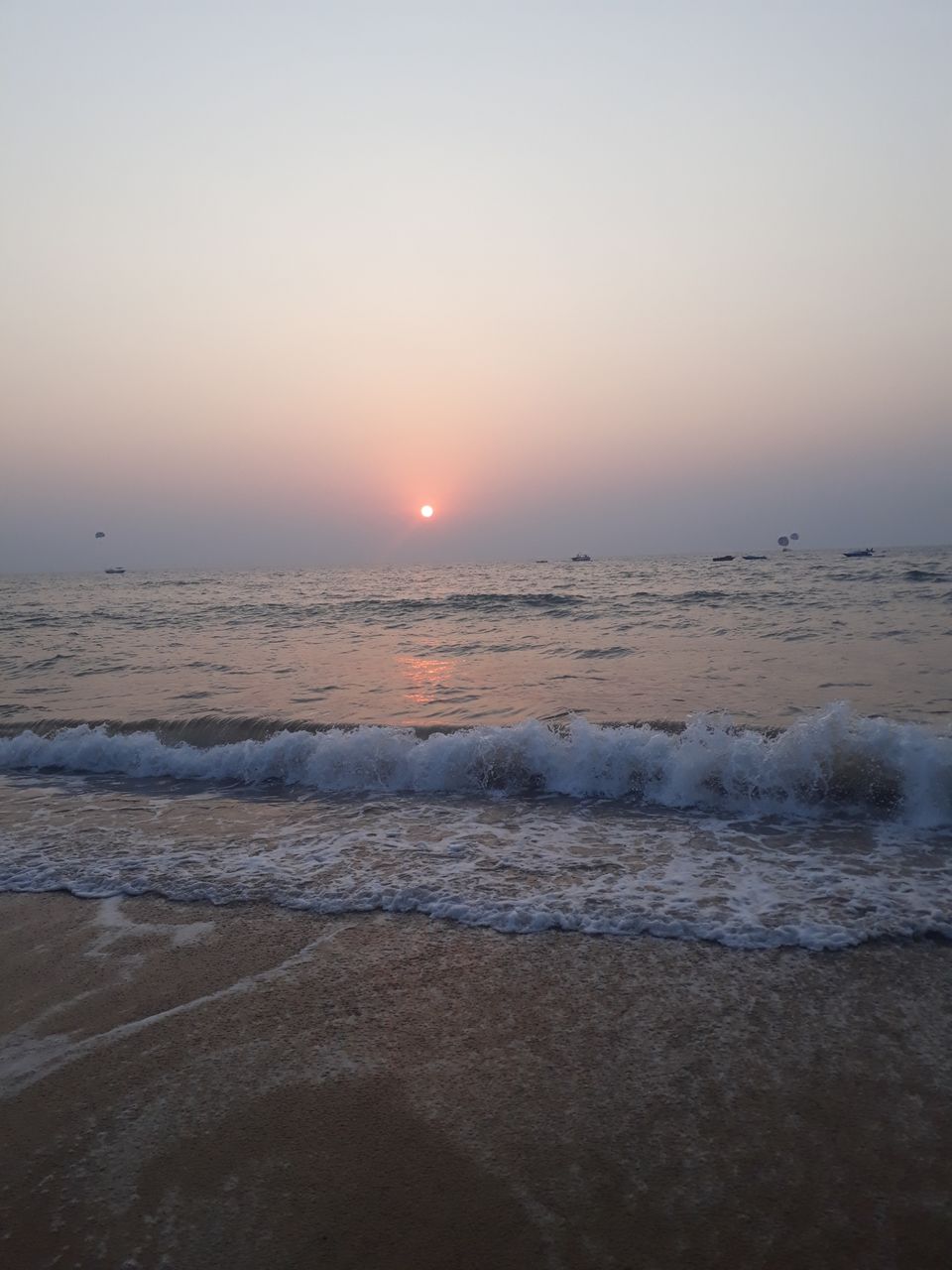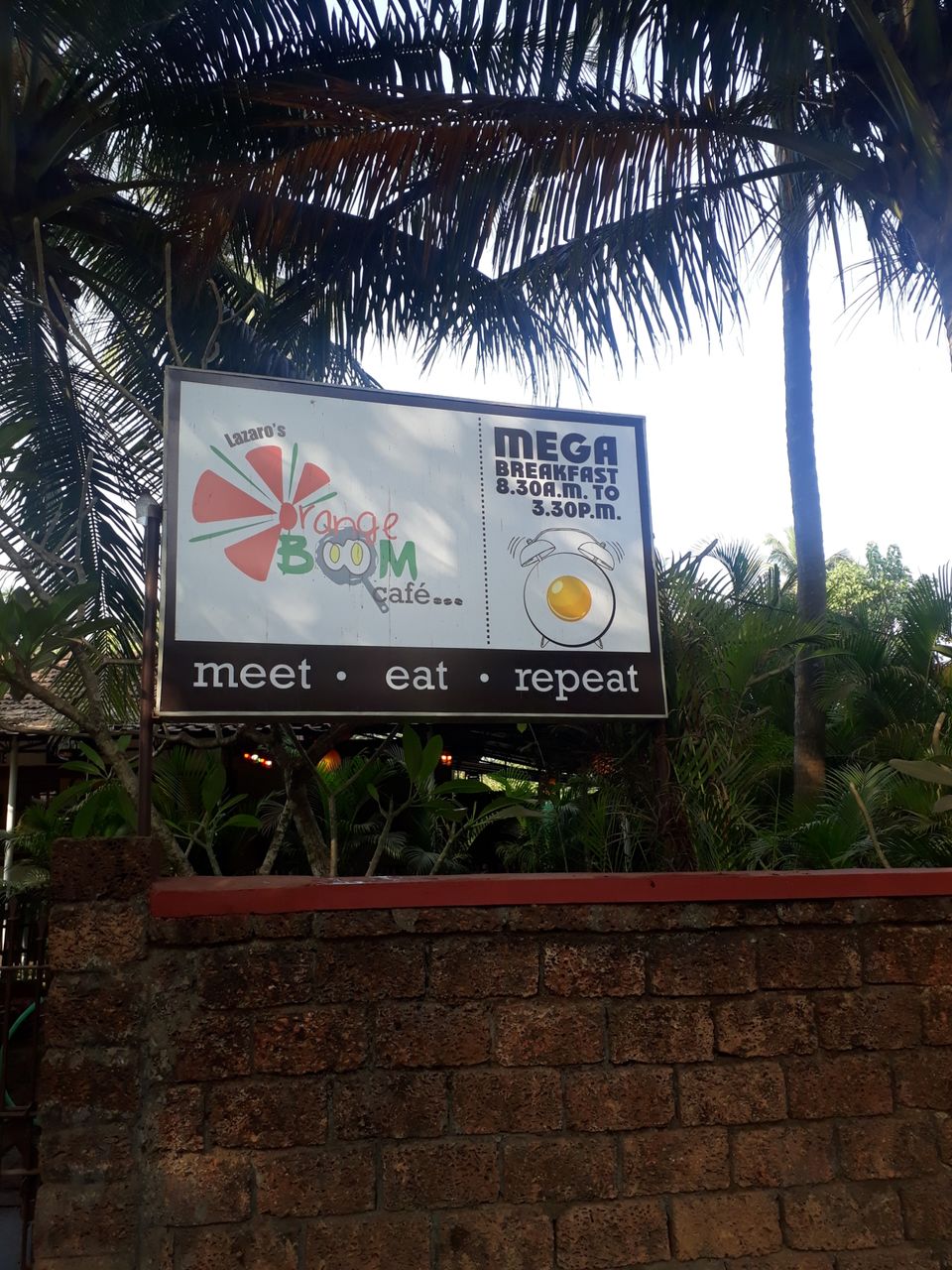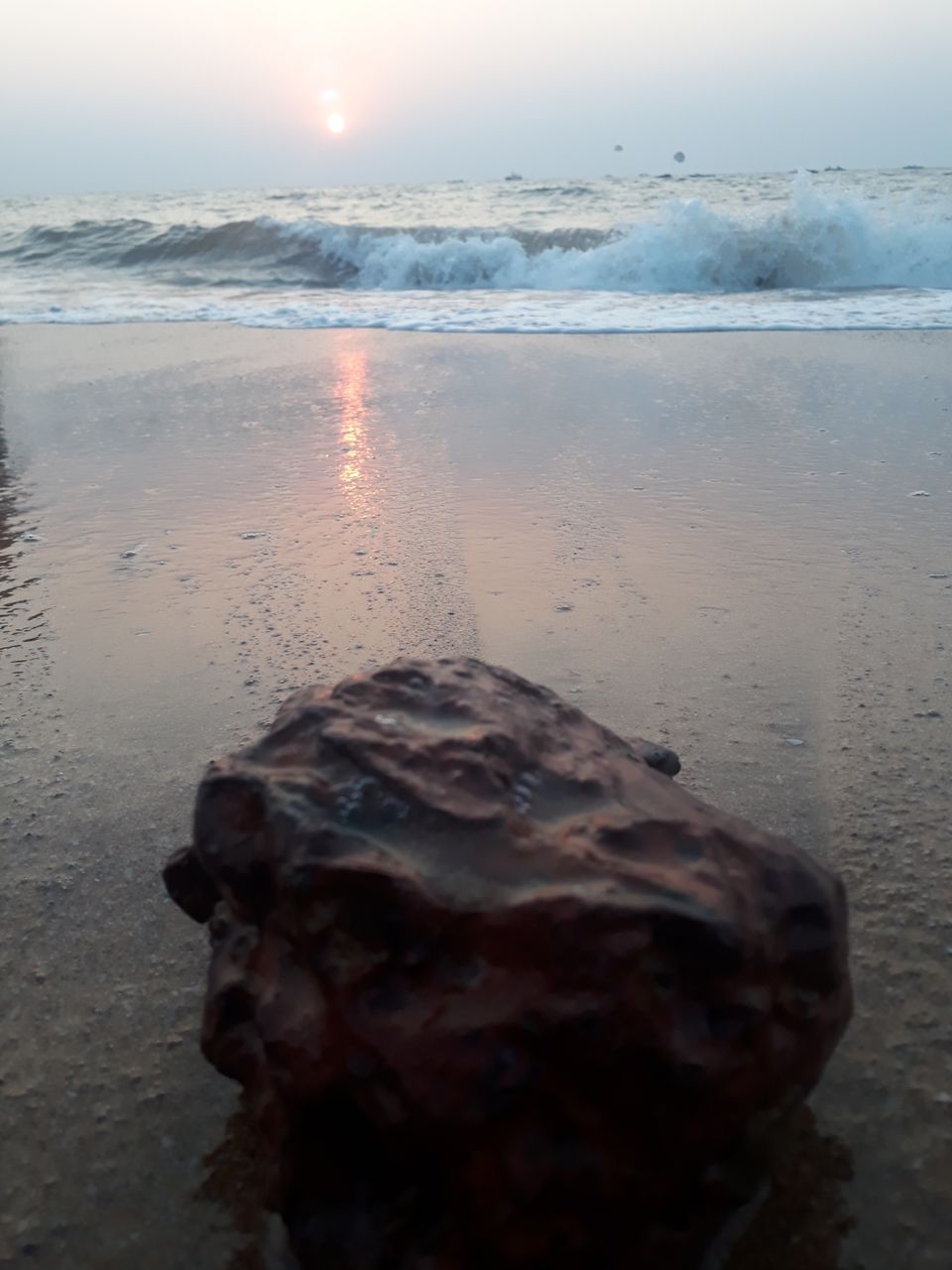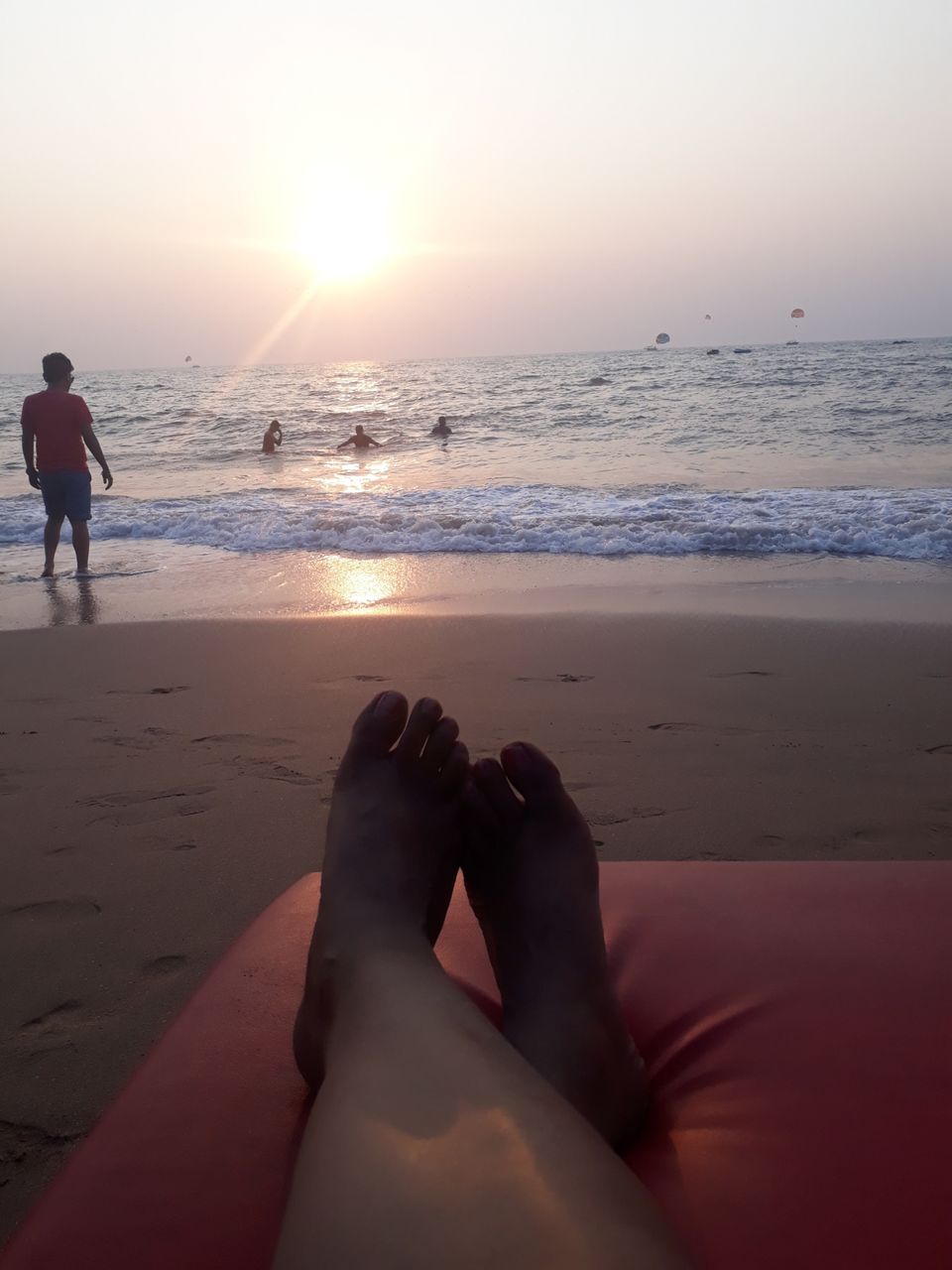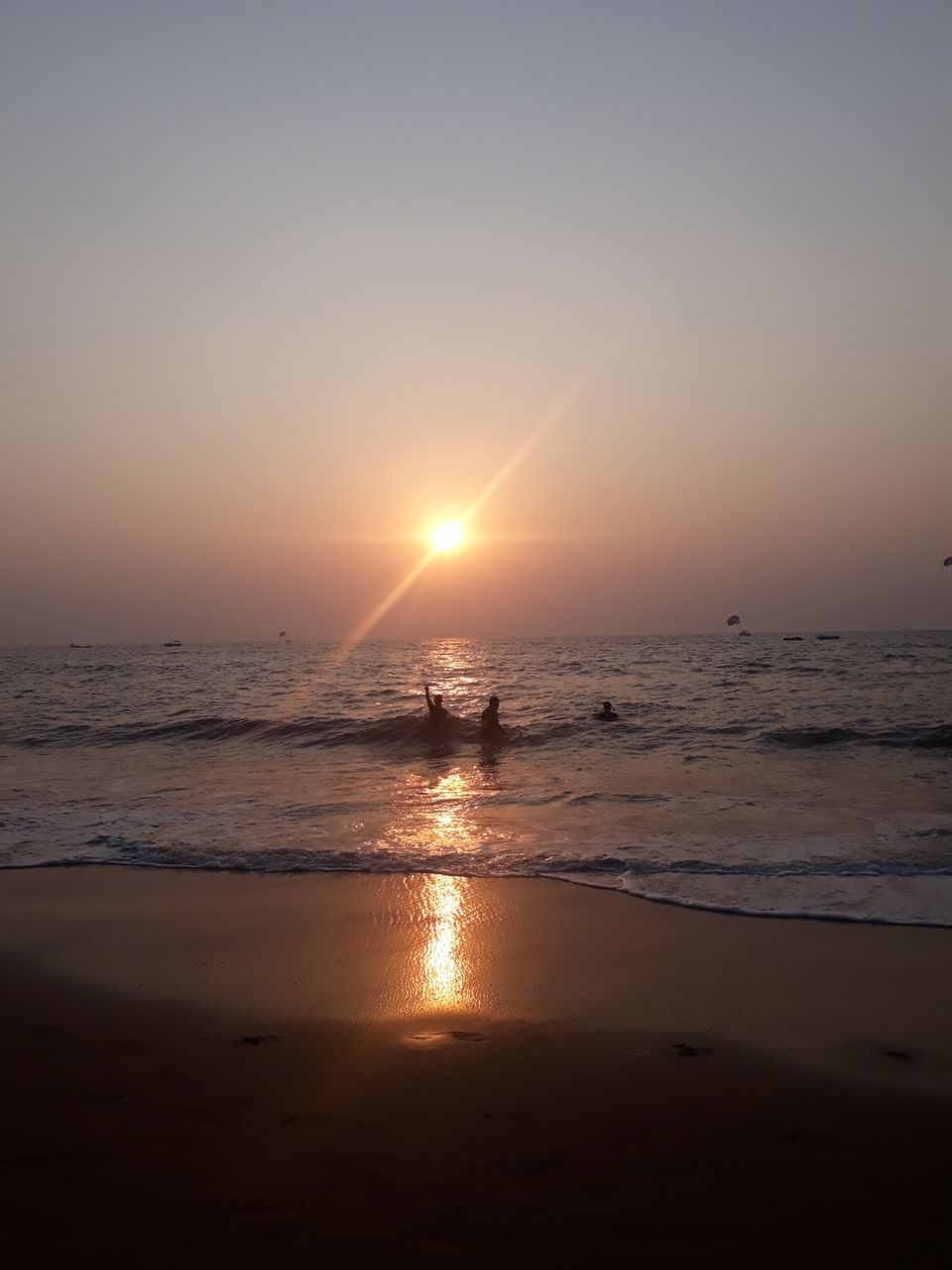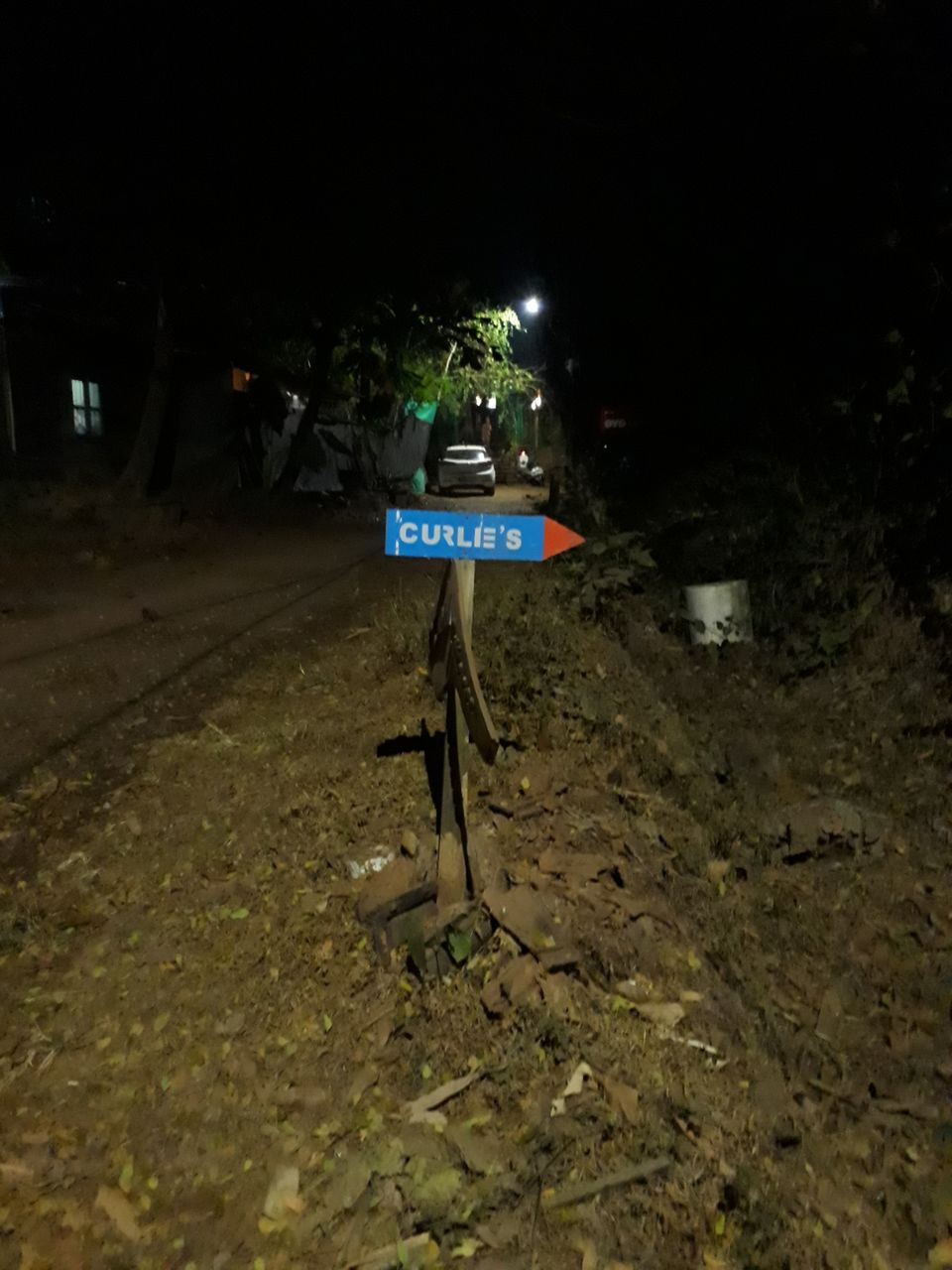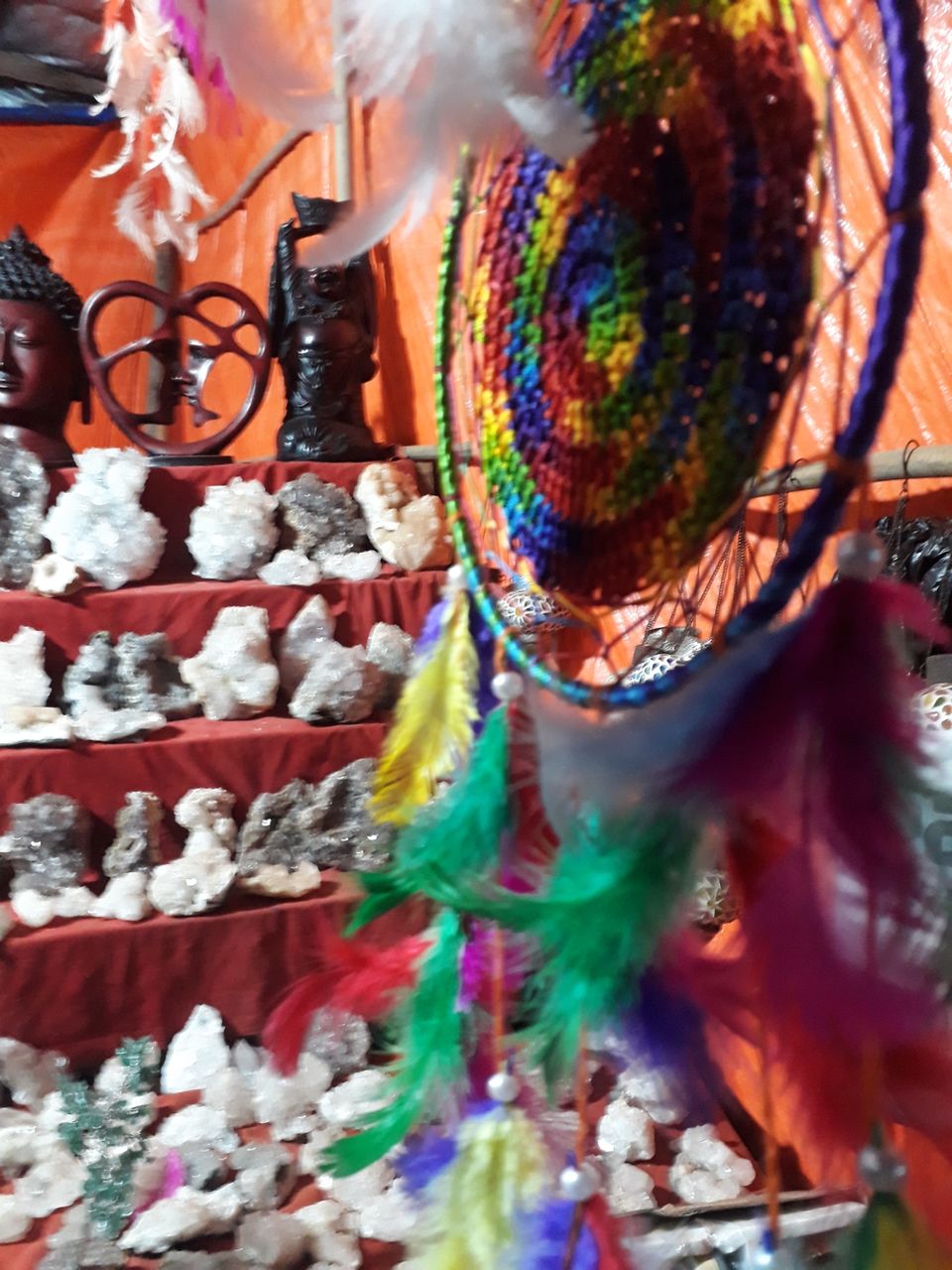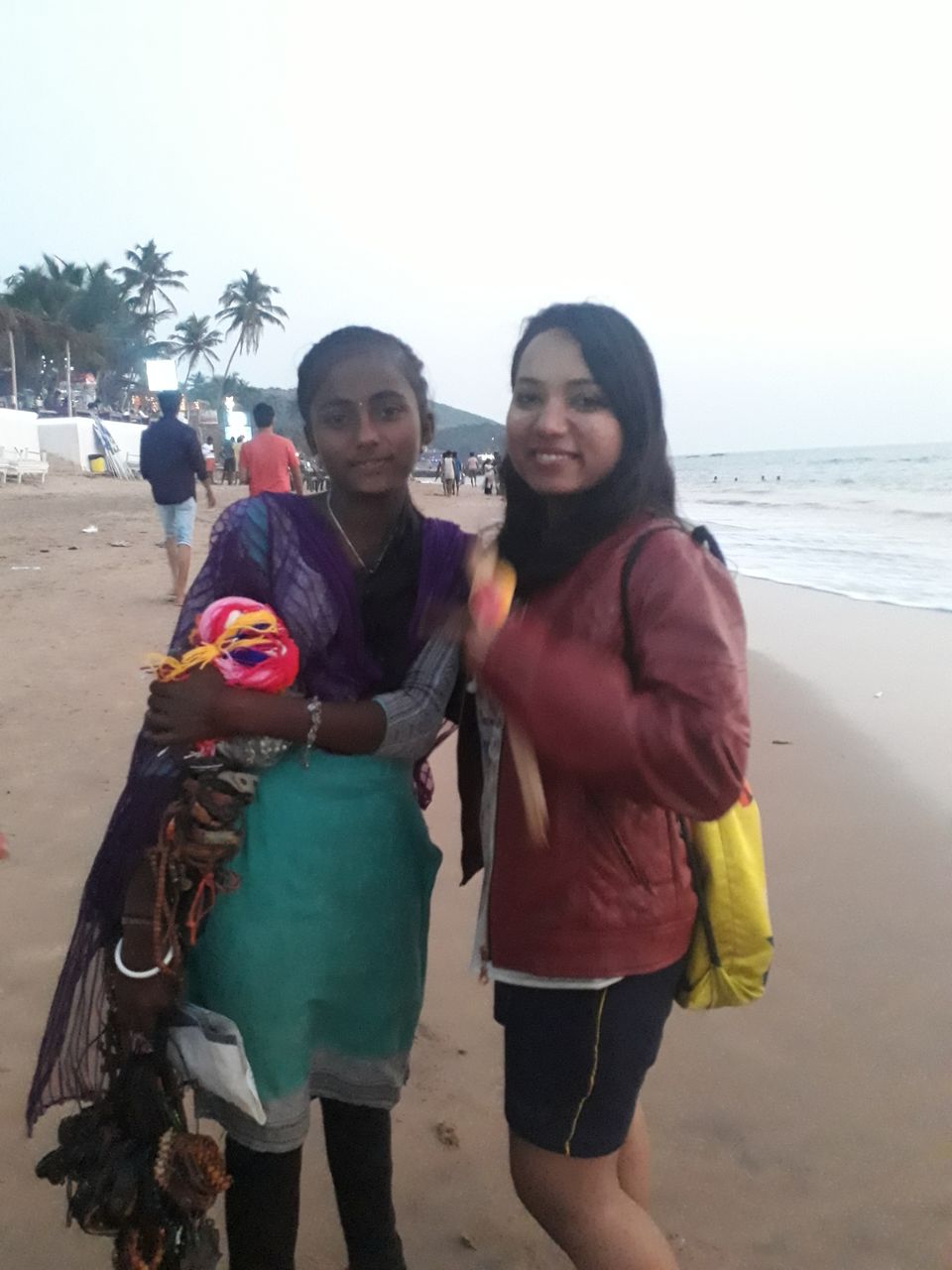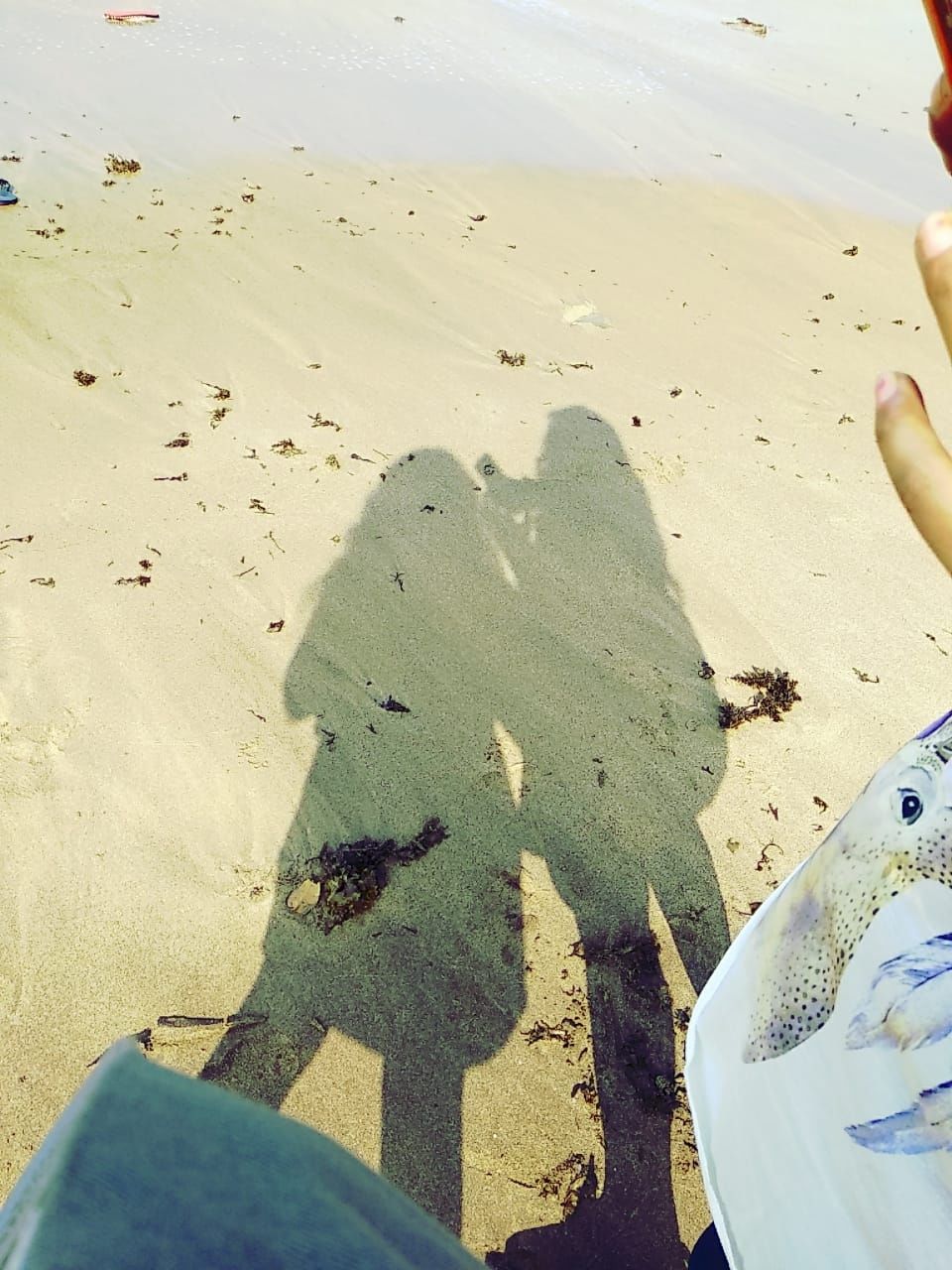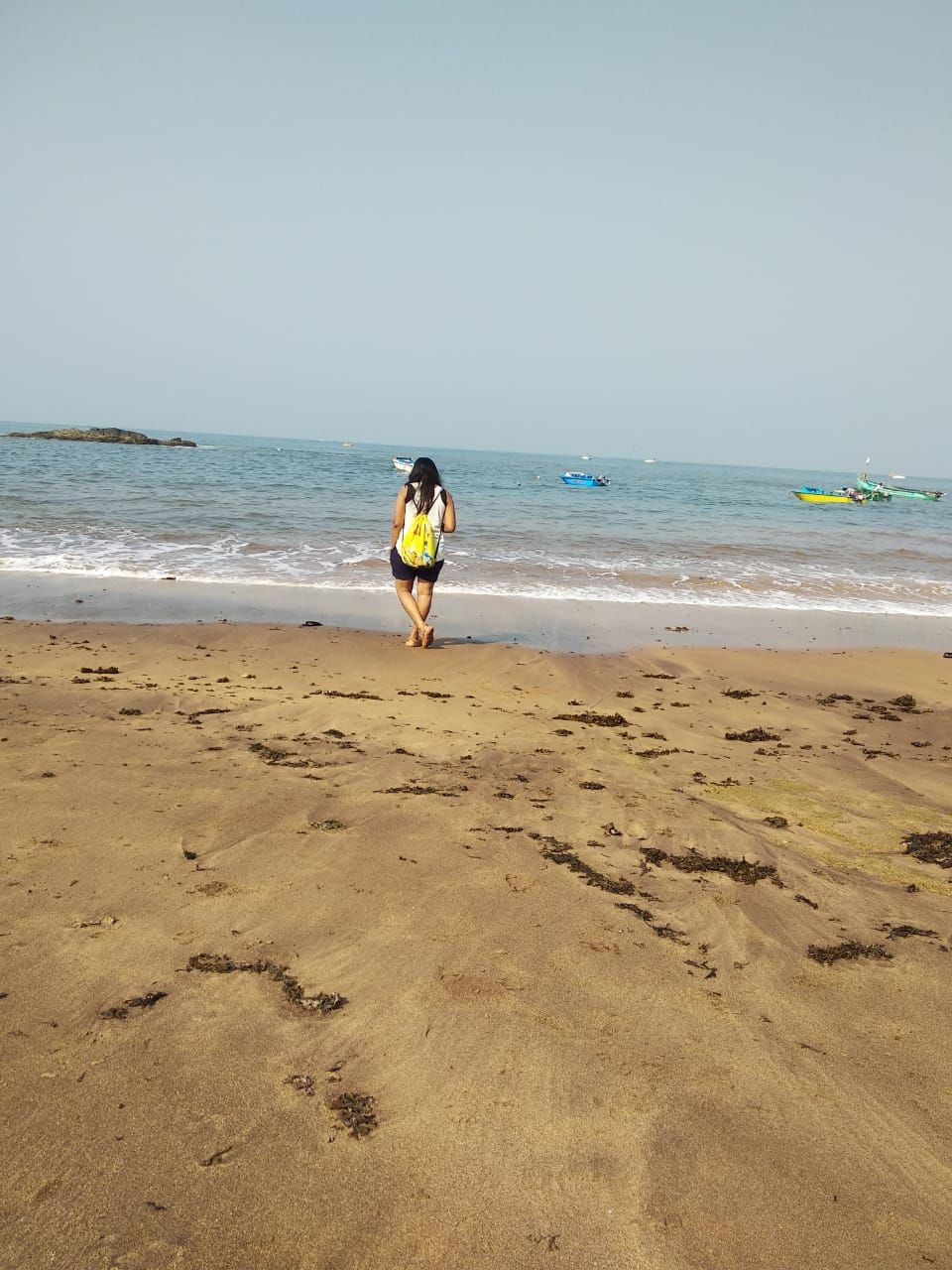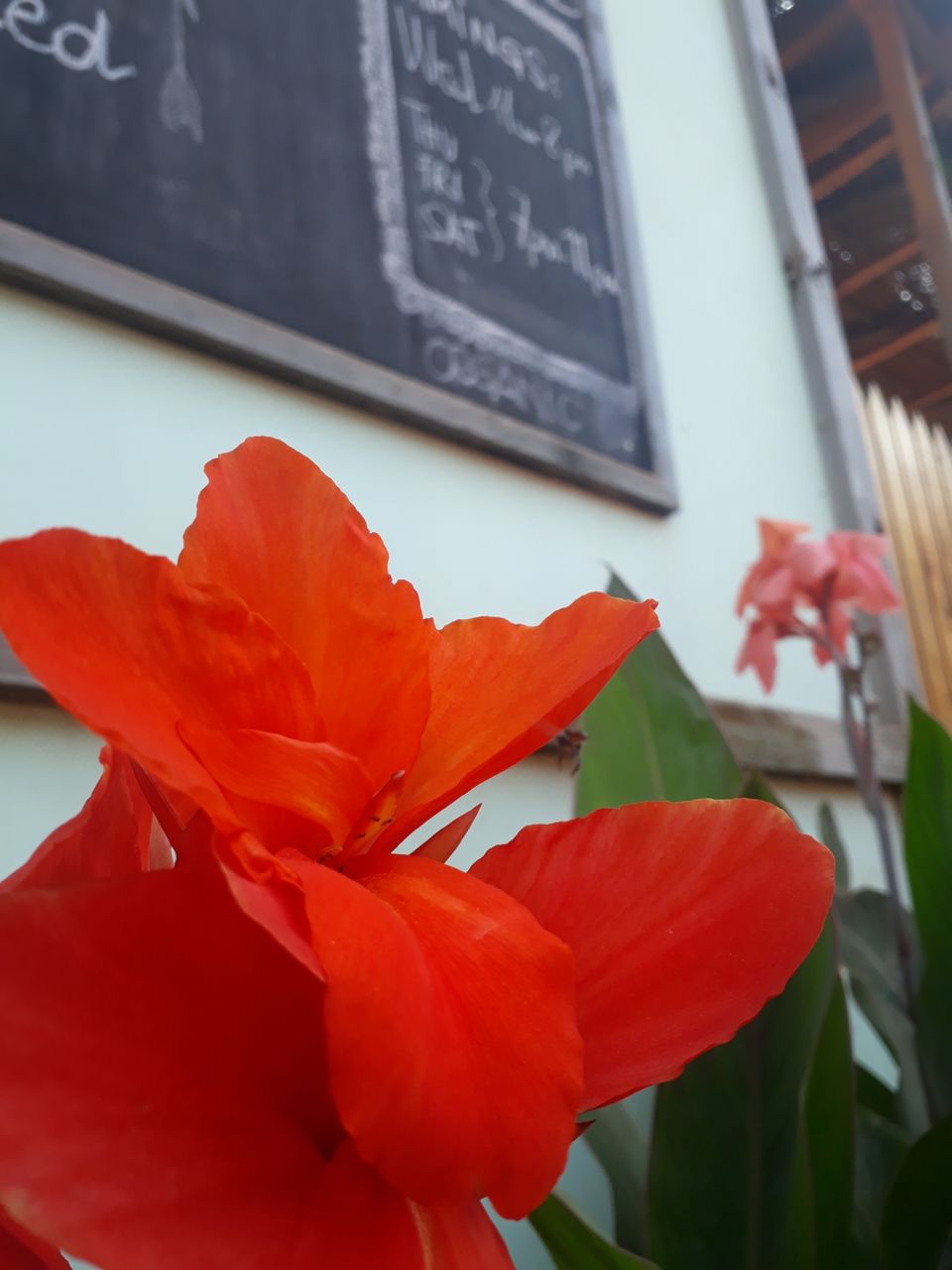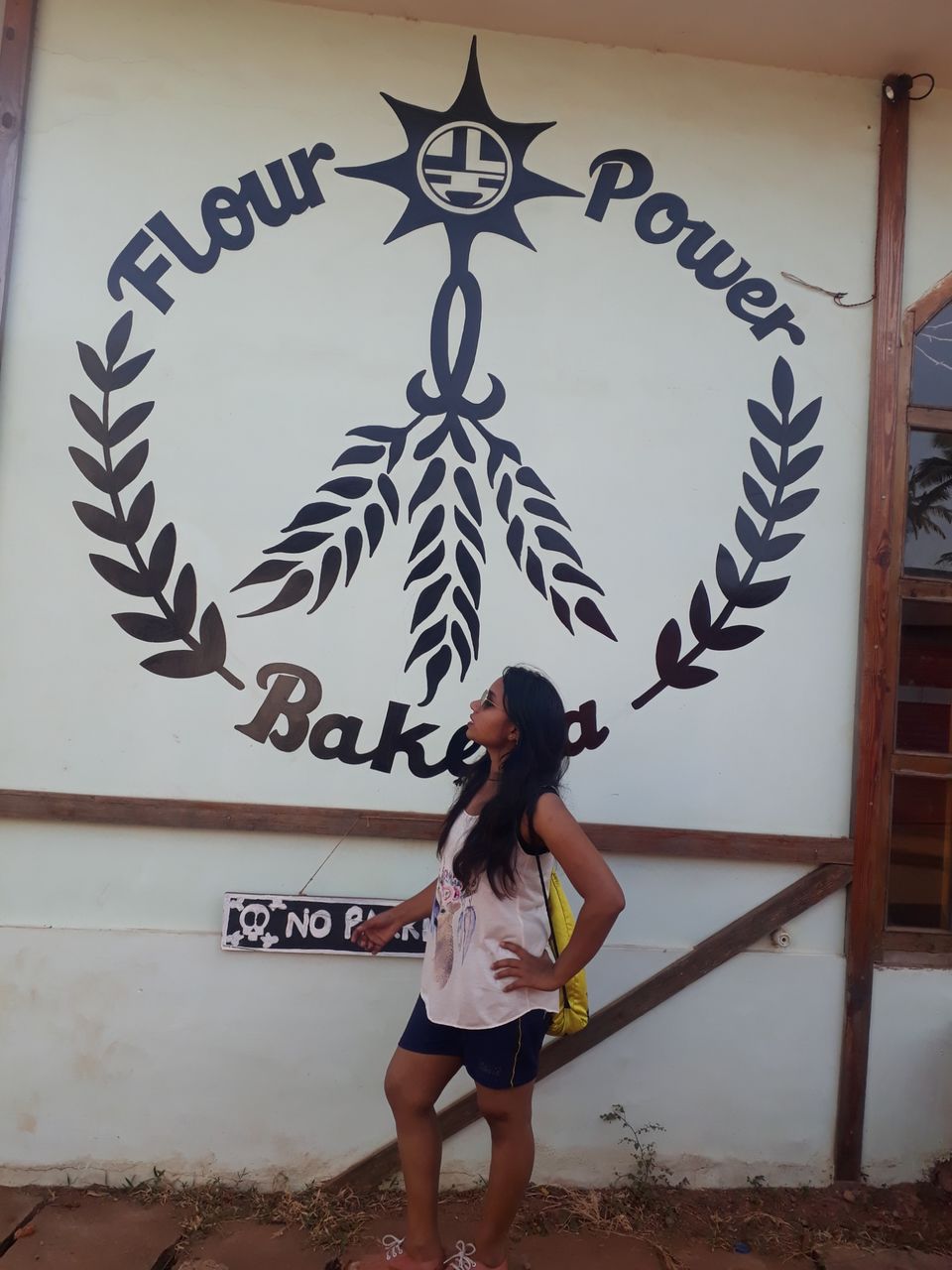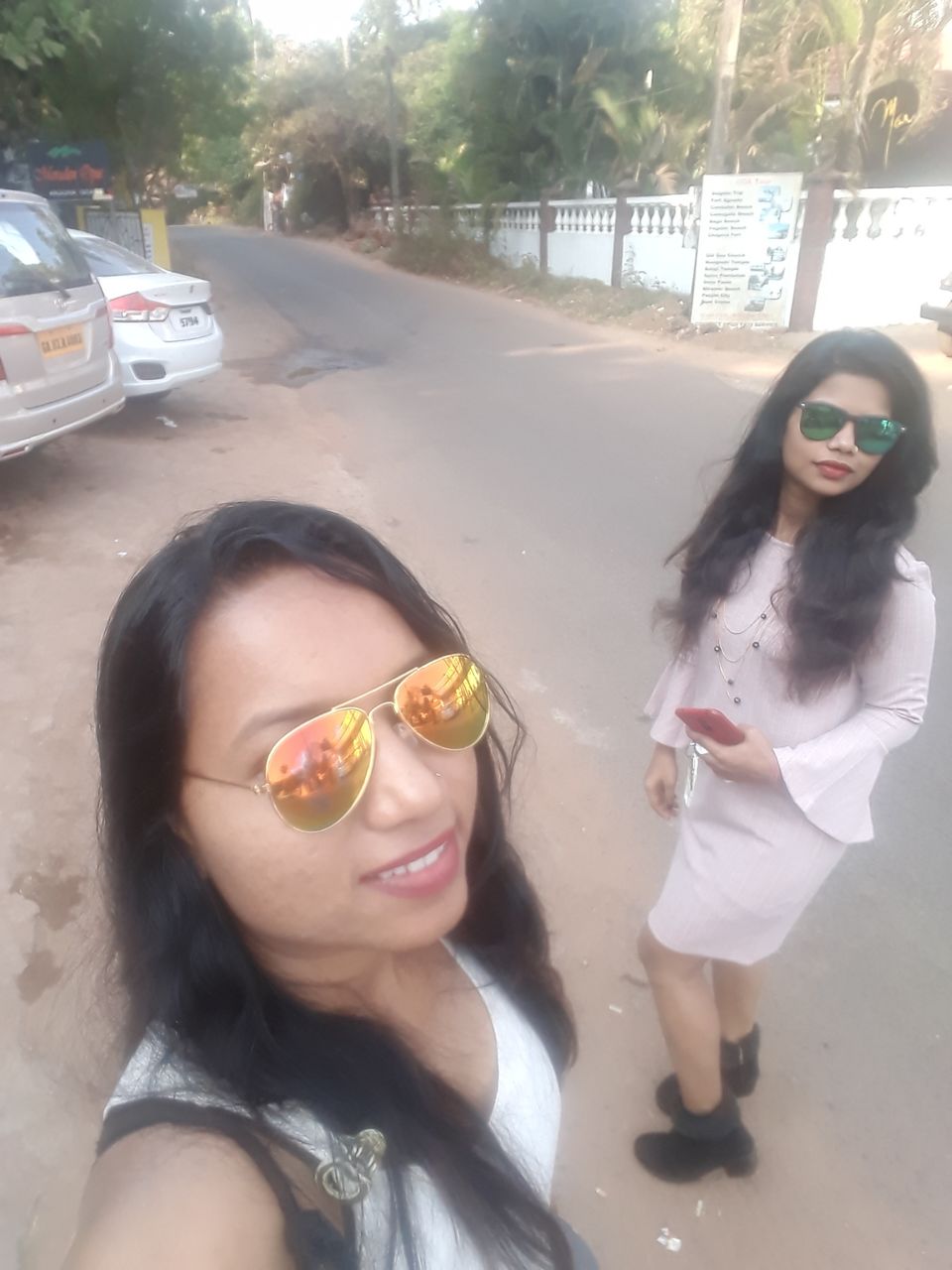 Very next day we woke up early to explore morning sight at same beach. We walked,laughed and clicked some pictures which was fun. Sand so cool here. You can do all kind of water activities here. Near our hotel we found a cool cafe called Artjuna cafe. Its ambience was heart warming.  They serve you all foreign healthy dishes. We filled our empty stomach with some new foreign dishes. But we missed "Ghar ka khana"😕.  And then we head back to beach again to see our last sunset of the trip. Sunset at beach is always chilling. I  recommend to carry a soft ball to play at beach. We didn't carry it but we had luck. We found bunch of college boys from Mumbai. They were having total fun in Volleyball match. We asked them if we could join them and they welcomed us with huge smile.🤗 It was absolute wacky match.😜 Anjuna beach has n number of restaurants to enjoy candle dinner. They play loud music at night with disco lights. We danced right there on the beach with waves. Guys... if you want to make most of your trip  then let your feelings to come out. Do whatever your  heart wants. Because you are on vacation. Make most of it. Don't think what other will say... because who cares.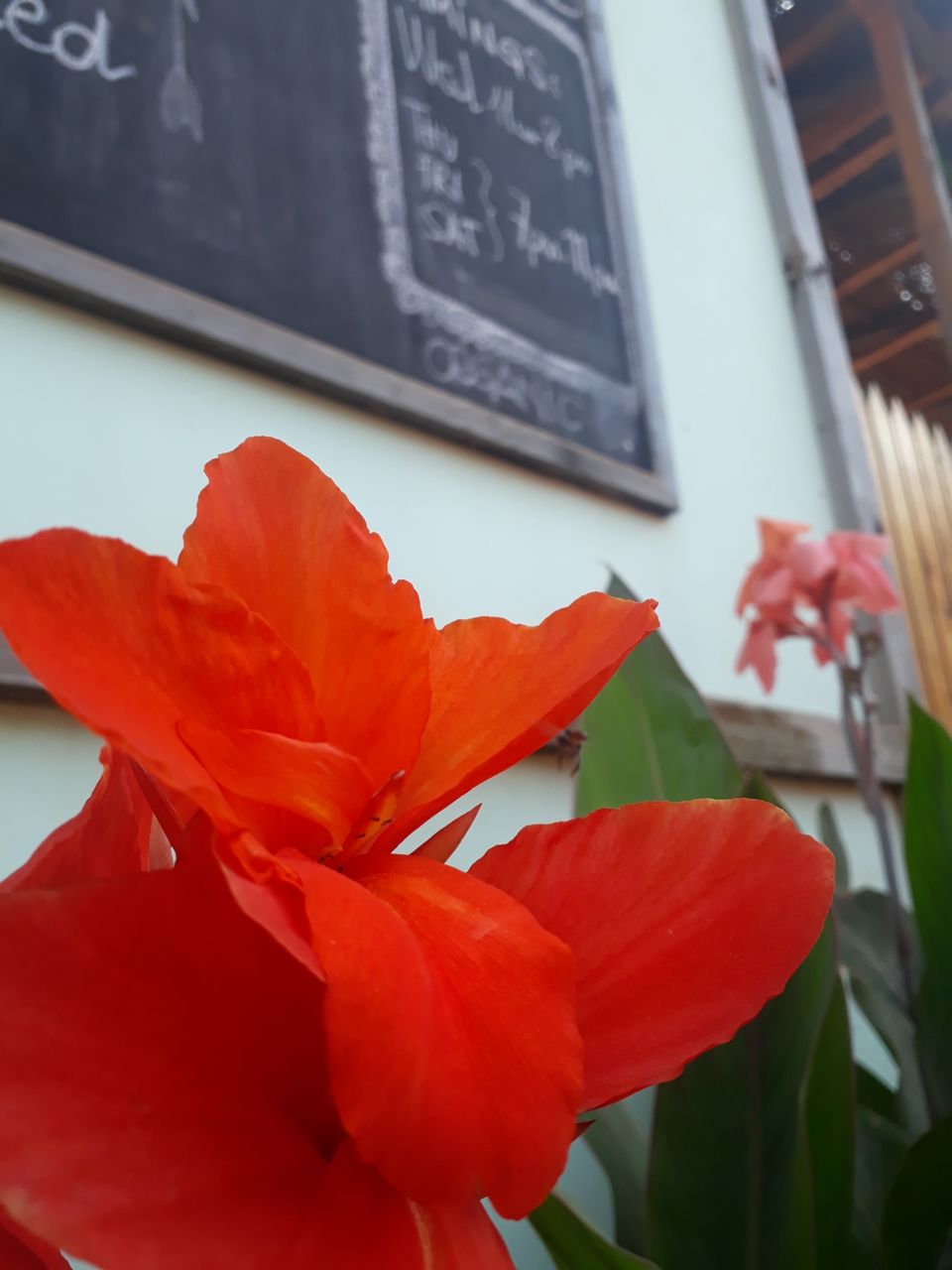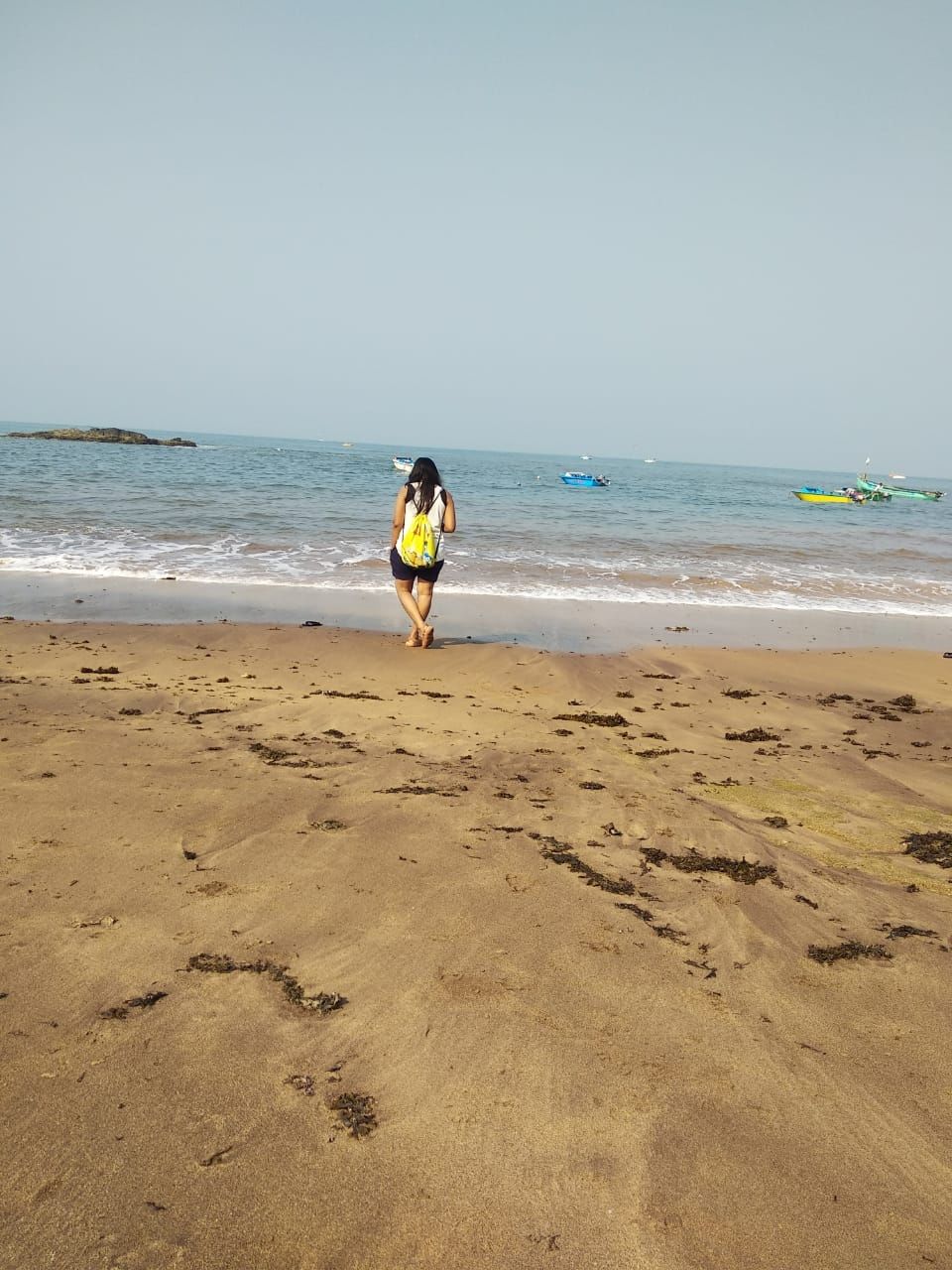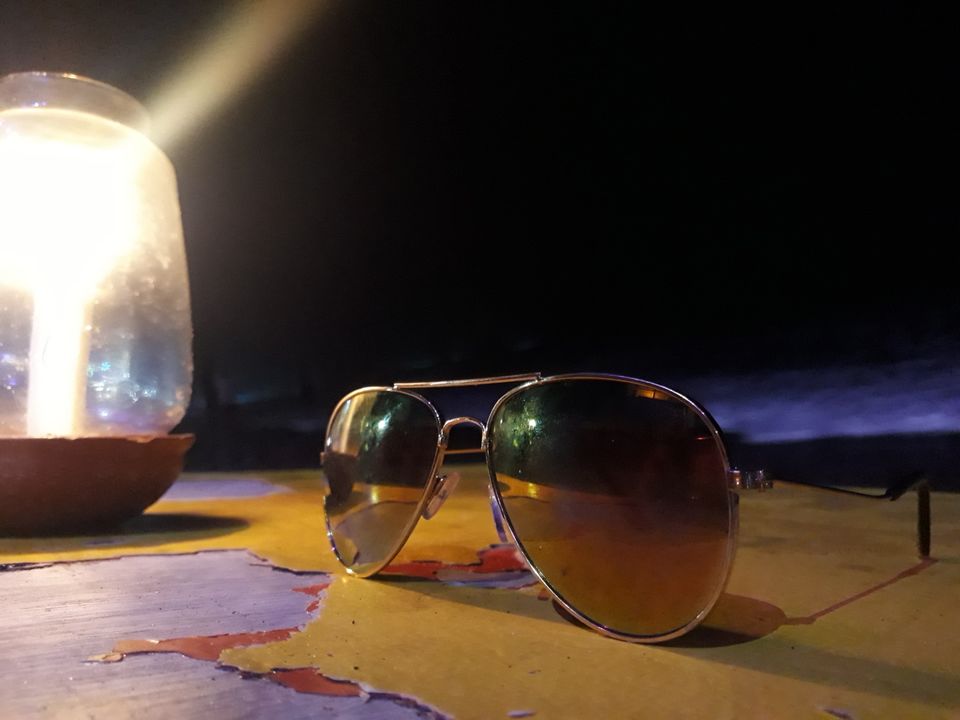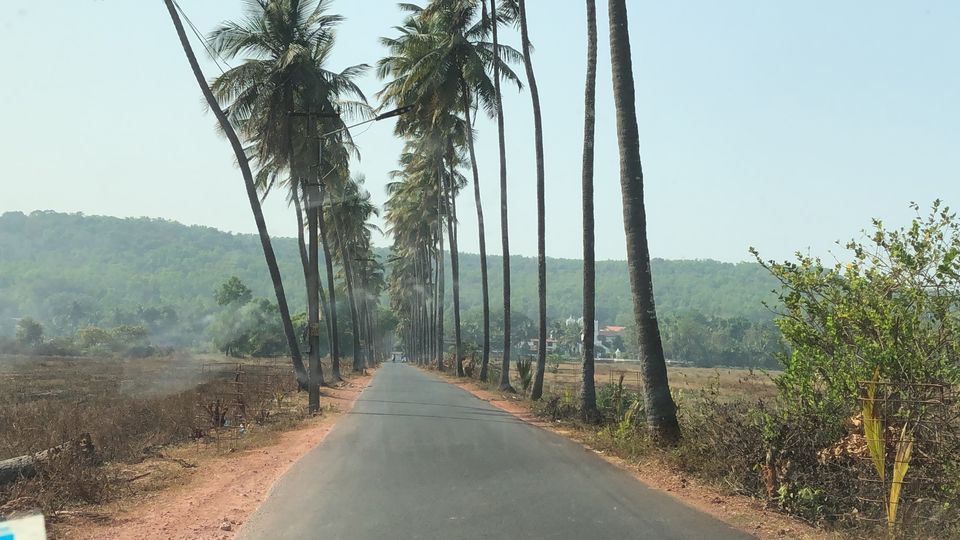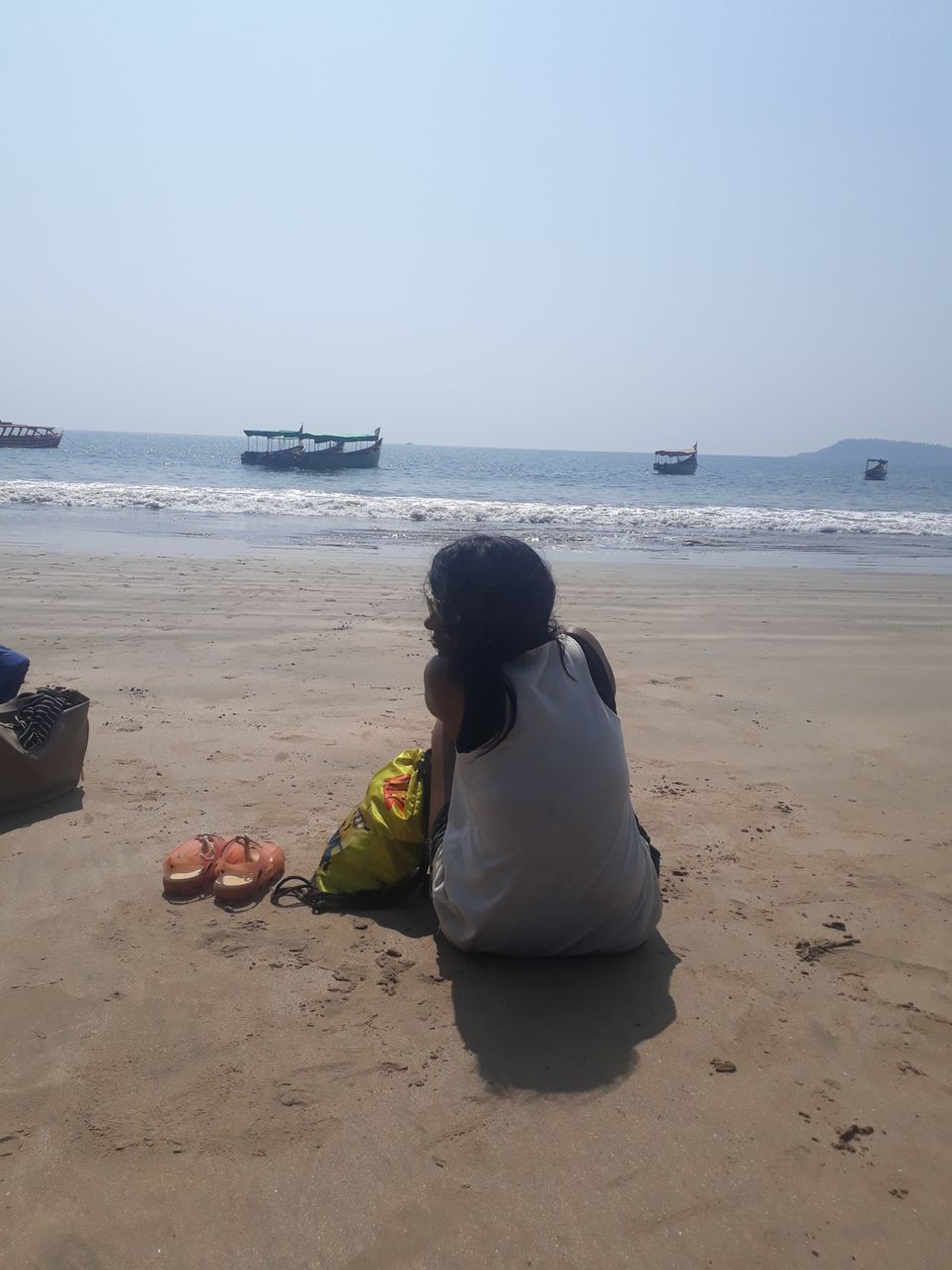 And we came to end the Last day at Goa. We wanted to do snorkelling. So we booked a package offered by Grand Island trip which includes breakfast, lunch,fishing,snorkelling,and unlimited beer😍. So we hopped in the boat and went to our last destination. We saw dolphins and seagulls.
I jumped off (with lifejacket) 😝the boat  for snorkelling. Snorkelling was new adventure for  me. When you dip your head inside water with the mask see the water life,you actually feels like are one of them. You can hear only your heartbeats. Corals and the other water animals are so beautiful to watch. Later we did fishing like an ancient man. They gave us coconut covering to which they tied a threat. And the other end of the thread was secured by hook. One of my friend was lucky to catch a fish in first attempt. On other hand I had no luck.😕 (Just like my love life). Nevertheless we girls danced on boa the boat. We didn't care who is watching. We reached Island which was again clean and beautiful. We had lunch there in sun. Clikcked some memorable pictures.
So this was it. My Goa trip with my friends. It was not that big or something. But yeah this waa it. I needed it. I found me,crazy me, who was hiding under "the new me". Lose yourself in Goa. Try being crzay and you will create a great story for your "GRAND CHILDREN ".