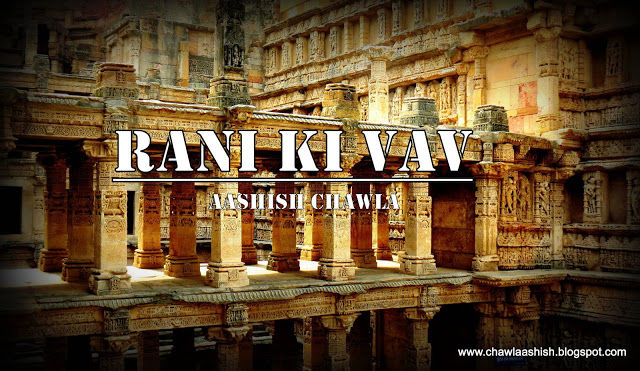 Our visit to Modhera sun temple was simply out of the world experience for us . You can click here to read about Modhera Sun Temple.
It was 12.45 pm and the sun was hitting hard. We came out of the Sun Temple complex and moved toward the road outside. I was told that I could get buses from here to Patan however after waiting for more than one hour when no bus turned up, we thought of asking the locals as to how we go about. The shopkeeper told us to go to the main highway from there we can get buses going to Patan. Luckily an auto was passing by we paid him 20 Rs and he dropped us on the main highway and from there we took the bus going towards Patan.
We checked into the hotel at Patan. Our Hotel was very near to the Patan ST stand and char rasta. After getting refreshed and finishing our lunch we set out for Rani ki Vav. It was 3 pm when we took auto from the char rasta or Siddhpur cross road. The Auto guy charged us 80 Rs from here for one way to Rani ki Vav. Passing through this dusty town was another unique experience for us city mongers. In 15 minutes we were at the gate of Rani ki Vav Complex.
I am always fascinated by the mystic and the beauty of the step-wells and I had made it my agenda to visit as many as I can in my life time.
Actually it all started with my visit to Jodhpur last year around this time only, where we visited Toorji ka Jalra. I was so enamoured by the beauty of Toorji ka Jalra and as they say ki dil mange more, so I started to research on step-wells in India and the most prominent name that popped out of this research was Rani-ki-Vav.
Rani ki Vav at Patan is one of the UNESCO World Heritage sites in Gujarat. The other one been Champaner in Pavagadh, which incidentally I was lucky to visit last year.
The sun was hitting us hard as we entered the complex of Rani ki vav. Here too we purchased entry ticket for Rs 15 per person and moved in , only to be welcomed by a beautiful garden. Lush greenery and the gentle breeze of the trees within the garden made us forget all about the heat of the sun. we did some photo shoot and moved on towards the Rani ki vav.
Rani ki Vav is basically an temple you can say, thus as we moved on towards it we couldn't see any structure until we reached the edge of a large pit and realize wow... Yaar aisa bhi kuch ho sakta hai . I almost froze with awe and for few moments I was transported to the ancient Egyptian World when I saw the broad stone cut stairs leading down and the series of pillared structure standing in front of me.
Rani ki Vav or should I say Queen's Step-well is an intricately carved step-well which is situated on the banks of Saraswati river in Patan. It is believed that these step well was built as a memorial for King Bhima I by his widowed Queen Udyamati. Its hard to believe that these step-well was lost to nature due to flooding of Saraswati river. The entire step-well were submerged in mud but to to the efforts of ASI( Archaeological Survey Of India) these step-well were excavated from the silt in the year 1980.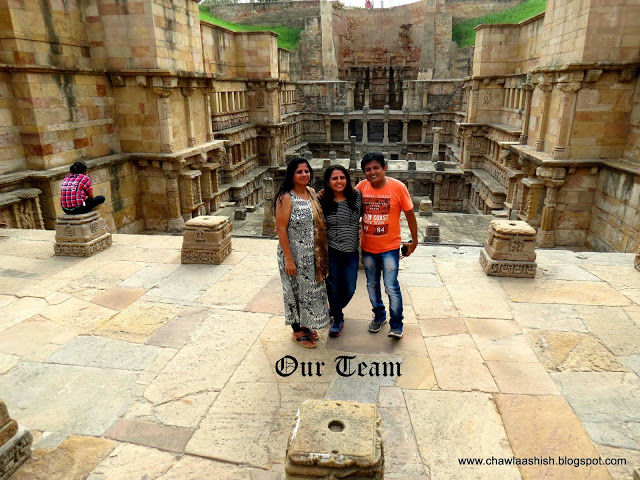 This Vav is laid out in the east west direction with the actual well in the west portion.
The grandeur of the Vav can be envisaged by the size of it. It ad-measures 64 metres long, 20 metres in width and 27 metres in depth. Then there are well laid out pillared multi storied pavilions.
Rani ki Vav is believed to be one of the largest and the most sumptuous structure of its kind. Its due to this brilliance that it was awarded the status of UNESCO world heritage site in the year 2014.
We started to go down the stairs of Rani ki Vav, we realised that its indeed deep, Mind you its a seven level structure however currently only five could be visited. While descending on the steps we come across the treasures of Architectural brilliance and the artistry of the ancient era. There are panels running around the side of the Rani ki vav which has innumerable idols carved on them.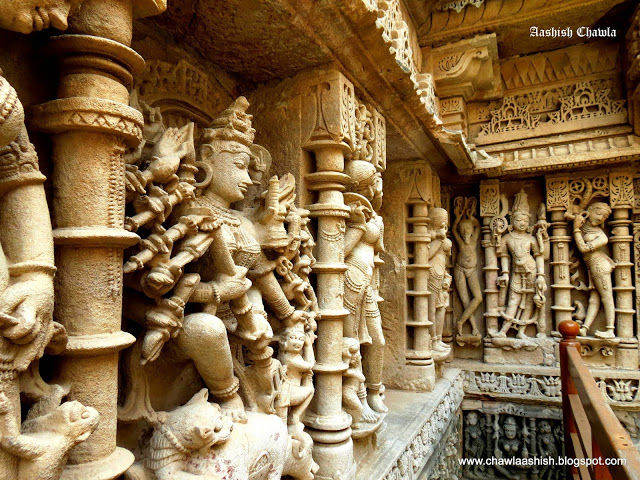 The major theme is of Lord Vishnu in Dashavatar or 10 incarnation of Lord Vishnu in form of Kalki, Bamana, Narsimha, Matsya, Kurma,Varaha,Parshuram,Rama,Krishna, and Buddha.
Then there are carvings of female figures depicting various poses of Apsaras, Nagkanyas, Yoginis.
The Pavilions or floors so made are supported by the intricately carved pillars . These pillars looks very beautiful.
Standing in the centre portion of Rani ki vav when I look up I feel dwarfed by the plethora of mind blowing sculptures all around me. Be it be thenshola Singhar of Apsaras or different forms of dieties. I was told that there are closely 800 carved idols in Rani ki Vav !! Dimag ki bhatti ab poori gul ho gayi,
Laga kya cheez banayi Rani Udaymati ne. Mera Salaam
Absorbing the awesomeness of the place we finally reached the lowest level where the actual well with water is lying. Once we reach the end of the we saw the Vishnu carving in a recline pose lying on the serpent.
Talking to one of the local I was informed that there is also a secret passage at the bottom stairs which is believed to be 30 kms long and often used during escapes.He also told us that as per folklore ,in olden days there was a forest surrounding the rani ki Vav and there were many trees which had ayurvedic medicinal qualities due to which the water in the well too got that medicinal effect and hence anyone who drank the water got cured from diseases. Hearing this Dil me se ek hi awaz aayi... It happens only in India !! ????????????
We spent some time admiring the beauty of this labour of love, presented by a queen for her husband's memory and true to her wish this Vav braving the nature's onslaught has survived and had truly become immortal. Talking of immortality the new 100 Rs note has this Rani ki Vav printed on it. Mera bas chalta toh mai sab se bade note per Rani ki Vav chap deta. Fhilhal toh iski chap, zindagi bhar ke liye mere dil per chap gayi hai.( If I could, I would have printed rani ki vav on the biggest denomination note. Meanwhile the aura of this place is imprinted on my heart)
It was now time for us to return, so with heavy heart we bid adieu to Rani ki Vav but with a promise that I will return back.
Road:Rani Ki Vav is located in the Patan area of Gujarat. It is a popular 1-day trip from the city of Ahmedabad which is 127 km away. Several buses and rented vehicles ply between Ahmedabad and Patan.
Rail: . The nearest railhead is Mehsana which is at a distance from 55 km from Rani ki Vav. You can take a bus or cab from Mehsana to reach Patan. It takes close to 1 hour 30 minutes.
Air:The nearest airport to Rani ki Vav is Ahmedabad airport at a distance of 123 km. You can take a bus or a cab from the airport to reach Rani ki vav.
Thank you for reading my blog. Please do click on join the site button and join me in my journeys.