3 Royal Enfields, 4 Friends, 9 Days, 2200 KMs that's how we rode through the world's most treacherous road, travelled through the last village on Indo-Tibet route, journeyed through the world's highest post office, covered many Gompas, passed through the world's highest village (connected by motor-able road).
Apart from being a world's most treacherous road, Lahaul-Spiti has its own uniqueness. Its a place where GOD Himself resides. The place is far from one's imagination, the beauty of which cannot be described or penned down. It can only be experienced. It was not a journey to discover different places, it was something else, something that we had attracted towards, something that I can't inscribe on the paper but had the traces of that in my mind. It was the camaraderie with NATURE, with PEOPLE and their CULTURE.
Day 1: Noida - Sanjauli (Shimla), 400kms
We started our journey at 5am in the morning. We had no plans, no pre-bookings but the passion and enthusiasm. Our first stop was the Jhilmil dhaba on the Karnal road. A group of 15-20 bikers were there, all had REs. We all 4 got excited for our upcoming journey by seeing them. After passing through the Panchkula, hilly road started and with it started raining too. After taking many stops in between we reached Shimla at around 7pm. We decided to take a night halt at Sanjauli. We took one big room near the Gurudwara at 1200INR.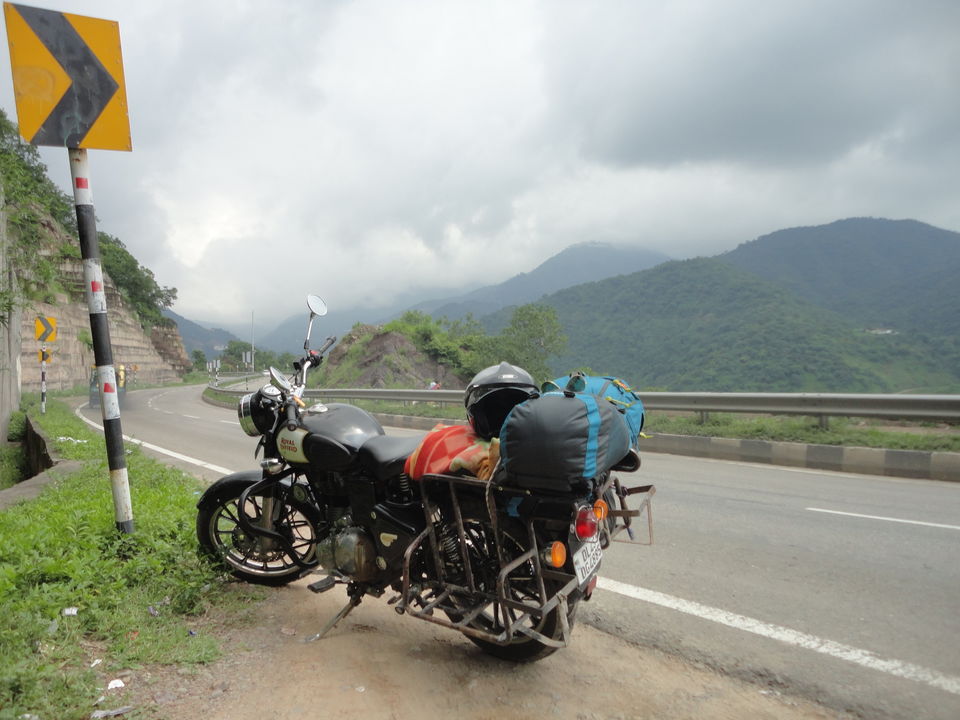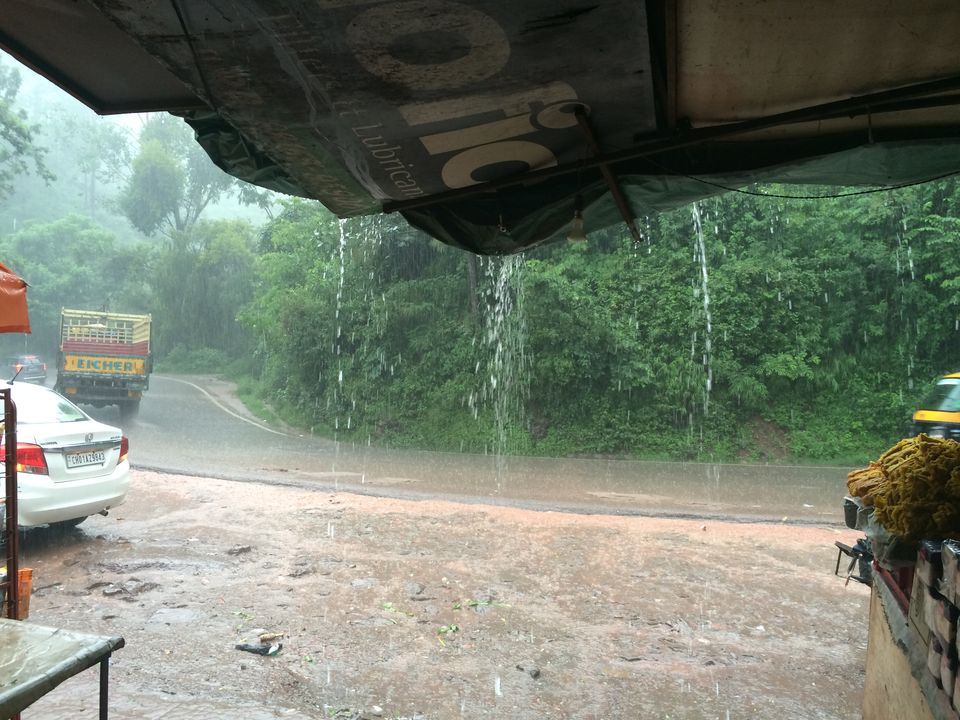 Day 2 : Sanjauli - Sangla, 250kms
It was raining slowly in the morning. The picturesque from the window was awe-inspiring. When clean & cold air gushed through your lungs, all your stress and tiredness vanished in a moment. It was already 9.30am we quickly packed our bags and left for Sangla. After passing through Narkanda, it started raining heavily. But this time we covered ourselves with raincoat, our shoes, jeans got wet but we continued our journey. It was a real fun. We were not thinking of reaching the destination but enjoying the very moment. Road was unexpectedly good all along. Sutluj river was flowing beside us. The tunnel like mountain is the major attraction on the Indo-Tibet road. It is difficult to believe how such big rocky mountain got chopped for making road.
After crossing the Rampur, there was a huge traffic jam, one truck got stuck due to the landslide and blocked the road. No four-wheelers can pass through. And there we were on our REs, overtook everyone and got passed through the land-slided area. Everyone there realized the benefit of two-wheeler. After Wangtu, the treacherous, muddy road started, for which this route is known for. Few hours of ride from there, we reached Sangla at around 7pm and stayed there.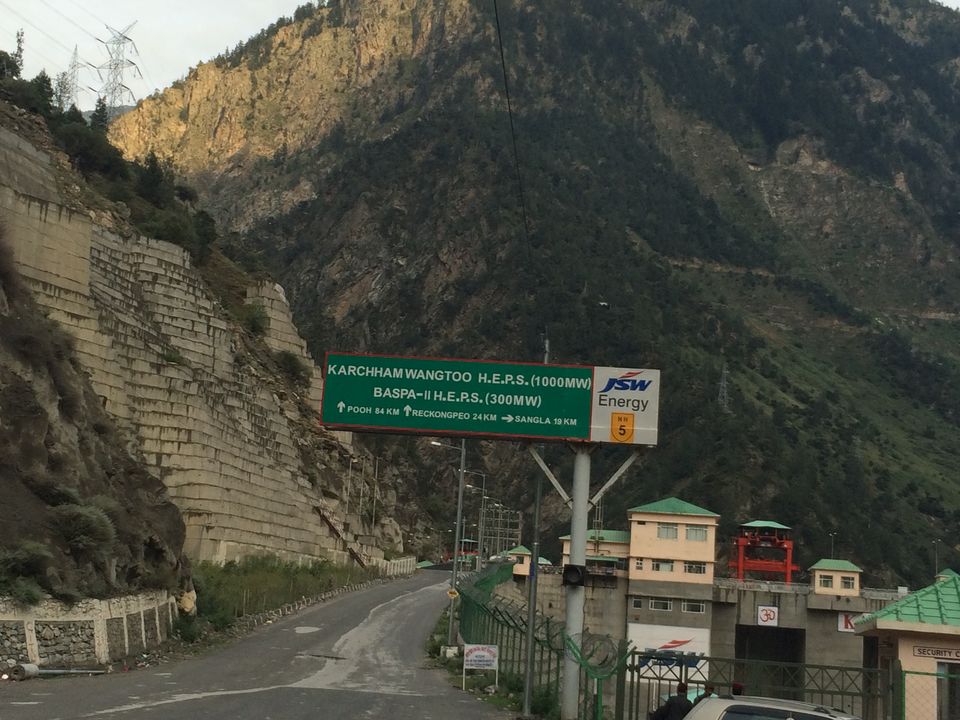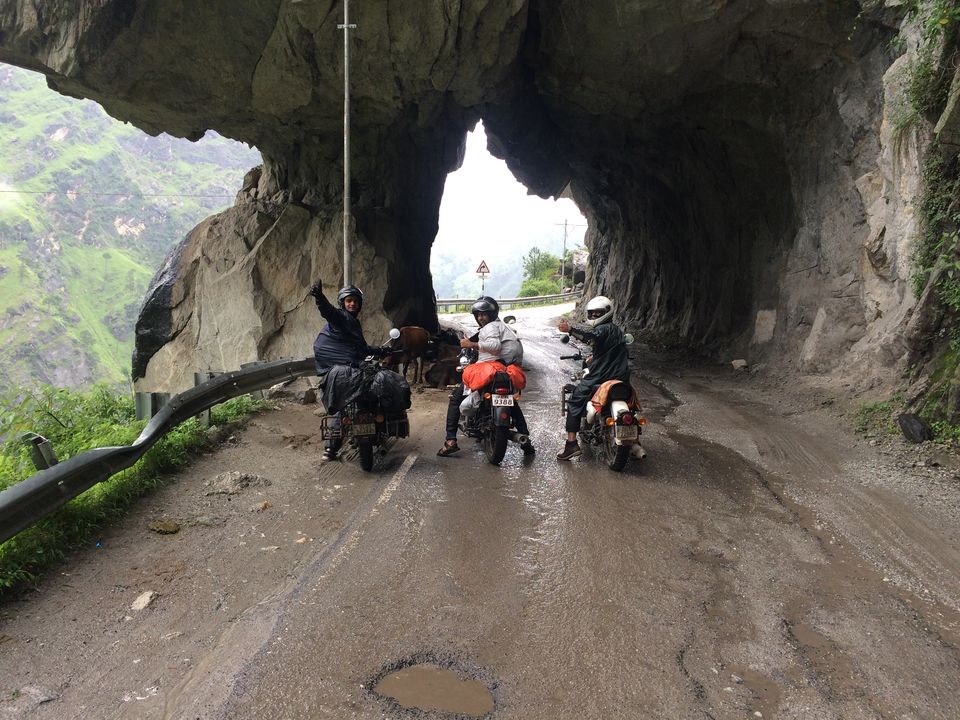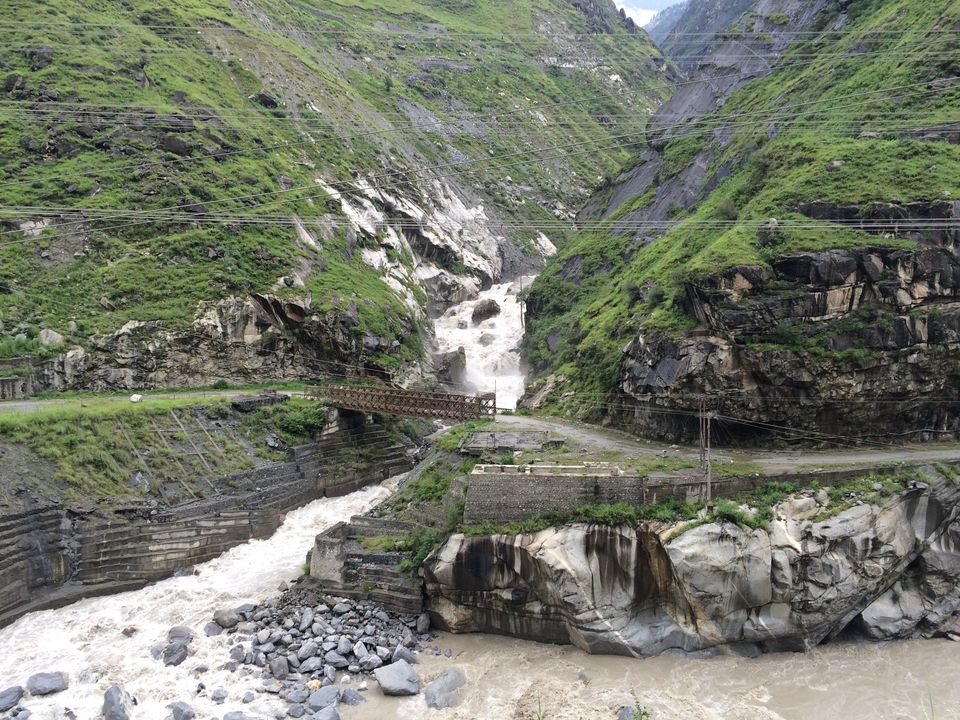 Day 3: Rest Day in Sangla- Chitkul
Sangla is a beautiful hidden valley of the Kinnaur region. Baspa river is the major source for irrigation and electricity. Kinnaur region is famous for its Apples and Apricots. There were gardens of apple everywhere and a single tree had more than 100 apples. September-October is the season when they will be plucked. Although we ate some but they were immature. The road from Sangla leads to Chitkul, the last village on this road and after that, is the Tibet. Surrounded by the mountains on all sides, the place hardly receive heavy rainfall (but snowfall), just a shower. By seeing the tranquility of the rural life, we decided to stay for a night there. There were just 2 or 3 guest house. We took one room for 400INR. There were very few houses which are made almost of woods. A monastery, temple, school was also there. Life is not easy at such places yet people are very kind and helpful. We talked to them, we played badminton with children, we rested near the Baspa river, we had Apple wine and with that ended our rest day.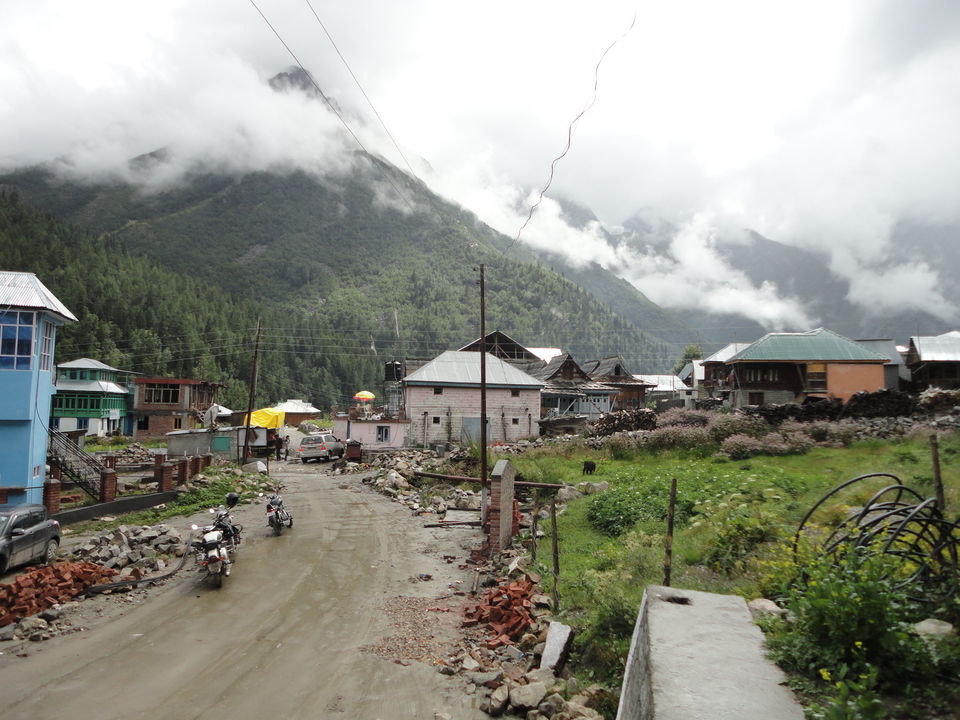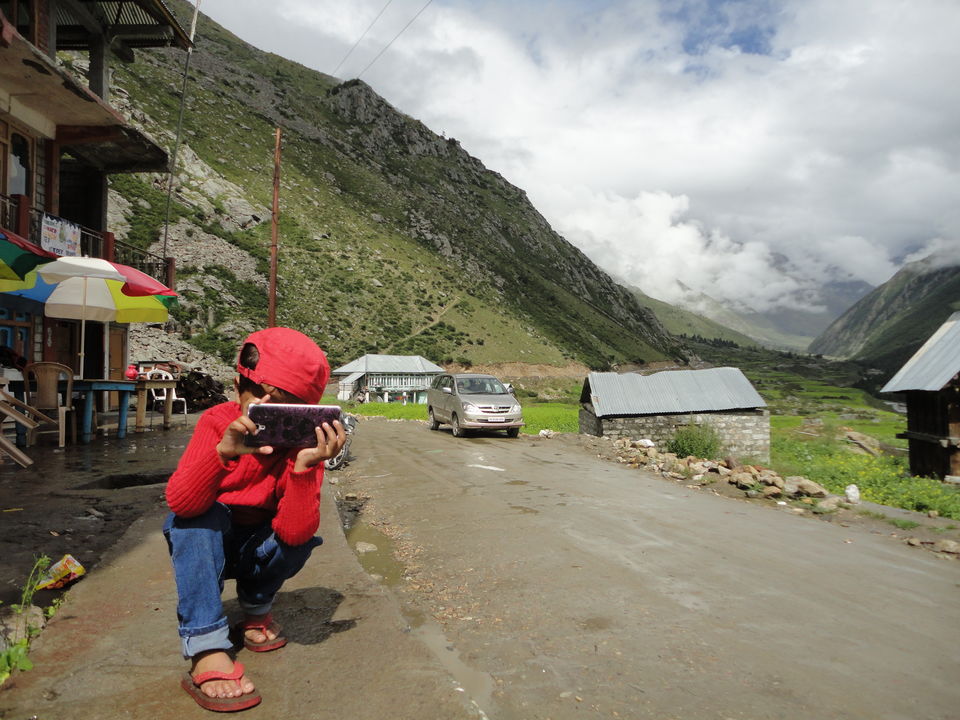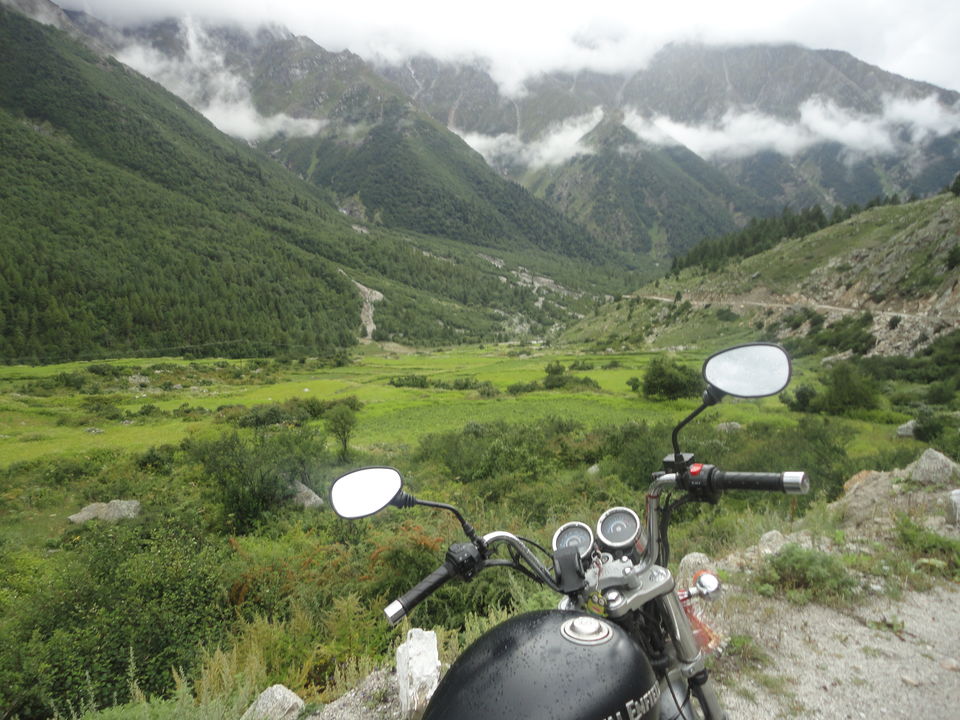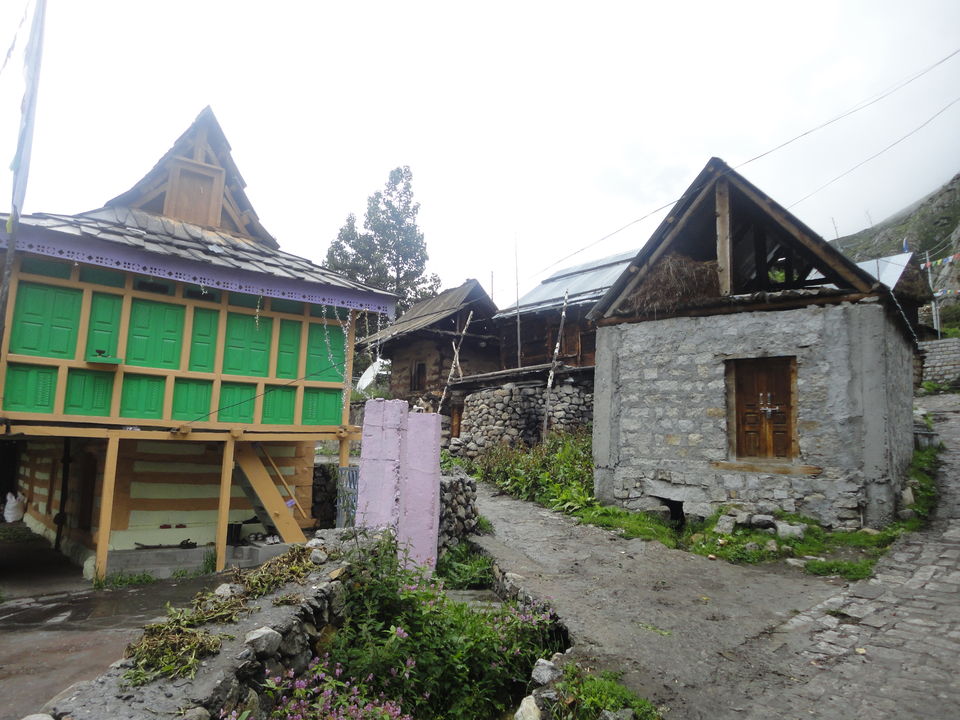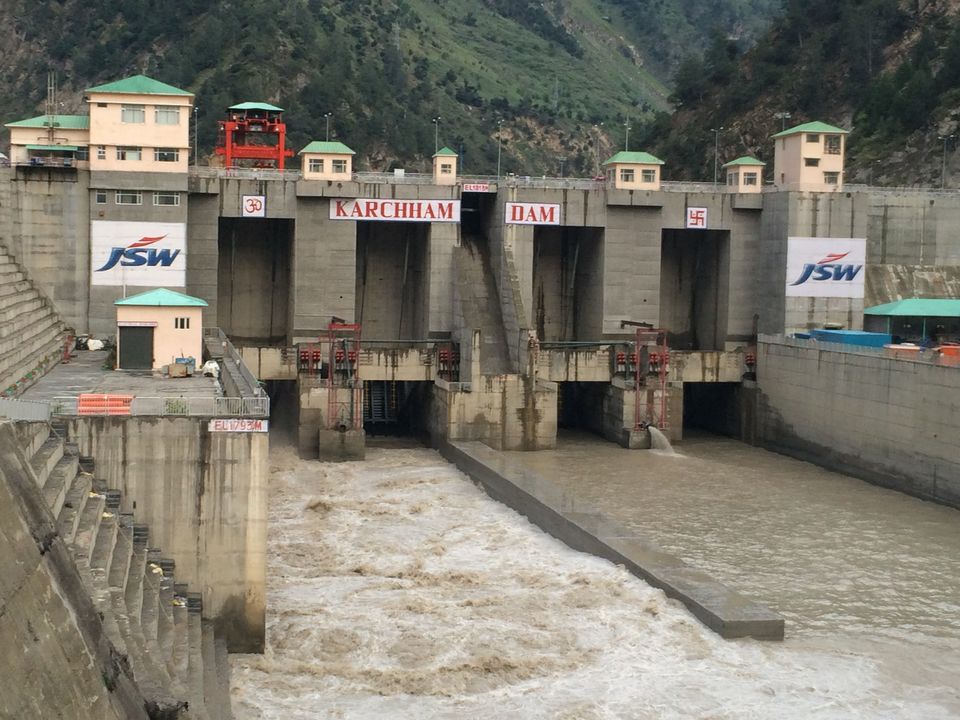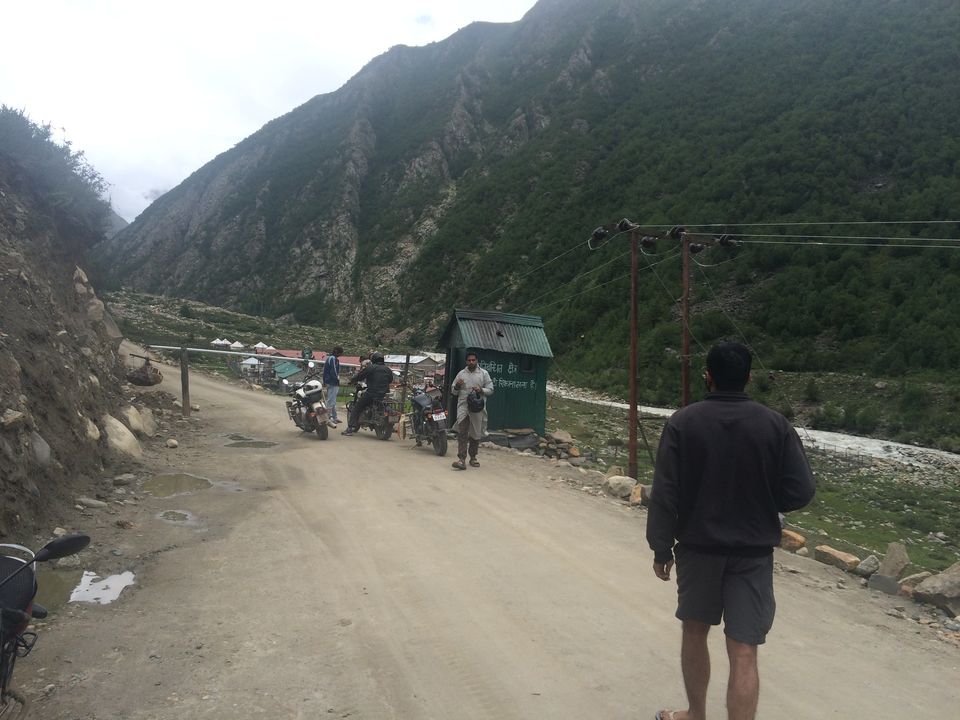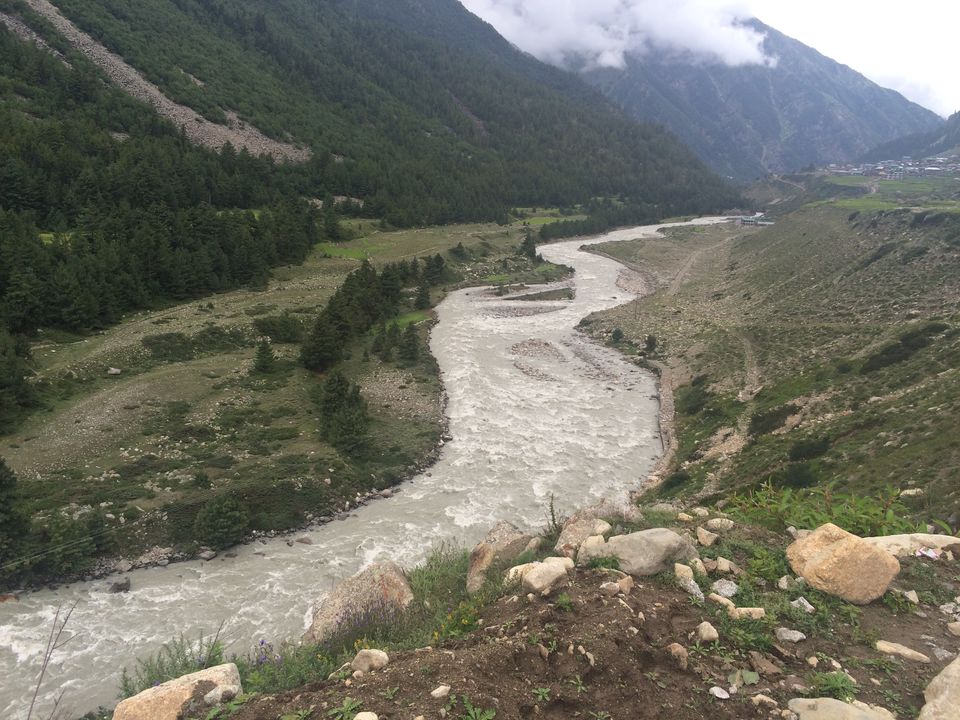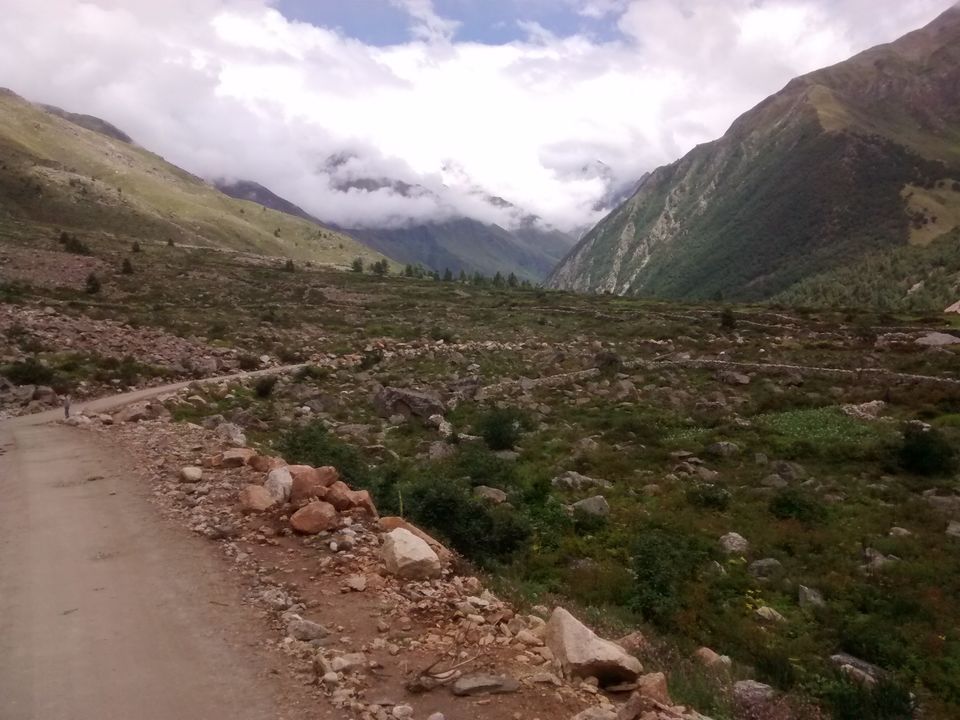 Day 4: Chitkul - Tabo, 230kms
We got up at around 7am. It was cold in the morning, clouds had almost covered the entire guest house and it started raining very lightly. Morning cannot be better than that. The whole picturesque was breath-taking. And then RE engines came to life again with a thud thud thud. I wondered we were the only one who got up this early.
After crossing Karcham, rocky road started, the worst patch on Indo-Tibet route. Tunnel work was going on there. Mt. Kinnar Kailash can be seen en route, Its a trek of 3-4 days starts from the village Raksham. After filling up the gas at Reckong Peo, we continued on our journey. Not a single biker was spotted uptil now on this route going to Kaza except us. Since it was the monsoon, only mad people can think of going through this route. With every km we were getting close to the India- China border, the ShipkiLa. Special permission is required to visit there. And then came the board 'Welcome to Lahaul Spiti'. And the river now changed to Spiti river. The road from there took us higher and higher. With so many hair pin bends, in a moment we reached at the top. How fast the landscape changed we didn't even realize.
Our next stop was Nako, a small village surrounded by the snow peak mountains, located at an altitude of 3600m. Nako monastery and the lake are the main attractions. Few hotels & home-stays were also there.
Road after Nako was really bad, but the scenic beauty of the rough terrain kept us going. After Sumdo, came one check post, we took a turn towards Gue village, a remote place famous for a 500 year old Mummy of Lama. According to locals the hair and nails of this mummy still grows. Upon reaching we got to know the tomb is closed and one local had a key of the tomb. It was already dark and there was no light too. But instead of heading back, we started searching for that man in the village and finally one aunty took us to him. The road to the Gue village was really dangerous, stones were continuously falling on some patches. It is not advisable to drive on these road during night.
After 2 hours of ride, at 9pm we finally reached Tabo. It is a perfect place for a night stay. One can easily find a home-stay there. We took one room there for just 500INR.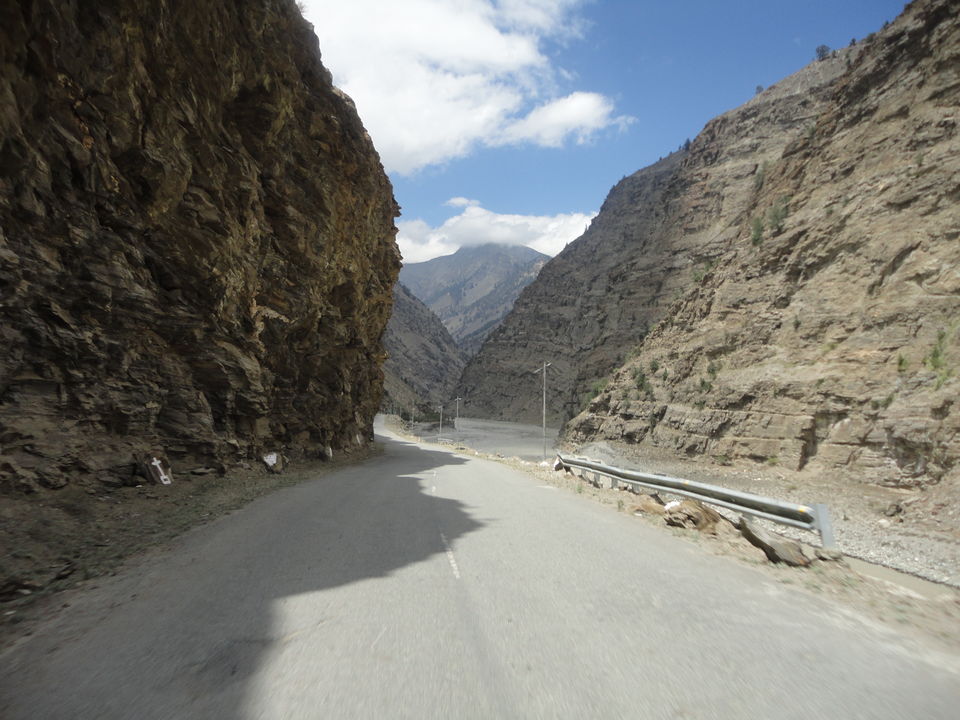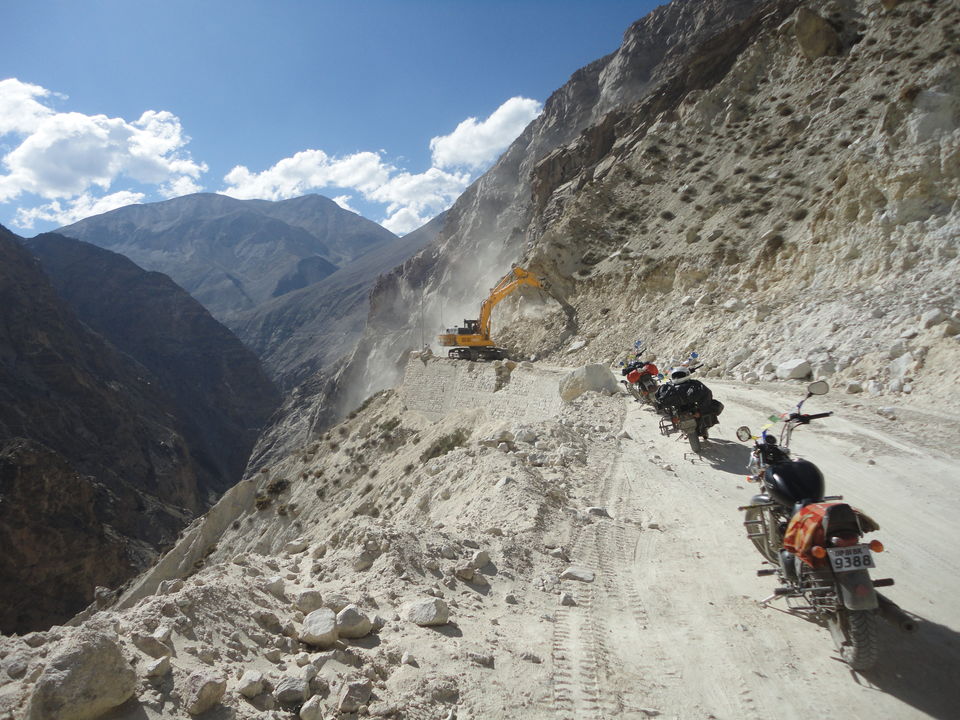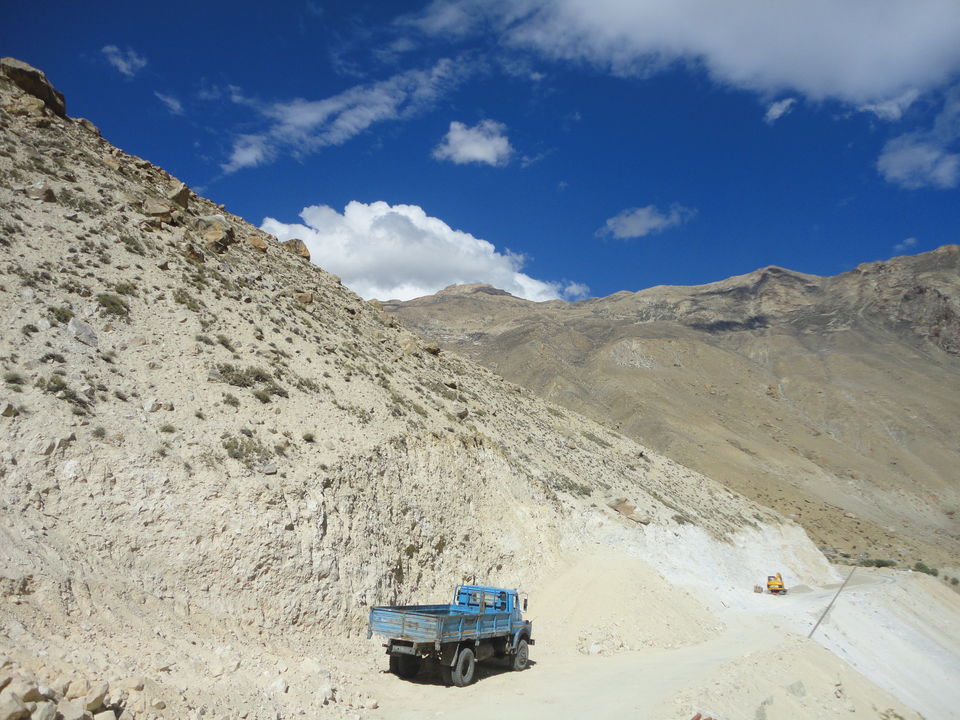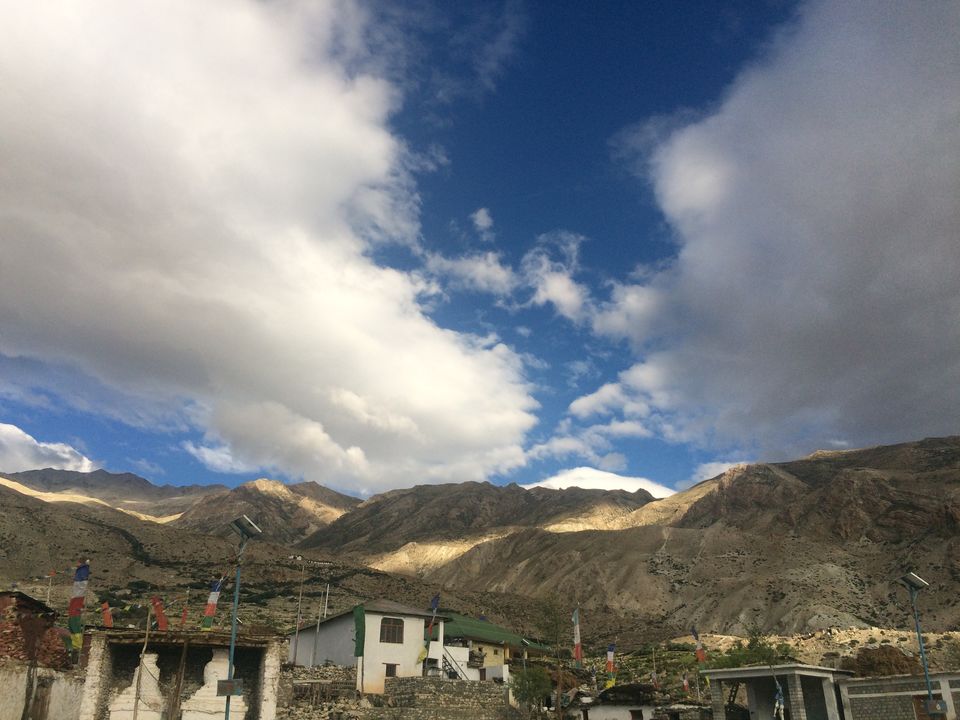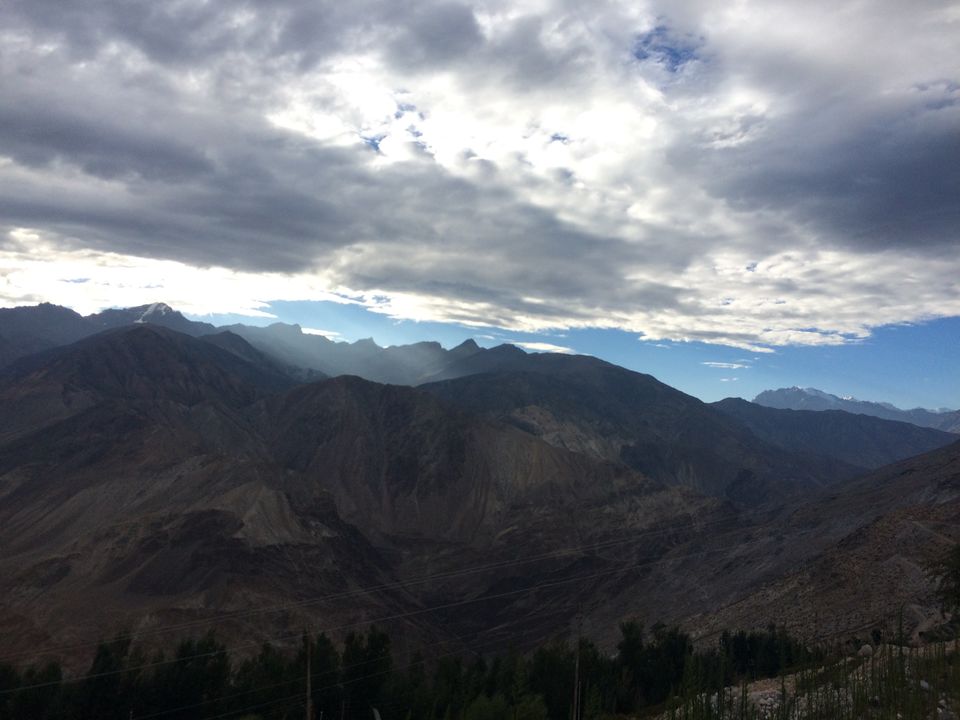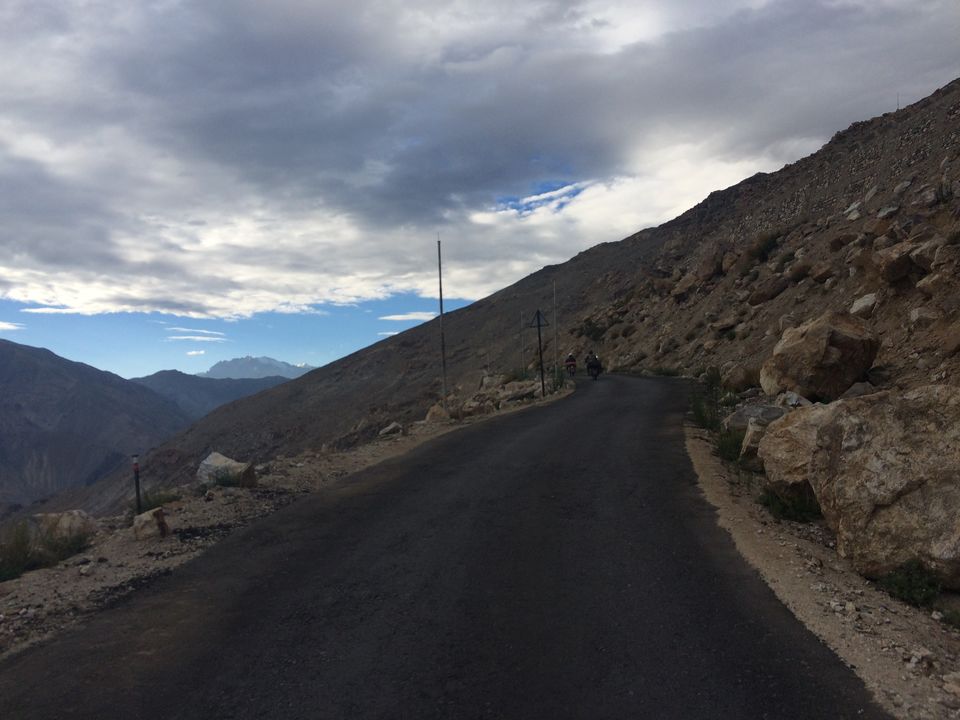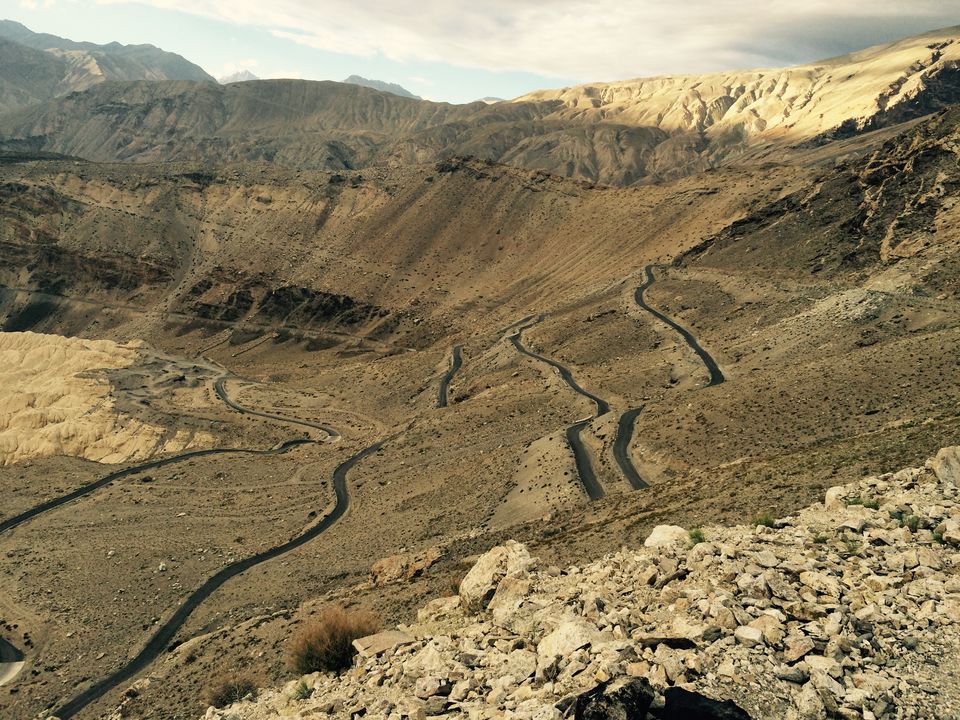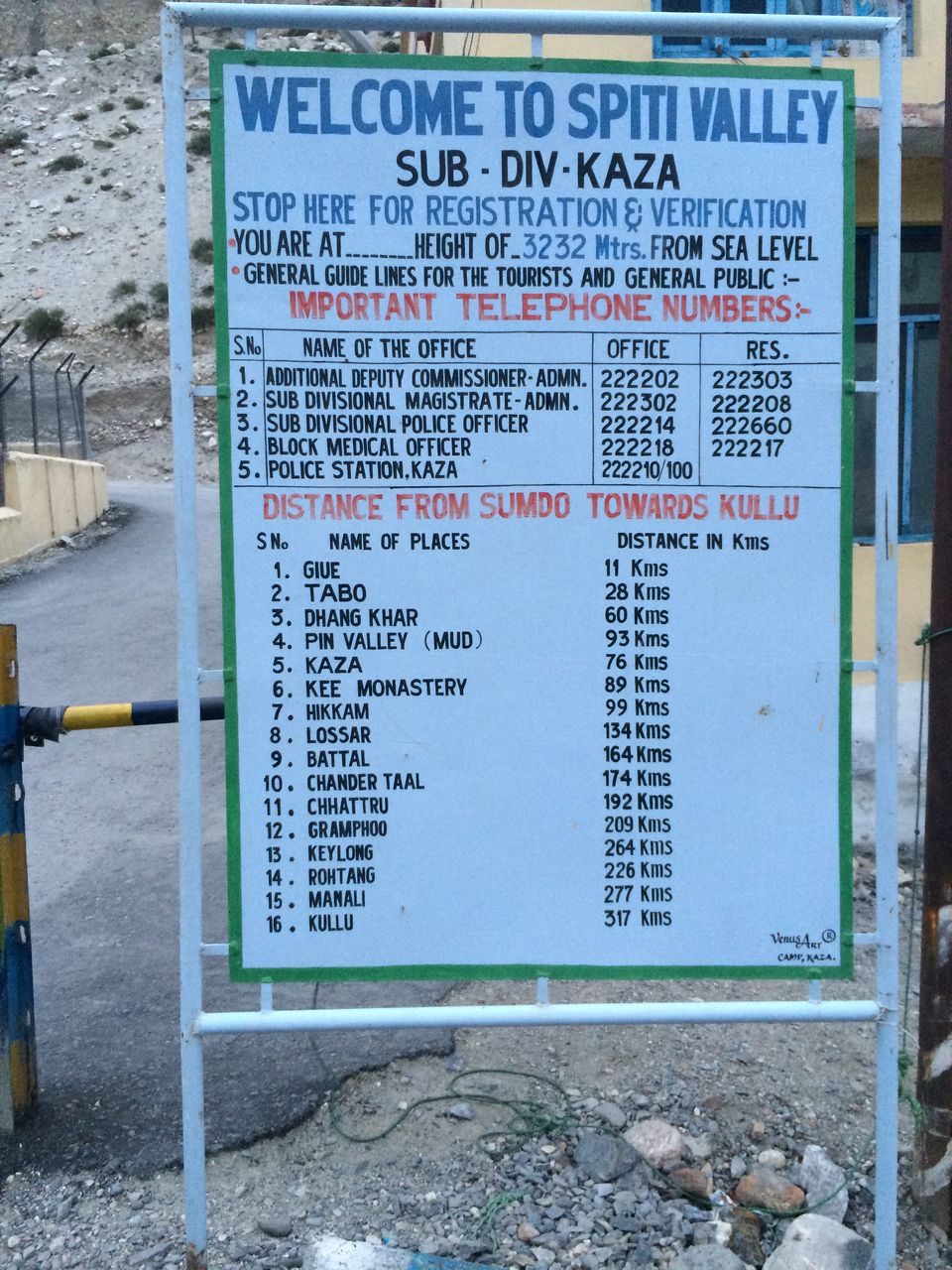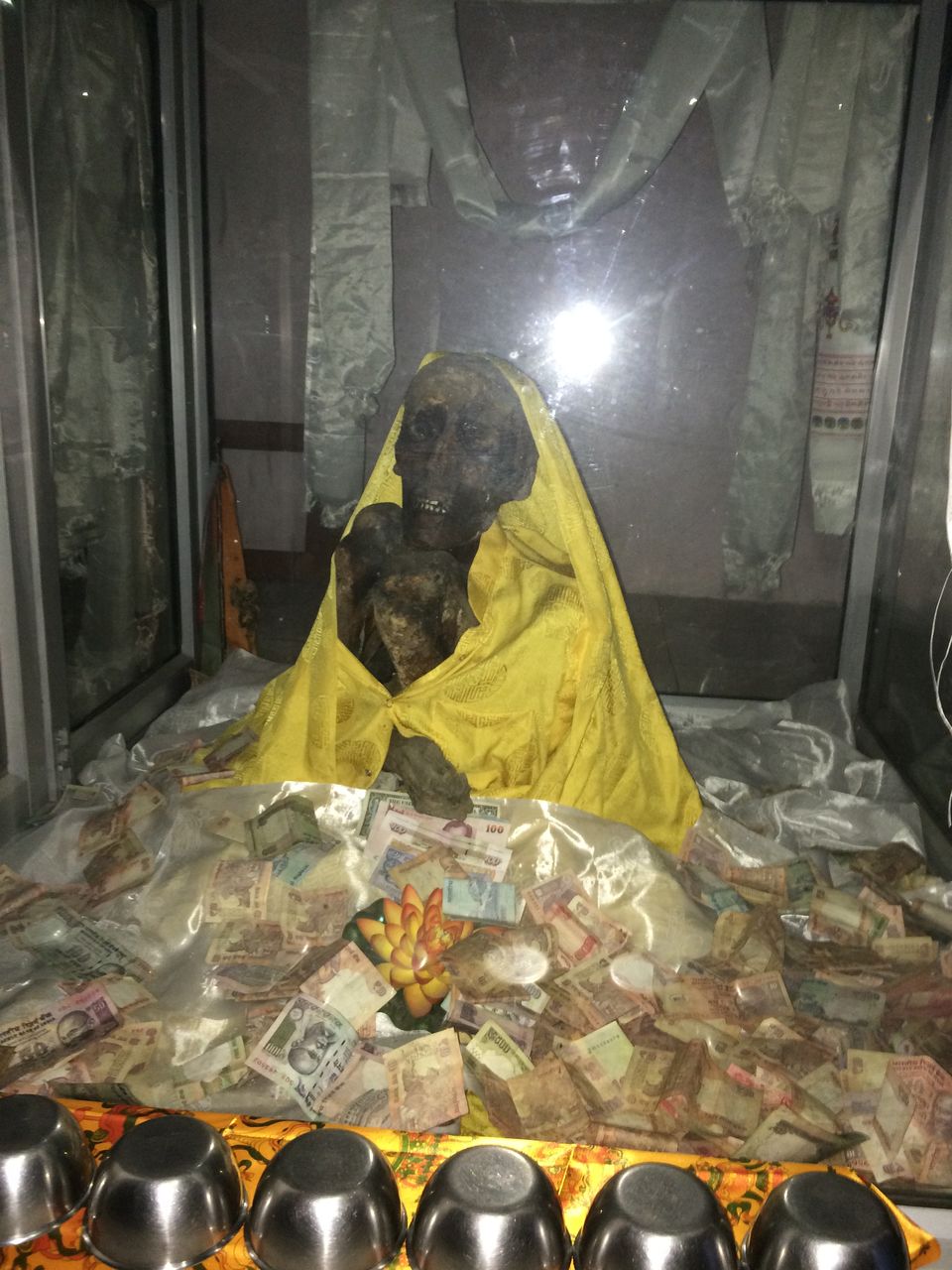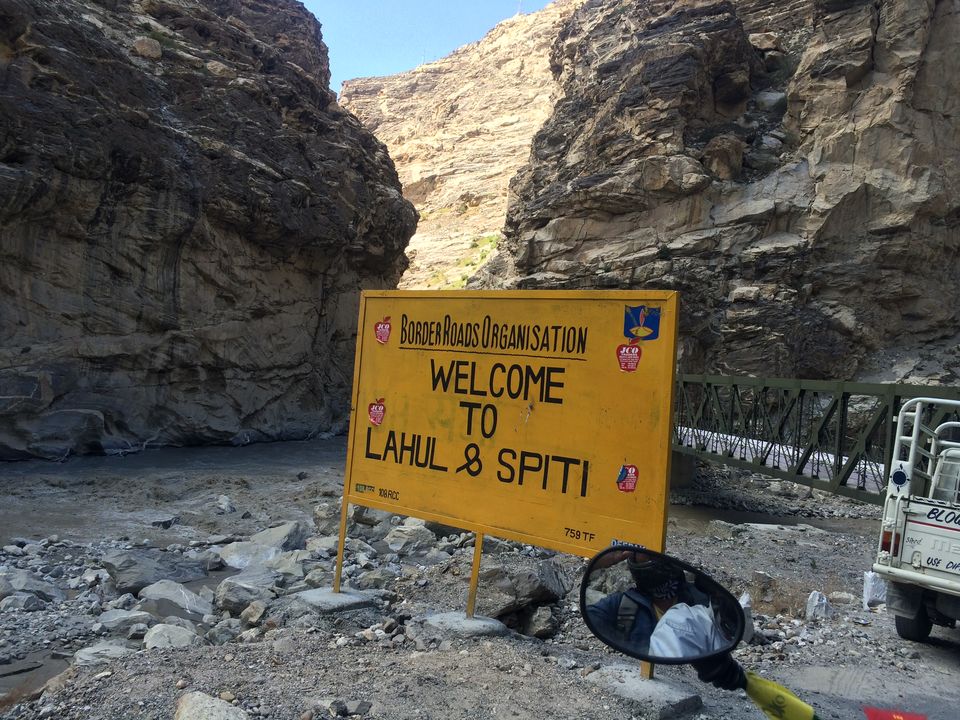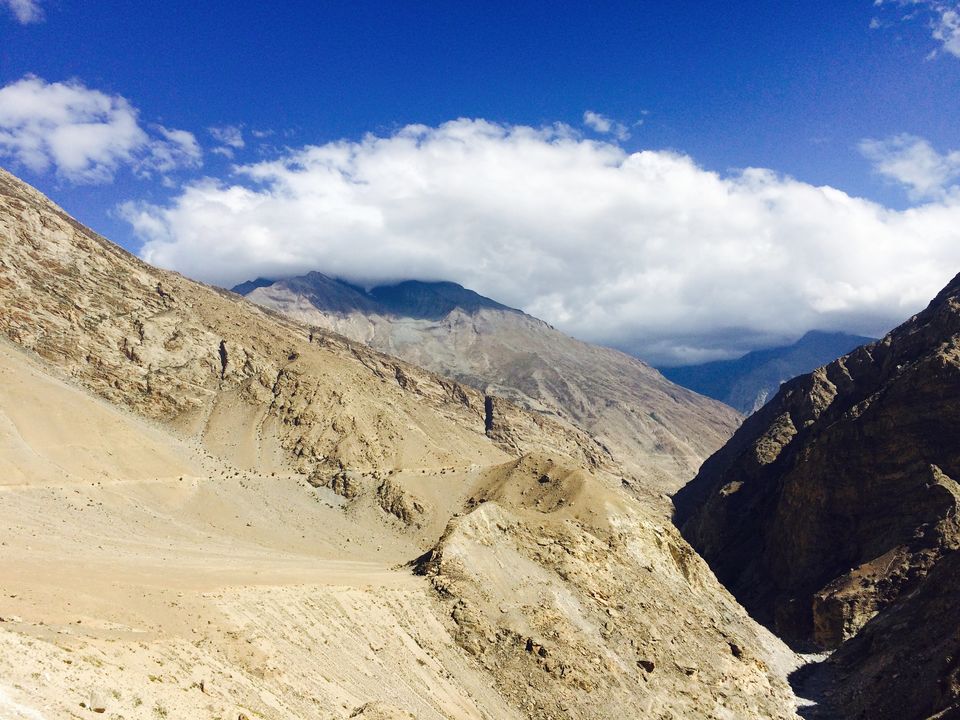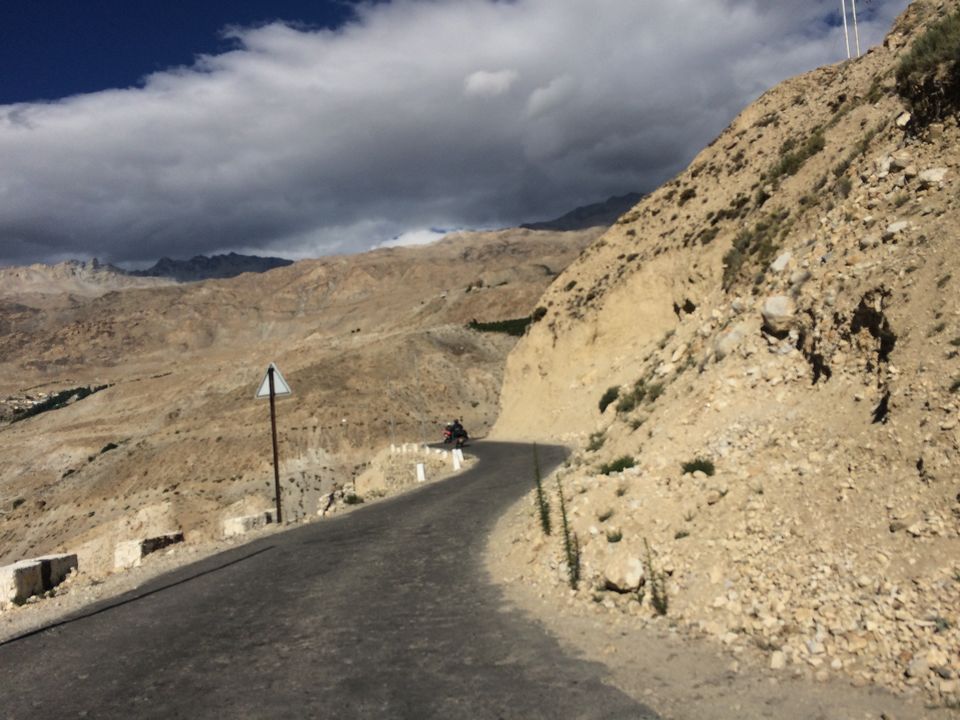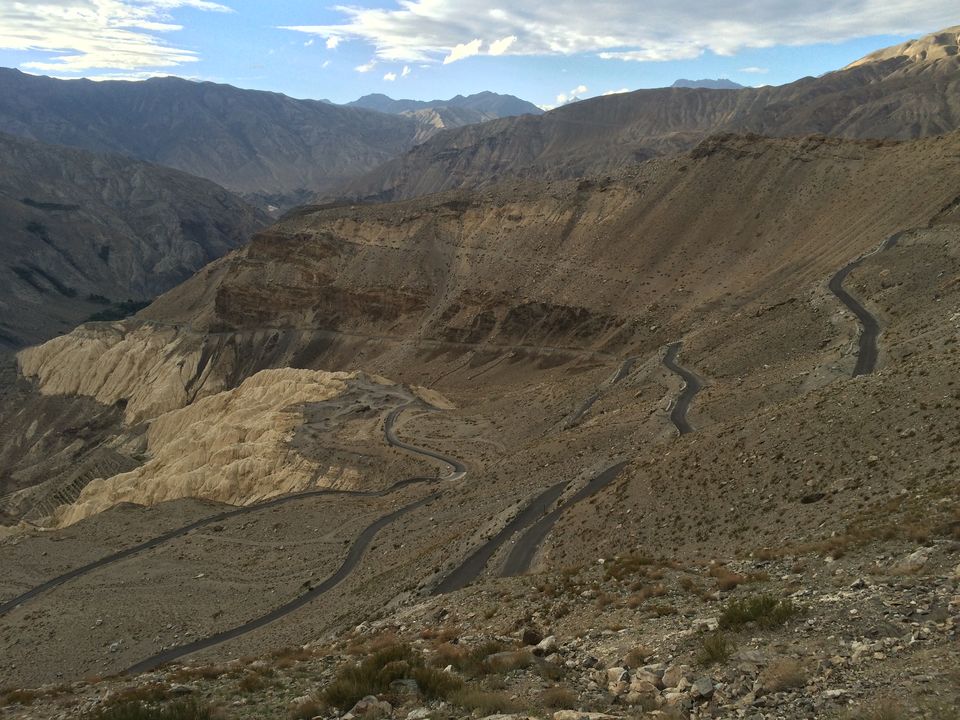 Day 5: Tabo-Dhankar-Pin valley-Kaza, 140kms
Surrounded by mountains on all sides, Tabo, is famous for having the oldest monastery in India, estd. 996AD. Paintings on the walls of monastery, stones, the statues of Gautam Buddha doing meditation with various aasans are thousands of year old, which makes this place the Ajanta & Ellora of the Himalyas. The houses, shops, all are made of mud, clay. We walked through the streets of Tabo. The village was seeming very old and rich in history. For the first time there we saw bikers group. Some were coming from Manali side and some were going to. After taking the breakfast we left from Tabo.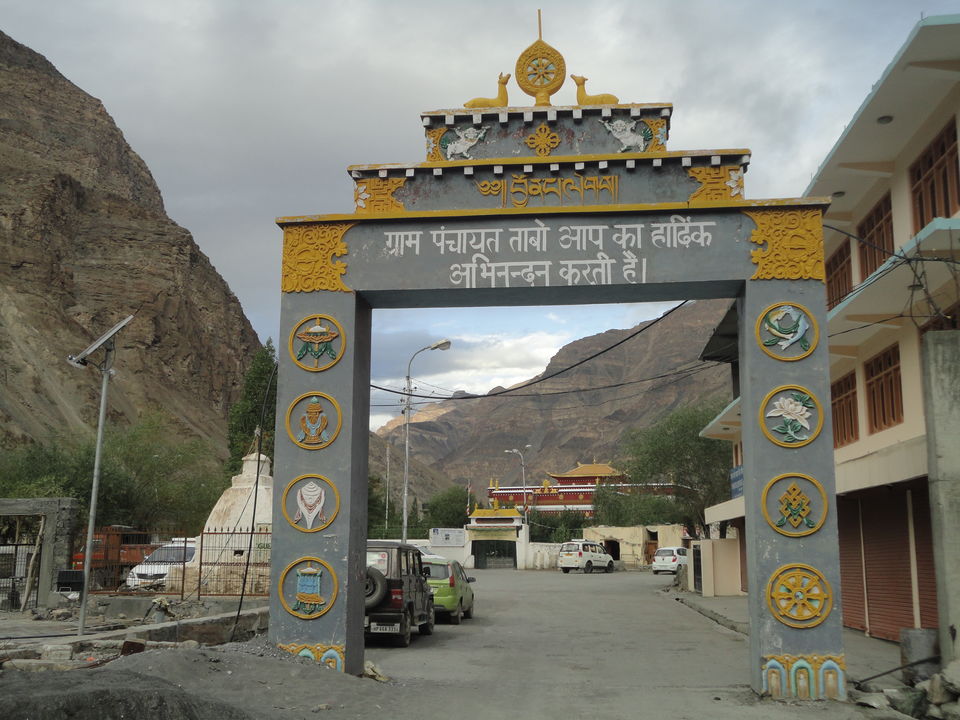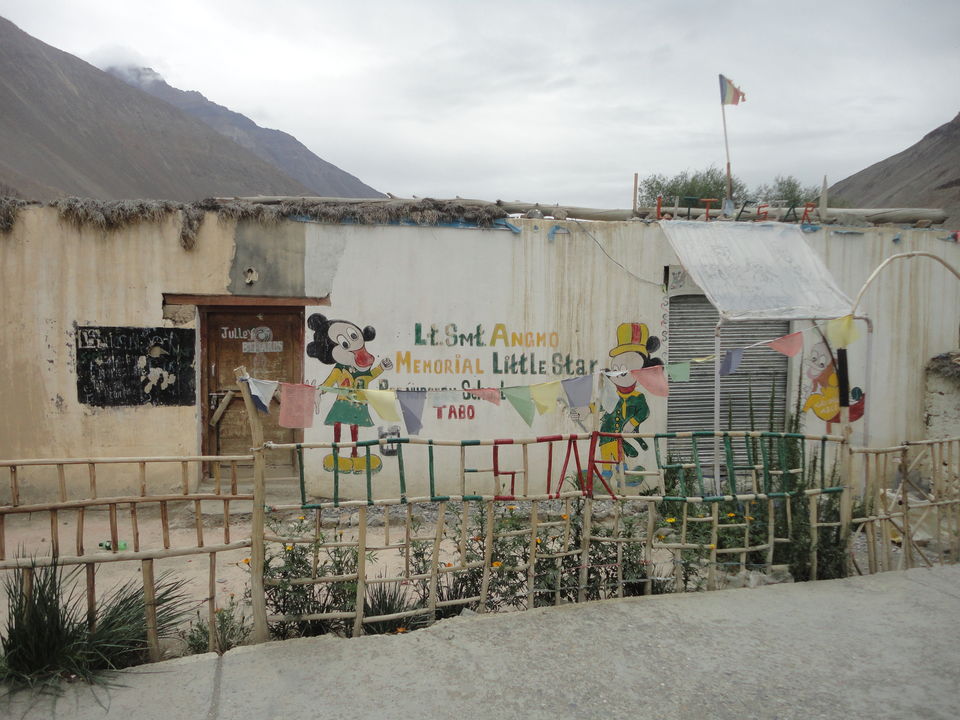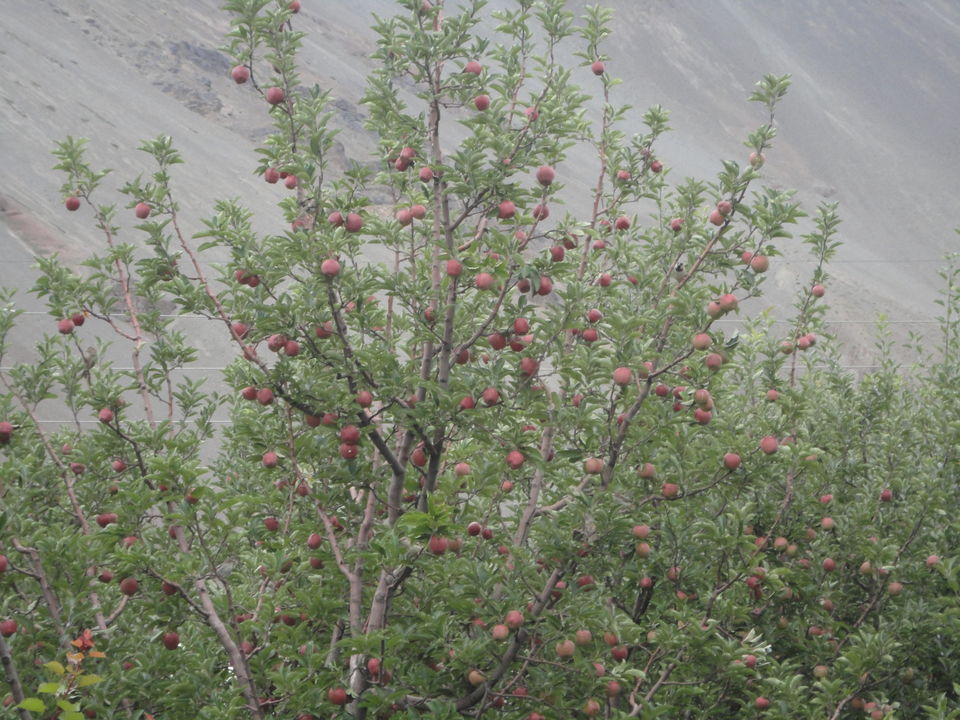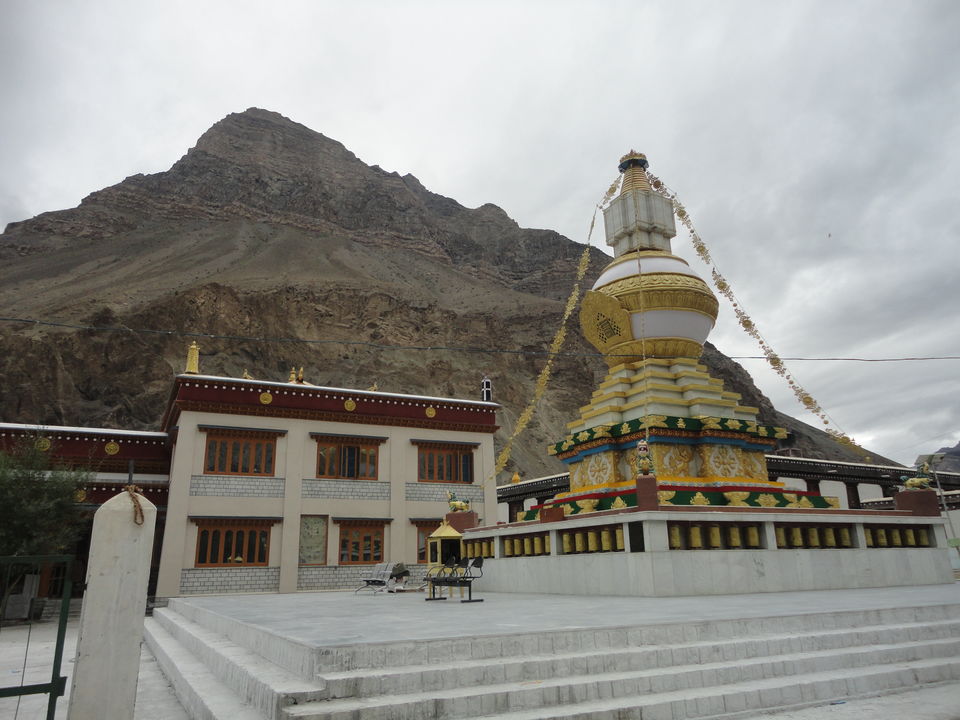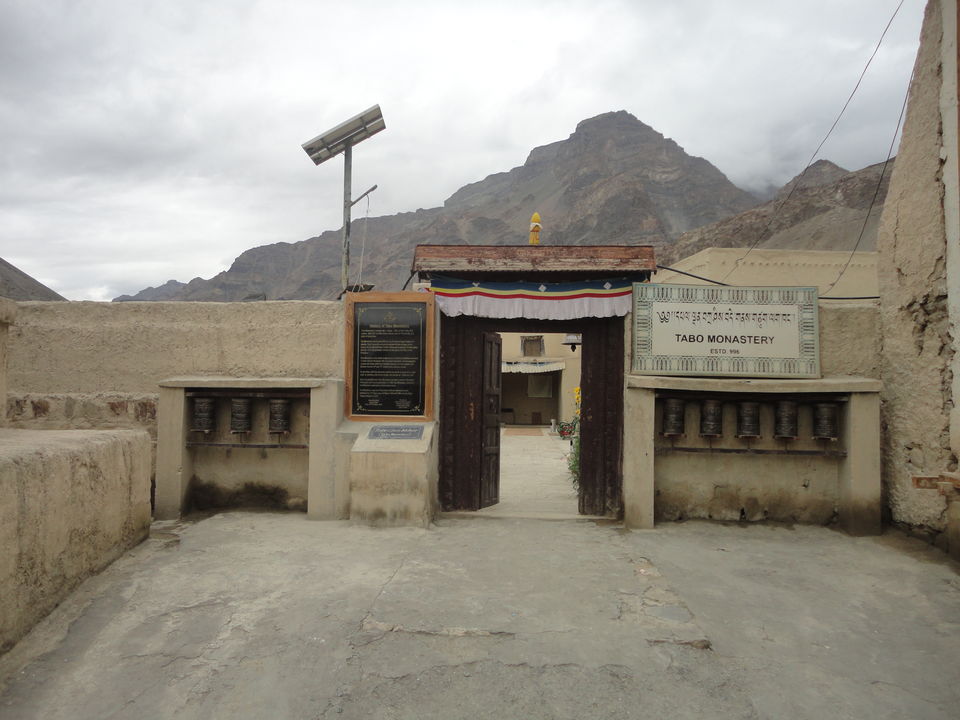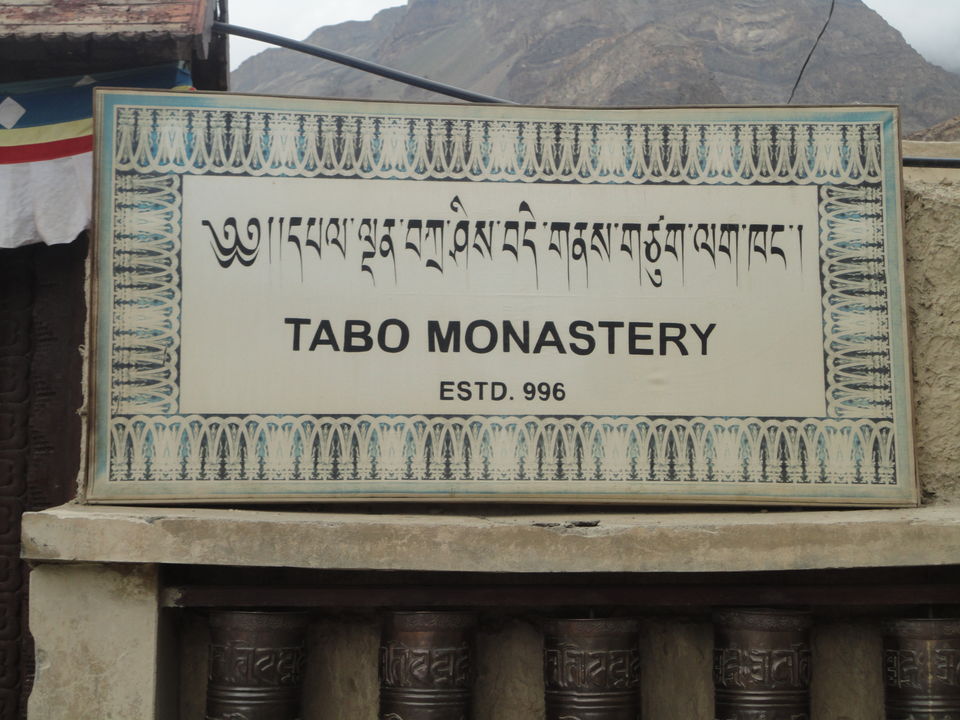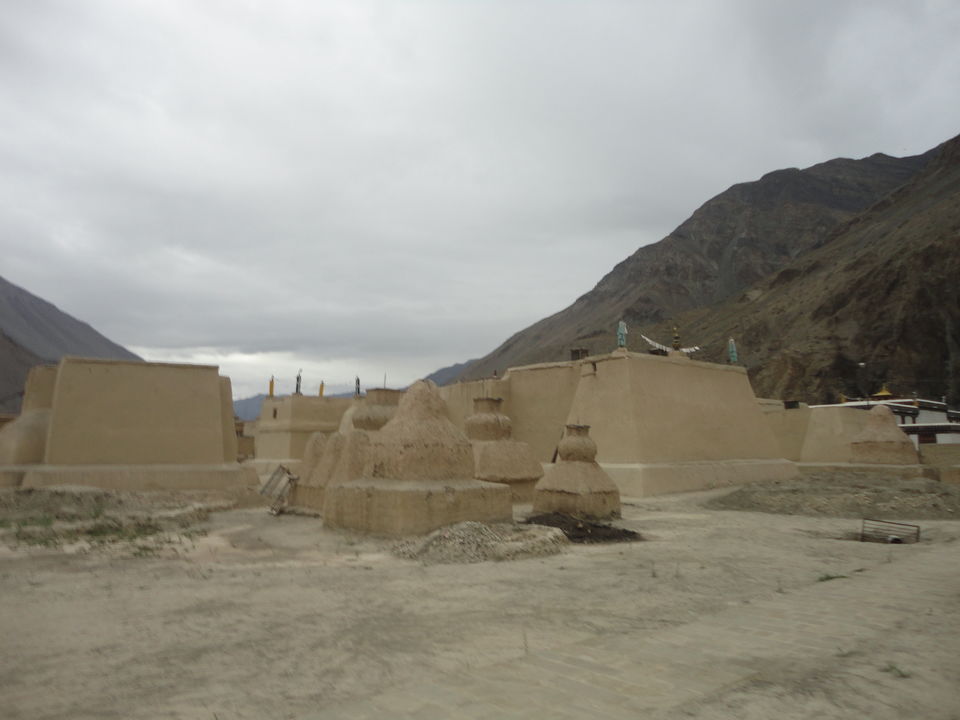 The road was treacherous but the landscape equally scenic. After riding about 30kms we took a road to Dhankar. The village is located at height. There were muddy structures formed on the mountains itself very much like on Leh route. Those giant structures were like, telling us you are in Dhankar. Its hard to imagine such a scenic village at the top of the mountain. Old Dhankar monastery was worth a visit. The ceilings were too low that you cannot stand, you have to remain bend low althrough. The monastery was also very old. One can easily imagine by looking at it. It was around 12pm, when we left from there and continued on that road which finally merged on the Kaza road. In Dhankar we got to know by one local, few kms away on Kaza road there is one left turn towards Mud village, Pin Valley. We had heard about Pin-Parvati Valley, we had visited Parvati valley already so we got excited for Pin Valley. Finally the board came saying Mud village, 30kms, on our left.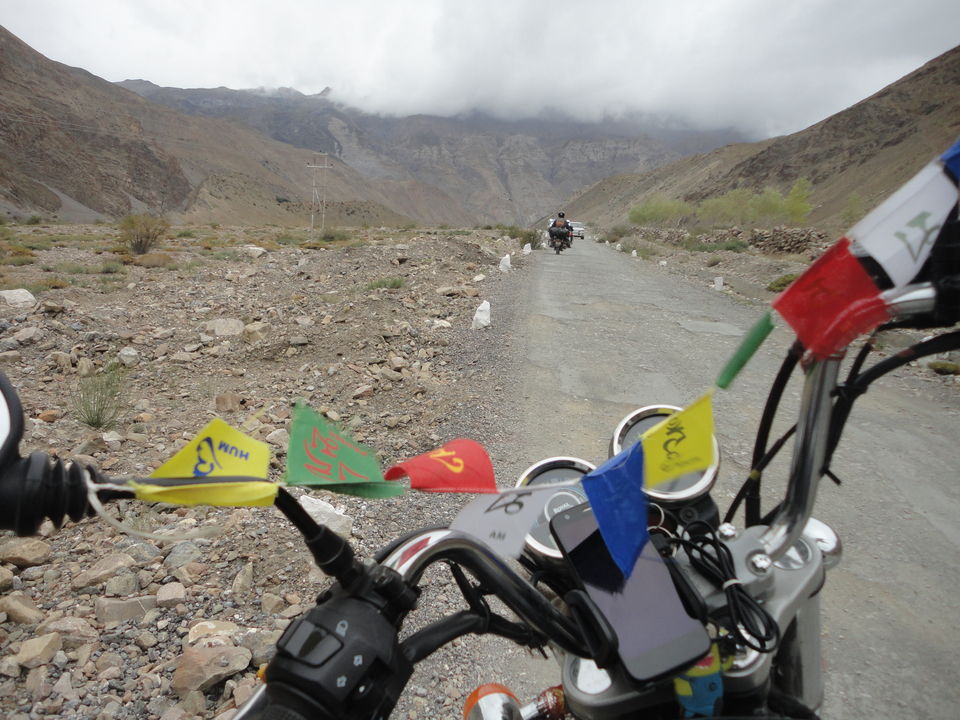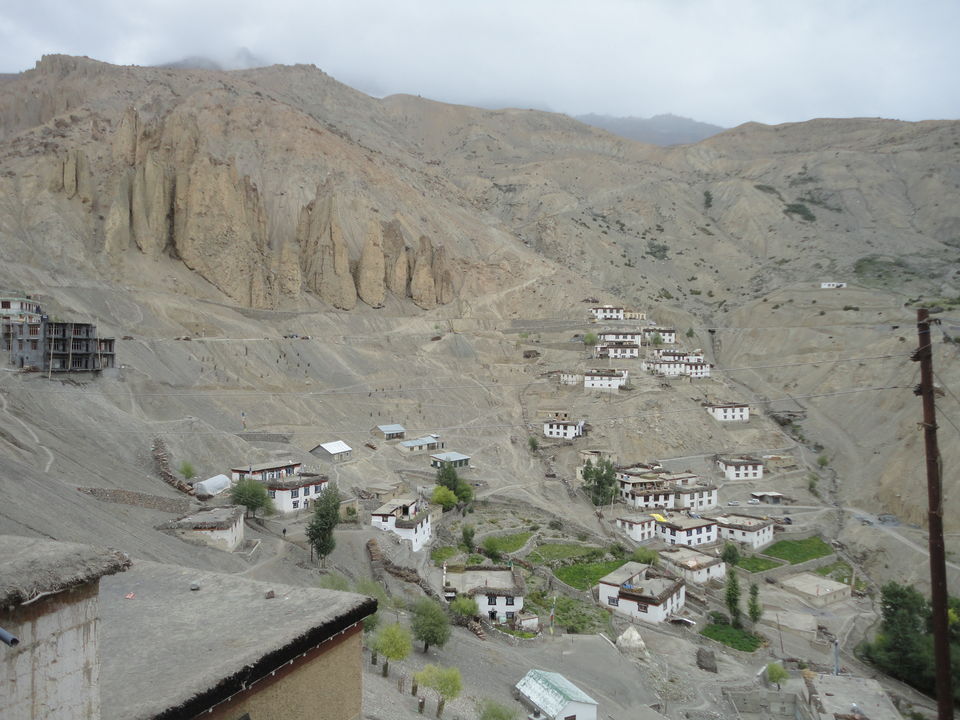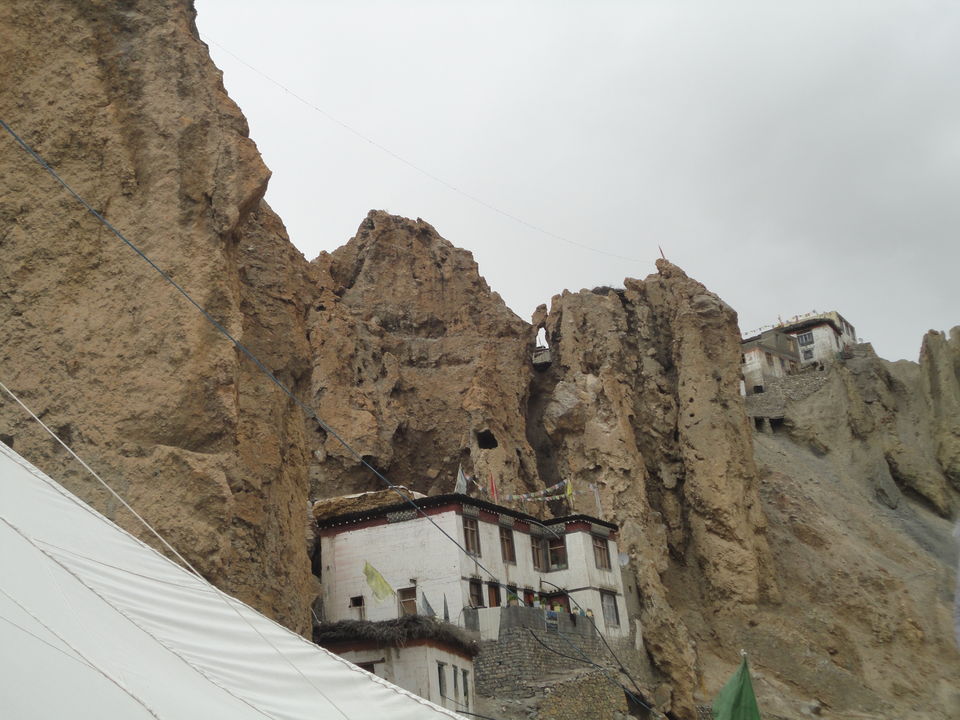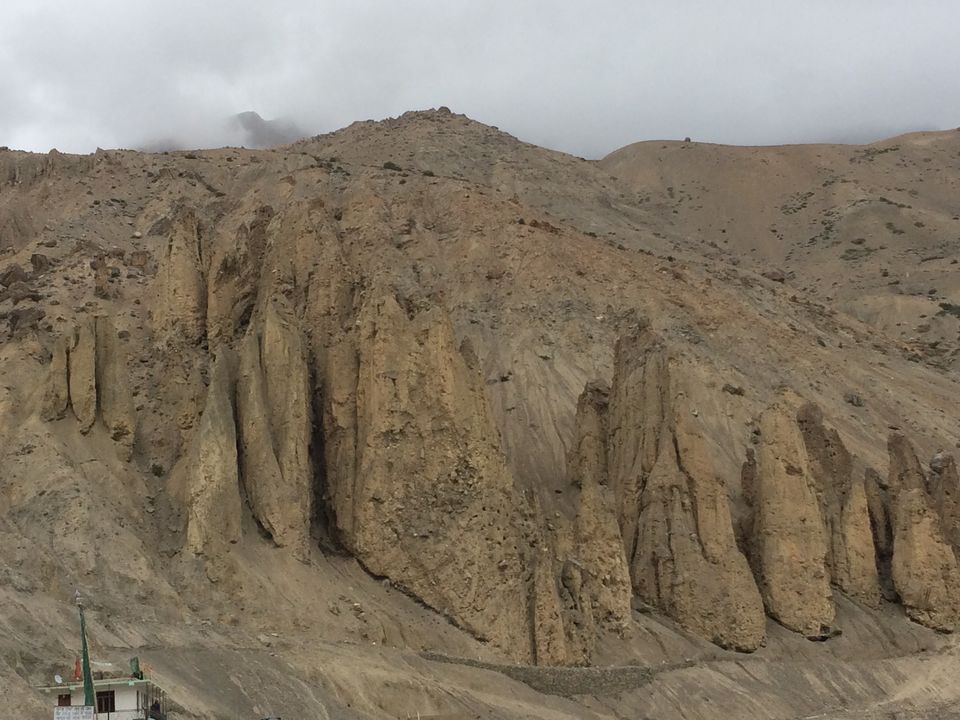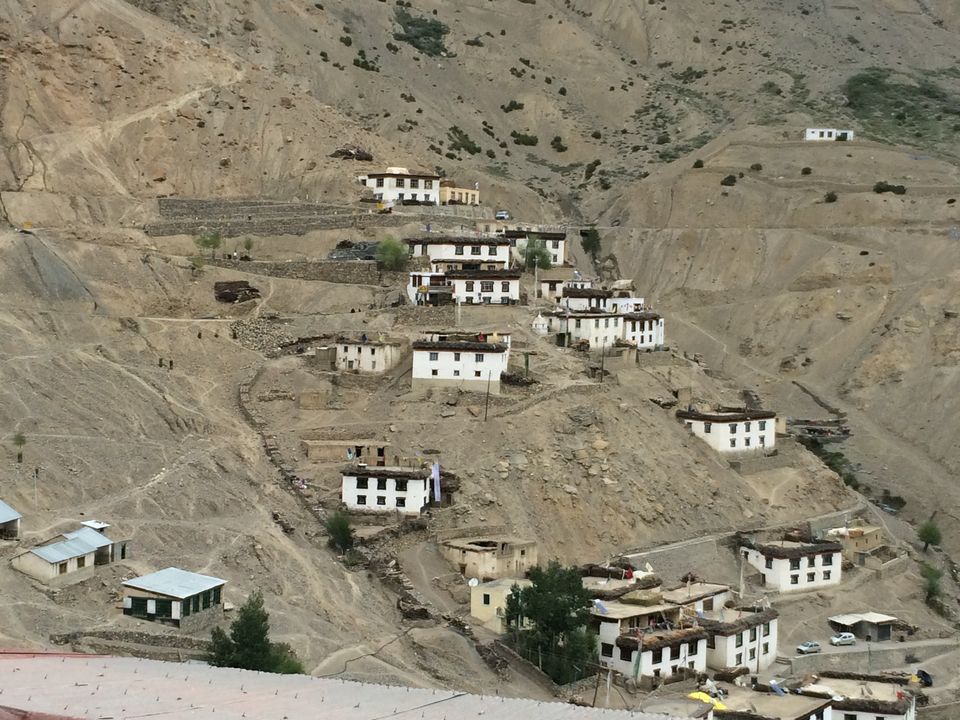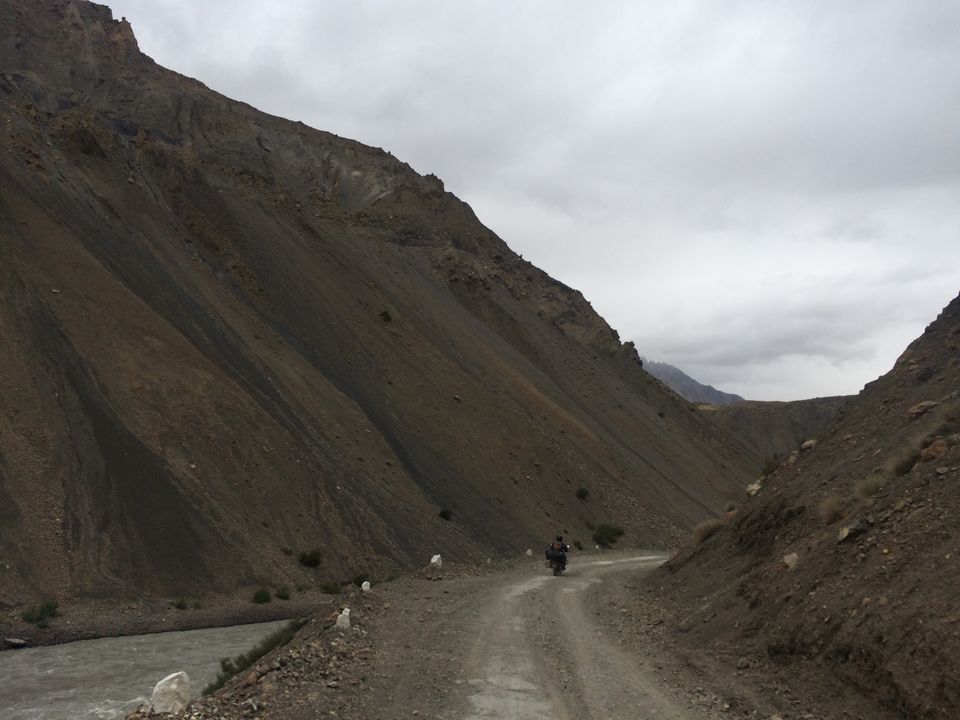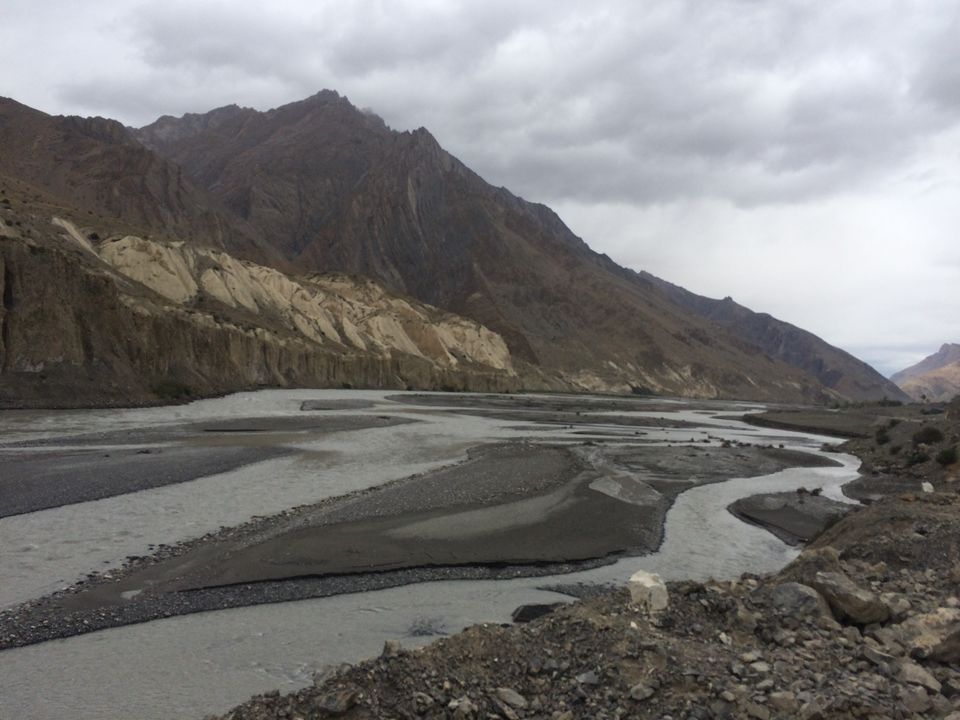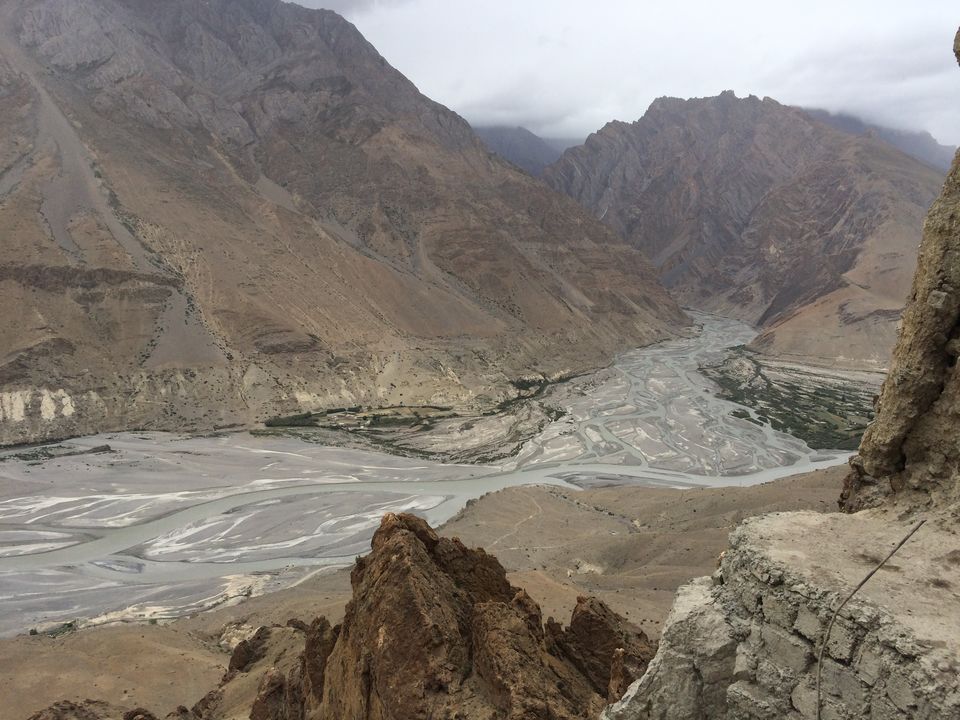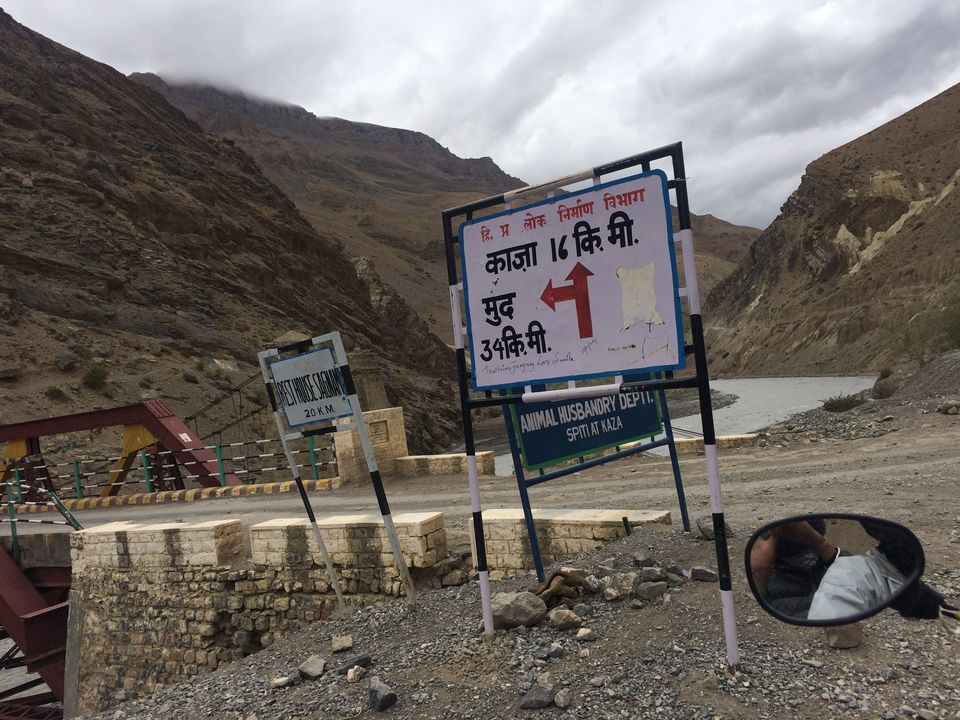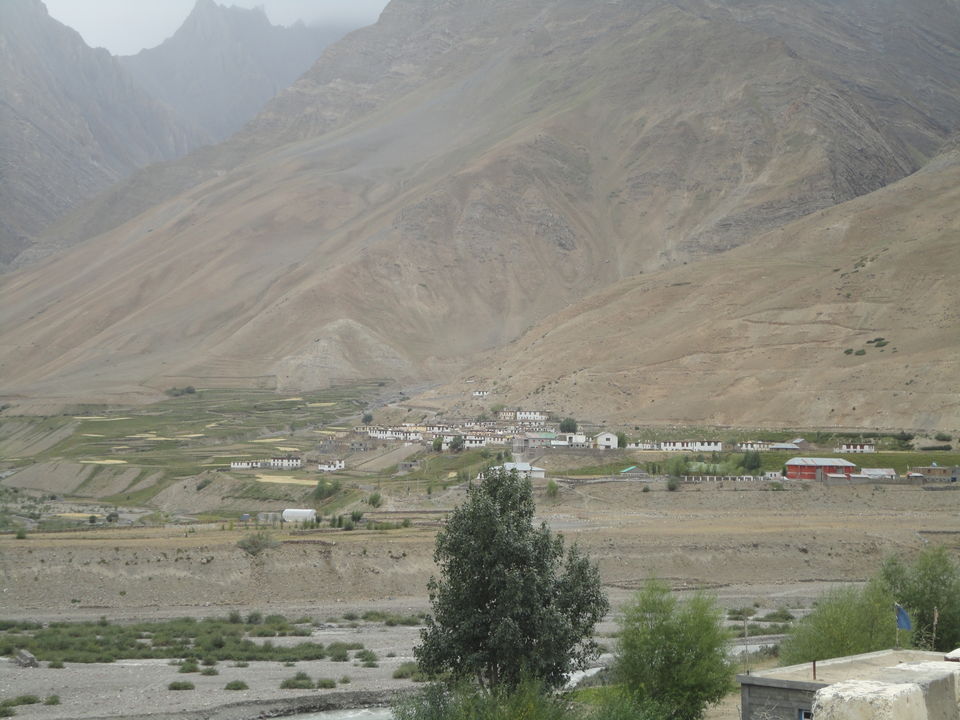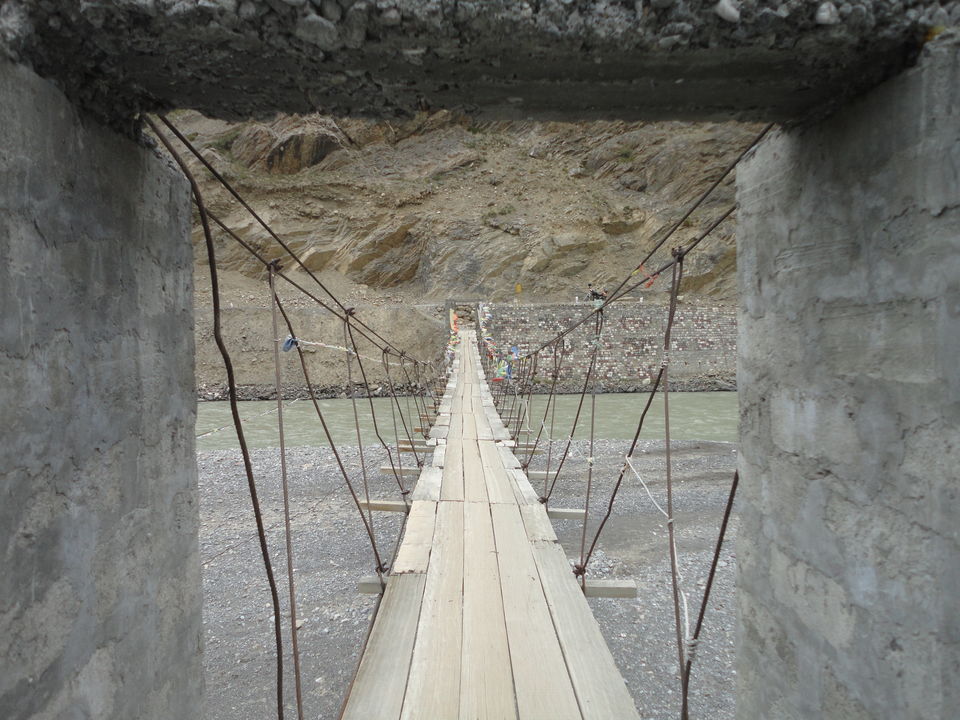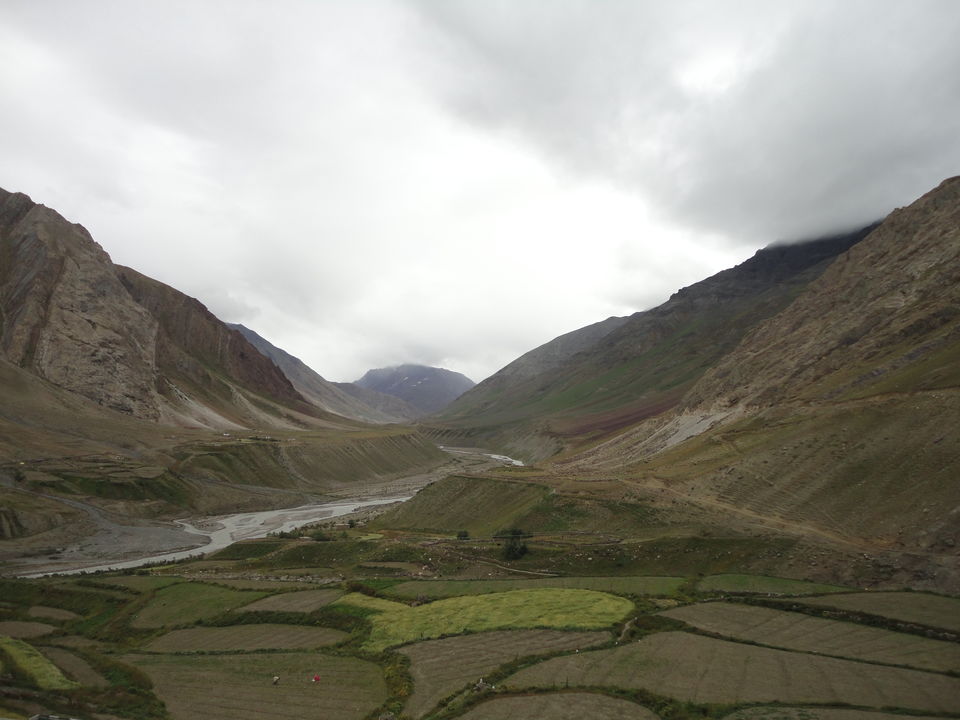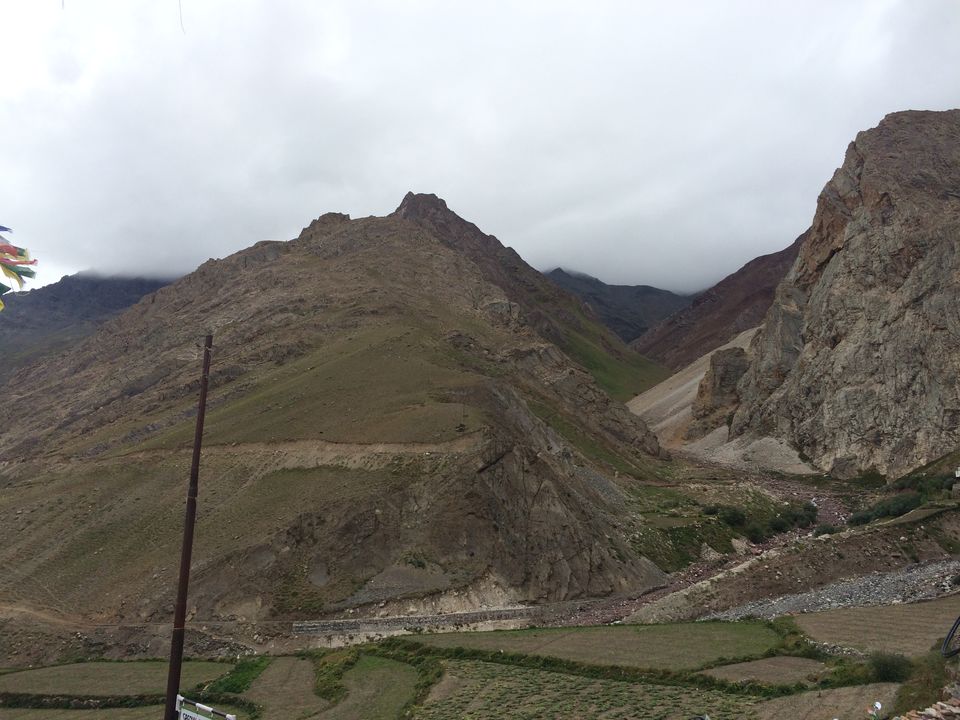 The road was good initially but after few kms, it was getting worse and worse. At one stretch there was literally no road, we were riding on the stones. But we continued our journey because we knew "Trips with tough journeys and good friends will always be remembered". The picturesque there was changing with every turn on the road. Finally after 2 hours we reached Mud. The average speed was 15kmph. It was a very small village having 2 or 3 homestays. On one side there is muddy mountain while on the other there is green Mountain. And the two are merging at one place that's where the Mud village is. I was thinking to where an unplanned trip brought us. Few trek starts from there to Parvati valley. Although there is nothing to see in the village itself but one can witness the hard life of the people living there. And still they are happy with it.
"पहाड़ों के लोग उतने ही सीधे होते हैं जितने की शहरों की सड़कें ,और शहरों के लोग उतने ही टेढ़े होते हैं जितनी पहाड़ों की सड़कें |"

After having tea and toast, we left and again we have to go through that route. The return journey ended relatively earlier. After coming back to Kaza road again, we started heading towards Kaza. Now the road was getting better. Kaza is the only city in the spiti region. We reached there at around 6pm and stayed in old Kaza. There were too many tourists to our surprise. After taking some rest we then started roaming into the streets of Kaza. There was one bike mechanic in the main market. To our surprise there were few cafes also.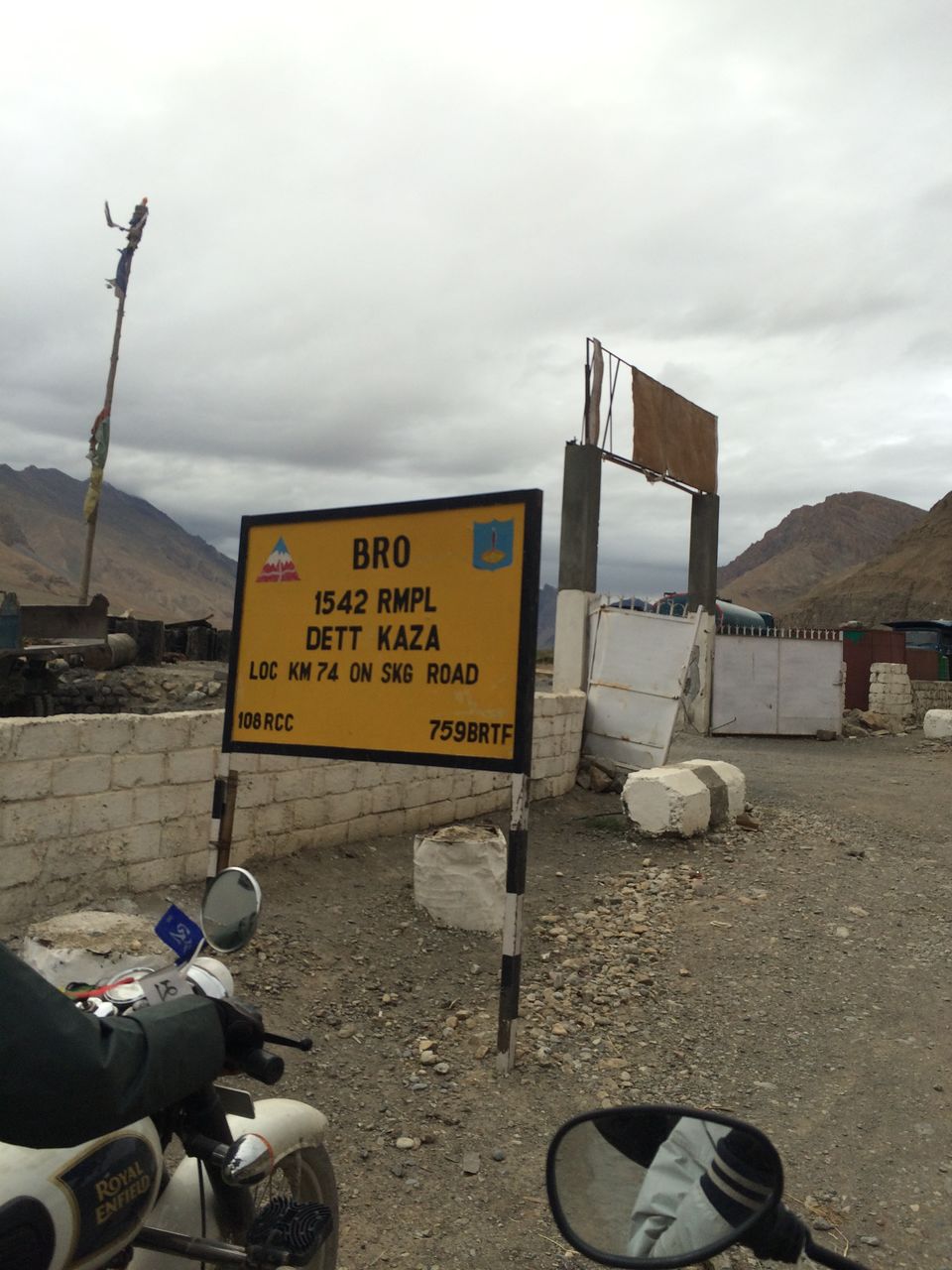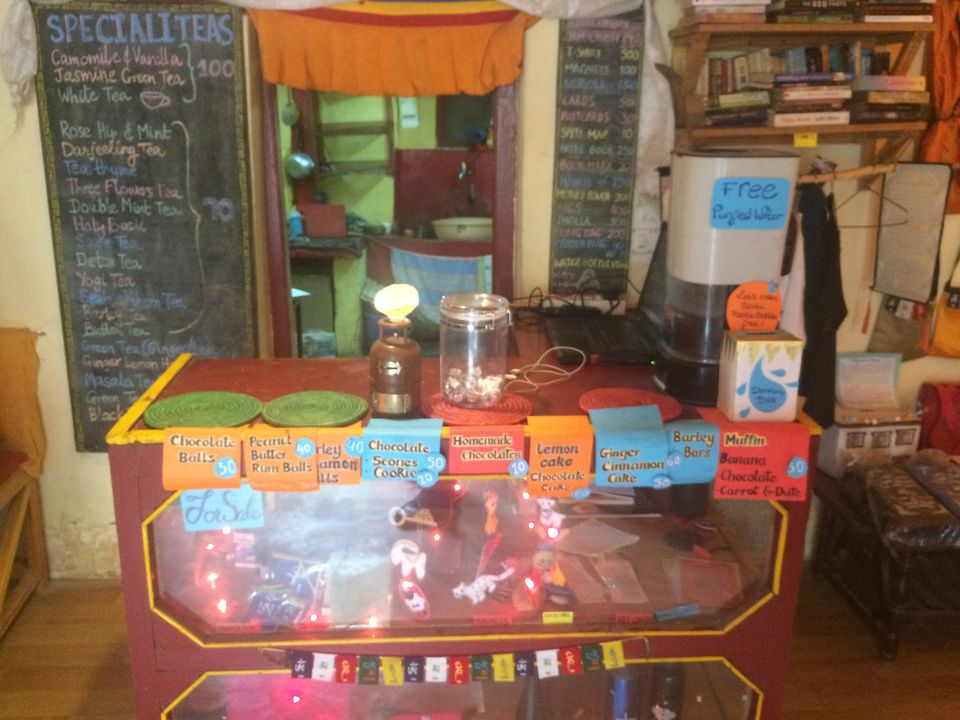 The streets were heavily crowded and then we got to know some mela was ongoing in Kaza. Its Ladarcha mela, which generally occurs for 3 days every year. We were lucky enough that we reached there during that time. This fair represents a meeting of the culture between the traders of Ladakh, Spiti and Kinnaur region. It indicates the departure of the Summers and arrival of the Monsoons. One can witness lots of traders selling their goods in the Kaza market. They usually came from far-off places when nature provides them relief from the Snow. Lots of handlooms, handicrafts etc can be seen on their shops. The fair also had music and dance shows at night, where popular local Pahadi singers set the stage with pahadi, himachali songs. Various local dances were also performed by artists. Mela was showcasing their culture, dance etc.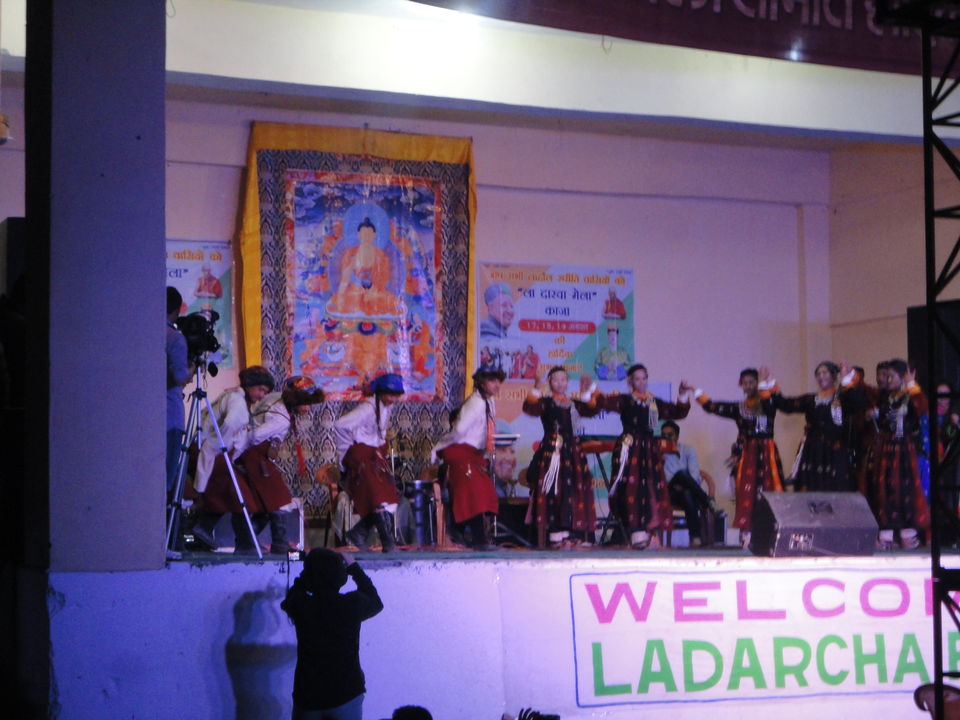 After some time we came to our hotel for dinner. Even at around 12am in the night people were singing songs on the roads. So we also joined them. They were singing awesome pahadi songs that we never heard. One man was playing his guitar and we all were singing on that tone under the light of Full Moon. Those people were unknown to us but the music and the environment bridge the gap. That night was truly unexpected. Those moments will be with us forever.
Upcoming Part: Journey from Kaza to Key-Kibber, from Losar to Chandrataal, from Manali back to Home.