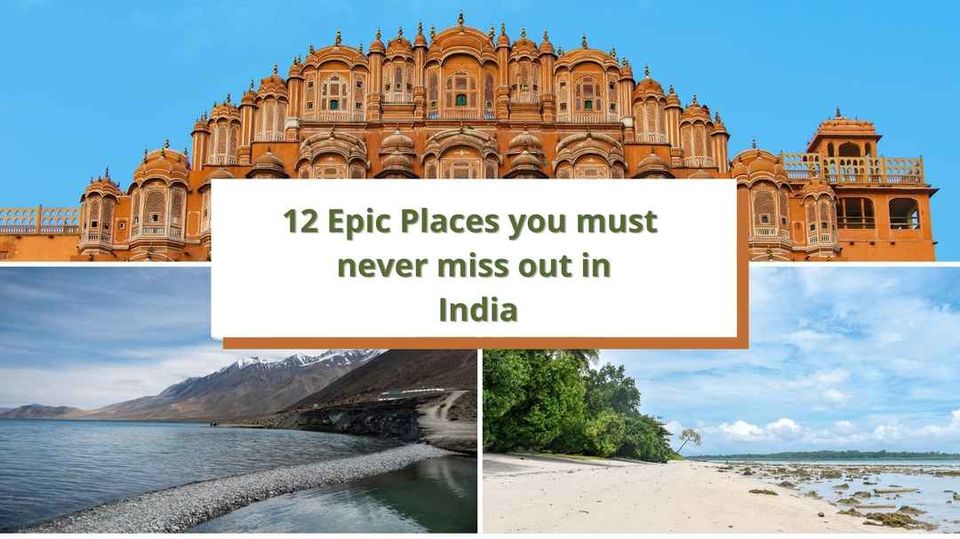 India is one of the oldest civilizations in the world with a kaleidoscopic variety and rich cultural heritage, often referred to as The Land of Festivals. The seventh-largest country in the world with a distinct geographical entity of magnificent architectures with an essence of folktales and rich diverse cultures, India got everything that a traveler wants. From snow-covered mountain heights to the tropical rain forests, reminiscing histories to vibrant festivals, variety of seasons to immersive Indian cuisines, and a wide range of classified languages. Yess!! Incredible India! India got everything under a roof. The perfect getaway spot for all your reasons and a beautiful, alluring country growing at a high level with a wide span of vacation choices.
12 Must visit places in India
Want to cover India in a limited time with a friendly budget? Never mind!! Here's our ultimate travel plan covering the 'Must-visit places in India'. This article covers the most exotic and relieving places in India you shouldn't refrain from visiting and why. Of course! Excluding the exorbitant travel expenses and time constraints.
LEH-LADAKH (For its thrilling mountain passes)
Leh-Ladakh is the ultimate dream destination for all the fellow wanderlusts bitten by the travel bug. The land of snow-covered mountains with the highest mountain passes in the world, this destination, is said to be one of the most thrilling adventure roads. Adding to this Khardung La, the highest motorable road in the world and Pangong Lake, the world's highest saltwater Lake in this majestic place, has also attracted many people in and around the world to land here. This place is the ultimate checklist with serene alpine glacial lakes, snow-covered majestic Himalayas, the Hunder dunes, frozen river treks (Chadar trek), snow leopards, and double Hump camels. This place finds a lot of fame offering the best of meditative rejuvenation in Hemis Monastery and is believed to be the best place for feeling extremely spiritual for reasons. Ladakh is the only place where one can witness the heavenly sight of convergence of two rivers before they merge to flow as River Indus into Pakistan. Hemis Festival is a must-attend festival out there with a lot of stalls filled with varieties of souvenirs and handicrafts which certainly create a colorful ambience and unforgettable lifetime experience.
KASHMIR (For its breathtaking beauty)
Kashmir is known as the ' Heaven on Earth' with beauty so stunning that finding another place like it would be impossible. Home to rich cultural heritage, fascinating natural beauty, unique cuisines and most welcoming people has always made it to be one of the dream destinations. Kashmir is one of the major romantic getaway places for a honeymoon. Experiencing the sunset at Dal Lake in a Shikara and walking among the snow-filled lakes at Pahalgam experiencing the nature at its best is a sure bucket list item for every traveler out there. The floating market in Srinagar, to the evergreen gigantic views of the Himalayas from Sonamarg, doubles the serenity of this unique place. Kashmir's rich flora and fauna are perfectly depicted at the Dachigam National Park in the western Himalayas. This place reveals to you the adventure of the world's highest Gondola ride at Gulmarg and Dras Valley. The coldest place in India will sure give you goosebumps.
DELHI (For its alluring heritage and roots)
Delhi, India's bustling capital city, is a melting pot of culture with many historic monuments and forts to explore. There is much more for Nizzamudhin Dargah to offer than the Sufi songs, devotional ambience and the commendable architecture. It's a place with deep roots of histories and ancient architectures with a myriad of secrets squeezed into the heart of the city. Delhi is often spilt into Old Delhi, New Delhi, South Delhi, West Delhi and East Delhi for ease in exploring places. Delhi has a lot to offer from pocket-friendly busy bazaars, mouth-watering street foods, patriotic beauty, national museums, lush green gardens, historic monuments, cosmopolitan cities and the wide city lanes. Shopping through the Sarojini Market, Chandni Chowk and Karol Bagh, exploring the Mughal architecture masterpieces of Humayun's Tomb and Qutab Minar, spending time at iconic India Gate, The Red Fort and visiting Dilli Haat, a haven of handicrafts and authentic food flavours is a must-do here.
UTTARAKHAND (For its pilgrimage and adventures)
Uttarakhand, named as the 'Dev Bhoomi' which means Land Of Gods is a splendid travel idea for some spiritual enlightenment and adventures. It's a place where you can find a lot of sacred temples and yoga centres. The yoga capital of the world, Rishikesh is located here which gained more popularity ever since the visit of Beatles Band in 1968 along with holding the record of India's highest bungee jump located. Nainital is a prominent spot surrounded by mountains and magnificent peaks here with beautiful lakes and seven hills. Dehradun, Haridwar, Mussorie, and Uttarkashi are the other major terrains covered with holy peaks and divine vibes. The valley of flowers will give you the most picturesque views, with 300 varieties of alpine flowers. Be sure not to miss the amazing skiing experience from Auli and magnet for spiritual seekers, Kedarnath temple.
KASOL (For its hipster haven and serene village)
Nested in the Parvati valley, Kasol is a small but exquisite destination for fellow travelers. Primarily known for its state of Nirvana, it is quite a paradise for the hipsters and is popularly known as the 'Mini Israel of India' for its huge influx of Israel tourists. Tosh village, Chalal village, Manikaran village, Pulga village, Kalga village and Malana village are some of the most common mountainous hippie-haven villages found there. A little different from the world, this place offers multiple exploration options for casual walkers and trekkers providing the entertainment in the form of natural herbs, refreshing mountain air and crystal clear streams. Kheerdanga, Pin Parvati pass and Sar Pass are some beautifully drenched valleys there with an exotic collection of flora and fauna along with vast landscapes. At Kasol, you can experience your night camping out in a sleeping bag beside a bonfire surrounded by forests with a million little stars above. You would keep coming back to this place once you experience Kasol.
RAJASTHAN (For its vivid royalty and vibrant streets)
Rajasthan is a vibrant city known for its rich cultural heritage and stories of bravery and chivalry of the great Rajput rulers. A real gem for both travelers and tourists, this is a vibrant city with a visual treat for its travelers. Known for its vibrant colors and rich heritage culture it offers a wide choice of amazing shot worthy places and extensive range of architecture. Ranthambore Tiger Reserve and Bhangarh Fort, the most haunted fort in India are a must visit there. The cities there are named after colors for the extensive color palettes found in the street architecture. The cities Jaipur(The Pink City), Jodhpur(The blue city), Jaisalmer(The golden city), Udaipur(The white city), also known as the City of Lakes and Jhalawar (purple) is almost coded with colors that make them stand out among the others. A large number of Havelis and very old buildings stretched out in the entire state and places recognized as world heritage sites by UNESCO makes it one of the finest lifetime destination India holds. Mount Abu, the only hill station in Rajasthan offers you Dilwara Temples which is one of the most stunning pieces of architecture with incredible history. Ajmer the land of Ajmer Sharif Dargah, rich in Islamic charm and Golden Jain Temple will give you an aura of spirituality. Wandering around the dunes and camping under the stars in the Thar desert is a lifetime experience. Pushkar Mela, one of the biggest camel fairs in the country has made Pushkar the place evolve from a religious destination to a multi-cultural hotspot with travelers from all over the world. Rajasthan is a Jewel in India's crown and the visual treat and travel experience are beyond words.
SIKKIM(For its prismatic beauty and mesmeric charm)
Sikkim is one of the enchanting travel destinations in India with snow-covered mountains to go for some meditation sessions at numerous Buddhist monasteries for a sense of tranquility and peace. It's too easy to fall in love with its mural filled traditional monasteries and charismatic magic of nature. Sharing its strongest links with Tibet, this place has much to offer from its super steep valleys with thick lush woods to heartwarming smiles of localities there. Gangtok, India's first spit and the litter-free zone is home to many beautiful Buddhist monasteries. Pelling lies in the foothills of the Himalayas and Mount Kanchenjunga ranges, the tallest mountain in the world. Lachung is another eccentric destination covered in snow with surreal beauty. Namchi is popular for its two giant Buddhist and Hindu statues facing the opposing hills. Char Dam is another major attraction for tourists and traveler, to be believed that it helps them attain Moksha visiting the four pilgrimage sites there. Dzongri - Goecha La Trek offers people timely short hikes and adventurous Himalayan treks from this serene place. Land of many fascinating festivals, delicious Sikkimese cuisines and beautiful handicrafts and murals make Sikkim a must-visit among the Indian destinations.
MEGHALAYA (For its subtropical forests and rainfall)
Meghalaya is a mesmerizing place meaning the " The Abode of Clouds". Home to most subtropical forests, rich with flora and fauna, Cherrapunji, acknowledged as one of the wettest land-based places on earth is located there which makes the place gain more attention. Surrounded by the Khasi Hills, Garo Hills and Jaintia hills this place offers you plenty of places to visit. Shillong commonly known as The Scotland of the East is one of the destinations best explored in the foot known for its British architecture styles. The Elephant Falls, Umiam Lake and Wards Lake will leave you tranquil with its beauty. U Mawryngkhang Bamboo Trek is popular for one of the best outstanding treks walking over through a bamboo bridge over broomstick farm leading you to beautiful blue water natural pools built by the people of The Khasi Tribe. The other major attractions there are Nohkalikai Waterfalls (tallest plunge waterfall in India), Kongthong Village(the whistling Village of India) and Mawlynnong Village(notable for being the Cleanest village in Asia) with micro watershed and loveliest waterfalls. This Northeastern state covered in dense forests, gleaming waters, mystic caves, terraced slope and gushing waterfalls is one of the most treasured places in Earth with many man-made artistic wonders and delicious local eateries.
RANN OF KUTCH(For its white sand desert and culture)
Rann Of Kutch is an enormous stretch of white sand desert with a salt marshy surface spread over 7500 sq k.m. in Kutch region of Gujarat spanning the border between India and Pakistan. "Raan Utsav" is a unique abstract of varied cultural hues with lots of music, live performances and art and handicraft stalls reflecting the vibrant spirit and identity of Kutch. This three-month-long ultimate fiesta introduces visitors to engage with nature witnessing the rich cultural heritage and tradition of the place. Bhujodi will spice up your shopping experience with several affordable souvenirs, beautiful handicraft items and local delicacies. Home to a range of ecologically rich wildlife Indian wild ass sanctuary and Chhari Dhand Bird Sanctuary adds a major hot spot for wildlife photographers and nature enthusiasts alike. Witnessing the full moon appearing up past the sunset turning the white sand shining in pale moonlight is one of a magical lifetime experience. Hodka Village welcomes you in heartwarming smiles with colorful traditional attire where you can have a stay at traditional " Bhungas"(cylindrical-shaped huts with conical roofs). India Bridge of Kutch will take you to the border post toward India Pakistan where entry permit is granted after verification by Border Security Force of India. Kalo Dungar, Bhanjano Hills, The old Lakhpat Fort and a peculiar art form called Rogan art has made this unique region stand out from the other destinations.
KERALA (For its amazing backwaters and initiative ecotourism)
Kerala, famously known as Gods Own Country is one of the perfect destinations for your tropical vacation getaway. Rides in Houseboat along the Backwaters at Alleppey (Venice Of the East) and Kumarakom are a major hit among the tourists. Exhibiting rich culture and deeply-rooted history of Muzris, FortKochi offers you everything from synagogues, Jew Town, boutique restaurants, aesthetic cafes, ancient European churches, handicraft souvenir stores, beach, arts and culture centres and to palaces with Indo-Euro architectures. The unique fusion of cultures and hidden treasures of street art in this city corners are best explored by foot or motorcycle. The enticing coastline with a cliff on one side and lush greenery on another, Varkala Beach is one of the most stunning beaches other than Marari and Bekal Beach. Munnar and Vagamon are perfect getaway hill stations adorned with misty valleys, tea plantations and magical meadows. Tucked between the Arabian Sea and the Western Ghats, Kerala is home for historical sites, spice plantation farms and traditional farmlands guarded by canals and inland waterways. Diverse Wildlife Sanctuaries namely Periyar, Eravikulam and Chinnar are major destinations among wildlife lovers. Nowhere else will you experience such a pleasant and moderate climate, rejuvenating Ayurvedic treatments, Yoga, Traditional forms such as Kathakali and Theyyam, fun and friendlier localities, aromatic food served traditionally on Banana leaves and high-end facilities. Kerala sure is gonna make you fall in love with its beauty and greenery.
GOA (For its beautiful beaches and foreign influence)
Goa is a perfect destination for your getaway with a lot of offerings. From its lively beaches, incredible nightlife, abundant little cozy cafes, historic forts, Boho markets and water galore activities to local cuisines, this place stands out from others. The Portuguese influence is vividly visible in many churches and villages, particularly Panjim and Altinho. The mangrove habitat of Salim Ali Bird Sanctuary and wildlife safaris at Netravali wildlife sanctuary will fond you. Watching Dudhsagar Waterfalls, one of the tallest waterfalls of India would give you chills. Visiting villages of Old Goa and The Basilica of Bom Jesus (holds the remains of St. Francis Xavier, and is a UNESCO World Heritage Site) would give you a sense of how Goa was like centuries ago. The beaches are all lively and happening throughout at Goa. Calangute Beach and Baga Beach brings you the wild expanses of sand and stunning sunsets to embrace your trip. Anjuna Beach with extremely popular cafes and nightclubs along with the rave parties and epic cliffside view at Vagator Beach would make this place worth visiting. Arambol and Morjim Beaches attract large crowds of hippies rather than the touristy ones. Experiencing the grandeur of Deltin Royale Casino, known for its gaming appetite and stylish Whiskey Lounge is truly a luxurious thing to do there. Hone your bargaining Skills and jazz up your wardrobes shopping your heart out at Anjuna Flea market. Goa is treasured with little hippie markets, cheap liquors and exquisite forts turning this a Home away from Home for all the fellow travelers.
ANDAMAN AND NICOBAR ISLANDS (For its turquoise coral beaches)
Andamans and Nicobar Islands is a part of India, actually closer to South East Asia with a total of 572 islands located in the South Eastern Part of the Bay of Bengal. The welcoming weather and a range of underwater adventures turn it a haven for tourists across the globe. Baratang Island is a perfect tropical carnival known for its limestone caves, mud volcano hikes, mangrove boat rides and exciting water activities. One can be considered lucky if they might get a glimpse of Jarawa tribe (the original tribe found in Andamans who still maintains detachment from the outside developed world) while at Jarawa Creek. Diving in Andamans among the school of fish witnessing rich coral reef systems is a unique lifetime experience. Ross Island, abandoned after an earthquake in 1941 and later devastated completely by Tsunami in 2004, has magnificent man-caves, protected sanctuary, old church and grim traces of luxurious life lived by British and Japanese. The Forest Museum and Anthropological Museum showcases the endangered plants and woods providing a detailed look into the history, culture and life of tribals there. The Cellular Jail known by Kala Pani is a must-visit reflecting one of the most brutal histories of cruelty by the British in the colonial period. Havelock Island is one of the popular largest islands with pristine beaches and water activities. Awarded titles of "Asia's Best Beach" and "7th best beach in the world" by TIME Magazine, Radhanagar Beach is a pristine stretch of sand backed by turquoise water, lush forests and tranquil ambience. One can watch the only active volcano in South Asia spewing lava and ash at Barren Island. With places like Little Andamans, Viper Island, Diglipur and Mount Harriet, Andamans will provide you with an unmatched travel experience.