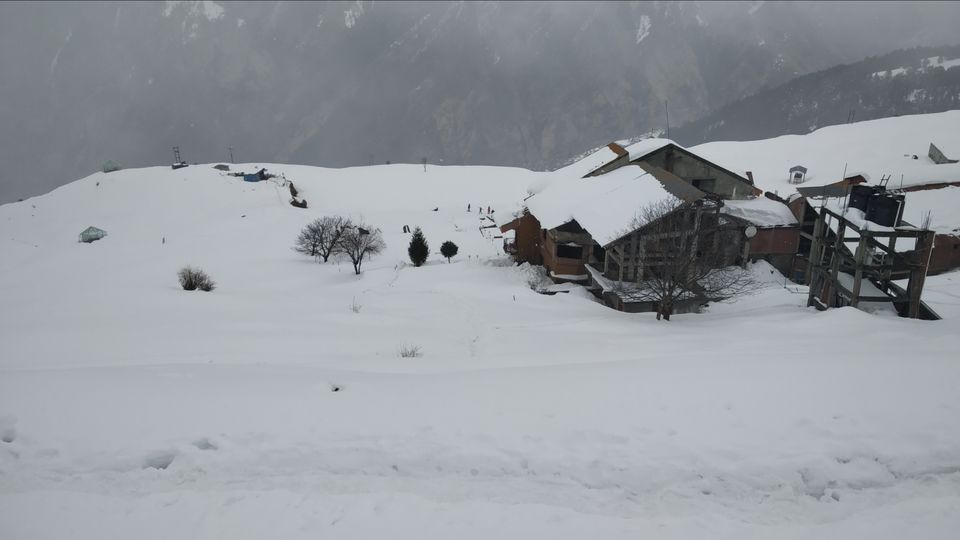 "This Era of digitalization and Social media  where,
You often end up doubting ur choices and actions,
Wondering if you really wanted to do this Or,
Are these cool images and hashtags
Driving you insane , chasing places, goals,
people and what not
which might or might not be, what u truly wish for..."😐
Well in my case, these beautiful images and videos of live snowfall use to cause an adrenaline rush to witness it in real. I dreamt of hitchhiking in snow laden mountains, walking in amidst of snow covered forest, witnessing live snowfall, lying down over some roof top of rock and gazing sky full of stars, breathing fresh air, and living hassle free life somewhere beyond far .
And.... then finally I happened to be at this beautiful heaven alike place "AULI" with three of my buddis. Auli is a hot skiing destination in India in Chamoli district of Uttarakhand. We wanted to do "Quari-Pass Trek" but unfortunately  we couldn't do cuz of bad weather condition and heavy snowfall blocking its trek-trail.
But we were happy finalizing on trek till lower Tali village and doing overnight camping at Lower Gulling.
DAY 1:
So we went by cab from Joshimath to Dhak village and from there we started our trek till lower Gulling where our tents and lunch were planned. Then we trekked further 2.5 kms till lower Tali only to return back to our Gulling camp-site before evening.
We had an amazing night tent life there. Amenities provided by Adventure camp,  delicious food and super amazing cook were just perks of the trek. We really enjoyed magnificent views of Mt  Dronagiri, Hathi and Gori Parvat, snow-covered steep walking trails in between.
DAY 2:  We trekked back till Dhak village and then it took us around half hour drive to reach Auli ropeway point. Auli has one of the longest ropeway to surprise you by its beauty. You just can't take your eyes off while yourself floating in air. Those killer views of tall oak trees, snow covered apple orchards, captivating valley views, admist roadway sneak-peek , sight of full white-winter from top are just amazing.  Its kind of feeling. You will have to be there to feel it.
Well first snowfall of my life , firstly happened at Lower gulling  in morning and then had snowfall shower at Auli. I literally danced and played in snow, did skiing in snowfall and enjoyed having my teeth's on soft fresh snowballs. Can't express how grateful I felt to God for that moment. By the way, if y're in Auli do try skiing , hot tea and Maggie there.To do skiing you don't need to be trained in it, skilled staff will take care of uh( u just gotta follow their instructions😜) . That day will always be tagged as "a day to remember forever". Honestly,
time spent in full white winter noon was beyond my imagination.
Oh ! Still when I close my eyes , I realise,                       " Dreams do come true ".
How to Reach:
Delhi-> Haridwar->Joshimath ->Auli(JoshiMath to Auli you can go by cable car in ₹1000, 22mints ride in air is just amazing) or if roads r open and snowfree then u can hire taxi too for road trip amidst dark green forest from joshimath to Auli
Note: Make sure if your planning to reach Joshimath by govt bus then reach before 7 am. Cuz after that it is hard to find bus. It took us around 12-13 hour's to reach joshimath from Haridwar. The journey was pretty exhausting but the scenic window view was so worth the journey. Also hotels in joshimath are cheaper as compared to one in Auli. So if you're planning your stay at Auli , make sure you do advance booking from Garhwaal mandal site in advance, cuz hotel options at Auli is less.
Bus Fare from Haridwar to joshimath:  ₹500/person and return ₹420/person. The last return bus from joshimath to Auli was at 9 am.
Budget Cost:
Avg cost was ₹6,200/person(4 days trip, including everything from transportation to stay :1 night camping, trekking, Guide, Cab, skiing, sledging, cable-car ride, 2 night hotel in joshimath and food).
Nearby Treks:-
1-Kuari pass trek
2- Tapovan Trek
3- Gorson Bugyal Trek
4- Valley of Flowers, etc
And guys, if y're planning any of the Trek from joshimath, do check him out. He is really warm and kind hearted person plus his rates and package we much cheaper than other trek organizers there.
His contact no is: 7830725415(Mukesh)
Rakesh: 9536454287.
Now,let the pictures do the justice. Close your eyes and give your mind the blowing trip to snowfall and this gorgeous place.
Thanks for your time in reading this. Keep Traveling.