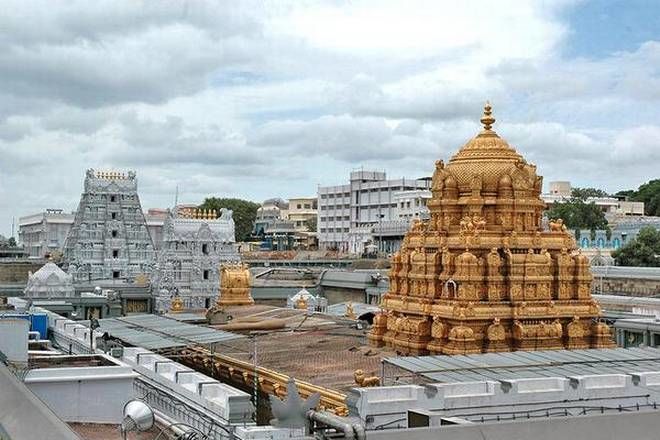 A brief guide to the Tirumala Balaji Temple Darshan – book in advance, know your travel options and what not to miss! Tirumala Venkateswara Temple is a world famous temple on the seventh hill of Tirumala, near Tirupati in Andhra Pradesh. One of the most revered and richest temples in the country, devotees descend upon it for the TTD darshan by the thousands everyday.
How to reach Tirupati
By Air
The closest airport to Tirupati is Renigunta, about 15 kilometers from the city. Regular flights to Renigunta Airport are available from Delhi, Chennai, Hyderabad and Bangalore, among other major cities. Renigunta Airport is well connected to the city center by cabs which charge not more than INR 300 for the short distance.
If you are visiting the temple from overseas, the nearest international airport is Chennai Airport. It is well connected to most major domestic and International destinations. A cab ride to the city center from the airport, a distance of about 200 km from Chennai Airport, will take about 4 hours.
By Road
State run buses connect most towns in Andhra Pradesh, Tamil Nadu and Karnataka with Tirupati. A host of tourist bus service providers offer package tours to the Tirupati Temple from Bangalore, Chennai and Hyderabad and other cities. You can also tie up with a tour operator for transport, accommodation, darshan and sightseeing.
Top 3 tips for the best Tirumala Balaji temple darshan
1. Booking Tirumala darshan online
Connecting with the Lord has been made a whole lot easier with the Tirumala Tirupati Devasthanams (TTD) making tickets for the coveted darshan available online. These special Tirupati darshan online tickets, which cost INR 300, aim at reducing waiting time which is by far the biggest hurdle that a devotee faces here. TTD online darshan booking can be made a minimum of 1 day in advance and a maximum of 14 days.

2. Best time to visit Tirupati
Approximately 50,000 devotees visit the Tirumala Temple every day. Since you can't escape the crowds, it would be a good idea to plan your visit in good weather. It all depends on your religious fervor though – Tirumala is best visited during the cool and comfortable months between November and March. Summer months are unbearably hot with temperatures pushing 45 degrees.
3. Get your tickets for the Suprabatham ritual well in advance.
This is a ritual in which the deities are bathed and dressed in the main temple early every morning. Getting into the main hall of the temple is a tough job, so book your tickets in advance and wake up early if you want to witness this beautiful ceremony.
Special darshan for the physically challenged and senior citizens
The Tirumala Tirupati Devasthanams or TTD has very thoughtfully arranged for a Tirumala special darshan option for physically challenged devotees as well as for senior citizens who want to pay obeisance. This facility offers entry into the temple from a separate gate from Dakshina Mada Gate. There are two time slots for special darshan; 10 AM and 3 PM. Devotees who wish to avail of this option must carry the required paperwork – relevant medical certificates or age proof – and report at the entrance 2 hours before the given time slot. Wheelchairs are not allowed but the TTD has arranged for battery operated cars to ferry devotees free of cost.
Tirumala darshan – What NOT to do !!
1. Wear inappropriate clothing – Tirumala is a town for devout pilgrims and it is best for women to be dressed in Indian traditional dresses like a saree or a suit with dupatta.
2. Consume alcohol and non-vegetarian food – Hindu religion considers egg and fish as meat, so it is best avoided.
3. Carry phones/cameras/video cameras inside the temple – It is forbidden to carry any recording device inside the temple during darshan. Lockers are provided to stow such gadgets.
Hotels in Tirumala
Travelers to Tirumala are spoilt for choice when it comes to accommodation. One can choose between comfortable accommodation in 3 star hotels and budget accommodation; depending on how much you want to spend. There are 2 and 3 star hotels as well as lodges, guest houses and hostels. A typical 3 star accommodation in Tirumala will offer air conditioning, laundry, parking, room service, elevators between floors and most other amenities. A lot of these accommodation options are centrally located, at the base of the hill that houses the main temple. The TTD board also offers lodging options – from free of charge dormitories around the temple to rooms and cottages available on rent – bookings for these have to be made with the TTD.
Getting Around Tirumala/Tirupati
The city's network of buses is quite efficient when it comes to intra-city travel. However, for those not keen for an initiation into local bus travel, there are more comfortable options like hailing a cab or an auto rickshaw. A majority of the city's to see/do activities center around the religious – if it is not other peripheral temples then it is religious museums.
5 things to not miss in Tirumala/Tirupati
1. Visit the Puskarini Tank, a water tank close to the main temple. The water from here is used for temple cleaning purposes. All devotees are required to purify themselves here.
2. 3 kilometres from the temple is the Akashganga Waterfall, a supposedly divine waterfall which is used for bathing the deity. Check it out.
3. The Papa Vinashanam Reservoir is another water body where one can bathe to cleanse all sins. This is at a picturesque location about 5 kilometres from the temple.
4. Walk to the north for a kilometre to the Shila Thoranam, or the great Geological Arch. A rare archaeological wonder, visit and listen to stories about various mythological folklore around it.
5. Shreevari Padalu is the spot where Shree Balaji placed his feet for the first time – get to the top of Narayanagiri Hill for this darshan.
If you have any similar story to share with Tripoto community, create your account right away and share your experience here.