While every traveller is busy planning their next holiday, how often do we sit and look back at the ones who've made those experiences memorable? This Women's Day, Cleartrip has come up with a thoughtful initiative to urge you to share the stories of women who have made your travel more memorable through the work that they do.
Whether it is the old lady who beams as she blends chai in bone-chilling temperatures, the curious youngster who left the big city to help others explore remote hills, whether it's a hostess who runs a cosy homestay or a dynamic sport instructor in a coastal town—it's time we #PutHerOnTheMap so that other travellers can meet these exceptional women too.
Read on as we celebrate the relentless spirit of women in the travel industry:
1) Vanshita Khanna - Restaurateur, Lakeside Cafe, Nainital
Imagine looking out of the window to spot a lake tucked between the mountains while you breathe in the aroma of a freshly prepared brunch spread. Sounds like the ideal life, doesn't it?
It's the life that Vanshita Khanna has been leading for the past three years since she set up her own cafe in Nainital called Lakeside Cafe. Although it seems to be the perfect job, the truth is the young entrepreneur takes on several tasks like building a trustworthy team, sourcing high-quality ingredients and managing operations of a busy cafe—donning all the hats that it takes to run a restaurant successfully.
2) Thinlas Chorol - Founder, Ladakhi Women's Travel Company, Ladakh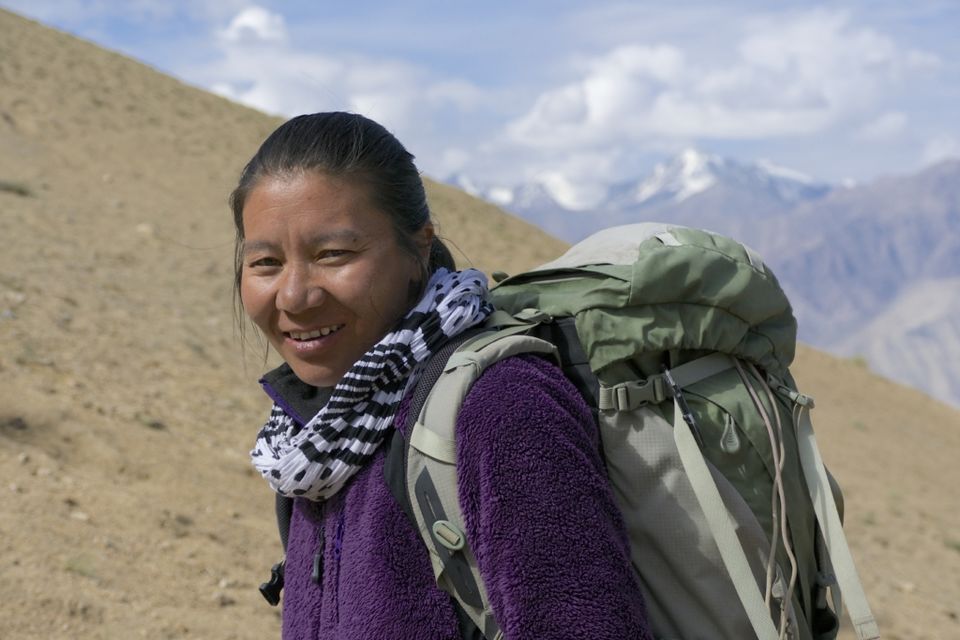 Hailing from the land of thrilling mountain passes, Thinlas Chorol of Ladakh's Takmachik village is quite the trailblazer. Despite being the first professionally trained female trekking guide in the region, she struggled to get work with companies in a male-dominated profession.
So, she decided to start her own venture, the Ladakhi Women's Travel Company. They take women on treks and trips across their mountainous home and while men are allowed to accompany their female friends, the company is strict on their policy of hiring only female guides and porters. A travel company run by women for women!
Chorol is also a writer and is vocal about environmental issues. She is the only Indian woman to have completed the 135-mile Himalayan foot race.
3) Manisha & Bhavana Sharma - Hostel Owners and Hosts, Tagalong Backpackers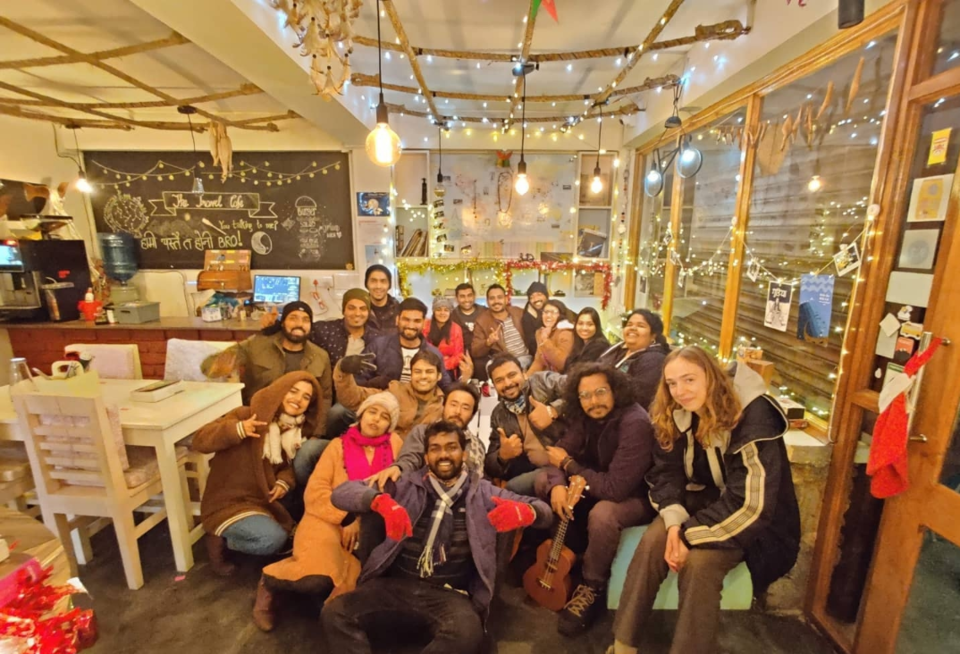 With a mission to reshape travel, Manisha Sharma started Tagalong Backpackers in her hometown, Gangtok. She was later joined by her sister Bhavana. The sister duo believes that to truly experience a place, people need to discover a local connection. Thus, backpackers at their hostels are never disappointed when it comes to seeking out recommendations for local dishes or places that cannot be found on social media. With movie screenings, book club readings, open mic nights, offbeat treks, cycling expeditions and trips - a stay at Tagalong Backpackers is more than just a stay.
4) Sarika Singh - Director & Master Painter, Thangde Gatsal Thangka Art School & Studio, Dharamshala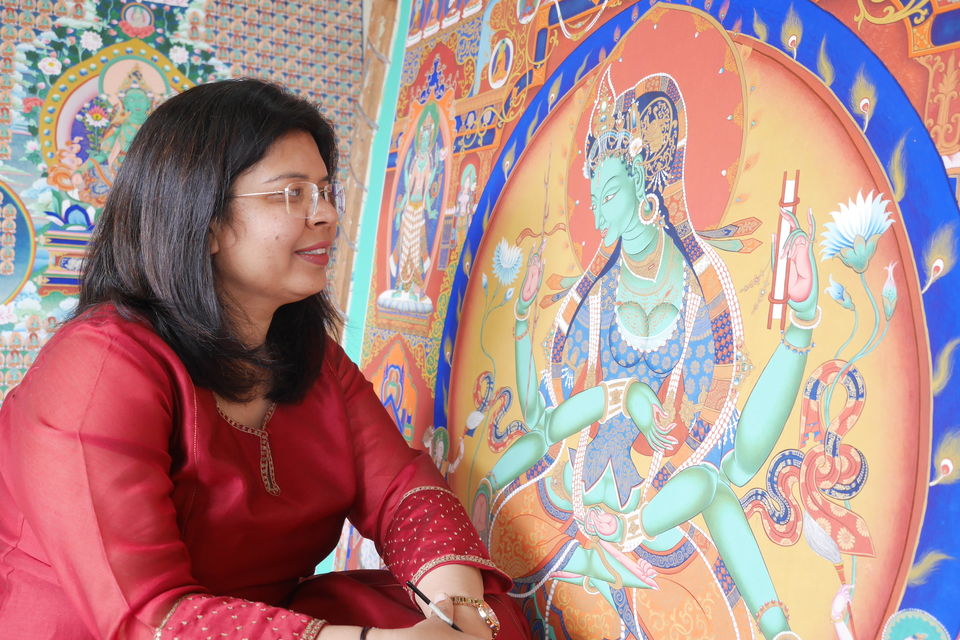 Is it madness or persistence that drives an artist to never give up on their art? Maybe it's a mix of both because what else could keep a girl from not giving up even through times that she had to starve!
Meet Sarika Singh, the first female thangka painter worldwide. A thangka painting is an ancient Buddhist art form that depicts Lord Buddha on a scroll. It is used for instructional practices in Buddhism. As director of the Thangka Painting School and Studio, Sarika's art and teachings of the thangka art are an endeavour to protect the cultural medium as well as to spread its presence across the globe.
5) Ishita Malaviya - Surf School Owner, the Shaka Surf Club, Kodi Bengre Village (Near Udupi)
Ishita Malaviya once said in an interview that "When I'm on my longboard, I feel like I'm dancing on the water".
Known as India's first female surfer, she has mentioned how she wanted to learn the sport but could never actually find another woman to teach her. Relying on videos, she learnt the sport and caught her first wave. That first time was special because in an instant, she knew this is what she'd be doing for the rest of her life.
Today, she is the co-owner of the Shaka Surf School which provides surf lessons and accommodation to surfers and amateurs from all over the world. The school also doubles up as a surf club, giving free lessons to the local village kids.
Join the #PutHerOnTheMap initiative!
Have you also come across inspirational stories of women during your travels? Then #PutHerOnTheMap so others can meet them too. Join the #PutHerOnTheMap initiative by Cleartrip. Here's what you have to do:
1. Post a photo/carousel/reel on Instagram and share the story of a woman who made your travel experience memorable. It could be with a local vendor or a cafe owner – bring any story you have to the fore!
Make sure you use this filter while creating your post.
2. In the caption, tell us:
- Who the woman is and what her profession is.
- How she started her business or service.
- Why she stood out to you during your travel.
- Where can fellow travellers find her – an address, a location pin or a social profile link: anything helps!
- Write about the initiative you are contributing to and help spread the word.
- Don't forget to tag @tripotocommunity and @cleartrip & add the hashtags #PutHerOnTheMap and #TripotoxCleartrip.
3. Selected entries will have a chance to be featured on Tripoto and Cleartrip's social media pages!
Go on and share the story of the women you'd love to put under the spotlight to let them know just how awestruck you were by them and their story during your journey. Let's celebrate women from the world of travel this Women's Day!
In association with Cleartrip.
Ready to travel for free? Earn credits and redeem them on Tripoto's weekend getaways, hotel stays and vacation packages after the pandemic is over!
Find like-minded explorers, learn from expert travellers or become one yourself and help others on Tripoto's Travel Forum!