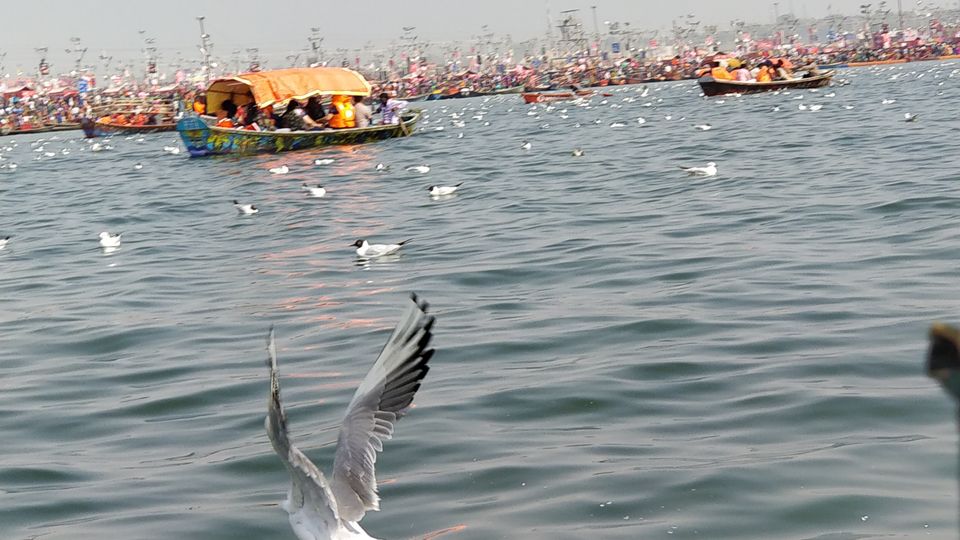 Brewing to visit kumbh started from the day it's final dates were published in the paper way back in 2018.
Although Wikipedia defines Kumbh as a Hindu pilgrimage of faith but what I feel is it's above it as it's the largest peaceful gathering of the world and that's why it comes under UNESCO world heritage.
Kumbh's exact age is still uncertain and different people says different thing about it.
From Junu akahara to Fair all around this place has so much to offer.
People from all around the world comes to visit and see the immense beauty of culture that India provides at a time with every possible facilities.
So my journey started from my home town and tickets and hotels were prebooked because of the rush .
So I reached in 6 hours from Patna and then we went to hotel ,early morning we had to option either go to Saraswati ghat and take both and directly reach the sangam or by going to some other location where vechiles we're stopped and finally after walking for 3-4 kms we reach ghats. So we accepted the first option as better and it was really good.
After taking pure dip and and getting ride of sins(according to kumbh) we came back to Saraswati ghat. After that we left for the main fair where there were yagya happening and many things after walking for 2 kms we reached prachin Hanuman mandir it was close to the tents where people were staying on first come first serve basis.
After this we roamed for sometime and then went to see the old tree whose origin date is still unknown named ashokvat.
In this way we coved kumbh in a day but trust me go there for minimum 3-4 days if you want to get full coverage .
Ola cab takes around 170 from civil line to Saraswati ghat and it is easily available so we can take it.