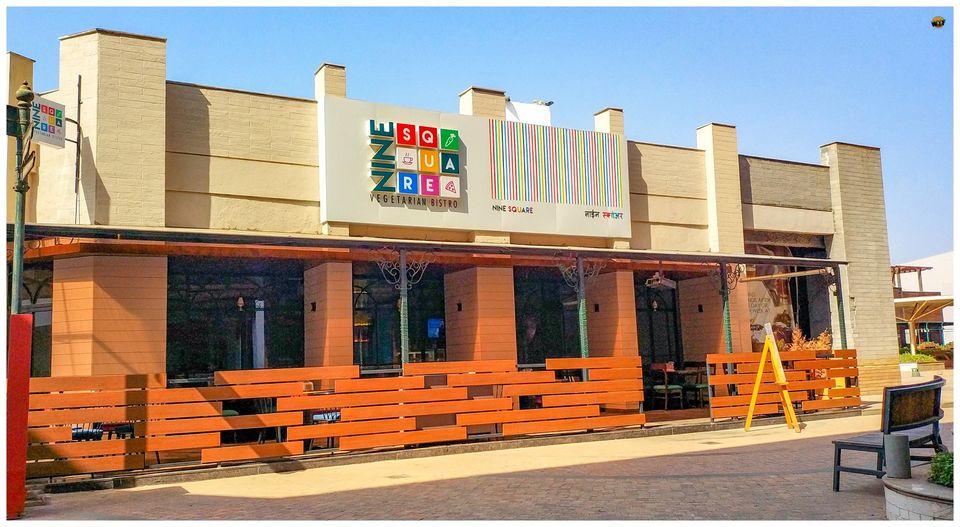 Creaticity has become a new hub for hogging! Filled with so many nice and popular restaurants and bars, This is also the closest to my place. Thus, Always keeps me awaited for all the best names of the city to enter Creaticity. One of those best names is a certainly a new Vegetarian Bistro - Nine Square - owned by Vanita Batra and serves the the delicacies curated by the celebrity Chef Ajay Chopra.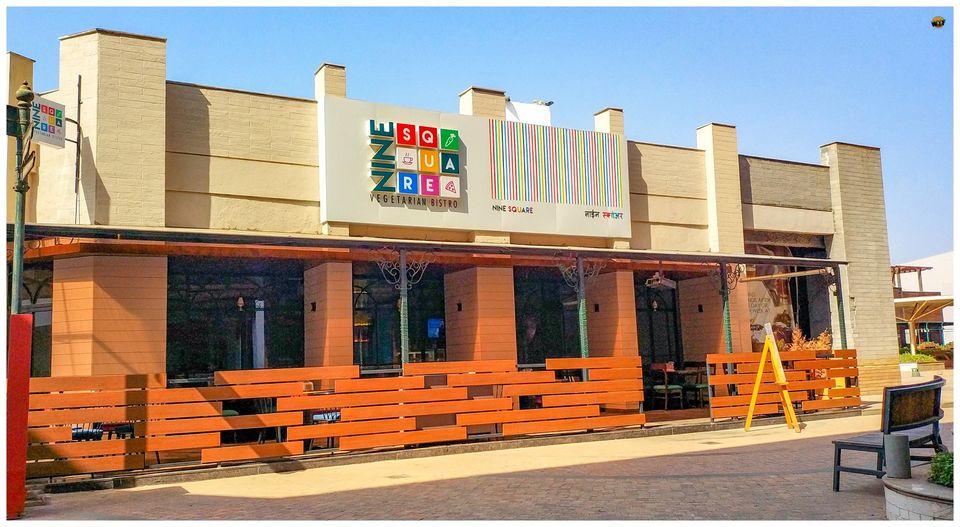 Recently opened for barely 4-5 months now and Standing alongside Iron Bar N' Grill and Barazza, Nine Square houses a quite decorated and spacious Indoor as well as Outdoor sitting space.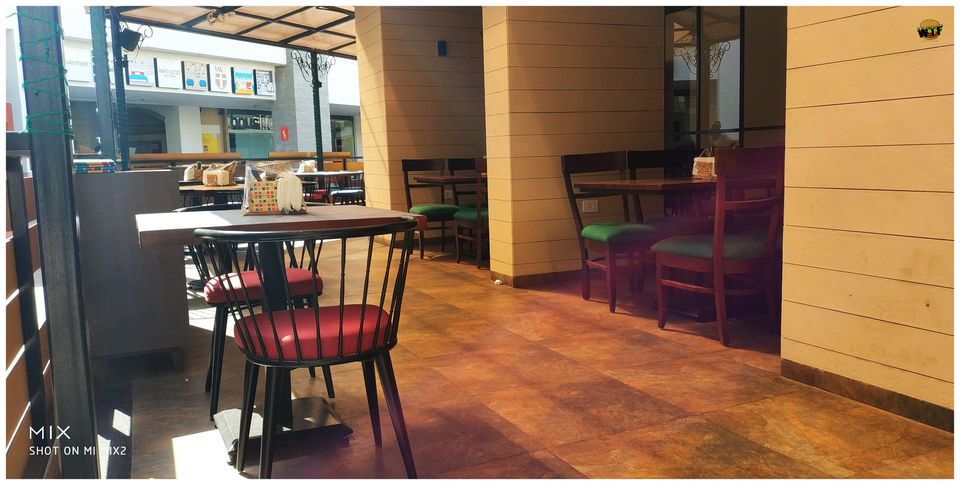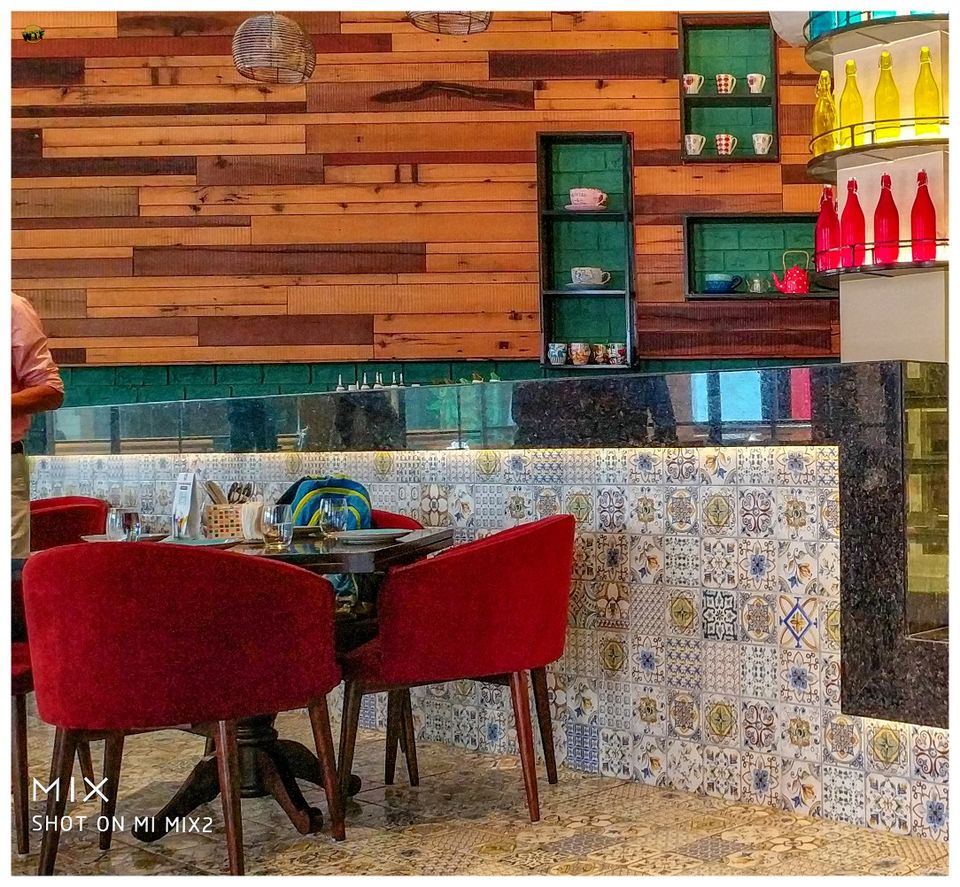 I've heard of Nine Square for a several reasons, but for some reasons I've never got a chance to visit the place. But Then, I recently got invited for a bloggers table to try their new summer chaat menu curated by Chef Ajay Chopra along with a whole new menu of summer mocktails. Given below is a list of some of the amazing dishes that I got to try my hands on:-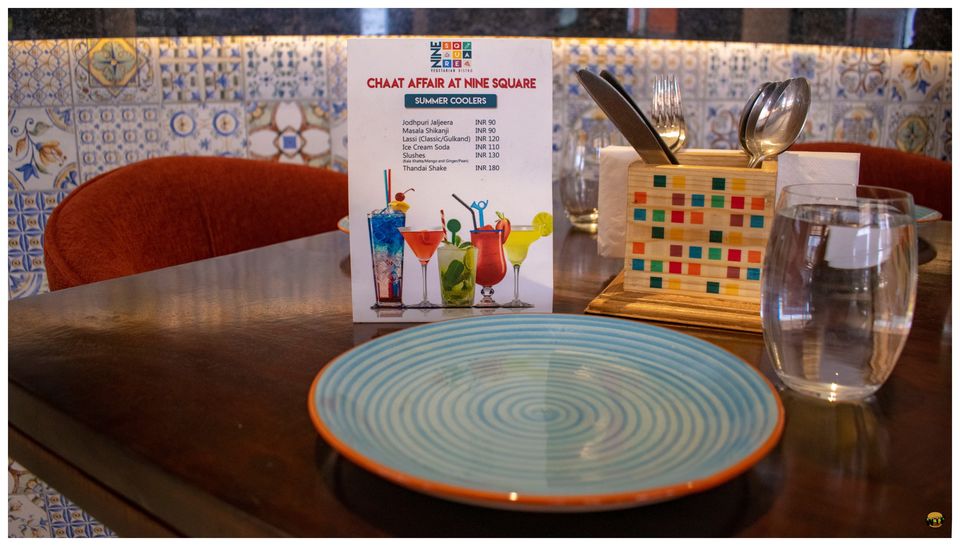 'CAUSE ORDER TAKES TIME:-
Masala PopCorn:- Nine Square serves a complimentary Masala Popcorn Bowl on the house for everyone because order might take some time to get ready. So thoughful, Isn't It?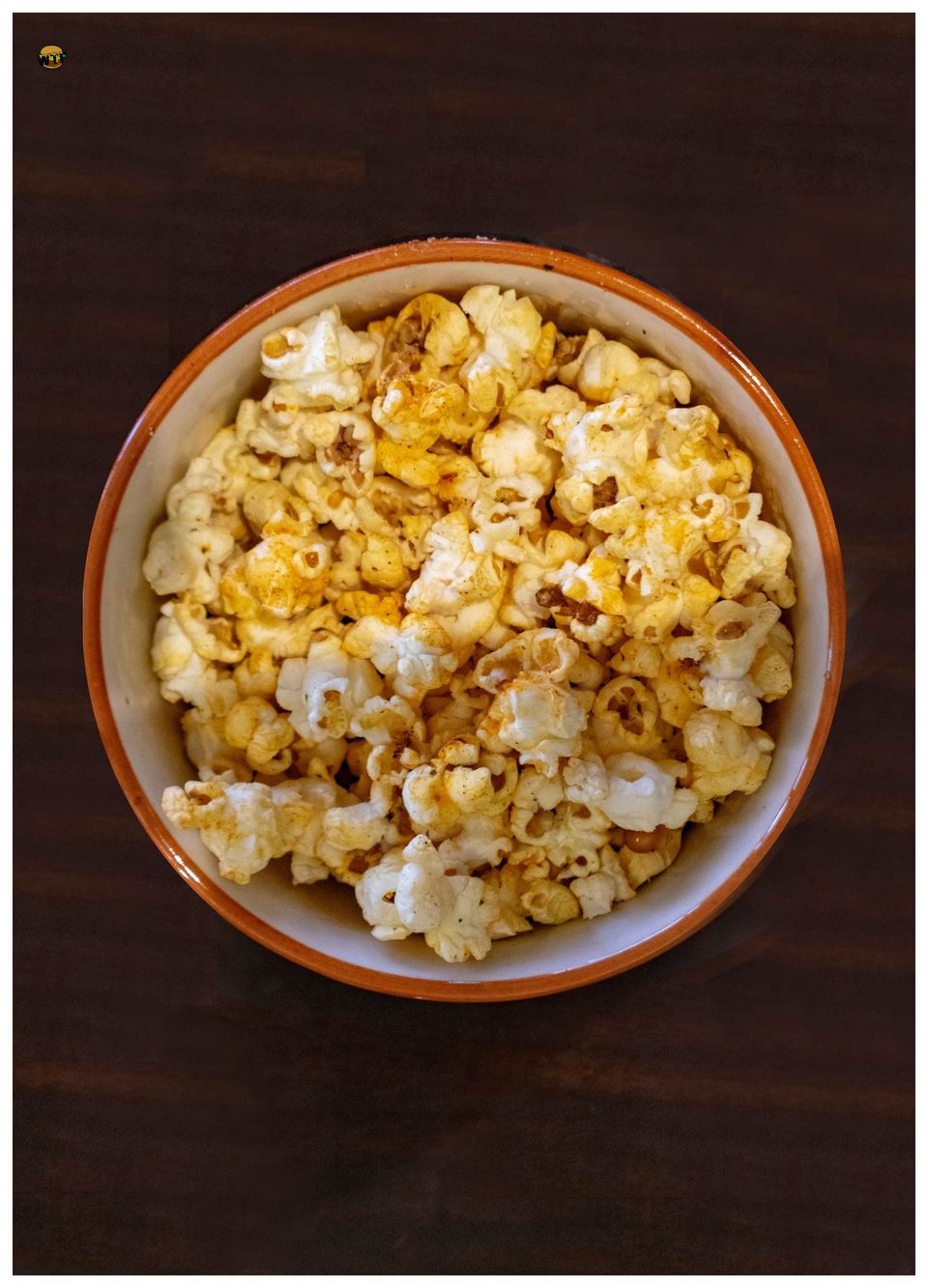 SUMMEER COOLERS:-
Thandai Shake (180 INR):- Talking about this won't be enough, you need to go and try this one on your own. Having a perfect amount of dry fruits in a well prepared Thandai, The taste of Almonds and Saffron is strong that It'll keep you talking about it all the damn time, just like it made me did.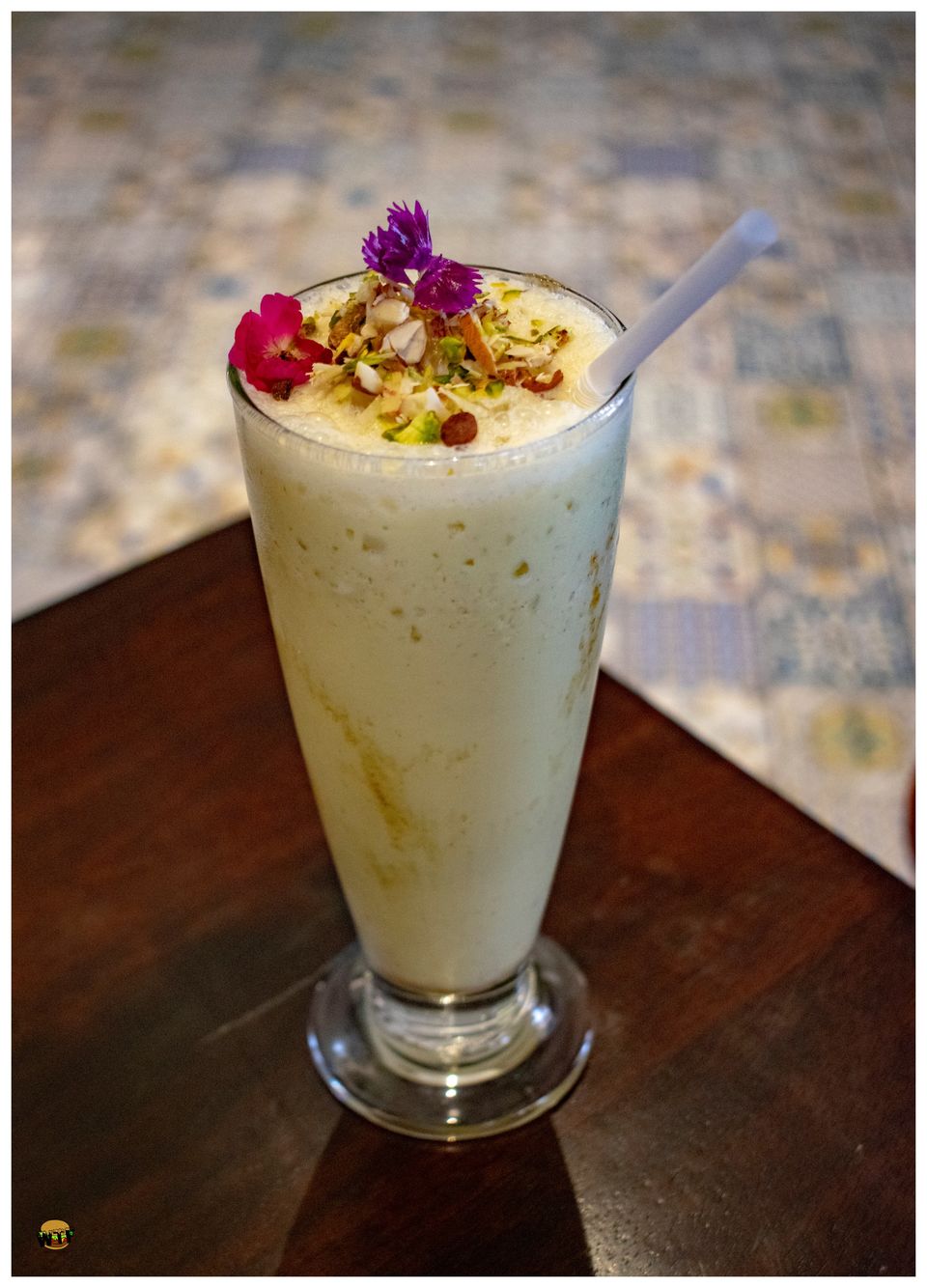 Classic Lassi (120 INR):- Although, I don't usually go out of Lassi, I did surely sipped once on twice and I have to say this was one of the best ones I had in recent times.
Gulkand Lassi (120 INR):- It's a perfect Lassi that has a very dominant taste of Rose Petal Jam, I mean you can savor the flavor of Rose all day long.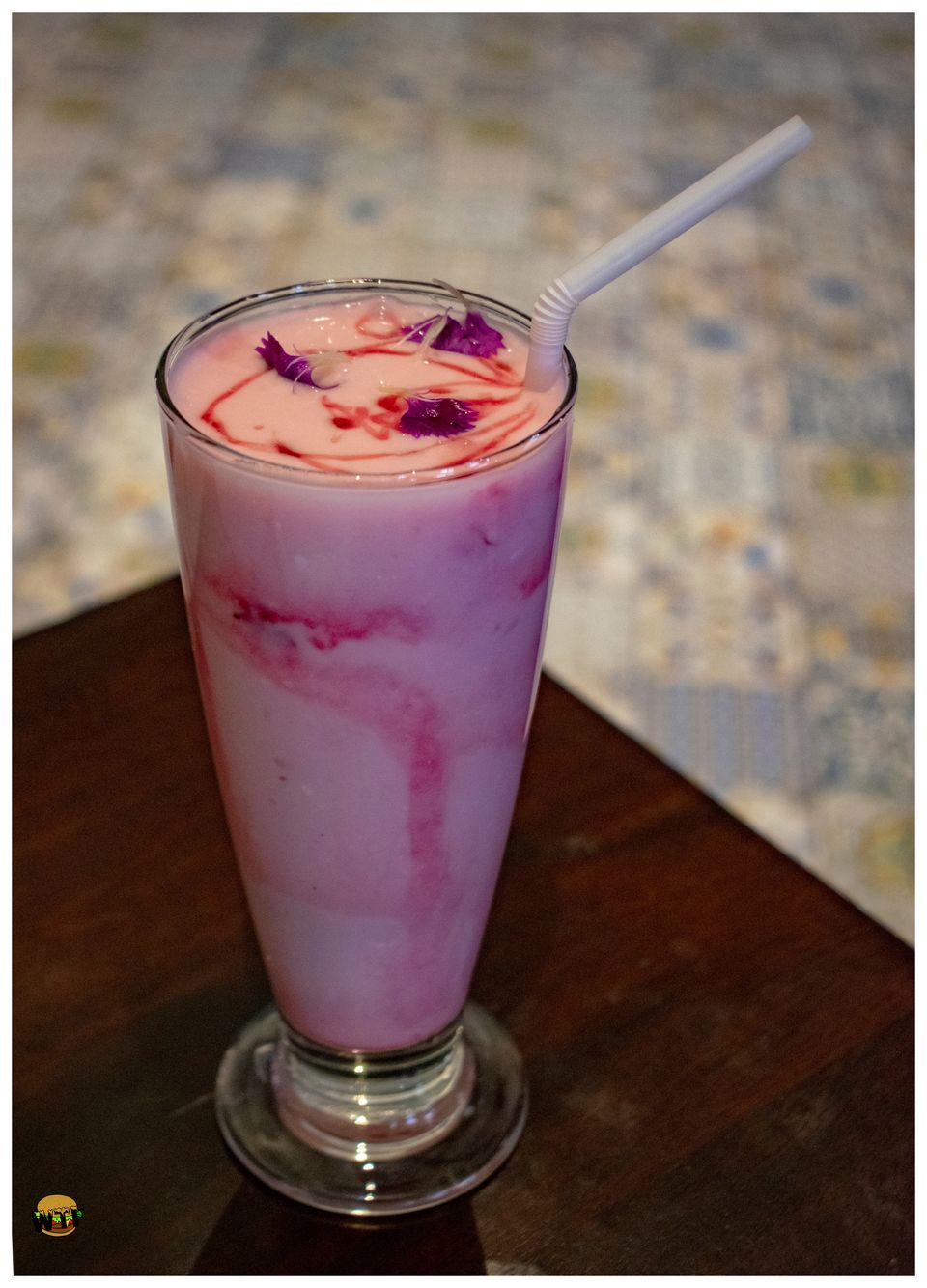 Jodpuri Jaljeera (90 INR):- I love Jaljeera, I sure do. I've been a fan of Jaljeera since I can not even remember. This was more than drink, It rejuvenated all the childhood memories of chilhood along without bringing out the typical flavours from Rajsthan (Jodhpur) as claimed by Chef Shorbir Singh.
CHAAT AFFAIR AT NINE SQUARE:-
Pudina Pani Puri (150 INR):- Nice crunchy Puri with a Pudina Paani to have with is everything we needed to get started for the evening. More than It tasted wow, I never knew Paani Puri could look this gorgeous.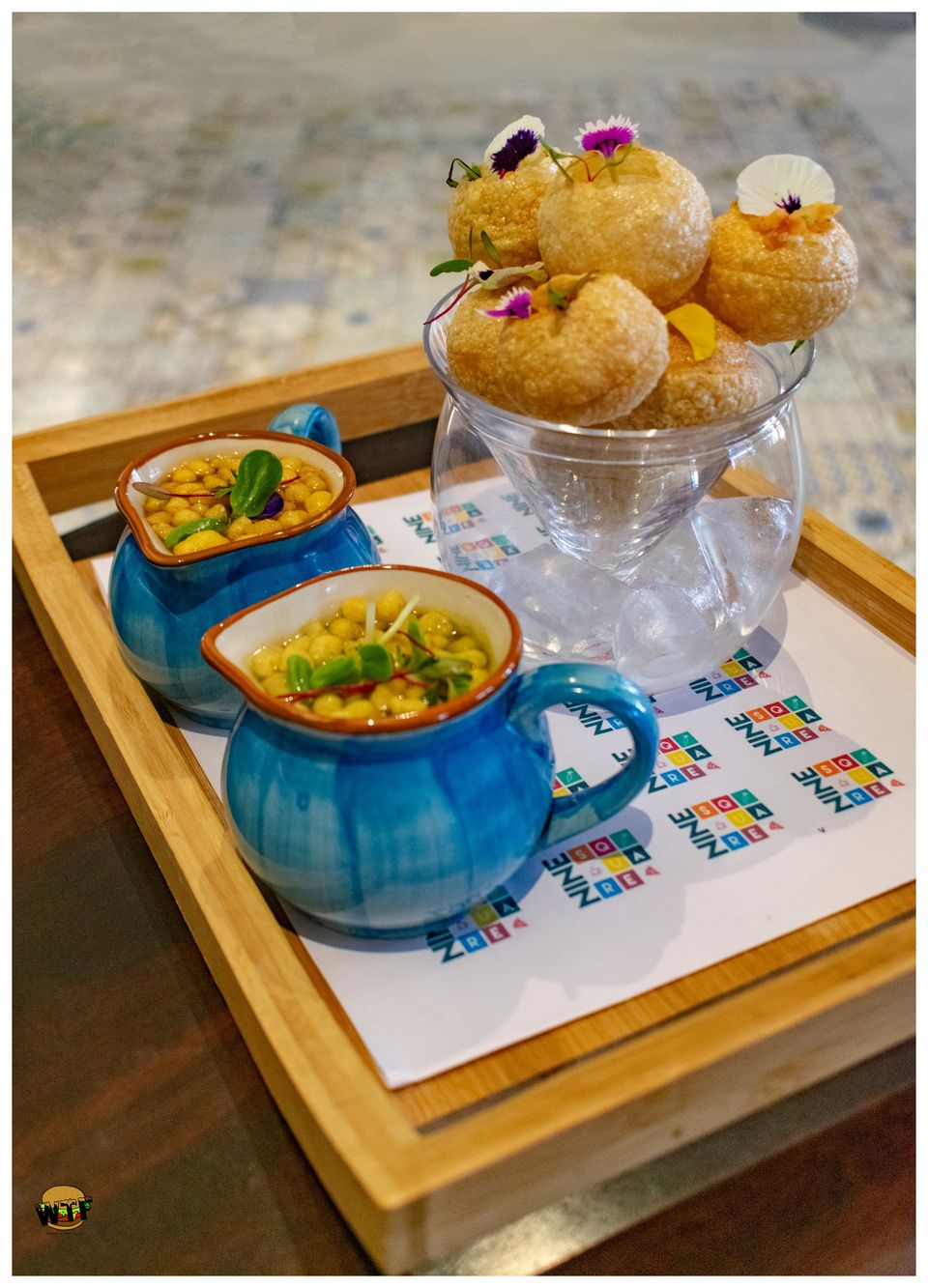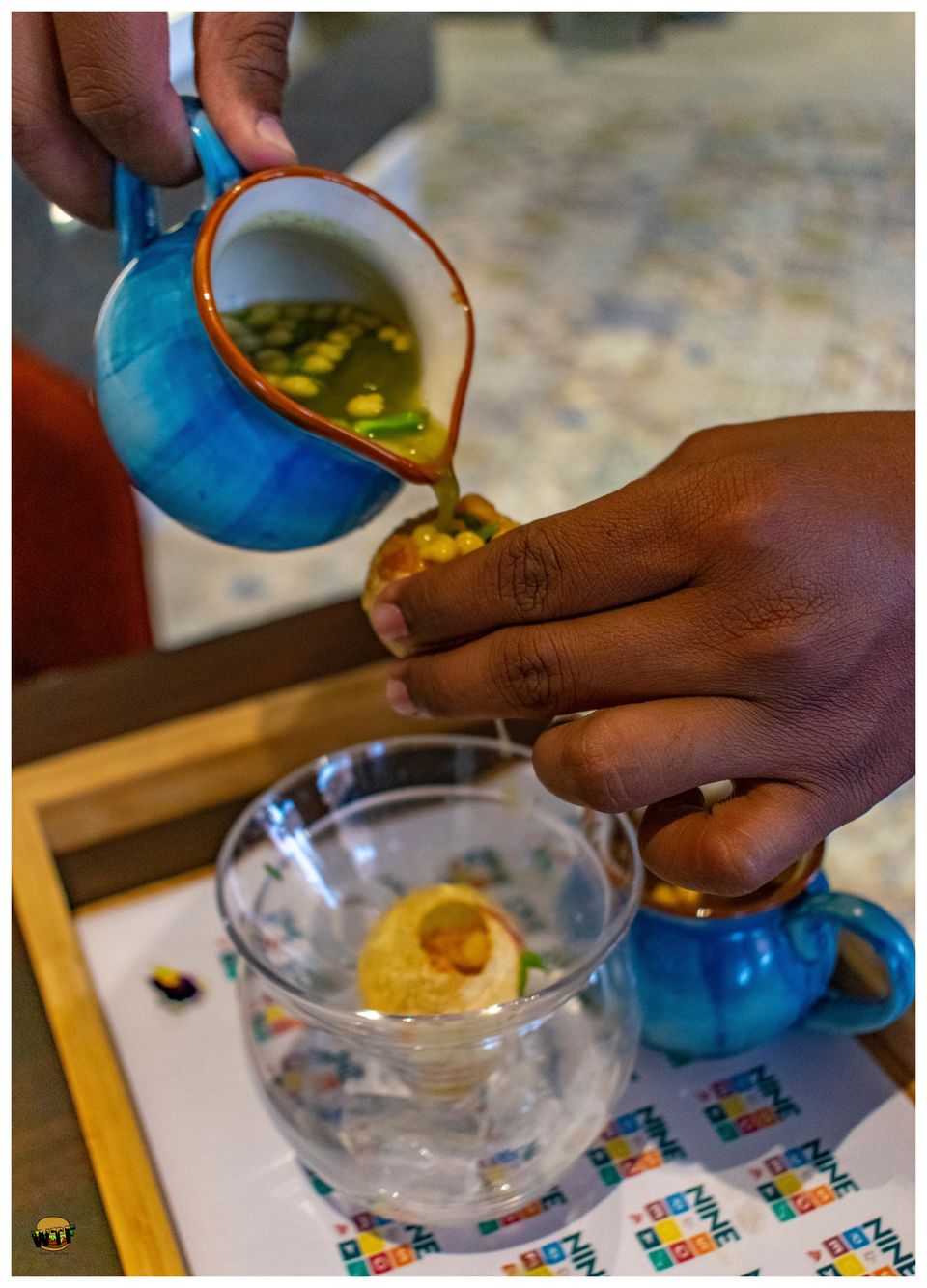 Black Jack Sev Puri (180 INR):- Activated Charcoal Poori cooked in refined oil topped with chutney and Nylon Sev is just so different than all the Sev Puris you've ever had and yet, so delicious.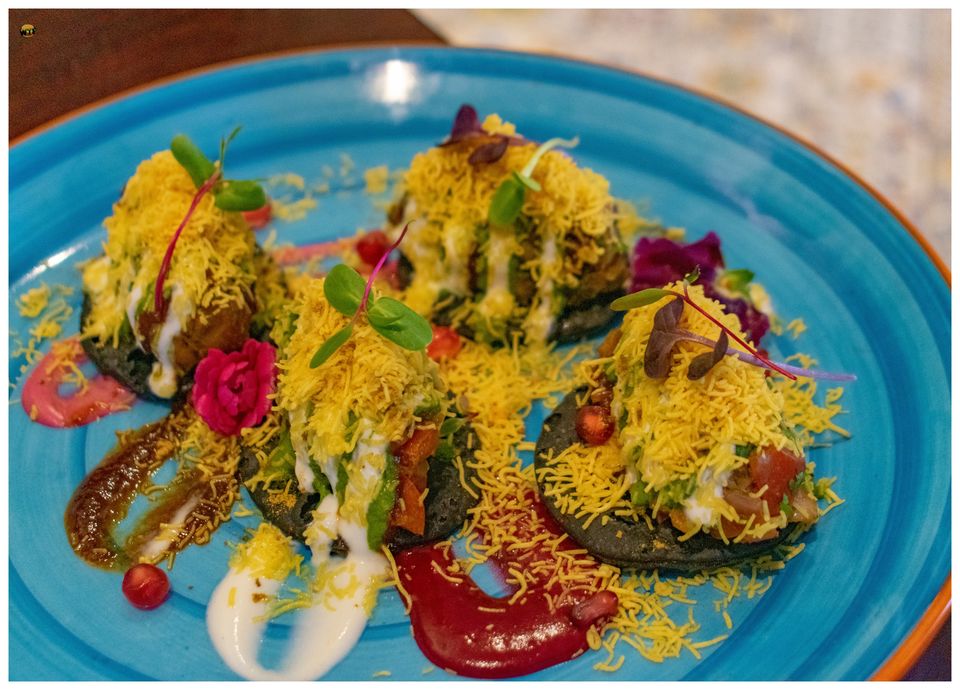 Raj Kachori V2.2 Chaat (180 INR):- I bet I've never imagined Raj Kachori would ever taste like this or look like this. If the stuffing didn't make me wonder of how different it is from the Raj Kachori's I've had before, an activated charcoal shell surely did.
Chhole Samose Ki Chaat (150 INR):- Now this is something that could barely surprise me, atleast that's what I thought. Right when they served this one the table, all of the memories of me and my cousin sneaking out twice, thrice or as many times possible hit me at once, and then it didn't last even for a minuite, Guess what, Rawalpindi Masala that was put in chhole totally blew it off, damnit made this one different too but goooooooood.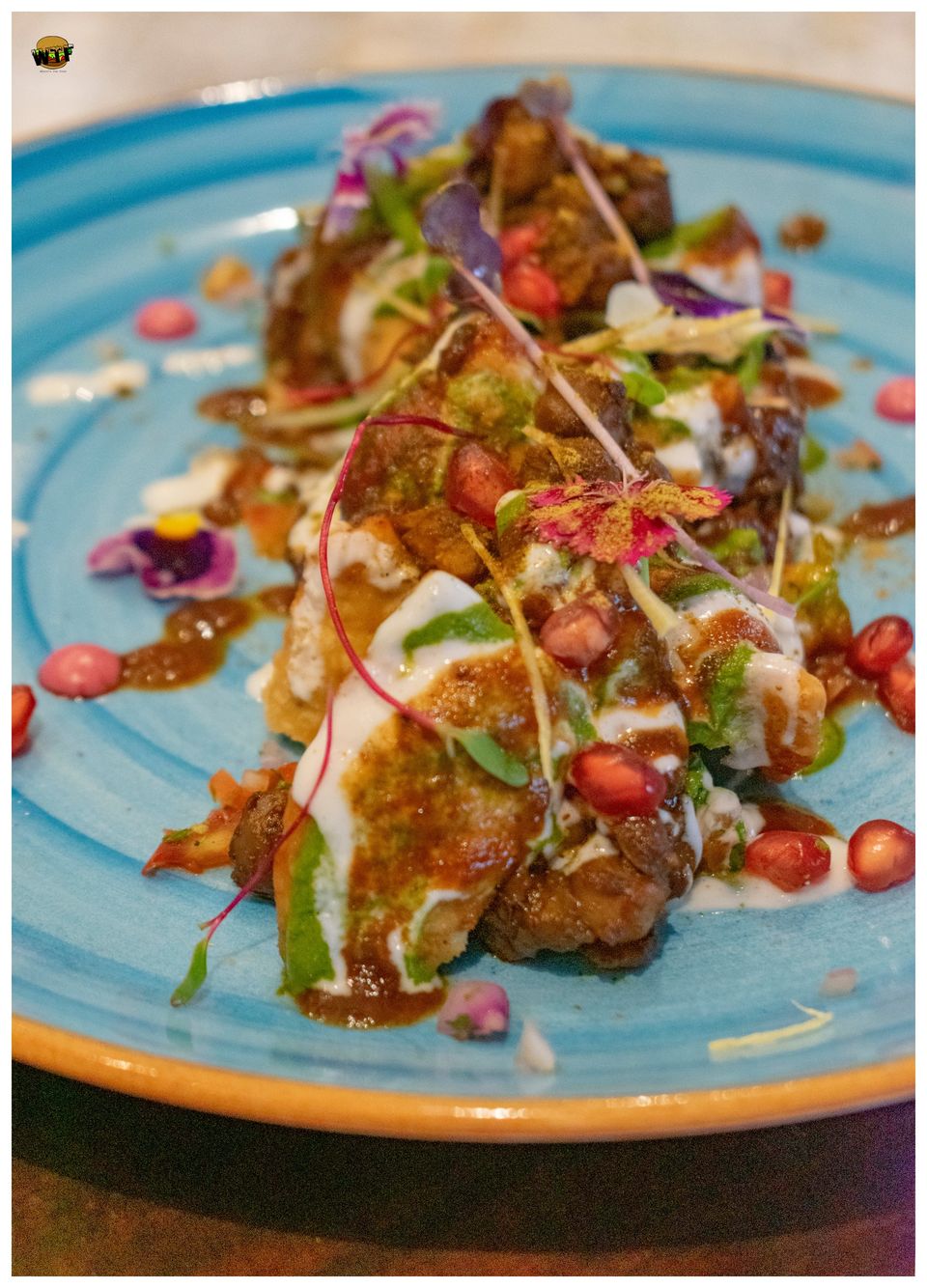 'CAUSE I WAS STILL HUNGRY:-
Wild Mushroom Cake (340 INR):- The cakes with wild mushrooms and a generous amount of salt and pepper totally set our tastebuds dancing when served with veggies and thyme cheese fondue.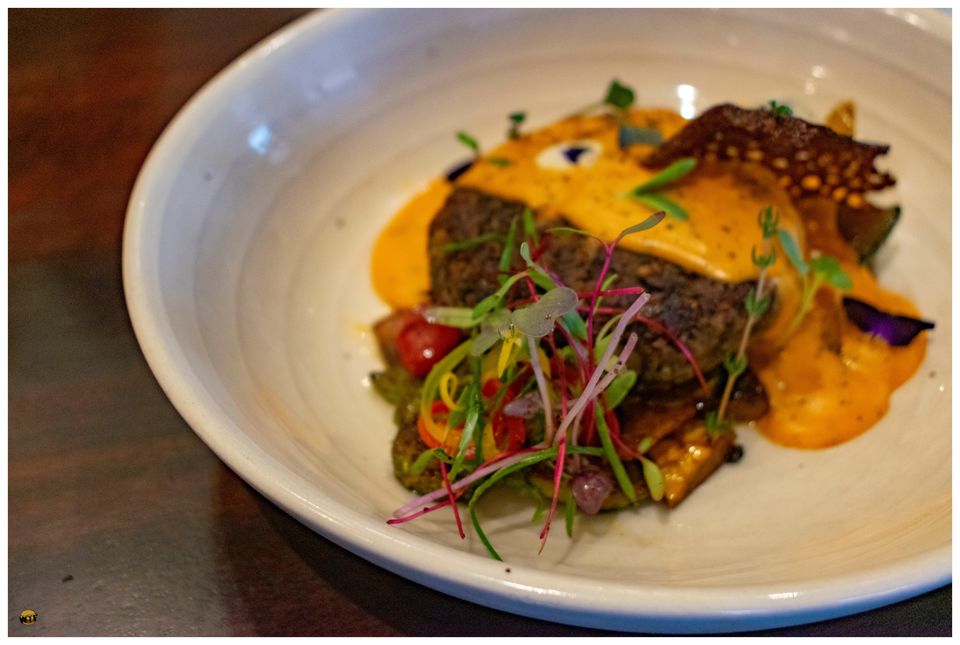 Awadhi Pulao (230 INR):- Mixed Vegetable Awadhi Pulao cooked on dum came with a very rich amount of dry fruits that was dominant enough to make sure that you do go gaga about it just like this.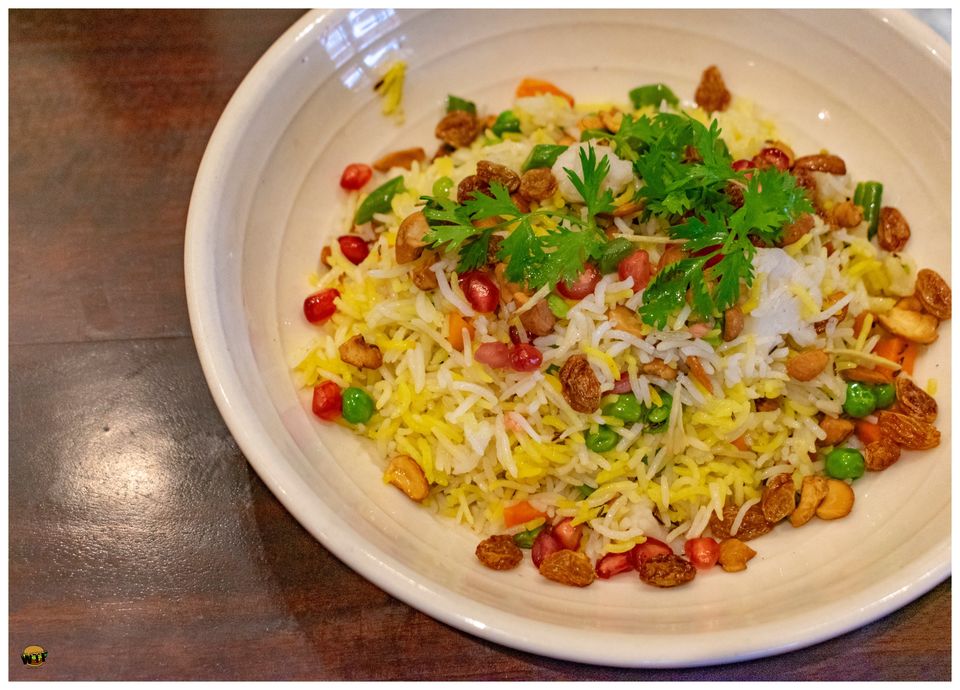 Makhani Dal (255 INR):- Now this is the best from that we are talking about. If you don't believe me, ask @sashaanand. I'm sure this is totally droolworthy as I can just eat this, when I'm saying that I mean don't give me anything else and I can finish and entire bowl of this dal and maybe ask for more lol.
Laccha Partha (70 INR):- A multi layered shallow fried north Indian flat bread is jusf always there to accompany your meals everywhere just like it did at Nine Square.
Chur Chur Naan (80 INR):- Chur Chur Naan is another crumbled flaky naan finished with white butter is another companion to your meals.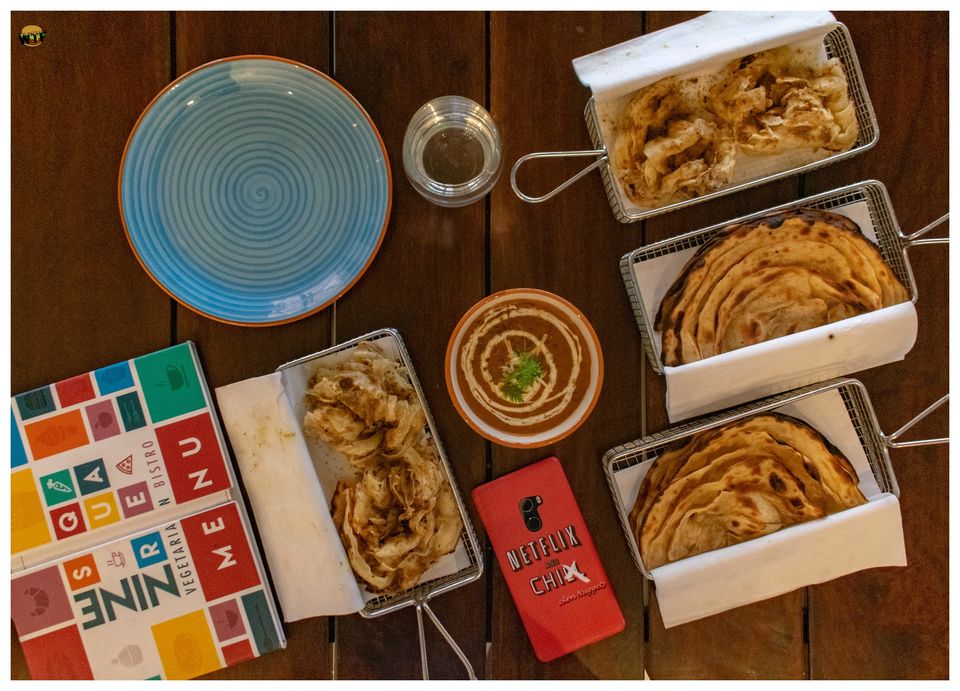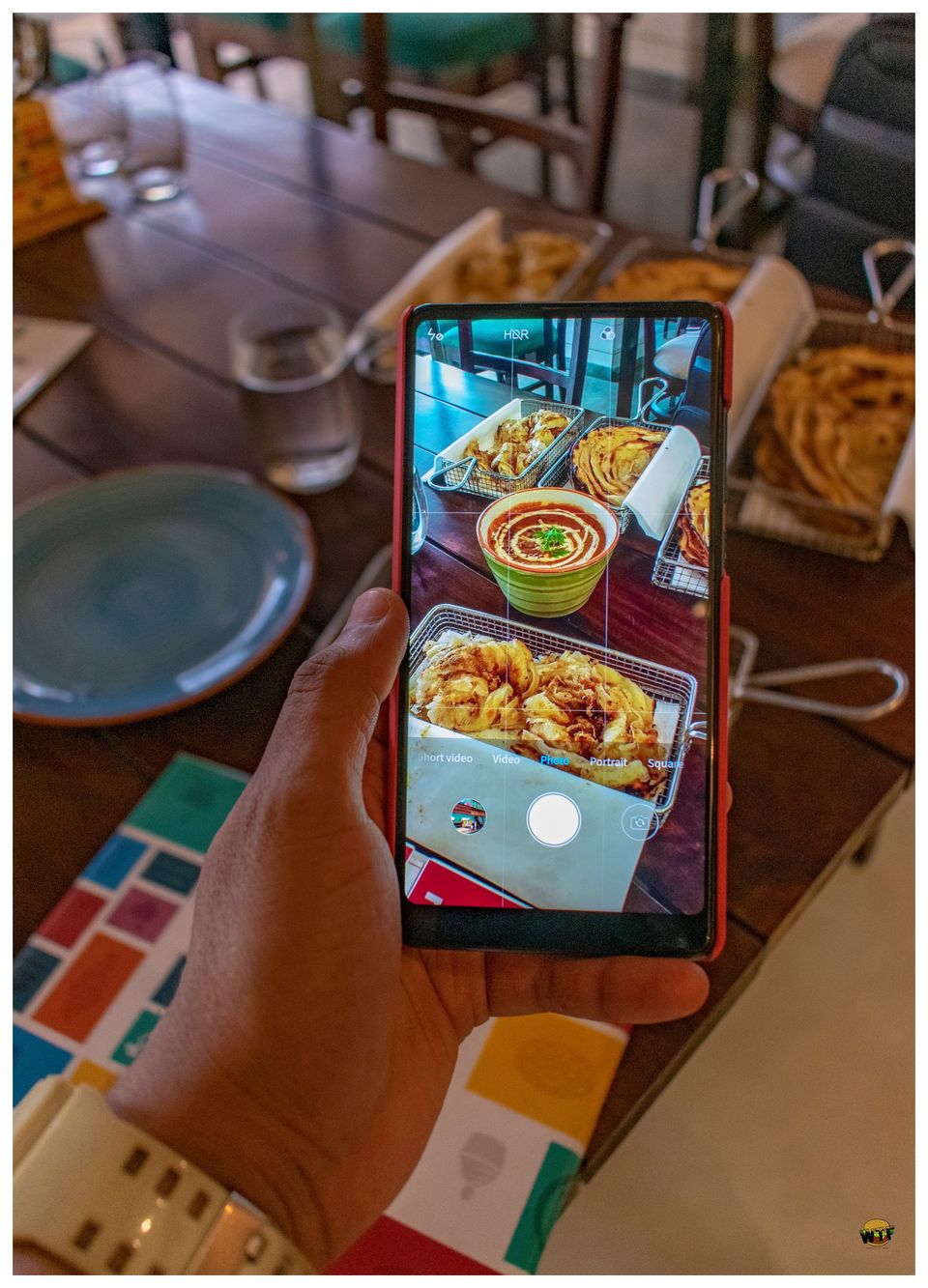 'CAUSE IT'S NOT DONE WITHOUT DESSERTS:-
Purani Dilli Kulfi Falooda (180 INR):- Home made Malai Kulfi served with Falooda, Rabri and Rose, It was a perfect dessert ending to any meal possible.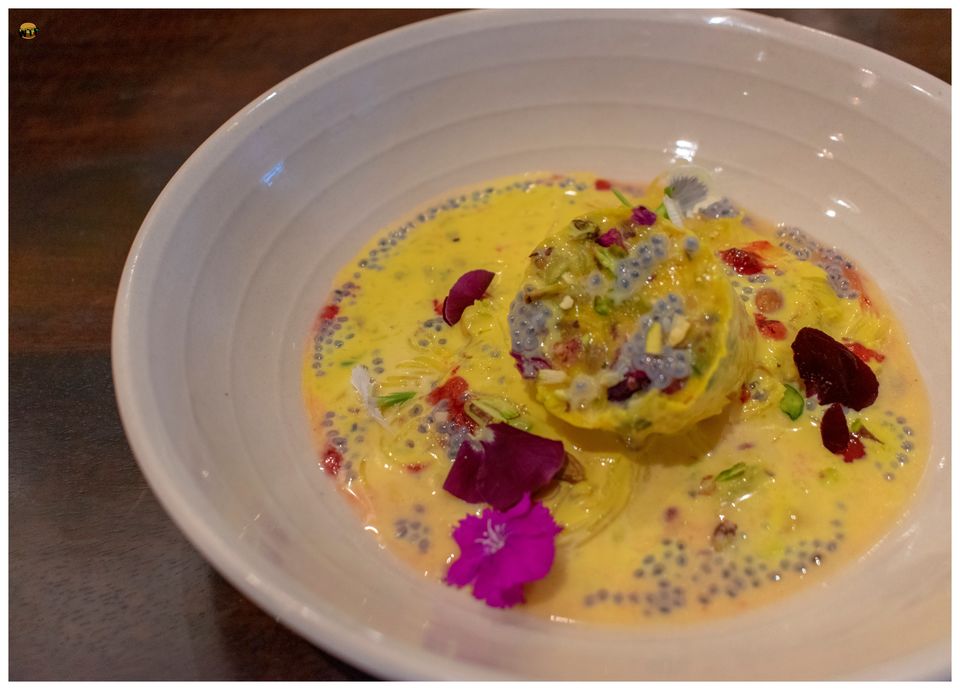 They have said that Vegetarian places are a boon for not just the Veg lovers but also for the meat eaters, but then I ask why, like seriously why? Why would you even check into a Veg Place? But As I said before - For a several reasons, I've heard of Nine Square before and that I must visit the place and I finally know why!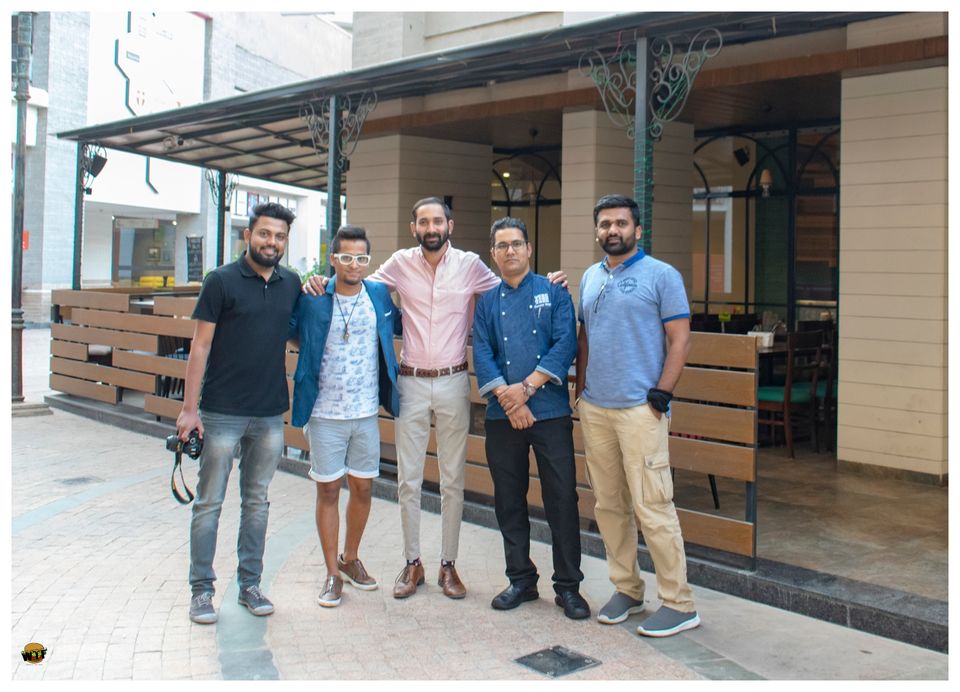 Thank You Sasha Anand and Pomelo Social for extending the invite and Thank You Vanita Batra, Chef Shorbir Singh and Team Nine Square for hosting us.