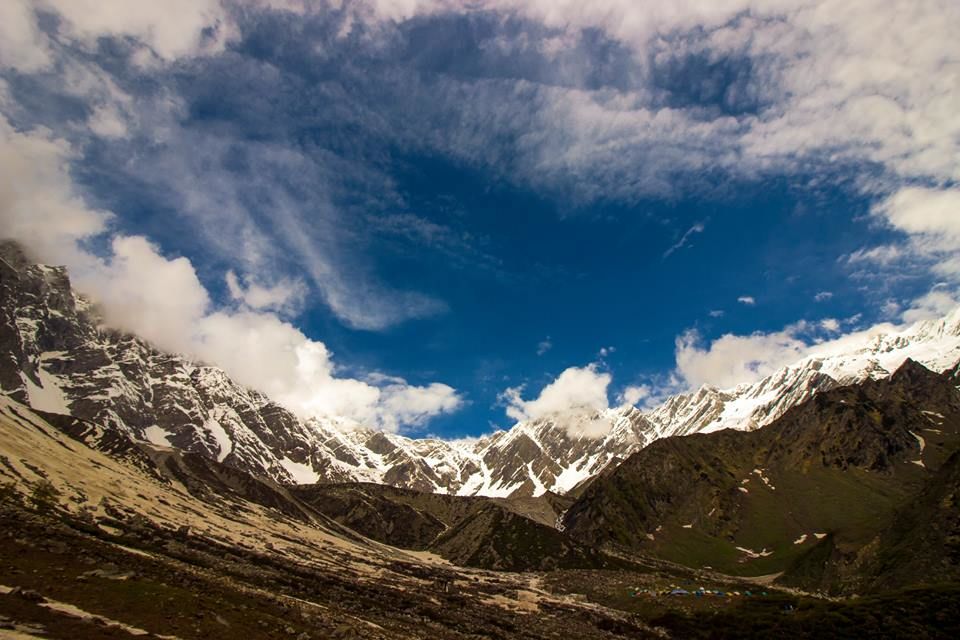 May 2017, the temperature in Delhi was soaring above 45 degrees and to get some relief I was heading to Himachal. I was doing a trek to Beas Kund, the place from where the river Beas comes into existence. I was going with my two of my friends; we go into the Bus to Manali from ISBT Delhi at 10:00 PM (Ordinary bus at Rs. 685 per person) and reached Manali at 1:00 in the noon next day.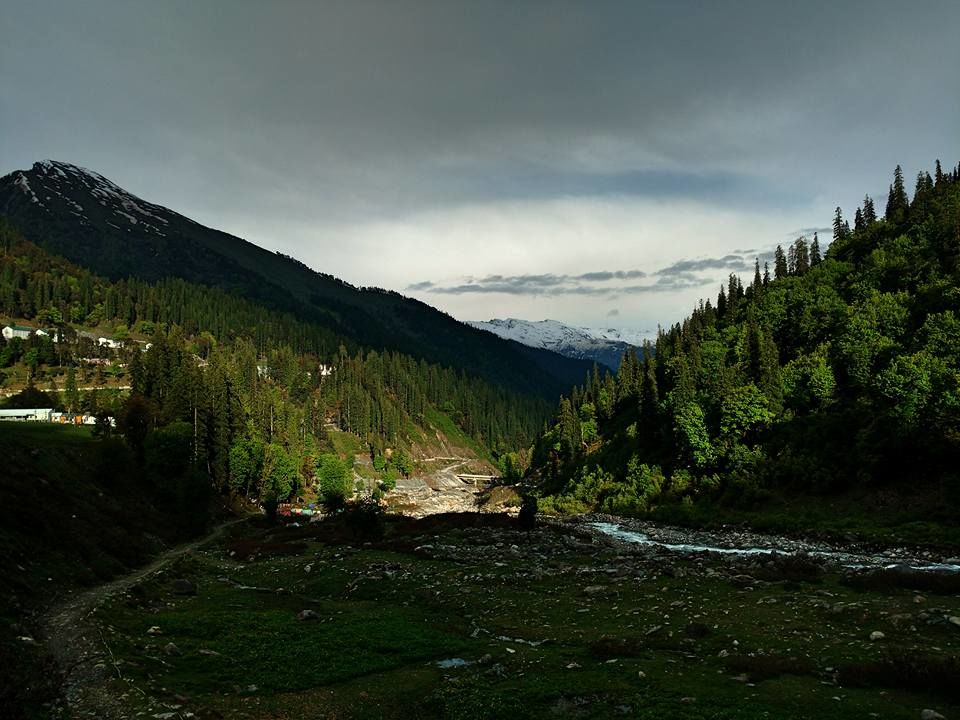 Beas Kund trek Starts from Solang, you can get taxis from Manali to Solang, they charge 300-400 for a one way trip also there is bus going in morning and noon towards solang which cost rs.10 per person. From Solang there is a road heading for Dhundi village which has a barrier set up by BRO. This is a well laid, 8 kms tarmac road, however it is closed for any commercial or private vehicle you can find BRO trucks moving along it. if you are lucky you can get lift till the bridge at the end of the road.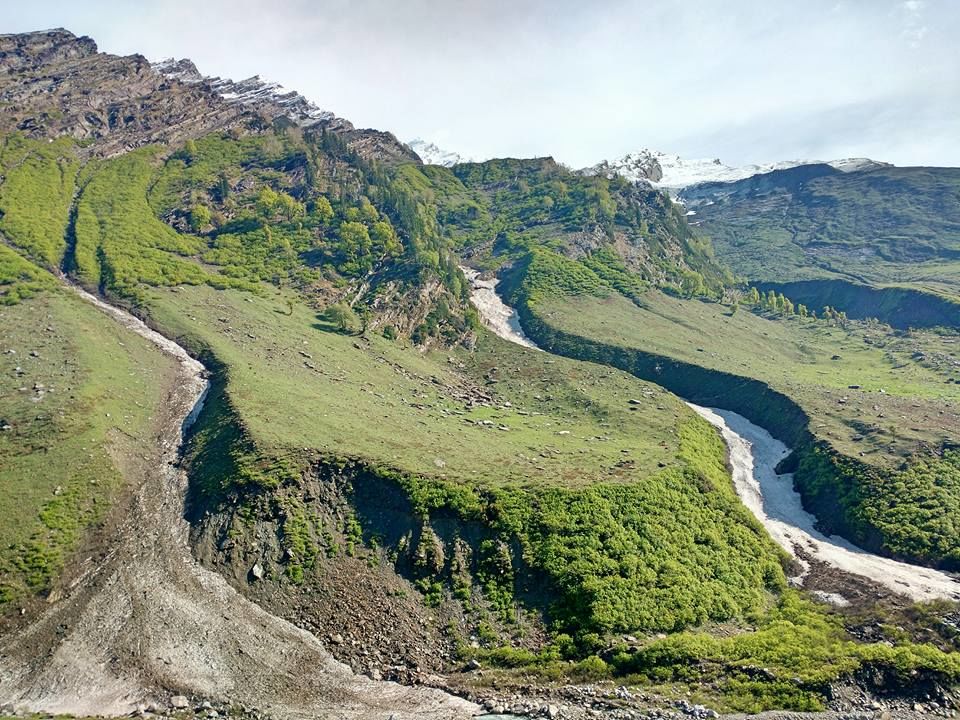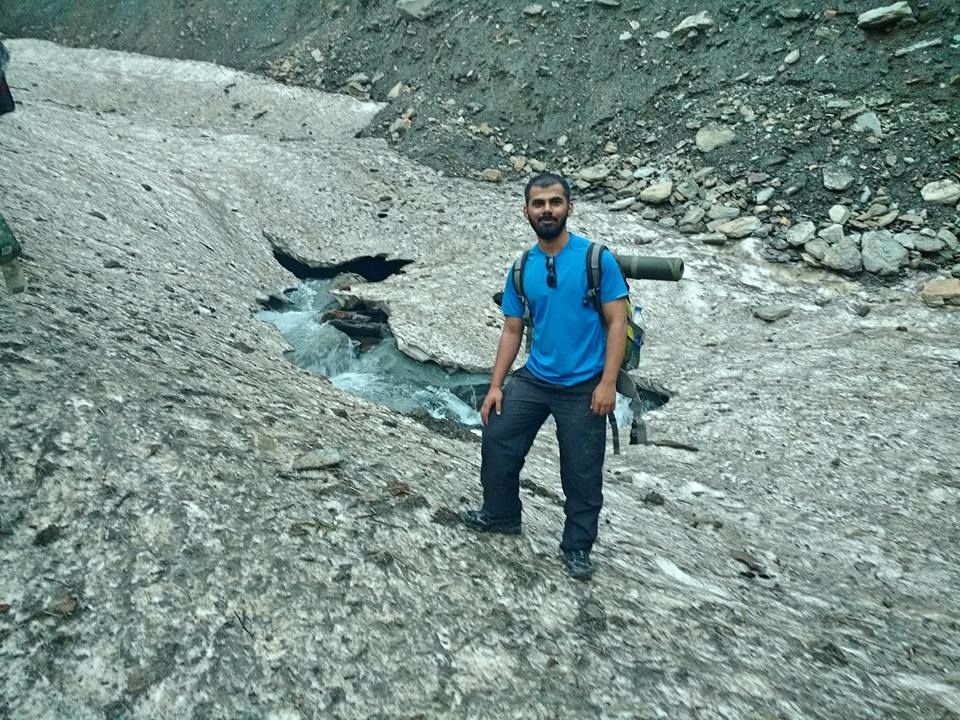 At the end of the road the road will go through a bridge while there will be a trail going on left, that trail will take you to Dhundi after crossing a wooden bridge over the really fierce flowing Beas. You will not find any shops while on this trek, the last shop would be at Dhundi, so you will have to be well stocked while on this trek.
If you want you can camp at Dhundi as well or simply follow the trail to Bakar thatch. The trail is well marked so there is no chance of getting lost. You will have to cross multiple streams and glacial bridges while on the trail. Depending upon the whether either there will be a snow bridge or a wooden bridge made by the local shepherds.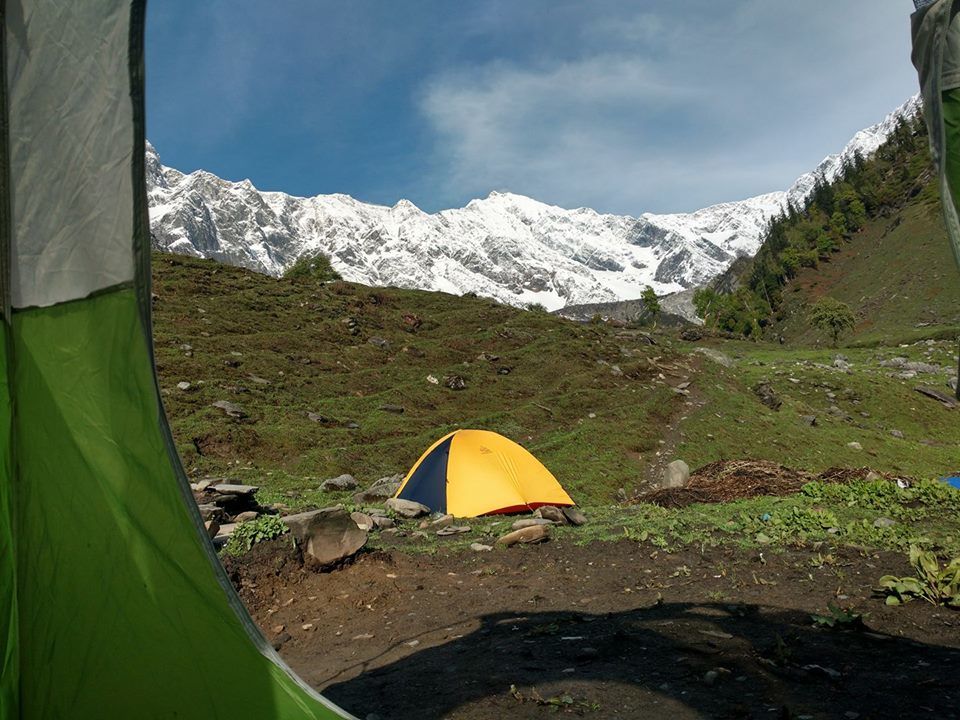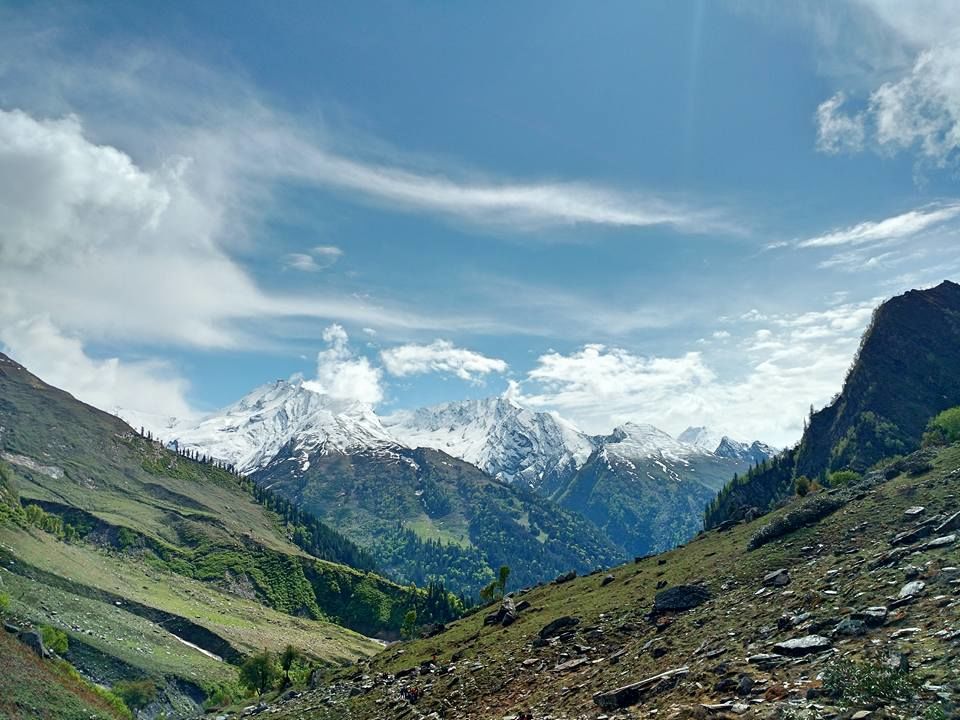 1.5 hours into the trek from Dhundi you will come across another campsite, from here you can see the views of Deo tibba on your back and Hanuman tibba right in front of you. This site is still 1 hour away from Bakar Thatch. We camped at this site, because of the location and because it was almost getting dark.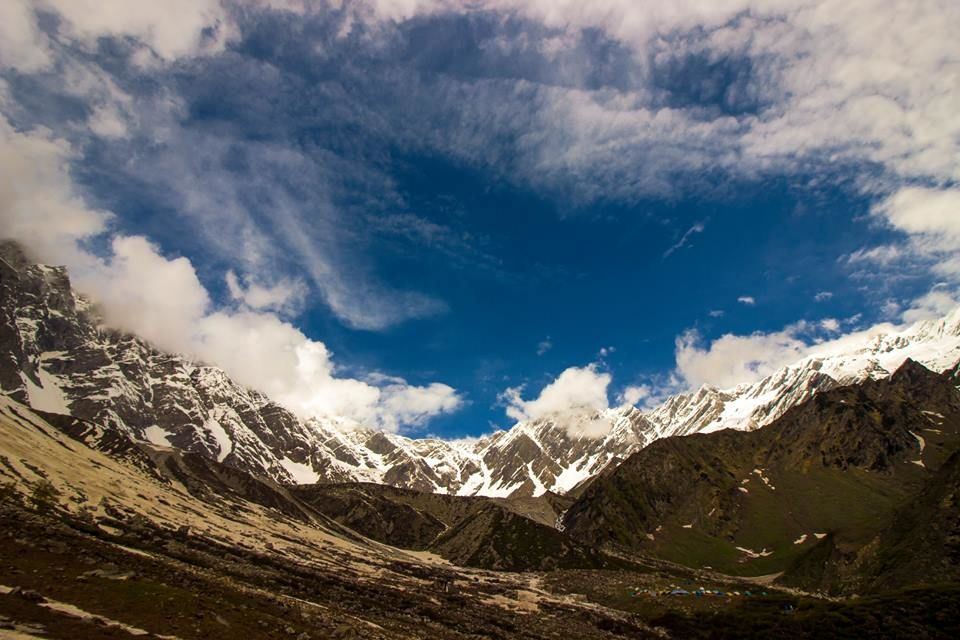 We started early next morning and after crossing 4 glacial bridges reached Bakar Thatch in almost 2 hours. The 360 degree view of the mighty Himalayas was breath-taking, you have Indrasan and Deo tibba peaks right behind you and Hanuman tibba, friendship peak, Shitidhar in front of you. It felt like this is it, it's the best view of the trek but you still have to go further to reach Beas kund.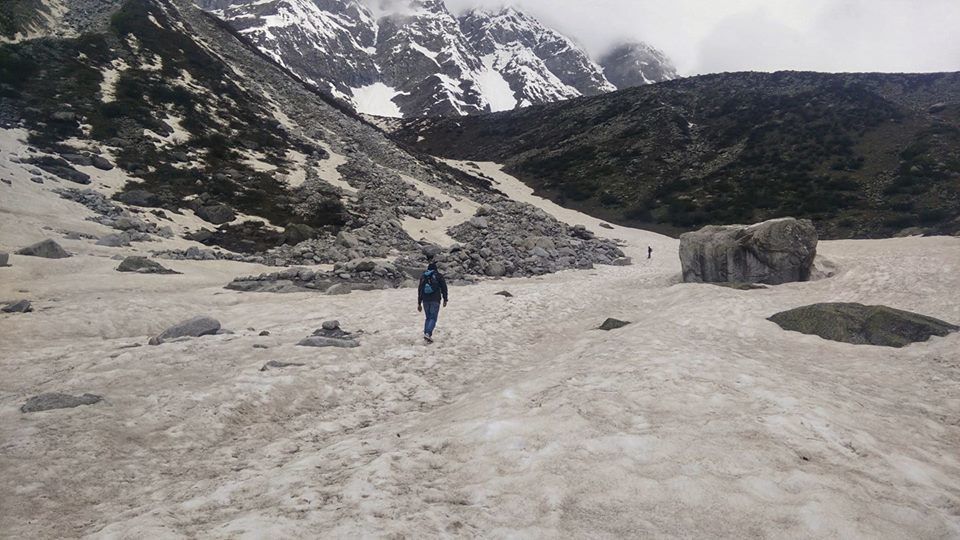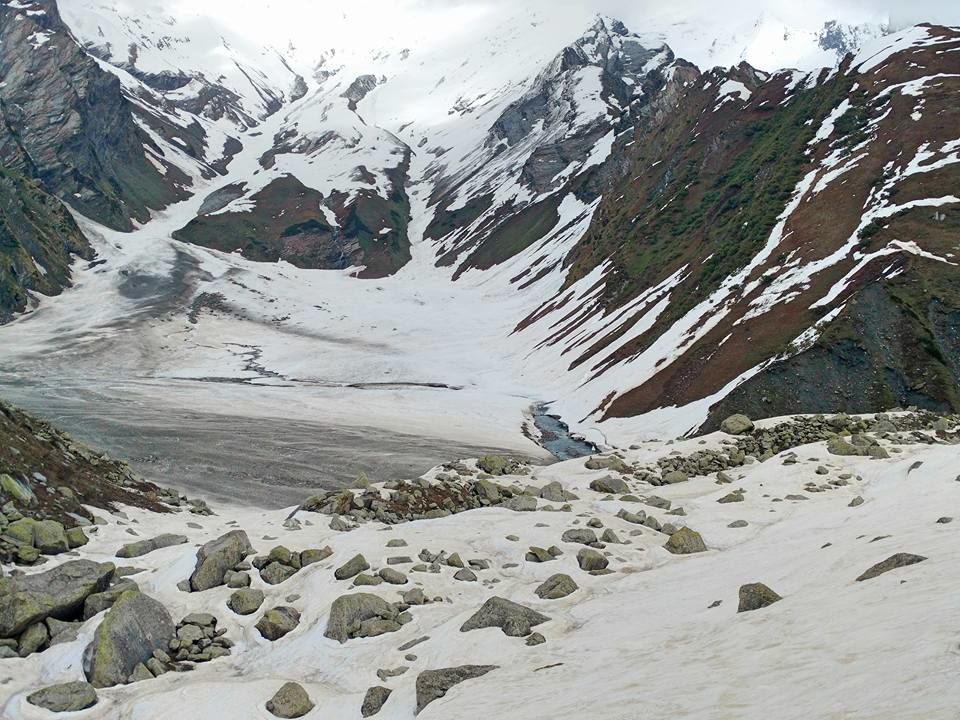 So the final ascent is steep and a tedious, you have to climb the glacier in front of you, and then the mountain above it and across the ridge you will get the first sight of Beas Kund. Once you are at the ridge you still have to trek a kilometre to reach the kund (Downhill), and there you see the inception of river Beas, a stream coming from underneath the glacier. There are no markings beyond Bakar Thatch but the trail is still somewhat identifiable. The view gets better 10 times what you see from Bakar thatch. You are right at the foot of Shitidhar and you will be left awed by witnessing the might of the 5000+ meters peaks around you.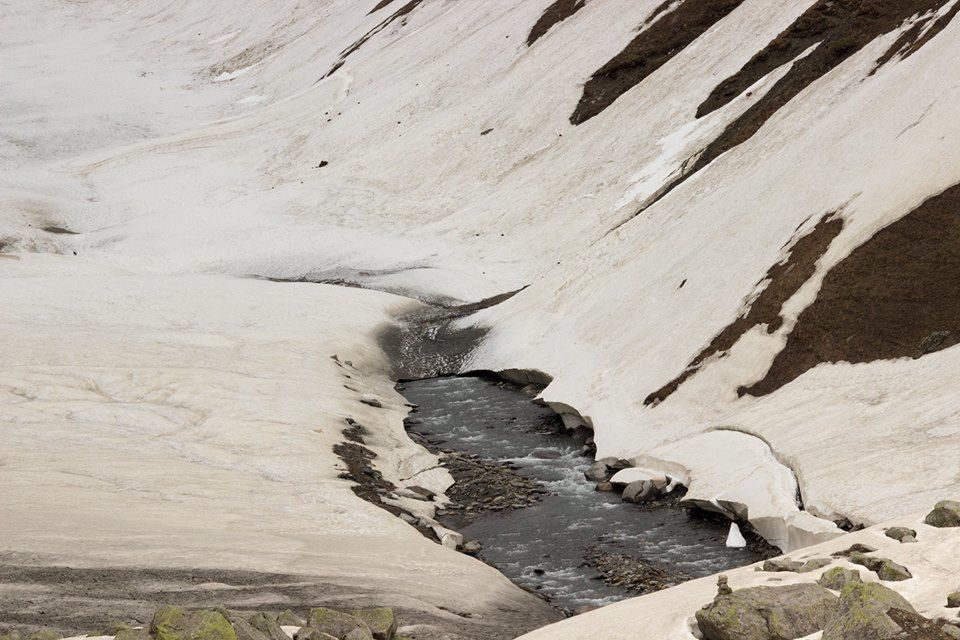 You should take in account the fact that weather can change quickly up in the mountains so try to get back down to Bakar Thatch by 12, also carry your poncho and other rain protective gear with you.
You can head back the same way using the same route.
This is considered to be a Easy-Moderate trek and the total distance is 35 kms(approx.). Can be attempted without a guide. Essentials for trek: warm clothes, waterproof shoes, gloves, goggles , ponchos and cap.
Day 0: Board the bus to Manali from ISBT Kashmiri Gate at 8:00 pm(Cost rs.685).
Day 1: Reach Manali by 11:00 am. Get refreshed, pack yourself your all the essential you require and head for Solang (by taxi Rs.400, by bus Rs.10). Trek till Dhundi or Campsite beyond that. Camp overnight.
Day 2: Trek till Beas Kund and head back to the campsite. Camp overnight.
Day3: Trek back till Solang. Reach Manali from Solang. Enjoy the evening in Manali and take the overnight bus to Delhi.