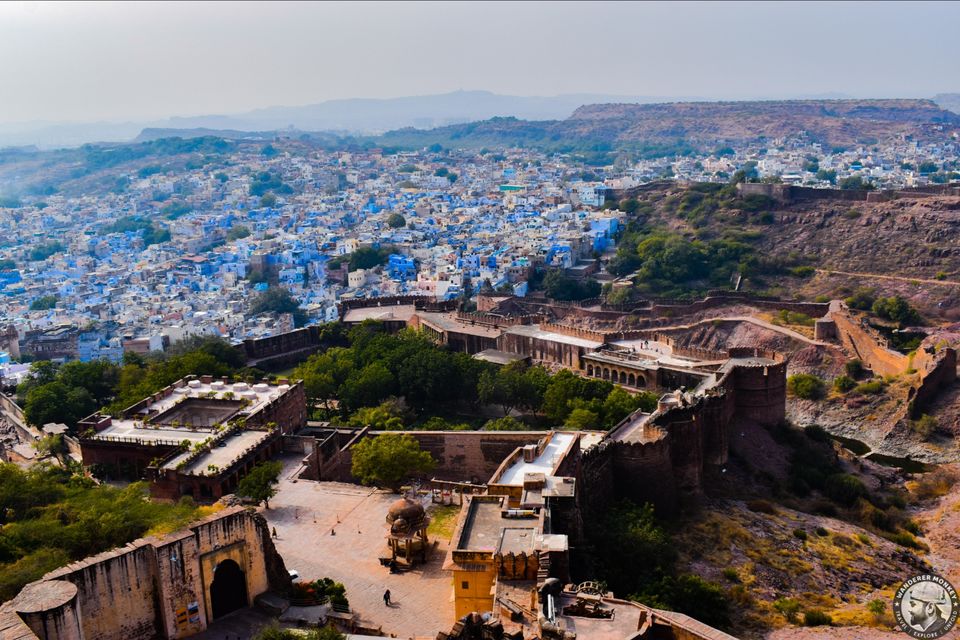 Thanks to all the readers for their amazing response to the Part 1: Udaipur of this travelogue. (click here)
With all the notions popping in mind and songs played by DJ Anuj (my travel buddy), we were enjoying our road journey to the blue city with mixed feelings. After some time, I fell asleep and woke up at around 2 am somewhere near Pali village. The driver had stopped the car for a break. Surprisingly it turned out to be an unusual though amazing temple of Om Banna aka Bullet Baba.
This shrine has a very strange history of a man named Om Singh Rathore, who loved his bullet but unfortunately, he died in an accident at this location. The police took the bike to the station, but for everyone's surprise, the bike was again found at the spot of the accident and this kept on recurring. So, the police decided to permanently place the bike at the spot as a shrine.
It stated: "If you receive the blessings from Bullet Baba, you will never encounter a deadly accident."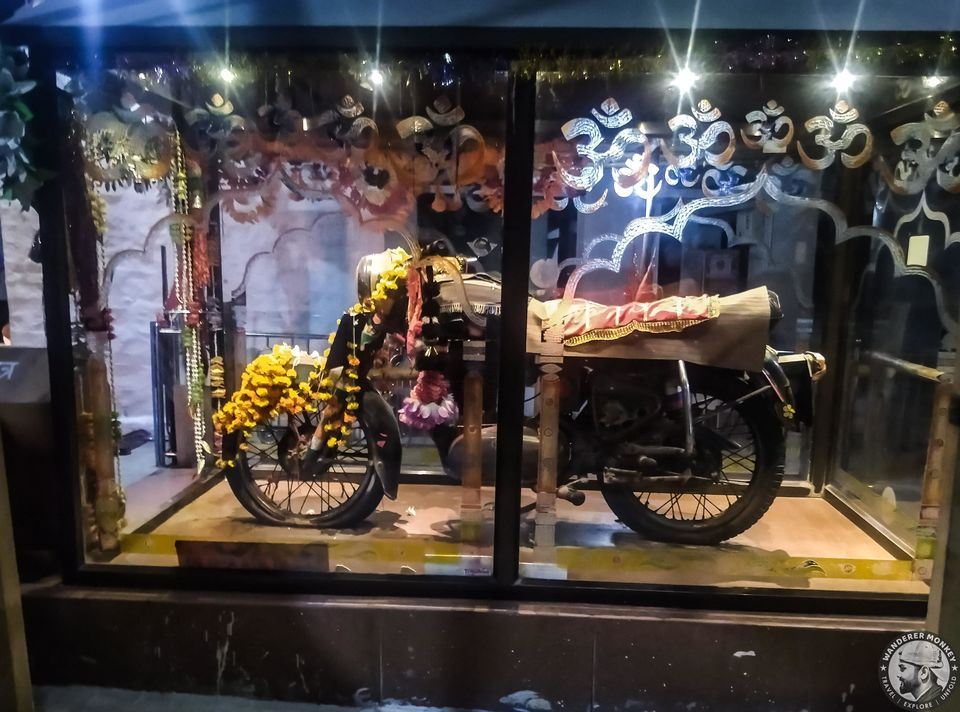 This shrine immaculately illustrates that "Bike is not just a machine, it carries the rider's soul. It will eternally remain the partner of your off-roading life. Tales like these can exhibit that, bike can become your Ikigai ". Along the way to Jodhpur, we unexpectedly encountered that, Rajasthan is also a land of the unusual temples and they articulate awesome stories.
The best part about road trips is that, we can stop along the way and traverse. You can find refreshing spots for relaxation with unusual views and stories. Indeed, they become an awesome memoir in that short amount of time.
On that freezing night as a beacon of hope, we found a small bonfire outside that shrine. We took its shelter to warm our hands. And then, we left the temple and continued our journey towards the blue city.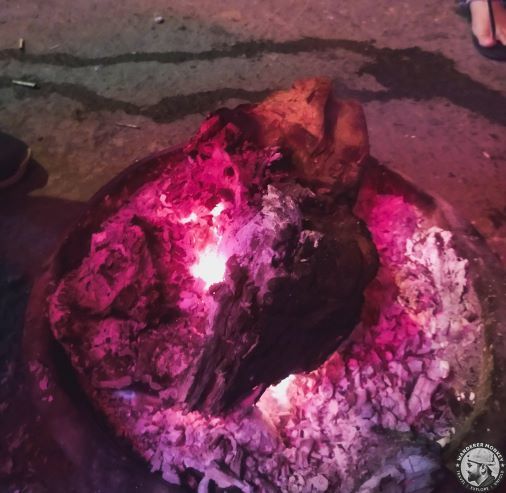 We reached Jodhpur at around 3:30 am but, as Google Maps kept redirecting us as soon as we entered the city, it took us 20 mins to find the zostel we had booked. Due to motion sickness, I was already feeling dizzy and google maps was just making it worse. As car stopped near zostel, I rushed out of the car to sit on a staircase for equalizing my sensory cues and waited for others to unload the bags.
We entered the zostel exhausted of a night-long journey, and straight away went to get some sleep.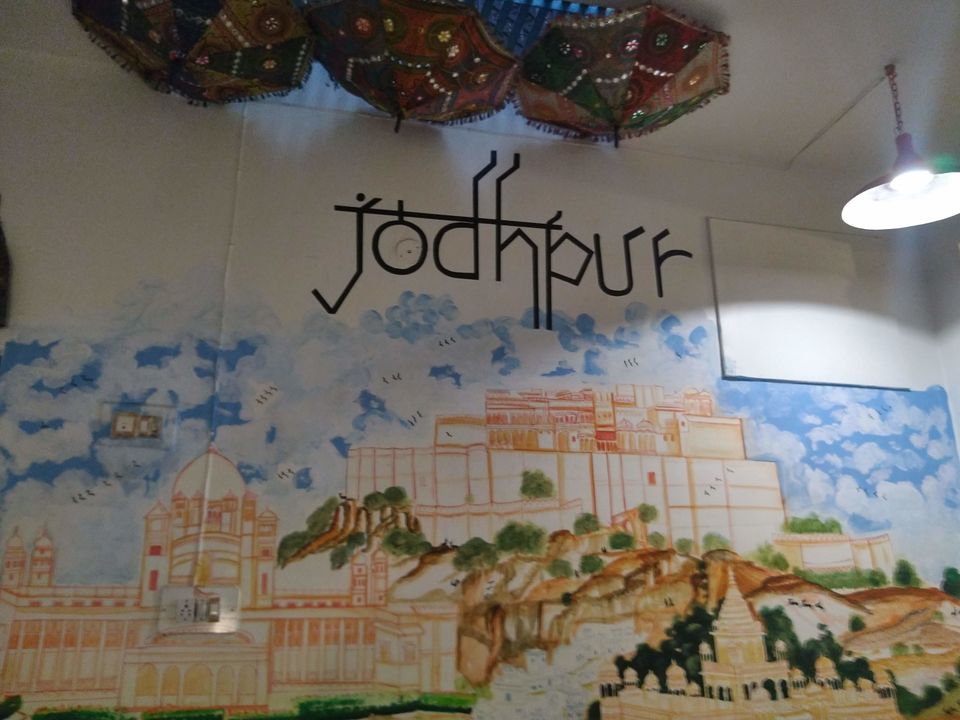 Day 3: Jodhpur (12th January 2020)
Next day, I got up early and rushed to the roof of zostel to see the view of the dazzling blue city and Mehrangarh Fort.
The first light at Jodhpur left us amazed with its beauty. After clicking a bunch of photographs, we left the zostel at around 10 am to have brunch at Janta Sweet Home. We ordered Mirchi Wada, pyaz ki kachori, bread patties, aloo paratha and tea. To make brunch wacky, my friends decided to have a Masala Dosa and idli sambhar - a South Indian Dish at a North Indian Place. (Damn !!)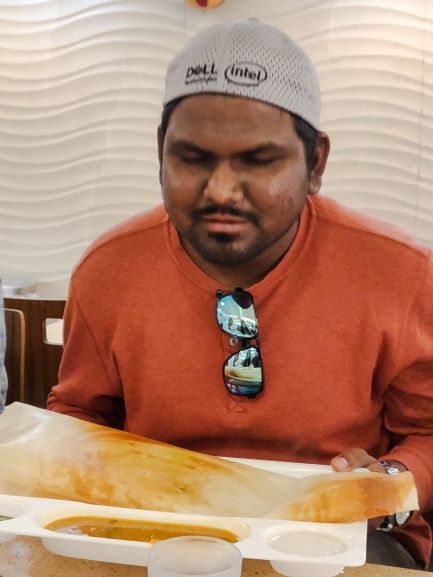 We need to place the order and pay first. Once the food is ready, they will call out your name over the speaker followed by the dish. It felt as if, I was the creator of these dishes. It sounded like, "Suyash aloo paratha, Suyash Idli Sambar, Suyash Masala Dosa". My friends started laughing at me and everyone in that restaurant stared at us (Who Cares though ?).
After a prodigiously hearty brunch, we set out to explore Jodhpur starting with the fortress of red sandstone which you can recognize from any part of the blue city.

Travel Tipsy: If you are an Indian citizen then carry your Aadhar Card or Election Card which you might need to show while buying a ticket. They do not accept Pan Card.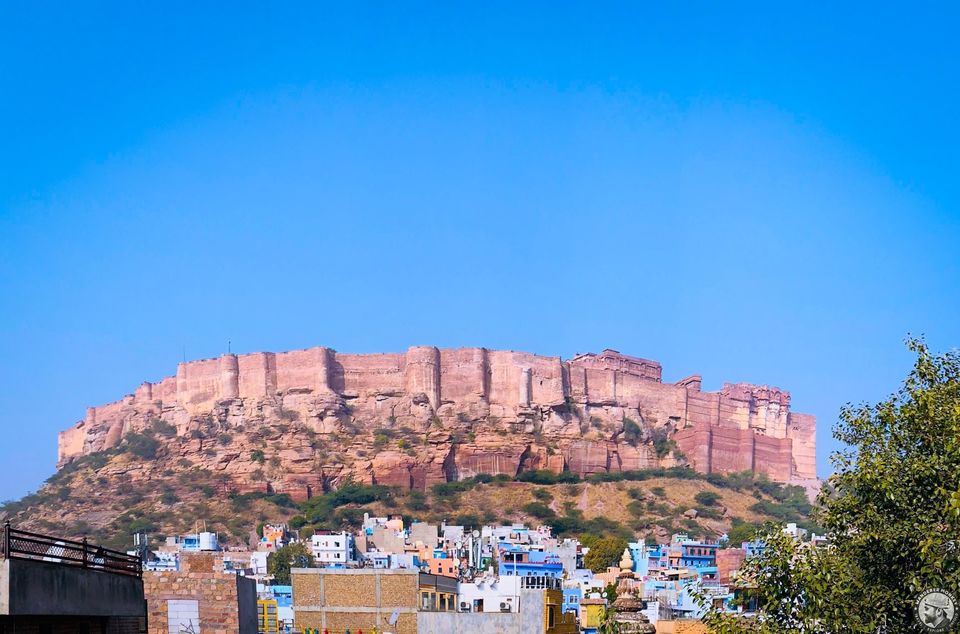 Mehrangarh Fort is perched on the hill in the periphery of Jodhpur city and is spread over 5 kms. It consists of different palaces such as Moti Mahal, Phool Mahal, Sheesh Mahal, Takht Vilas and Jhanki Mahal which are sculpted by different artists for over centuries. There is a museum inside the Mehrangarh Fort, which displays a valuable collection of palanquins, musical instruments, royal cradles, costumes, arms, furniture and paintings of royal families and the city. Fort also holds a lot of cannon which are employed for fortification.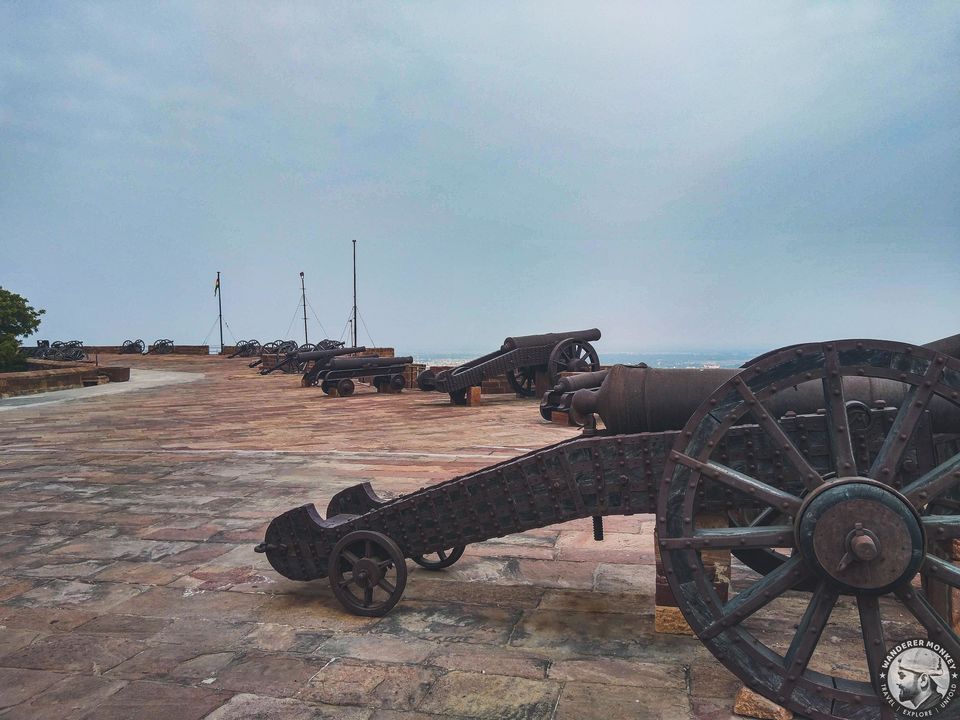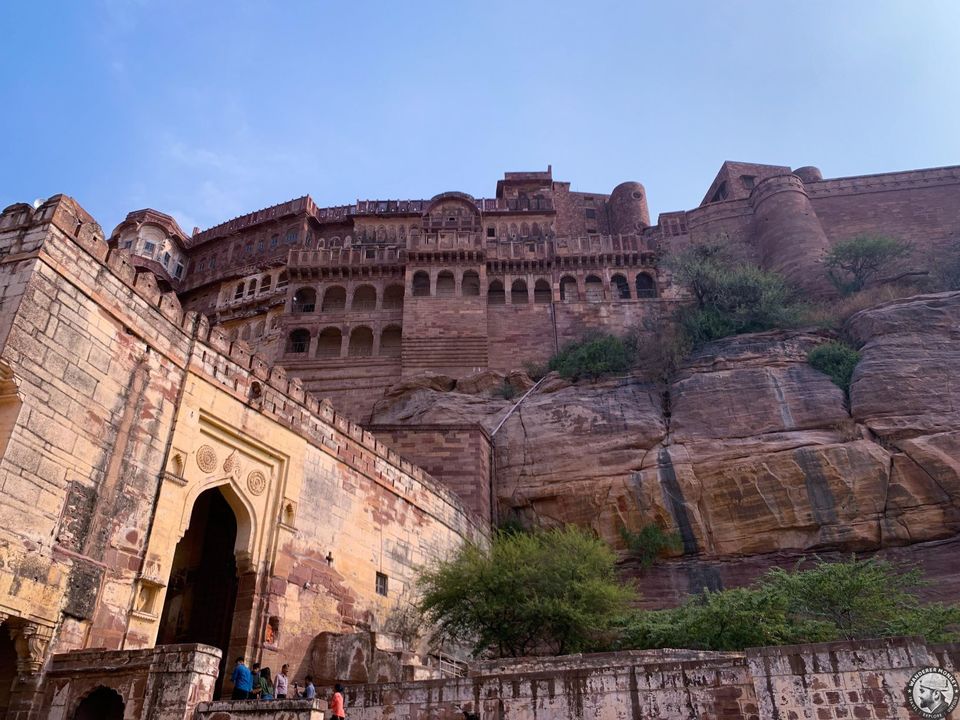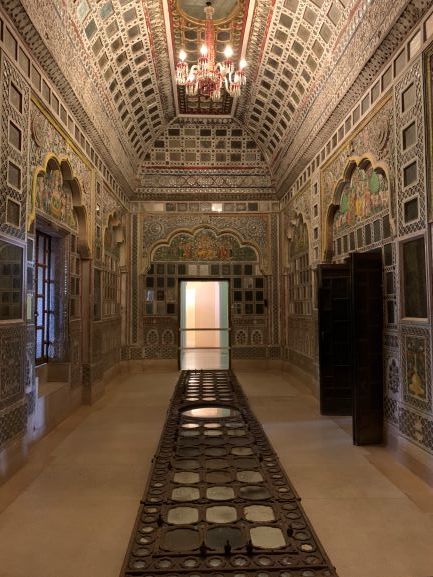 The best part of Mehrangarh Fort is that you will be welcomed by the musicians wearing traditional clothes and playing instruments such as Ravanahatha, Nagara and singing folk songs. This culture adds char chand to the peaceful atmosphere of the fort.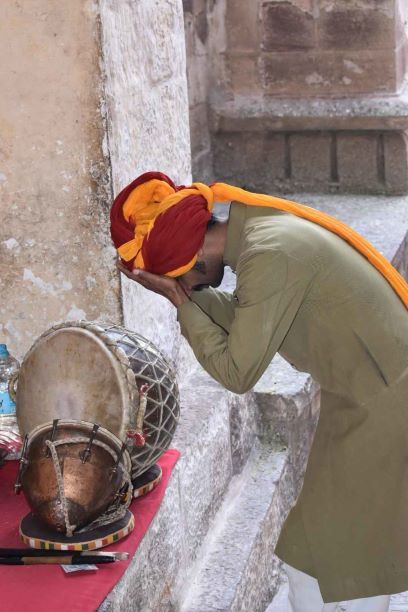 You will get to see flocks of pigeons, eagles and squirrels inside the fort. It also offers a scenic view of Jodhpur city, which resembles like a blue carpet laid at the foot of a hill. You can also see Umaid Bhavan, Jaswant Thada, Ghanta Ghar from the fort, and can have fun exploring the market inside.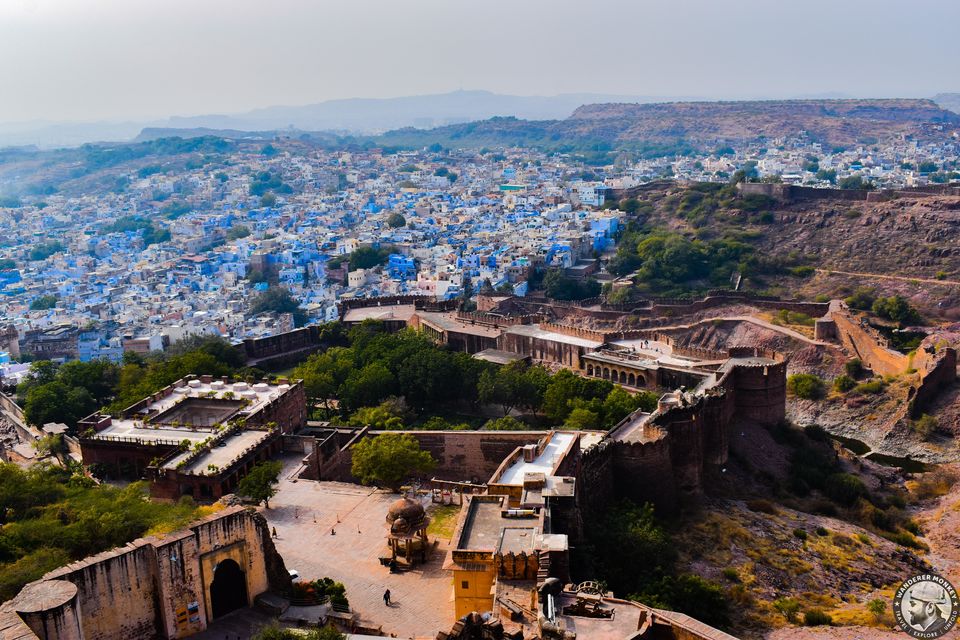 Travel Tipsy: Wear comfortable shoes while exploring the Fort, as you will end up completing your week's no. of steps target in a day.
The sequence of prison escape from "Dark Knight Rises" was shot at Mehrangarh Fort.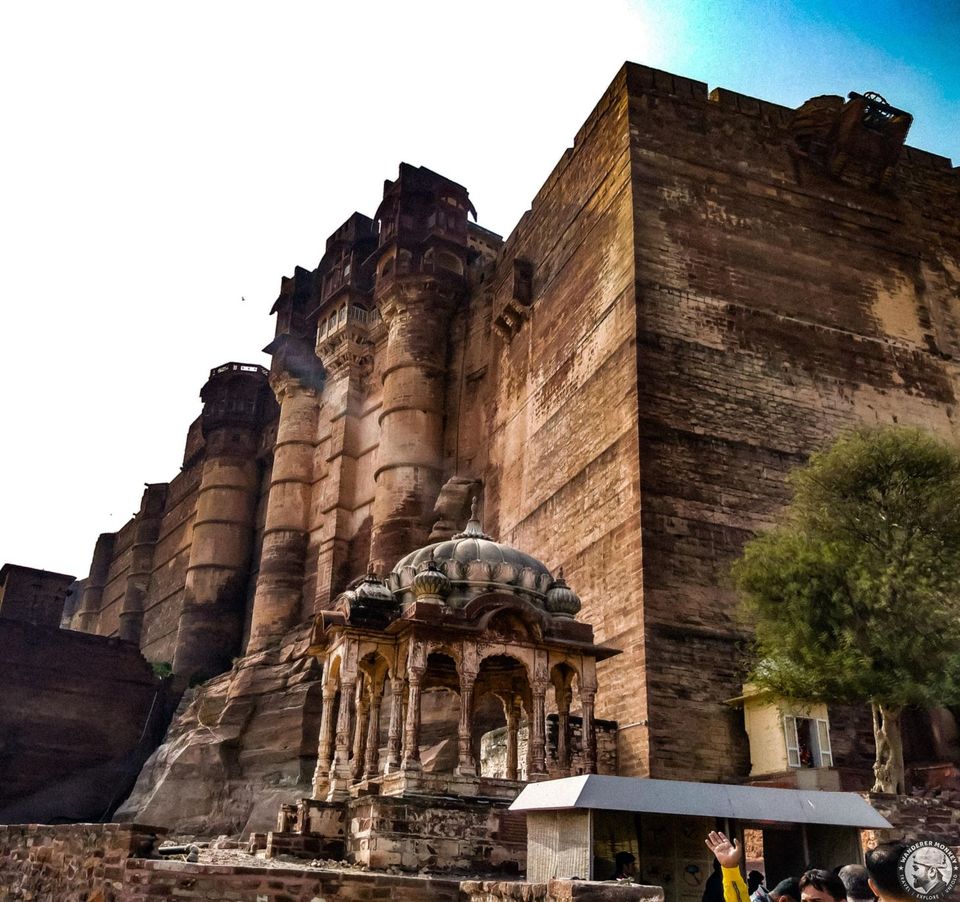 After exiting the fort, we marched towards Jaswant Thada which resides next to the Mehrangarh Fort. Jaswant Thada is the cenotaph built in the loving memory of Maharaja Jaswant Singh II by his son. One needs to buy an entry ticket (30 bucks) to visit this place.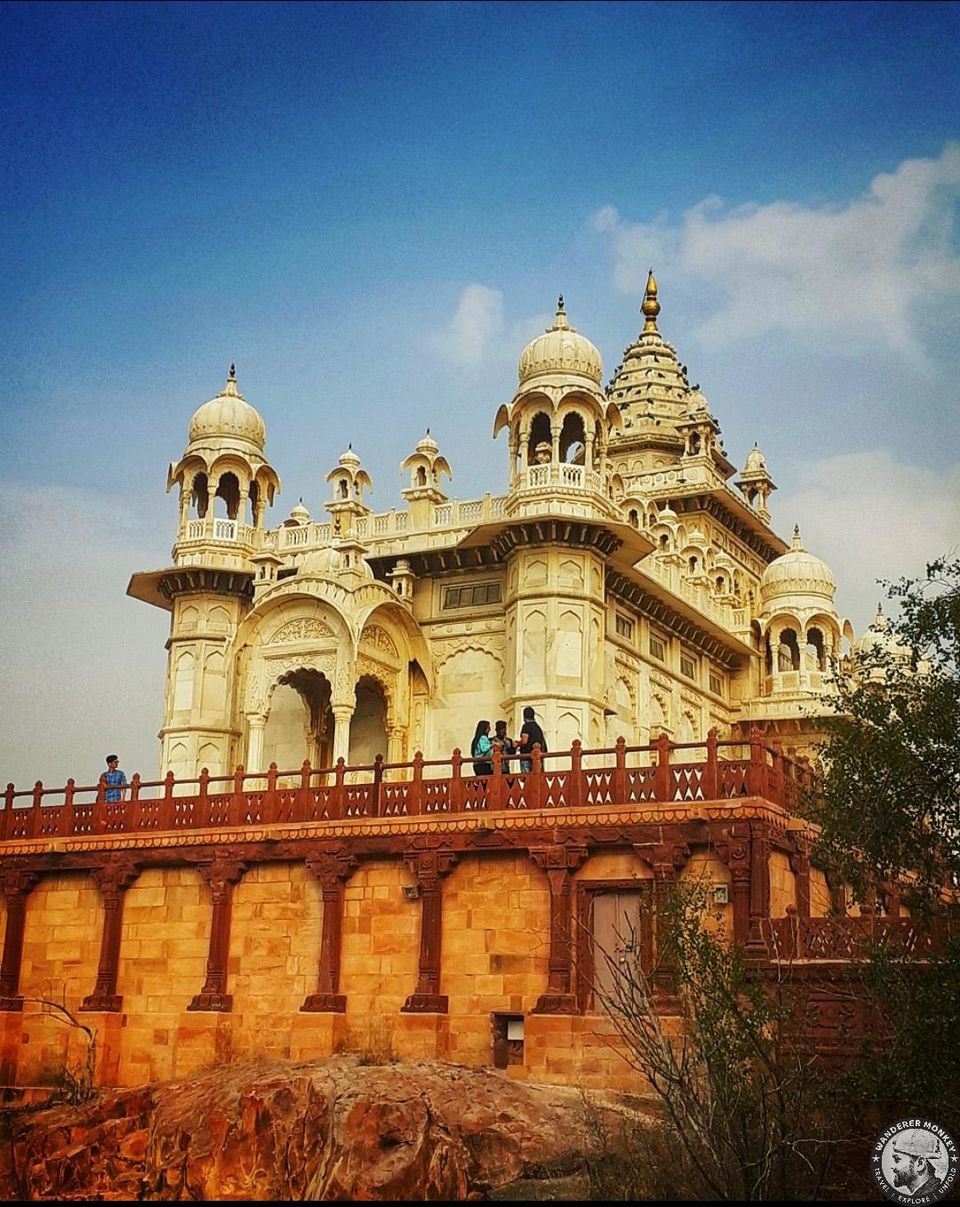 Jaswant Thada mausoleum is built in a combination of red and white color, where towering cenotaph is made in pure white marble perch on red walls. The carved belvedere and tiered garden at the foot of Jaswant Thada adds to the beauty of this place. These white marbles have a beautiful Rajasthani craftwork carved with much details.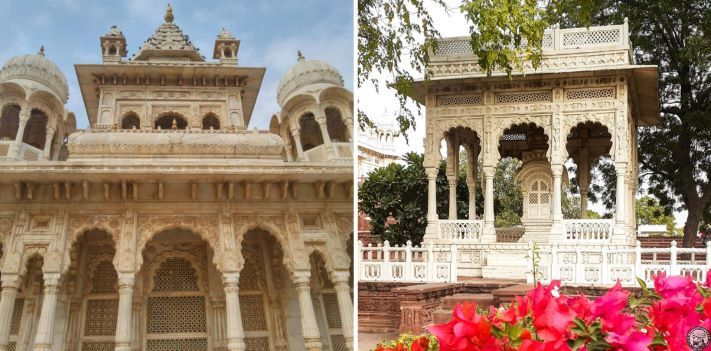 One side of Jaswant Thada is covered by the lake, although, during our visit, it was filled with little water and some small ducks were swimming inside. The doors and windows in the mausoleum are green colored which adds to the beauty of the structure.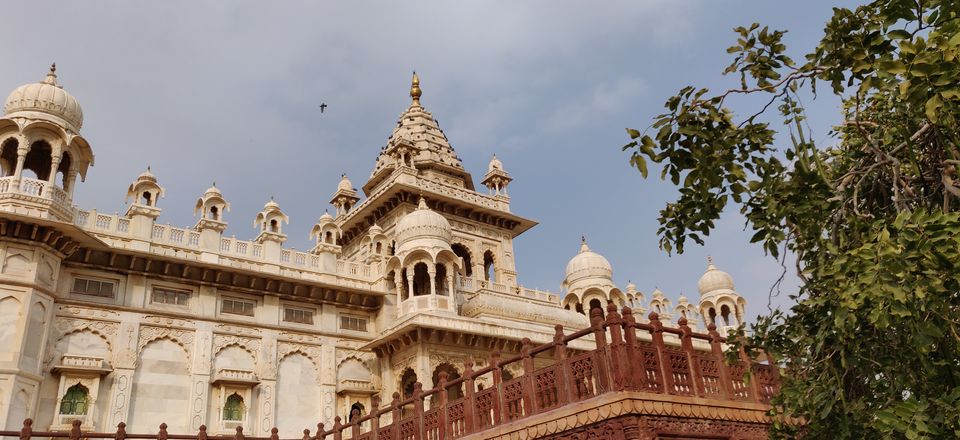 We were greeted by soothing traditional Rajasthani music played by the musicians using Ravanahatha (A traditional instrument). The atmosphere around was peaceful and kind of chilly, which carried me to another dimension of thoughts. As we were on a tight schedule, we left the Jaswant Thada. But you can relax on its green lawns and chill in the pleasant atmosphere.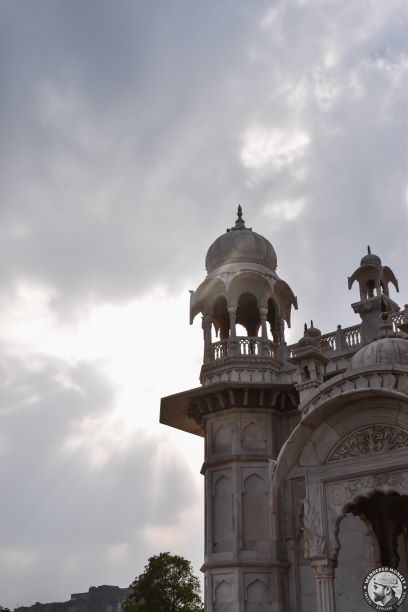 Then we went to see step-well in the heart of Jodhpur city. As there are small roads inside the city, the driver had to drop us 1.5 kms away from the location. We started to traverse the city en route to stepwell by foot. We observed a lot of ancient buildings, various artworks and statues of animals painted in blue.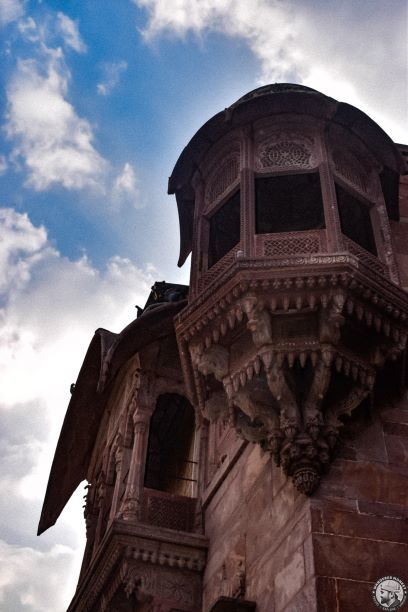 One statue of a monkey painted in blue took my friends attention and they all looked at me at once and said: "Hey, we found you..!". This event became a reason behind changing my social media handle and started writing travel blogs by the name of "Wanderer Monkey".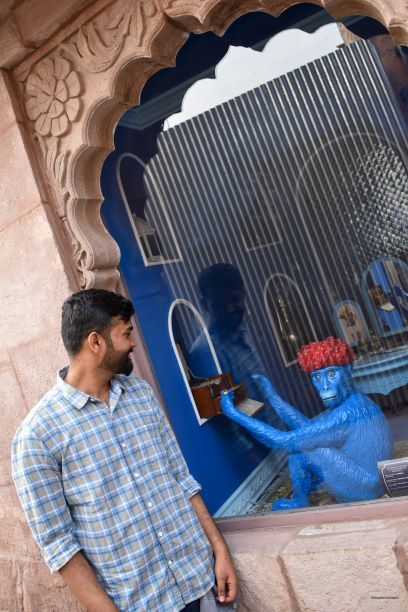 Finally, we reached the stepwell - Toorji Ka Jhalra, one of the most fabulous architectures built in 1740 by the queen of Maharaja Abhay Singh. We reached the well at around 4:30 pm and it was crowded by locals and some fellow wanderers like us. So we didn't enjoy as much, spent some time and left, as we were supposed to reach Umaid Bhavan before it's closing time 5 pm.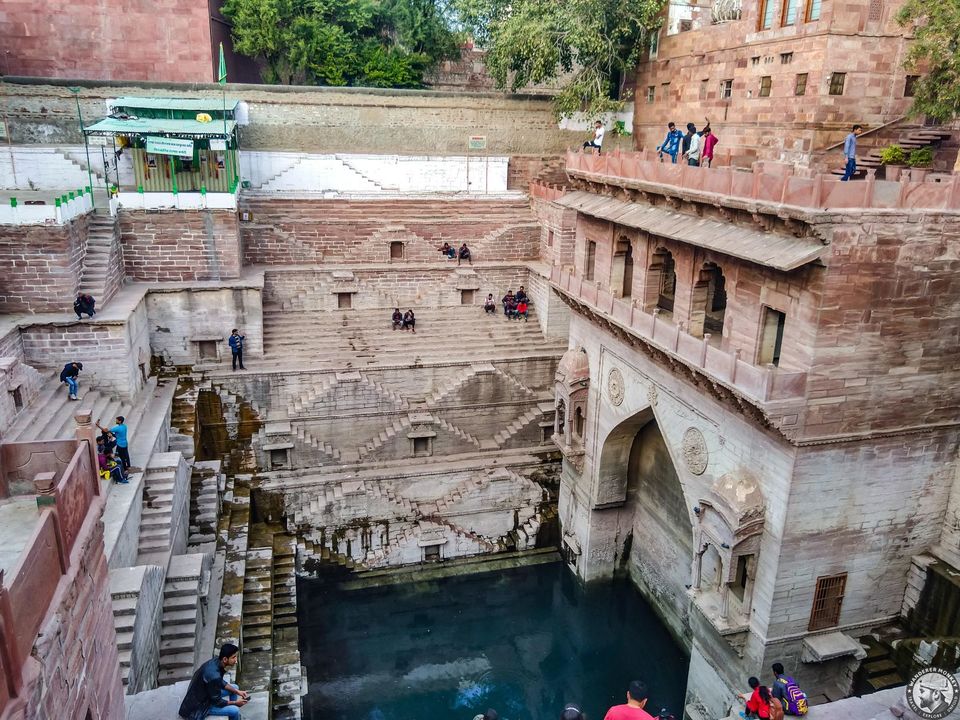 Unfortunately, we lost the race against time. We reached Umaid Bhavan at 5:05 pm and it felt like we missed our train just by 5 minutes. As per our raw itinerary, this was the last spot of Plan Jodhpur and we also wanted to avoid night travel. So, we decided to directly start our journey towards the golden city and started parting from the Blue City while chasing the awesome Sunset.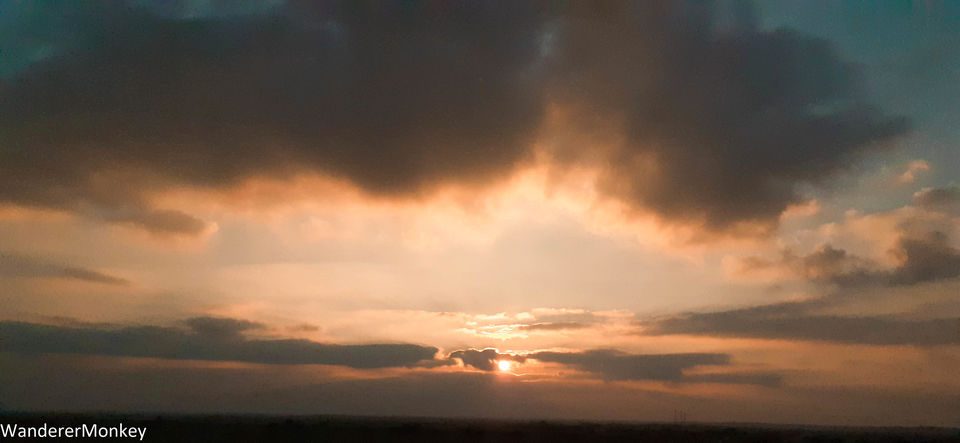 As we had not eaten anything after the morning brunch, we started searching for a restaurant on the highway. We found a Dhaba where we had Parathas, Poha and Tea. As it started getting darker, we again continued our road trip on the smooth NH125.
This city needs at least 2 days for its tour, but as we were running on a raw plan and because of the miscalculation, we had only 8 hours in our hands. Hence, we missed to hit the world-famous markets of Jodhpur as well as other tourist attractions.

Sometimes it's totally fine that you can't visit every single place in the tour, but what's more important is, whether you enjoy the places that you explored. Travel is not about how much you have explored, it's about what, and how much you have experienced on your traverse and learned from it.
Wanderer Monkey says: Focus on Quality... Not Quantity !!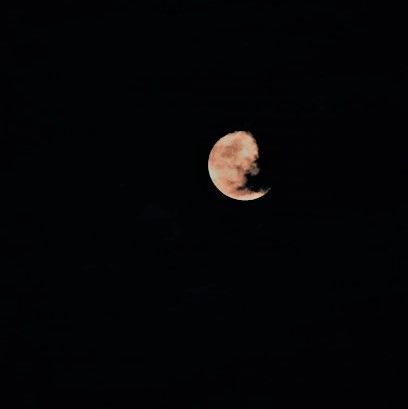 Continued to: 3 Shades Of Rajasthan :- Part 3 : Jaisalmer