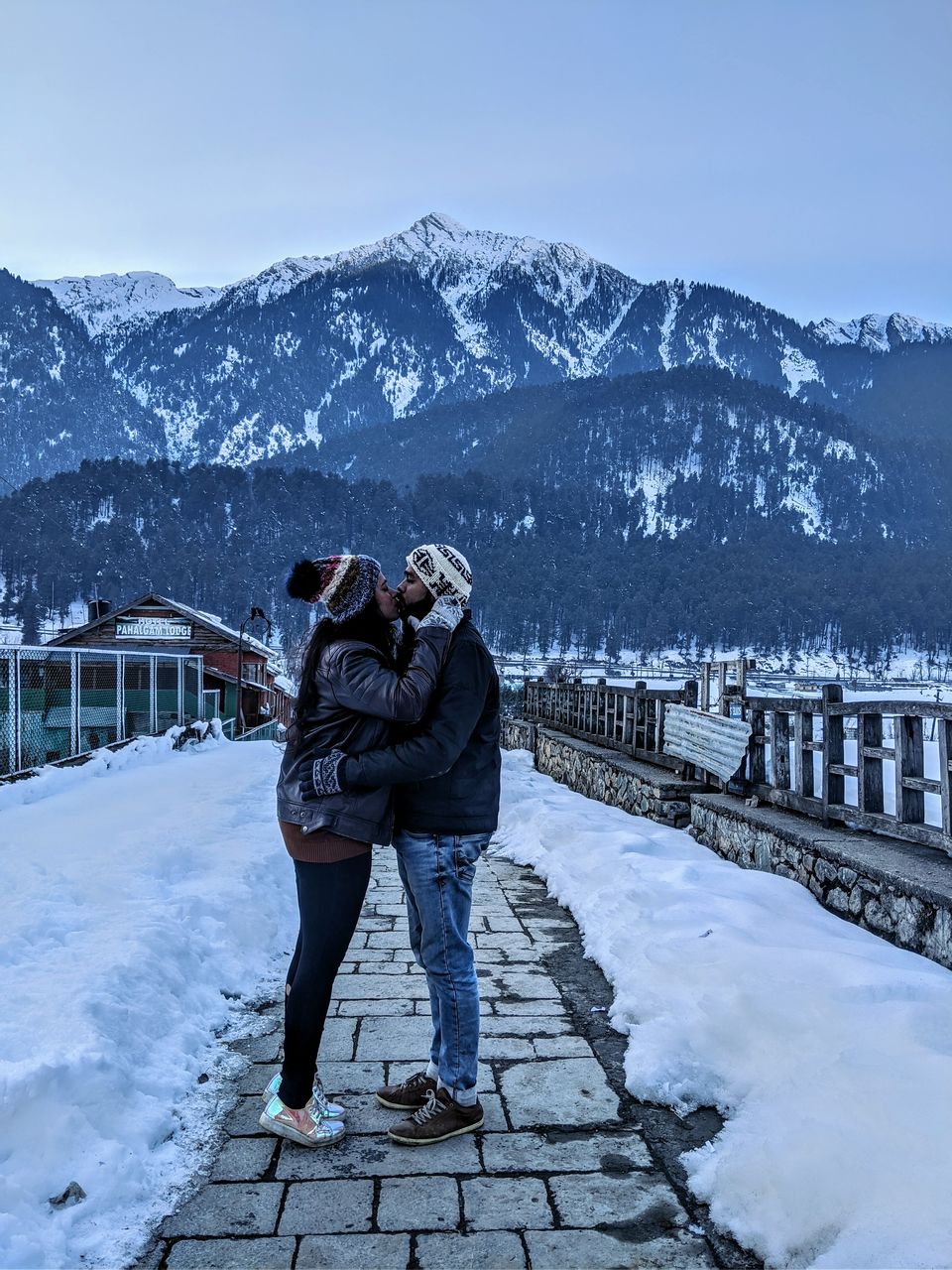 Date Of Visit: 22nd Dec- 31st Dec 2019
Places visited: Srinagar, Yousmarg, Gulmarg, Pahalgam
No. of Days: 10
"Gir firdaus baru e zameen ast, hamin asto, hamin asto, hamin asto"
– Amir Khusrau
(If there is a Paradise on Earth, it is this...it is this...it is this.)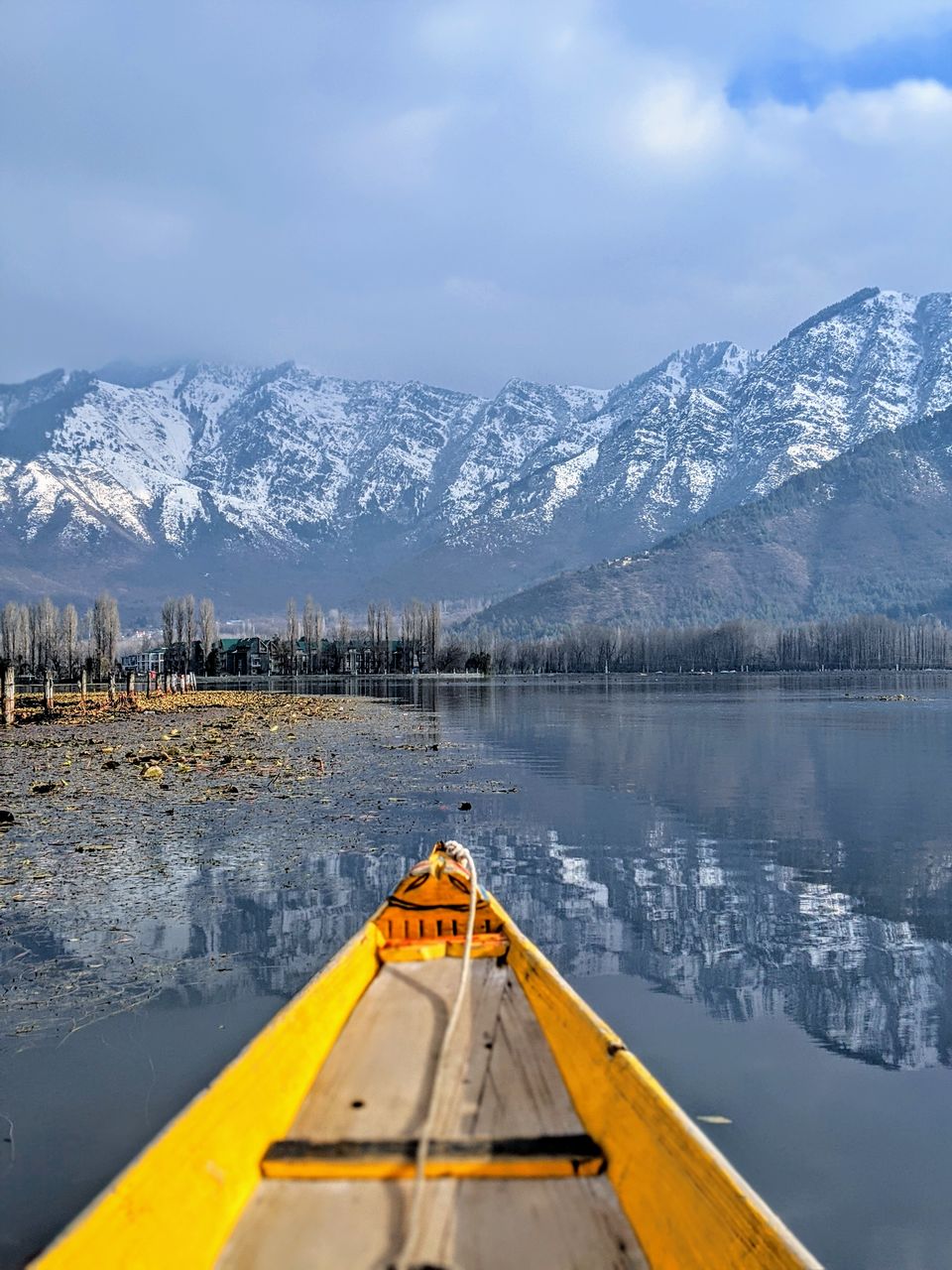 As soon as we uttered that we are going to Kashmir, it raised eyebrows of all our family members, relatives, friends, and people we know on Instagram. Everyone asked us the same question, "Is it safe?"
While a few were curious to know about the situation there, many 'warned' us not to step in the valley. Some even said, "Go to Manali instead, it is as good as Kashmir." It was surprising to know that nobody wanted to talk about its mesmerizing beauty and how this part of our country is so unique from the rest of the world. And why not, it is obvious that when we think about Kashmir, the very next thing that pops into our mind after its picturesque beauty, are the recent happenings, the civil unrest, and the violence the region has witnessed all these years. Travelers will always (and understandably) have an unwillingness to explore this part of India.
Yes, in last couple of years, the situation of the region has changed tremendously. The events are daunting, and it seems, the region will take some time to recover. The complete lock down is preventing people from visiting this part of India.
Kashmir was a part of our 25 days trip across 3 states of India – Rajasthan, Kashmir, and Sikkim. We had our flights booked and were quite adamant on visiting this territory and see the wintry and the snowy side of it.
Arriving in Kashmir
We landed in Srinagar in the morning of 21st December 2019. The flight attendant announced the outside temperature was 2 degrees and all we could see was snow around the runway.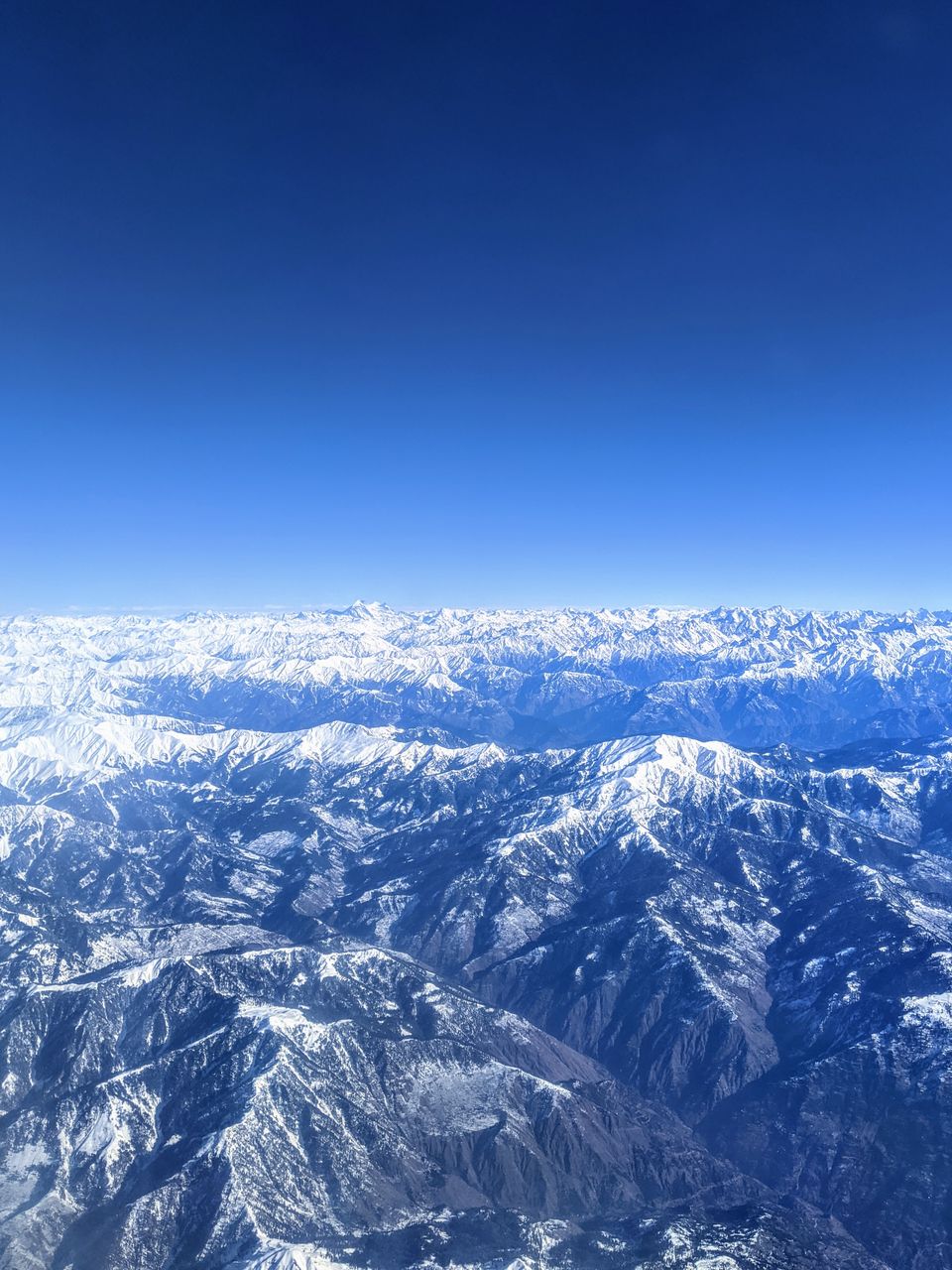 Upon arrival, in contrast to what we had expected (and heard as well), there were no military guards, no police, no airport authority stopping us. Nobody stopped us and asked for our ID cards, reservation proof, purpose of visit etc. It was a free and smooth walk from airport to the taxi stand which was just outside the exit gate.
The drive to our hotel, which was in the heart of Srinagar, took us through many congested parts of the city, where life was busy as usual and as it would be in any other city!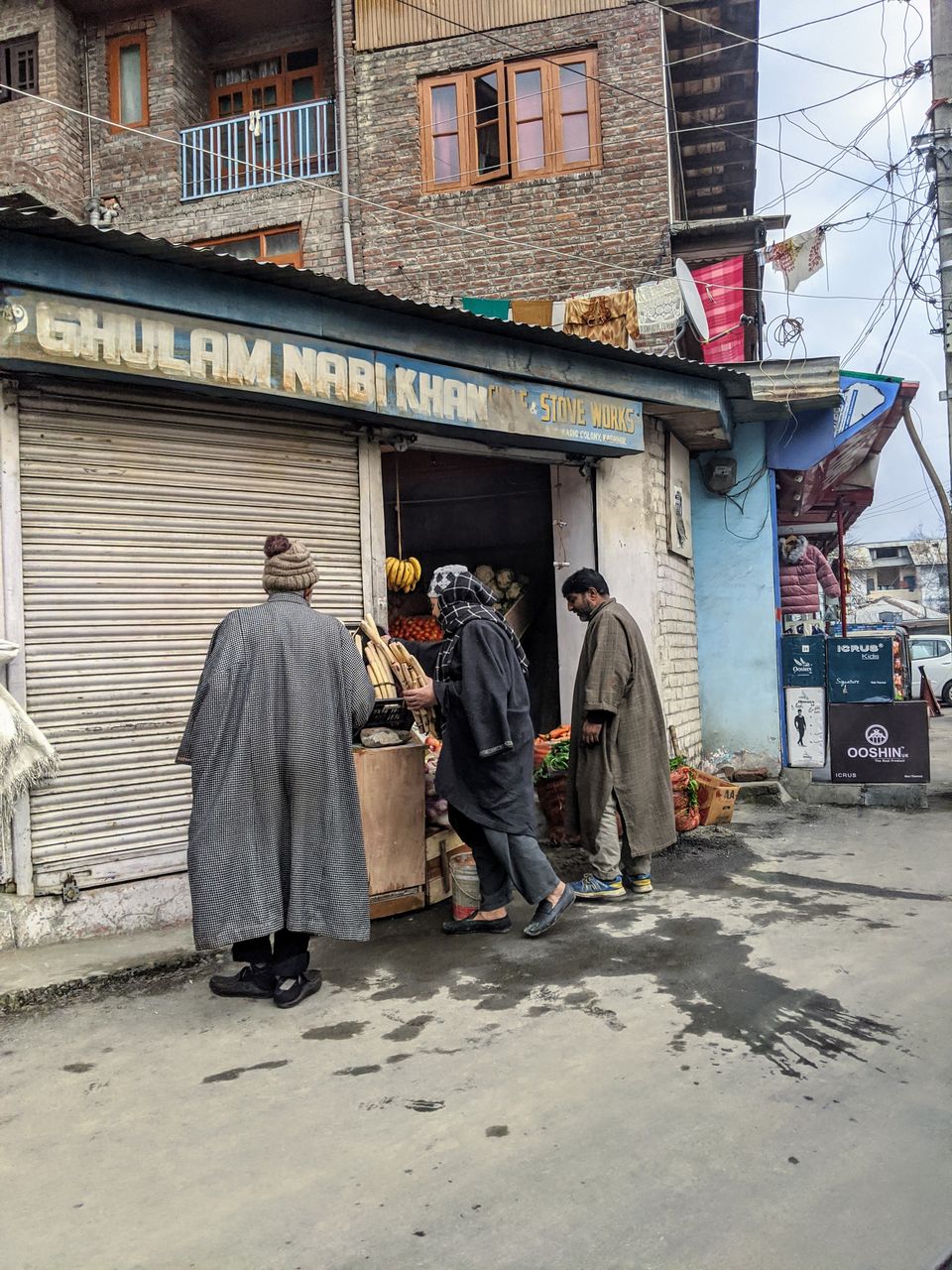 Day 1 – Srinagar
We stayed at Walisons Hotel which was just 100 meters walk from the famous Dal Lake. We reached Srinagar around lunch time. Our first day lunch was special as we tried our hands at the famous Kashmiri Wazwan! After hours of travelling, the Wazwan came across as a relishing treat and the perfect start to explore our day further. (Do not miss MUST TRY FOODS in Kashmir at the end of this article).
Dal lake is the lifeline for the people of Kashmir. Not visiting Dal lake is like visiting Agra and not visiting The Taj Mahal or visiting New York City and not seeing The Statue of Liberty.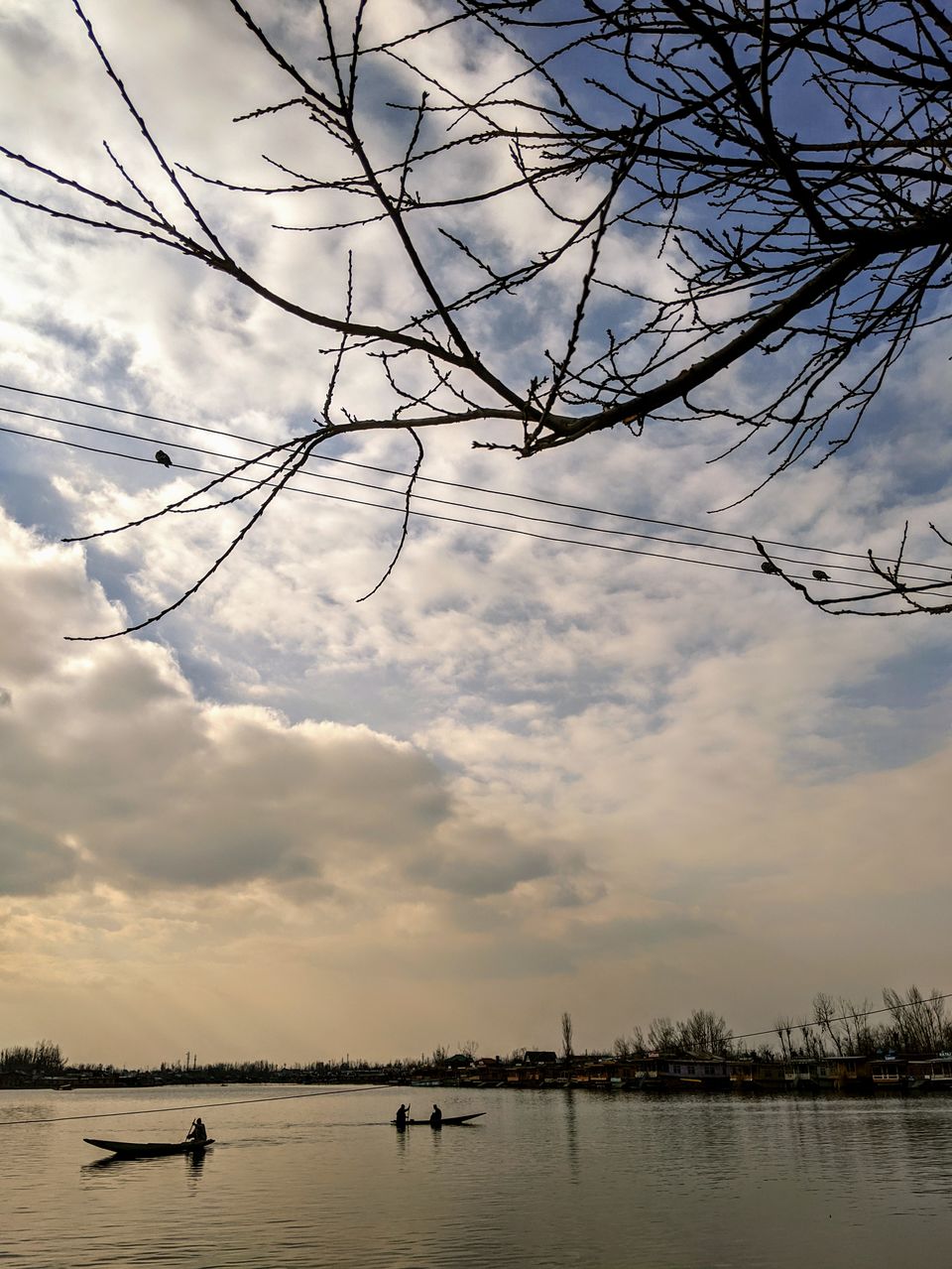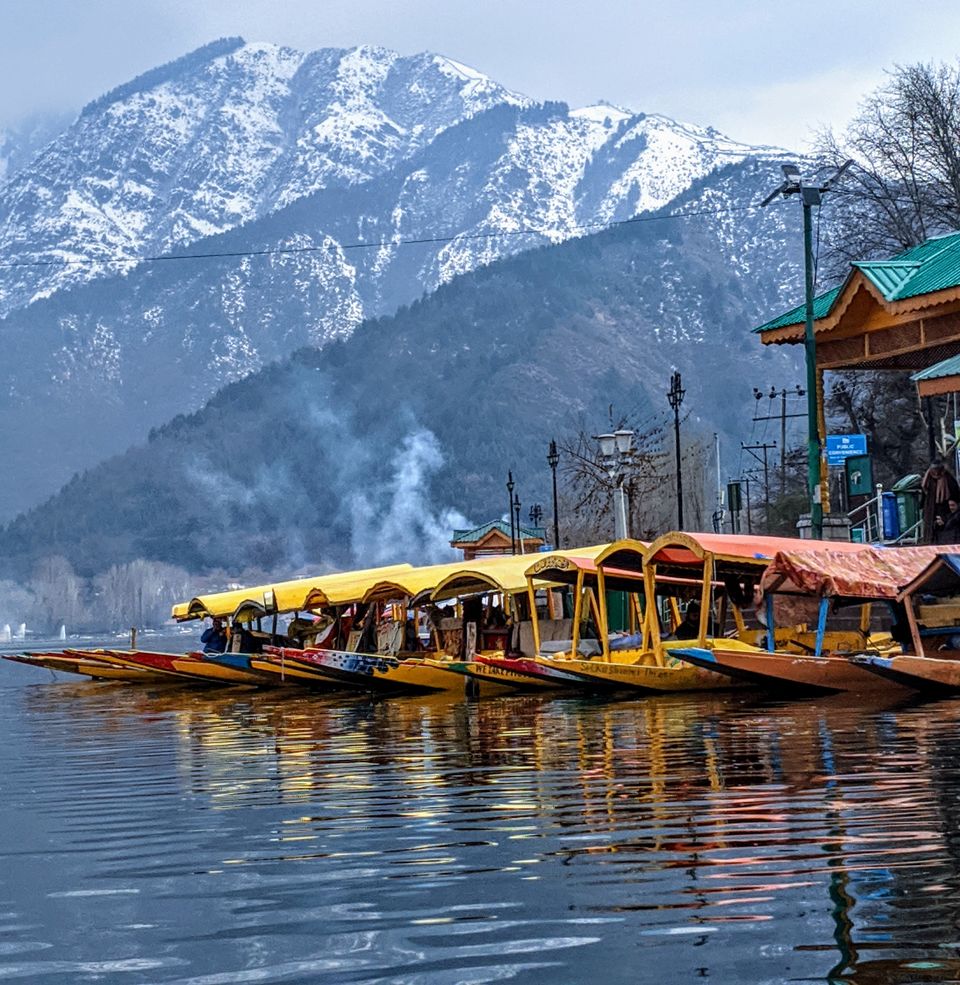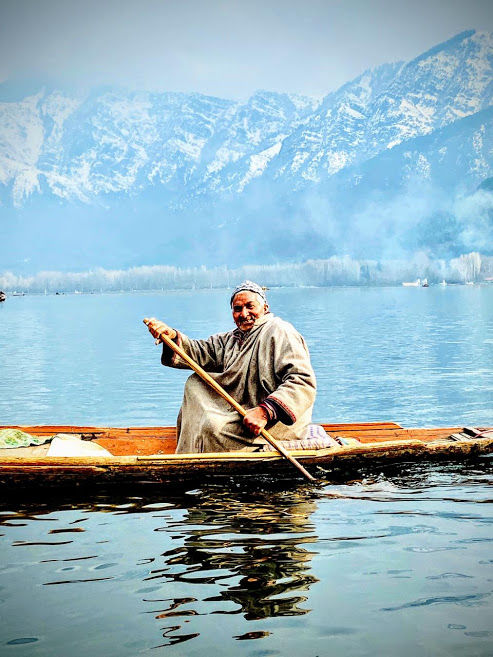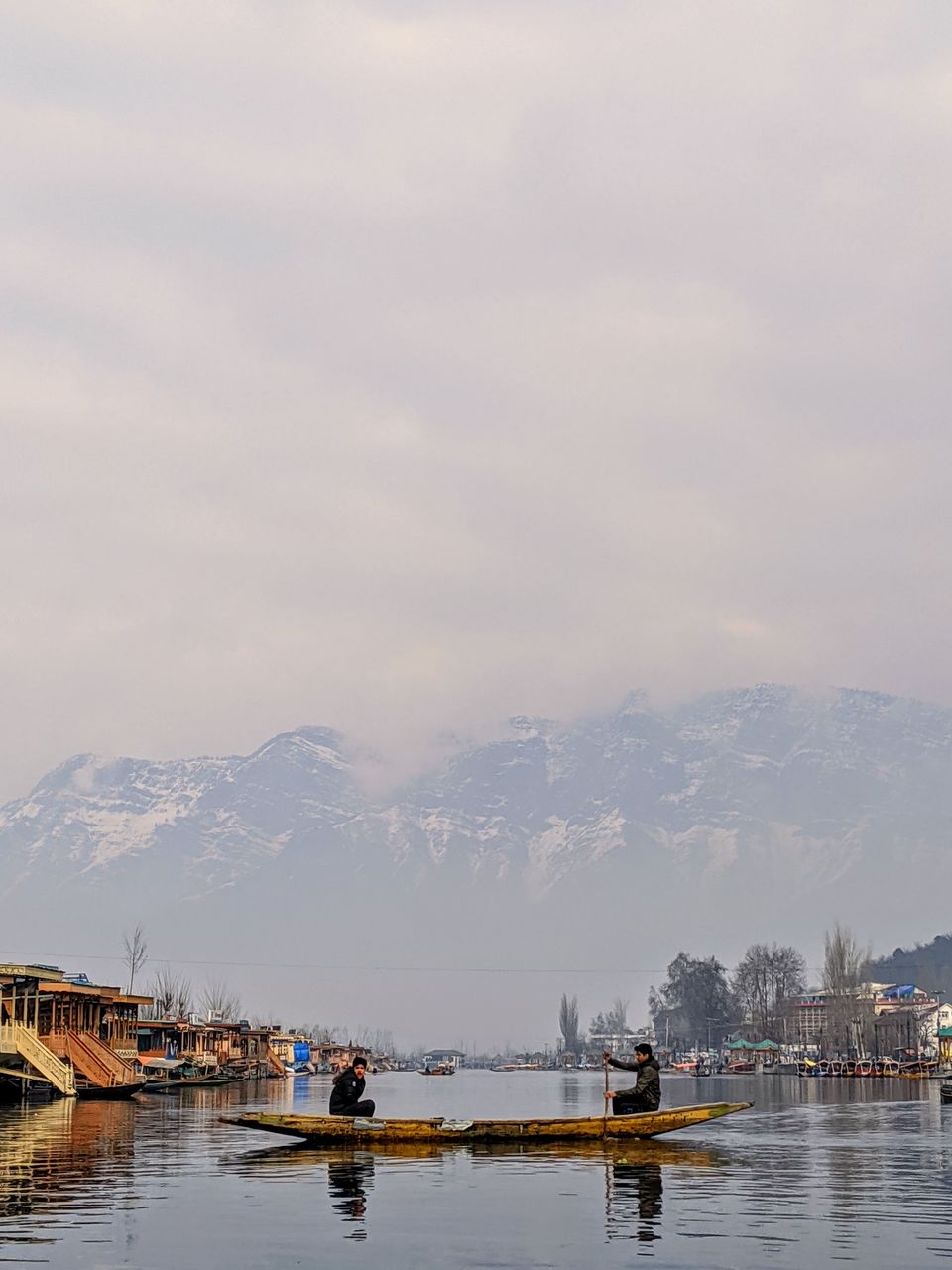 You can opt to stay on the houseboats here (there are hundreds of them) making it an ideal experience for budget as well as luxury travelers.
The Dal lake is bigger than what we can ever imagine. It is like a city within a city, covering a vast area of 25 sq.kms. And the best way to see it closely is through a Shikara ride.
Grab on a Shikara ride for anything between INR 500/- to INR 2000/- (depending number on points you wish to see). You will come across majestic snowy mountains flanking the lake, end number of house boats, vegetation, and yes, civilizations too.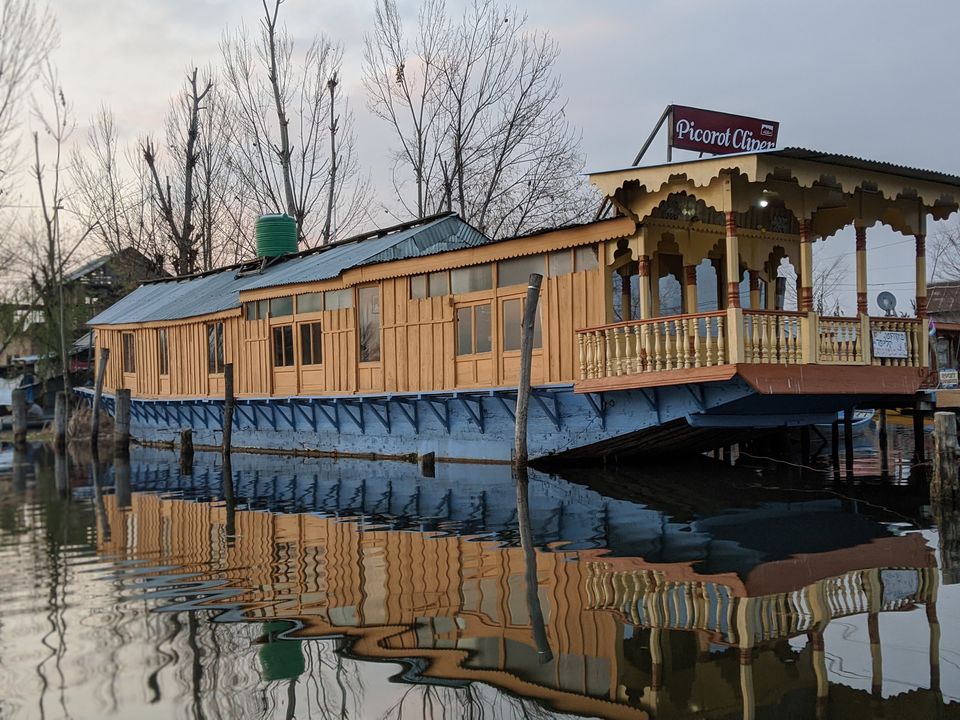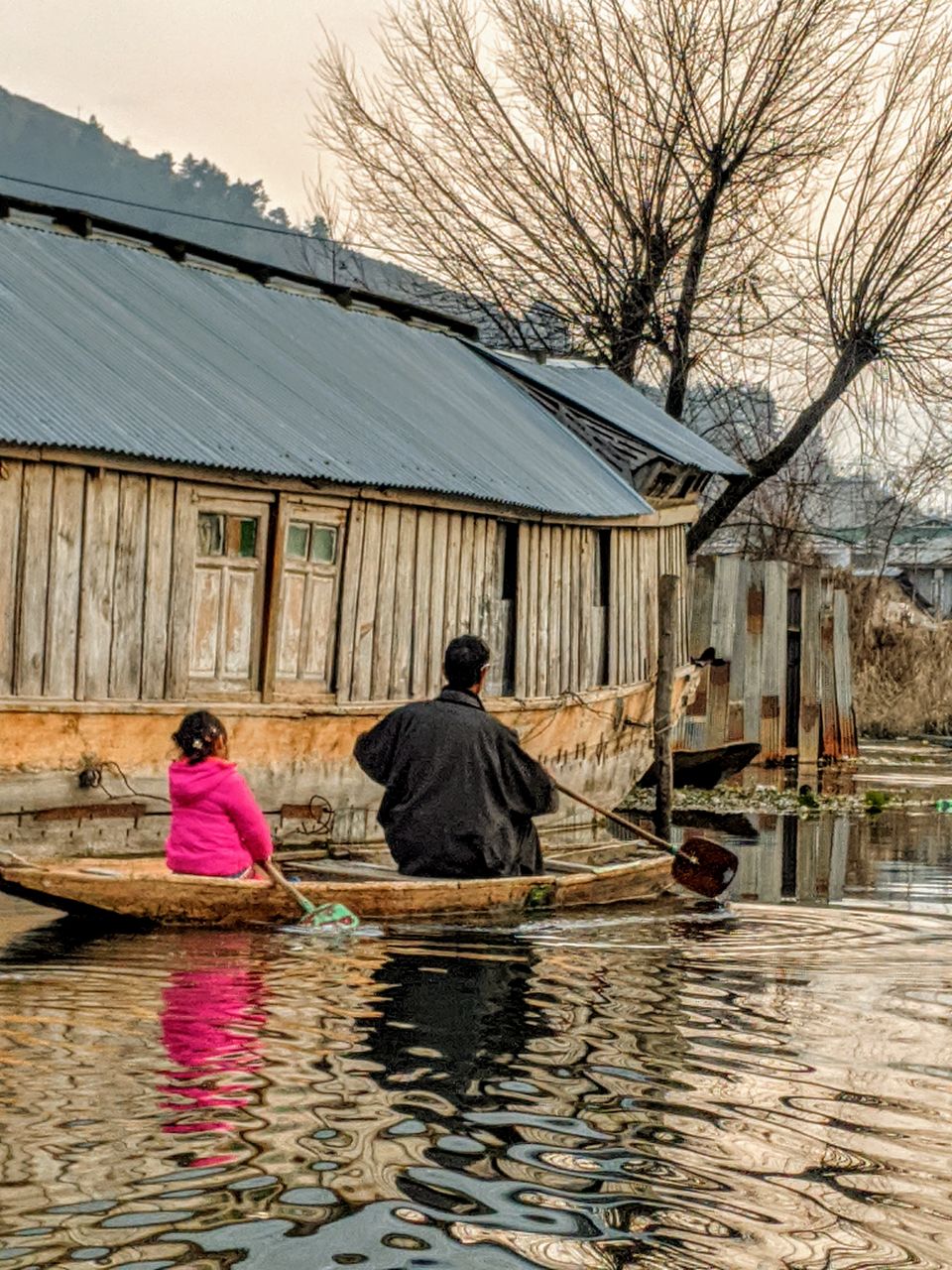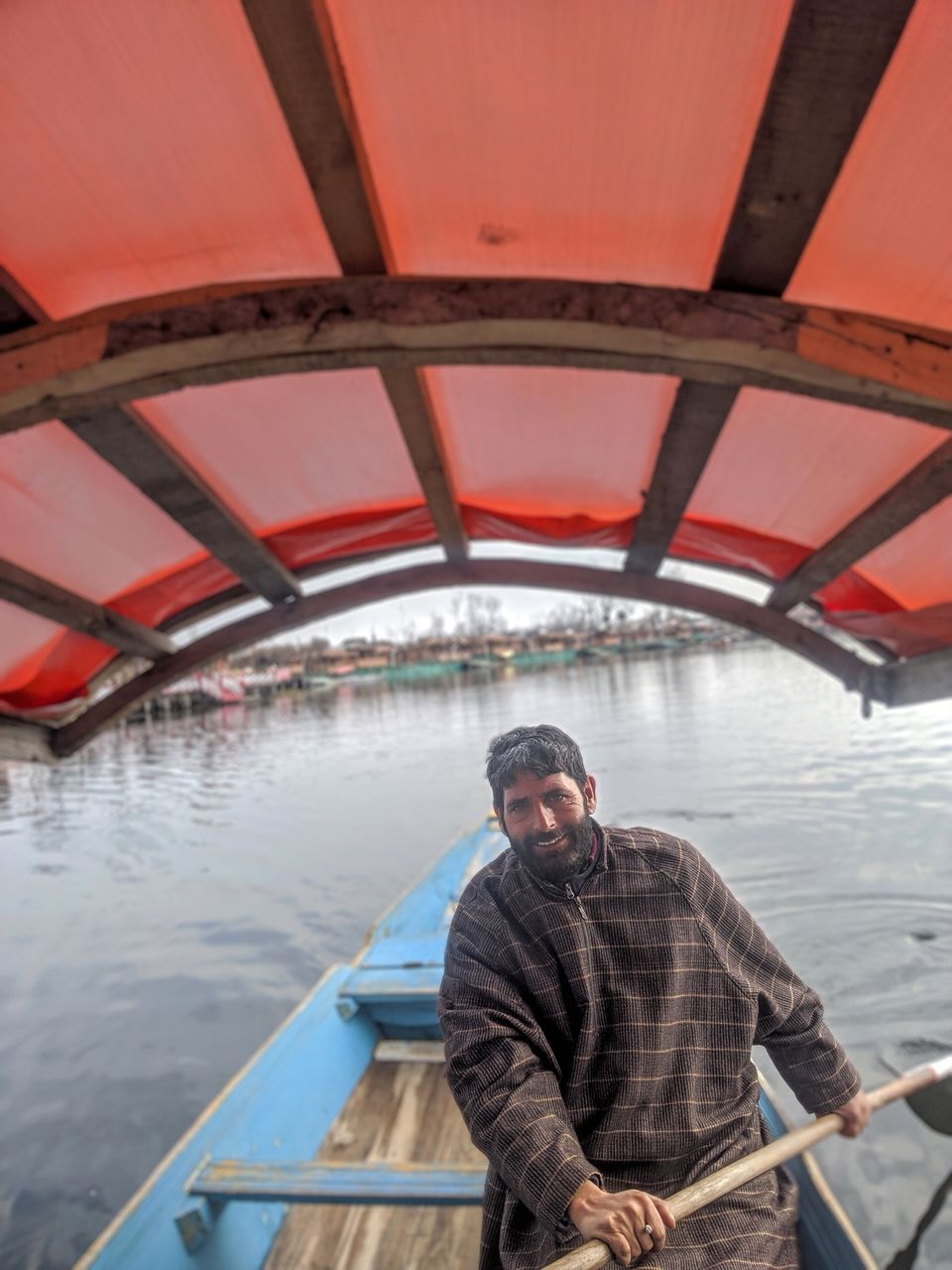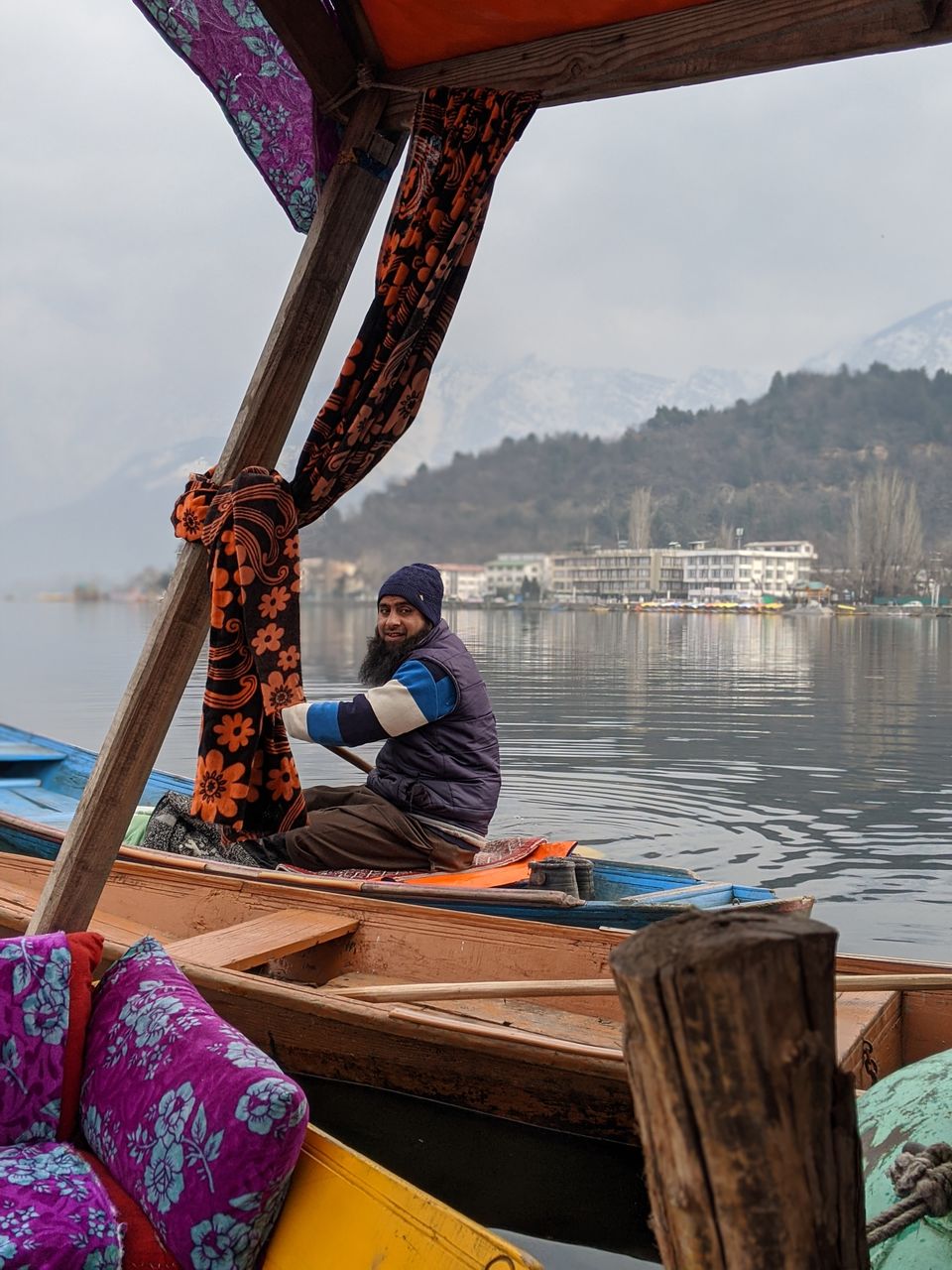 The lake is also an important source for commercial operations in fishing and water plant harvesting, so you will see your Shikara operator taking you to various points and markets. We still remember a vendor rowing his small boat near ours and telling, "Here you go ma'am, here's your own moving shop in the middle of lake!"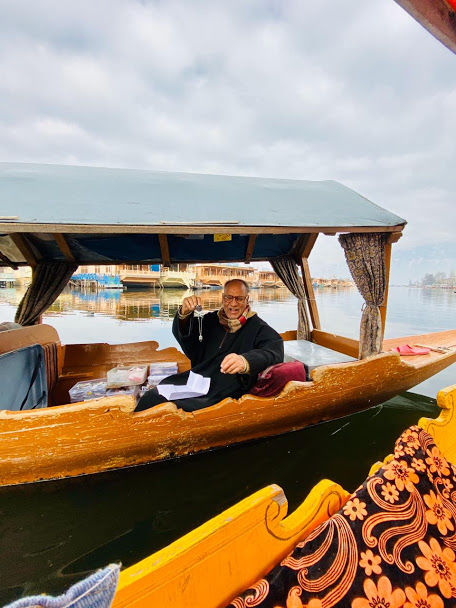 And that's how it is here. You will see vendors coming to you and selling all sorts of things. From Kashmiri Qawah to Kebabs, earrings, dresses for the photoshoot, Saffron (Kesar), Shila jeet, Pashmina shawls, everything is readily available. And for stuffs you cannot buy at your Shikara, your operator will take you those shops in middle of lake. From Carpets, wooden artifacts, local herbs etc. they sell everything in middle of the lake. If you are on shopping spree, then this is the place to be. We were told the cost of products here will be relatively less than what you get back in the main markets of the city. And guess what? If are short of space in your baggage, they even courier the goods to you at your hometown wherever it is in India. Yes, they are professionals and trustworthy too!
Since our visit was during Chillai Kalan (the harshest 40 days of winter), we witnessed the beautiful sunset during our Shikara ride and retired to our hotel room for an early dinner.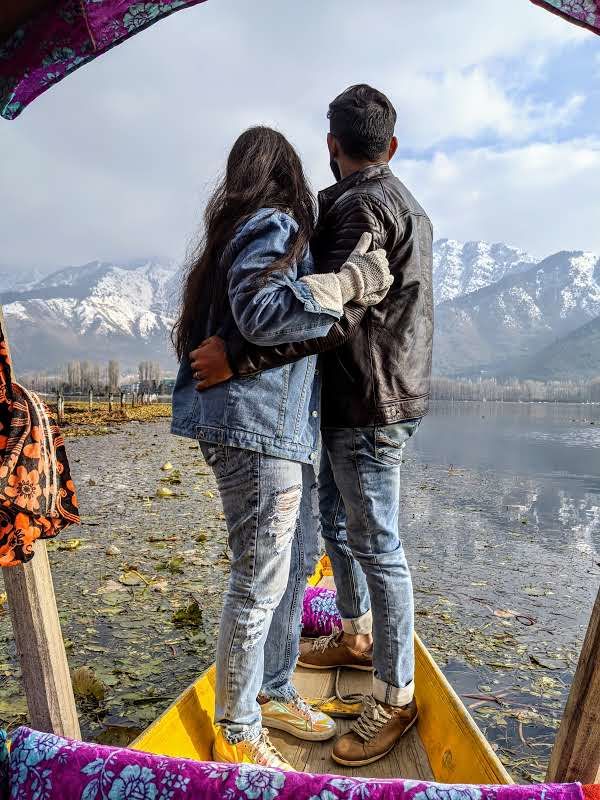 Day 2 – Explore Srinagar
On the second day we left early to explore the city taking a local auto rickshaw.
(Pro Tip: Bargain the final rates for the entire day or the number of places you intend to visit).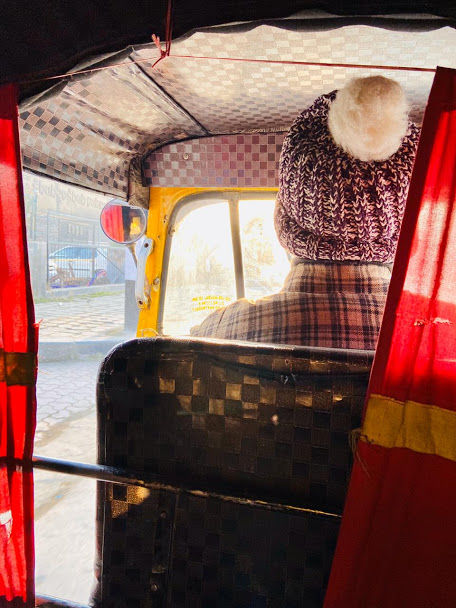 We visited the Bollywood famed Shankaracharya Temple which is on the outskirts of Srinagar. We witnessed complete security of CRPF officials all over Srinagar, and it was at Shankaracharya Temple that we were not allowed to take any sort of mobiles phones or camera.
Post temple, we visited the renowned Mughal gardens – Shalimar and Nishat. The Nishat Garden is extremely famous for its autumn view of 'Chinar leaves.'
These gardens are the pride of Kashmir and one can witness them at their full bloom during the spring and summer season. There is another famous garden – Chashme Shahi, which can also be visited during the day.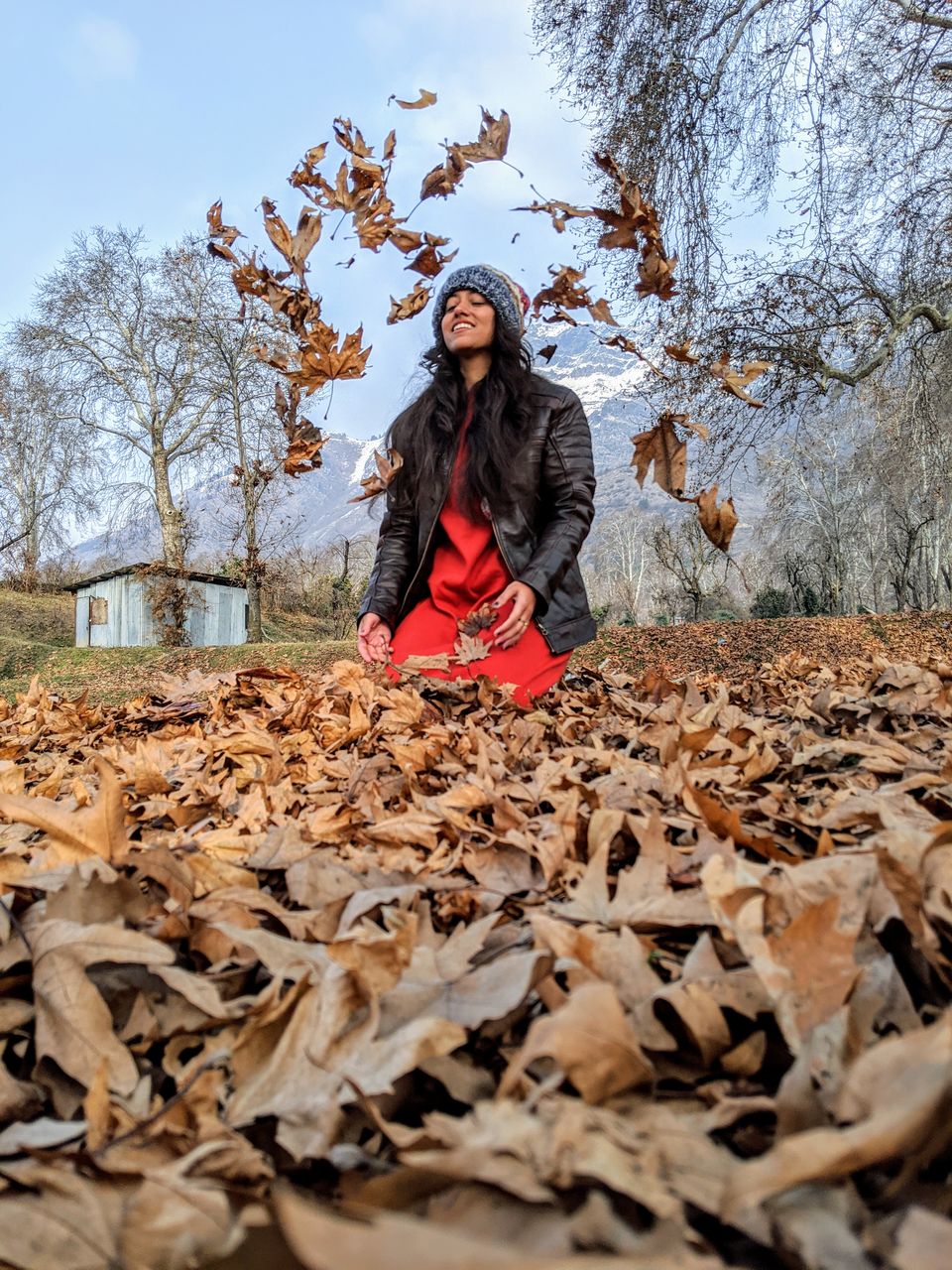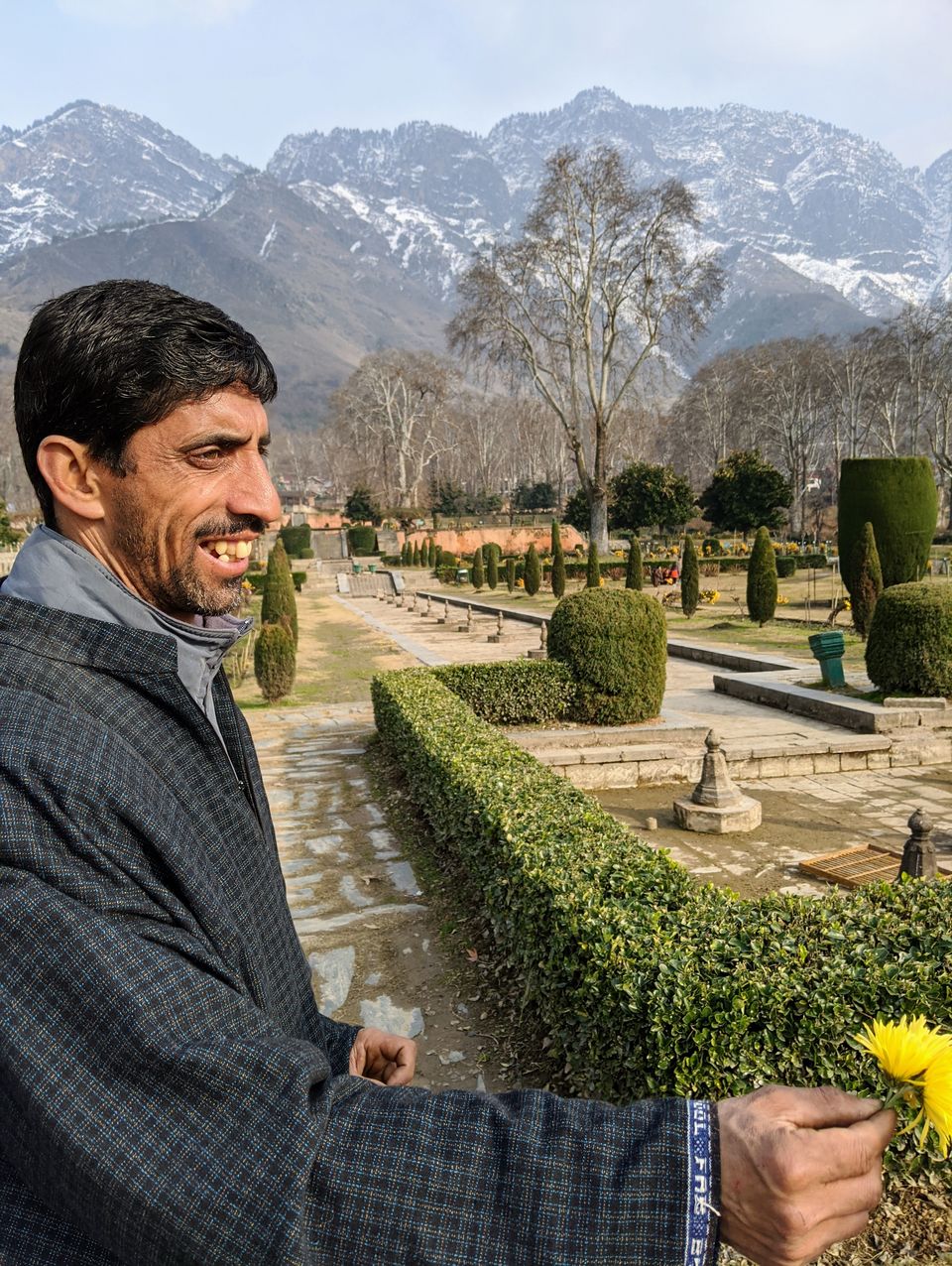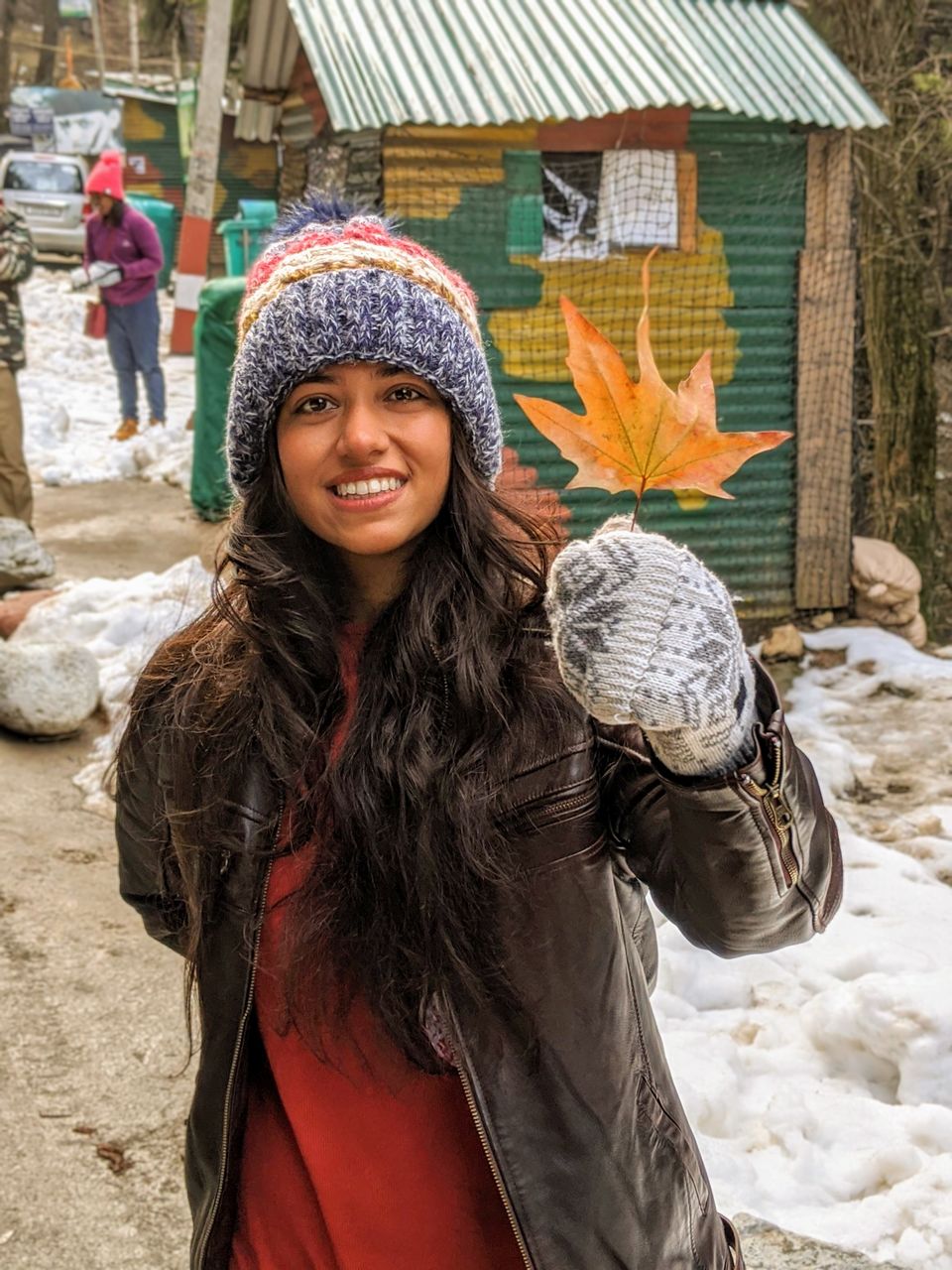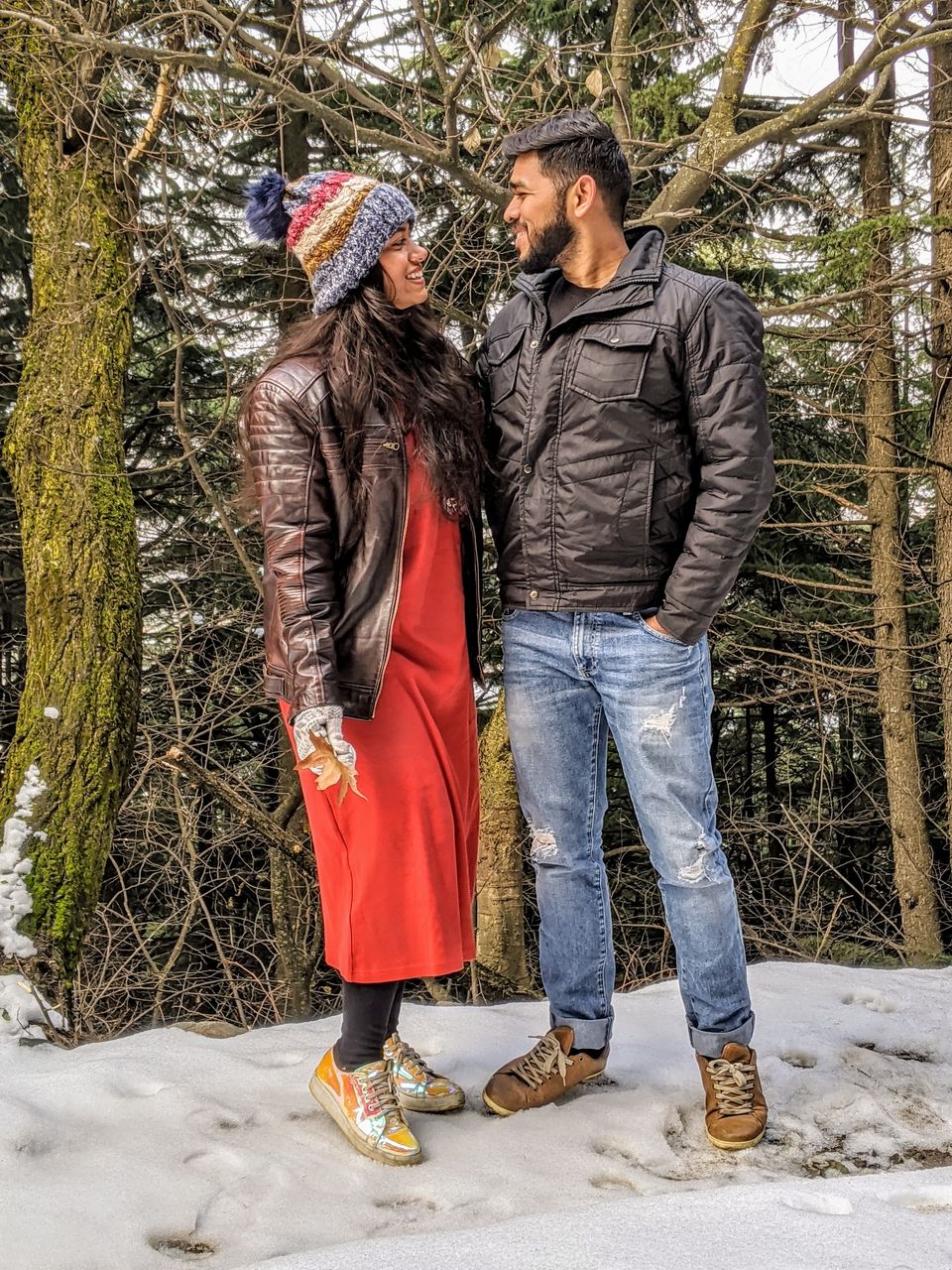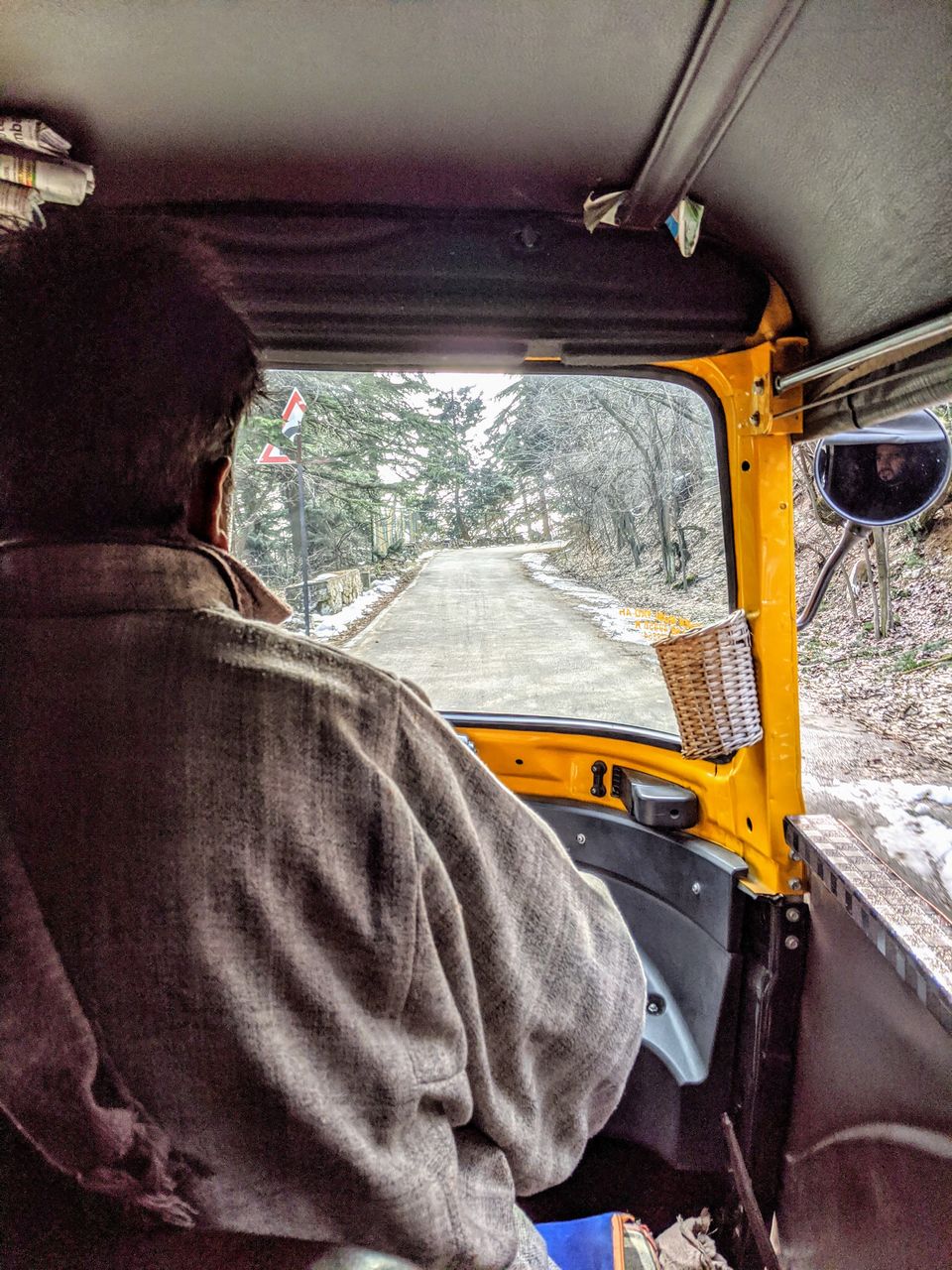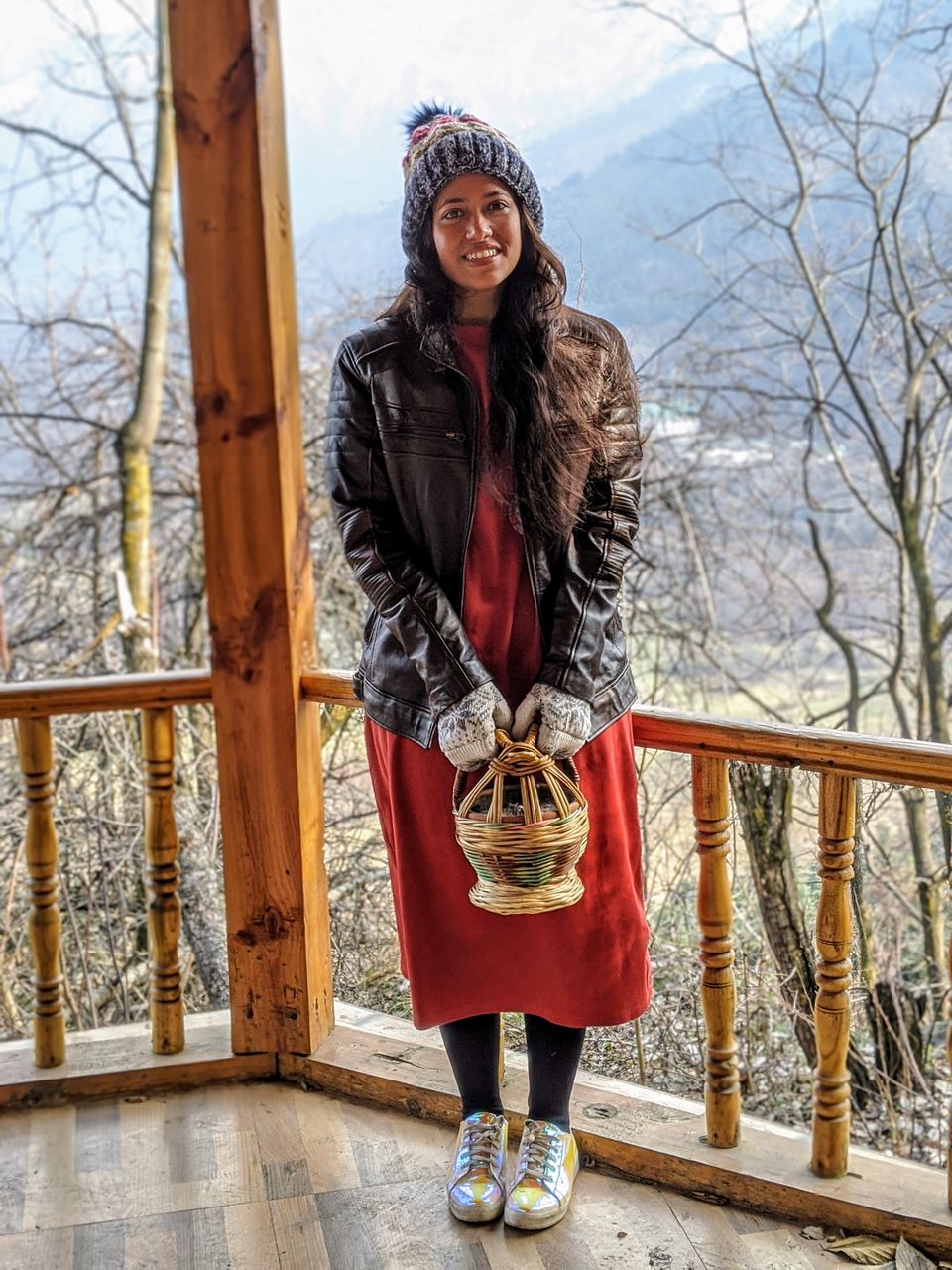 We then visited the famous Hazratbal Dargah (shrine) later in the afternoon to witness the city's vibe and its people. The shrine is open for all (women have different section like in every Dargah). Following this, we visited the Jamia Masjid which is in the old part of the city. Unfortunately, because of the unrest, the Masjid and the adjoining area was shut. But now, it is all safe here. The people were moving calmly. The street hawkers were busy selling fruits, vegetables, clothes and the street was busy as usual.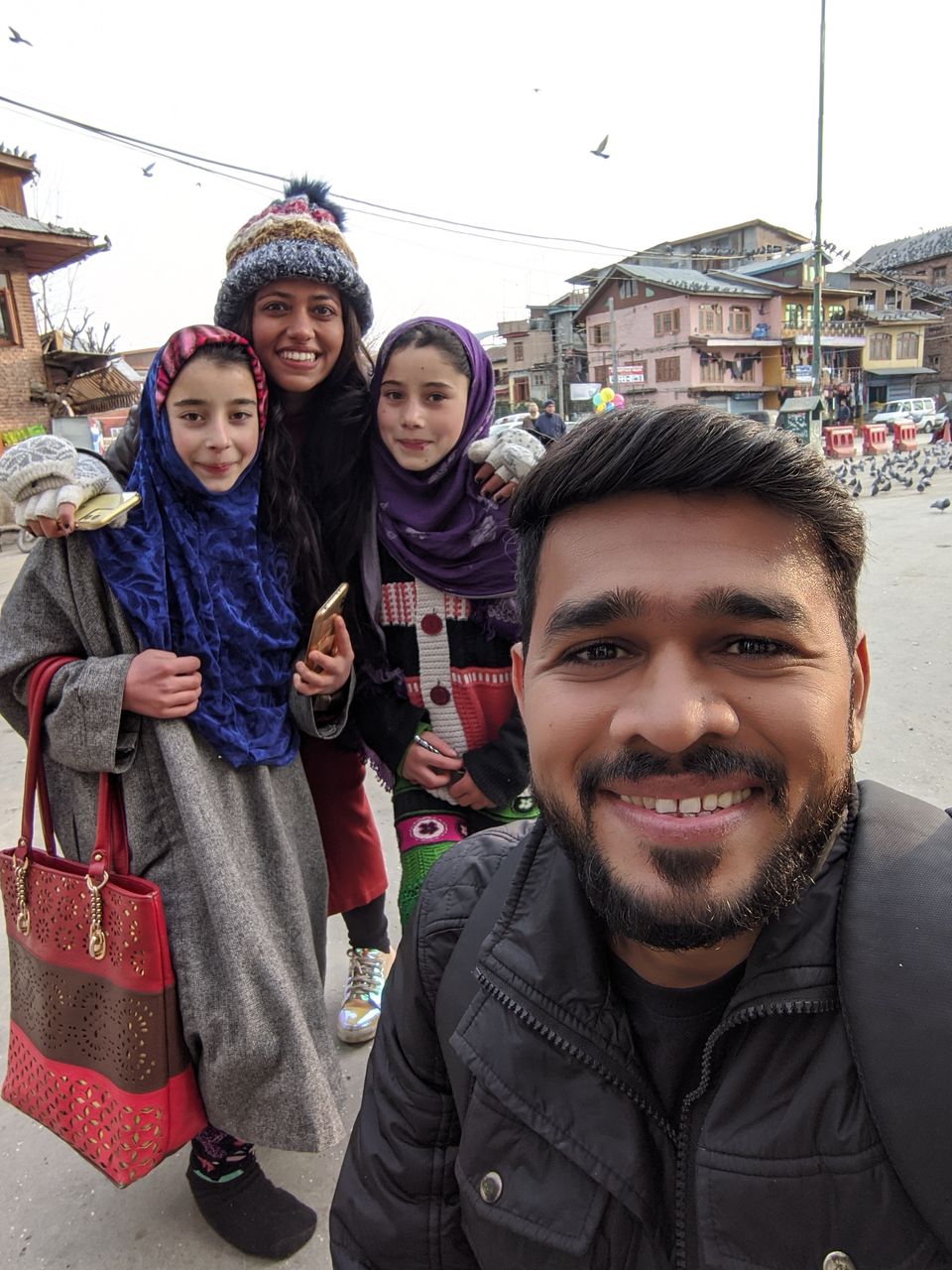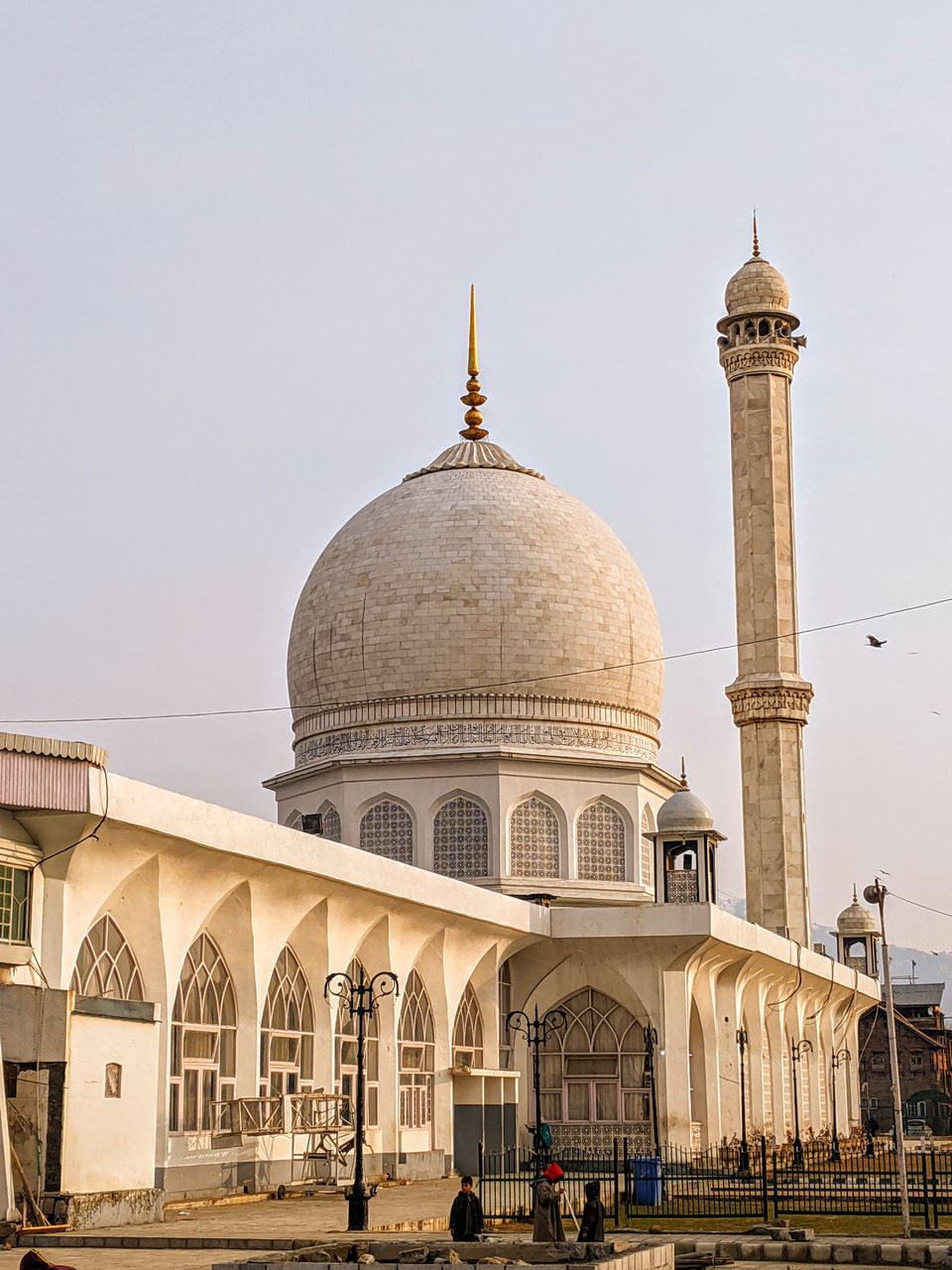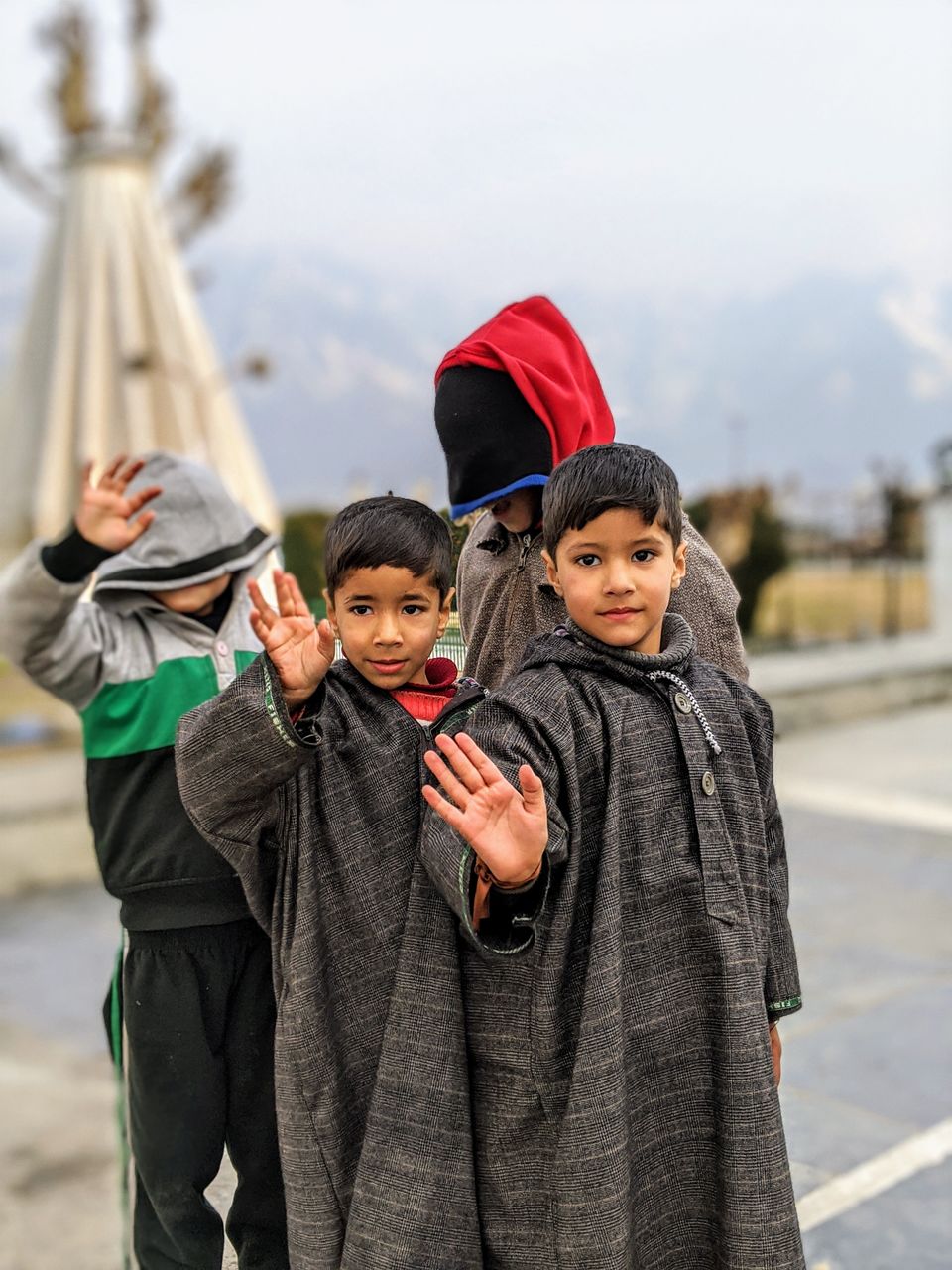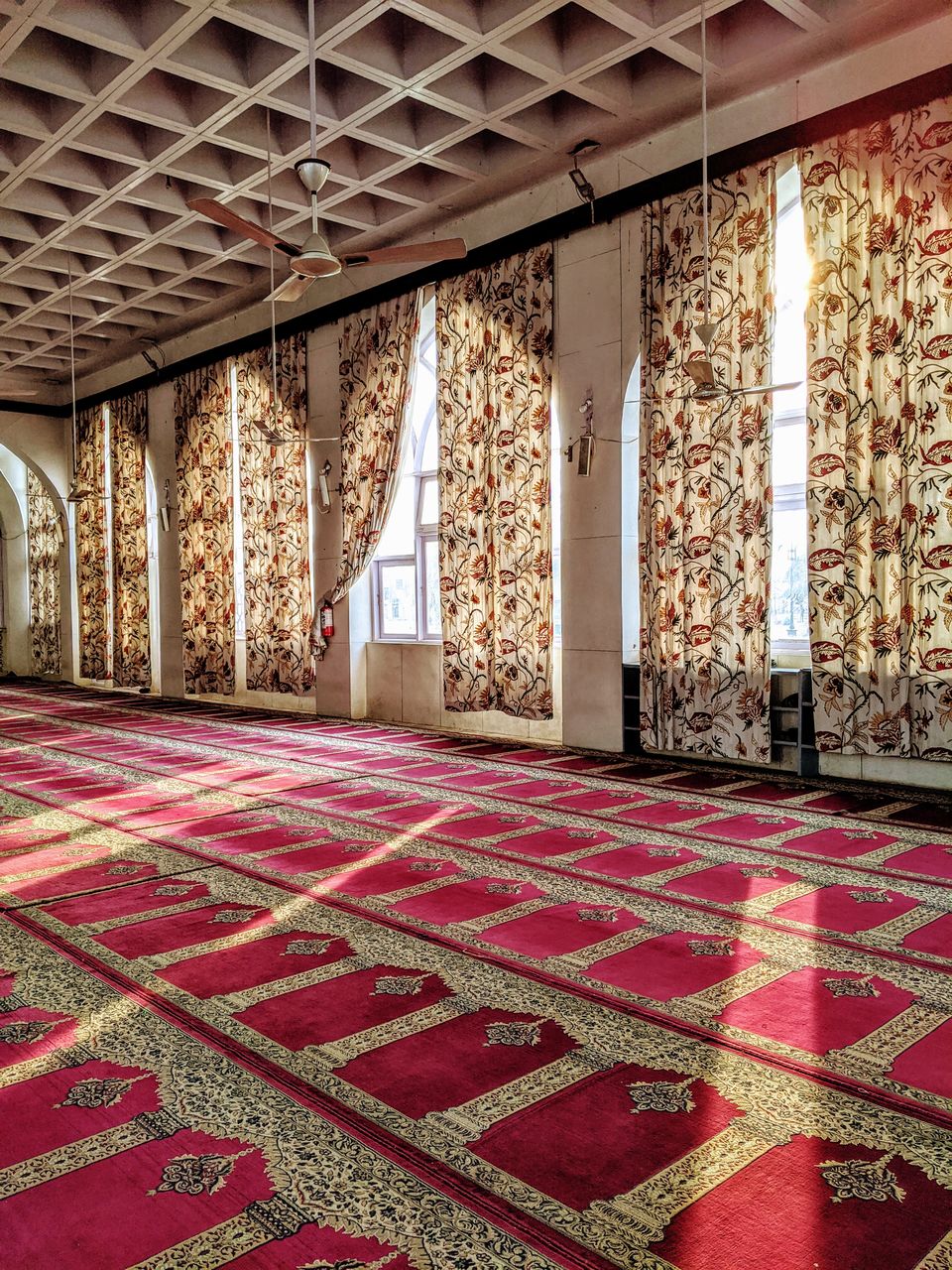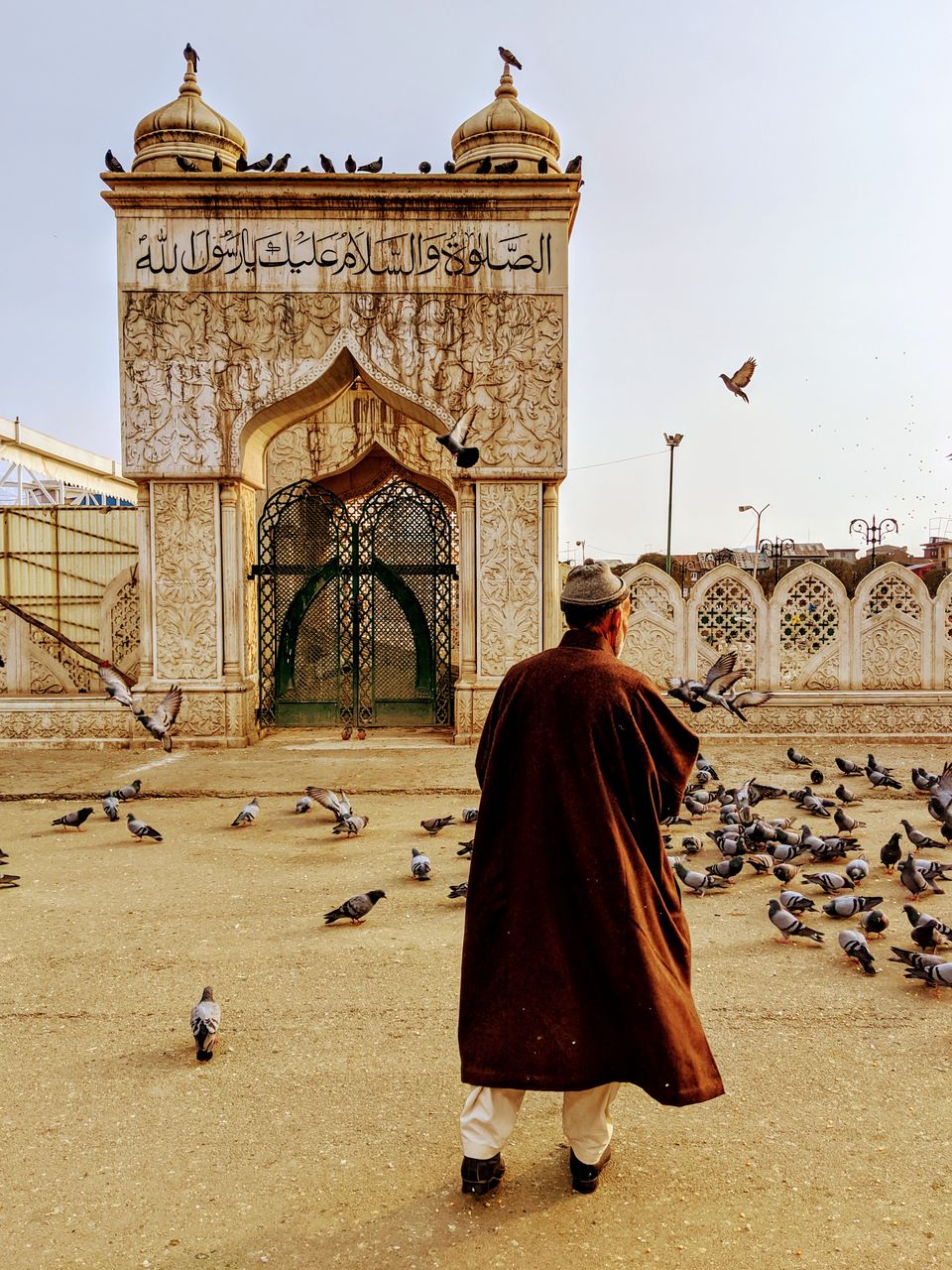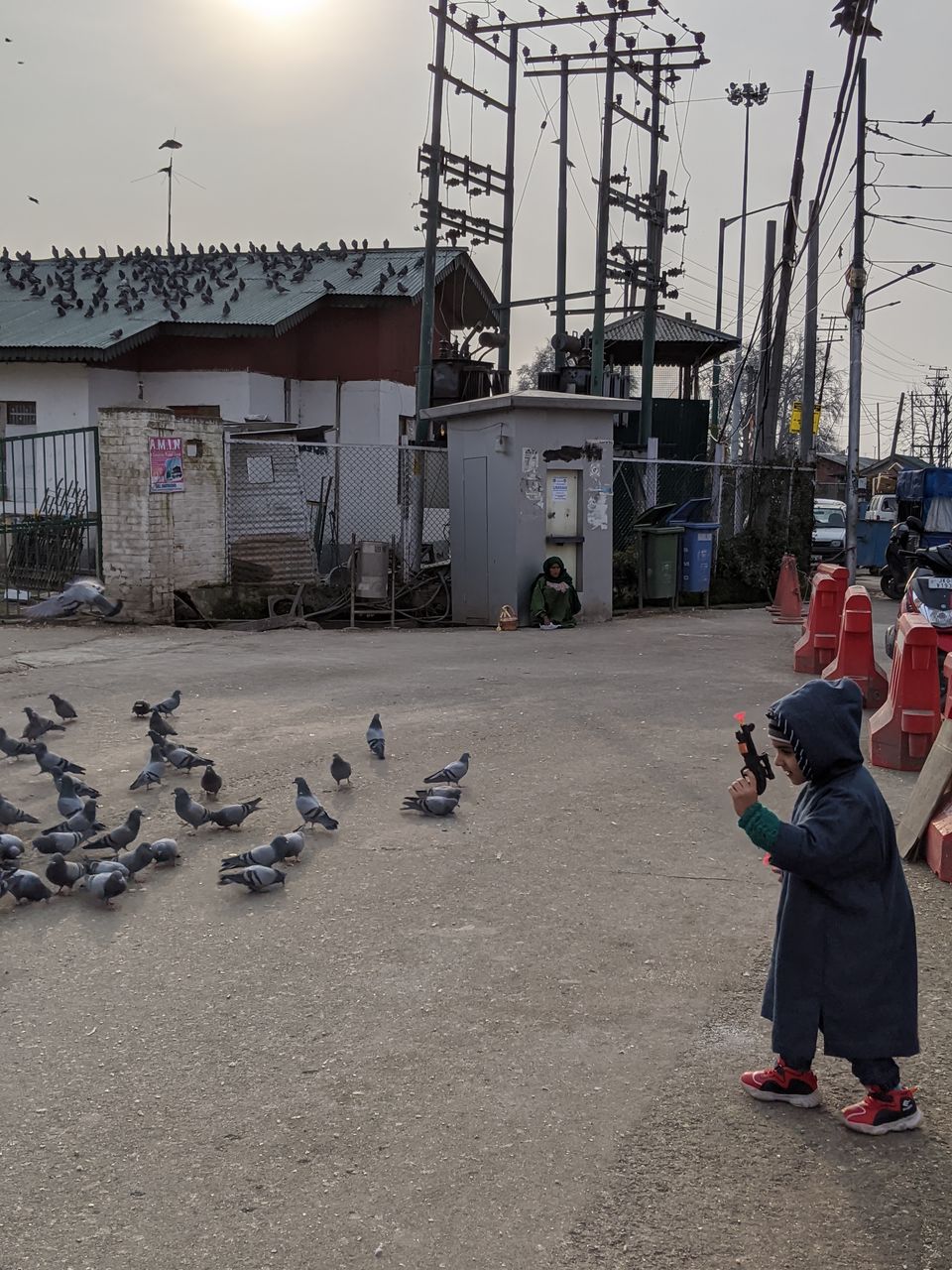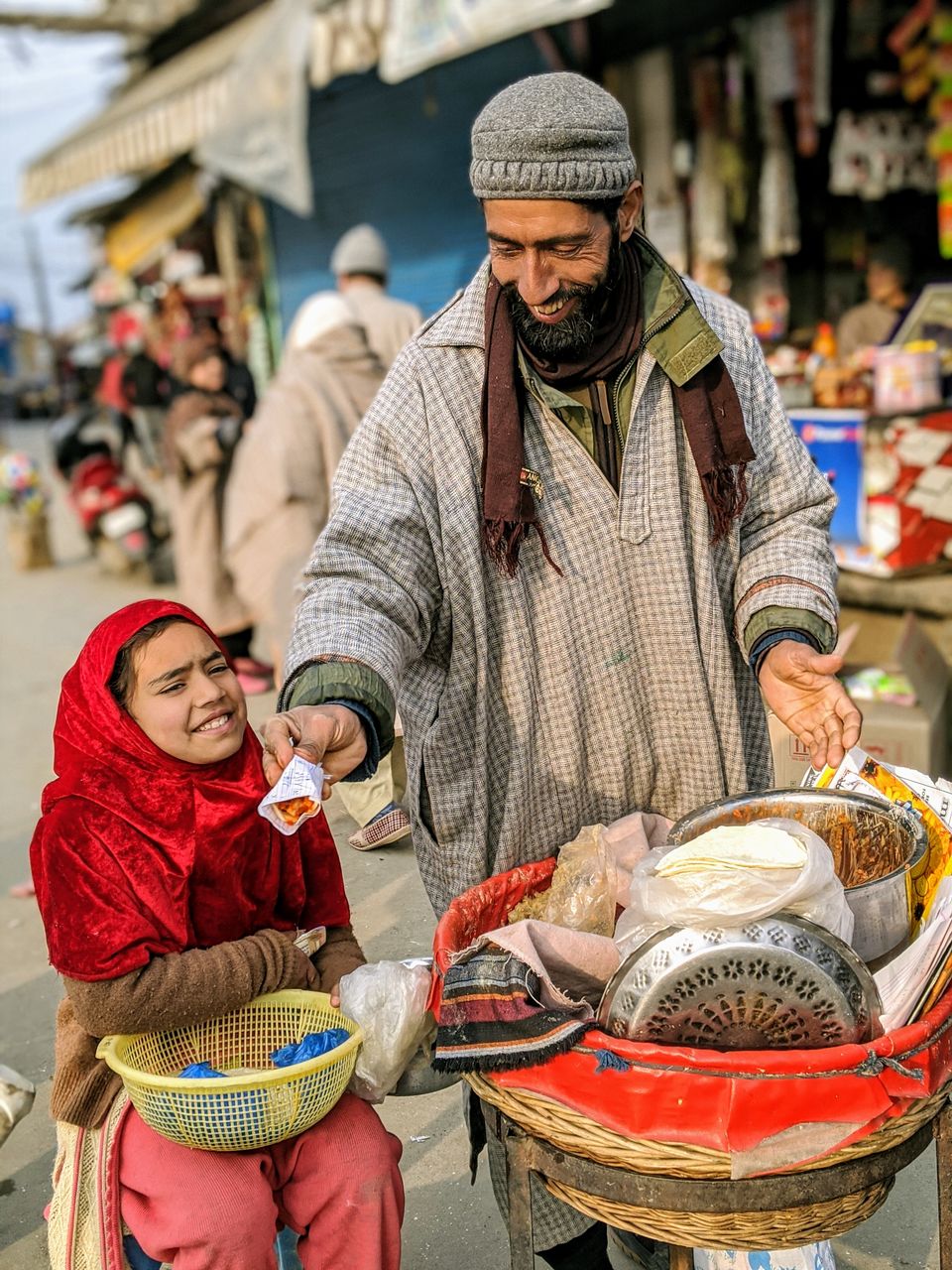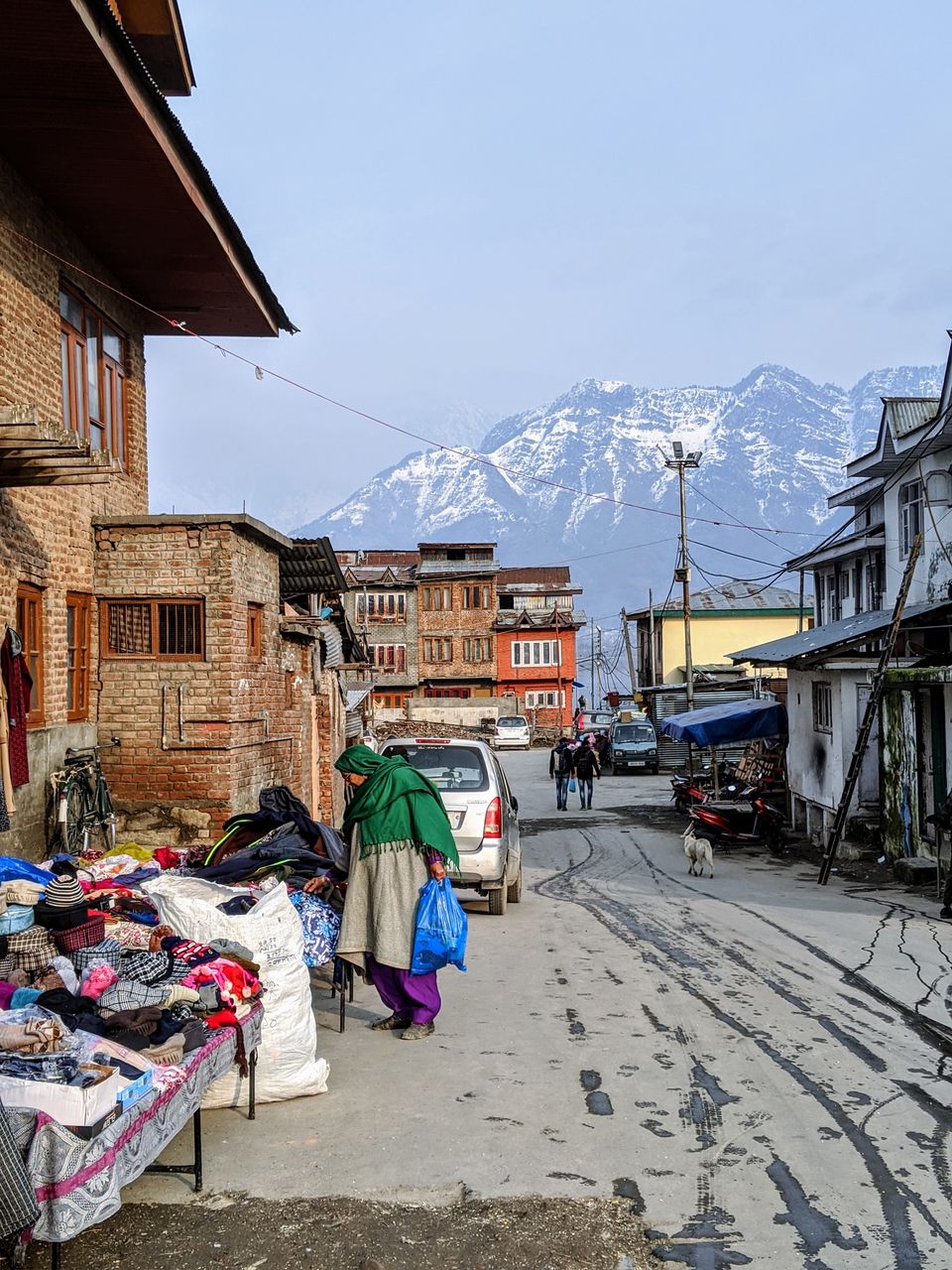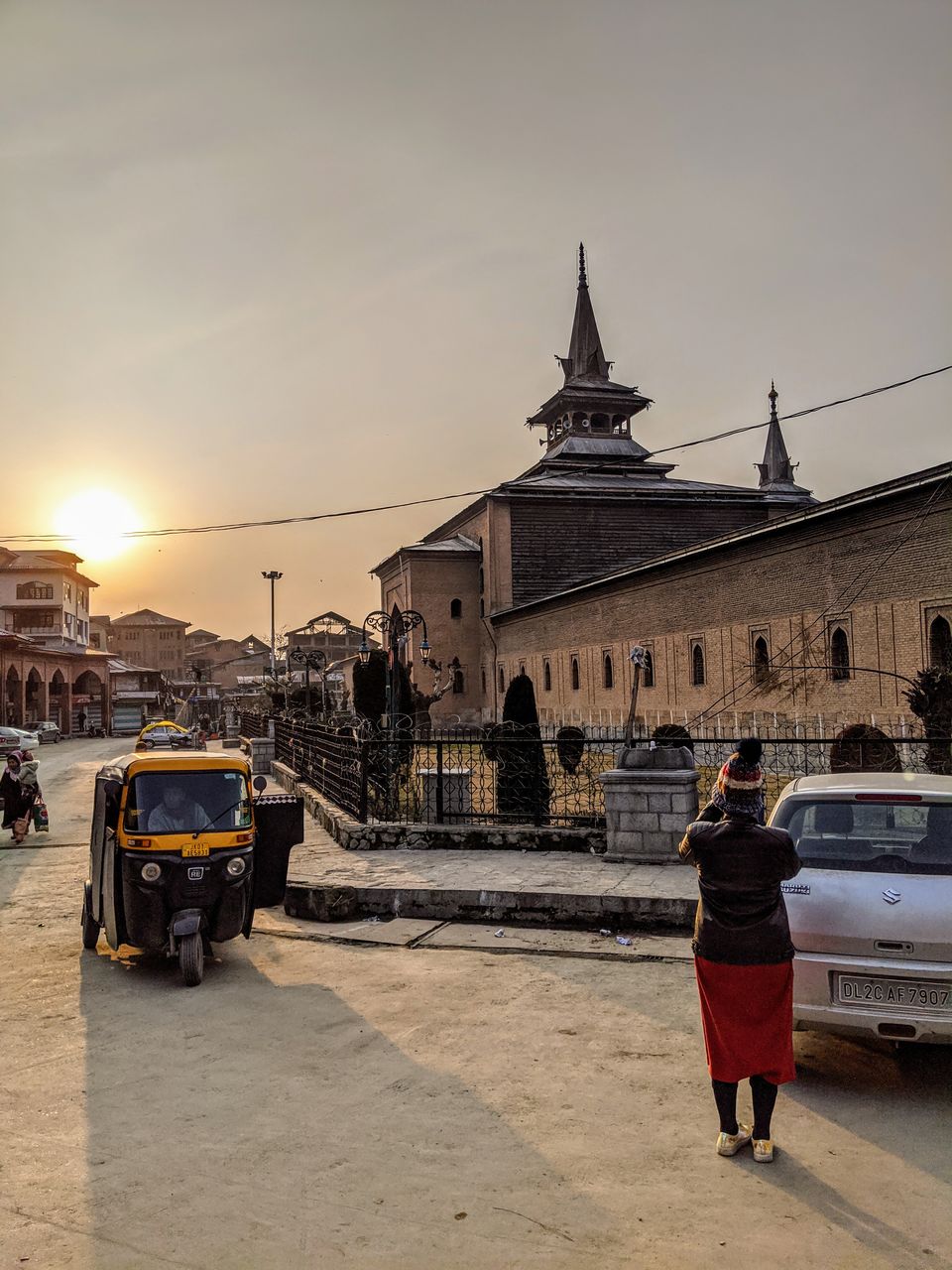 After visiting the famous Dargah's we headed towards the city center area – Lal Chowk. Lal Chowk is one of the most popular and oldest shopping places in Srinagar. Lined with shops selling woolen garments, copper ware, silver jewelry and spices, Lal Chowk remains crowded with tourists and natives alike. You can also buy carpets brass ware and walnut wood products from here. As the sun sets, you would see people mostly rushing to their homes as the temperature dips extremely fast and ends up at -5 to -10 degree Celsius.
Day 3 – Day trip to Yousmarg

There are many places around Srinagar which are nestled in the lap of these heavenly mountain ranges which offer some stunning views and the real feel of Kashmir!
A trip to Kashmir for most of the people means visiting 4 places; Srinagar, Gulmarg, Pahalgam and Sonamarg. For many, Srinagar just acts as the base to explore the other three towns. But, believe us, Kashmir is much more than just these four places. There are many other places in here that will leave you spellbound. Yousmarg is one of those places.
Yousmarg (also known as Yusmarg) is around 50 kms to the south-west of Srinagar and in local language, it actually means, The meadow of Jesus!
When we told our auto rickshaw driver that we wanted to visit Yousmarg, he told us that it's pointless going there at this time because, there would be no one there. All the stays are usually closed in Yousmarg because of no water availability (the underground water pipe had burst because of the snow and they would only be repaired once the snow gets tamed) & the extreme cold. But, we were adamant and asked him to guide us the most convenient way. What followed next literally changed the way we traveled across Kashmir for the rest of our days.
Travelling in Kashmir: Per day cabs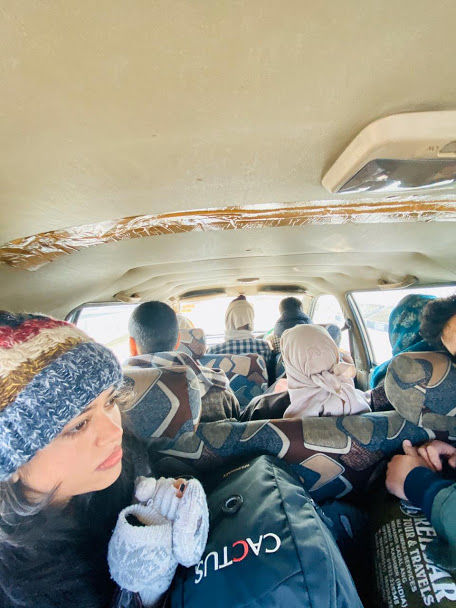 Pro tip: If you are traveling between two places (whether in city, or from one town to another), always opt for the shared local ride. There are ample of shared Tata Sumo and other similar cars easily available at chowks and car stands, which take around 8-10 people for a nominal rate. Our trip to Yousmarg just costed us INR 360/- in total. If we would have hired a personal cab, it would have costed us easily somewhere between INR 1800-2200/-.
And this is how we traveled for rest of the days which made us save lots of money, and hands down relish the best local experience ever! There's nothing better than traveling the local way with the locals!
(Srinagar- Chadoora or Charar-i-Sharief)
To visit Yousmarg, take a shared cab from the Srinagar market area to Chadoora or Charar-i-Sharief and then from either of these places again take a shared cab to Yousmarg.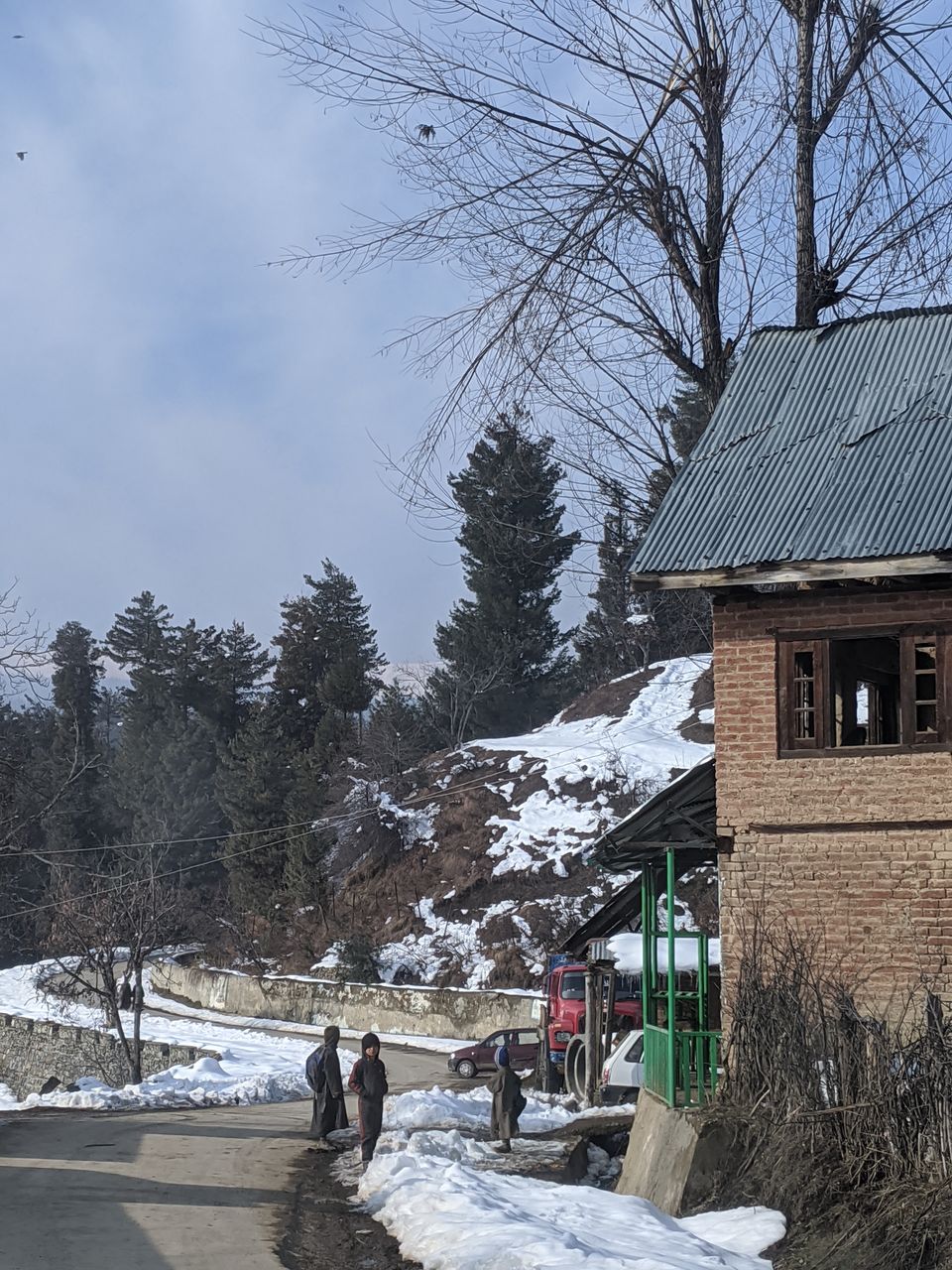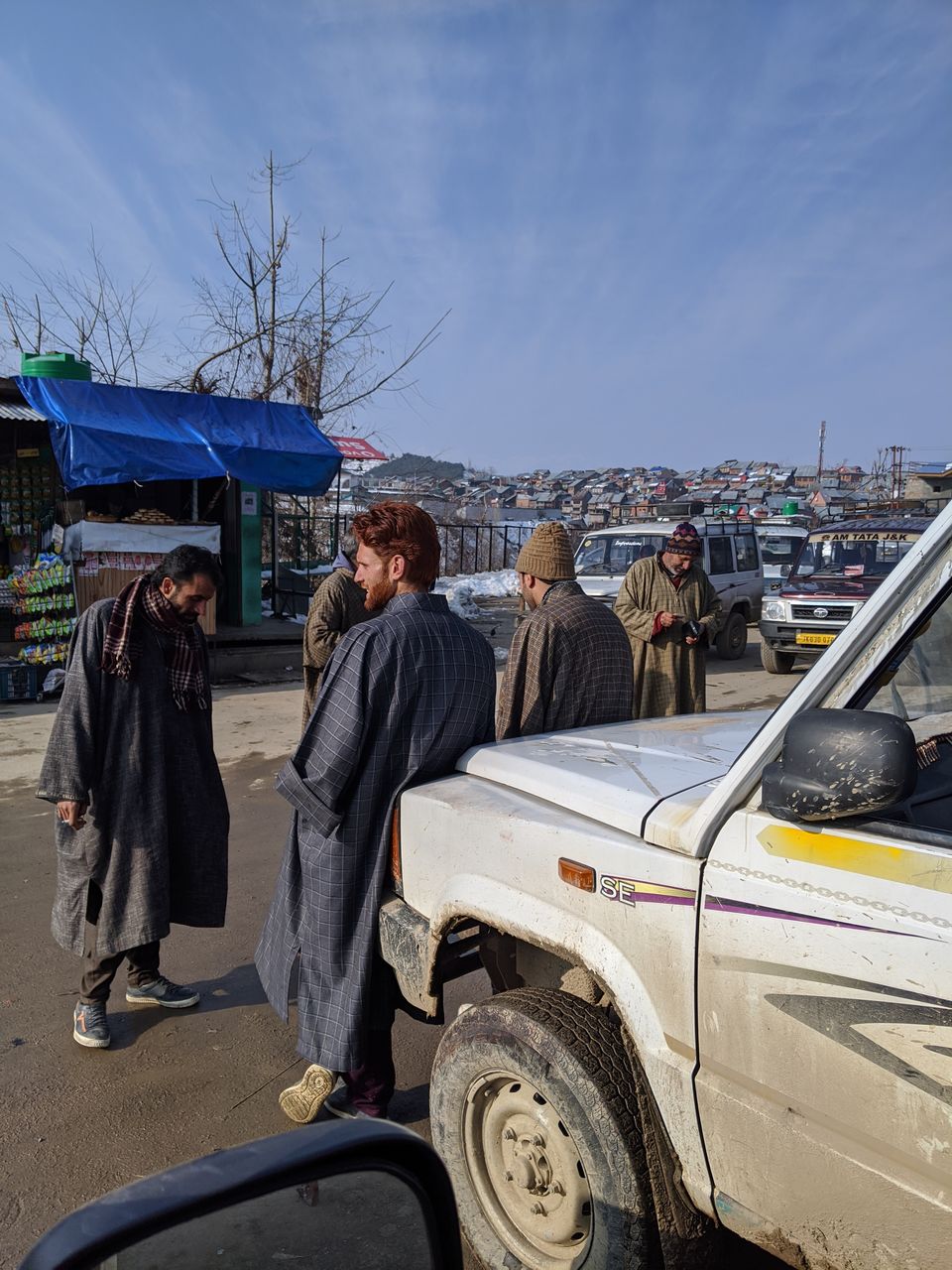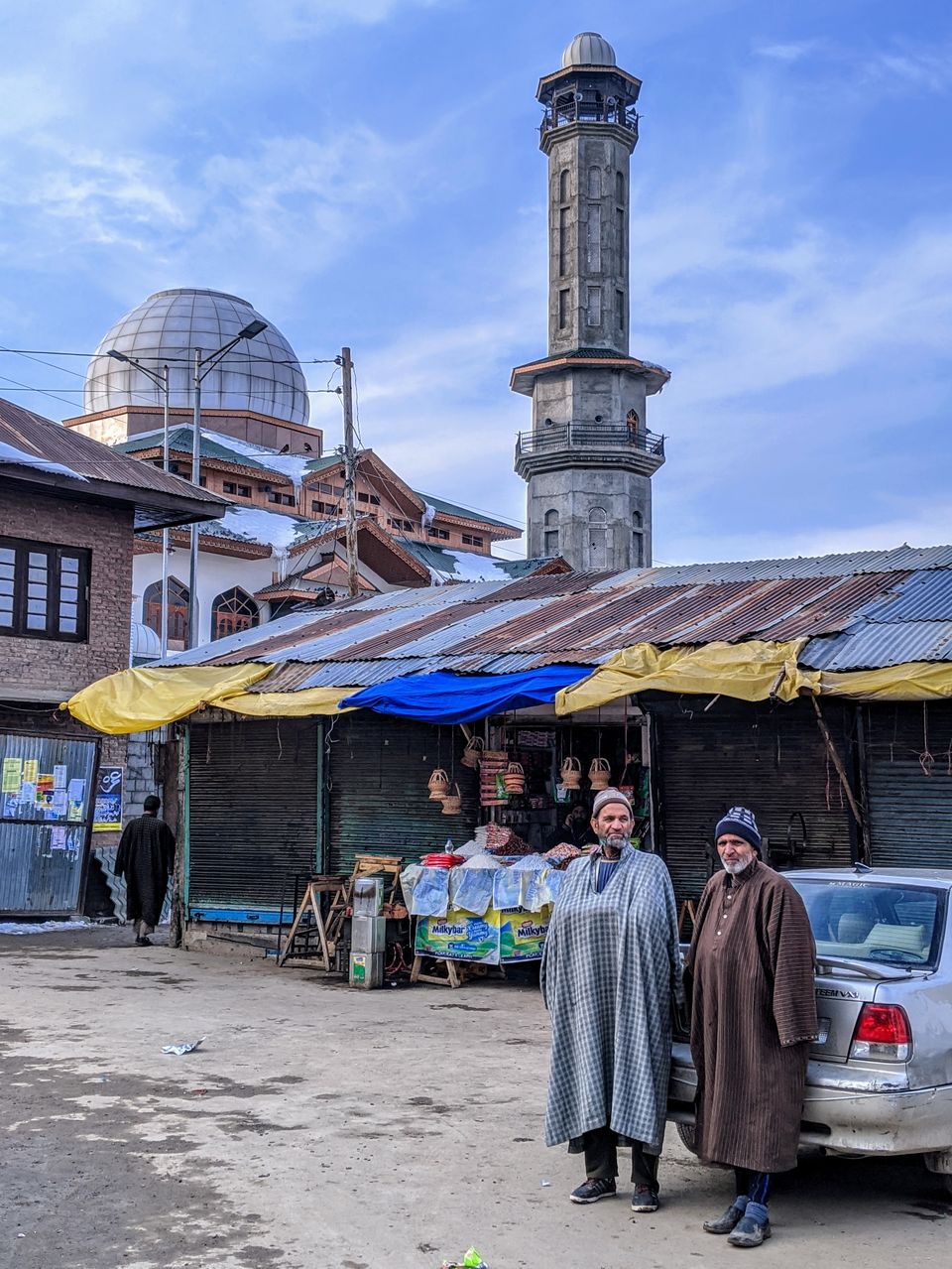 Yousmarg is a white wonderland. When we first arrived, the entire valley was covered under a thick blanket of snow. And believe us, when we reached we did not see any human being around. The mercury was clicking below 0-degree Celsius as we wandered through the entire area. Since there was no connectivity & people present around Yousmarg, our cab driver assured us to pick us back at 3pm at the same spot, for our way back to Srinagar.
It was for the very first time in our lives that we experienced so much of snow. It was all around us, and we were completely boggled by its beauty. We started playing in it, took pictures, and made snowman until an old man (who owned a house nearby) found us. He asked if we wanted any help and we could rest at his place if needed. The answer to which was an obvious YES.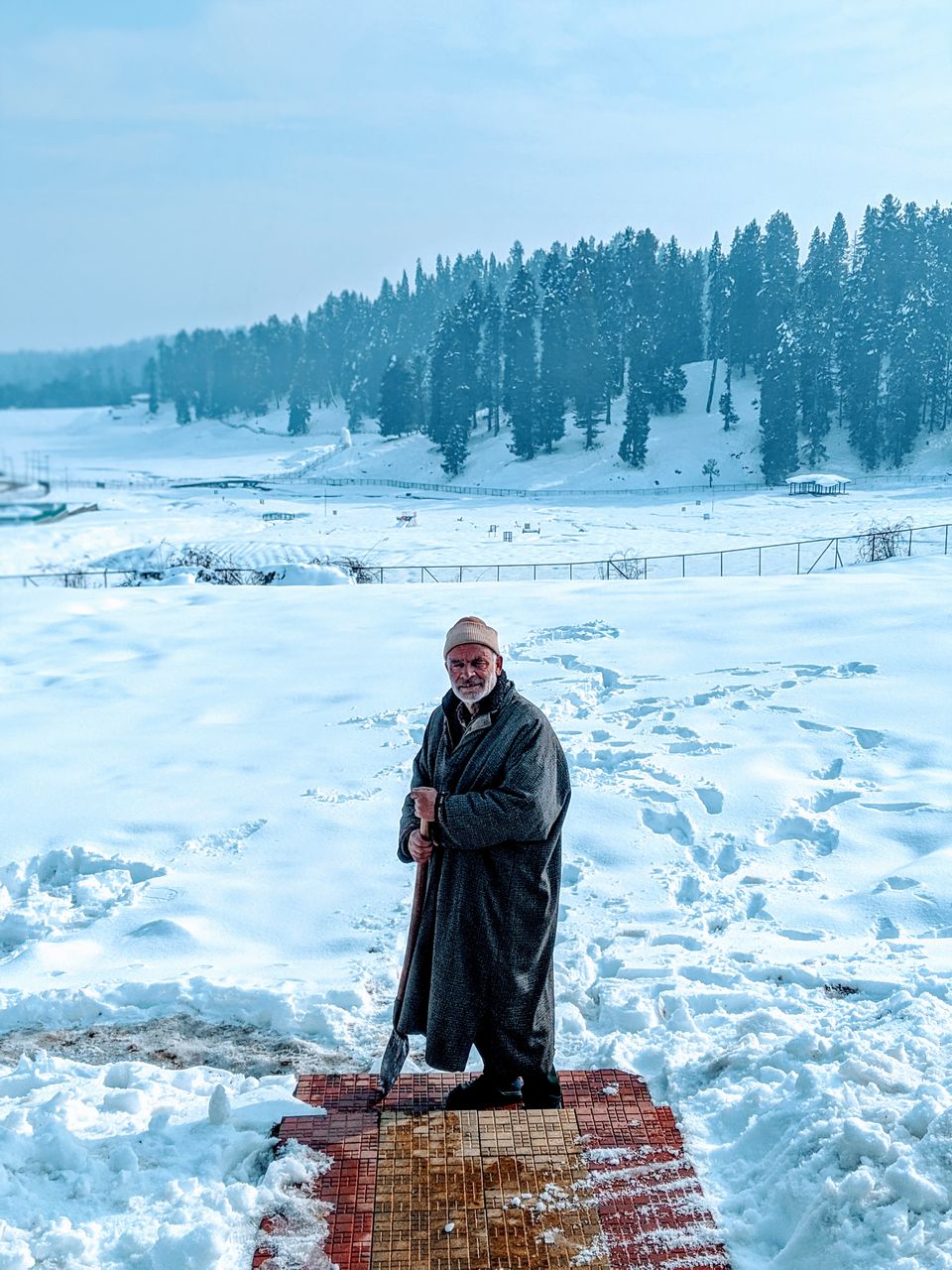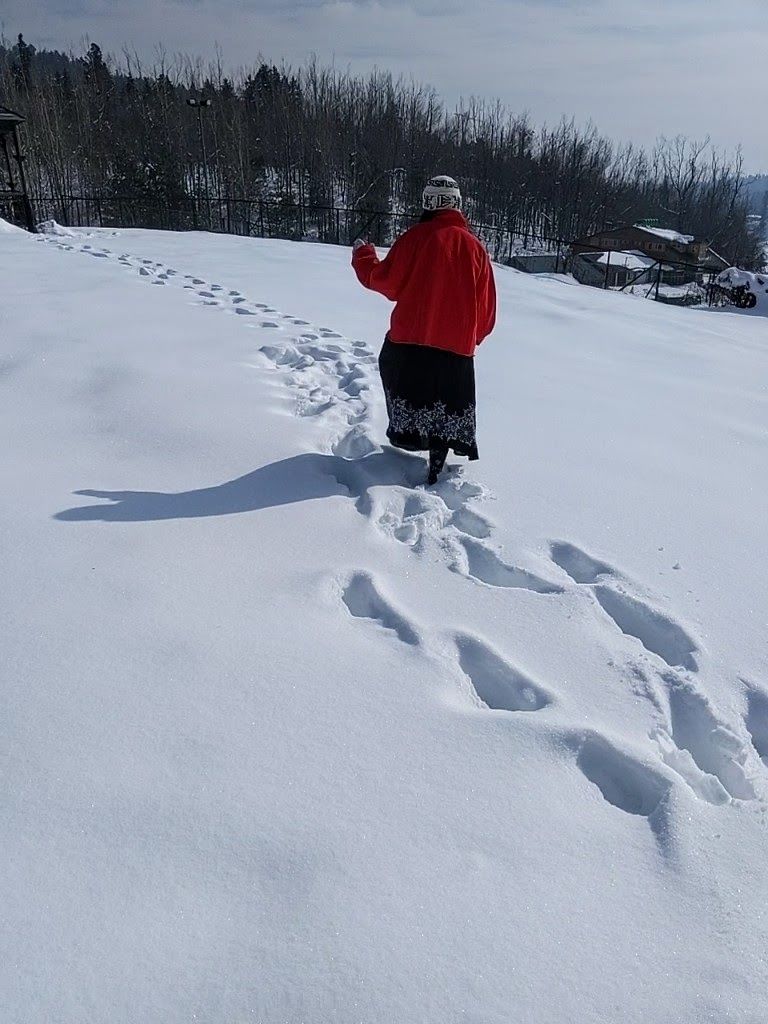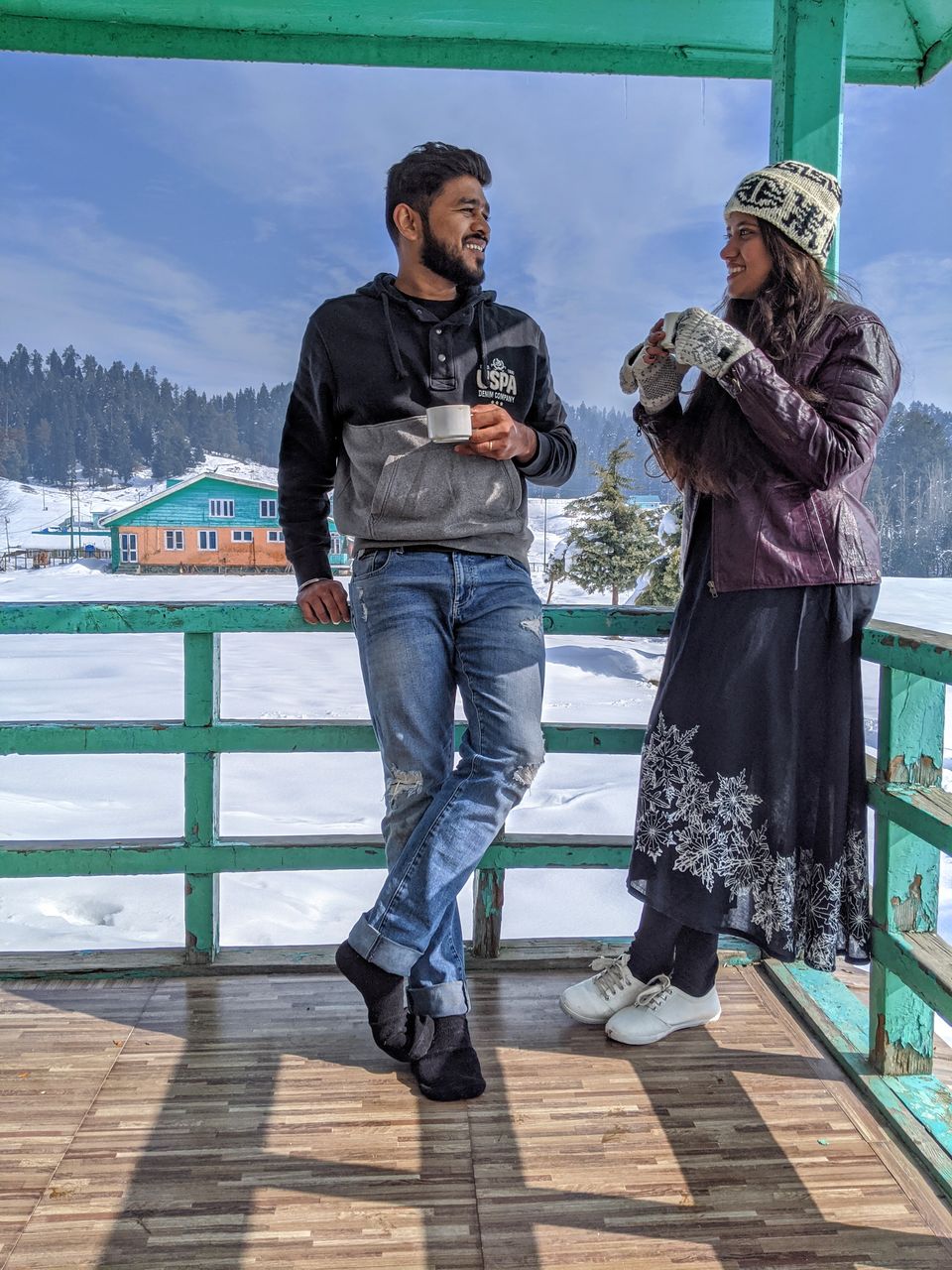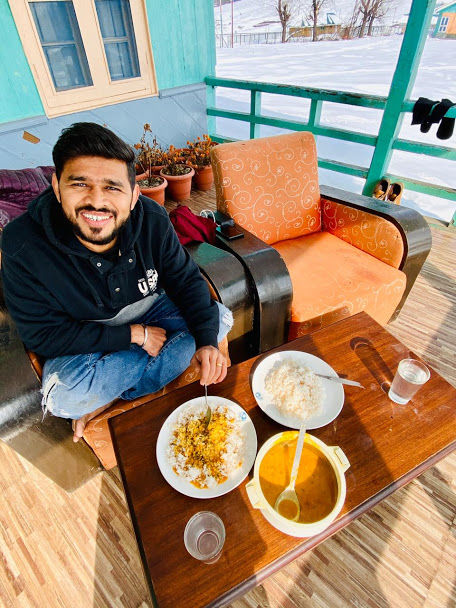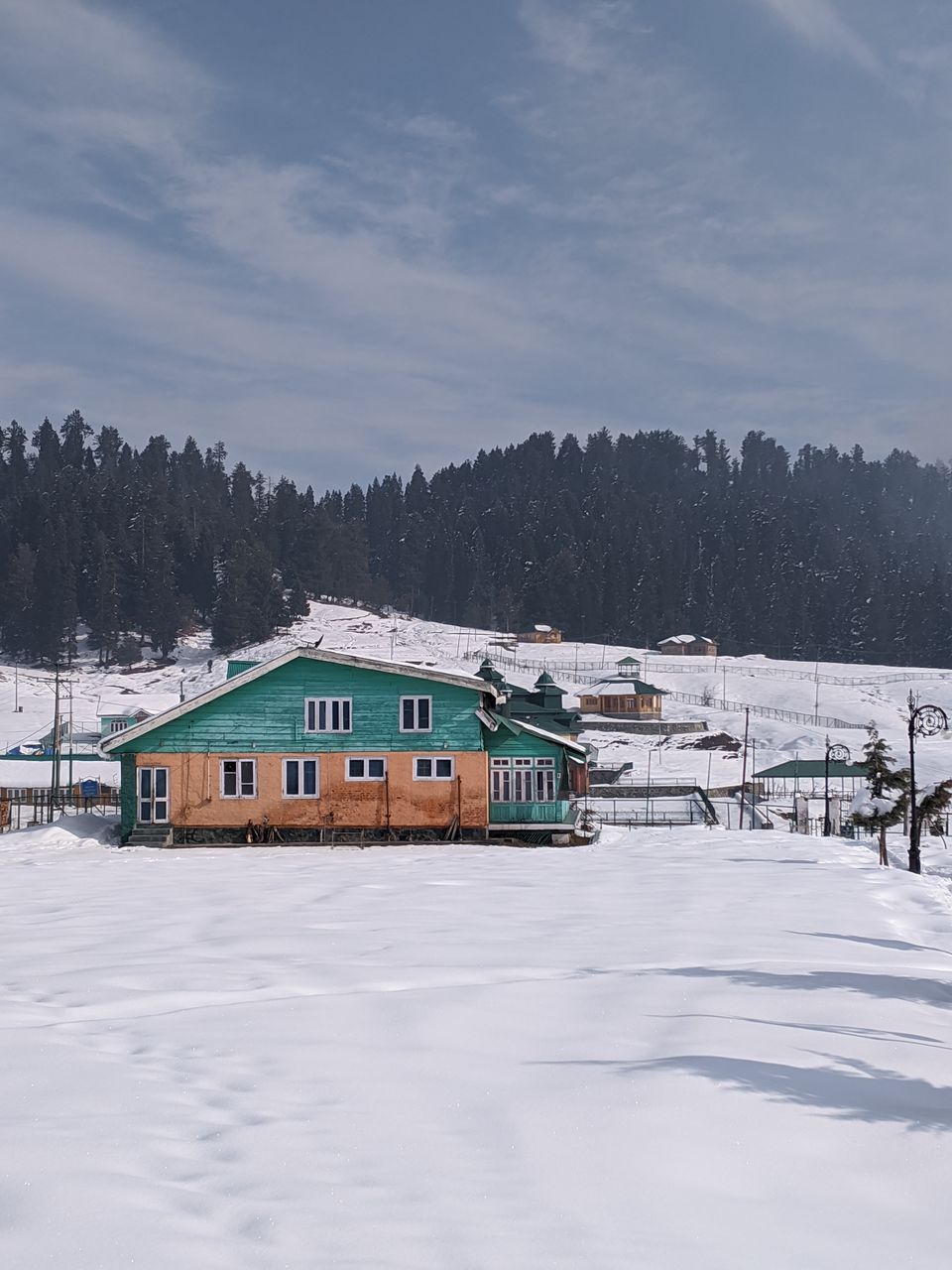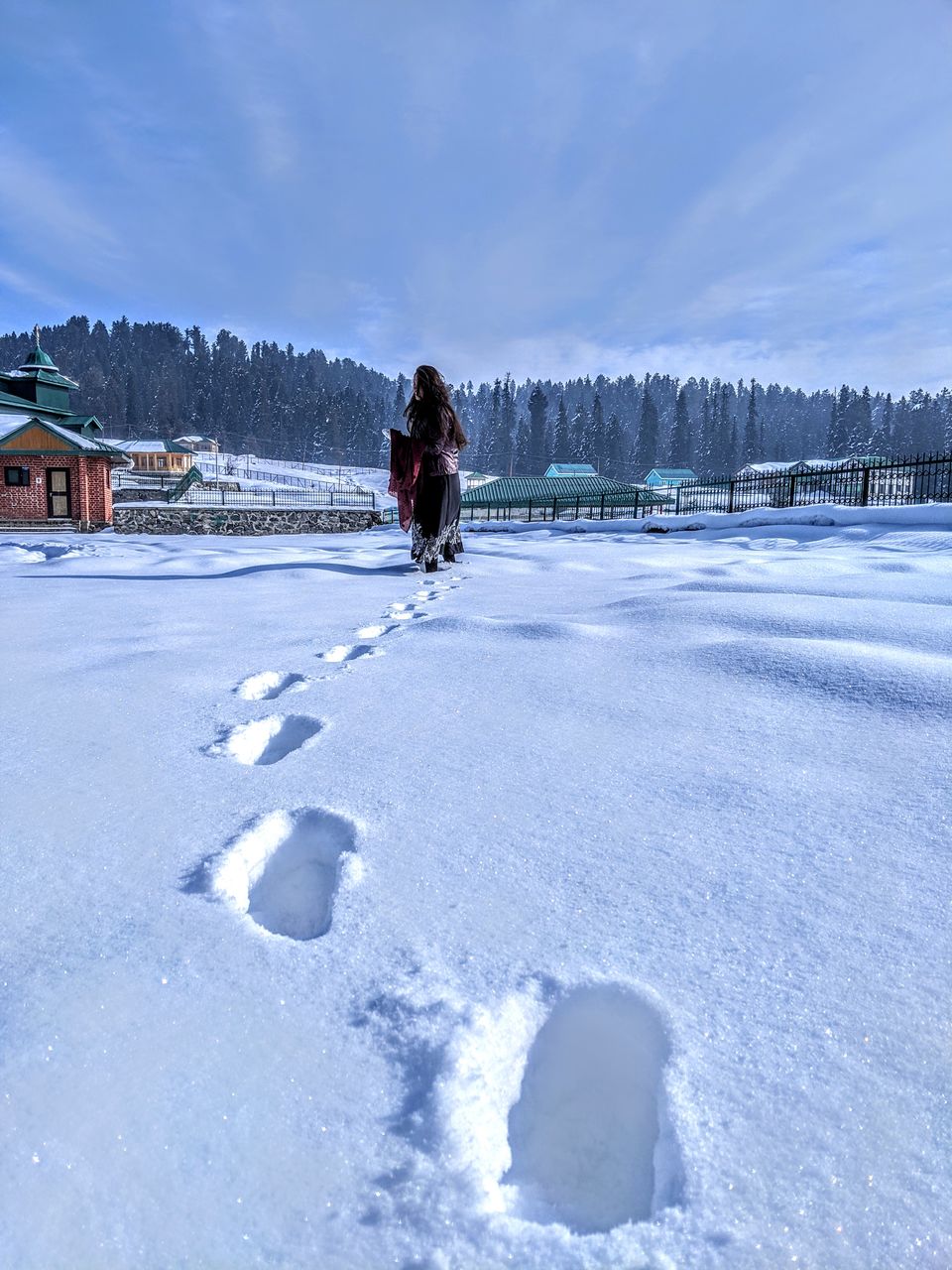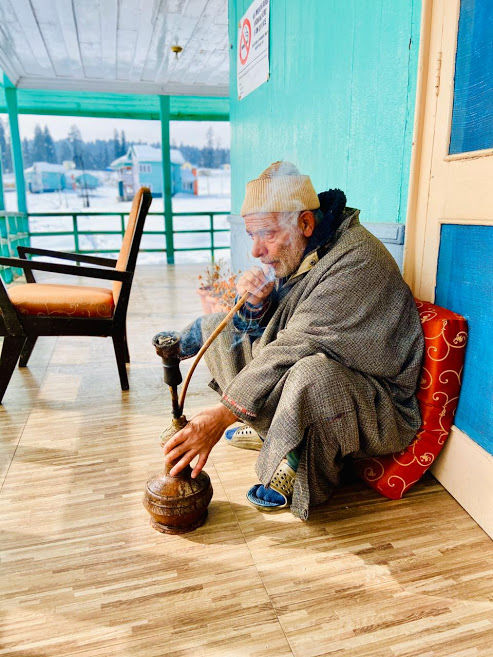 Though, there was a scarcity of water, he generously welcomed us and offered us tea and lunch! We had heard about the hospitality of Kashmir and this was the moment when we witnessed. The Kashmiris are hands down the warmest and the most amicable people we have ever come across. We spent our day exploring & playing around in the magical land of Yousmarg.
Suggestion: From Yousmarg, you can further go to Doodhpathri which is not much far, and an absolute gem. Here, you will see gushing white water from the Himalayas cutting the lush green valley.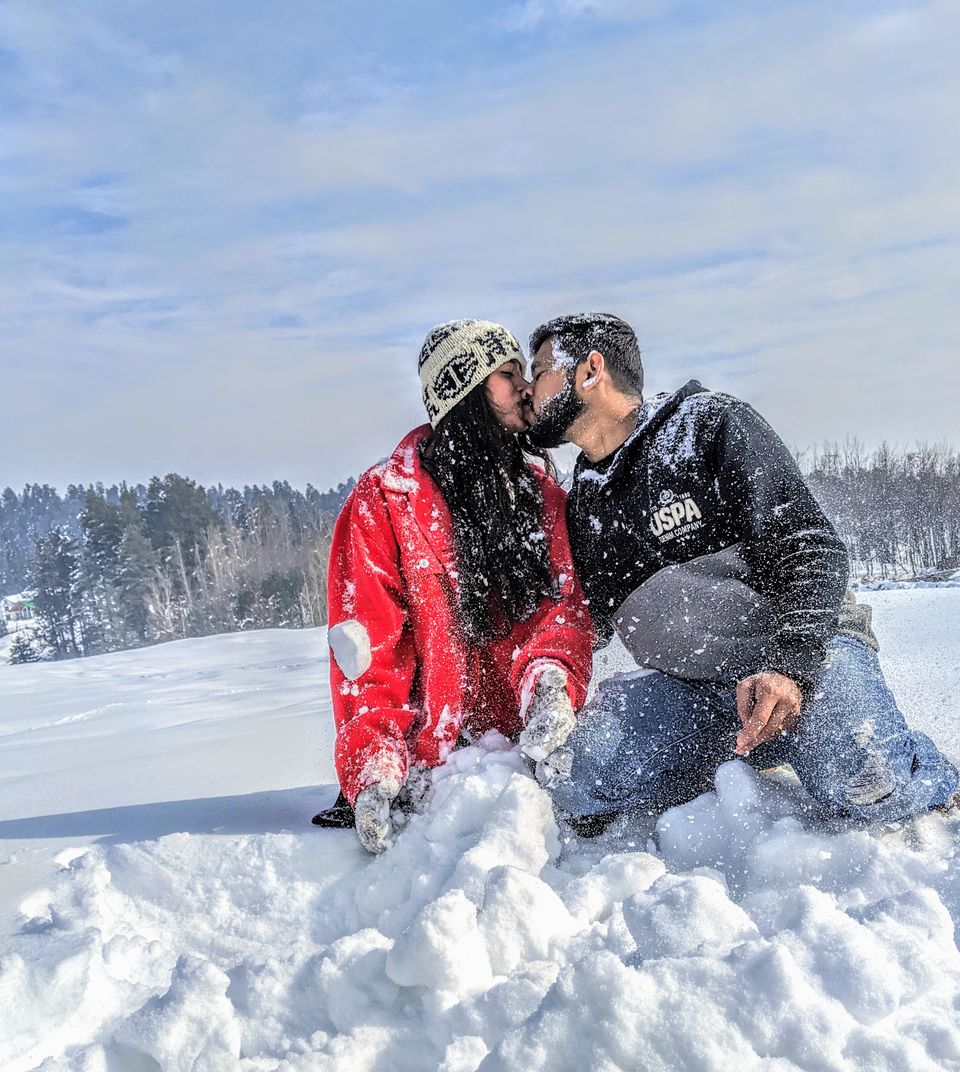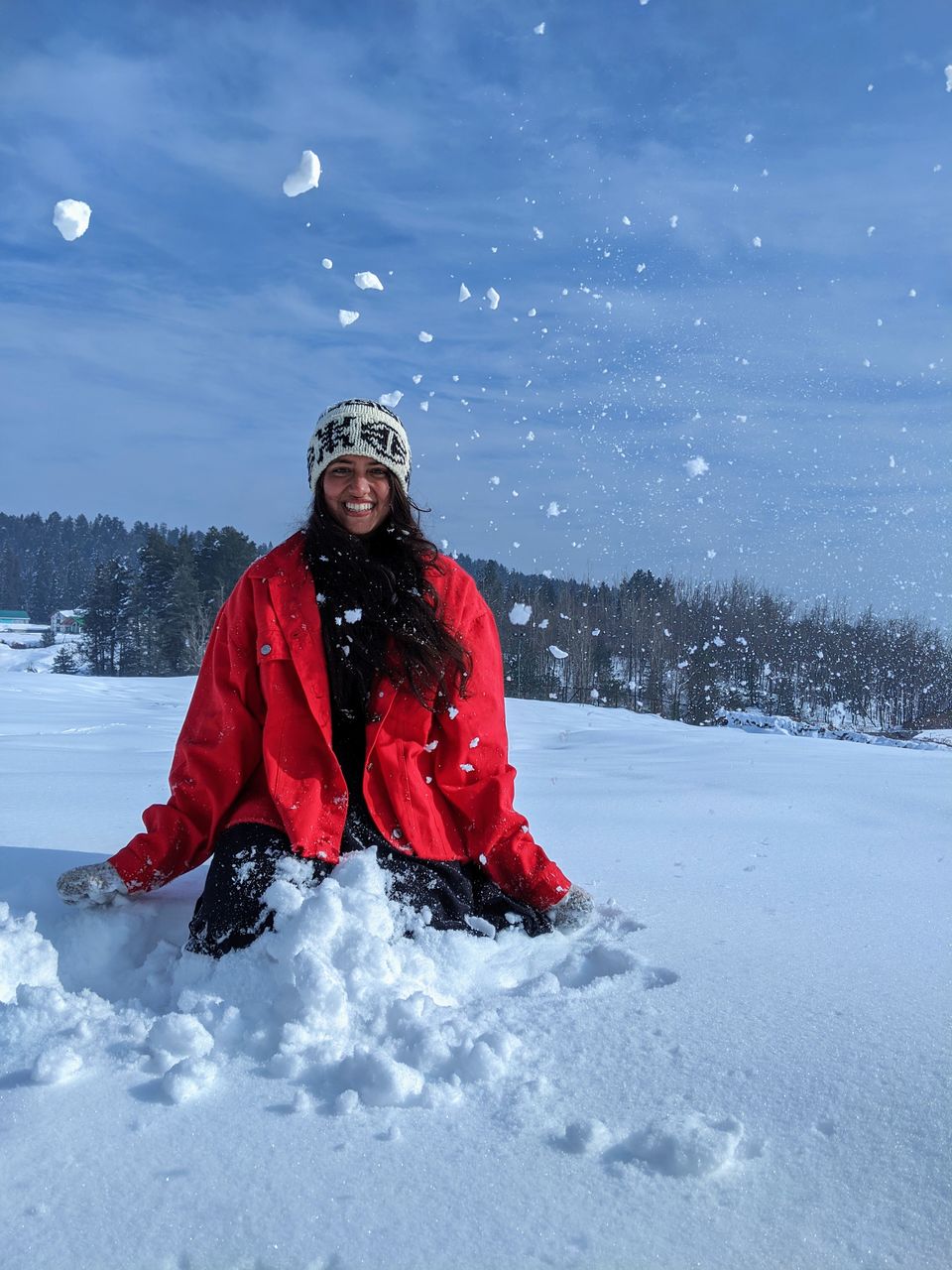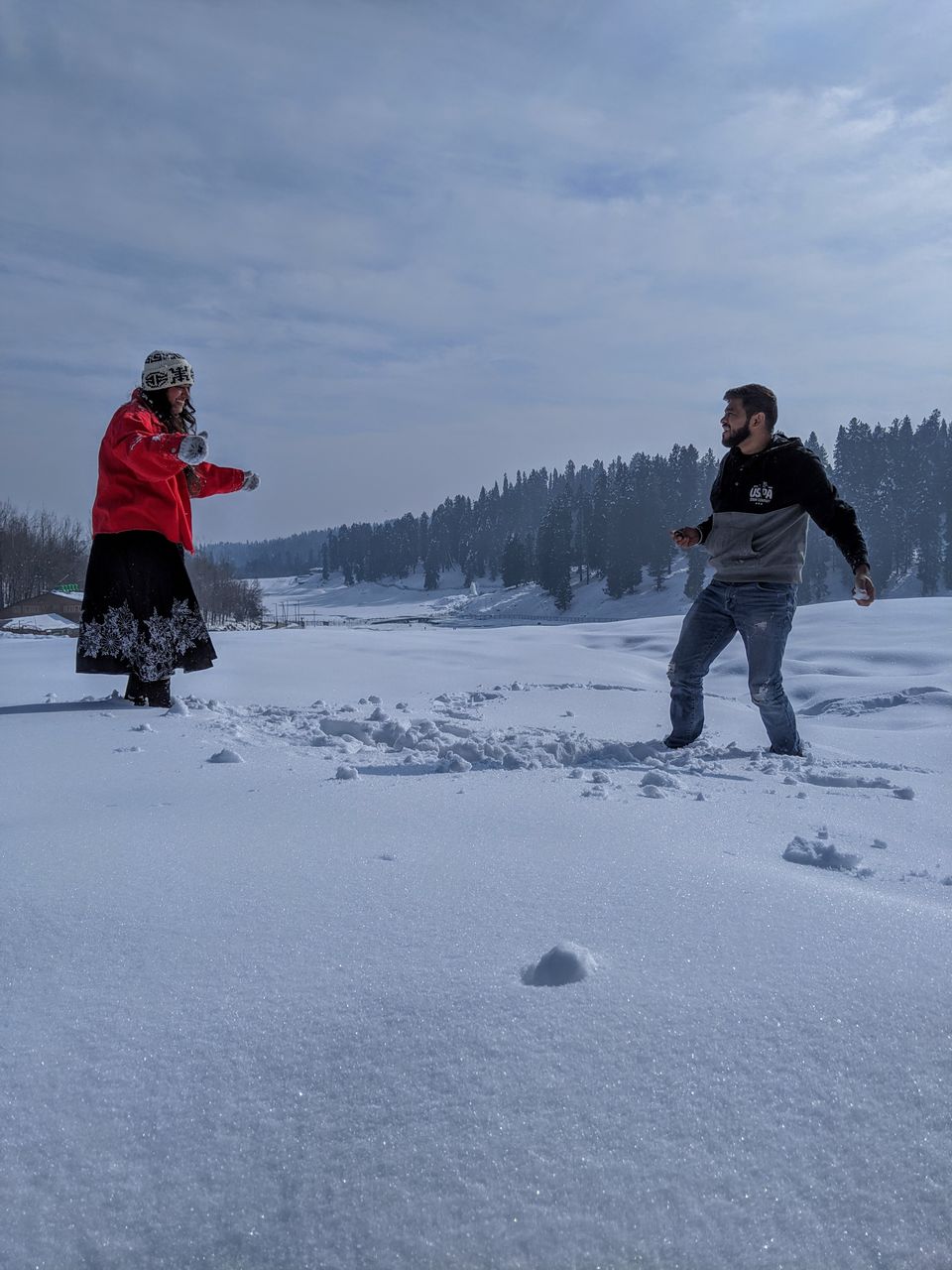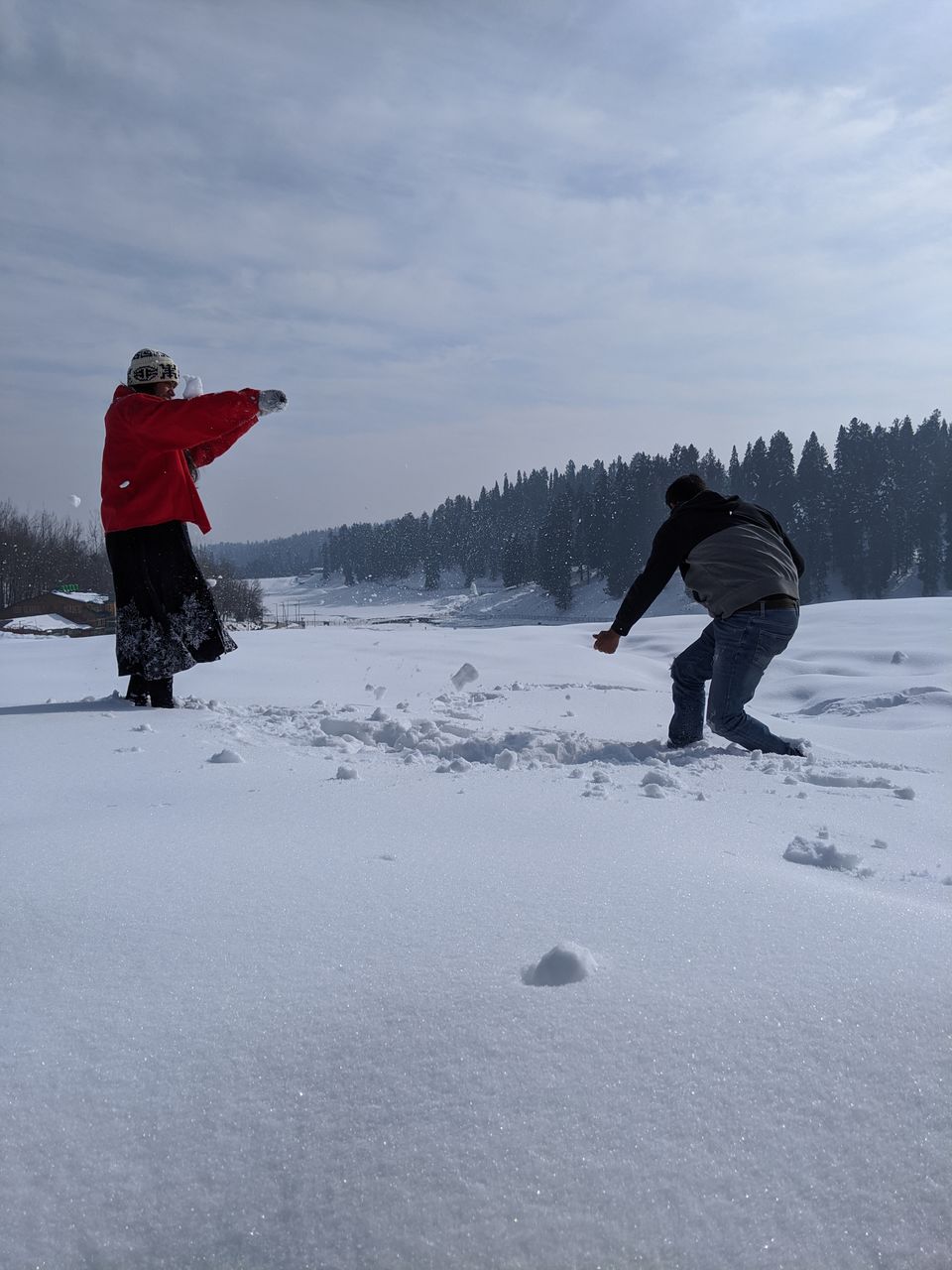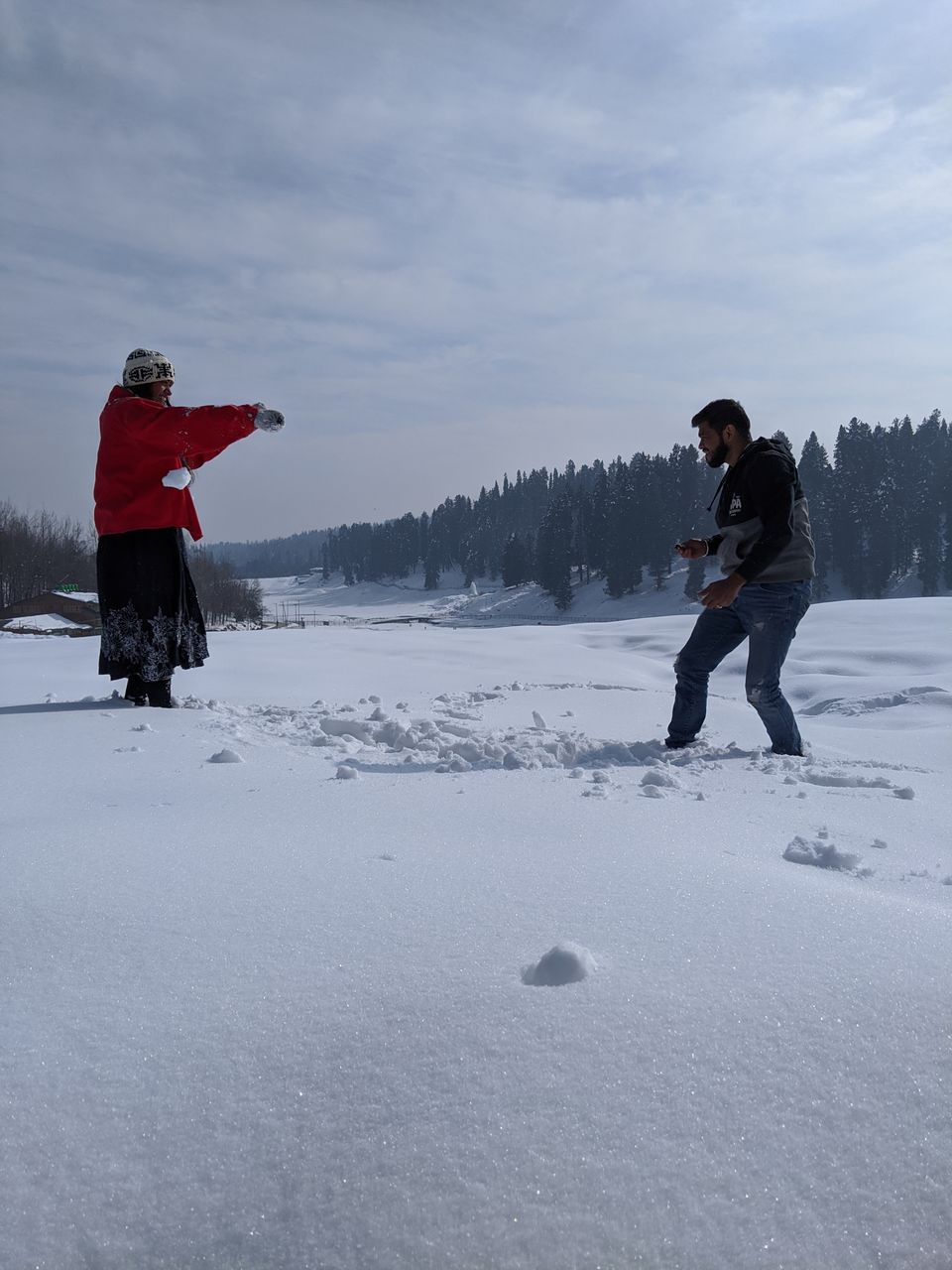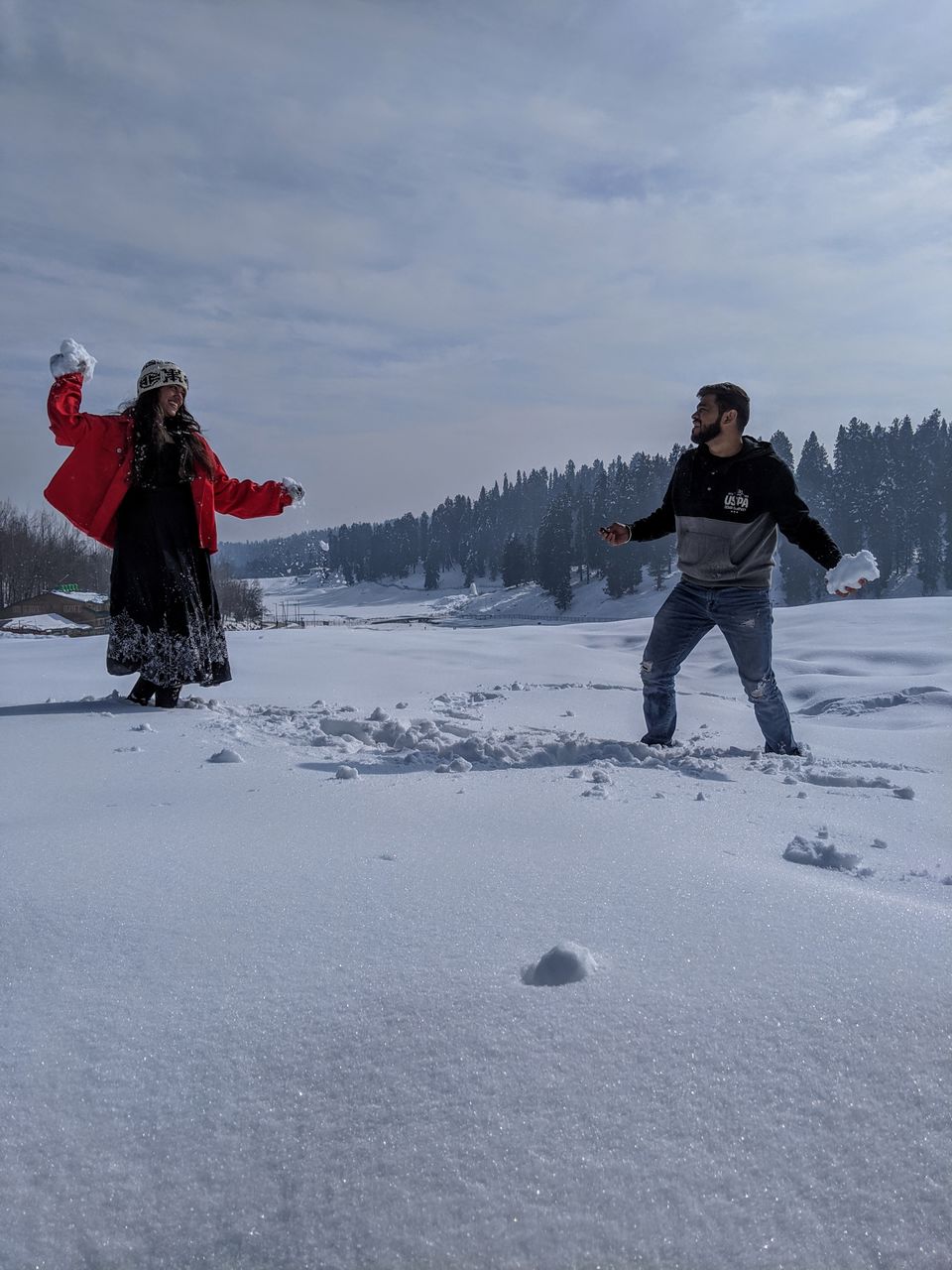 Day 4 – Move to Gulmarg
Again, what saved us from spending tonnes of money in traveling was taking a shared cab with the locals. We, as photographers and bloggers wanted such an experience to observe Kashmir more closely and know about the people, their lifestyle, and most importantly, the situation there.
Its human nature to be keen and seek information, and we were surprised to know that more than us, it were the locals who wanted to know how Mumbai is, what is happening in India, what we do for living and so on.
Visit to Kashmir is incomplete if you do not visit Gulmarg. This part of the valley attracts thousands of tourists every year. And living by its reputation, this place is a wanderer's heaven.
(Srinagar- Tanmarg- Gulmarg)
It takes around 2-3 hours to reach Gulmarg. Take a shared cab from Srinagar to Tangmarg. And then, from Tangmarg take another cab to Gulmarg. From Tangmarg, you will see the cars have tied chains to its wheels to prevent from slipping on the snowy roads.
Gulmarg is famous for its adventure activities which includes skiing, ice skating, and various treks too. It is known as the heartland of winter sports in India and was rated as Asia's seventh best ski destination. There is a skiing institute as well which offers various skiing courses (opted frequently by foreigners).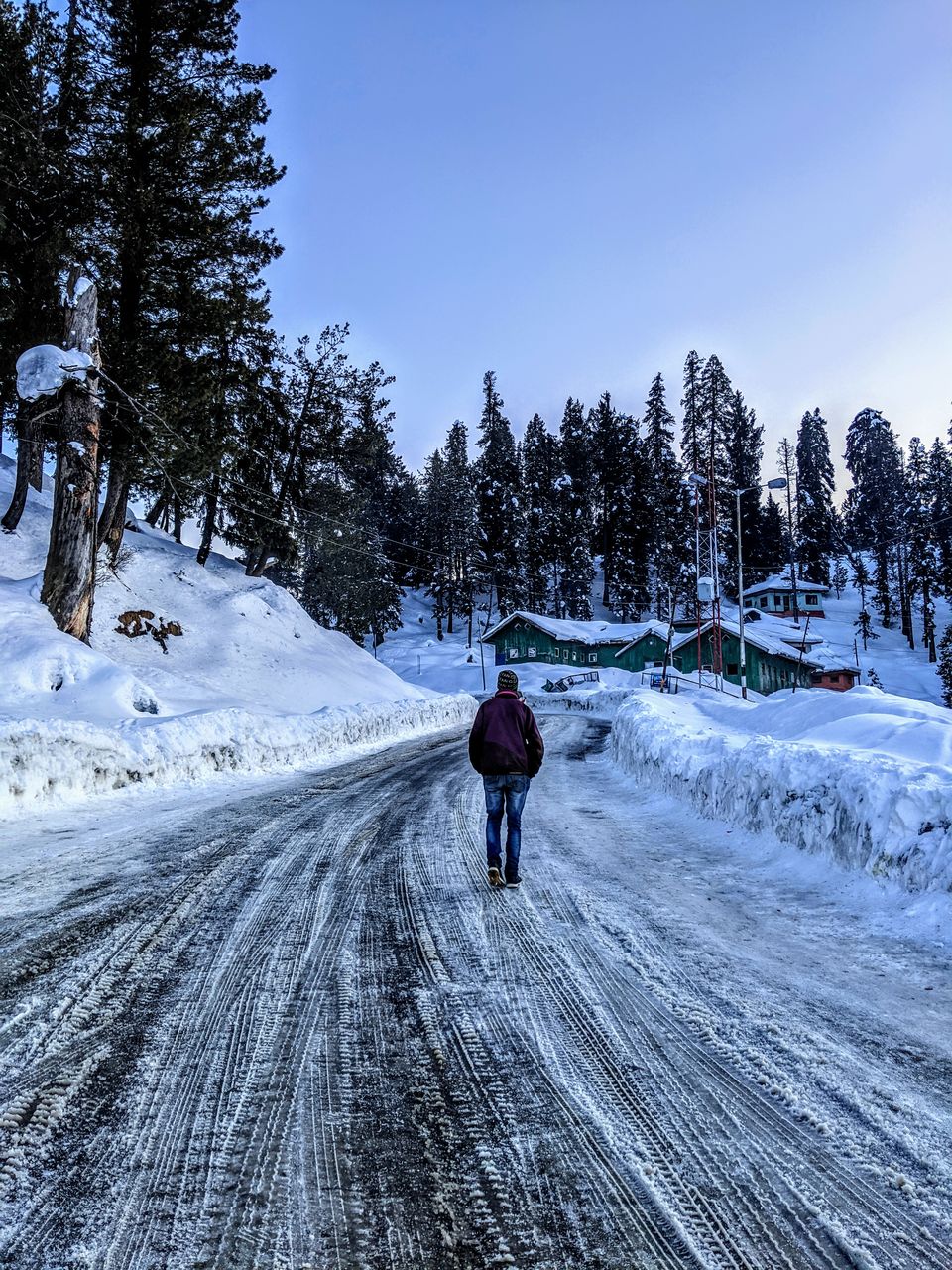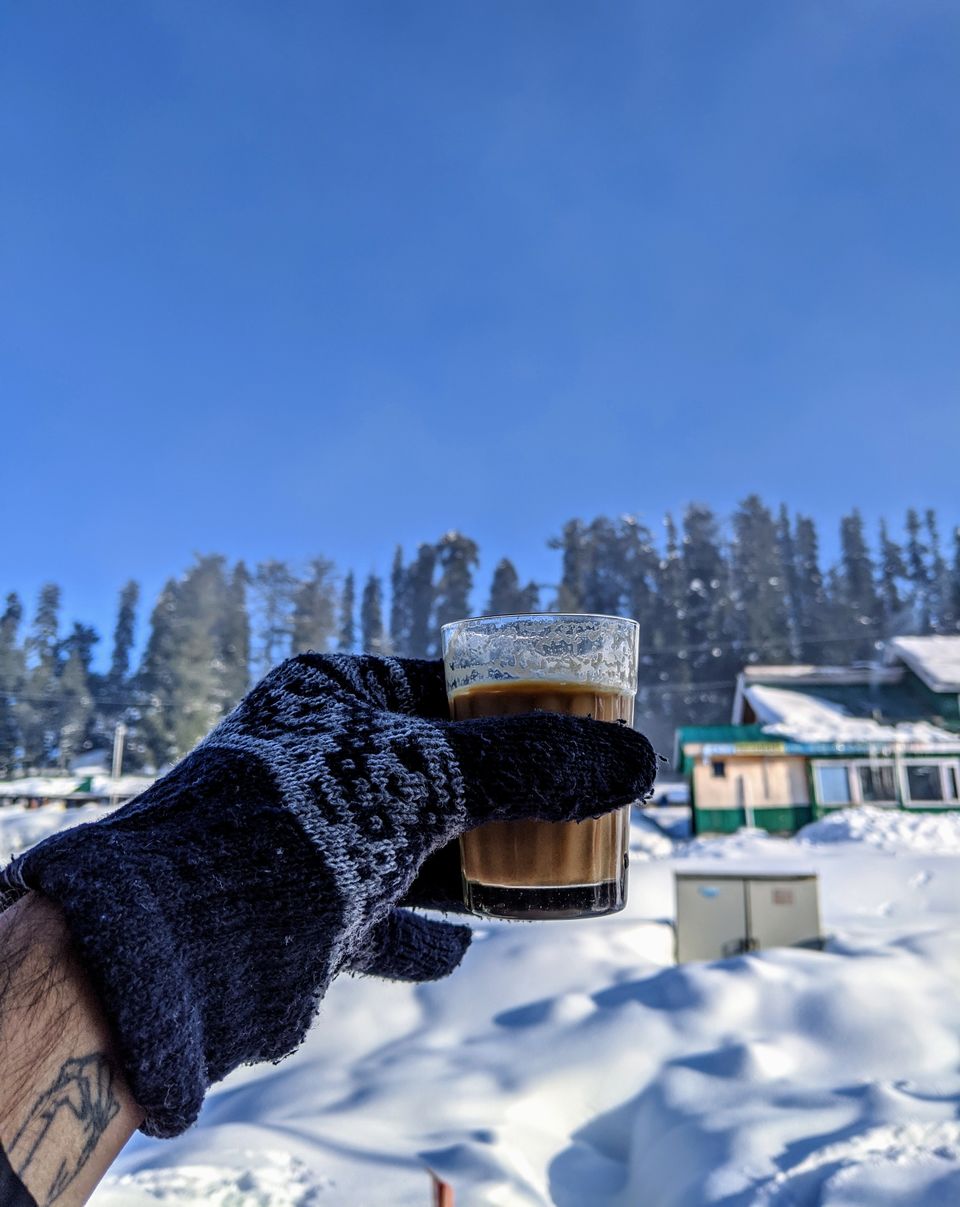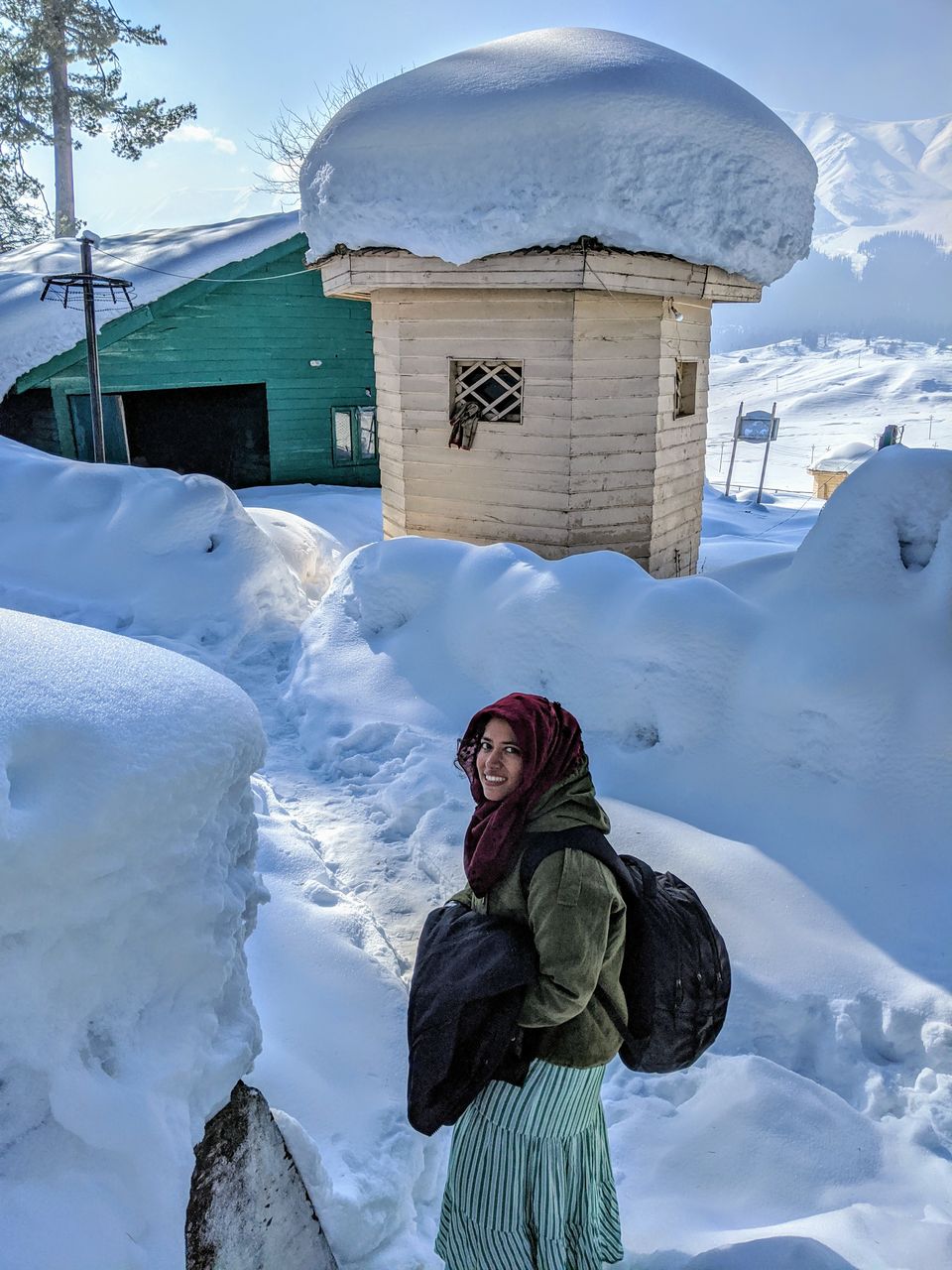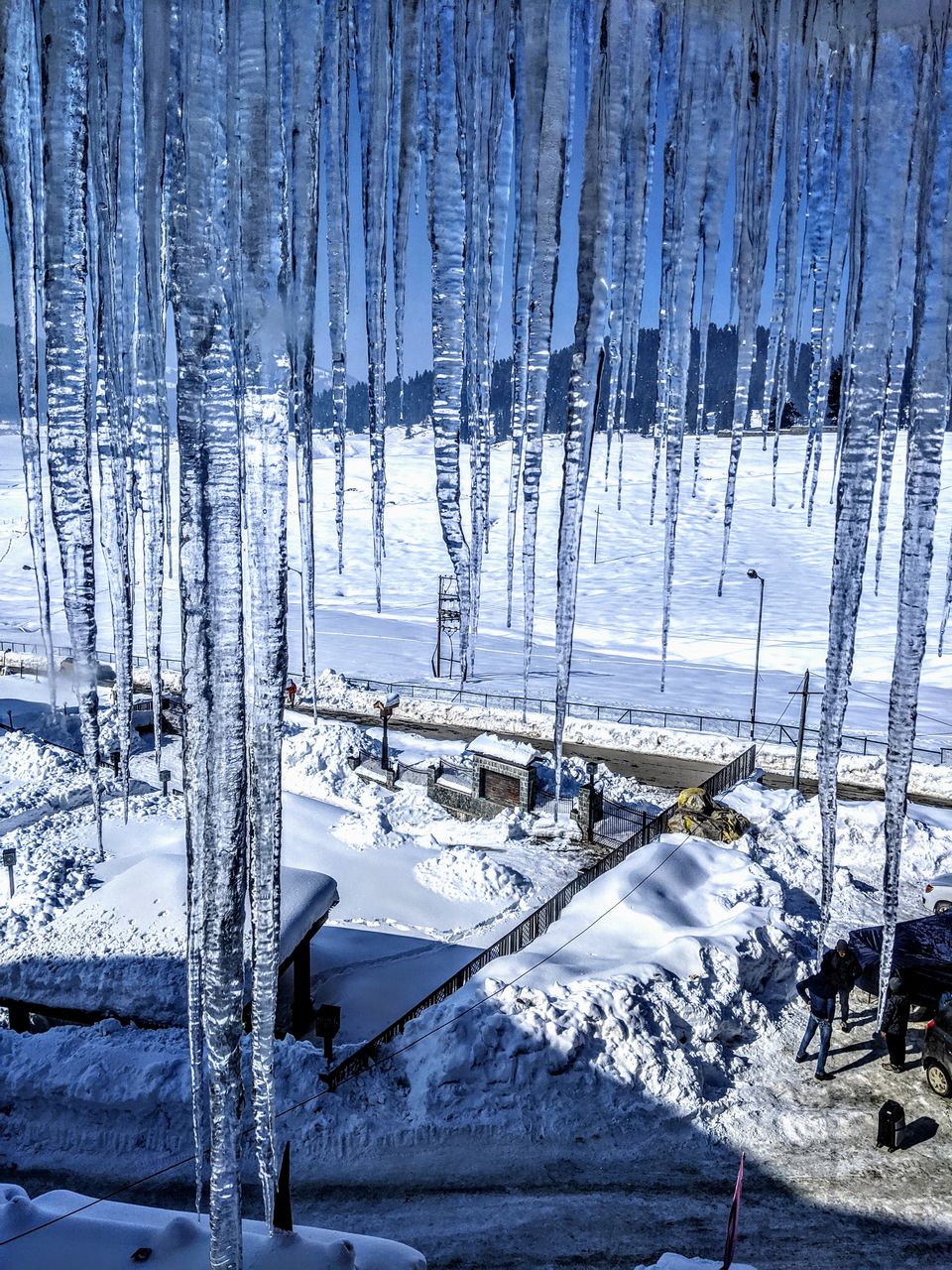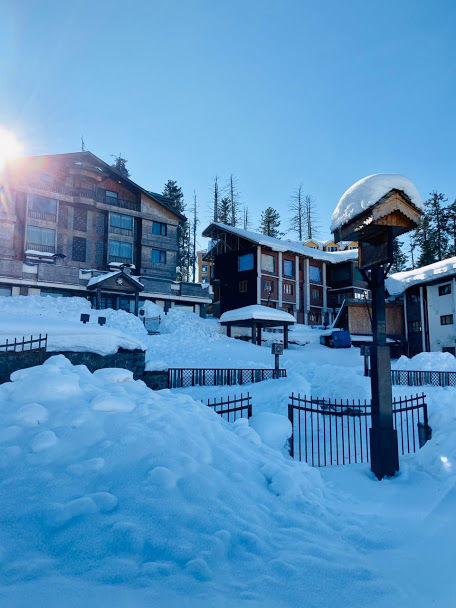 After we checked into our hotel, we headed out to soak in the mystic beauty of Gulmarg. We ended our day by sipping hot tea with local bread and talking to the army personals at a local dhaba.
Pro tip: If you are booking a hotel in Gulmarg, do compare the rates by visiting the hotel with what is offered on various websites. Usually, during shoulder and off season, the hotels here tend to sell the room at much lower rate as compared to what is there on their website and other booking platforms. You can check the rooms, bargain, and inquire about all the amenities before checking in.
The sun sets incredibly early here. It was 4 pm and it was already turning dark, and we could see that lights were on.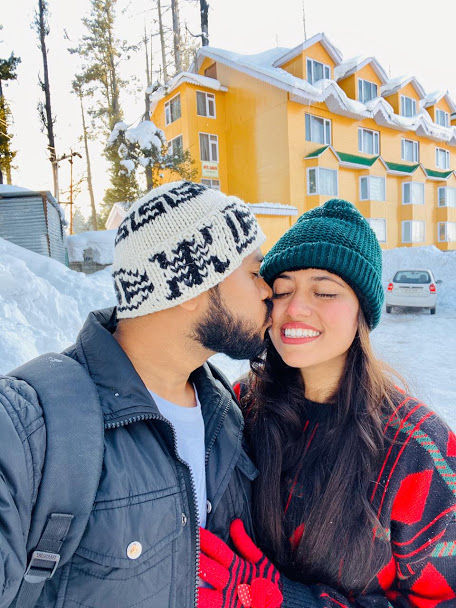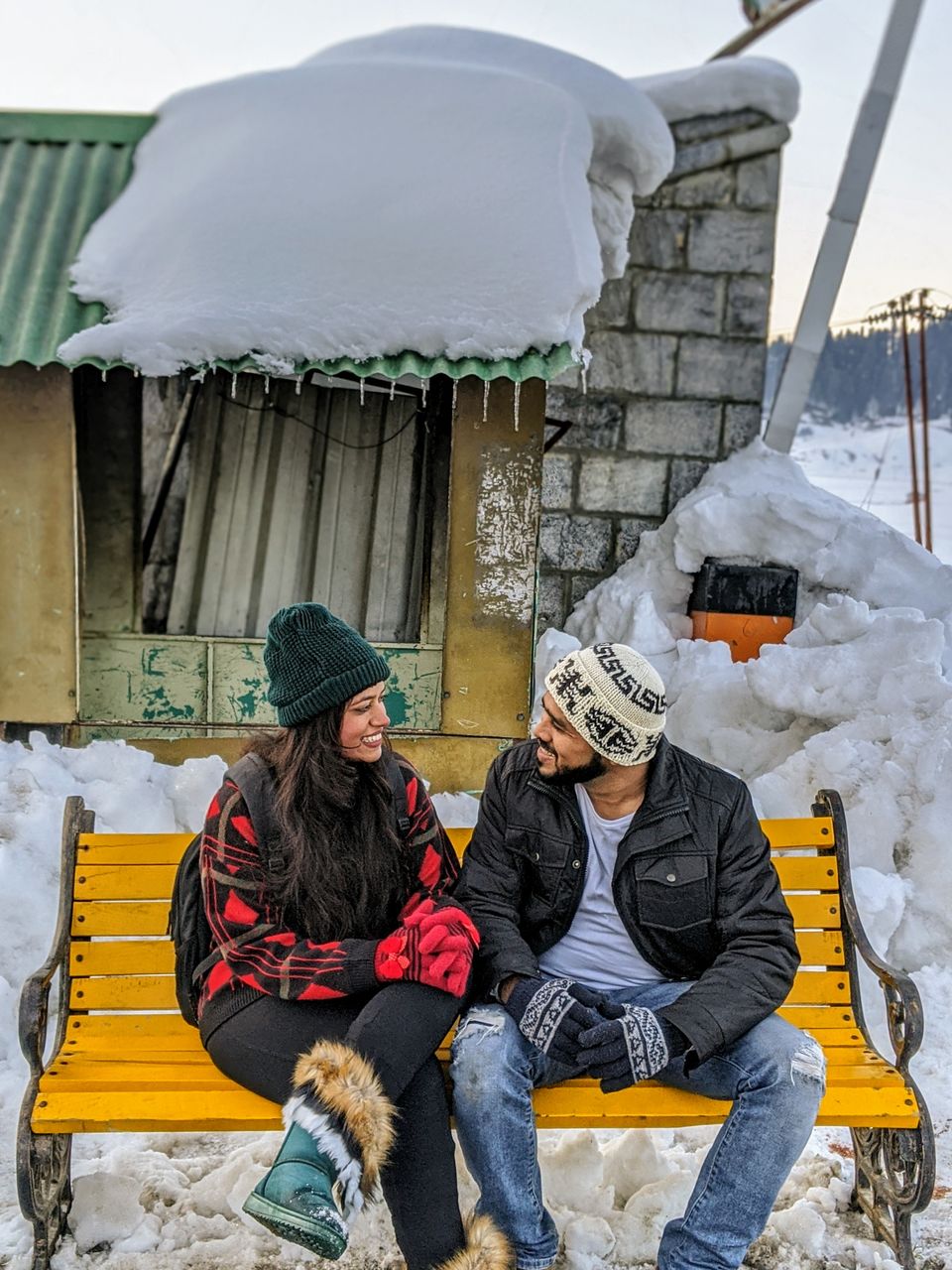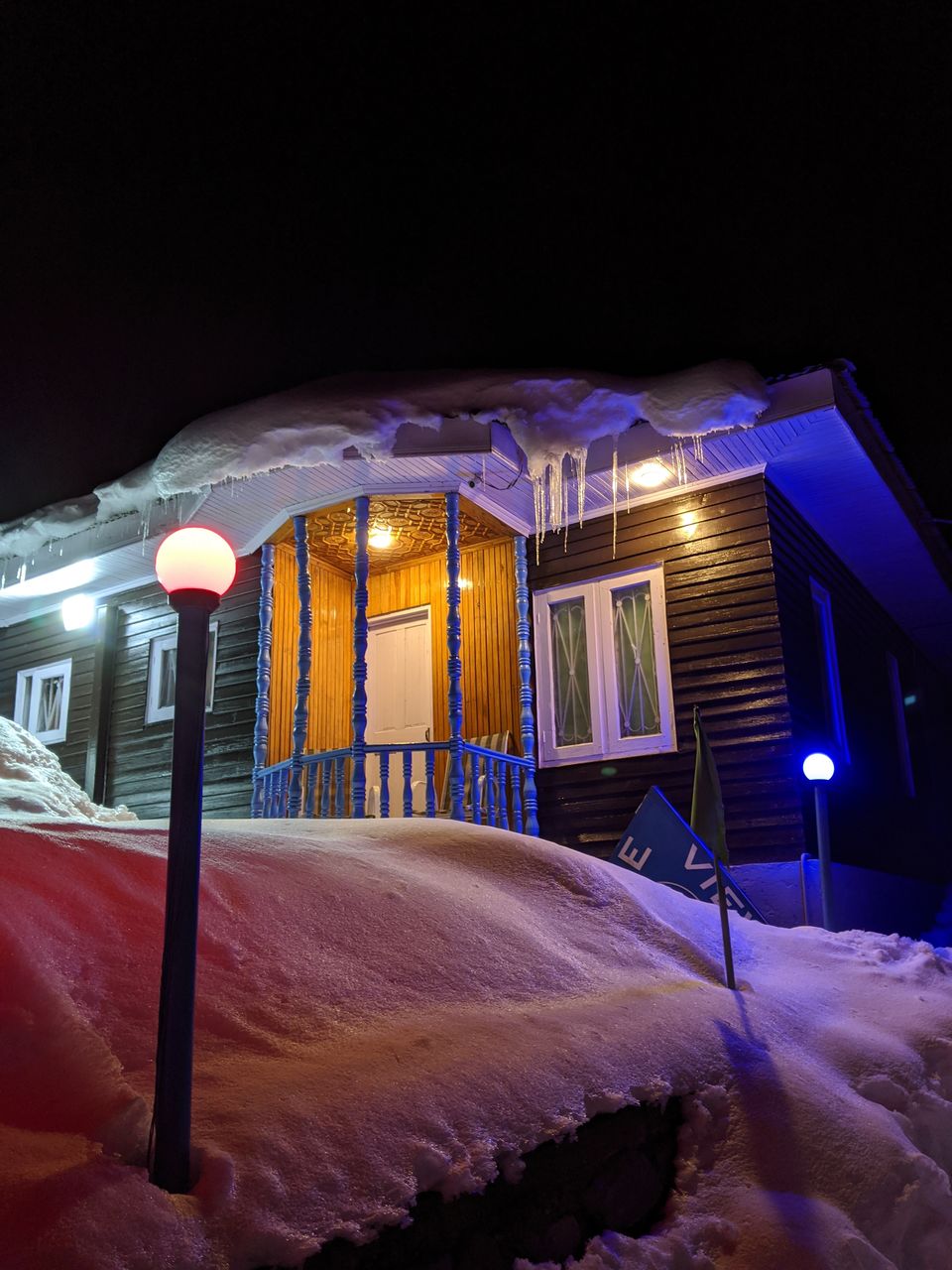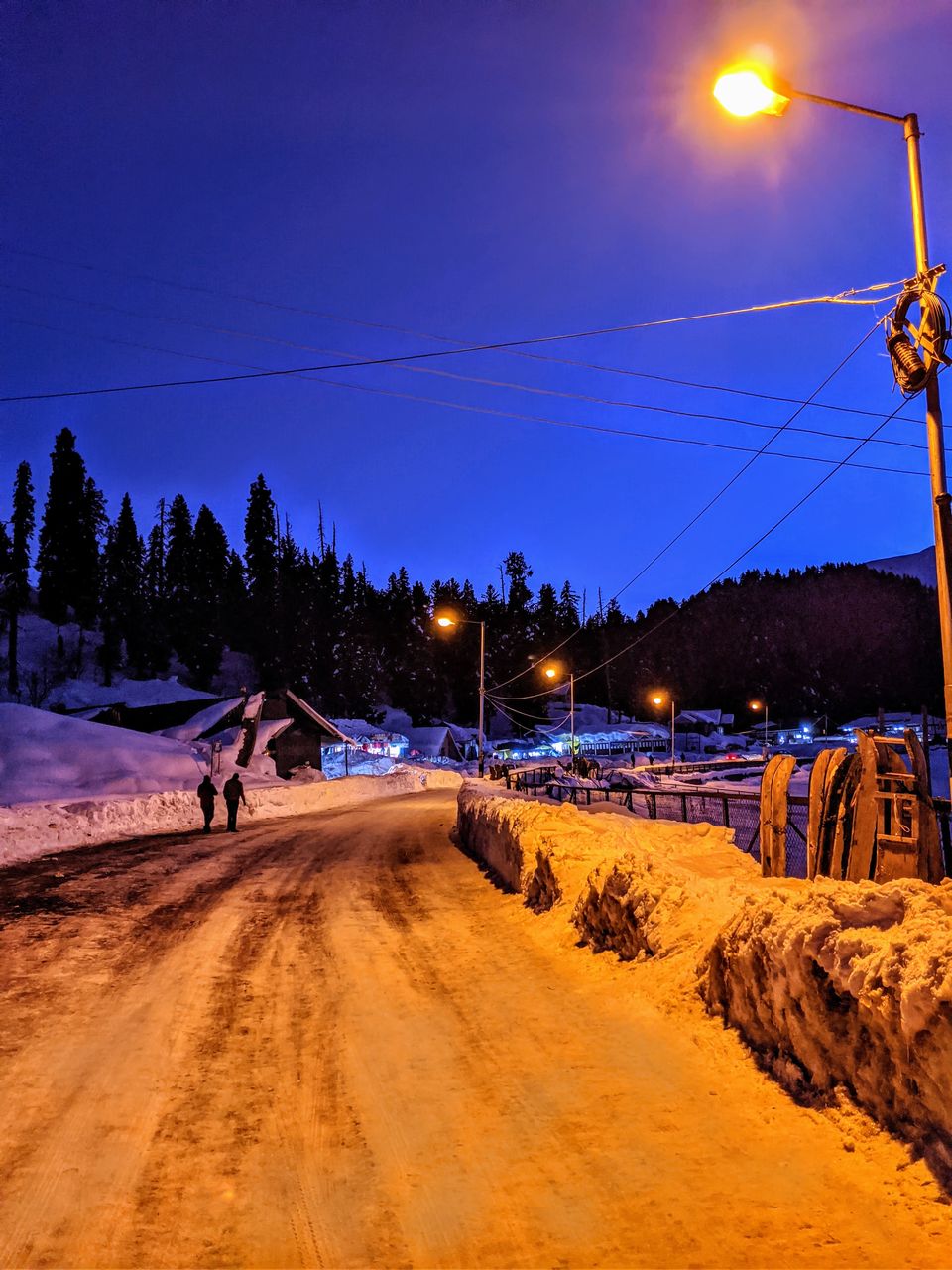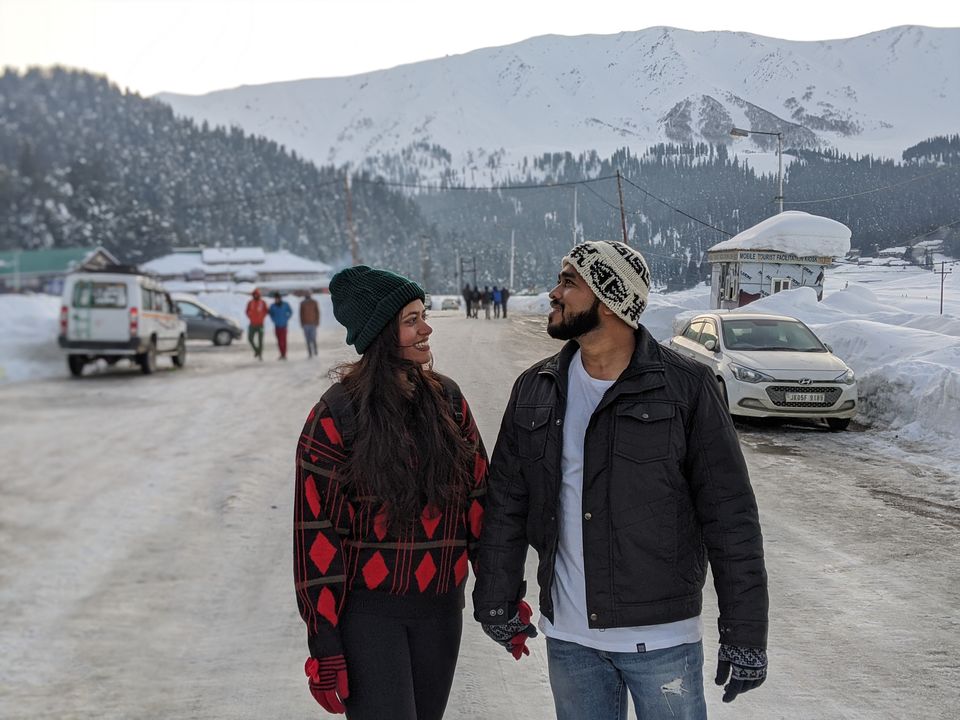 It is a must for hotels not only in Gulmarg, but in all of Kashmir to be well equipped with hot water, electric blanket, heater, otherwise surviving the cold at night is extremely difficult as the temperature tends to drop below -15 degrees Celsius. Be adequately dressed in warm jackets, winter cap, gloves, and most important tall shoes with proper grip.
Day 5 – Gulmarg sightseeing
Exploring Gulmarg during winters has its own charm. We decided to hire a guide for a mere 600 rupees, who took us around entire Gulmarg and its less visited places.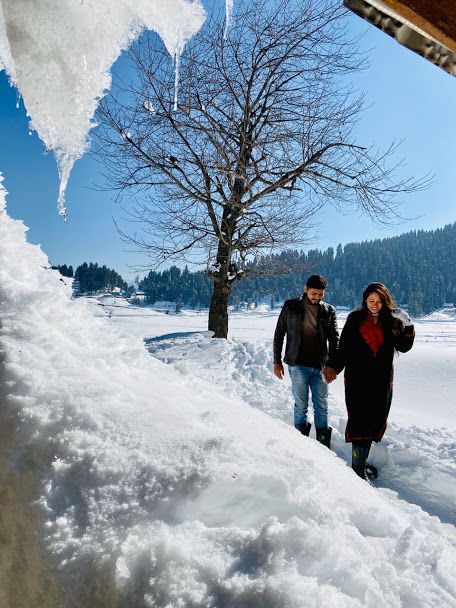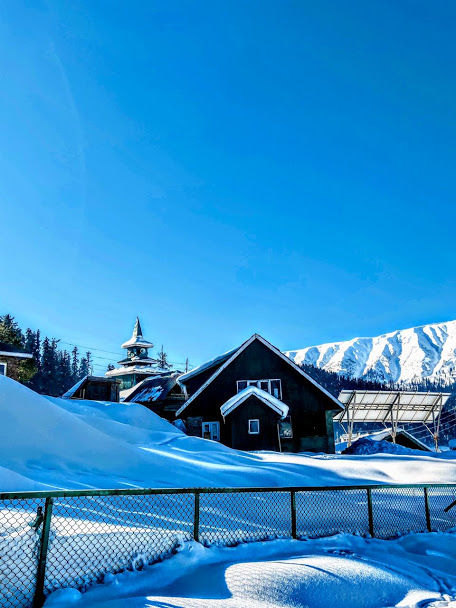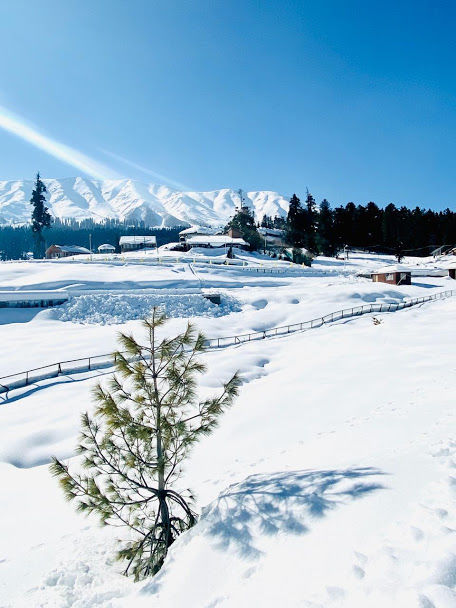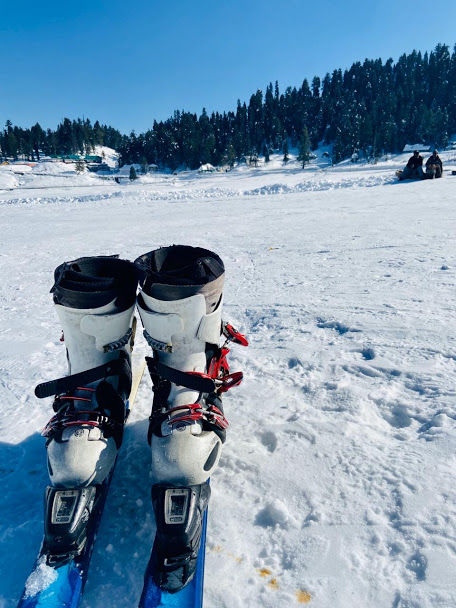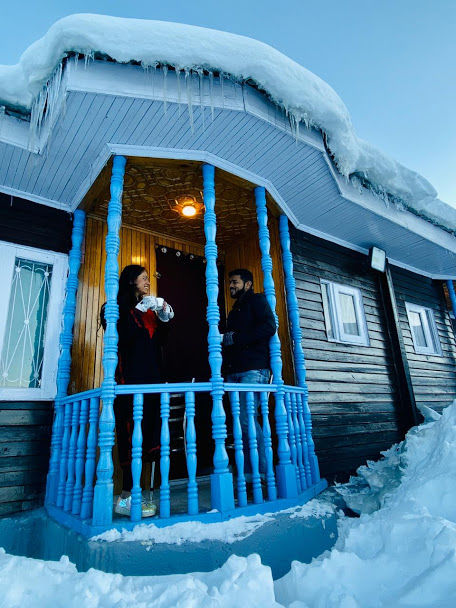 Usually, sledge is used widely by everyone here to explore places but we wanted to avoid it & rather explore the beautiful snow land walking at our own pace.
We did an outer circle of the town by walking almost 6-7 kms in snow (by renting gum boots for 100 rupees a pair) where we covered the old St. Mary's Church, the famous gold course, ski ring, maharani temple, strawberry garden (recommended best during summer), and in the end the scenic world-famous gondola ride.
Day 6 – Move back to Srinagar
While you would see many people just coming for a day trip or for a night stay in Gulmarg, we highly recommend staying for 2 nights if you are on a long trip. Take time to see this nature's marvel. There are lakes which are outside Gulmarg, some breathtaking mountain ranges and farm land. The locals are easygoing and extremely helpful. They will guide you to places on request and make sure you are comfortable during your stay.
On third day, we again took a shared cab from Gulmarg and reached Srinagar. The evening we roamed on the streets of Srinagar and it renowned Khan market and Badshah Chowk. However, it is advisable that you spend a few hours in Tangmarg as well, before taking a cab to Srinagar.
Go to downtown Srinagar, Batamaloo, or any of the park like places to enjoy the golden sunset.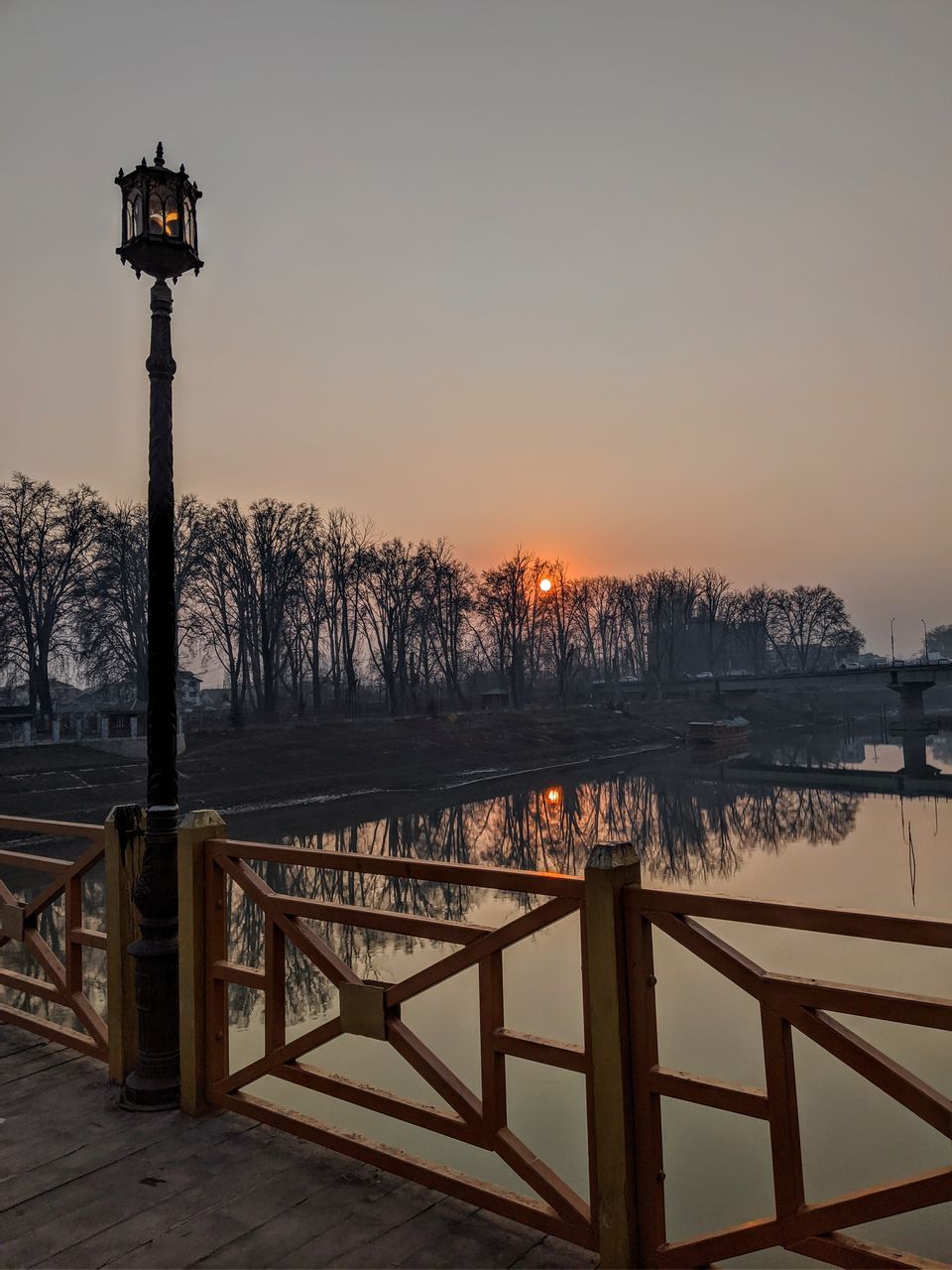 Day 7 – Move to Pahalgam
When you are traveling, the only sad thing that happens is, that your days move amazingly fast. While on one hand you wish to explore and wish the vacation never ends, but on the other hand, you realize that only a few days are left for the trip to get over.
And the same thing happened with us, in no time, we were on day 7 and before we could even gather our experiences, we were on our last stop for this magnificent place on Earth.
No matter how much people tell you about being to Switzerland and talk about its scenic beauty. Here, we Indians have OUR VERY OWN KASHMIR, standing with all the pride, with big heart, and calling everyone to witness this creation of nature, which would definitely leave all of us spell bound.
While Gulmarg it to the west of Srinagar, Pahalgam is to its east. And it takes around 3-3.5 hours to reach. Yet again, after the breakfast, we took a shared cab. The journey will take you through the famous Aishmuqam Shrine. Do keep an hour aside to visit this lively shrine and take amazing photographs. There are direct cabs available from Anantnag and Pahalgam both.
Before you would even reach Pahalgam, you would see many horses passing by, river flowing parallel to the road, and this sight will tell you that Pahalgam is not far.
Kashmir has a rich past and many, many untold stories which even internet would not tell you. If you ever get a chance, very humbly, try to strike a conversation and see what all facts you come to know.
Again, we checked with a few hotels about their amenities, price and heating provision before finalizing for one. That evening we went very slowly and spent the evening clicking photographs on the banks for Lidder river passing through the region.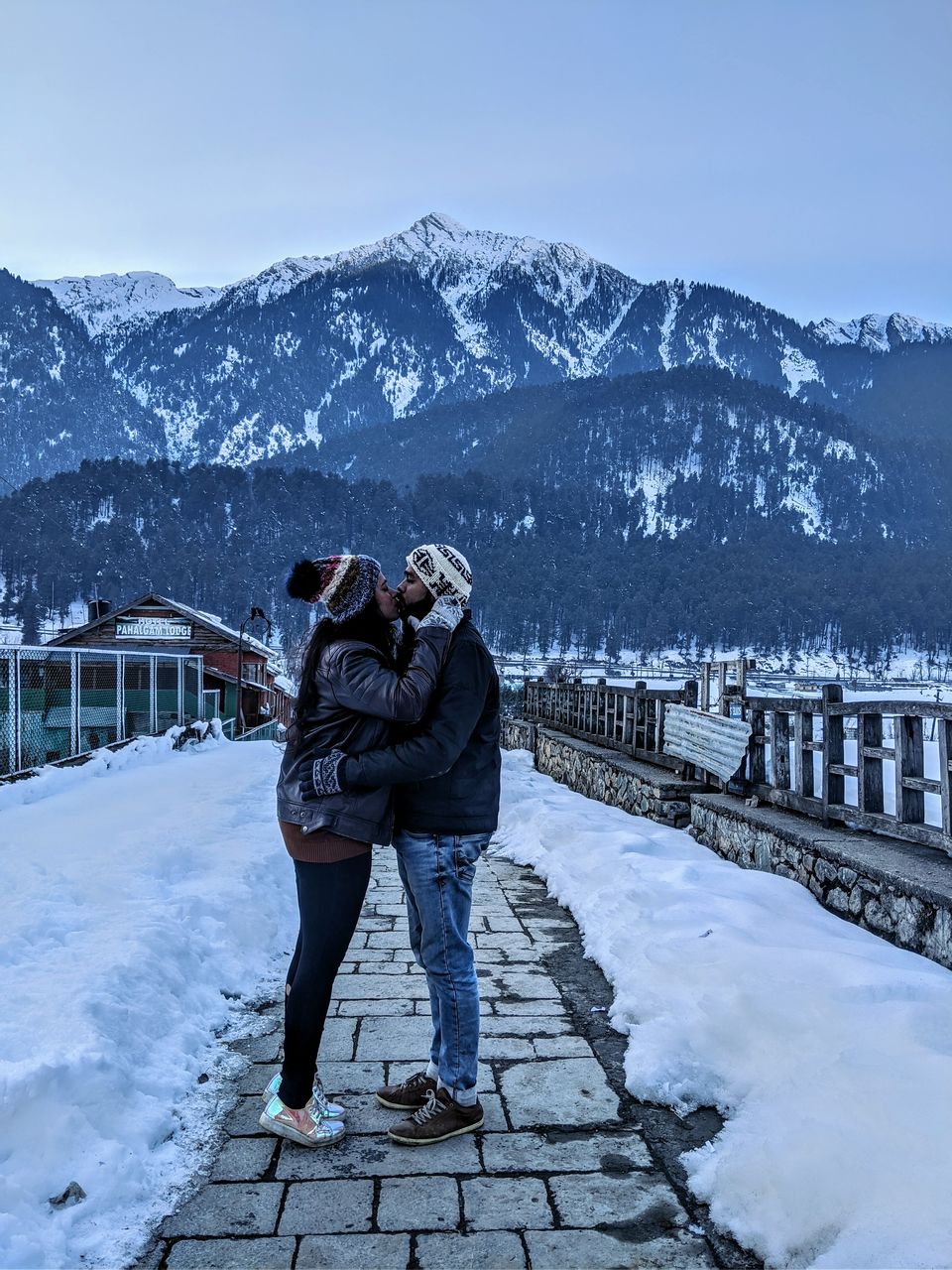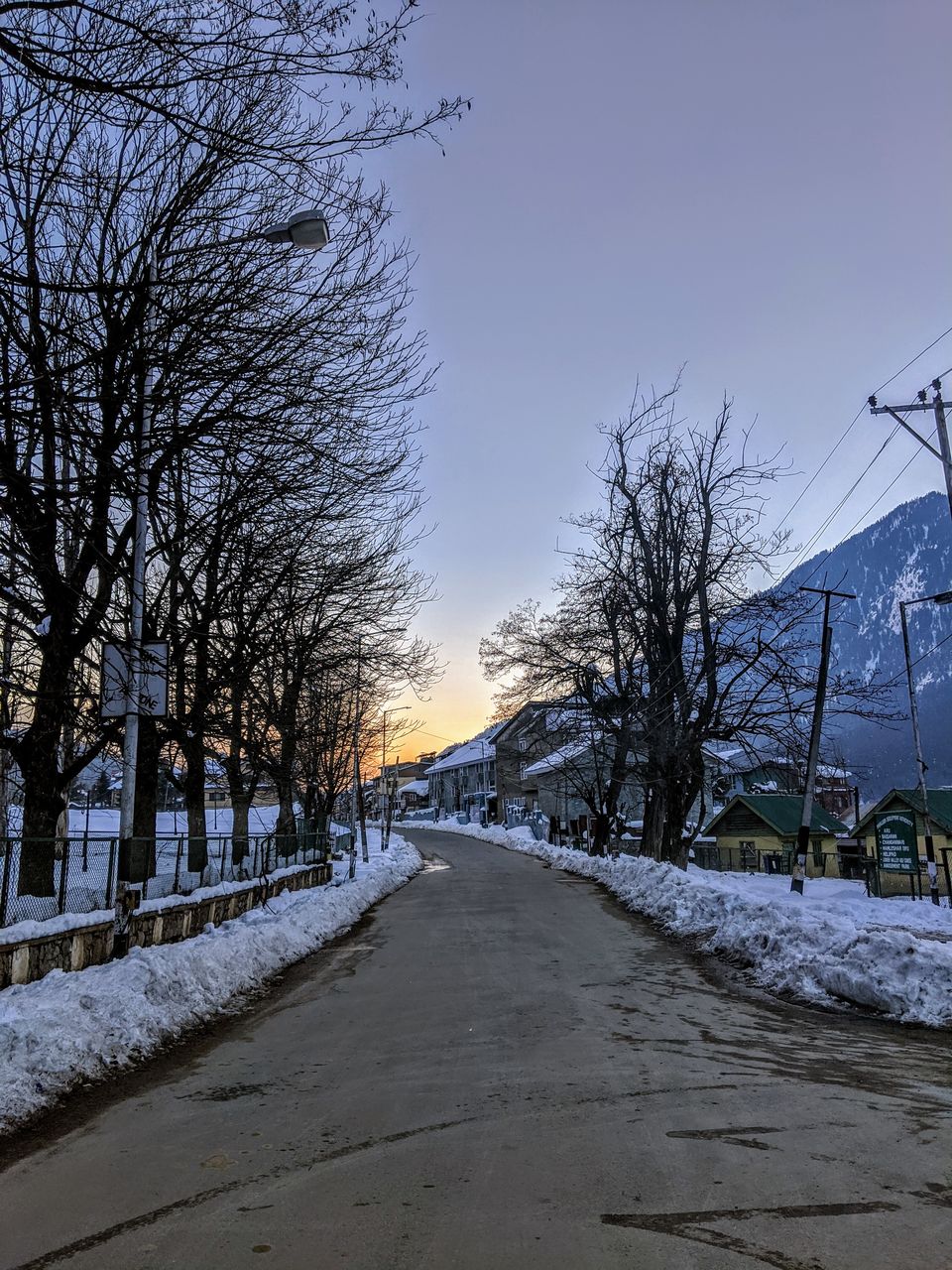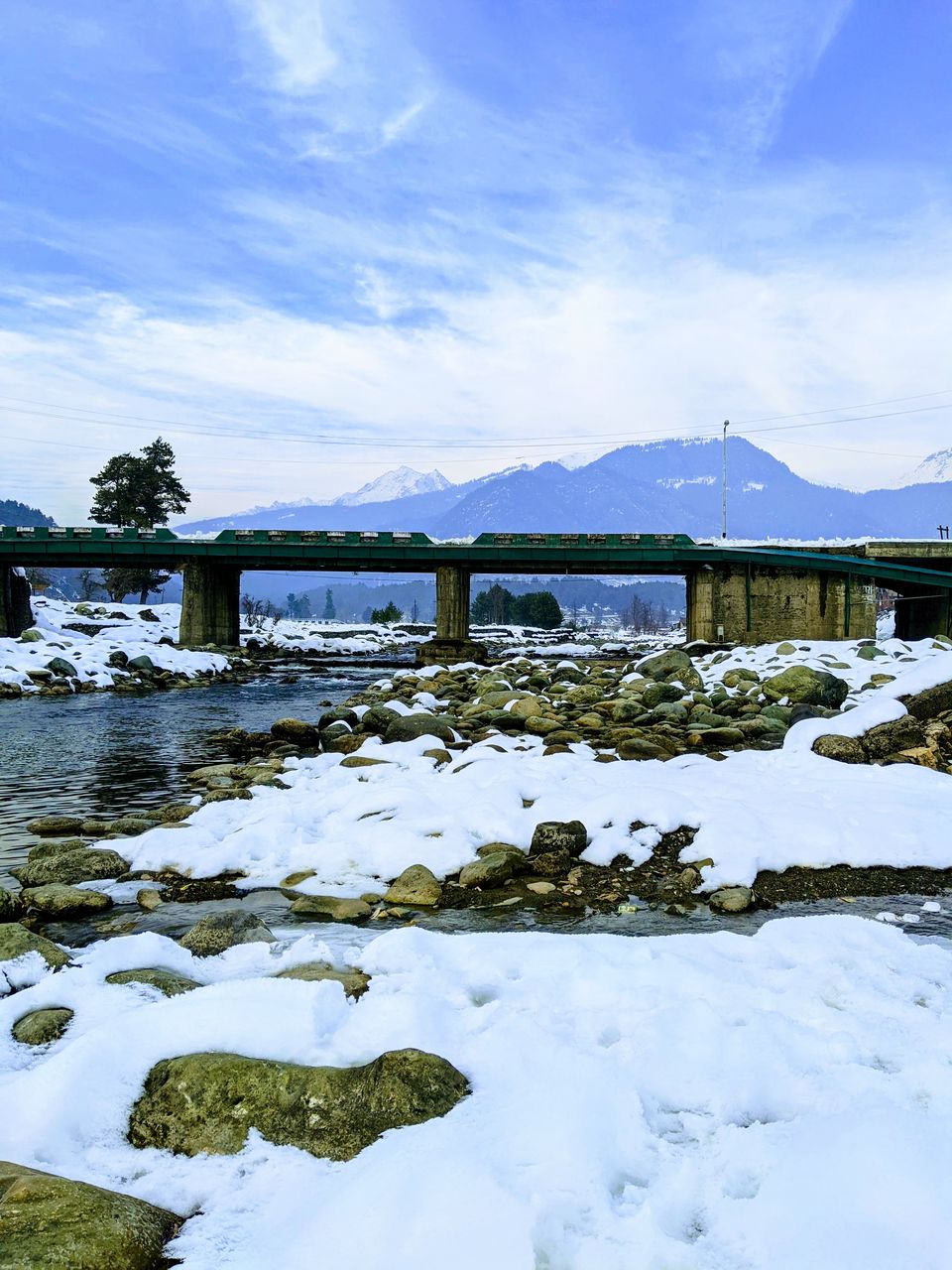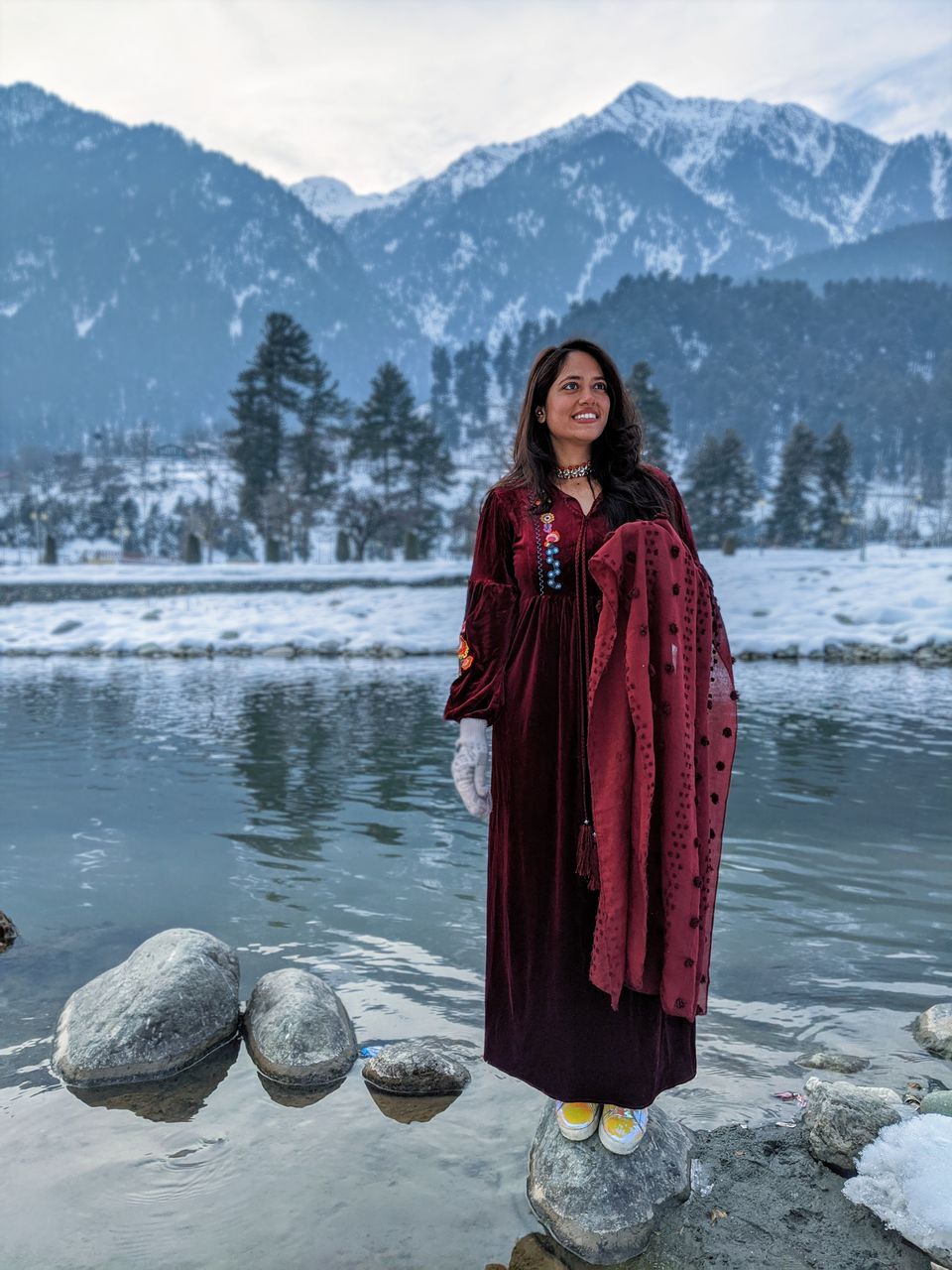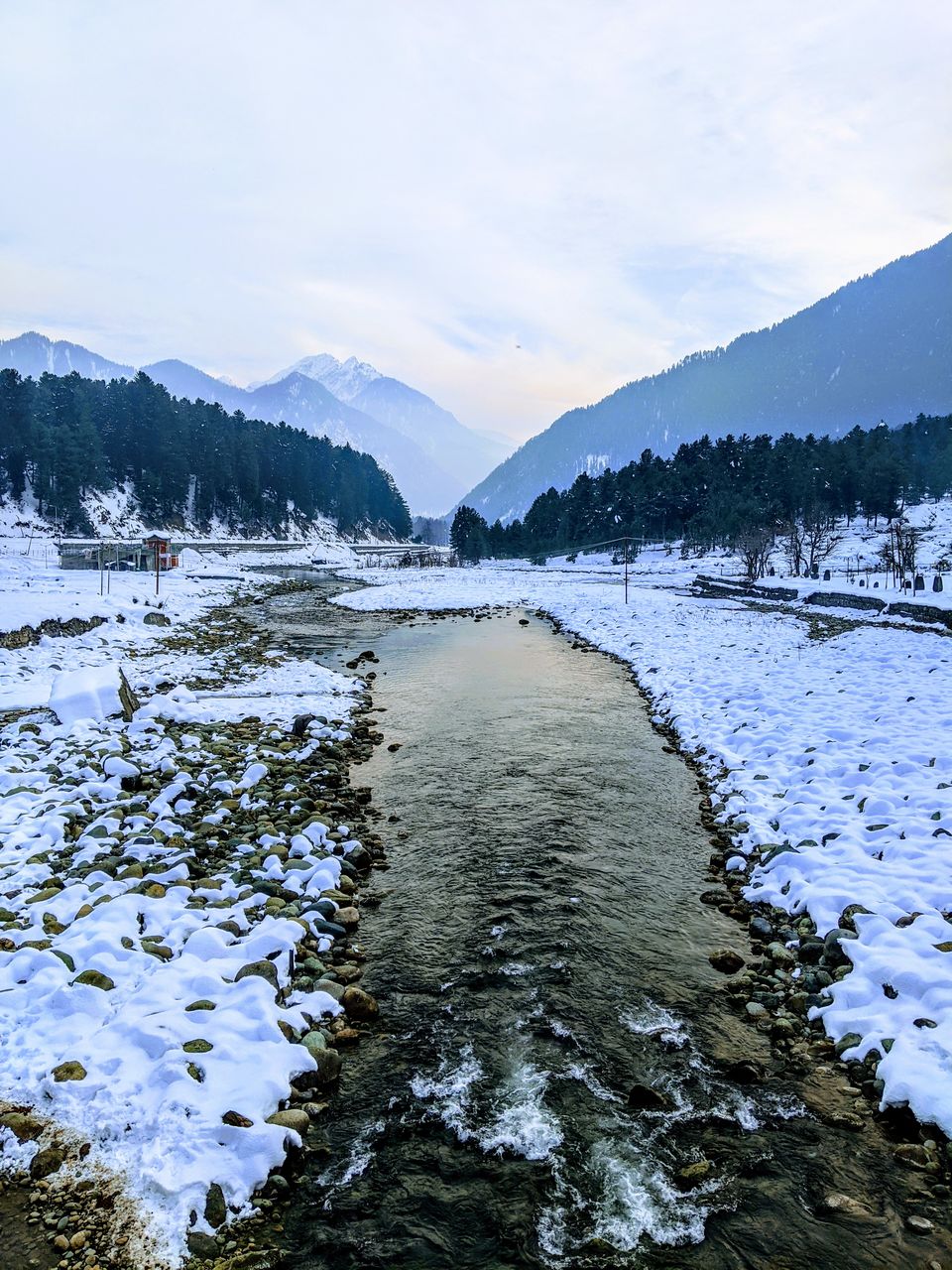 During winters (the time we visited), most of the market area was closed, and also, it is advisable that we prefer shopping fro Srinagar rather than Pahalgam.
Day 8 – Explore Pahalgam and nearby areas
Pahalgam is a living wonderland. Those wooden cottages, big grasslands, mountains in the backdrop, and a river passing. We were delighted to explore this side of Kashmir.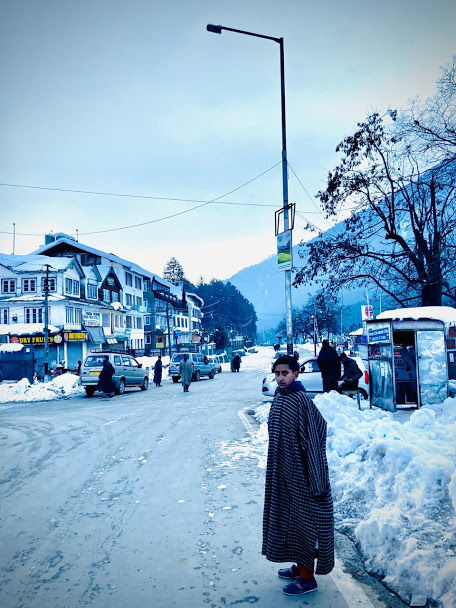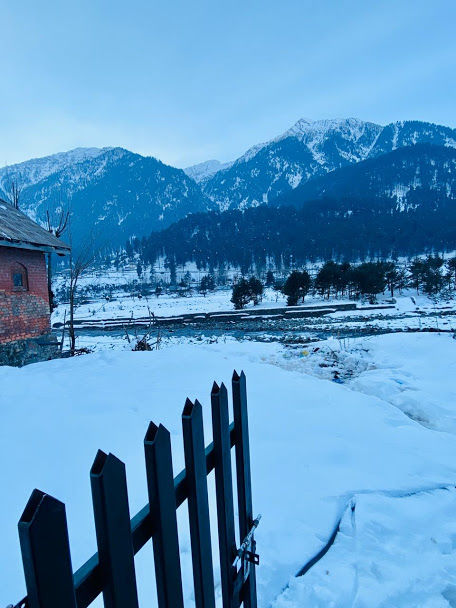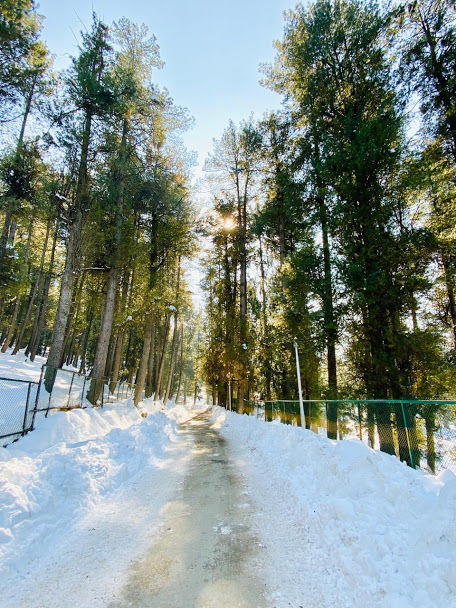 You can easily spend up to three nights here and explore various neighboring places such as Aru Valley, Betab Valley, Kokernag, Baisaran, Sheshnag, Tulian Lake. During the summer months, you can even experience the white-water rafting as well in Lidder river.
Here, you will see a lot of people opting for a horse/pony ride for local sightseeing. However, we recommend not to consider the same. The animals here are malnourished, and not treated well. At a small age they are pushed into this and many of them are completely untrained. They usually are unable to bear the weight of people sitting on them, and carrying us over their backs makes them suffer more. You would see them sliding and slipping on the slopes. This would not only risk their lives but also of the tourists. In fact, one can easily walk around Pahalgam, which is more comfortable and adventurous in snow.
Day 9 – Move to Srinagar
After staying for two nights in Pahalgam, on the next morning, we took a shared cab back to Srinagar, via Anantnag. Before reaching our hotel, we headed out to catch the magnificent sunset at the Zero Bridge and visited the marvelous Dastgeer Sahib Dargah. On the last evening, we shopped some local stuff like walnuts, souvenirs, Kashmiri Qawah and other handy things before continuing our journey and traveling to Sikkim!
Should you visit Kashmir now?
The answer is a big YES!
After traveling the entire region, we feel Kashmir is rightly called 'Heaven and Earth' for a reason. Yes, the current scenario has changed the lives there, but the situation is improving. More than 90% people survive on tourism; therefore, it is even more important for them to make everyone feel safe, so that people can travel to Kashmir.
The Kashmiris will welcome you with a big bright smile and their arms wide open. They are the humblest and the most kind-hearted souls you would ever meet. At many points we realized that they do not have any hatred for Indians, and despite everything, their hearts are filled with love and joy for hospitality.
Things to keep in mind:
 See for yourself rather than blindly trusting the words of media and other 3rd parties.
 Talk to the locals, but do not stress only on political tensions, curfews, and civic outrages. There is a life above all these recent happenings, and understandably people wish to forget about it and move ahead. There is no internet here. So, the only medium through which they get news about India is through TV news channels and newspapers, but often, you will see them curious to know more from the visitors.
 Majority of the people here are Muslims, so it is advisable to respect the religion and sentiments of people. Whatever may be the history, please do not take a side and talk about the past. Remember that you are a guest and will only stay for 8-10 days, but these people and their families are here since ages, so our knowledge about the lifestyle and history there is always secondary to them.
 Respect everyone, greet them with politeness.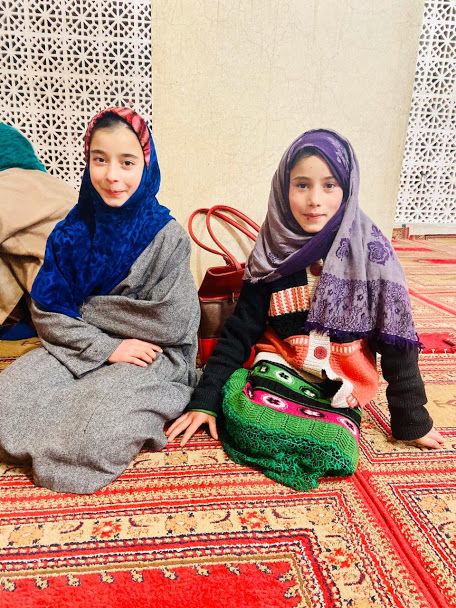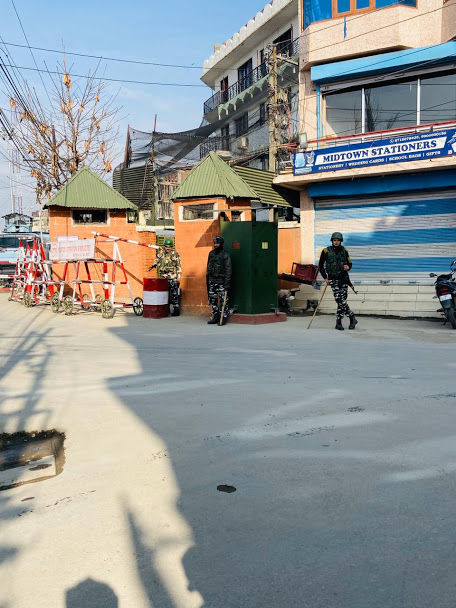  You will see CRPF Jawans and Indian Military personnel everywhere. Do not talk to them about life over here or take selfies with them. They stand for 9-10 hours or more while on duty with heavy artillery in this extreme weather. Life is not easy.
 Strike a conversation with vendors, tourism officers, drivers, shopkeepers. Play with the kids. Shop local and support the locals. Click pictures, take their numbers, smile, and pose. They will love it, and for sure, your journey will be a memorable one!