Karwar is a calm and unexplored beach town which is close to Goa. It is known as the Kashmir of Karnataka by Rabindranath Tagore.
What is the best season to visit Karwar??
The best season is the winter season from October through February. This season is good for water sports as well.
How to reach Karwar??
Karwar is well connected by road from Bangalore, Goa, Mangalore, Hubli.
Nearest airport -> Goa international airport (100kms).
Nearest railway station -> Karwar railway station.
Getting around Karwar??
- Rent a bike in Gokarna and ride to Karwar.
- Bus is a good option if you are on a budget, the frequency of the bus is 15min to 30min to any beach and you have to walk a bit.
- Auto Rickshaw or taxi is a convenient option but you may have to shell out a tad bit more than the public transport.
TEN THINGS TO DO IN KARWAR
1) Tilmatti Beach trek: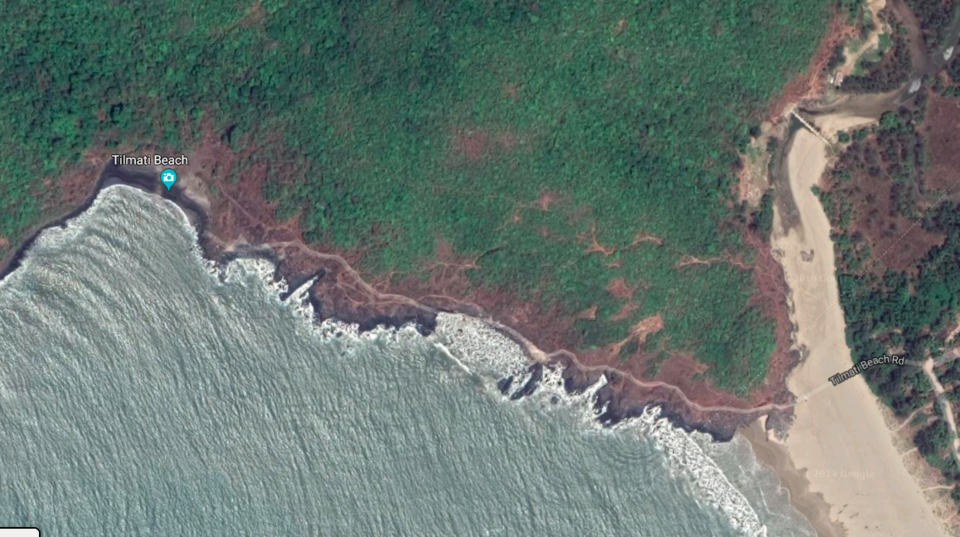 This is one of the few black sand beaches in India.
The name Tilmatti means sand that looks like sesame seeds.
it is a short trek, 25-30min from Majali beach.
Tip- take some water and snacks since you might not find a shop nearby.
2)Explore Beaches
Karwar has about 5 beautiful beaches
Tagore beach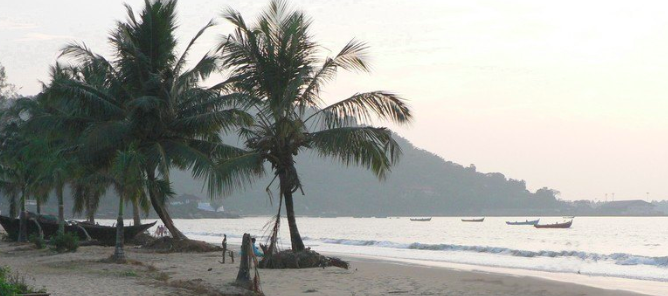 This beach is very close to the bus stand and easily accessible. You can spend the evening on the beach looking at the beautiful sunset, which is a great way to unwind and relax. The beach is also the venue for a number of cultural activities including the famous Karavali Utsav, which is held every year in the month of October.
Devbagh Beach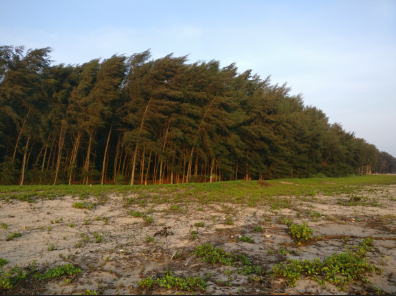 This beach is famous for its golden sand and is an ideal place to relax and spend time in solitude. The soft sand here makes it ideal for sun bathing. It is quite pleasant to sit on the beach in the evening breeze and spend time while it becomes dark.
Tilmatti Beach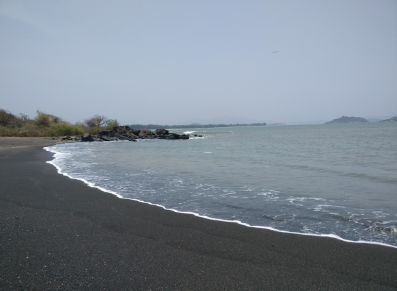 Take a short trek to get to this beach. At this little beach one can find coarse black sand of basaltic rock making the beach black in colour.
Majali beach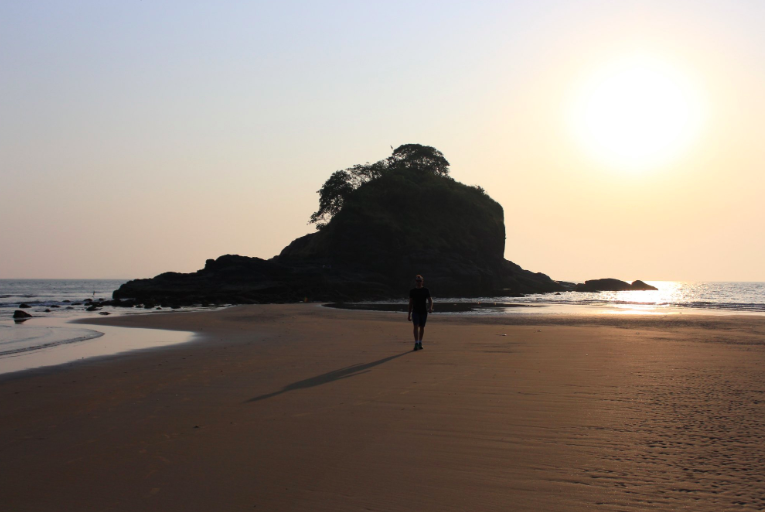 This beach is close to devbagh beach and its famous for the flamingo island(No! No flamingos here). This island is close to the beach and during the low tide people can see a path to the island.
Tip-it is nice to take photos of the island during low tide but its risky to go to the island.
3) Explore the island in the sea
There are a few unexplored island very close to Karwar, to name a few Kurumagad island and Light house island. There is a company called as Prafulla boating company which organises this island hopping tours and it takes about 2-4hrs and you can see dolphins on this tour.
4) Exploring the island in the river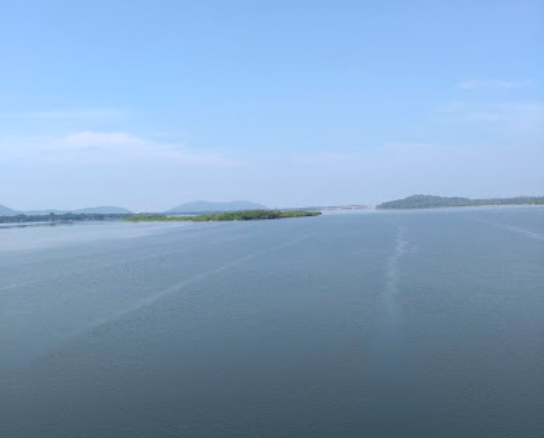 There are a few island in the Kali river to name one of them Kalika temple island is the most popular island among them. Prafulla boating company organises this tour as well.
5) Exploring Sadashivgad Fort
This fort is on a hillock. you can see breath taking views from the fort.
you can also see the confluence of river kali into the Arabian sea.
6) Warship Museum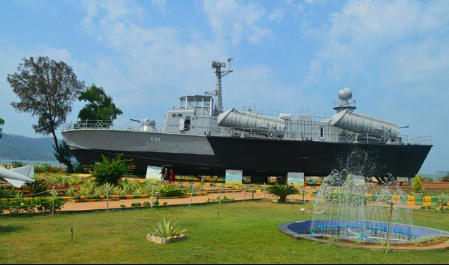 INS Chapal warship museum is a naval museum situated at Rabindranath Tagore beach. INS Chapal was a star of the 1971 Indo Pak War and missiles from the ship had bombarded Karachi causing large scale damage. It was one of the main reasons behind India's victory in the war.

Timings: 9am-12.30pm 4pm-7pm
Entry fee-15rs per person
7) Karwar Rock Garden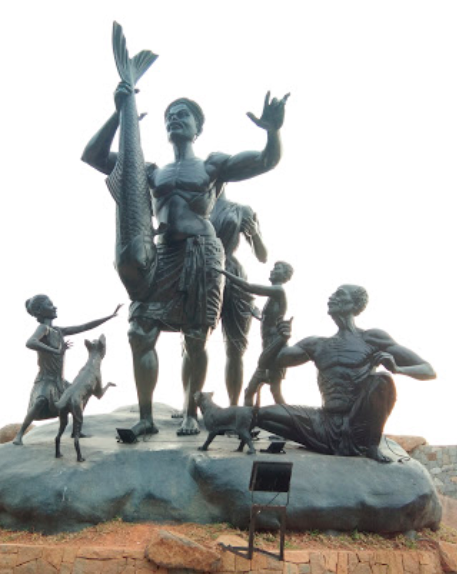 At the garden, a fort-like wall, sculptures of creative art, cement sculpture of tribal people of Uttara Kannada and their lifestyle, animals, lifestyle of fishermen and many more have been created.
The Rock Garden can be visited duringThe Rock Garden can be visited during timings 10am-1.30pm 2.30pm-8pm. The best time to visit would be after evening, the lighting at night makes the place looks more vibrant. The entry ticket is 30rs per person..
8)Karwar Aquarium
The aquarium is very close to the warship it has many variety of fish and it would be interesting for kids
9)Paramotoring and Water sports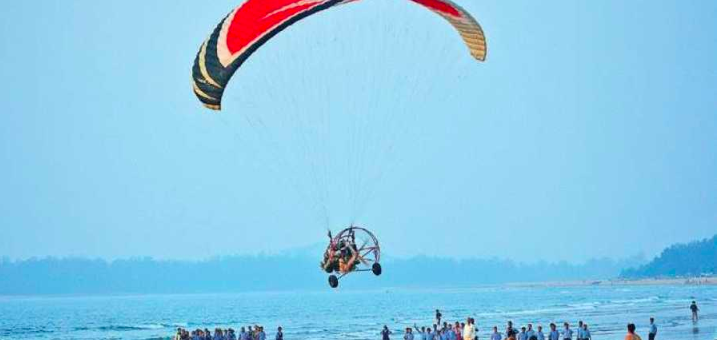 Paramotoring is "paragliding with a motor" it can seat one person at a time and you'll be accompanied by an experienced instructor. Once you take off, you'll be treated to scenic views of the expansive sea below, the sandy shores of the beach and the frothy waves . You can also catch glimpses of the surrounding hillocks and the city of Karwar itself. The experience costs around INR 2,000 for about 8-10 minutes. This activity is done on the Tagore beach.

Various water sports like banana boat jet scooter can also be tried on the Tagore beach.
10) Temples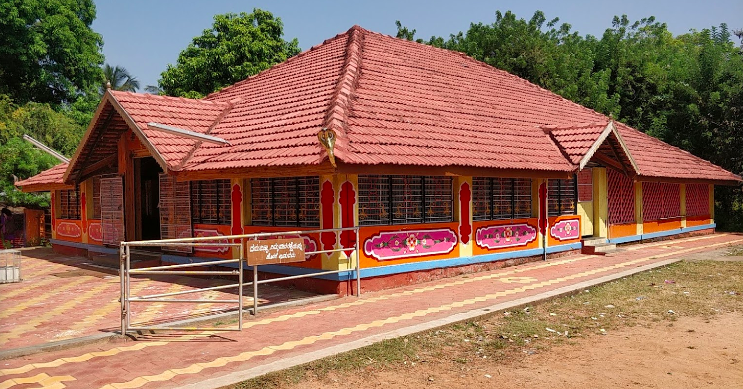 There are many temples in Karwar, if visiting temples are on your list these are the few temples: Karwar Sri Naganath temple, Durga Devi temple, Mallikarjuna temple.
Places to stay(Per night approximate cost for 2 people )
Aditi Comforts- 1,600rs
Amrut Aura- 1,800rs
Citrus hotel Karwar - 2,000rs
Sterling Karwar- 2,800rs
Devbagh beach resort- 12,000rs
Cintacor Island Resort- 16,000rs
Places to eat

Swetha lunch home- Karwar cuisine.
Hotel Amruth-Karwar cuisine,noth indian,south indian.
Hotel Shruti sagar-veg restaurent.
Insta worthy place in Karwar