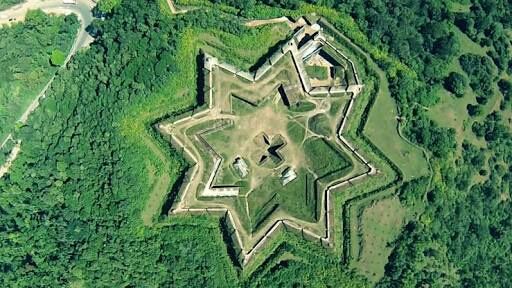 "Travel far enough,you meet yourself"

Hey guys, hope u all doing good......I guess my intro is not needed since i have written 3 blogs earlier and i hope u guys have read that. So its time that i share the details of this trip with you.

Brief description:

Manjarabad fort is a fort that is situated in sakleshpur, a town situated in Hassan district of Karnataka. Its a star shaped fort which was built by Tippu Sultan in 1792.

After a lot of dilemma with the places we finally decided to head towards sakleshpur. As predicted there were a few guys who dropped out due to their work schedule and finally it was me and my cousin who were ready to hit the roads.

The actual meeting time was scheduled at 5.45 but since it was a cool and pleasant sunday morning i woke up at 5.45😁 and by the time i reached the meeting point it was 6.45 and my cousin was already there waiting for me.

So quickly had some hot tea in the cool weather and we started off at 7 am towards our destination. The road from nelamangala to hassan is amazing where you can easily maintain speeds upto 120 km/hr.

We were cruising at a decent speed of 100 km/hr and finally in no time we covered 70 kms in an hour. It was time to take a break for coffee in yadiyur and we relaxed there for 15 mins and we started off our ride.

I recommed you guys to have your breakfast at A2B restaurant near chennarayanapatna since the food is good and its a neat place with good ambience.

It was alredy 9 and the fort is 70 kms from the hotel. But the road after Hassan is quite bad and you need a lot of time where you have to dodge the potholes and cruising at 60 is a big task in such roads.

Since it was a sunday the roads were completely occupied  by riders and one such group we spotted were the HARLEY riders😱.It was a joy riding around them and the feeling you get when a fellow rider greets you by giving a thumbs up is seriously great.
If u guys are travelling in car its quite fine but a bike ride is quite hectic in such roads.

It was 10.45 by the time we reached the fort and the view is worth the struggle. Its a very good fort which has a star shaped circumference with some spectacular mountain ranges spread all round the fort. One needs to climb some 100 steps to reach the entrance of the fort. It is an open fort which does not have any shelter sort of thing on the upper floor.

They say it is actually a fort which has a lower section too. But i dont have any idea regarding that. There are steps which are provided which might lead to the lower ground but since it was very dark it was not possible to enter that.

If any of u guys reading this have been to that section please do comment and provide me some info regarding the same.

Then with some photo sessions we finally decided to leave the fort at 1 pm in the afternoon. We had good lunch and finally we left sakleshpur at 2 in the noon with the sun directly above our head😭.

Continuing our ride we had to take around 4 breaks in between and there was quite a bit of traffic in the highway and finally when we reached nelamangala it was 6.15.

Finally a goodbye to my cousin with smiles and tiredness in our eyes along with a feeling of achievement,it was quite an amazing ride.

Route description

Bangalore-nelamangala-kunigal-yadiyur-chennarayanapatna-hassan-sakleshpur.

Bangalore-hassan: superb roads

Hassan- sakleshpur: roads are quite average with patches in between.

Start time:7 am

End time: 6.30 pm

So thats it for the blog guys. Please do share and if u need any info regarding this do ping me. Thank you.