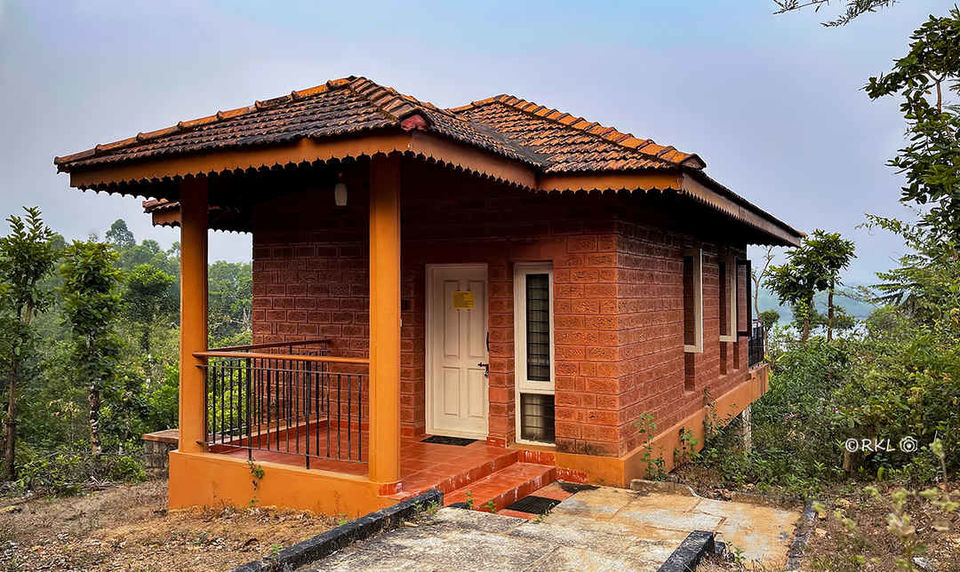 For a long time, one thing that bothered the visitors of Jog Falls was the very limited and subpar accommodations in the surroundings. The location of this angelic beauty is such that it deserves a day's stay and a bit of sightseeing around. Thanks to Sharavathi Nature and Adventure Camping facility by Jungle Lodges association which fills in many of those voids, now right in the heart of the evergreen Sahyadris, there is a very beautiful hideout place standing quiet in the serene backwaters of Sharavathi.
To start with, this is the best facility you can get in the whole realm of Jog Falls. But it doesn't stop at just being an accommodation centre and has much more to offer on its own. Like for every other resort you can find the required details in website for this too, but sometimes visitors need to know more than what it shown and advertised right? Like an inside story. So, here it is. A short informative blog with personal travel experience to this site. Before I start, let me make it clear, this is not a paid promotion.😄
Why Sharavathi Adventure Camping? As said, it is the best accommodation you can find if you are visiting Jog Falls and required to stay in the surrounding. Apart from that this place is a true camping site with many adventure activities like hiking, trekking, nature walk, bird watching and many water sports facilities in the clean backwaters of Talakalale dam, built across Sharavathi river. This could serve as a perfect weekend getaway place with nice recreational activities for family and couples.
Best Time to visit? The Adventure camp alone is good to visit throughout the year. Backwaters and water sports can help you to beat the heat of summer. Anyhow, the surroundings along with Jog opens the gates to heaven during monsoon and couple of months post monsoon. That would be the best time.
Typically, this camp is 2 days and 1 night visit worth. Their itinerary too is planned in same way. This will benefit almost every traveller. Check out this link for itinerary planned by resort
https://www.junglelodges.com/resort/sharavathi-adventure-camp/#itinerary
Location and modes to reach: Location of this resort couldn't have been planned any better. Inside the thick deciduous forest range of western ghats, next to the cleanest of backwaters of Sharavathi river from Talakalale dam with mesmerizing sunset views, it feels like a match made in heaven. Well, heaven cannot be reached so easily, right? Same is the case here.
The location marked for this place on Google Maps can be misleading. Routes are narrow and traverse through thick jungles. Nearest and easy landmark is Jog Falls, which is 6 km away from the place. From Jog, if you take Bhatkala route, you will get a small town by name Kargal. At Kargal entry junction, marked by a huge arch as entry point for Talakalale dam, take right and travel further for 2km through off-roads to reach the place.
Anyhow, if you are travelling from Bangalore, you will have to reach the place via Sagar. Google maps would suggest to travel through Honnavar route from Sagar. You will have to take a left diversion at Talaguppa to reach the same Kargal junction directly. Talaguppa-Kargal stretch is more devious and there won't be any network connection. Highly suggested to download offline maps for this route.
Package: Is it worth the cost? Packages have been divided into two categories mainly.
1. Basic Stay - which includes a cottage stay with all basic amenities.
2. Stay with water activities and food - This is a package with a set of water activities in the backwaters of Talakalale dam, and 3 main meals with snacks.
Check out the seasonal prices here:
https://www.junglelodges.com/resort/sharavathi-adventure-camp/#packages
Cost of both packages is variable with seasons. On an average, Basic Stay costs Rs.1250 per person or 3000/- per room for 3 beds. Package would cost you around 2800/- per person but the same can be lesser by 300-400/- on weekdays. There is an option for special cottage too, with TV and AC facilities, which would cost 500/- more.

How worthy the cost is would very much depend on your interests. If you are travelling and you are picking this place to stay overnight, then I would suggest you to go with Basic Stay. Only suggestion if you are picking basic stay would be to arrange for your food. Buffet breakfast costs 250/- per head, lunch & dinner costs 500/- per head. Honestly, that seemed to be very much overpriced for us compared to the food that was served.
If you plan for 2 days of outdoor camping, Full package is totally worth of every penny as it would include food charges along with water sports. Water sports includes different activities like coracle riding, kayaking, swimming, jet ski etc. They can be picked in groups too if you aren't going with full package. Below is the list of activities and prices of each and package.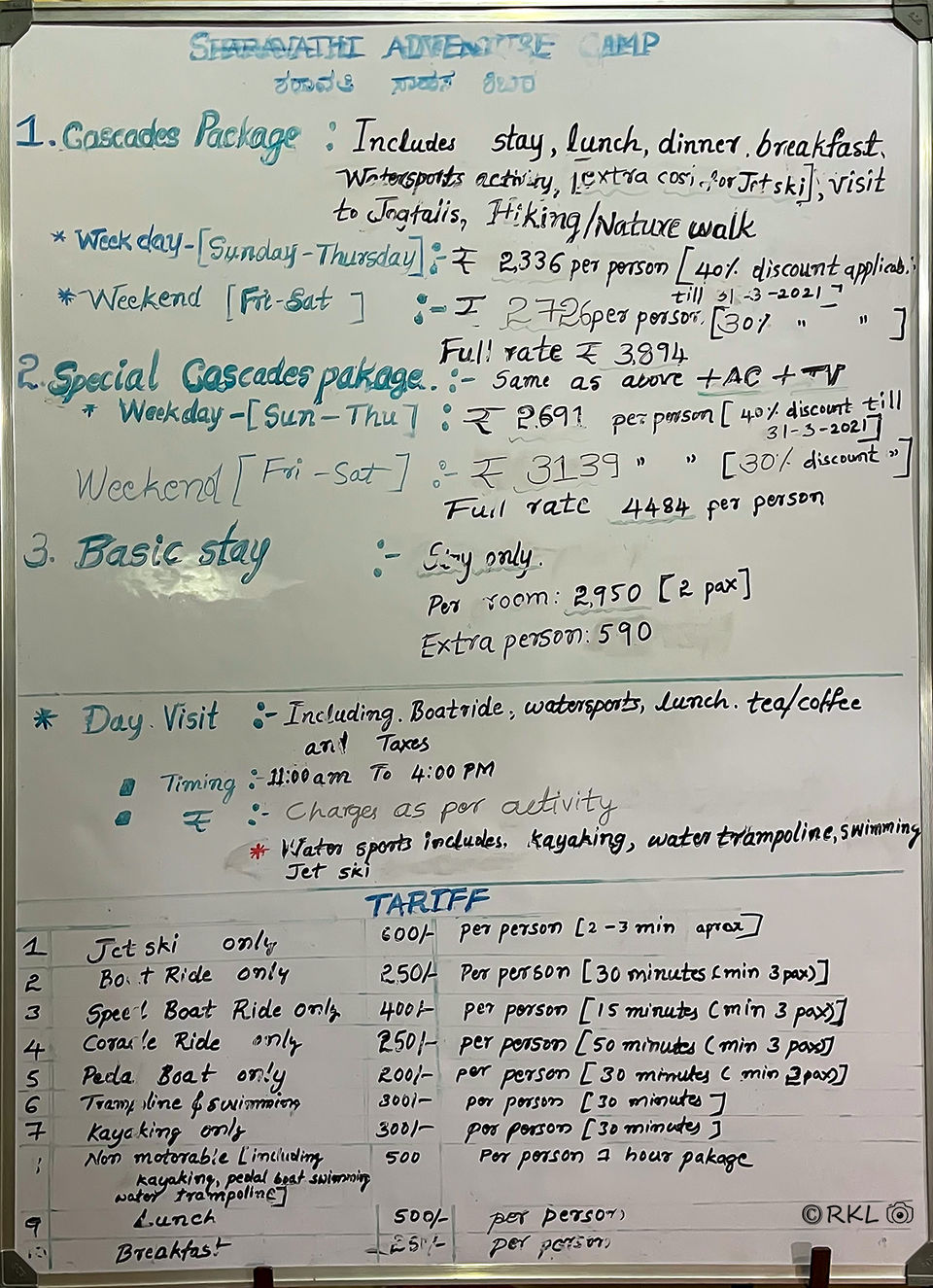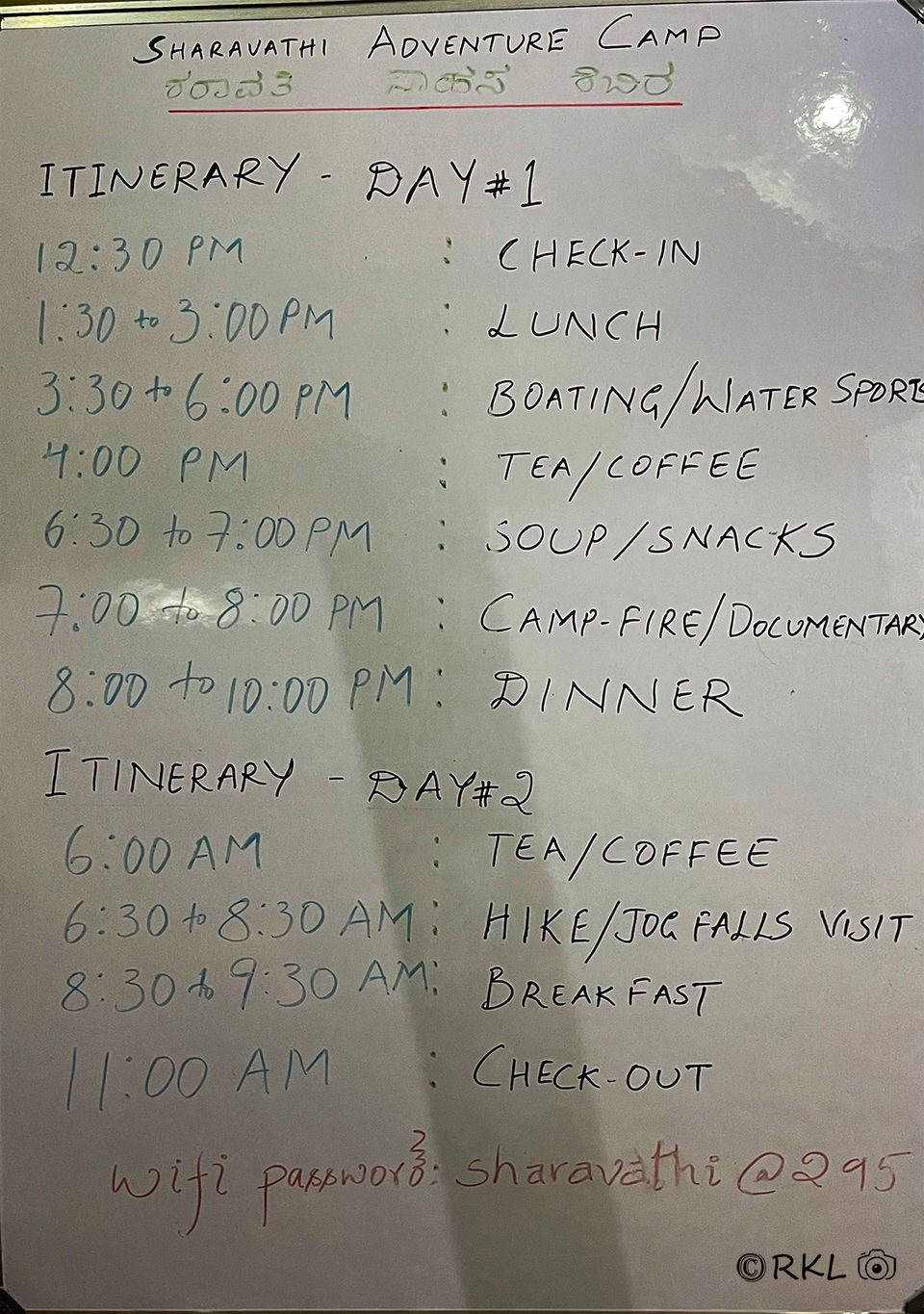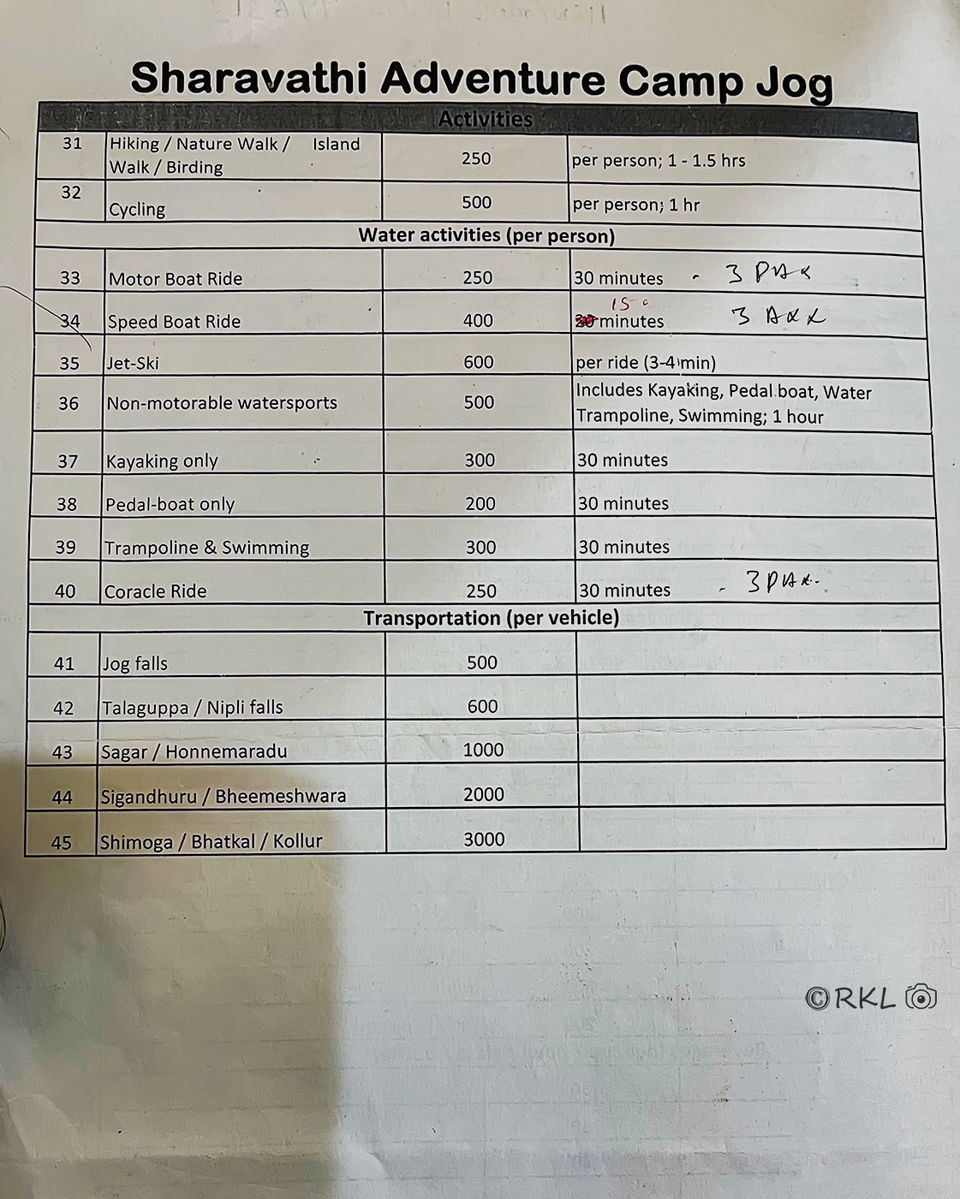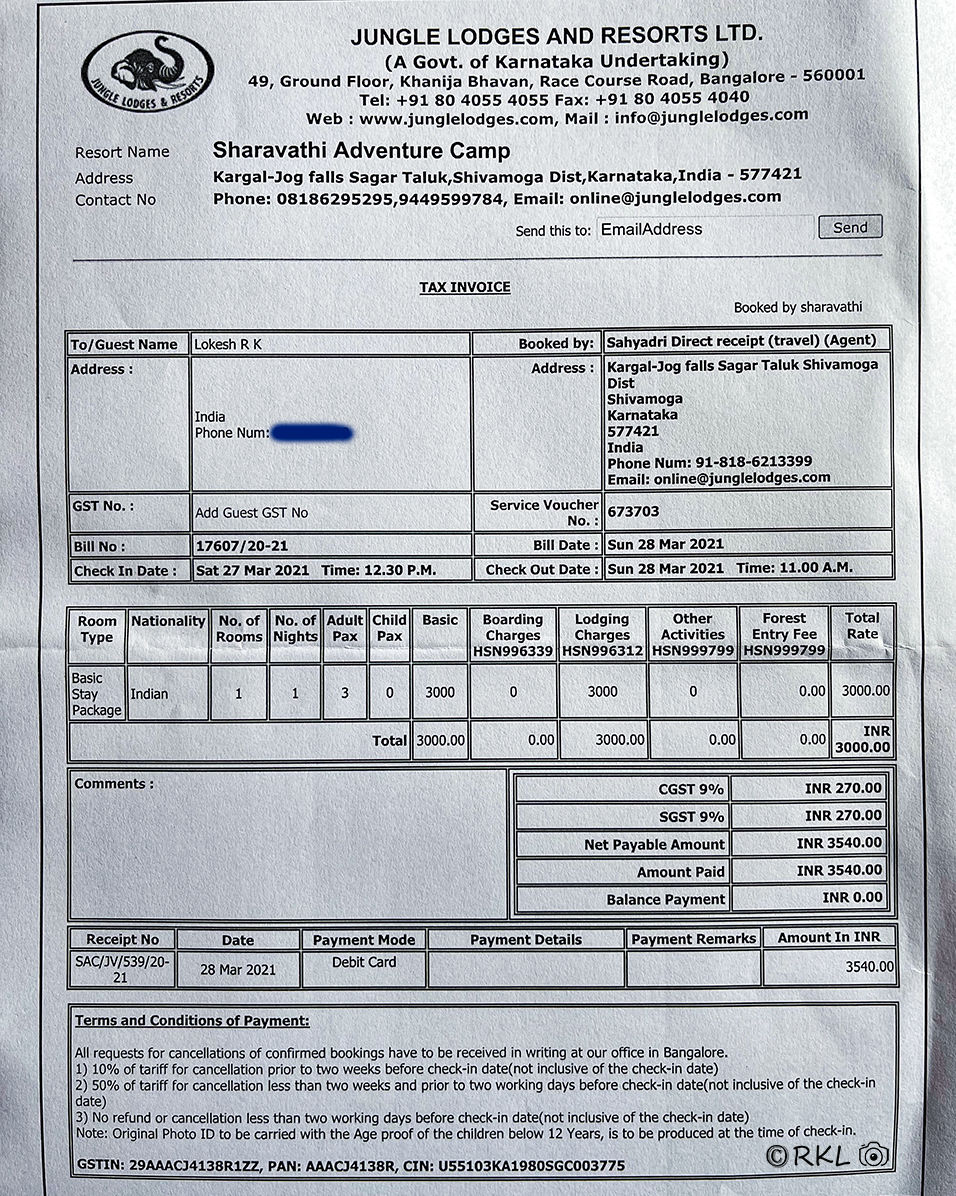 Hospitality and Personal Experience: What if you are offered by 5-star facility and treated like a stranger? Would you be happy? Right, in places like this, what matters the most is the hospitality and attention to your needs. Let me tell you how was my experience here.
To start with, we didn't book the stay here online. On the day of arrival, I called the facility and checked if there was accommodation available for night. Person who spoke was very gentle and assured to reserve a cottage without taking any payment. At night we were running late, thanks to Google maps again.😀 Whenever we got network connection, we called them again and they guided us well to reach the place.
Finally, when we arrived, we were greeted graciously and informed about all the facilities and packages and yes, we were given the cottages as promised to us over call. After picking our luggage, Shankar, one of the friendly employees at site, guided us towards our cottage. He showed genuine care about guests and surprisingly not in expectation of any tip. The cottage caught our attention at first sight itself. It was a pretty hideout in jungles with all the comfort we could ask for after a tiring journey.
It was late night and we were the last guests that day to have dinner. Efforts were made to serve as best as possible there, though everything couldn't be rearranged. We met couple of other employees who had just finished their shift and had sat up for a relaxing drink😉. Though we gently rejected their kind offer to join them we got into a good conversation. Spoke about wildlife in the area, their habitat, lifestyle in western ghats and much more. They seemed to have very good knowledge about flora and fauna of the region. We ended the day with that lovely conversation and left for our cottage.
Next day, we choose to visit Jog Falls on our own, which is exactly 6 km from the place. Once returned, we wanted to enjoy few of water sports, if not all, at those beautiful backwaters of Sharavathi. But here the guides and facilitators seemed to be quite hostile. Was it because of the mid-day heat over their head? Whatever, just felt they could have been much better with visitors in their interactions. At least that was the reputation they had built over last day.
Checkout process was not completely hassle free. After our water sports we were asked to check out by 12 pm, which we were not informed at the time of check-in. After some negotiations they gave us enough time to freshen up and pack. Employees at billing desk also seemed to be very friendly and showed good patience. They cared enough to provide information of nearby places and the ones which can be covered on our way back to Bangalore. With that we bid an adieu to one of the prettiest stays in the prettiest of places!
A quick tour of the cottage area and balcony views!
Little things to know about.
1. There is no cell network connection at the place. Stick to the landline numbers to contact resort. No issues on mobile payments though, as reception and dining area have WiFi facility.
2. There are few unlisted facilities too😊. There are few indoor games like Foosball, TT, Carrom etc. You have to ask for it though.
3. Camp fire is arranged every night from 7-9pm on the edge of backwaters, surely not something to miss out on.
4. Amenities at the cottage include all basic things like 24/7 Hot Water, Towels, Packed Soaps & Shampoos, Kettle with coffee & tea bags and even power backup. The beds (2+1) are comfy and clean.
5. Explore the surrounding. Yes, location is as sweet as it could be. But if you stick on to resort, you might miss on beautiful things around. Take a nature walk, find a chance to spot the rarest species of flora and fauna of western ghats. Enjoy the serenity at its best.
6. Resort offers you travel facility to near by attractions including Jog Falls. But the charges are levied per trip and not per head. So, it would be worthy only if you are in a group of members who can fill in a jeep or if there are any of the fellow visitors who can accompany you for the same trip.
Take Away:
Wilderness of Sahyadris, Serenity of Sharavathi river and Heartfelt satisfaction of mesmerizing sights surely makes it a worthwhile trip. Water sports in the crystal-clear backwaters would impress any adventure junkie. Unlike other tourist places this has less crowd in a huge area. Travel with an open heart, come back with love filled for Sharavathi. She is an angel!!