The 16th century Shri Marikamba temple in Sirsi is main attraction and it is one of the important seats of shakti worship in Karnataka. The Deity, Goddess Durga is 7-feet tall with eight-armed, mounted on a tiger. Shri Marikamba Devi was installed in 1689 AD.
HISTORY OF THIS TEMPLE
Sirsi was then a tiny village. The Deity which is said to have been found in a local tank of Hanagal was installed here through the efforts of Nandikeshwarmath Swamji with the consent of Sadashiva Raya II of Sonda Dynasty, a sub-kingdom under the famous Vijayanagar Empire. Since, then Shri 'Devi' has become the popular "Grama Devata".
Architectural style : The temple has very special paintings of murals in Kaavi art, on both sides of its walls which in red shading against a white foundation. Kaavi art is a form which was popular in the coastal Konkan region of Karnataka.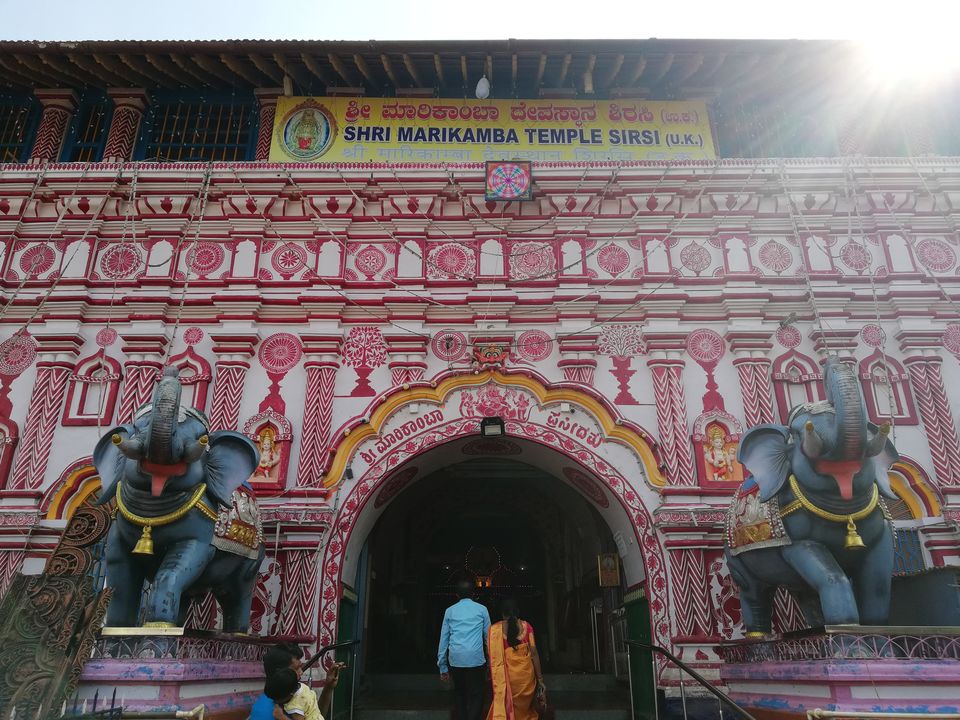 MOTHER of LOVE : Shri Marikamba is the mother divine like Kali of Bengal, Ambaji of rajastan and Ambabhavani of Maharashtra. She is mother of love, she subdues the wicked and protects the virtuous. It is a fact that all the wishes of her devotes are fulfilled only by their prayers. The annual chief festivals are Jayanti, Navaratri and Kartheeka illuminations. The Sirsi Marikamba Jaatre of the divinity is held each substitute year in February and taken through the town. It is gone to by an extensive number of devotees. It is said to be the most well-known and greatest fair of the state.
Timings :
Tuesday and Friday - between 7.00 am to 10.00 pm
Other days - between 7.00 am to 9.00 pm
Distance from Sirsi
Hubli: 102 km
Bangalore: 425
Haveri: 75 km
Fees:
No entry fees, but there are various sevas. Depending on that charges will be applicable
Parking fee is there
You can follow me:
https://www.instagram.com/hemsvision/
https://www.facebook.com/hemalatha.anjanappaa
https://www.youtube.com/hemsvision