Just like others, that was also a totally unplanned travel..!😊
Me and my friend started the drive from Ernakulam early on a Saturday morning. The morning drive was traffic free and the roads were totally empty.
Ilaveezhapoonchira was a new place to us and we were totally excited. Searching and googling we found that it's a tourist destination located in Melukavu village in Kottayam district near to Kanjar, rich with mist and greenery during the monsoon days . And yes, our travel was in July, the perfect time to explore and enjoy!
We took some breaks in between so that our onward journey felt energized. After driving about 2 h 11 min around 81.9 km via NH85 we were about to reach the destination. In between , we halted at a hotel as our stomachs were empty and required some fuel !! It was a small hotel, but we had a delicious breakfast
( hunger always adds Taste..!) In our journeys we always had a thought that small hotels serve good and tasty food . And this thought came from our travel-fooding experience and most of the times it came true.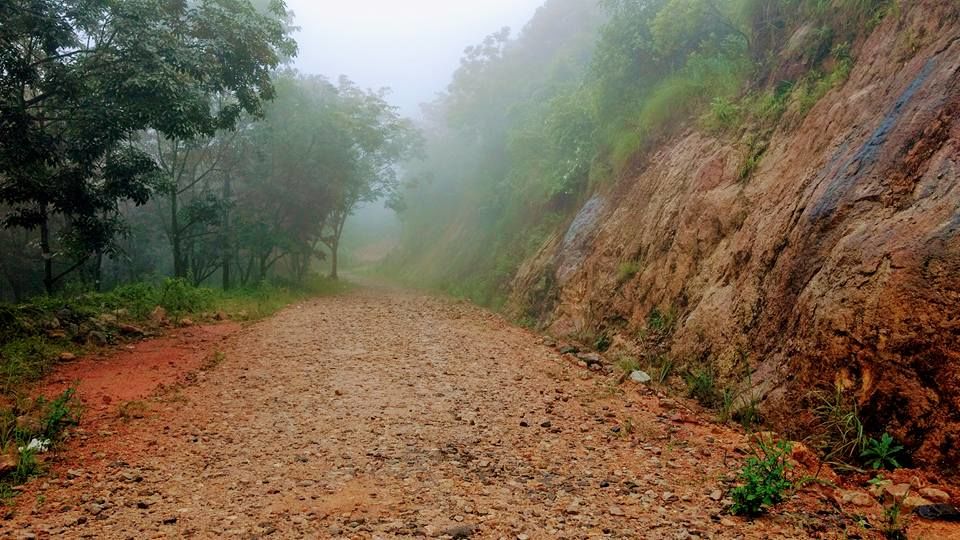 Finally, we reached the starting point of Elaveezhapoonchira hill and had to park our vehicle at the base. At that time , it could not be taken till hilltop as the roads were not tarred . The road guiding up the hill was a bit dangerous and there are local jeep and auto services available to take you to the top.
The nostalgic M&M Jeeps waited at the base, to take the tourist's to the top.
But we decided to walk , just for a change ! And it is said that this place is ideal for trekking so we thought why don't we give a try . The starting point was too steep and we started feeling breathless as we climbed more and more .It is said that , this is also one of the best places in Kerala to enjoy both the sunrise and sunset. During monsoon the view of scenic lake unveils yet another beautiful slice of nature. The name Illaveezhipponchira means 'the pond of flowers where the leaves do not fall' and it is named so because the place has no trees. The route we followed to reach there was THODUPUZHA -KANJIRAMKAVALA - MELUKAVU and finally ILAVEEZHAPOONCHIRA. This destination is surrounded by three enchanting hillocks - Mankunnu, Kodayathoormala and Thonippara which makes this place ideal for trekking.
As we started climbing top, we realized that the trek was too difficult and the path was completely covered with rocks. And to our luck (good or bad) it also started raining . An auto was coming from top after dropping few people there and so we thought we would hire that auto . The autorickshaw person took us till a point and told that beyond that point vehicles are not permitted. But it was fine because it would have been too tiring if we planned to walk further .We began walking to the top again. Rain started pouring too heavily accompanying with lightning and thunderstorm . Both our mobile phones lost connectivity and we felt like completely lost on a hilltop . Moreover, it was too misty and windy that we couldn't see or locate each others. Somehow, we fought with the wind and reached to a point where we could get a perfect view of the hill station. Now the rain stopped a bit and we got a clear view of the lake . I still feel excited while I write this because the view is beyond words and the climate we fought was too extreme!!

But for any travel what makes it beautiful is the adventure part and the company we have .Both were good !! And this was adventurous and a memorable one . As we climbed the hill, we could find an area which was covered with iron fence and beyond that there was no entry for tourists . But still since no one was watching and due to the adrenalin rush seeing the beauty of nature we still climbed a bit more beyond the iron fence. And enjoyed another lovely picturesque view !
We had noted down the phone number of auto driver thinking we could call him while we return . But zero range and heavy downpour ; that plan remained as such..!
It got late and was time for us to return. Since there was no transport and no communication possible with the drivers we started walking down towards our car .Due to heavy wind our umbrella's turned upside down and there was no use carrying one . We got drenched in rain and there was no other option!!
I expected fever next day but luckily by God's grace health was all fine.As we walked down there was an urgency for bio break..!!!
Looking here and there we found a home and a family and asked them help and they were very happy to help us . Bathroom was at the backside and since our dress was completely soaked in water there was an emergency to change that. We had carried an extra pair of dress in bag but that too got wet . But since we got a shelter we changed and to our surprise the family made us hot tea and that was great relief at that moment . We were shivering but that hot tea made our body warm.
After spenting some time talking with the family again started walking down the path . Now as an angel a jeep was coming and we asked trip. The driver took us through the off-road and it was an amazing journey . On the way back there was a waterfall where he stopped his vehicle. We went out near the waterfall spent some time there but got back to the vehicle as it was already late.
Driver was very friendly, and he kept on talking about the place and the people . It was really a good time pass which made us forget the hurdles along that off-road journey. This one was my first off road ride and a good one to remember . The next one was at Kudajadri about which I am planning to write in another article . Please stay tuned !!
Finally, we reached at the bottom of the trek, paid the driver and got into our car. It was a superb experience , adventurous and a memorable trip. Nowadays the roads are tarred, and the journey is much easier they say.
Wishing to go there once again during next monsoon!