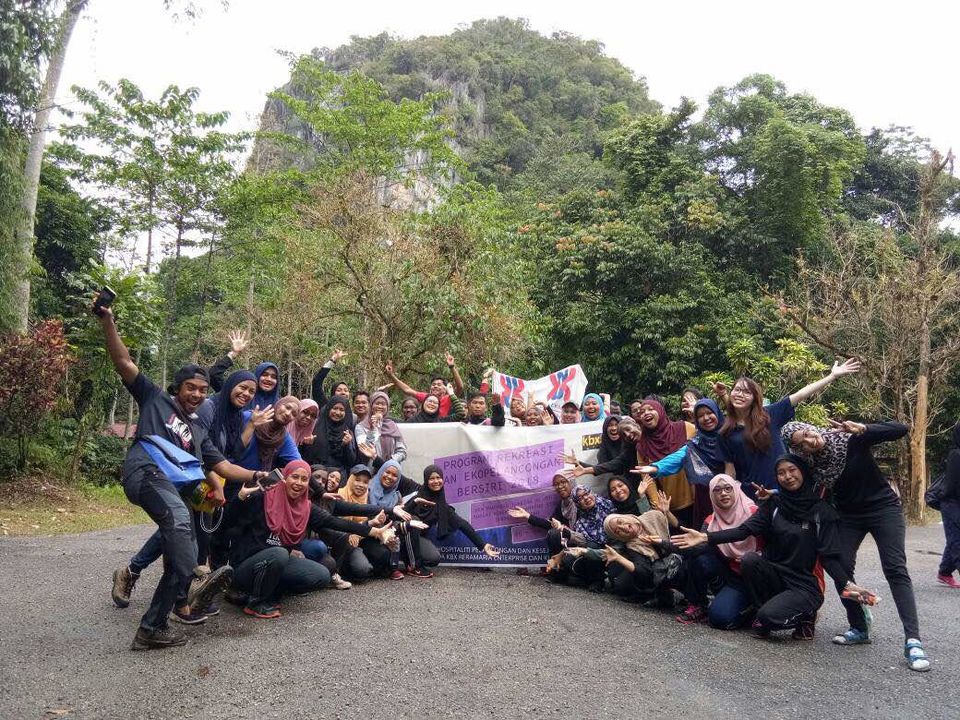 DAY 1
6 April 2018. Today is the day of our trip. We have waiting this day for so long.
In the morning, we meet in front of the gate of campus UMK. Everyone seems very tired and still sleepy in this early morning. Around 7.30am, the bus finally arrived our campus, we get in the bus accordingly. Inside the bus, some of the classmates have their breakfast, some of them taking a nap, and some of them just very excited and chit-chat with their friends. After one and a half hour, our bus stopped at a restaurant for those classmates that haven't eat their breakfast. We stopped there for 30 minutes and then continue our journey.
Another 2 hours gone, we finally arrived our destination- Dabong at 11am. In Dabong, I recognizes there is no signal for mobile phone. In other words, we are completely disconnect with outside world! This let me start to feel nervous and frustrating.
However, we still need to follow instruction by the organizer. They separated us into 5 new groups and explained to us this grouping is for patrol at night-time. They explained to us with full patience, the reasons why we need patrol section. Few years ago, they have a case that a girl is with somnambulism, that is sleep-walking, who caught by her friend nearby the river. It is so dangerous if similar case happens again. So, for safety reasons, patrol section is good for everyone.
Briefing Session: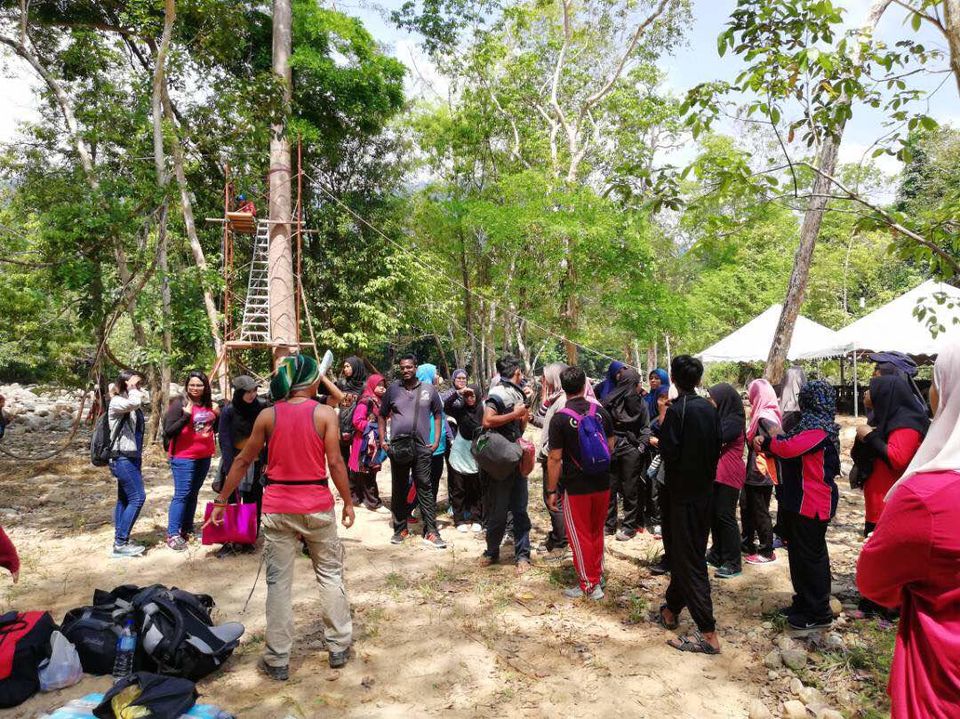 After a short briefing, they give us a camping set. My group is 3 girls, that was me, Anisa and Mira. We set up our camp in 30 minutes and that is a very fresh experience to me. This is the first time I sleep in a camp, and it lets me feels so insecure. I'm nervous about all my stuff, and also feeling nervous about the comfortableness of the camp.
Setting up a tent: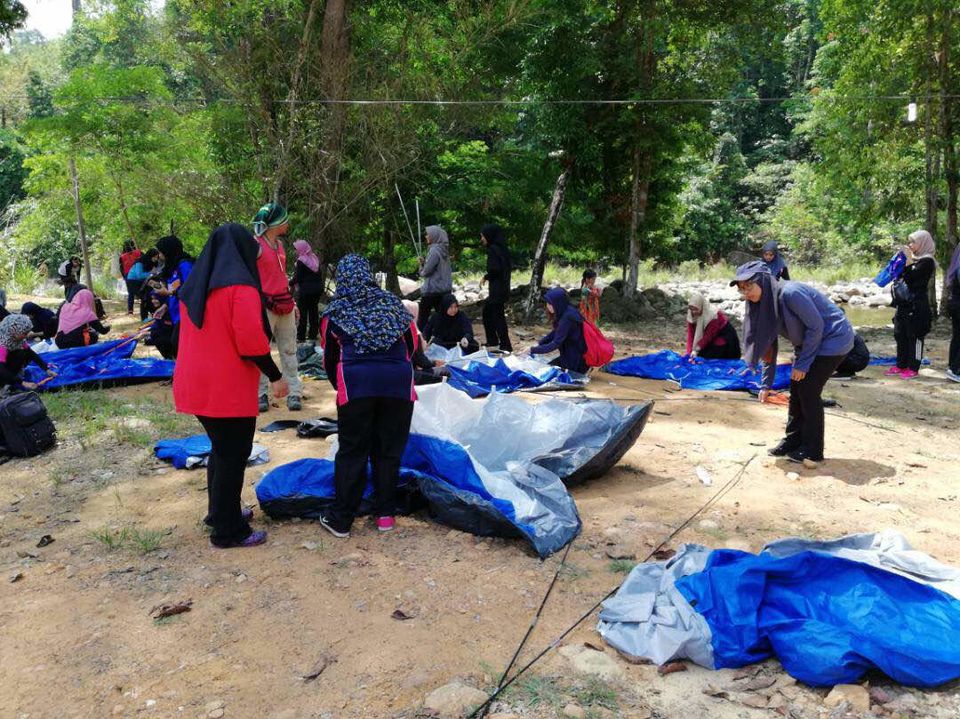 The organizer was so thoughtful. They gave us some free times to do our own work in the first day. The formal activities will start on 7pm so means that we have some free times to get to know this area. I used this time to settle my camp. For example, cleaning up the camp, arranges my stuff, and then took a nap inside the camp. Although the weather is so hot, but I'm very sleepy till I'm fall asleep very quickly.
When I woke up, it's nearly 5pm. I start to feel the heat. Suddenly, I saw some of the classmate playing water nearby the river. So I joined them, sitting on the rocks of the bay and put my legs inside the water. The water is very cold, it let me to calm down and start to have a view on this beautiful land. The water is so clear, the wind is blowing, and now everything seems so relax.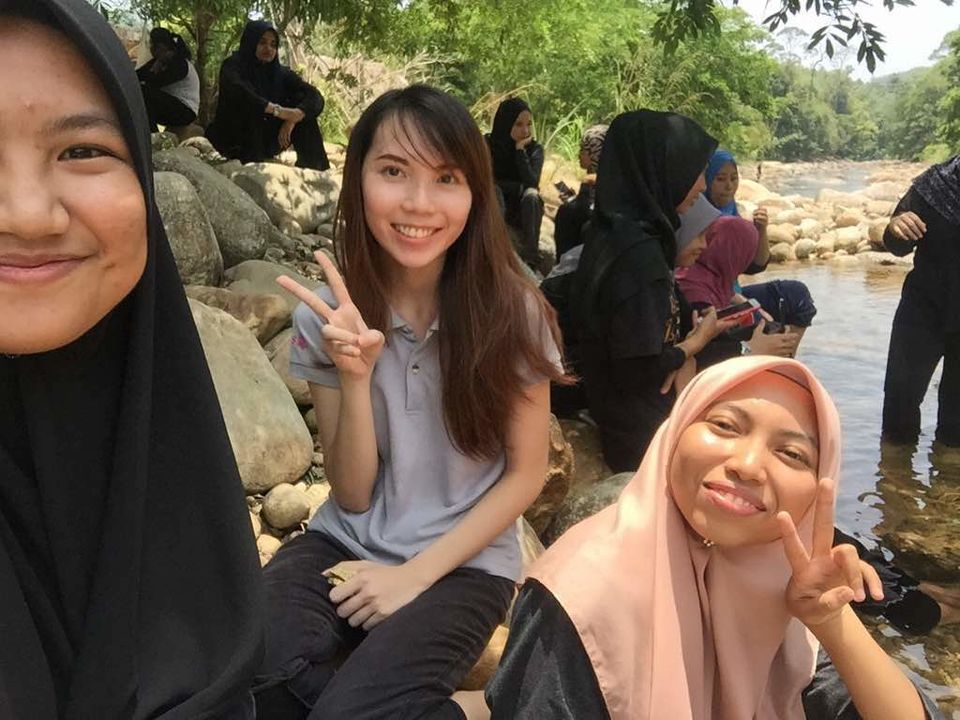 Around 7pm, our dinner is ready. After we have our dinner, the sharing session start on 8.30pm. The organizer share their experience in this land and some interesting stories. The sessions end 11pm. We go to bed and have a good sleep.
My team's patrol session is from 5am to 6am. We woke up on 4.30am to prepare. The weather in the night is very cold. We have our torch light and start to patrol around the camp site. Luckily that nothing happened in the night.
DAY 2
The second day of trip was full with outdoor activities.
In the morning, students had an aerobics session around the campsite.
Aerobics Session: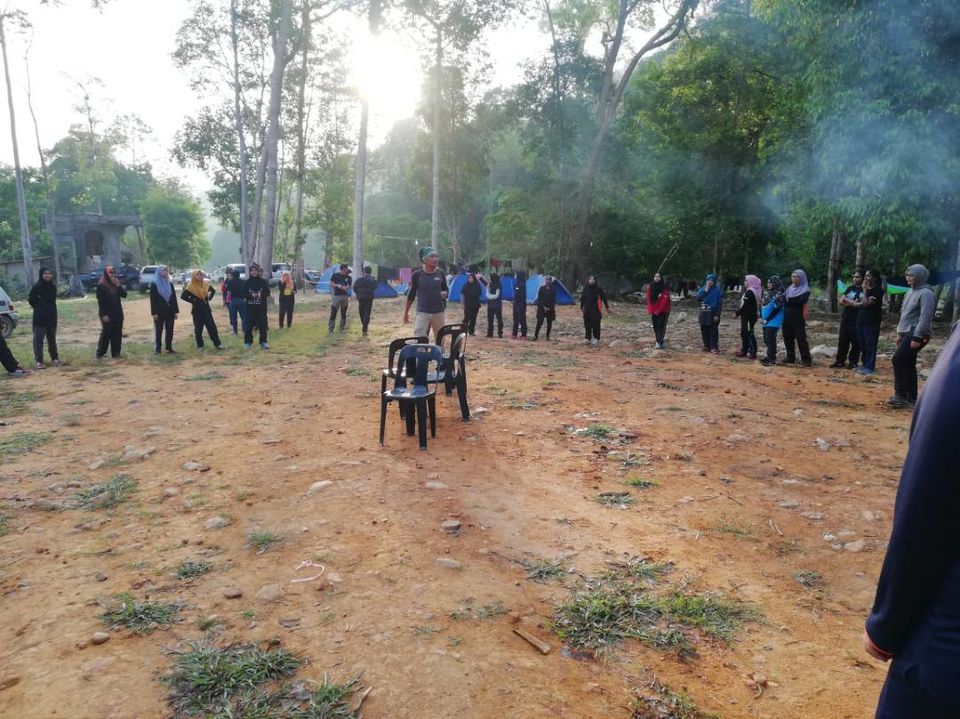 After breakfast, we are divided into two groups. The first group did the flying fox while the second group did the climbing tree. We all enjoyed the activities even though it was challenging to us. In my opinion, climbing tree is more challenging than flying fox. It is because we need to have skill while climbing tree. We need to use the strength of our legs and arms to support our whole body weight. Besides, flying fox is a little bit scary for those who have acrophobia, that is afraid of height. But for us, it was one of the most exciting activities. We sliding on a rope, and that was the most beautiful view I ever have.
Tree climbing: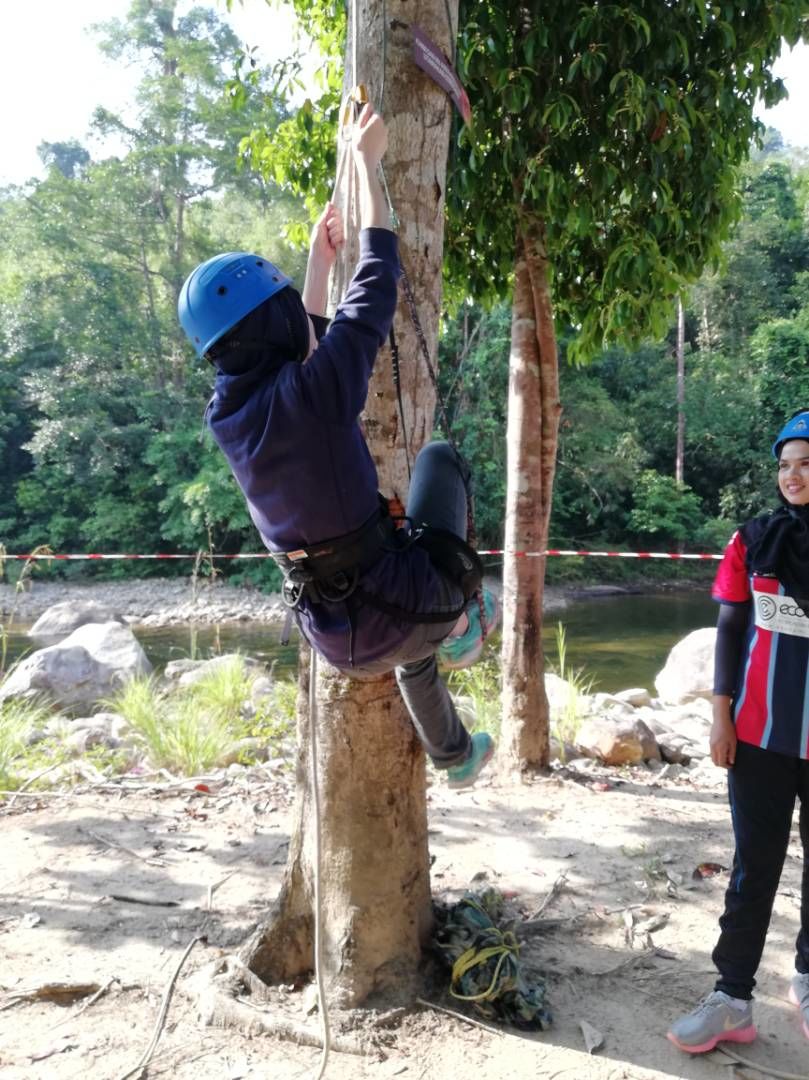 Flying fox:
Lastly, the night program was fun. Students had dinner while watching nasyid performances by students from Madrasah Tarbiah Al-Aulad. They highlight the night as "Malam Beribu Bintang" because they said that children from Madrasah Tarbiah Al-Aulad are the stars in that night sky.
DAY 3
We woke up early in the morning at 6.00 a.m. as for Muslims they perform their pray together with the person-in-charge. In the other hand, for the non-Muslims, they are preparing for taking bath and for morning exercise. Soon, as the Muslims finished their prayer, we get ready for joining morning exercise that lead by one of our group members. After 30 minutes of having quickie exercise, it was already 7.30 a.m. Later, we had our breakfast meal for that morning, nasi lemak. The dishes were prepared by the staff from the Madrasah Al-Aulad. Nasi lemak is very delicious and all of us are enjoying our meal on that morning.
While we having our meal, we was instructed by Encik Roslan bin Ahmad, he is working for Forest Department of Kelantan. He told us about our activities tentative for today. Today, we are going to caving. The destination was Gua Keris and Gua Kolam. Our original plan is to caving in Gua Ikan, which is well-known here in Dabong for its uniqueness. But unfortunately, Encik Roslan said that now we can't enter Gua Ikan due to landslide happened last week. And now Gua Ikan closed for temporary. Thus, we are going to Gua Keris and Gua Kolam.
Gua Keris, the name "Keris" came from the mixed of stalagmite and stalactite that formed, it's like a Malay legendary weapon 'keris'. For Gua Kolam, the peak of Gua Kolam, we can see the it's shape likes pool, and the stalagmite and stalactite is still active in forming of the wall of the cave. 
After a briefing by Encik Roslan, we started our journey to Gua Keris and Gua Kolam.
As we arrived at front of Gua Keris and Gua Kolam, we took some pictures for memories. It is because these few days was the precious memory for all of us. We were briefed by Encik Roslan about the conditions of Gua Keris and Gua Kolam. Before we start our caving activities, Encik Roslan take the lead as reading prayer that asking for protection during our journey and safety for all the participants during the journey.
Heading to Gua Keris and Gua Kolam: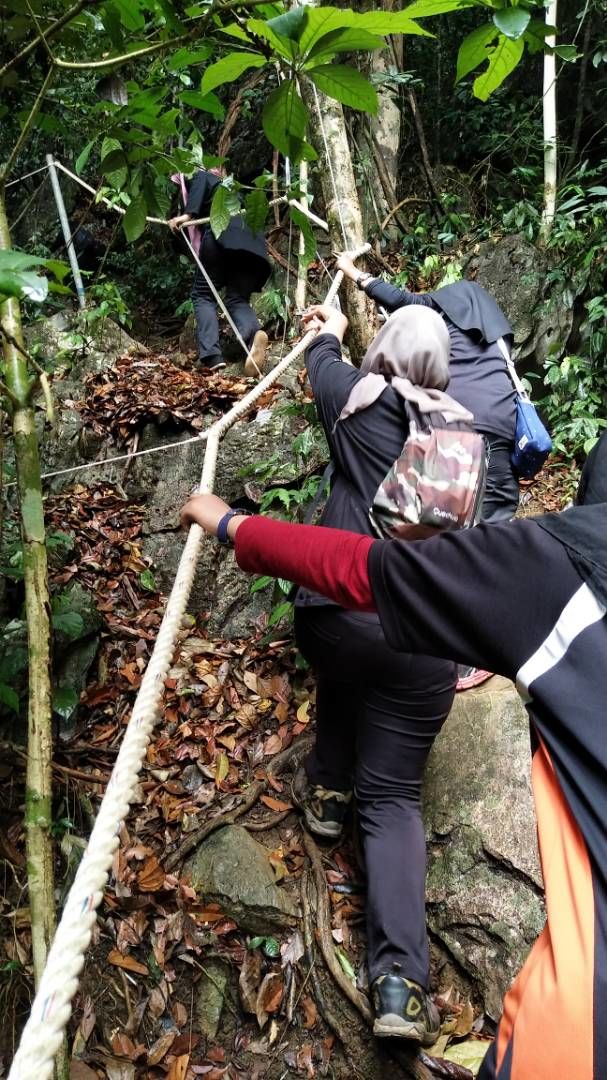 The way heading to Gua Keris and Gua Kolam was challenging for us. Now we only know that the importance of regular exercise. At the entrance, the cave is so small that we have to crawl inside the cave, and soon as we managed to get inside and stand up, the cave is so big and it is spectacular. We switch on our torch lights and now we can see the structure of the wall. The view was breathtaking and amazing. The wall of the cave is very white. 
Inside the cave: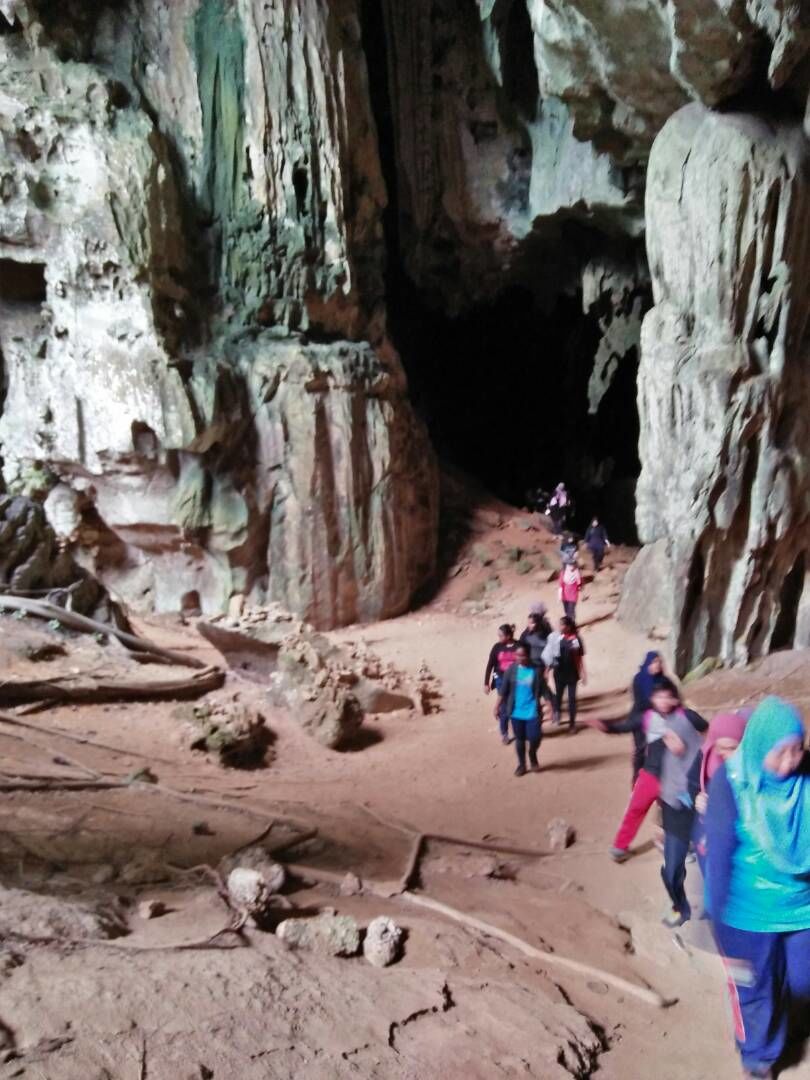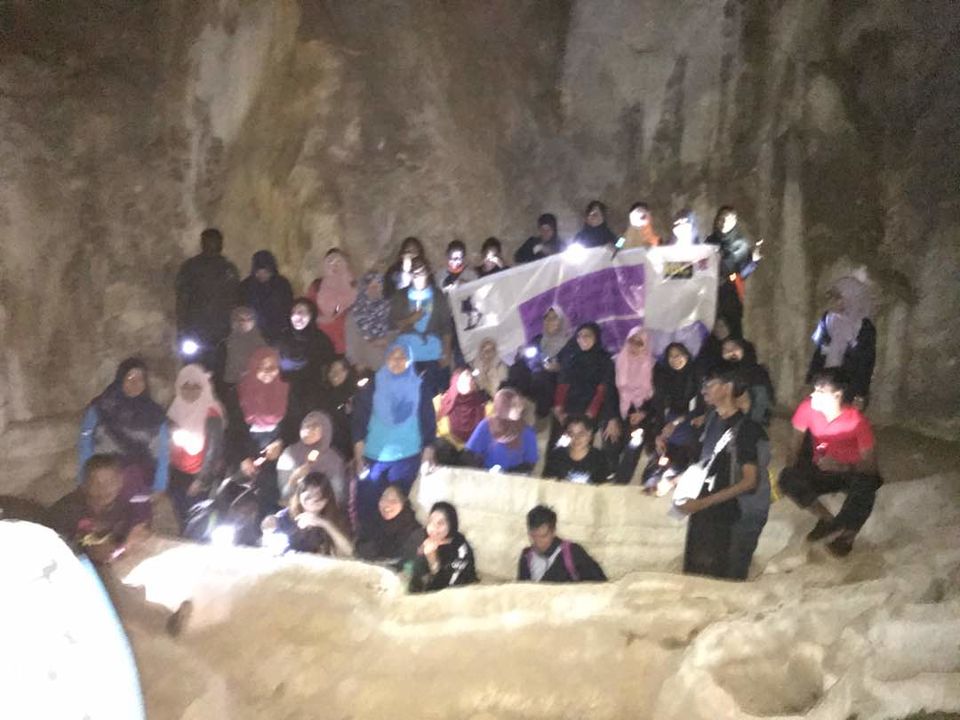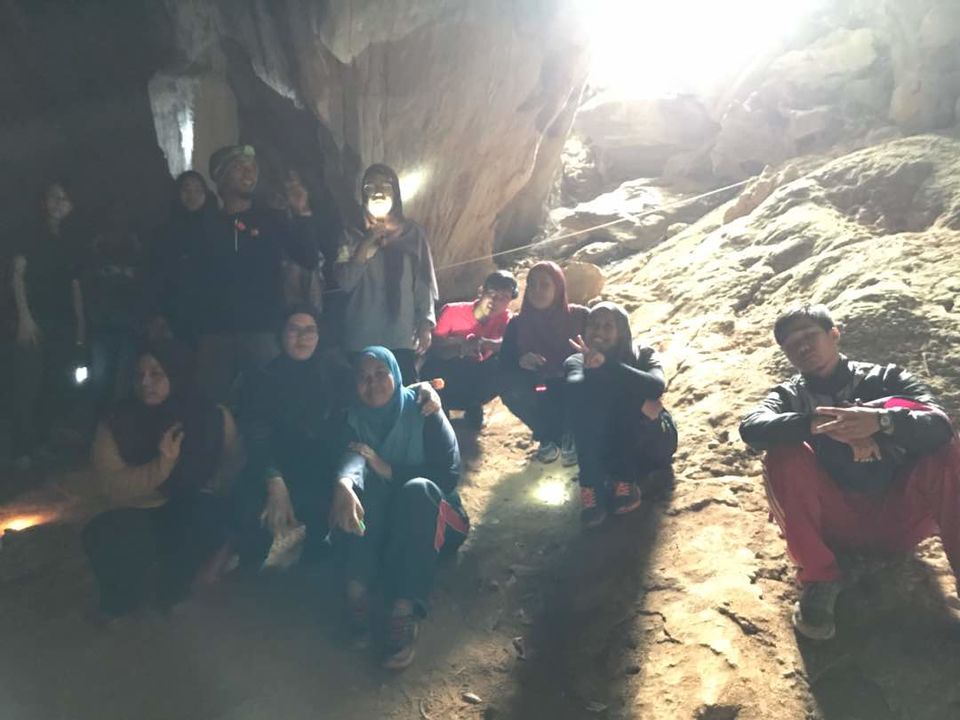 We took about 1 hour to explore all the area in Gua Kolam. During our journey, Encik Roslan and his team members were explaining everything to us. After that, we heading to Gua Keris from Gua Kolam. 
After almost 2 hours of walking and exploring both caves, we finally back at our gathering place, luckily 40 of us including two lecturers arrived safety and none of us are injured. After that, Encik Roslan giving his last speech. He also advise us to appreciate all the nature assets that we have because once it destroyed, the next generation would not have the chance to explore the nature. 2.00p.m., we took our bus and heading back to UMK. All of us feels so great for the experience that we had during 3 days 2 nights trip in Madrasah Al – Aulad, Dabong, Kelantan.