Nature is always ready to amaze us with it's beauty and one such you can see on Hedavi beach near Ganpatipule in Maharashtra. This beach is situated around 3 km from Hedvi Ganesh temple. With Ganesh temple there is one more temple of Lord Shiva (Uma Maheshwar) on the beach.
Hadevi Ganesh temple is a very beautiful temple , situated on a small hillock and the statue of Gnesha having 10 arms so it is famous as Dashbhuja Lord Ganesh ( 10 arms Ganesha). Click here to know more about the history of the Ganesh Temple.
From this temple at distance of 3-4 km there is one more temple known as Uma Maheshwar ( Lord Shiva Temple) temple situated on Hadevi beach ,with this temple there is a very interesting place formed by nature known as Bamanghal.
Its basically a gorge formed due to constant force of tides colliding on rock. This gorge is made of black rocks and around 20-25 feet deep, 30-35 feet long and 2-3 feet wide in dimensions. Rainy season and high tide is the best time to see this place as water enters in the gorge and after the collision it makes a big fountain like structure , which may reach up to the height of 10 meters. It's super fun to witness this. Check videos to get an idea as well as you can also feel the power of nature.
Word of Caution- Make sure you walk slowly and your shoes have proper grip . Also make sure you are extra cautious visiting this place and do not take any risk and do not try to take any selfies.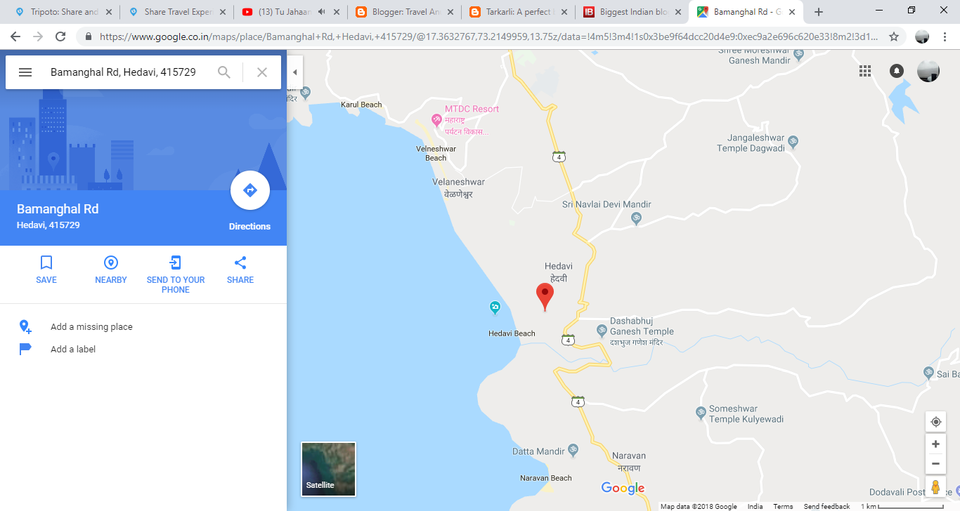 With this you can also see other near by attractions such as-
Velaneshwar beach
Jaigadh Forth
Jaigadh Light House
Guhaghar etc.
For planning your itinerary click here.
You can also enjoy jetty ride in between
How to reach - You can reach here from Ganpatiphule or from Dapoli.
Best time - November-February
Time Duration- 3 /4 ( Including near by destinations) Cost has been mentioned for 1 day.