Written by Shibani Bawa. Photographs by Anil Chawla.
In India, jungles are full of stories. On the 150th anniversary of The Jungle Book by Rudyard Kipling, Travel and Leisure goes on Mowgli's trail to discover these.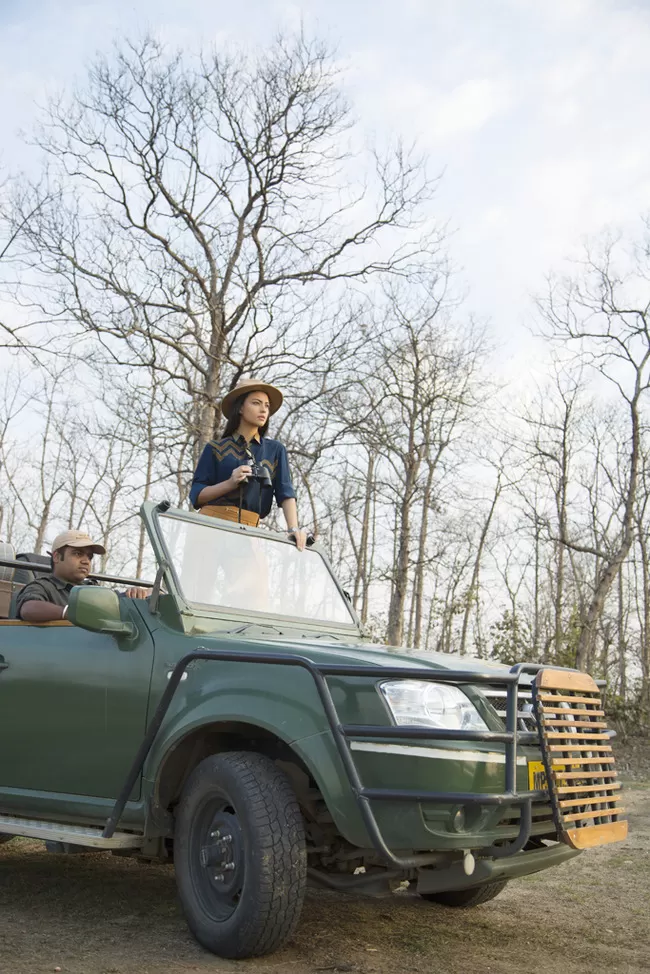 "So Baloo, the teacher of the law, taught him the wood and water laws: how to tell a rotten branch from a sound one; how to speak politely to the wild bees when he came upon a hive of them fifty feet above ground; what to say to Mang, the Bat, when he disturbed him in the branches at midday; and how to warn the water-snakes in the pools before he splashed down among them. None of the Jungle People like being disturbed, and all are very ready to fly at an intruder."
Indian jungles have always inspired great stories that feature grand old trees, quirky birds, mysterious sights, heart-stopping sounds, and shadows and light that can play tricks on your mind. It is no wonder that 150 years ago, Rudyard Kipling set The Jungle Book in a forest in India he had never even visited, but knew well to have all of this.
In Kipling's stories, the jungle and every resident creature are significant and respected. In fact, Sher Khan is not the most interesting and central character of the stories. Yet today, most of those who come to Pench in Madhya Pradesh (and the little district of Seoni), come looking just for the tiger. It's true that a tiger sighting is really magnificent, but the other creatures of the jungle are just as fascinating, if not more intriguing and elusive. And often, in the eagerness to see the big cat, people miss enjoying the other experiences. This year, to mark the 150th anniversary of The Jungle Book, and to celebrate the incredible jungles of Pench and Kanha, Taj Safaris has designed a delightful Mowgli Trail. Set through properties of Taj Baghvan and Taj Banjaar Tola, it highlights sightings and experiences that go beyond the tiger. To help you find and discover these, there is a team of exceptional naturalists. Impressive in knowledge, instinct and experience, they bring all the difference to your safari experience. Most other properties in the area outsource their safari drives, often led by guides who may not have very deep insights into the jungle's other treasures. On Taj Safaris led by Sreenidhi Jayadeva, head naturalist at Taj Bhagvan, who has spent over 12 years across not only these jungles but also lesser-known wildlife areas in India, it is unlikely that you'll come back from a game drive without memorable sightings and a richer knowledge of the wild.
Taj has overall four properties in the tiger territories of Madhya Pradesh, and all four are headed by a veteran of the wild, Nagendra Singh Hada. A passionate and talented gourmand (it's a privilege and a treat when he cooks for you); a conversation with this GM will not only reveal magnificent stories and amusing anecdotes about the area, the tribals, and the forest, but also long-lost recipes from the times when Maharajas went hunting.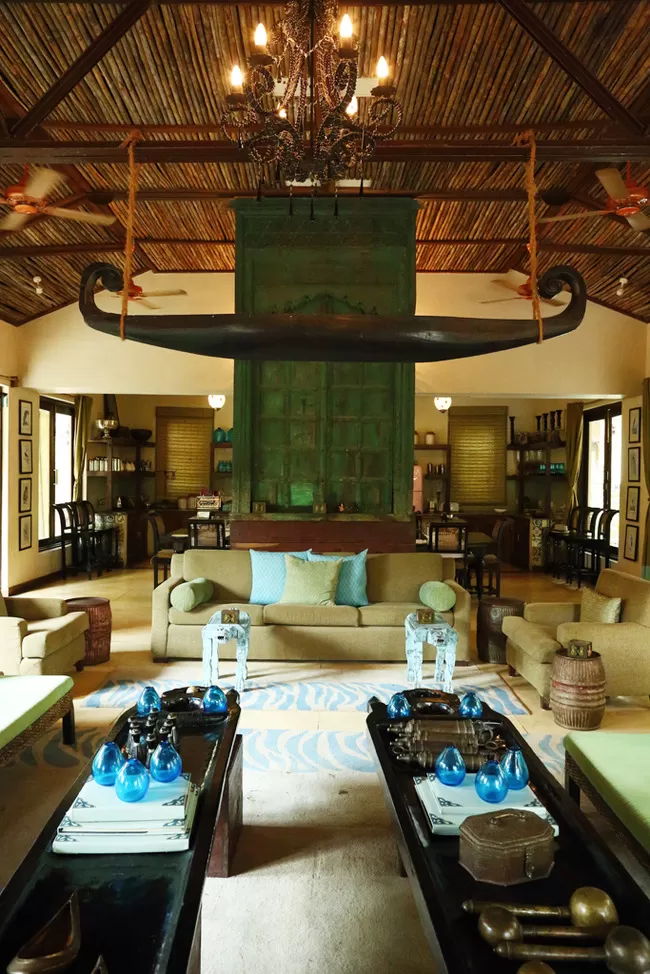 Those close to him or special guests who have had the fortune of spending a couple of evenings with him here will give you raving testimony to his Dudhiya Keema (a dish made with only white ingredients — hence the name dudhiya meaning milk-white). He cooks this in an earthen pot over hot coals and always under the stars.
The best place to enjoy this is the bush dinner setting at Baghvan. It has a magnificent wide-canopied Mahua tree tucked away in a secluded spot on the property. The Mahua is one of the most significant trees in the region. When spring arrives, every night the intensely sweet tasting and fragrant Mahua flowers blossom, and come morning, they fall to the ground. The Baghvan team hangs dozens of lanterns from its leafless and flower-laden branches. Under it, a private table is set for the guest, while the chefs cook on hot coals—just as people did on shikaars in the old days. The setting is magical. The lanterns look like fireflies hovering over you, the smells of the chicken and paneer grilling over hot granite mingles with the soft fragrance from the Mahua.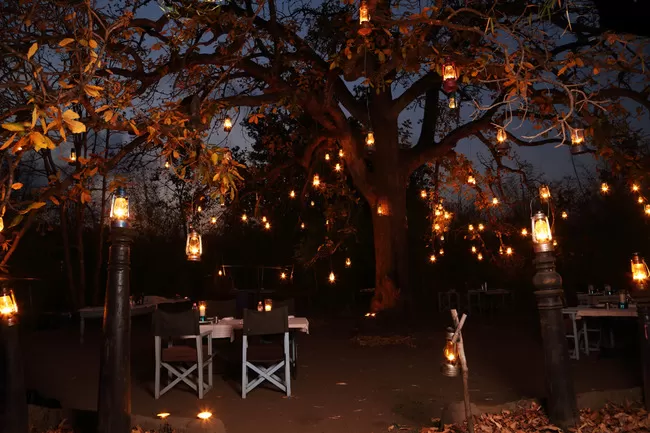 A bush-dinner setting for guests.
Now, like everything in the jungle, there's a little story behind that granite too. It's a slab that actually belongs to Nagendra. It travels with him wherever he goes (should he want to suddenly cook something special), and being quite generous, sometimes he lends it to the chefs at the properties. Nagendra's knowledge of shikaar cuisine is what has contributed to some of the showstopper dishes at Taj.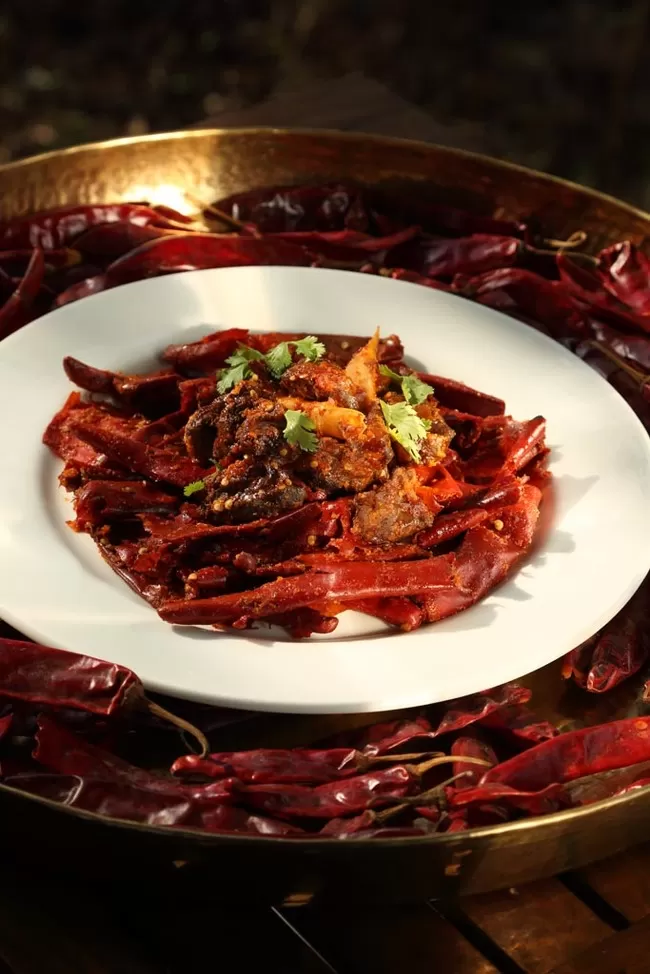 The Jungli maas, khad khad murgh (chicken marinated and stuffed with rice and eggs, wrapped in rotis, followed by leaves and baked under the ground on hot coals) are both must-have experiences when you are here. "If you were travelling between jungles in those days, all you'd find locally would be red chillies, meat, and ghee," he explains about the origin of the recipe. So, the Jungli maas calls for each of these ingredients in equal proportion. You'd think one kilo of red chillies for one kilo of meat would yield a fiery mutton dish but in reality, the morsels are full of flavour and are not hot at all. A side tip from Nagendra will make your mouth water: "Blend up the leftover chillies, ghee, and jus of the dish, and use it for the tadka of your dal." He has another special that you might request ahead of arrival (because it is extremely labour and time intensive). It's called phursat ka kheer— tiny, round and flattish pearls of dough are formed individually; they are then cooked in thickened and lightly sweetened milk. When you taste it, you can't tell that it's been made of whole-wheat flour, the little pearls look almost transparent and feel soft like sago.
The Mowgli Trail of course is not just about gourmet jungle experiences. The drives into the forest will bring you close to wild dogs (who have a 95 per cent kill rate as against the tiger who may be successful one out of 15 attempts), a variety of amazingly coloured rollers, peacocks, eagles, owls, jackals, vast herds of frolicking spotted deer, impressive and stately sambhars, and if you're super lucky then the great Indian Gaur, tiger, and leopard. The leopard is the most elusive of the lot.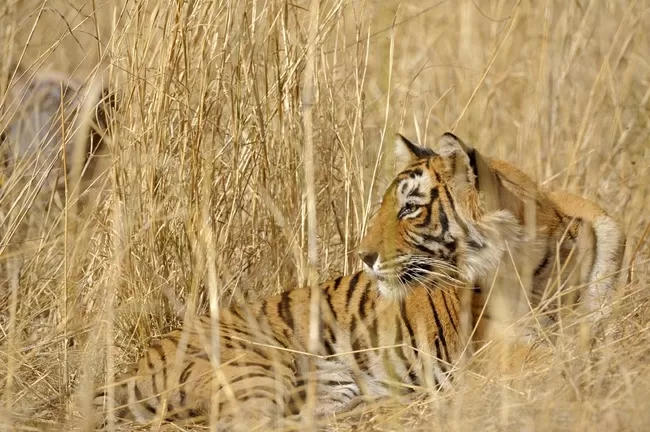 A tiger seen at a distance while on the safari.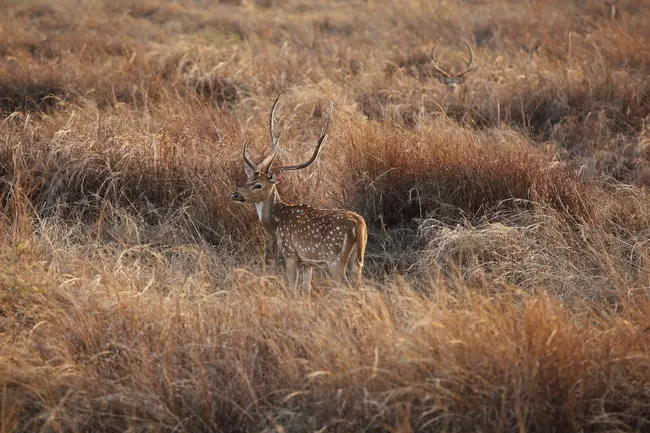 It lives hidden in the cool caves formed by black rocks in the area, and is more shy than the tiger. Pench itself has two dominant male tigers in the area—BMW (so named not because of his speed and grace but because the stripes on one side seem to spell those letters), and Sula, who sports a wine-glass pattern on his left belly. The male tigers however aren't the big stars of this jungle. Collarwali is the most legendary—not only is she the tiger who was filmed in great detail by a BBC crew back in the 80s that put Pench on the global wildlife map, but also because she holds a record for having the most number of cubs. Her name comes from the fact that she had been given a radio collar for research purposes decades ago. The radio doesn't work anymore, but no one seems to have dared to take the collar off. Other females in the area include Baghinalla and Sharmilee (the shy one). In the more gentle months of summer, you are likely to find Collarwali with her cubs near one of Pench's many man-made watering holes.
In Pench, you should definitely not miss the trees for the forest. This area has a most amazing mix. In early spring you'll find the brown forest blazing with Palash (Flame of the Forest). There are also Mahua, chironji, Arjuna (named after the warrior's strength), frankincense, and the most fascinating of them all—the weirdly shaped and coloured Ghost trees. The Ghost tree goes through three colours that mark different stages of its life. Their bark has a soft shiny quality about them, making them look more like human skin. At first, the trunks and branches are green, then they look a ghastly red (like skin that's wounded and lost its first layer); finally they are ash white. They need a lot of water but because they grow in dry areas like Pench, they have evolved into white trees so they retain as much moisture and are impacted the least by the strong sun. But there's a strange contradiction there. Despite being trees that require water, they choose to only grow from within large rocks of Pench. Sree will tell you that if you throw a seed of a ghost tree on moist ground, it wouldn't take root. But if you were to drop one among rocks, it would flourish. In some places, the Ghost tree's roots look like wax that has melted over the big mound-like rocks. The branches look more like angular stick-figure limbs than anything else and they make striking photographs.
Part of the Mowgli Trail takes one to Seoni, where the man cub's village was supposed to be. One of the villages, Khamba, is a delight to wander through. The villagers invite you into their house, tell you about their way of life, and show you around their kitchen gardens, where you can taste fresh beans that snap between your fingers, and discover medicinal properties of plants you might overlook as random weed. You can taste the young and crisp arhar dal (notice the watercolour like patterns formed on each dal) here; or bite into a drying Mahua flower (the fresh ones can have a bitter after taste, but the sun-dried ones have a wonderful raisin-like intense sweetness). The villagers, because of their tribal heritage, have a deep connect with earth. Nagendra will tell you how once he asked one of them why they don't wear sandals and walk barefoot and was told, "Maa se jude hain" ("This way we are connected to mother"). For children, this is a wonderful way to learn about natural slow living—milling different grains and cereals; pounding just enough rice for the day's consumption, cooking with ingredients at their source, and more. There are no clocks, televisions, and cellphones here. The houses are built with materials and in a way that they don't require artificial cooling or heating. Each house is spotless with well-kept front yards, bordered with short wooden fences, fragrant flowers growing on creepers all around, and cows, goats, and chickens either out front or at the back. In addition to the village experience, Taj Safari has developed a lovely jungle kit for kids to enjoy on guided walks in the nallah on the property that also allows for some private time for parents back at the lodge.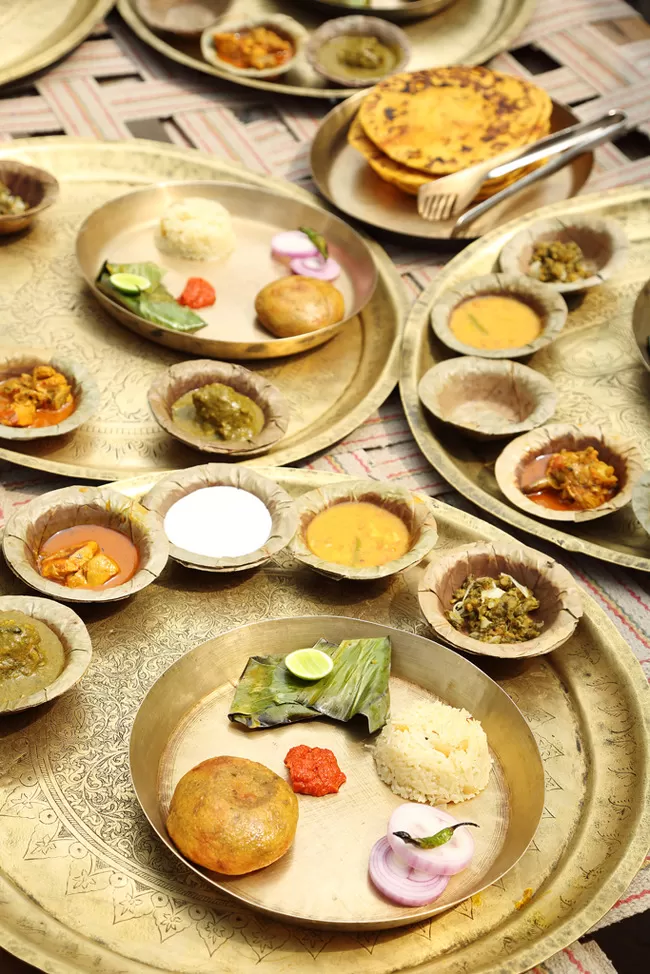 Local delights at Khamba village.
When you travel here, keep a day or two to simply enjoy the lodges. Taj Baghvan's open rooftop machan (spend a night here so you can go to sleep hearing the night birds call and wake up to the playful chatter of langurs) and large wooden decks overlook a shady nallah (where at night you might even spot Collarwali taking a stroll). The outdoor shower is a wonderful and romantic idea for moonlit nights. The Mowgli Trail goes on to Kanha, and while you may do each segment one trip at a time, it's perhaps best enjoyed in its entirety.
KIPLING'S REAL JUNGLE
The River Waingunga winds and twists its way through the Satpura range, just as in the Mowgli stories; and the village of Khanhiwara, where Mowgli's foster-mother took refuge, is a real village on the Seoni-Mandla road.
But go looking for Mowgli's other haunts, the Council Rock, where his brothers, the wolves, used to meet; the Peace Pool, where all the animals came in times of drought, his own village; and you might stumble on something interesting. In 1960, an American writer went on this trail anxious to track these places down. She started by going to the little Seoni Club, where she found on a wall an old map, showing all the landmarks of the Jungle Books, and even bordered by photographs of them. When she enquired about its origin, she was directed to a missionary who was an old resident of Seoni. From him she learnt that the map had been made by a former British Forest officer, who had taken great pains to work out distances and positions from indications in the Mowgli stories, and had identified, as he thought, all these spots.
But, alas, when he sent the result of his labours to Kipling, who was then still living, he received a reply (as her informant remembered it): "I should be the last to deny the accuracy of your geography, but in fact I never went to Seoni."
Are then the Waingunga and Seoni just names planted on an imaginary landscape, and the jungle a generalised picture of the Indian jungle? It seems not. For though Kipling never saw Seoni himself, he had a pretty good second-hand knowledge of it.
According to the missionary, Kipling's reply to the maker of the map continued: "I got it all from Sterndale's Gazetteer."
Sterndale, who was a district officer in the mid-19th century, wrote a book called Seeonee, or Camp Life on the Satpura Range (1877), based on his own residence in Seoni from 1857-64. Purporting to recount the experiences of a couple of British district officers, one an experienced shikari and the other a greenhorn straight from England, it gives a vivid picture of Seoni as a wild, tiger infested country at about the time of the Mutiny (1857). Perhaps this explains why Kipling chose this setting rather than a forest of the North which he knew at first hand.