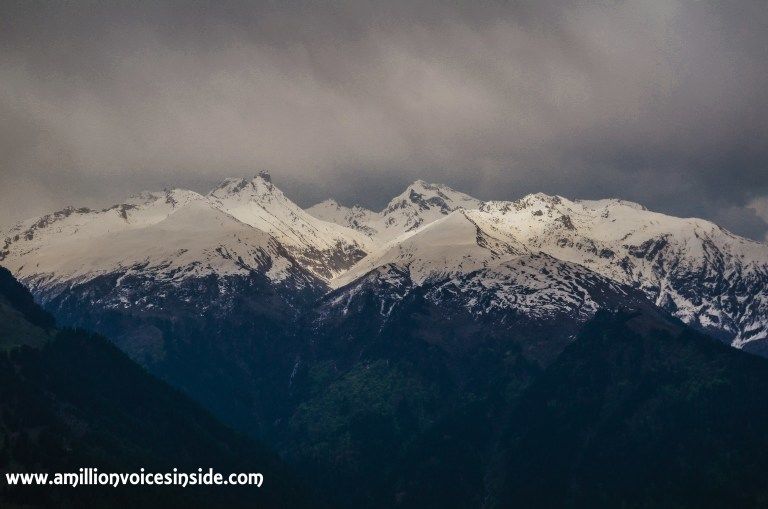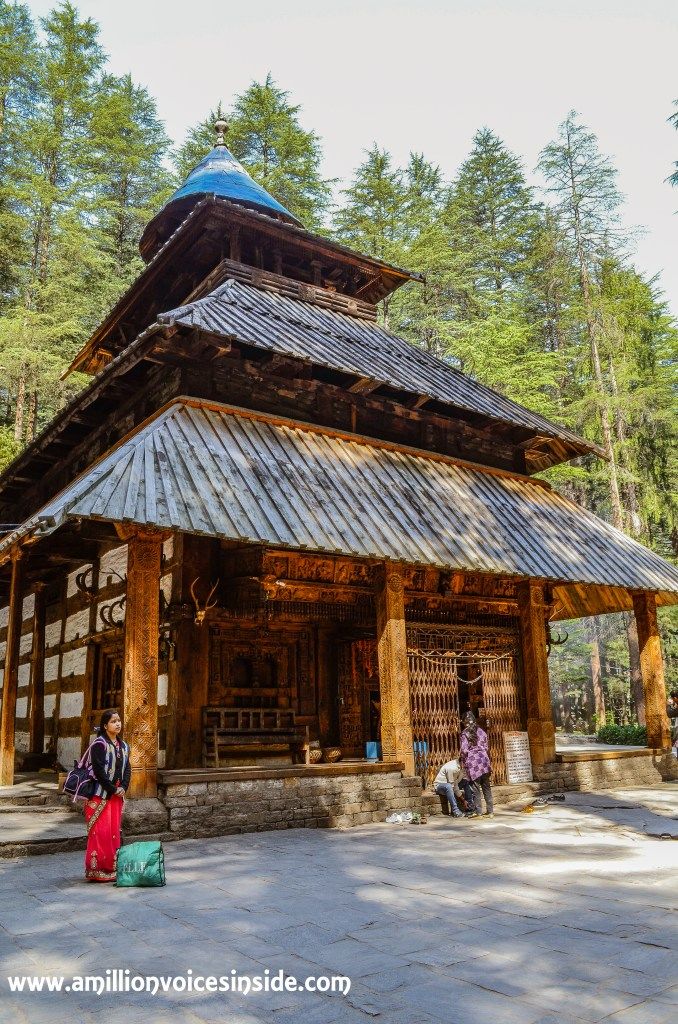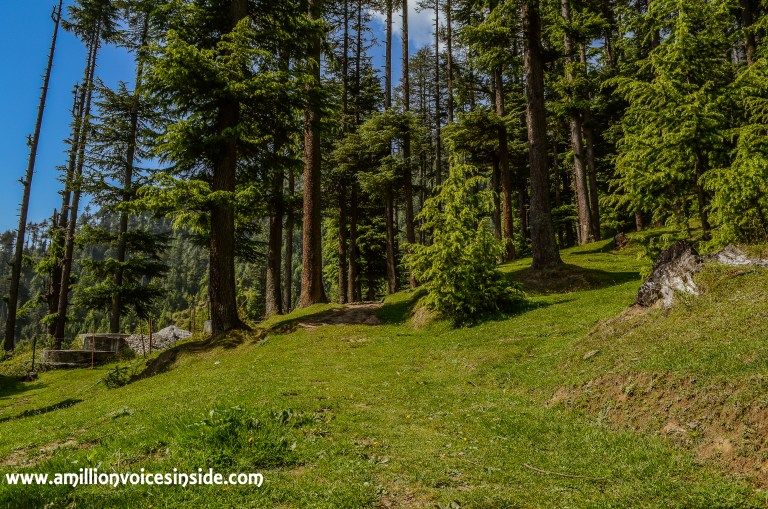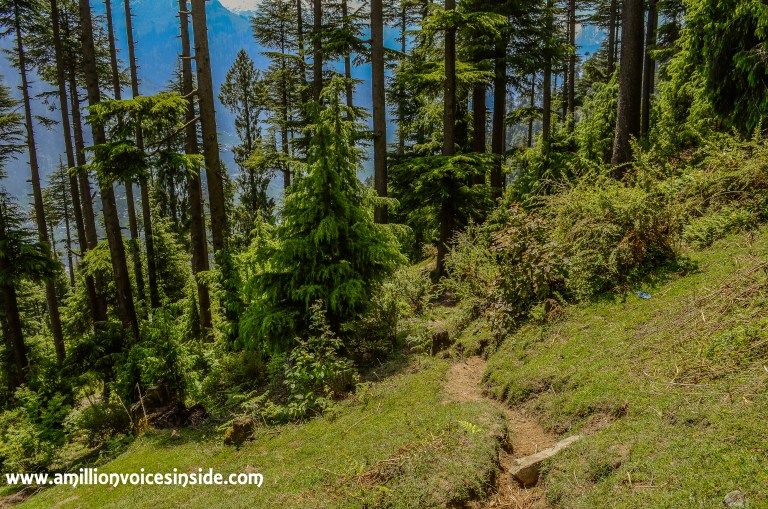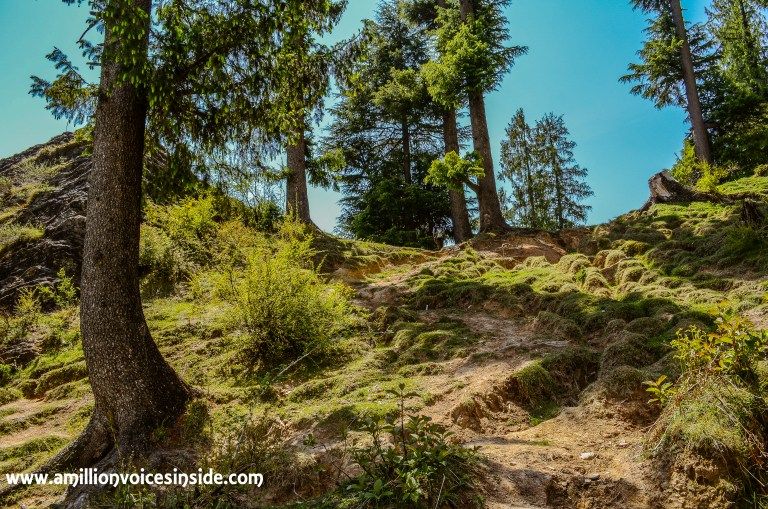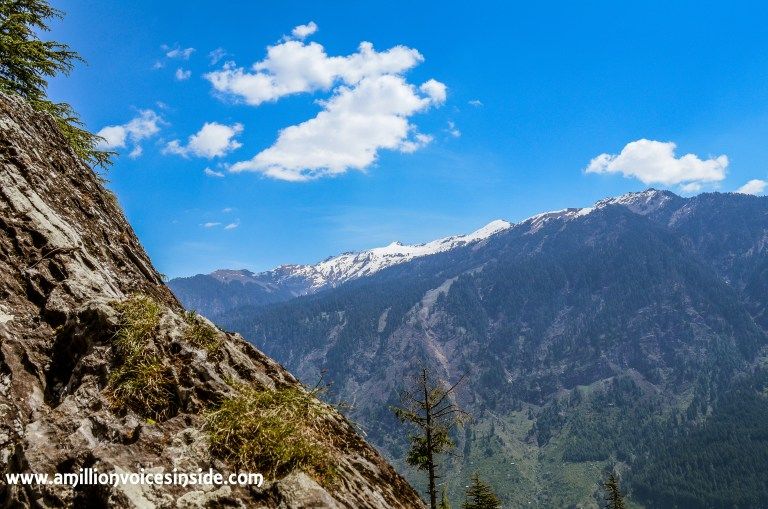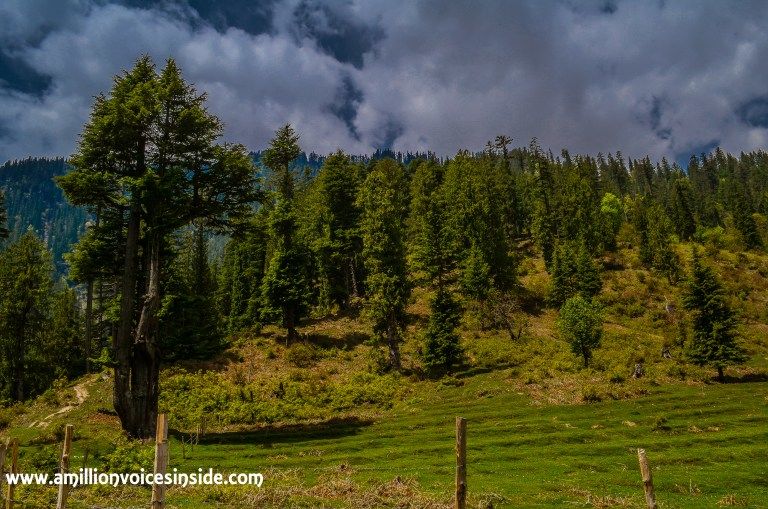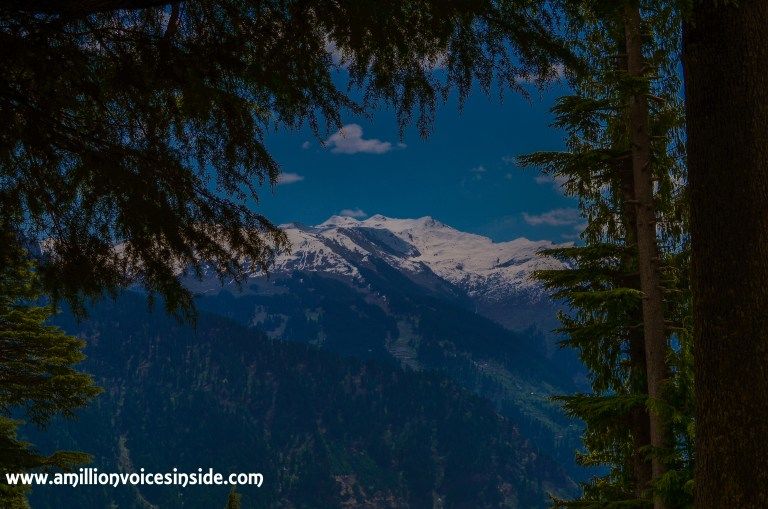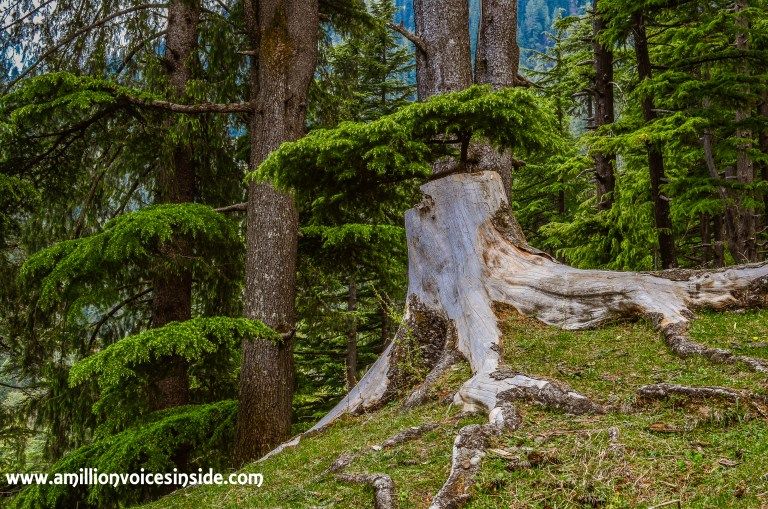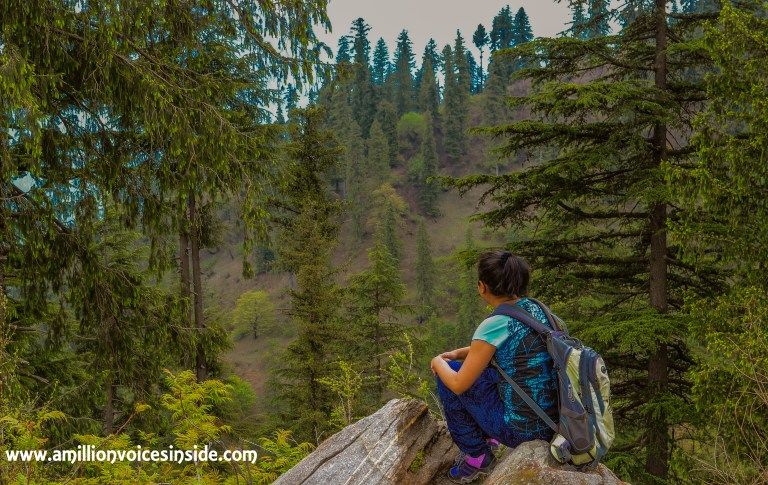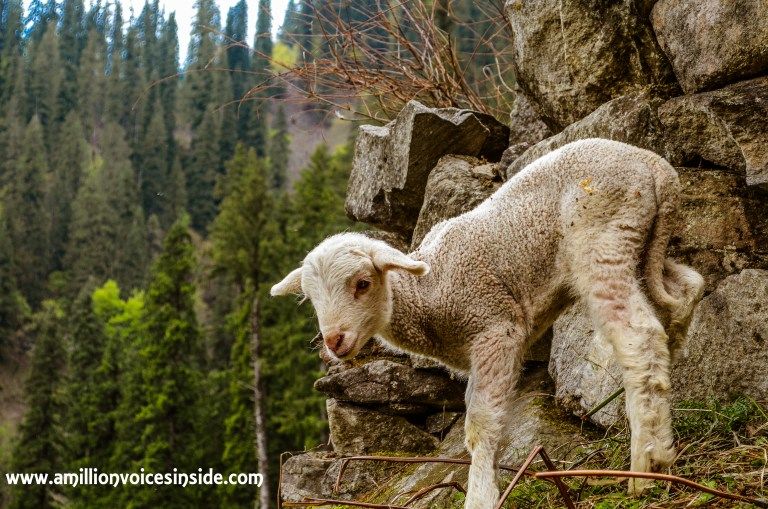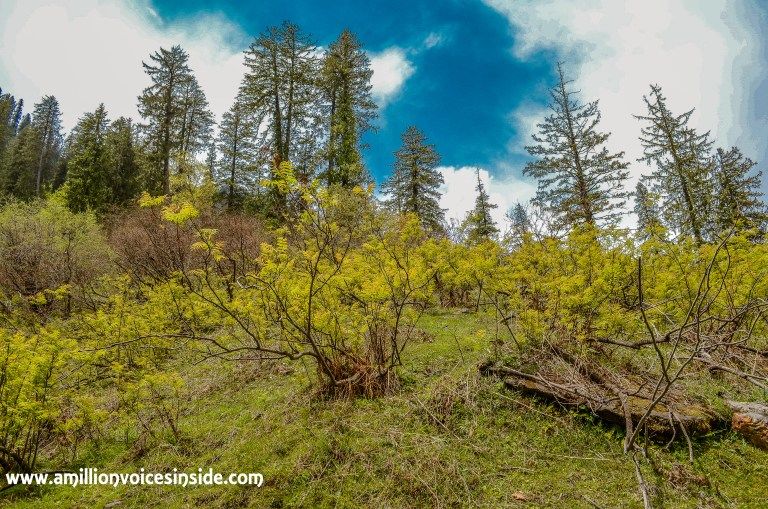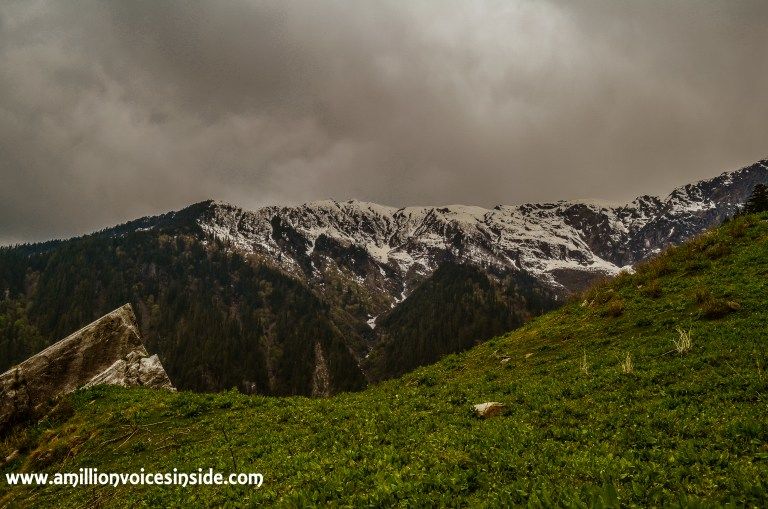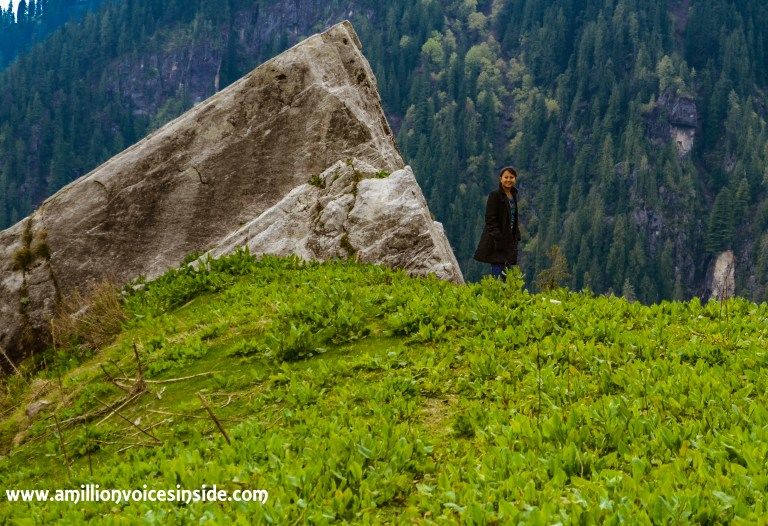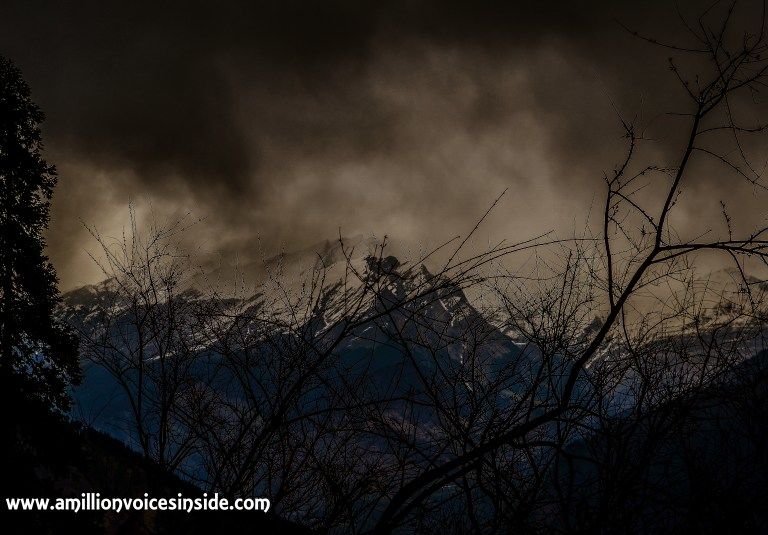 This is probably the best thing I have done this year. When I headed for Manali, I just had leisure on my mind. Okay, a bit of shopping too. But then, Anil, a gentleman at the hotel, offered me a day's trek. He gave me two choices, and I asked him to make the choice on my behalf as I was not acquainted with either of them. He chose "Lama Dugh". Apparently, the climb was going to be a bit difficult initially but the destination would be worth it. I spoke with Mr Husband, and ended up with a "yes". We were to start the trek next day at 8 am, right after breakfast. Anil would carry lunch and all other things that might be important, like first-aid and most importantly the bottles of water. As for me, I would carry my camera and a few other things I cannot part from even for a day.
The thought of the trek made me jittery. The whole night I kept on dreaming what beautiful view I would be treated to the next day. I started imagining things- the mountains whitened with snow, the green meadows, the yellow flowers, the blue sky where clouds danced (if you know me well, you would know I am a sky addict. I literally spend hours watching the sky every single day), etc. etc. I did not realise when I fell asleep.
The next day, a few minutes after breakfast, we were off for the trek. It was my first day trek (and it definitely won't be my last).
After walking for around 15 mins, we reached Hidimba Temple. If I would have booked my trek with some other agency, this would have been the starting point for the Lama Dugh trek. It is a famous temple and the time we wound up there, it was full of devotees waiting in queue to offer their prayers.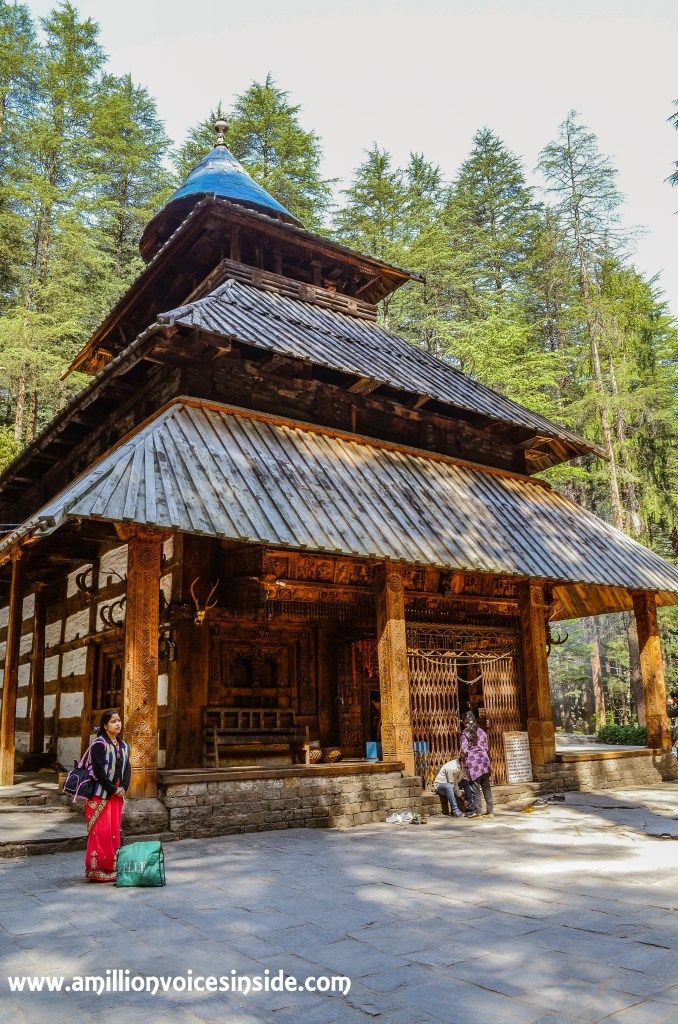 Hidimba temple
A little far away, local women were ready to dress tourists up in local costumes for a price and some other women sat with their bunnies in their laps, again for tourists to cuddle up the bunnies for a price. I did these all when I visited Manali for the first time, and hell yes, it was fun. Anil told me the authorities of the area were preparing for the local crafts fair, which attracts visitors from faraway lands. I only wished I would have visited during the crafts fair (okay, but now you know I am a shopaholic).
Another 15 mins of walk along the rising road, and we were into the Manali Wildlife Sanctuary. The walk looked easy, indeed very comfortable with a huge layer of grass acting like a cushion.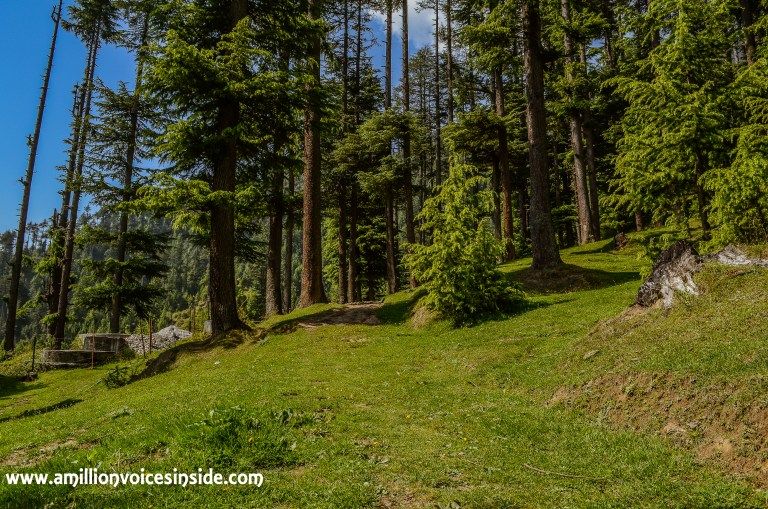 Shades of Green
A few minutes later, and I saw ahead of me a steep climb.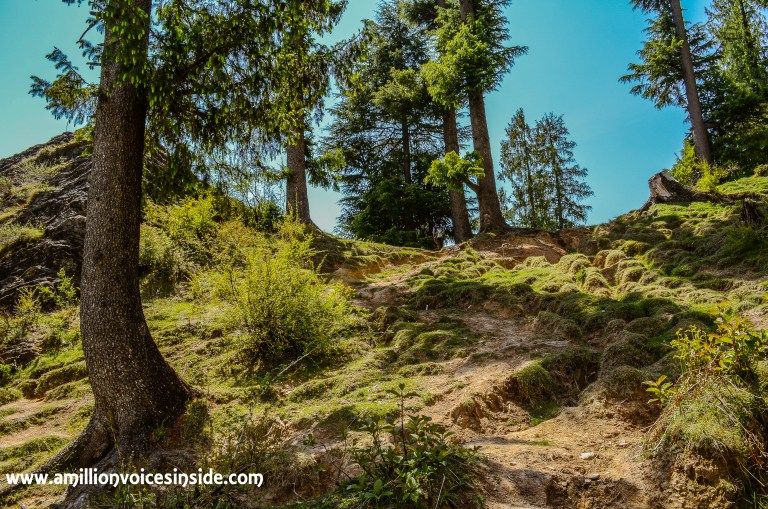 The challenge starts here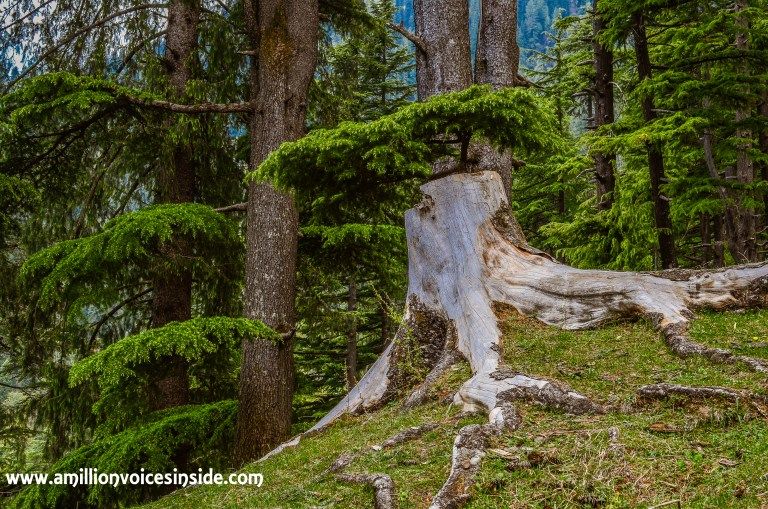 Wonder how it looked in the dark when moonlight would light it up and left the rest!
It just looked scary, and I had a feeling I might just slip. All the trees I could see, were huge and a bit away from the trail. No way can I clench to them if I slip. I just went along. My legs started hurting, my lungs were gasping for breath, sweat drenched my clothes and I started cursing myself within. Damn! Why in the whole world did I agree to this? Anil told me, the next 2 hours would be like this, considering I don't give up. He also added, he won't let me give up. A part of me gave up, the other part pushed. With short breaks of like 5 mins in every 40 mins, we reached the point where the steep climb was over.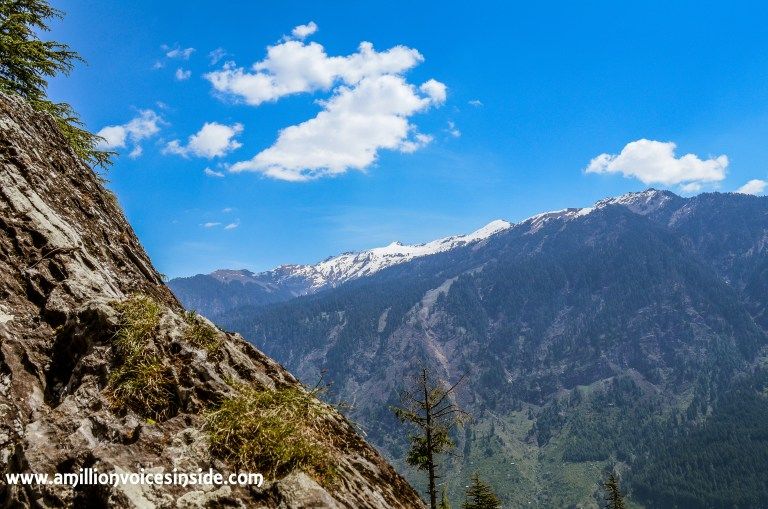 Break time, with a view like this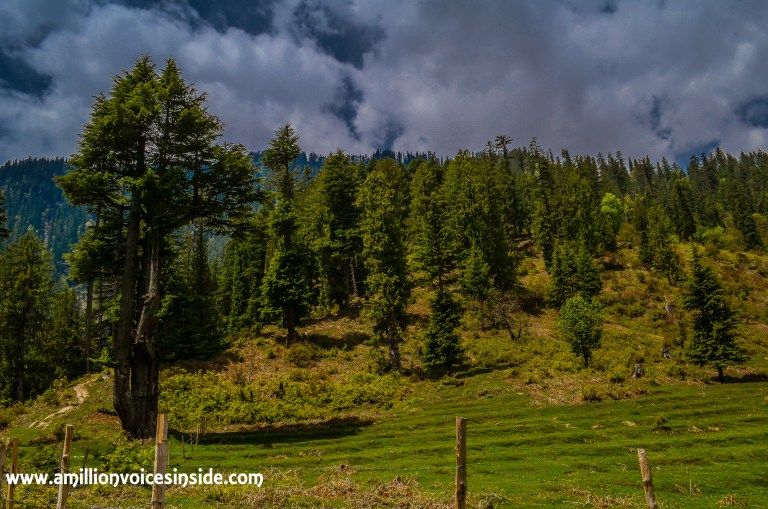 And this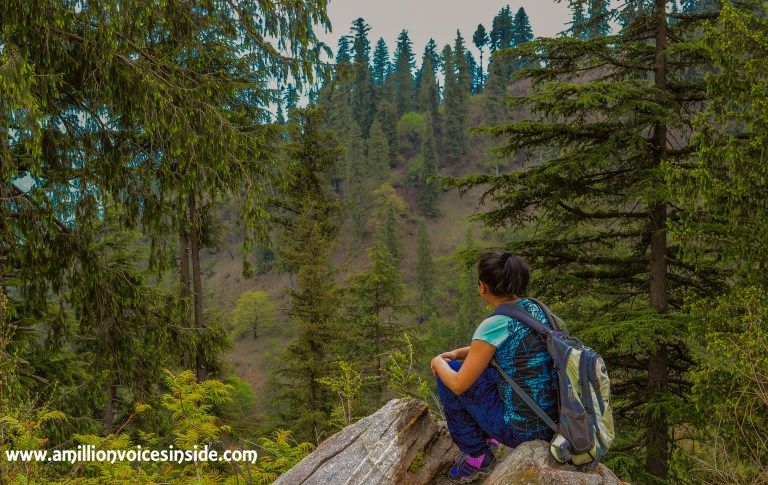 It's okay to stop for a while
The next 2 hours was more of a balancing act.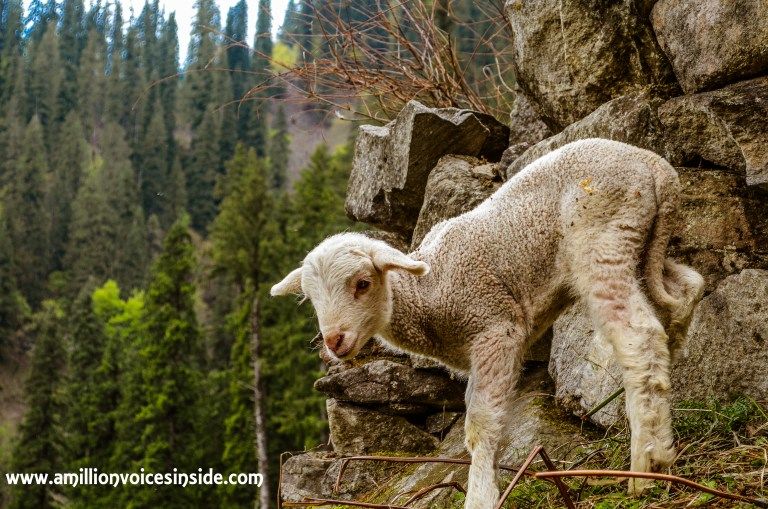 Why so cute??
We continued walking at the edge of the mountain and crossed a-lot-like-heaven kinda pastures, watching a flock of sheep herded by shepherds while playing some insanely soothing yet mysterious songs. The mountains echoed the music and it felt like walking into a magical paradise. Often, we would walk past wild strawberry and oregano saplings. The sun stayed hidden behind the clouds, wind started playing its rough chords against us. We covered several kilometres in a trance, the view started getting clearer and prettier.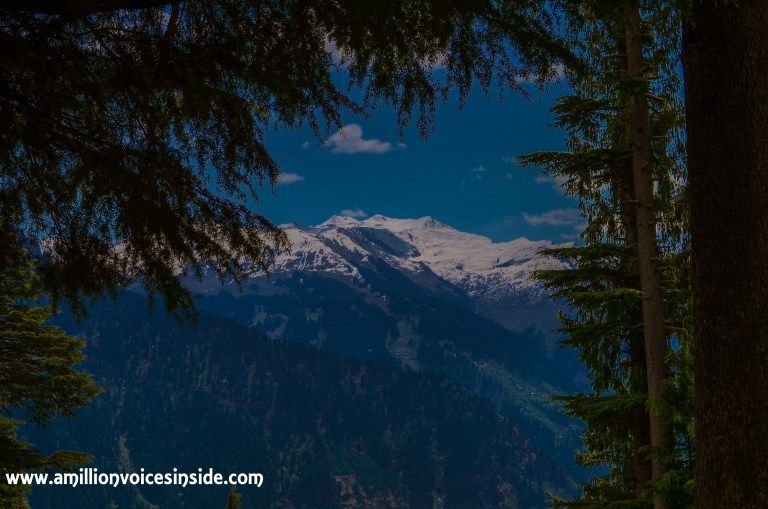 Say hello to this view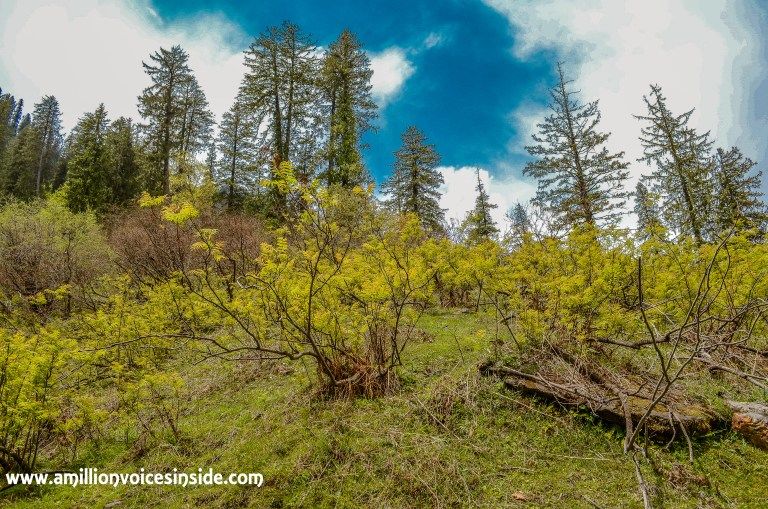 We continue our walk to Lama Dugh
Soon, we reached our destination and it was nothing less than a painter's canvas. The world beneath our feet was lush green and the sky was grey with doses of blue here and there. We were surrounded by huge mountains, mostly white. I was awestruck, I have never seen a view like this ever.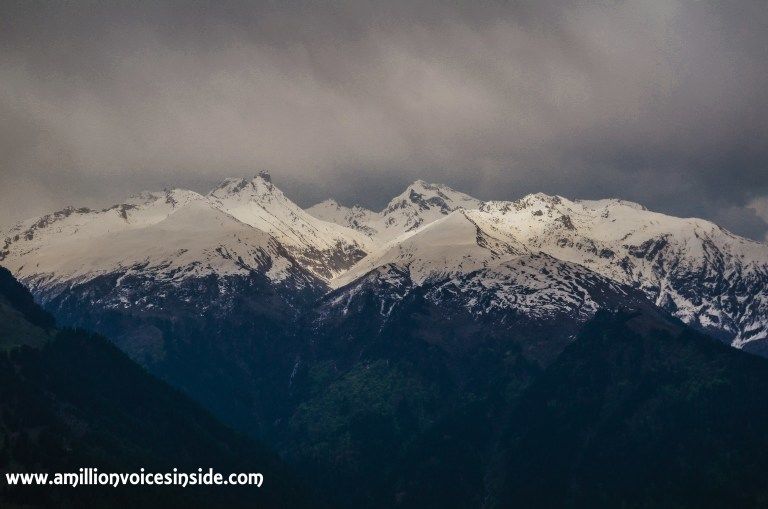 We have reached
There were the peaks- Indrasen, Deo Tibba and Hanuman Tibba in my front and Manaslu right behind me. I felt so tiny and yet so powerful.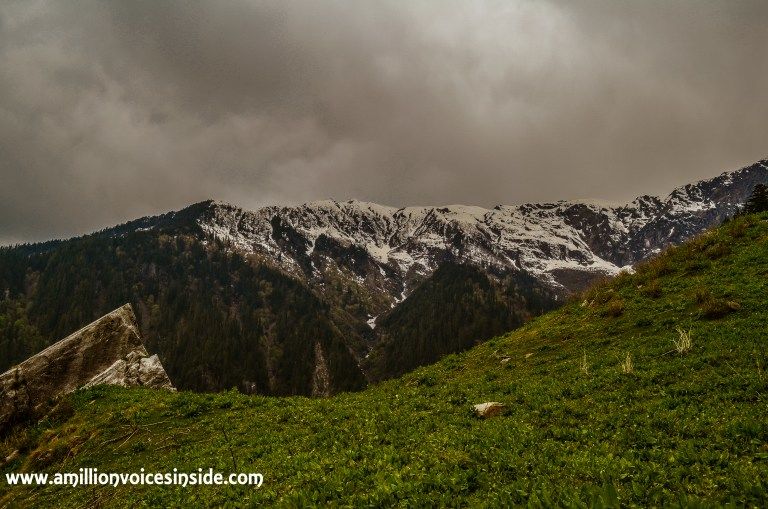 Lama Dugh Meadows Campsite
It was quite chilly out there, thanks to the wind that day, but nothing could beat the kind of pleasure the heart felt. In my euphoria, I was convinced that this is the best thing I have done this year. There was no pain in the legs, no muscle cried in pain, just sheer joy. As if I was a child again.
Going green
We sat there for around 2 hours, soaking the beauty and joy for the rest of my life. When we felt that it might rain soon, we decided to head back and descend the climb homewards.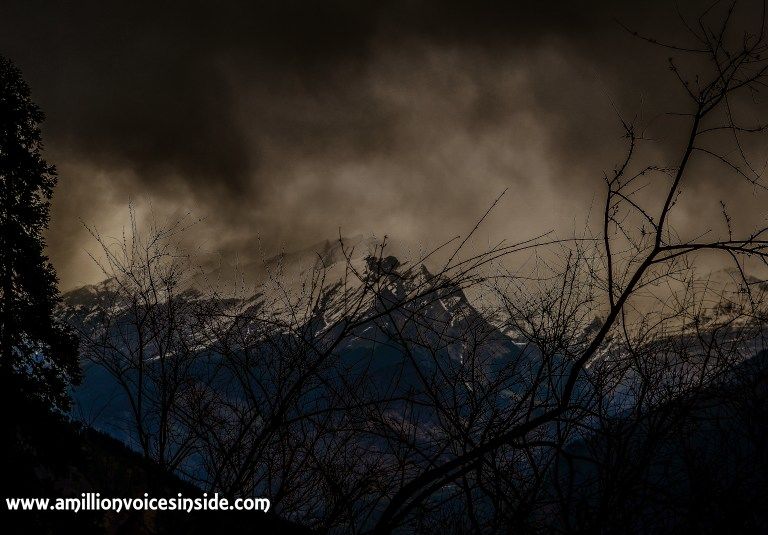 Time to head back
The entire way, all I talked about was Lama Dugh. And I was sure; I will talk about it for the rest of my life.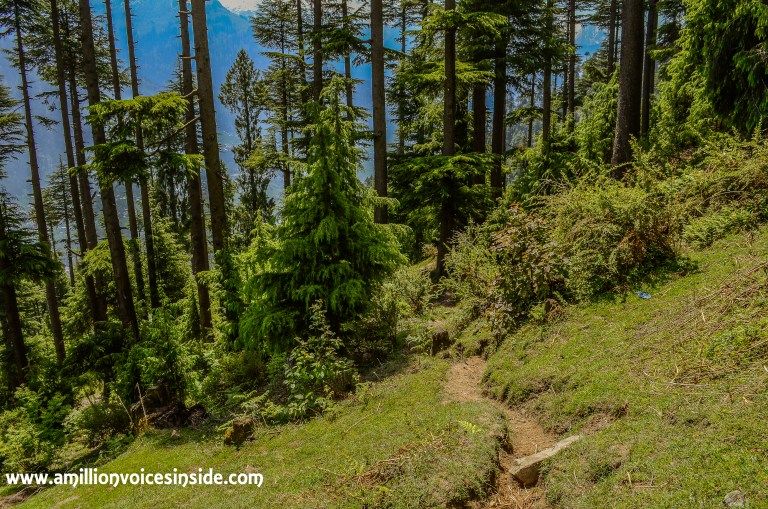 The descend
My first solo trip, my first day trek and without any second thought, this is the best thing I did on my own. It was nothing short of a victory.
Victory over my hesitations, victory over my doubts.