"The biggest adventure you can take is to live the life of your dreams." ~ And I just lived the most precious moments of my life, living with elephants!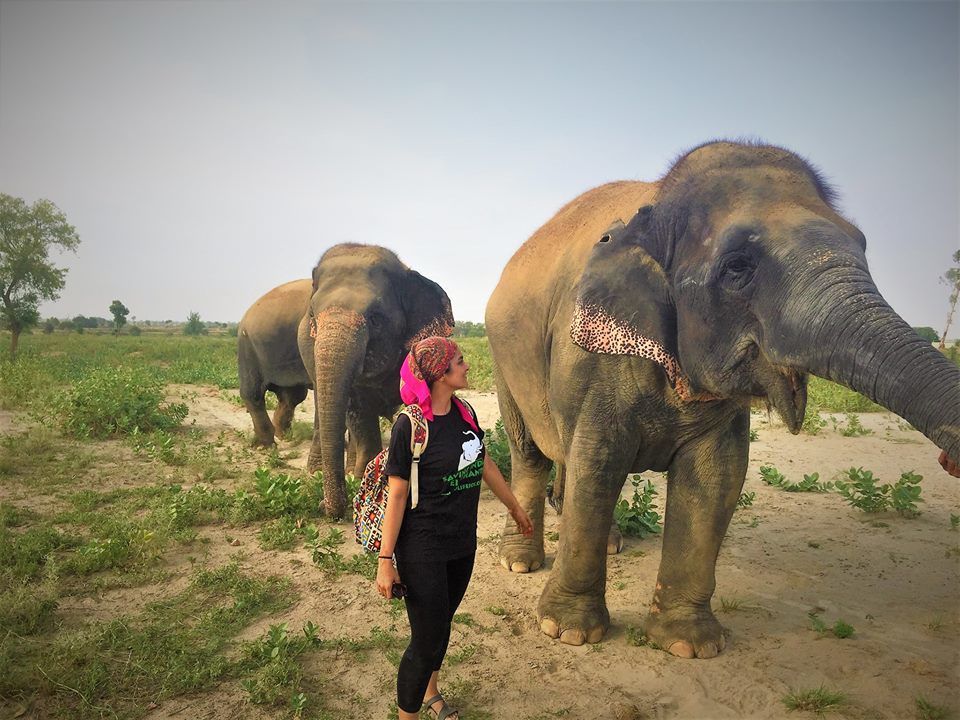 In a quaint stretch of land between Agra & Mathura , the Wildlife SOS Elephant Conservation & Care Center shelters rescued, injured, neglected elephants. Created by Kartick Satyanarayan and Geeta Seshamani , this refuge is the retirement home for elephants, where they live free of the brutality of being exploited in the name of faith, entertainment and tourism.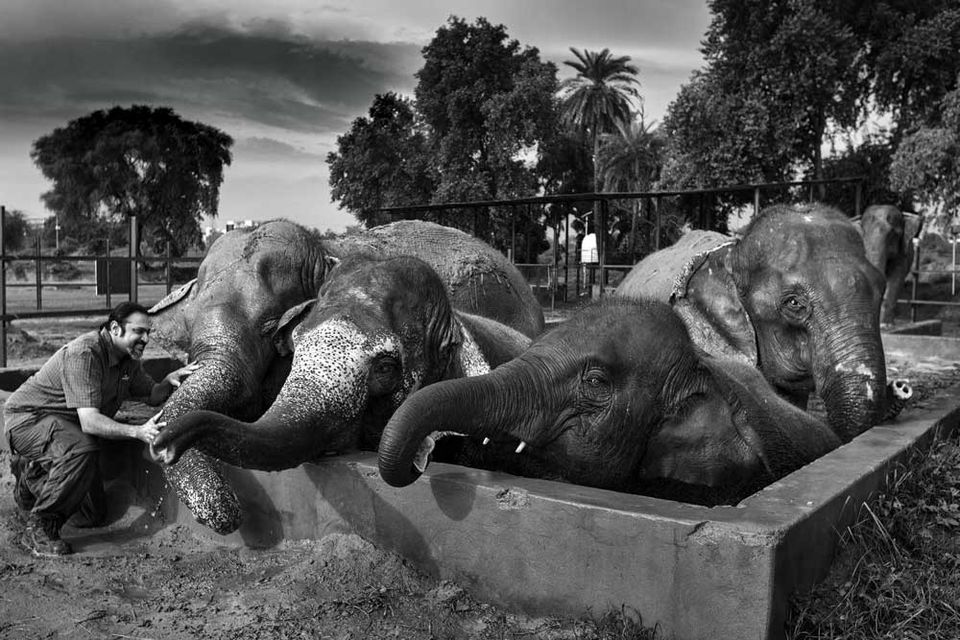 Elephants are one of the most majestic, beautiful and popular creatures amidst us. And for good reason; they're huge, adorable, and very intelligent. Ironically, they are on the verge of getting extinct, all because of the bestiality they are made to face by selfish humans!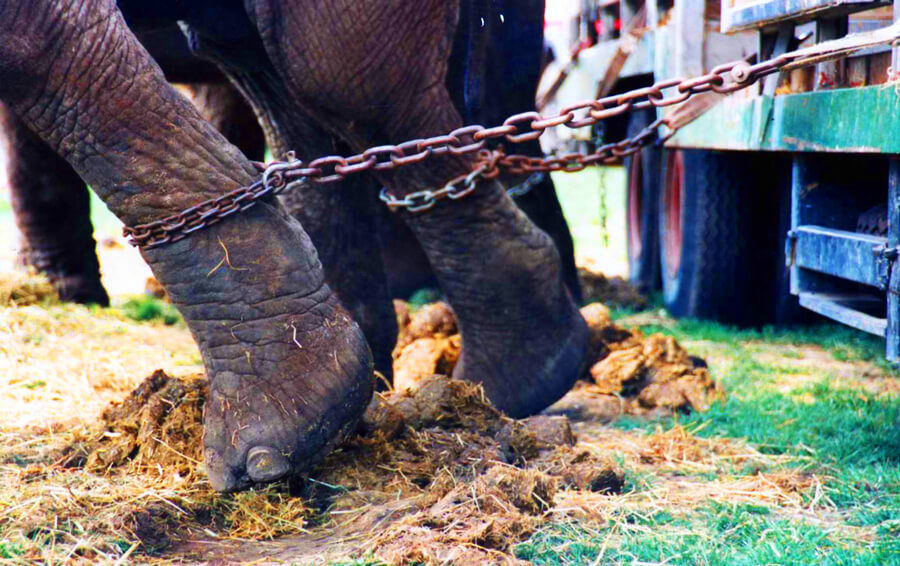 India is plagued with a lack of awareness and education which is leading to the persistent enslavement of these amazing animals for manual labor, performances, processions, entertainment and street begging. They are snatched as babies from their mothers by poachers and beaten into submission.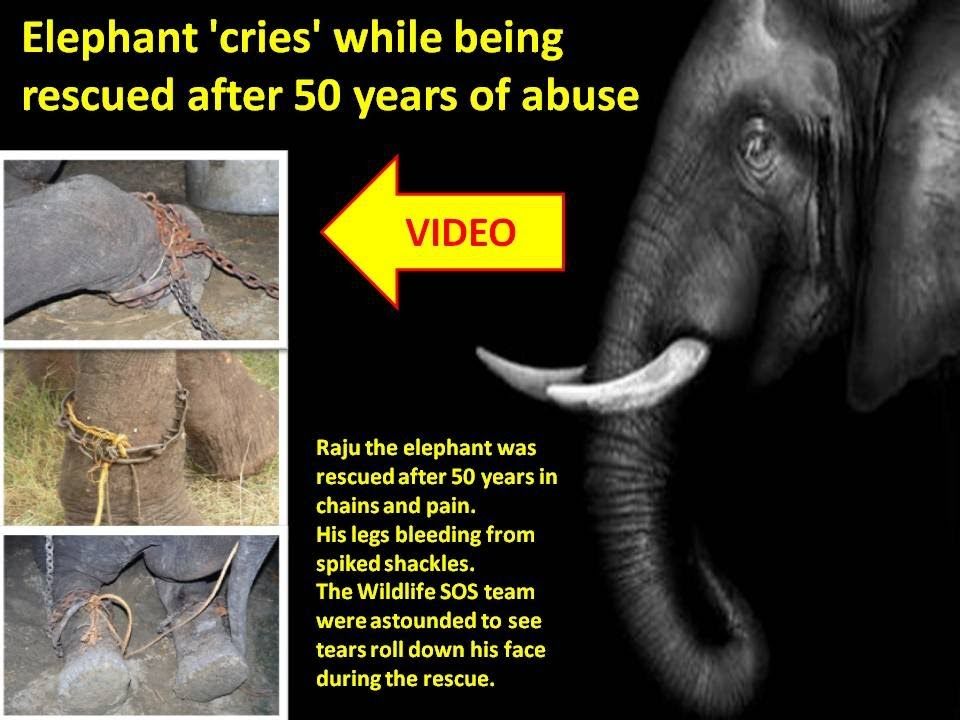 And amidst all despair, Wildlife SOS has been tirelessly working to rescue, rehabilitate and provide a happy retirement to the gentle giants in India. Not only are they caring for them and giving them unconditional love, they are also raising awareness people on elephant conservation.
I had the amazing opportunity to volunteer at this center for a week. My duties included preparing meals & feeding, bathing, walking elephants, constructing enrichment structures for play and assisting keepers on daily care-taking chores.
So here are a few postcards encapsulating my experience living and working with elephants.
Postcard 1 ~ Ele-FOOD
Elephants are herbivores so if your name is Herb stay away from their mouths. Just joking ;)
Elephants eat SO MUCH. Literally TONS of food. The conservation center gives them a large mixture of different plants to give them energy and they even have their own garden where they grow tons of different types of foods just for the elephants to eat.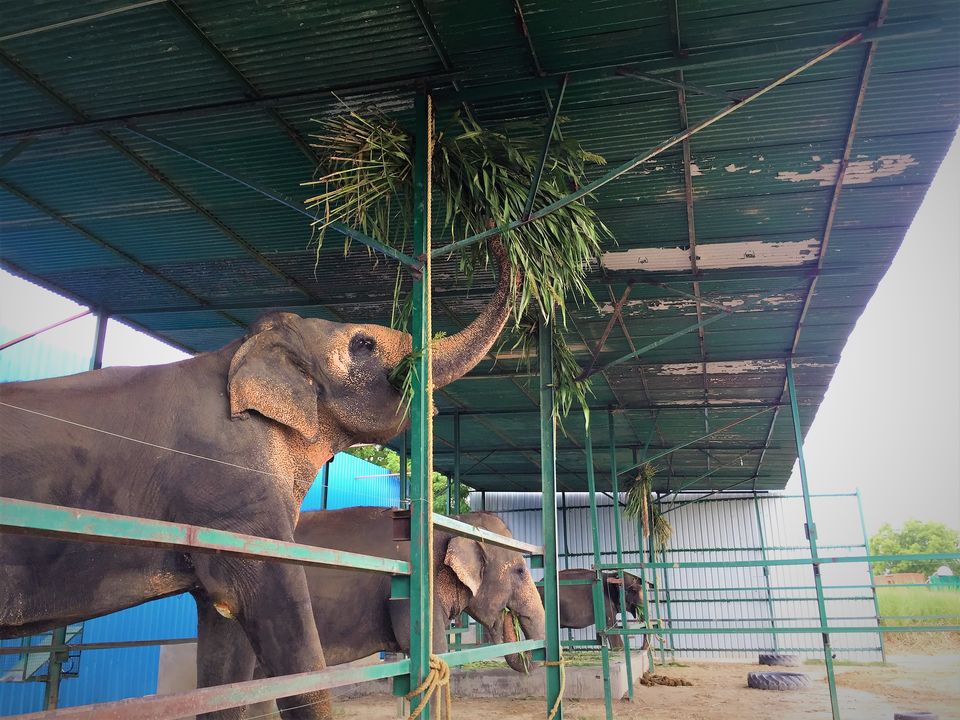 I've even made friends with the trainers who are not only mentoring me to become friends with Elephants, but even teaching me the 'Brajwasi' language :)
PS- I'm mightily impressed with quality of Hindi everyone speaks in Uttar Pradesh. And as a takeaway, I will try maintaining this level of Hindi back in Mumbai as well
Postcard 2 ~ Ele-BATH
Bathing an elephant is a lot like washing a car—but a lot more fun. Rinse with a hose. Spray on shampoo. Scrub with a long-handled brush. Rise again :)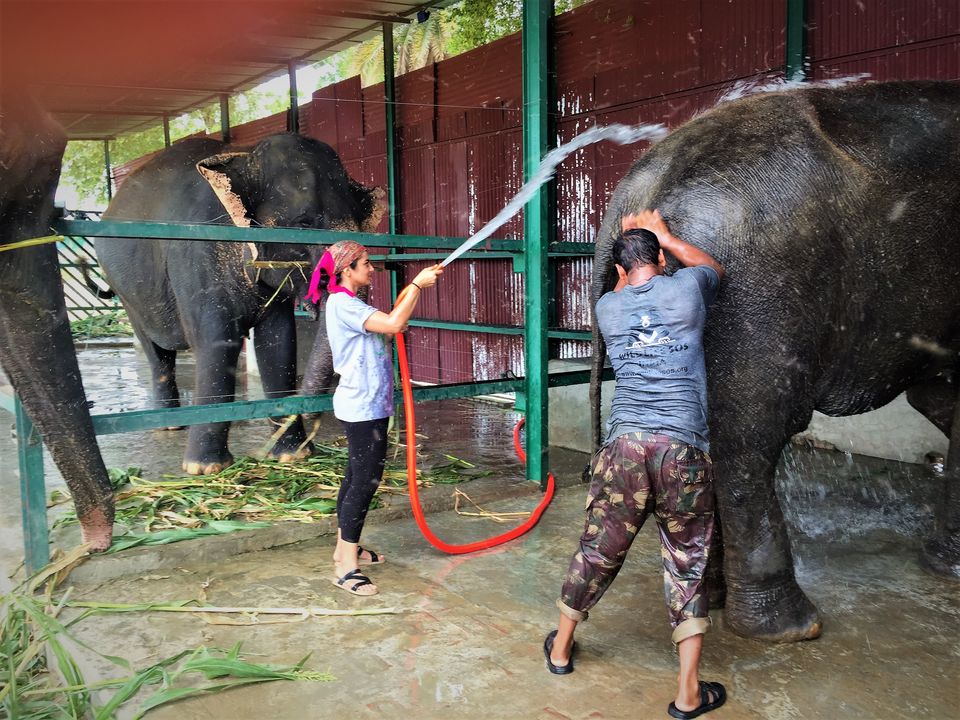 Baths are a big part of elephant's lifestyle in the wild, and baths protect them from diseases, insect bites, and getting too dried out. It also relaxes them, just like us with our bath beads and scented candles
Elephants love water, but maybe its the baths of any kind they love, because they cherish their mudbaths equally much. They love to bathe, splash, and play to their hearts content.
I assisted the mahouts in washing elephants' faces, hind legs, stomach, tusks and scrubbed them using custom-made brushes for them.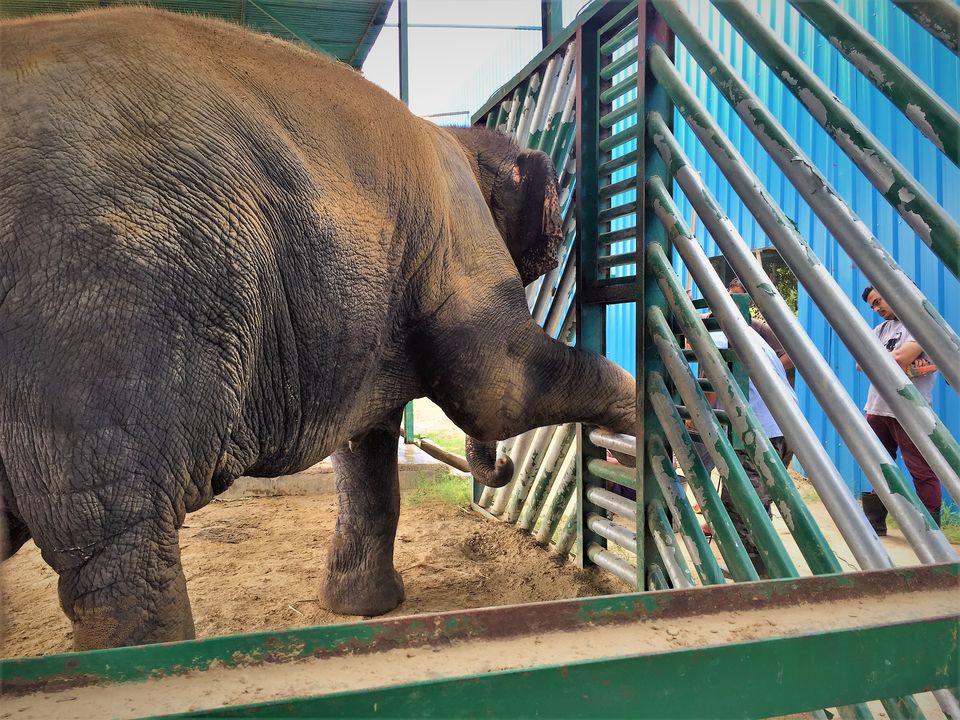 After the bath, the elephants are let out in their enclosures- to bask in the sun and cover themselves in mud. This is usually followed by casual banter amongst them and a comforting afternoon siesta
Postcard 3 - Walking with Elephants
Imagine walking some of the largest land animals in existence Not only that, they are intelligent, majestic and awe-inspiring. And walking in their footsteps made me feel more closely connected to them, than ever before.
When you see these gentle giants come close to the nature, I wonder what made us humans so selfish to abuse them so badly. And in a country that worships the Elephant God, the least we can expect is to treat them with love, compassion and dignity.
I have been so touched by Wildlife SOS, so moved by the work of the people that dedicate their lives for the cause, that I plan to go again very soon and hope that it will become an on-going thing for me, as a volunteer, and someday as a careers.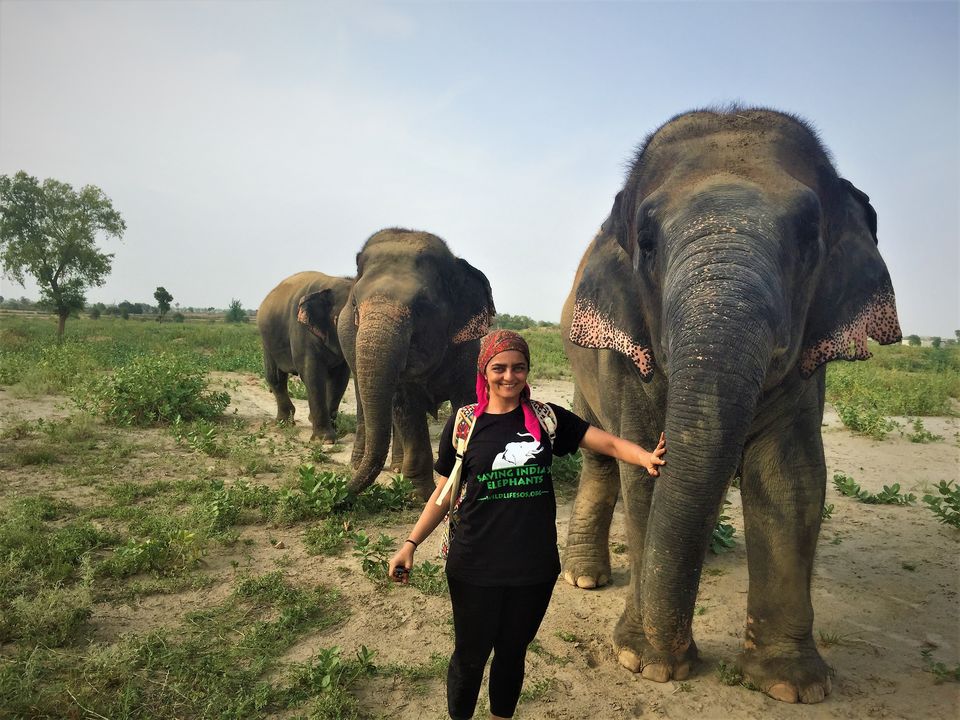 Everything about the WSOS and it's surroundings is beautiful, magical, peaceful, and absolutely life changing! I cried in the mini-bus leaving the center, you can well imagine how this place touched my heart.
We all travel for different reasons. But there are some trips that make to a bucketlist to make us a better person. This is one of it. I urge each and everyone of you to seek this experience, spend time with elephants and give back to Mother Nature in our small way.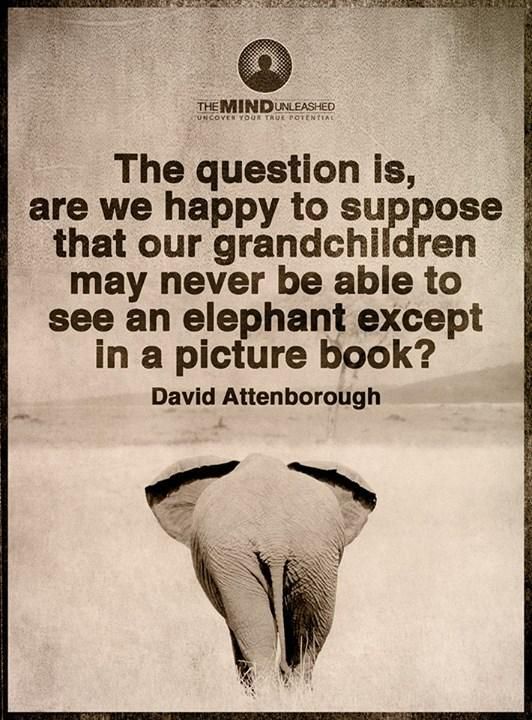 And I also urge the the Government and Animal Authorities to support this cause and enable humans to come closer to the majestic creatures.
For the Elephants,
Isha