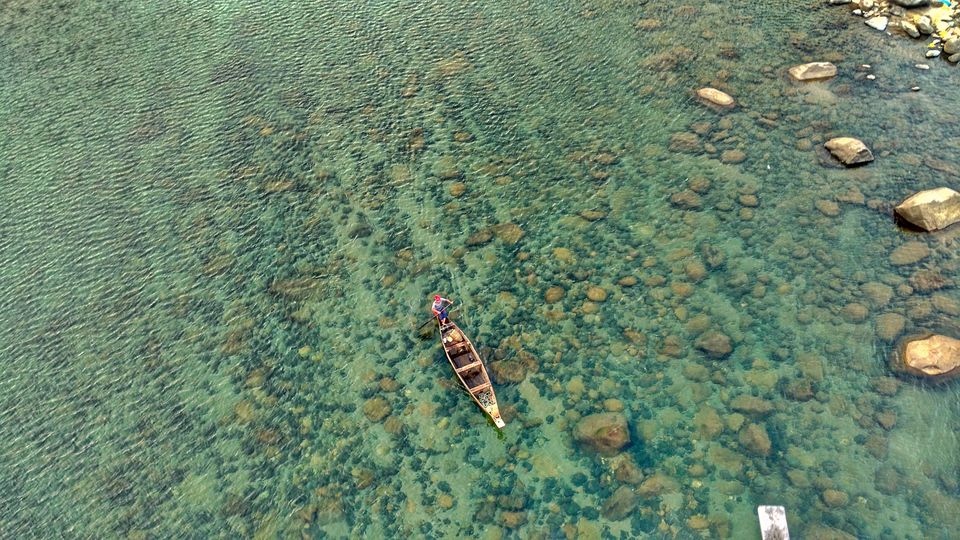 Have you ever seen a dream with eyes open?
Meghalaya is just that,
Meghalaya will make your stomach churn
Not out of fright,
But out of bewilderment,
Make the hair behind your back rise
Tickle your insides,
And maybe make you cry a little too
That's the thing about dreams
Sometimes you don't have to close your eyes
Meghalaya made me poetic and the words above best described the feelings I had after a holiday to the state. The beauty of Meghalaya is unparalleled and the state has some really good magic tricks up it's sleeve. One of them is Shnongpdeng.
Shnongpdeng is a beautiful place located in the Jaintia hills of Meghalaya where the serene Umngot river flows. This river is so clean that the boats look like they are floating in thin air.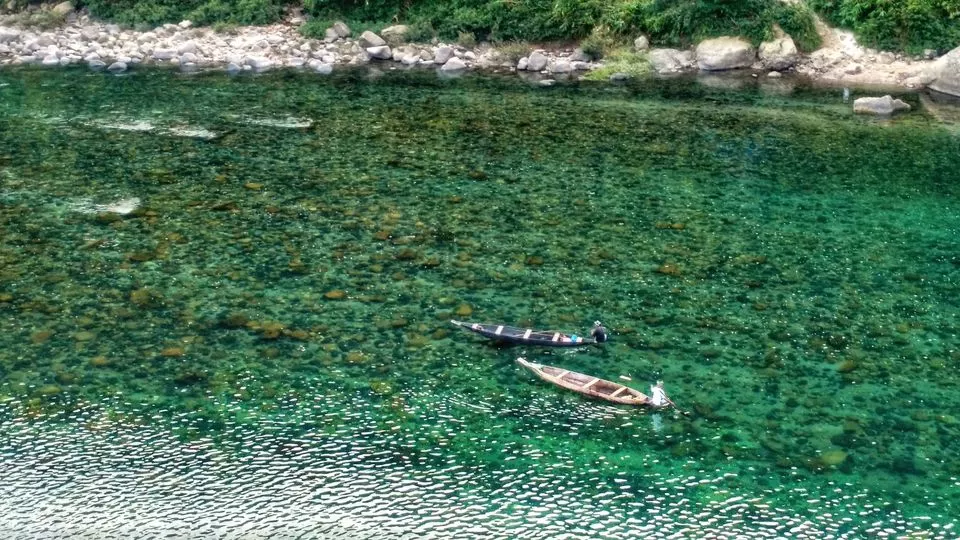 About Shnongpdeng :
The unknown cousin of Dawki ( another place which has become Instagram famous for pictures of boats floating in the air); this place is slightly off the tourist circuit. Our cab driver recommended this place to us on our way from Guwahati to Assam and it definitely lived up to his description.
Shnongpdeng is frequented by locals , has crystal clear waters and amazing views of the suspension bridge.
How to get to Shnongpdeng:
Located in the Jaintia hills, Shnongdpdeng will take about 3-4 hours without stops; to reach. However, we made a different route map to get there. I call this route the Magical Blue Circuit, because it has the 2 most beautiful water bodies I have encountered in India.
Stop 1 is Krang Suri Waterfall. This is the most magical waterfall, I have seen in India. Read all about it here. You can reach this destination after 3-4 hours from Shillong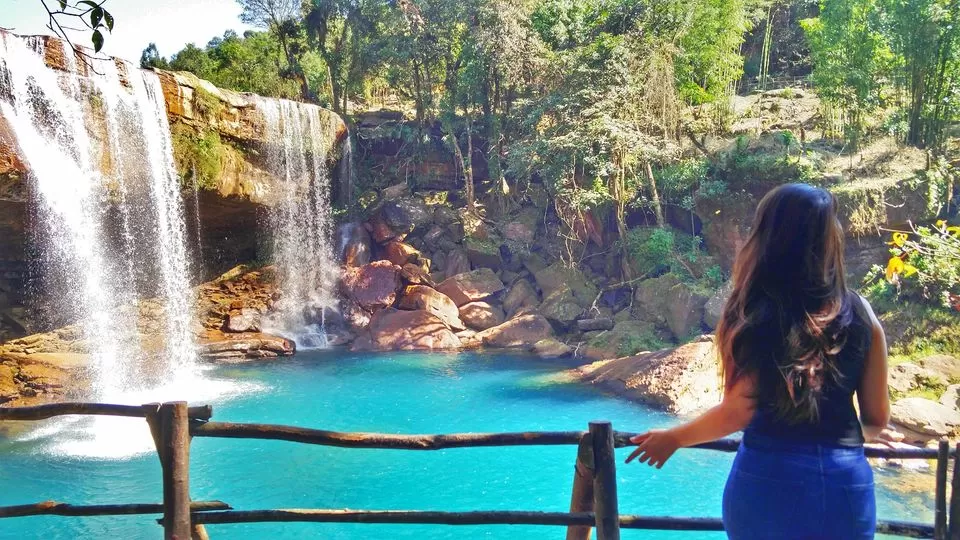 Stop 2 is Shnongpdeng which is only 45 mins from Krang Suri and further up towards the Bangladesh Border. It is the home to the crystal clear transparent waters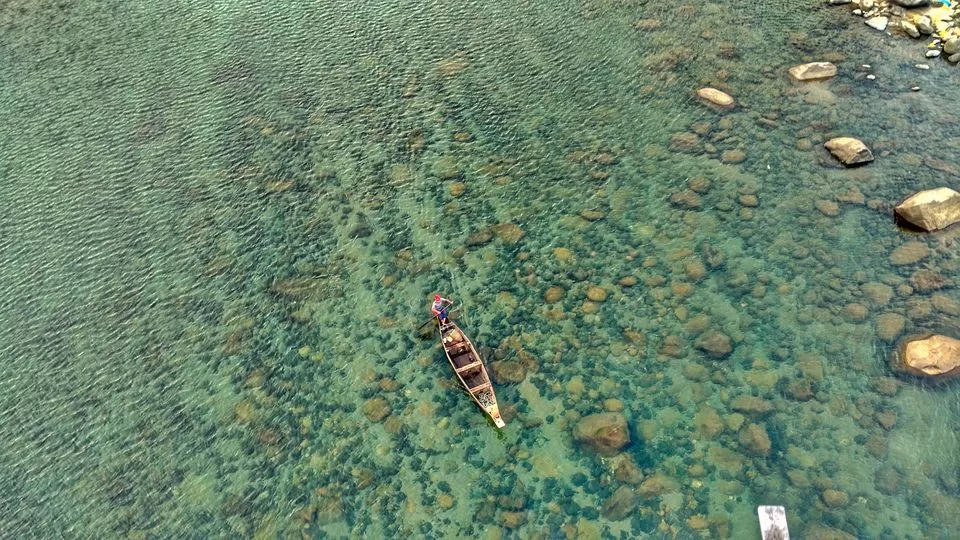 Stop 3 is a visit to the official India-Bangladesh Border
Stop 4 Return to Shillong by 8.30- 9pm.
This is a circular route so you could take it up in the anti-clockwise fashion too, however, the route from Krang Suri is bumpy and isolated, so wouldn't recommend taking this route in the night. Hence best is to start with Krang Suri in the morning and reach Shillong in the night.
I would also recommend you to hire your own cab during your visit as it saves a lot of time. If slow travel is your style, then public transport, would not be bad either!
Things to do there :
Boating:
This is the best and the most popular thing to do at Shnongpdeng. The water is really clear. It is a marvel to see the river bed right till the bottom and touch the icy cold water. A boat ride lasts for about 30 mins and can cost Rs 700 for a boat. The seating capacity is of 4-7 people in 1 boat. You are secured with a life jacket and a local boatman rows you around.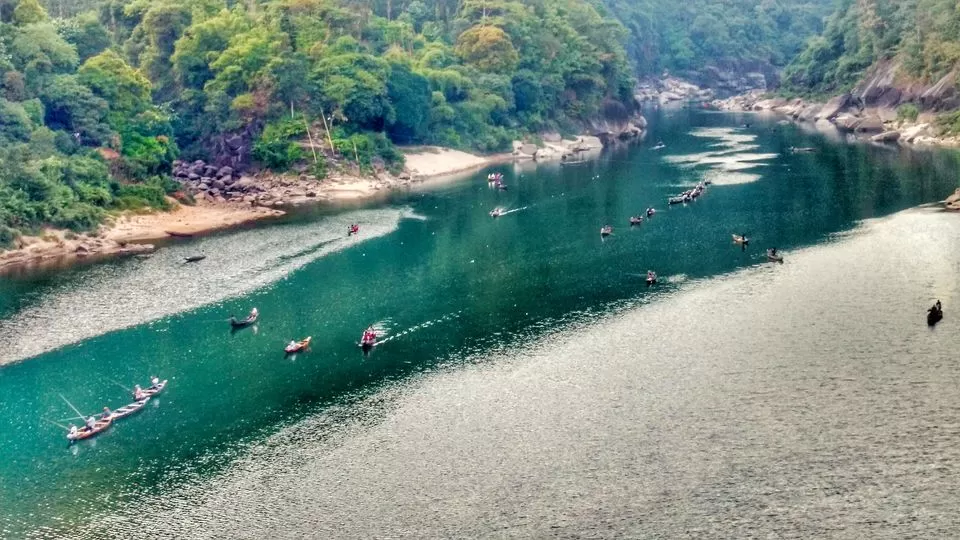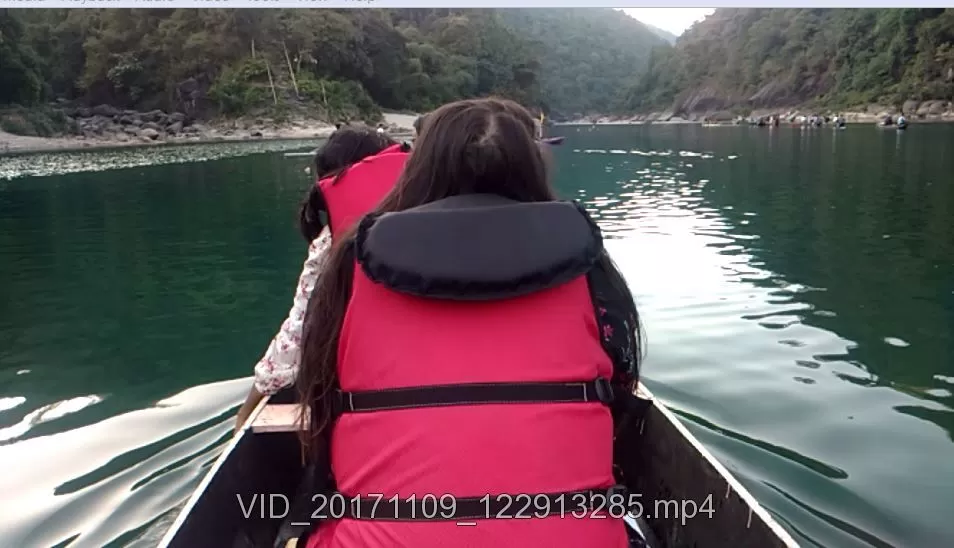 Fishing :
You see many locals fishing there. The clarity of the water makes it really easy to spot the fish. As your boat floats by you will see many local fishermen perched up on the rocks trying to fish.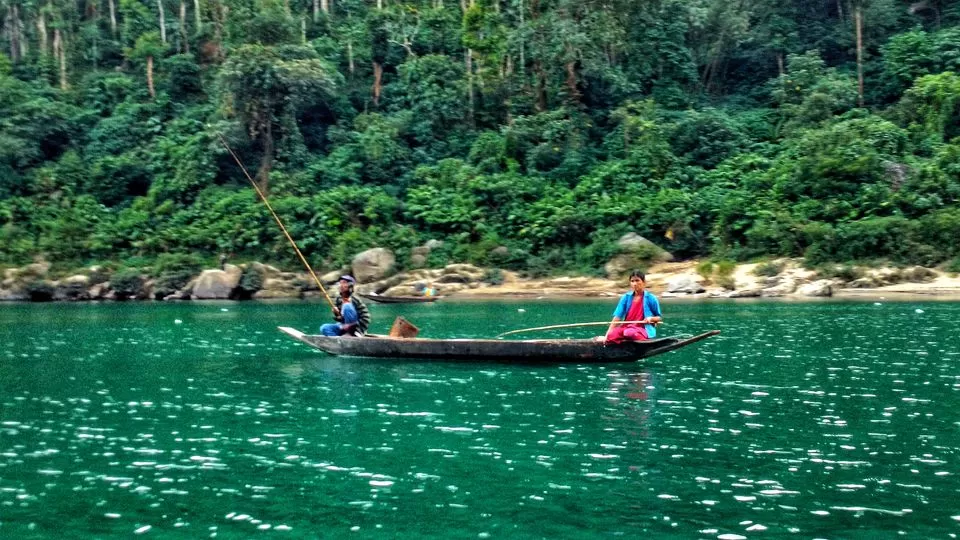 Walking on the Suspension Bridge:
This was fun and felt really wobbly most of the time. Not more than 7-8 people are allowed at one time on the bridge. Alas! The tourists did not follow these rules and many of them also ran or jumped on the suspension bridge! So scary, I got out immediately. However, for whatever time I was there, we got some group selfies and watched the stunning boats, floating on the crystal clear waters - making it look like beautiful illusion.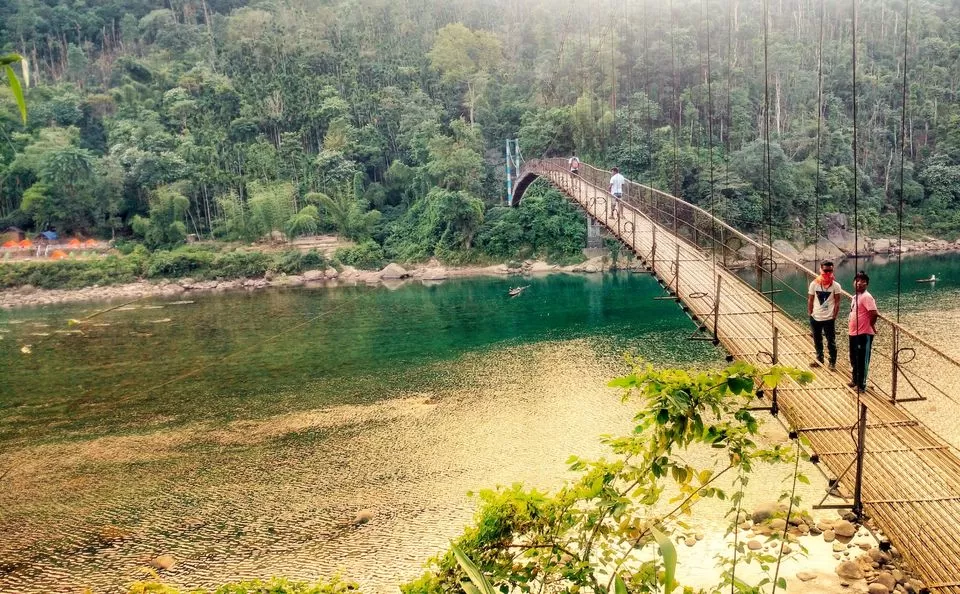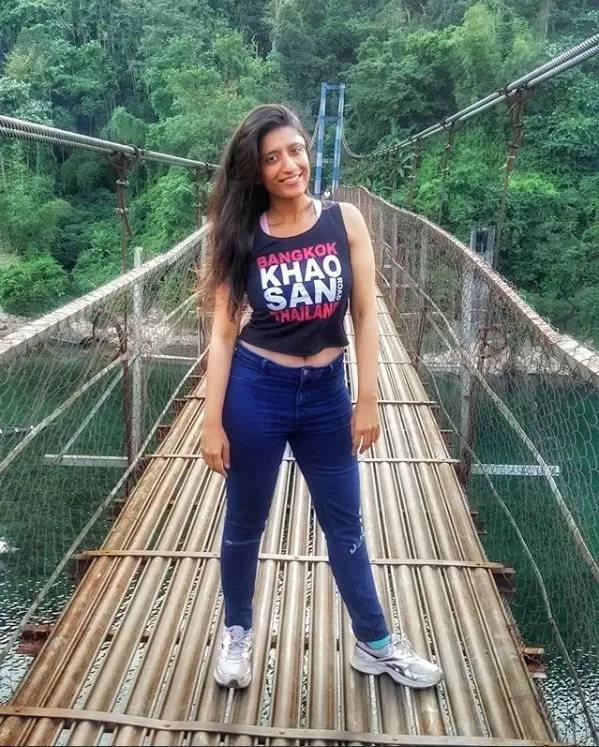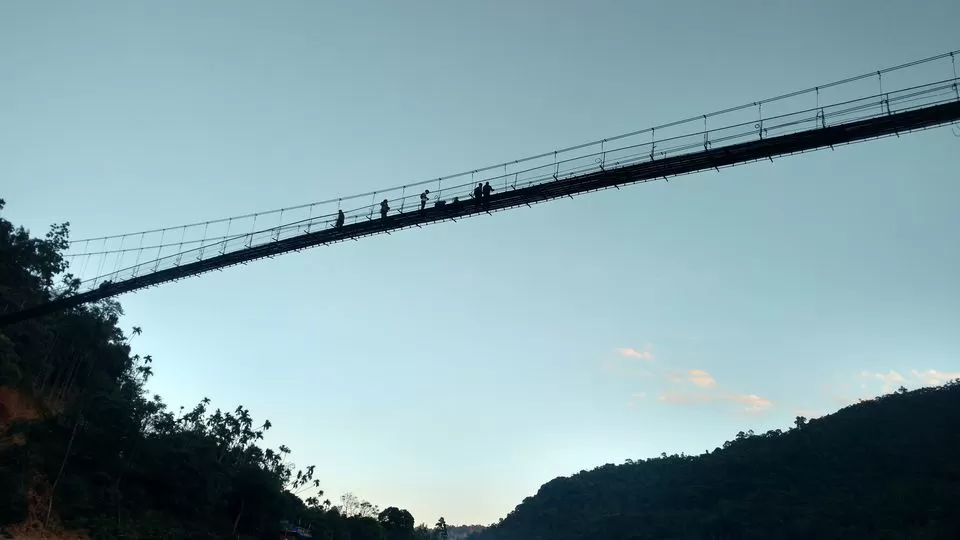 Adventure Activities :
There are many adventure activities you can take up there. There is an adventure company that we managed to get in touch with, which provided services of cliff jumping, scuba diving, kayaking and snorkelling at Shnongpdeng. Although we fell short of time, I would highly recommend you guys give these guys a try. Hit them up here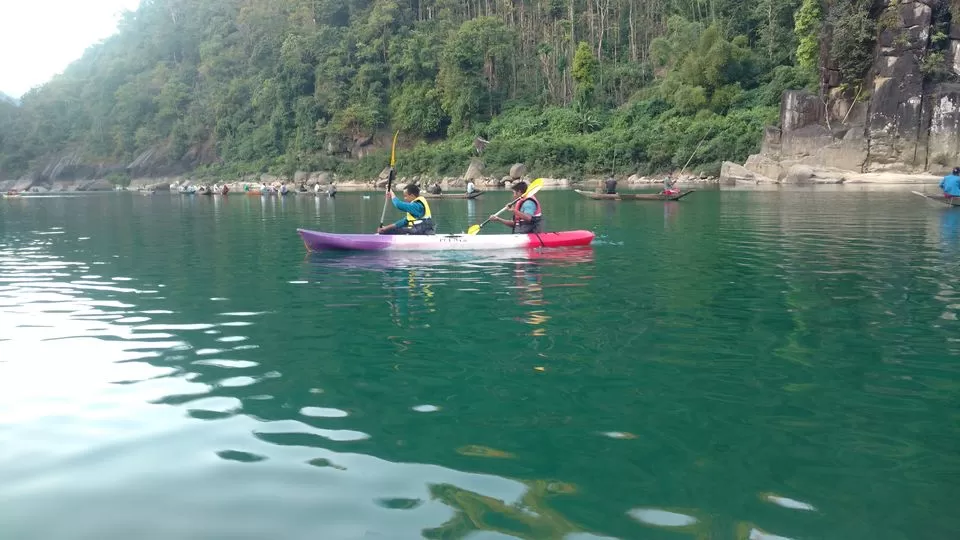 Camping:
Shnongpdeng is a beautiful place to camp. There are many campsites located on the riverside. Most packages run for a night or two including food and drop services. It is not required to pre-book since we found cheaper accommodation/campsites when we negotiated on the spot. I wish I had camped here, but Alas we were out of time. If you want to camp and do some adventure sports here, Pioneer Adventure Tours are great at arranging that. Check them out here.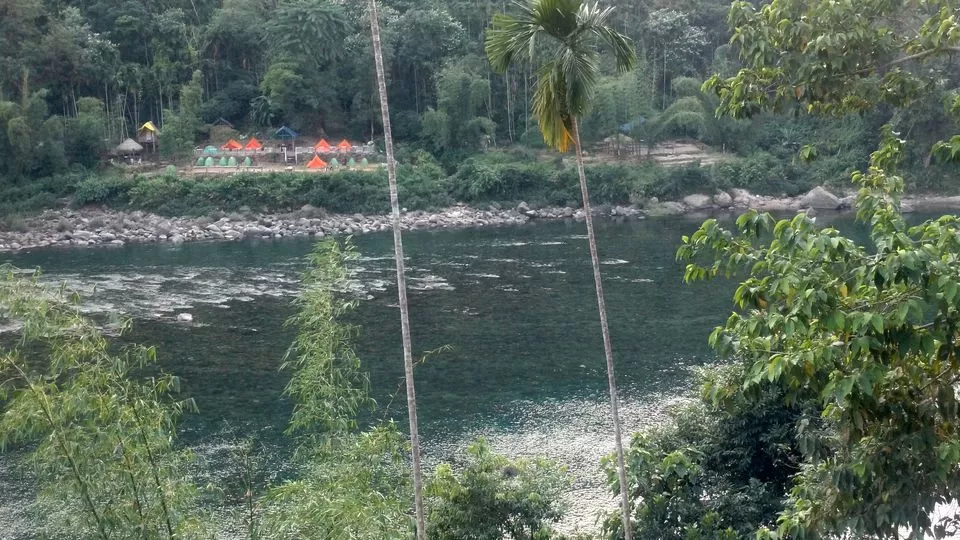 Visiting the India Bangladesh Border :
Post a leisurely boat ride in Shnongpdeng, we stopped by for a customary photo at the India Bangladesh border. The soldiers will happily oblige for a picture!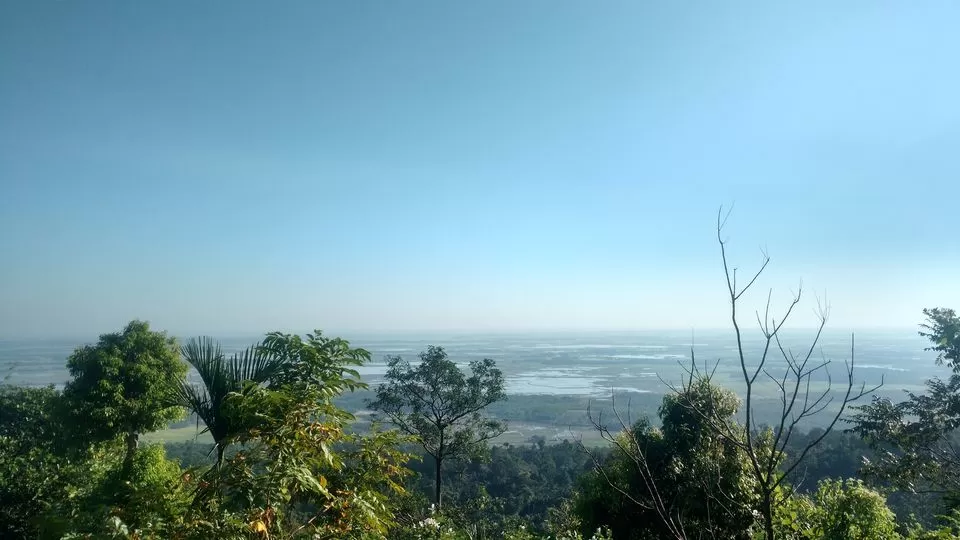 When to go there :
Time of the day - The best time to visit Shnongpdeng would be when the sun is up and strong. The sun rays hit straight through the transparent waters and make it look like the boat is floating in thin air. Although we couldn't catch this as we reach around 4 pm in the afternoon!
Time of the year : November to May would be the best time to visit Meghalaya. If you want to enjoy the rain, then be brave and visit in the monsoons! There is never a bad time to visit the most magical state in India!
If you like this article then and want to explore some more amazing pictures on travel in India, then check out my Instagram. I promise I won't disappoint.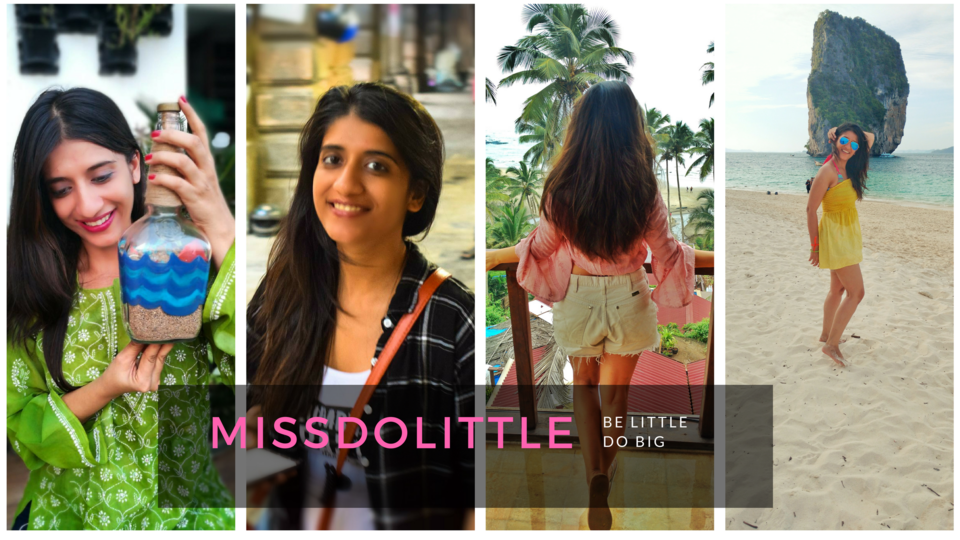 Frequent Searches Leading To This Page:-
shnongpdeng dawki meghalaya, distance from shillong to shnongpdeng, second hand cars in shillong, shillong to shnongpdeng, shnongpdeng village meghalaya, shnongpdeng bridge